Planning to give your kitchen a major facelift? In addition to figuring out cabinet styles, countertop choices and whether you should splurge on a high-end backsplash, consider the environment. A recent survey revealed that 92 percent of homeowners plan to or have incorporated sustainable features while renovating their kitchens.
Sustainable design combines earth-friendly materials and a 'green' mindset that enhances your home's energy efficiency. Using natural, durable materials such as wood, metal, glass and stone helps create a lovely kitchen that's also environmentally friendly. Here's what to keep in mind when creating a beautiful kitchen within a healthy environment.
What makes a product sustainable?
With so many choices on the market, it can feel overwhelming to figure out where to find eco-friendly products and materials - or even to know what to look for. In general, sustainable materials are sourced and manufactured responsibly, are meant to last a long time and can be disposed of with minimal impact on the planet.
To check if a product is sustainable, ask suppliers if it depletes natural resources and whether it contains hazardous elements such as chemical adhesives. Many manufacturers' spec sheets also include information about a product's carbon footprint and if it can be recycled, reused or composted when its lifecycle is over, so be sure to read up on items you are thinking about buying.
Stick with green materials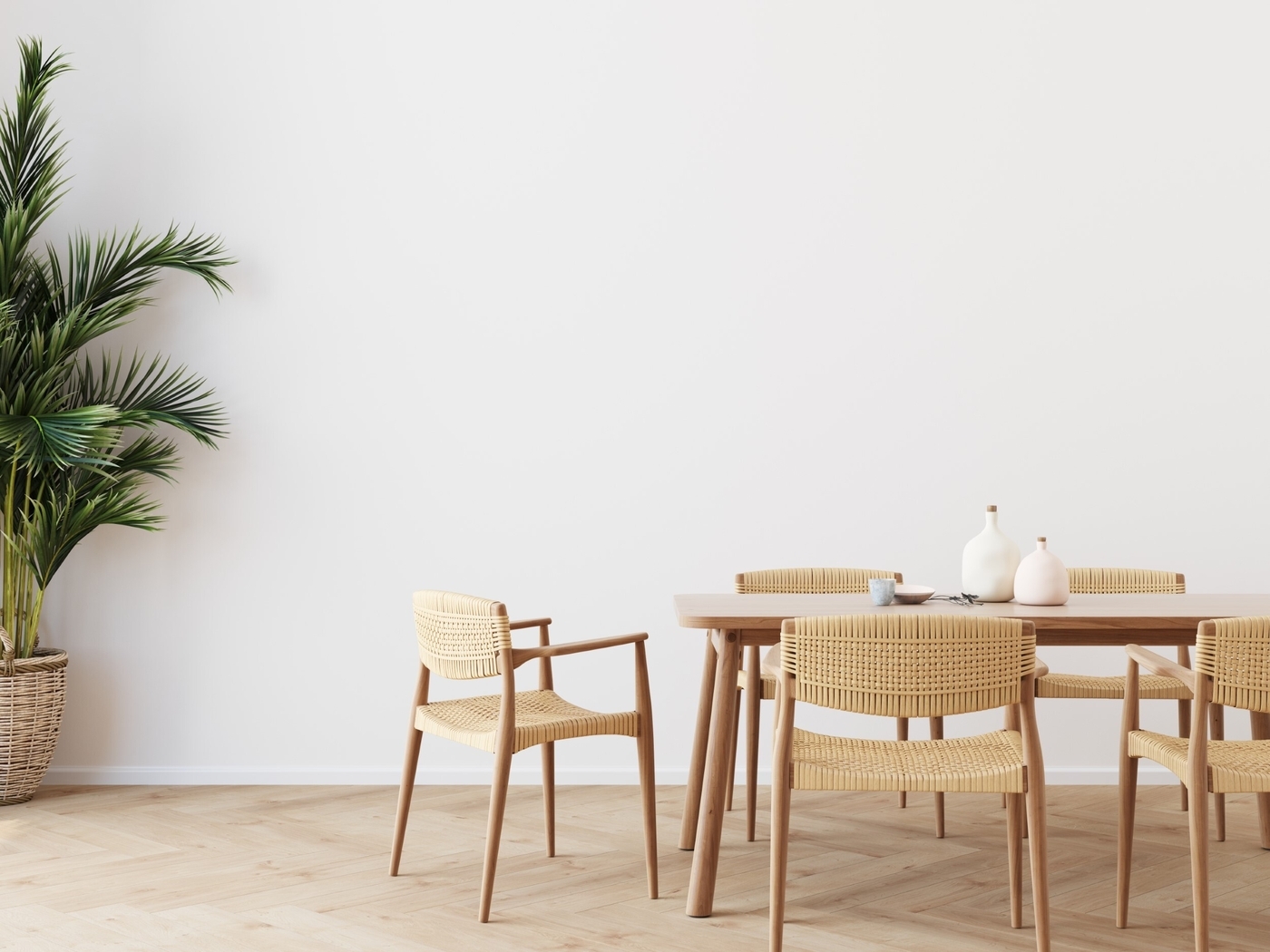 Wherever possible, ensure your contractor uses Greenguard-certified paint, varnish, glue, and caulking because this certification confirms strict chemical emissions limits. Choose low-VOC or VOC-free paint, which contains less harmful ingredients.
For cabinets, ensure they're formaldehyde-free and not made of fiberboard, plywood, or particleboard. Some of the most eco-friendly options are constructed from bamboo or Lyptus, both fast-growing, durable, renewable resources. Wood materials carrying certification by the Forest Stewardship Council (FSC) were sourced from responsibly managed forests.
You can also use salvaged or reclaimed wood cabinets, which add lots of character and warmth while providing a second life in your kitchen. Often, this kind of wood is rescued from old buildings, ships or warehouses. Items made of rattan are produced with little waste and are both recyclable and biodegradable.
Save water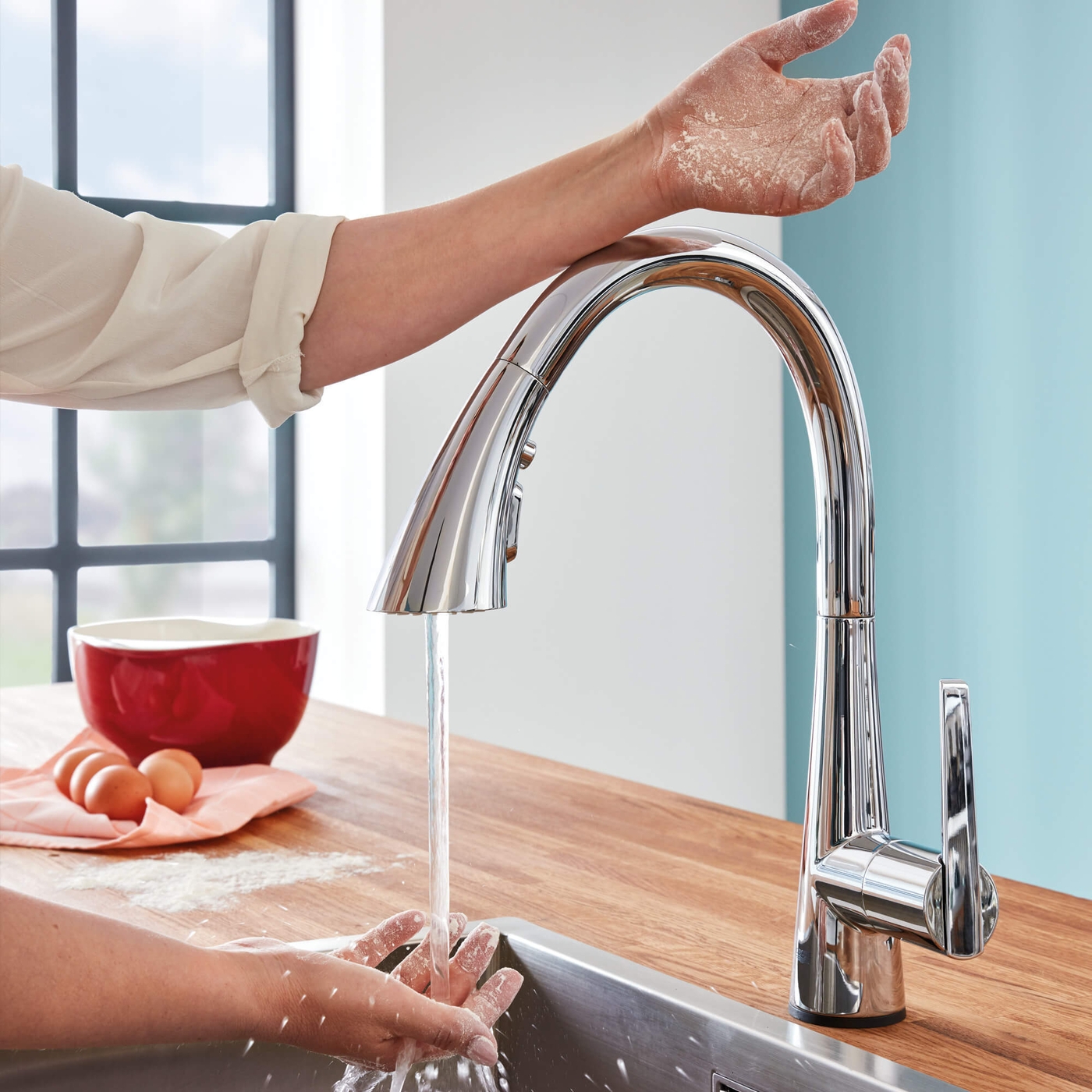 When selecting fixtures for your kitchen sink, go with a no-touch faucet. Because we tend to leave the water running while washing produce or doing the dishes, having a no-touch faucet can save thousands of gallons of water per year.
Purchasing a new dishwasher? Most current models have better filtration systems - which means there's no need to rinse dishes first - and sensors that detect how dirty your dishes are, and then adjust the cycle to use less water and electricity. Ask vendors whether a product has more efficient jets that use less energy when spraying water and soap. Check that the dishwasher you're considering has an ENERGY STAR or EnerGuide label, where you can learn its annual energy consumption.
Install eco-friendly countertops and tile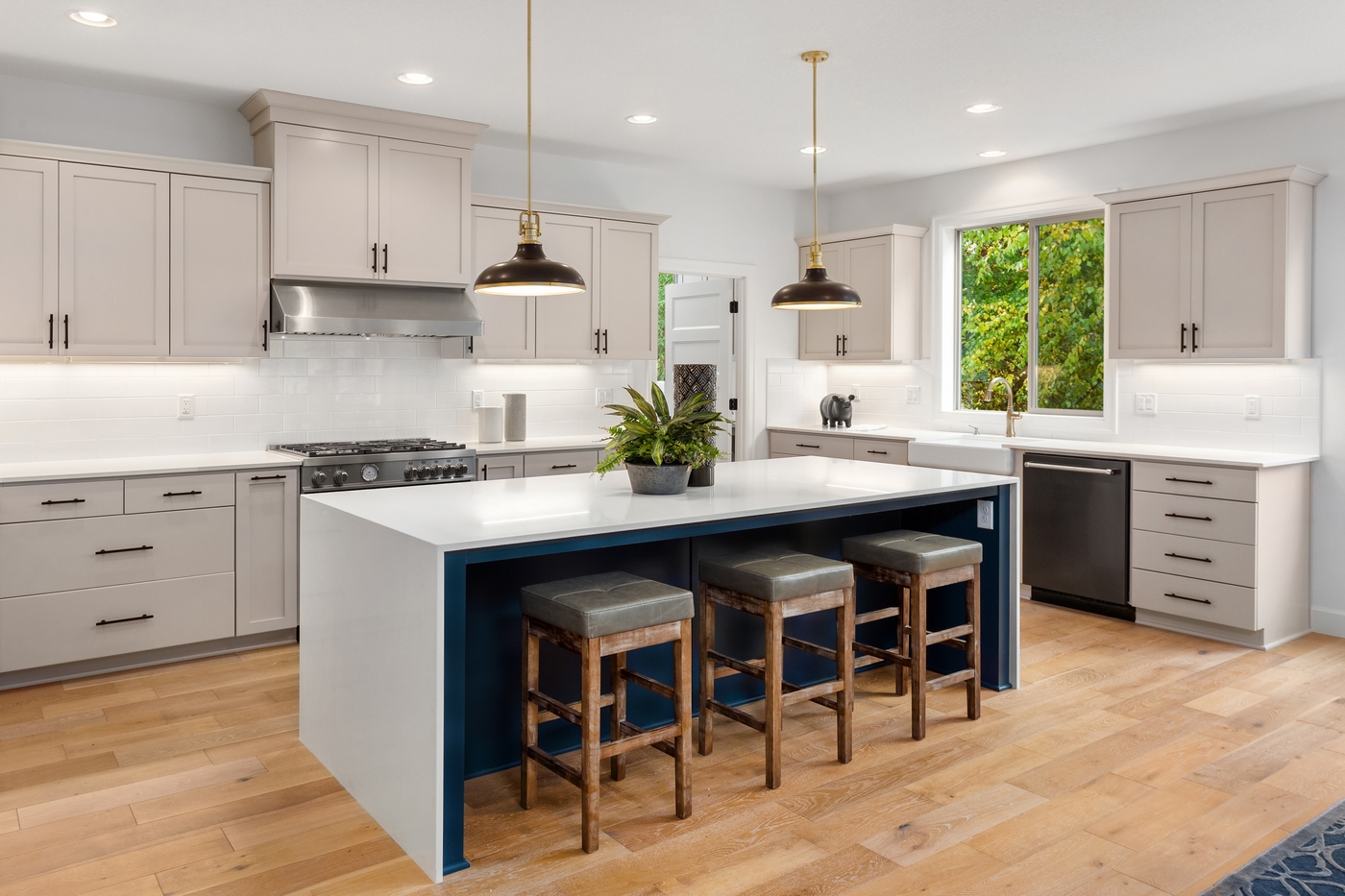 Quartz consists mostly of natural materials, plus it's extremely durable and recyclable, making it a great sustainable choice for countertops. If you can, opt for Greenguard-certified quartz - such as Cesarstone - which is made of up to 42 percent reclaimed quartz.
Recycled glass can also be transformed into stunning counters and backsplash tile. Several companies - such as California-based Fireclay Tile, New York-based IceStone and Georgia-based Vetrazzo salvage glass waste from window or solar industries, car windshields and traffic lights, and then recycle it to craft one-of-a-kind counters.
Let there be (energy-efficient) light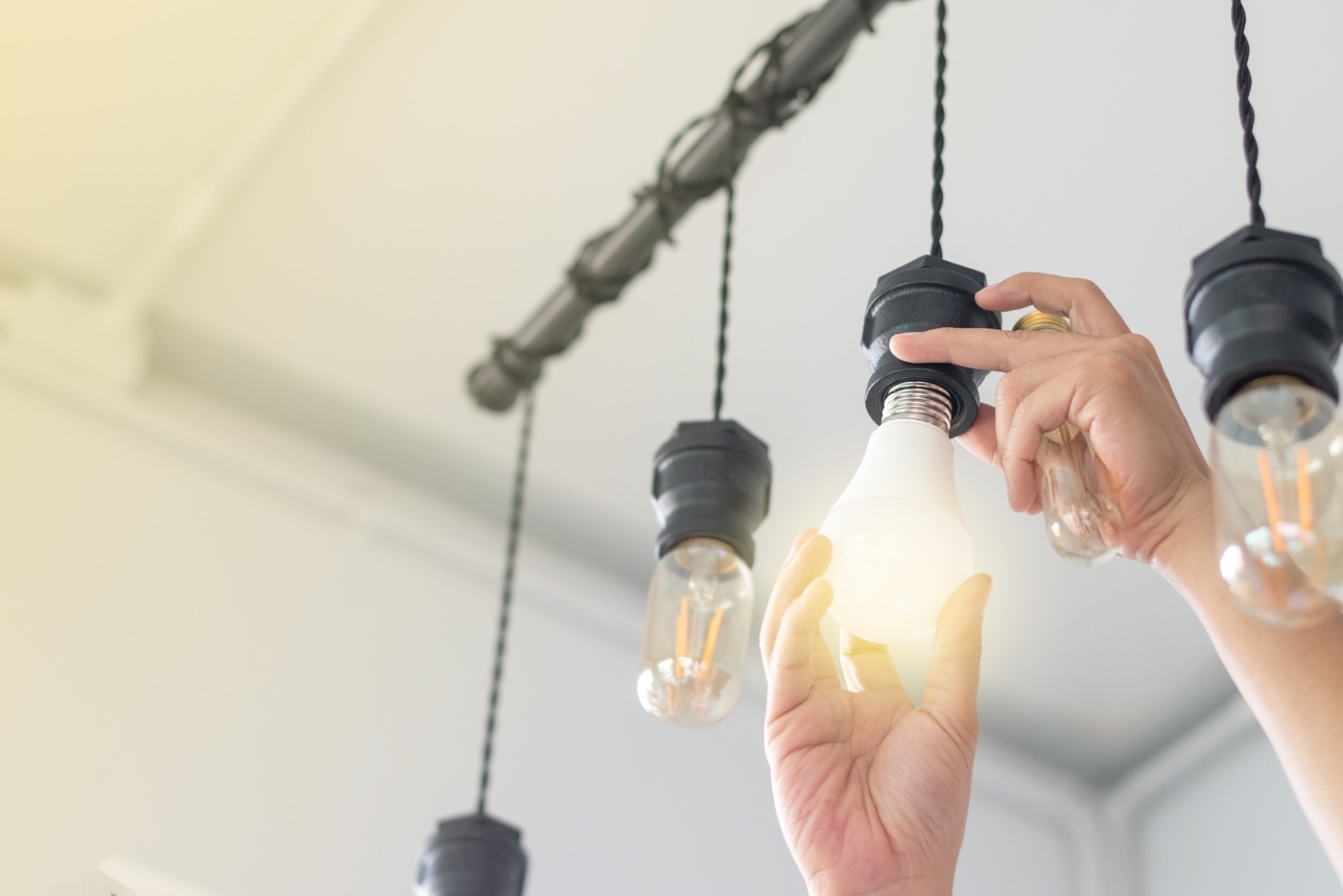 A bright kitchen is essential for most prepping, cooking and cleaning tasks. Opt for LED lighting wherever possible - including recessed lights, task lighting, under-counter lighting and pendants - and install dimmer switches so you can control the intensity.
Having lots of windows in your kitchen lets in abundant natural light that limits the need to always have your lights on, so if your budget can handle it, add in a few energy-efficient windows, a set of patio doors or a skylight.
To reduce power consumption when you're not home, install programmable thermostats in your kitchen. They allow you to lower the temperature automatically when you're out or asleep.
Go with energy-efficient appliances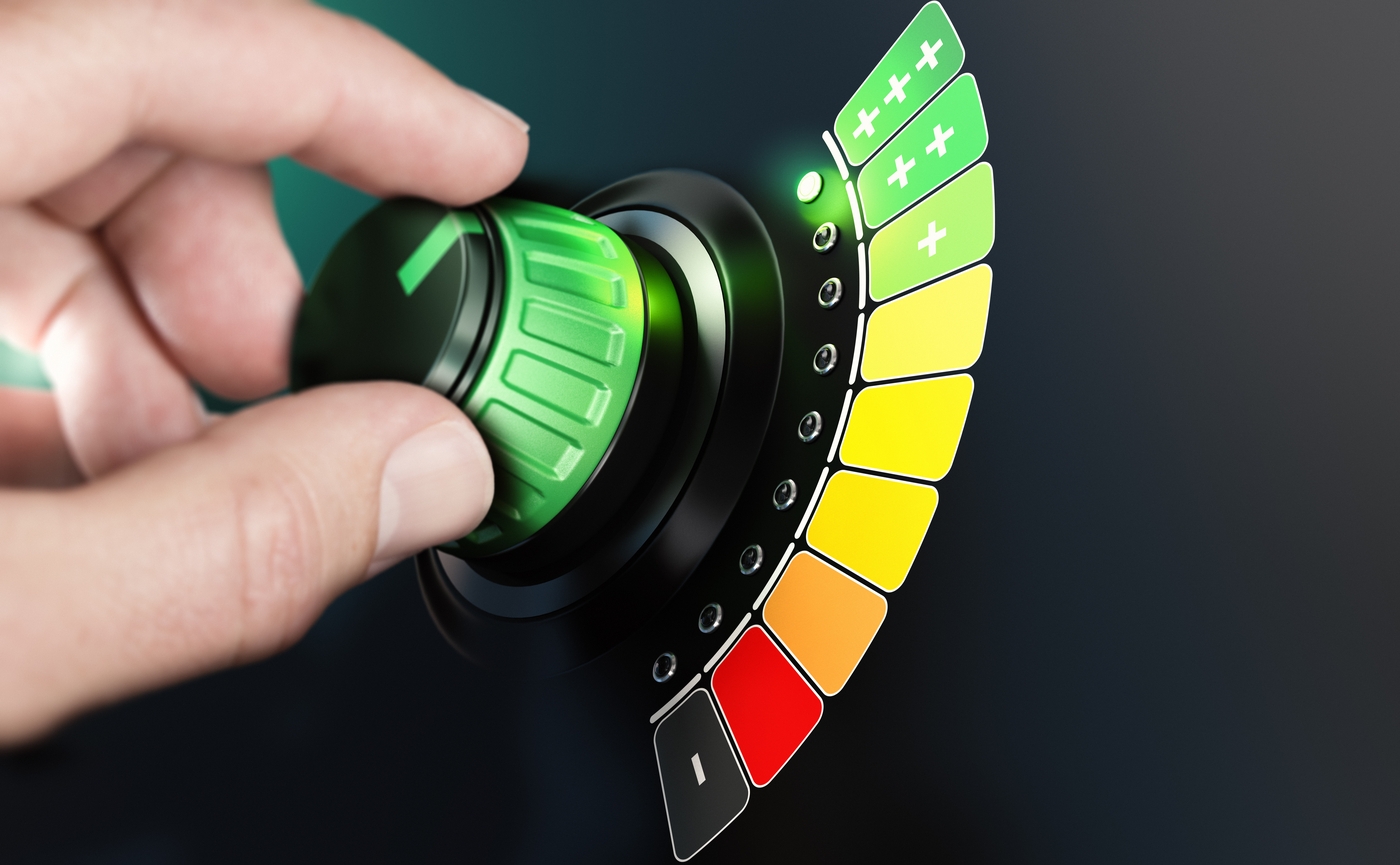 Save electricity - and money - by buying kitchen appliances within the ENERGY STAR® category. For your refrigerators, stove, microwave and dishwasher, look into some of the most sustainable appliance brands including Bosch, Samsung, Gaggenau and LG.
Lay down eco-friendly flooring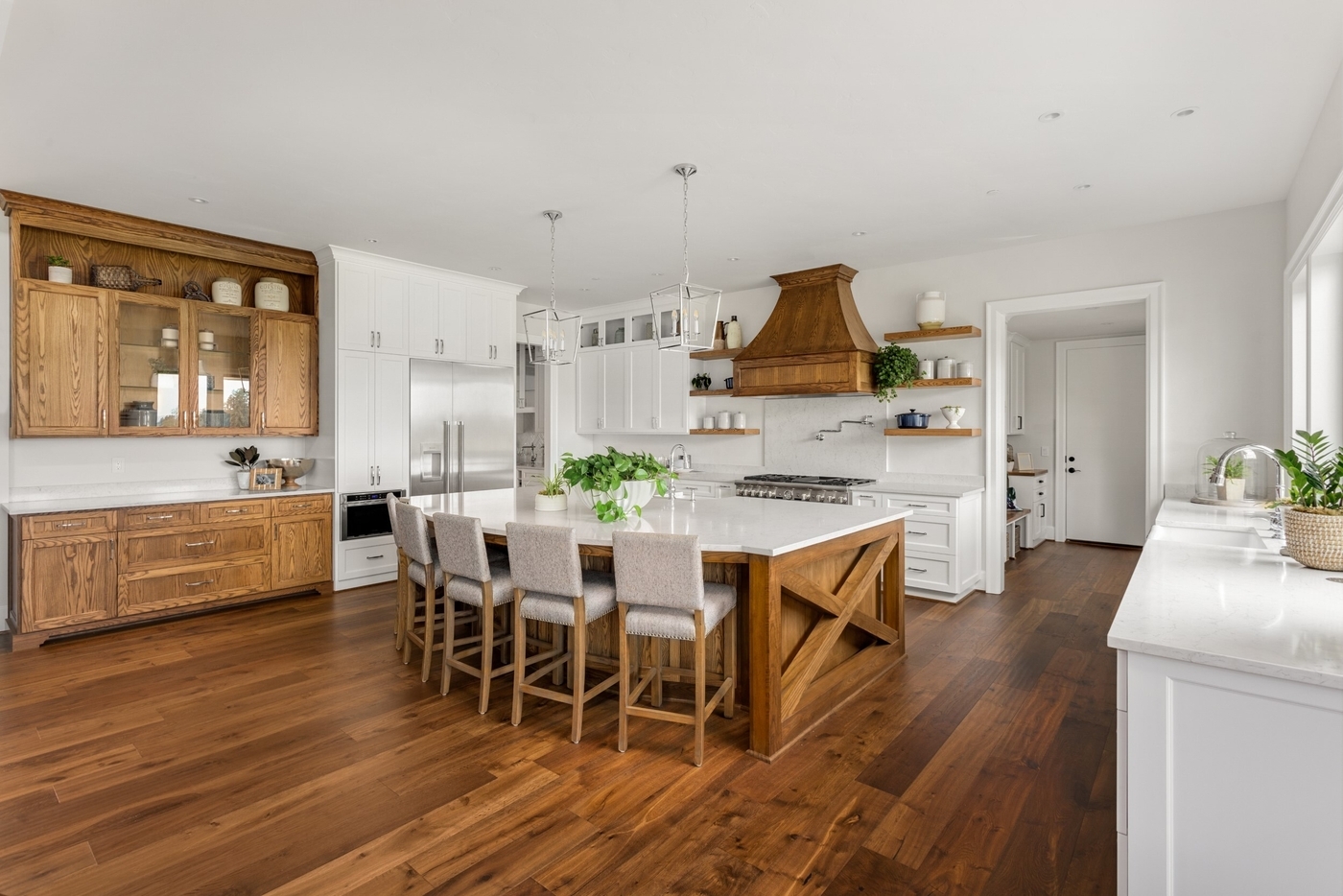 Porcelain tile, which is durable, easy to clean and will withstand fading, can last for years, making it a good choice for your kitchen floors. Natural wood planks - when paired with a sustainable, plant-based finish - is another option.
Add textiles made of natural fabrics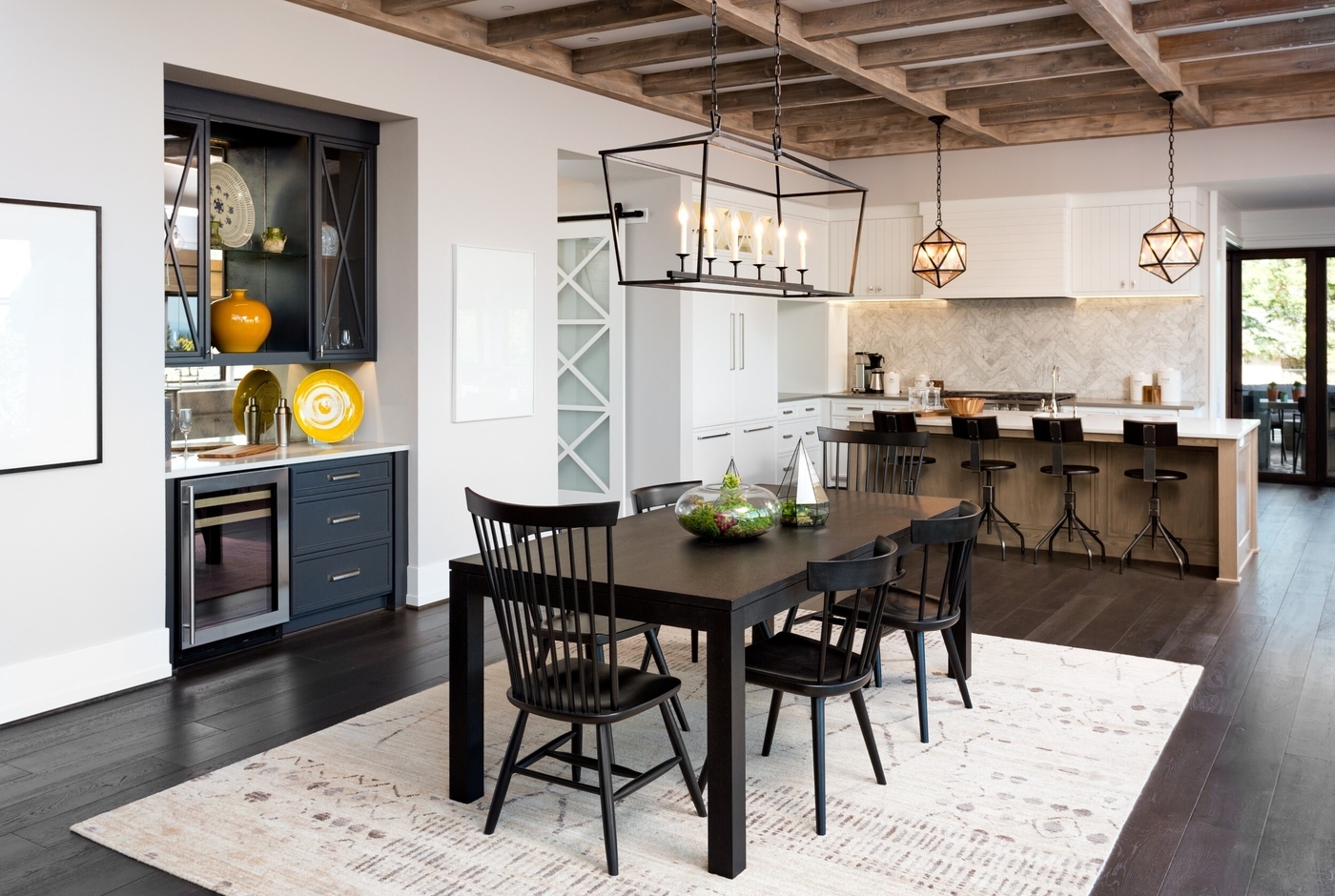 For rugs, upholstery and kitchen towels, choose organic or recycled linen, hemp, bamboo, cotton or jute, as they are the most sustainable options. Look for certification from the Global Organic Textile Standard to be sure the product is eco-friendly.
Buy local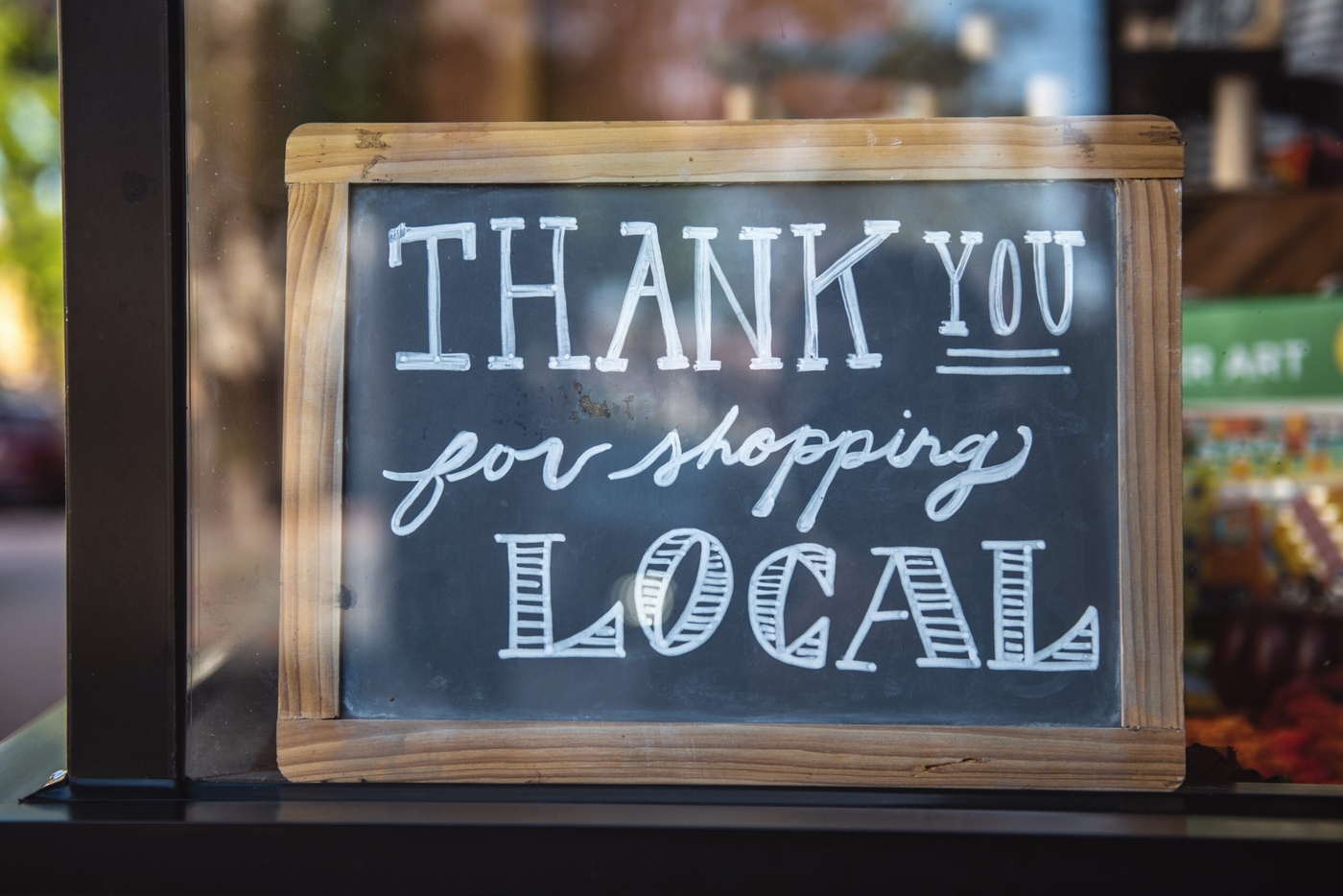 The closer your materials are to your home, the fewer resources are required to transport them. That means less greenhouse gases are generated. So whenever possible, give your businesses to vendors and suppliers in your community.
Shop in your own house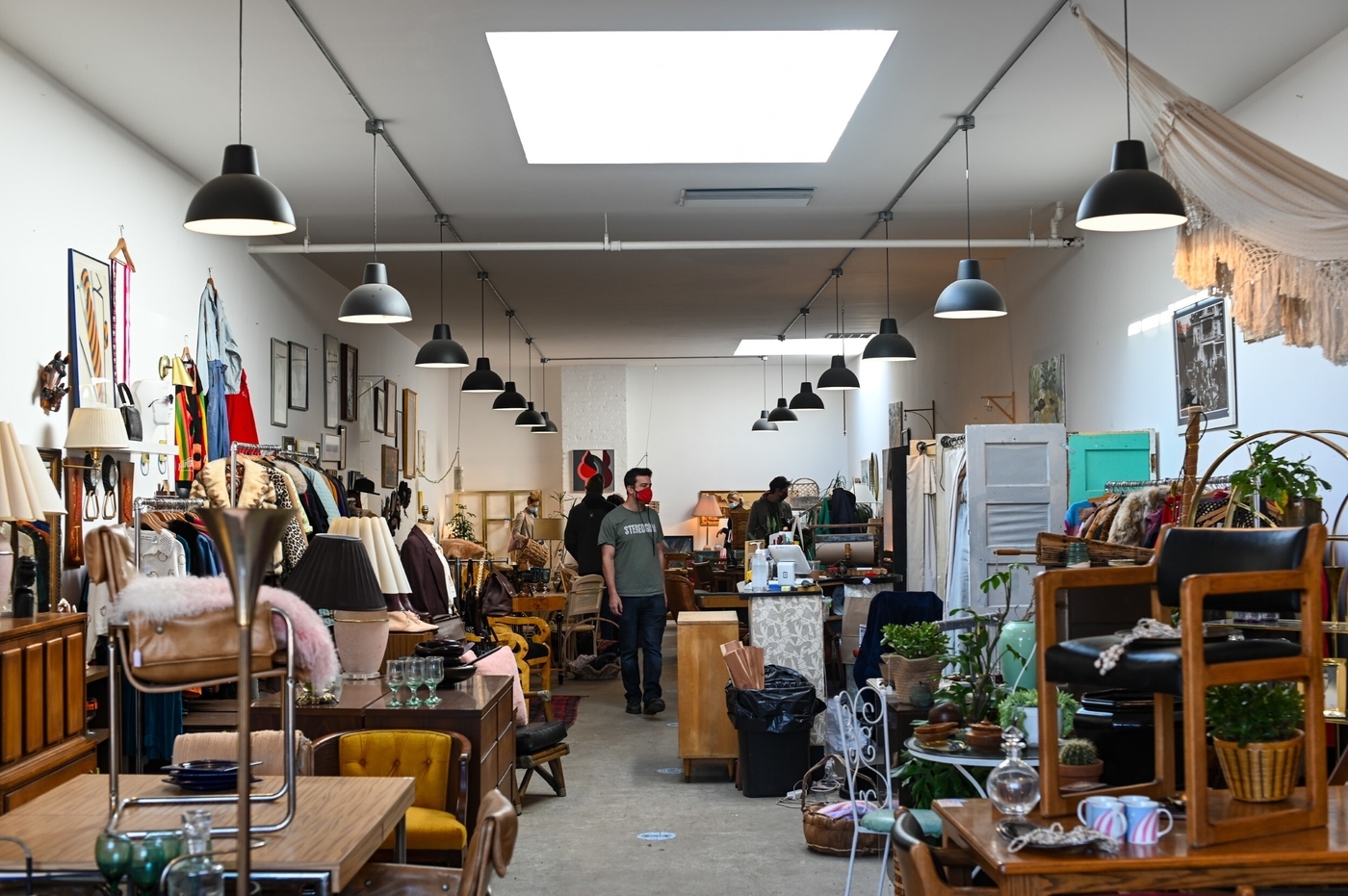 Many things you already own can be repurposed in the kitchen with a fresh coat of paint or stain, or a new top. For example, you can create a unique kitchen island by retrofitting an old credenza or dining sideboard - just add a quartz countertop and raise the height with lockable wheels. Old silverware can be bent and upcycled into hooks for cooking utensils. An old ladder can be used suspended from the ceiling and turned into an interesting light fixture or fitted with s-hooks so it can display pots and pans.
Reduce your environmental impact by selling your old kitchen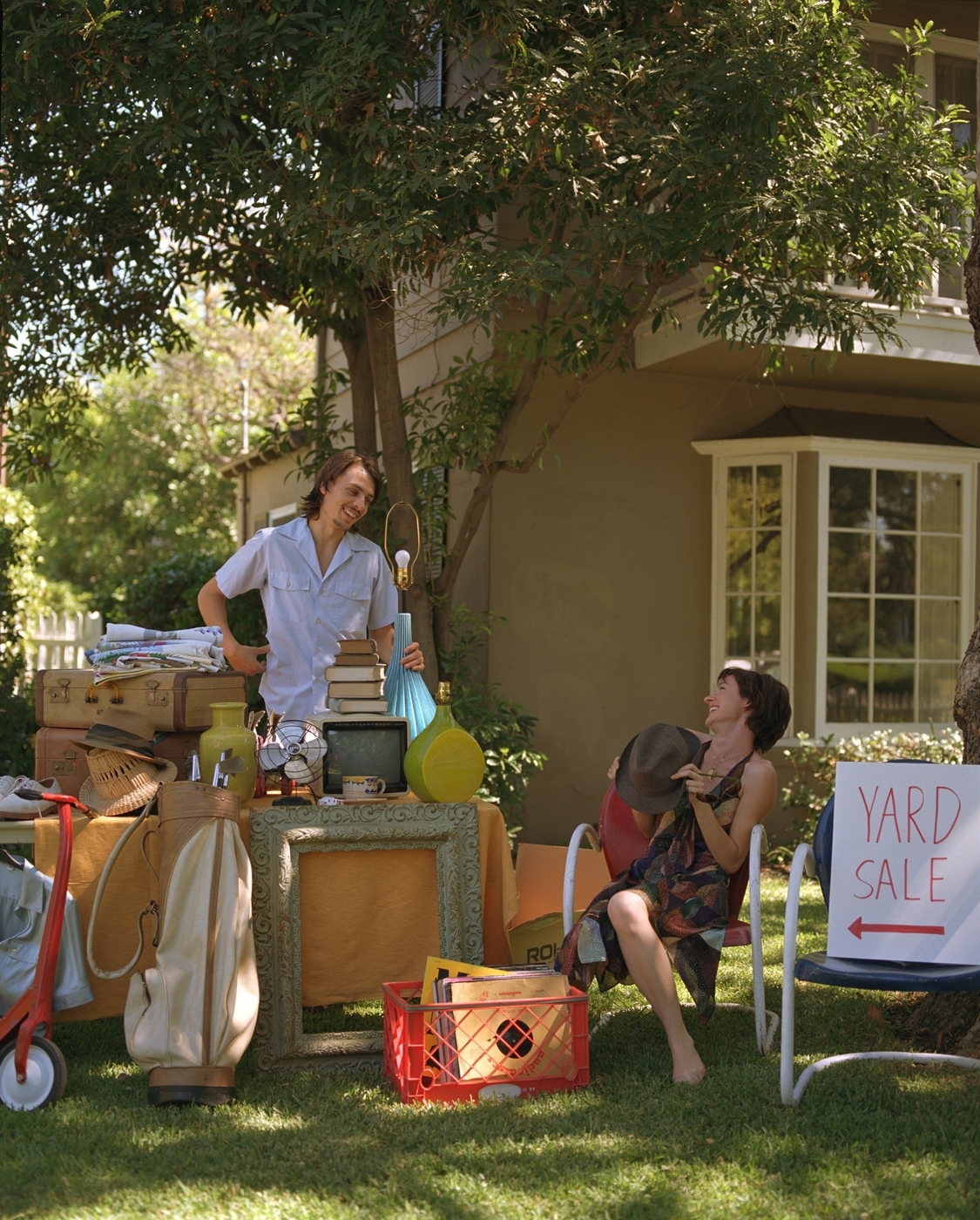 If your cabinets and countertops are still in good shape, consider selling or donating them instead of shipping them off to a landfill. Many organizations will pick up reusable materials and furniture. Older appliances can be donated to charity or a local food bank.