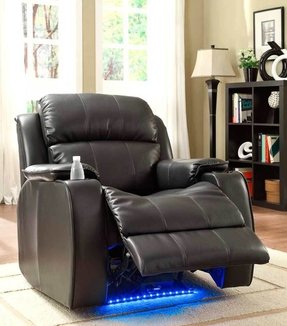 Add comfort, elegance and beauty to your living room with this power recliner with massage. It has got an elegant leather upholstery and comfortable seat. It is perfect for your everyday relax.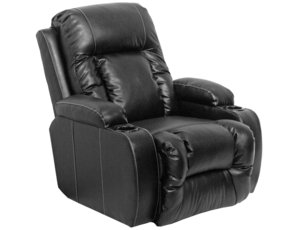 This comfy recliner features a solid hardwood frame, overstuffed padding, and top grain leather upholstery. Includes a generously padded back, soft armrests with 2 built in cup holders, and stylish tufting.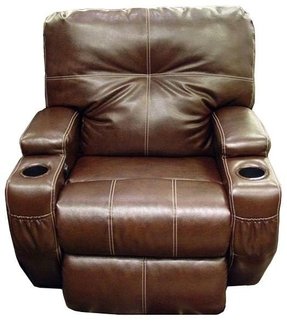 This power recliner with a cup holder constitutes a perfect proposition for one's living or entertainment room. Finished in high-quality, brown leather, it will serve its role for years.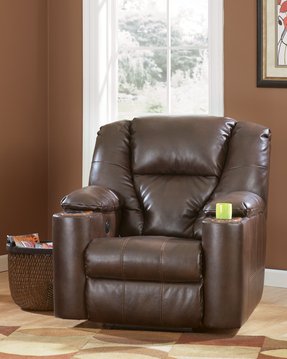 Very big seat and generous cushioning, not excluding the armrests which were equipped with big pillows, define the unparalleled comfort of this power recliner. The armrests have cupholders. The upholstery is brown leather.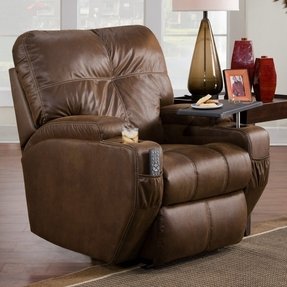 London Home Theater Recliner
This Comfortable Home Theater Recliner in Brown Finish is the piece to have for quality TV time. Made of sturdy wood frame and very generous padding covered with quality upholstery, the chair includes a smoothly operated reclining mechanism, a visible stitching, and convenient pockets for storing remote controls.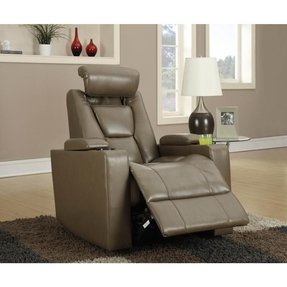 A large piece of blissful comfort, this powered theater recliner works as a charm, giving you a whole lot of splendid benefits. It has 2 built-in cup holders, a charging station with USB ports, a functional headrest, and leather upholstery.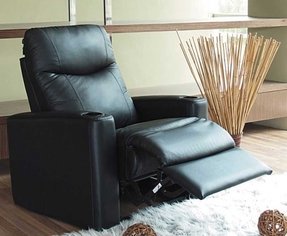 Relax your body in this large reclining chair with 2 cup holder mounted in each armrest. Wrapped in black leather and leather match, the recliner works very smoothly, and has an over padded back for maximum comfort.
Jason Leather Power Recliner with Massage - Brown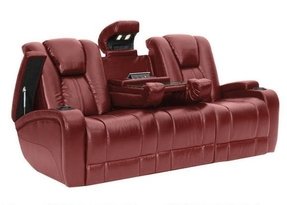 Futuristic Transformation. Our Matrix red sofa is upholstered in 100% Nu-Leather everywhere your body touches and polyurethane match everywhere else. Nu-Leather gives you the look and soft feel of genuine leather at the fraction of the price. The sofa re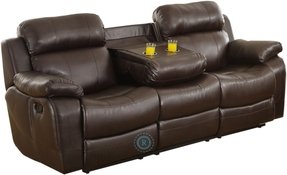 This delightful combination of two dark brown leather upholstered recliners in a sofa is a perfect solution for two people. Practical combining with drinks places makes relaxing together even more enjoyable.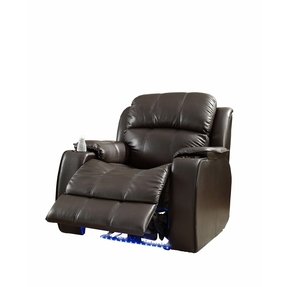 Garrett Power Recliner Brown Bonded Leather Chair
Suitable for modern interiors, this LED track lighting recliner is upholstered in brown bonded leather and beautifully tufted. It has an over-padded back, wide arms, 2 cooling cup holders, and massage capability.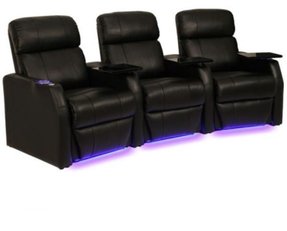 Learn the perfect way to enjoy the movies at home as if you were in a real theatre with those stunning leather recliners that sport the contemporary design and offer the unique, space-saving armrests, adding both space and practicality in your home.
Madden Power Theater Seat Usb Charging Station
Cozy and functional, this friendly recliner is going to show you a real good time. Upholstered in bonded leather, the chair features nice tufting, a power reclining system, 2 cup holders, a dual USB port, and a charging station for electronic devices.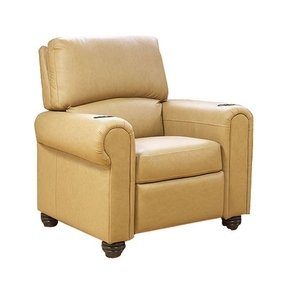 58000 Home Theater Recliner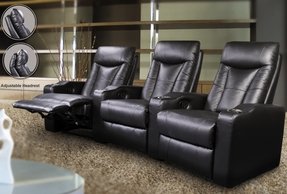 Black 3 Seated Theater with Chrome Cup Holders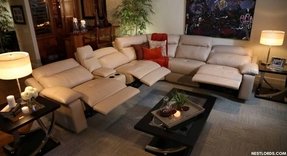 Create a warm and truly comfortable setting in your living room with some help from this huge and spacious set of leather recliners that offer the extra convenience of the cup holders and will just do a splendid job keeping you relaxed.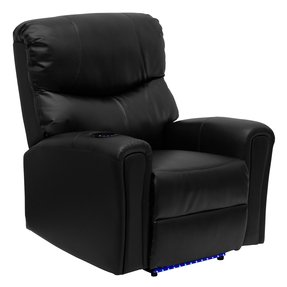 A splendid choice for game rooms, bachelor pads and home movie theaters. With such a comfy recliner, you are getting black leather upholstery, automatic massage functions, fully powered reclining mechanism, an over-padded back, and 1 built-in cup holder.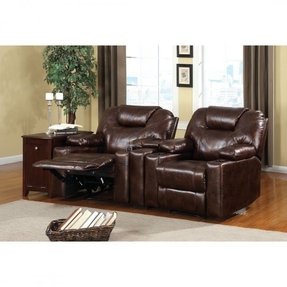 Enjoy your favourite television show in the comfort of this roomy recliner set. This set includes two recliners with a soft leather-like upholstery, a durable frame construction, cup holders and storage.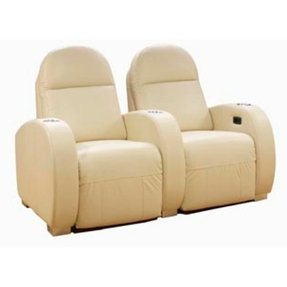 Impala Home Theater Seating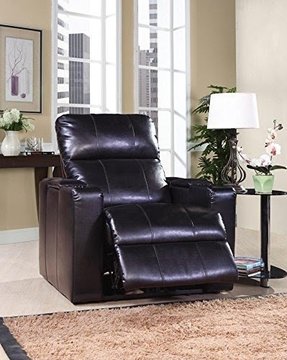 Robust construction, beautiful leather upholstery, stylish finishes and adjustable seat in this comfortable recliner make the perfect unit. The ideal solution for the living room or office that gives you a moment of relaxation.
Larson Power Recliner
Gorgeous recliner chair featuring sleek, contemporary design, solid and durable plywood frame, bonded leather upholstery, and amply padded seat, back, and armrests to provide ultimate comfort and support.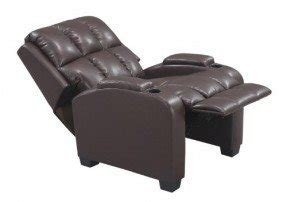 This is a very solid and comfortable recliner chair that features a thickly padded seat for a superior comfort. This construction also includes solid arms and a supportive backrest. The size of this chair is 33 x 37.8 x 41.4 inches.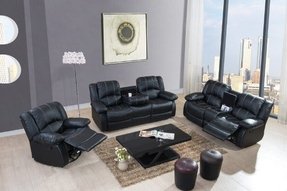 Contrast Leather couches with recliners and cup-holders, also available in brown
A.M.B. Furniture & Design :: Living room furniture :: Sofas and Sets :: Sectional Sofas :: 2 pc Carson two tone Chocolate and Stone bonded leather upholstered Sofa and Love seat with recliners and center console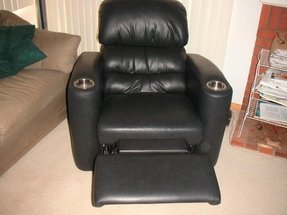 Home theater seat recliner with cup holders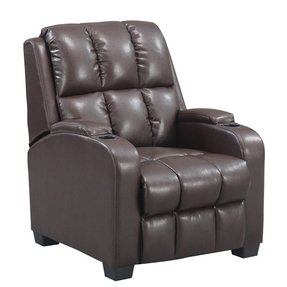 Luxurious, faux leather recliner. Everyone who values ecology, but at the same likes his interior to feel rich should get himself one of these. Comfortable and spacious, with added cup holes. All you have to focus on is your rest!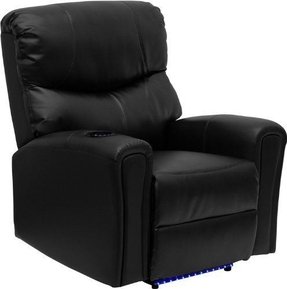 Deciding on this massaging recliner, you are getting not only a comfortable piece for your living room or game room. You will also have a forever cold drink, thanks to the refrigerated cup holder that's installed in one of the chair's arms.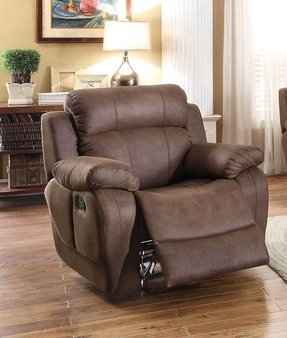 Marille Glider Recliner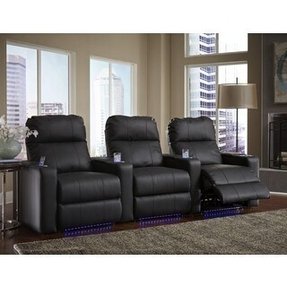 Bruce Peters seating blends style and comfort with the newest innovations in home theater seating. The Executive series is specifically manufactured with comfort as a first priority. The Executive has ambient blue LED Lighted Cup holders and base rails.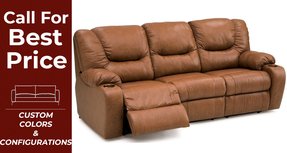 Dual reclining leather sofa shown in a chestnut brown with cup holders on each end.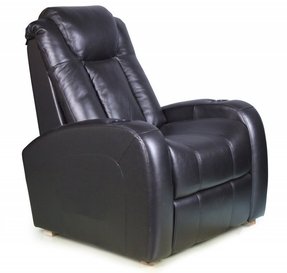 Recliner With Cup Holder-Recliner With Cup Holder Manufacturers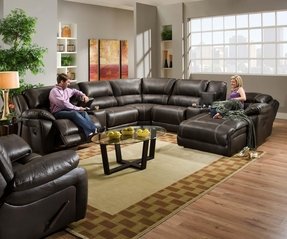 It is a sectional sofa recliner that is a fantastic addition to your living room. It has got a brown leather upholstery, cup holders, very comfortable seats and elegant design. You need to have it.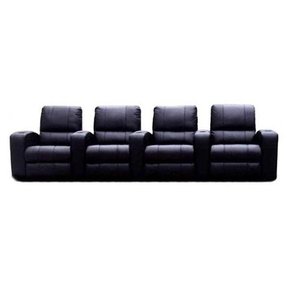 Black Leather 3 Seat Recliner Home Theater Seating
Classic recliner fitted with cup holder. It is upholstered with high quality leather. Carefully profiled back is finished with solid seams. Received a lot of top ratings from satisfied customers.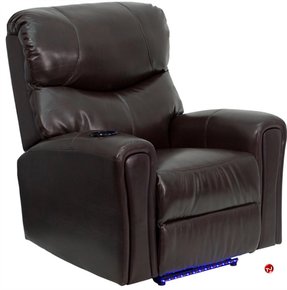 Flash Furniture BT-7865-AUTO-BN-GG Fully Powered, Automatic Massaging Brown Leather Recliner with Refrigerated Cup Holder and Lighted Base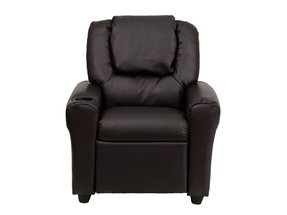 Flash DG-ULT-KID-BRN-GG - Contemporary Brown Leather Kids Recliner with Cup Holder & Headrest | Sale Price: $109.90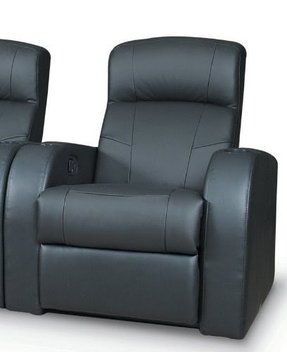 Upholstered in a black leather and equipped with smoothly-working reclining mechanism, this chair is ready for action. You can put the chair in your game room or movie theater, and your drink in its cup holder.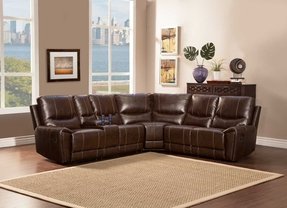 Infinitely comfortable, the Gerald Brown Reclining Sectional offers the substantial seating space that you need in your home. With a rich brown bonded leather match cover, three reclining seats, cup holders and hidden storage.
sectional with inter-spring mattress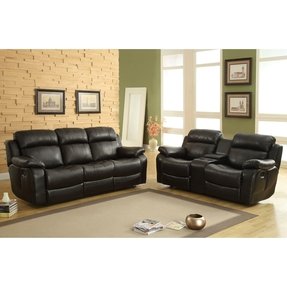 With either the extended stretch of the reclining sofa or soothing rock of the reclining chair, your comfort is taken care of in this Eland Collection sofa set. This attractive set is covered with black bonded leather.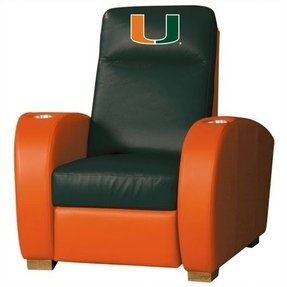 Olympia Sports Team Home Theater Seating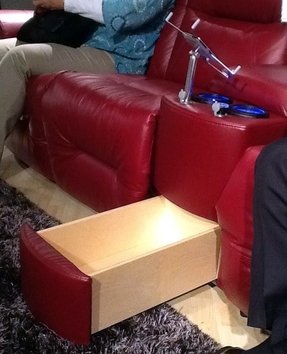 A power-reclining leather love seat, with lighted cup-holders, an iPad stand, AND a storage drawer in the console. Can you say "Man Cave?"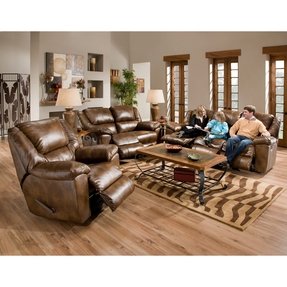 Our Trifecta Reclining Sofa has plush pub back styling, deep seat cushions, a fold down table with 2 cup holders and pillow top arms. Take advantage of the 3 seats that recline so everyone stays comfortable.