You think outside the box. Perhaps you have a global-inspired approach to life and decor. And let's be honest: the most obvious choices are never your favorite.
Then, if you're looking to introduce some more seating into your home, look no further (or… lower) than hanging chairs!
Dynamic and creative, they're guaranteed to give your room a quirky vibe without taking away from the most important thing: comfort.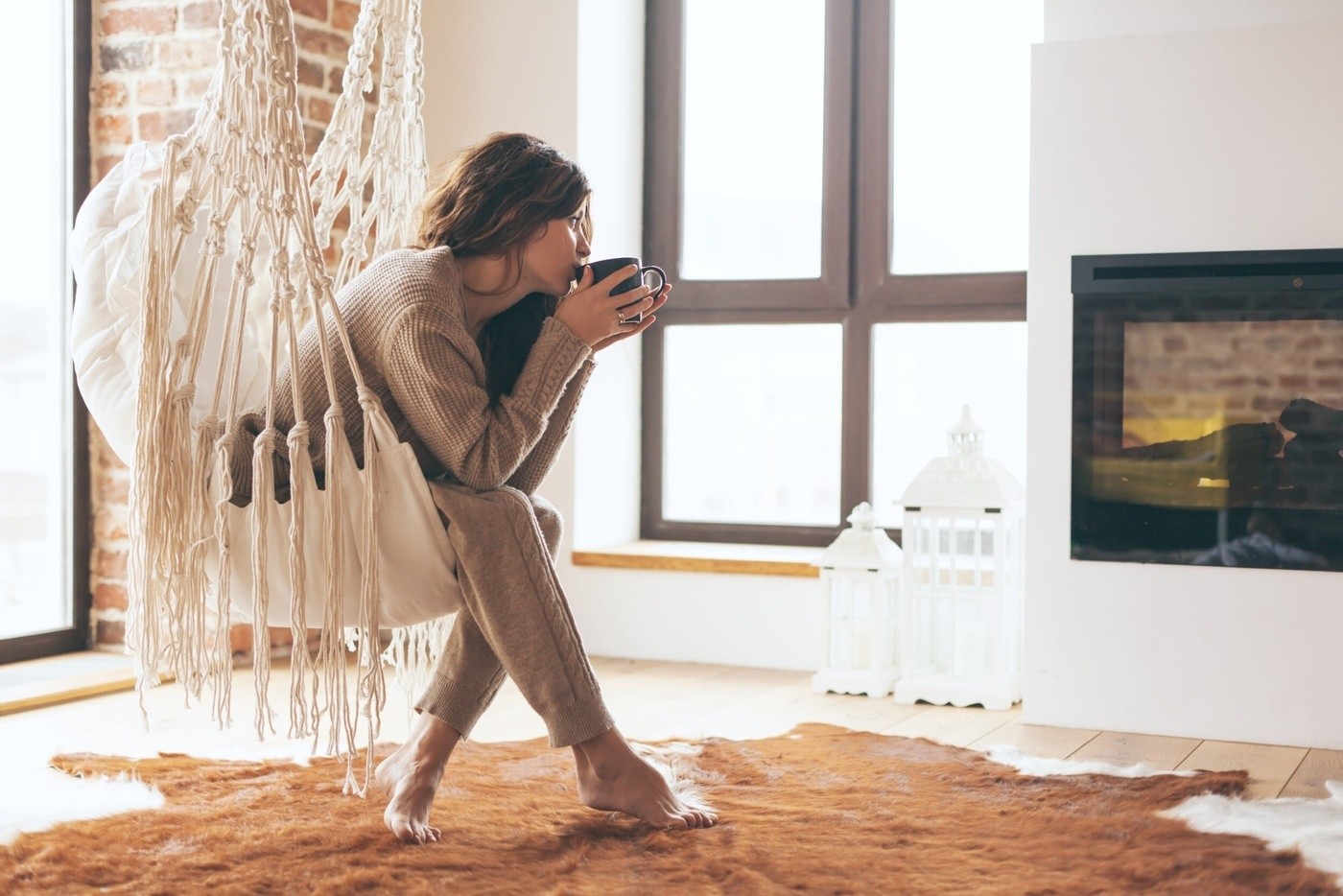 There are several types of hanging chairs you can choose from, but the main options are:
Indoor or outdoor chairs: while the former is more versatile, the latter can be a beautiful addition to your patio or garden; however, unless it's properly sheltered, you should make sure it's made of weather-resistant materials

Suspended or with stand: suspended chairs can be attached to the ceiling or, if outdoors, to a tree branch. As long as you have a strong beam or you're happy to drill a hook into your ceiling, you're good to go. However, if it wouldn't work with yours, you can always opt for a hanging chair with stand. Unlike the former, it doesn't allow you to rotate 360 degrees, but it's a much more flexible and versatile option since you'll be able to move it around whenever and wherever you want.
Now let's look at a few ideas to decorate different rooms with the right hanging chair for your vision.
1.

Make it bohemian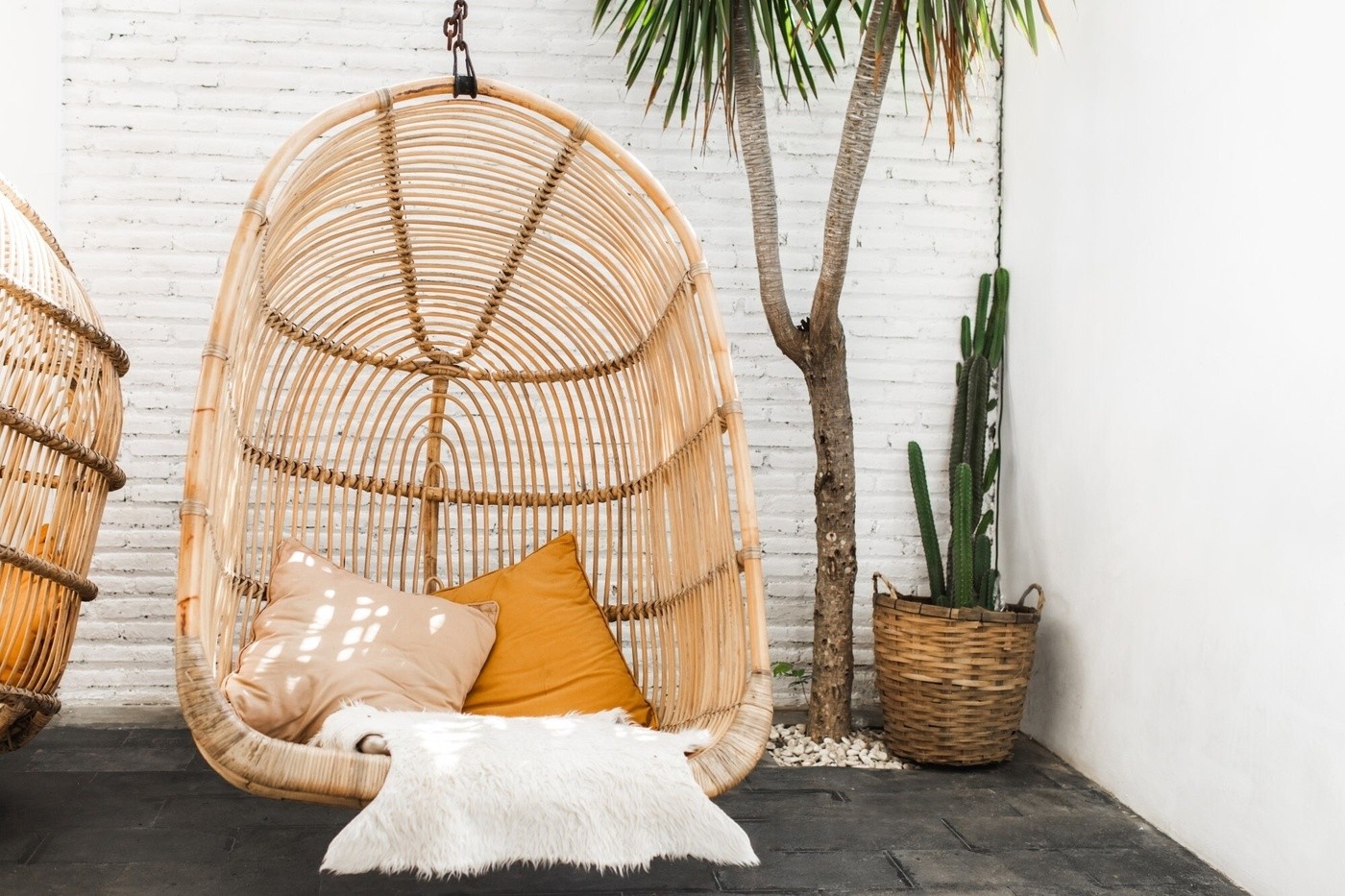 Eclectic, casual, and original, hanging chairs are a natural match for bohemian decors, so why not go overboard?
The trick is to start by choosing a chair made of natural or natural-inspired materials like wood, cotton, rattan, or wicker. Then, complement it with accessories in a variety of textures and with ethnic or global-inspired patterns, just like these pillows.
2.

Find the most decorative macrame design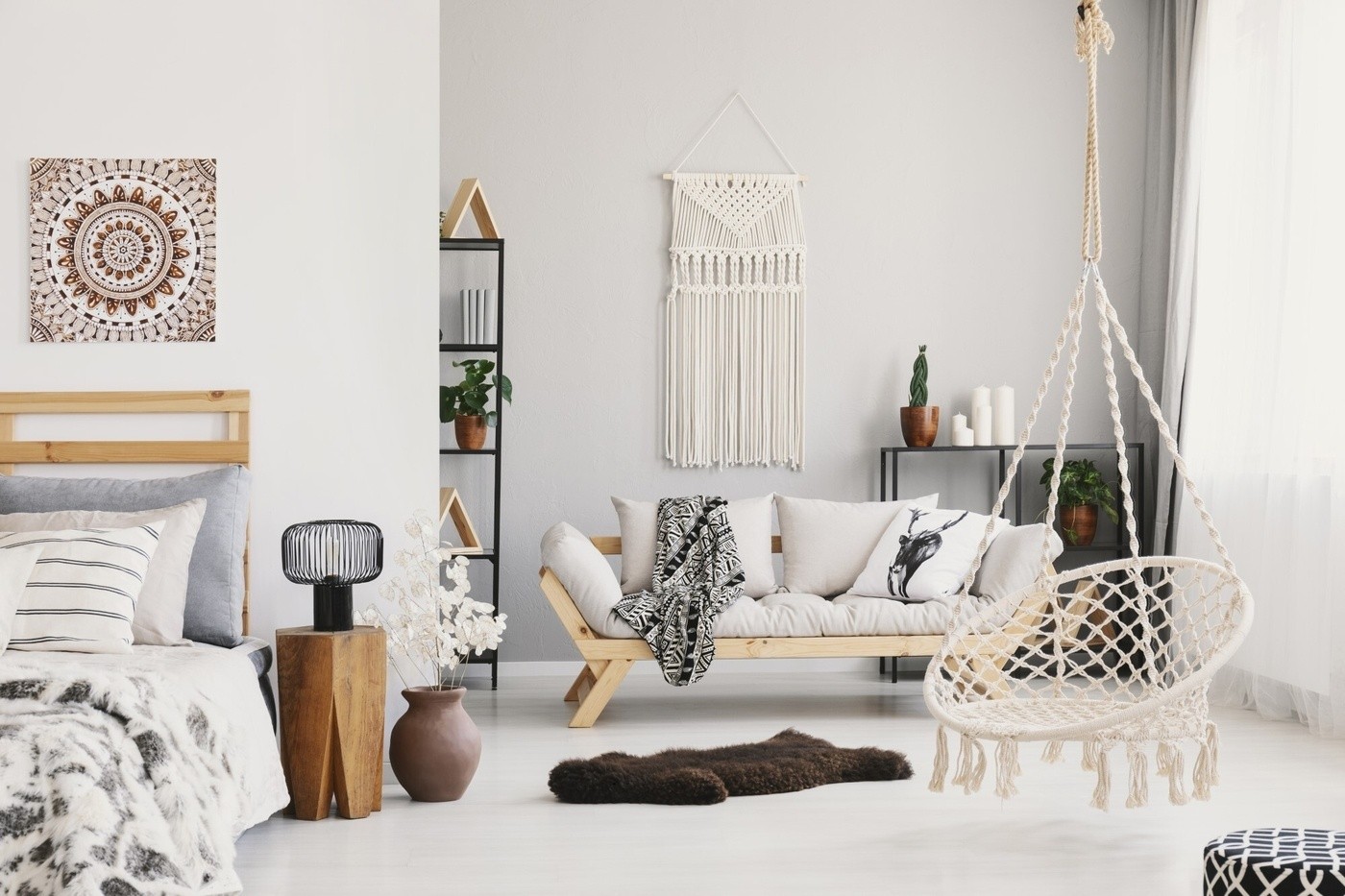 One of the most beloved and trendiest options in the swinging world of hanging chairs is the macrame design.
Traditionally white but now available in many more colors, these lightweight chairs are made of beautiful cotton strands in intricate patterns, perfect to reinforce your bohemian inspiration or to complement more feminine interiors like shabby chic rooms.
3.

Add the right throws and pillows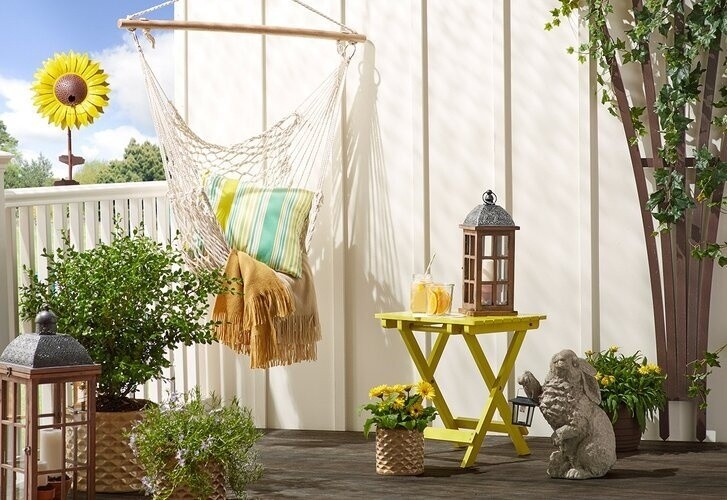 If you want to maintain a consistent palette and decor, don't forget that your accessories matter just as much as the actual hanging chair.
They're your chance to help it stand out (for example, by choosing a brighter accent hue for pillows placed on a chair in a neutral color) without straying away from the core elements of your palette.
See how this throw pillow matches the summery hue of the table?
4.

Light them up with some magical fairy lights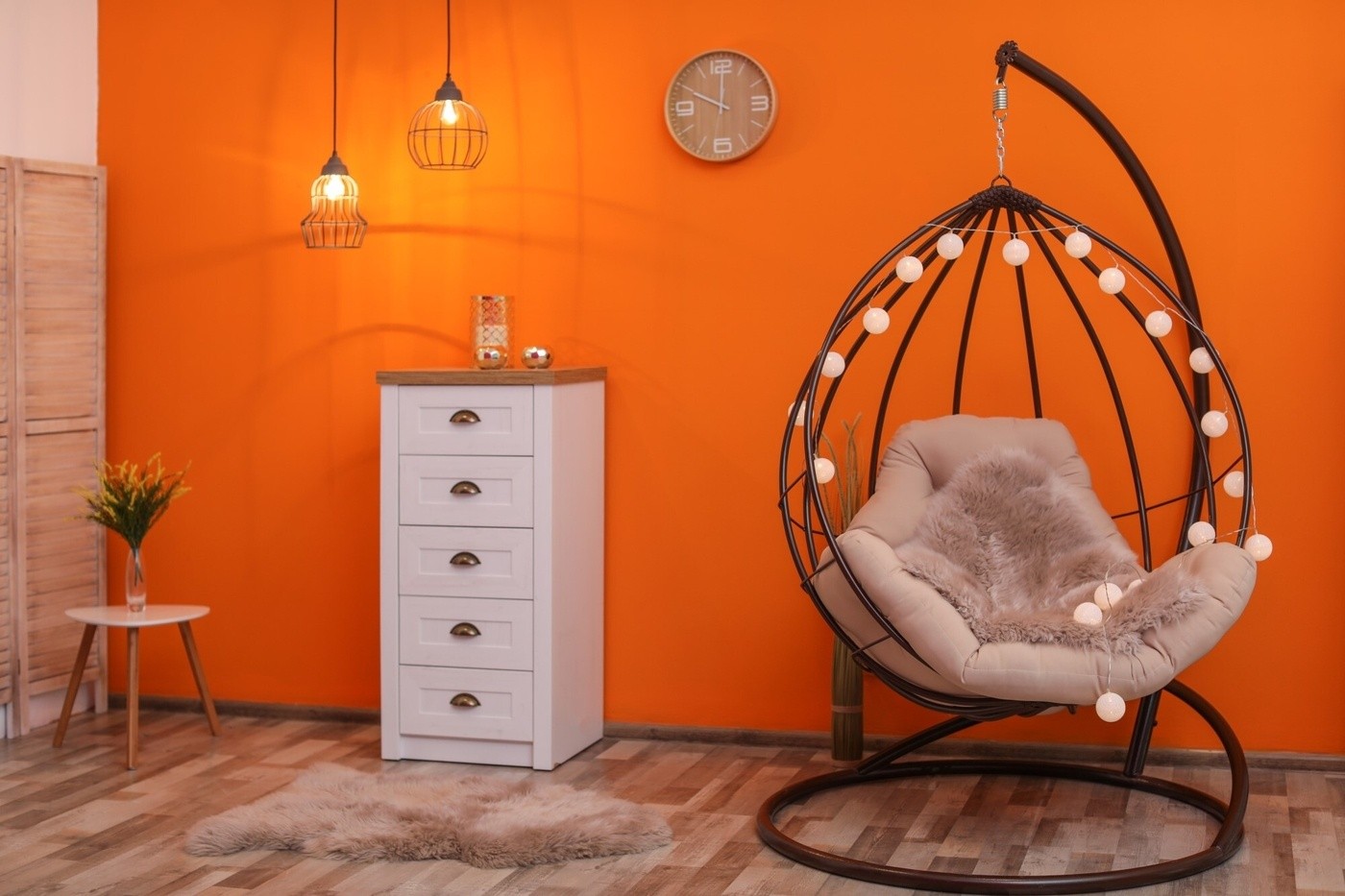 If there's one thing that's more whimsical and bohemian than hanging chairs, it's probably fairy lights. A hanging chair with fairy lights? That's the recipe for the most eclectic and magical seating area!
Not only will it look super instagrammable (get ready to take pictures of your guests sitting on it, 'cause everyone will ask for one): it will also allow you to switch off your main overhead light and create a special, more intimate ambiance.
5.

Incorporate it with your main seating area…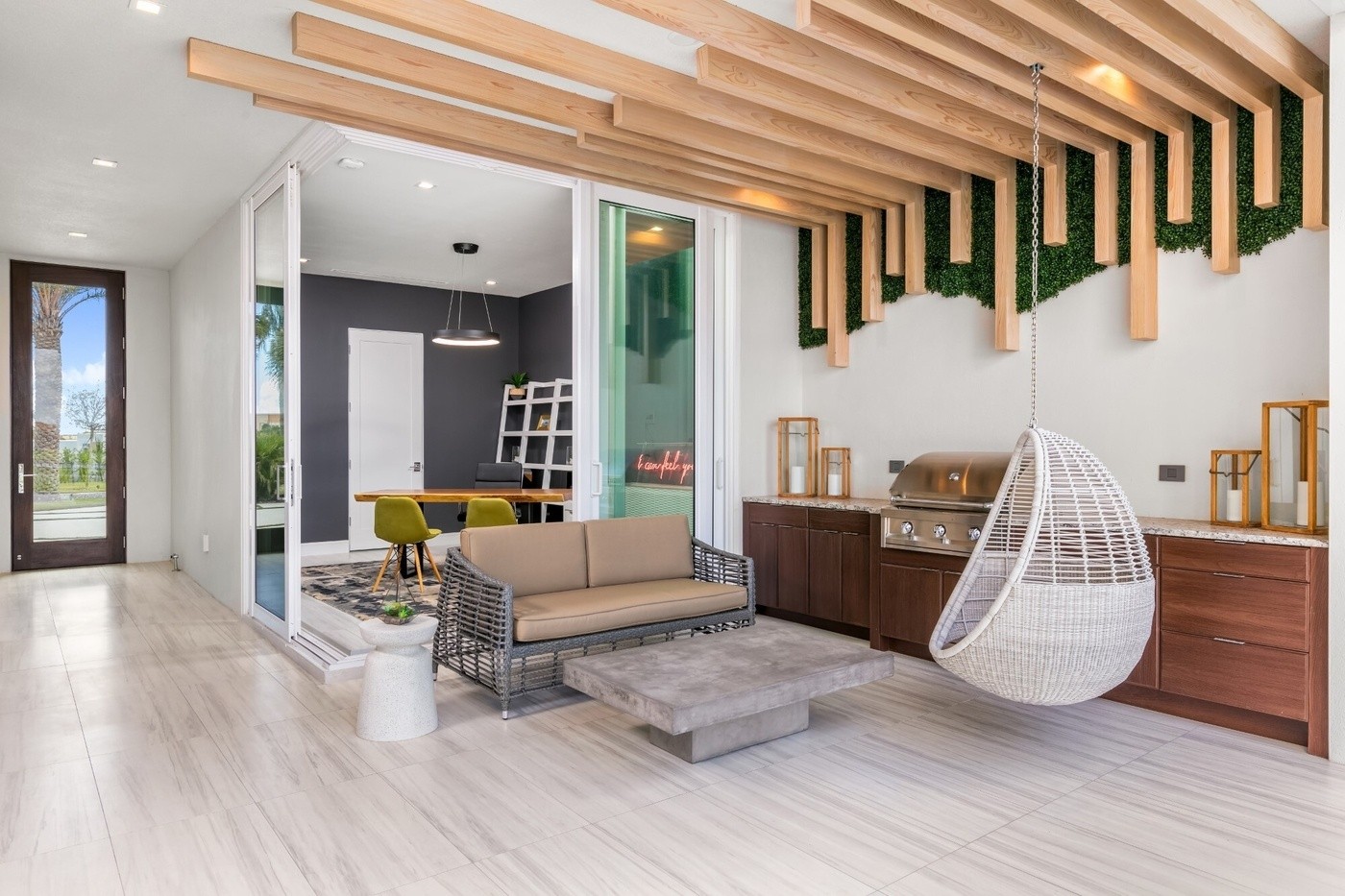 Is something missing next to your sofa? A hanging chair is the perfect addition to your existing seating area.
It will create an extremely special spot without the heaviness or more traditional chairs, which is especially a godsend if you have a fairly small room.
By maintaining more of your visual flow, a hanging chair will also help you achieve an airier feel.
6.

… or create a separate one!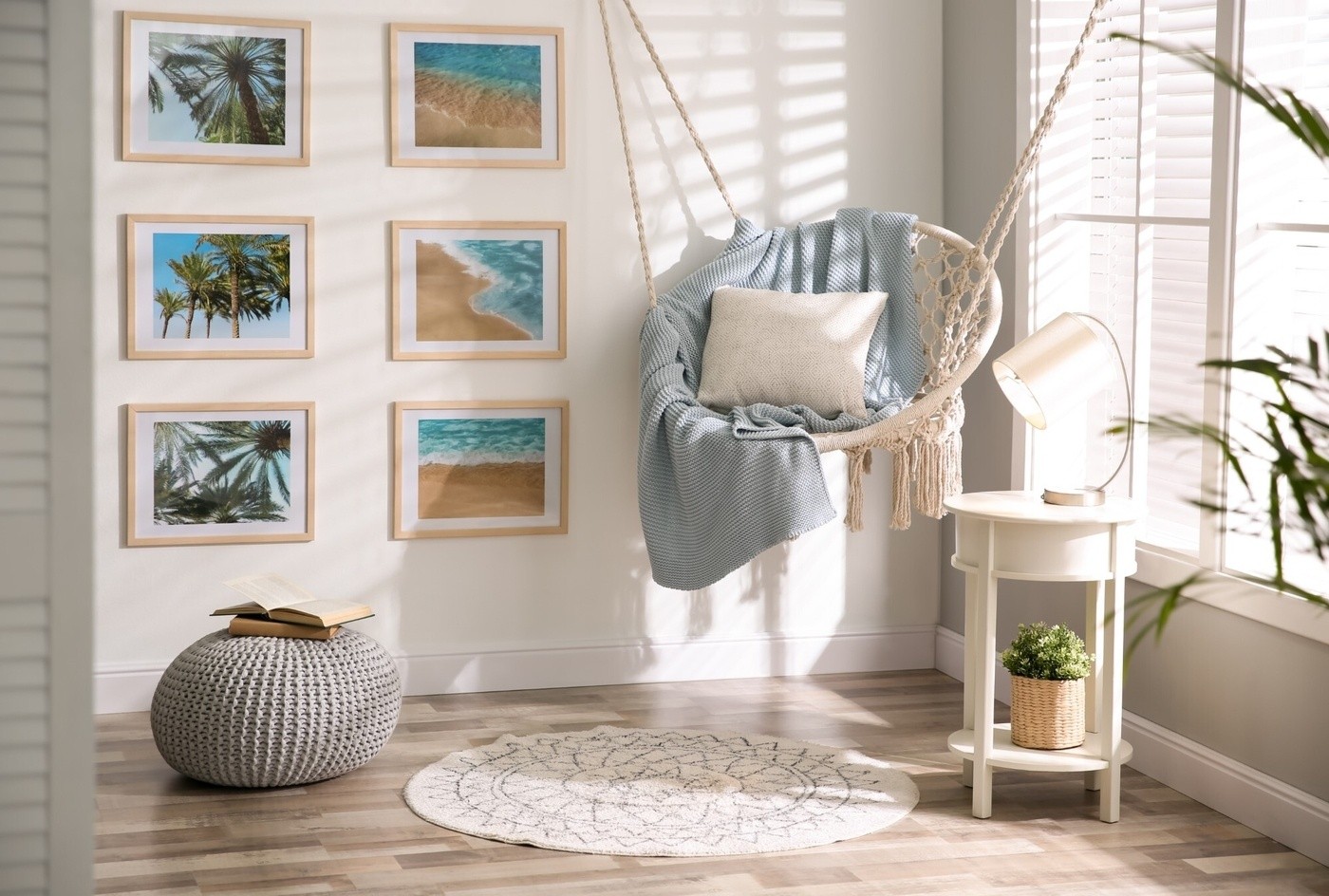 If your main seating area is already big enough, your idea of getting a hanging chair could be an excuse to create a separate nook for whenever you or someone in your house wants to relax.
Whether that's to read a book or work on your laptop, keeping your hanging chair in a corner will allow you to enter the zone without necessarily leaving the room.
7.

Think beyond your living room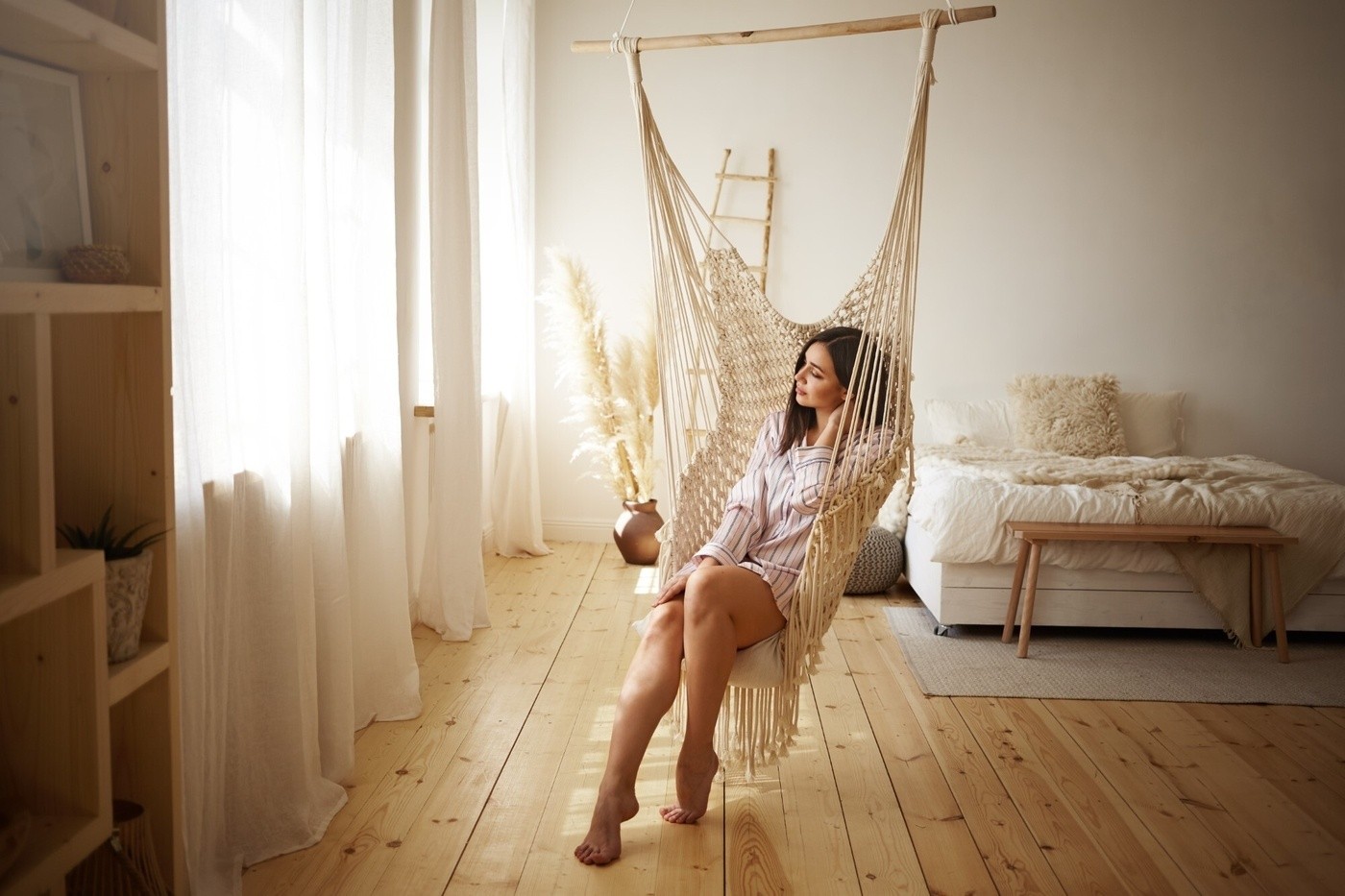 Your first impulse was probably to make some space for your new hanging chair in your living room, but don't forget that these versatile models can work in other settings, too.
For example, you could place it in your home office or studio to switch off during your breaks or in a cozy corner in your bedroom.
8.

Complement your patio decor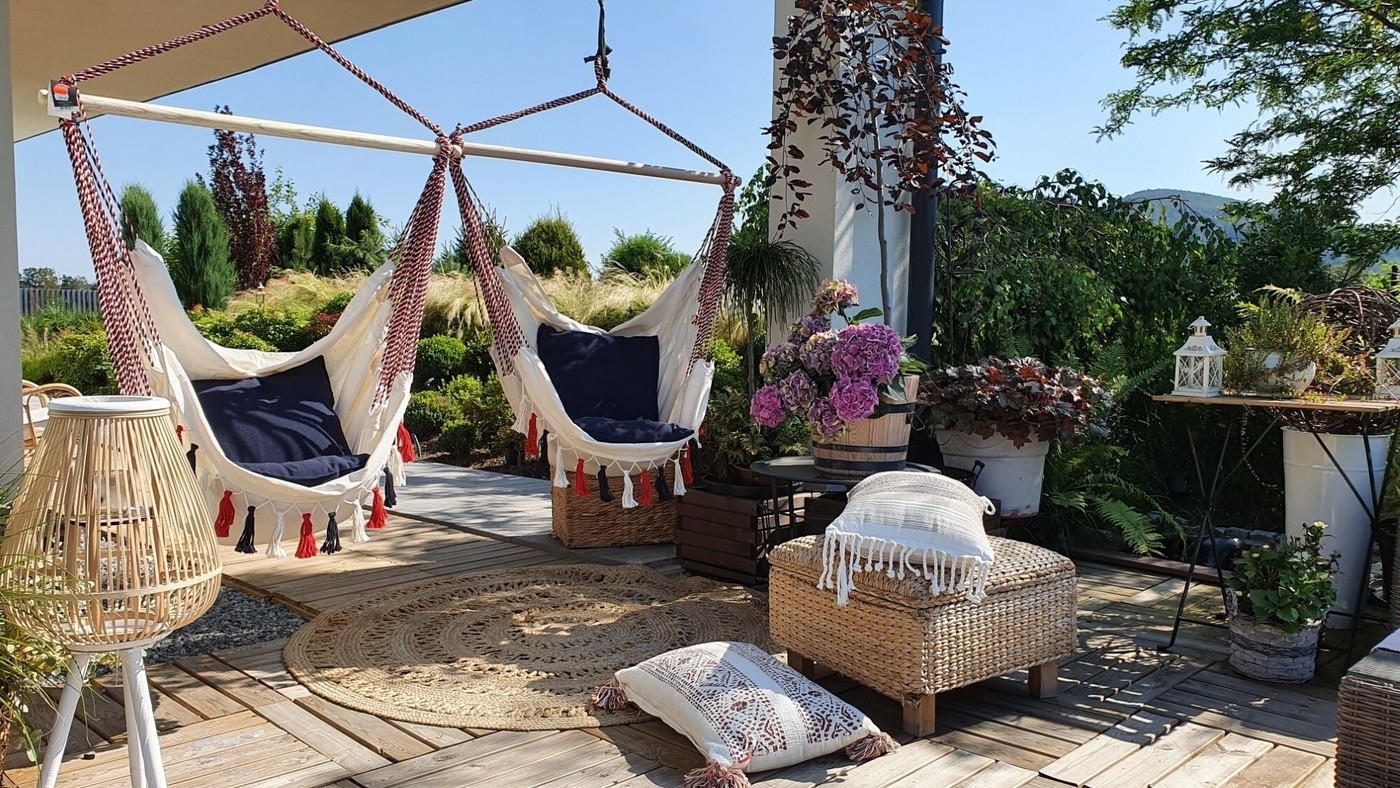 As we mentioned earlier, hanging chairs aren't just for your indoor settings, so why not add one to your patio?
Next to more traditional pieces of furniture, it's guaranteed to add a casual feel that will make your guests feel even more comfortable.
Or, if you have a small patio, you can always stick to two hanging chairs next to each other instead.
9.

Or how about hanging it in the middle of the garden?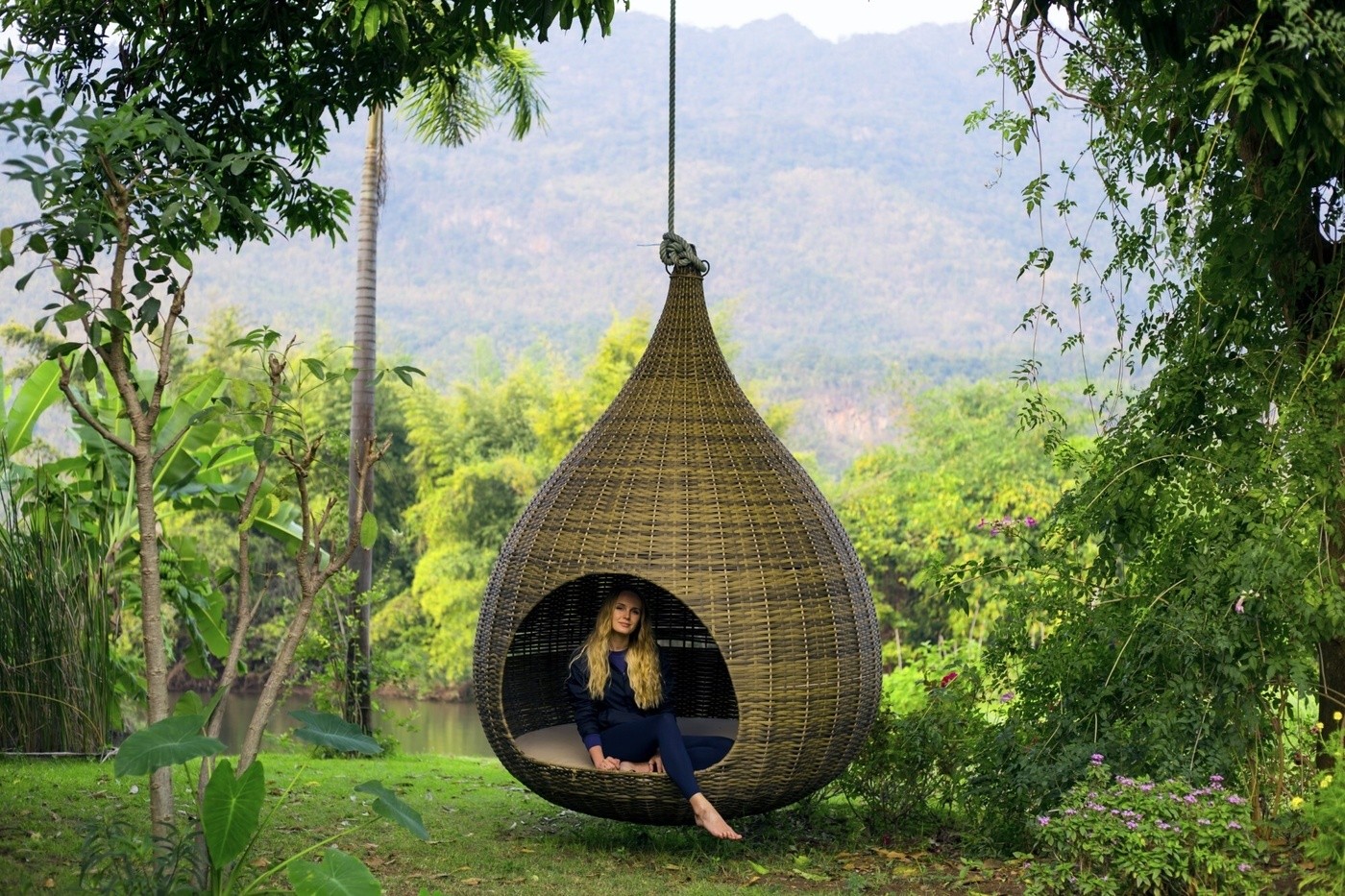 Have you got a strong, reliable tree? Then your new hanging chair could be your safe ticket to disappearing in the garden whenever you crave some quiet time.
Relax, listen to music, read a book… whatever you wish to do, you'll always be able to immerse yourself in the green thanks to a tactically placed hanging chair.
10.

Make it the coziest spot in the house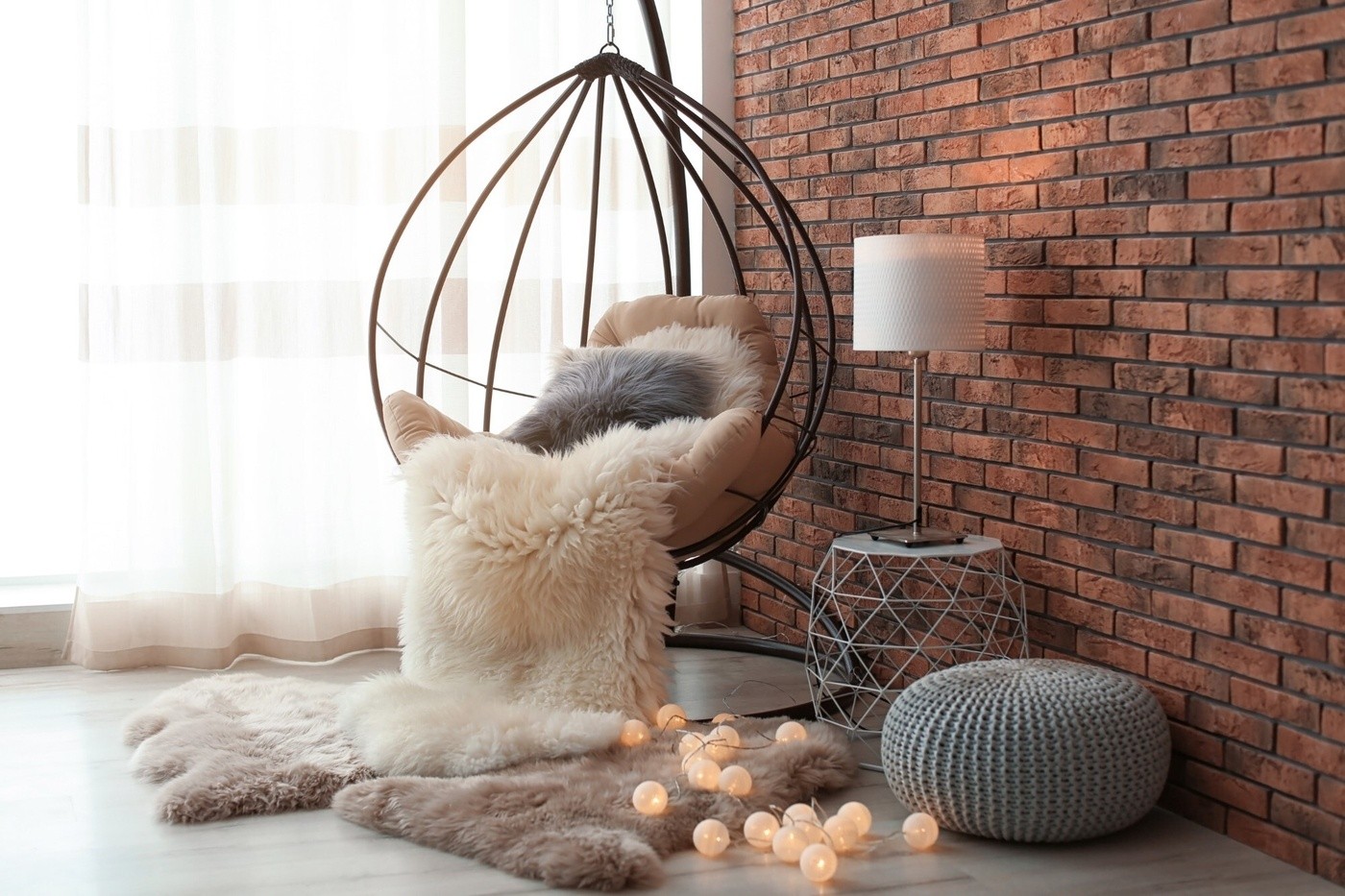 Of course, hanging chairs are usually designed to be comfortable (duh), but you can take this cozy feeling to the next level by adding the right accessories.
As well as a few pillows, soft throws and woolen blankets are a must, especially during the coldest months.
Turning your hanging chair into a warm and inviting nook will encourage you to really make the most of it all year round.
11.

Don't forget to match another finish or style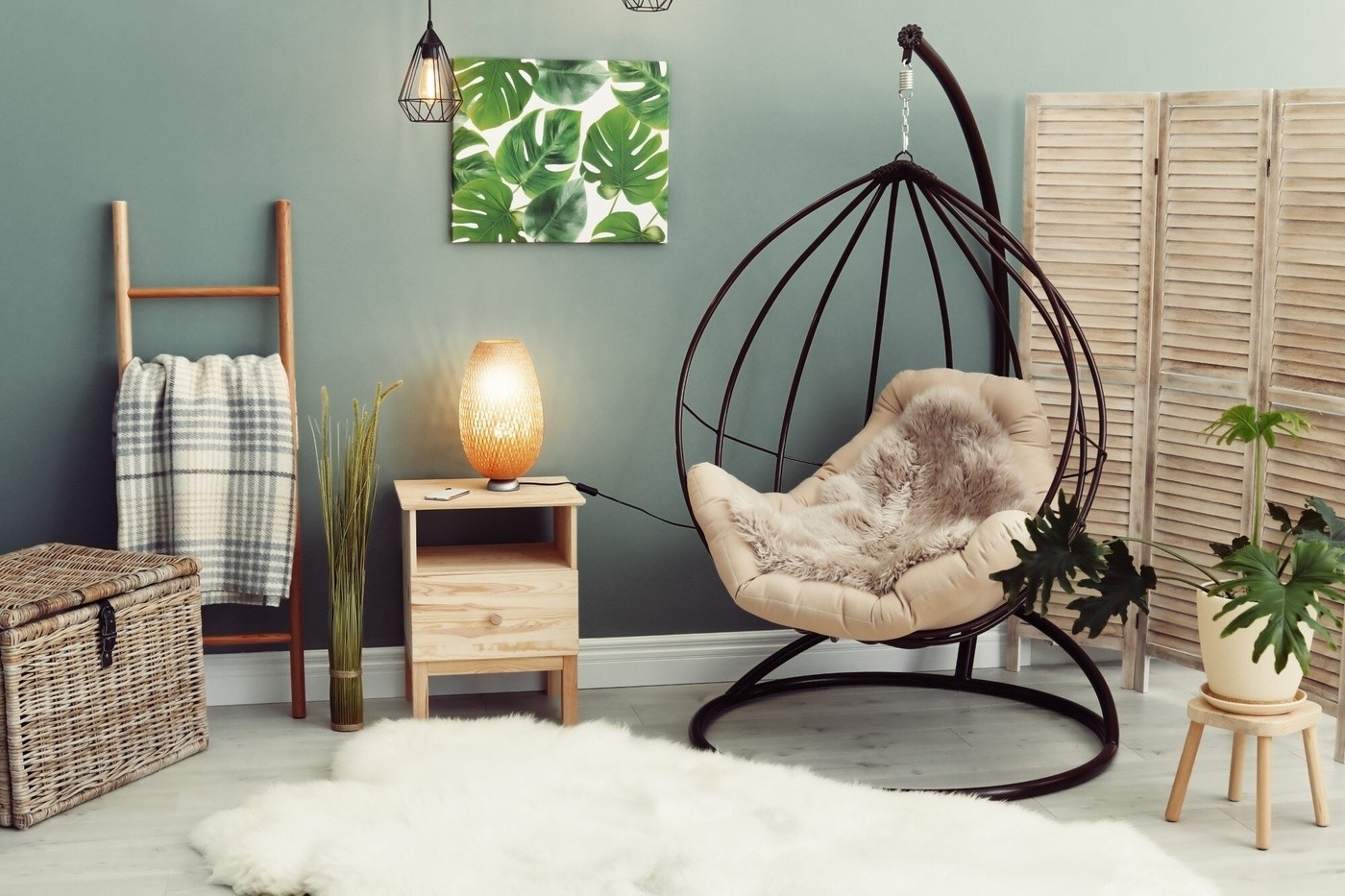 If you're striving for a cohesive feel, don't run the risk of purchasing the first hanging chair you fall in love with without first considering the rest of your room.
It doesn't have to look just like your other pieces of furniture (on the contrary, the point of hanging chairs is to introduce an element that stands out), but maintaining a color, finish, or style consistent can really work wonders.
For example, if your sofa has a tufted back, why not look for a hanging chair in the same style?
12.

Turn it into a reading nook with the right features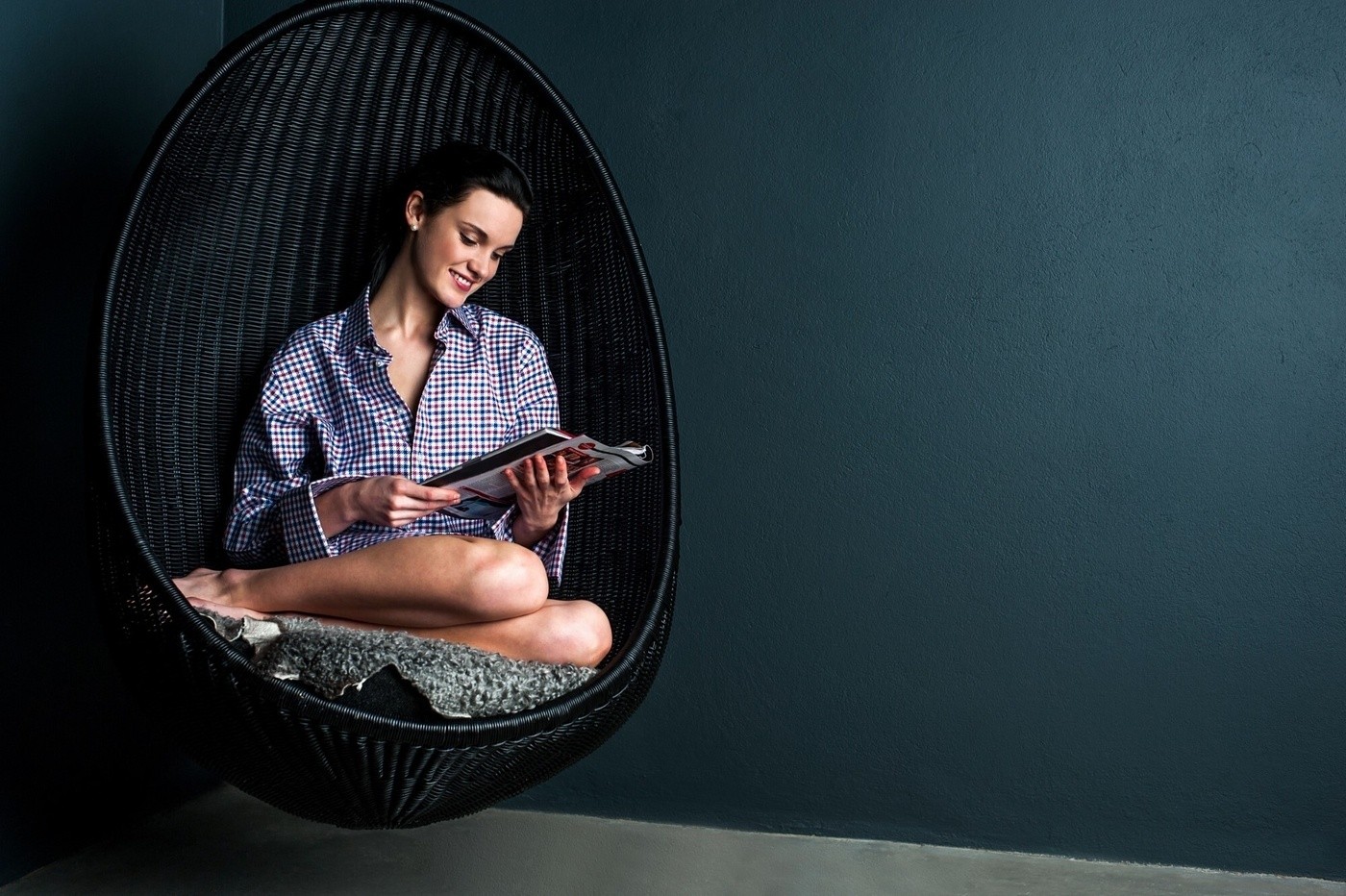 One of the most popular ways to use a hanging chair is to enjoy some reading time in peace.
If that's exactly what you were planning on doing, scout for a hanging chair that will cater to all your bookworm needs.
13.

Sharing is caring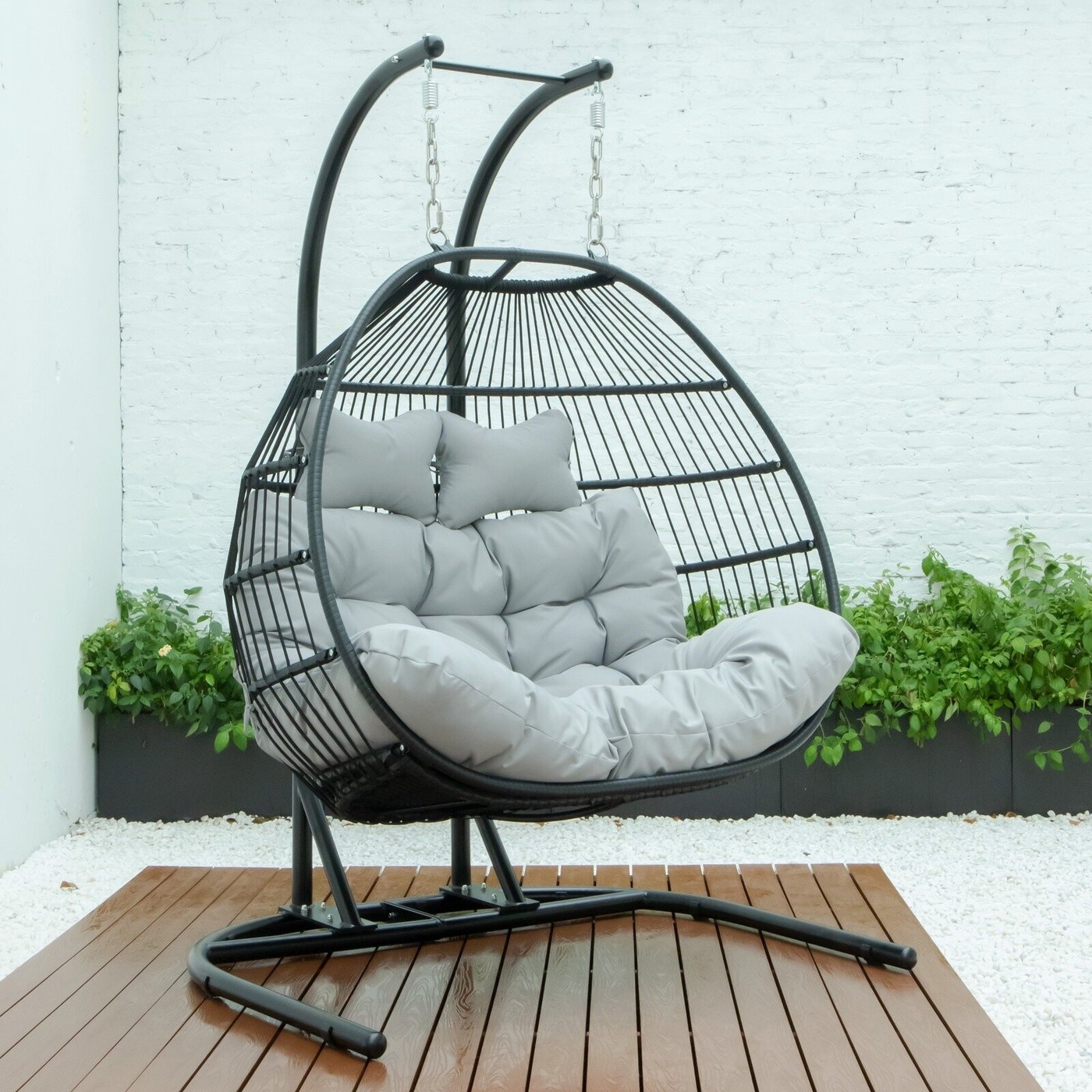 To emphasize both the relaxing and socializing side of things, look for a hanging chair for two.
Especially perfect for couples but handy for friendly catchups too, it will allow you to introduce two seats for the real estate of one piece of furniture: a practical, casual, and space-saving choice in smaller rooms or patios!
14.

Relax on a hammock style hanging chair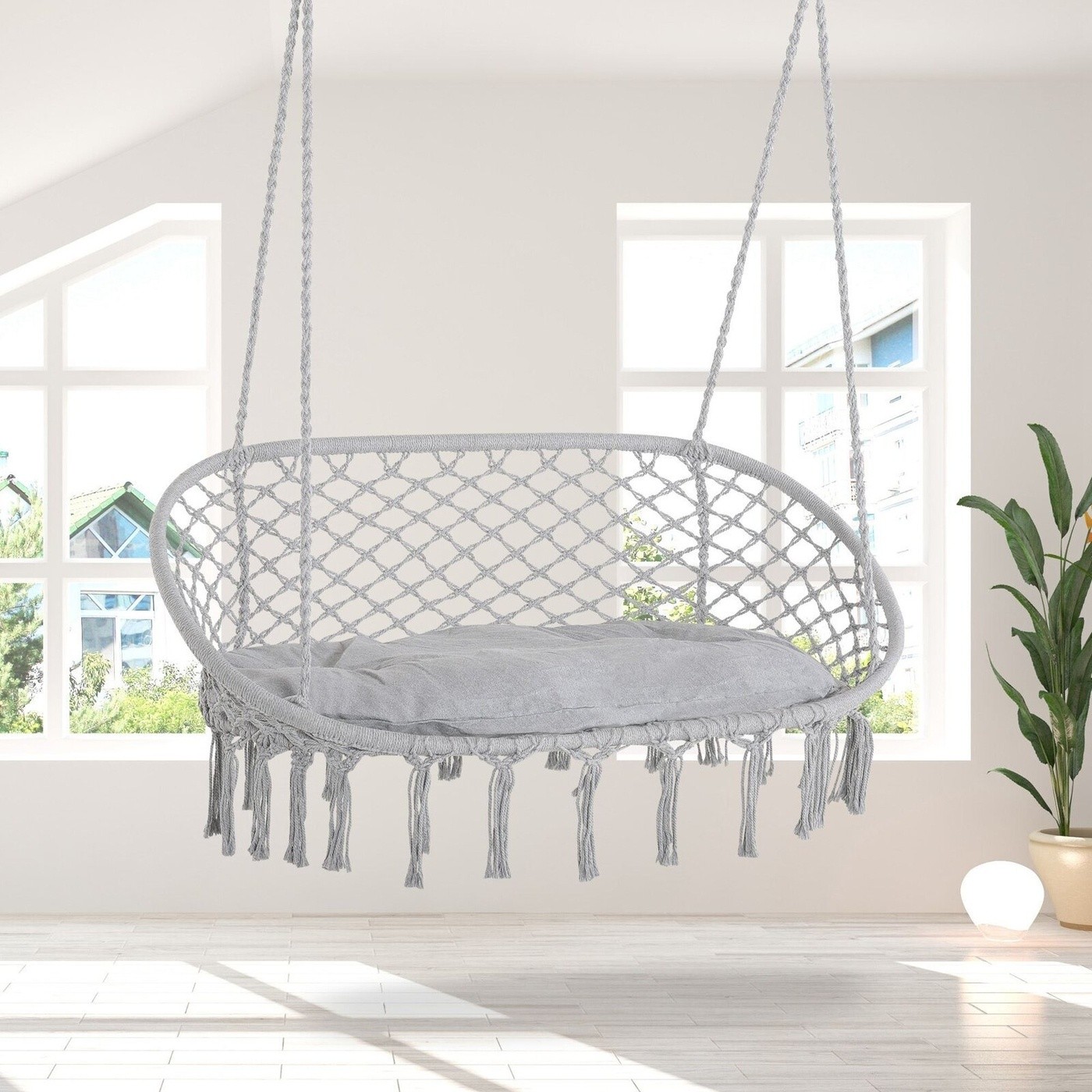 Wanna add a dash of carefree vacation vibes into your home or patio? Another original take on the most traditional hanging chair design is to draw inspiration from hammocks.
This will result in a relaxed feel and a more versatile option that allows you to sit next to someone else or lie down whenever you wish.
15.

Maintain your room's visual flow with a see-through design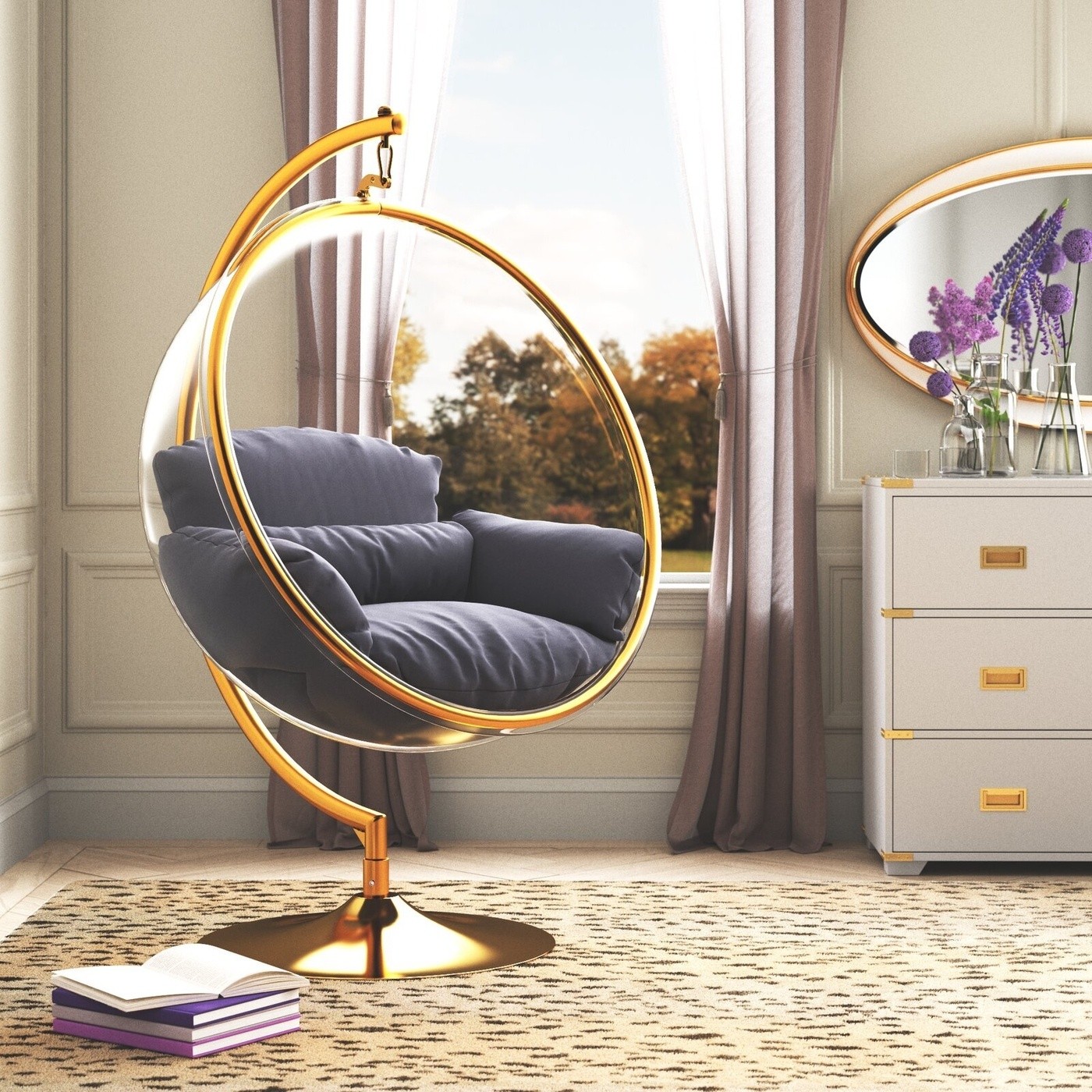 This funky design looks like something out of a stylish 70s catalog, but it can easily work in more contemporary settings, too.
The best thing about it? Hanging chairs with a stand and a clear design will inspire an airier feel, making even the smallest settings appear slightly larger.