While traditionally used by gun owners who want to create ammunition, reloading benches are handy for many crafts. You can use them for fly fishing or earring beadery, woodworking, or crafting. Factors to consider when buying a reloading bench vary depending on what you'll be using it for. You might also want to think about what accessories will enhance your workspace and ergonomic seating.
Browse Foter.com for inspiration for reloading benches and a style that fits your workspace. Here are seven things to consider when you're shopping for a reloading bench. Whether you're a professional, a DIY enthusiast, or just looking for a space to enjoy your part-time hobby, there's a perfect reloading bench to meet your needs.
Storage
Whether it's for a gun room or a craft space, make sure you have enough storage in your reloading bench to meet your current needs while anticipating expansion in the future. Always budget for more storage space than you currently need.
The type of storage you find most convenient depends on your taste and needs. Consider whether you have items that are best stored on shelves, plastic bins, or drawers. Clear storage allows for better visibility and quick access, while wooden or metal drawers can be locked and are typically more durable.
Look for a bench with multiple storage types, so you aren't limited to one organization method. When you're working with small parts, having shallow bins can be the safest way to store them, while your tools used to carry out the work might be more accessible on a shelf, in a drawer, or hung on a pegboard.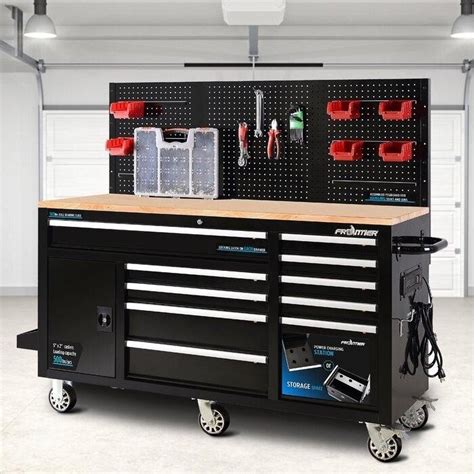 Bench Size
When selecting a reloading bench, it's important to pay attention to the top of the bench's surface area. This is the stage for your craft, be it custom ammunition or woodworking. You need to choose a bench that fits the space you have available in your home or garage and gives you sufficient room to carry out your work.
Most DIY enthusiasts recommend the tabletop measures between 28"-36" deep and 48"-96" wide to accommodate ammunition presses, clamps, and other mounted tools, while still providing ample space to work.
Table Heigh
The height of the reloading bench's work surface is a decision you'll make based on several factors. The height of the seat you wish to work at (or maybe you prefer to stand) is most influential. The room's ceiling height also determines how high the workbench can be, including its storage shelving.
Before you shop, figure out if you want to sit or stand while working. If you prefer to stand, take note of your waist height and look for a reloading bench work surface at this level, so you're not straining or stooping while you work. If you're going to sit, determine whether you'll use a chair or stool and what height you are comfortable while working.
Weight
Your reloading bench must support whatever materials you're going to store, as well as tools and equipment. This means it needs to bear a great deal of weight without sagging or buckling.
If your reloading bench is freestanding and not bolted to the wall, make sure it is robustly built to avoid moving while you work. It is also crucial that the tabletop is braced or supported with brackets to reduce the likelihood of flexing.
Material
The decision on which material you want your bench to be is primarily based on what you're going to use it for. You might choose a hard or softwood, or maybe steel. They all have their benefits, with steel being extraordinarily sturdy and providing peace of mind that it won't splinter or crack.
For wood benches, at minimum, the top of areloading bench should be ¾" plywood to avoid flexing when a load is placed on top. The type of wood you choose when purchasing a workbench can determine its longevity. Pine is an inexpensive and dependable option that will stand the test of time just as well as a hardwood like hickory. However, a softwood can absorb impact better, so you experience less hand fatigue than with a hardwood bench.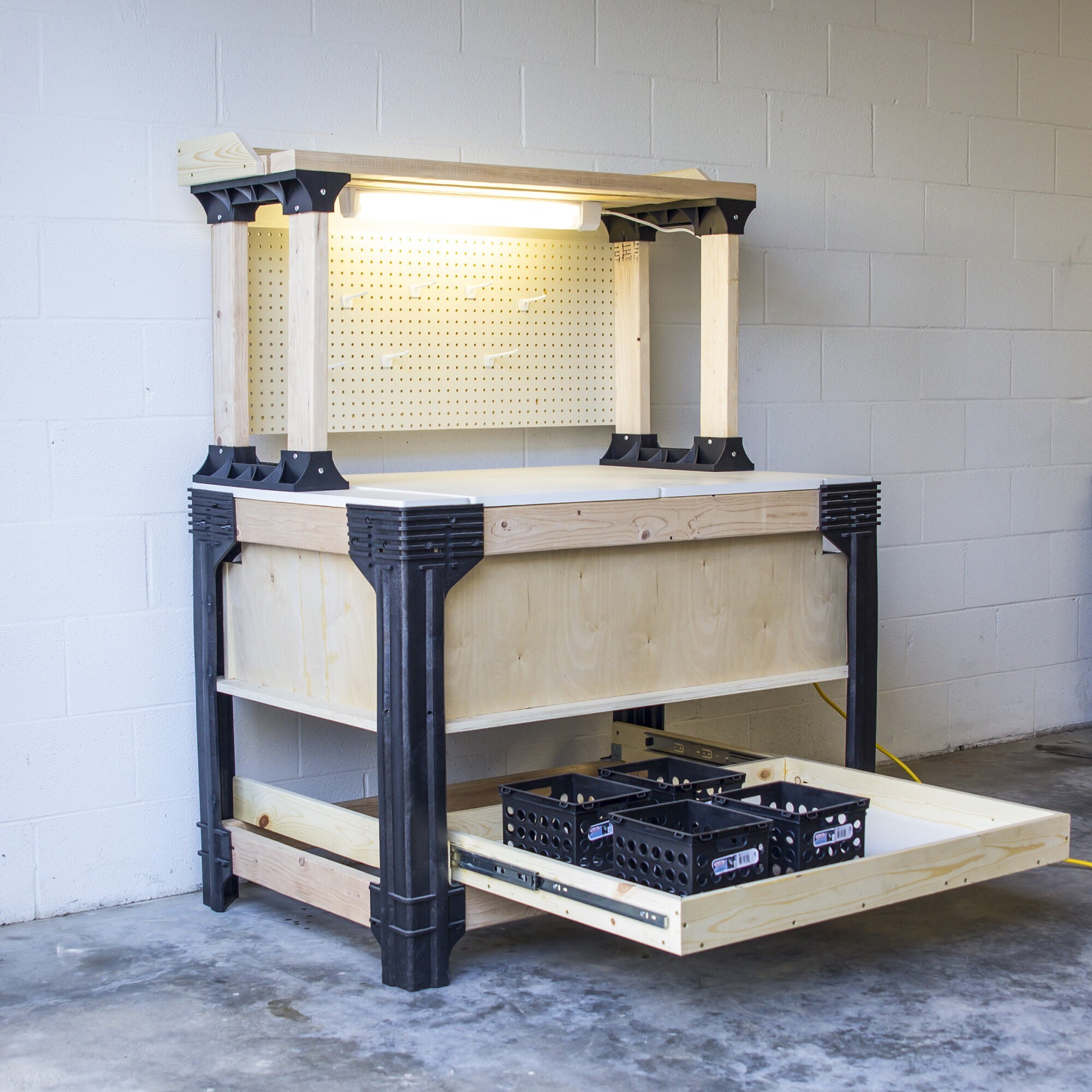 Organization
Your reloading bench should maximize your efficiency, not hinder it. To keep your workspace organized and tidy, you'll need to consider the storage and shelving layout.
Ensure the shelving and bins allow you the see box labels and that all tools are within arms reach. Under-the-table storage can be an effective location for larger bins and items used infrequently, while wall-mounted shelving, pegboards, and hooks on the side of the table offer easy access and adequate visibility.
Sealant
When you purchase a wood reloading bench, consider one with sealant already on it, or seal it yourself. The purpose of this is to make cleanup between uses easier and to increase the bench's longevity. It's simple to seal a wooden surface, and there are plenty of oil and varnish options on the market.
A film finish is not ideal for a workbench because it marks easier and appears more worn over time. Oils like tung and linseed can be used as sealants, creating a smooth surface that is quick and easy to clean.
Beware of spontaneous combustion of these oils and never pour leftover oil down a sink or drain. Manufacturers recommend placing oil-soaked rags or brushes in a metal can full of water after use. Always do your research on the safe disposal of these products.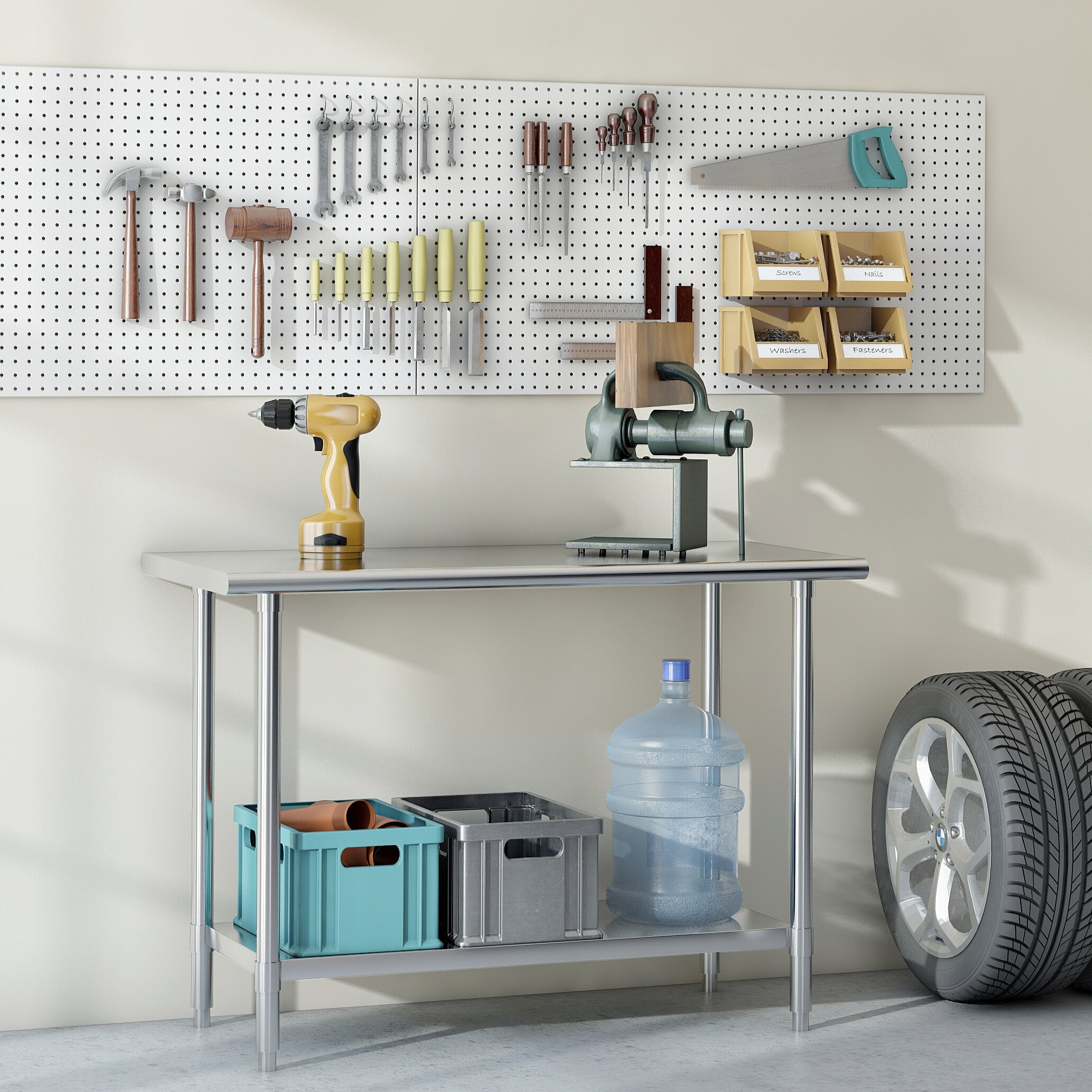 Final Thoughts for Buyers
Buying a reloading bench is the beginning of a long and rewarding creative process. You will spend extended periods at this workstation, either creating custom ammunition, beading, crafting, woodworking, or any number of other creative endeavors. It's a significant decision because the reloading bench you select has a residual impact on your hobby or professional work, depending on your situation.
Take your time and understand exactly what style, size, and layout of bench you need to meet all your needs and stay comfortable while you work.