Keeping your kitchen counter tidy is no easy feat. Somehow kitchen countertops just seem to attract clutter, and before you know it, everything can be a mess. Thankfully, there are lots of great solutions when it comes to kitchen counter organization.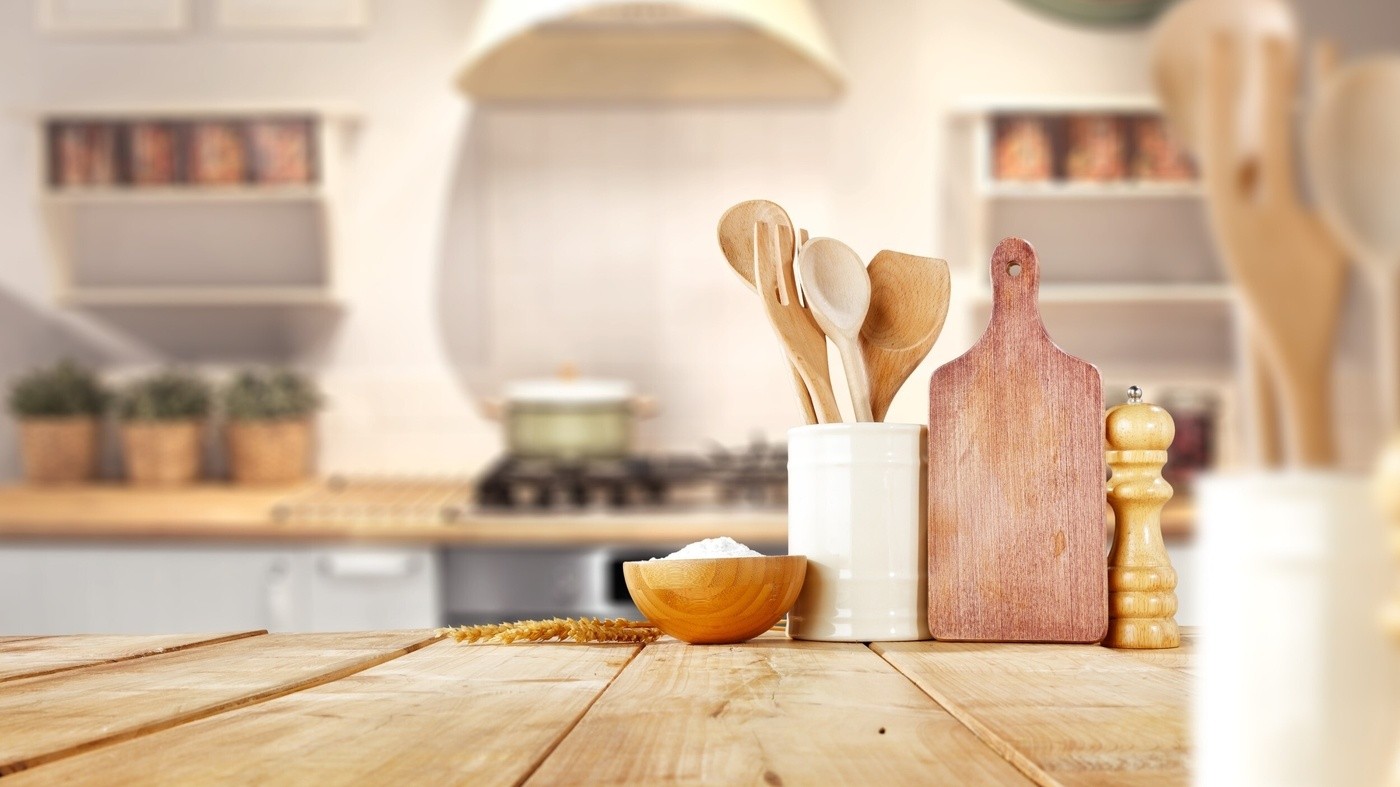 Having a clean and tidy kitchen counter is not only more hygienic, but it will also make it easier for you to cook, clean, and enjoy spending time in your kitchen. These organization tips and ideas will help to keep your kitchen counters clean and clutter-free so that even when you have surprise guests around, your kitchen will be looking spotless.
Keep Mugs Tidy With a Mug Tree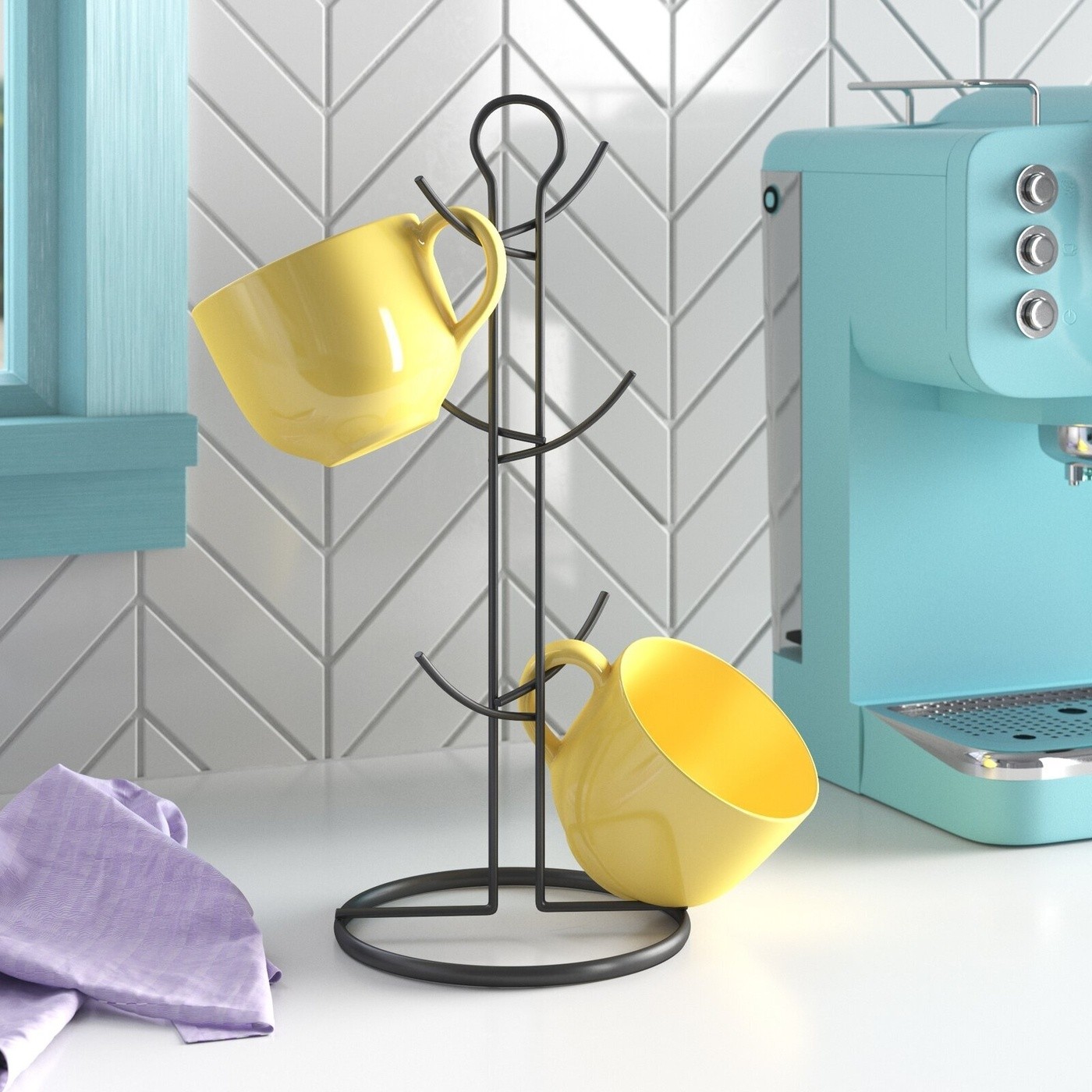 If you love drinking tea or coffee, then no doubt you will have an abundance of mugs ready and waiting for your next cup. Using a mug tree to store your mugs will not only help keep your kitchen counter tidy, but they will be within easy reach when you need them.
Mug trees are also a great way to show off your favorite mugs! You can co-ordinate your mugs with your kitchen color scheme too, to make them either blend in or stand out as a decorative feature.
Hang Knives and Utensils on The Wall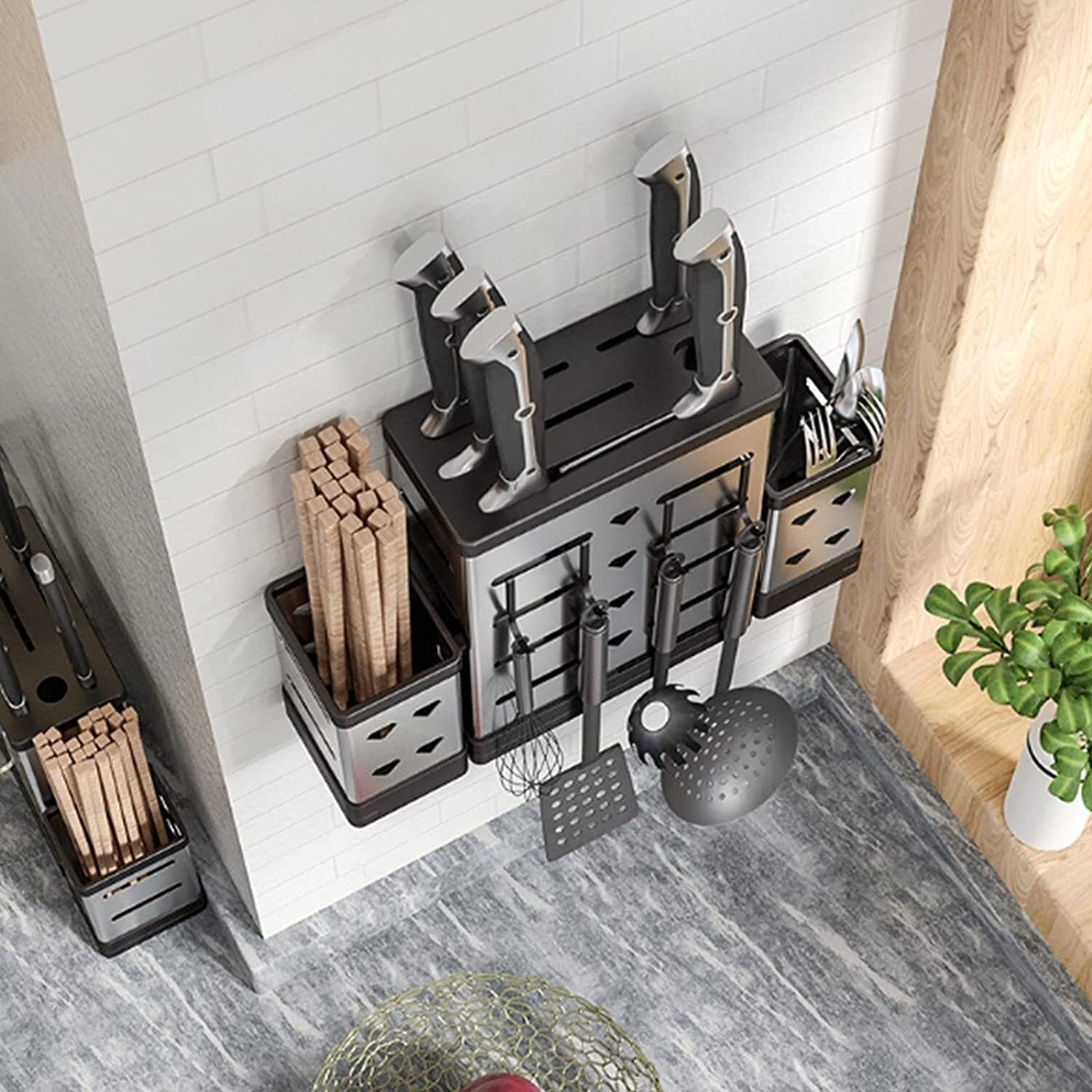 If you have a lot of knives and utensils that you use frequently, hanging them on the wall can help you to keep your surfaces clutter-free. A wall-hung knife storage block will mean that all of the tools you need to prepare and cook a meal are at hand when you need them.
As well as helping to keep things off the surface, a wall-hanging rack like this will enable your utensils to drip dry after washing, so they are perfectly dry when you are ready to use them. This is the perfect solution for anyone who loves to cook!
Save Countertop Space With an Over-Sink Drying Rack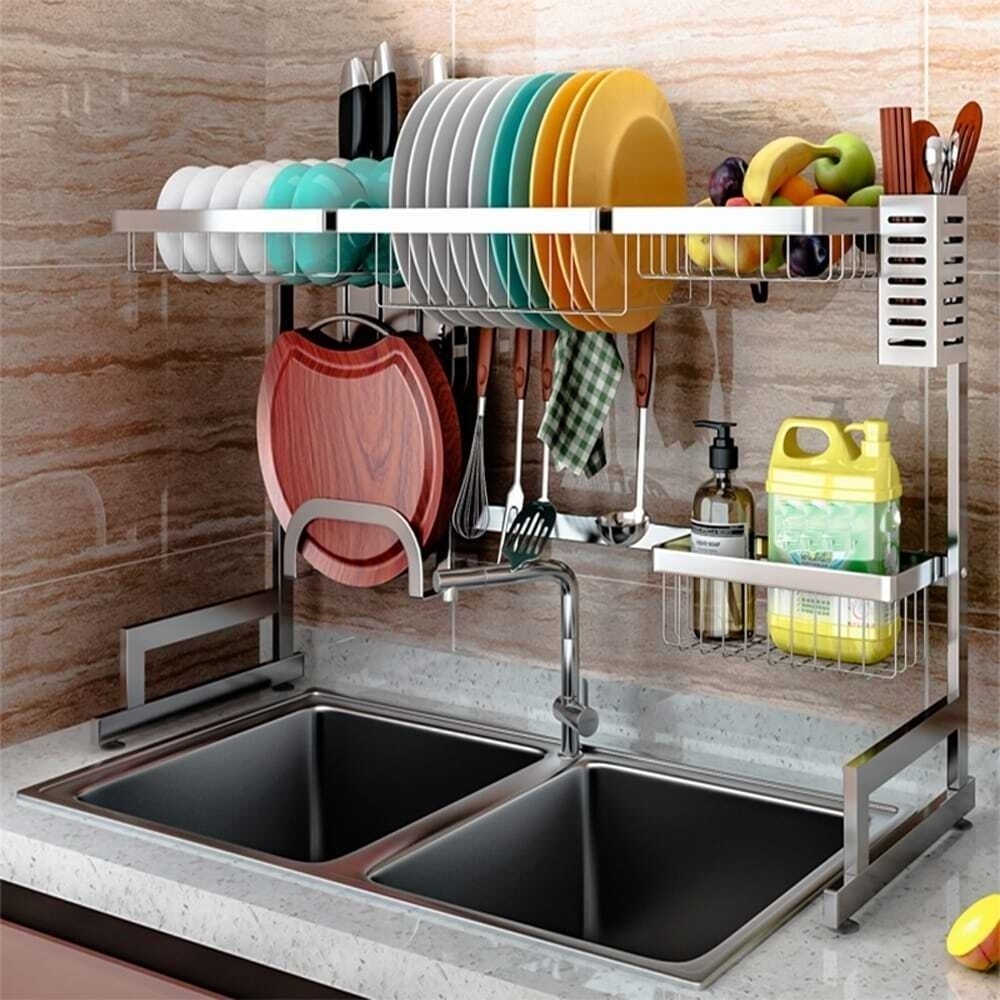 If you're short on space around your sink, using an over-the-sink drying rack will mean that you don't need to have an additional draining board or drying rack on your kitchen counter. This will allow all of your dishes, cutlery, utensils, and even fruit and vegetables to dry naturally in the air while giving you extra space to prepare meals.
Most over-sink drying racks also include space for your dish soaps and sponges, which means you can keep the entire area around your sink completely clear. This makes it much easier to clean the surfaces, ensuring your kitchen is as hygienic as possible.
Keep Herbs and Spices Tidy With a Wall-Mounted Spice Rack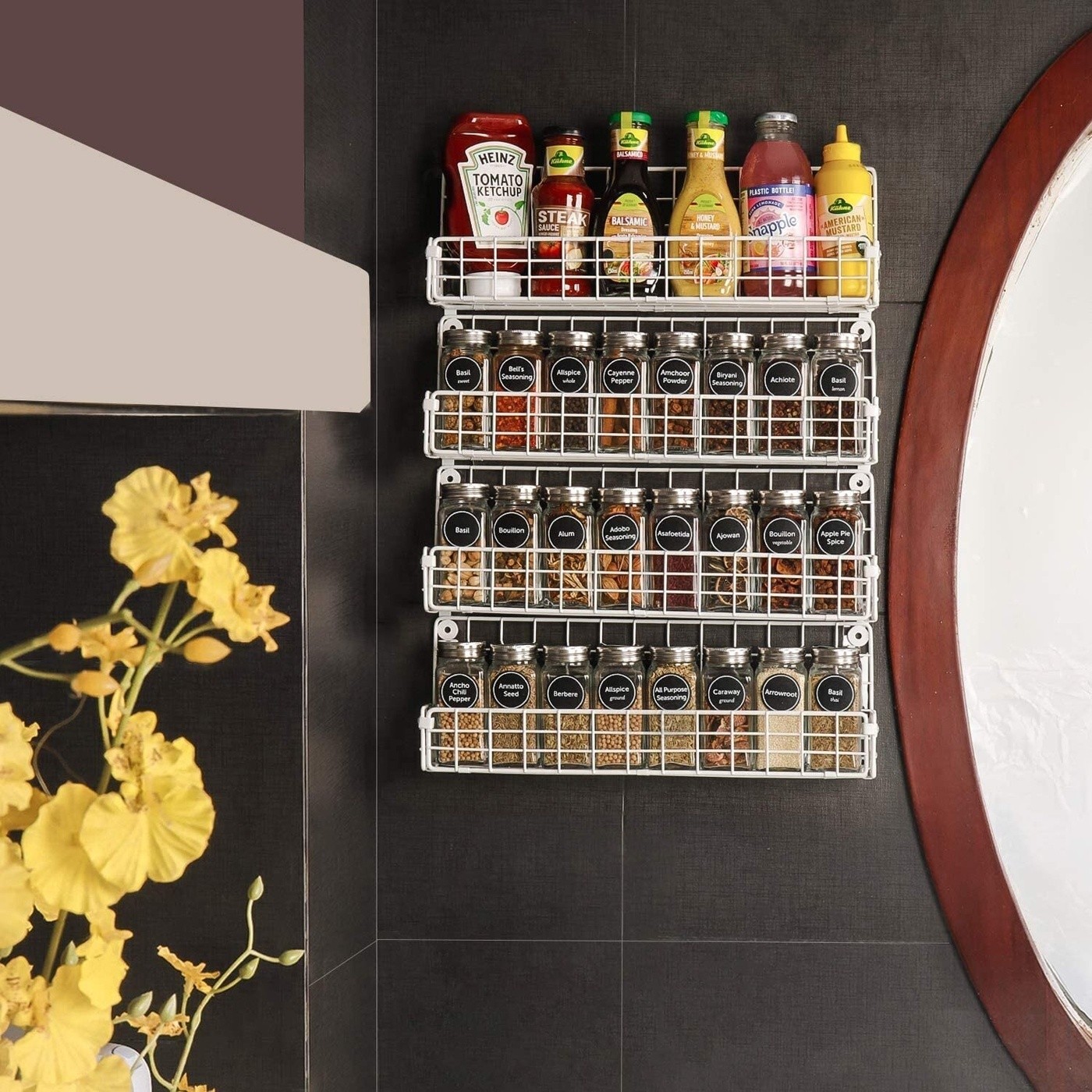 One of the pitfalls of owning lots of different herbs and spices is finding a place to store them. More often than not, your best-loved spices can end up sitting on the work surface ready for the next meal, and while this is convenient, it can quickly start to get cluttered.
A great solution to this problem is a wall-mounted spice rack. This will enable you to have all of your favorite flavors at hand while leaving your countertop clear.
Use a Can Organizer To Keep Cans Tidy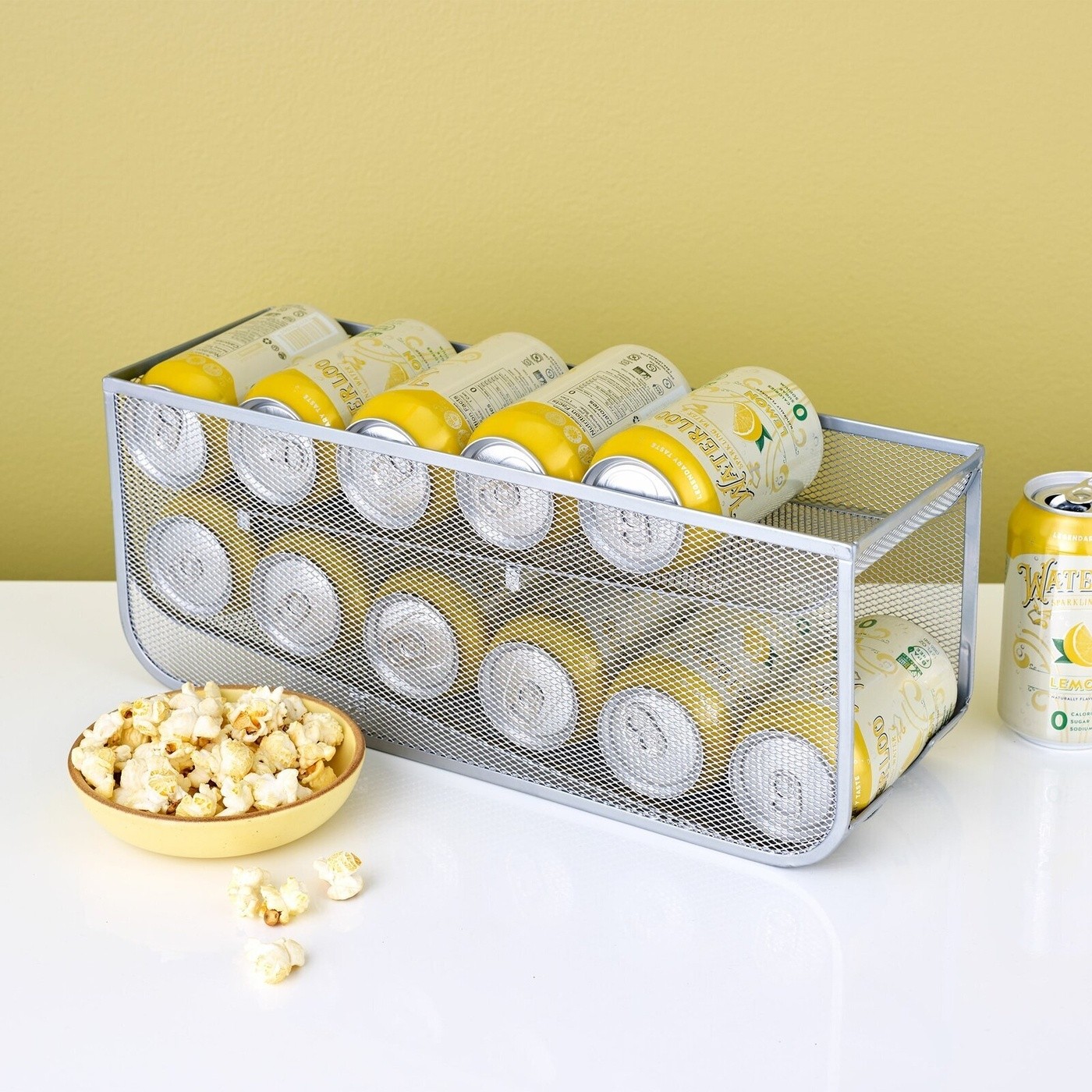 If you tend to have a lot of canned drinks, then you might want to consider using a can organizer to store them. This will ensure all of your beverages are organized neatly and are easily accessible when you need them. When you take a can from the bottom, they will all roll down slightly to fill the space.
You can keep a can organizer like this on your kitchen counter, in a cupboard, or even in the fridge, keeping your kitchen counter organized and clean.
A Three Tier Kitchen Organizer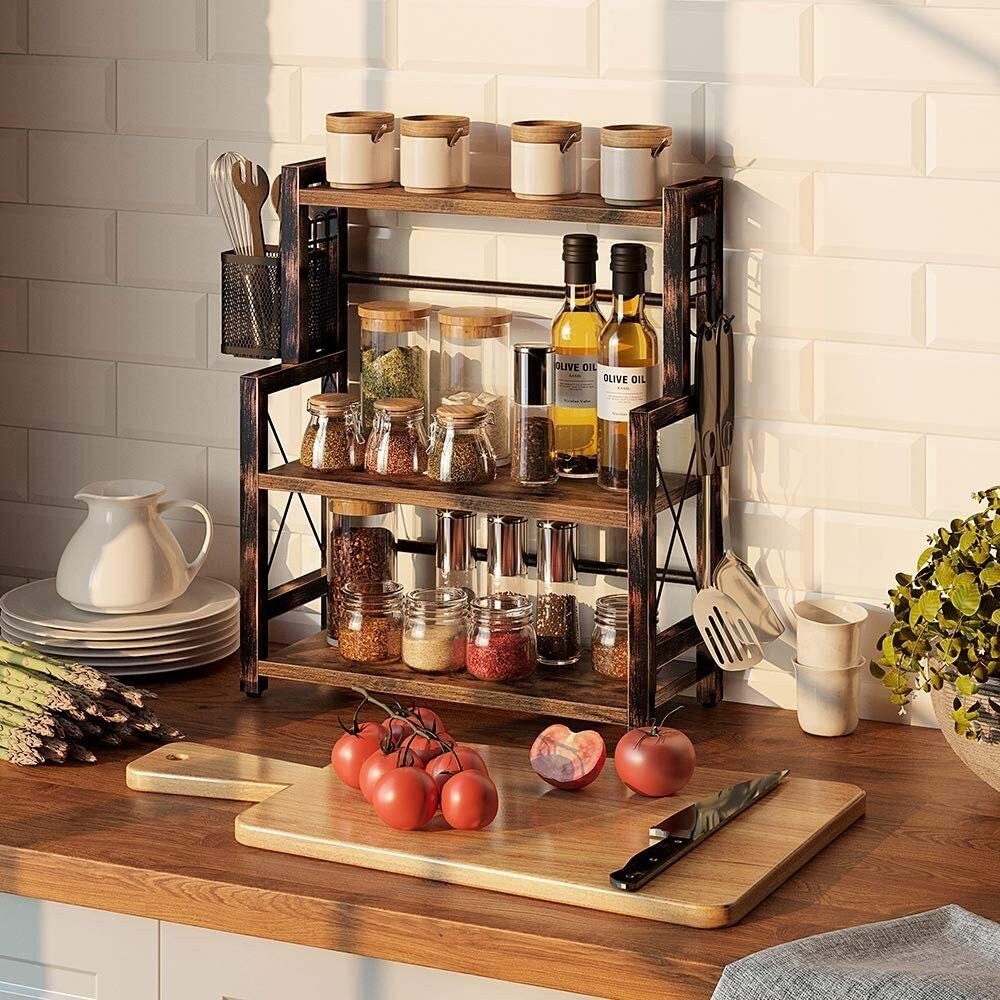 A three-tier kitchen organizer is an ideal solution for keeping all of your oils, herbs, spices, and salts neatly organized. Utensils can be stored at the sides so that you have absolutely everything you need to prepare a delicious meal to hand when you need it.
A freestanding kitchen organizer like this is easy to move around your kitchen to wherever you need it and can even be put away in a cupboard when you've finished using it to keep your surfaces completely clear.
Kitchenware Divider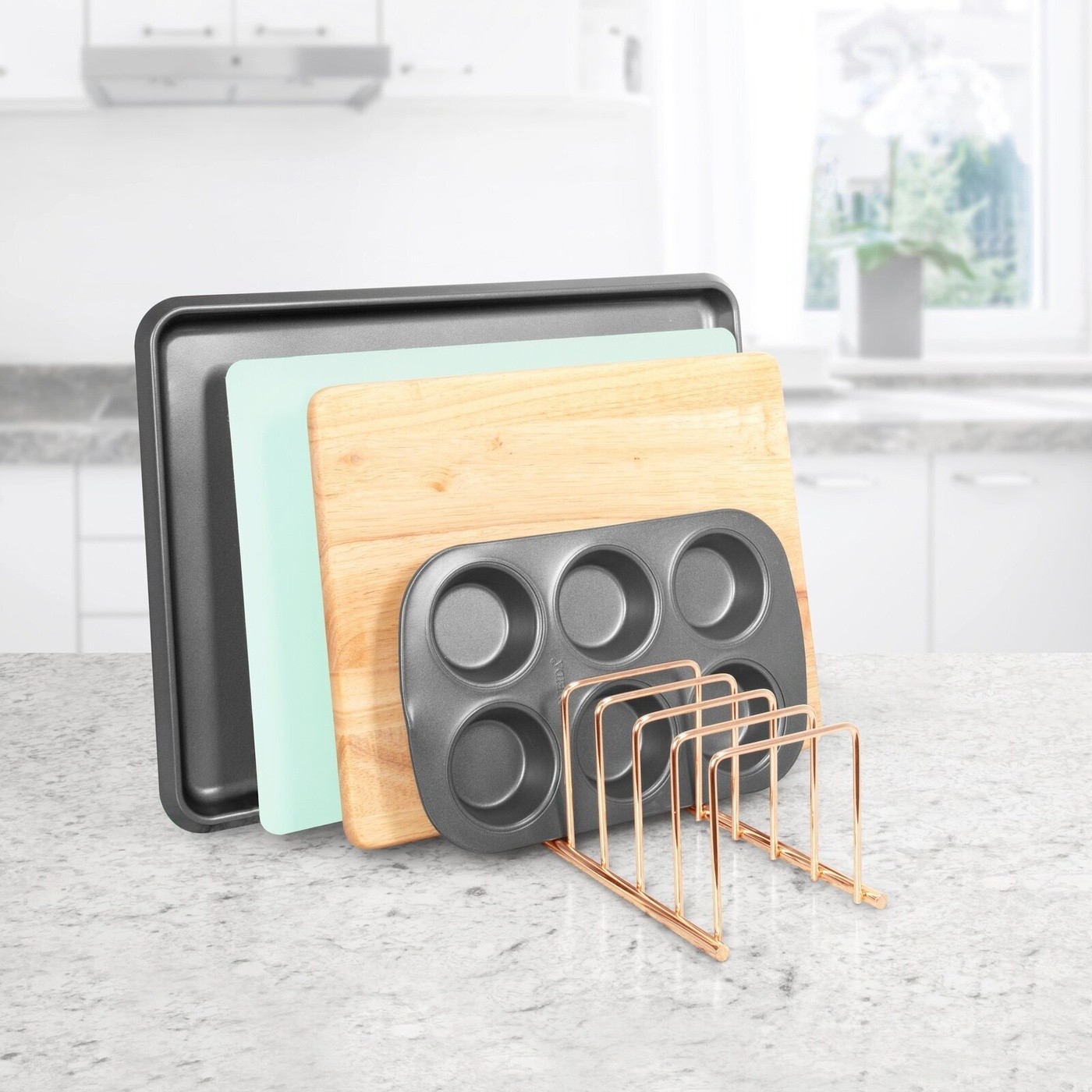 Using a kitchenware divider is a great way to keep all of your cutting boards, baking sheets, and muffin tins organized. It can also be used for plates and lids and anything else flat that you need to keep organized.
A kitchenware divider can be stored on your counter, on a shelf, or in a cupboard to help you make the most of your space. It will enable you to store as many things as possible in a small area and keep your surfaces clear and clutter-free.
Make Use of a Portable Kitchen Island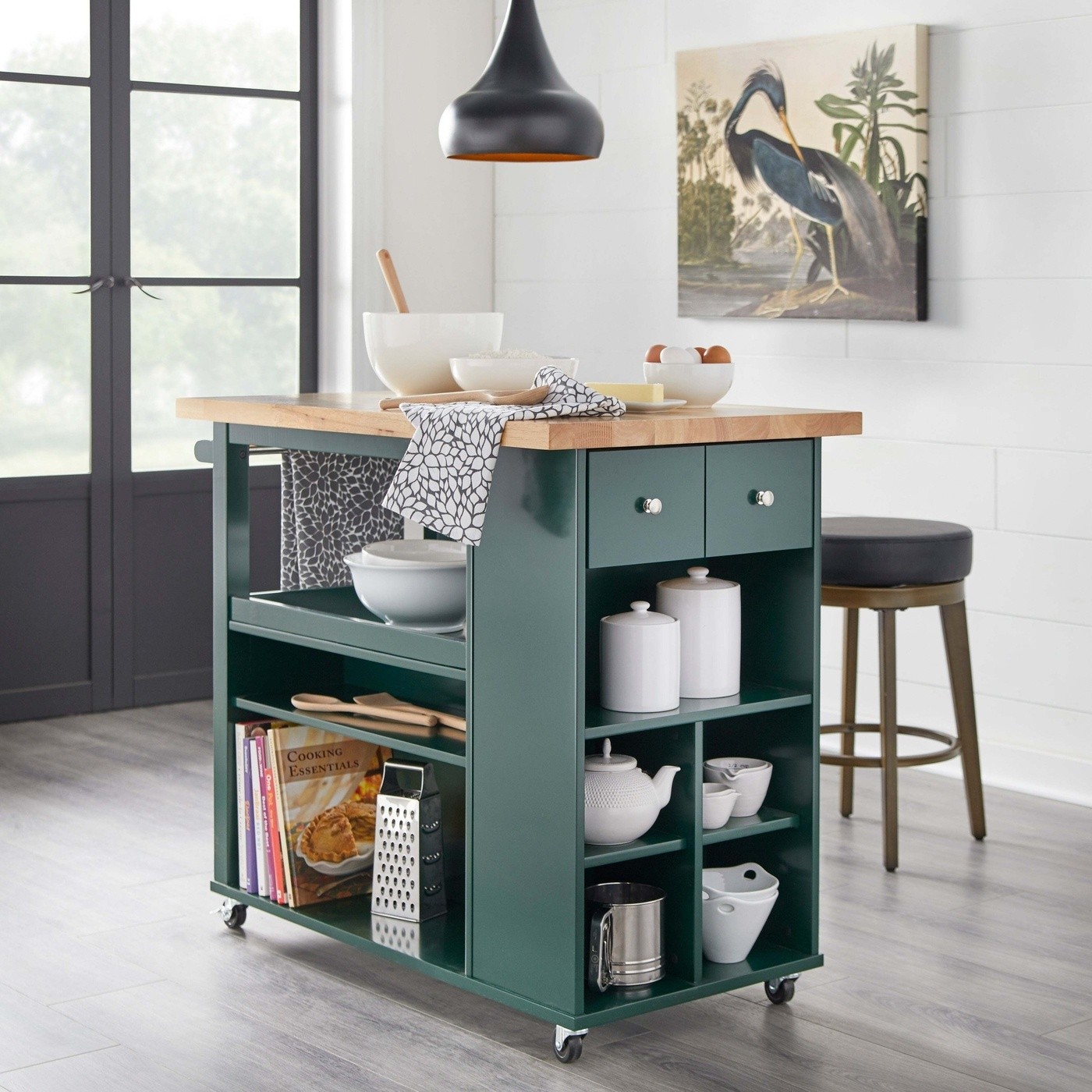 If you've run out of storage space in your kitchen, you might want to consider bringing in a portable kitchen island. Not only will a kitchen island give you more surface space for cooking and preparing food, but you can use the space underneath to store your recipe books, bowls, storage jars, utensils, or anything else that would usually take up space on your kitchen counter.
When choosing a kitchen island for your kitchen, choose one that matches your existing decor; this will keep your kitchen looking smart while providing you with additional storage.
Save Surface Space by Using a Hanging Fruit Basket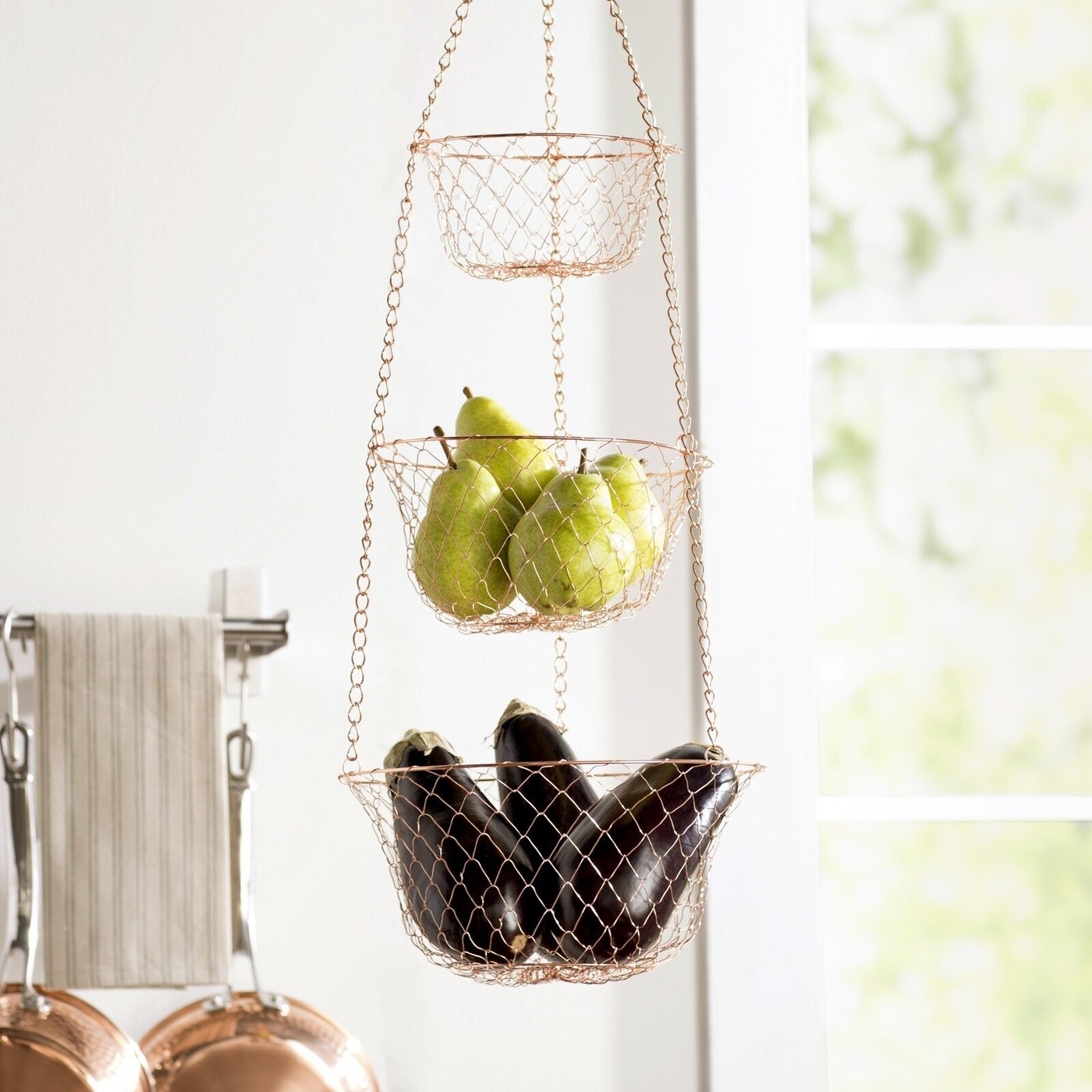 Using a hanging fruit basket instead of a traditional fruit bowl is a great way to save space in your kitchen. Most hanging fruit baskets have two or three tiers, which will enable you to hang much more fruit than you would get in a traditional bowl.
A hanging fruit basket will also help keep your fruit fresher longer by allowing the air to circulate and enabling naturally occurring gases to escape.
Hang Utensils on The Wall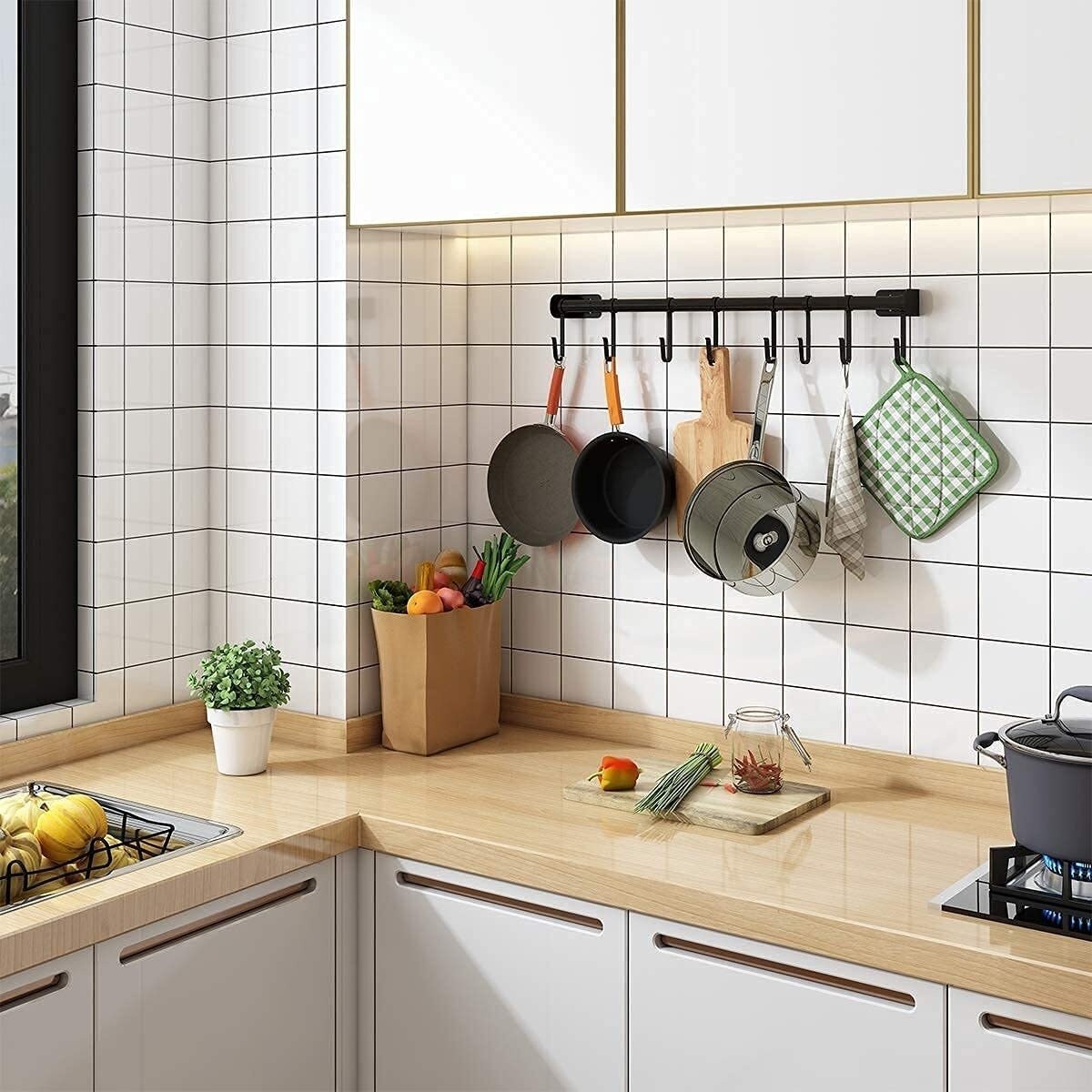 If you have a lot of cooking utensils, you might want to consider installing a row of hooks on your wall to store them. This will also allow you to store other items like oven gloves that you might need to use while cooking.
Be sure to hang them within easy reach of the area you are cooking. You could hang hooks on the walls, the side of cabinets, or even the back of a cupboard door, as long as you can access them easily when you need to.
Keep Bread and Pastries Fresh and Out of Sight With a Stylish Bread Box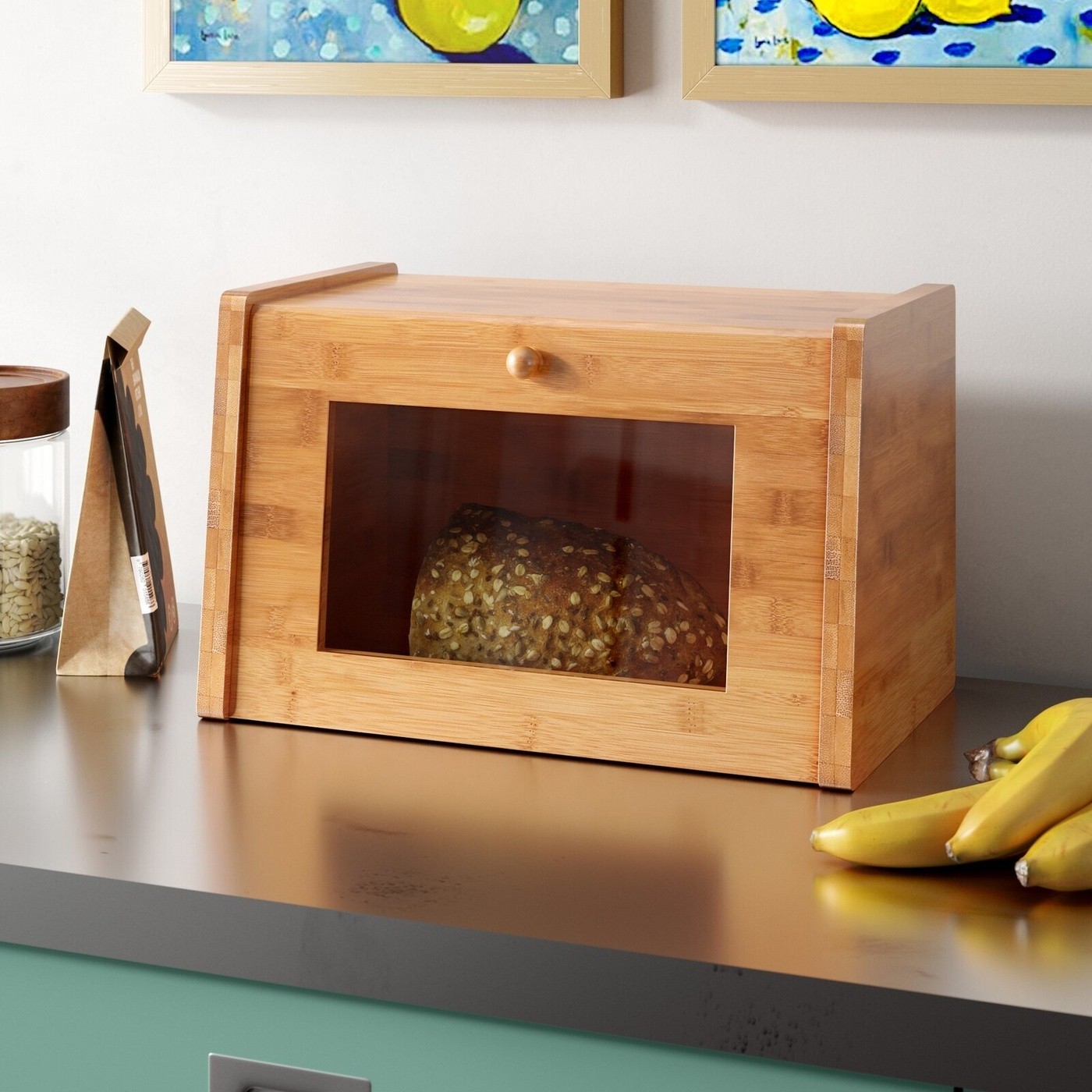 A wooden bread box is a stylish way to keep bread and pastries fresh and out of sight. It will have plenty of room to keep all of your tasty treats cool and dry, so they are fresh when you need them. A bread box won't take up too much space, and it will keep your kitchen counters looking clean and tidy.
If you love a traditional farmhouse look, then a wooden bread box is a great choice to give your kitchen a warm, homely look. If your kitchen is more contemporary, you might want to consider using a metal bread box, which will work just as well.
Make Use of Every Corner With a Bamboo Corner Shelf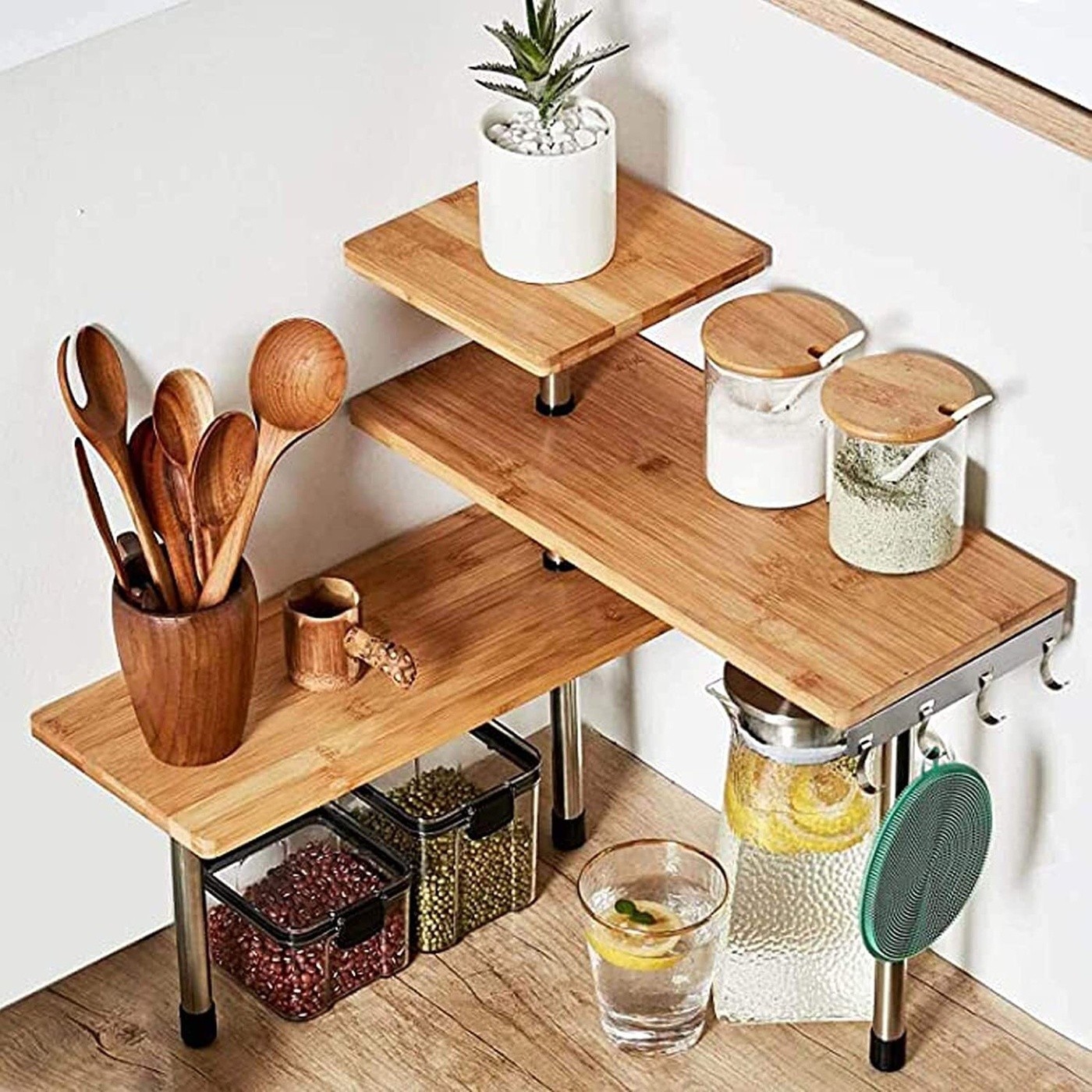 If you have lots of items that you need to keep out on your kitchen counter but not enough space, then consider using corner shelving. A small corner shelf like this will give you additional storage space for things like utensils, herbs and spices, teas, and anything else you might want to keep out in your kitchen.
You can add in as many layers as you need, depending on your storage needs. Using a shelf like this will make it easy to clean your kitchen surfaces, as it stands on legs rather than directly on the surface.
Keep Utensils Tidy With a Utensil Holder
A utensil holder is a must-have for any kitchen. This is a stylish way to keep all of your kitchen utensils neat and tidy, ensuring your surface space stays clear. When your utensils are stored together like this, it is easy to move them around to where you need them.
Utensil holders come in many different designs, so consider your kitchen's design when deciding which one to buy. Buying a colorful utensil holder is a great way to add a splash of color to a plainer kitchen!
Store Fruit and Vegetables in a Three-Tier Metal Basket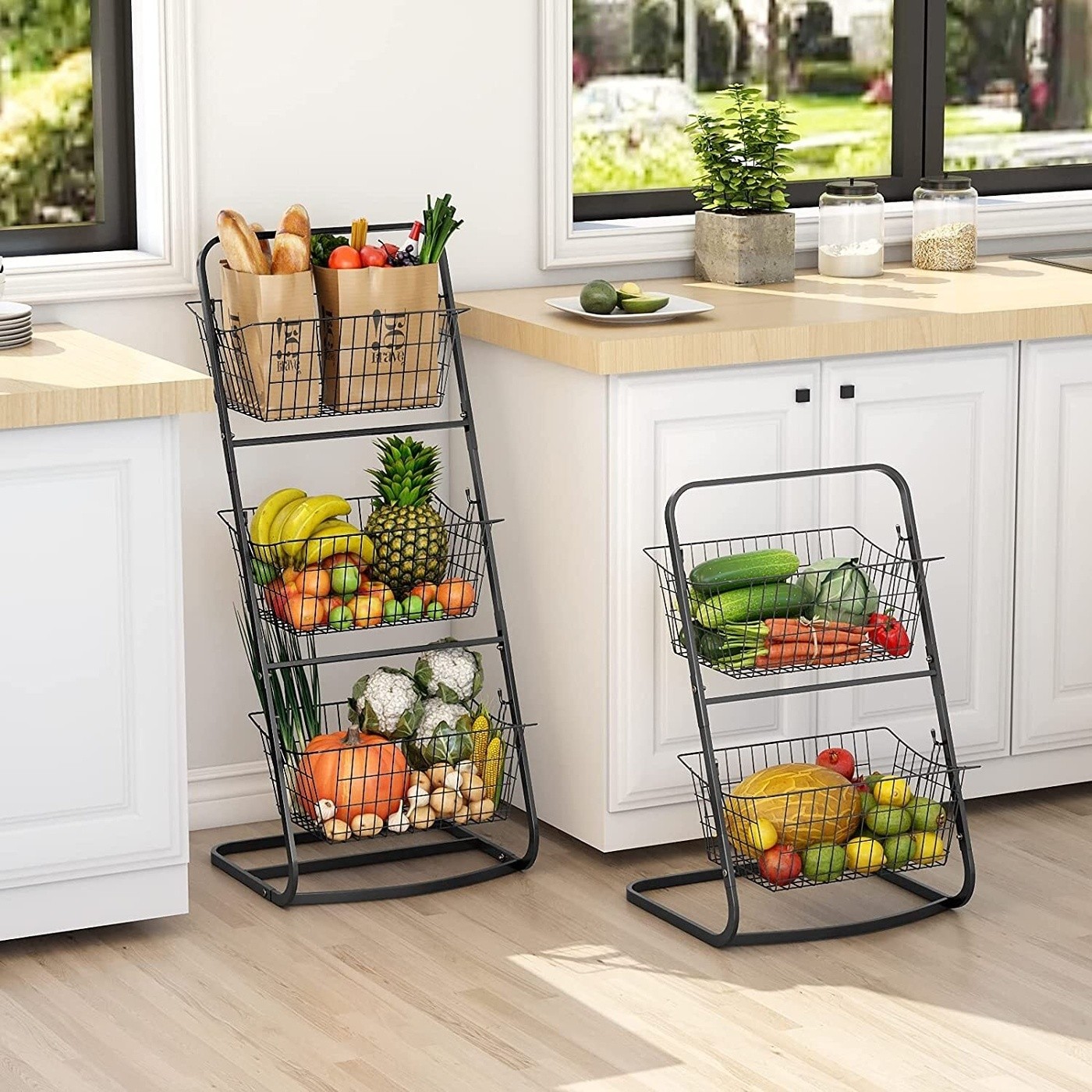 A three-tier metal basket is a great way to keep your kitchen surfaces free from fruits and vegetables. You can use it to store fresh fruit, vegetables, or any other items that might be taking up space on your kitchen surfaces.
This is perfect for anyone with a farmhouse-style kitchen and will add a touch of country charm to your home in no time.
Keep Pots and Pans Out of The Way With a Wall Mounted Pot Rack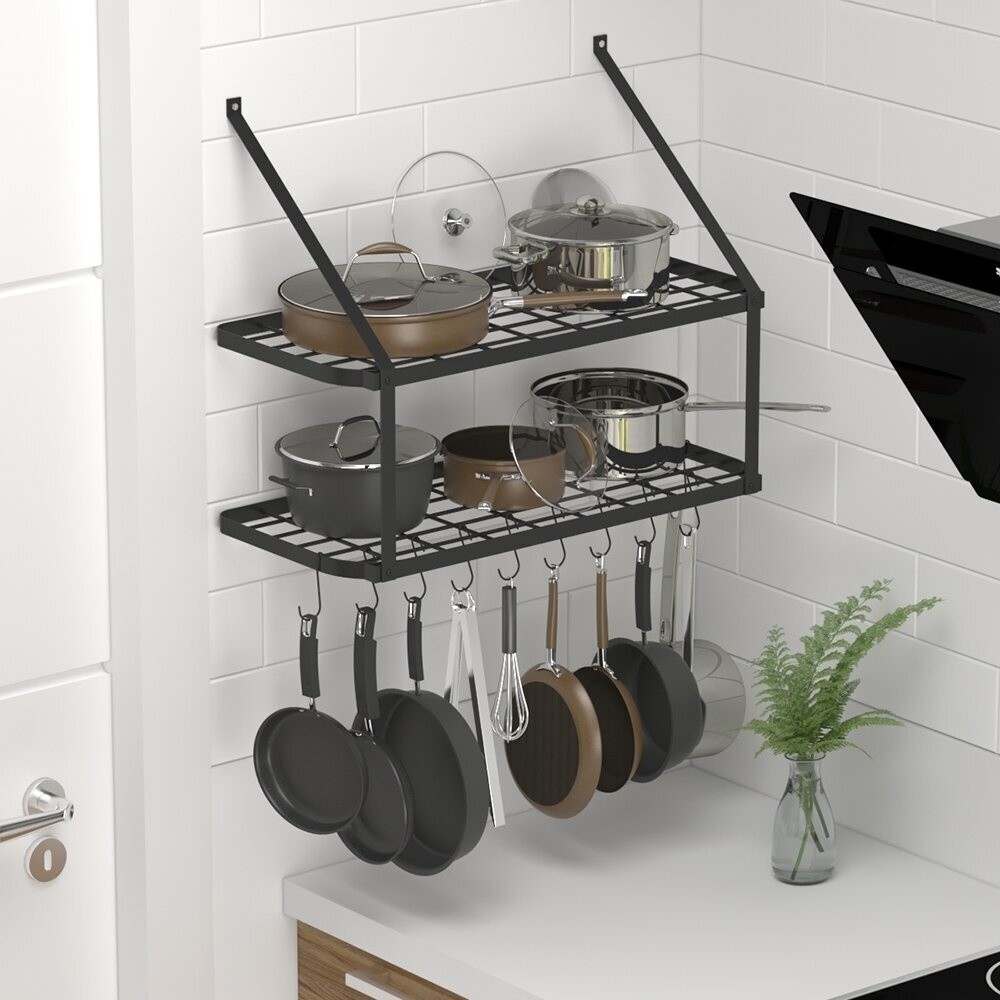 If you have too many pots and pans for your cupboards, instead of keeping them on your kitchen counter you can install a wall-mounted pot rack. This will keep everything neat and tidy without taking up any of your surface space.
Choose one with hooks for additional storage for utensils and other smaller items that you can hang.
Tips for Keeping Your Kitchen Counters Organized
It's been proven that living with clutter in your home can cause you stress. While a certain level of clutter is normal (especially if you live in a busy household!), you should be careful not to let it get out of hand.
Having an organized kitchen will make you feel more relaxed, and allow you to enjoy spending time cooking, eating, and socializing in the space without worry. Here are some tips to help you keep your kitchen organized.
Make use of your wall space. If you have run out of storage space in your cupboards, utilizing your wall space with shelves or racks is a great way to get some additional storage without taking up precious counter space.
Use containers. Whether it's a bread box, a utensil jar, or simply a basket for all of your odds and ends, using containers to store items from your kitchen will help keep your surfaces clutter-free and make it easy to move things when you need to clean.
Take advantage of hooks. Hooks are a great way to keep things organized in your kitchen. Install hooks on the back of your pantry door, on your walls, and even on the back of your cupboard doors to store any items that can be hung.
De-clutter regularly. Regularly de-cluttering your kitchen will help you to stay on top of things and ensure that your kitchen is easy to keep clean and tidy. If there are any items you don't use regularly or have multiples of, consider giving them to a friend or donating them to charity.
Following these kitchen counter organization tips will make it easy for you to keep your kitchen organized and guest-ready at all times.