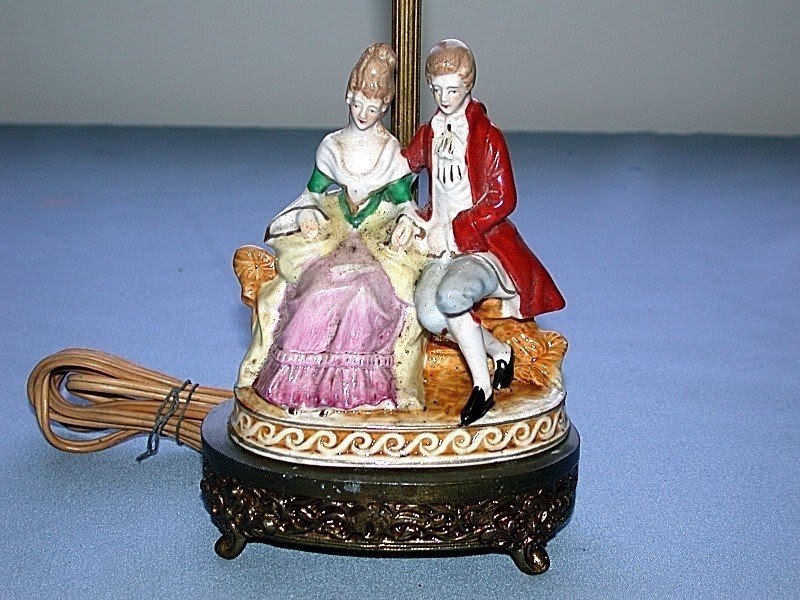 Antique Victorian Couple Porcelain Figurine Lamp On Antique Patina Brass Base
Familiarize yourself and go on a journey into the past with a real aristocratic couple who made of porcelain is hand-painted and sits on the black, decorative basis of your antique porcelain figurine Victorian lamp.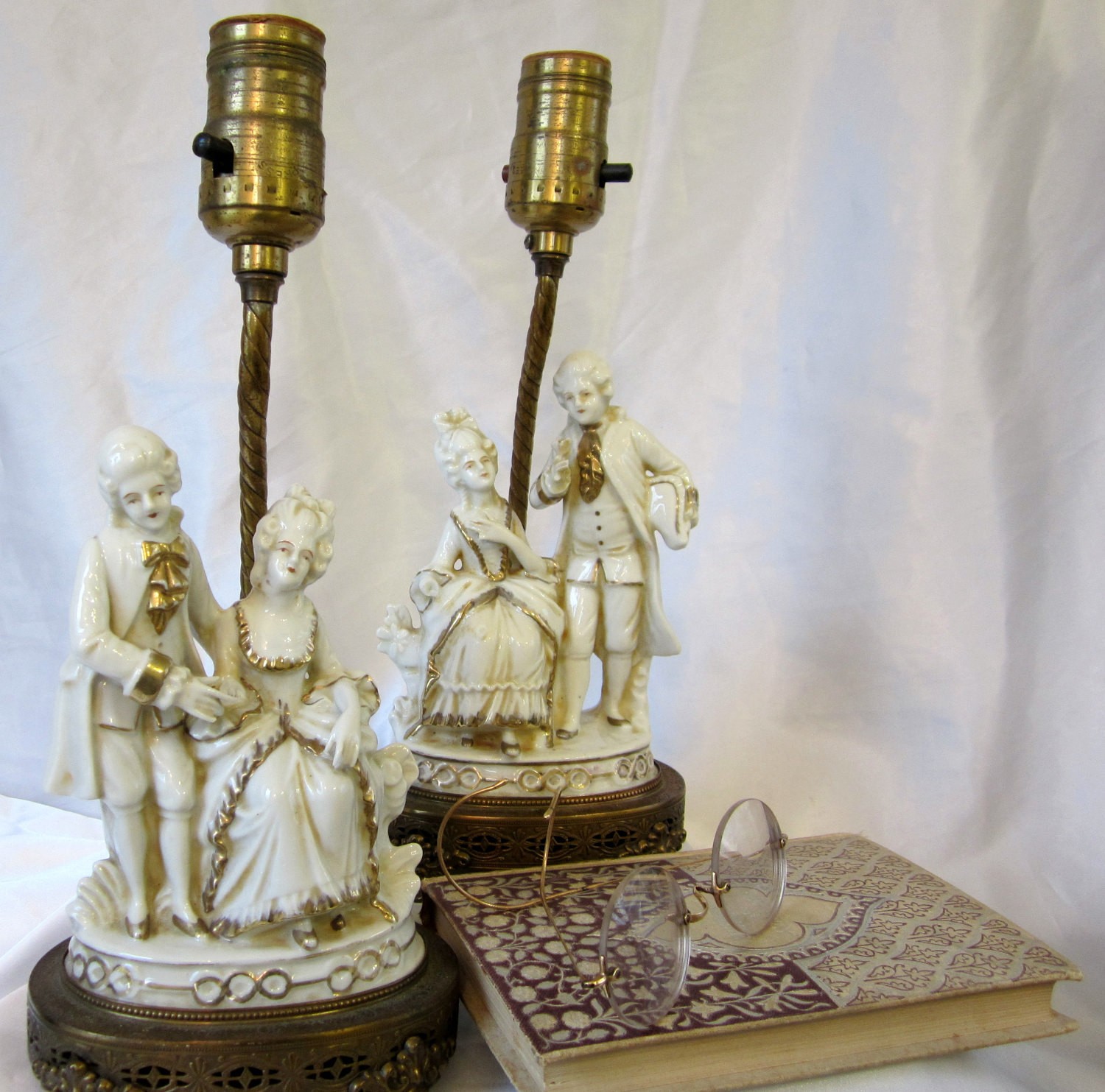 Vintage Victorian Porcelain Figurine
This pair of porcelain lamps constitutes a custom designed example of figurine lamps. They enchant both with the ornate, detailed design and solid materials, such as antique brass and porcelain.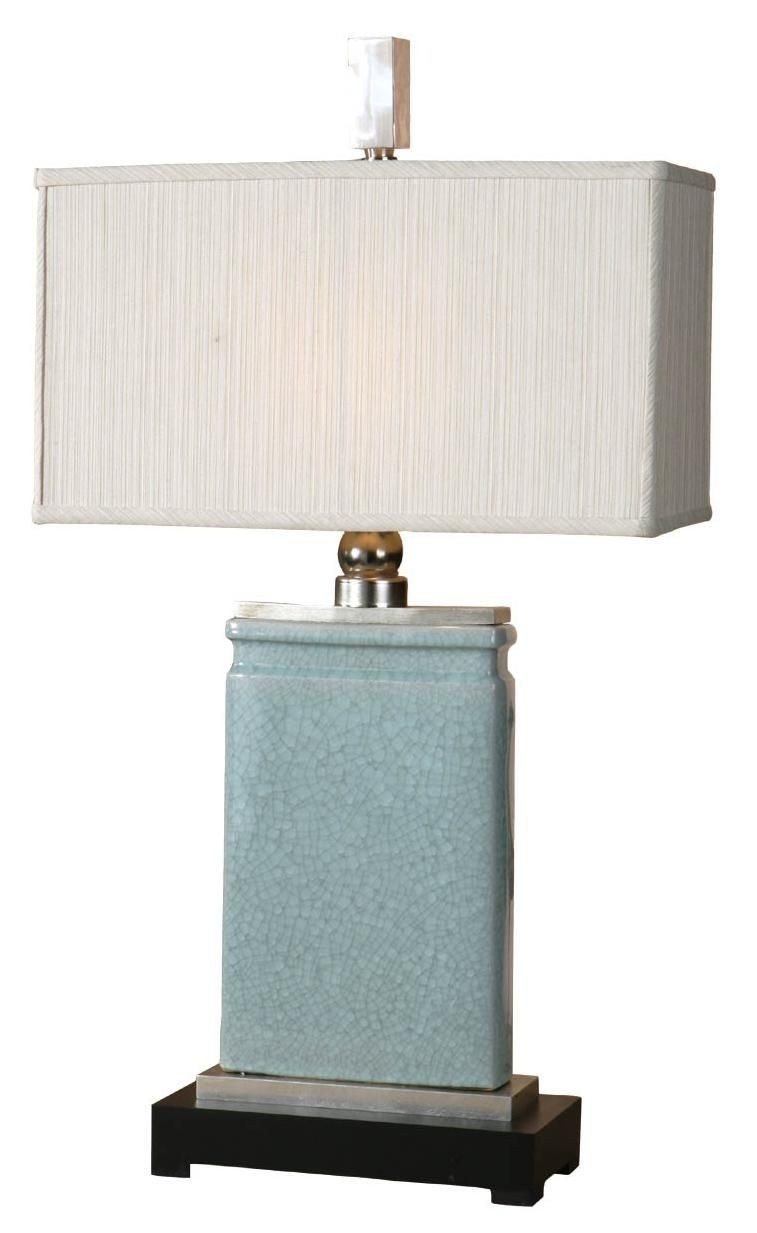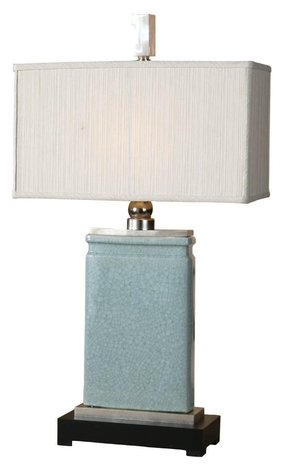 Porcelain 33" H Table Lamp with Rectangular Shade
It is a table lamp that has got a rectangular shade and is made of light blue crackle porcelain. It has got a very adorable look and is great for bedroom, living room and more. It adds style and beauty to any home.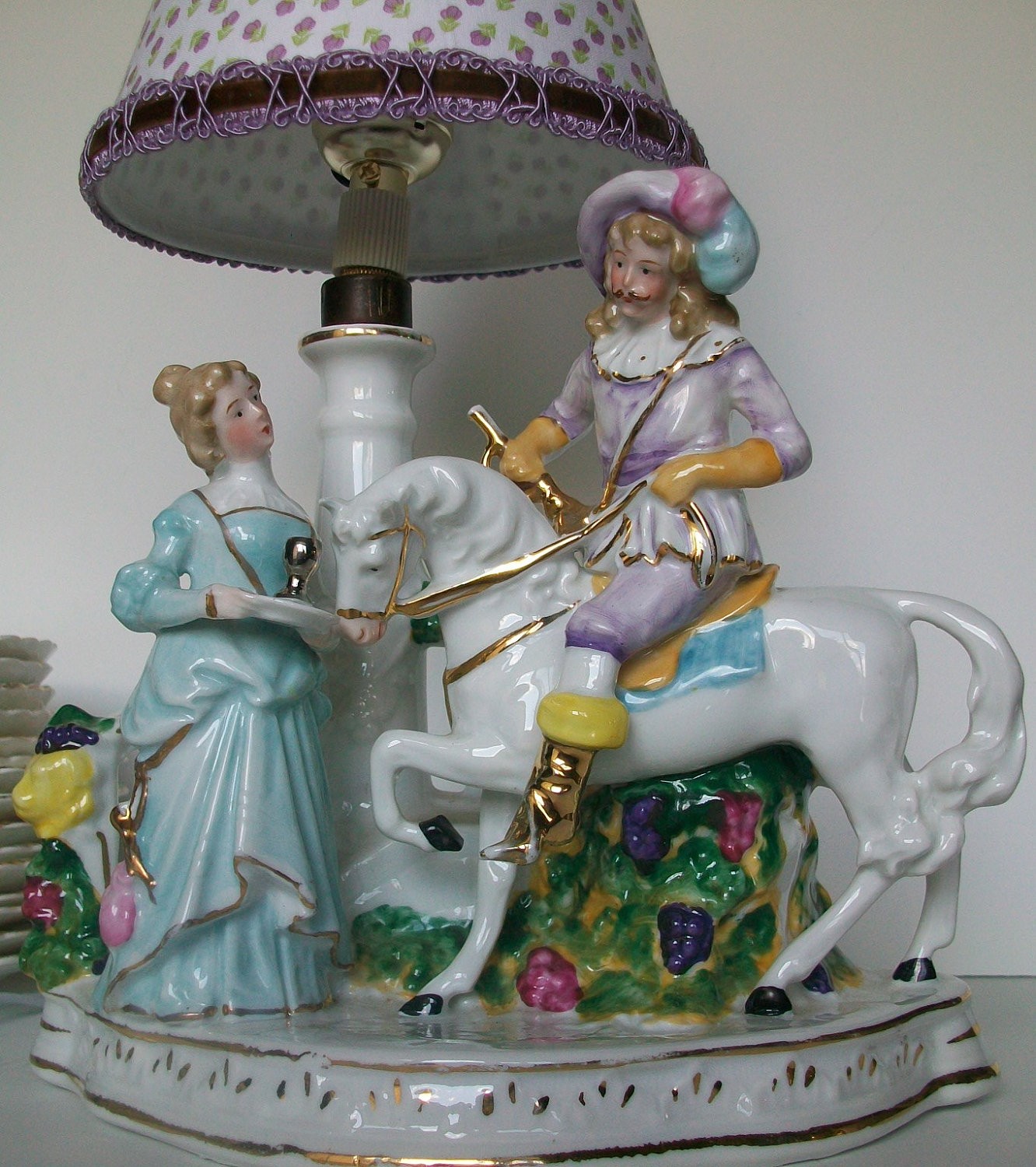 French figurine lamp musketeer on horse
This porcelain figurine lamp presents a musketeer on a horse with a lady, referring to the romantic chivalry times. Made in Germany around 1930. It measures approx. 9 1/4" wide, 4" deep, 8" tall.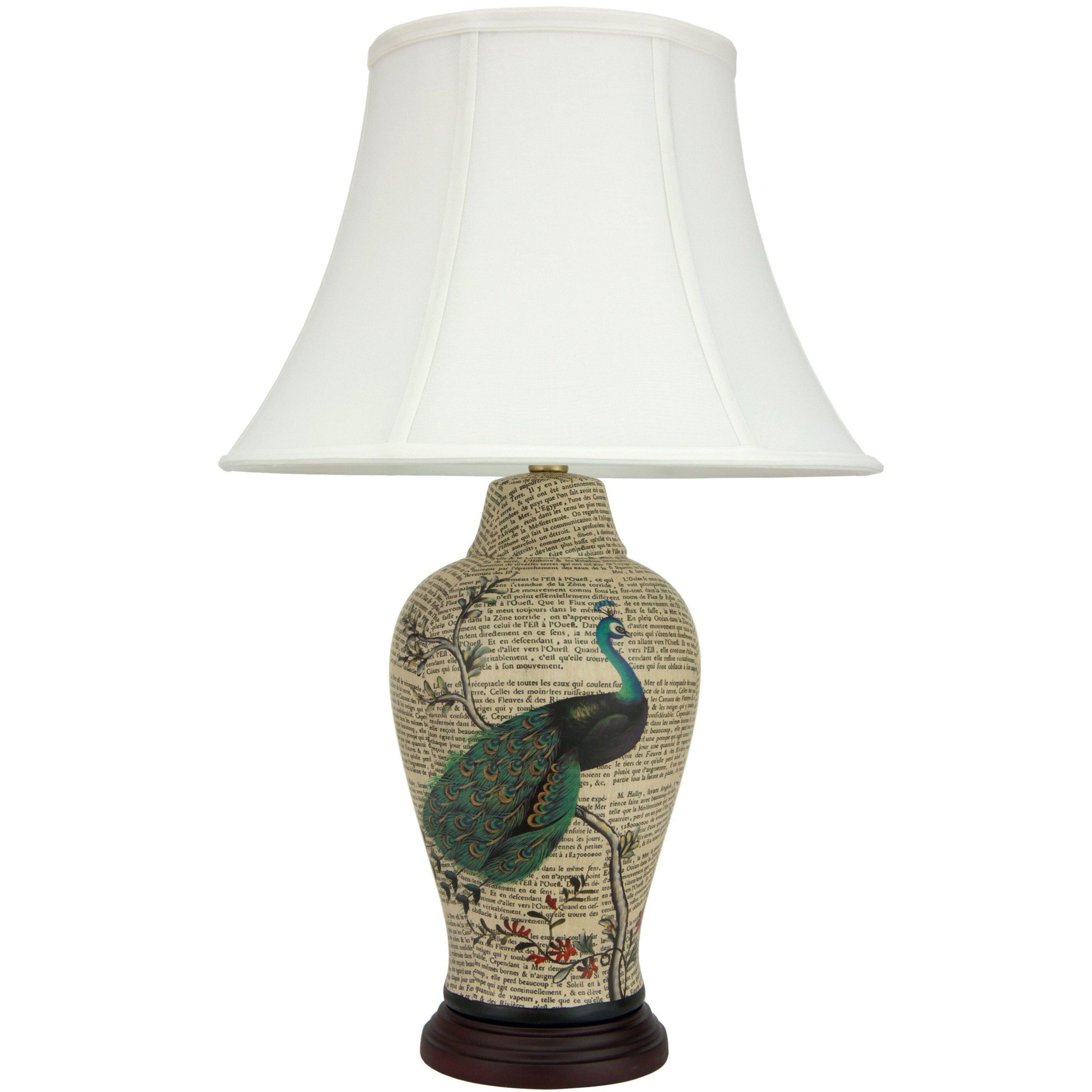 Peacock on Branch Porcelain Jar 25" H Table Lamp with Bell Shade
Inspired with classical oriental motifs, this table lamp adds something special to any decor. It has vase shaped base with appealing motif depicting a peacock sitting on a branch. The bell shade is pure white.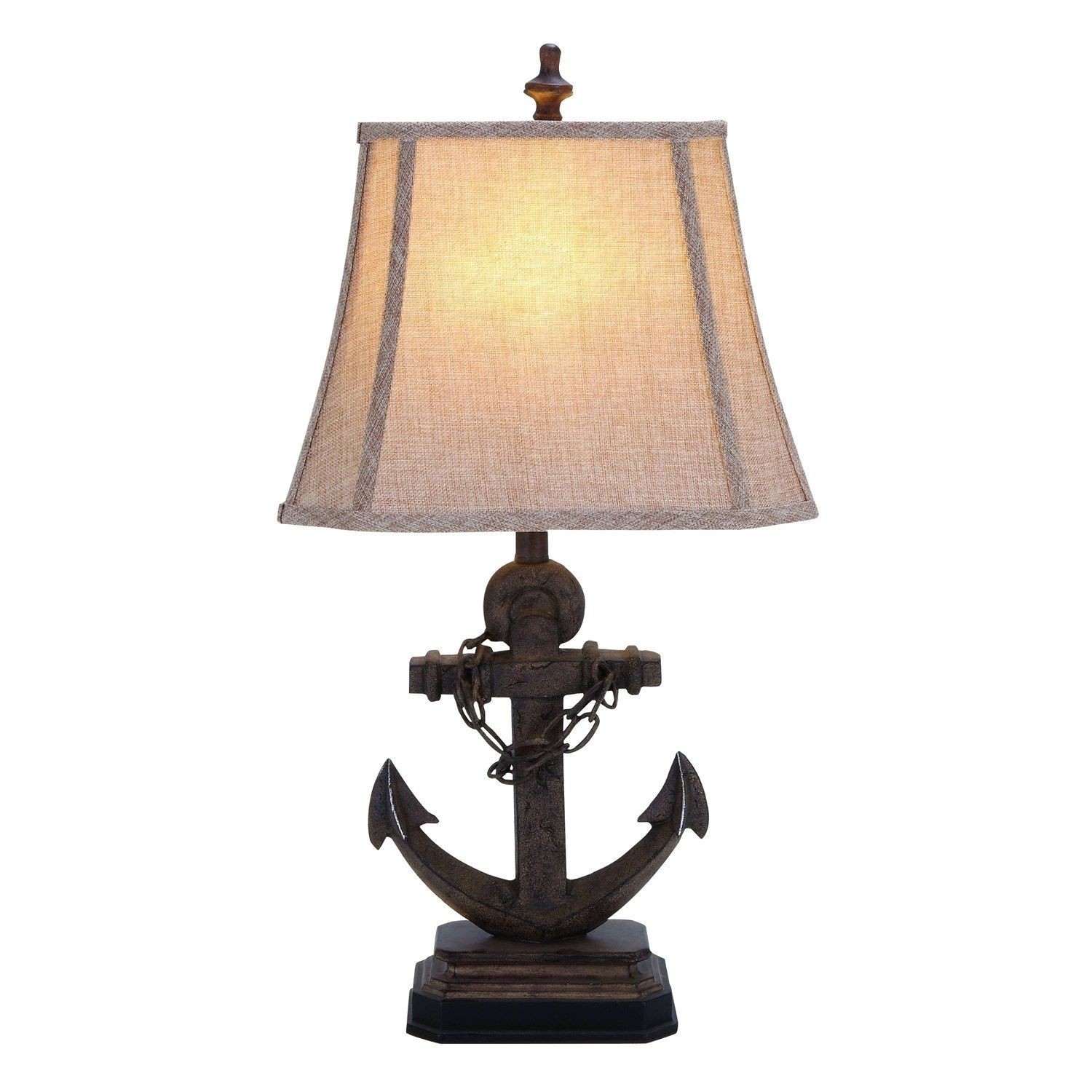 Anchor 28" H Table Lamp with Bell Shade
A splendid addition for nautical home décor. This 28-inch height table lamp features a plastic body, and a unique Anchor design. Also includes a light brown bell shade, a 3-way switch, and accommodates 40W incandescent bulbs.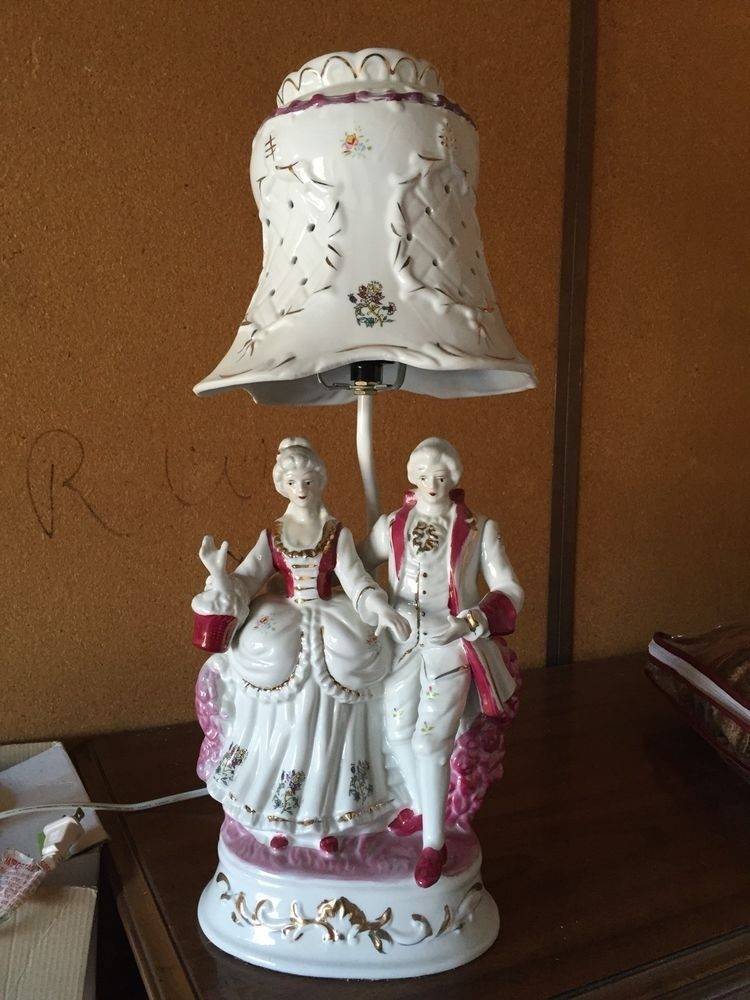 Handmade and hand-painted, this Victorian table lamp is characterized by a lovely mix of very detailed design and antique looks. The base is made in shape of porcelain figurines with a porcelain bell shade hanging above them.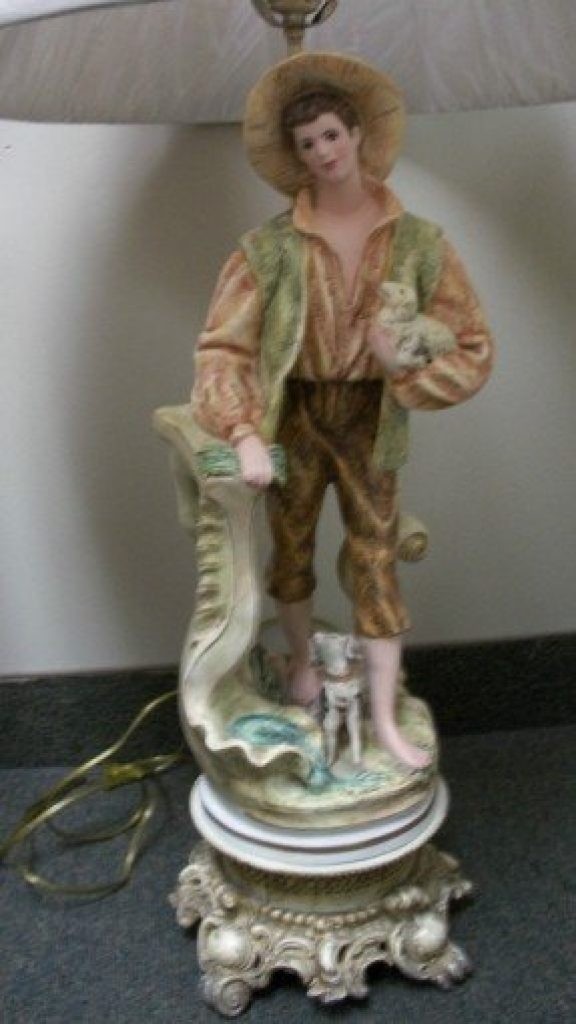 VINTAGE 1950'S PORCELAIN FIGURINE TABLE LAMPS 2 OF THEM- MADE IN ITALY ...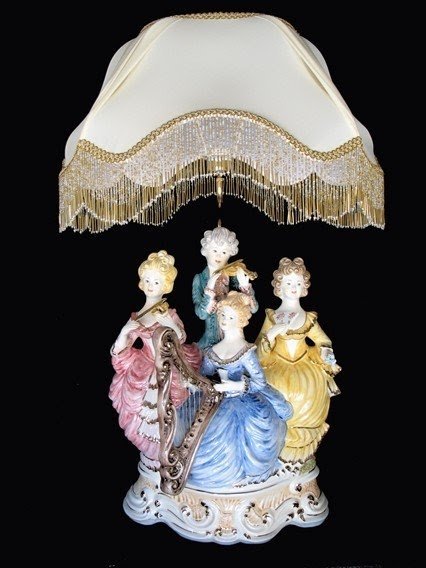 Porcelain figurine lamp depicting four women, all of the different age. One is playing the violin. Detailed, rich finish and decorative character of this figurine are what makes it so good at enhancing an interior with a traditional vibe.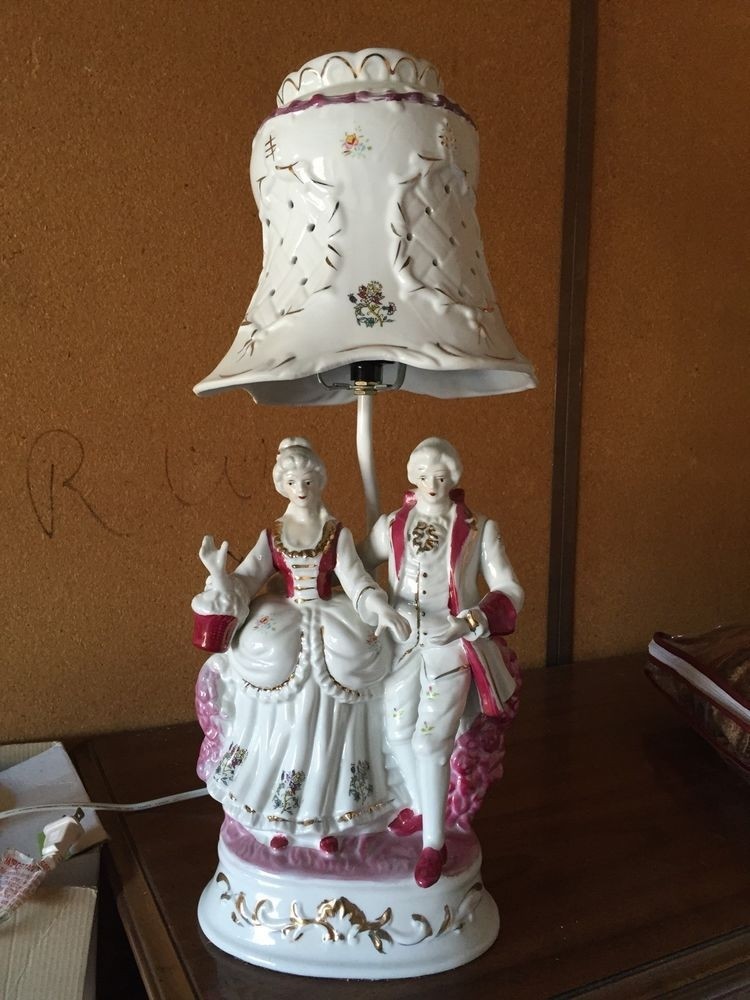 Porcelain Figurine Lamp | eBay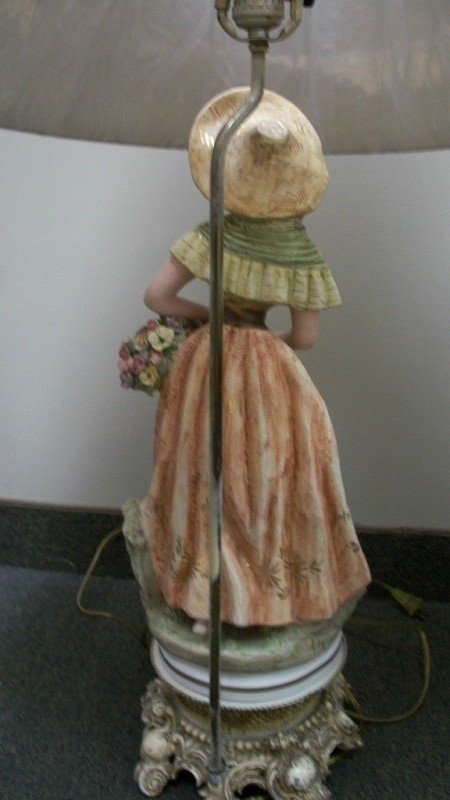 VINTAGE 1950'S PORCELAIN FIGURINE TABLE LAMPS 2 OF THEM- MADE IN ITALY ...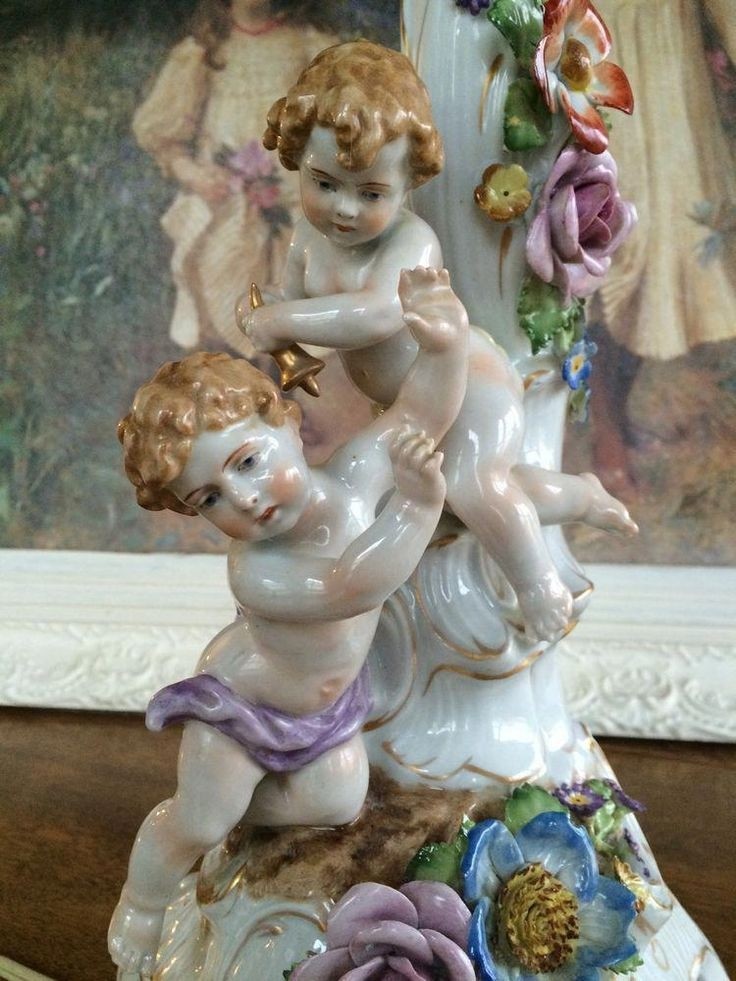 Von Schierholz DRESDEN Lamp Antique Porcelain Figurine Putti Stunning Art #DRESDENSCHIERHOLZ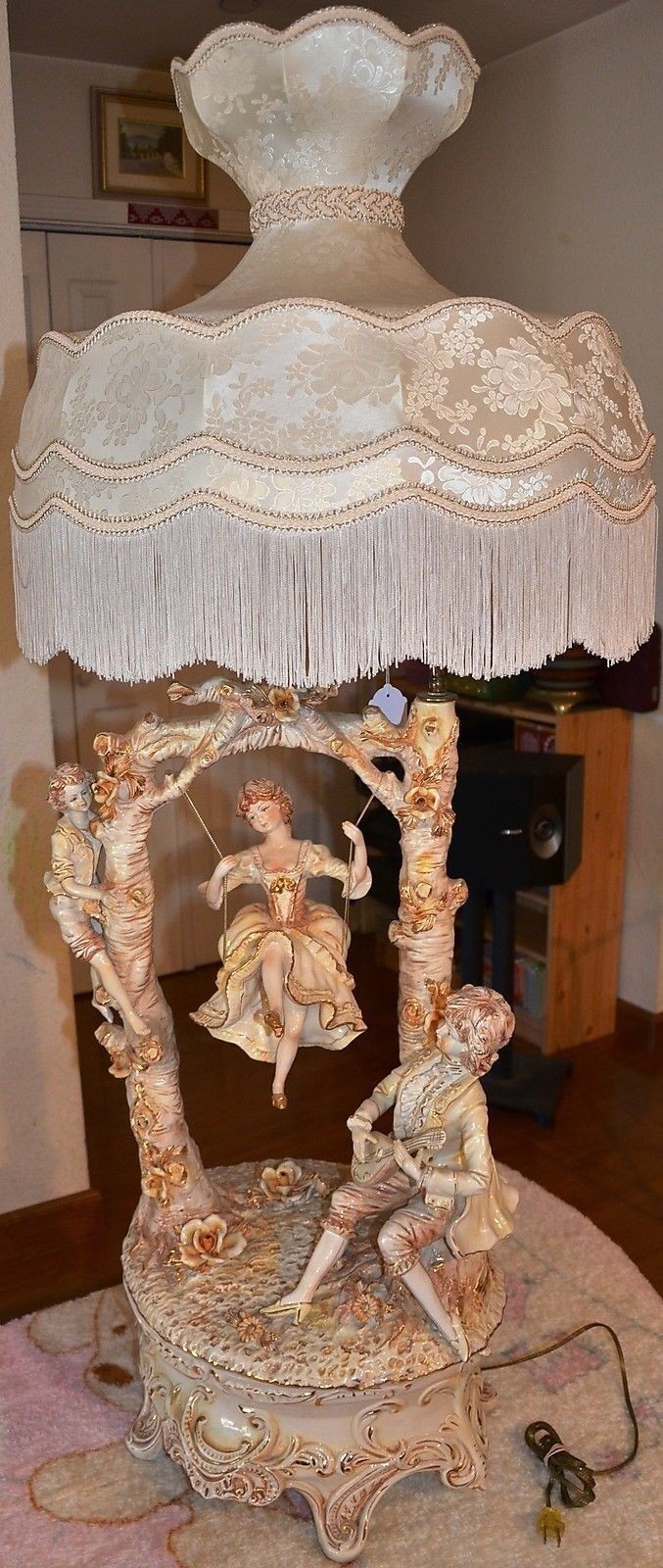 Phenomenal table lamp in the French style. Carefully carving base is made of high quality porcelain. Lampshade is covered with fabric and finished with decorative frills. Elegant addition to the living room, bedroom and more.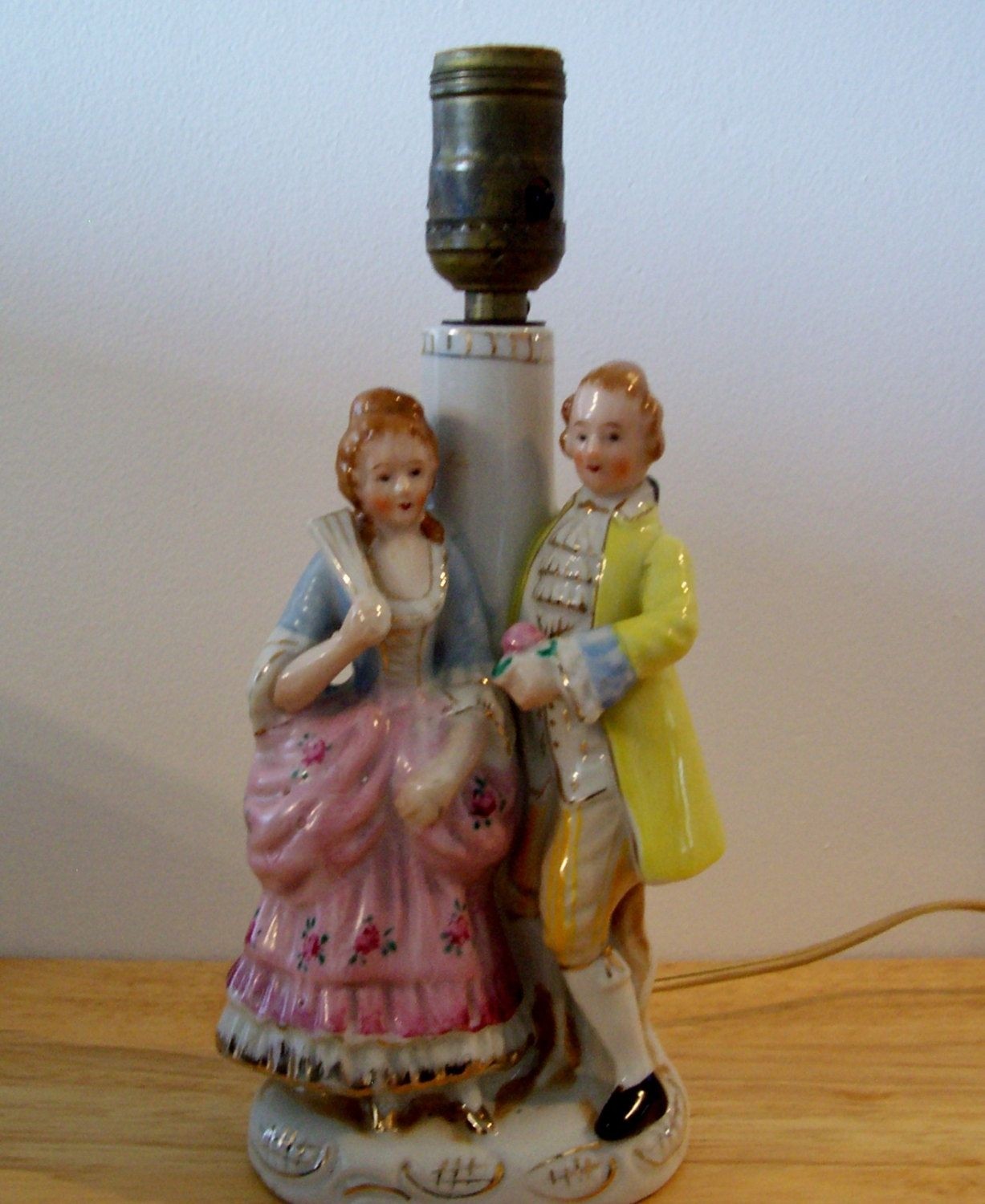 1950's Occupied Japan Victorian Figurine Bedroom Porcelain Bisque Lamp Light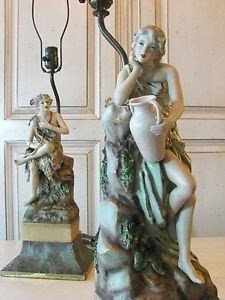 ... German-Meissen-or-Dresden-Italian-Capodimonte-Figurine-Porcelain-Lamps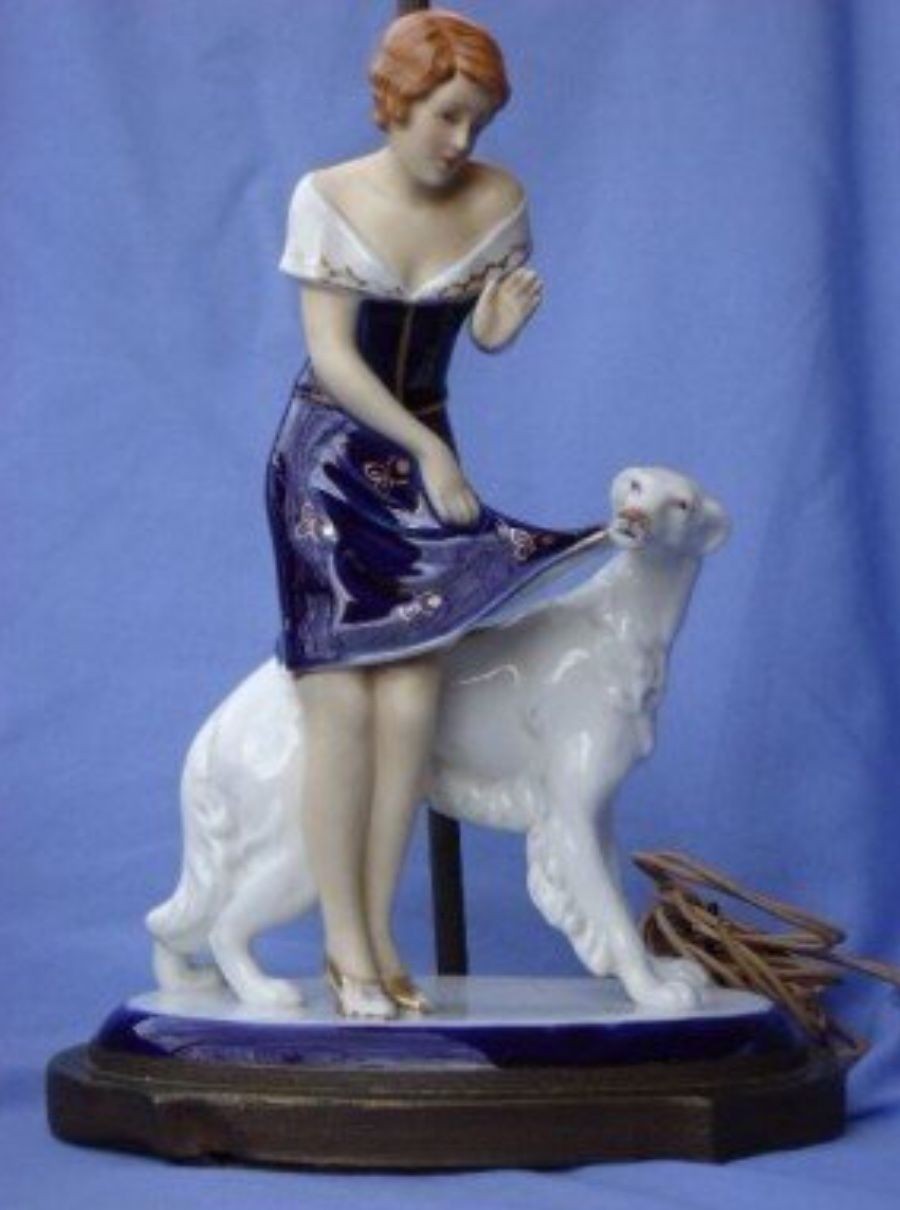 With the amazing and utterly beautiful art deco structure and the figurine theme with a charming dog this lamp is surely a fine choice for your interior and a perfect way to compliment the antique styled home.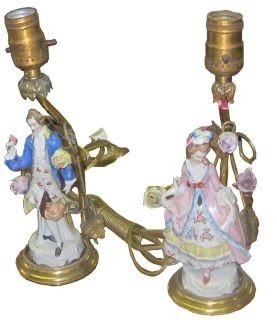 Antique Porcelain Figurine Lamp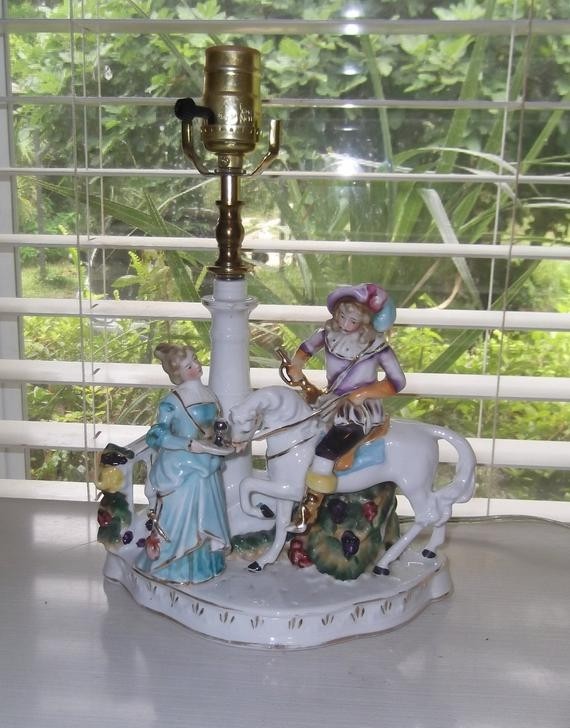 This beautiful vintage porcelain lamp was made in Germany. It is table lamp with figurines of a French Musketeer gentleman on his white steed with a feather in his hat and holding a horn. There is a lady friend that seems to be of another era that is offe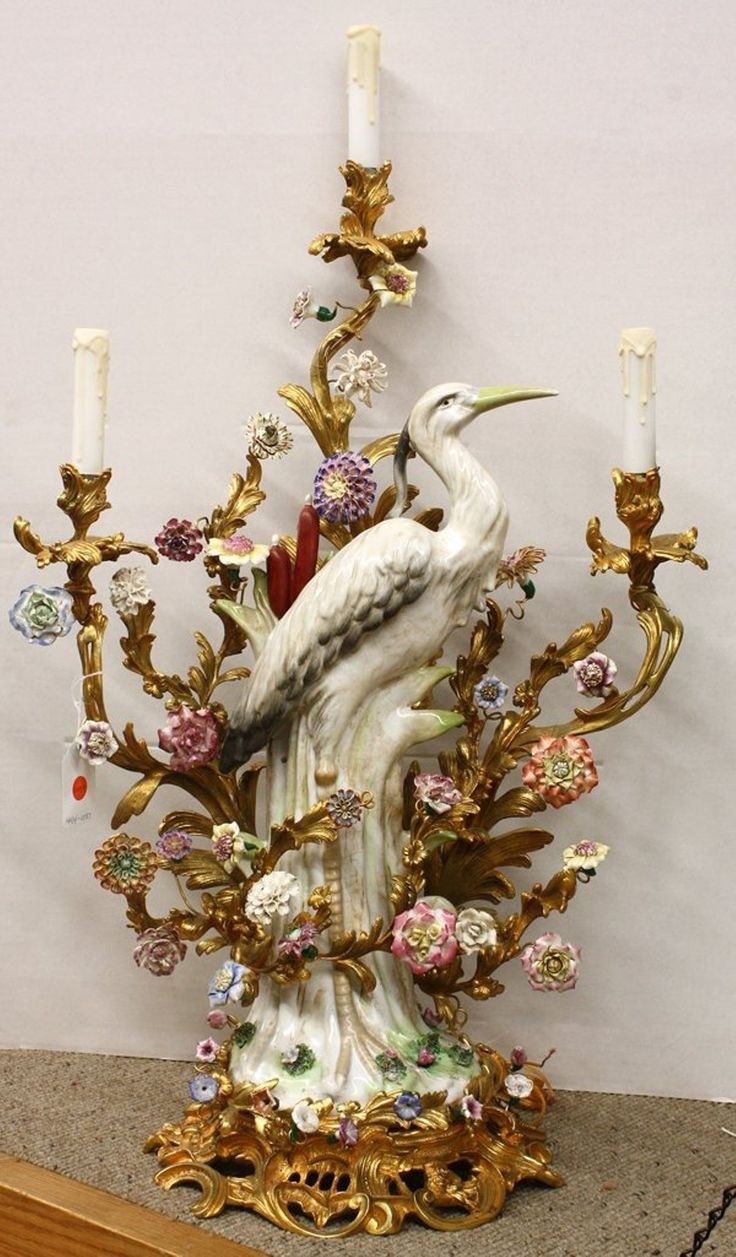 Transform your home decor into a breathtaking state of art with this remarkable 3-light candelabra enhanced with a golden / bronze finish. The design pictures a stunning, porcelain crane rising on an open work Rococo style base.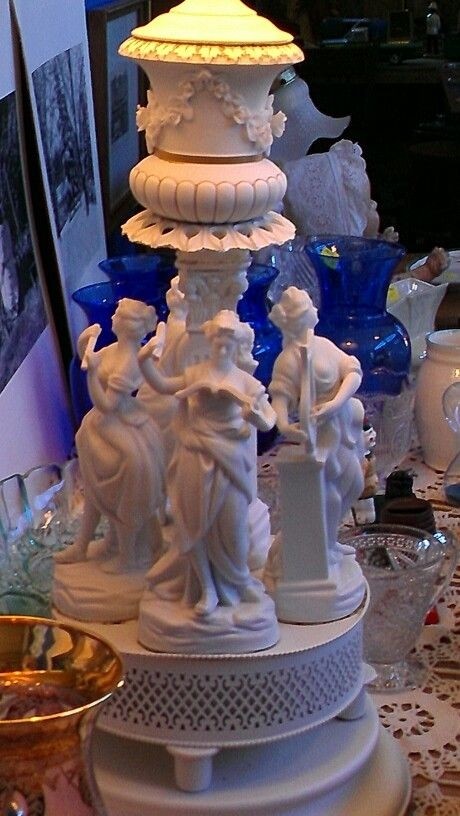 Figurine lamp made of high quality porcelain. Sophisticated decoration for each place. Suitable for residential and commercial premises.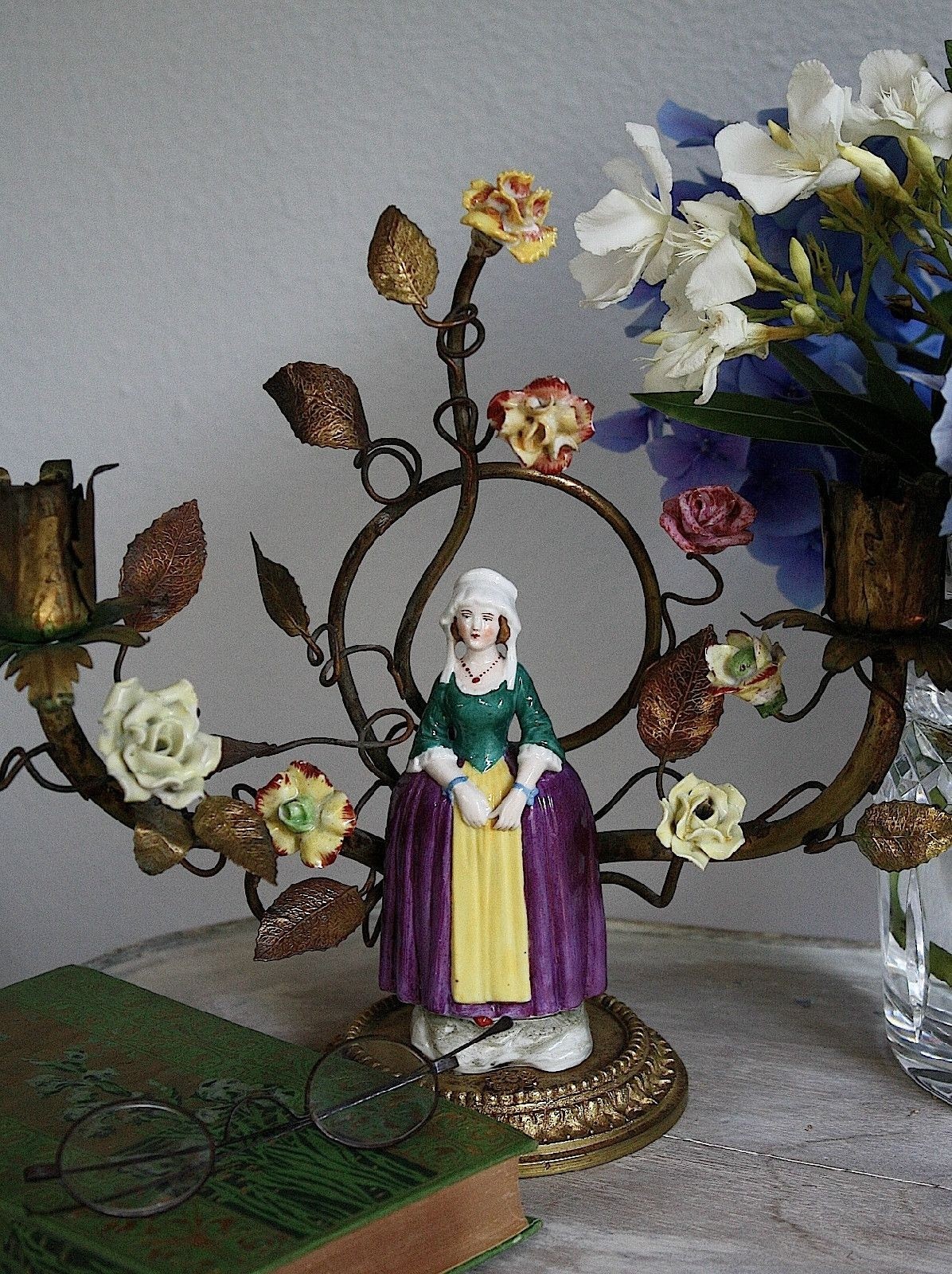 Antique French Ormolu Porcelain Flowers Figurine Gilt Lamp Candelabra | eBay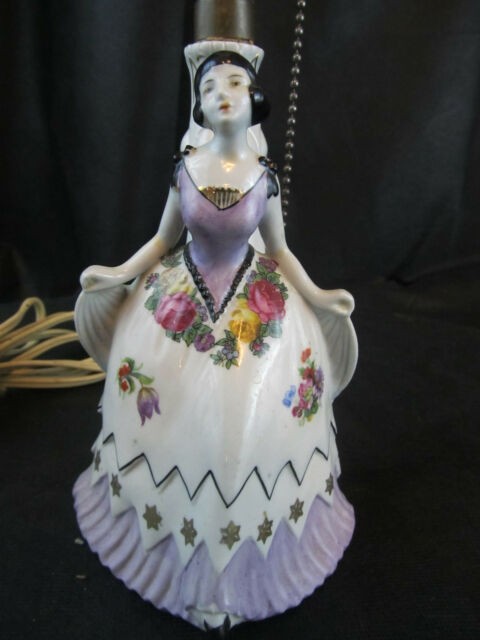 Vintage Lamp Porcelain with German Figurine | eBay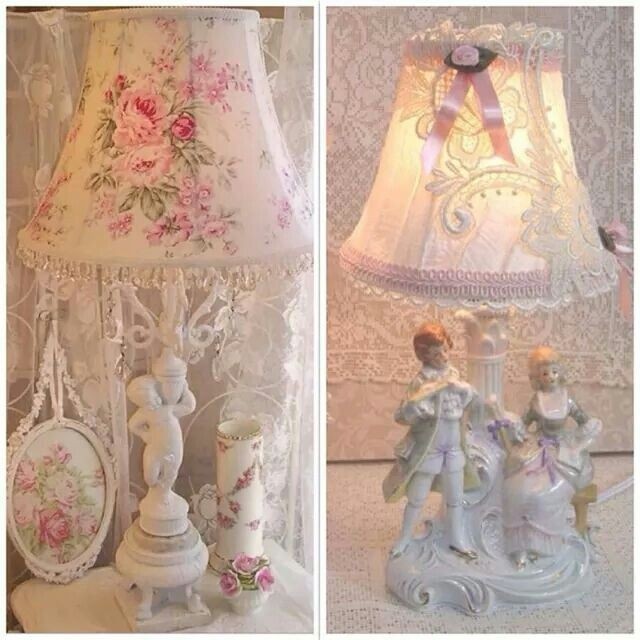 Enchanting with its detailed, subtle crafting, this unique table lamp is embellished with a pair of figures, presenting a couple from the French romanticism. It shall attract particularly the fans of shabby chic style.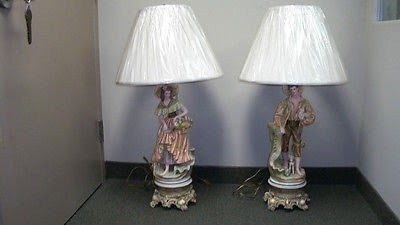 VINTAGE PORCELAIN FIGURINE TABLE LAMPS 2 OF THEM (9272)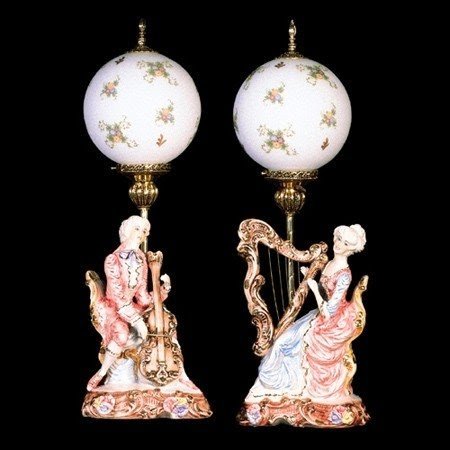 Adorned with Fired 24 Karat Gold Paint, these hand-painted porcelain figurine lamps constitute a breathtaking proposition straight from Italy. Designed to bring refinement and chic.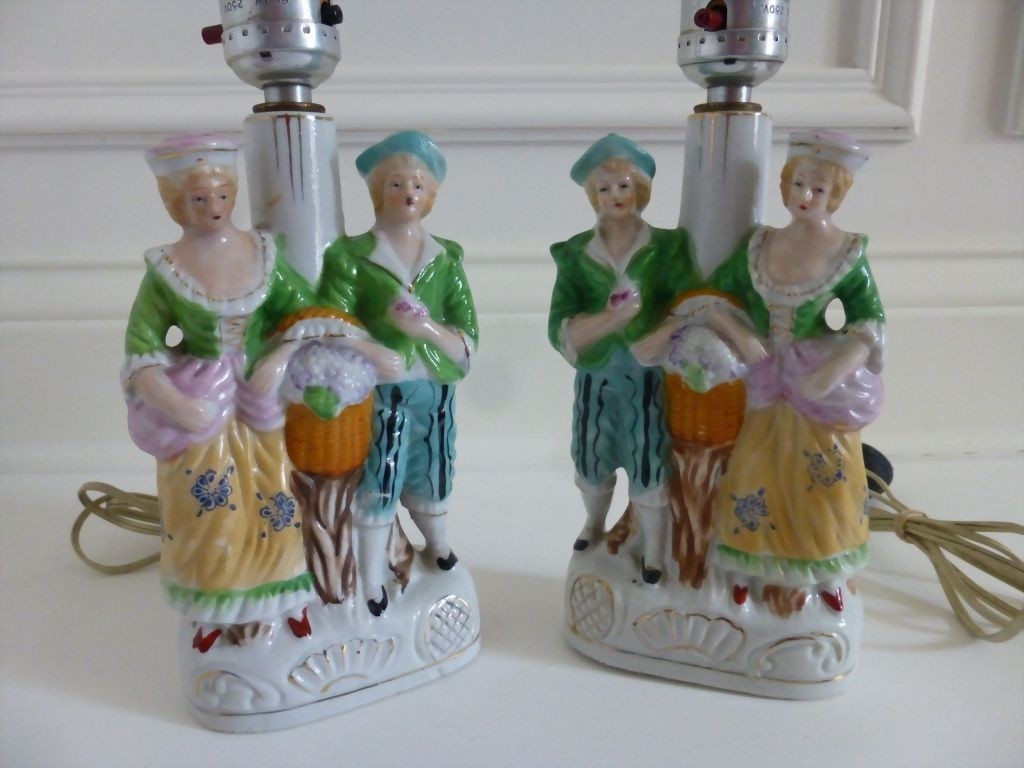 Traditional porcelain figurines turned into small lamps. Great for cottage-style houses. Radiant, lively colours are the best way to spark some new life into an interior and create romantic mood inside your house.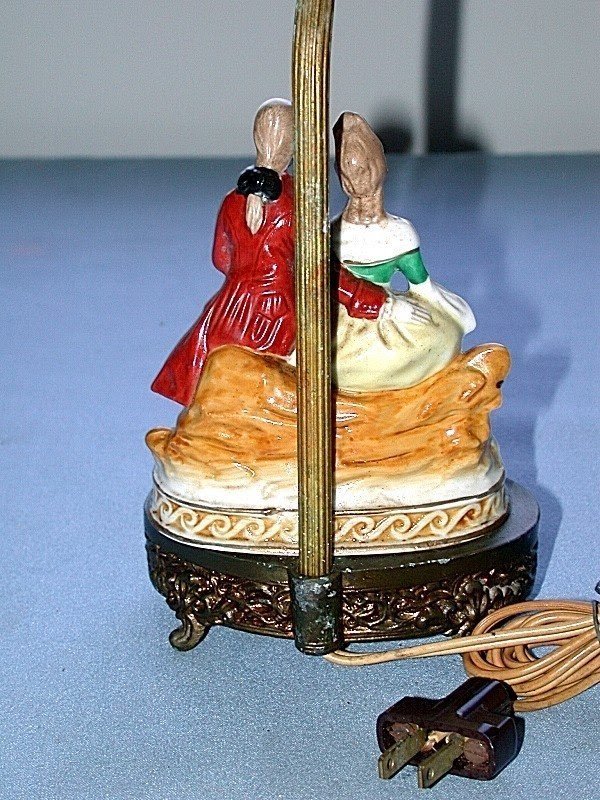 Antique Victorian Couple Porcelain Figurine Lamp On Antique Patina Brass Base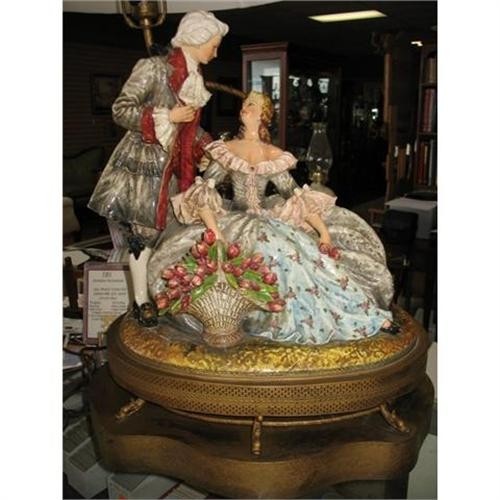 Huge Rare Italian Porcelain Figurine Lamp, #2170167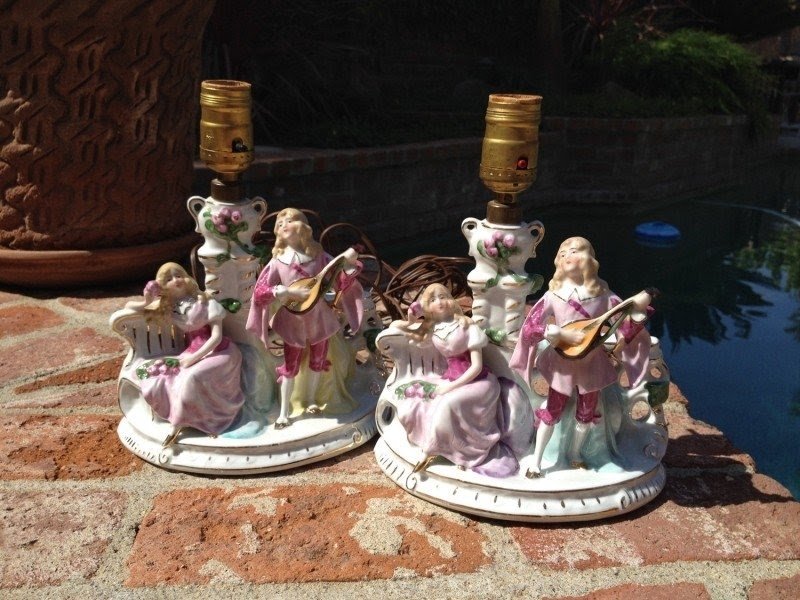 Pair Vintage Porcelain German Figurine Lamps Couples Love Serenade Pink Bedroom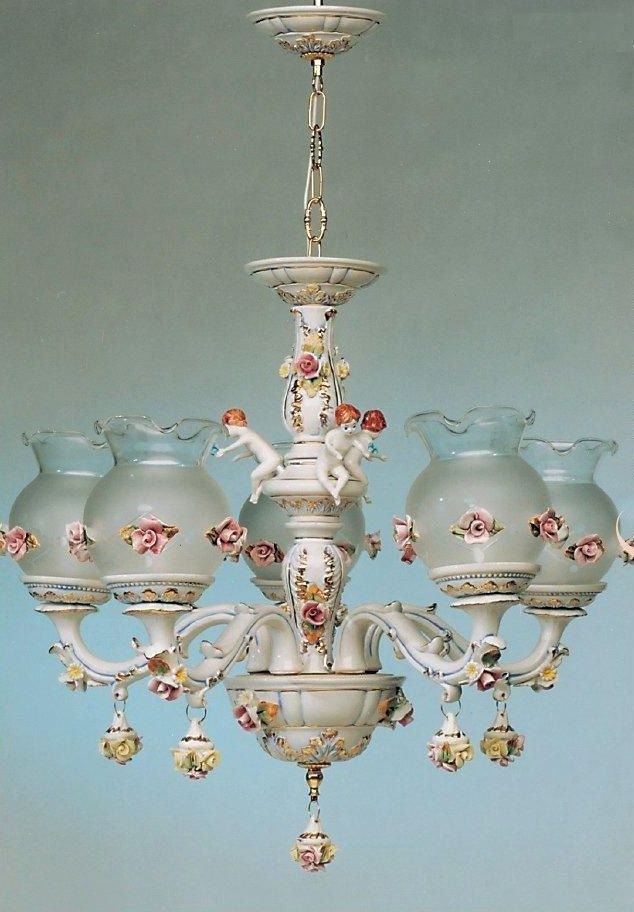 Opt for a lavish and beautifully styled piece like this Italian chandelier. It comes with the sweet roses on the glass shades and the charming floral accents on the base itself, as well as the charming cherubs.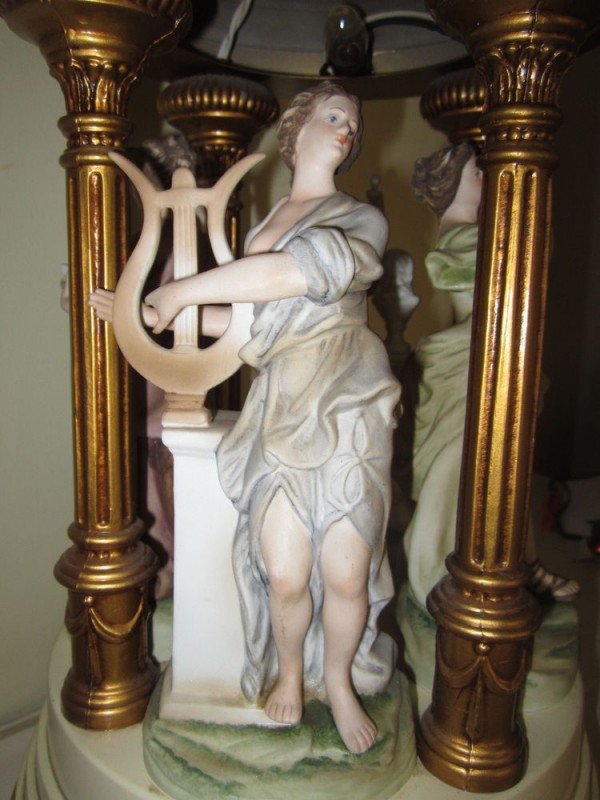 Everyone needs original adornment in his house, so if you fan of baroque style, this antique figurine will be perfect decoration to your home. It is made of ceramic and hand-painted. This figurine looks very artistic and luxurious.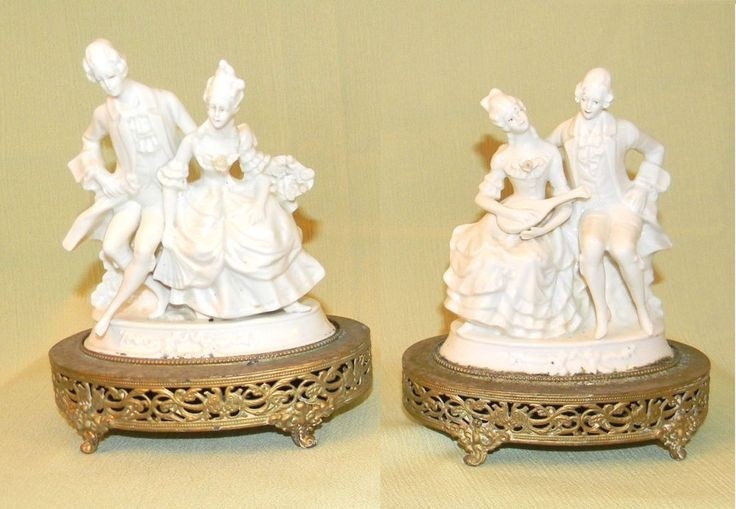 ... -ONE-PAIR-DRESDEN-WHITE-PORCELAIN-VICTORIAN-FIGURINE-TABLE-LAMP-BASE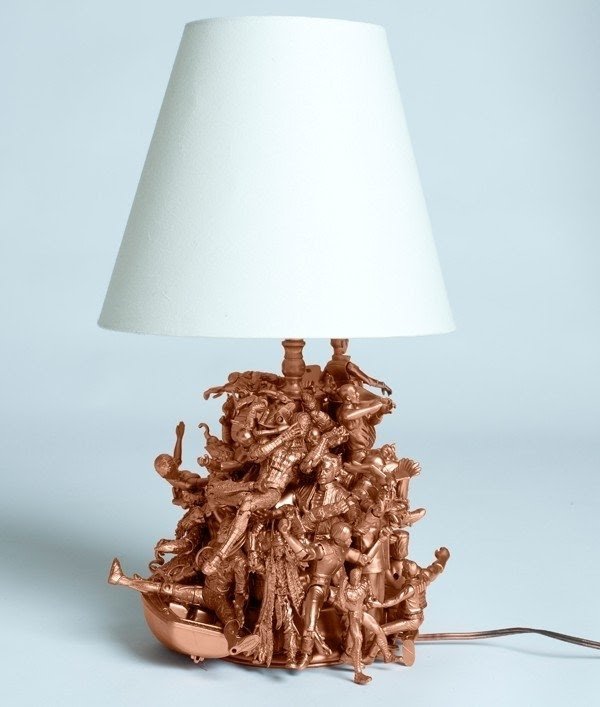 On the face of it this lamps looks quite ordinarily, but if you have a second look, you will see that bronze figurine which is kickstand present the war between people and robots. It gives food for thought!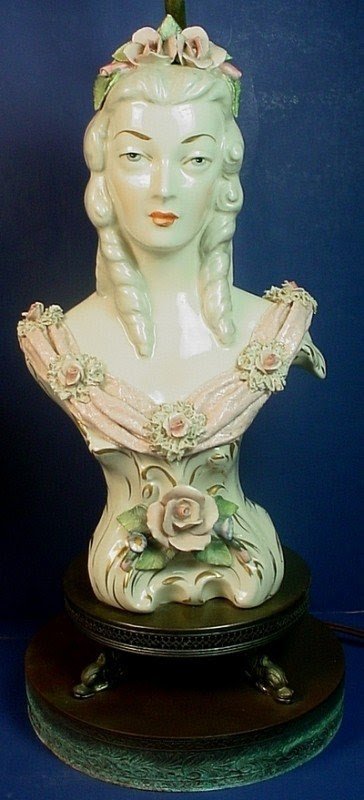 ... CYBIS "PAPKA" PORCELAIN VICTORIAN HALF-MAN & WOMAN FIGURINE LAMPS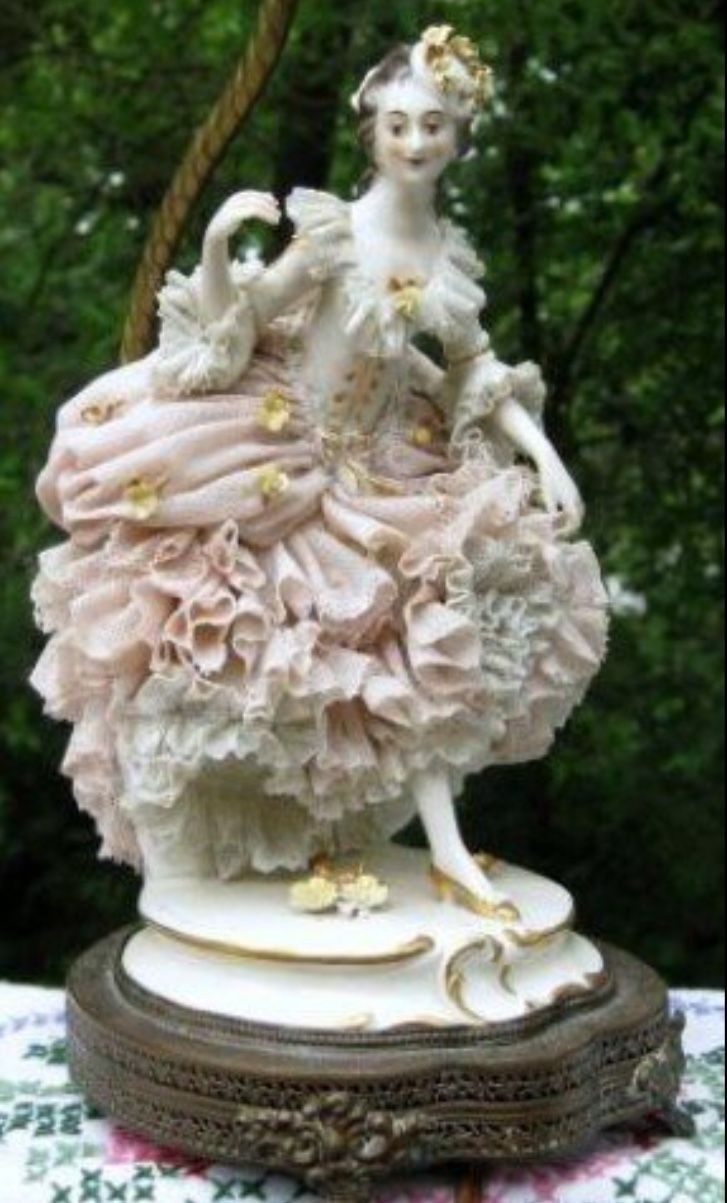 German design for an antique porcelain figurine lamp resembling a classical dancer with a pink dress. This one would surely look nice in a garden as a night light replacement to light up your backyard during the night.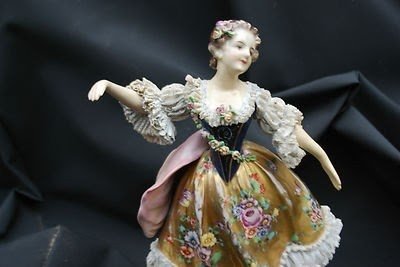 Antique Volkstedt Dresden Lace Porcelain Lady Lamp Base Figurine Germany | eBay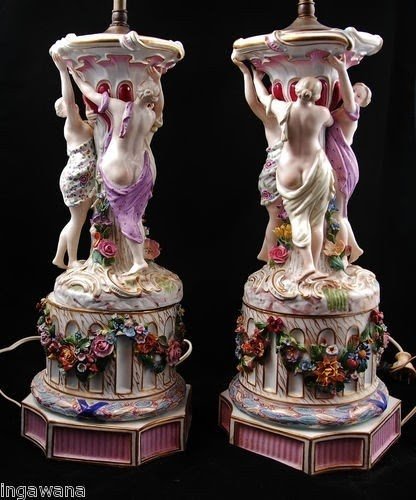 Meissen 19th Century Hand Painted Porcelain Porcelain Lamps Pair | eBay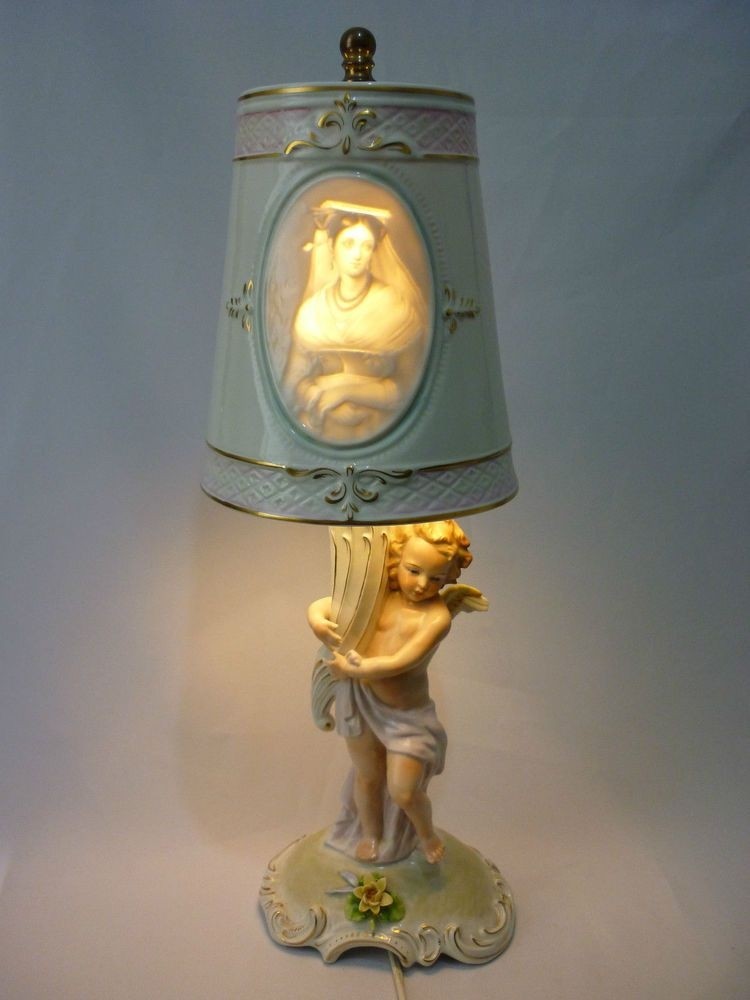 Blue Figurine Table Lamp.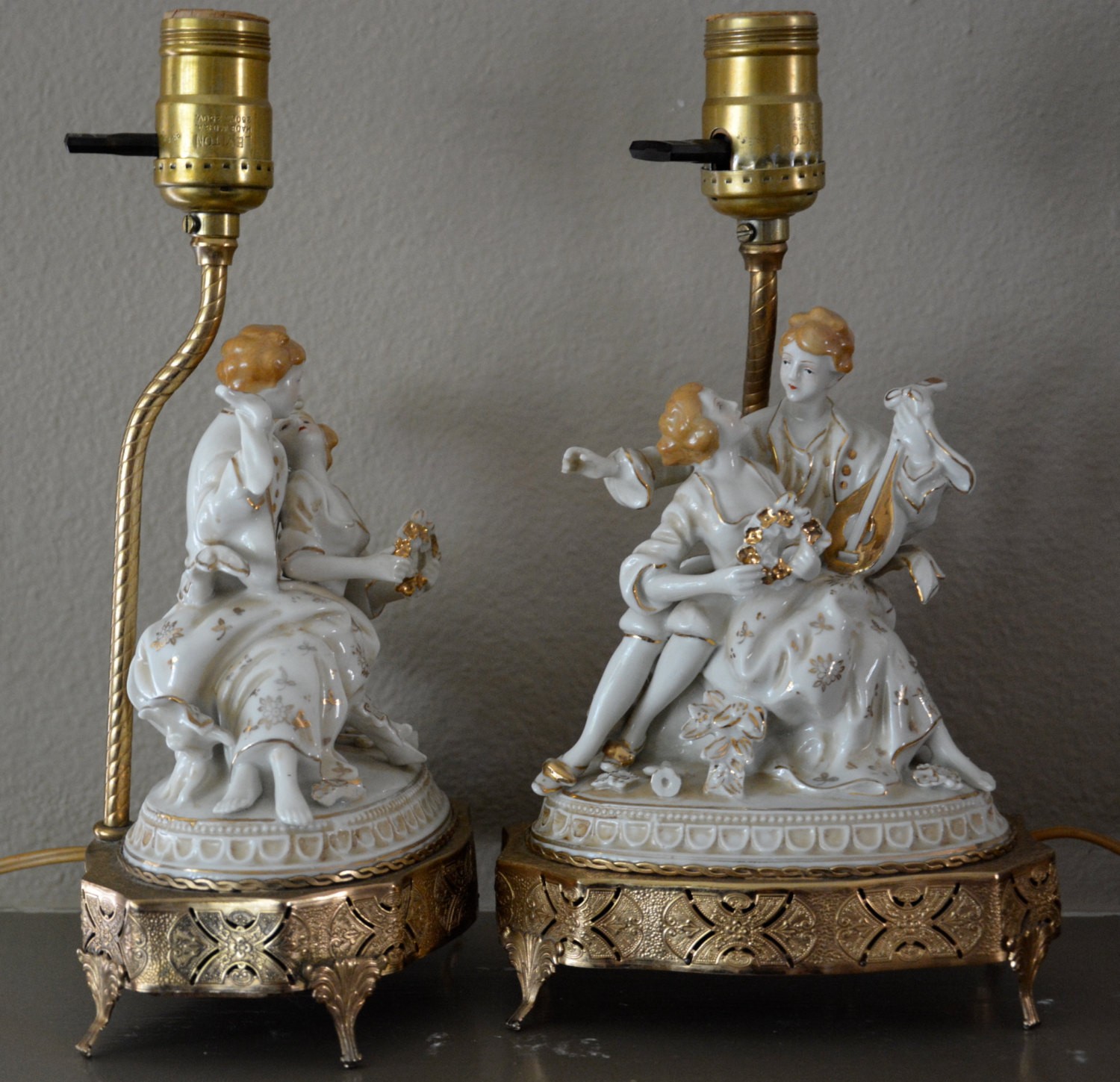 French Figurine Lamps Vintage French Lamps Porcelain Lamps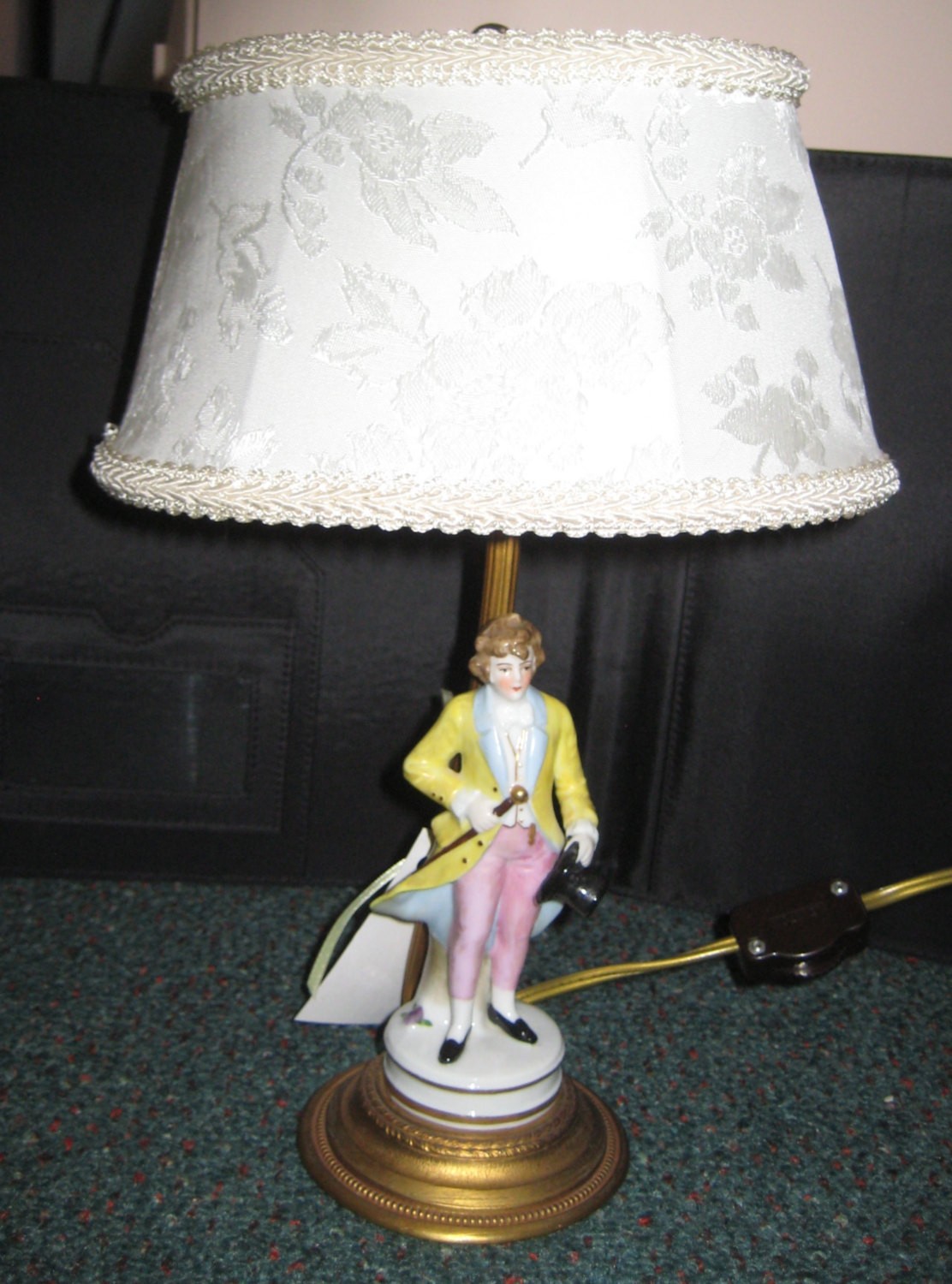 Vintage Porcelain Figurine Lamps with Custom Silk Shades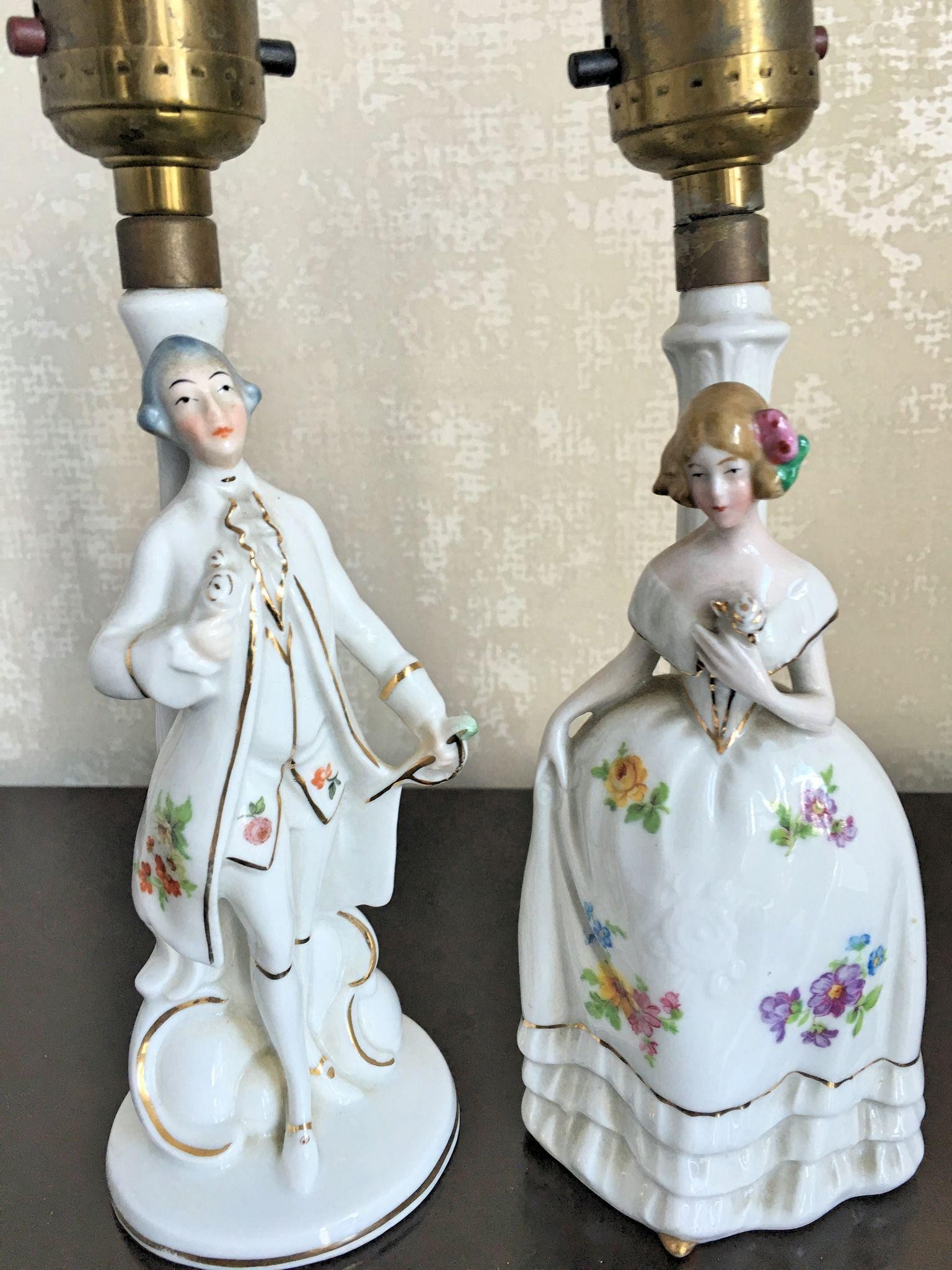 Vintage Porcelain Figurine Lamps marked Germany from ...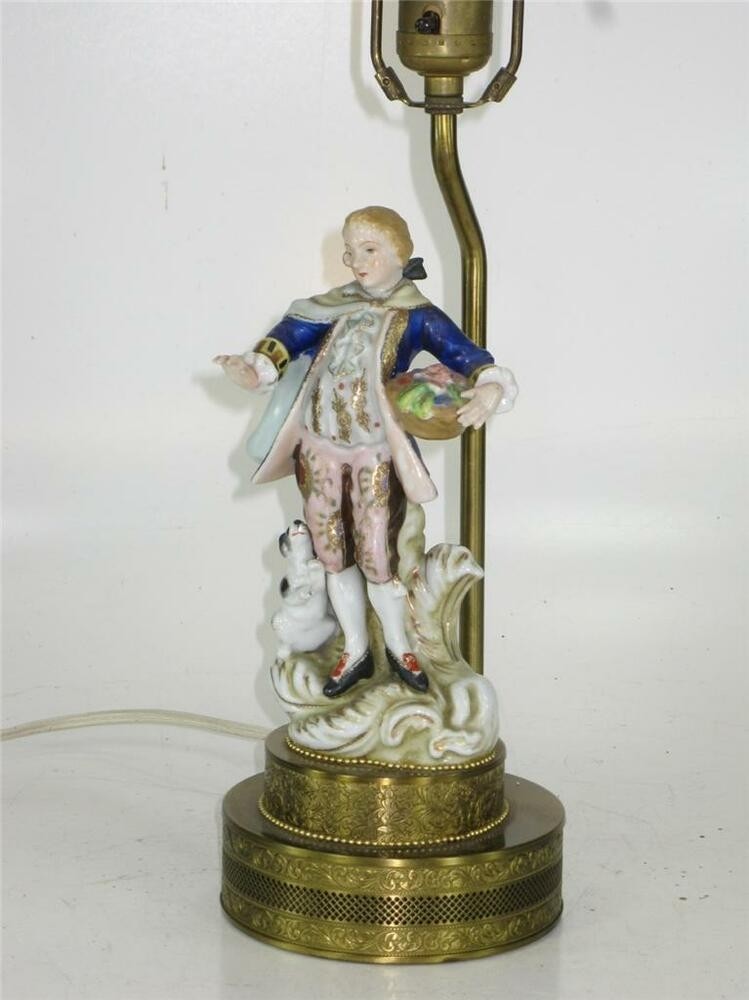 FRENCH STYLE Porcelain FIGURINE BOUDOIR TABLE LAMP MAN ...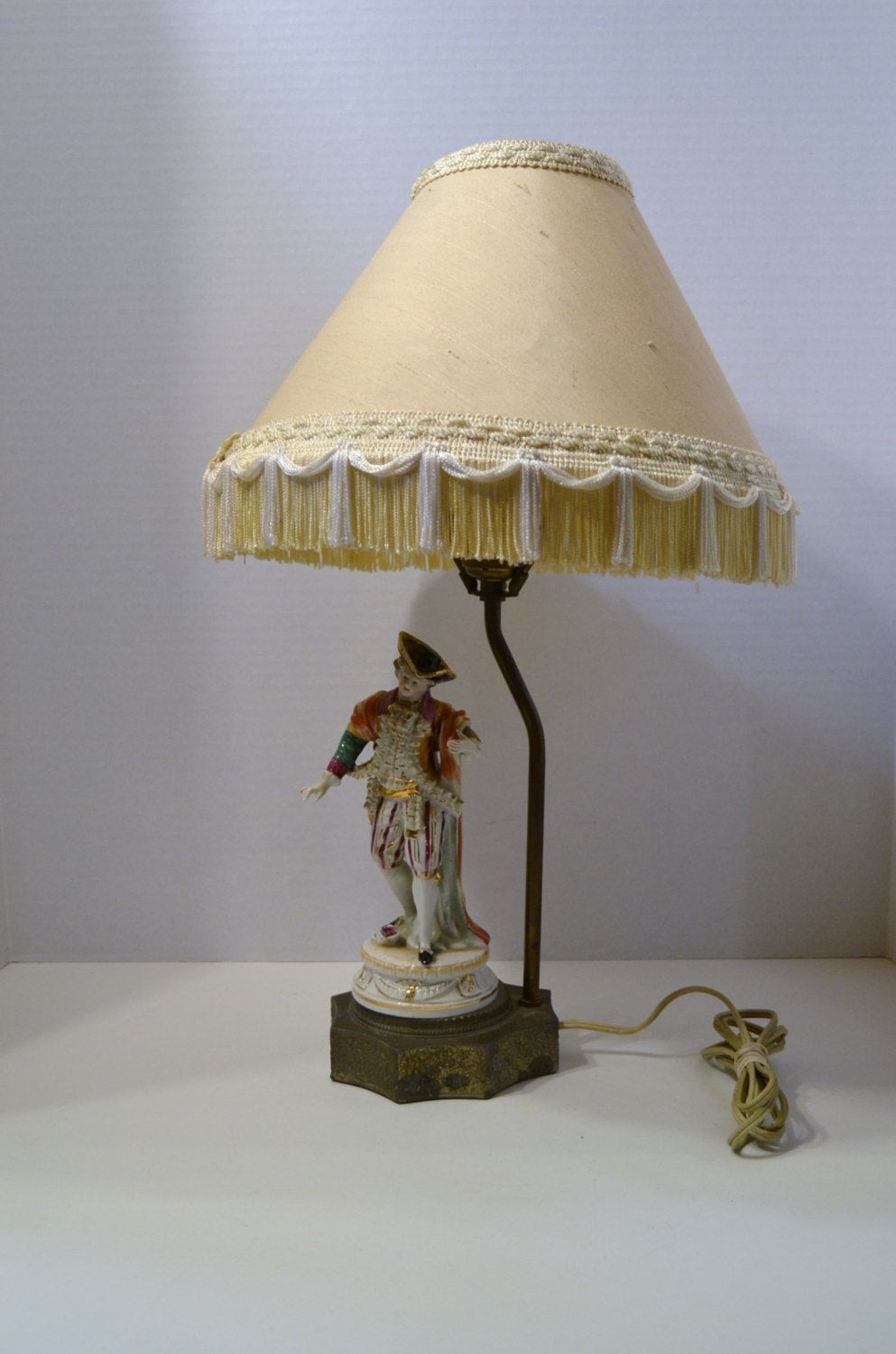 Vintage Lamp Victorian Porcelain Figurine Brass Base Original