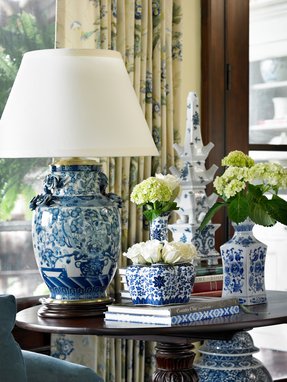 A beautiful traditional electric table lamp featuring an adorable Chinese vase-like base of gloss porcelain with intricate floral patterns in blues and white. A base has a round brown and gold foot. A classic lampshade is of quality plain white silk.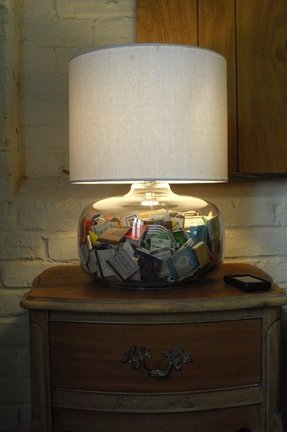 A creative idea, which will let you distinguish your apartment a bit. Filling up the clear glazed base of lamp. This wide one is now full of matches. An original solution to add a bit of funk and style to the surroundings.
Sky 29" H Ginger Jar Table Lamp with Empire Shade
Lovely table lamp boasting harmonious coloring scheme, with bulky base in light blue that resembles clear sky, and white empire shade. The design is pretty classic and it will blend with many types of decors.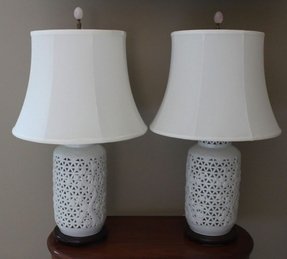 Pair Porcelain Blanc De Chine Ginger Jar Asian Table Lamps Japan W Silk Shades
Vintage table lamp. It has white lampshade made of canvas and very original kickstand inspired of Chinese lantern. It is made of porcelain and has floral pattern. This lamp will be fit to bright, spacious interior.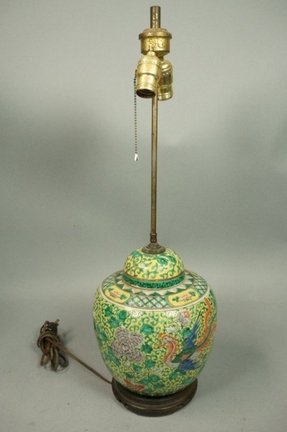 Made of quality ceramic by Asian artisans, this lovely porcelain ginger jar table lamp is, simply, exquisite in its form. Bbeautifully hand-painted with flowers and dragons, the lamp rests on a round wood base for balance.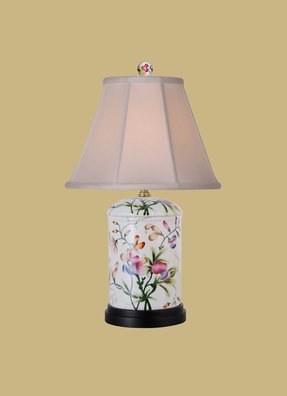 20" H Jar Table Lamp with Bell Shade
This 20-inch height table lamp features a multi-colored, porcelain body that rests on a sturdy, round base. The bell shade is designed of an off-white fabric, and accommodates 100W compact fluorescent (CFL) bulbs. LED Compatible.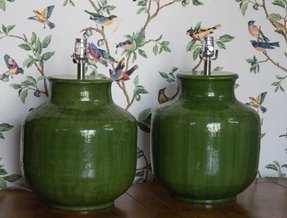 Pair Of Mid Century Ginger Jar Ceramic
Table lamps that feature ginger jar themes. These green lamps made on the basis of ceramic materials look very attractive and they are also resistant to many forms of wear or damage. Their green color decorates almost any indoors.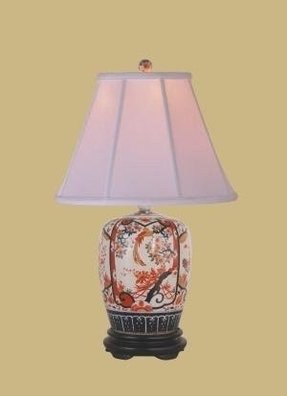 This amazing table lamp sports a beautifully detailed structure of its base that brings to mind the Japanese styled art and comes with a neutral shade to match it completely and to elevate its looks.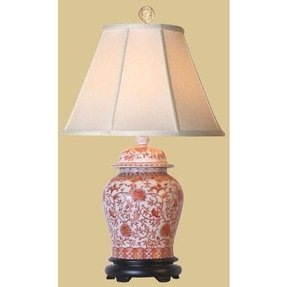 Asian Accent - 29" Fine Chinese Porcelain Ginger Jar White & Orange Floral Oriental Table Lamp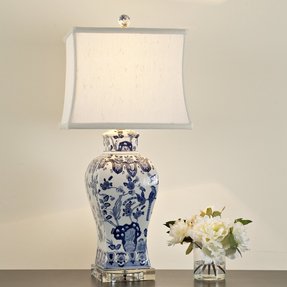 In the elegant interior, you need elegant accessories, and as you know, porcelain is synonymous with elegance. Especially when her white is combined with blue painted flowers - and decorate a majestic white ginger jar lamp.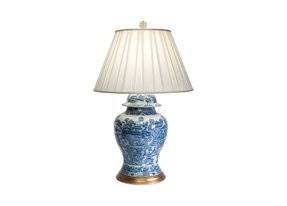 Classic Ginger Jar Table Lamp
Such a cute, refreshing design for a table lamp with a traditional, hand painted decal which looks like a cute parrot! Gives this one a unique, vibrant appearance, perfect for a vintage bedroom to put on a night stand.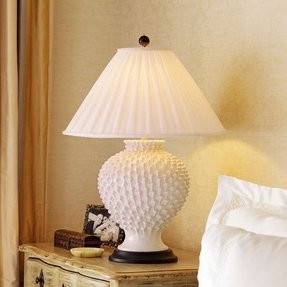 With the ceramic structure and a really unique base that looks a bit like a palm tree or a shell this table lamp will help you create a welcoming vibe in your interior, while the all white finish adds a certain amount of appeal and simplicity.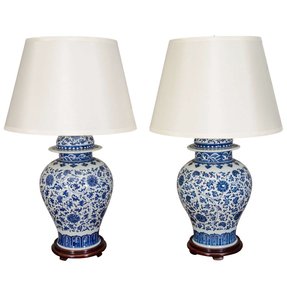 1stdibs | Pair Of Blue And White Porcelain Chinese Temple Jar Lamps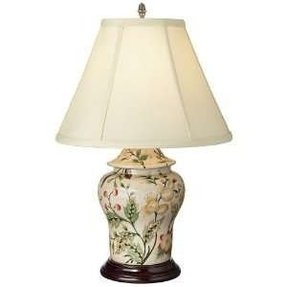 Southern Charm Porcelain Ginger Jar Tuscan Table Lamp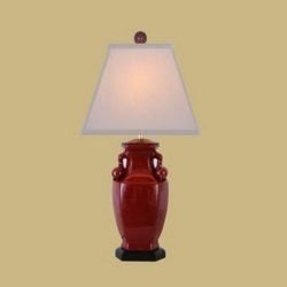 East Enterprises LPRR4054 Ox-Blood Porcelain Oriental Table Lamp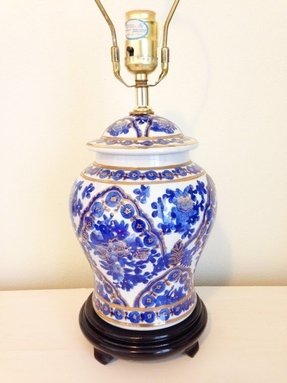 Vintage Chinese Blue White Gold Porcelain Ginger Jar Table Lamp Hand Painted 22"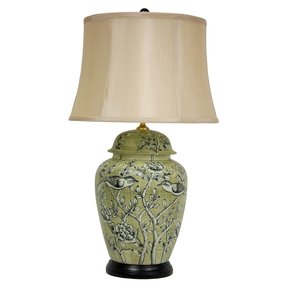 Fine porcelain ceramic vase lamp with a classic ginger jar body and domed lid. (It's the green and the birds that make me want want want)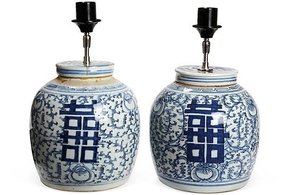 Aesthetic stylish table lamps featuring bases in forms of squabby jars of white ceramic adorned with Chinese characters and floral motifs in blues and narrow golden rims close to top edges. Short stems of metal in gold end with black plastic sockets.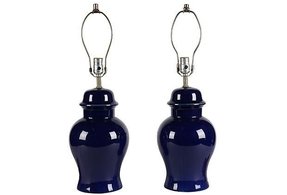 A pair of gorgeous, ginger ceramic table lamps with handy holders if you'd rather hang them on the wall than the display on the table. These ones come in a dark, cobalt color which gives them a mysterious, mystique appearance.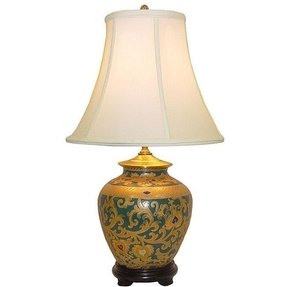 Royal Everglade 1 Light Ginger Jar Porcelain Table Lamp
Table lamp mounted on porcelain base in the shape of jar. It is fitted with lampshade covered with fabric. Perfect as night lamp or additional source of light. Received many positive recommendations from clients.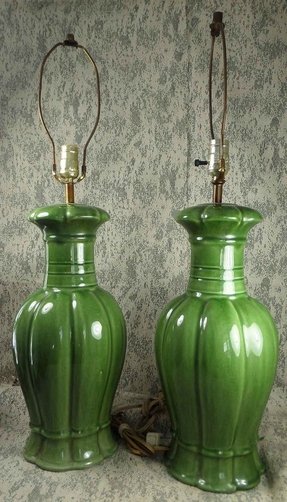 Vintage Pair Of Green Ceramic Ginger Jar Table Lamps
Deriving from the 1960s or 70s, this pair of vintage ceramic ginger jar lamps will be a good addition to your living or dining room tables. They measure 29" to the top of the finials. The bases are 6" in diameter.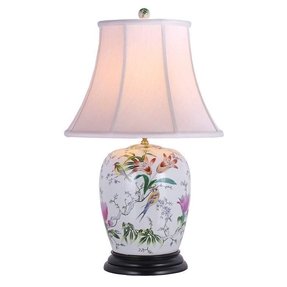 Precise, carefully crafted pattern graces the squab porcelain base of this table lamp. Taking strong inspiration from classic Asian pattern, dripping with songbirds and lily flowers, this lamp makes an impact.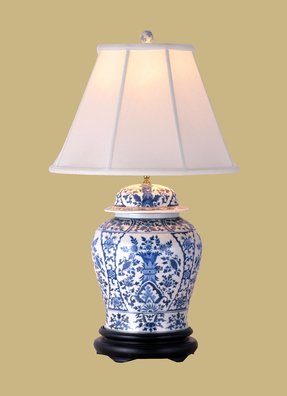 29" H Temple Jar Table Lamp with Bell Shade
Are you a fan of original and intriguing solutions? Thenm you're gonna fall in love with this charming and elegant table lamp with bell shade! It will bring you a huge dose fof incredible design and functionality.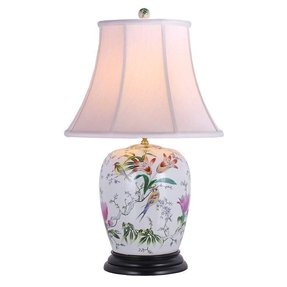 Tasteful table lamp for the living room, bedroom and more. Base is made of high quality porcelain and finished with sophisticated ornamentation. Bell's lampshade is covered with fabric and gives warm tone of light.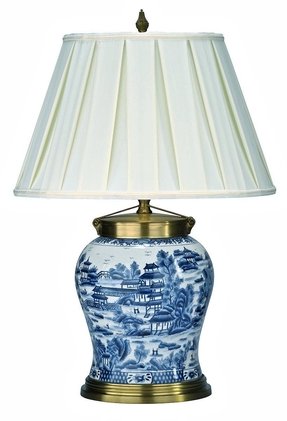 Combining a high-quality porcelain body with polished brass base results in an exquisitely stylish piece of furniture. This ginger jar table lamp is designed therefore to bring refinement to your bedroom or living room decor.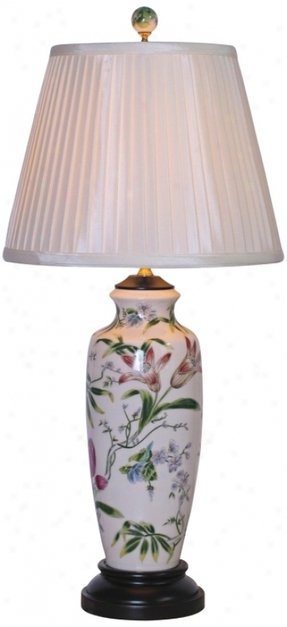 Tall Lily Ginger Jar Porcelain Table Lamp (g6965) .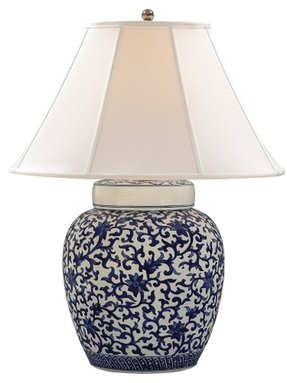 A decorative addition for any decor, that illuminates homes with its warm light and beautiful, white and blue pattern. The jar body is made of quality porcelain, and holds an off-white fabric bell shade topped with a stylish finial.
25.5" H Jar Table Lamp with Empire Shade
Ornamental jar table lamp with immaculate white empire shade enveloping a single LED bulb. The fixture material is porcelain. Other style details include ornate Asian art inspired pattern. The lamp features 3-way switch.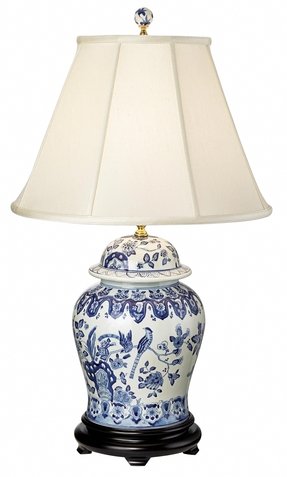 With its beautiful porcelain ginger jar, this table lamp constitutes a good example of a hand-crafted item. Embellished with birds and beautiful flowers, it will add brilliance to any living room decor.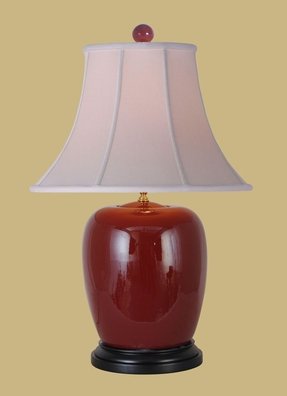 28" H Jar Table Lamp with Bell Shade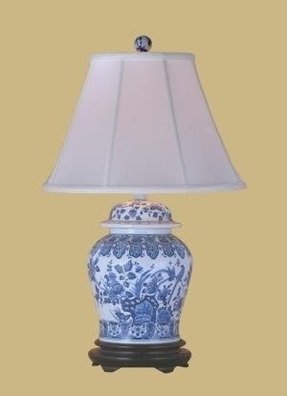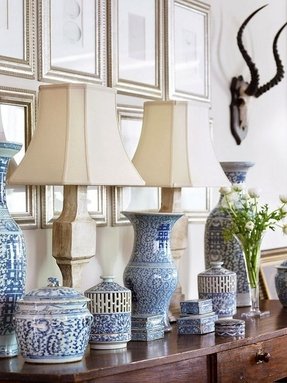 This table lamp is a functional element that also decorates indoors at day and night. Its solid wooden frame includes simple lines and some decorative carvings. Its neutral colored shade perfectly suits different decorative elements.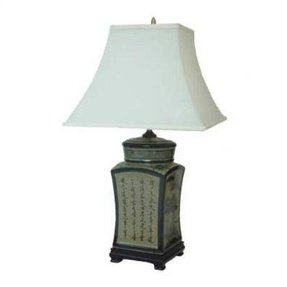 Add the charming illumination of the Tea Jar Oriental Lamp to your decor and cast your home in a whole new light. The lamp body is a Ming dynasty style recreation of an antiqued blue and sage tea jar, decorated with on two sides with Chinese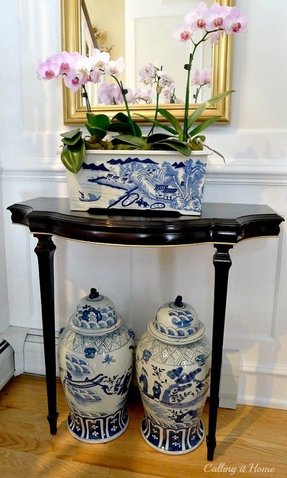 Incorporate a bit of the oriental design to your living room and create a refined decor with these traditional ceramic navy blue and white jars. Placed under a console table, they will create a stylish corner.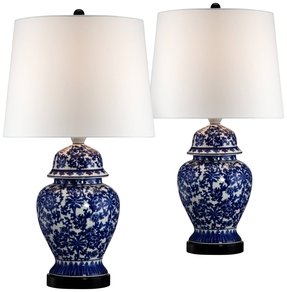 The refinement of this porcelain ginger jar table lamp is visible in the traditional Asian style from the periphery of Chinese villages - cobalt colors combine with white ceramics. A blue and white complicated floral pattern has been applied by hand.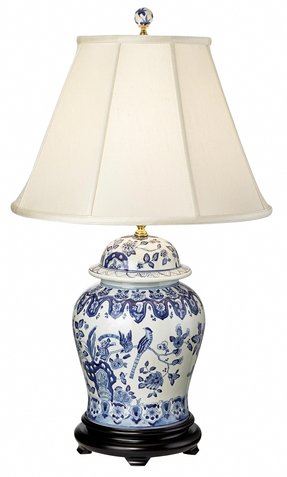 Spice up your home with this pretty table lamp that emanates with hand-painted pattern of white and blue birds and flowers. The body is made of quality porcelain, standing on an espresso-finished wood base and holding an off-white fabric bell shade.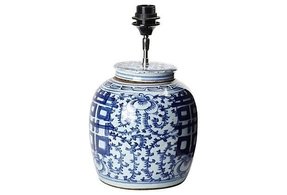 Cobalt, cyan, azure, turquoise, blue - the blue color has many shades, and each of them has an amazing story like in this ceramic porcelain ginger jar table lamp in Asian tradition- a lamp base - which offers a well-known white and blue pattern.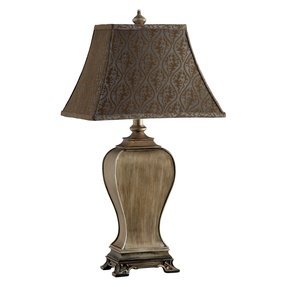 Accent 32" H Lighting Ginger Jar Table Lamp with Bell Shade
This made on the basis of resin table lamp in antique style is a striking detail that will change your interior in an unusual way. Beautiful detail shade and subtle colors, to complement any interior.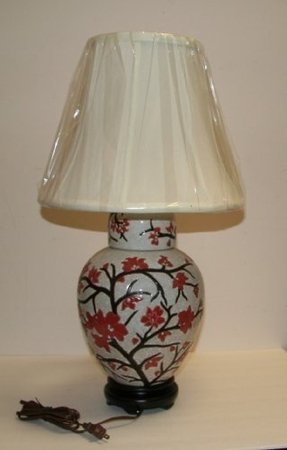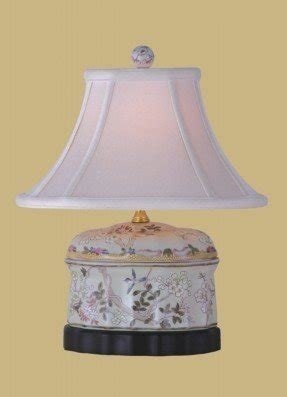 15" H Jar Table Lamp with Bell Shade
For some people, 22 is a lucky number (11 x2) which is a double happiness! Presented here porcelain ginger jar table lamp has a 22" x 15" inc. Hand-painted soft flowers are exposed in shades of pink, white and green. It is based on the black ground.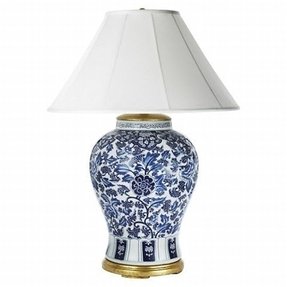 Large Ginger Jar Table Lamp