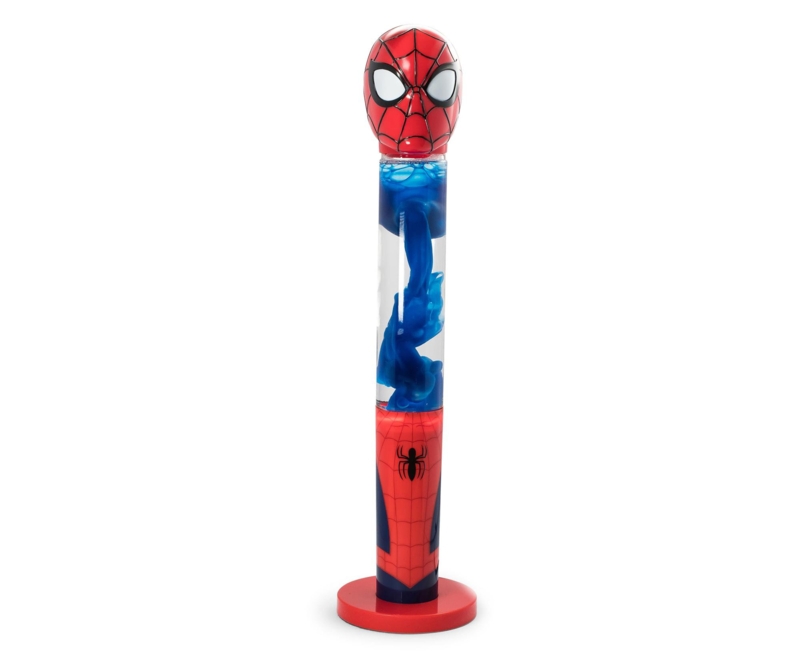 Spider-Man Inspired Motion Lamp
Ukonic
Perfect For: Marvel fans seeking a fun and relaxing night light
What We Like: 3D Spider-Man mask sculpt adds a unique touch
This 20-inch tall Spider-Man Motion Lamp offers a creative way to show off your Marvel fandom. With an eye-catching design inspired by the web-slinger, this retro-style mood light is perfect for dorm rooms, offices, or bedrooms. The lamp features a 3D sculpt of Spider-Man's iconic mask and includes a 25-watt R39 E17 bulb. Its polarized electric plug and in-line on/off switch make operation a breeze, while blue globules flow within the lamp, creating an appealing light-up effect.
$49.99 $59.99
Designer Advice:
Place the motion lamp on a desk or a side table, and pair it with other Marvel-themed decor items for a cohesive superhero-inspired space.
Merchant links are sponsored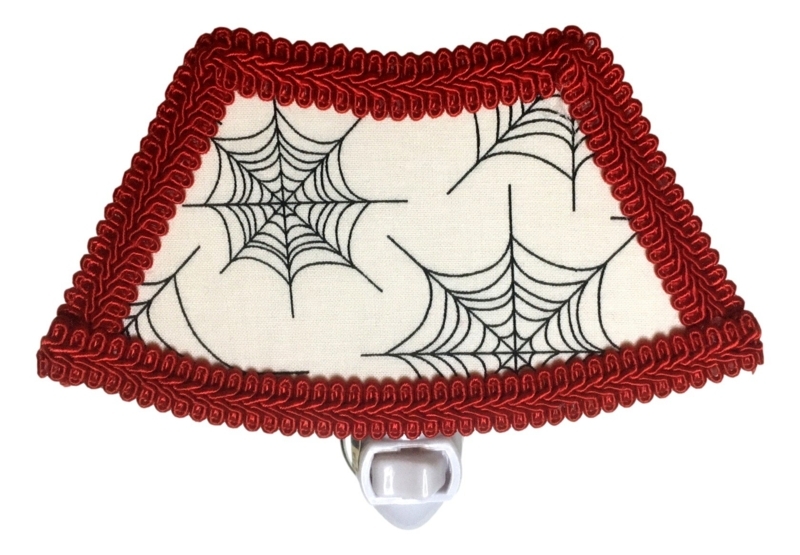 Custom Fabric Night Light
Silly Bear Lighting
Perfect For: Adding a cozy ambiance to your little one's room
What We Like: Soft glow and adorable design
This custom night light features a fabric shade with a white and red color scheme, perfect for adding a touch of warmth and charm to your baby's room. The night light conveniently plugs into a wall outlet and includes an on/off switch. The package comes with a 5W night light bulb, providing a soft glow in the room. The shade is made of lightweight wood covered with fabric and trimmed, creating a sweet and friendly atmosphere for your little one to sleep in.
Designer Advice:
Pair it with matching red and white nursery decor, and consider adding a dimmer for customizable brightness levels to suit your child's bedtime preferences.
Merchant links are sponsored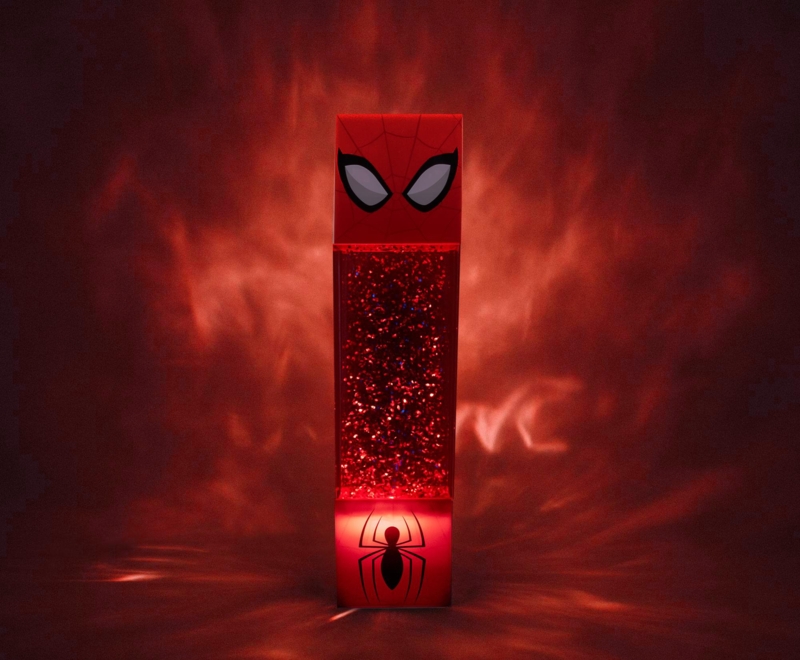 Spider-Man Glitter Motion Lamp
Ukonic
Perfect For: Superhero enthusiasts and cozy bedroom ambience
What We Like: Whirlpool of blue and red glitter effects
Add some superhero pizzazz to your space with this Spider-Man Glitter Motion Lamp. It creates a fascinating whirlpool of blue and red glitter, reflecting a red/blue double-color LED light for a mesmerizing effect. Equipped with a 15-minute timer, it's perfect for both day and nighttime activities, or as a comforting night light. Power it up with 3 AA batteries (not included) or the included USB cable, and enjoy a magical atmosphere wherever it's placed.
$49.99 $59.99
Designer Advice:
Balance the vibrant effects of the lamp with minimalist, monochrome bedding and decor to create a space that's both playful and calming for superhero fans of all ages.
Merchant links are sponsored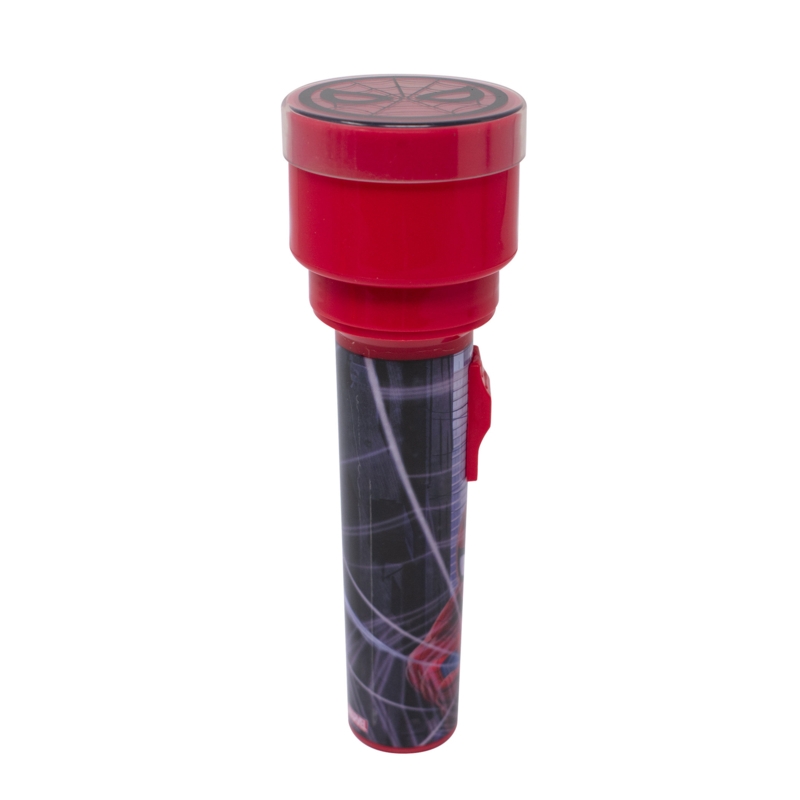 Spiderman Character Flashlight
PTI Group, Inc.
Perfect For: Children who love Spiderman and fun adventures
What We Like: Projects Spidey's face with unique design lenses
Unleash your child's inner superhero with this Spiderman character flashlight, perfect for trick-or-treating, sleepovers, and camping trips. As an officially licensed product, this flashlight makes children feel like they have superpowers while providing added safety and entertainment during Halloween. It projects three different silhouettes of Spidey's face, making it a fantastic accessory for any Spiderman costume. (Batteries not included)
Designer Advice:
Gift this flashlight along with a Spiderman costume for a complete superhero experience, and ensure your child always has spare batteries for endless fun and adventure.
Merchant links are sponsored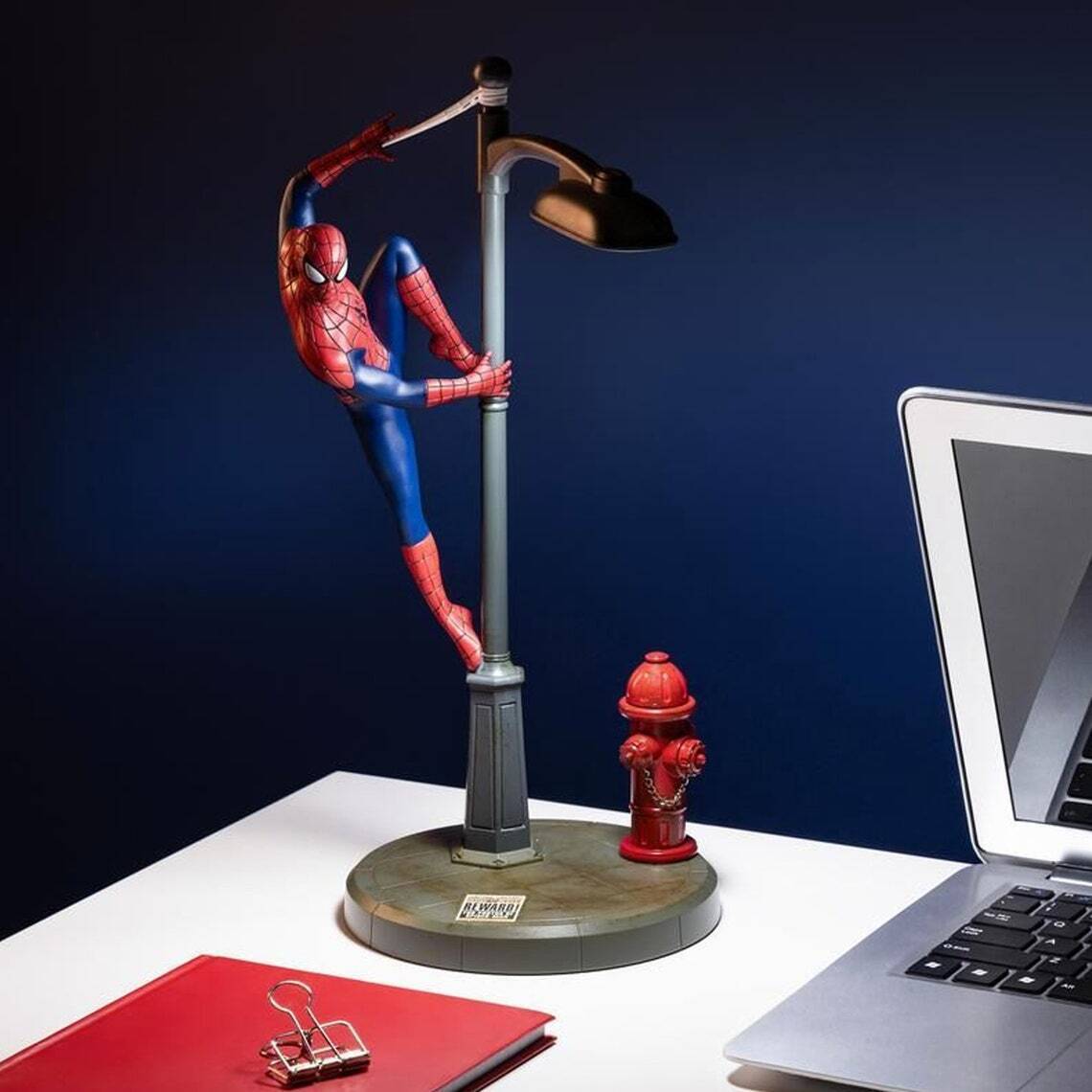 Novelty Spiderman on a Lamp Post
You can use this action figure Spiderman lamp for a showstopping realistic look. Full-figured Spiderman perches against an operable lamp post. To turn the light off and on, you get to interact by twisting the fire hydrant.
Merchant links are sponsored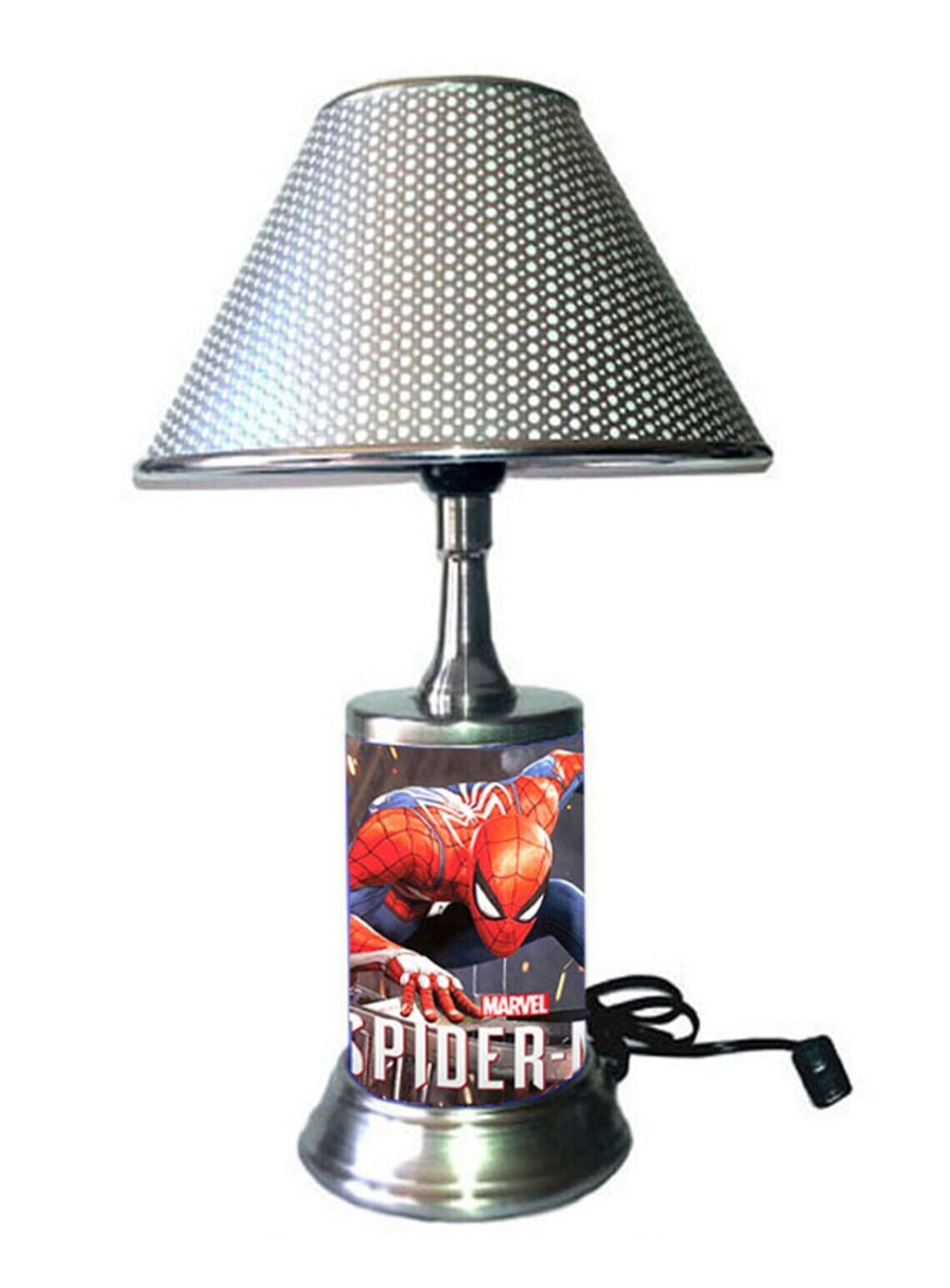 Chrome Shade Spiderman Lamp
This chrome spiderman lamp will appeal to the more refined official memorabilia collector. This attractive piece has a classic metal base with a detailed Spiderman picture. And the neutral fabric lampshade gives a modern textured look with the circular chrome overlay.
Merchant links are sponsored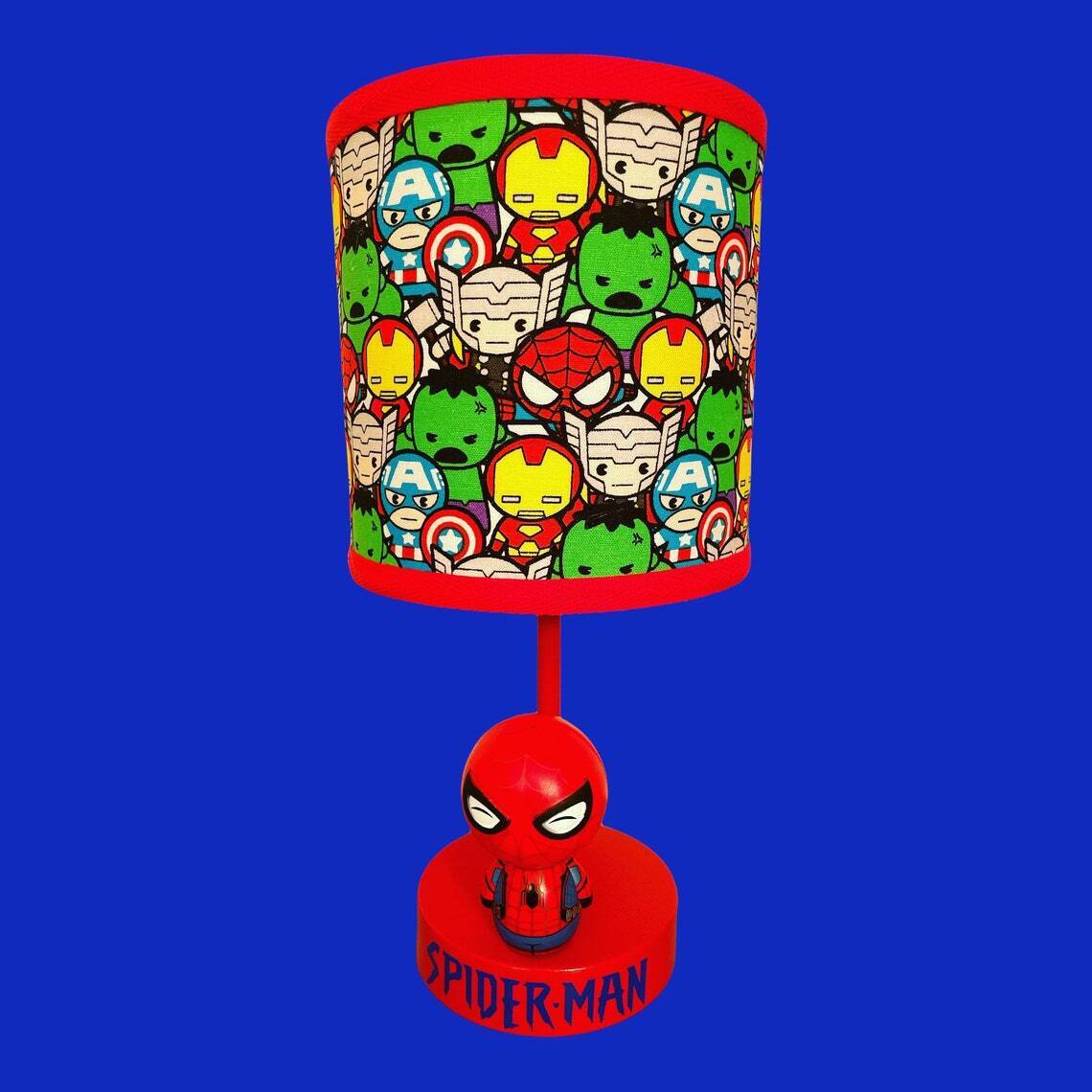 Spiderman Figurine with Multi Character Shade
This anime-inspired Spiderman lamp has a cartoony 3D Spiderman figurine base in a bold red. And on the cylindrical lampshade, you get handpainted Marvel superhero characters. We see Captain America, Ironman, the Hulk, and Thor standing guard, illuminated by a Candelabra bulb.
Merchant links are sponsored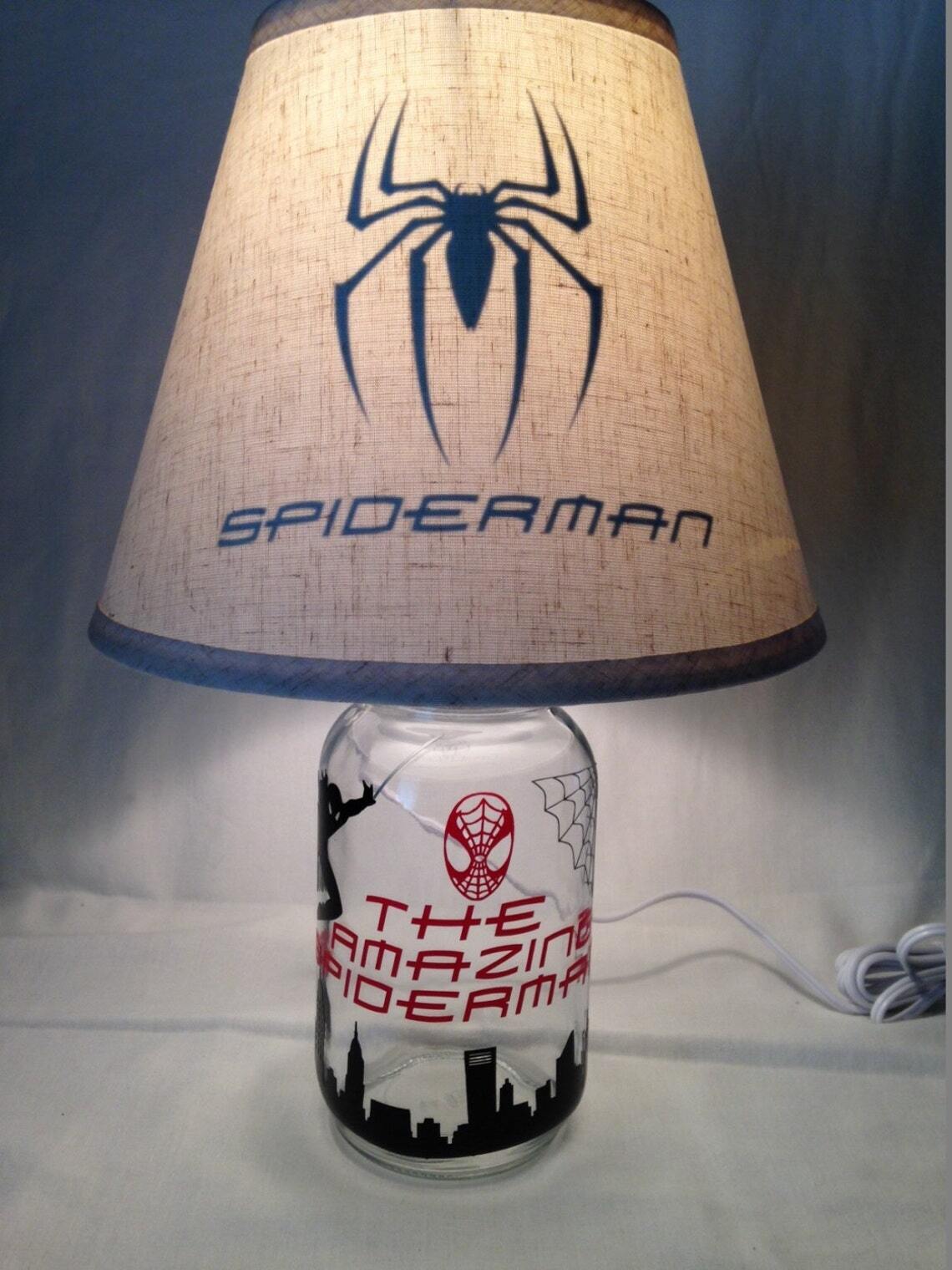 Empty Mason Jar with Spiderman Sticker
This hand-crafted Spiderman lamp offers a unique approach. The lamp base has a vinyl-wrap Spiderman decal on the outside. And because it's a Mason jar, you can unscrew the fixture and fill the pot with anything you want to display. It's great for rocks, sand art, seashells, and the like. And the lampshade has a huge spider logo in an understated design.
Designer Advice:
Lamps with a see-through and fillable base are fun to display collections personalized to the user. The understated look can work for users of any age and design style. And because you can open them, you can continue to grow a collection or change it out for something new without replacing the whole lamp.
Merchant links are sponsored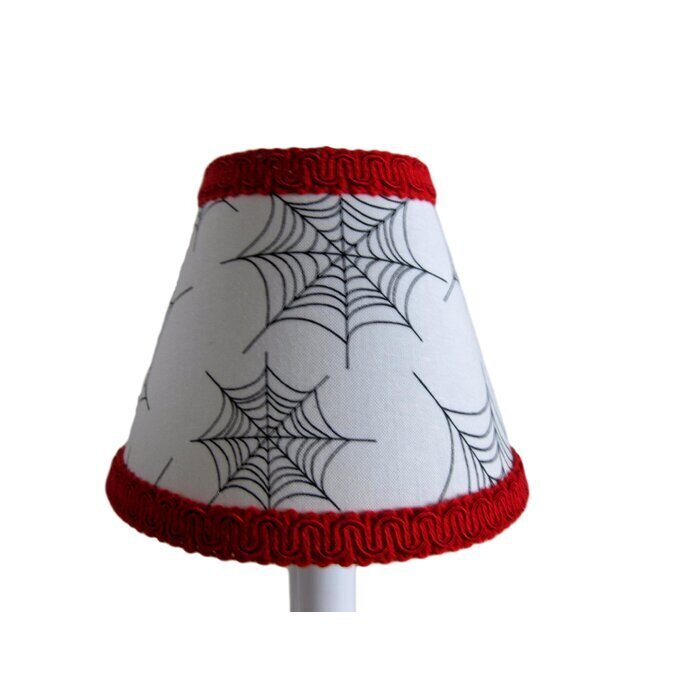 Red and White Spiderman Lamp Shade
Silly Bear Lighting
In a kid's bedroom, you can use this spiderman lamp shade for subtle accent lighting. The color combo of a white base surrounded by a ruffled red border fits a Spiderman-themed bedroom while adding a pop of color. And the black spiderwebs dotting the white shade make no mistake that this is a spiderman light shade.
Merchant links are sponsored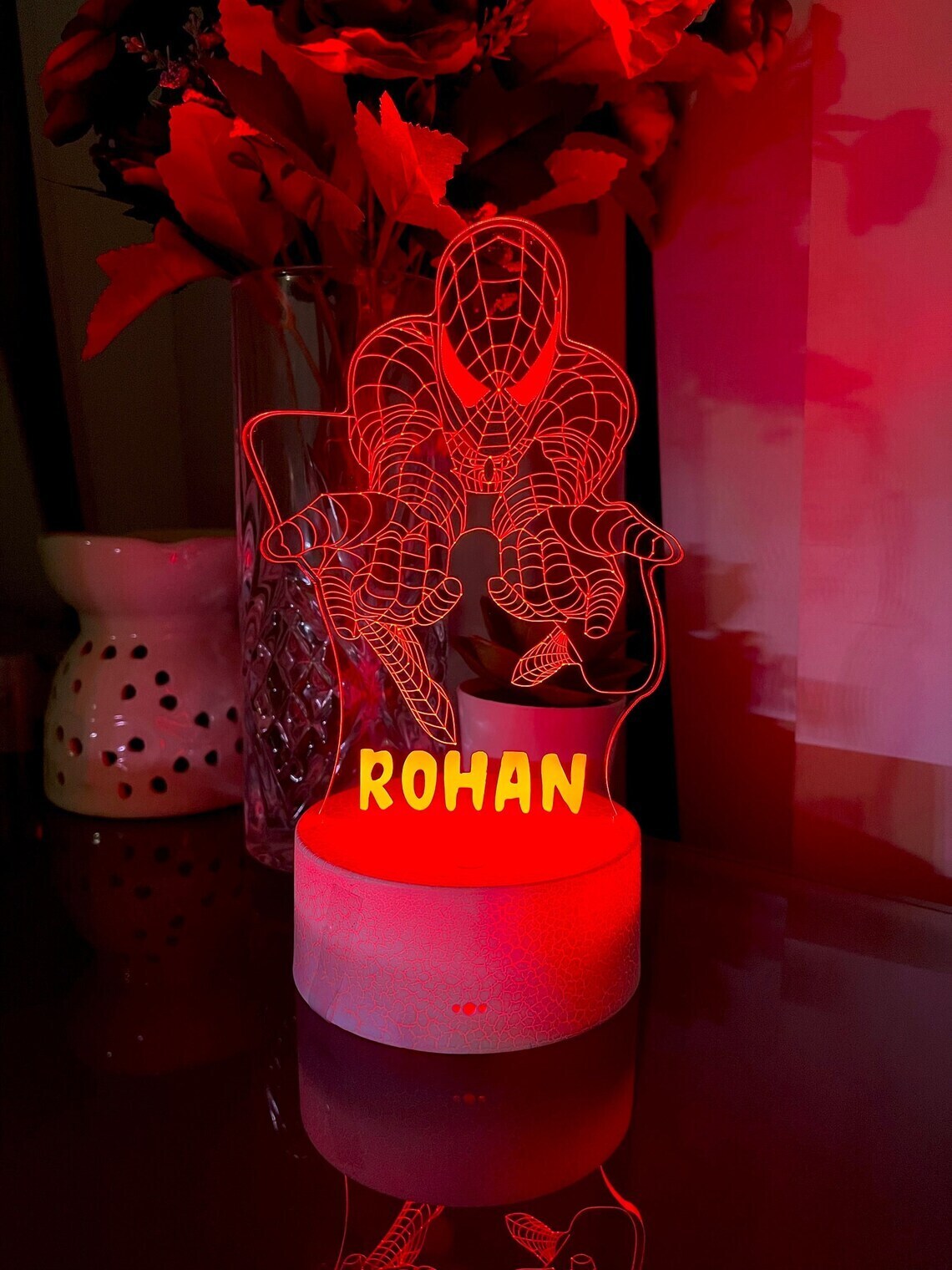 Multi Color Spiderman Desk Lamp
Your kid and Spiderman can become best friends when you choose a personalized spider man lamp. This LED accent light offers the perfect ambiance for a multicolored party effect or a low glow for sleeping. And with 21 fonts available, you can create a one-of-a-kind spiderman bedside lamp with your child's name prominently displayed.
Merchant links are sponsored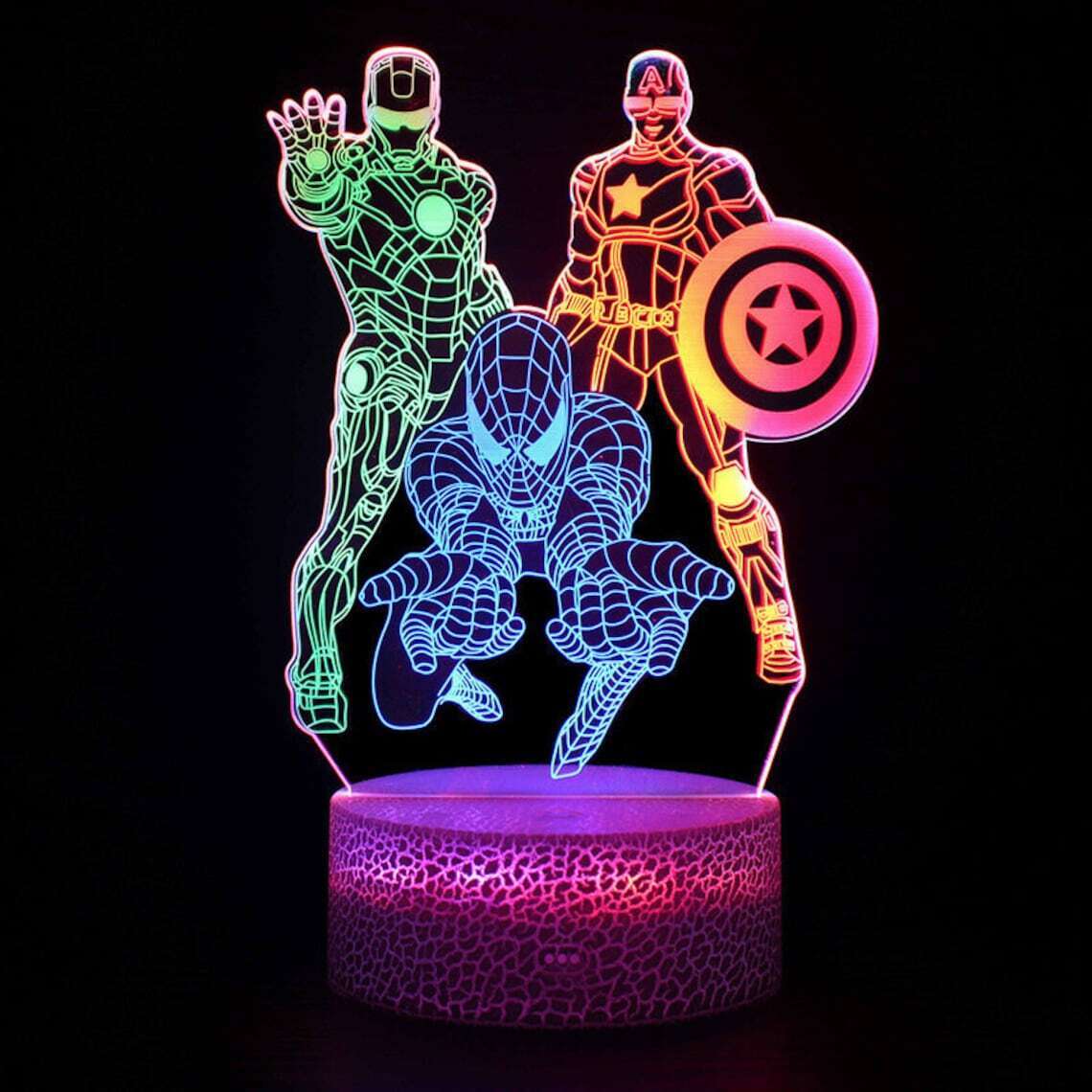 3D Spiderman and Friends Neon Lamp
The best thing about this marvel spider-man table lamp is you also get support from superhero friends Captain America and Iron Man. This 3D spiderman table lamp is a fun accent lighting due to the constant color change. Or it's a soothing nightlight that basks the room in ambient colors to make these superheroes look like they're standing guard.
Designer Advice:
Lamps that change colors are a fun addition to give your space varying color effects. It can create a cool environment when gaming, hanging with friends, vibing to music, or sleeping. Kids are sure to enjoy the multicolored impact that brings the superheroes to life.
Merchant links are sponsored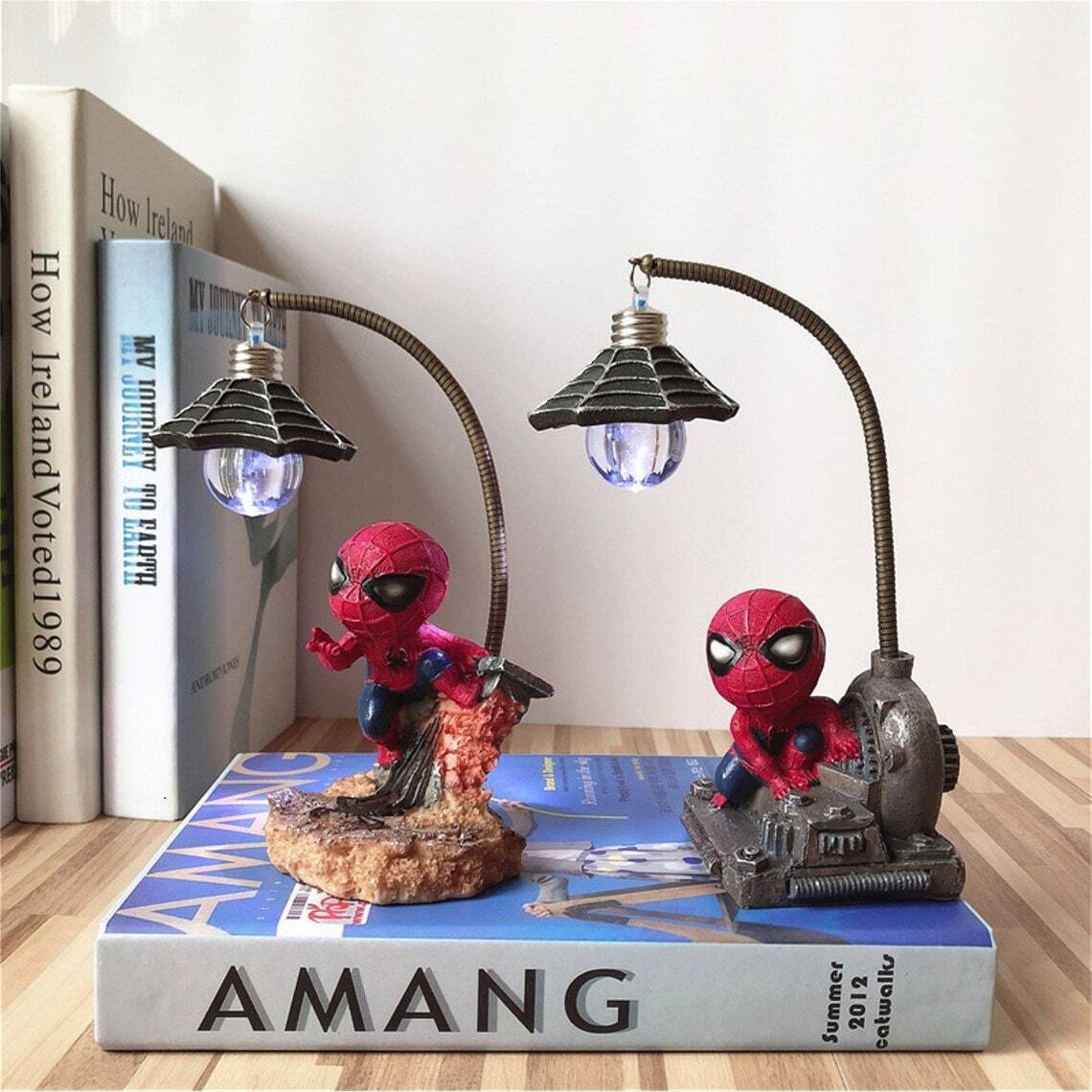 Full Figure Spiderman in Pose
This 3D action figure lamp can be the perfect gift for a desk or bedside table. With four styles to choose from, you can get a full-figured Spiderman posing on the base of a functioning lamppost. The cartoonish design is sure to delight young Spiderman fans without being too realistic.
Merchant links are sponsored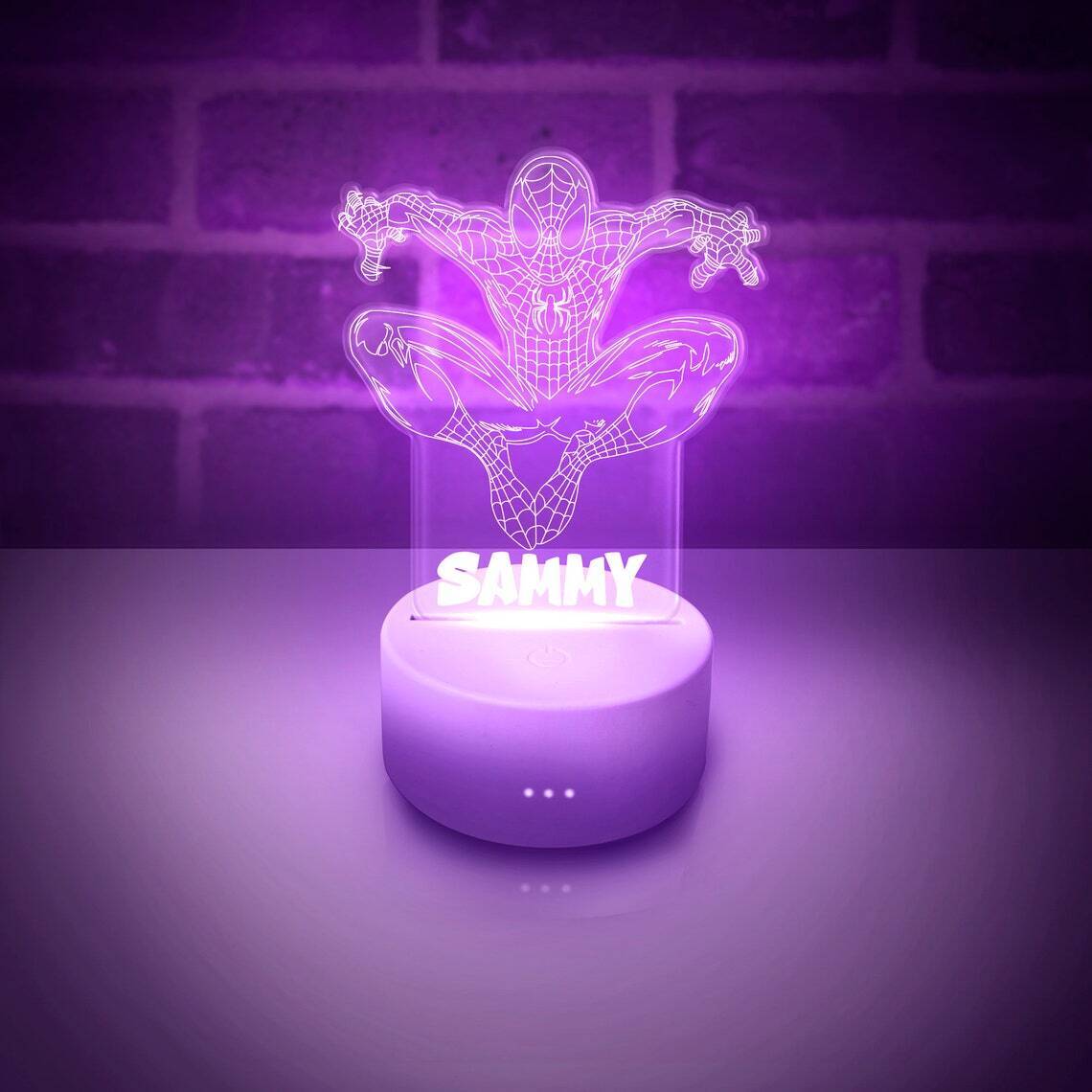 Remoted Operated 16 Colored Name Lamp
This acrylic engraved Spiderman lamp has a ton of cool features. First, you can personalize this lamp by size and add a name in a custom font. You can also pick from three base colors. And the remote control lets you toggle between four settings and 16 colors or dim the brightness.
Merchant links are sponsored