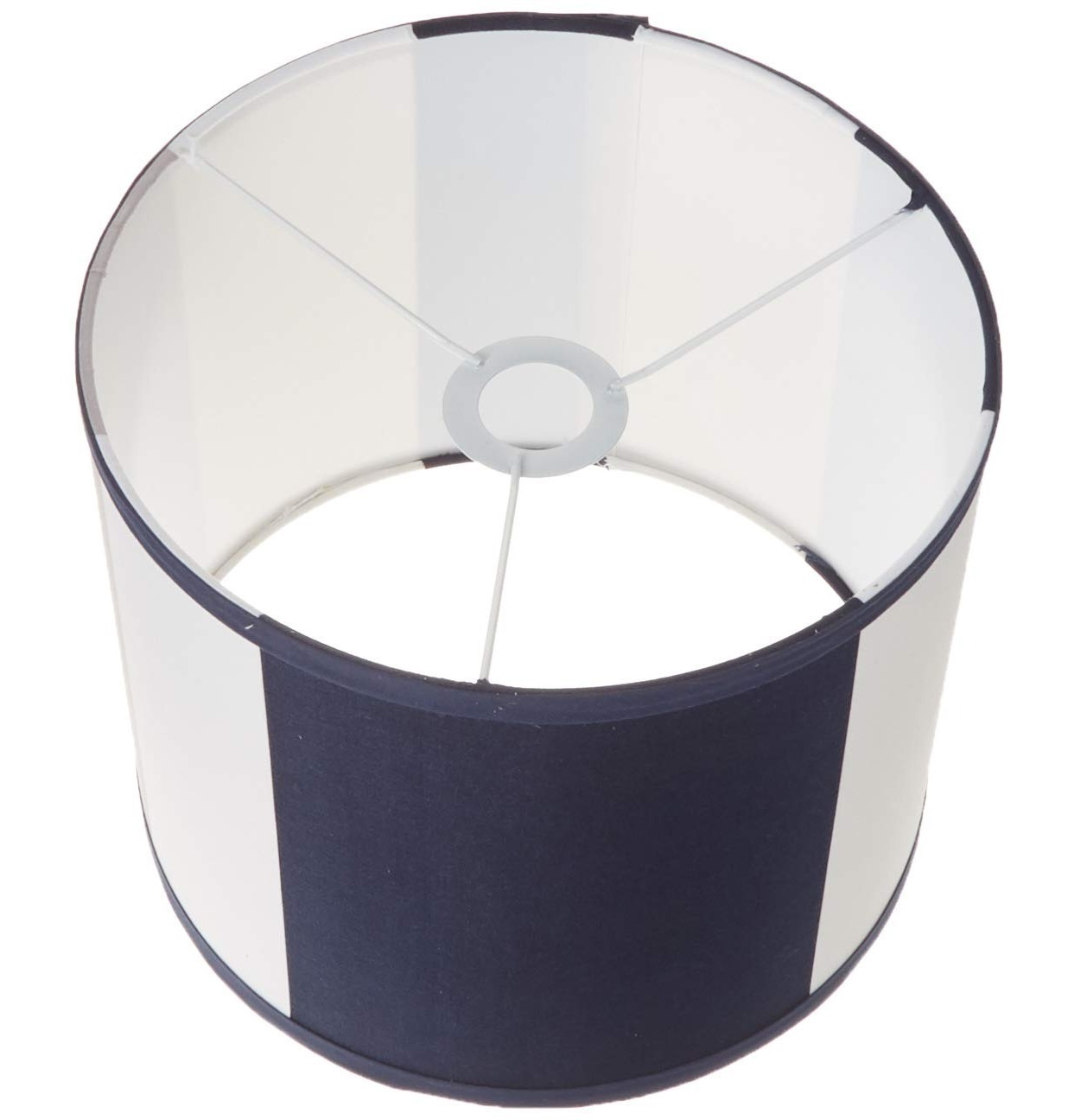 Neutral Vertical Striped Drum Lamp Shade
Jojo Designs, LLC
This striped lampshade has a classic drum shape and a stylish vertical stripe pattern in three colors - gray, white, and navy, with a matching border. The compact 10" diameter and 8" height size fits most standard 1 ¼" diameter light bulb sockets.
Designer Advice:
Vertical striped lamp shades can easily create the illusion of height due to lines that run up and down. In addition, it can help a drum-shaped lamp shade appear taller to accent shorter lamp bases. And a tall drum shade can also help project more light through the room due to being elevated higher into the air.
Merchant links are sponsored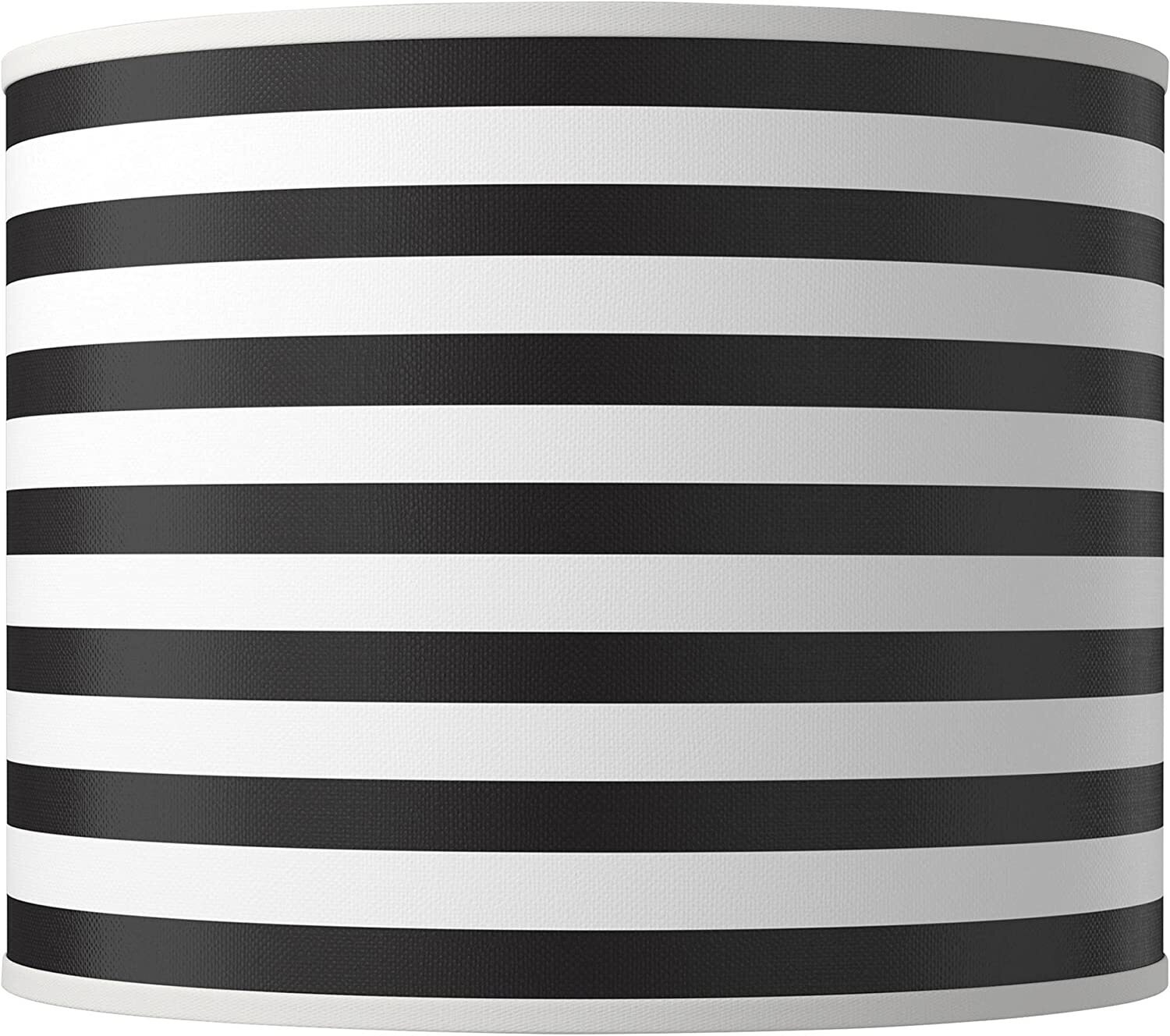 Retro Hardback Black and White Striped Drum Shade
Lamps Plus
This hardback black and white striped lampshade has a classic 14" wide by 11" tall drum shape with a ½" drop chrome spider fitter and harp and finial that attaches to standard lamp bases. The clean retro pattern complements every interior design.
Designer Advice:
You can use a black and white stripe lampshade for any nuance, from retro to modern. The even spacing between the lines creates a uniform look that can accent any style and color lamp base. Pay attention to the application needs of any lamp shade and the corresponding socket on your lamp to ensure you get a set that can pair together.
Merchant links are sponsored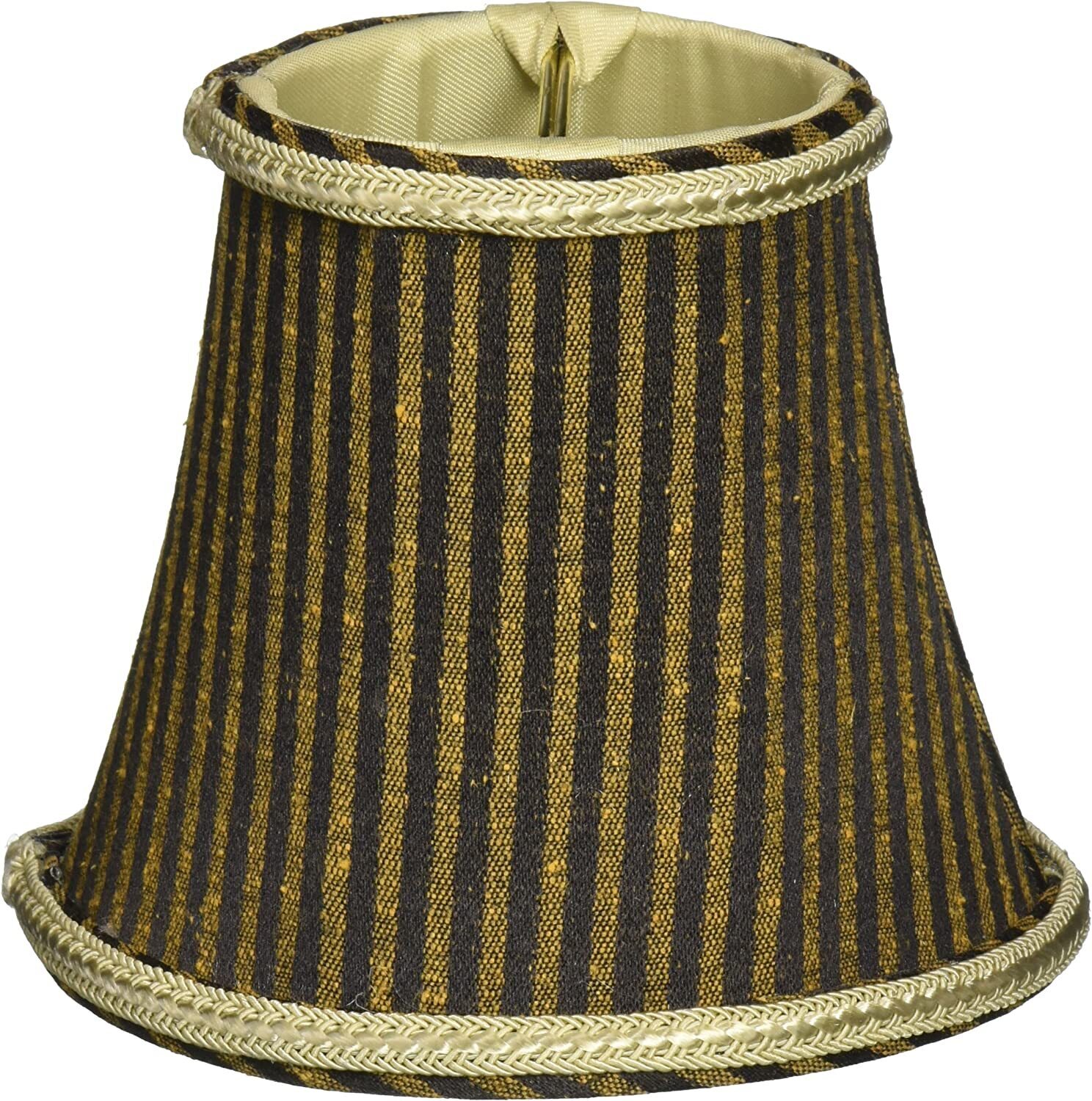 Antique Inspired Glamorous Striped Lamp Shade
Royal Designs, Inc.
This compact 4.5" H round traditional lampshade has a flared 5" bottom with a narrow 3" top. A braided gold trim runs along the chandelier shade over a shimmery soft antique striped gold and black silk pattern base.
Designer Advice:
Striped lamp shades can have lines that run horizontally or vertically along the cover's surface. The shade material can be rough synthetics or soft natural fibers like slippery silk. Silk shades can inspire an aged, antique nuance that gives your room a fancy upscale feel compared to the coarse density of fiber-based lamp covers.
Merchant links are sponsored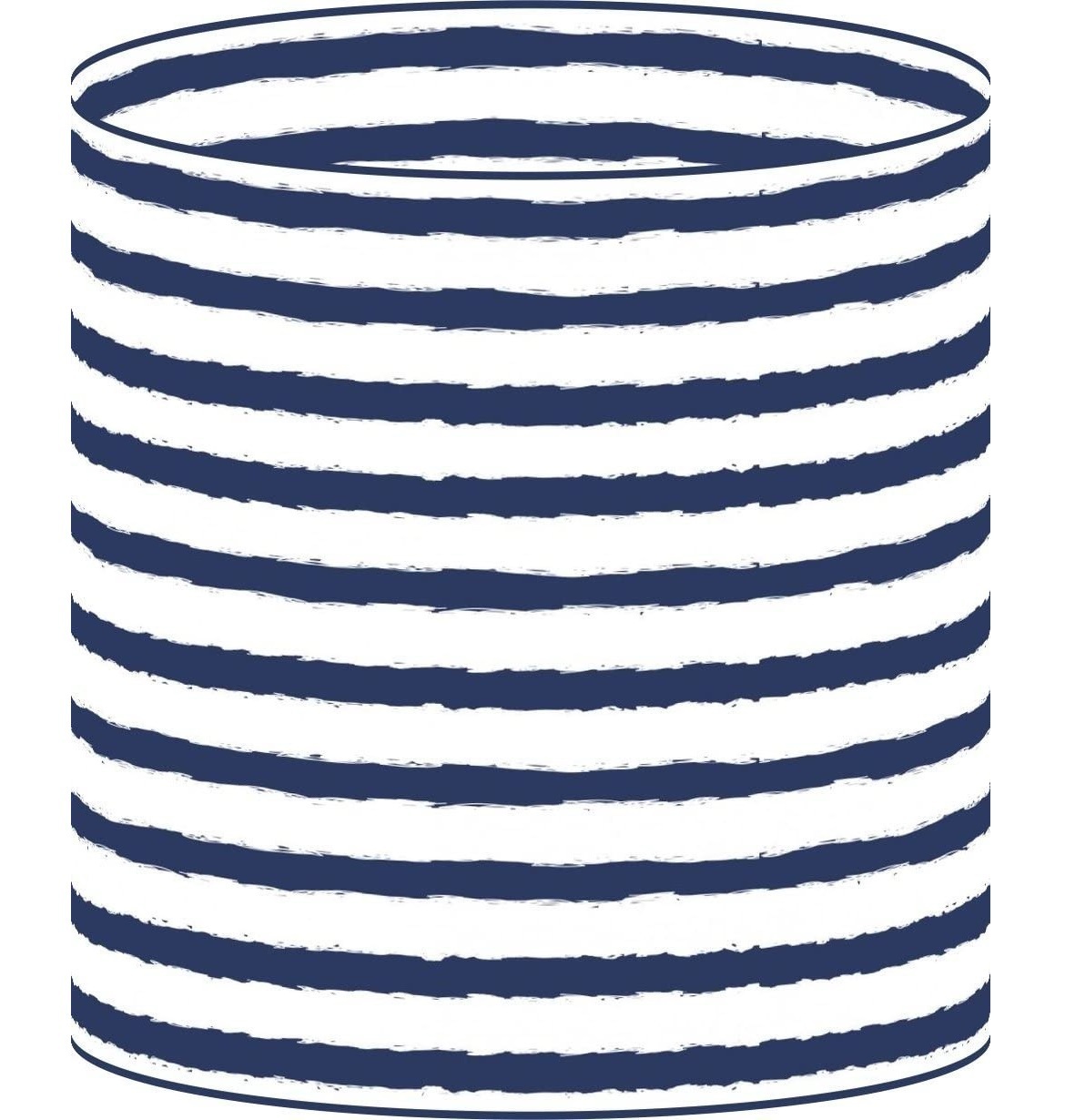 Tall Cylindrical Textured Striped Canvas Lamp Shade
LampPix
This 10.5" tall by 10" wide striped lamp shade in a standard cylindrical drum shape is a textured canvas fabric. Choose from 18 patterns of white and bold-colored solid stripes, open trellis, or pastel boats. Attach the shade to any lamp that takes an Uno fitting.
Designer Advice:
Lamp shades are available in multiple shapes, with a standard drum shape as a popular choice for modern and contemporary nuances. But picking a lamp shade with stripes doesn't have to limit your creativity. There are many ways that you can make bars look different, like these imperfect, uneven lines that resemble hand-painted strips with rough edges.
Merchant links are sponsored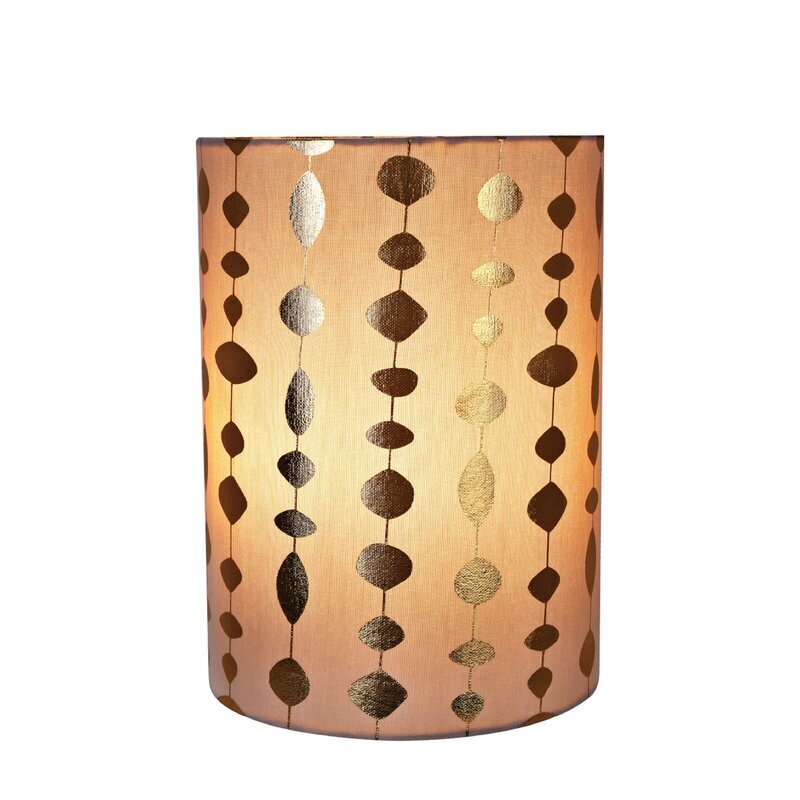 Transitional Faux Silk Boho Striped Lamp Shades
George Oliver
This fabric lamp shade has a neutral faux silk beige linen base decorated with transitional stripes made of varying-sized and colored geometric shapes to create a sleek boho appeal. The 11" H by 8" W drum shape has a spider attachment.
$31.99 $49.99
Designer Advice:
Striped lamp shades can also give off a soft neutral look that you can use to add a slight visual contrast without being too distracting. And you can get an even better aesthetical look by picking non-typical stripe designs, like these geometric shapes running in vertically corresponding columns. The transitional nuance can feel fancy and noticeable or blend into a homey atmosphere.
Merchant links are sponsored