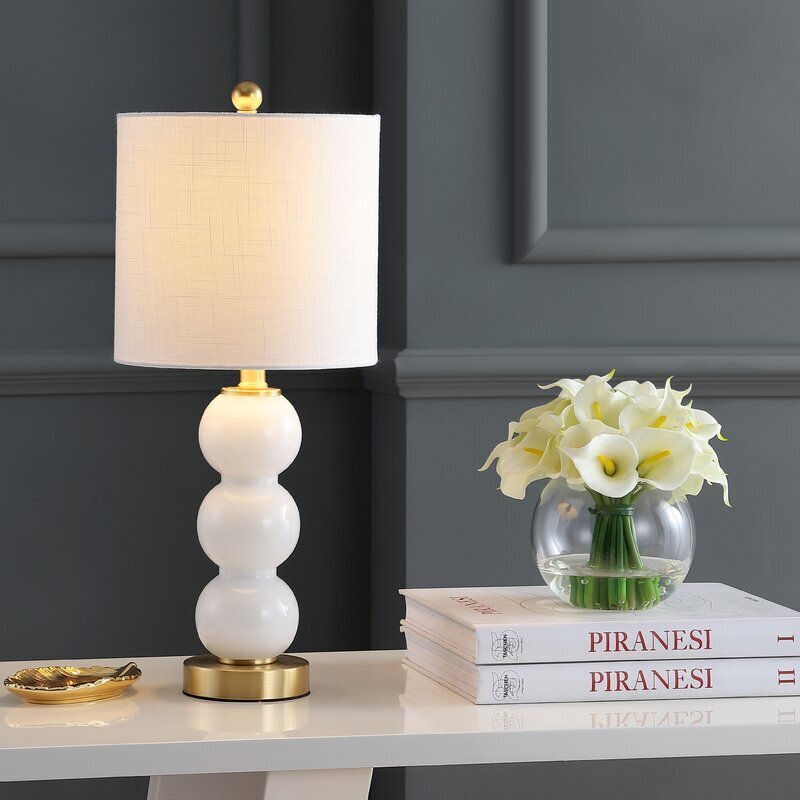 Triple Curved Milk Glass Hurricane Lamp
House of Hampton®
Perfect For: A bedside table for an elegant touch
What We Like: A compatible 9-watt eco-friendly bulb is included
Made with an Art-Deco flair, this milk glass hurricane lamp displays a body with three curvaceous stacked spheres on a circular brass gold base. It comes with a cream-colored 100% cotton drum lamp shade. It contains a classic rotary switch and measures 21 inches tall.
$48.99 $202
Designer Advice:
Bringing a feminine and sophisticated touch to any home space, this milk glass hurricane lamp would be an inspired addition to a glass-top bedside table. Place a slim glass vase filled with a few delicate long-stemmed roses beside it to keep things simple and refined.
What Users Say:
The lamp is perfect for the side table in my newly decorated modern farmhouse guest bedroom.
Merchant links are sponsored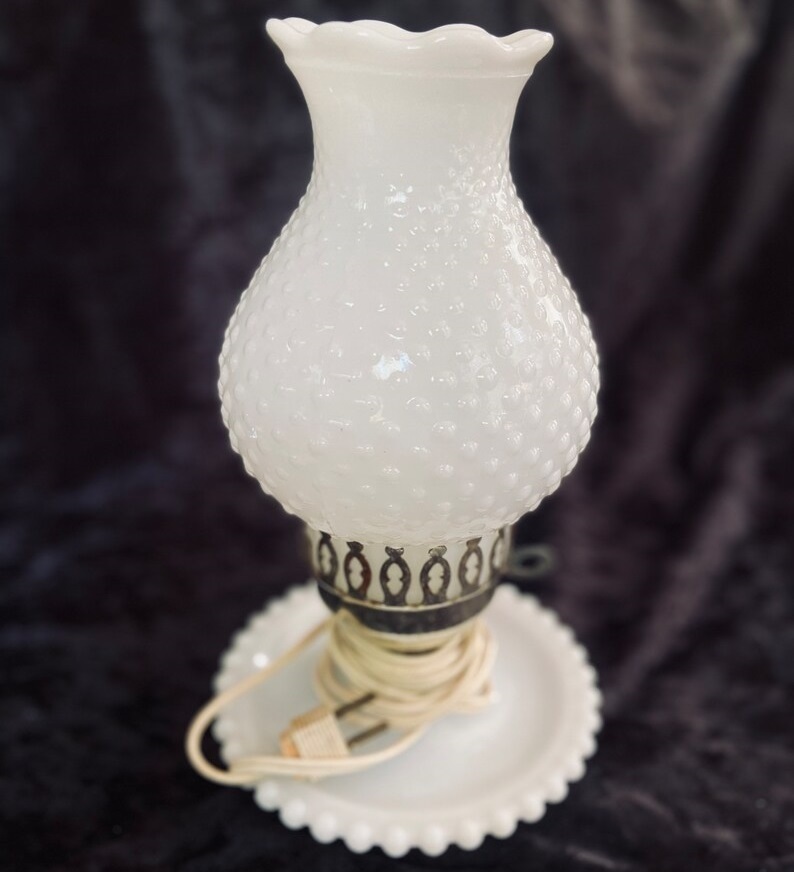 Textured Vintage Milk Glass Lamp
Certified vintage, this lamp has a textured middle and a matte finish everywhere else. Standing on a rounded base with scalloped edge detail, it has a matching scalloped top and gold detailing underneath the bulb area. It operates via a plug-in.
Merchant links are sponsored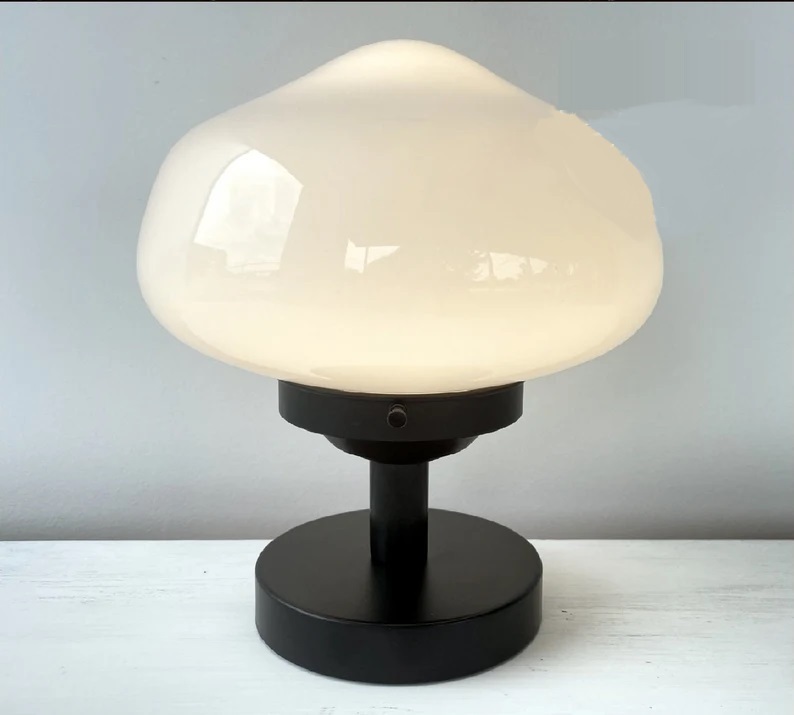 Black Base Vintage Milk Glass Lamp
Inspired by 1930s and 1940s designs, this one-of-a-kind lamp stands on a matte black base. Made from glass and metal, it includes an in-line on/off switch and a plug-in wire for easy access. It measures 10" tall and 9" wide.
Designer Advice:
An ideal choice for a bedside table, this lamp's small size would look great even in a small bedroom. We recommend pairing it with neutral furniture for the best look.The cute shape makes this lamp a good option for a nursery, too, as it will act as a nightlight without being too distracting for your little one.
Merchant links are sponsored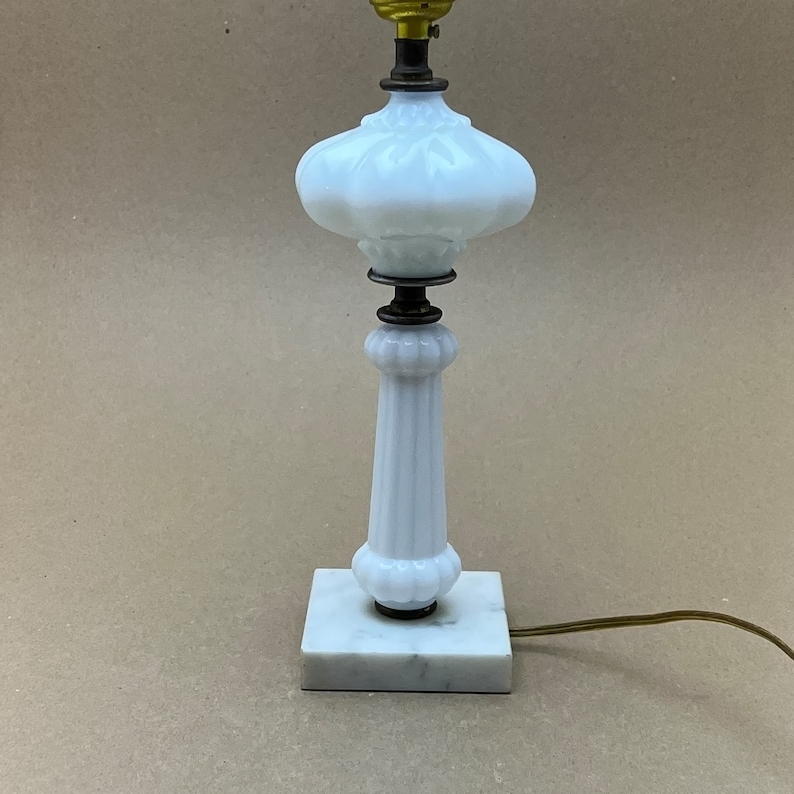 Column Antique Milk Glass Lamp
This antique lamp is in excellent vintage condition. It features a cord that's just over 70 inches and can be threaded through the base. The top has a bulb shape and thins out into a thin column shape with a marble base.
Designer Advice:
Slim and elegant, this lamp will add glamour to your bedroom instantly. As the milk glass is tinged with blue, our design experts recommend keeping your décor cool-toned. Instead of beige and taupe, go for stark white bedding. Alternatively, light blue bedding would look beautiful paired with this lamp and bring out the delicate blue undertones even more.
Merchant links are sponsored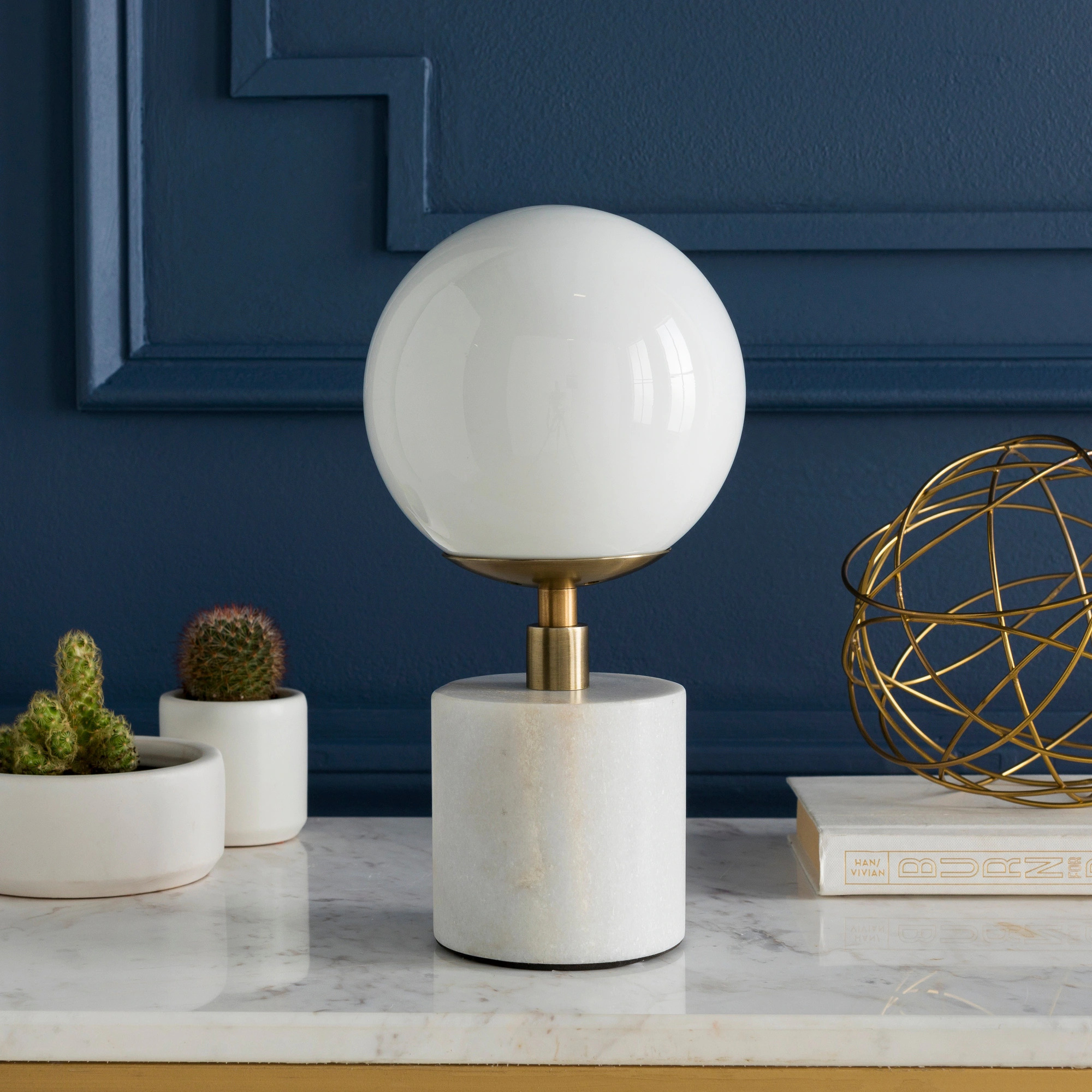 Modern White Milk Glass Lamp
Made in India, this lamp has a contemporary design. Measuring exactly 12.5 inches tall, it features a round exposed bulb style and a cylindrical marble base connected by a gold stem. The cord length is six feet long.
Designer Advice:
If you need a small light for your study, this is an excellent option. Small enough to be unobtrusive but not too small that it won't give out enough light, the exposed bulb design is simple yet chic. We recommend pairing it with contemporary furniture in white and plenty of gold accents to accentuate the gold detail even more.
Merchant links are sponsored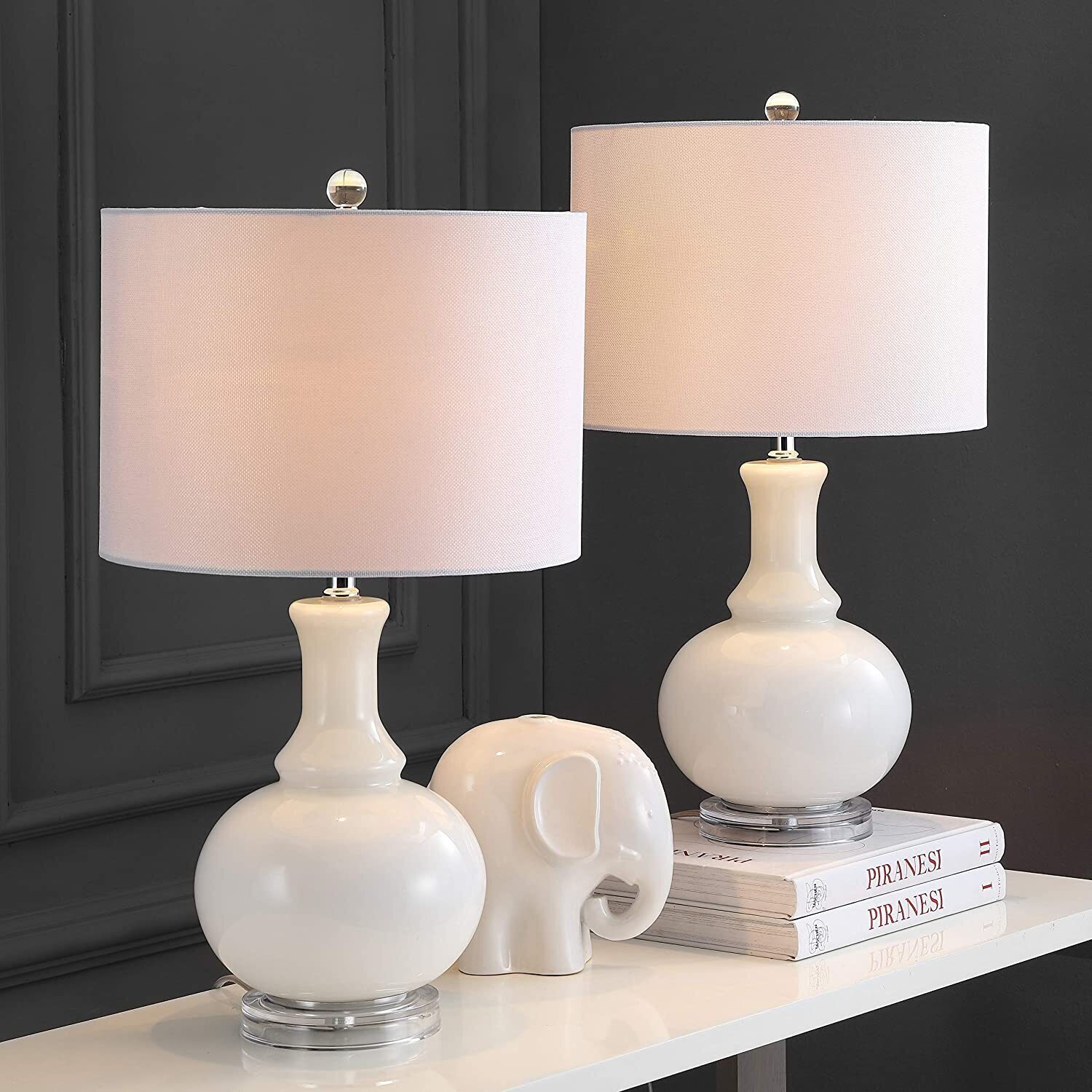 Set of 2 Milk Glass Lamps
Safavieh
Coming with LED bulbs included, this set includes two lamps. The bases are made of milk glass, whereas the shades are made from cotton with a bright white finish. Each lamp is relatively tall at just under 26 inches tall.
Designer Advice:
As these lamps are a pair, they're a good choice for side tables on either side of a table or in a bedroom. Their glossy base and modern design are ideal for contemporary homes. However, to prevent these lamps from looking too dull, make sure to place them in a room with accents of color like blue or green.
Merchant links are sponsored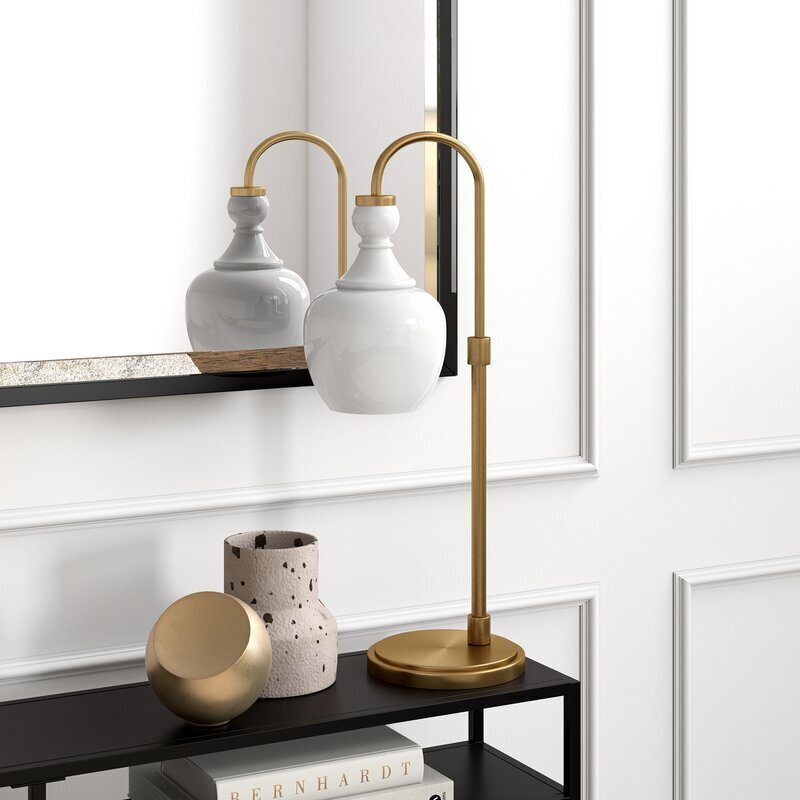 Brushed Bronze Milk Glass Table Lamp
Beachcrest Home™
Perfect For: Sitting in a home office or on a console table in a front hallway
What We Like: It also comes in a black body for a sleeker look
Giving mid-century modern vibes, this milk glass table lamp measures 27 inches tall with a round metal base that leads to a slim body and an arched top. The milk glass tapered dome shade is compatible with a 60-watt bulb that gives off ambient lighting. It contains an easy in-line switch.
$86.99 $102.99
Designer Advice:
Whether you choose the black or bronze base, this milk glass table lamp would be nicely styled sitting on a T-shaped black console table with lower storage shelves. Position a bronze-rimmed large round mirror on the wall behind the table and a stack of vintage books beside the lamp to complete the eclectic look.
What Users Say:
Love this lamp. Using in office. Plenty of light and the base footprint is great [for] sitting on the desk.
Merchant links are sponsored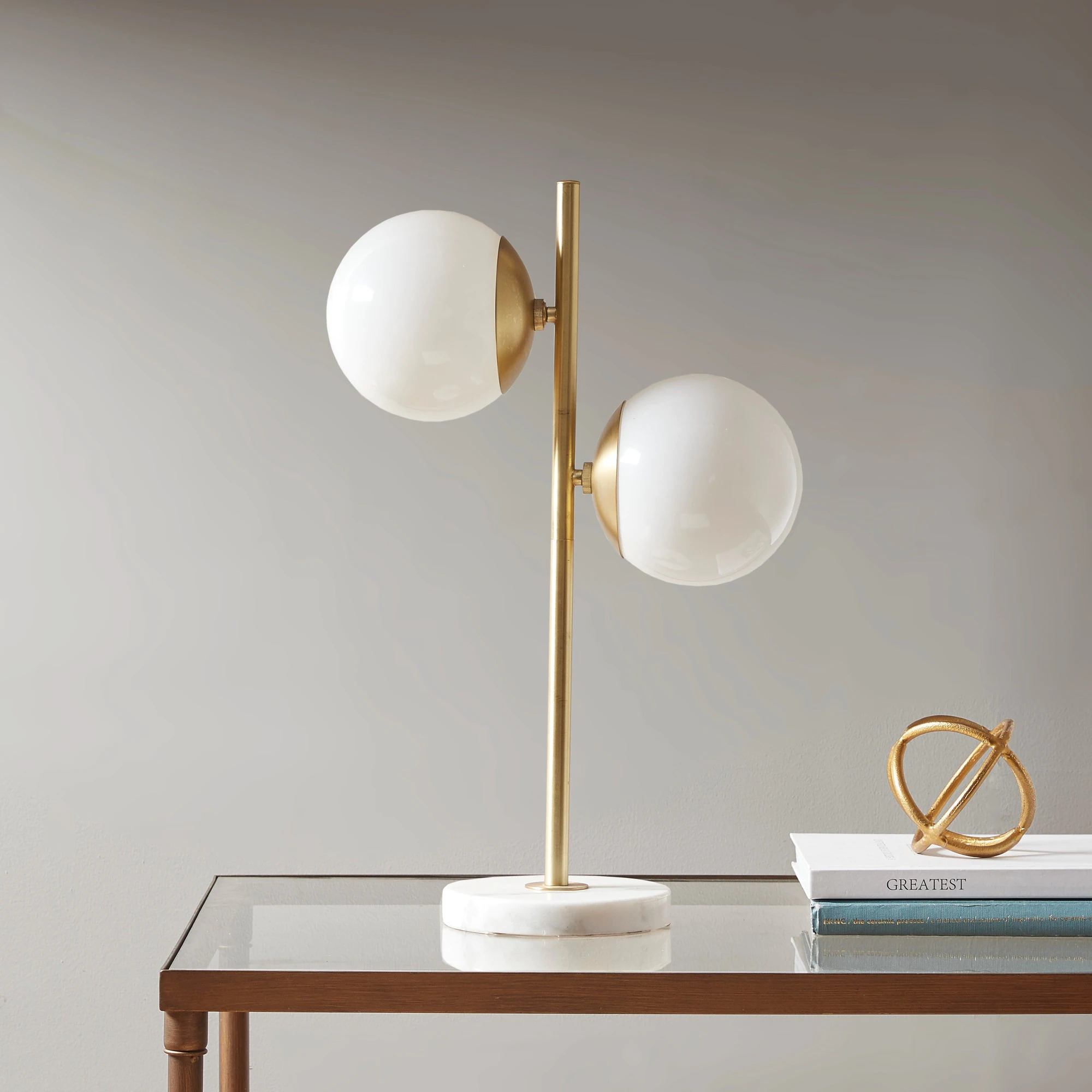 Slim Milk Lamp
Featuring two milk glass bulbs on either side of a slim gold stem, this lamp is elegant and contemporary. Made from glass, metal, and marble, it has two lights and a standard wall plug design. Two Type A bulbs are required.
Merchant links are sponsored