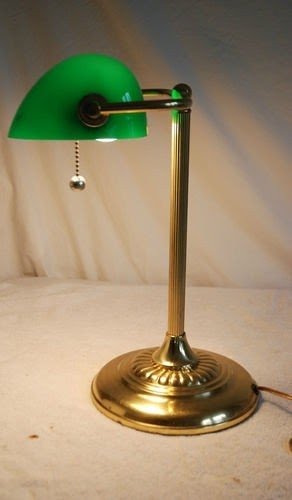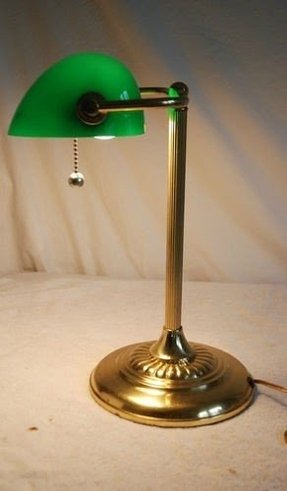 Vintage bankers green glass shade student lamp light 15 inches
Green library eclectic lamp. Gold-plated kickstand is vintage and looks like column in antic Doric orded. Glazed green lamspade is modern element. This type of lamp is perfect for someone who likes unique, specific decorations.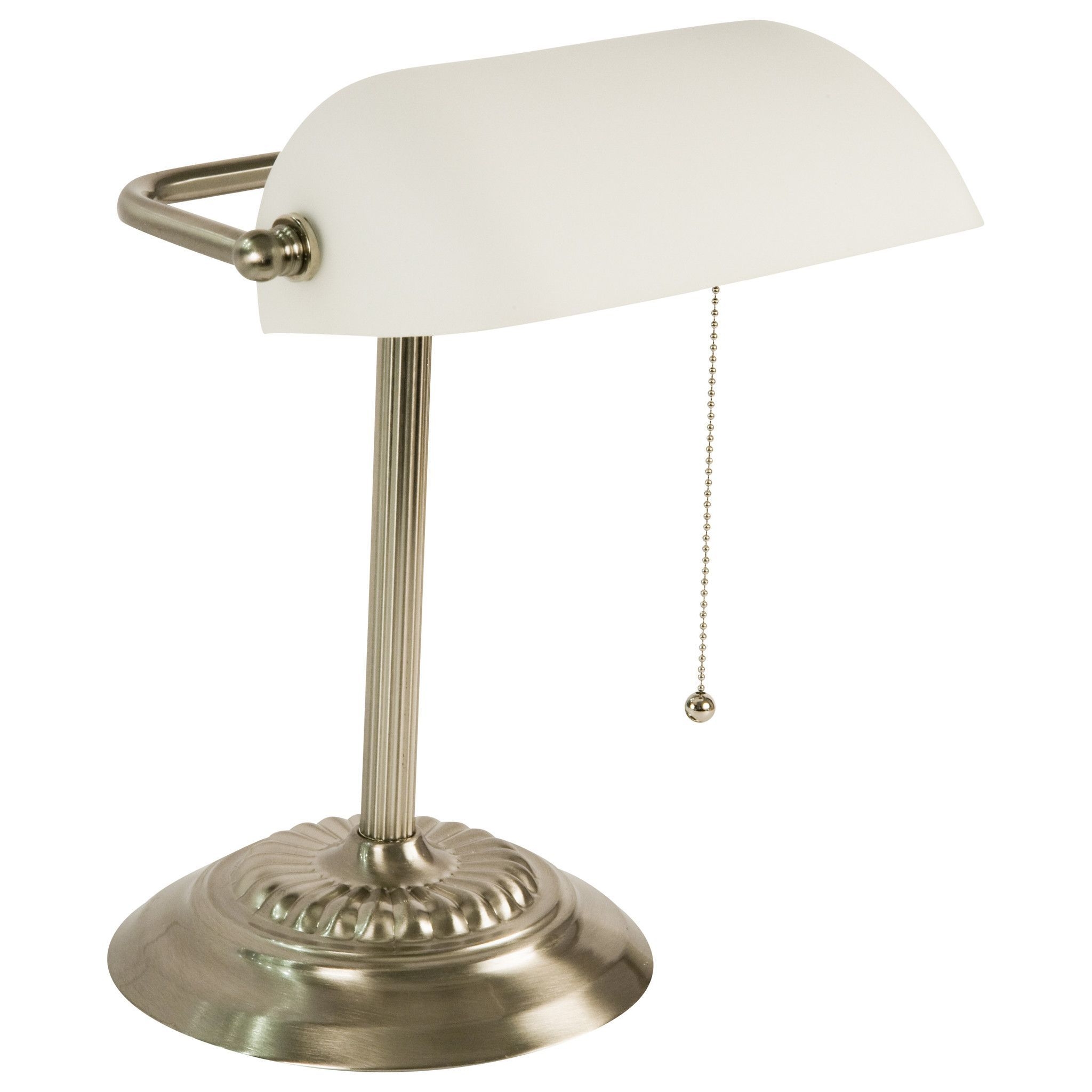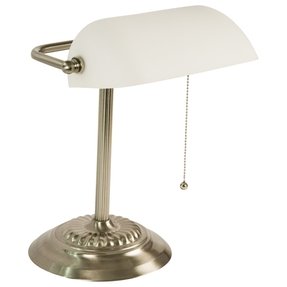 Lamp Bankers Piano Desk Table Office White Glass Shade Brushed Nickel Finish
A true wonder - this banker's lamp sports the sublime base with the traditional look and the brushed nickel finish that goes along smoothly with the milky white finish of the shade made of durable glass.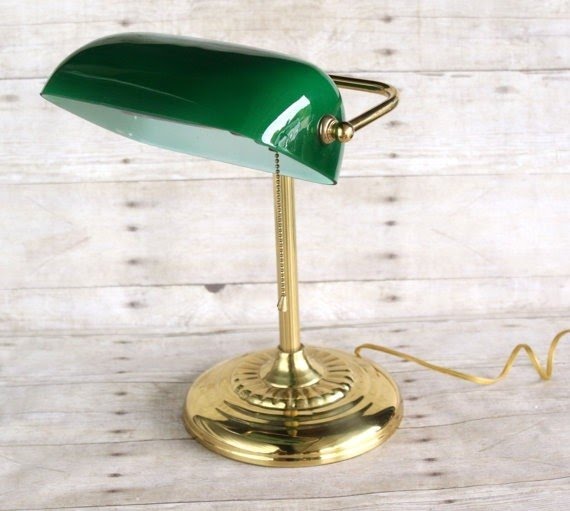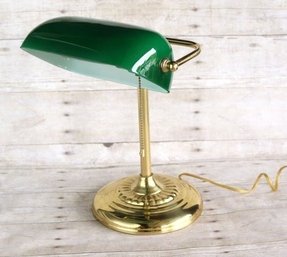 Vintage green glass dome bankers lamp
A wonderful banker's lamp in a vintage style. It features a metal base with a golden finish and an adjustable shade in a dark green color. You switch it by pulling a subtle chain. It will be a beautiful accent of your room.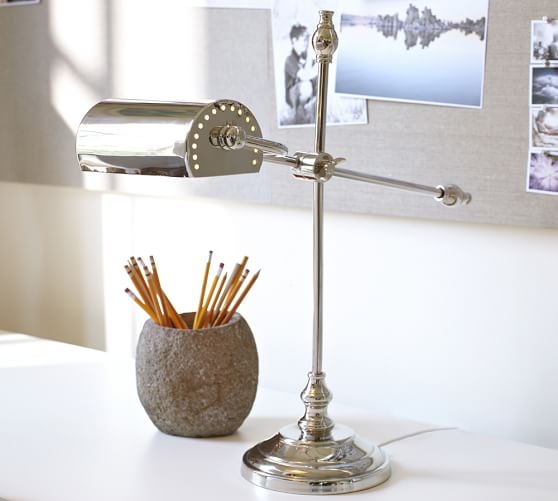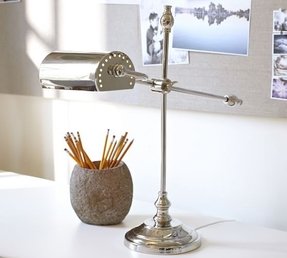 Bankers task table lamp
The modern accent for your apartment: Banker's Task Table Lamp with polished nickel finish and on/off switch on cord. If you looking for unique lamp, you should try this one.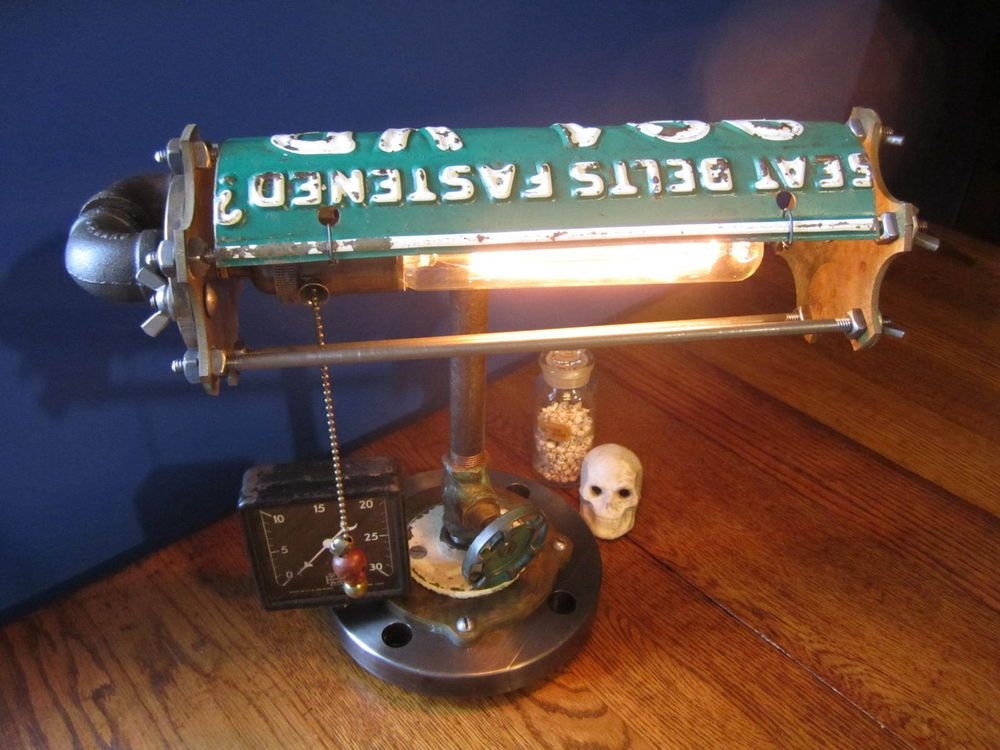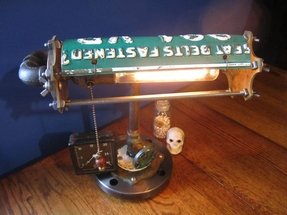 Machine age bankers desk lamp upcycled industrial steampunk art
Amazing industrial makeover for an old-fashioned, antique banker's lamp with a steampunk, post-apocalyptic design fitted with a long, bright lamp and a lot of assorted decorative elements like the tiny skull next to it.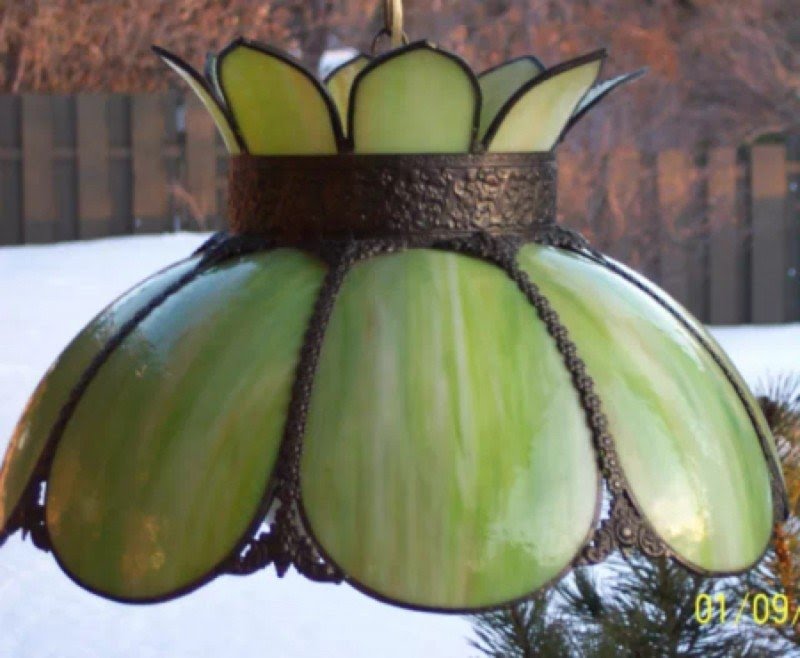 Having an eye-catching shape of a blooming floral cup, this slag glass lamp shade is designed to intrigue. Made of stained slag glass, embedded in a beautifully shaped metal frame, it will add a romantic glow to any kind of space.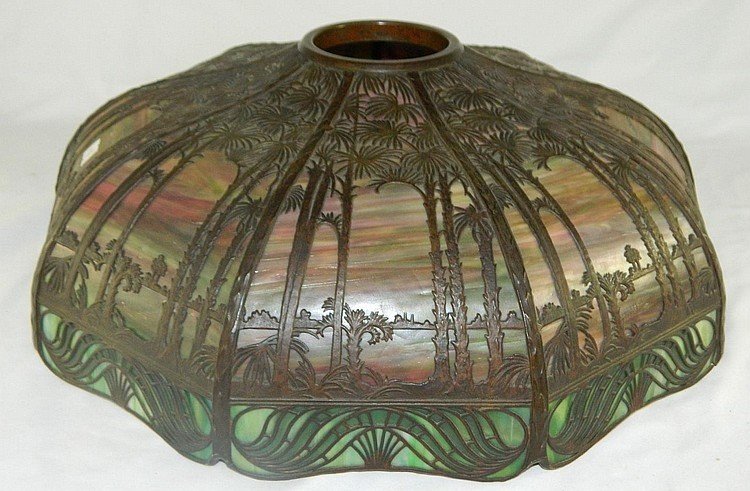 Signed Handel slag glass lamp shade in green and red shades. Bronze overlay with palm tree scenes. 7.5" tall, 20" diameter.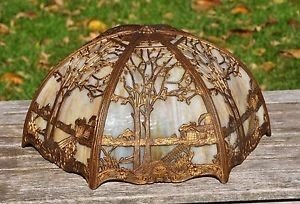 Made of stained glass mixed with metal structure, this Miller Caramel slag glass lamp shade will help you create a magical ambiance. Ideal proposition for an empire or glamour interior.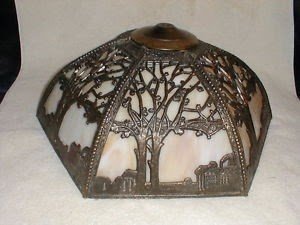 Beautiful lamp shade made of stained glass combined with metal structure impresses and brings to the room a unique atmosphere. Beautiful slag glass shade lamp captivates and makes the decor takes on the character.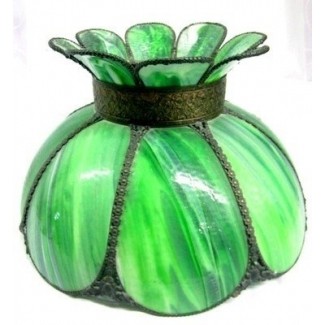 ART NOUVEAU Slag Glass Lamp Shade w/Repousse Bronze on Brass Flower Motifs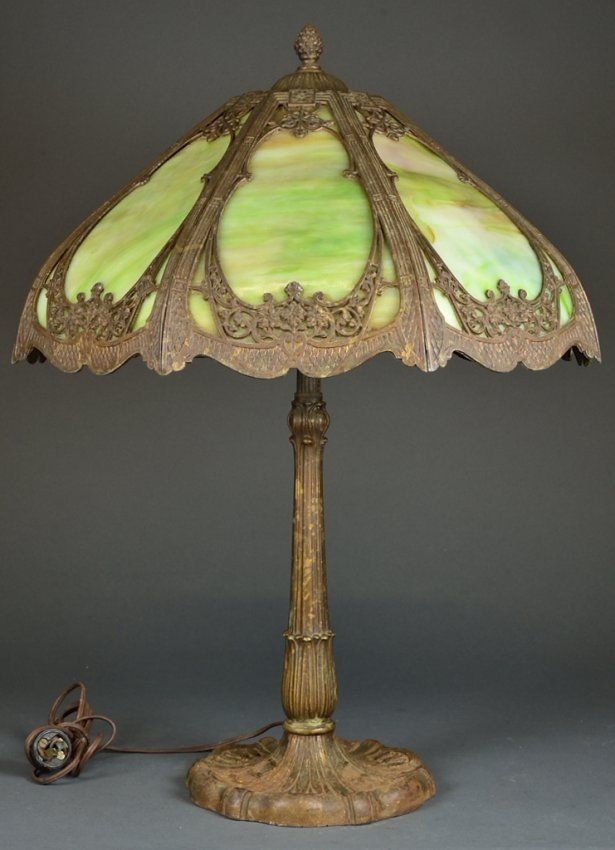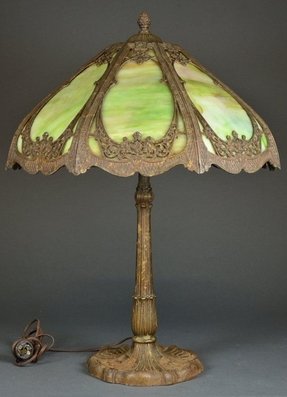 This antique lamp doesn't fit to every interior - it will play its role only in sophisticated room. It has brass, sculptural kickstand. Lampshade is made of beautiful, bronze frame and green stained glass work.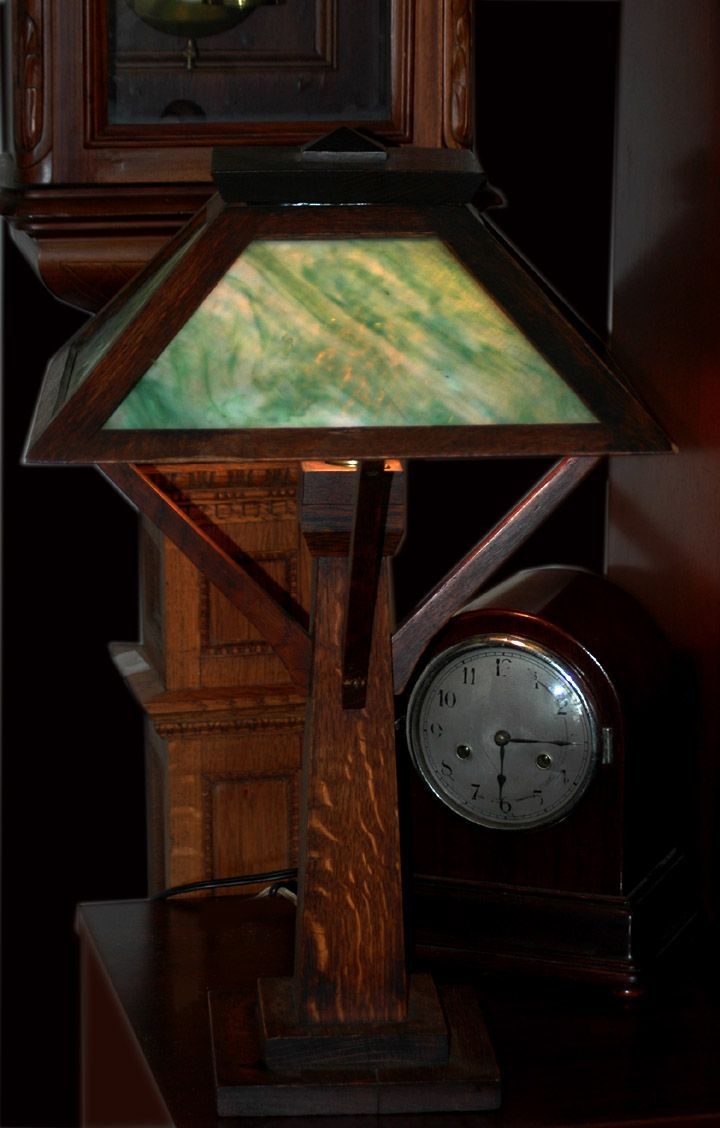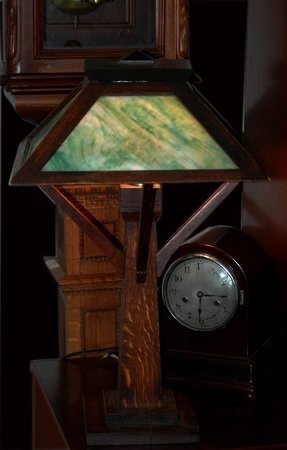 Beautiful vintage lamp with slag glass shade in cream tone with caramel streaks, framed by antique looking bronze colored metal. I guess this is exactly what I need to inject a dose of Victorian style to my interior.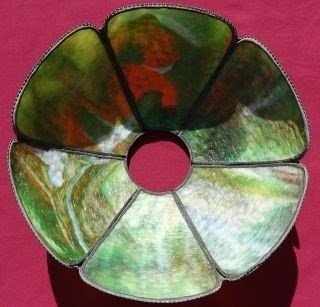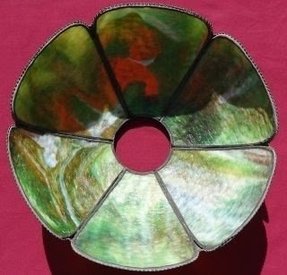 Vintage Handel Bronze Slag Glass Lamp Shade photo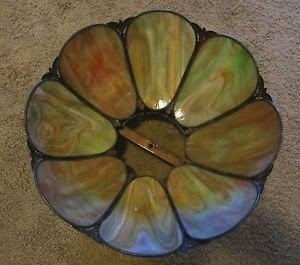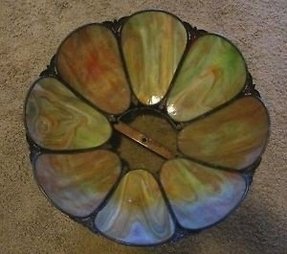 ... Slag Glass Lamp Shade. 17" Rare Color Victorian Stained Glass Tulip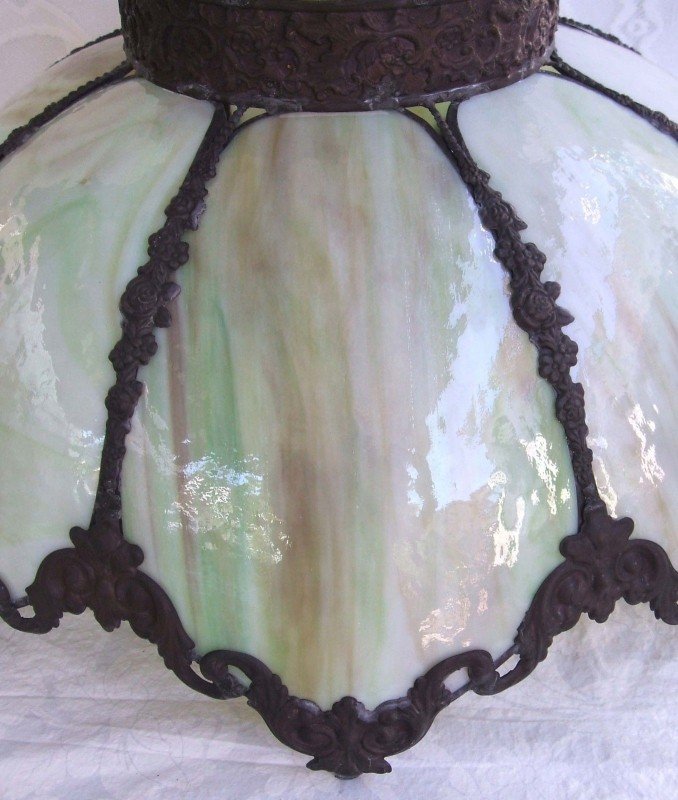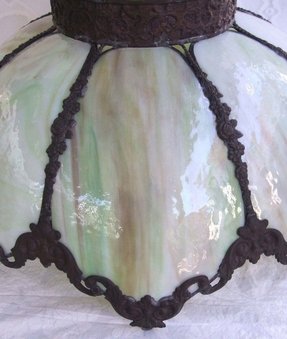 RARE ANTIQUE STAINED SLAG GLASS LAMP SHADE #22 *****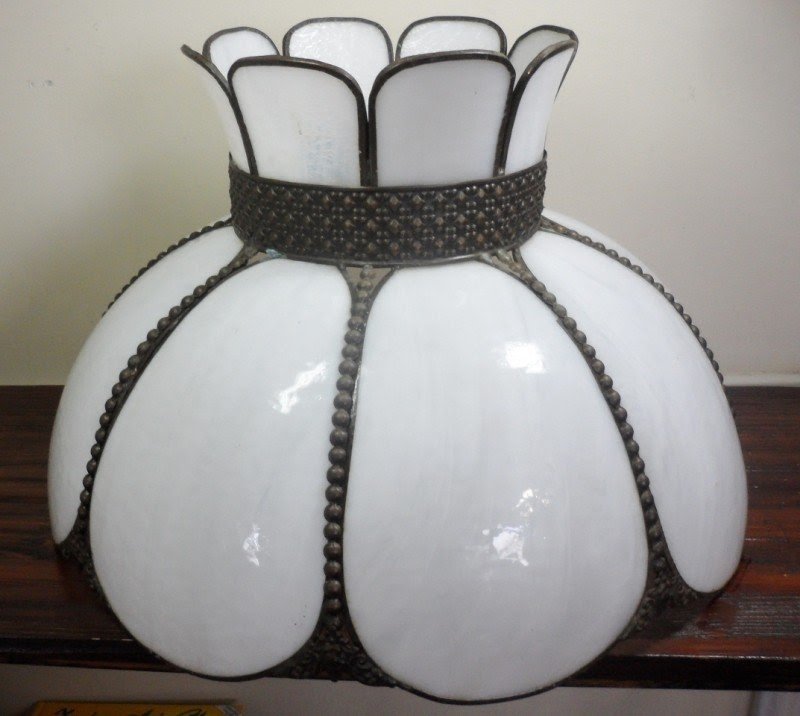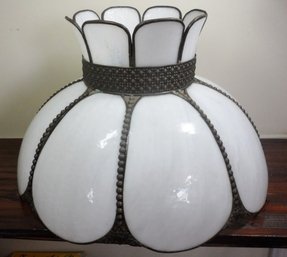 ... Century Bent White Slag Glass Hanging Ceiling Table Lamp Light Shade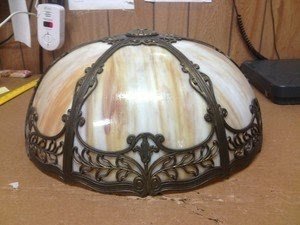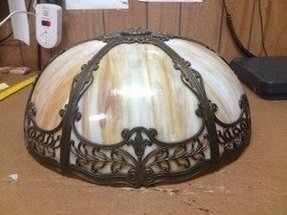 A fantastic lamp shade, designed of stained glass, embedded in a black-finished frame with exquisite metalwork. The shade fits most table lamps, and it can be a great way to bring some vintage appeal to your home decor.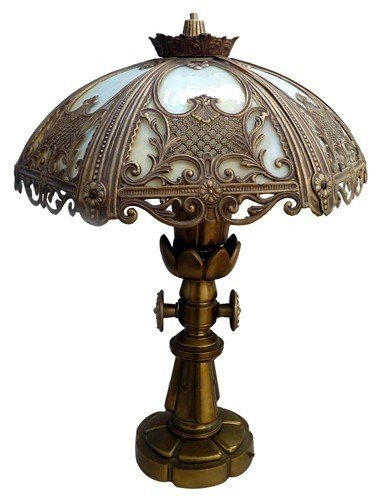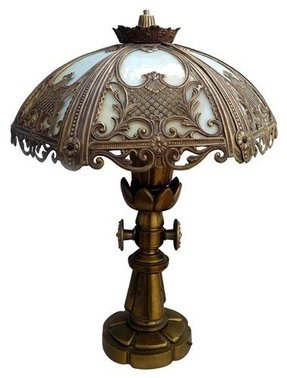 A chic antique table lamp with a base of brass. It has a round grooved foot and a stem with collars, neckings, grooves, widenings and a crown-like finial. A lampshade of slag glass has an umbrella-like brass frame with decorative scrolls and tooling.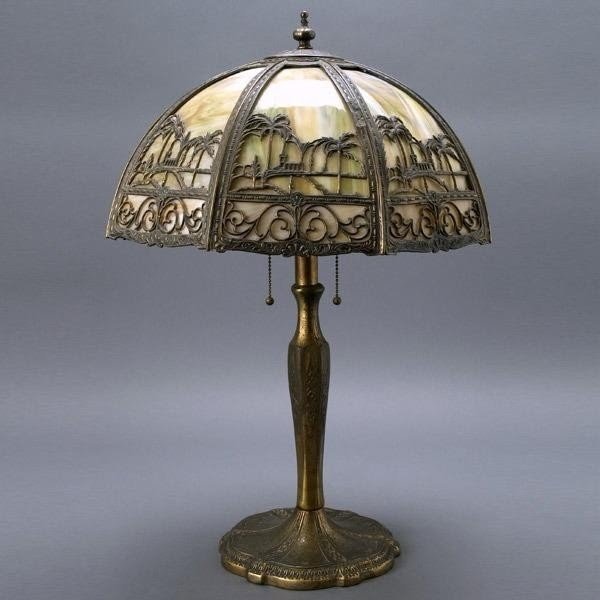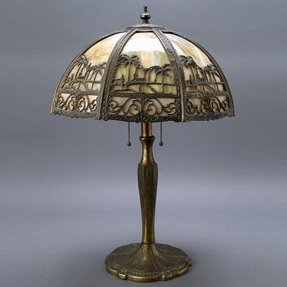 Beautiful when it comes to the detailing and truly eye-catching - this arts and crafts lamp for your desk or table will complete the antique look and appeal of your household, while the brass and slag structure allows for plenty of quality.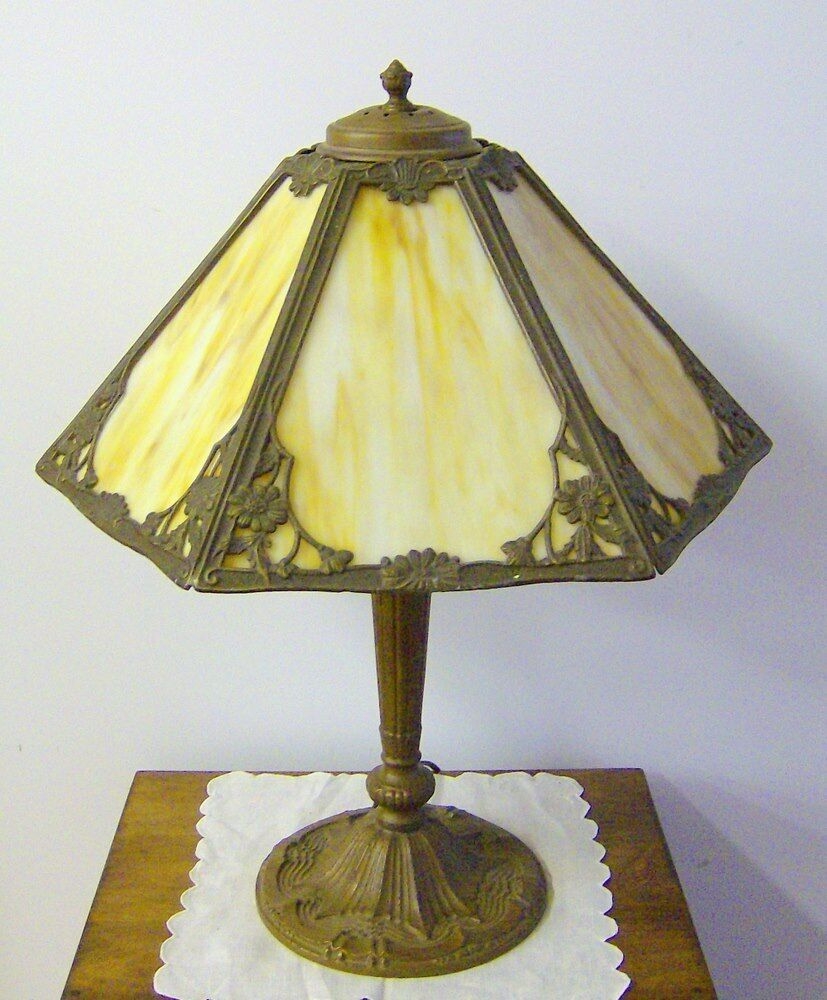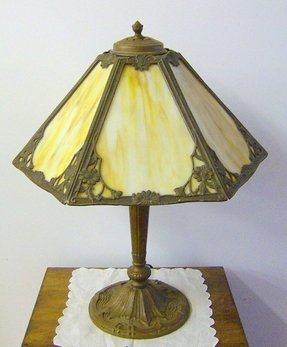 Vintage Brass Art Nouveau Style Lamp Slag Glass Shade | eBay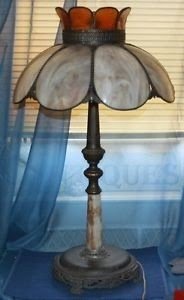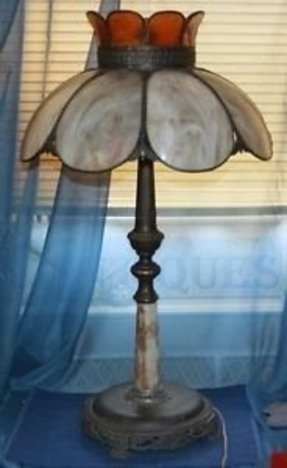 ... Slag Glass Parlor Table Lamp Slag Glass Shade & Base Artistic Lamp Co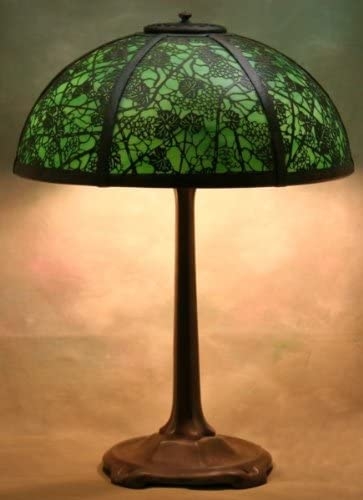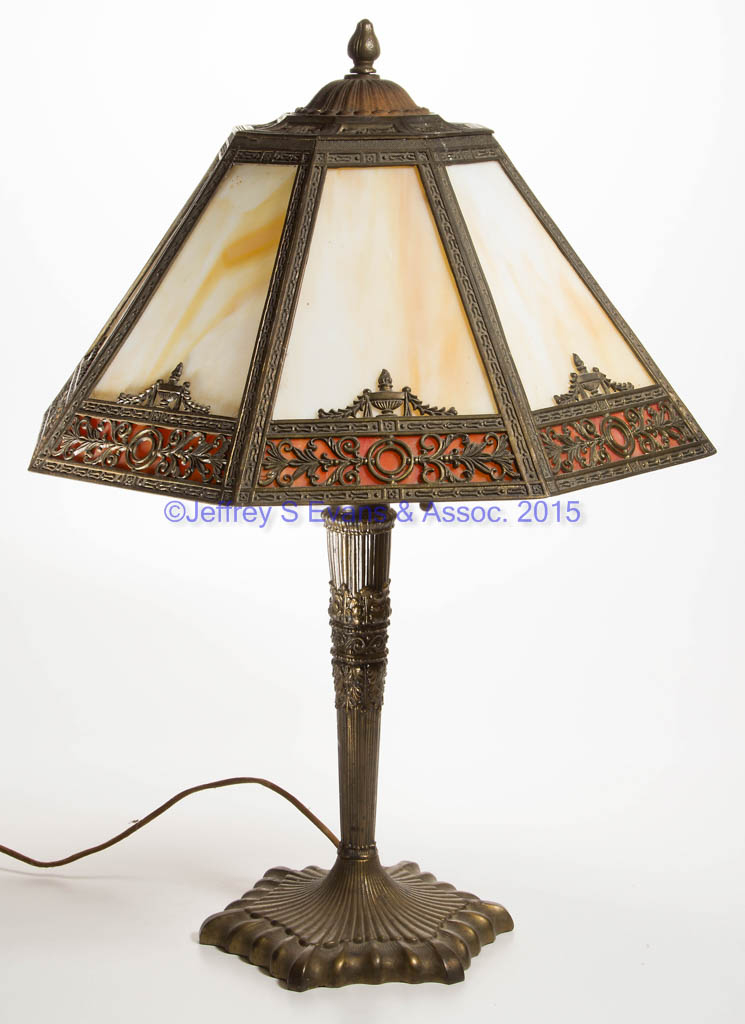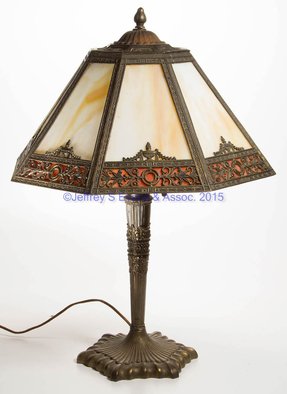 Slag-glass Shade Table Lamp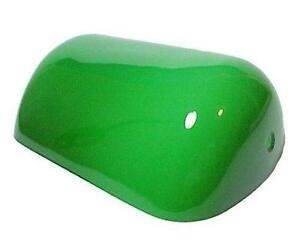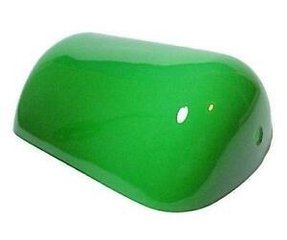 Lampshade designed for desk lamp. It is completely made of glass and gives warm tone of light. Elegant accent for bedroom, office, living room and more.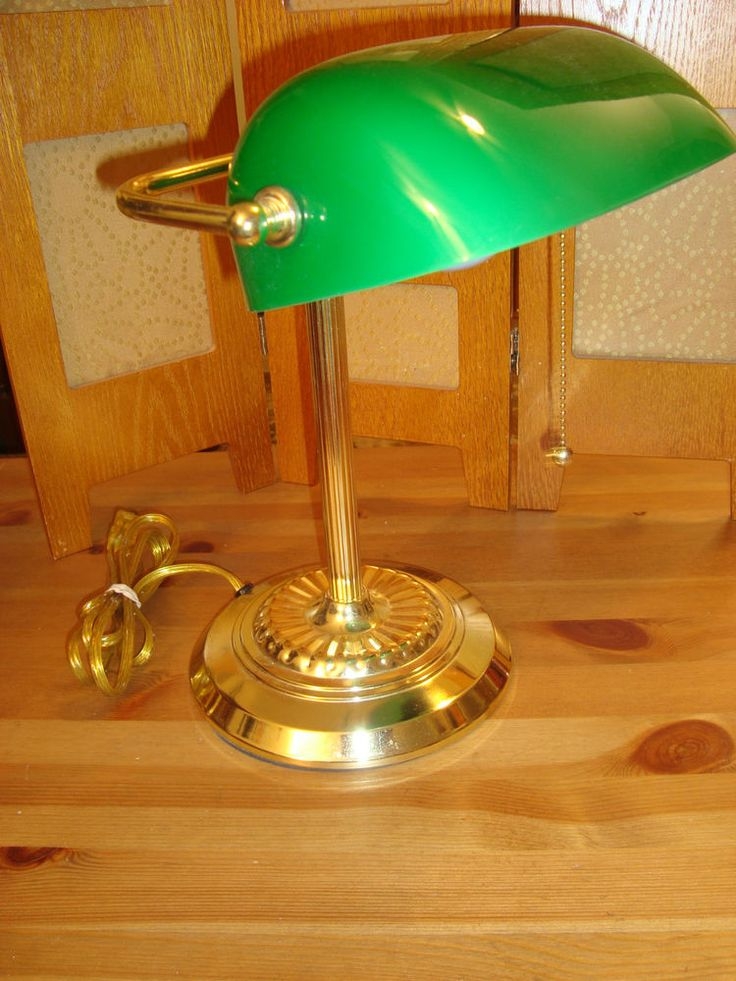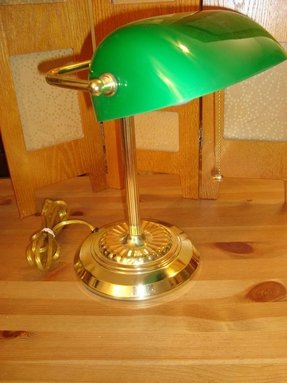 Emerald green shade of this high end table lamp brings the most prestigious classic interiors to mind, in style of Old World banks or registrar's offices. Sheen brass base is right at home in traditional interiors.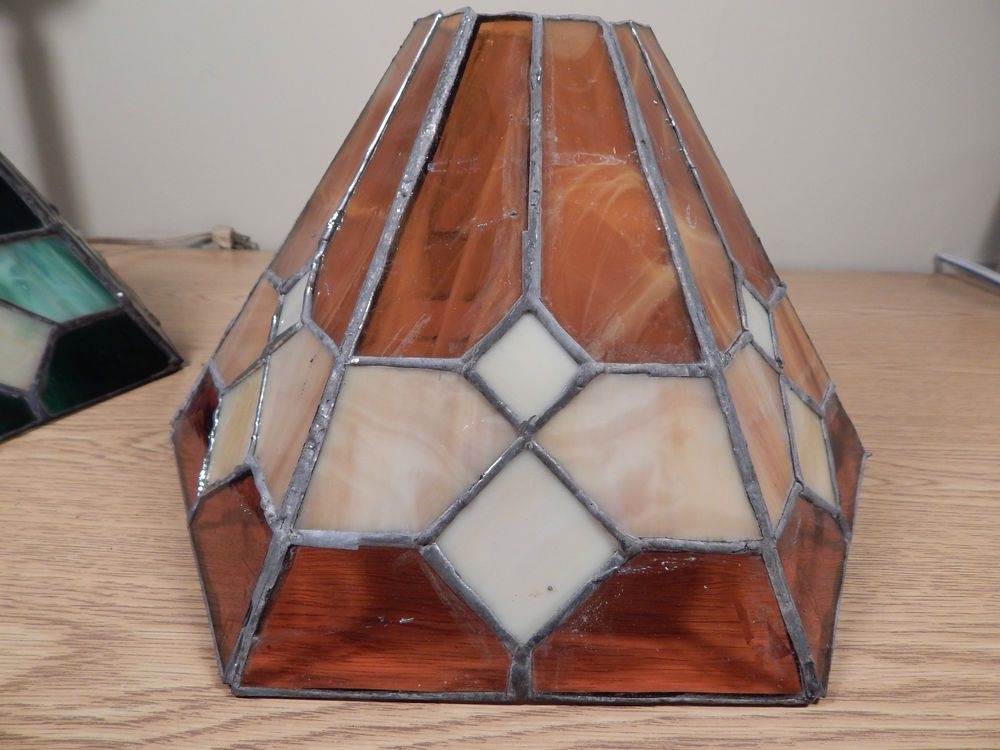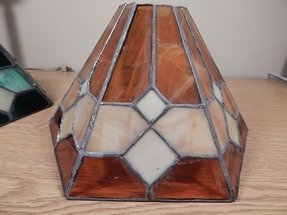 VINTAGE AMBER SLAG GLASS LAMP SHADE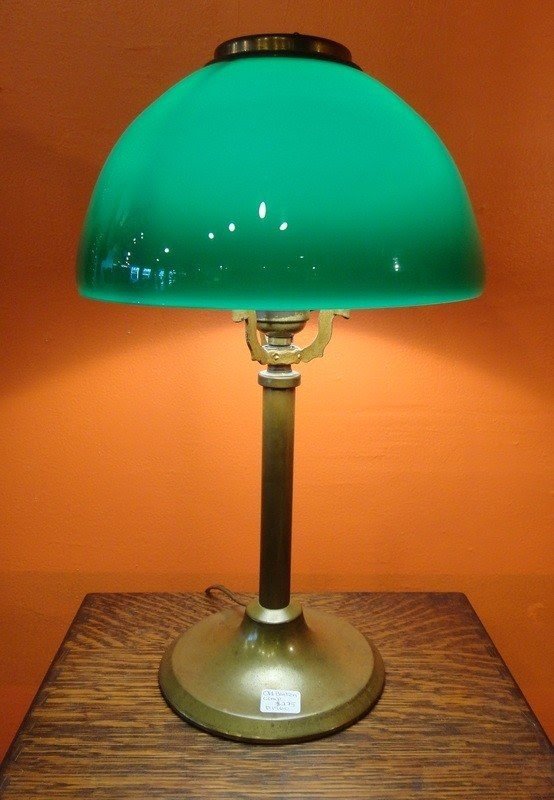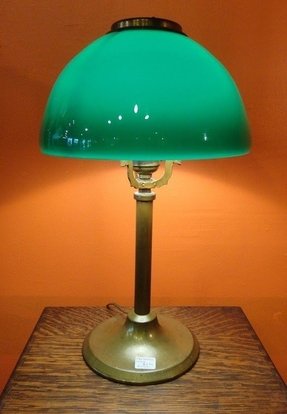 A chic banker lamp that will help you create a vintage atmosphere in the room. The base of it is slightly primitive or industrial while the shade being bright green is spectacular. It will be an original decoration of your bedside table.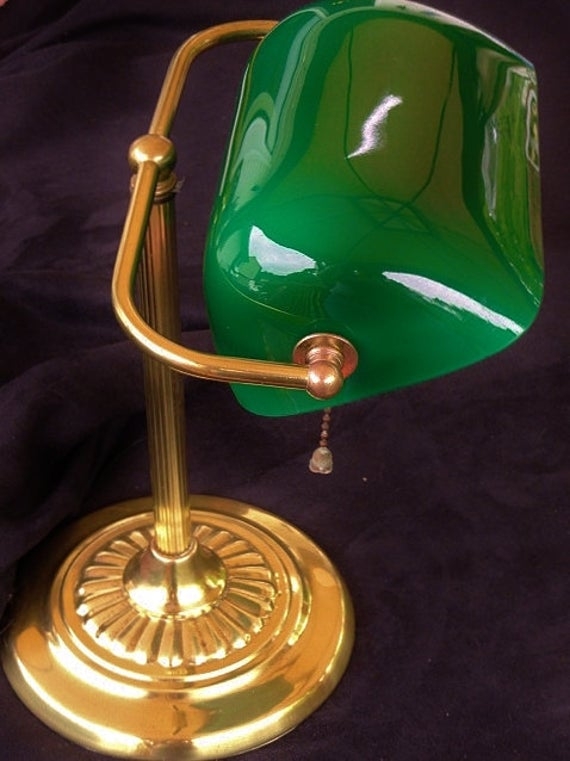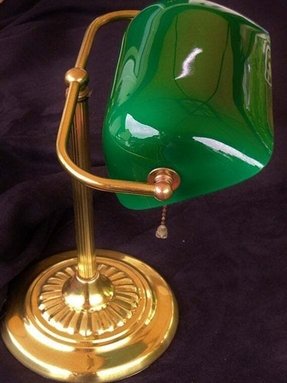 If you're into more classical, traditional furniture, take a look at this beautiful vintage, retro table lamp. Great for an antique library or a study room, sure to spice up the room with its unique design.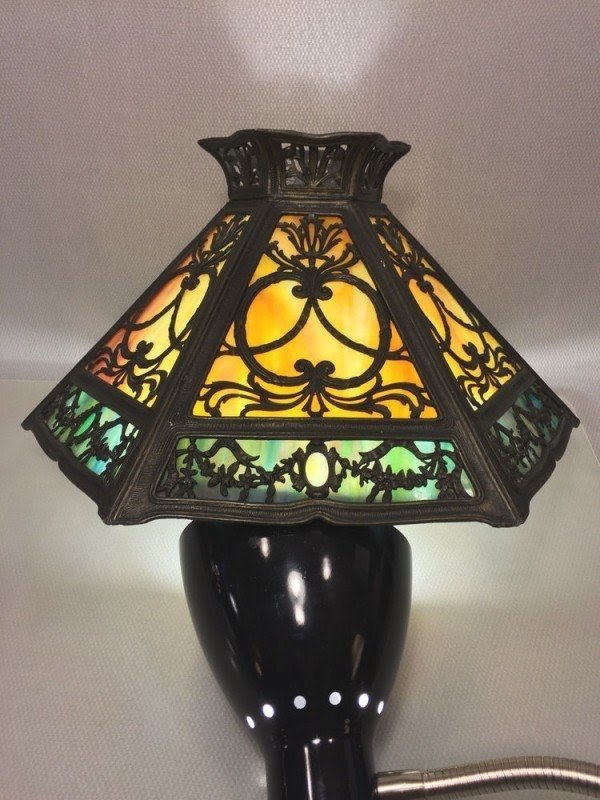 Antique Art Deco Slag Glass Lamp Shade Blue Green Yellow & White Metal Frame #Unknown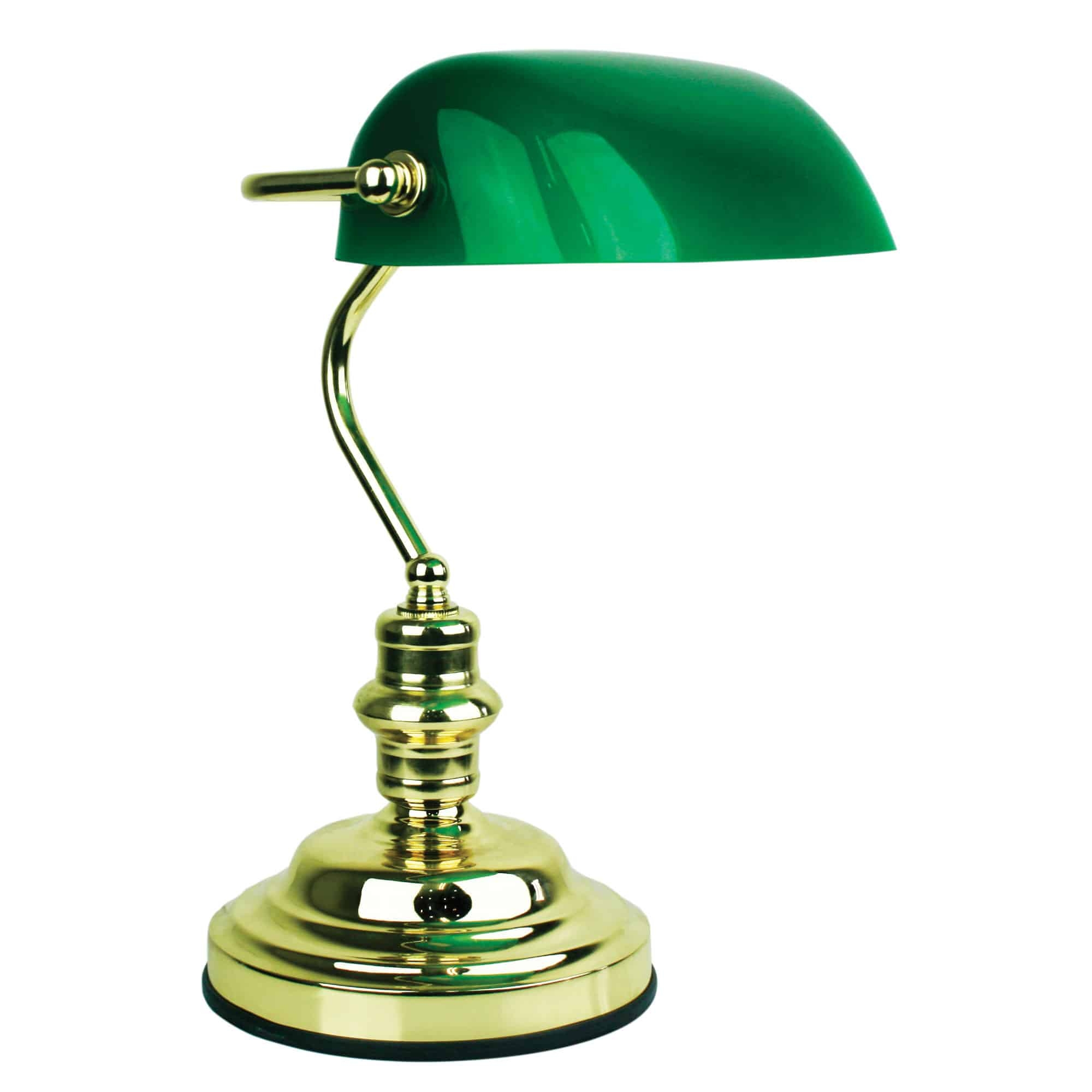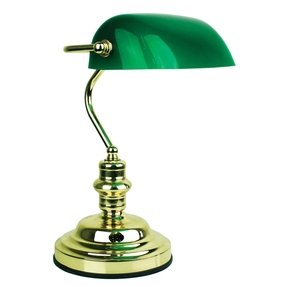 Original bankers lamp stylization in the house. This table lamp features a stylish green shade made of glass. Its high gloss brass base is also very attractive and durable. Round base provides good stability.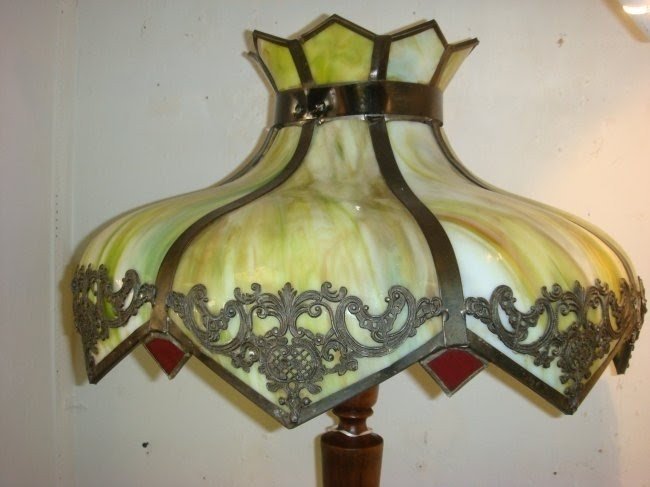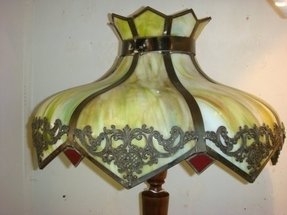 303: Vintage Floor Lamp with Slumped Slag Glass Shade: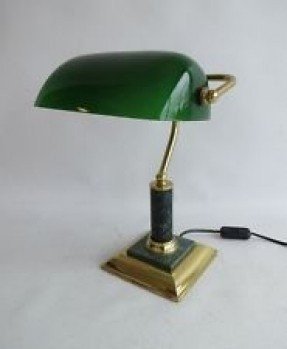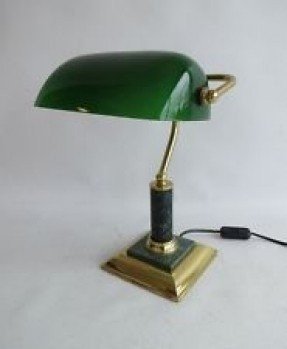 A beautiful banker's lamp for brightening up private libraries, dens, lofts, offices, and living rooms. The lamp has a square brass base with a short marble pole and a curvy brass neck, supporting an elongated shade made of green glass.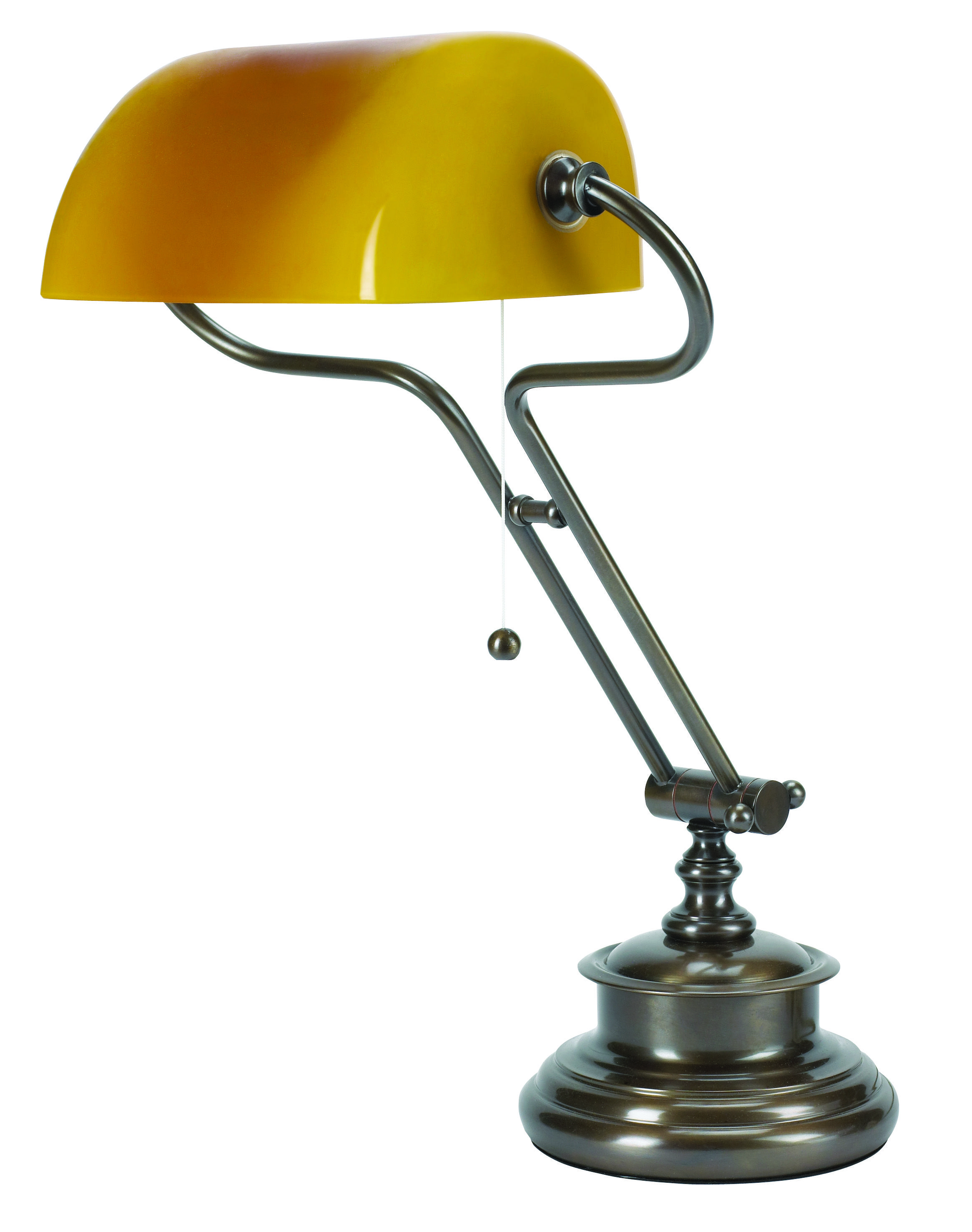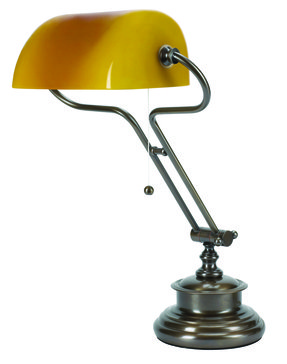 With its lovely bright yellow painting and bronze base, this bankers lamp is not only stylish, but also solid. A 13-watt compact fluorescent (CFL) bulb included. It measures 14 inches high.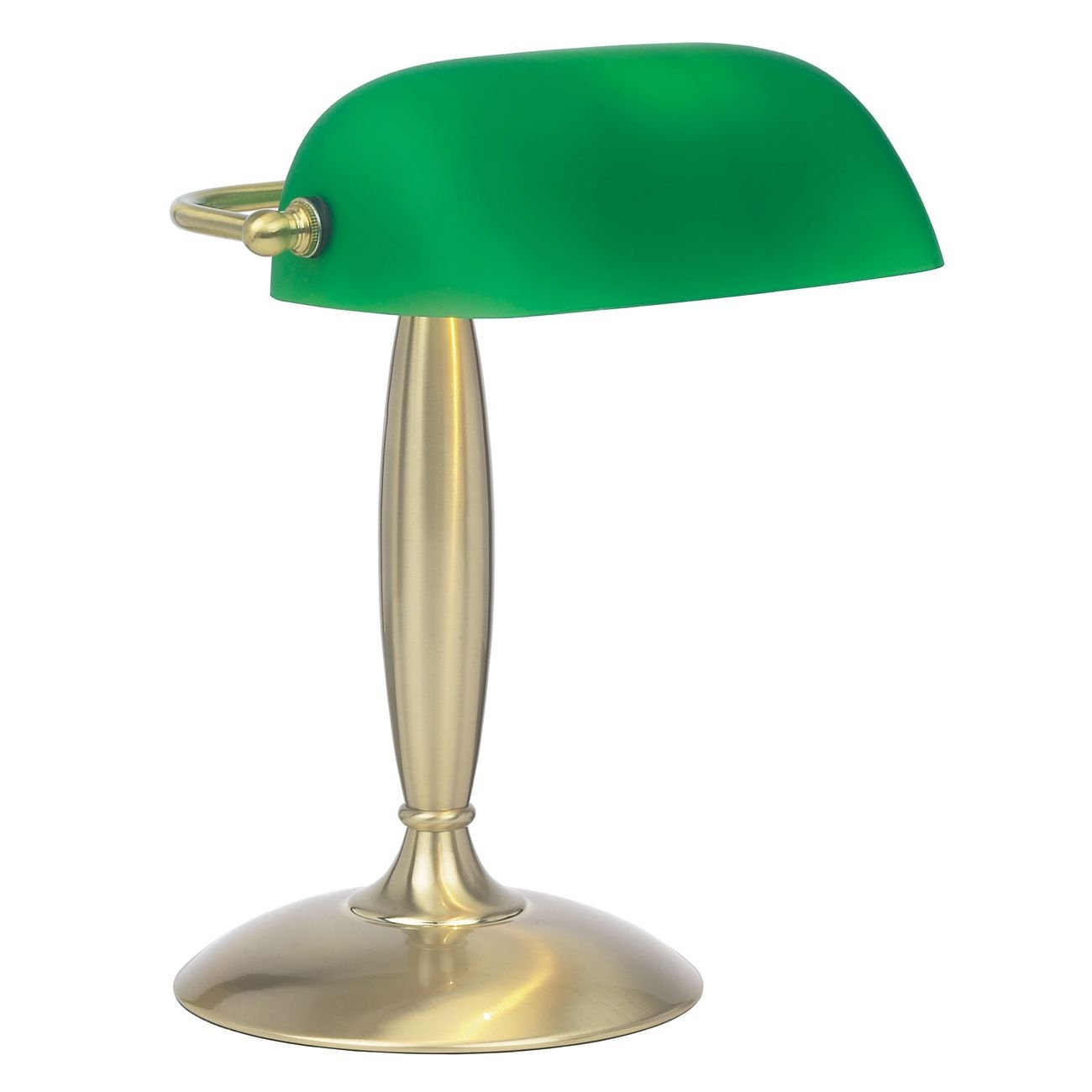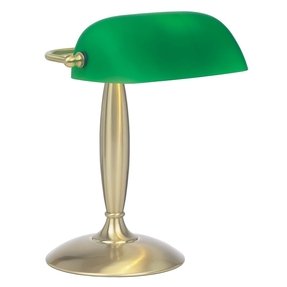 Connecting modernity with classic is very trendy for many years and this lamp is a good example of this fashion. It has metal simple base and kickstand. Lampshade is adjustable and made of green plastic.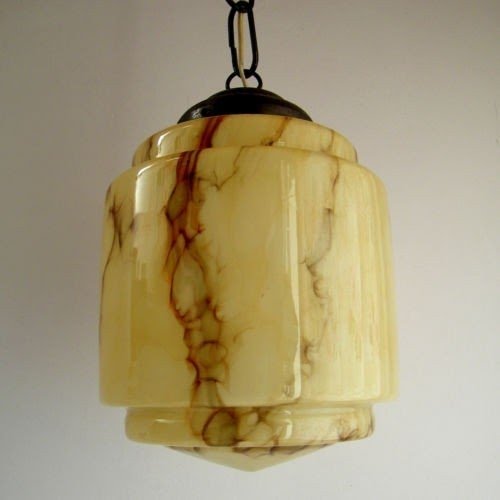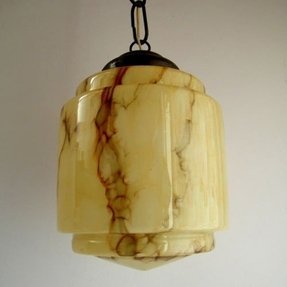 ART DECO BOHEMIAN LOETZ SKYSCRAPER SLAG GLASS LAMP SHADE 1920's CARAMEL & BROWN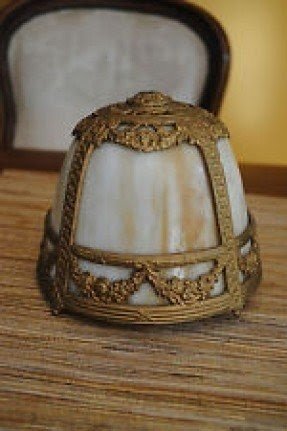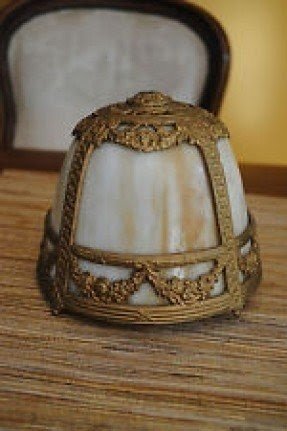 Antique Art Nouveau/Deco Handel,Bradley,Miller Era Slag Glass Lamp Shade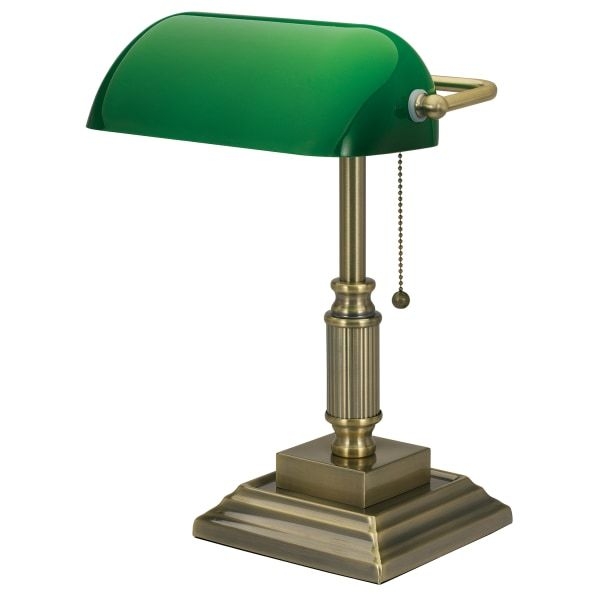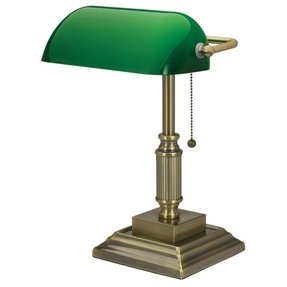 Desk lamp with a durable bronze base resistant to wear and damage. This banker lamp features a classic shade that provides good level of light on any desk. Its base provides stability and support on any flat surface.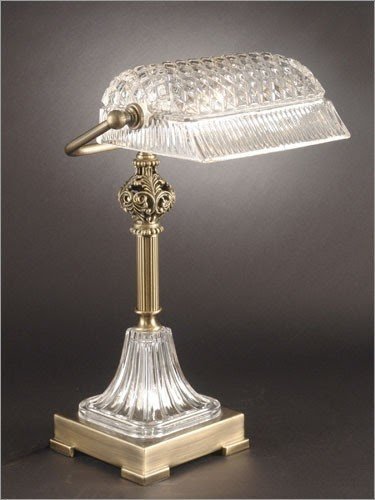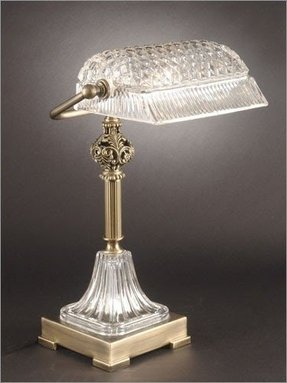 The shape of this unique crystal table lamp unambiguously indicates that we are dealing with a bankers lamp. Its uniqueness lays in the inimitable finish - solid, brass base is combined with a purely beautiful crystal lampshade.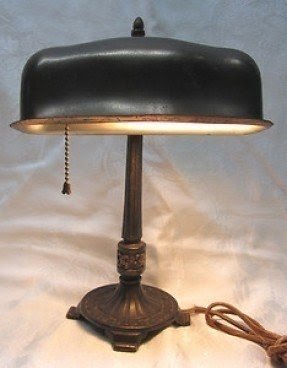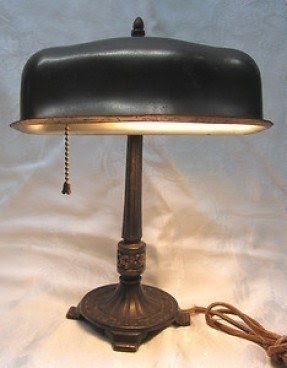 Bankers lamp that is a very attractive and practical element of any table design. This vintage, antique element is not only decorative, but it also provides small illumination of a table or desk. It is also wear resistant.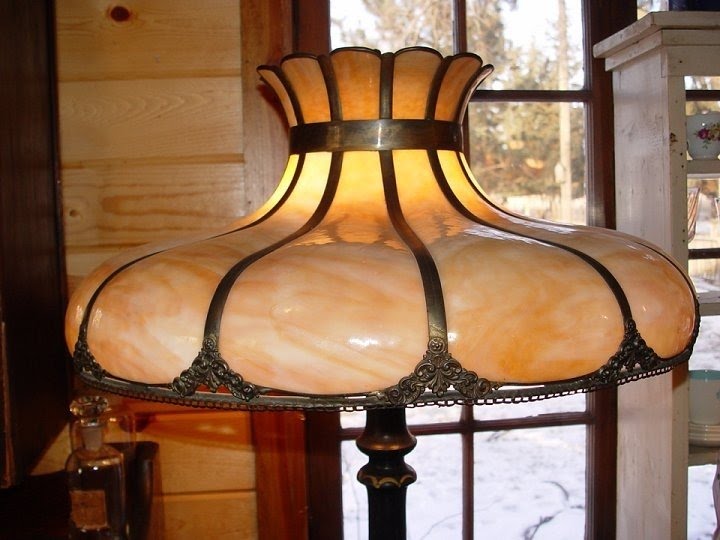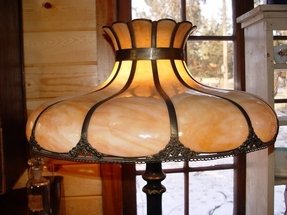 ... early Japanned, hand painted lamp base and Victorian Slag Glass Shade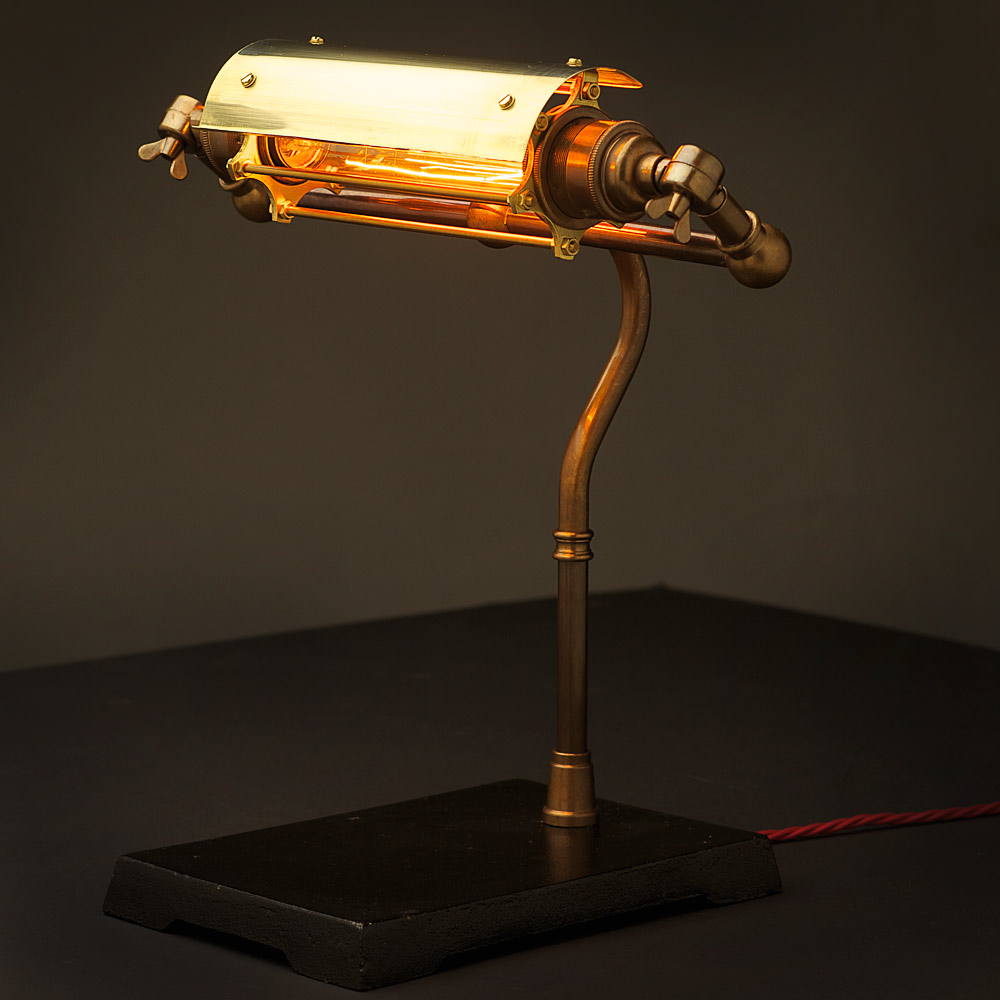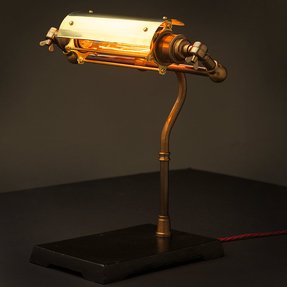 A vintage brass Steampunk banker lamp to your home library, office space, recreation room and other. I should try it in my elegant office. Nicely finished and high quality lamp.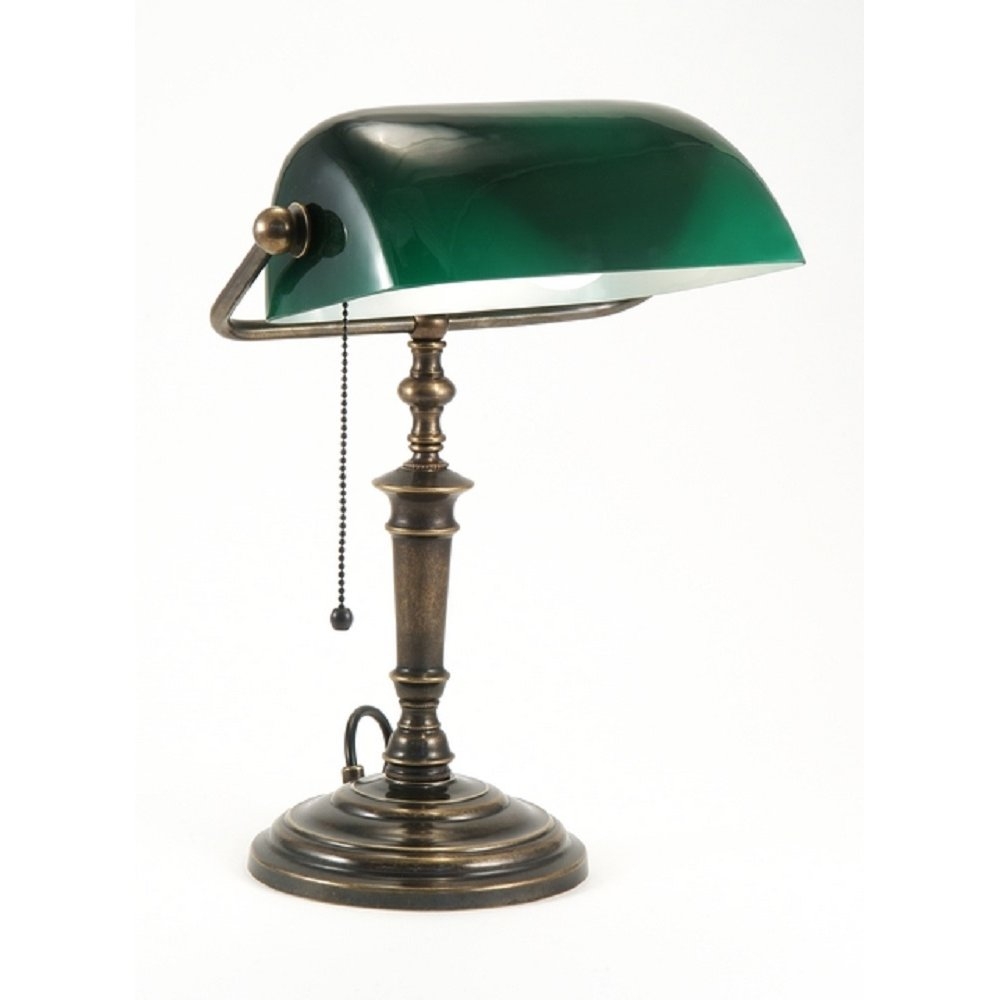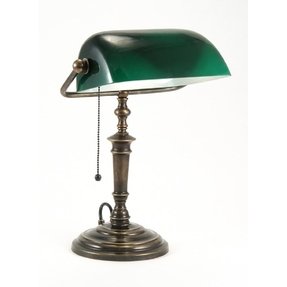 Classic bankers lamp. Can't go wrong with this design, especially when your interior is flooded with dark wood furniture, traditional accessories and stuff... The adjustable design comes complete with an emerald green shade.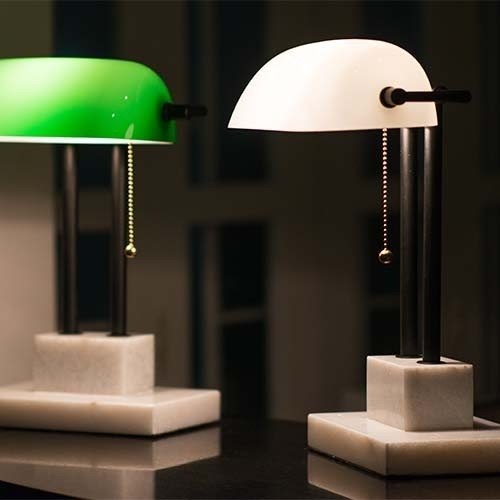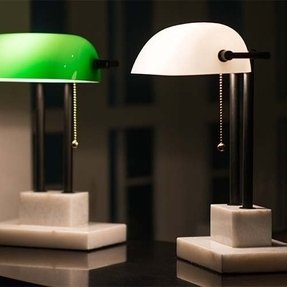 Solid and practical bankers lamp. This element of equipment allows for good illumination of tables and other small areas. Each lamp of this type stands on a durable marble base in rectangular shape and neutral white color.