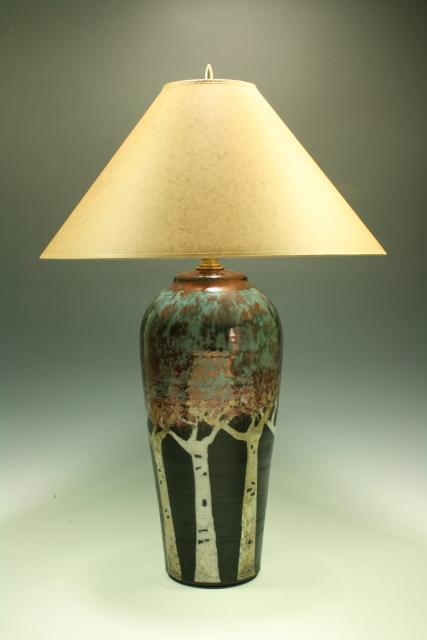 Exquisite handmade lamp with cream coolie shade; the base is made on a potter's wheel and then fired with use of special Raku technique. The pattern depicts a grove of birches. A lamp, but a piece of art too!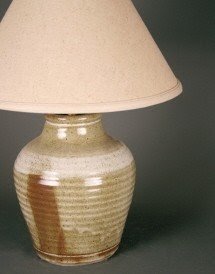 This handmade pottery lamp is crafted from stylish alabaster. Its classic design shall fit well into traditional decors. Features an off-white, conical shade. Perfect for a small etagere or bed side table.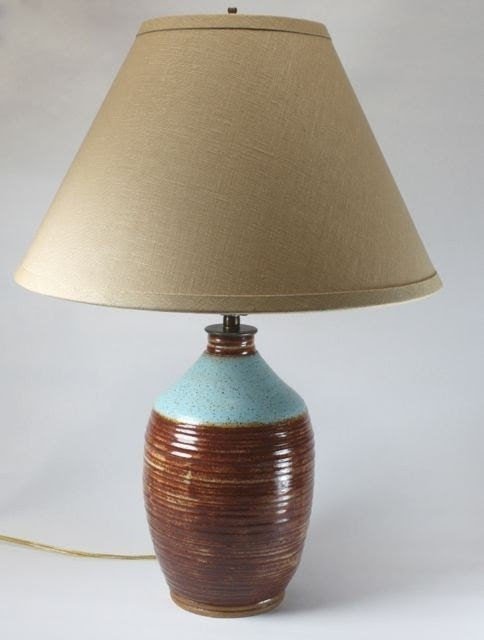 An exquisite set of pottery lamps that are perfect for any occasion, that create romantic and warm ambiance with their fantastic design. Hand-crafted of porcelain by Irish ceramicists, the lamps shine with their breathatking light like magical stalagmites.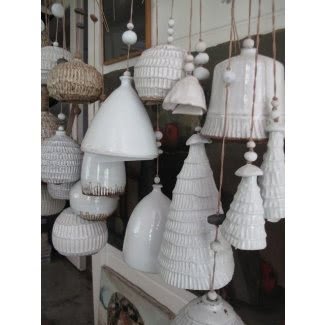 made in mt washington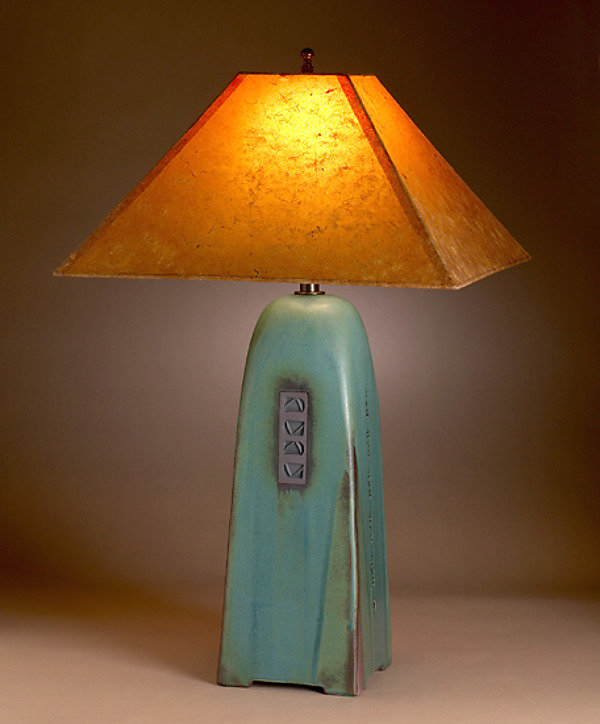 Pottery Lamps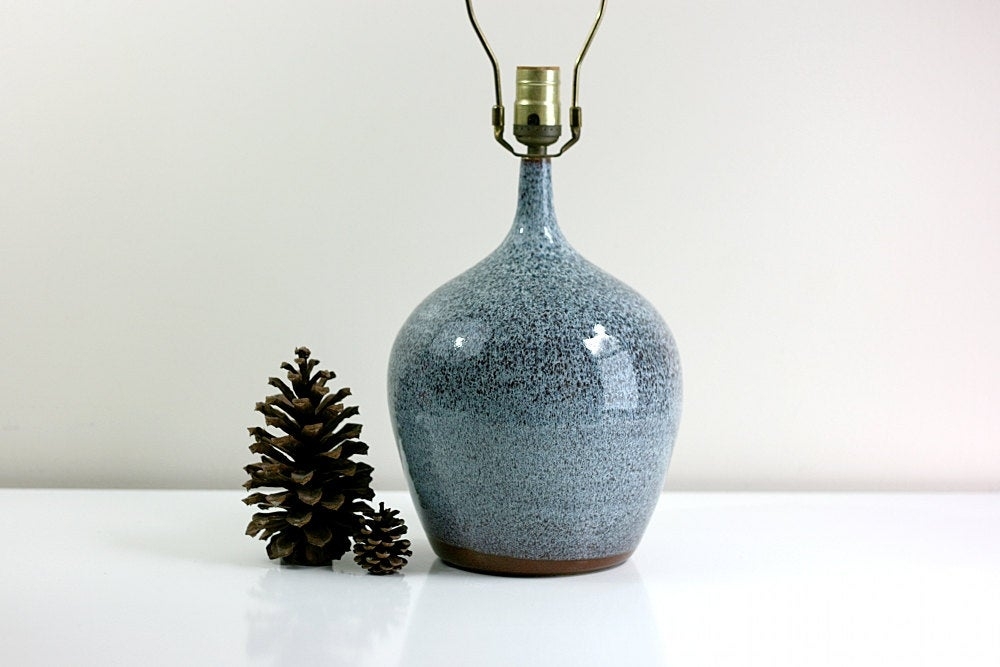 Vintage Handmade Pottery Wizard of Clay Lamp, $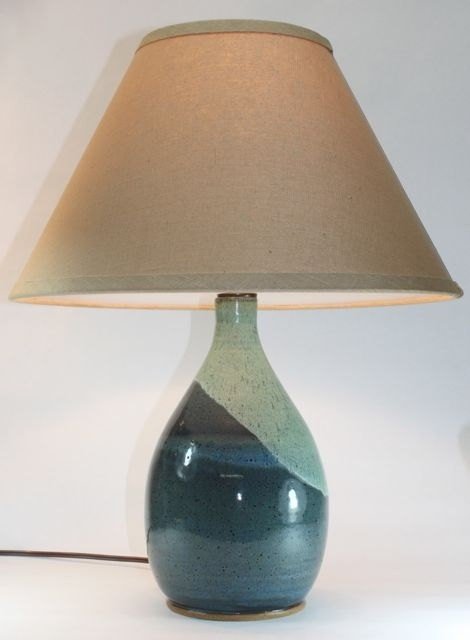 Bridges Pottery Handmade Ceramic Pottery Table Lamp Blue and Green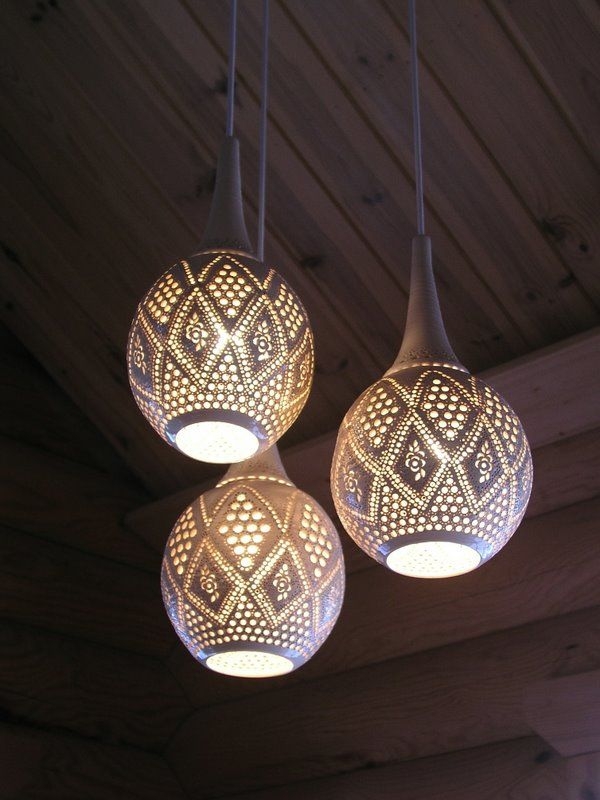 A handmade ceramic lampshade made by Savipaja Tuliaistupa in Finland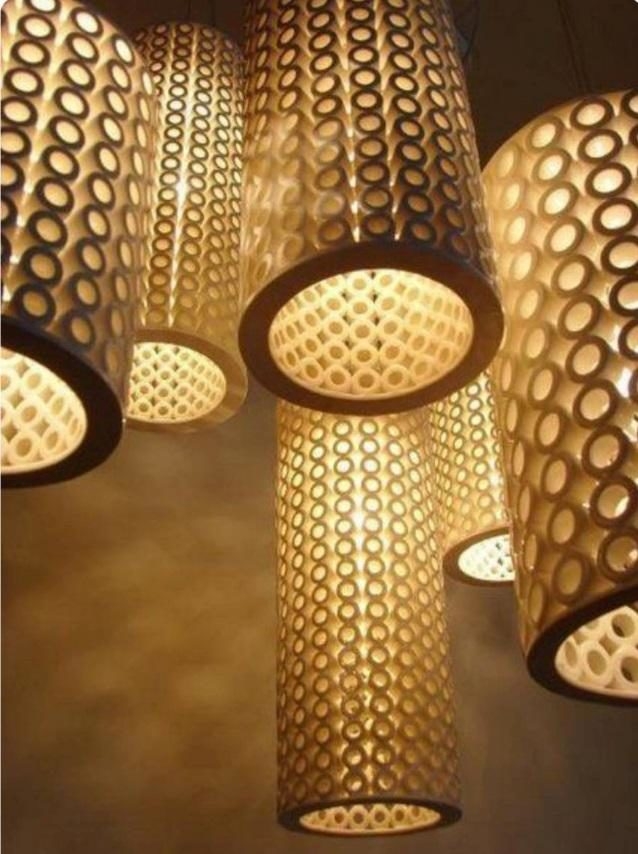 Handmade masterpiece in shape of a breathtaking pottery lamp that shines with elegant warmth and coziness. Each shade emanates with a geometric design, looking like a large cylinder assembled from a bunch of smaller ones.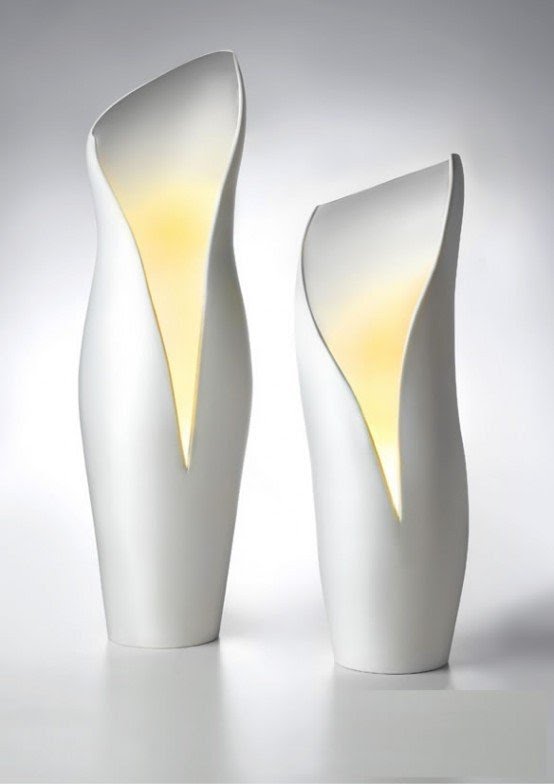 Modern ceramic lamps. They are hand-made and with custom hand finishes. The smooth and soft lines make them look modern and adaptable to all interior styles, so these beautiful lamps could enhance and enrich every area of your home.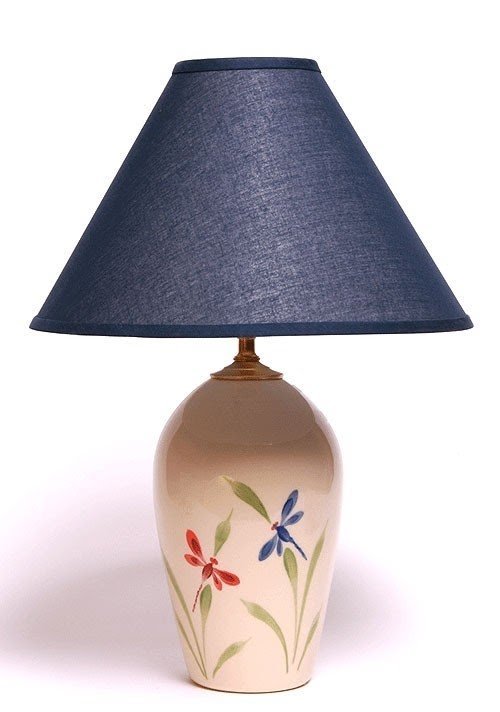 Handmade in USA, enchanting with its adorable, florally adorned surface, this ceramic pottery lamps will add subtle elegance to your interiors. Creamy beige finish will fit well into most of the surrounding decors.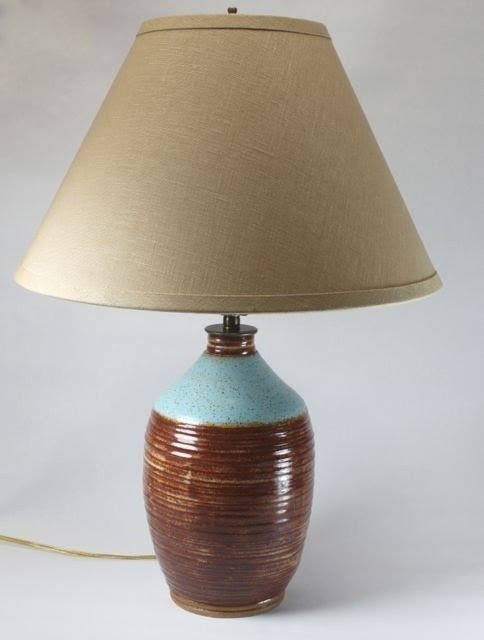 Handmade, this pottery lamp enchants with the high-quality ceramic. It distinguishes itself with a characteristic turquoise and honey brown combination. A good proposition for all traditional or classic interiors.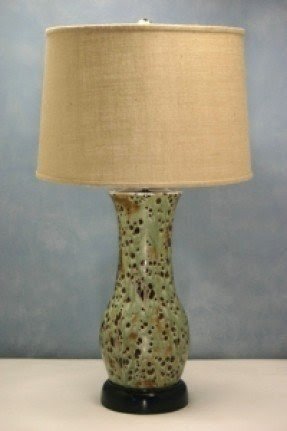 The handmade, hand-made potter's lamp is a miraculous solution that allows you to change the look of your living room. The enchanting details combined with the classic lampshade create a unique composition.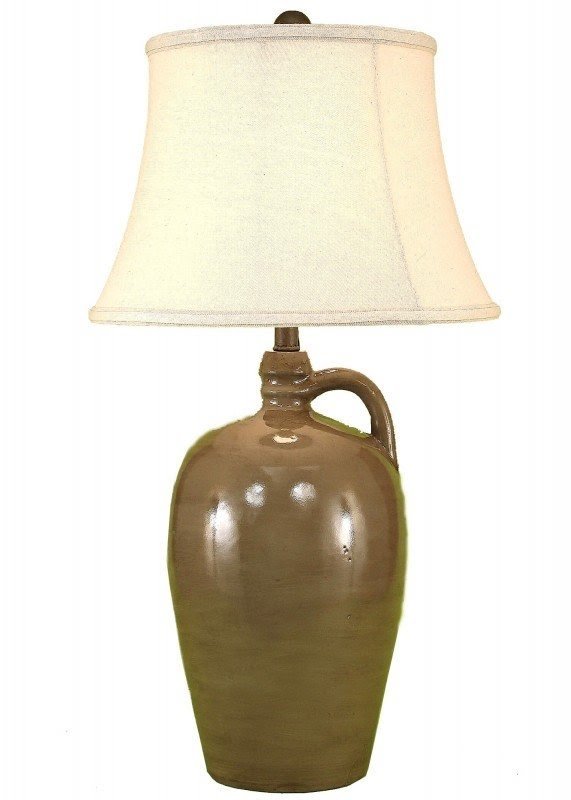 Casual Living 1 Handle Pottery Pot 29" H Table Lamp with Bell Shade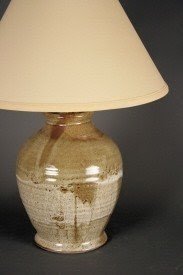 alalbaster lamp price $ 229 99 chocolate ocean lamp price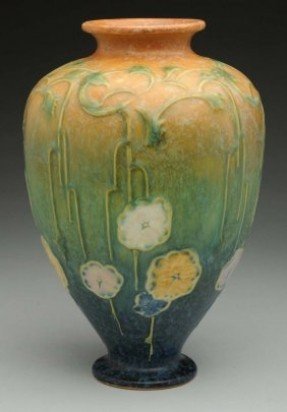 Roseville Trial Factory Lamp Base.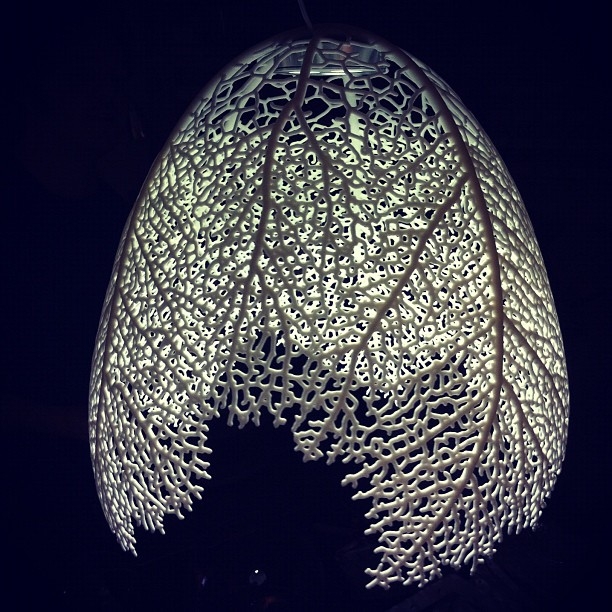 Unique arboreal lamp shade. Inspired by, well, varied nature elements: could be tree branches, but also human physiology: lungs, vein structures or nervous system. 3D printed designer's lamp shade in white.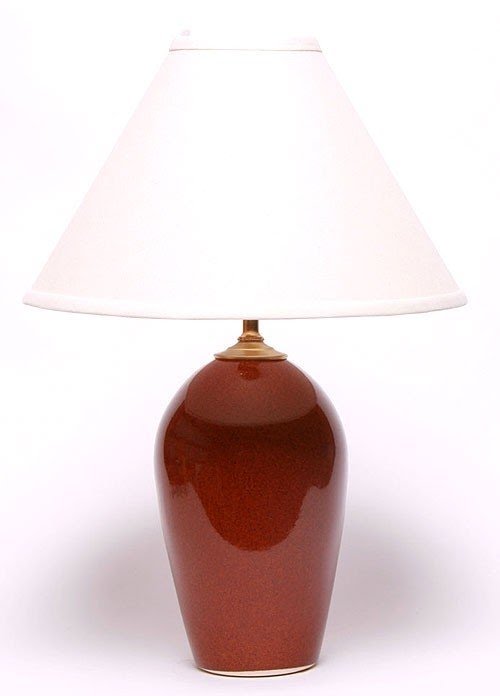 Ceramic Pottery Lamps: Handmade in the USA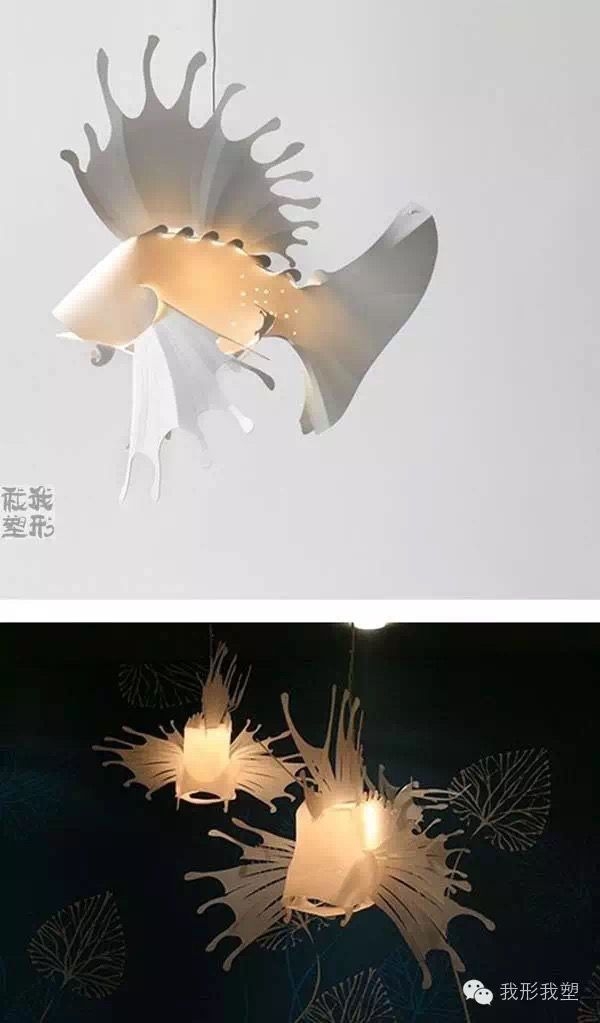 Make a grand impression on your guests with this handmade paper hanging fish lamp. It's a fantastic addition into kids room, bedroom, bathroom, and living zone.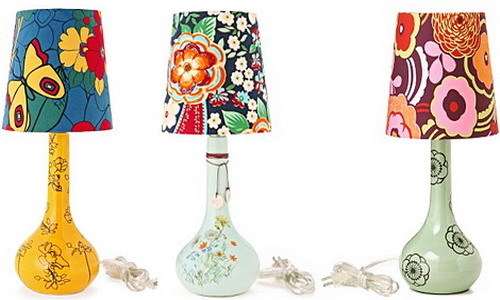 Ceramic Lamps: Made in the USA and Lead-Free | Emerson Creek Pottery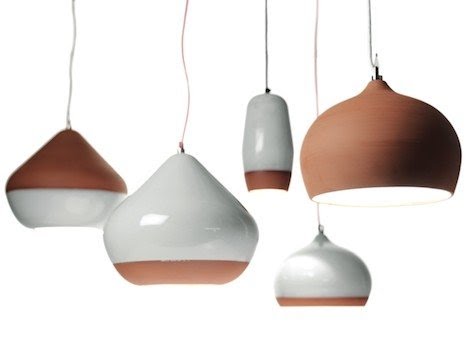 Original handmade pendants made of kiln-fired terra-cotta and a shiny white porcelain glaze. Their simple colors look very attractive in neutral-styled indoors. These lamps provide appropriate level of light indoors.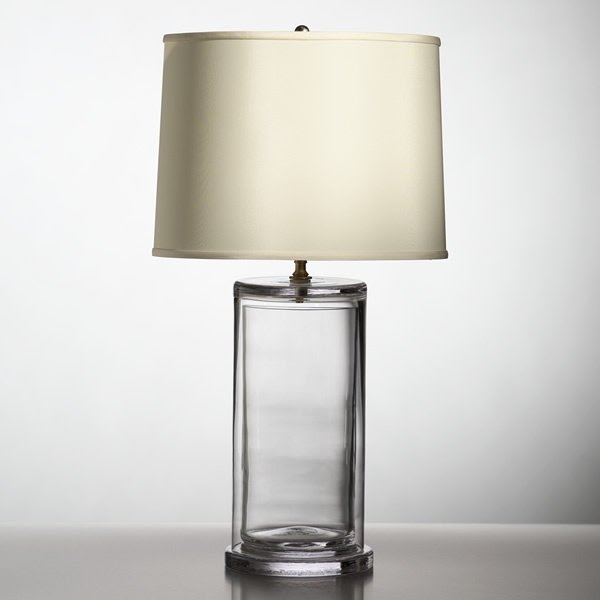 Simon Pearce Vermont Blown Glass Lamps and Handmade Pottery Lamps. Nantucket Lamp on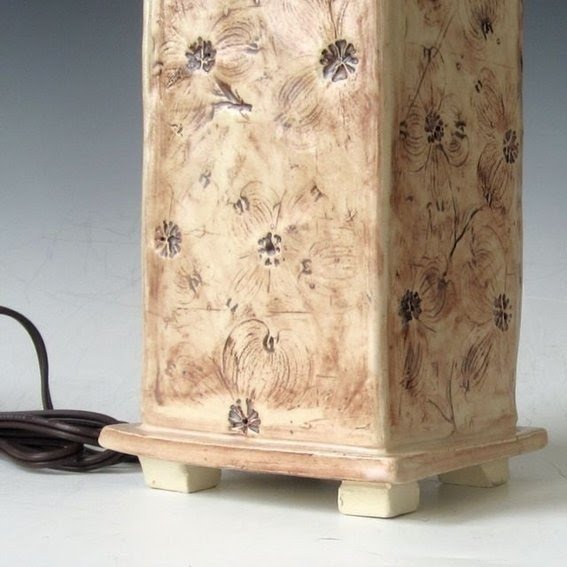 Custom Made Handmade Ceramic Table Lamp With Dogwood Flowers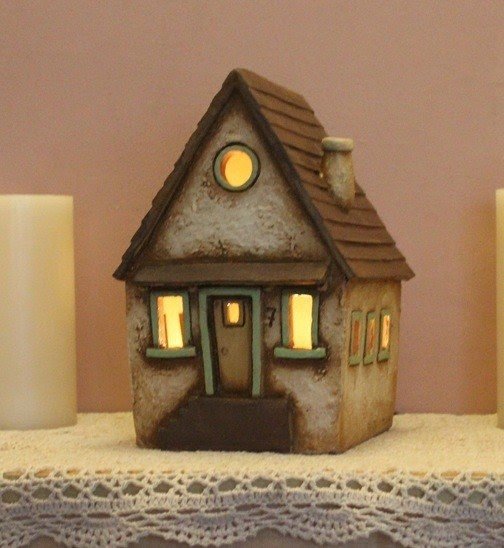 Clay House #7 | Harry Tanner Design Nite light lamp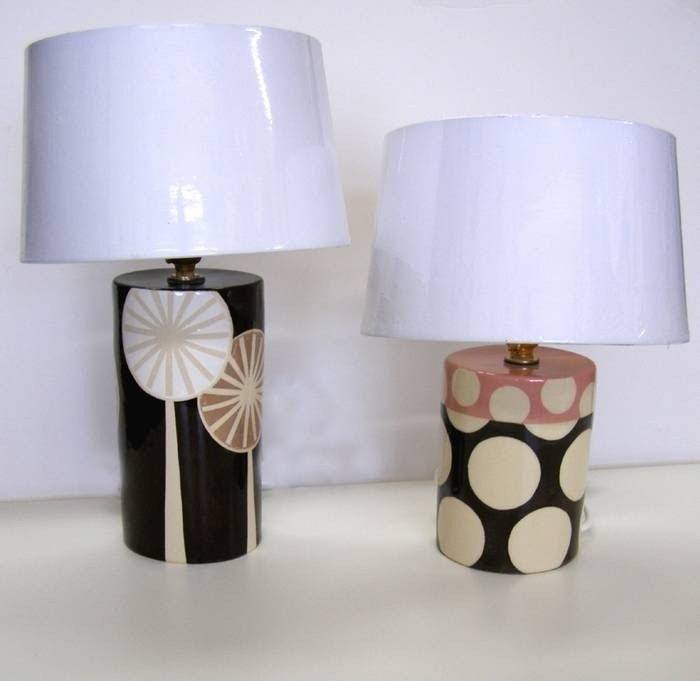 Handmade Ceramic Lamp products, buy Handmade Ceramic Lamp products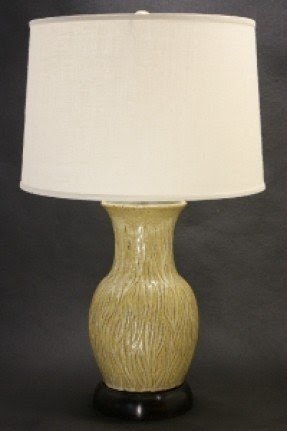 Oil lamps were used just 4.5 thousand years ago. Today, we use such table lamps as we want - eg handmade pottery lamp with a white tube lampshade and a stylish, somewhat retro mustard ceramic stem on a black round base.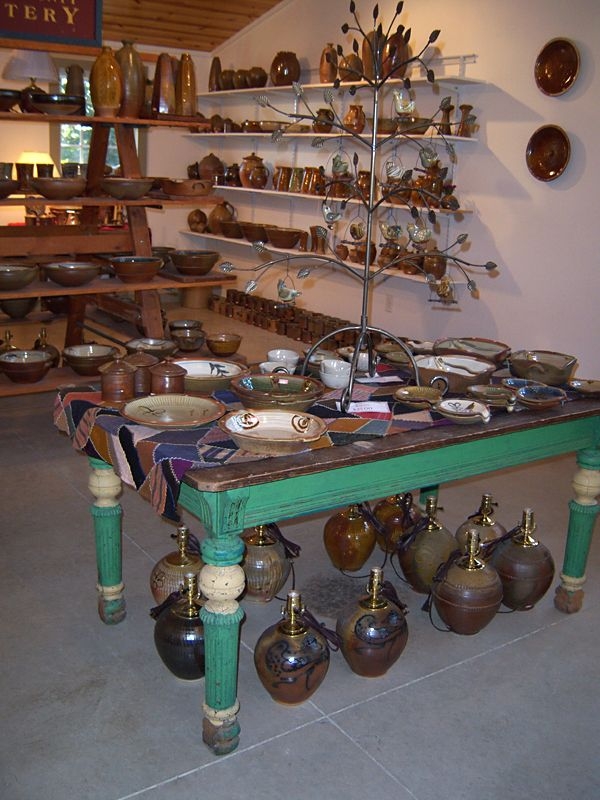 The consumers' hearts are conquered by a handmade pottery lamp. This picture presents workshops, where agile craftsmen create a variety of ceramic bases for such lamps. The ceramics from which the lamp is made are suitable for painting.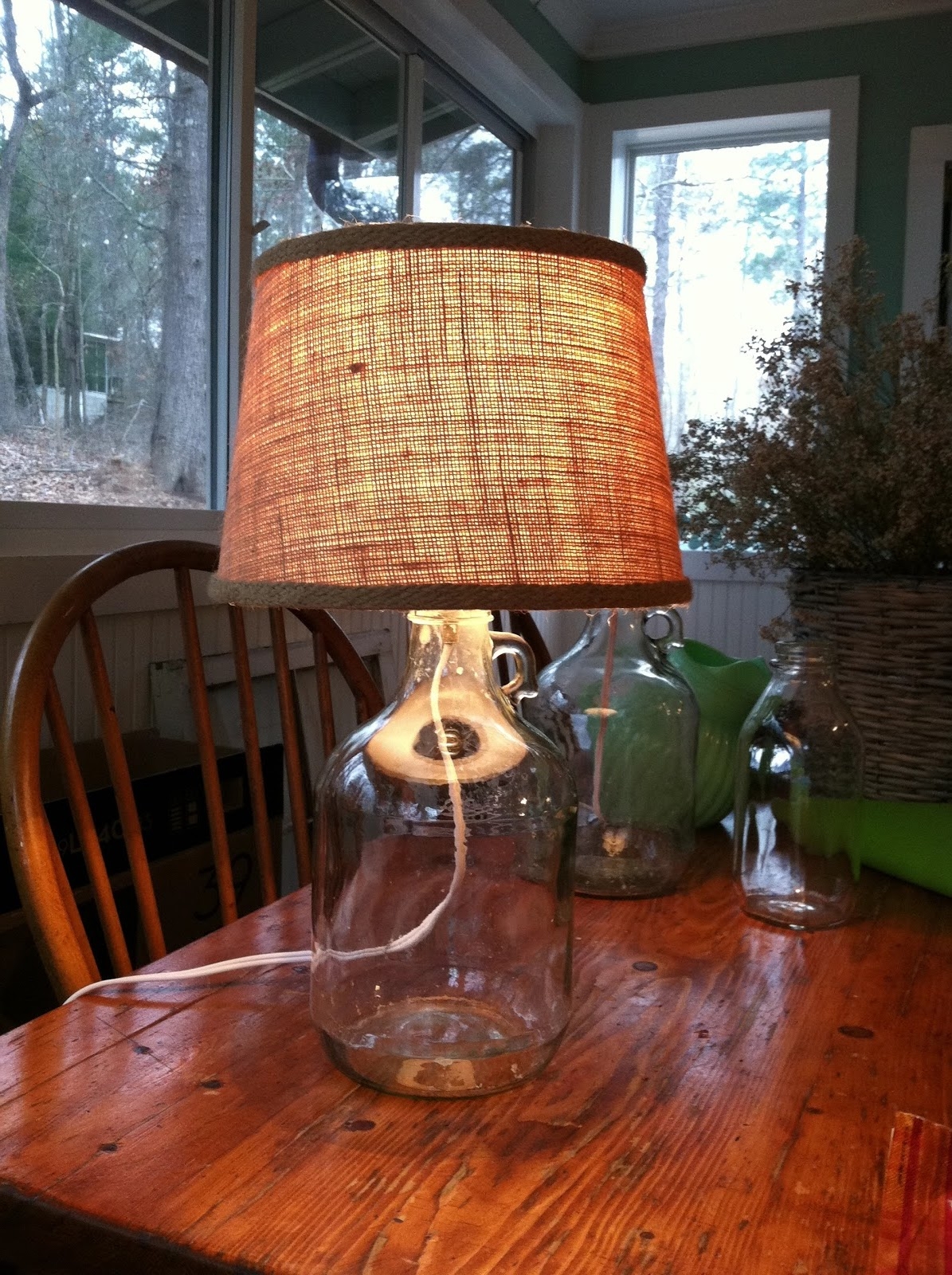 How to make a pottery barn look alike lamp for less than $25.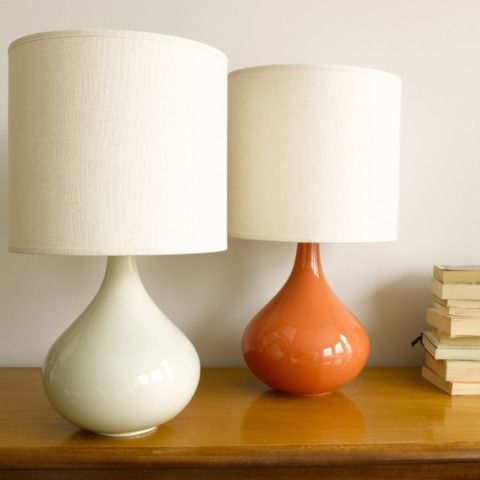 BUBBLE LAMP When we walked into Andrew's Stoke-on-Trent pottery and saw these lamps on the side we knew we had to have them. "Don't change anything, they're perfect!" we said. We'd all put in our own personal orders for these before we started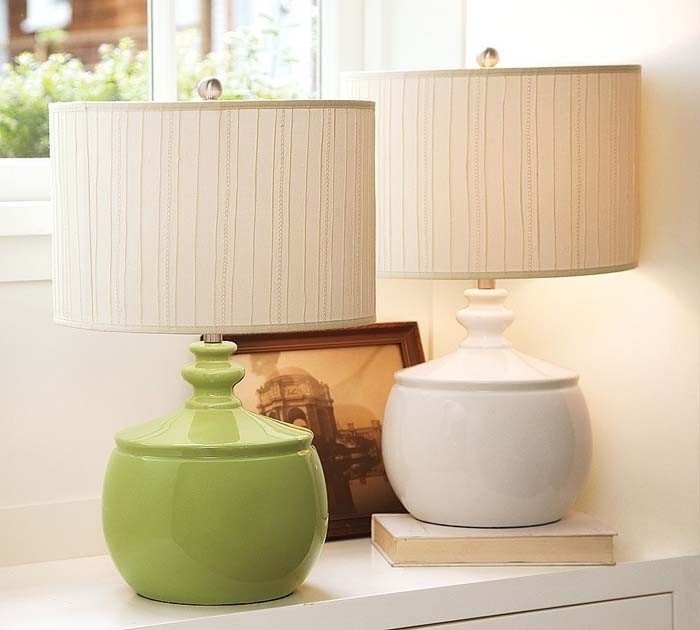 Ceramics have often been called the queen of all materials at home. This time it was used to create ceramic bases for traditional handmade pottery lamps - light green and beige. Made of noble earthenware.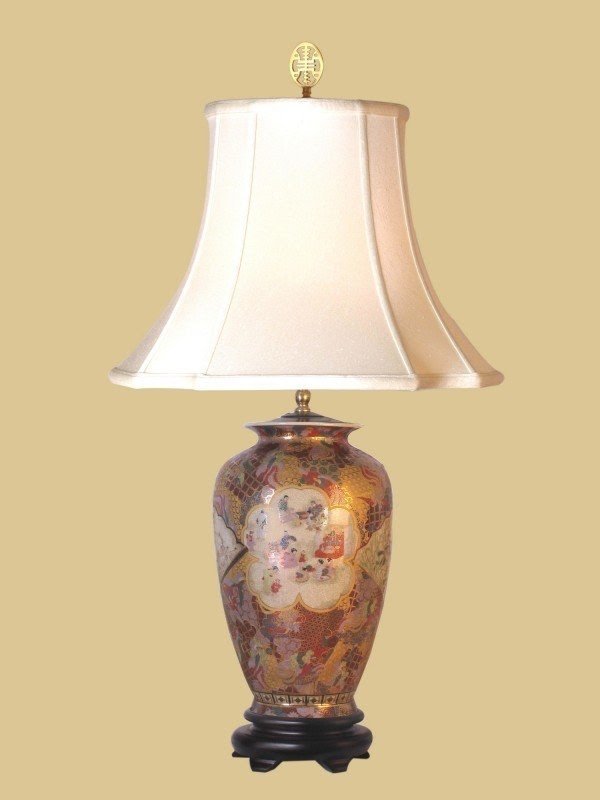 31" Satsuma Vase Lamp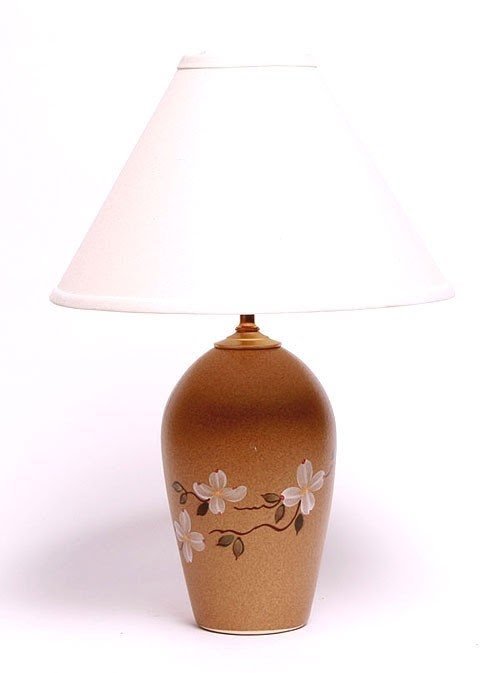 Ceramic Pottery Lamps: Handmade in the USA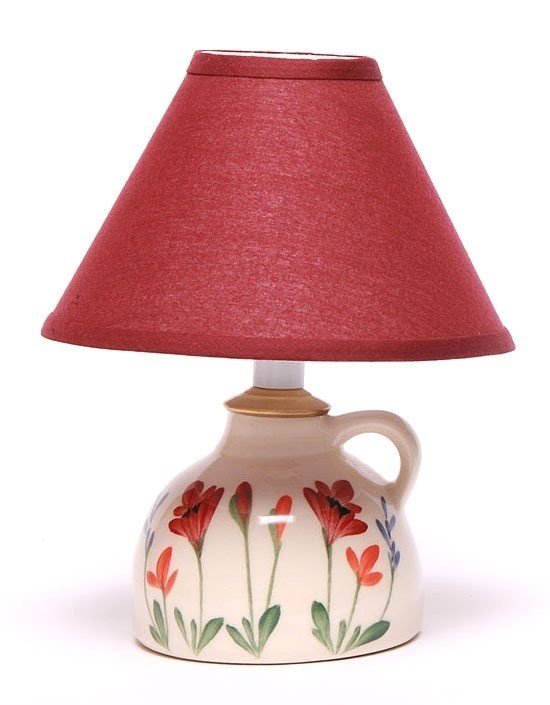 Ceramic Pottery Lamps: Handmade in the USA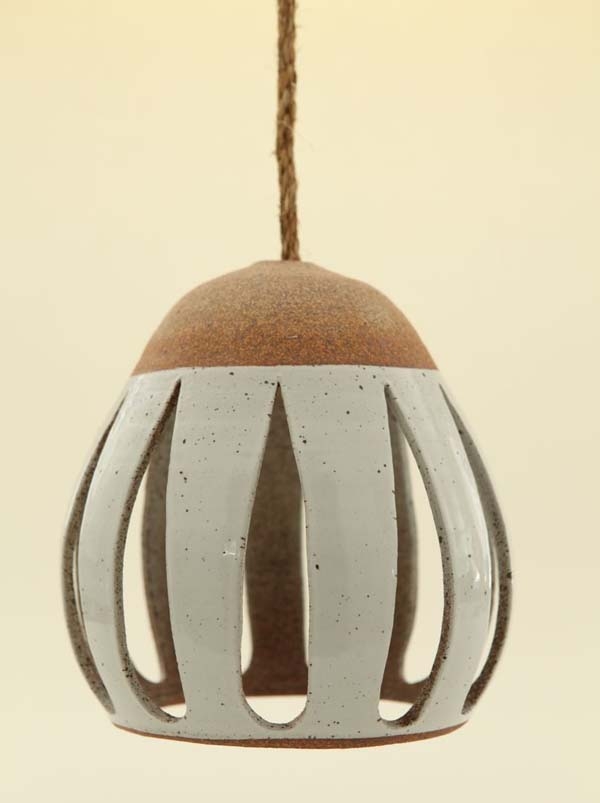 heather levine handmade pendant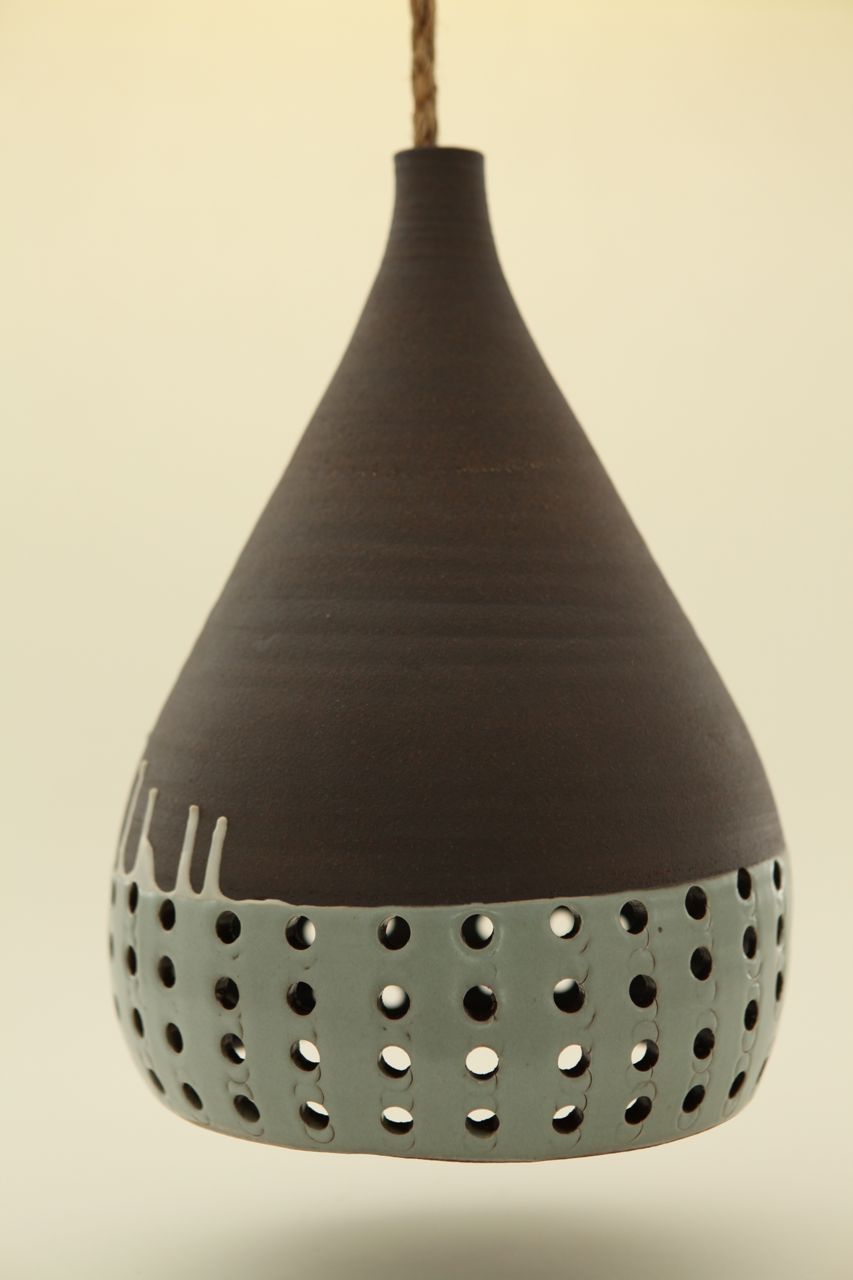 The handmade pottery lamp can be used above the kitchen island and dining table. It has the two colors on the finish and it spruce up any decor in the apartment.

Designed by New York studio of KleinReid, the Cloak pendant lamp collection combines a porcelain shade with walnut and aged-brass details. A braided cord constitutes an eye-catching detail. Available in white or carbon colour finish.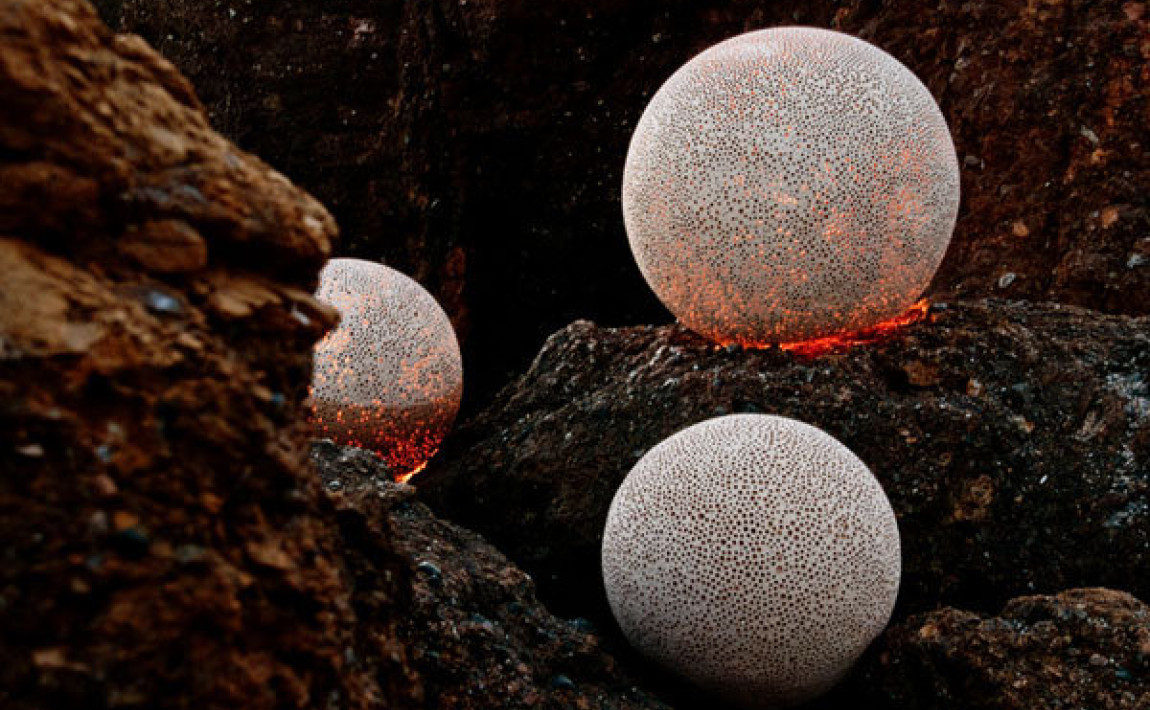 The Porous Sponge Lamp by Pottery Project is Designed for Indoors or Outdoors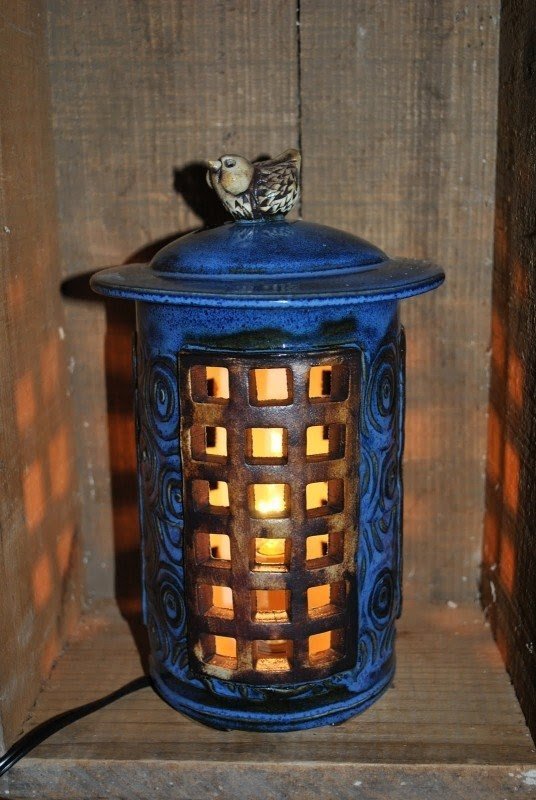 Kristy Lombard Pottery: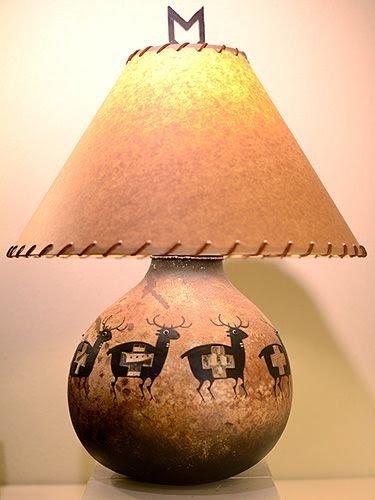 Attracrive and original handmade lamp with a spherical base in attractive color. This base includes interesting deer accents. Its classic lamp shade is made of rawhide for better solidity and good aesthetics.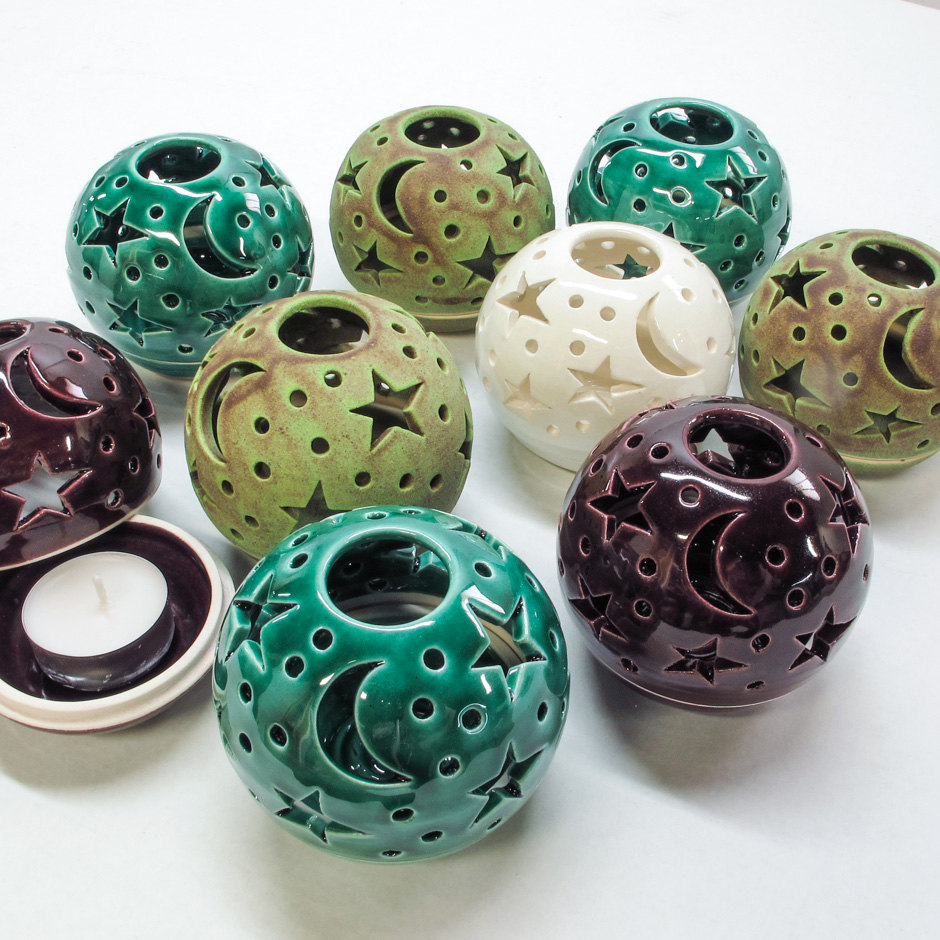 Lavender Blush Eggplant Purple Candle holder, Handmade Pottery THE ORIGINAL Star Candileria / Ceramics / Mothers Day on Etsy, $20.00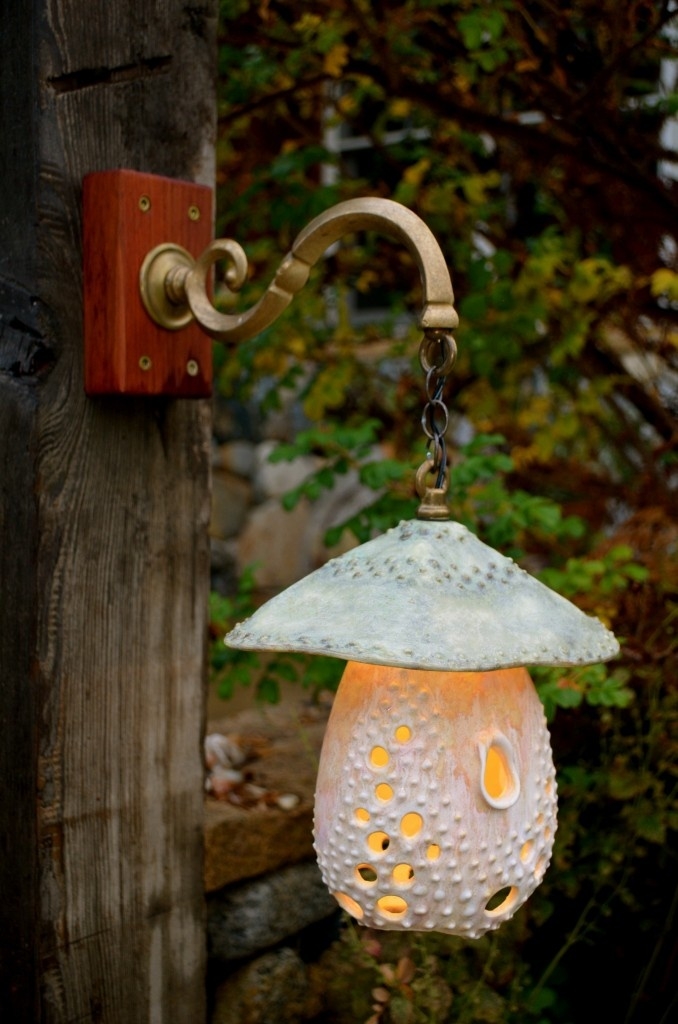 Looking for a stylish garden lamp? Check out this mushroom-resembling piece of art. The white paint might have lost its freshness, but no need to worry about that – now it looks even more authentic in that garden environment.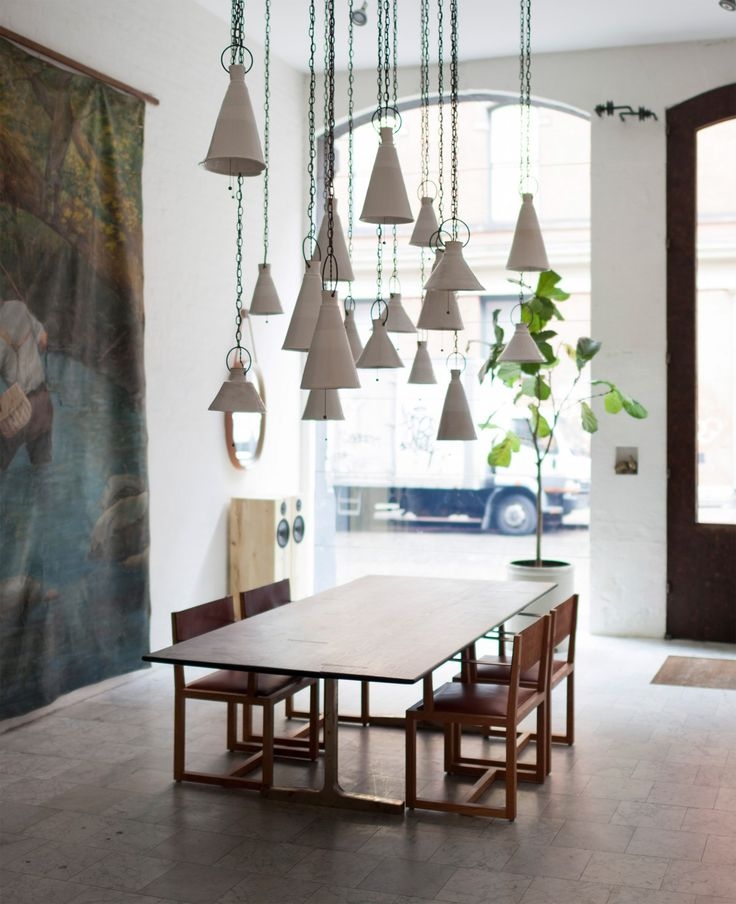 A set of handmade pottery lamps, designed to embellish one's dining or living space and create a nice, charming, contemporary appeal. Handcrafted in Philadelphia, they are available in 5 sizes, each of them suspending from a chain and braided cord.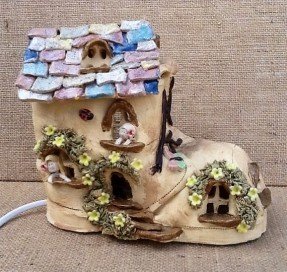 Boot nursery lamp. Handmade pottery nursery rhyme by Sallyamoss, £75.00