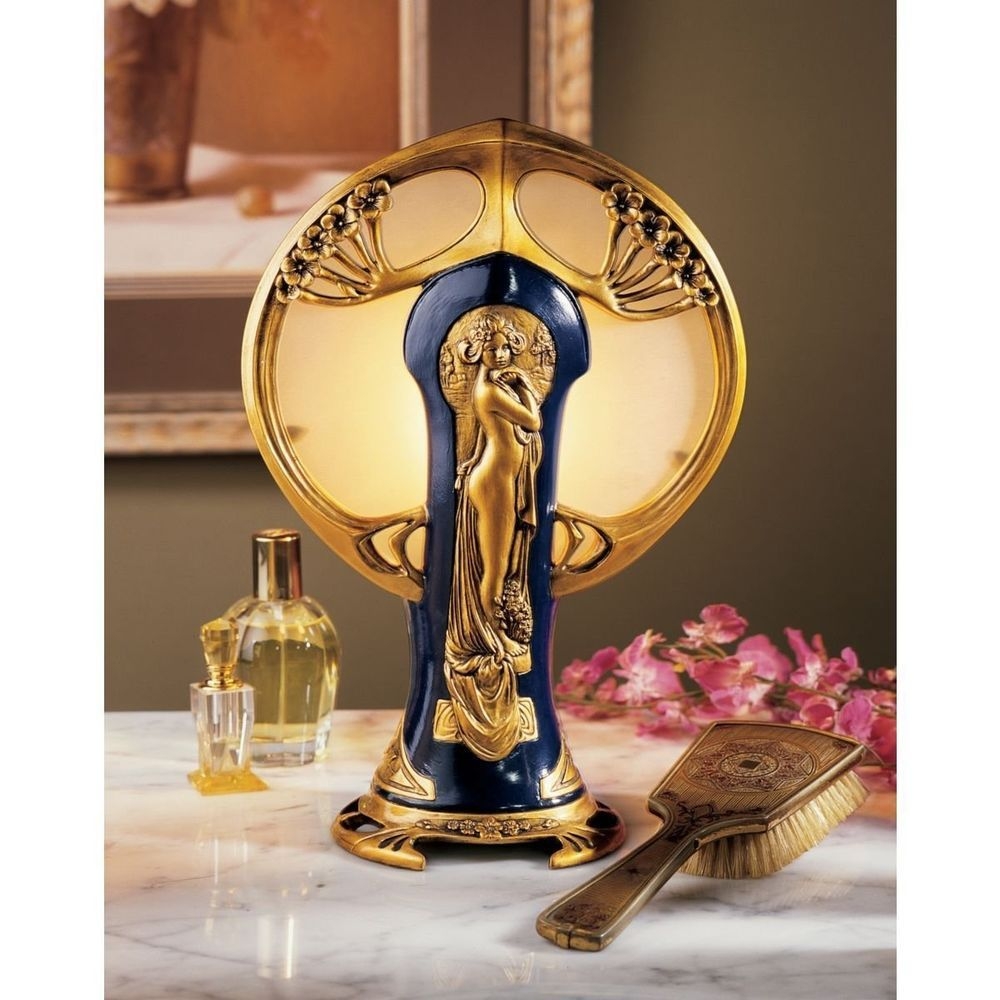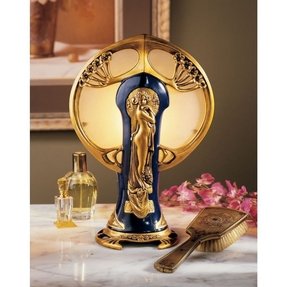 Art Nouveau Art Deco Nude Lady Boudoir Illuminated Glass Lamp Light Sculpture
This exquisite glass lamp is made with the art deco style and sports the nude lady themed design to ensure to be a significant boost of charm and pure elegance in your interior, especially with the gold tone of the finish to it.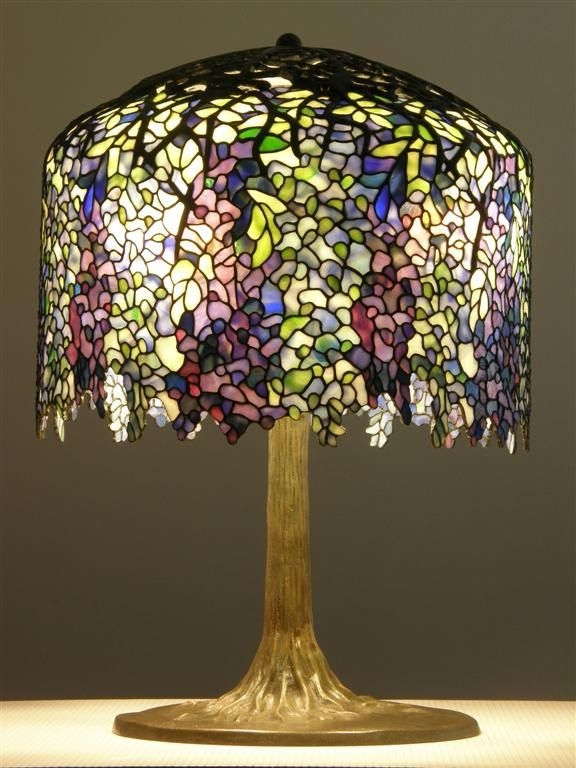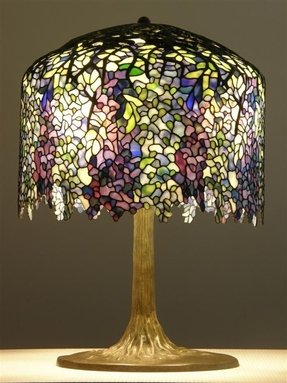 Tiffany wisteria lamp museum quality
This Tiffany style lamp represents art nouveau at its best. Made from high-quality stained glass, it will provide wonderful glittering experience for many years, brightening up your living room or bedroom.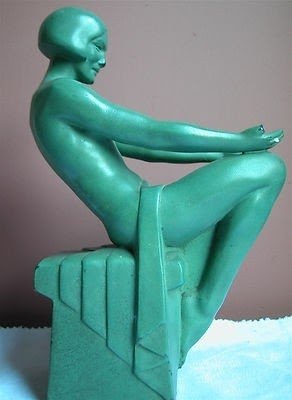 Original Max Le Verrier Art Deco Lady Lamp Lampe Light For Restoration
The Original Max Le Verrier Art Deco Lady Lamp Light can be a great decoration for dens, office, and living rooms. The lamp is missing its marble base, and it weighs 2.2 kg and stands approximately 19 cm tall.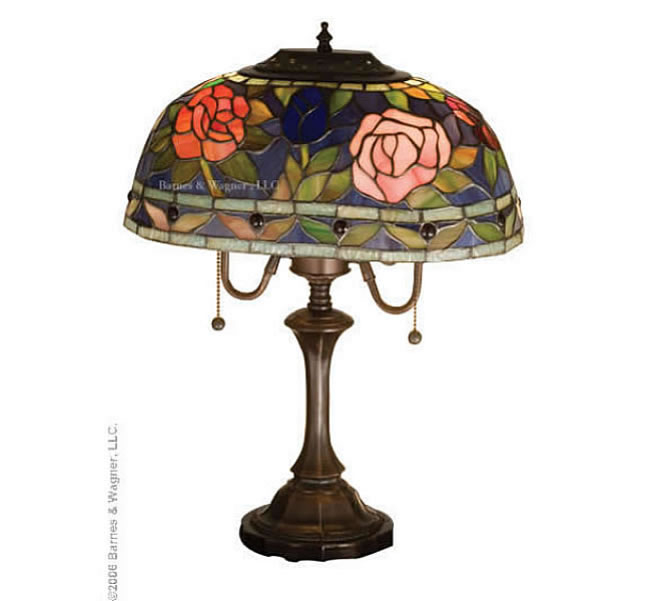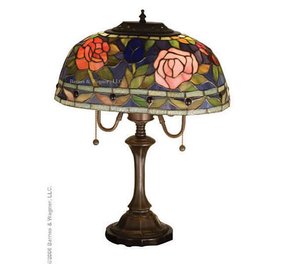 Tiffany Nouveau Rosebush Table Lamp
This gentle lamp can be used for purposes of accentuating tables, decks and rooms in general. Its base is finished in a bronze color and the shade is made of glass-like shards in flower-related motives.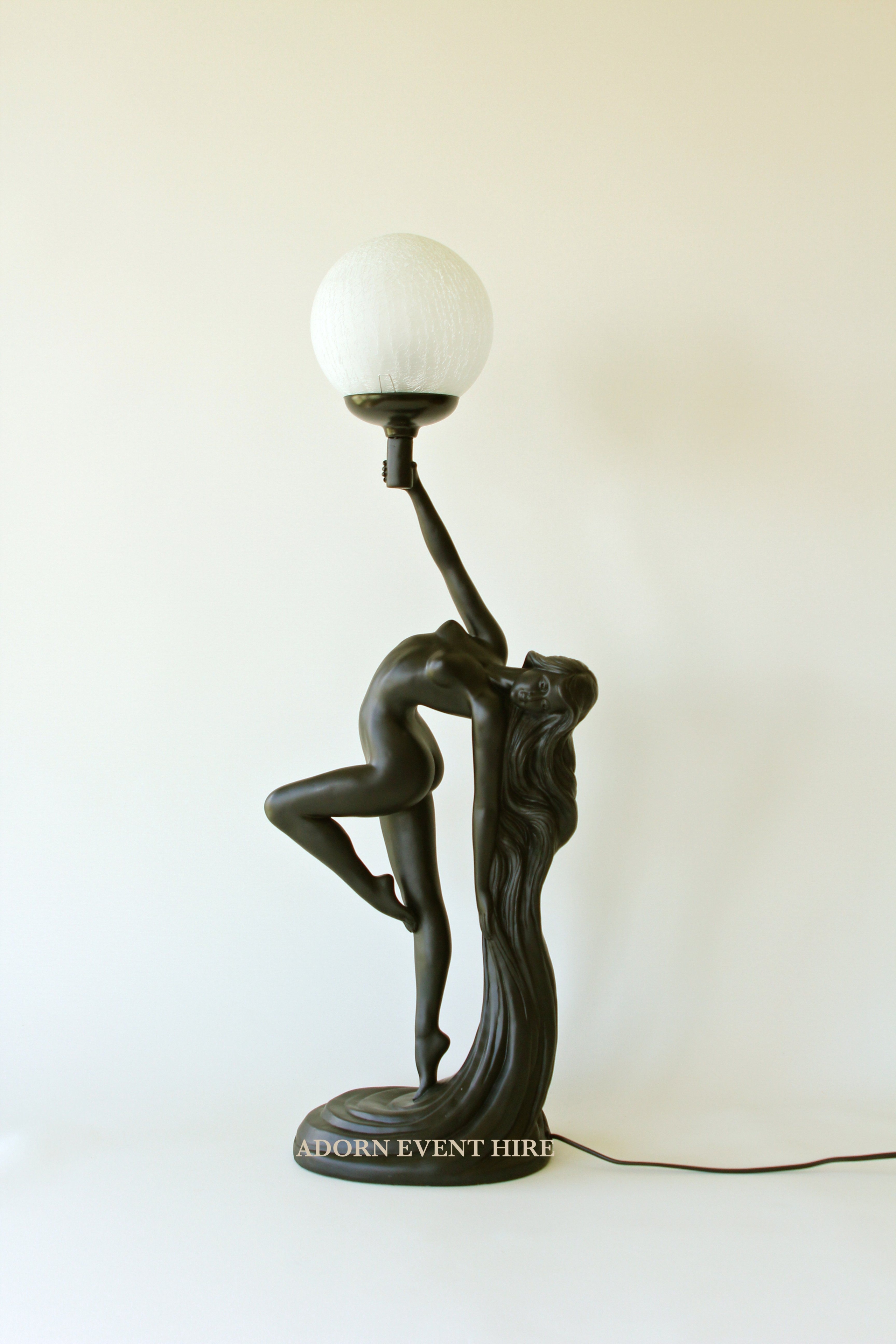 I am so delighted how beautiful this lady lamp is. It features the art nouveau design, and it measures 79cm of high by the 29cm of wide. It reminds me of the Art Deco or Great Gatsby theme.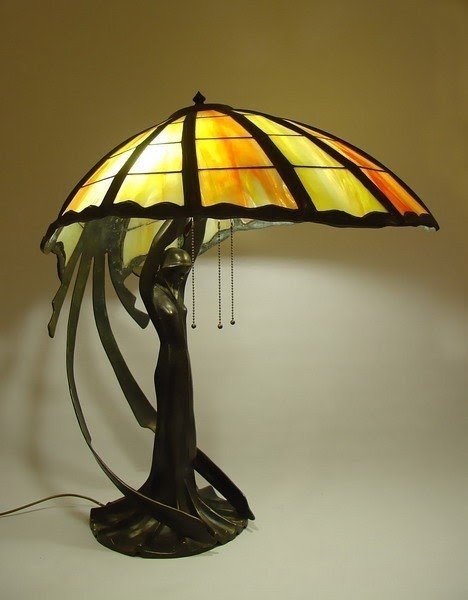 Looking for a nice way to illuminate your dark den? Well, this gorgeous Tiffany lamp could be an answer to your searchings. It has a stunningly designed base in shape of a brass lady that holds above her head an umbrella-like shade of stained glass.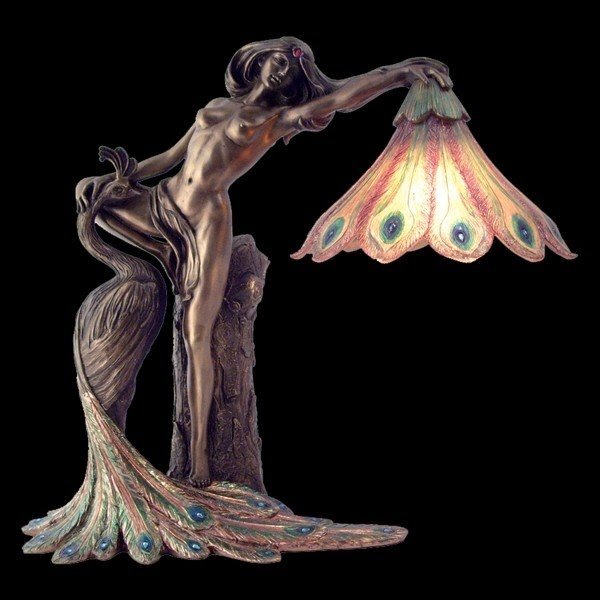 Figurine lamp in Art Deco style. Glass shade is finished with peacock theme. Sophisticated decoration and additional source of light in all kinds of interiors.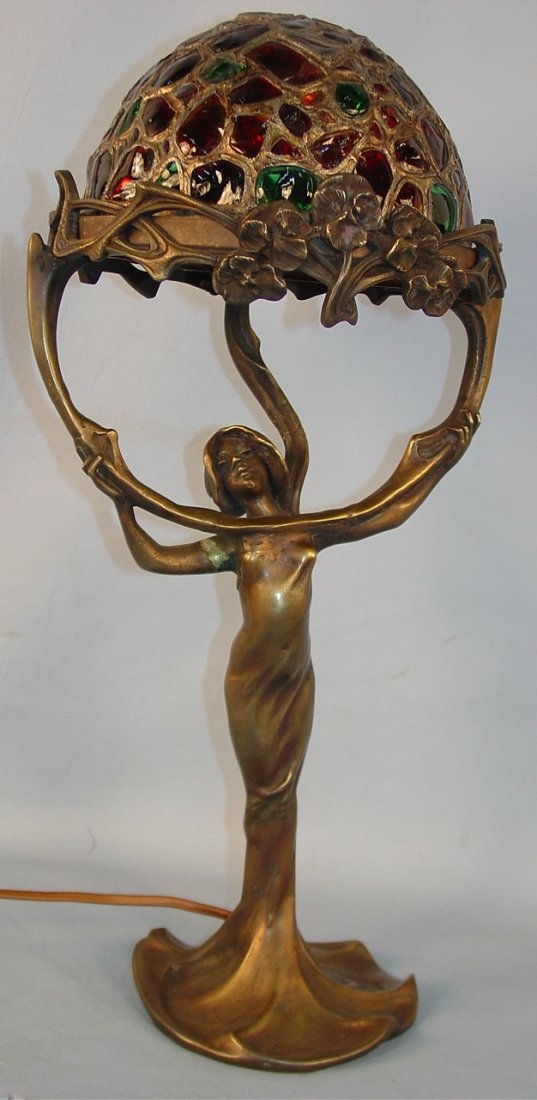 Improve your luxurious den with this fantastic Art Nouveau 21'' lamp with chunk glass shade. The design is characterized by a beautiful lady in a dress, holding a stunningly design shade with floral ornaments.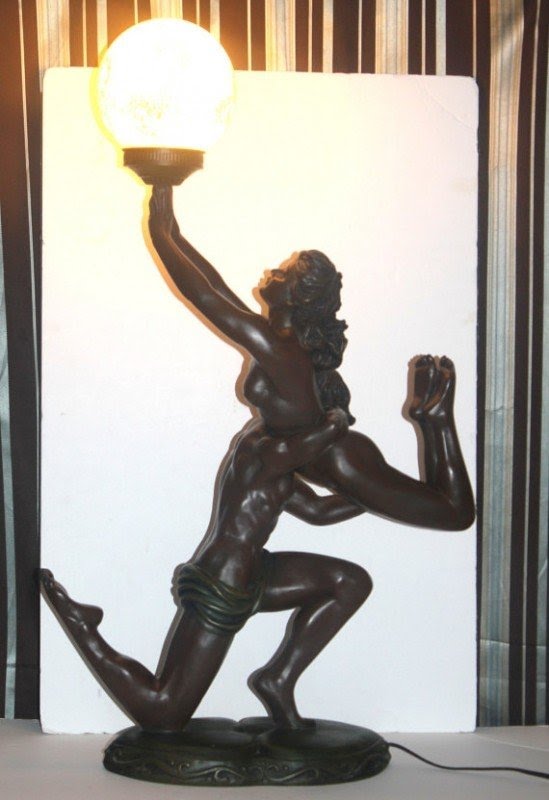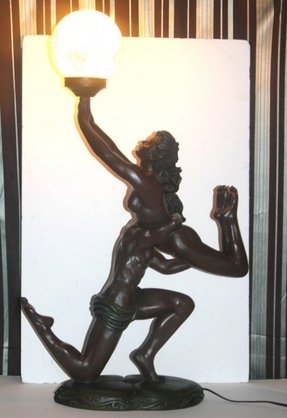 HUGE Vintage Crosa SIGNED Art Nouveau Resin Lamp, Nude, Lady and Man, Antique Alchemy
Art Nouveau Figural Lamp - Sculpture Is Spelter With Bronze Finish, Slightly Polychromed, Lady Has 2 Butterflies On Tethers, Arms For Bulbs Have Leaves.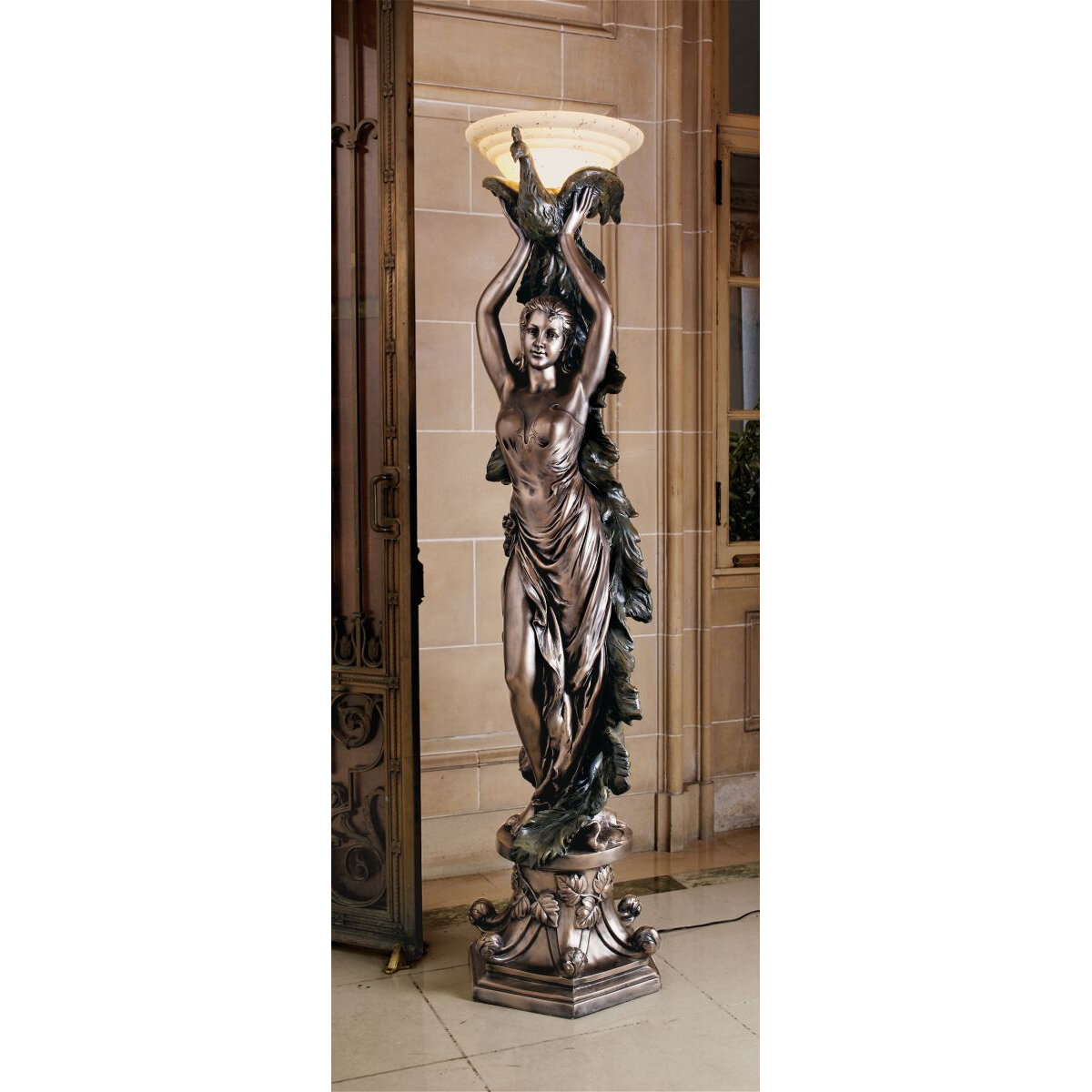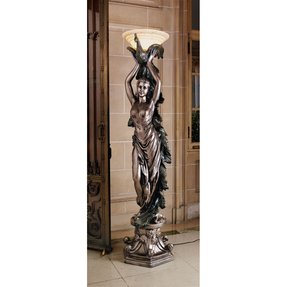 French Art Nouveau Bronze Statue Lamp | Art Deco Peacock Lady Statue Art Nouveau Floor Lamp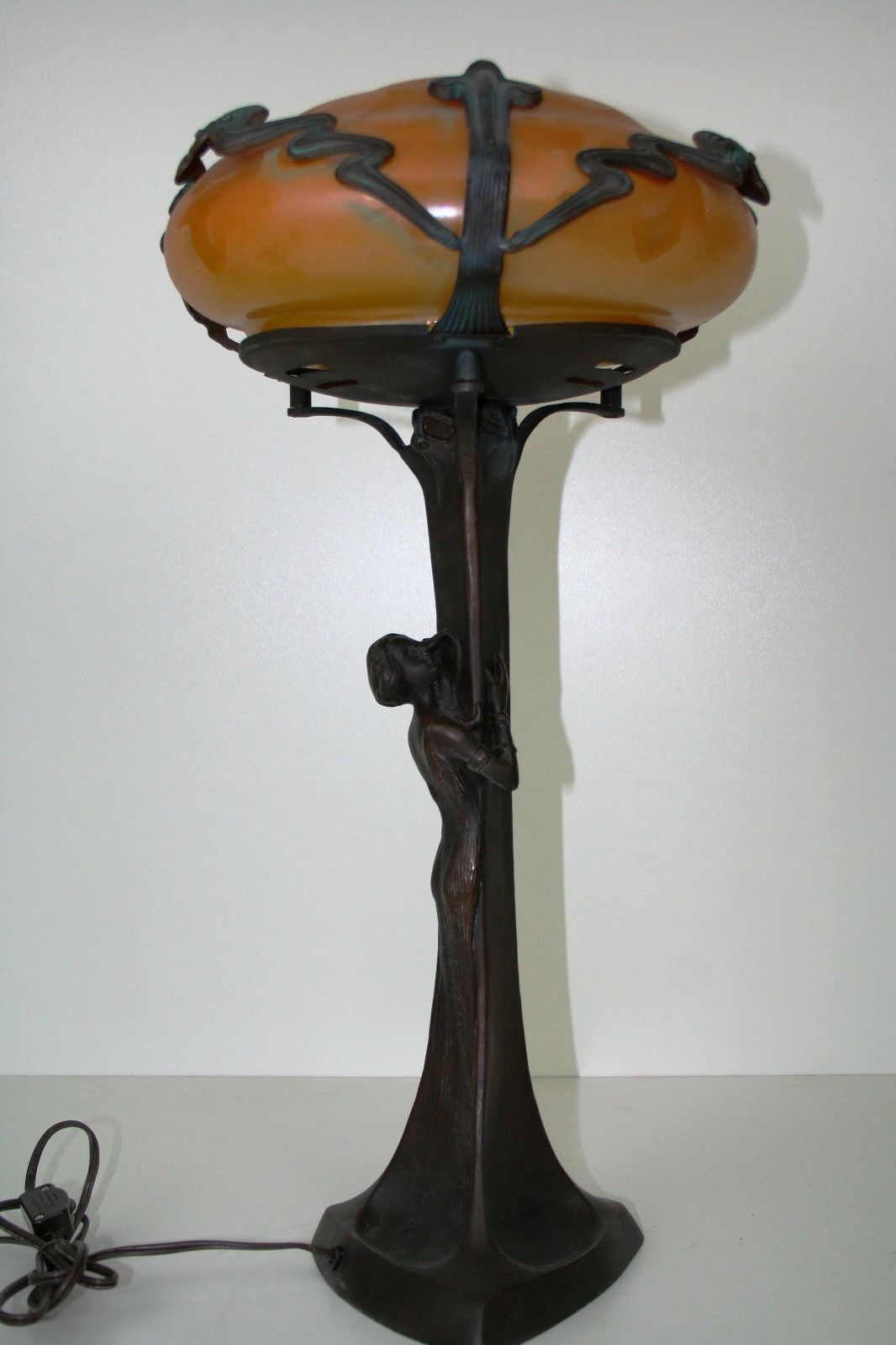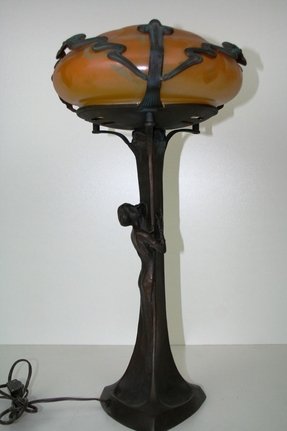 Reproduction Art Nouveau Tree Lady Lamp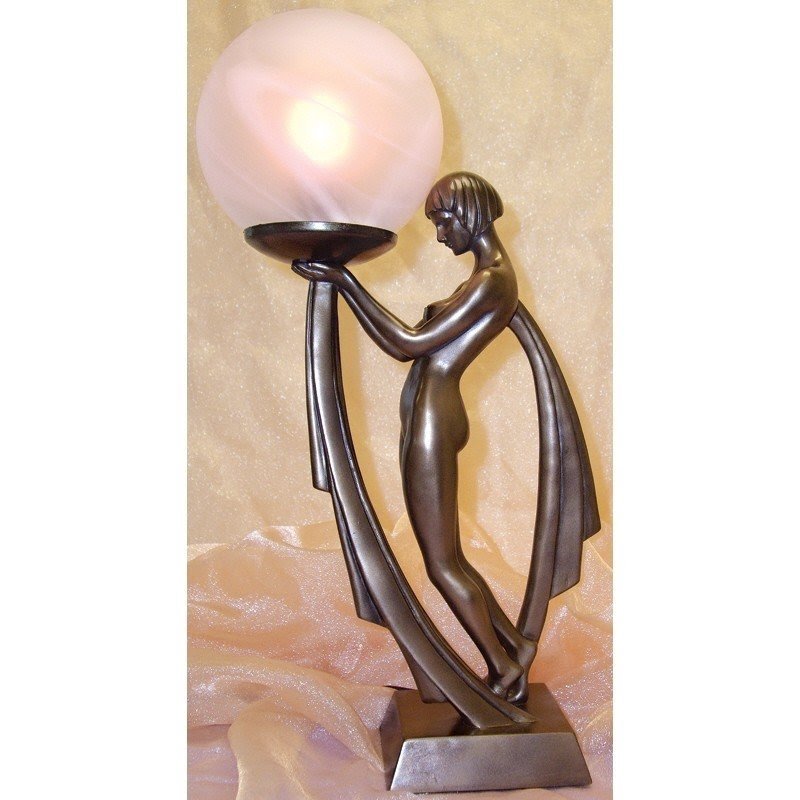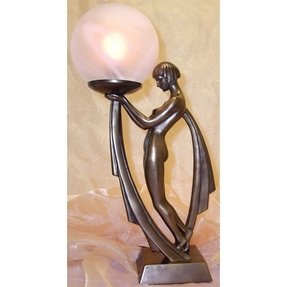 An aesthetic lamp with a base in the form of a figurine of an attractive nude woman of bronze. She's standing (in an ovalish open top frame) on a square dais and handling a round tray with a spherical lampshade of milk glass with pinkish tones.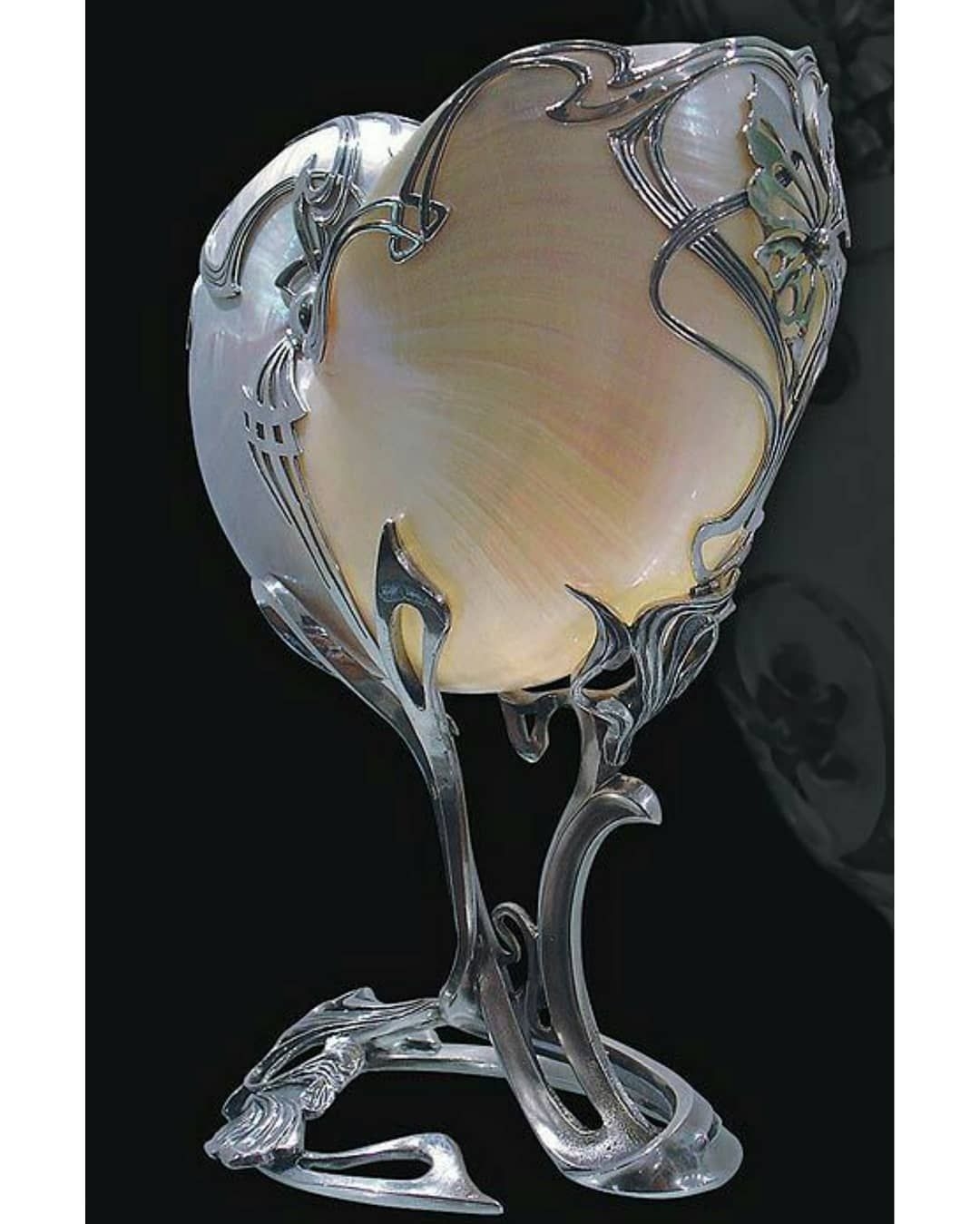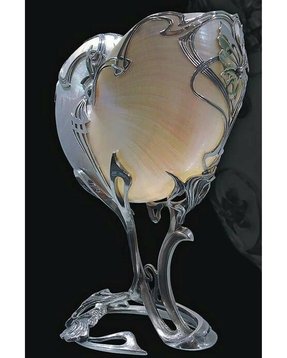 e Art nouveau nautilus shell in silver. Stunning! ~Epi by LadyE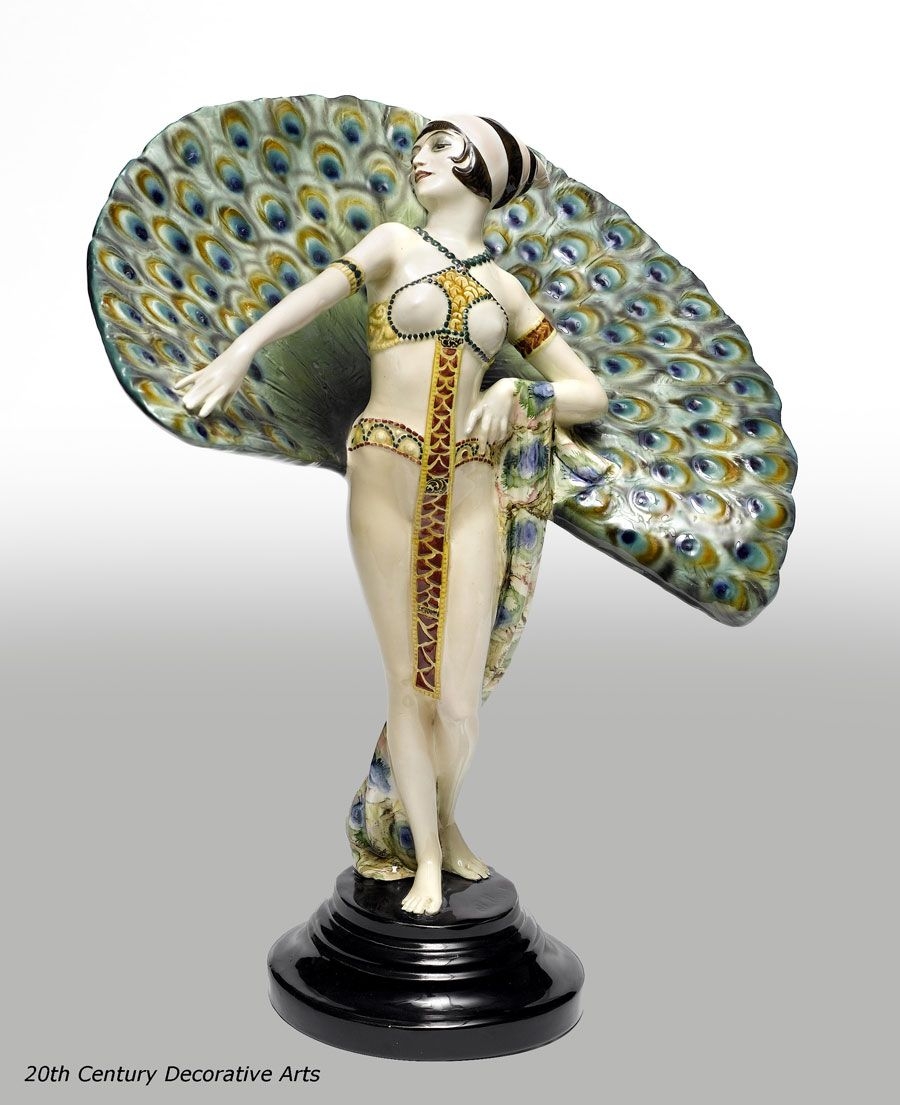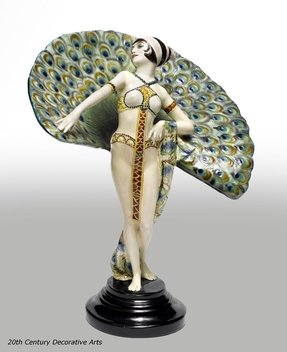 A rare decoration for contemporary homes with a bit of vintage touch. Designed in the 1924/25, the figure is made of ceramic in shape of a beautiful lady with a striking peacock tail, standing on a round black base.


Art Nouveau lamp depicting a lady. Such sculptures are great for providing a unique, one-of-a-kind vibe for your house. This one will work best in traditional, luxurious mansions, with strong connections to the Greek style.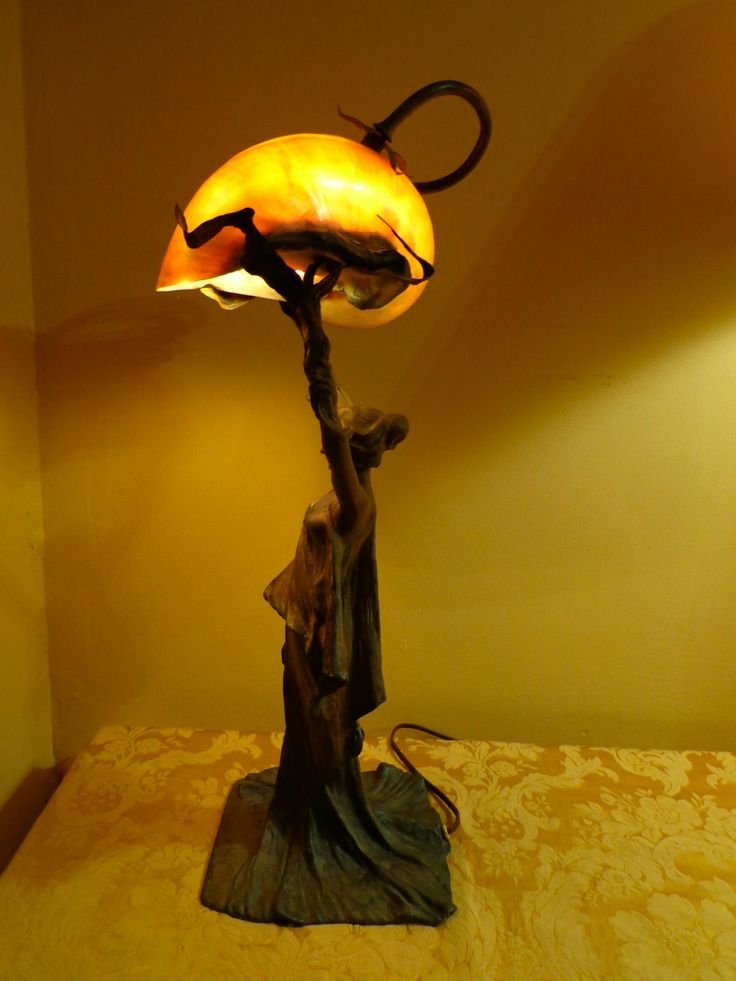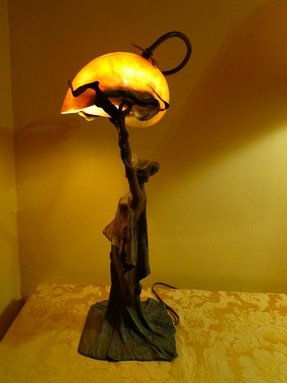 Vintage table lamp in French style. This lamp has kickstand made of metal figurine inspired of Greece goodness. She holds a big, glass lampshade in her hand. This lampshade is orange and looks like concha.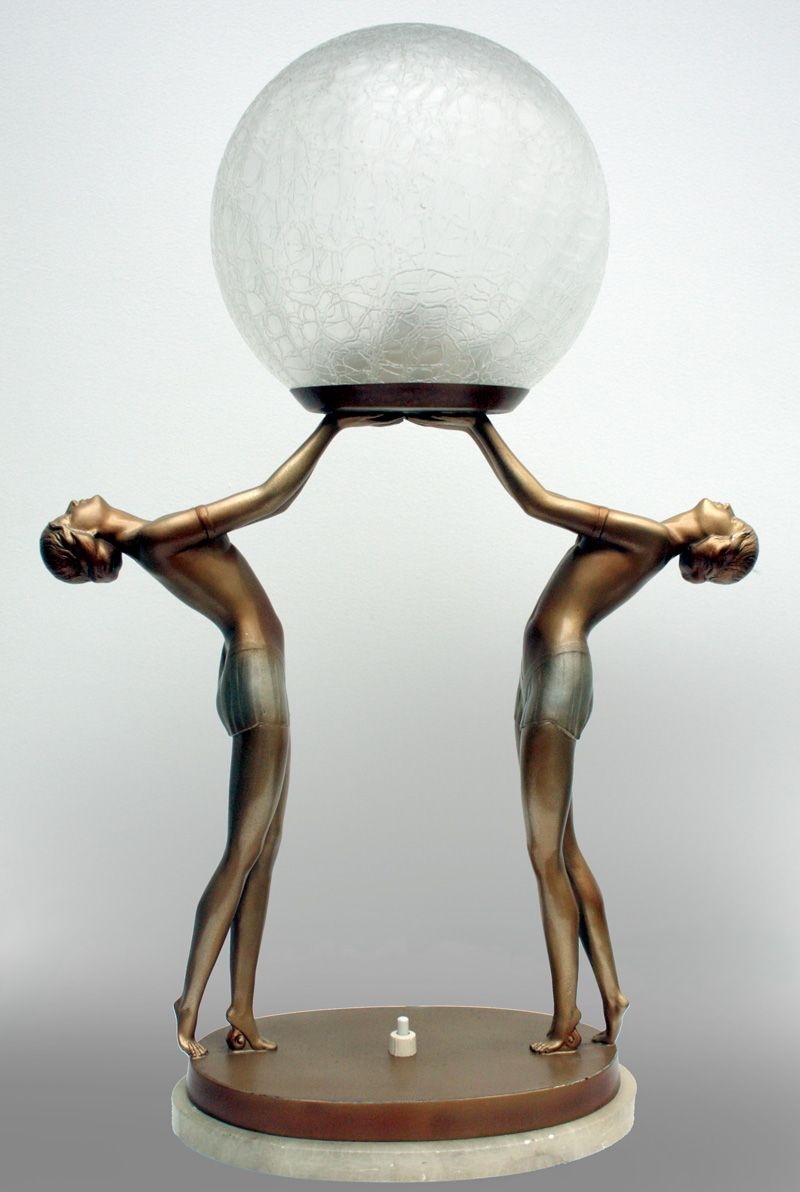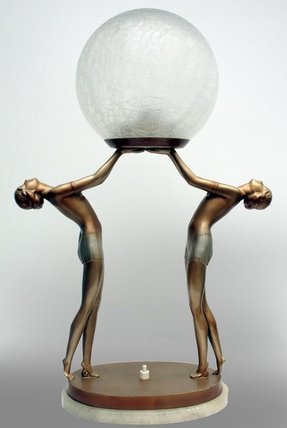 With this art deco lamp you can really boost your home decor. The lamp is in shape of two ladies standing on a round base (with an on / off switch), holding a large bowl shade designed of glass.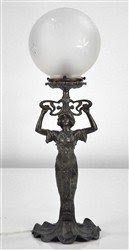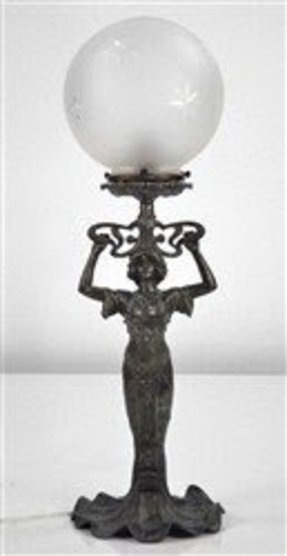 We are convinced that even the famous European painter Tamara Lempicka, the queen of art déco -would be delighted with this art nouveau lady lamp. A round glass globe made of milk glass supports a sculpted goddess on shoulders with a spreading dress - in gray.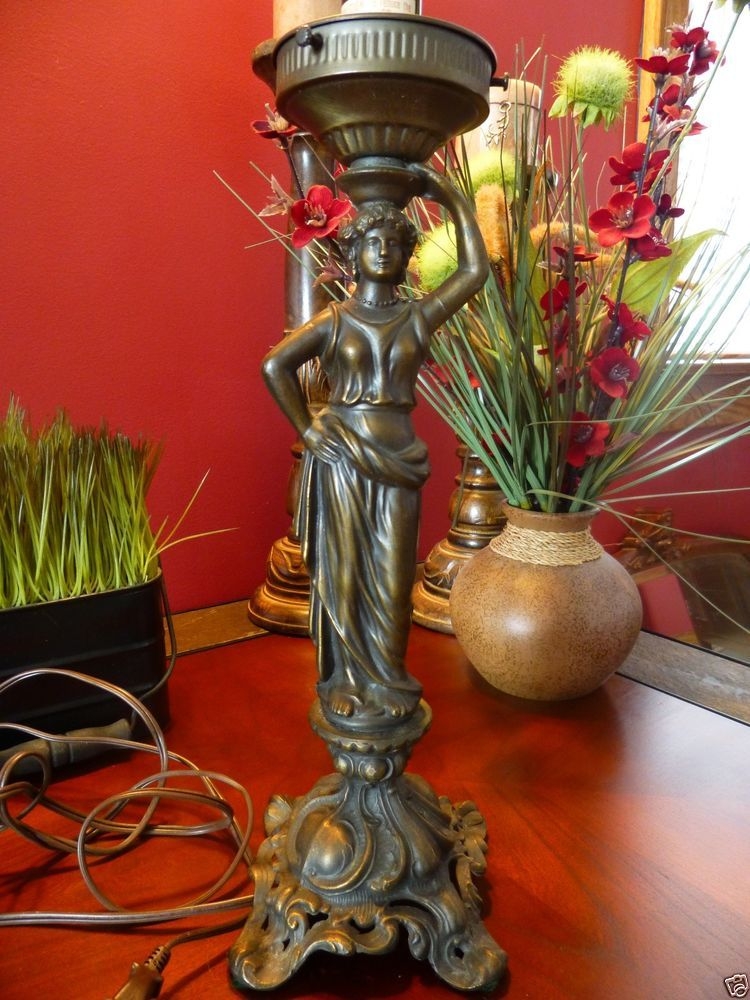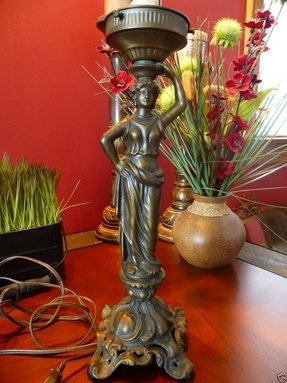 Stylish figurine lamp mounted on carefully carving base made of metal. Suitable for residential and commercial premises. Elegant design for each home.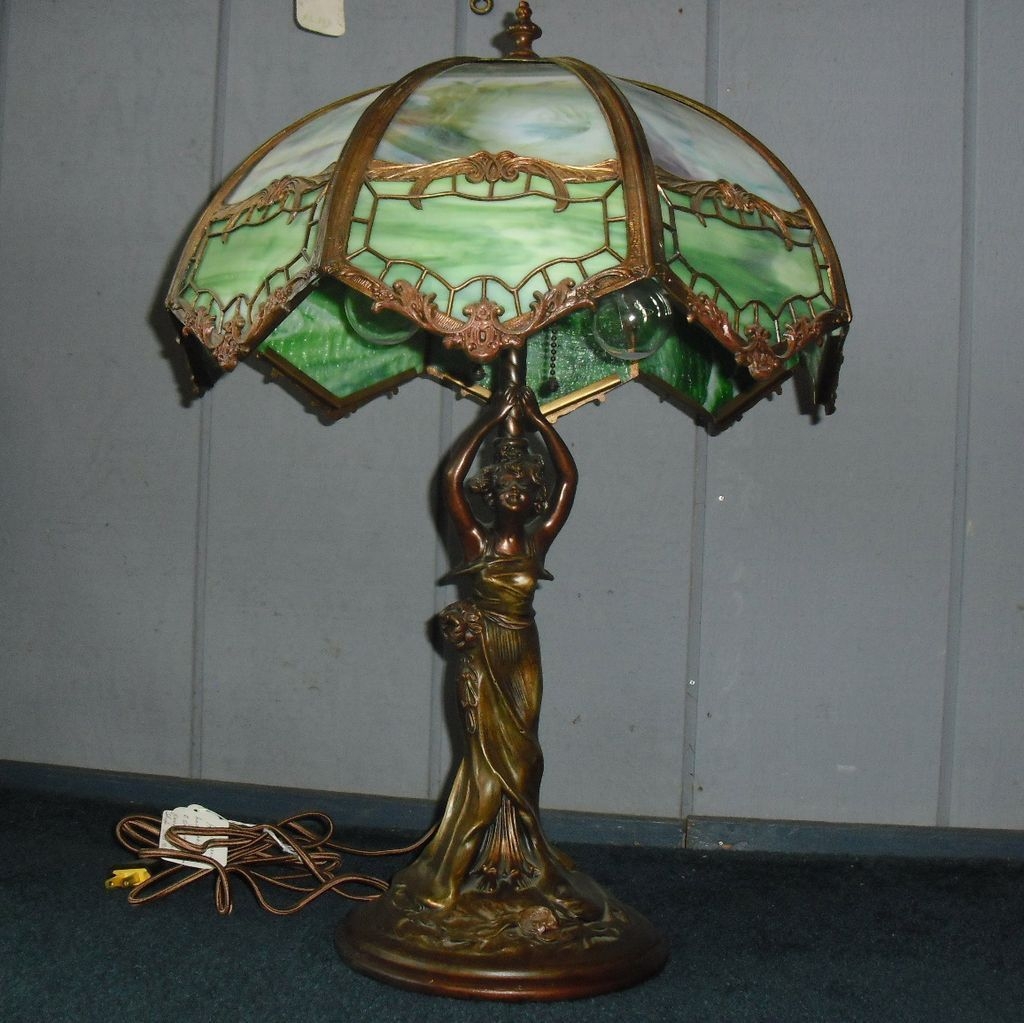 Art Nouveau Figural Lady Table Lamp w Bent Panel Slag Glass Shade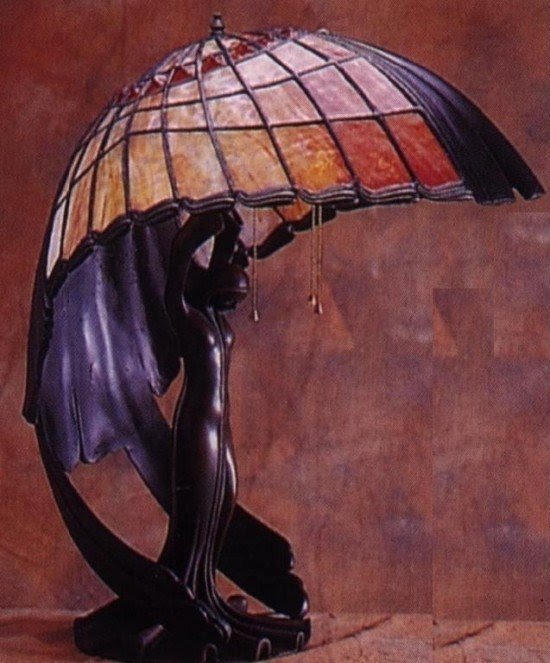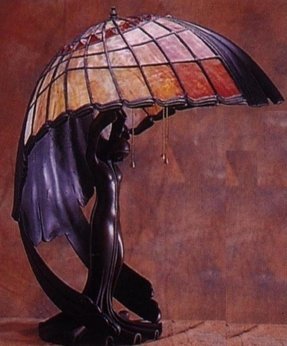 A piece of true beauty and class beyond measure - this Tiffany lamp will become the center of attention in any room, adding an irresistible appeal and sophistication to it with its rich, espresso finish of the frame and warm colors of the glass.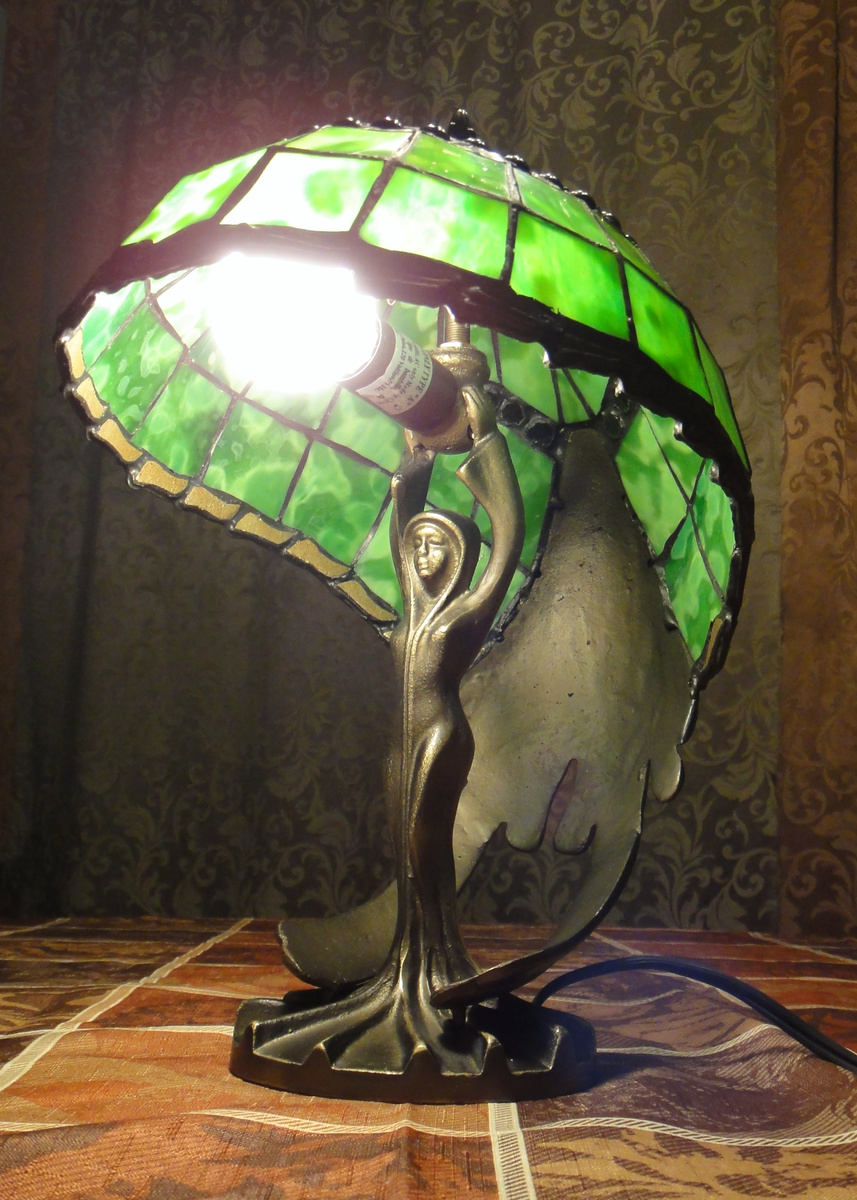 Verte Lady Green Fairy Lamp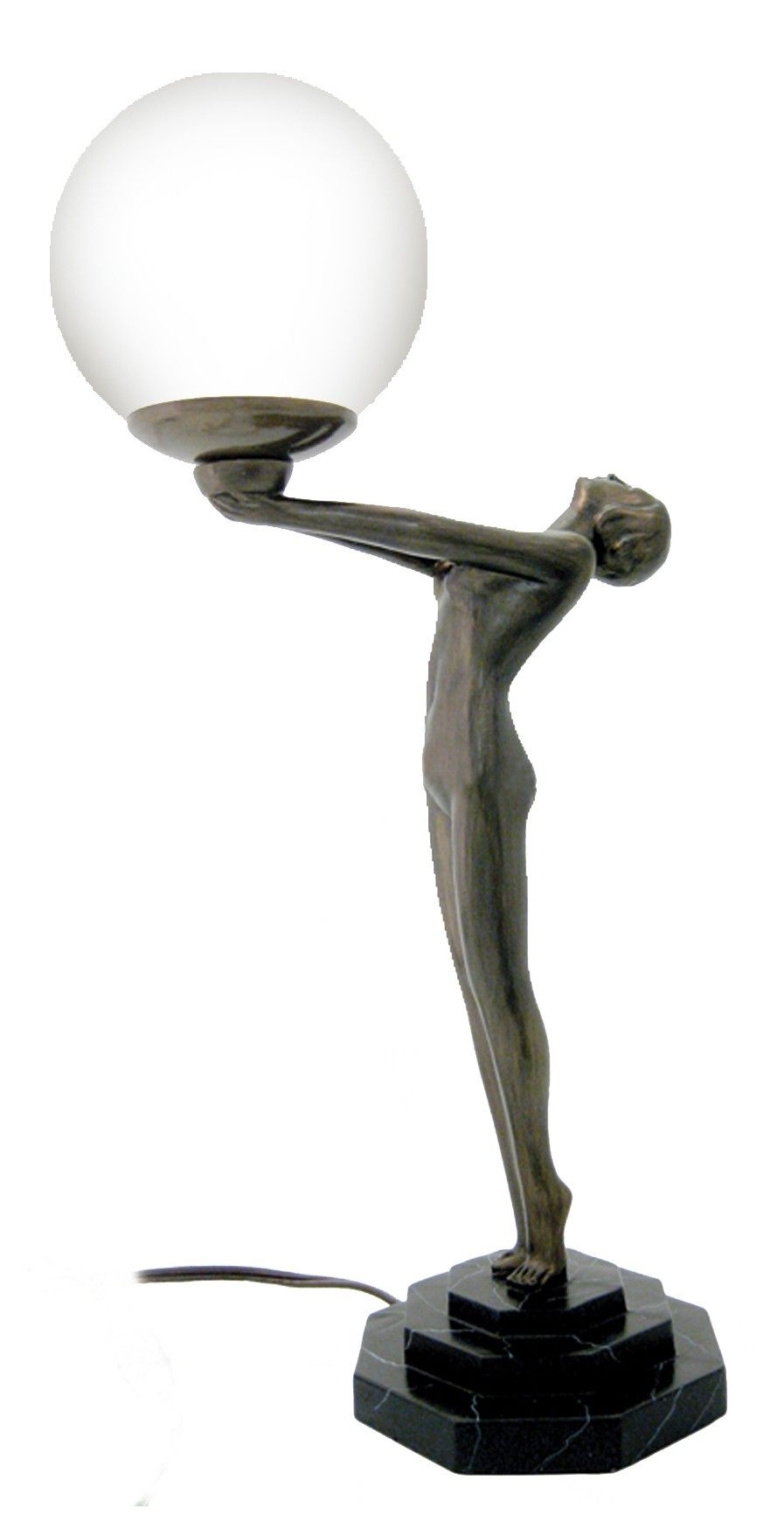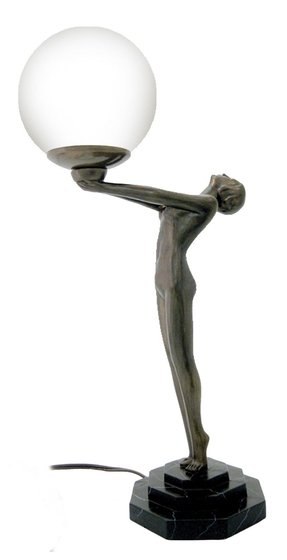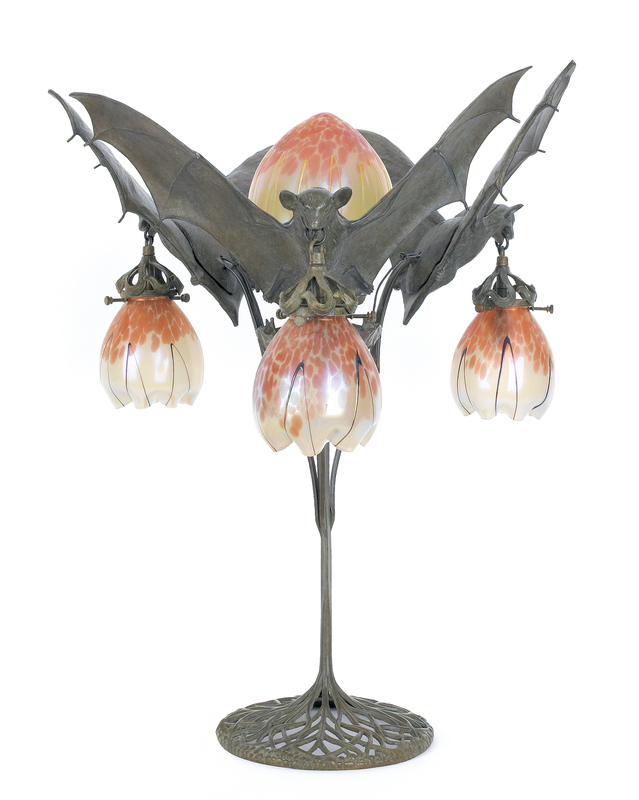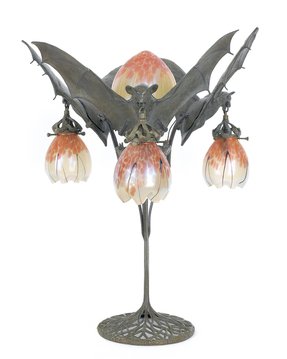 A real bargain for all vintage or antique fans. Art nouveau table lamp, made in Austria in the beginnings of the twentieth century, delights with its great condition, ensured by the use of solid, high-quality bronze.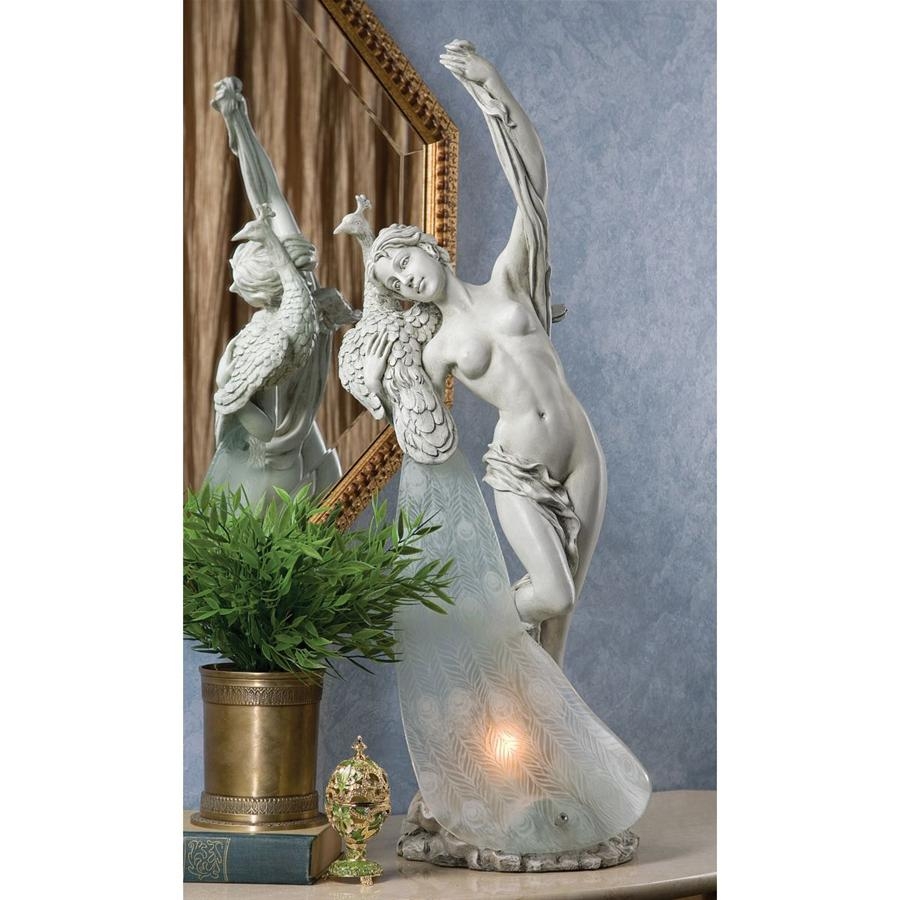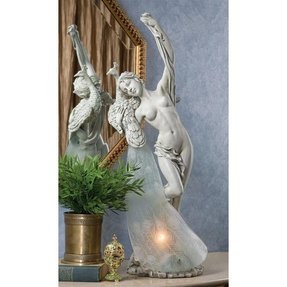 Art nouveau peacock lady lamp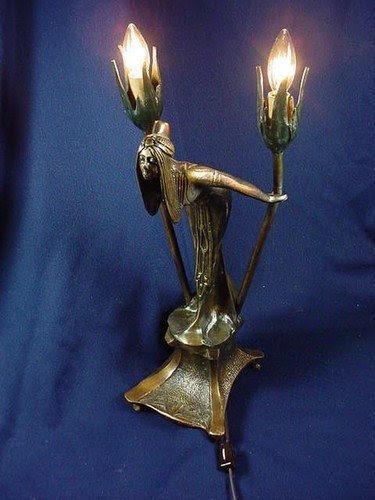 Vintage Art Nouveau Bronze Lady Lamp Electric | eBay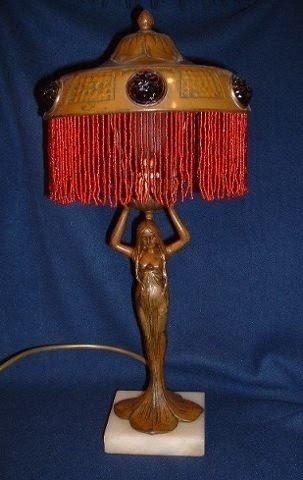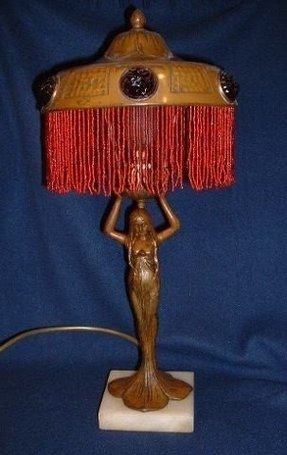 If you are looking for original table lamps, this one would be a lovely example of the art nouveau design. Coming with a beaded shade, it features a brass-made mermaid as a base.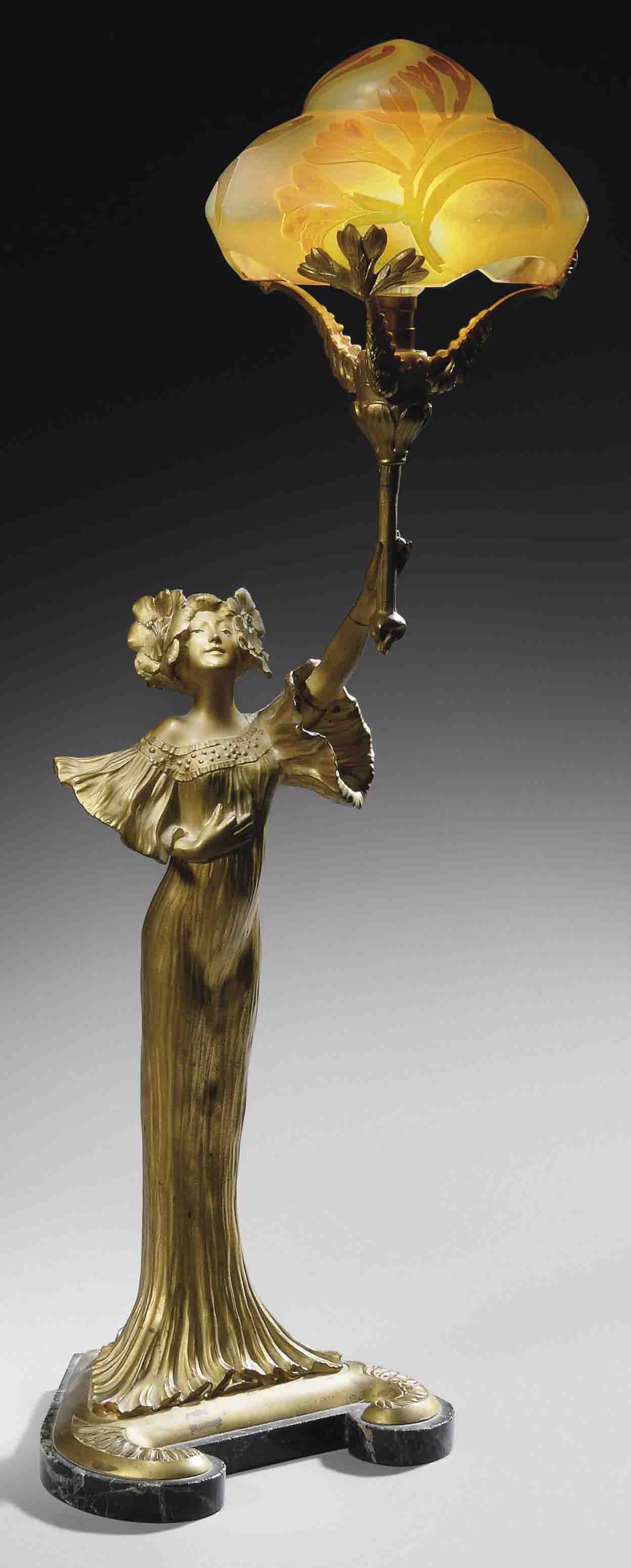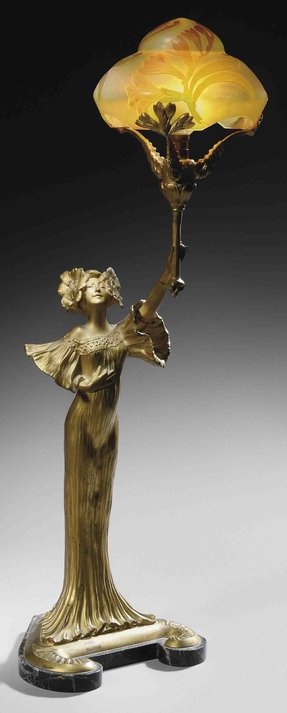 Very original figural lamp with a decorative and solid bronze frame that provides support for a practical and original glass shade. Interesting gold finish makes this lamp very aesthetic in any kind of room.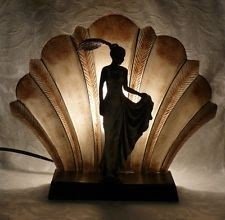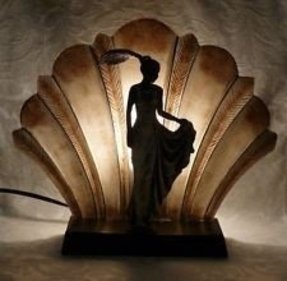 Beautiful Art Nouveau Style LADY LAMP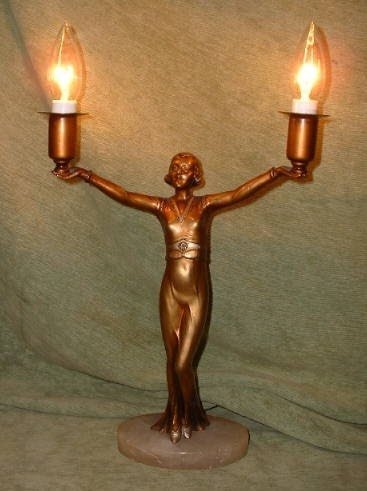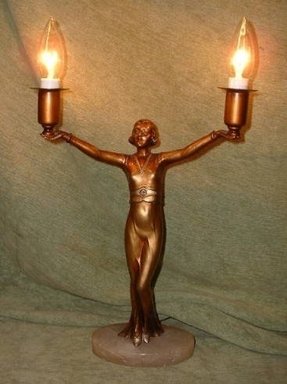 A stunning lamp in shape of a lady in evening gown, for your den, or office. Embellished with original golden patina and silvered collar and shoe, the lamp stands 13'' tall on a round onyx base.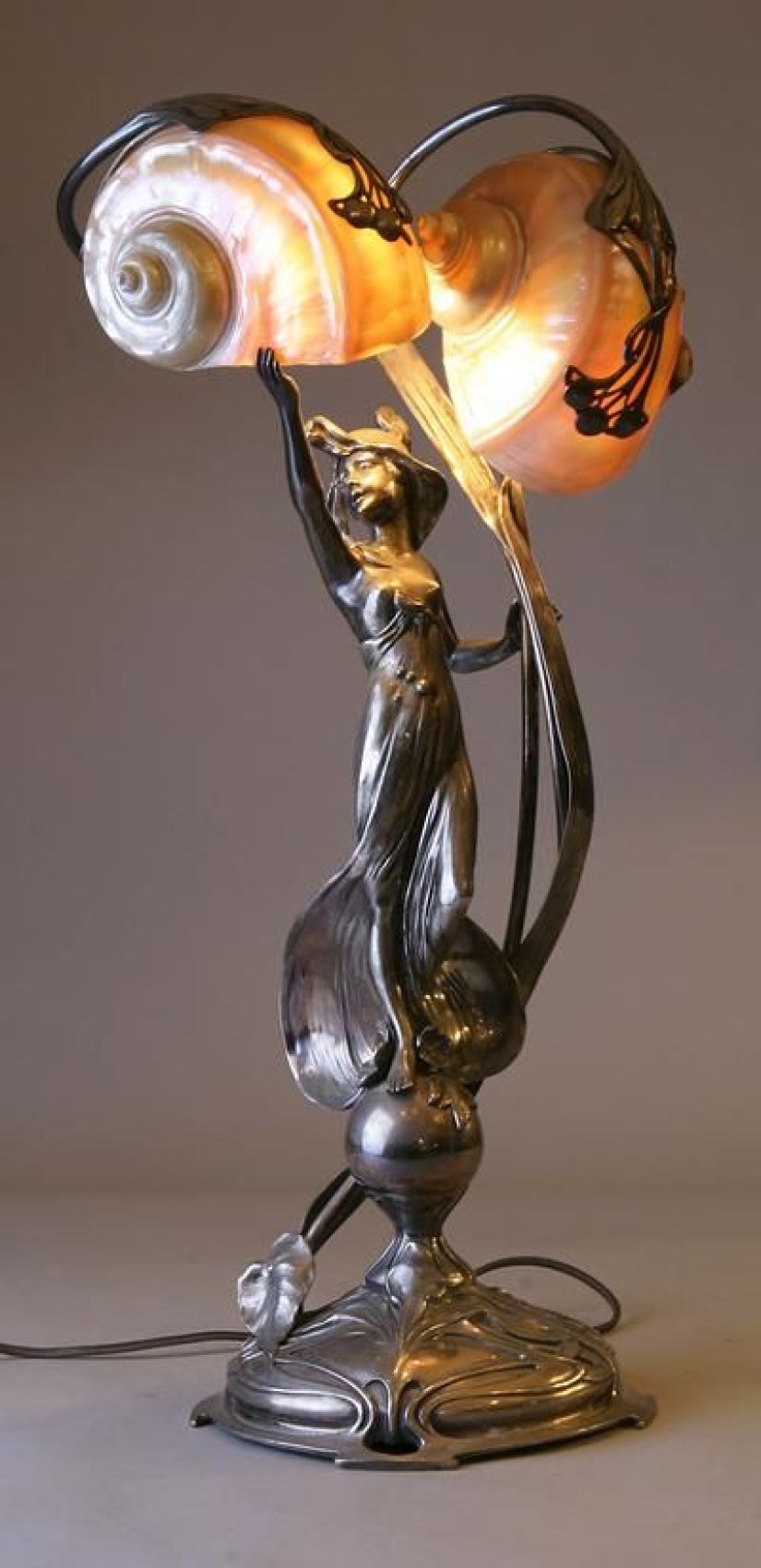 French Art Nouveau Lady Lamp -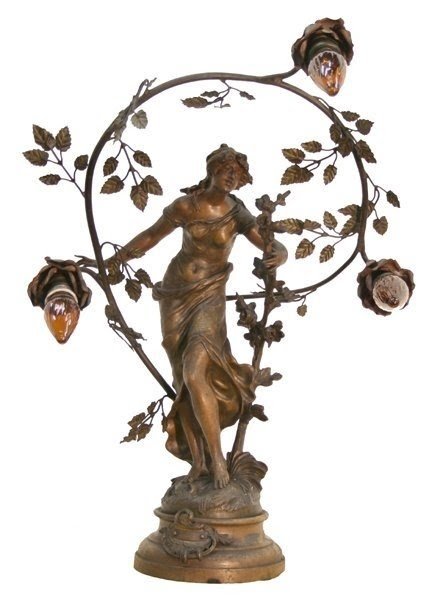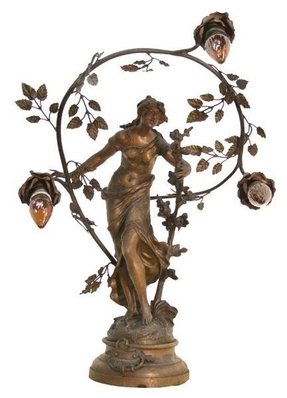 Antique Newel Post Lamp - Newel Post Light Fixtures, Newel Post Lamps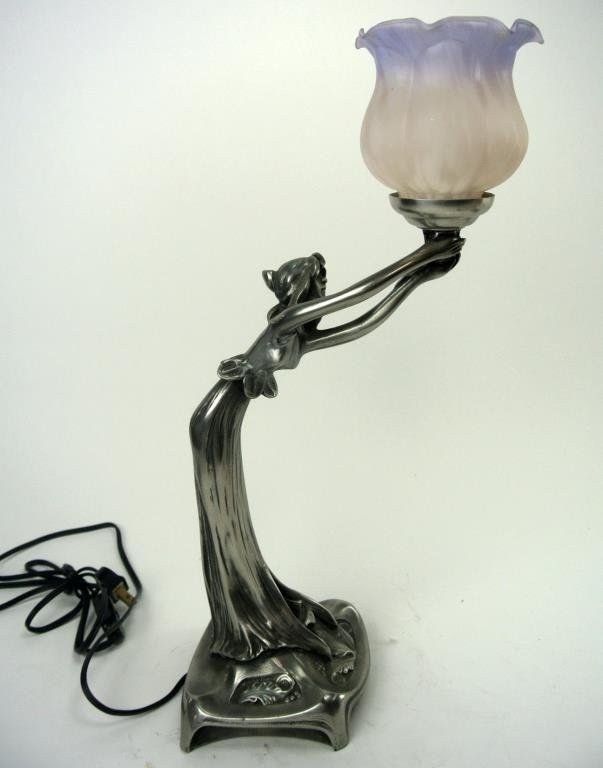 ART NOUVEAU LADY LAMP HOLDING FLOWER SHADE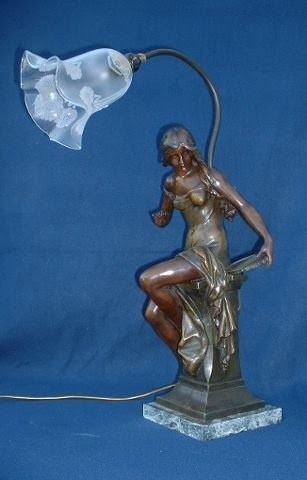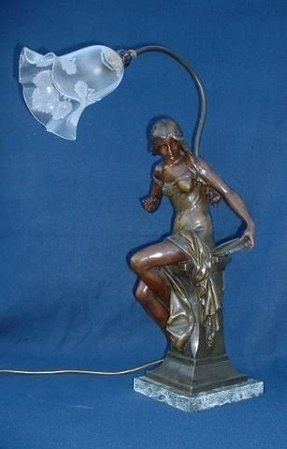 Large Art Nouveau Lady Lamp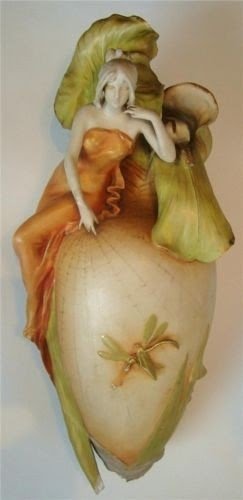 Art Nouveau AMPHORA RIESSNER STELLMACHER & KESSEL , Iris Lady Spiderweb Dragonfly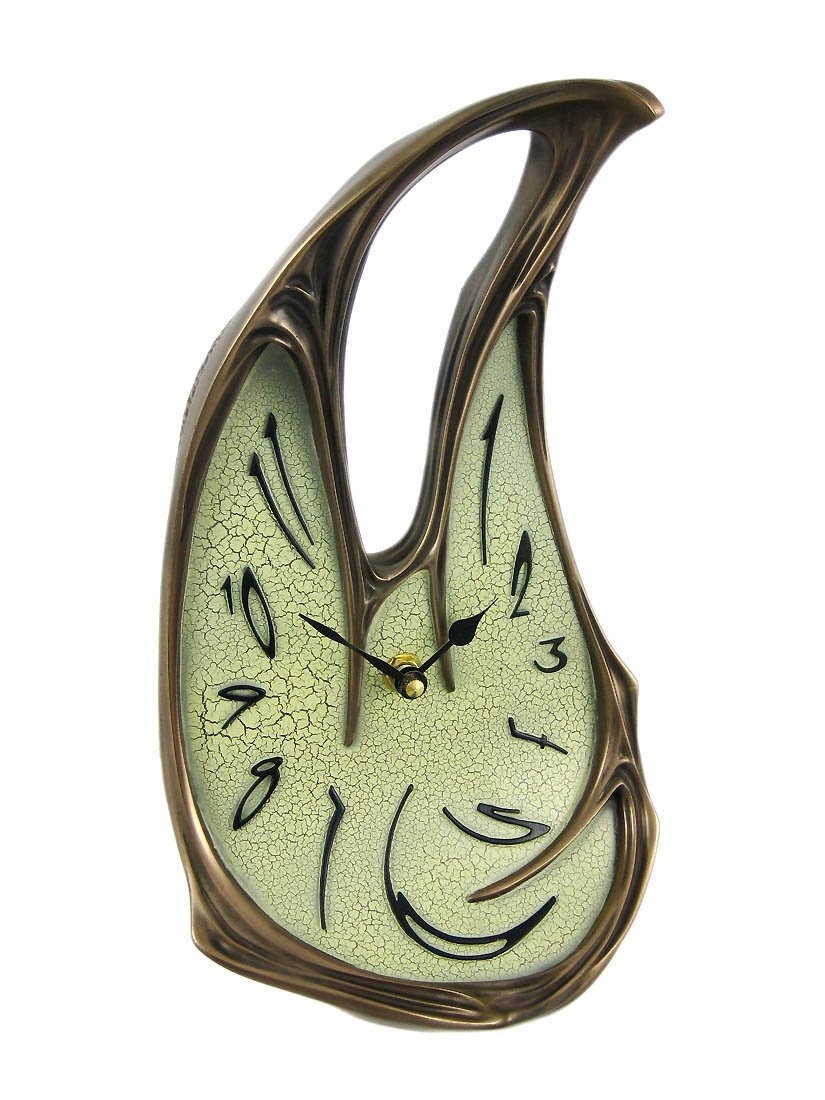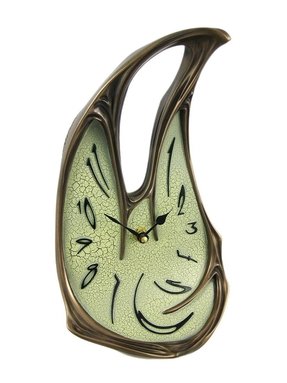 You must admit that this wall clock is hard to miss. It also immediately brings the artwork of a famous painter, Salvadore Dali, to mind. "Melting" design has been complemented with open top. Off-white dial has crackles as it was very old.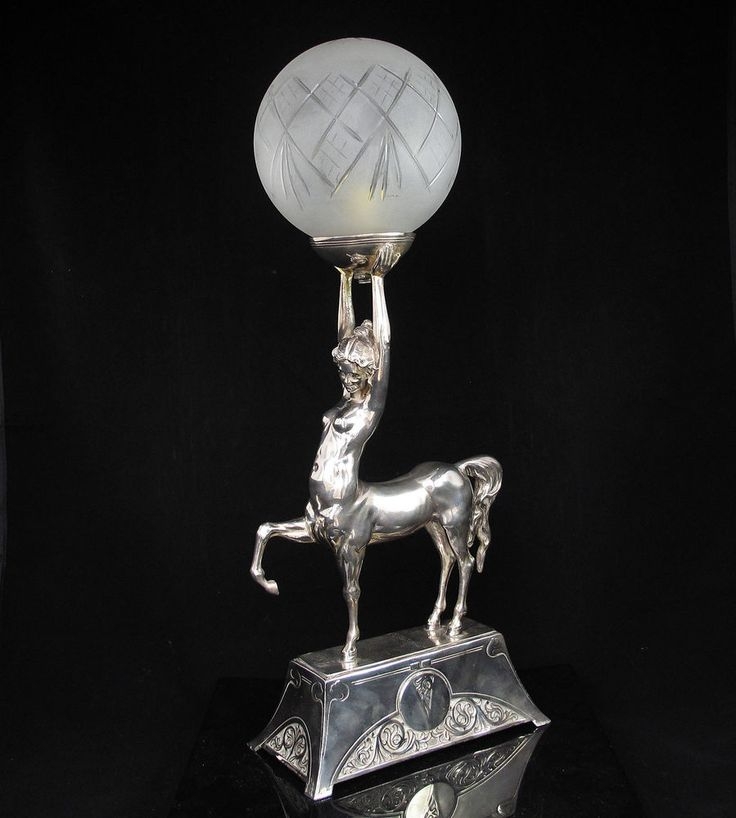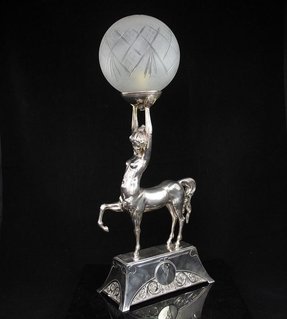 Original Art Deco / Jugendstil Female Centaur Chrome Lady Lamp 20" Early 1900's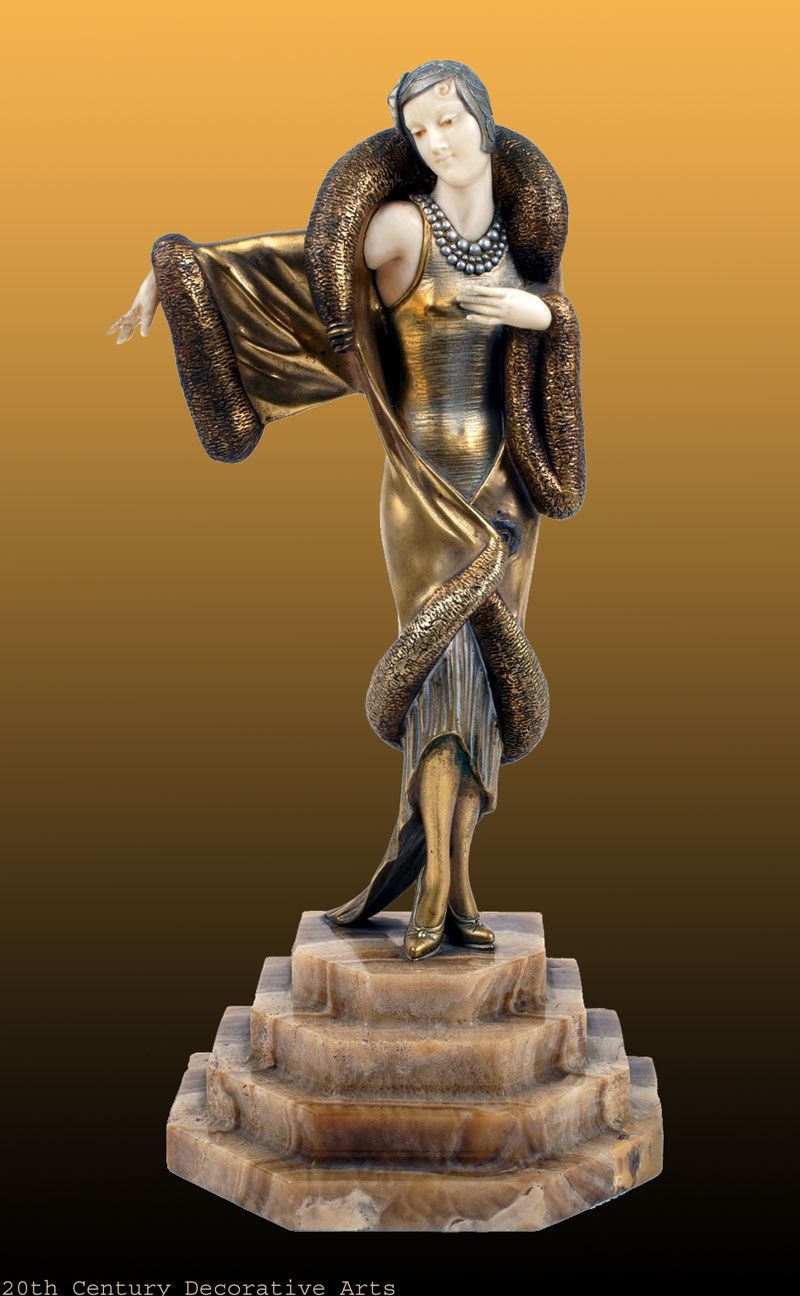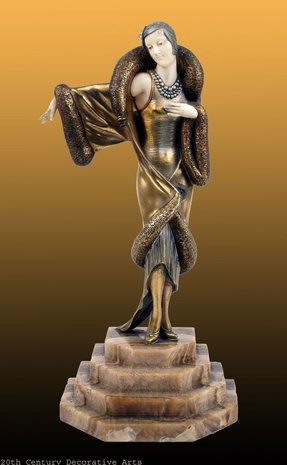 A rare Art Deco bronze and ivory sculpture by Henri (Enrique) Molins-Balleste, France circa 1920s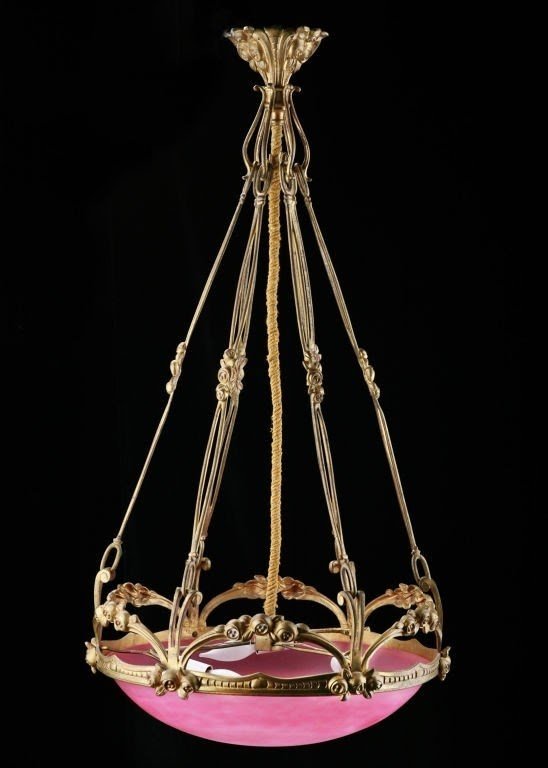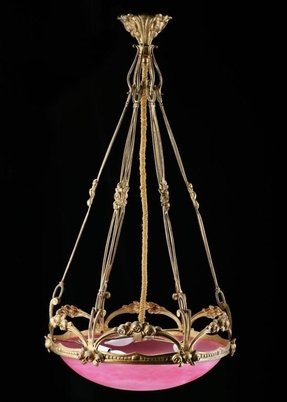 Pink Antique French Art Deco Chandelier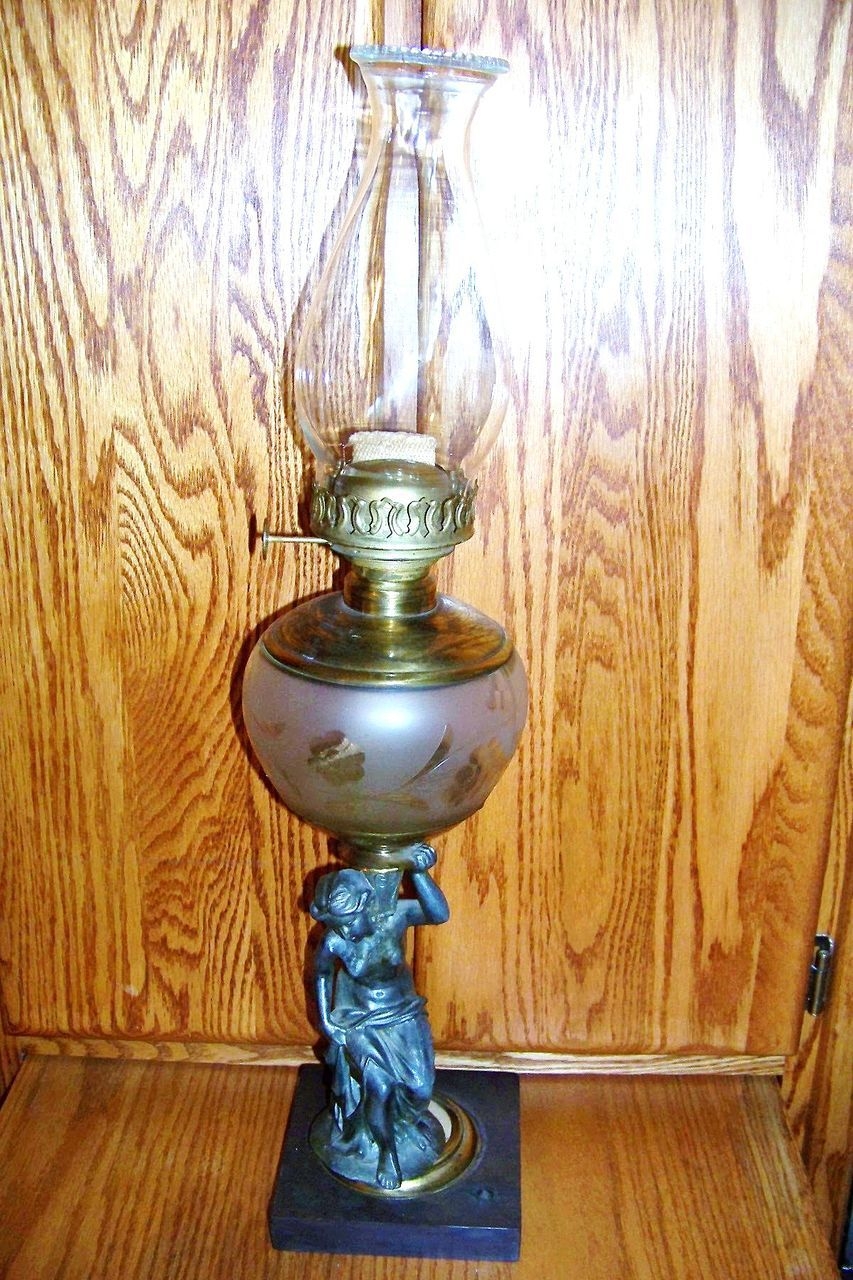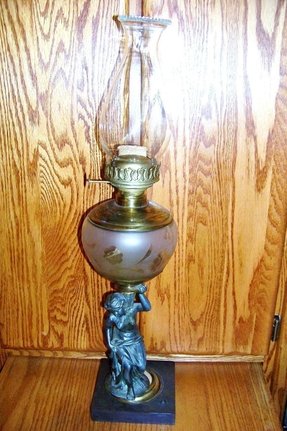 Vintage Art Nouveau Lady Oil Lamp Cut Glass Grape Globe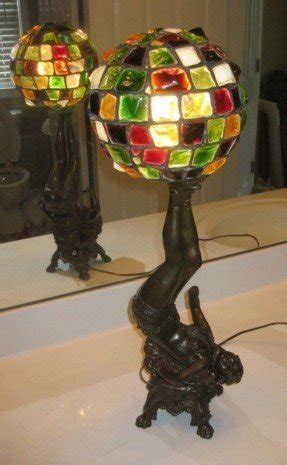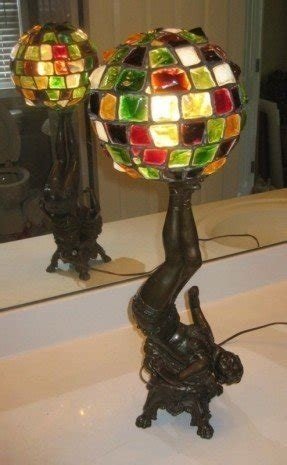 Art Deco Art Nouveau Figural Sculpture Lamp of Lady Balancing a Jeweled Globe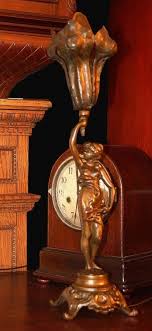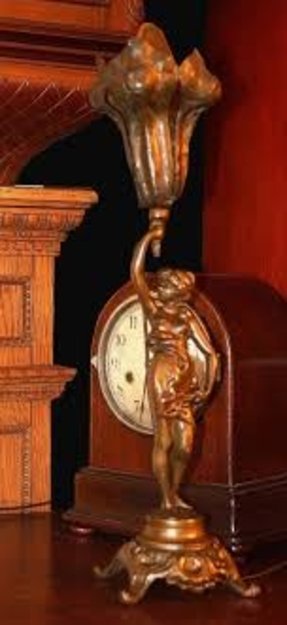 Art Nouveau Vintage Figural Lady Lamp