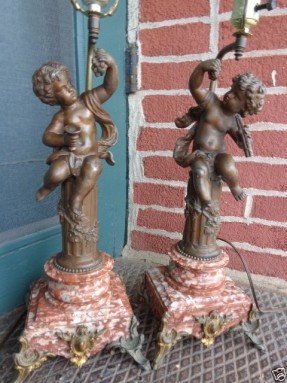 Antique Victorian French Cherub Putti Grapes Figural Bronze Wash Marble Lamp Set
Designed in antique Victorian style, this pair of French figural lamps has a marble base with ormolu feet and two cherubs made of quality metal with a bronze patina. Each lamp is 29 1/2" high and weighs 9 1/2 pounds.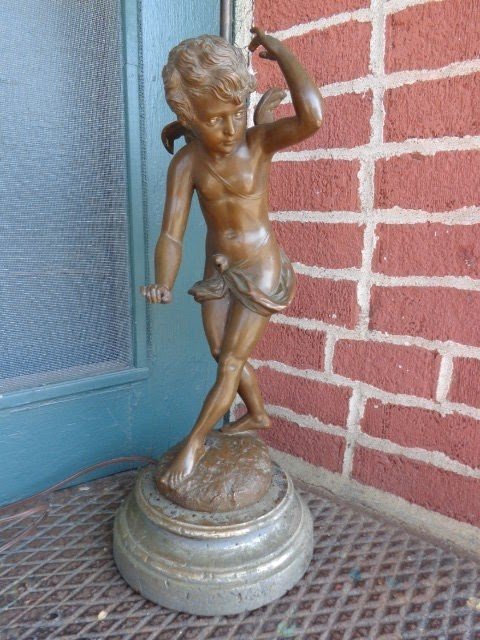 Antique bronze cupid figural cherub table lamp estate old
You do not have to be afraid of Cupid - he knows what he's doing by sending love to your home. Cupid froze over time in the form of a brass antique cherub lamp, in a natural shade of brass on around high base. A nice decoration at the entrance to the house.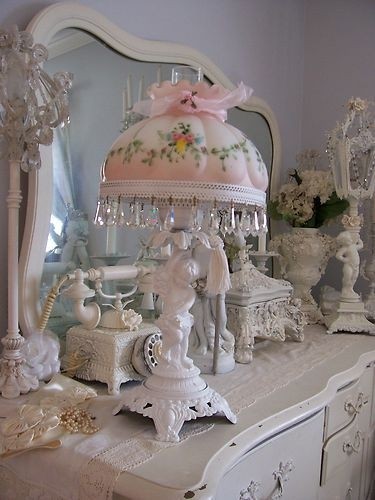 Stunning Vintage Cherub Gwtw Barbola Rose Swag Hurricane Lamp W Crystals
This stunning vintage cherub lamp will enchant with its ornate finishing. Catching the attention with tiny crystals, this rose hurricane lamp embodies the best features of the shabby chic design.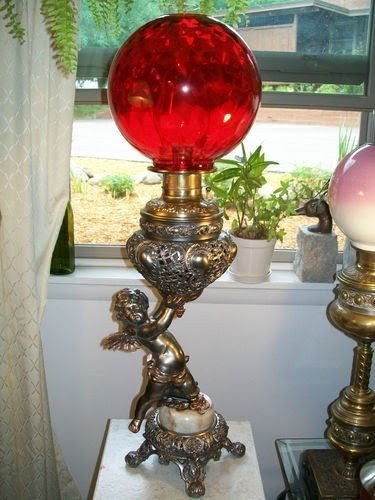 Antique mathew willard banquet cherub oil lamp
A stunning antique oil lamp featuring a gorgedly adorned fixture of bronze in the form of a cherub kneeling on a round base with low feet (and a light marble inset) and handling aloft an oil container. A ball lampshade is of ruby-coloured glass.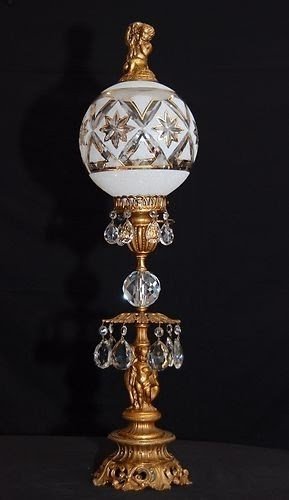 Vintage art deco cherub brass crystal table lamp
A vintage take on a decorative, ornate table lamp made in an oriental-style with a sophisticated precision. The lamp is made out of shiny brass with little crystals hanging from the frame and a glass lampshade on the top.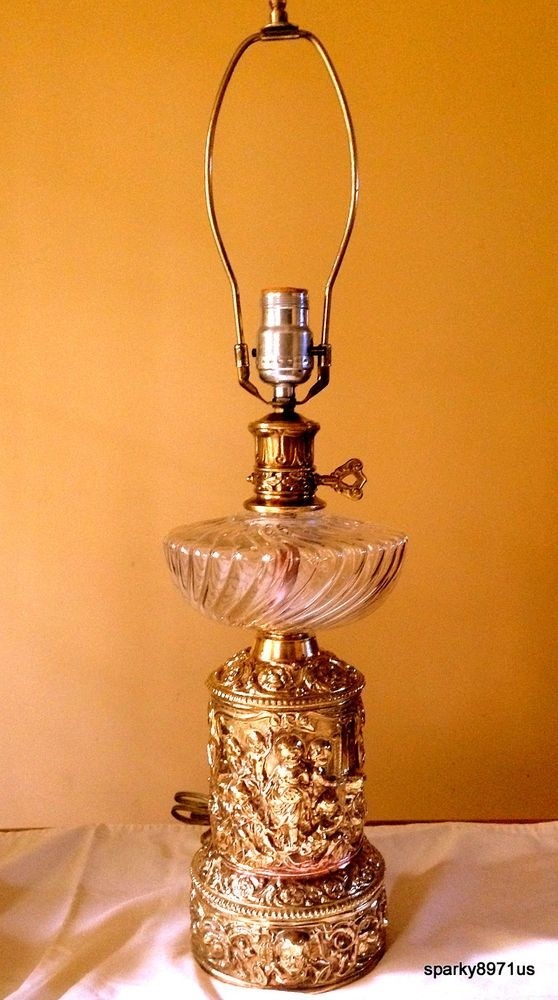 Vintage Antique Cherub Putti Brass Table Lamp Ornate Detail 26 Fine Condition
Vintage table lamp with a very nice cherub theme. It features a durable metal base in gold finish. This lamp assures good interior illumination and it also improves interior aesthetics at day and night.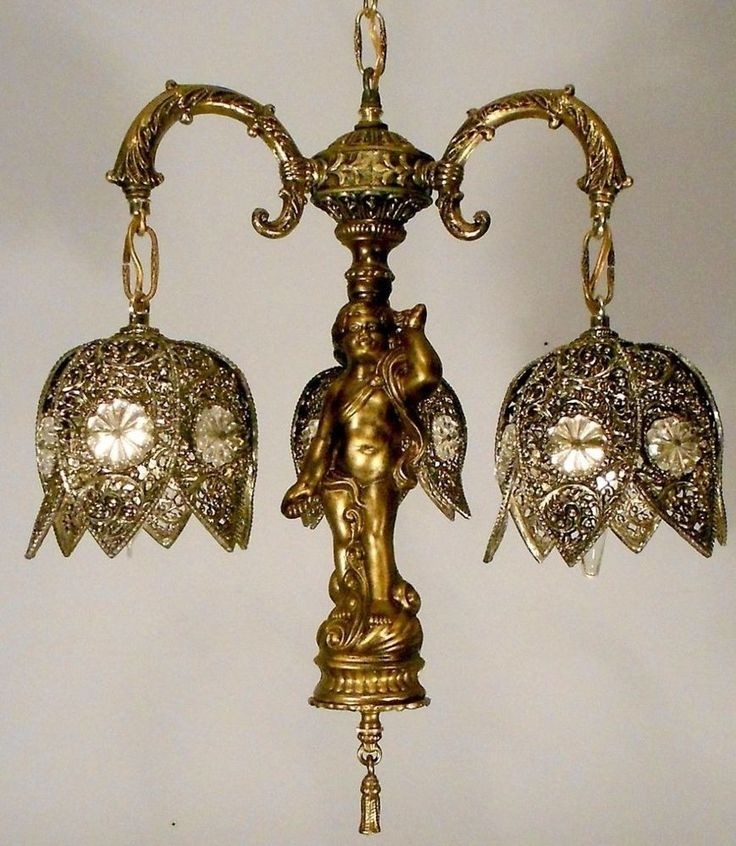 Vintage filigree shade cherub angel chandelier fixture antique rewired reserve
A stunning vintage rewired chandelier with metal fixture in gold hues. It's built of a stem modelled on a cherub, an ornate top canopy, 3 curved arms. Flower-like lampshades (3) for up to 60W bulbs are adorned with filigree and clear floral jewels.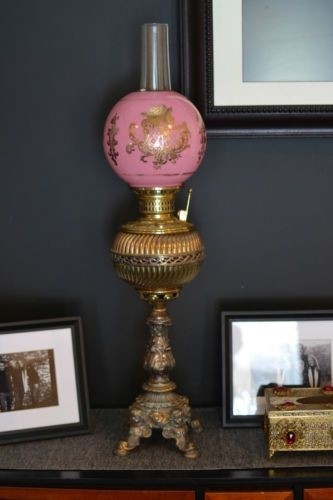 Fabulous Antique Banquet Oil Lamp W Cherub Base And Pink Cherub Shade
Richly decorated oil lamp with floral theme. Base is made of metal with antique finish and fitted with glass lampshade. Adds freshness and elegance to each place.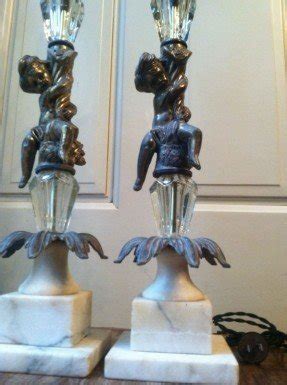 Antique Cherub Lamp Hollywood Regency Set Of Two Brass Glass And Marble 1930s
Cherub lamps are somehow controversial decor accessory, but when two authentic vintage pieces from 1930s are in game, things change! Brass cherub gropes the ornamental base with crystal glass element and marble foundation.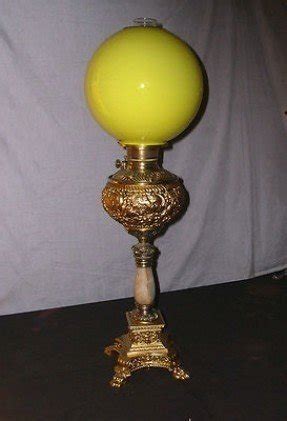 Tall Antique Banquet Oil Lamp W Cherubs Font Holder Marble Centerpiece
Oil lamp with round lampshade made of milk glass. Richly decorated base is made of metal and finished with marble accents. Classic form and timeless style for any interior.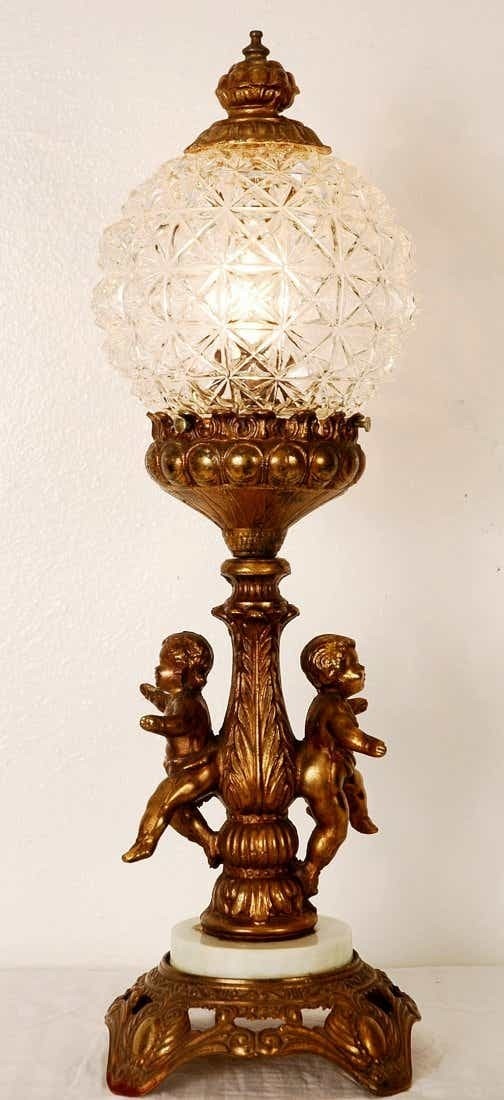 22A: Vintage Cherub Lamp, Glass globe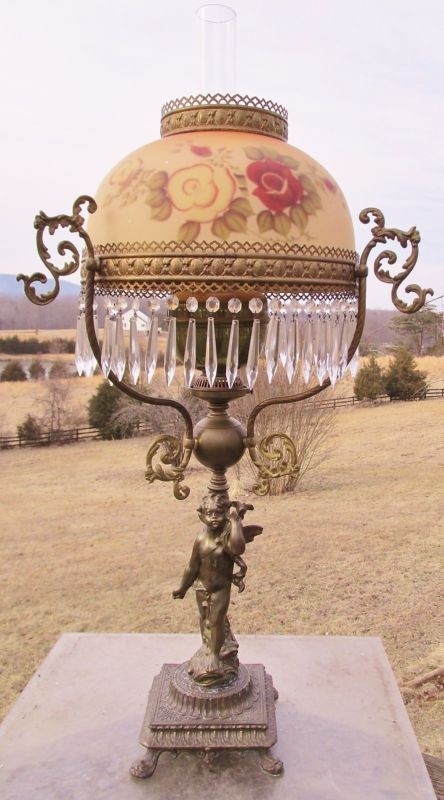 Vintage John Scott Figural Cherub Angel Ornate Victorian Parlor Oil Banquet Lamp | eBay


Originally, an oil lamp that is discretely converted to use electricity, this cherub beauty is here to enhance your home with antique accents. It uses a tiny low-wattage bulb at top under the hand-blown, glass chimney.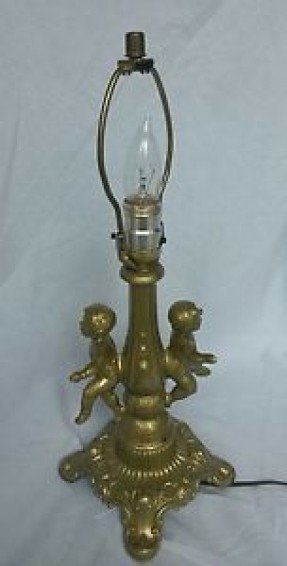 Antique-Vintage-Dancing-Cherub-Table-Lamp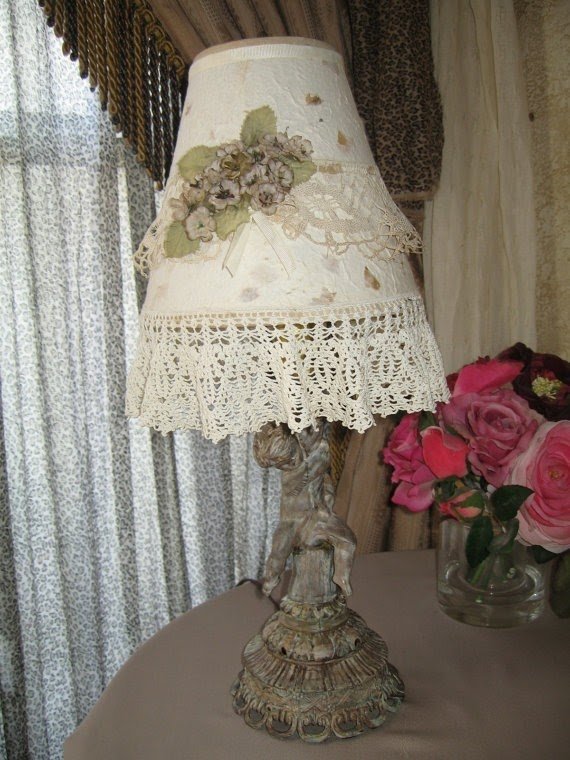 SALE SALE SALE Cherub Lamp Antiqued Painted Shade by twysp2, $33.00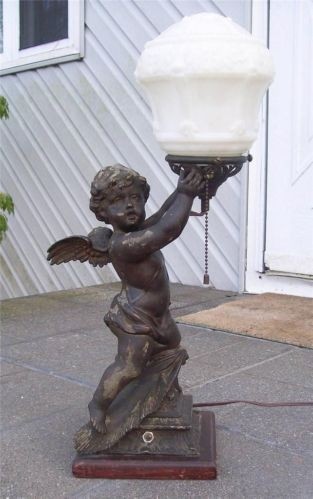 Antique approach to an old-fashioned and worn-off outdoor garden lamp made out of painted ceramic with a weathered layer of paint, resembling a cherub which holds an oversized light, giving the lamp a unique look.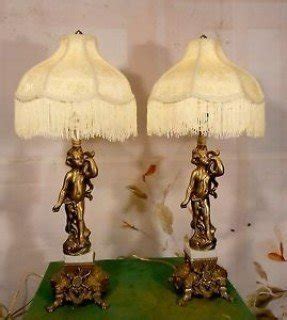 Details about Pair Antique Vintage Cherub Table Lamps Lights Fixtures ...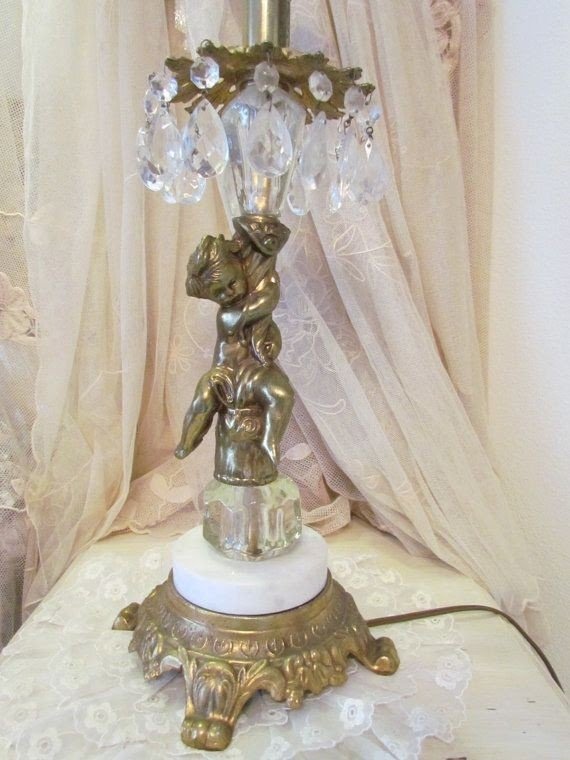 Vintage Cherub And Marble Lamp With Crystal by VannasArmoire, $52.00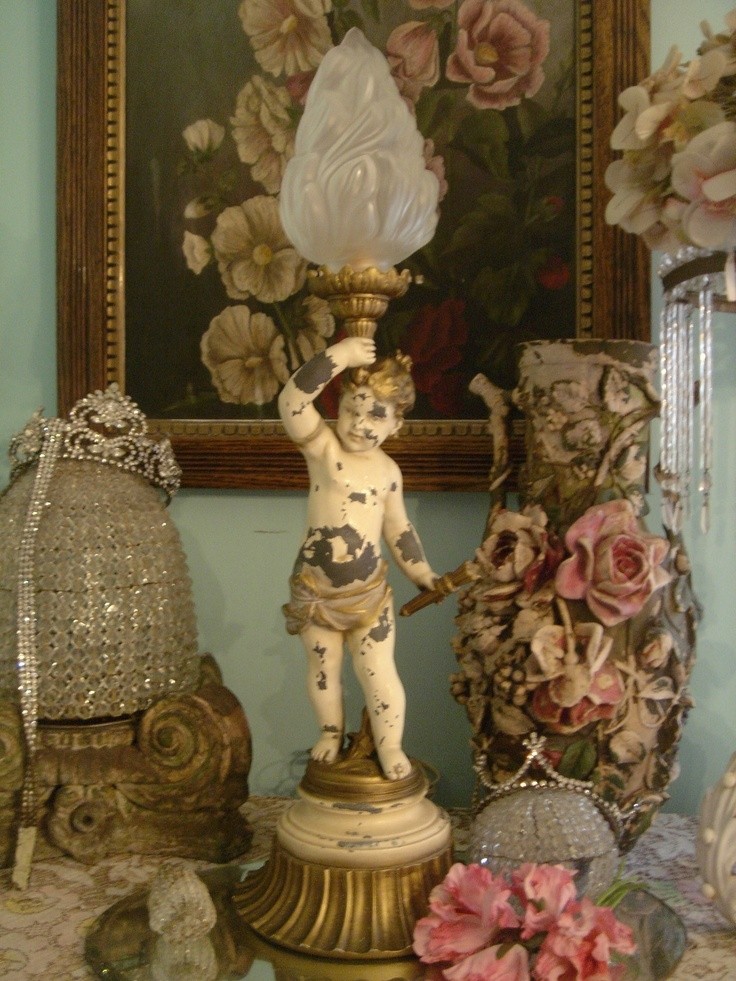 Vintage Cherub Figurine Lamp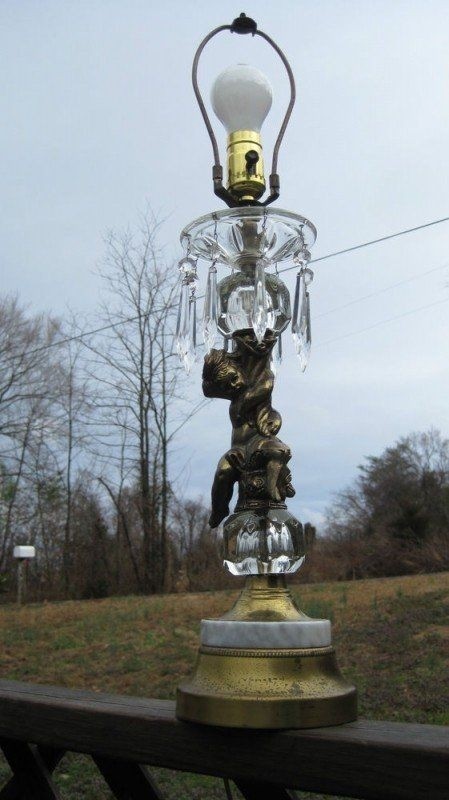 VINTAGE MID CENTURY CHERUB BANQUET LAMP W FRENCH DROP PRISMS ANTIQUE LIGHTING ebay US $99.00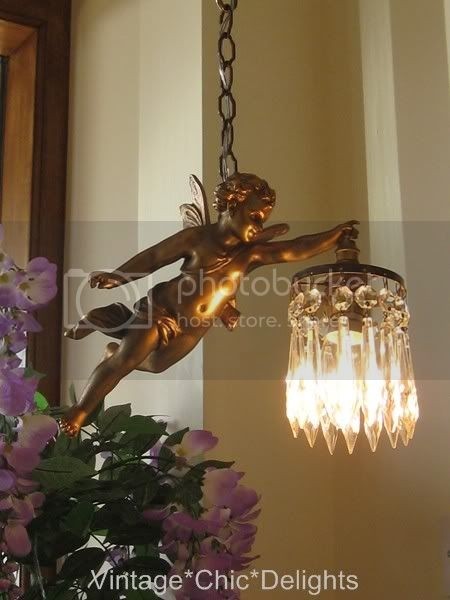 French antique bronze crystal cherub chandelier *~❤•❦•:*´`*:•❦•❤~*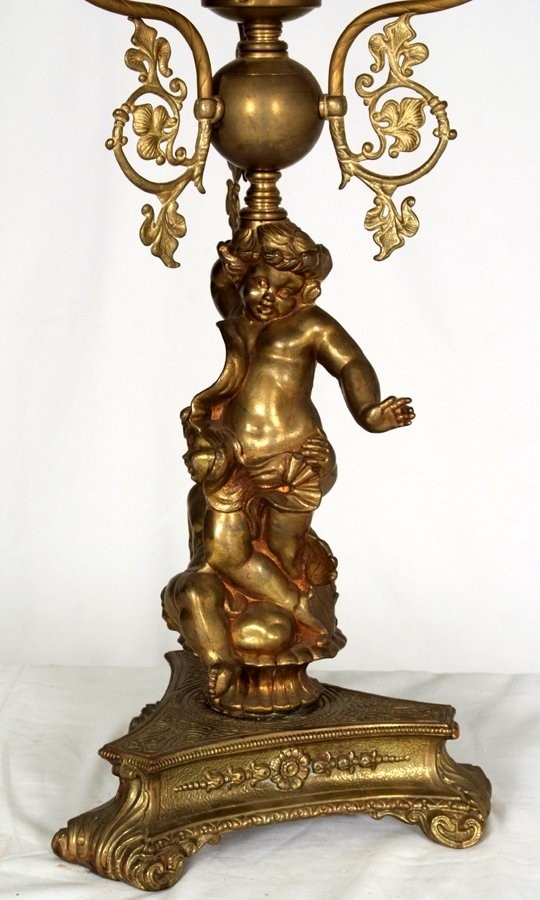 103: Antique Cherub Oil Lamp With Original Shade, Circa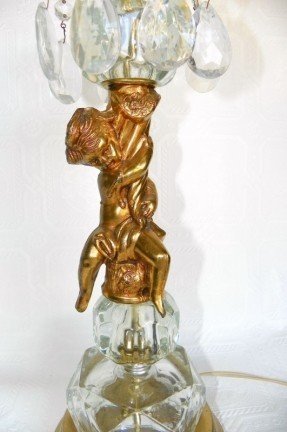 Vintage Gilt Cherub and Crystal 27" Lamp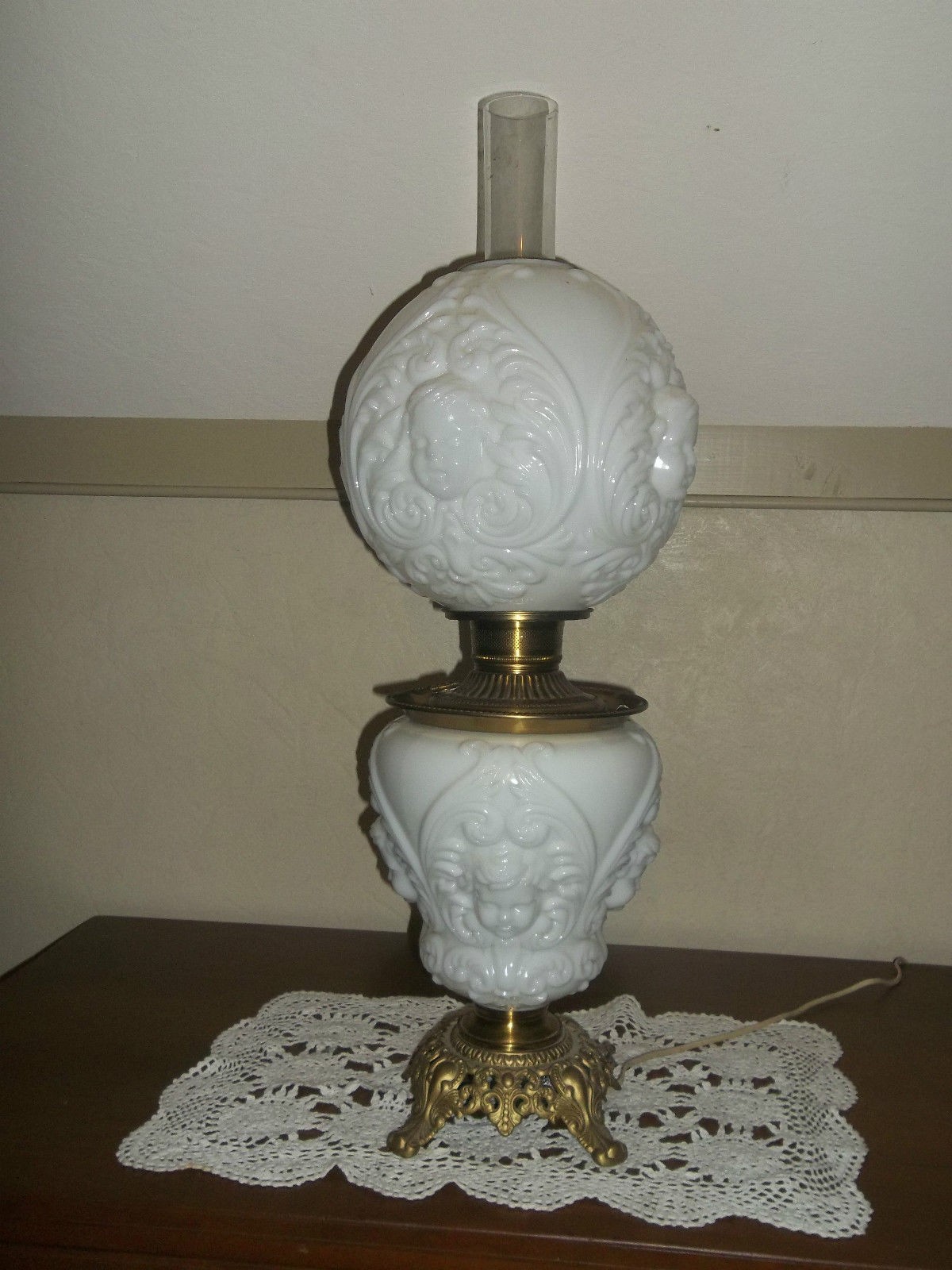 Antique Gone with The Wind Victorian Oil Lamp Cherub Baby Face GWTW Electrified | eBay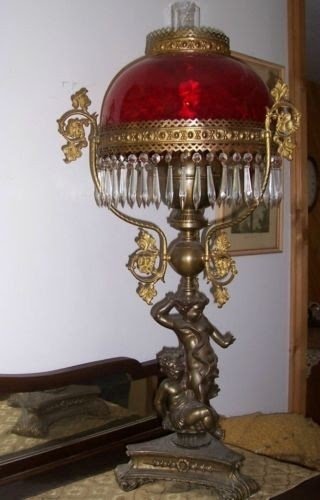 Antique 1920's Electric Cherub Parlor Lamp w Crystal Glass Prisms Ruby Shade | eBay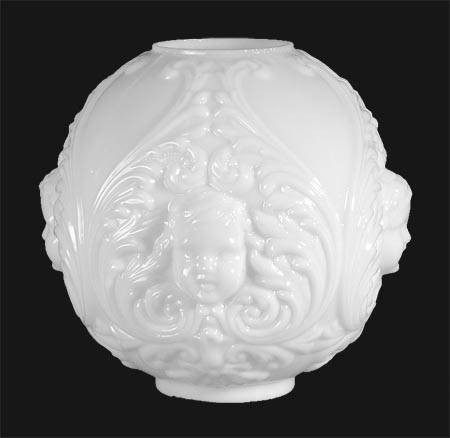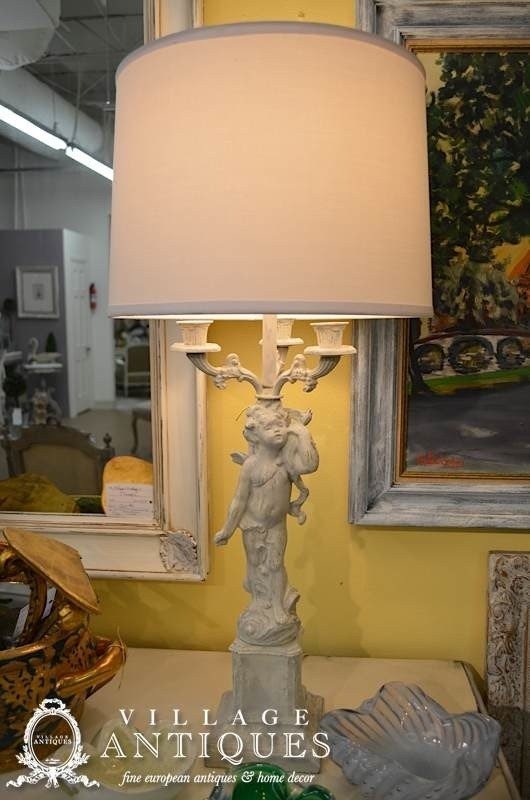 An exquisite addition for homes that emanate with antique accents and classic elegance. This cherub lamp features a lovely cherub base, resting on a square pedestal and holding a sculpted candlestick with a fashionable drum shade.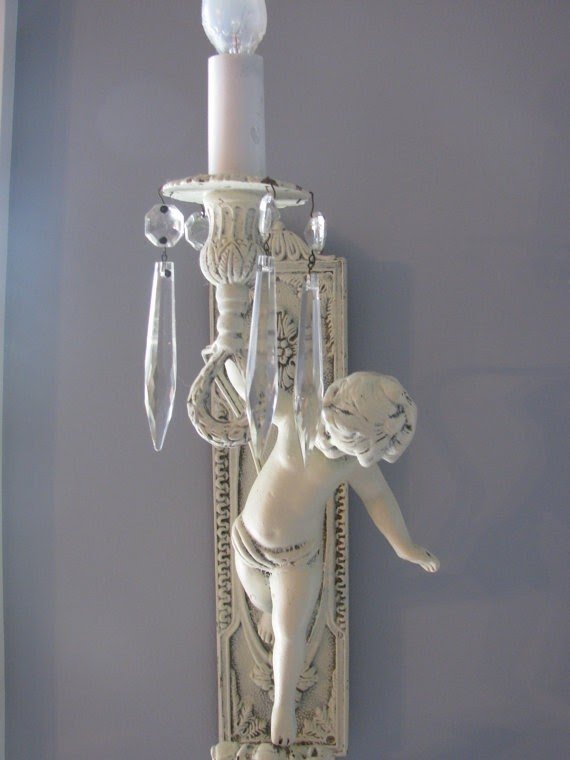 Antique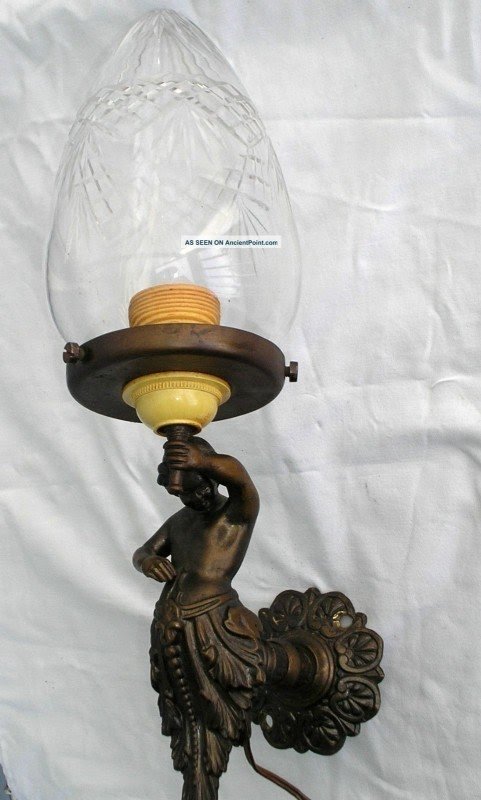 Antique 19th Century Louis Xv - Style Bronze Cherub Converted Gas Lamp ...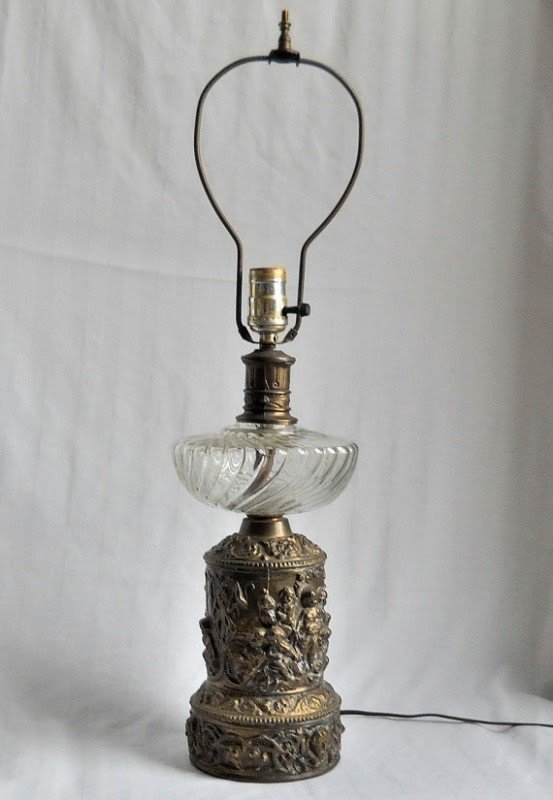 Angel Lamp Ornate Lamp Edwardian Lamp by EclecticVintageHome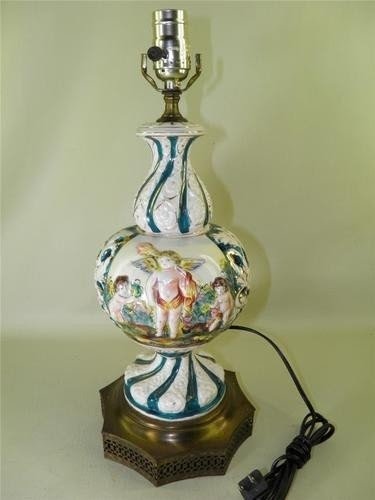 Antique Capodimonte hand painted cherub lamp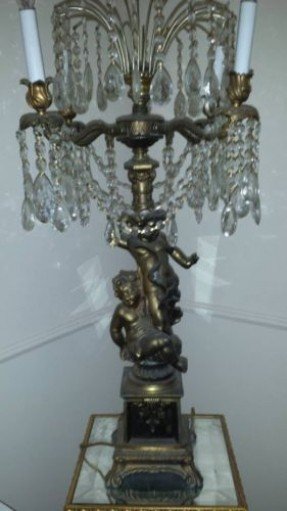 Brass Cherub Lamp Antique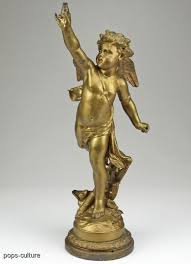 cherub newel post lamp large antique cast metal cherub newel post lamp ...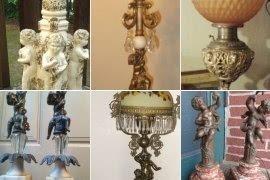 Antique Polychrome Cherub Table Lamp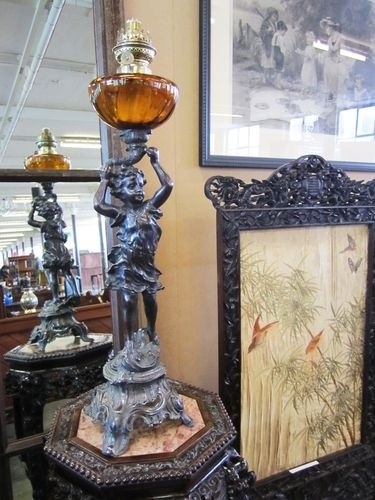 ANTIQUE FRENCH BRONZE OIL LAMP - VICTORIAN PERIOD ART NOUVEAU CHERUB. | eBay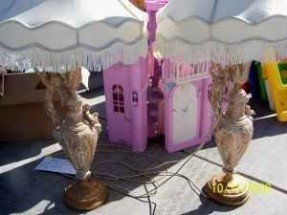 Using those two cherub lamps, you can be sure that your interior design will be properly accentuated. Each of those beauties has a beautifully sculpted body that rests on a round base and holds a white fabric bell shade with stylish fringes.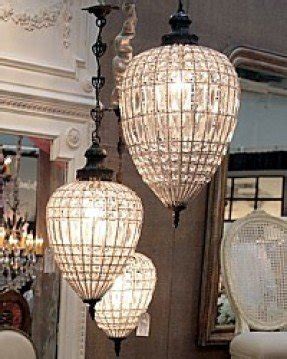 Pendant lamp with glass lampshade decorated with sophisticated pattern. It is mounted on adjustable chain. Application in all kinds of interiors according to taste and need.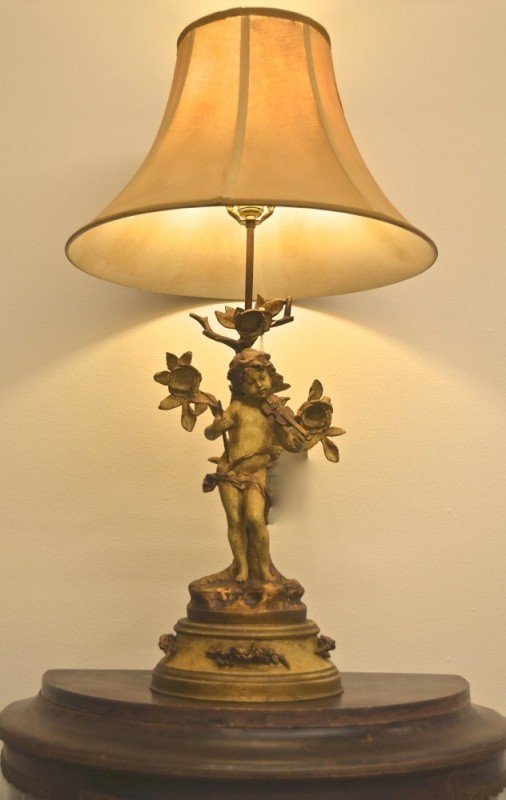 Home / Accessories / Cherub Lamps-Pair