A mountable coffee maker has many benefits, from decluttering your kitchen counter to keeping the kids safe around hot liquids. Easy to mount, they can be placed wherever you need them and look sleek and modern, especially if you match them to your existing kitchen appliances. Many models mount to top cabinets, but some can be mounted to a wall via a stud if that serves your kitchen space best.
Available from your favorite brands and capable of brewing you the cup you need to get through the morning, mountable models are a smart choice when deciding on a coffee maker.
Worry less about pets and children knocking the hot pot over and enjoy your mornings more. Here are several must-have features of an under cabinet coffee maker.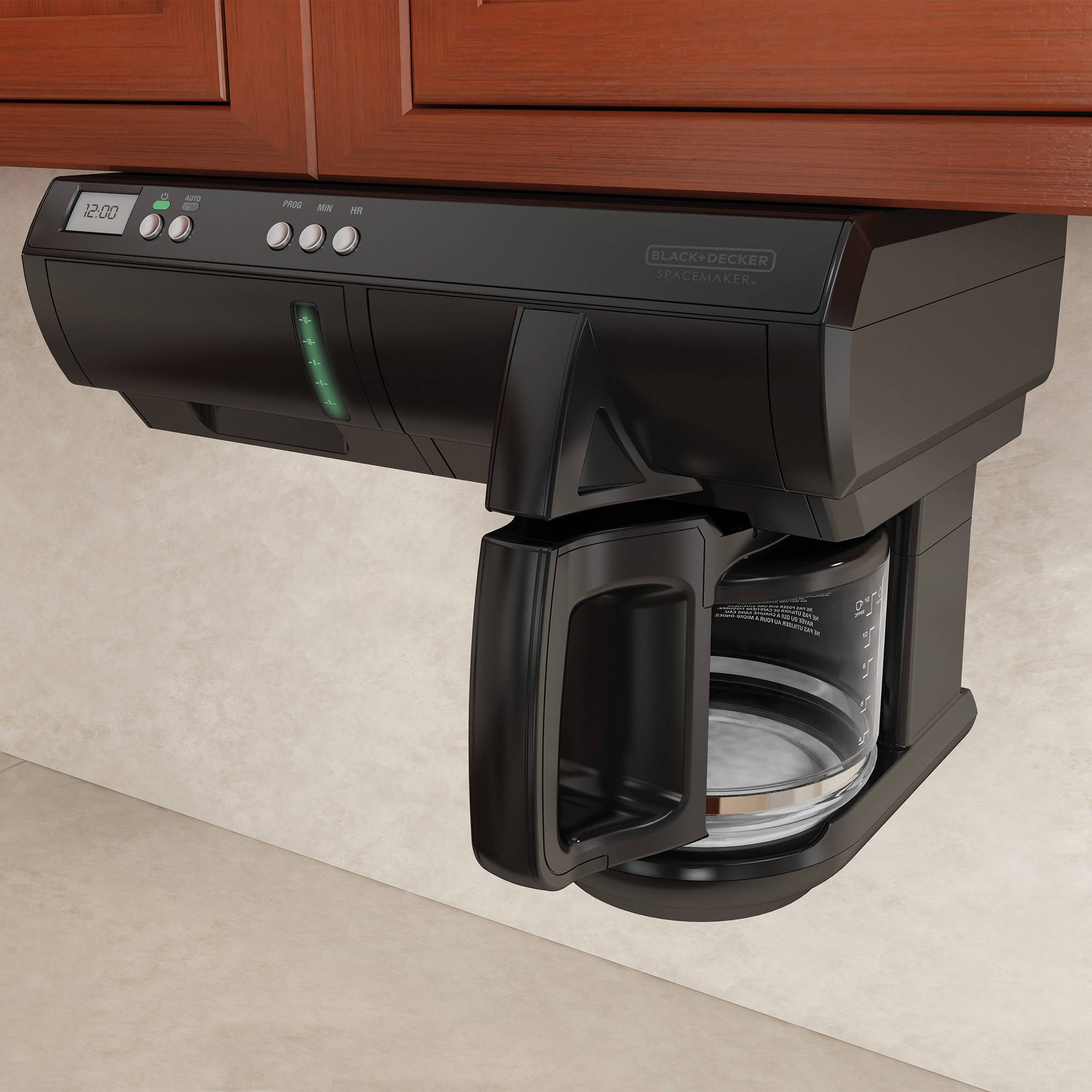 Programmable Clock & Controls
In the morning, every second counts, which is why waking up to freshly brewed coffee, is so impactful. By choosing an under cabinet coffee maker with a programmable clock, you can set your coffee to be ready by the time you head out the door.
Advanced technology means you can purchase mountable options that are programmable up to 24 hours in advance, and they'll keep your coffee warm until you're ready for a cup.
Automatic Pause and Serve Function
A pause-serve function is invaluable for selecting a drip coffee maker to mount on your kitchen cabinets. Having the ability to remove the carafe in the middle of the brewing cycle to pour a cup of coffee can save you a lot of accidental messes.
If you're mounting your coffee maker in an office or communal setting where different carafes might be used with the same machine, a pause-serve function will save you from spills and runoff. This feature is ideal for devices with a large cup capacity that takes a while to brew, so you don't have to wait until the cycle is complete to have your first cup.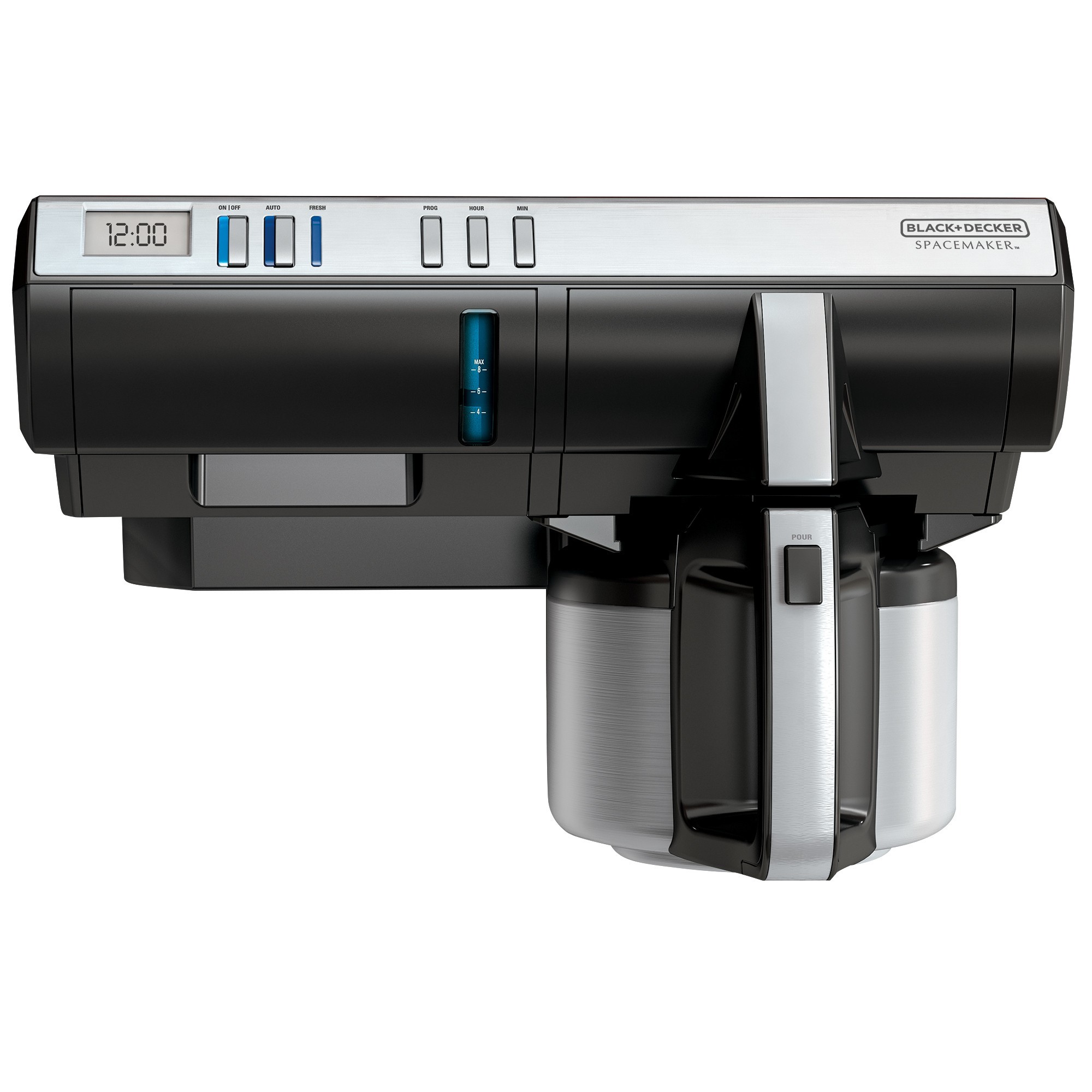 Multiple Presets
Everyone's coffee preferences vary, so an under the counter coffee maker that features multiple preset options caters to every taste.
Look for models that offer simple programming for various coffee concentrations from standard to espresso. Some models also come with a cold drip feature that lets you enjoy a refreshing iced coffee first thing in the morning. If you love a rich creamy cappuccino or latte, but don't want to run to your local coffee shop, a coffee maker with an integrated milk frother lets you create foamy Italian coffee at home.
Removable Water Reservoir
When your machine is mounted to the cabinet, having easy access to the maker components that need frequent refilling or cleaning is critical. A removable water reservoir makes your life so much easier and saves you from moving equipment around the kitchen unnecessarily.
Economical and hygienic, a removable water reservoir only adds to the convenience of an under-mounted coffee maker.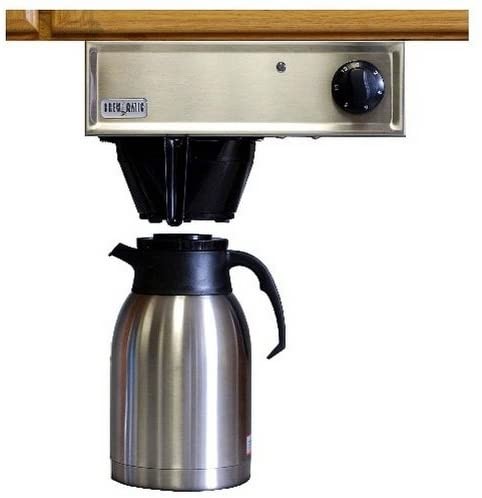 Ideal Cup Capacity
The size of an under cabinet coffee maker varies between models and is influenced by how many cups you're planning to brew at one time and how much under cabinet space you have available.
Consider how many people will be using the machine. If you're shopping for an office, a higher capacity, such as eight or ten cups, is necessary. Whereas, for a simple home brewing option, a three to five cup carafe is sufficient.
Once you've determined the cup capacity you need, you can look at the machine's size. Consider the size of the cabinet you're planning to mount it to. Are they 12" or 24" deep? How much space is available between the bottom of the cabinet and the countertop?
Durable Build
Mountable drip coffee makers can be found in stainless steel or plastic varieties. Stainless steel is a must-have feature for a durable, long-lasting, and stylish under cabinet coffee maker.
If you purchase a coffee maker that is entirely stainless steel rather than a plastic-covered stainless steel exterior, your coffee will taste better. If you're opting for plastic, it's essential to make sure it'sBPA free, but many plastic mountable coffee makers don't specify this, so there's no way to be certain.
There are also plenty of advantages to choosing a stainless steel carafe over a glass one. In modern kitchens, a stainless steel aesthetic will match your appliances. Stainless steel will also keep a large pot of coffee warm for hours after brewing, while a glass carafe will not keep the fresh brew as well insulated.
Stainless steel is also far more durable than glass, especially if dropped or to run it through the dishwasher.
Compact Design and Dimensions
An under cabinet coffee maker's primary benefit is the amount of counter space it can save you in a small kitchen. However, this only works if you select a coffee maker with a compact design while still brewing the desired number of cups.
To maximize usable counter space underneath the coffee maker, consider a mounting option that is long with shallow depth so that only the carafe hangs down on one side. This means you can place a station for cups of espresso underneath or prepare breakfast on that counter space. Start by selecting your ideal brand and researching their smallest size to decide if that will provide enough cups for you in one brew.
Easy Installation
There are plenty of simple installation options on the market. Search for mountable coffee makers that are easy to assemble and install using conventional tools, with few extra materials required. Most models come with mounting hardware included for added convenience.
Final Thoughts
The features you want in a mountable coffee maker revolve around simplicity, convenience, and minimalism.
A design that takes up the least space while still providing enough cups in one brewing cycle should be your number one priority. Opt for easy installation that doesn't require too many tools or the purchase of additional hardware.
Technological features that can make your life easier, like programmable timers for automatic brewing and pause-serve capability, also make your experience each day pleasant and relaxing. Enjoy your coffee and your morning hassle-free when you select a mountable machine that checks all these boxes.