Our Choice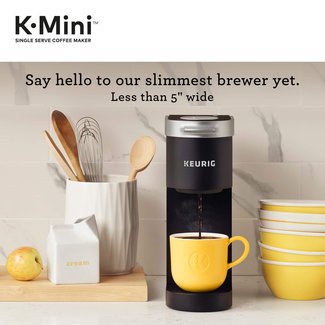 Keurig K-Mini Single Cup Coffee Maker
Enjoy your cup of coffee any day and time with this 7inch tall and 5inch wide coffee maker that comes in a contemporary sleek design. This easy to use coffee brewer is compatible with a pod and its one-cup waste reservoir and cord storage makes it efficient to use anywhere. It features a removable drip tray that accommodates a travel mug and an automatic turn off function. Its portable size makes it exceptionally travel friendly.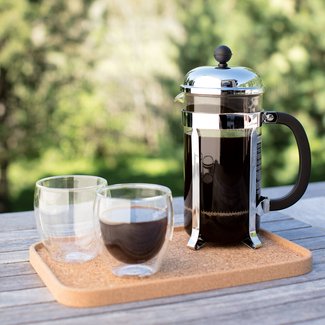 Bodum Chambord French Press Coffee Maker
Brew your coffee with this simple and ultimate coffee maker whose frame and lid are made of steel that has undergone several chrome plating processes to obtain a solid shiny surface guaranteed to last for years. It features a matte finish black polypropylene handle for easy grip and a 3 part stainless steel mesh filter that helps in extracting coffee oils and flavors. The patented lid prevents spilling of coffee and it's dishwasher safe.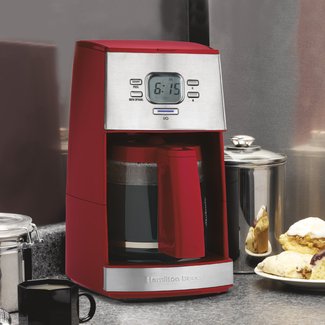 Hamilton Beach 12-Cup Programmable Coffee Maker
Make fresh and flavorful coffee with this functional and attractive coffee maker. This automatic machine is made from stainless steel to ensure durability and has a 12 cups brewing capacity. It also includes a glass carafe that is drip-free and a regular, bold, or 1-4 cups serving options. Its great looks make it perfect for a countertop and it's very easy to clean and use.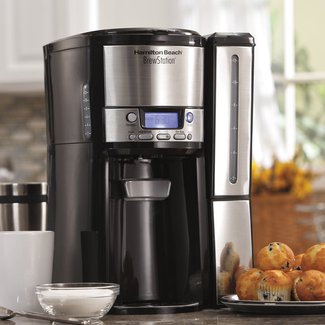 Hamilton Beach 12-Cup BrewStation Dispensing Coffee Maker
Brew your coffee in different styles from bold to regular or iced. Thanks to the internal heater, this coffee maker keeps your coffee fresh and hot for up to four hours. It can brew 12 cups of coffee and boasts a programmable ice coffee spot. Instead of a glass carafe, it features a removable inner tank which makes the unit less fragile and retains the taste of your coffee for much longer than traditional coffee maker do.
Hamilton Beach 1-Cup FlexBrew® Single-Serve Plus Coffee Maker
Enjoy a personal cup of coffee with this single-serve coffee maker that allows you to brew up to 10oz of freshly brewed ground coffee. This flexible coffee brewer is easy to use by just lessening the lid and pressing of a button which allows you to choose a regular or bold brewing option. It has a removable cup rest which can also serve as a storage container. The ground basket can be reused and its removable k-cup pack makes cleaning easy.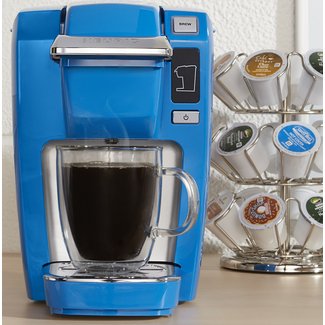 Keurig K-Mini K15 Single-Serve K-Cup Pod Coffee Maker
Brew a perfect cup of coffee, hot cocoa, tea, or iced drink in less than two minutes with just a touch of a button. This coffee maker includes a removable drip tray for short travel mugs, a single-use reservoir, and three cup sizes. This 5-inch sleek design that has a matte finished can fit any space and is perfect for any occasion. The unit is exceptionally easy to use. Just add water to the reservoir, load your favorite K- cup pod, brew, and appreciate the wonderful flavor.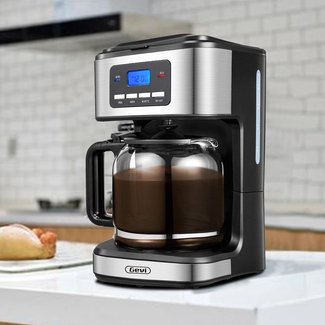 Gevi 12-Cup Programmable Drip Coffee Maker
Enjoy a cup of coffee with this automatic 12 cup coffee machine. This programmable coffee machine is made of a domestic high-temperature glass cup and features an LCD display with backlight and 12 hours working clock. It also includes boil-dry protection, removable funnel and filters for easy cleanup, and a warm plate to keep the coffee at a pleasant temperature throughout the day.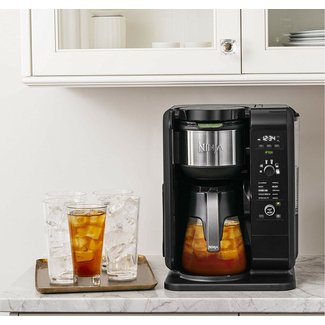 Ninja 10-Cup Coffee Maker
Choose how to drink your coffee with this versatile coffee machine. This automatic coffee machine with 10 cups brewing capacity allows you to brew hot, tasty coffee and tea or iced coffee by using the advanced thermal flavor extractor with auto IQ. With this machine, there are two ways to enjoy your cup of coffee; choose between natural confection cold-brew coffee or tea and vivid, undiluted flavored brewed coffee or tea.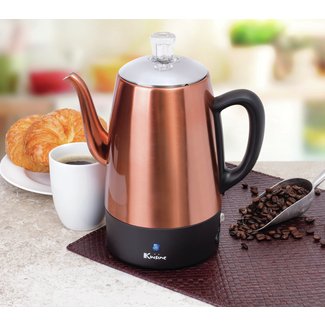 Euro Cuisine Electric Coffee Maker
Brew your coffee in this classy stainless steel and copper finish coffee maker and enjoy up to 4 cups of flavorful brewed coffee. This coffee maker features a keep-warm function and a removable electrical cable, a glass knob with an indicator light that lets you know when your coffee is ready, a removable stainless steel filter. It comes with a stay-cool bottom and removable electrical cord which keeps your coffee warm once plugged in and it's dishwasher safe and easy to clean.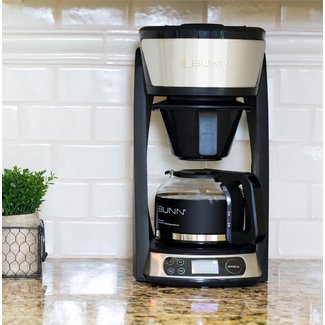 Bunn 10-Cup HB Heat N' Brew Programmable Coffee Maker
Achieve great-tasting coffee with this shatter-resistant coffee maker that features a Heat N' Brew technology that heats up the water to perfect brewing temperature. The 10 cup coffee maker has a digital clock with an automatic brew start time and delivers a spill-free pour with the help of the drip-free carafe. This coffee maker is perfect for people who don't brew every day as it does not need to stay plugged and it's perfect for home, restaurants, and cafes use.