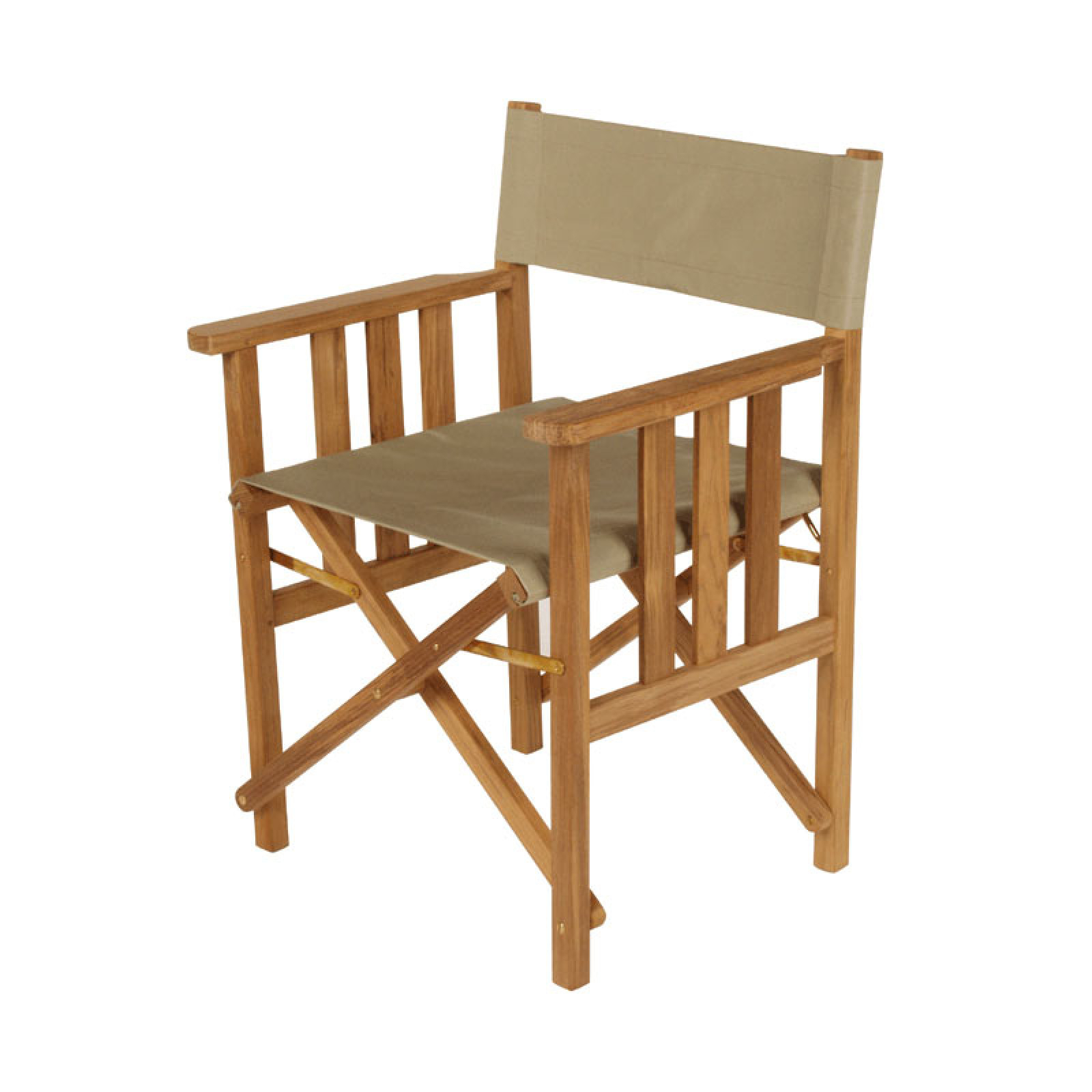 Representing the characteristic director's chair, this Barlow Tyrie Safari natural folding chair is a lightweight construction, designed to be easy in transport and assembly.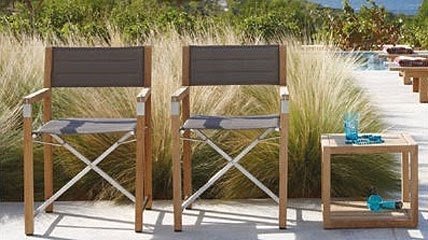 Classic side-folding chairs having straight thin angular legs, side stretchers and flat arms of teak wood with a natural finish. Seat supports and X-crossed foldable stretchers are of metal. Sling seats and backrests are of durable dark fabric.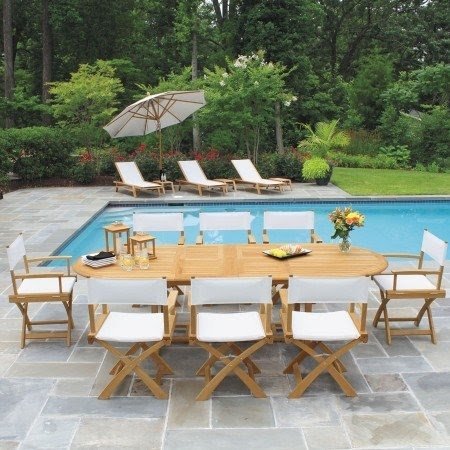 directors chairs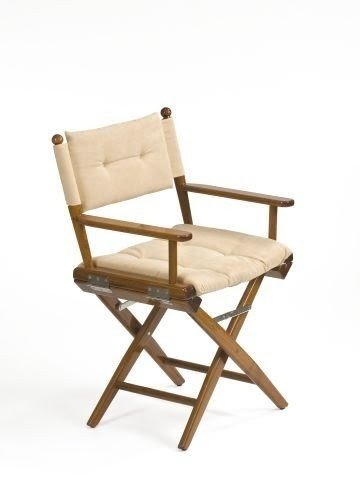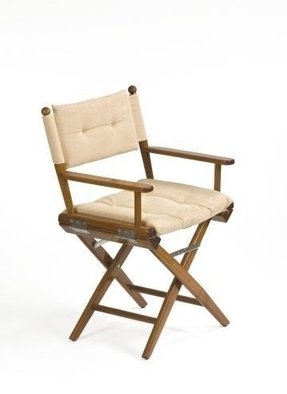 TEAK DELUXE DIRECTORS CHAIR - CREAM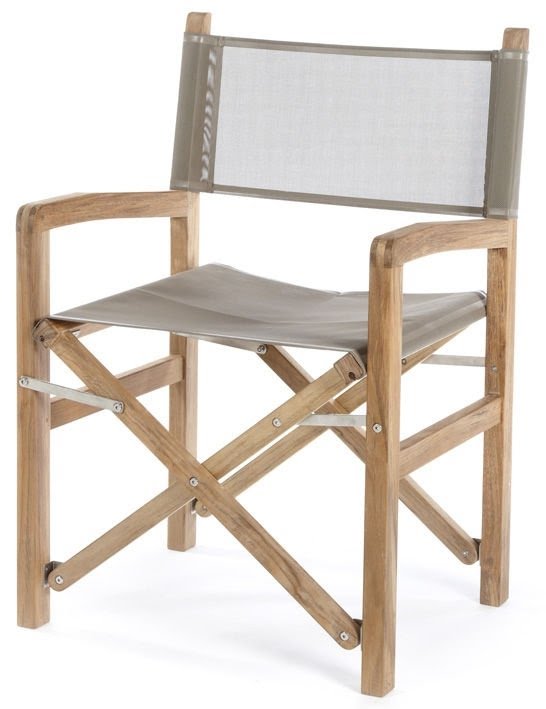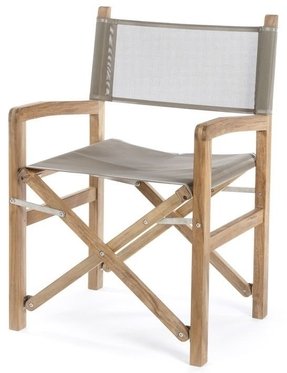 Bring a bit of coastal-inspired magic into your front porch with this relaxing square armchair. The piece is designed using teak and comes in a distressed wooden finish. The chair also features a light gray polyester seat and backrest for an incredible balance of color.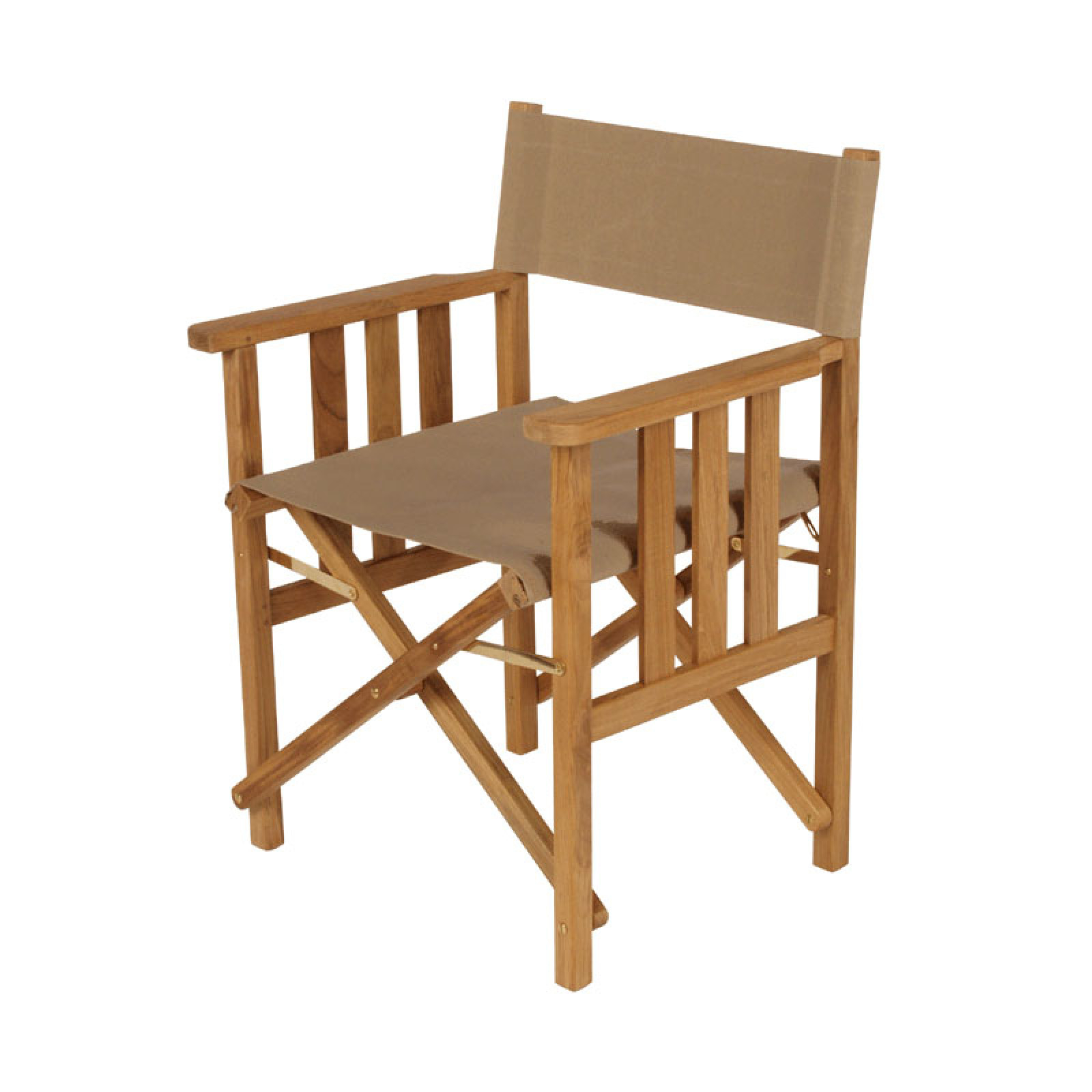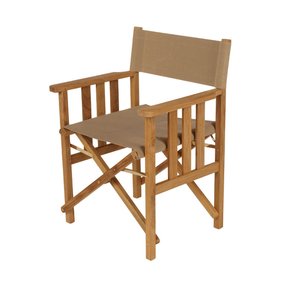 Resembling with its design the "director's chair", this wooden folding chair distinguishes itself with solid finishing. Natural teak wood combined with Sunbrella fabrics will bring warmth and coziness to your spaces.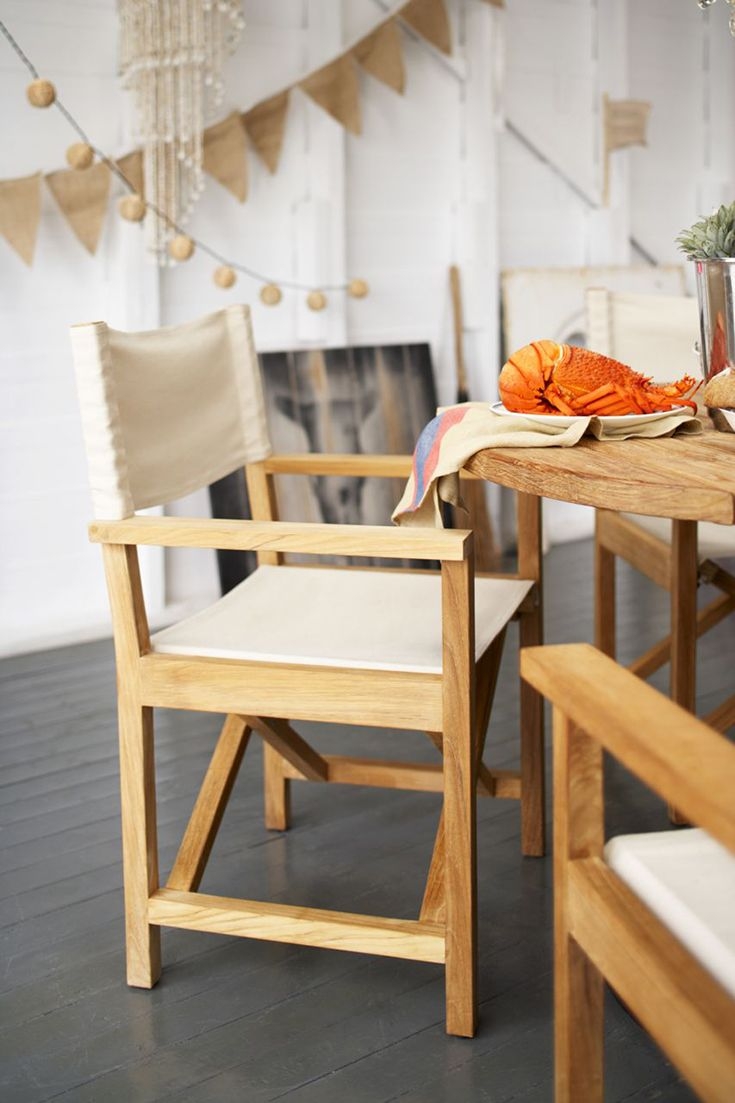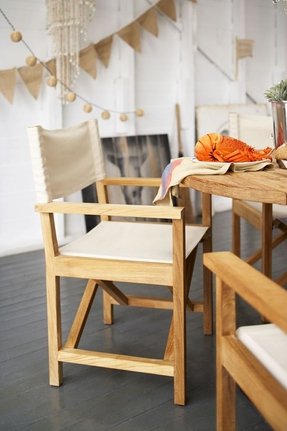 Sitting on such a teak director's chair, regardless of their profession or age, it may feel like a professional filmmaker for a moment. In this case, it has a minimalist form of teak light wood and a light fabric.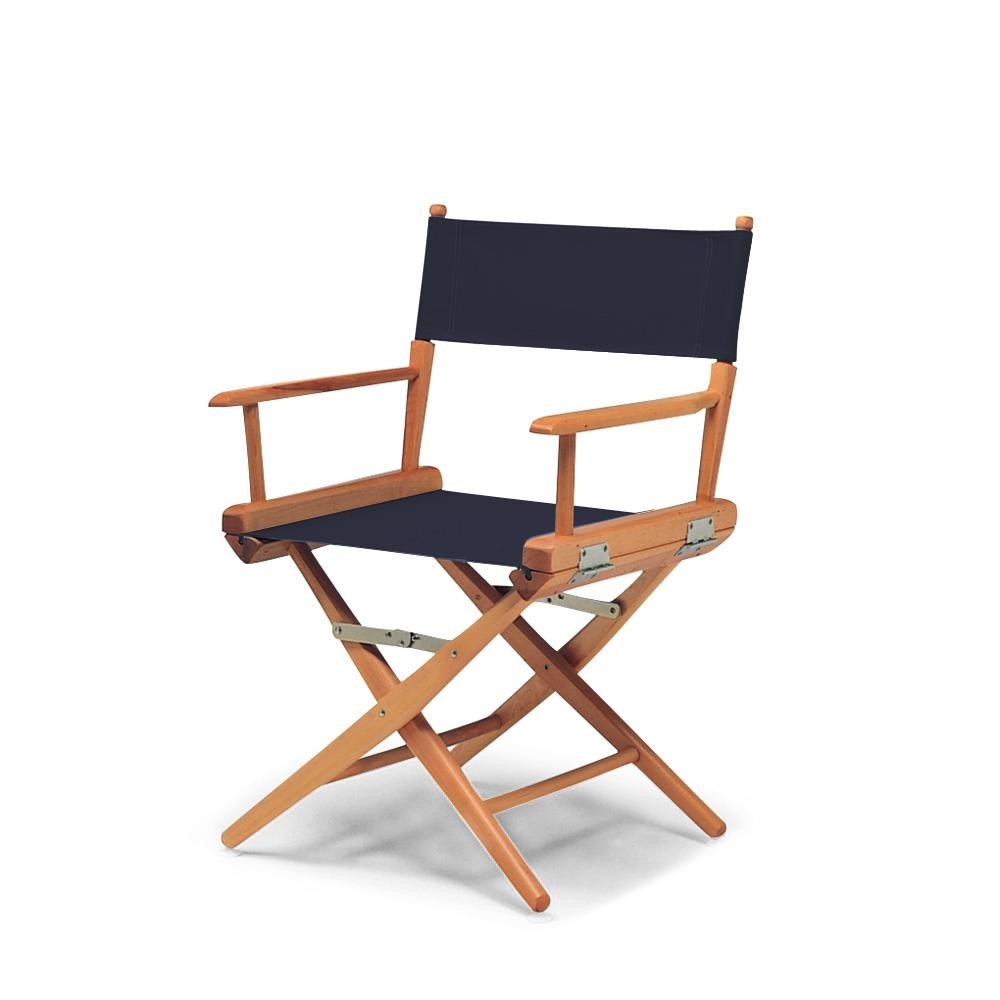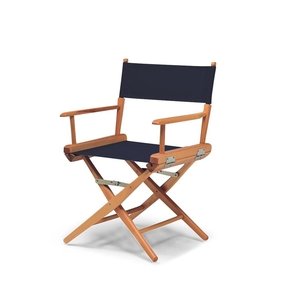 It is a casual folding dining height director chair with red finish and varnish frame. It adds style, comfort and beauty to any home. It is great for indoor and outdoor use. You need to have it.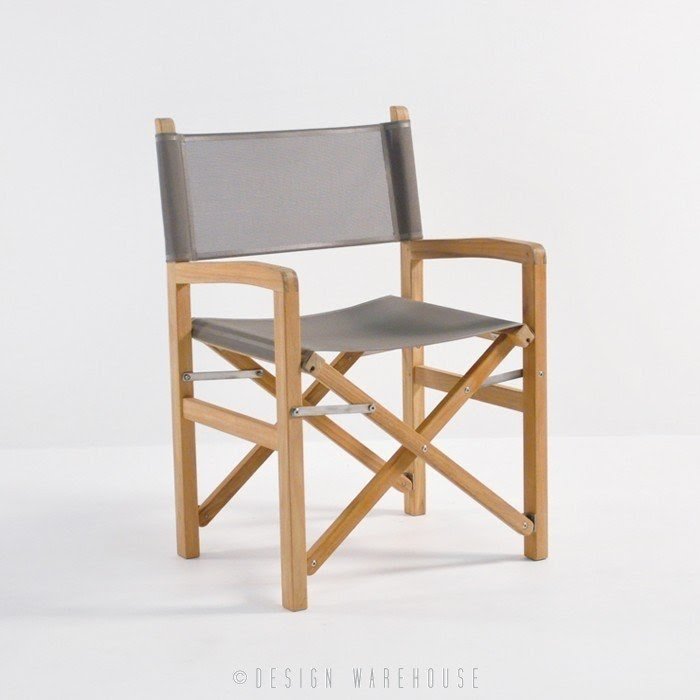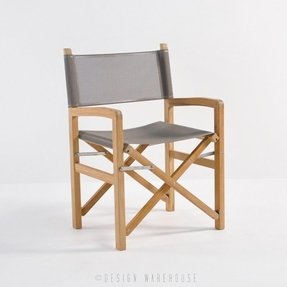 Director chair for all kinds of interiors according to taste and need. Frame is made of teak wood. Seat and back is covered with durable fabric. Classic form and modern design for each place as needed.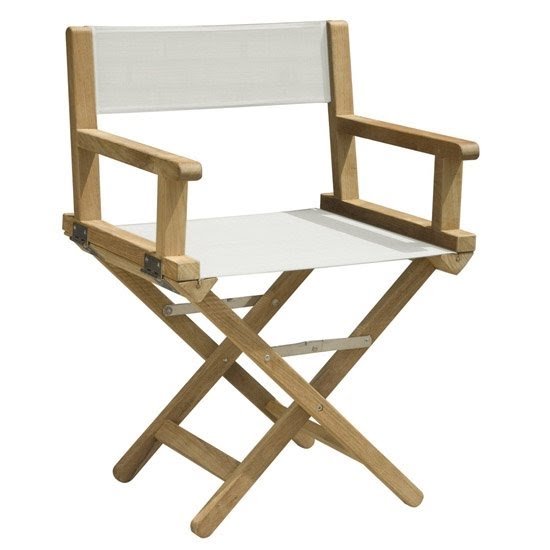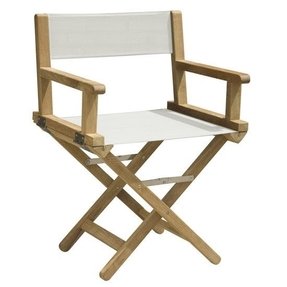 LB1894 Raffles Directors Chair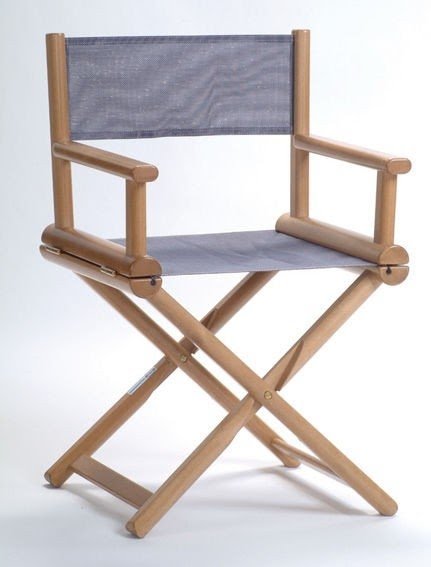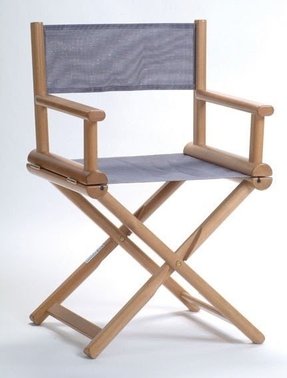 Go for this sublime and beautifully styled director's chair that comes with the folding structure and offers the all-wood making of the sturdy frame that goes perfectly with the material on back and seat.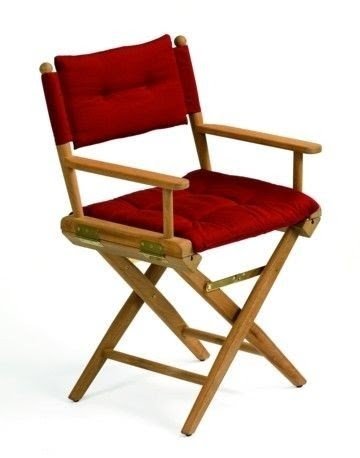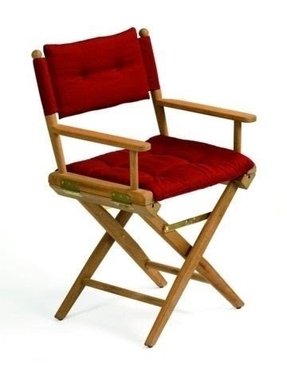 Though directors chairs represent the classic example of furniture design versions, a foldable teak chair of this type can draw attention as well, e.g. with a bold deep red fabric used for sling seat, as pictured.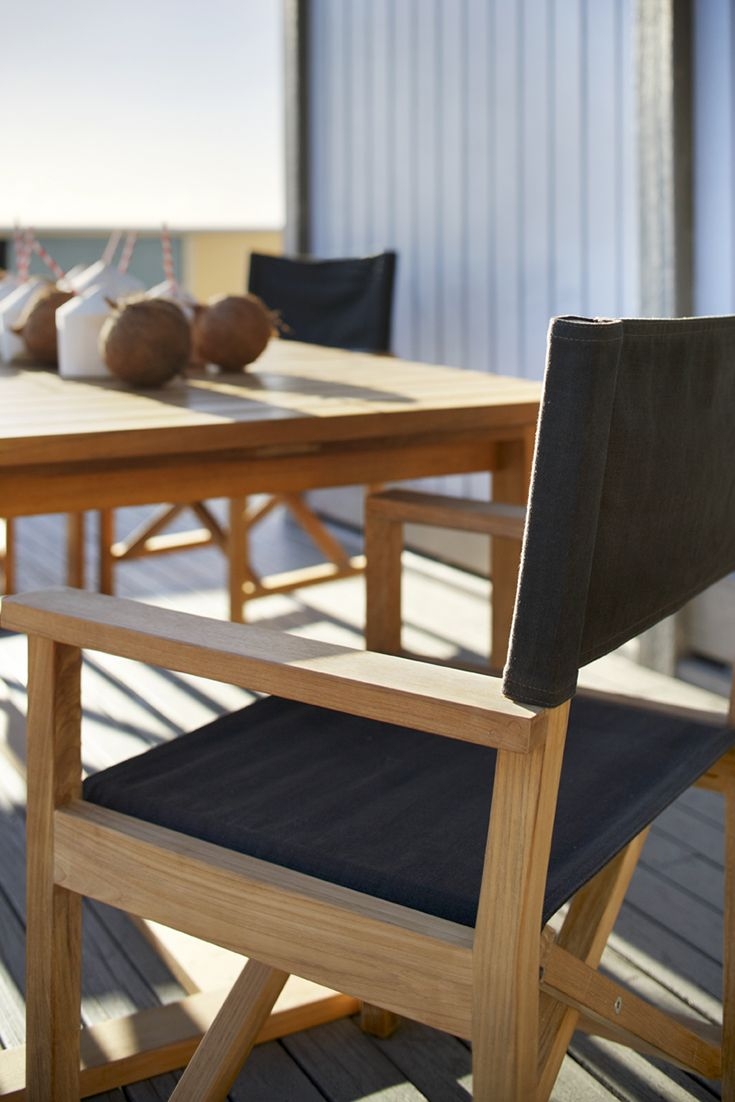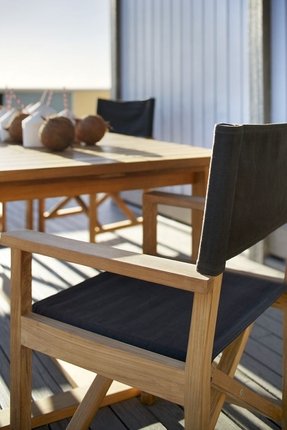 Eco Outdoor Ida dining armchair in Outdoor Linen col. Malt. Outdoor furniture | Patio furniture | Outdoor dining | Teak outdoor | Outdoor design | Outdoor style | Outdoor luxury | Designer outdoor furniture | Outdoor design inspiration | Pool side furnitu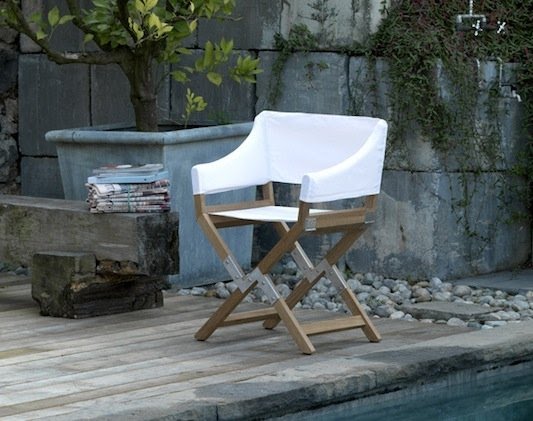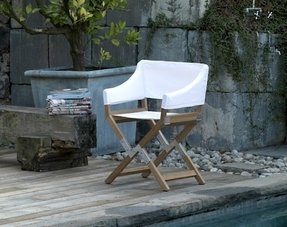 This Sundance outdoor folding director's chair features the lightweight construction, solid teak wood frame, padded armrests and brushed stainless steel details. It will be a comfy addition to any porch or yard.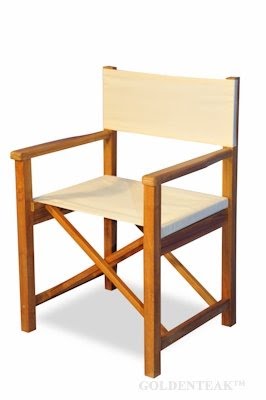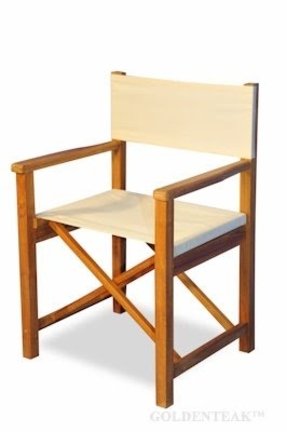 This director's chair is lightweight, stable, portable and comfortable. Its frame is made of sturdy oak-finished wood with X-shaped stretchers and straight arms. The seat and back is made of off-white elastic material, and it can be quickly folded for storage.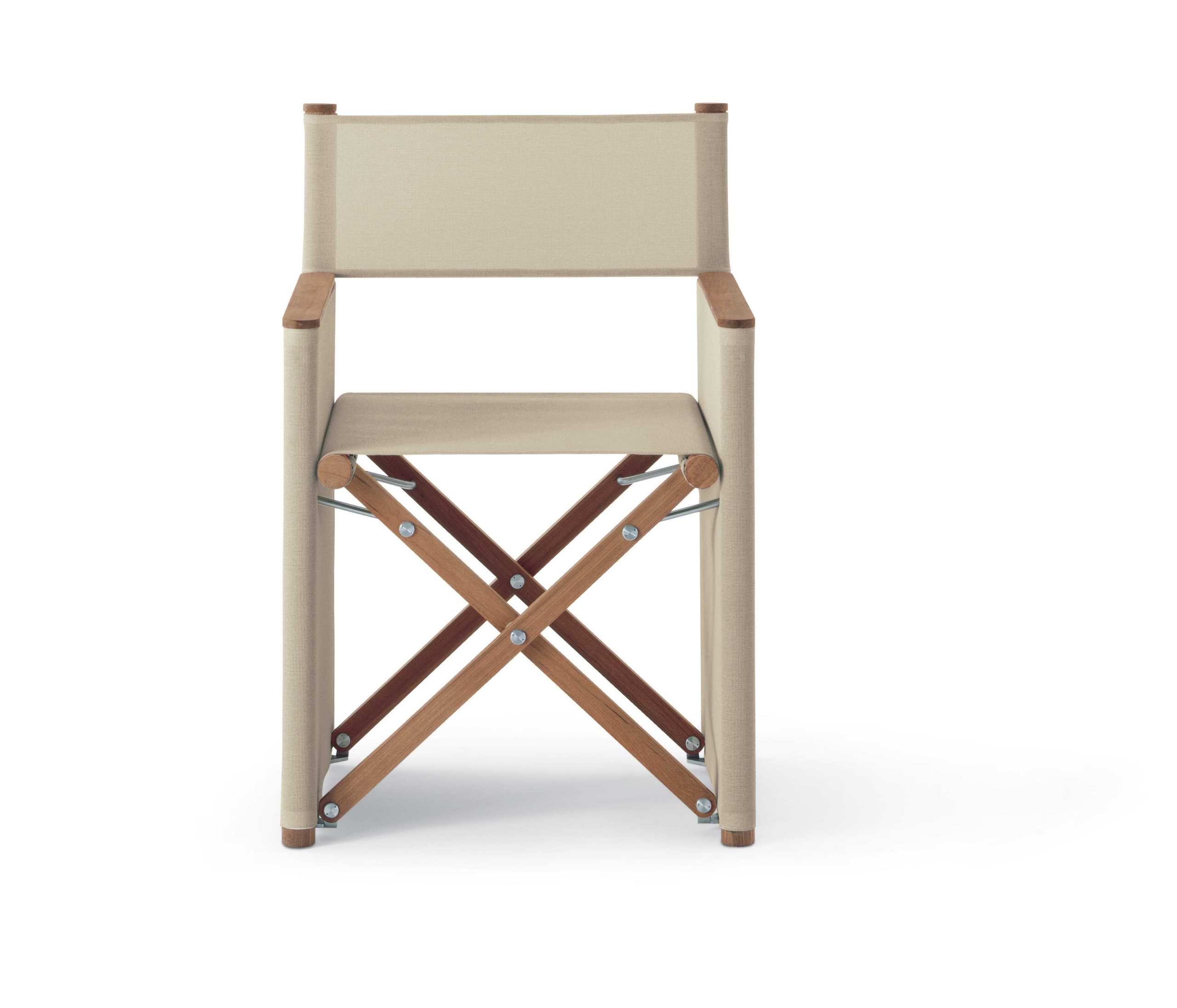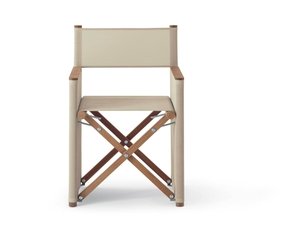 A portable director's chair that you can easily store thanks to its foldable construction. It's made of sturdy Teak wood and elastic material, giving you a durable piece, reinforced with X-shaped stretchers and stainless steel hardware.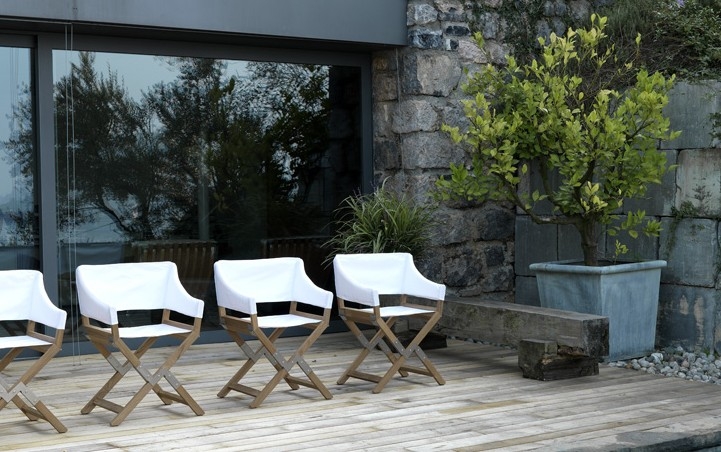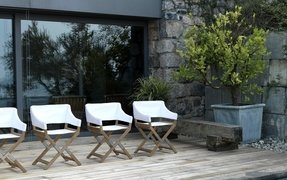 A modernized version of classic teak directors chairs by designer Paolo Golinelli. Natural teak base sports brushed stainless steel hinges. Next to sling seat, the sloping sides and straight, medium-height back are wrapped entirely with white fabric.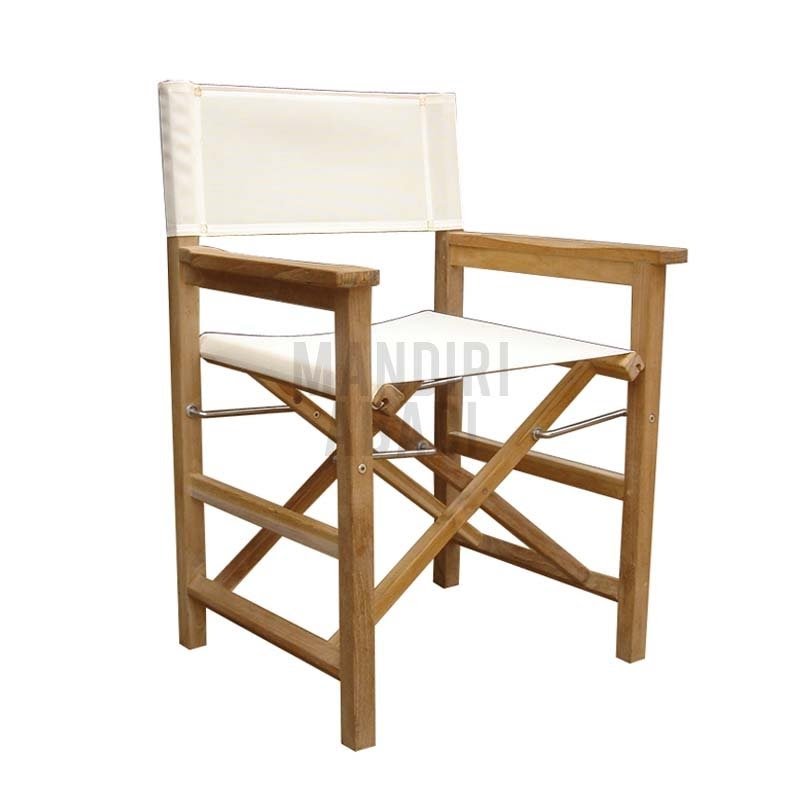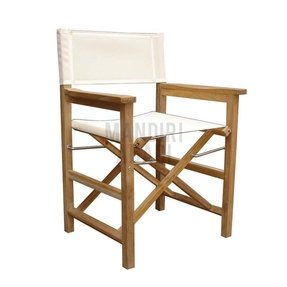 Director chair mounted on teak wood frame and reinforced with crossed supports. Seat and back is covered with fabric. Suitable for residential and commercial premises. Great as dining chair or additional seating.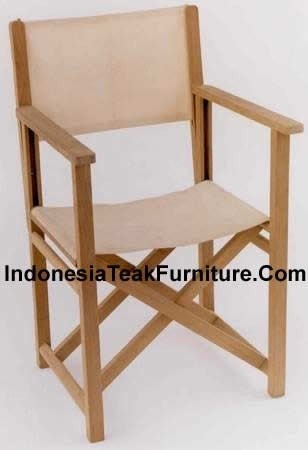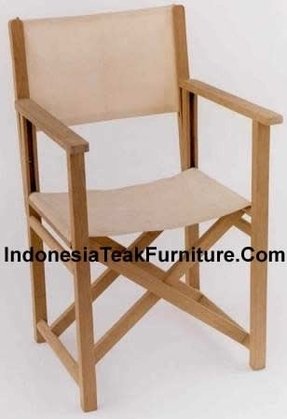 * BEST PRICE OUTDOOR FURNITURE !* DIRECTOR CHAIR CANVAS CHAIR Furniture Teak Wood Indonesia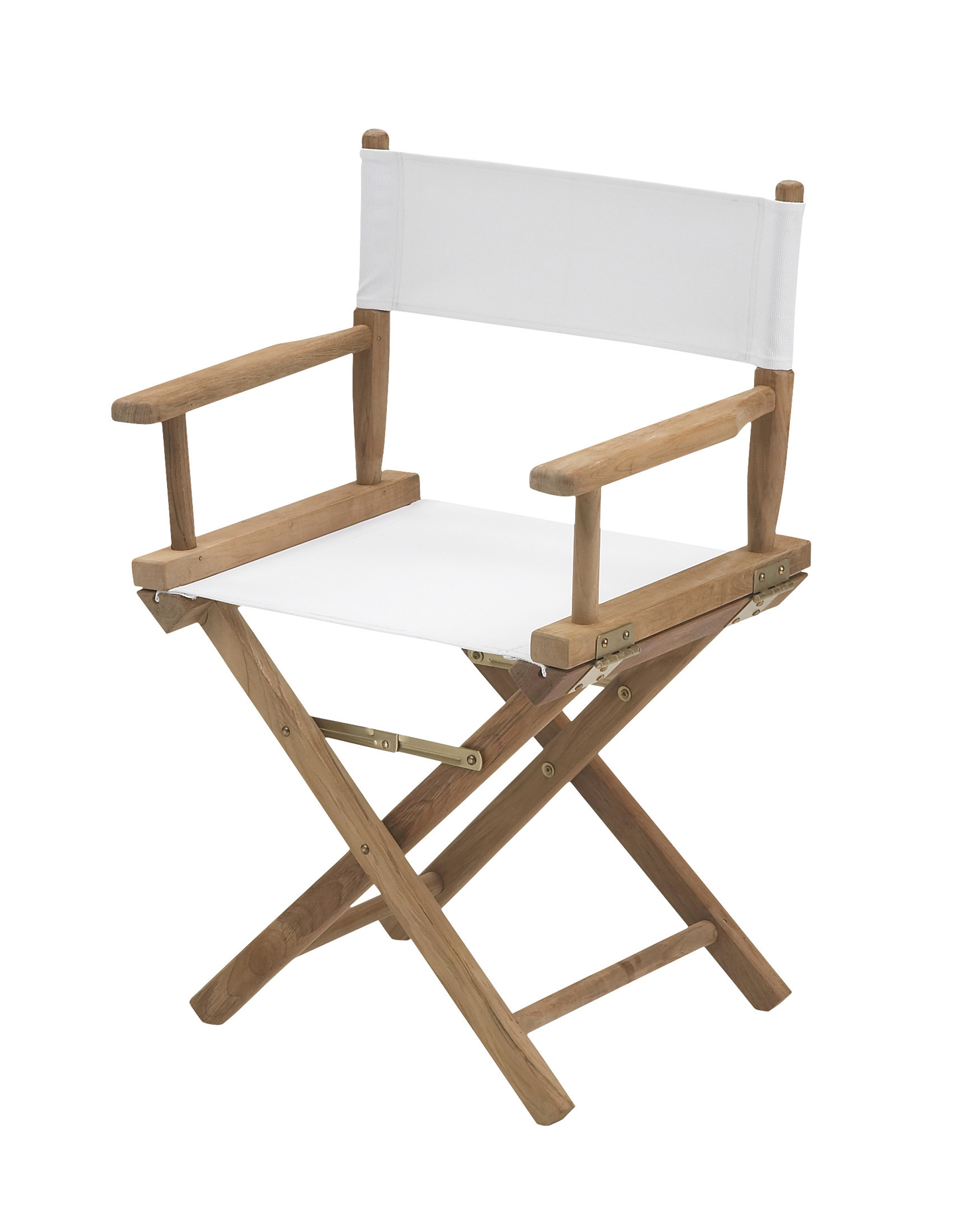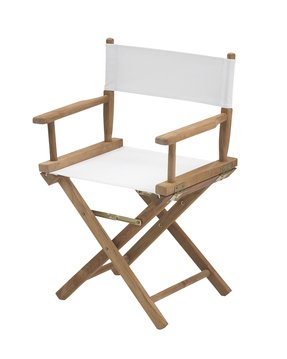 Combining the characteristic bright teak wood and canvas resulted in creating this fantastic directors chair. Simplistic, yet solid design, referring to the Scandinavian furniture.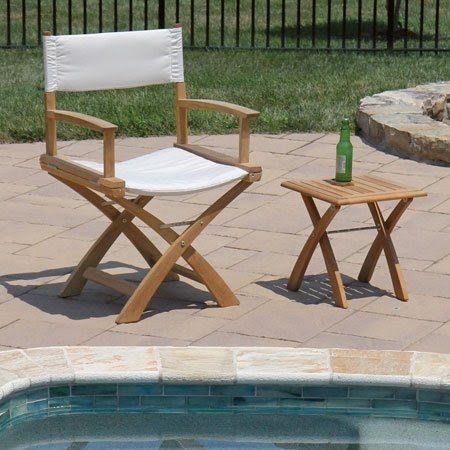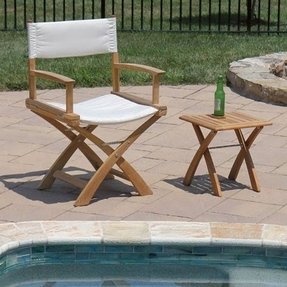 Folding director's chair with white weather-resistant mesh seat and natural teak frame. It allows you enjoy flexibility of use and mobility of a lightweight foldable outdoor chair paired with high level of comfort.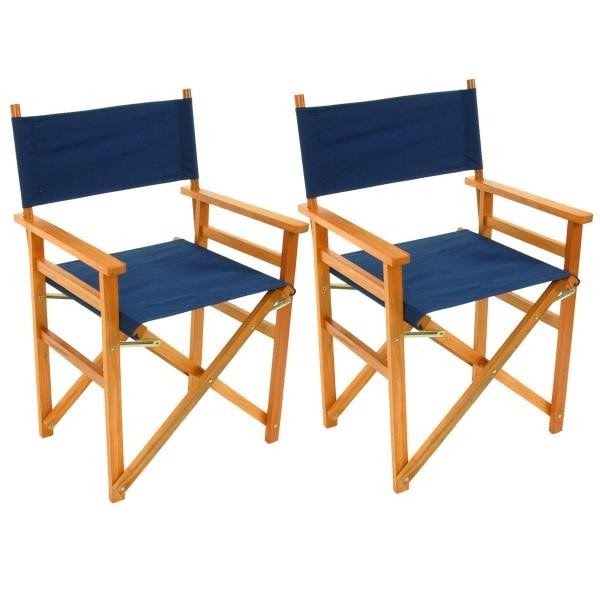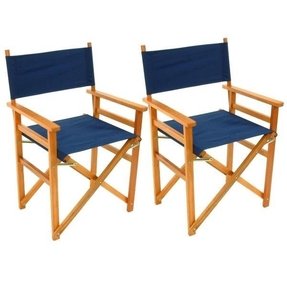 A beautiful set of two hardwood director's chairs with cotton seats and backs. Great additions if you want to bring a retro, vintage vibe into your home, sure to spice up any living room with their unique appearance.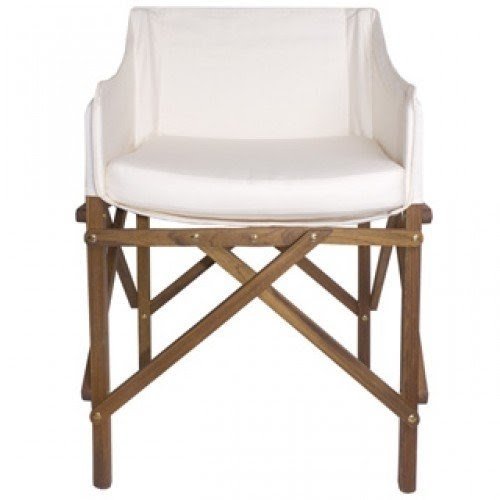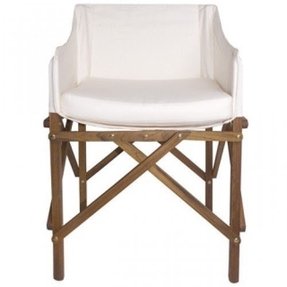 Tomy Bahama designed this teak director chairs - and even his name tells us something about the design because it is light and sunny like the Bahamas. Director chairs are very characteristic, and this time much wider and stands on a folded teak base.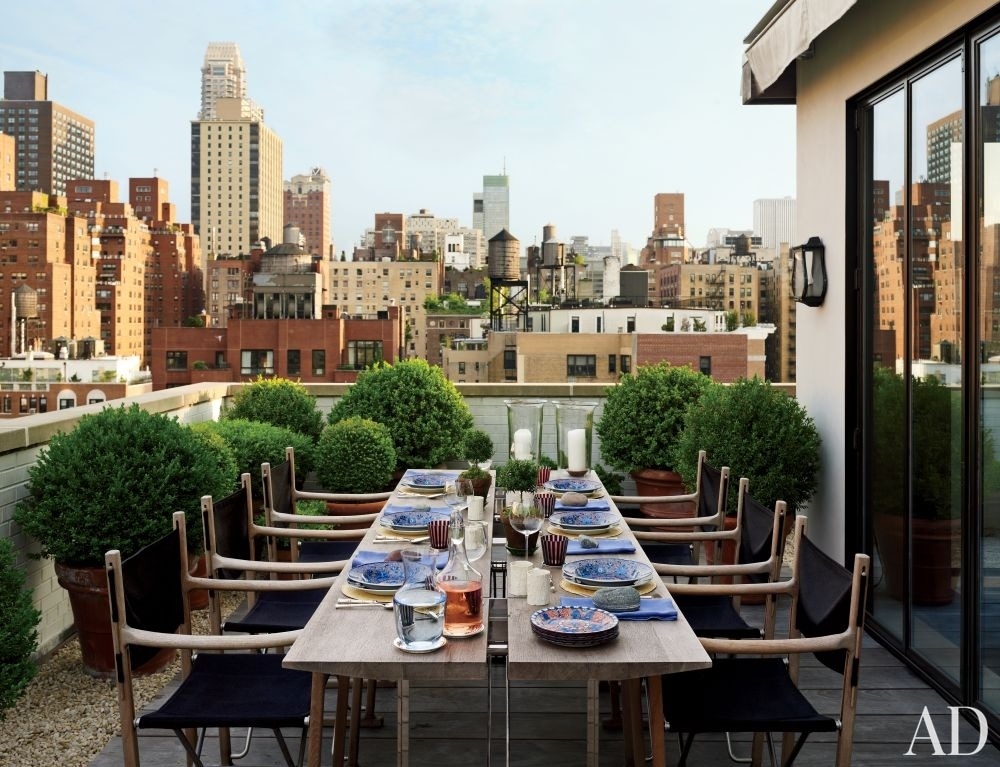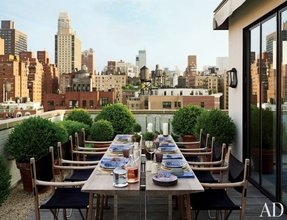 A perfect outdoor set for larger gatherings, excellent for patios, and large sun decks. It's consisted of 1 dining table with 2-piece top and 6 director's chairs - all crafted from durable Teak wood.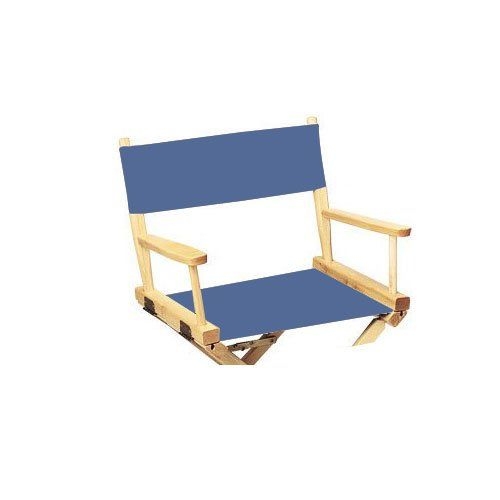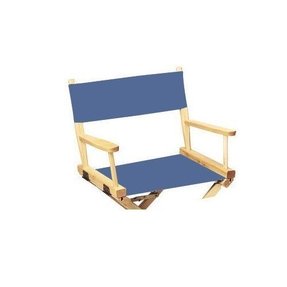 This piece of material is created for people who own director's chairs. It is a cover canvas that serves as a comfortable seat and backrest. It is a durable product that is available in many different colors.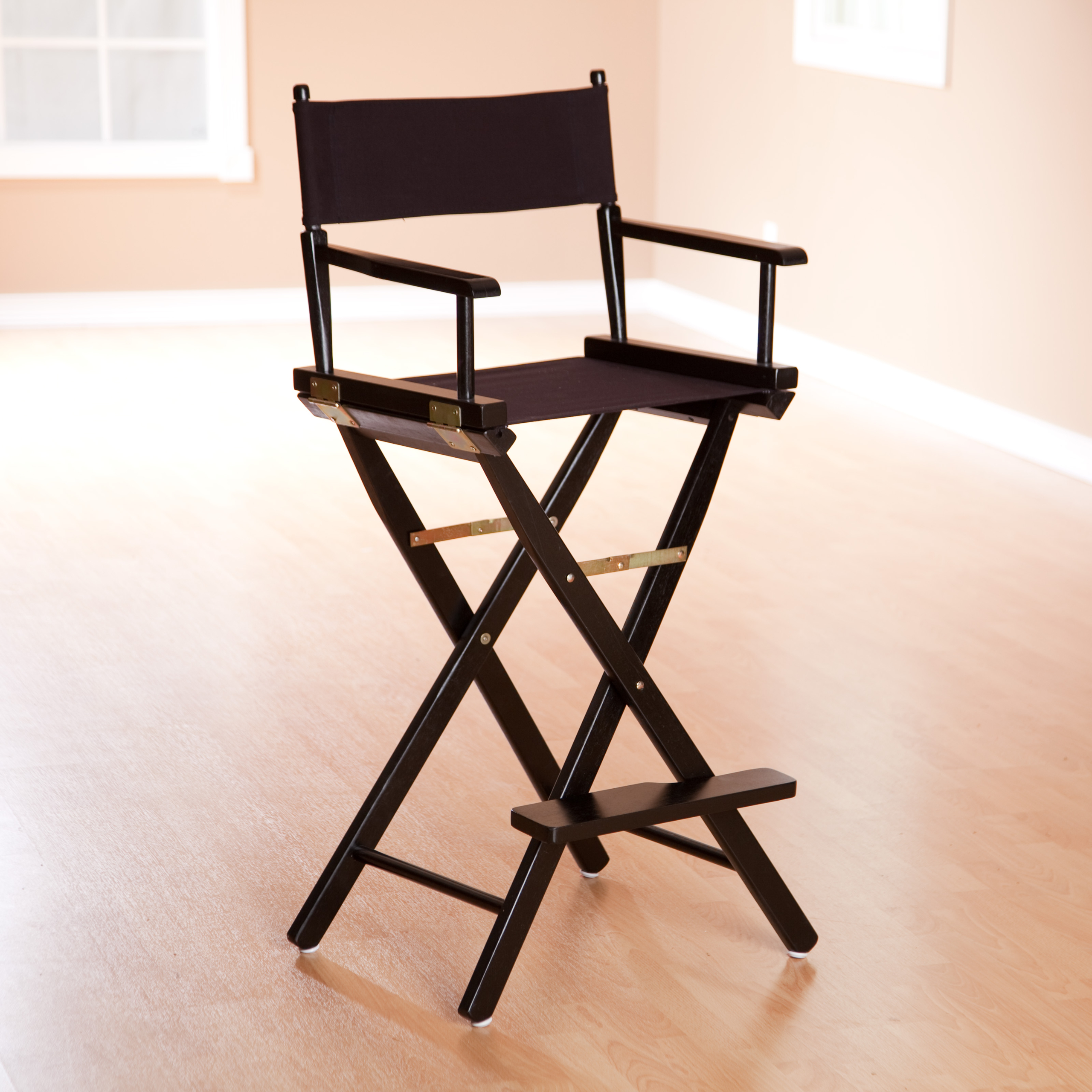 An elegant traditional side-foldable barstool having a tall frame of hardwood in glossy brown, 2 X-shaped legs, straight stretchers, a wide flat footrest, flat arms, metal hardware in brass. A seat and a halfback are of robust plain black fabric.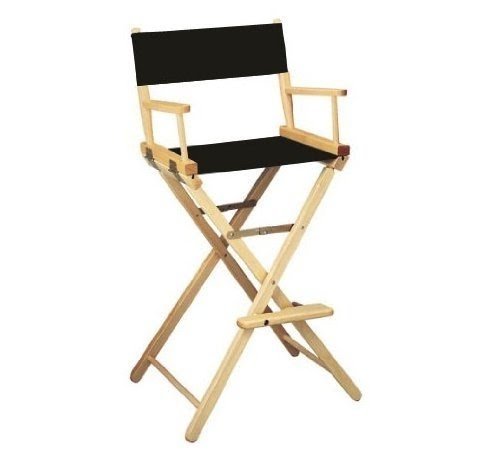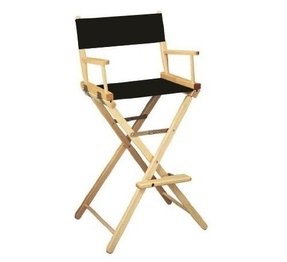 If you are a fan of a classic design of popular director's chair, here it is: wood base with natural finish, exposed metal joinery, black canvas seat and backrest, straight lines, no bells and whistles - great!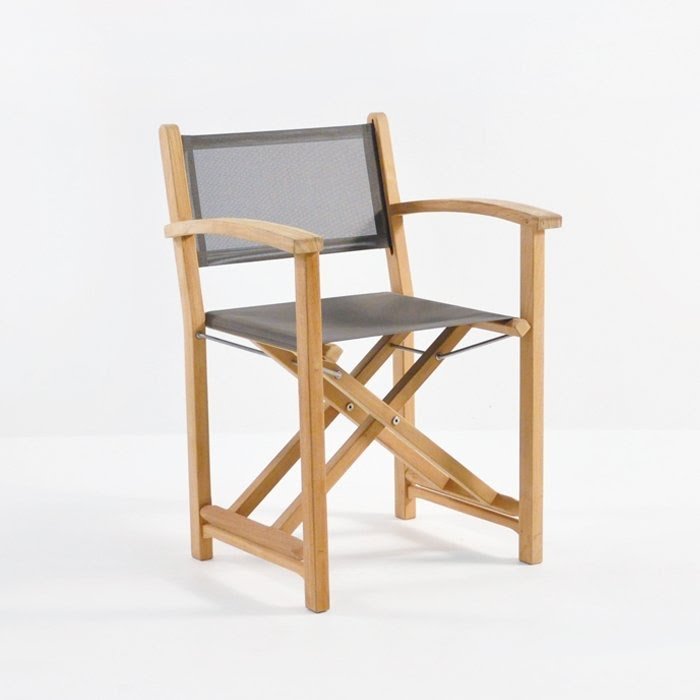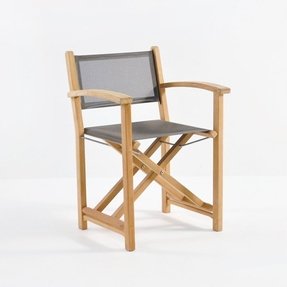 Reminiscent of mid century Hollywood glamor, we encourage you to set your sails on this new contemporary Cannes Director's Chair! Collapsible for easy stowage and for a trip to the beach. And it's nice by the pool. #outdoorfurniture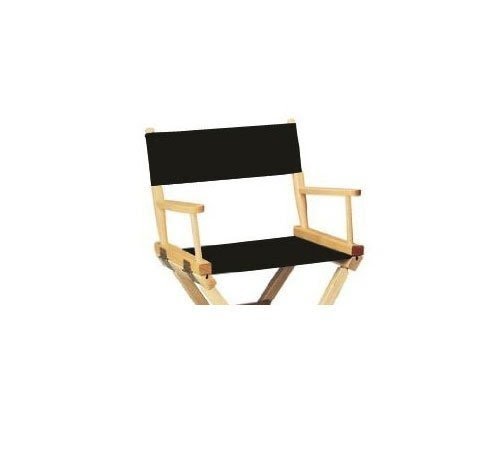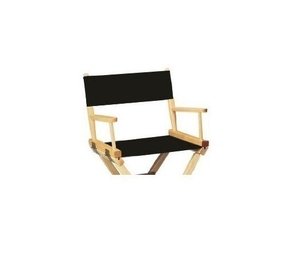 Durable and designed from high quality fabric, this Replacement Cover Canvas for Director's Chair can save your old chair from the chipper. The cover is easy to wash and guarantees comfortable use of the chair.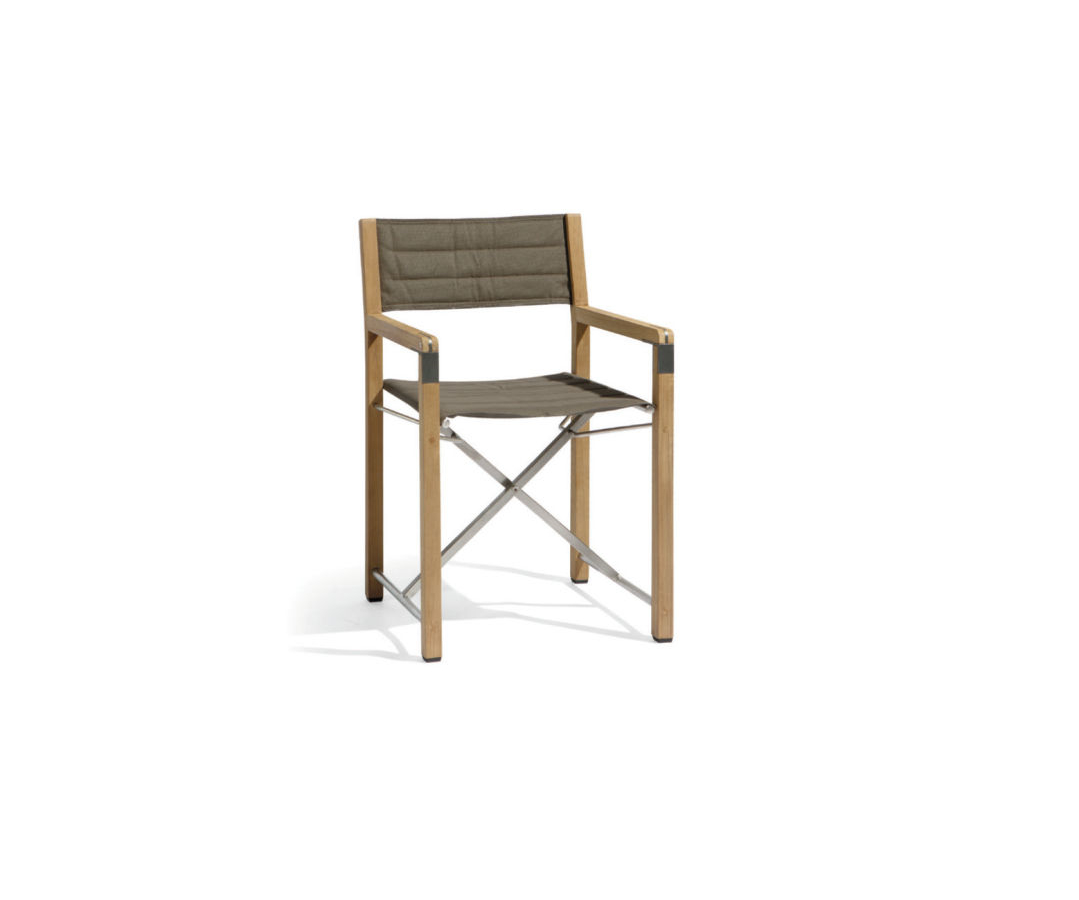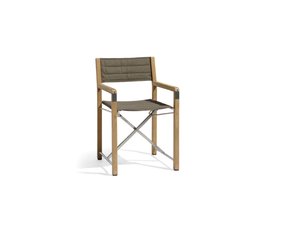 With such a functional director's chair, you can now have a comfortable seat with durable construction. It has a natural-finished wood frame reinforced by an X-shaped steel stretcher, holding an elastic material seat and back. Foldable, lightweight, portable, easy to store.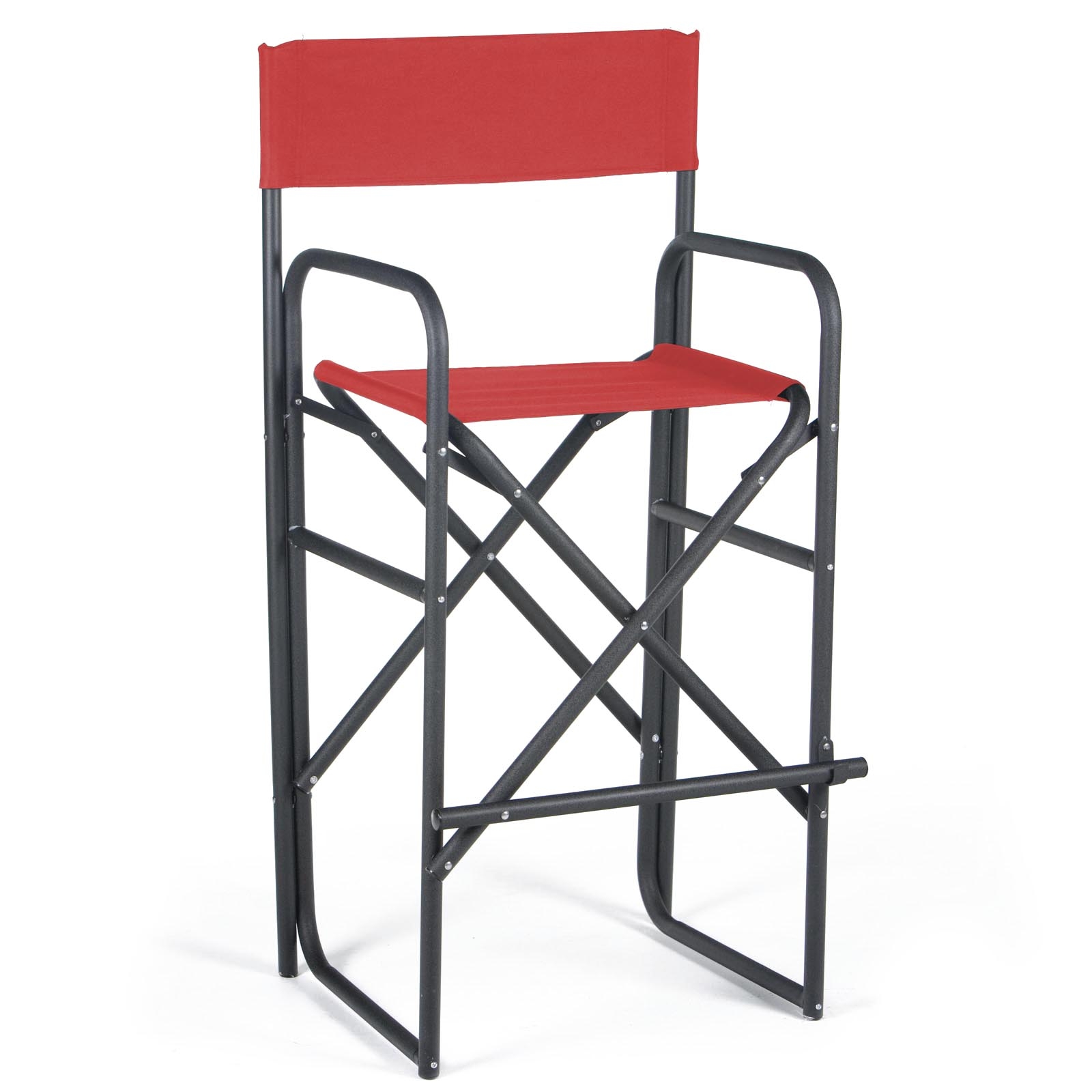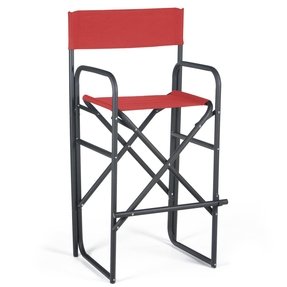 This type of product is a portable chair that has got a director's chair stylization. It features a solid frame made of black aluminum, so it is resistant to wear, damage and other factors. Its sitting and backrest spaces are made of polyester canvas fabric.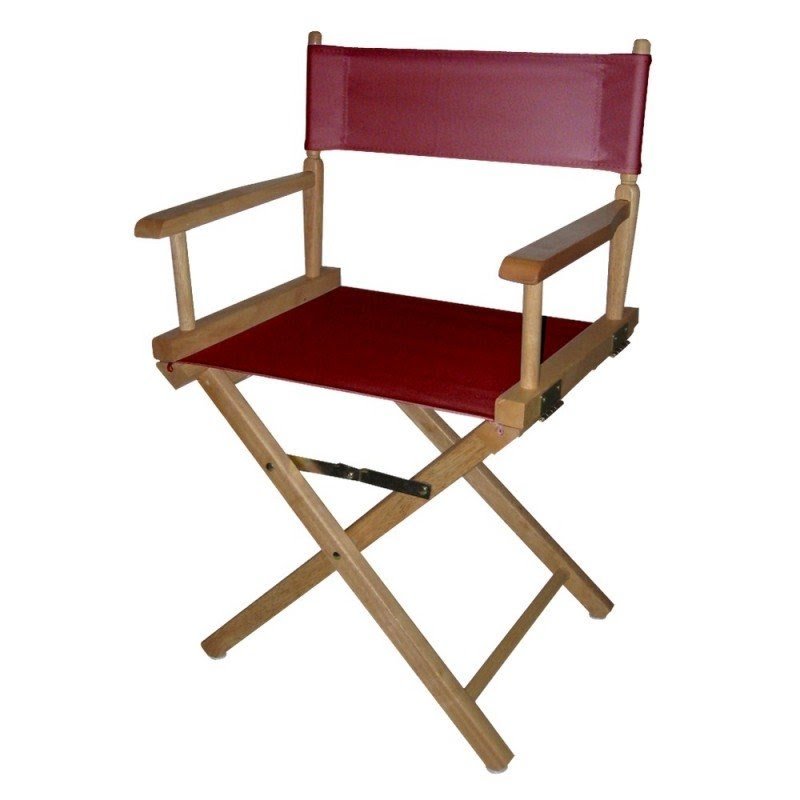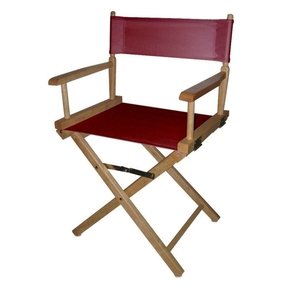 This 18-inch height director chair is characterized by a solid wood frame in a natural finish. The seat and back are made of a green canvas material. Also features crisscrossed legs, armrests, and durable stretchers.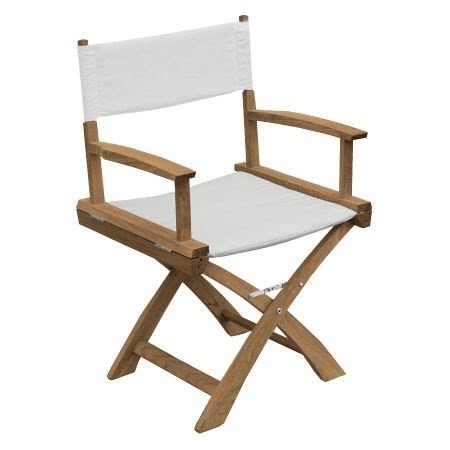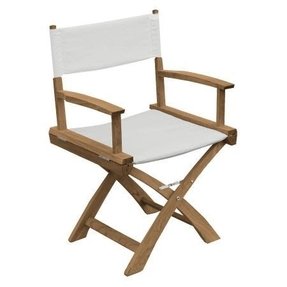 Such a teak directors chair with a simple form, made of teak bright wood - is also a good gift idea for a beginner filmmaker or actor. In this case, the softness added white canvas used on the back and seat.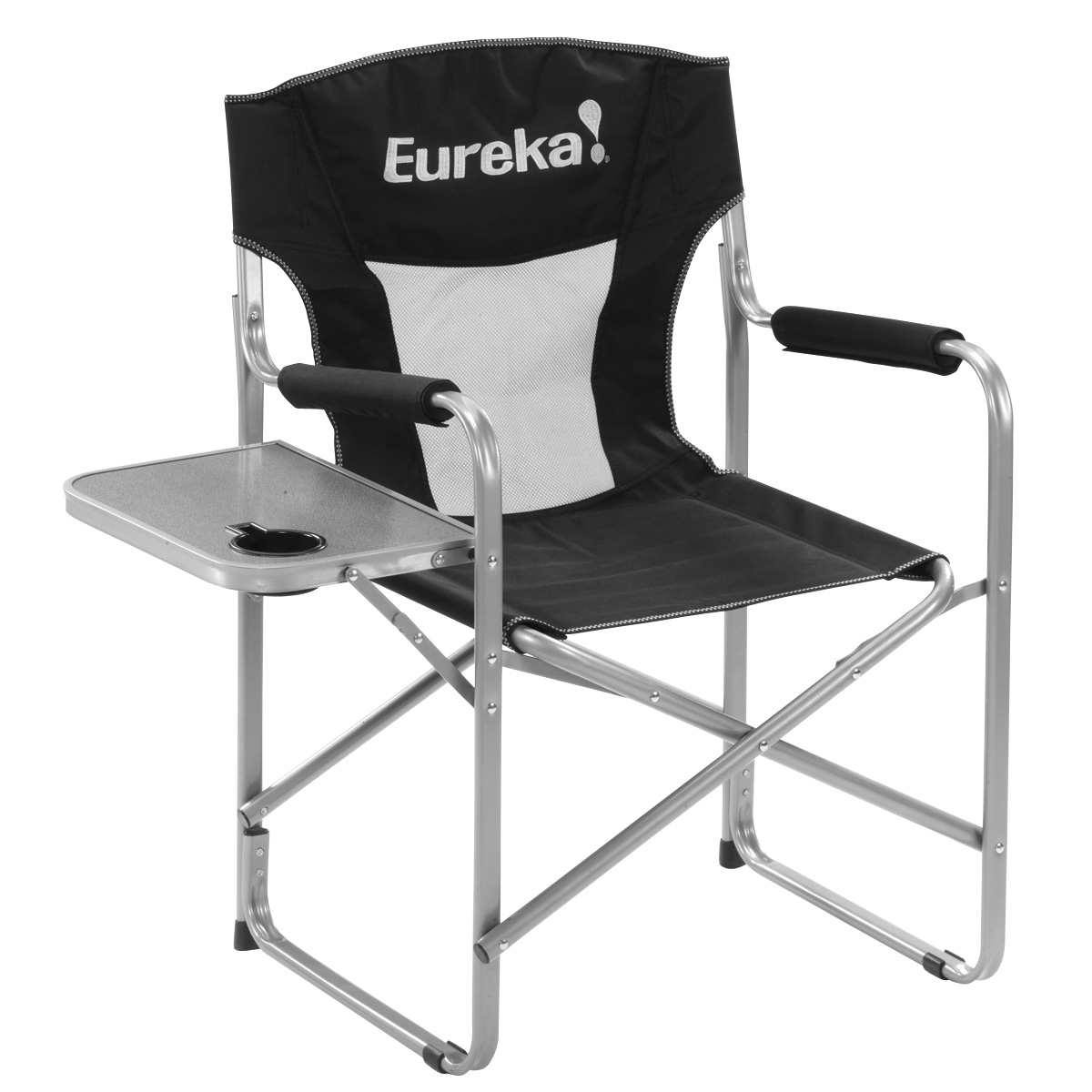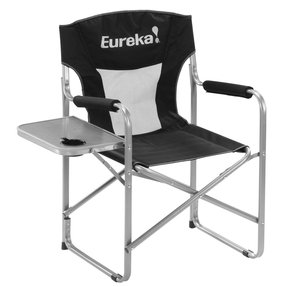 Portable director's chair with fold-up side table and cup holder. It features one-piece seat and back with foam padding, padded armrests and sturdy powder coated steel frame. It has 300lbs weight capacity and folds down for storage and transport.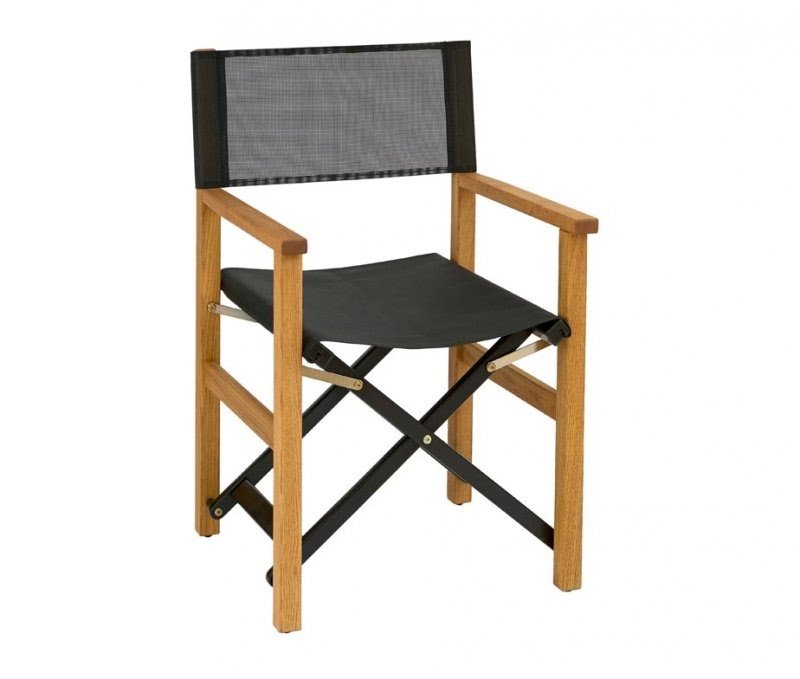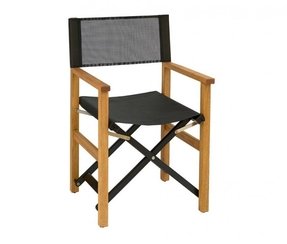 The folding director's chair made of teak, metal and black canvas elements. Easy-movable, very comfortable. Could be used also in the crampy rooms, where you haven't enough place to have the standard size chairs.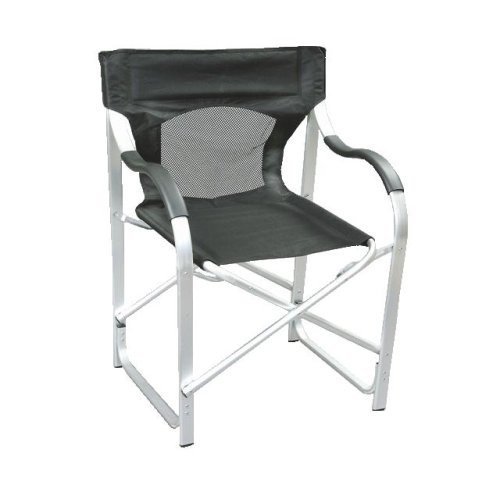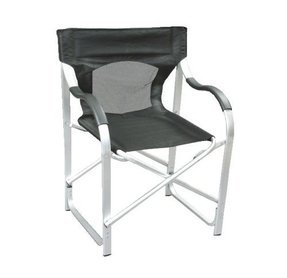 A piece of furniture made of durable materials ideal for outdoor applications. This folding chair has got a durable metal frame, a soft sitting and backrest spaces and padded arms. The overall size of this chair is 21.5 x 7 x 35.5.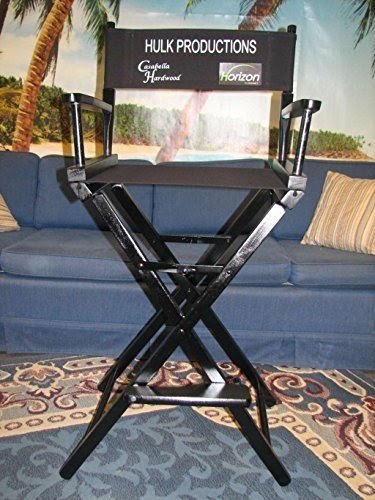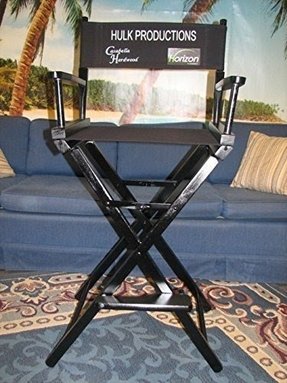 It is a tall director's chair. It has a backrest and a special footrest at the bottom. It is a very interesting and stylish chair. Perfect for the bar, but not only. It is very convenient and practical. They have been made in black.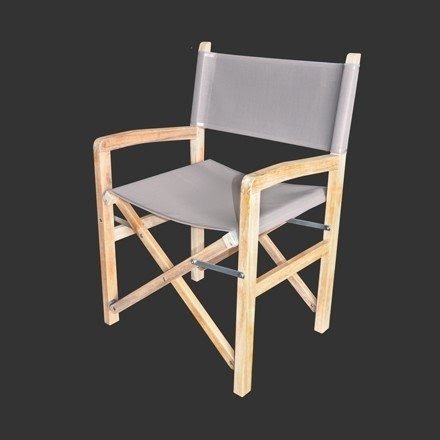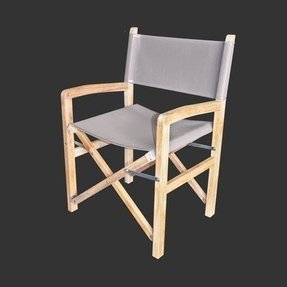 Beach Directors Chair. Just landed as part of the new Beach range. This director's chair is perfect for relaxing. Collapsible, you can put it in the trunk of your car and take to a picnic, use on your yacht, or pull up a chair and use for dining. http:/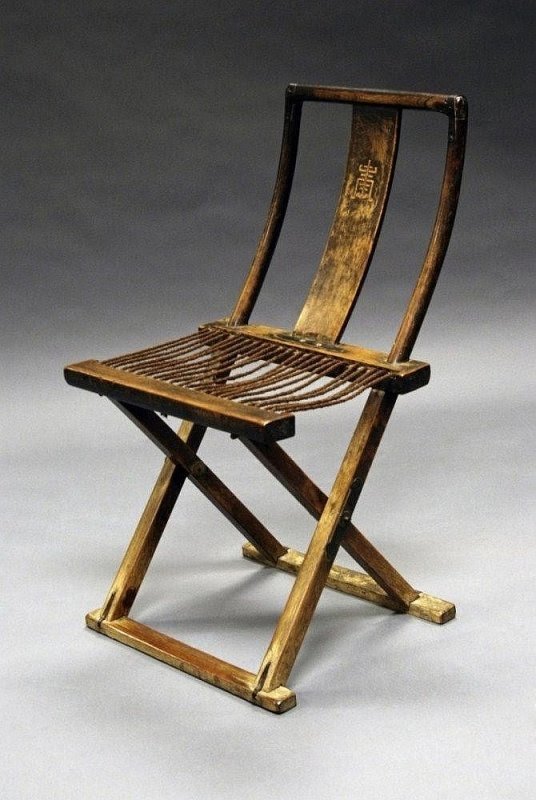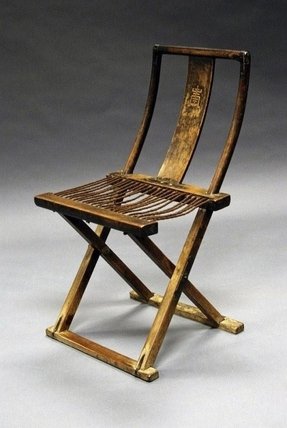 Folding chair with a solid hardwood construction. Its twisted rope seat is not only comfortable, but also very durable. Wooden frame includes X-shaped supports for additional stability. The seat is supported by a backrest.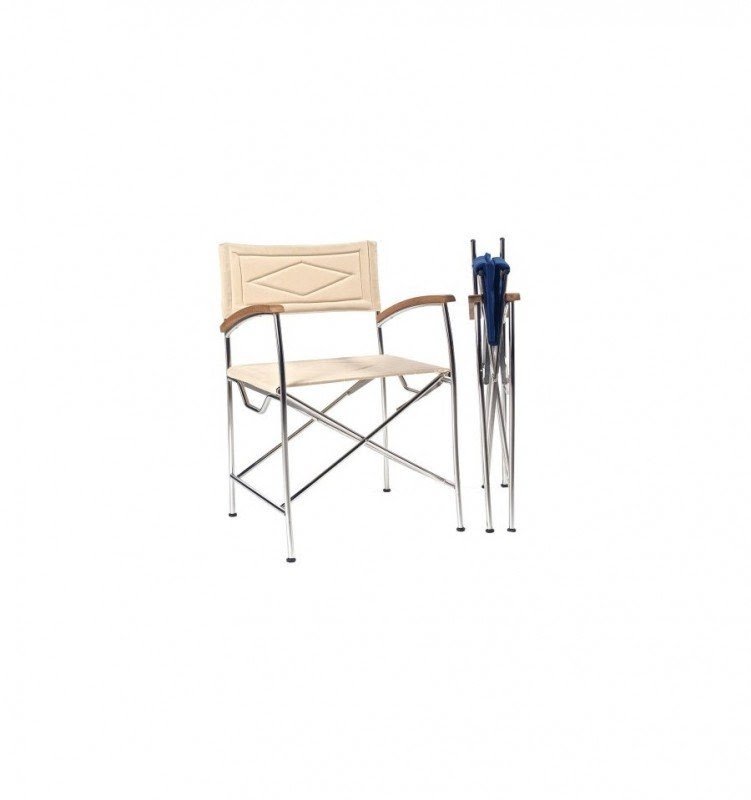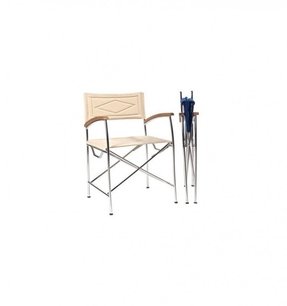 Stainless Steel Director's Chair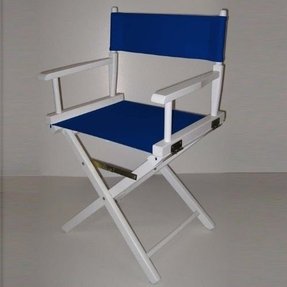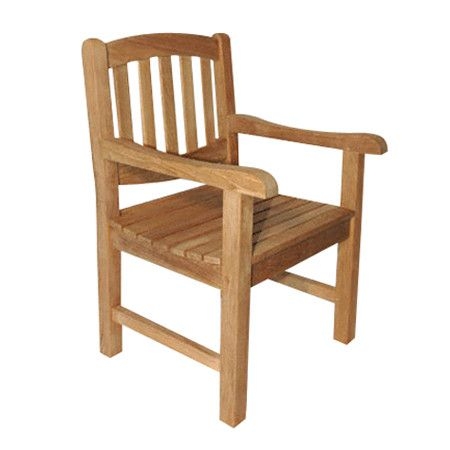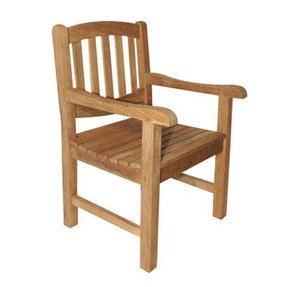 The hunderd percent classic director's chair made of teak and canvas. Even if it is really simple and haven't any bells and whistles, it perfectly plays its role as an easy-movable place to sit, even indoor or outdoor.