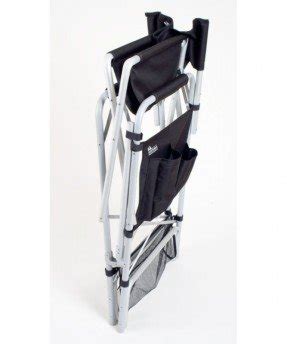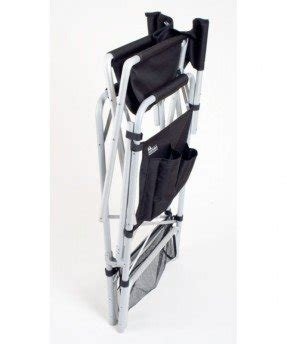 This heavy duty chair can be quickly folded for easy transport and storage, and it even comes with its own storage bag. The frame is tubular, and made of lightweight aluminum, while the chair itself also offers dual pockets, foam armrests, and 325 lbs. of weight capacity.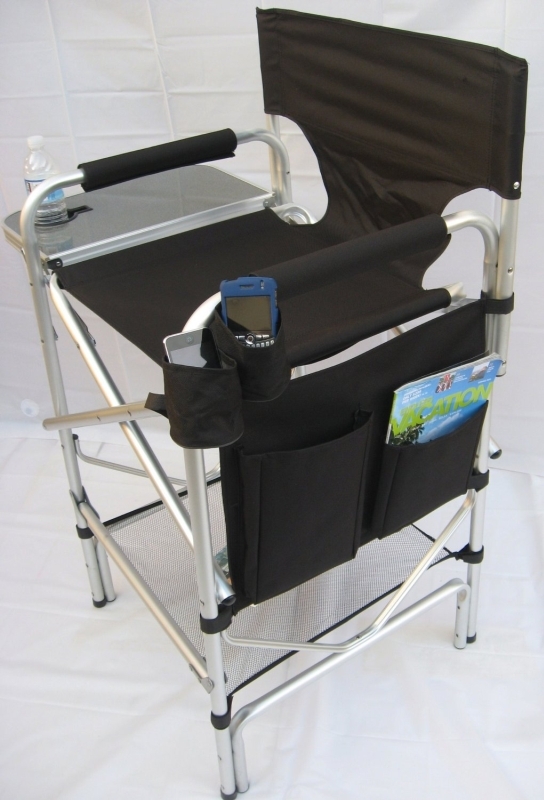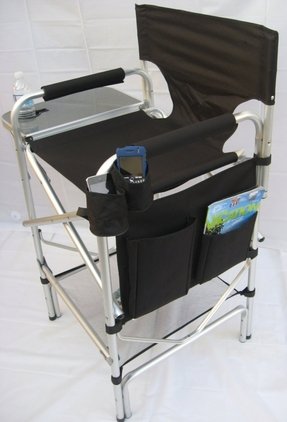 Useful compartments integrated here and there in the design of this director's chair force me to keep my things neat and organized: I have a place to store my cell phone, reading materials, beverages and more.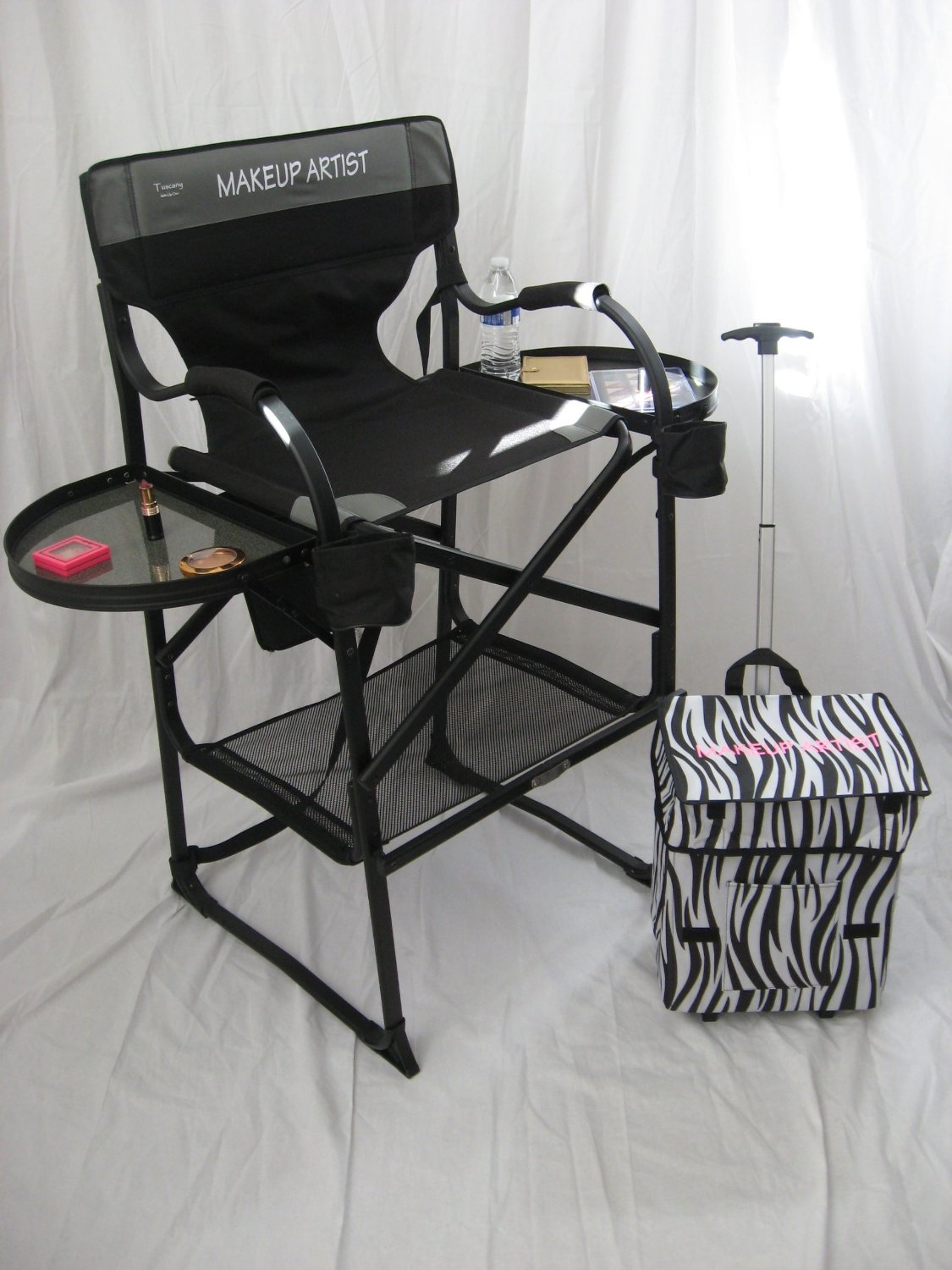 Chair designed specifically for make-up, which will become an integral part of the work of each stylist. It has a special side shelves that allow the placement of cosmetics and have them all the time at hand.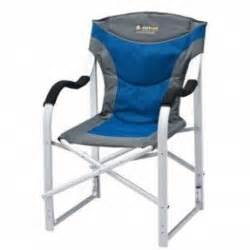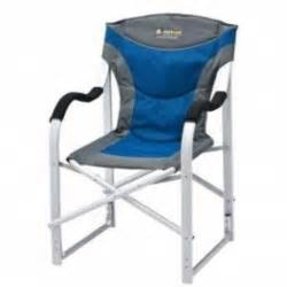 Directors Chair Jumbo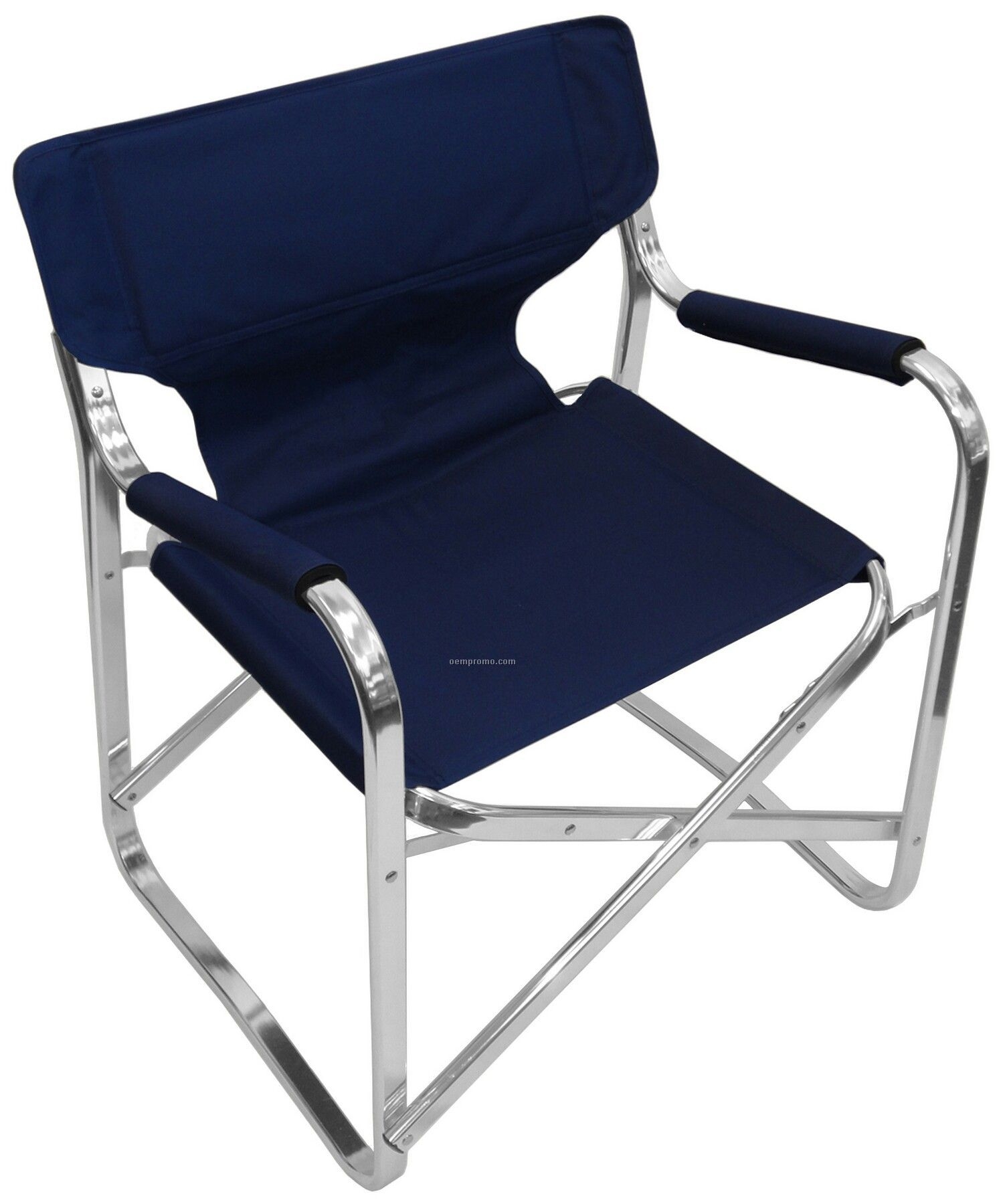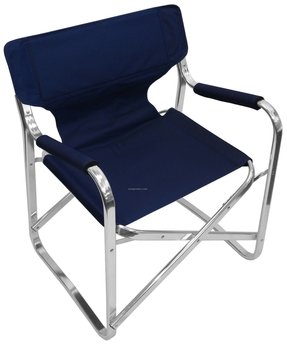 Opt for a piece that you can always bring with you for more comfort and choose this director's chair that sports the aluminum frame to ensure even more durability as well as the folding design for easier transport.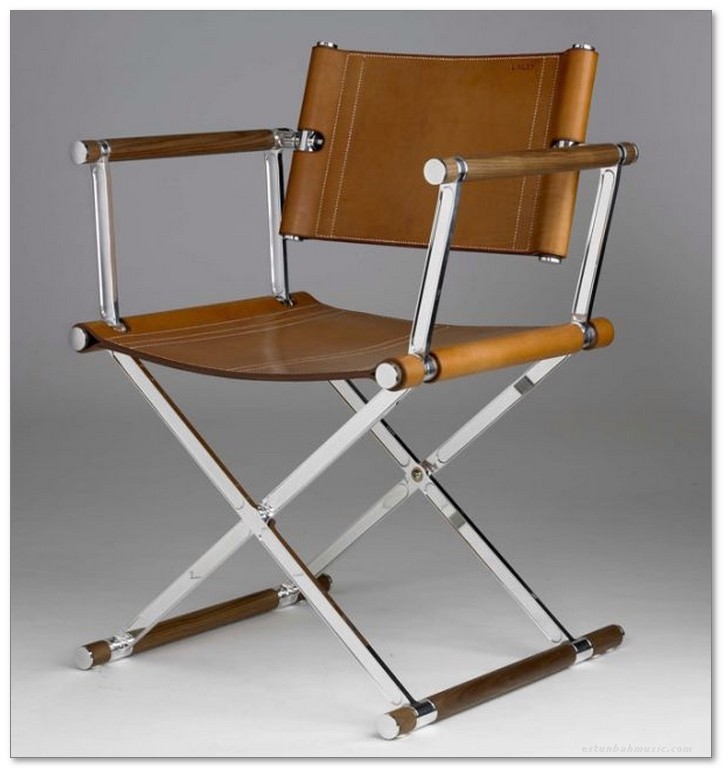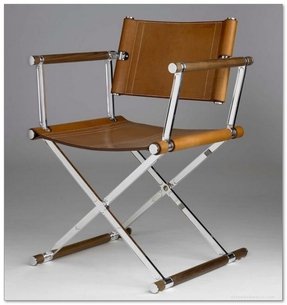 Director's chair by David Linley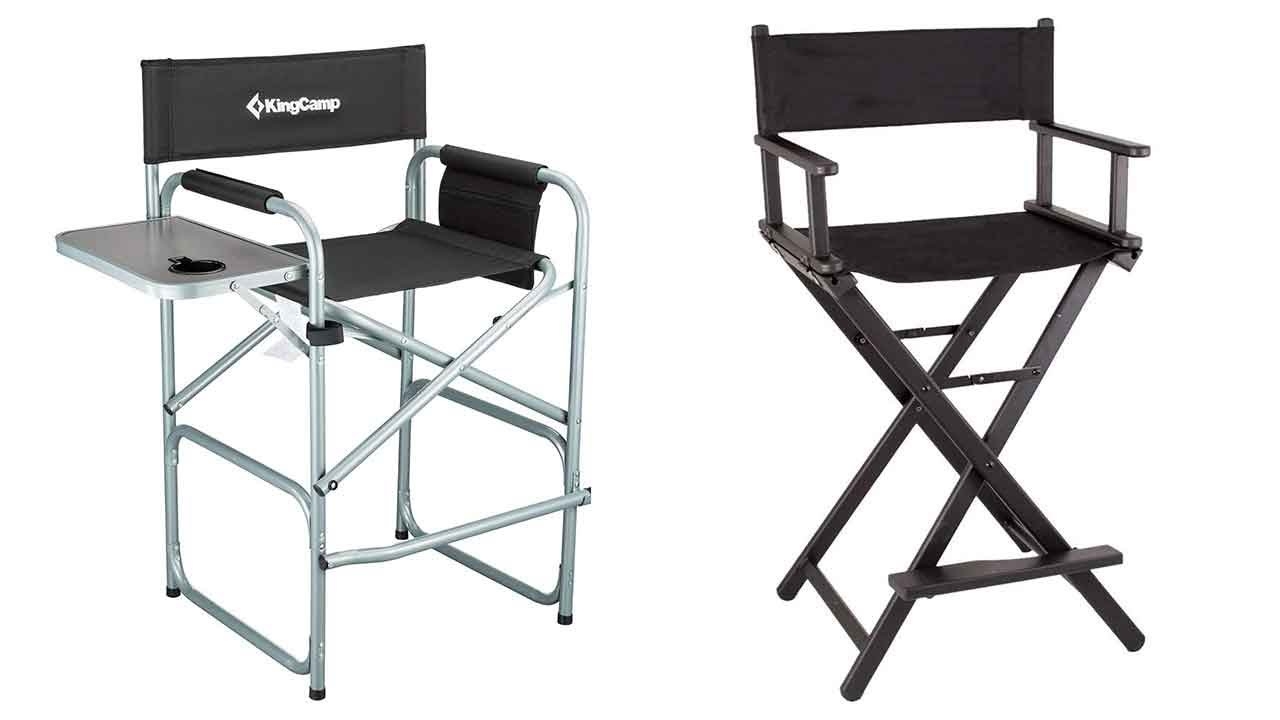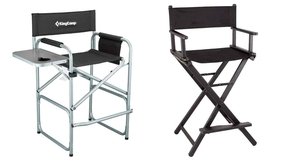 This director chair is characterized by a heat-cured, powder-coated aircraft aluminum frame that holds black fabric seat and backrest. The chair is lightweight, portable, and reinforced by stainless steel hardware.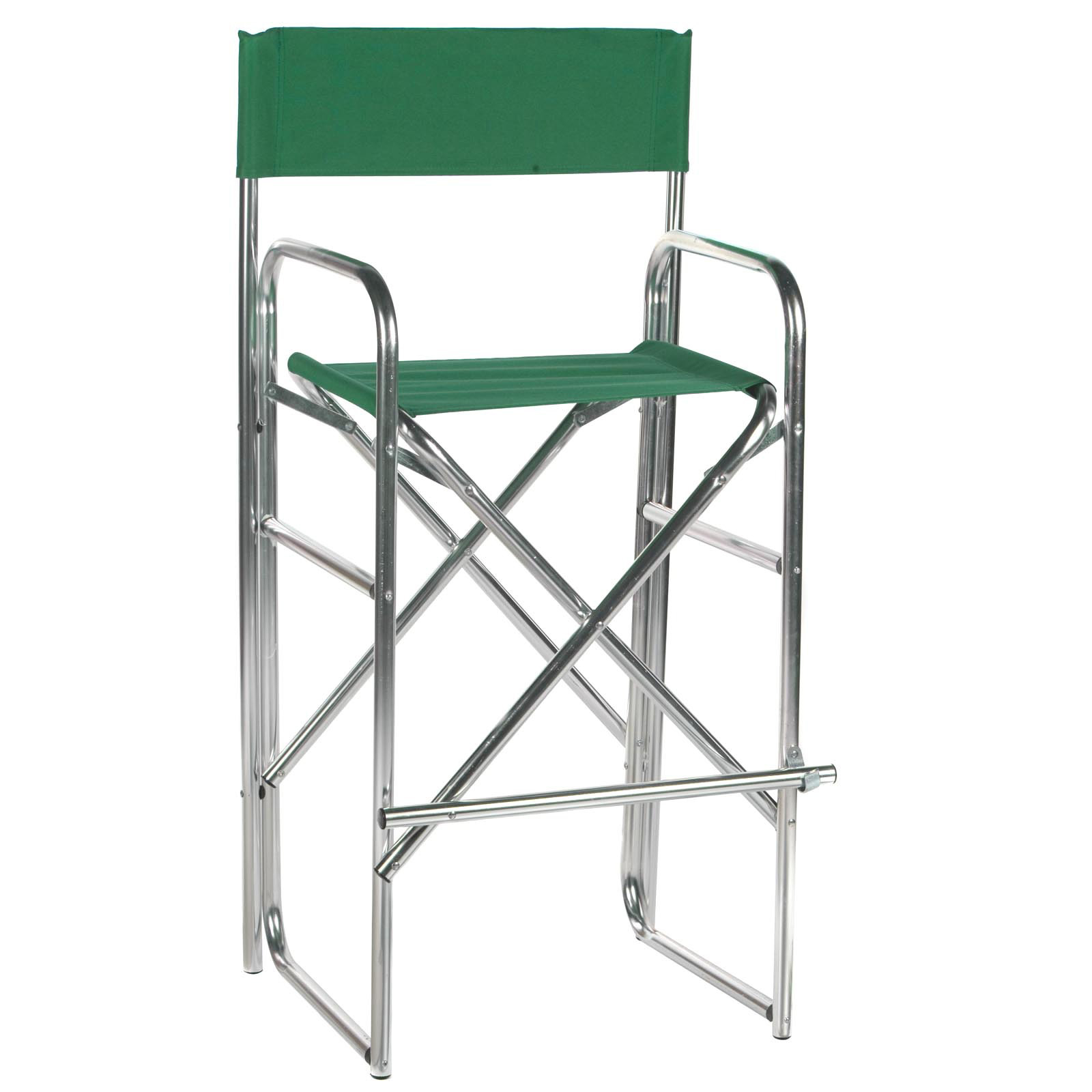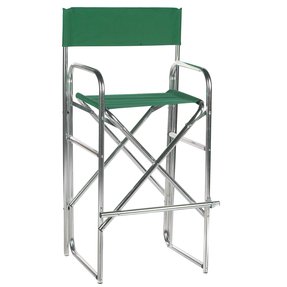 A cool side foldable chair with a tall frame of aluminium. It has 2 rectangularish frame-supports, 3 straight and 2 U-shaped X-crossed stretchers with a sling seat, a low sling halfback. A seat and a halfback are of plain blue polyester fabric.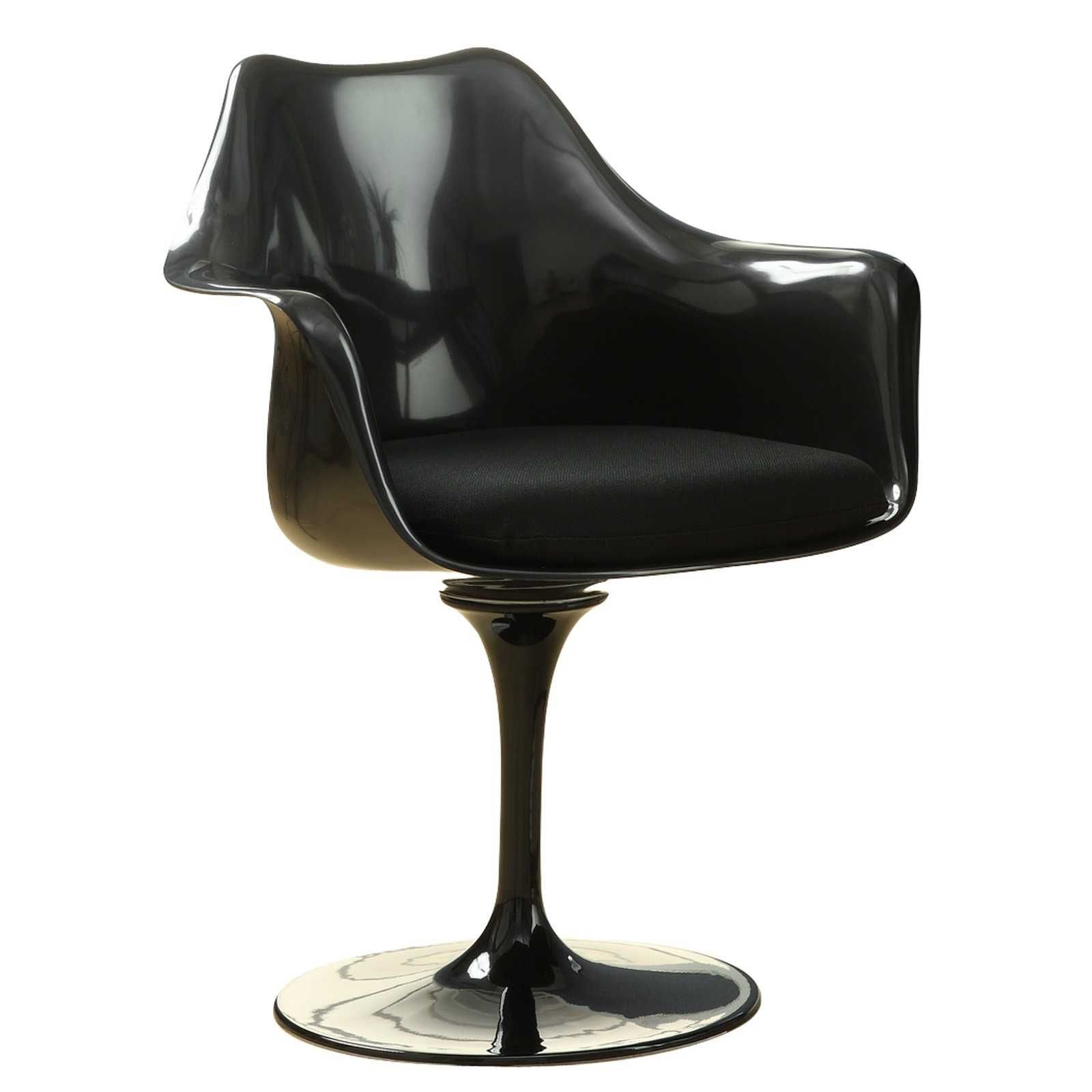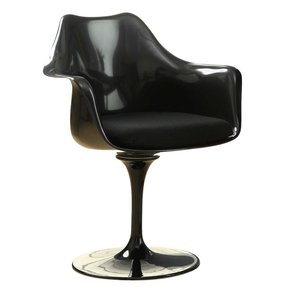 Stylish armchair with a touch of retro vibe, with sturdy pedestal base and tapering support. The black-cushioned seat contrasts with wide, glossy white contoured back. Low, curved arm line provides additional stylish accent.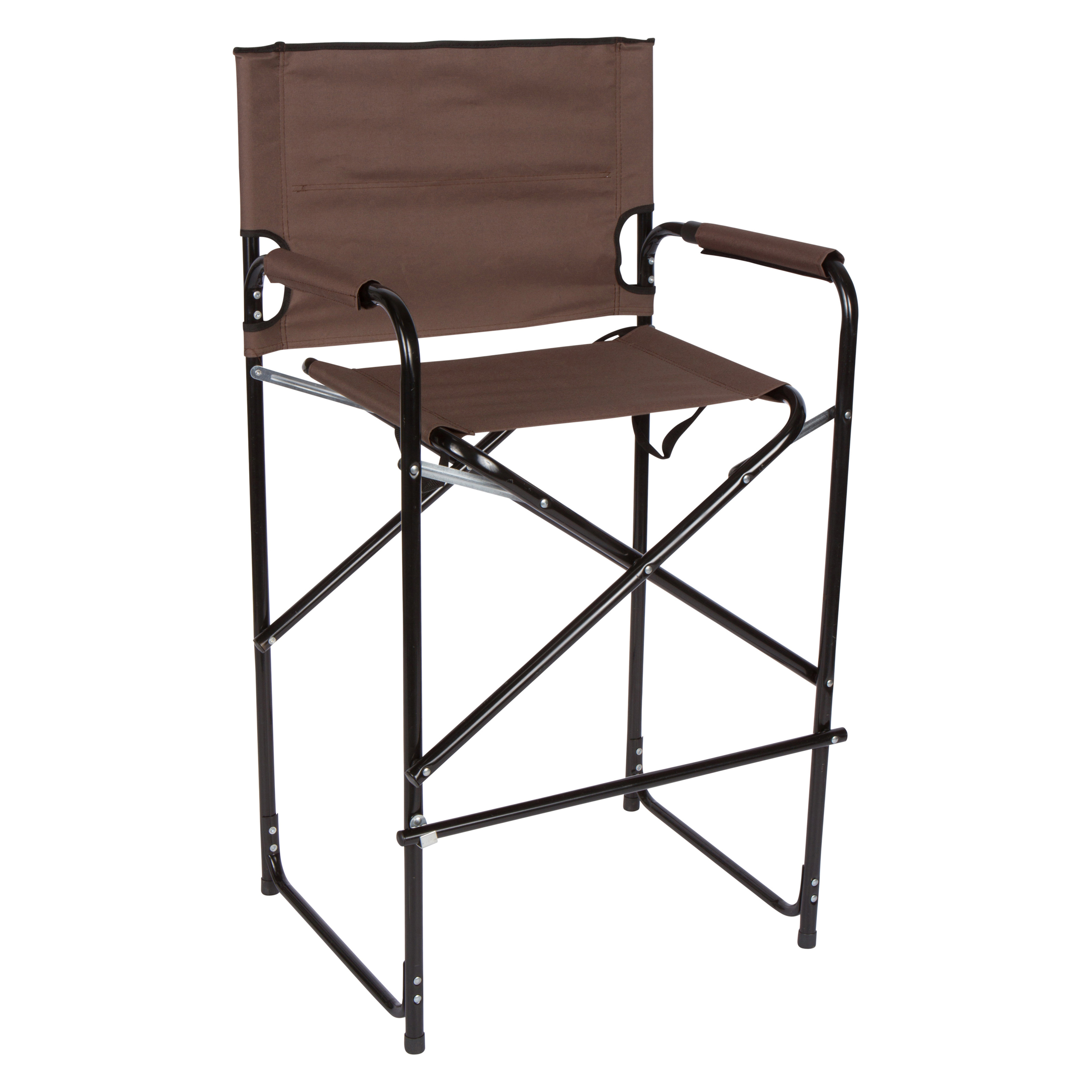 Lightweight and Durable Aluminum Folding Tall Director's Chair by ...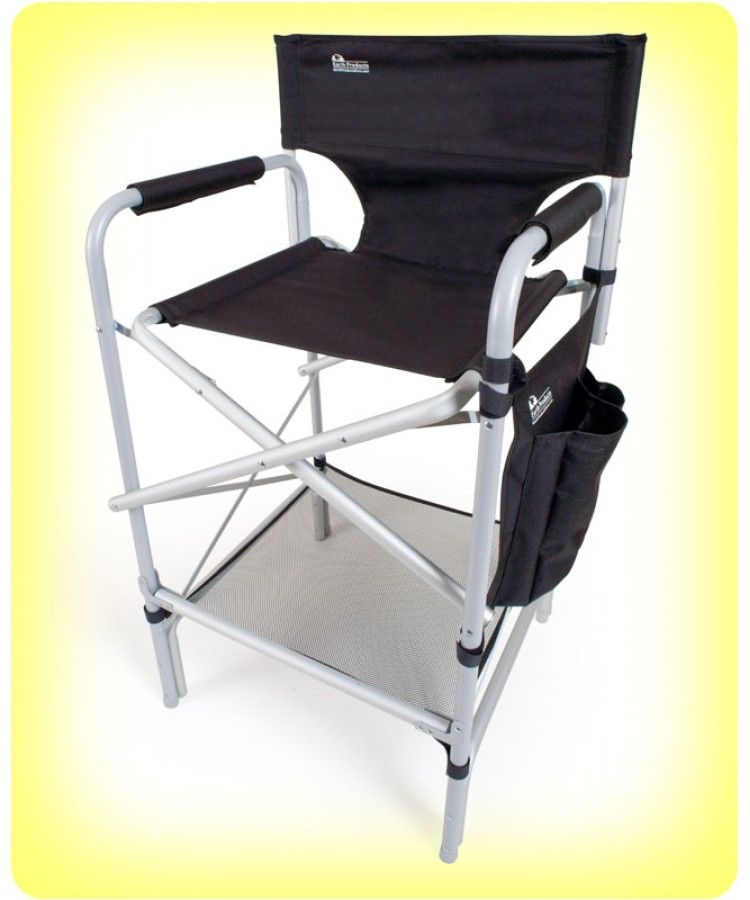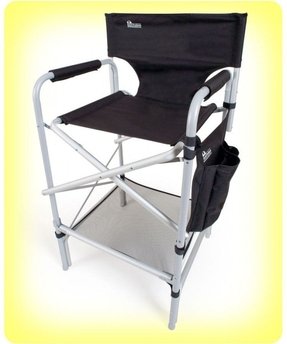 Once used by the most important person on the set, it is now also appreciated by us. Thanks to such a contemporary folding director chair with an aluminum heavy duty frame and a black fabric - you can emphasize the film interests of the household.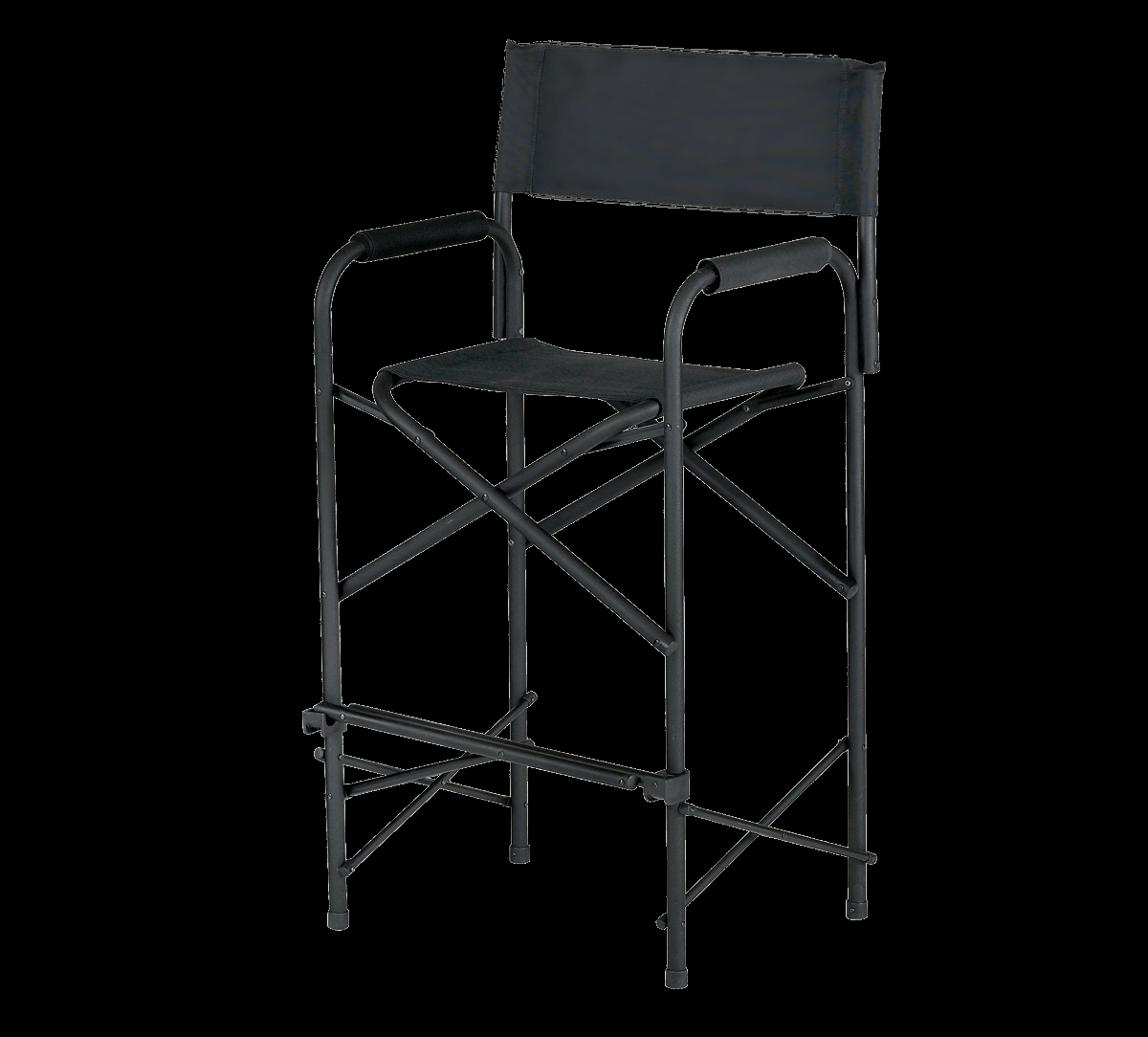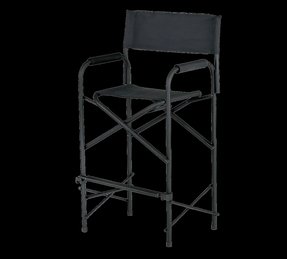 Aluminium Directors chair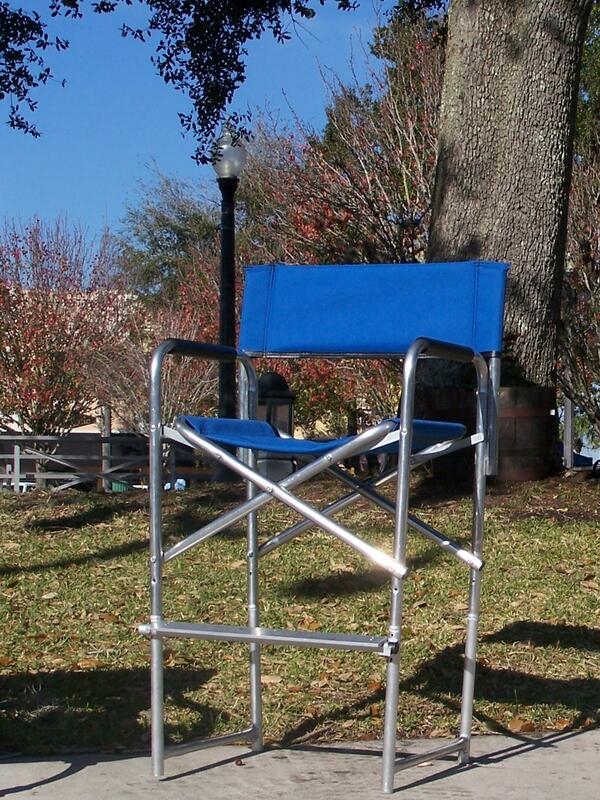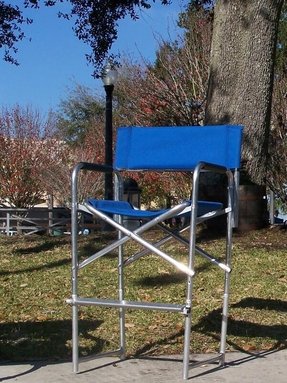 Aluminum Director's Chair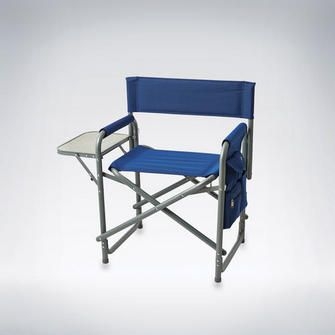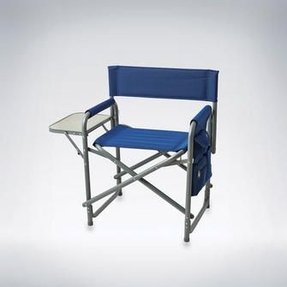 Such an aluminum director's chair is also a good idea for a gift for a beginner filmmaker or actor. The frame is made of aluminum and is folded - making it suitable for camping. The blue fabric is finished in a way that is traditional for this form of a chair.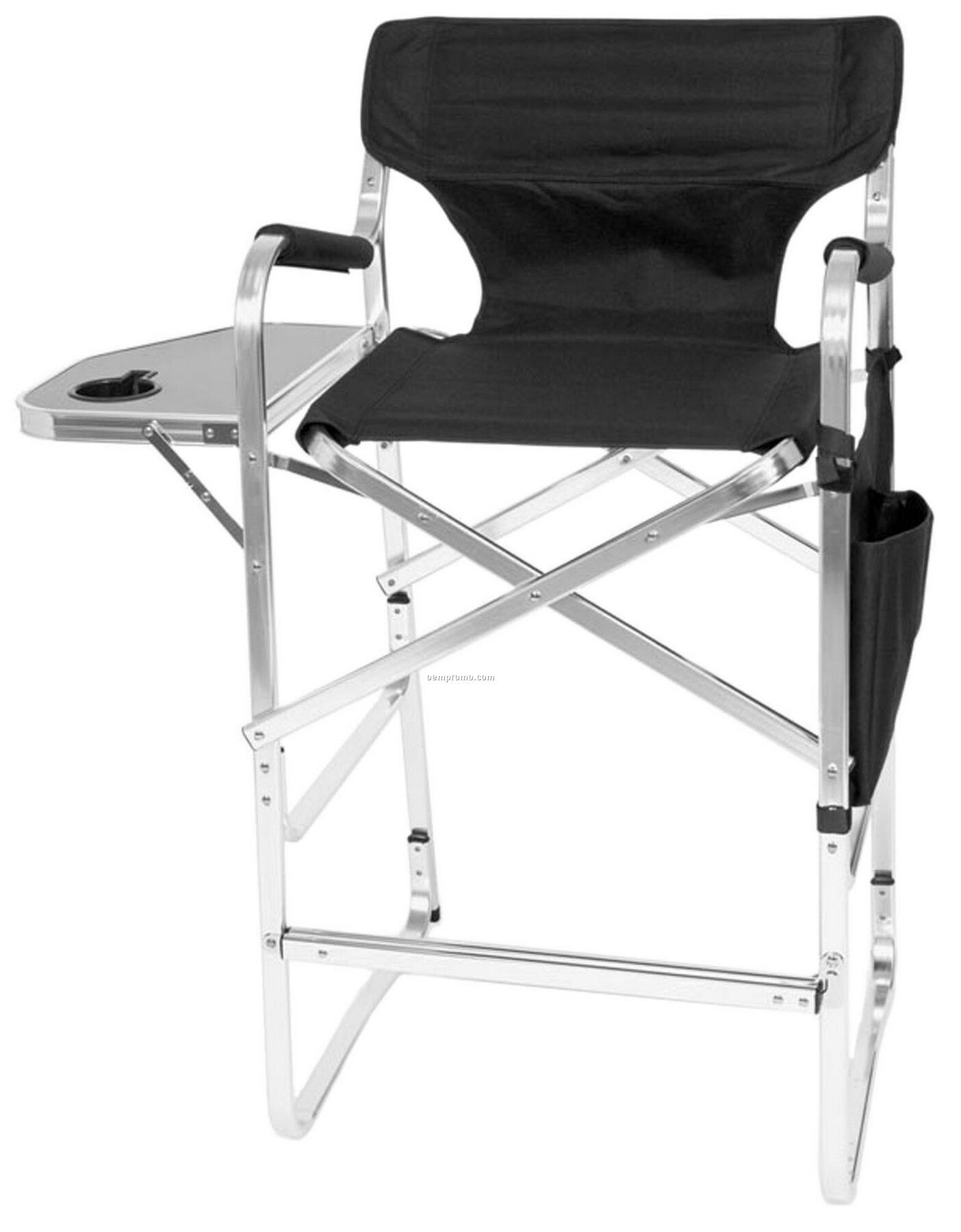 This aluminium directors chair with side table combines solid and elegant materials. Based on aluminium framing, it offers also a practical cup holder on its right side and a pocket for notes and papers on the left.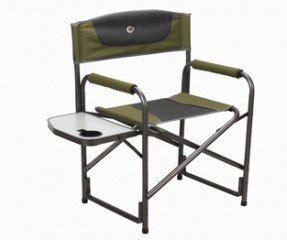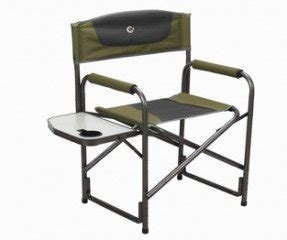 Portal Directors Chair Aluminum w/ Table - Sport Chalet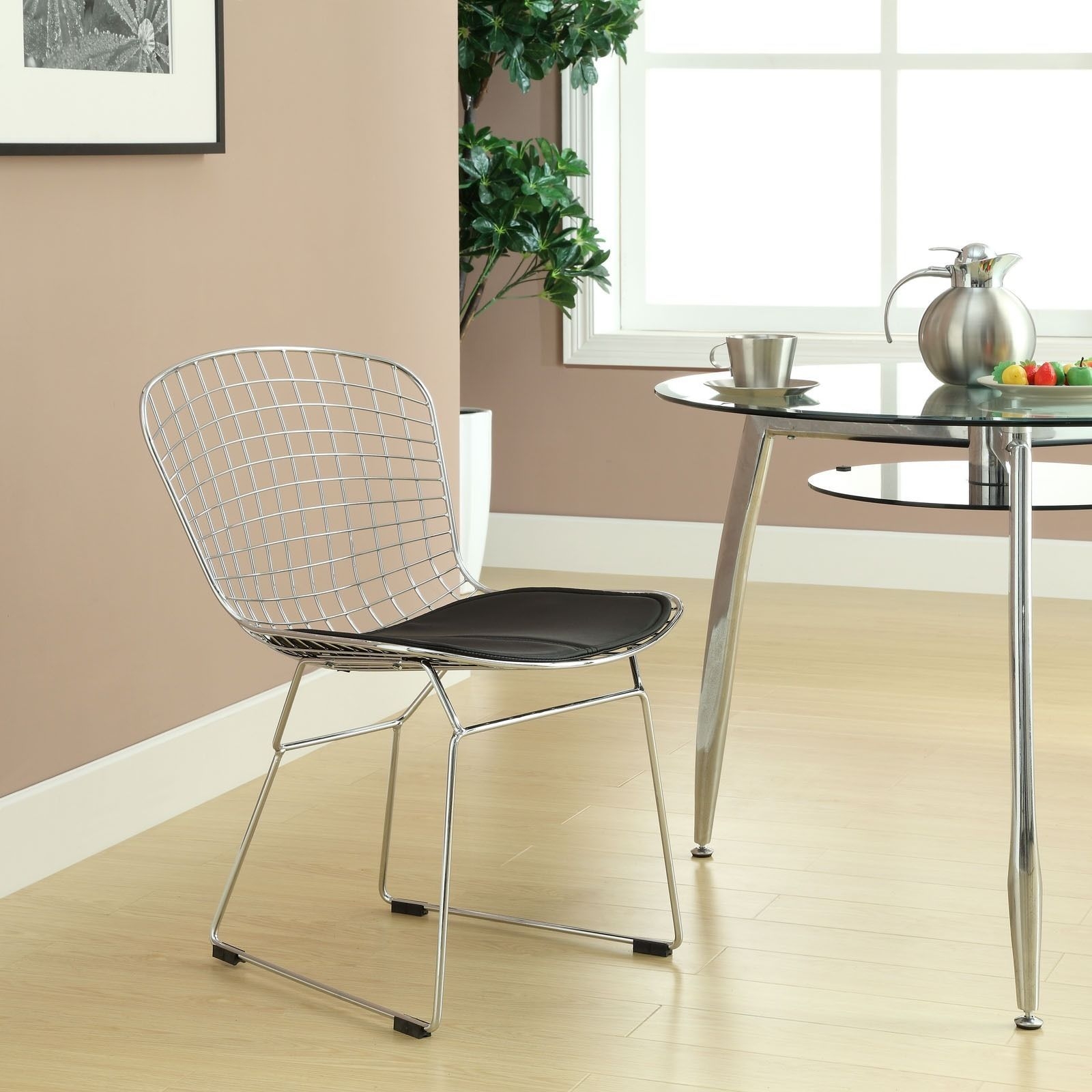 This Side Chair with Black Cushion includes chrome steel frame, and reticular seat and back. The seat also features vinyl seat pad for good comfort. Feet are sturdy, and equipped in plastic non-marring caps.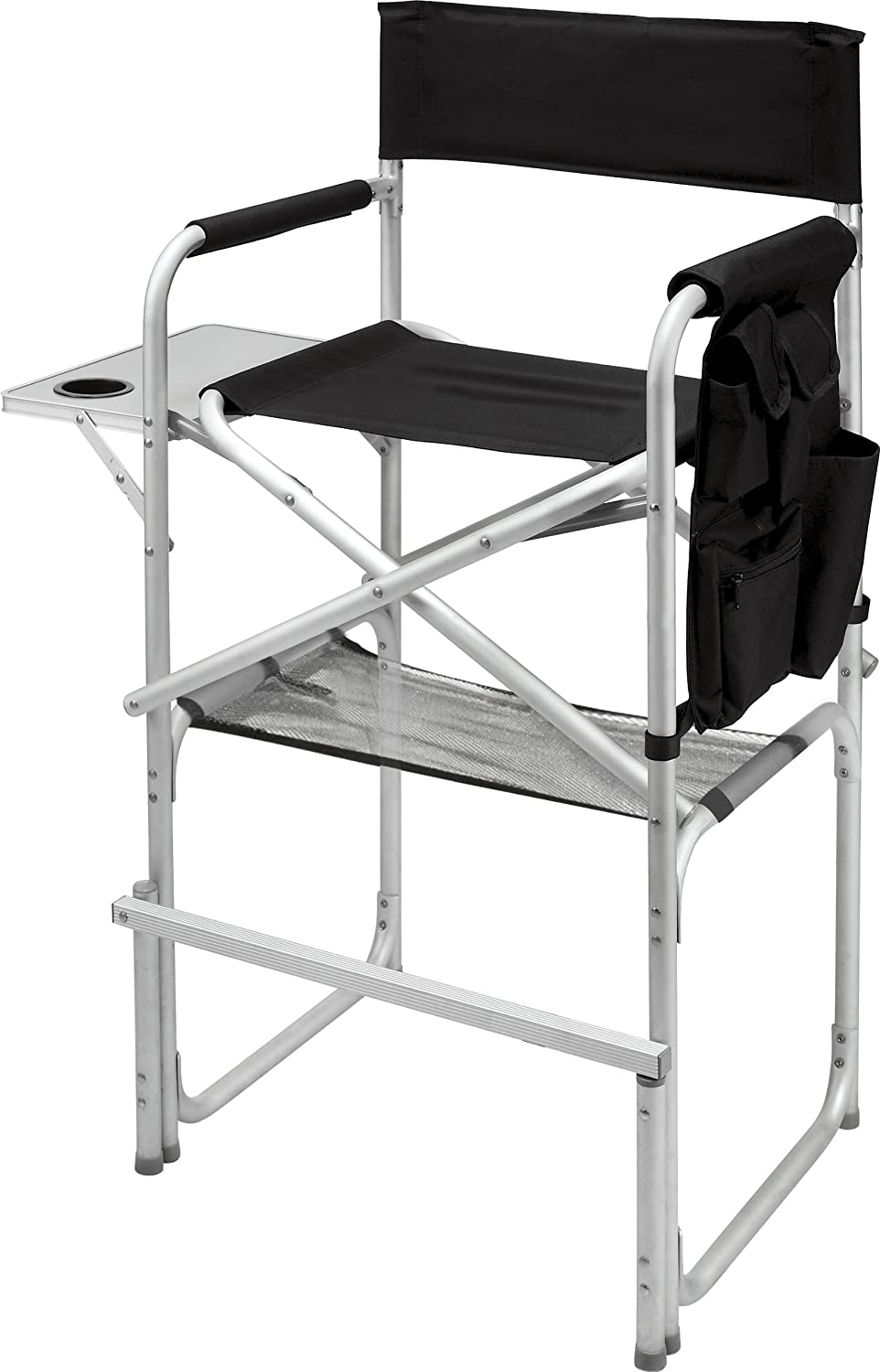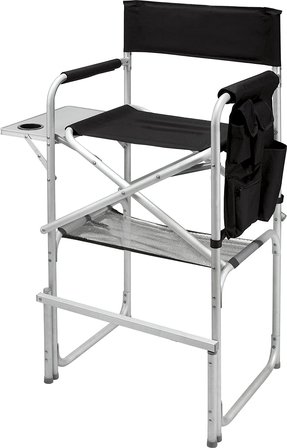 EARTH EXECUTIVE VIP TALL DIRECTORS CHAIR w/ SIDE TABLE, DUAL SIDE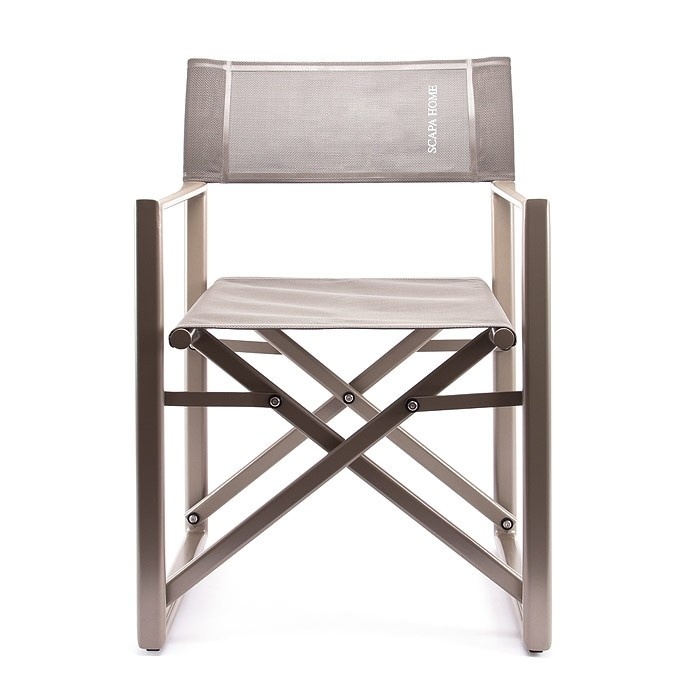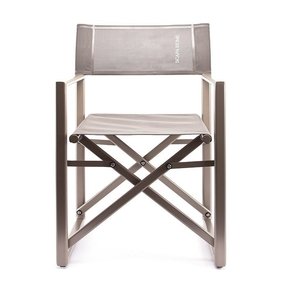 The high-quality aluminium chair dedicated for each movie director. Comfortable and stable, allow you to spend hours sitting with high comfort assured. Could be moved easily, what is its big advantage.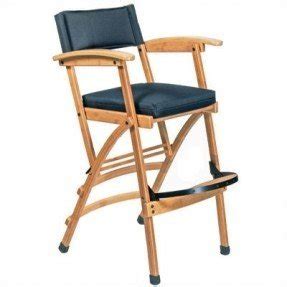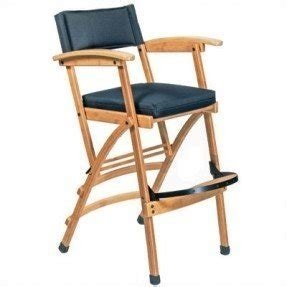 32"+Deluxe+Bamboo+Director+Chair.jpg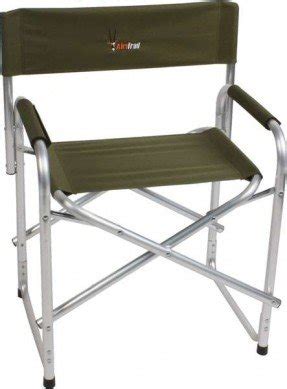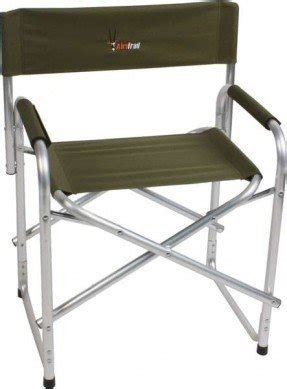 Afritrail Rhebok Aluminium Directors Chair - Green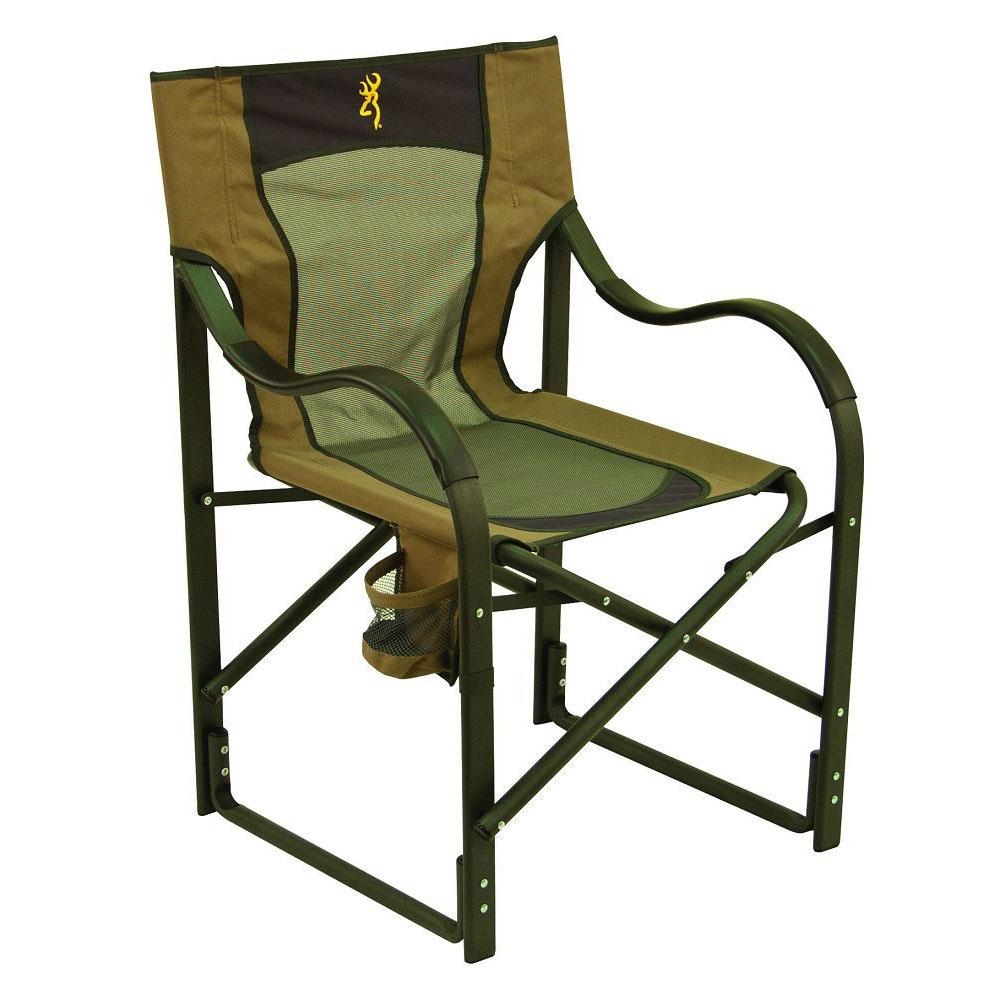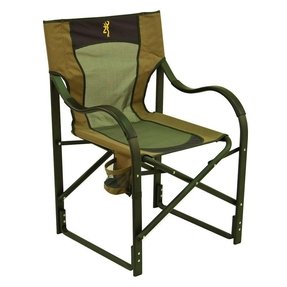 Details about Browning Camp Chair Directors Mesh Camping Aluminum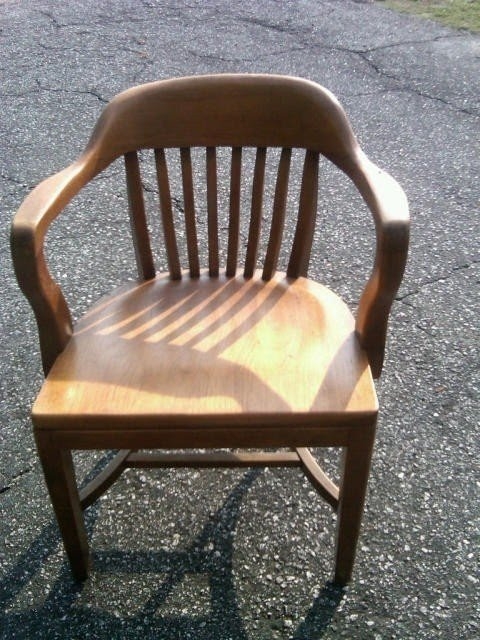 Director chair for indoor and outdoor use. It is mounted on aluminum base and reinforced with crossed supports. Seat and back are covered with canvas. Folds flat for easy storage. Simple form and modern design.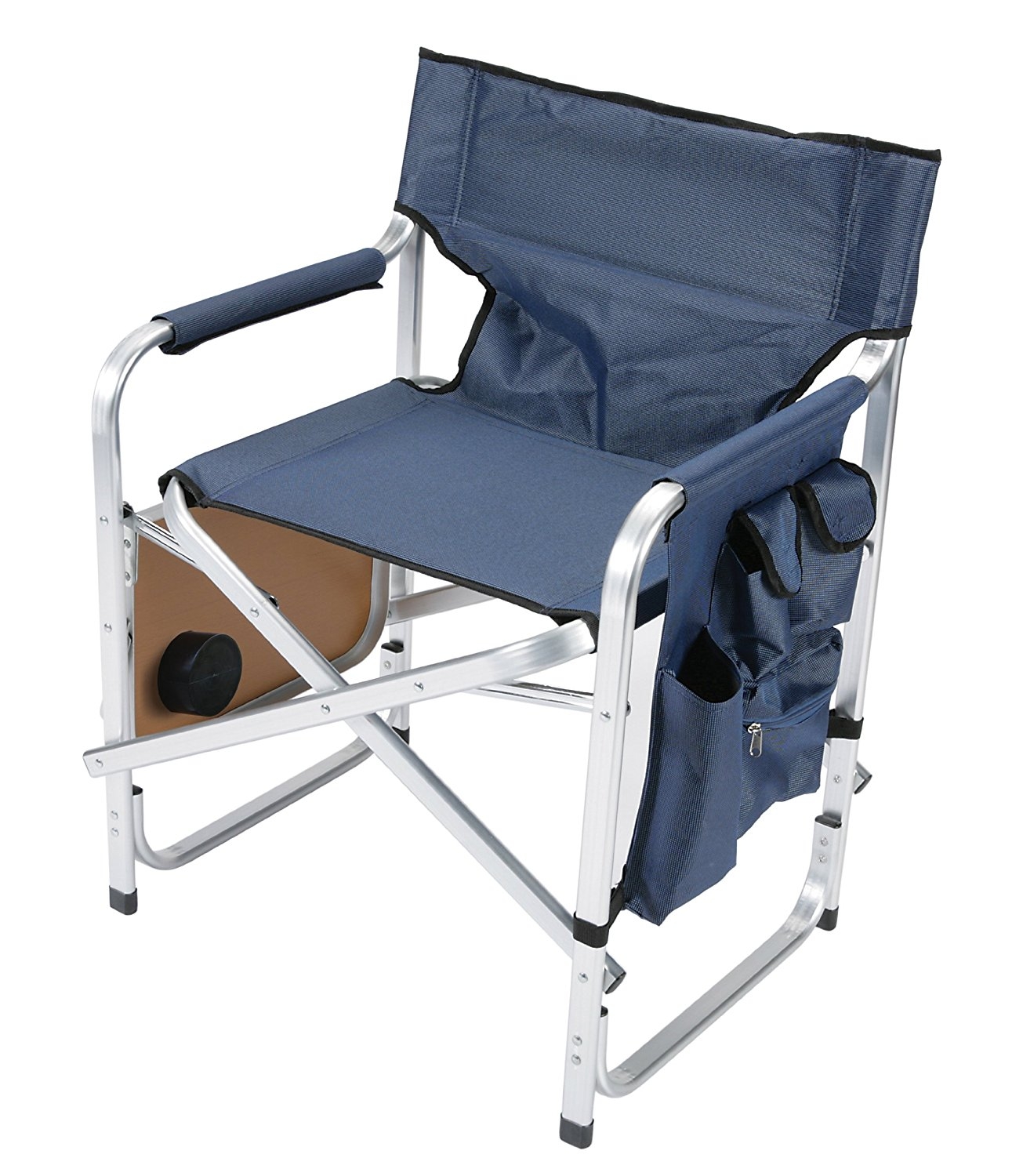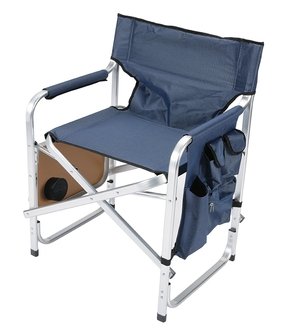 This director's chair distinguishes itself with super sturdy aluminium tube frame that is able to hold up to 250 lbs, while the whole chair weighs only 8 lbs and is therefore easy to move around. The design offers a cup holder and a tray.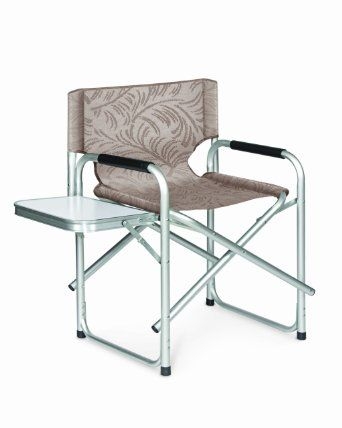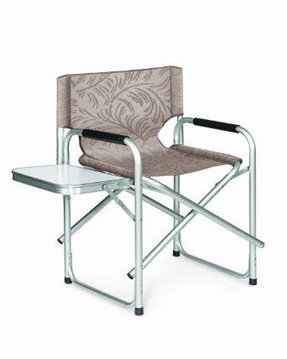 Camco Director's Chair (Tan Fern) 51802 -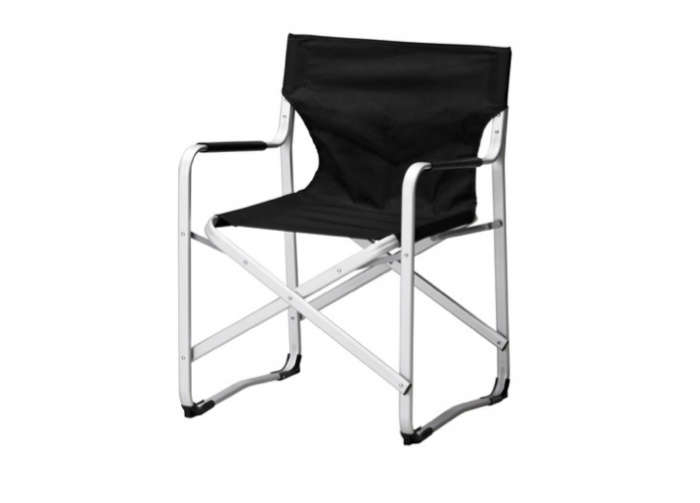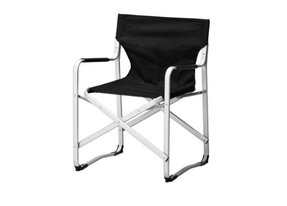 The director's armchair which is made of strong, durable and rust-proof aluminum, and has a black cover. For any outdoor activities like camping, hunting, tailgating and picnics.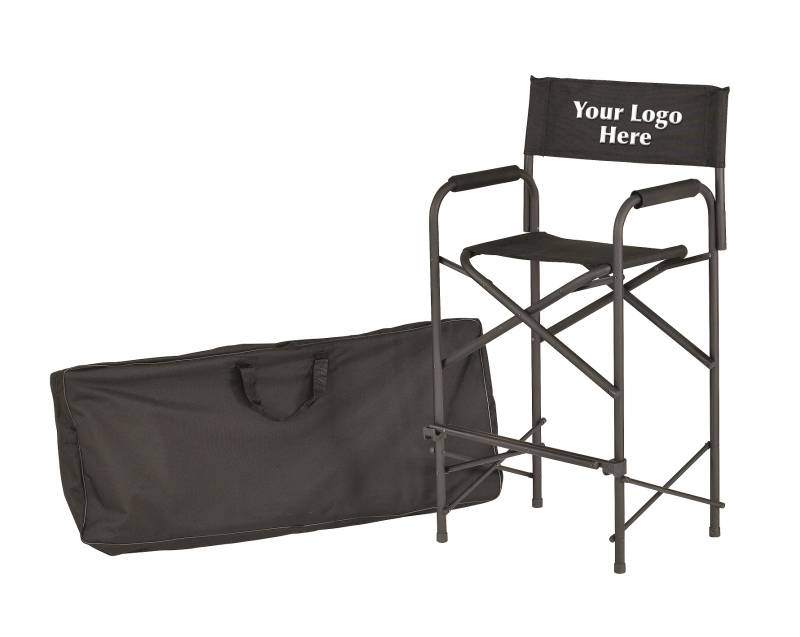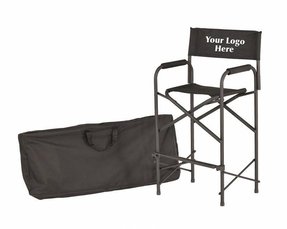 Features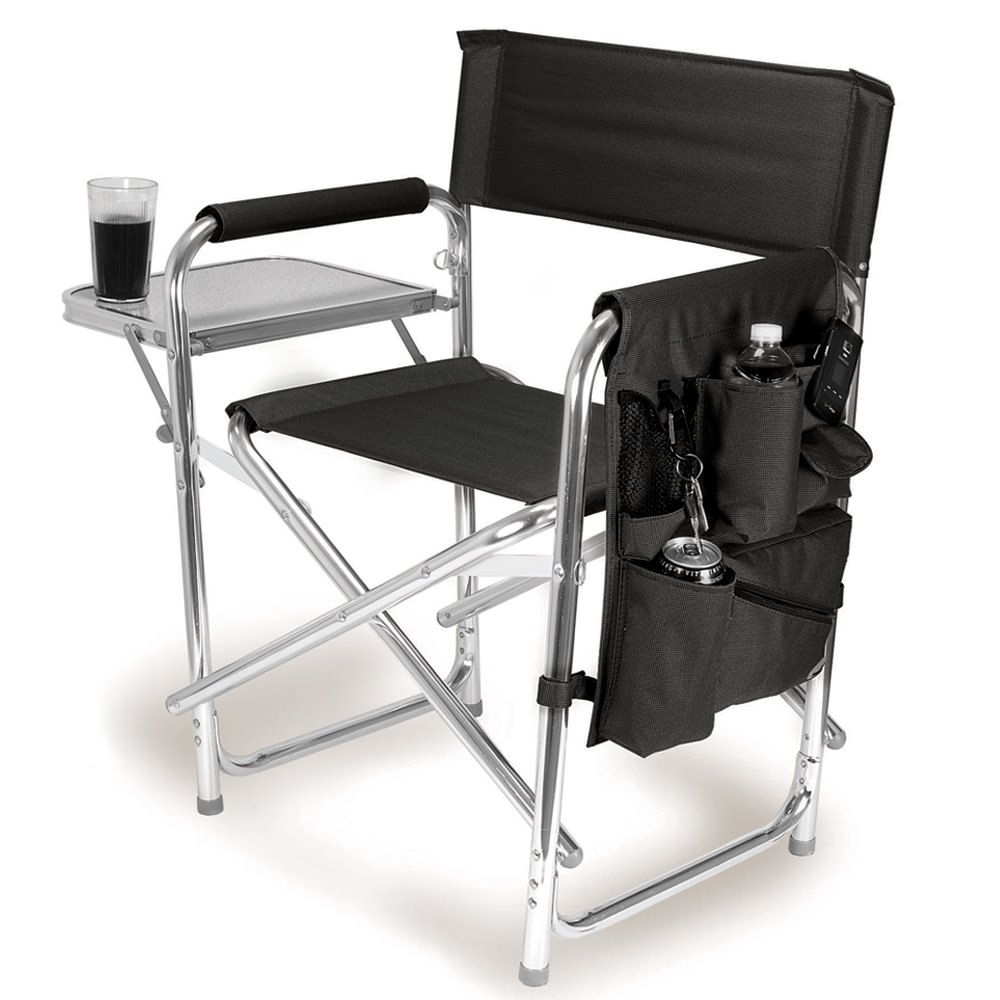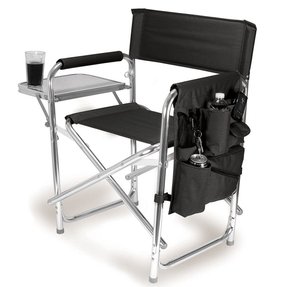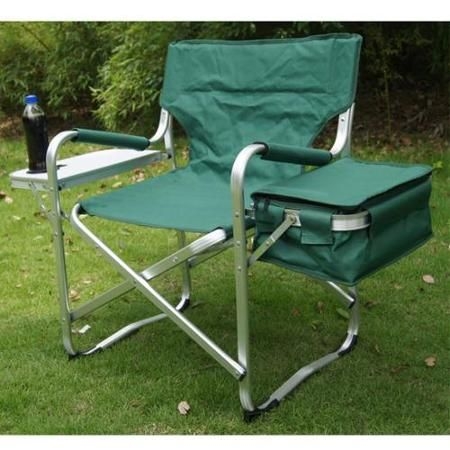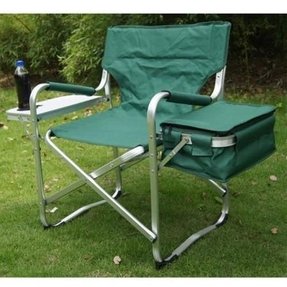 Having a solid, aluminium framing and a characteristic dark green upholstery, this director chair with folding tray and ice pack constitutes a perfect outdoor accent. Easy in assemble, lightweight in transport.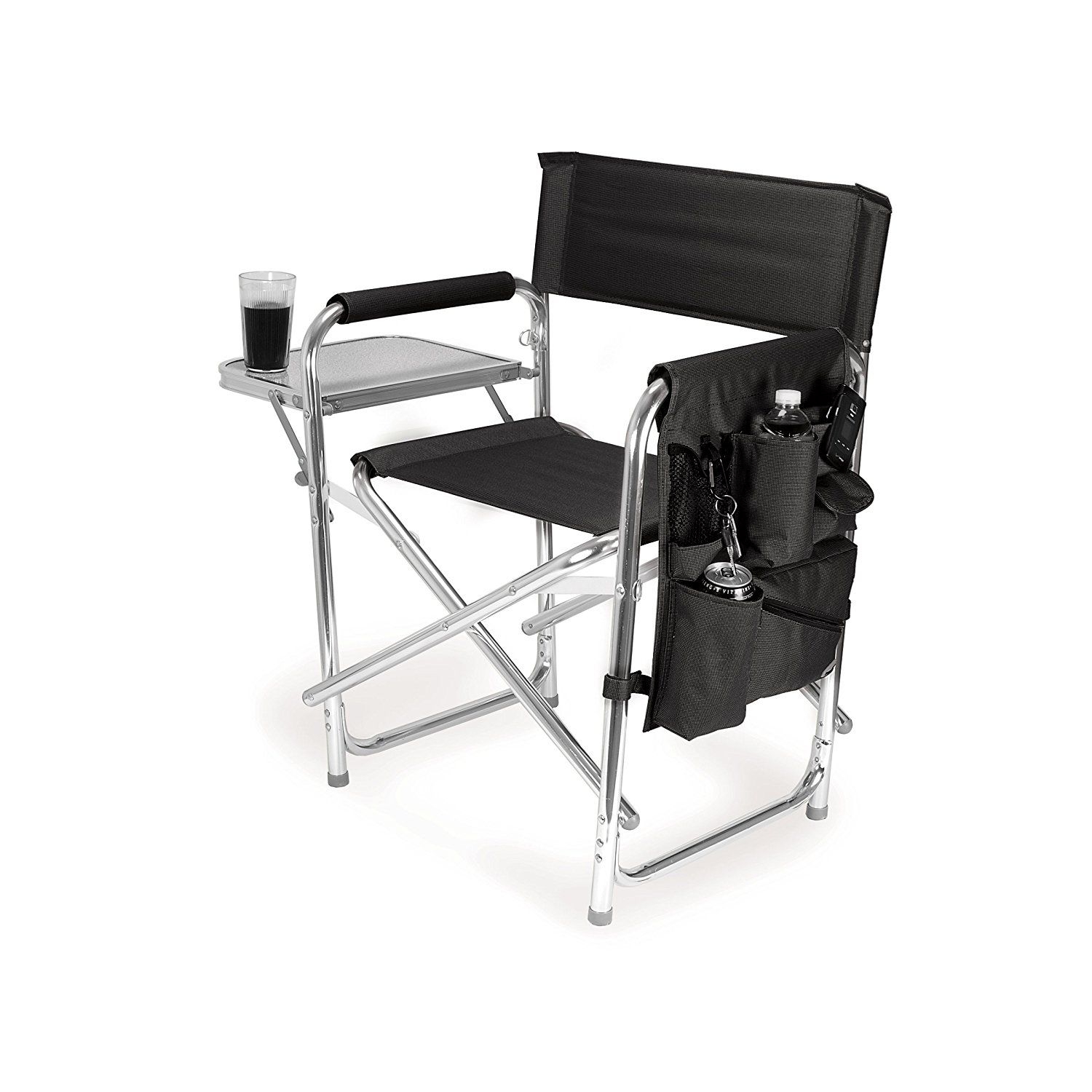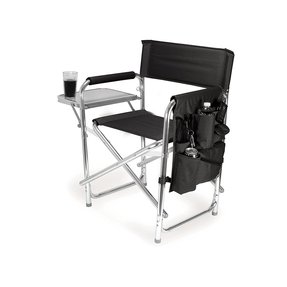 This is an outdoor piece of furniture that has got a director's chair stylization. It has got a solid metal frame and a comfortable sitting space with arms and a backrest. The product includes a pocket and a small side table.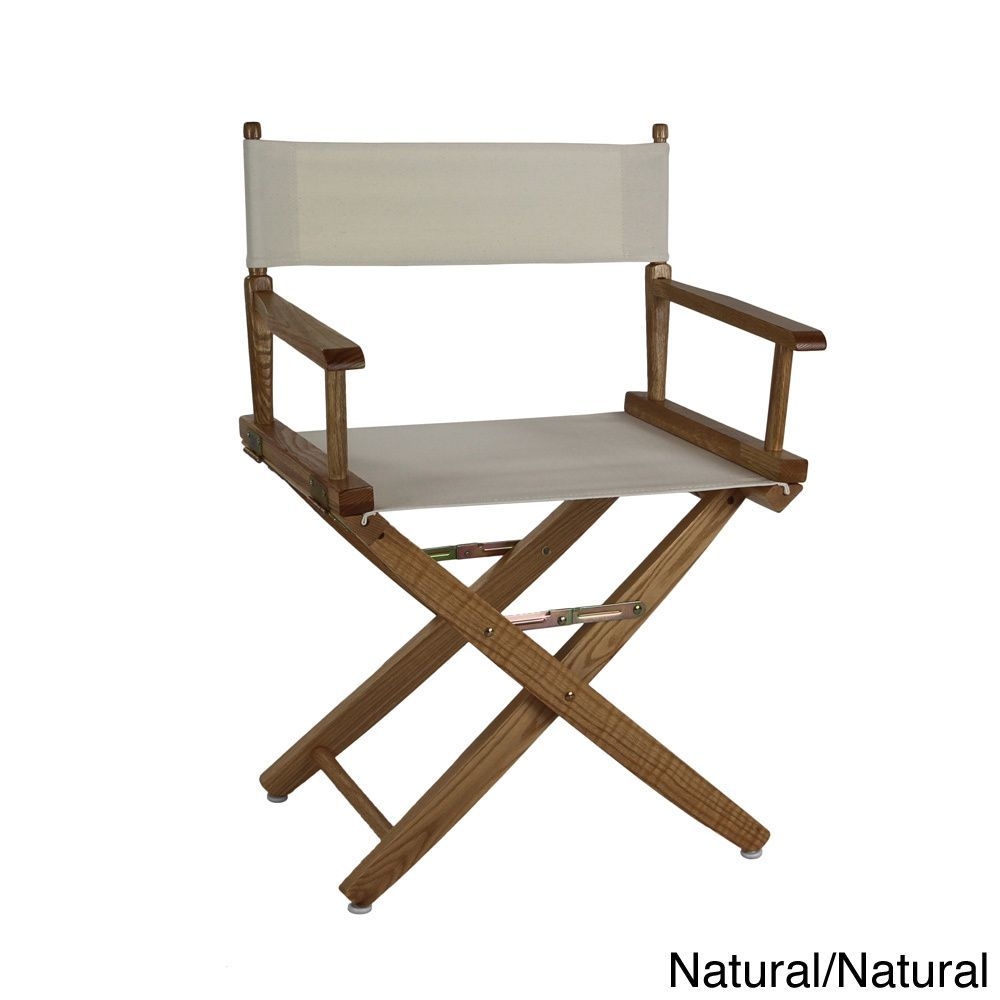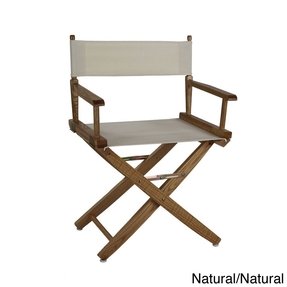 Make sure that you can always enjoy your comfort and a nice seating option, even when you are leaving your house. This director's chair comes with the folding tray and cup holder and a folding design to match and make it easier to move.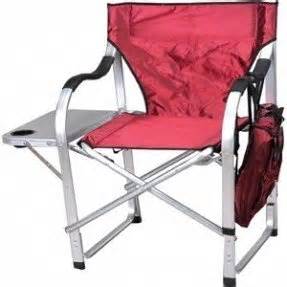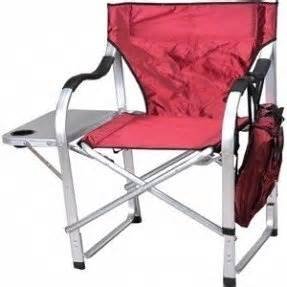 Ming's Mark SL1215 Director's Chair w/ Side Table HD Burgundy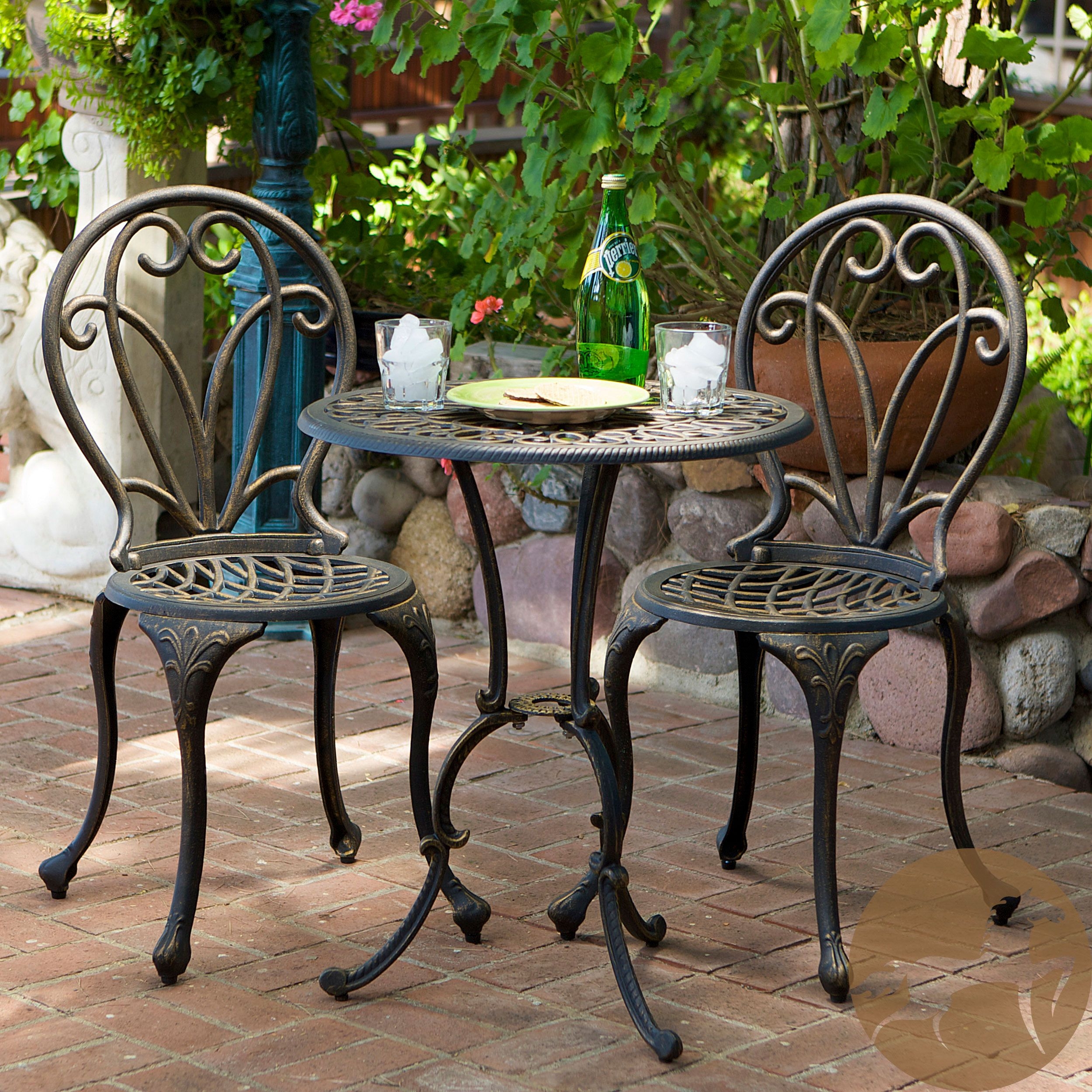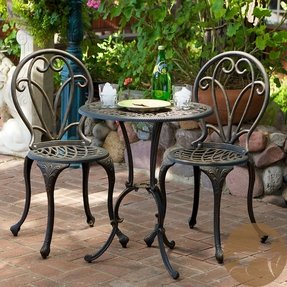 This set includes two chairs and a round table. All of these elements are made of aluminum that is weather resistant, so they are ideal for an outdoor use. The table is large enough for two people and chairs are comfortable and solid.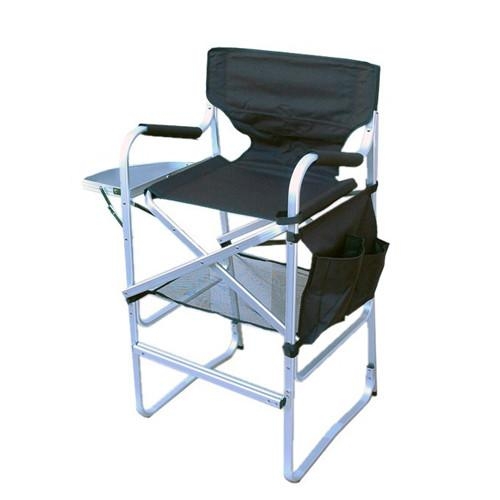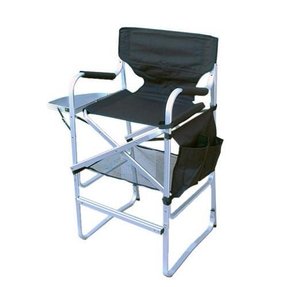 Designed specifically for makeup artists, this director chair stays upright and comes complete with a side table on one side and several pou...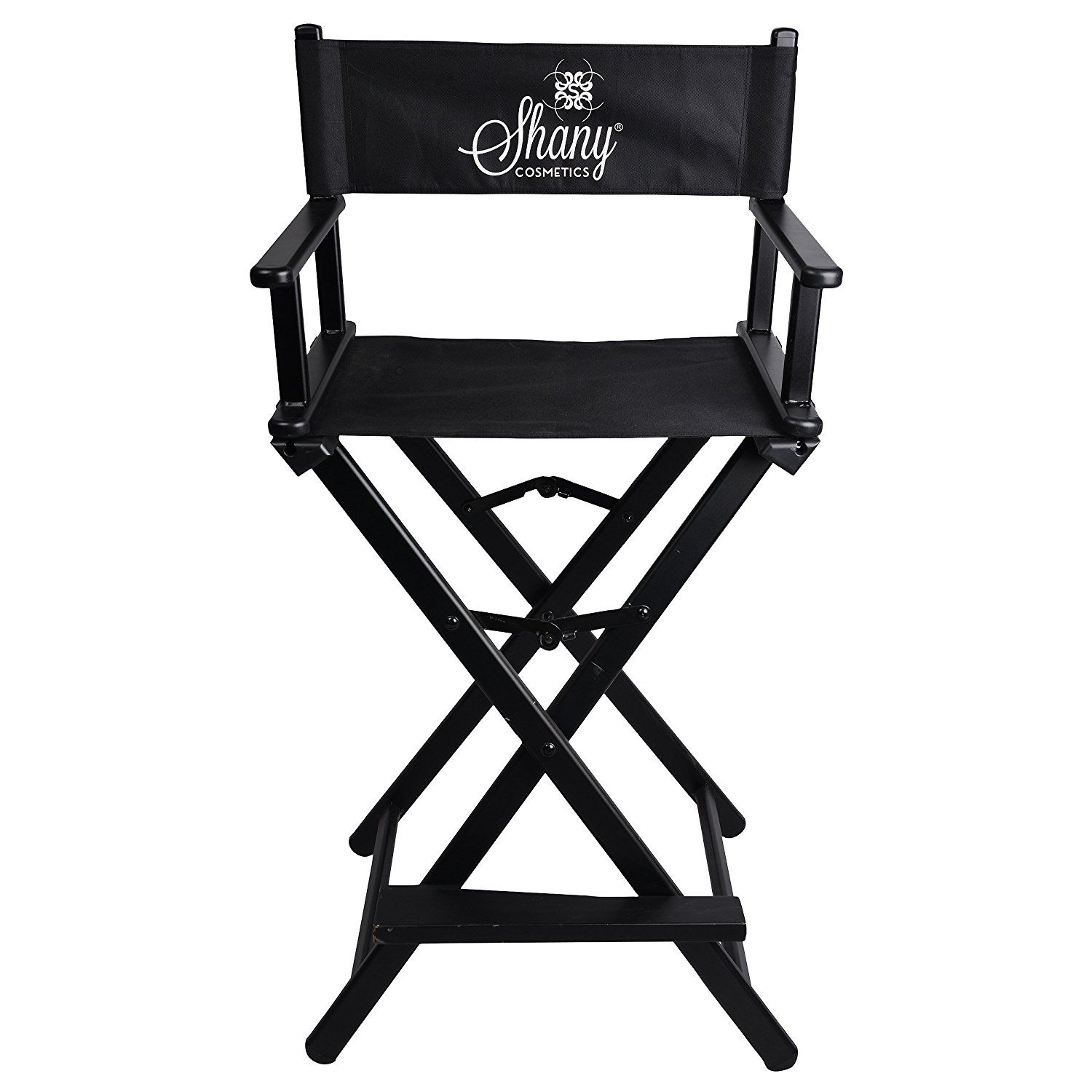 SHANY Studio Director Chair - Solid Aluminum Barstool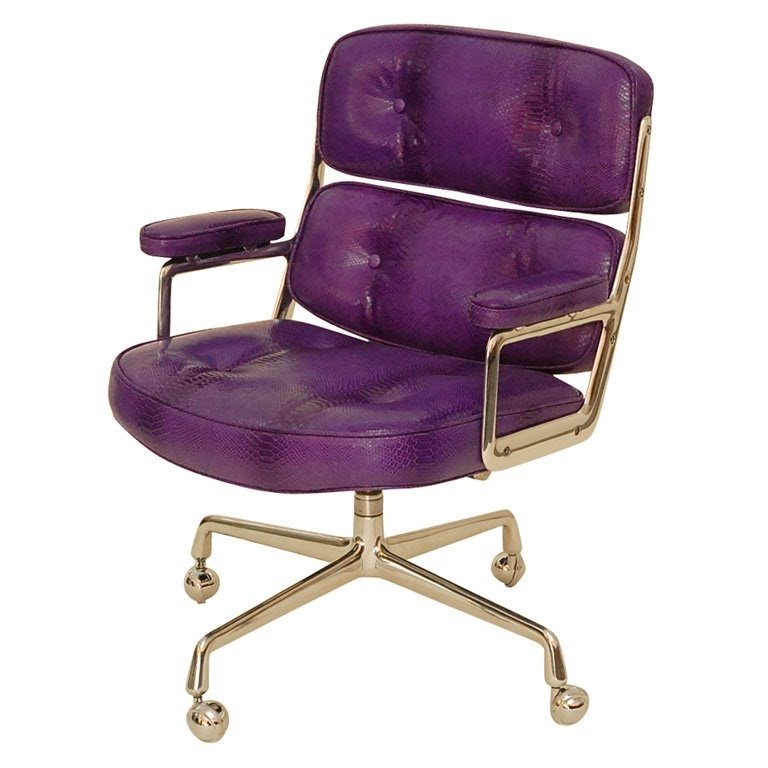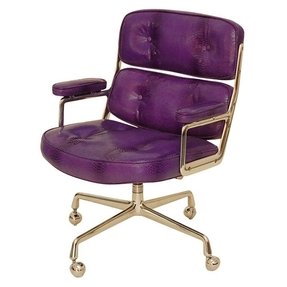 Tasteful office chair for teenager's room, office and more. Swivel base is made of metal and mounted on wheels for easy movement. It is upholstered with faux leather and finished with decorative quilting.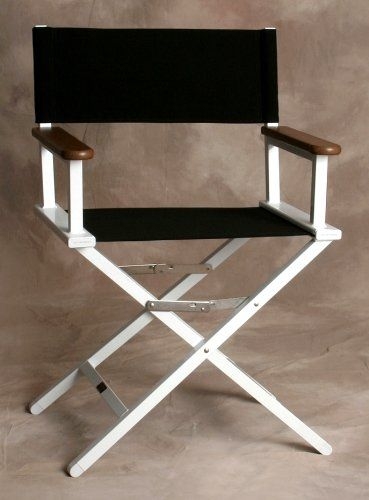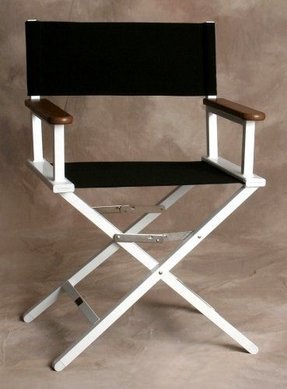 Finished with a fade and bleach resistant Sunbrella fabric, standing on a heat-cured, powder-coated aircraft aluminium frame, this Monterey Director Chair is a stylish and solid foldable chair.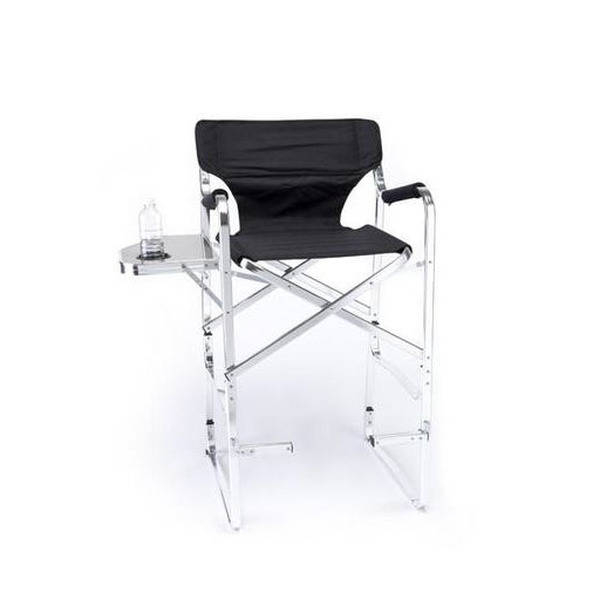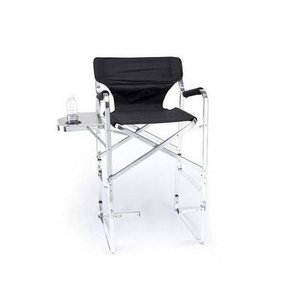 Director's Chairs Aluminum Frame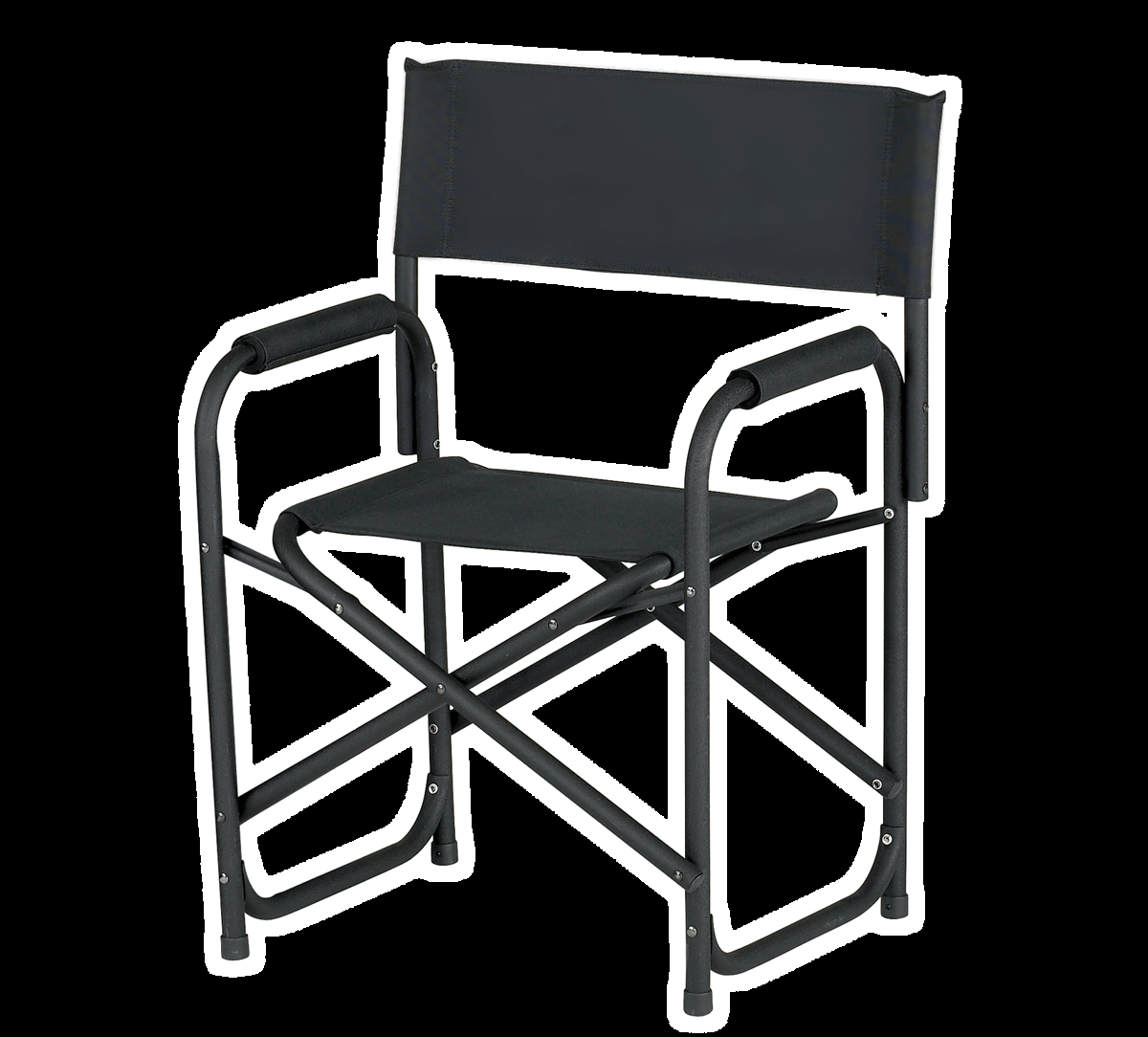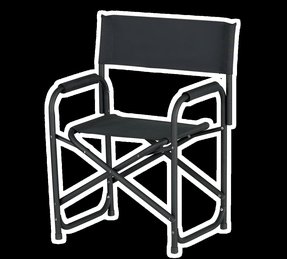 This kind of product is a director's chair that is available in a standard black color. This stylization looks very nice in any decor. The frame is made of durable materials and it has got a folding construction.