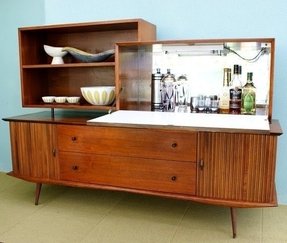 On Reserve For Ltwc Vintage Mid Century
Being a great example of the mid-century design, this vintage cabinet enchants with its beautifully preserved wood, with all natural grains maintained and exposed. A good proposition for a living room with some retro climate.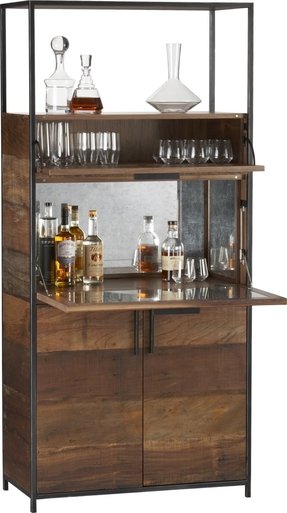 The Clive bar cabinet is made of reclaimed peroba wood side panels with light sealer finish on the front. The antique mirror inside, makes this product so special. It's sophisticated enough that it really dress up your home without making it too formal.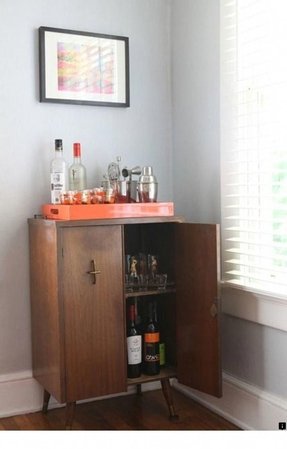 Tasteful cabinet for the kitchen, dining room and more. It is made of wood and fitted with double doors. Legs are arranged conically and reinforced with solid supports. It contains 2 shelves arranged vertically.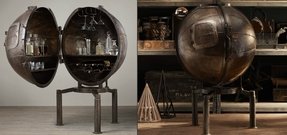 Feel like going vintage for your home bar decor purposes? This stylish round iron bar cart is an accessory literally taken straight from 1920s, as it formerly was a machine for testing light bulbs. Now it has glassware racks and shelves for wine bottles.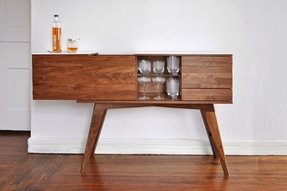 the Urbancase and Teroforma collaboration. The collaboration includes a selection of beautiful barware and two well-crafted liquor cabinets that complement one another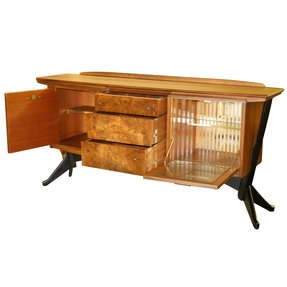 Mid Century Modern Walnut And Burl Bar Liquor Cabinet image 4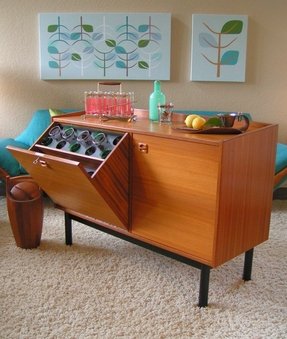 Mid century modern danish teak sideboard has a tilt open bar cabinet ...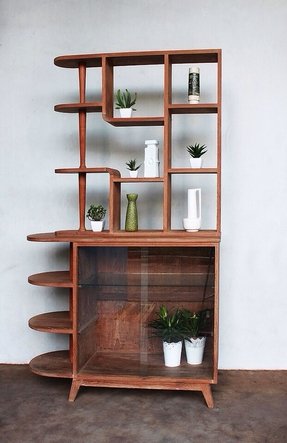 Bookcase in Vintage style. Frame is made of wood and fitted with sliding glass doors. Includes a lot of shelves in various sizes for storing books, display decorations and more. Great addition for any interior.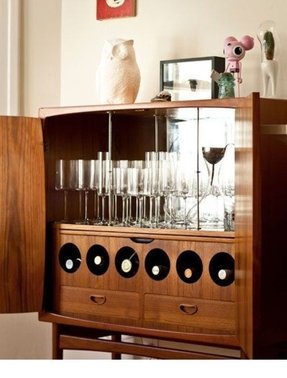 Walk right through the front door and slam it. Head straight for the liquor cabinet.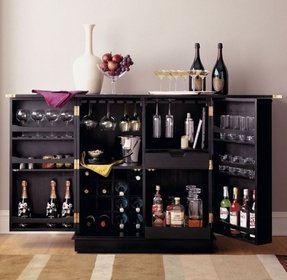 This capacious liquor cabinet can store loads of glassware, bar accessories and numerous bottles as well. It offers horizontal bottle compartments for wine, multiple shelves, and racks to hang wine glasses.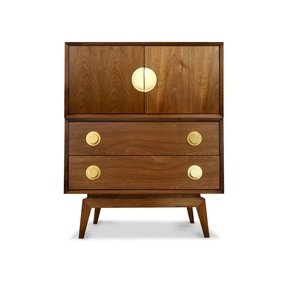 This functional item includes storage drawers and compartments. It features a durable wooden construction with a nice walnut finish. The product stands on four stable legs. Its drawers and compartment include solid metal hardware.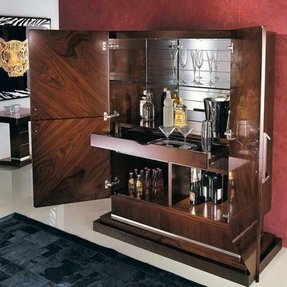 Modern Liquor Cabinet With Red Walls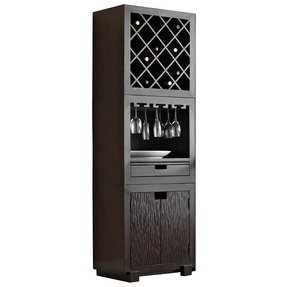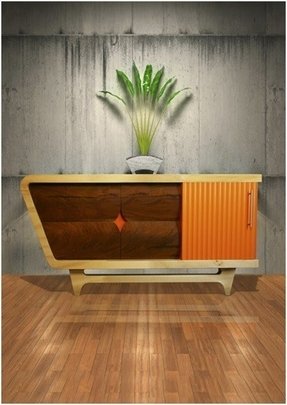 Ingenious design of this stereo cabinet uses varied tones of wood to result in an extraordinary creation taking subtle inspiration from modern mid century findings. One might use this high end piece as a liquor cabinet as well.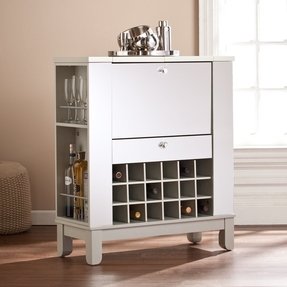 Barrett Bar Cabinet
It is a bar cabinet that is perfect for home parties and events. It is great for storing bottles and glass. It has got an elegant and glam style. It adds style and beauty to any dining room.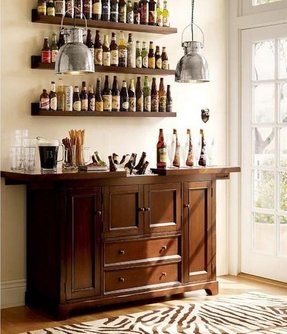 An excellent organizer for glassware and alcohol, this wooden bar is suitable even for interiors with a smaller space. The bar includes 2 storage drawers, bottle rags, and enough hidden storage to accommodate bottle of wines, and smaller appliances.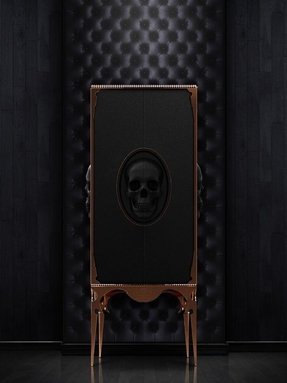 Unique and unusual design for a vanity cabinet with a frame made out of dark walnut wood with decoratively carved legs. The front of the cabinet depicts a black skull, which provides a mysterious and funky detail.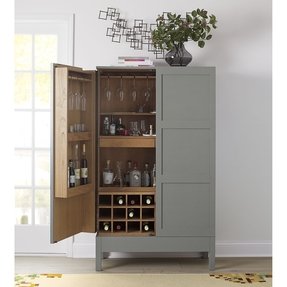 This straightforward and beautiful wine cabinet is the perfect solution for any home. The shelves, glass dividers, and wine bottles make it a very functional piece of furniture. The minimalist design perfectly fits into any interior.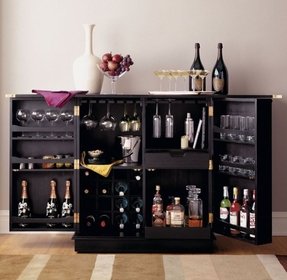 Modern Liquor Cabinet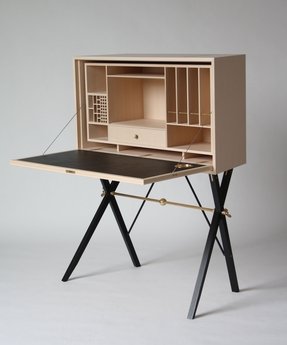 Craft space organization. Work Space. DIY. Jewelry Making. Sewing. Crochet. Knit. Paper. Glitter. Baskets. Ribbon. Mason Jars.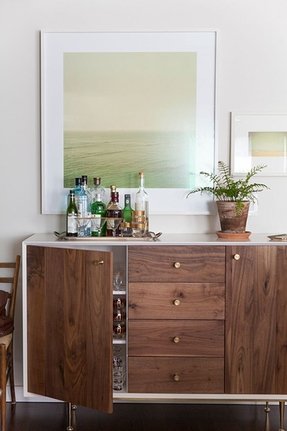 Contemporary cabinet of wooden materials. Full front door and drawer panels are in brown tones but sides and a rectangular top are white. Each of 2 compartments has 2 shelves. Round tapered legs with ball feet and small knobs are of metal.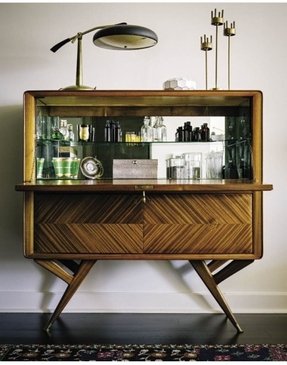 Wooden liquor cabinet with a modern construction based on solid legs. Cabinet area features a rectangular shape with simple, clean lines. Durable construction is resistant to damage and excessive wear.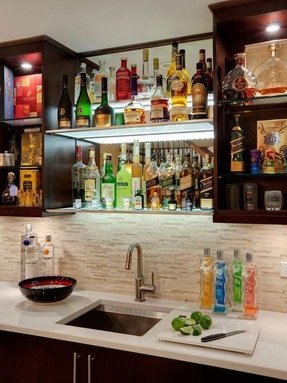 Awesome bar. Contemporary basement by Architects-Builders-Remodelers.... Yess please can I do that NOW to my place!

Unique, minimalistic cabinet which can be used as a liquor cabinet connected with mini bar. It has solid kickstand made of dark wood. This cabinet's doors are covered with so many different types of wood, for example oak, cherry and mahogany.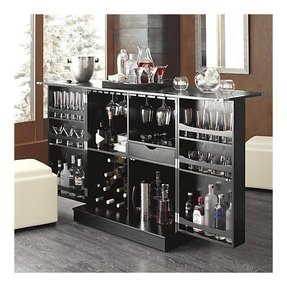 This ergonomic home bar is great for anyone who likes to use every inch of free space available to him. Awesome for small apartments. The vintage finish will make it a superb focal point of any interior. Furthermore, its black colour will never go out of fashion.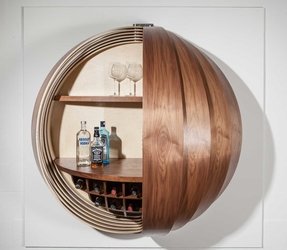 Make a grand impression with this bar cabinet. It features the curved, segment panels of wood veneer and spinning coin design. A wonderful original piece to hang in my home.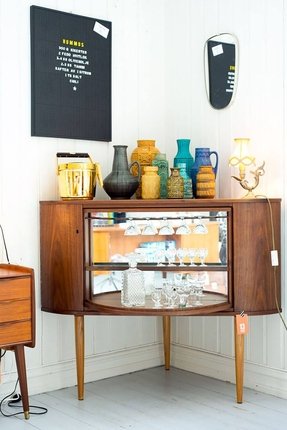 This piece is a surely suitable addition to your household decor thanks to the design that brings to mind those vintage TV console conversions and sports the charming, two-tone finish in a truly warm hue.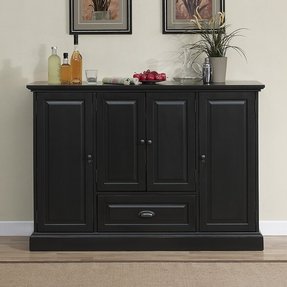 Carlotta Bar Cabinet with Wine Storage
This lockable bar cabinet by American Heritage offers just enough space to store wine and bar accessories. It falls on the side of modern liquor cabinets in terms of style, and it offers a sleek, dark look full of unpretentious elegance.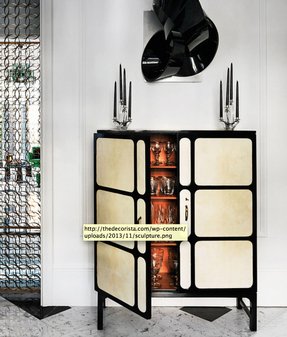 Inside a London Home Full of Luxurious Layers // Cabinet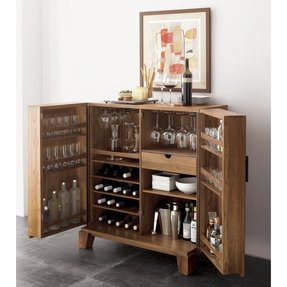 MarinBarCabinetSC10 Crate and Barrel. Like the design but not the finish.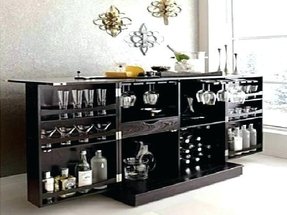 liquor cabinet ikea modern style with hanging glass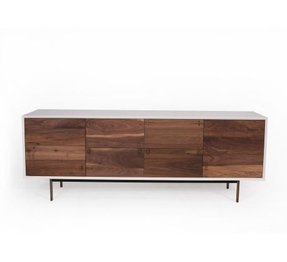 My fave piece in our living room. own it. organic modernism.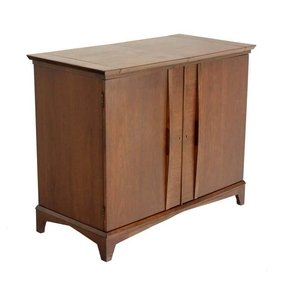 Walnut Danish Mid Century Modern Liquor Cabinet Bar image 4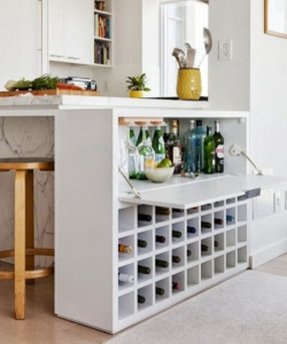 A contemporary approach to a large and spacious wine credenza with a compartment for storing liquor and beverages. The bottom of the credenza is fitted with a spacious wine rack, which stores up to 36 bottles.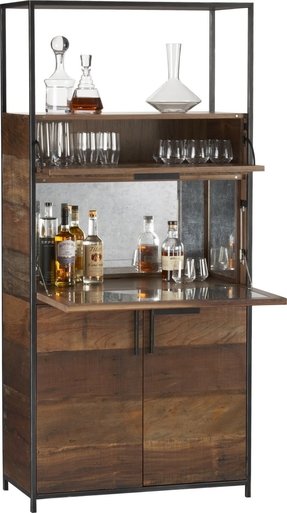 A chic modern cabinet of wood in mid browns. It features a body with a protruding centre, a moulding top, a full base, 3 drawers with black metal C-pulls. Shelved cabinets with shelved doors flank a rotating panel with semi-circular metal shelves.
1950's or 60's television cabinet, vintage tv, repurposed into retro barupcycle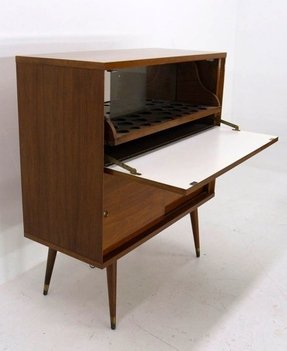 modern liquor cabinet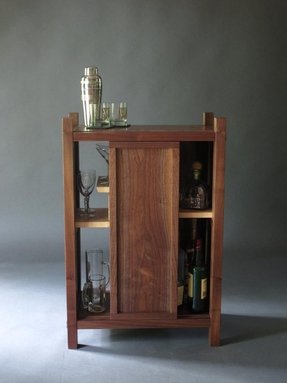 Walnut Bar Cabinet Dry Bar Liquor
Wine cabinet made of wood with antique finish. It has open shelves and compartments in various sizes for storing glasses, bottles and others needed accessories. Suitable for residential and commercial premises.
Wine, wine, wine, wine, WIIIIINNEEEEE! --- Modesto Modern Bar and Wine Cabinet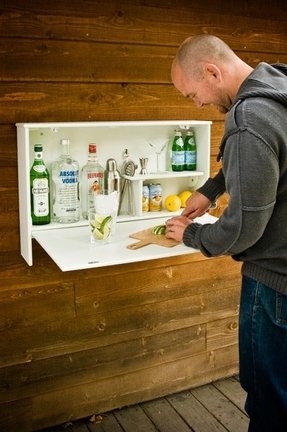 Wallbanger- The Harvey Wallbanger was invented in the 1950's by world champion mixologist Duke Antone. This wall mounted bar is named appropriately after his famous mixed drink. Designed with Darin Montgomery of urbancase, the Loll Wallbanger is intended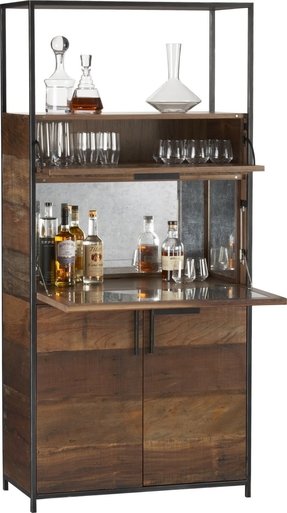 Case which connects function of liquor cabinet and mini bar. It is made of dark lacquered wood. This piece of furniture looks very elegant and sophisticated, so it will be fit only to very luxurious interior.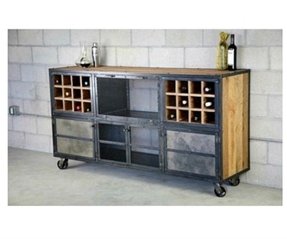 Liquor Cabinet Bar Vintage Industrial
A vintage bar can be a great addition for dens, living rooms, and game rooms. This one is made of sturdy wood and robust steel, offering 2 wine rags that accommodate up to 24 bottles of wine, a lot of space for storage, and a smooth top for placing bottles, glassware, and decorations.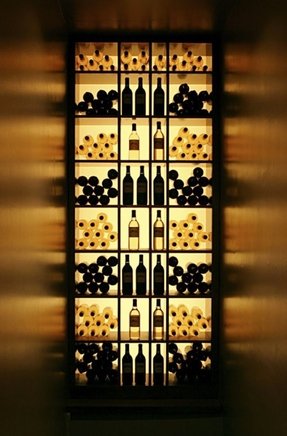 Backlit shelving allows the shape of the bottles to be used almost like art. The play of light off the walls adds another interesting set of textures and colors.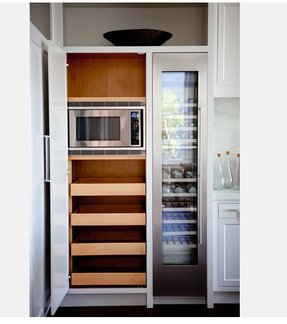 Microwave built-in to tall cabinet with roll-outs below.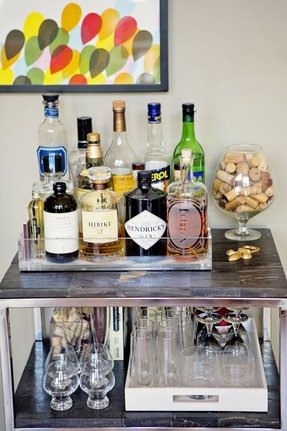 Bar Cart - Well stocked and ready for guests! Erin's Modern Loft House Tour, San Francisco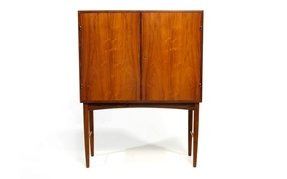 Danish Modern Liquor Cabinet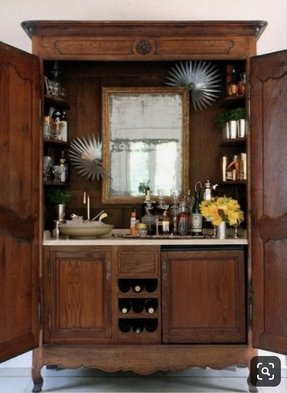 Orchid's stunning chinese wedding cabinet - wow...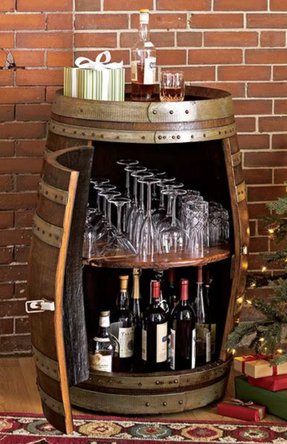 Mid-Century Modern German Atomic Liquor Cabinet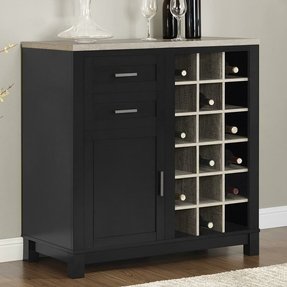 Carver Bar Cabinet
Why not store your wine collection with style? I like this bar cabinet for its meticulous contemporary design - it is so neat and splashy. On one side you have two drawers and a cabinet, and the other side includes a rack for wine bottles.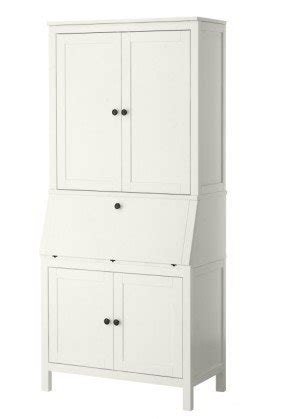 It may be traditional in style, but smart functions make our HEMNES storage furniture series right at home in a modern living room.