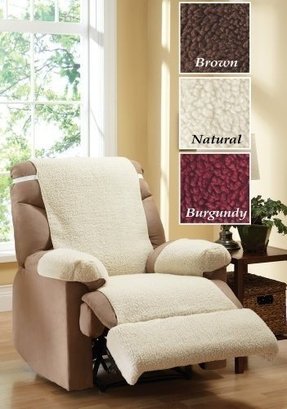 Alexis Hallify
It is a four piece cover for your recliner that is available in two color options to choose: burgundy and natural. It includes arms, footrest, and body. You will be impressed how great this slipcover is.
MiaCasta1
This piece of furniture is a comfortable recliner chair with armrests and pockets. The frame of this product measures 75"x 23" / 21"x 19.5". It is covered with 100% polyester fabric. This cover is machine-washable.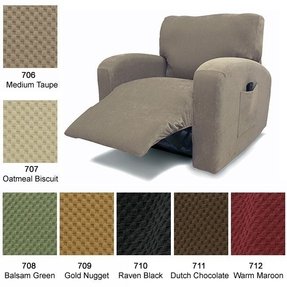 Julie Jenk
This wide recliner cover is able to spice up any contemporary room in your home. Designed in standard size, the cover fits most popular recliners (La-Z-Boy, Lane, Strato-Lounger chairs). The cover is made of stretch fabric (able to stretch up to 30%), and includes a side pocket for TV guide.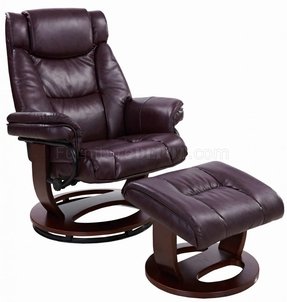 emmahhansson
Very comfortable set of recliners, which will play its role perfectly in living room or home theatre. It is composed of armchairs and footstool. Both elements have frames made of sophisticated, cherry wood and they are covered with dark leather.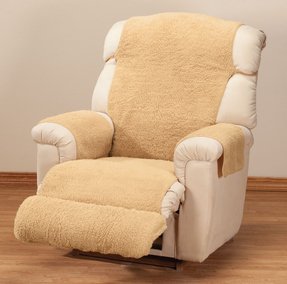 Stone Caroline
The stunning recliner cover that sports the cozy and extremely soft to the touch structure that will ensure your nights and evenings in your chair are relaxing and offer the highest amount of comfort.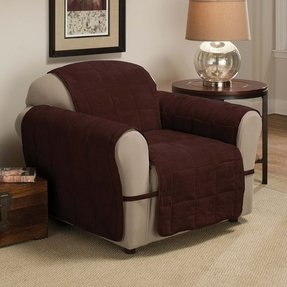 EmilyLee47
Ultimate Chair Slipcover
Slipcover featuring special water repellent finish which protects it from spills. Additionally, it's made of microfiber which is machine washable. This make the slipcover very easy to clean and maintain.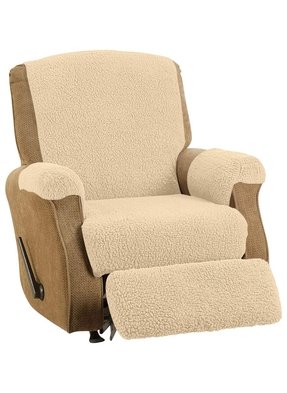 Wesson Jessica
This recliner cover is going to transform your old chair into a lovely-looking piece for contemporary interiors. The cover includes polyester fleece with non-slip backing, and built-in elastic for custom fit. Machine-washable.
Kristen James
Stretch Leather Recliner Slipcover
Aesthetic contemporary slipcover intended for armchairs and recliners with box cushions and large pillow arms. It's crafted of durable stretchable artificial leather in brown with a solid pattern. It can be machine-washed and tumble-dryed.
Kristina Gon
Recliner chair with a nice cover finished in white color. This piece of material perfectly covers the whole surface and provides special pockets for TV remotes and other small accessories and items. This material is also resistant to wear.
Shannon Ram
If you're dreaming of a unique design and an incredible comfort in your house, this amazing recliner is gonna be a perfect match for you. Check it out and enjoy an awesome look and functionality in your living room!
KellyKellAshley
Elegant and sophisticated design for a traditional reclining armchair, upholstered in shiny dark-brown leather which provides the chair with a classy appearance and together with the plushy cushions makes it comfortable.
Julia Lambertify
A perfect choice for a living room. This is a recliner chair that assures an ergonomic and relaxing posture to its user. It features a solid, stable construction and a soft sitting area supported by arms and a backrest.
Natasha Jen
The recliner cover keeps it clean and adds comfort to its use. This model is perfect for many types of seats, and it can be washed in a washing machine and adds an interior of coziness. The soft plaid fabric is very cozy.
Stephanie Wil
This product is a slipcover designed for use with recliners. It is made of stretch fabric that matches different furniture styles and shapes. It is a machine washable element that has got a pocket for a TV remote, etc.
Jenna Edward
Recliner Cover
ThePeytonRobinson
Fleece cover designed for standard recliner. Machine washable. Easy to store. Handy gadget for each home.
Rebecca Pet
Luxury practical protective cover intended for recliners with large square backs, thick seats, low rounded arms. It is manufactured of durable elasticised polyester fabric with a solid black pattern.
Alyssa Wilsonify
This four-piece recliner cover is designed to proitect your furniture from spills and stains. Crafted of furable polyester, it has elasticized edges to keep it securely in place on the body, arms and footrest. Works in variety of decors.
Peyton Donaldson
Most often we meet the leather upholstery of folding automatic recliner seats - this time, however, the admixture of velvet plays the first violin. On a metal and wooden frame, cover for recliners give a cozy shift to the interior in black.
Jocelyn1Walker
This durable protector is designed of 100% polyester, perfectly suitable for wing recliners. The protector effectively secures furniture from pets and kids, is easy to install, and machine-washable.
Patterson Jamie
covers for recliners
Cintia Brook
It is a slipcover for your chair. It has got a brown finish and is keeps your chairs clean and protect from pets. If you looking for a solid and soft slipcover, you need to choose this one.
Laetitia Kloss
microfiber covers for recliners | Total Furniture Chair CoverChair
Julia Lambertify
Newport Stretch Recliner Slipcover
This super comfortable and stylish recliner would perfectly match every kind of space, no matter if you rather prefer modernity or tradition. Check it out and enjoy the brand new design in your living room!
Julia Lambertify
It is a white cover that fits perfectly to your recliner and it protects it from kids, pets and other. If you looking for a perfect recliner cover, you need to choose this one.
MultiKateAnderson
Improve your recliner deciding on this decorated with a stylish pattern and natural color, quality slipcover. Designed of 96% polyester and 4% spandex, the slipcover is durable, easy to use, and machine-washable.
Cooper Allison
Awesome post full of tips and tricks!!! BonnieProjects: Tips & Tricks for Slipcovering a Recliner
AmandaDonaldson1
Quilted Pet Slipcovers
Julia Lambertify
Headrest Cover for HRC587W Recliners-Lumex-1
Alyssa Wilsonify
Optics Recliner Stretch Slipcover
A slipcover for recliners which is made of high-quality polyester that provides lasting strength and amazing durability. It renews and recovers. It can be easily washed in a machine. Machine wash separately in cold water.
Baker Rebecca
With the overstuffed padding for ample comfort and the stunning red finish this amazing kids recliner will be the most suitable choice for your little one's room, especially with the upholstery that you'll be able to clean with a damp cloth.
Abigail Wrightful
custom slip cover for recliner | Custom Slipcovers by Shelley: Pair of ... | Repurposed Furniture
Murphy Kimberly
DIY d e s i g n: How To Sew a Removable Slip-Cover for Furniture
Monica Coop
This cover is an interesting product for people who want to change the appearance of their recliner chairs. It is made of polyester in 94% and spandex in 6%. It is designed for a recliner with a back circumference up to 82 inches.
Lily Cravenable
This is a high quality piece of material that serves as a cover for an armchair or sofa. It is made of polyester fabric that is machine washable. The size of a chair cover is 65"L x 75 1/2"W, but it is also available in a loveseat size.
MadisonHernandez11
Re-covering a recliner, no sewing necessary. I really want to learn how to fix old furniture...starting on the super cheap couch in the apartment that Benny chewed a corner of.
SarahMiller29
Cozy and comfortable makeover for an old-fashioned, traditional armchair with a hand-knit, no-sew slipcover made using flat and fitted sheet set. Quick and easy way to give a new look to an old recliner that gathers dust.
Lily Cravenable
slip cover for recliner
Wesson Jessica
Wingback recliner is a versatile decor idea - looks at home in varied decors, from traditional to casual contemporary ones. This recliner is wrapped in textured beige fabric and it stands on dark brown cabriole legs.
aaliyahthomas1
A piece of material that matches different types of recliner chairs. It is a slipcover made of 95% polyester and 5% spandex. It has got an attractive color and it is machine washable and resistant to other factors.
Powell Ebony
This comfortable 4-piece slipcover is designed of a solid color woven fabric. The cover can be easily installed on your recliner (also fits T-cushions) thanks to a solid color woven fabric. Machine-washable.
KellyKellAshley
d i y d e s i g n: How To Sew a Removable Slip-Cover for Furniture
Walker Laura
Overview Details Sizes Swatch Reviews
Jennifer Hay
624_21068_P.jpg
Chloe Hughesful
covers for recliners
RileyThompson1
Sure Fit Stretch Cavalry Recliner Slipcover, Khaki
Gonzalez Erica
... -ideas-recliner-chair-covers-for-sale-couch-cover-couch-covers.jpg
Alexis Milani
NOT so precise slipcover making... for my recliner - this is exactly how I wanted to do it. ONLY hard part is that my seat cusion is attached, not loose....?
MrMackenzieGarcia
Recliners Covers
Cintia Kowalski
Slipcovers, Sofa & Loveseat Slipcovers, Chair & Recliner Slipcovers
What are the different types of slipcovers for recliners?
There are adjustable slipcovers, also known as furniture throws, which are great for irregular shape sofas and recliners, as well as ready-made slipcovers that fit the standard sizes of furniture. Then there are semi-custom slipcovers and custom slipcovers, for those who need something specific.
How to measure my recliner to be able to choose a proper cover?
Start by measuring the length of your furniture, from one outermost point to the other. Then, measure the height, starting from the spring to the tip of the back. Next, measure the seat area, accounting for cushions if any. Depth is then measured by measuring the side of the furniture. Finally, measure from the floor to the top, without cushions.
How to choose the color for my recliner cover?
The color is very important, as it has to work well with your recliner. Do not use too many contradictory colors, as this could overwhelm the room and create a chaotic effect. Stick to three colors in the room – the color of your covers can be the accent color. Alternatively, especially for elder people, it's good if covers are of gentle colors like beige and brown, to allow for good rest and peaceful sleep.
How to choose the pattern of my recliner cover?
While patterns are there mainly for the aesthetic value, they are not without a meaning to the general space management of your interiors. As they can create visual illusions, it's good to use them to their full potential. Vertical stripes make the furniture appear higher, while horizontal stripes increase the design weight – making your recliner more substantial and noticeable.
What about the materials from which slipcovers can be crafted?
Recliner covers can be made from wool, cotton, polyester, linen and spandex. Actually, any fabric or blend will do, but choose wisely – their characteristics vary. For example, if you need something durable, heavy cotton may be a good idea. However, if it is the aesthetics you care about, then thin slipcover made from cotton-spandex blend may be better.

SUPPLEMENTAL RESULTS FROM USERS AND STORES