When you hear the word "garden," what's the first image that comes to mind? A green oasis in your front or back yard? A bed of flowers adjoining a lush lawn? A plot of land for vegetables and fruits? Probably not a balcony garden!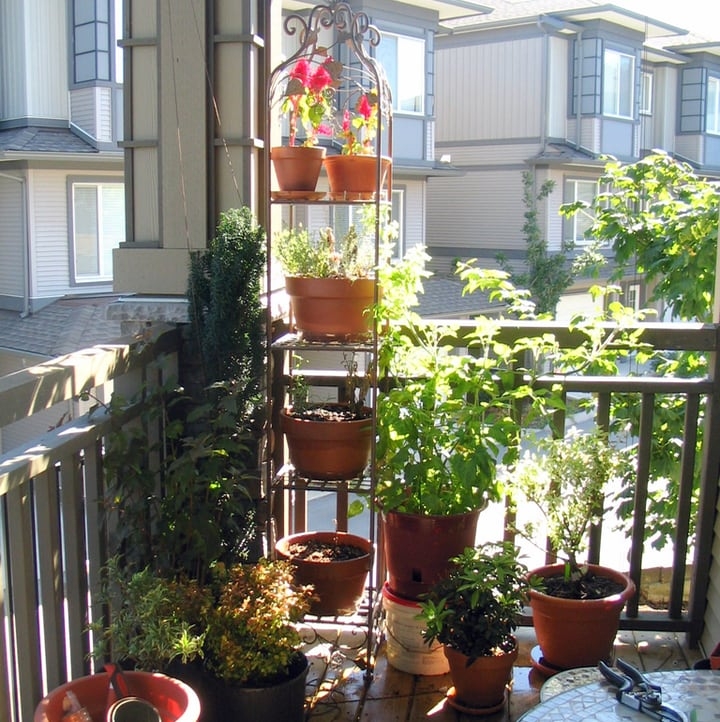 But have you ever thought of bringing all of that and more to your balcony? And why not? You can add railing planters, hanging baskets, freestanding pots, trellises, and even crates and pallets to transform your balcony into your dream garden.
What's more, you can grow anything and everything in your balcony garden so long as your plants get enough sunshine, water, and love.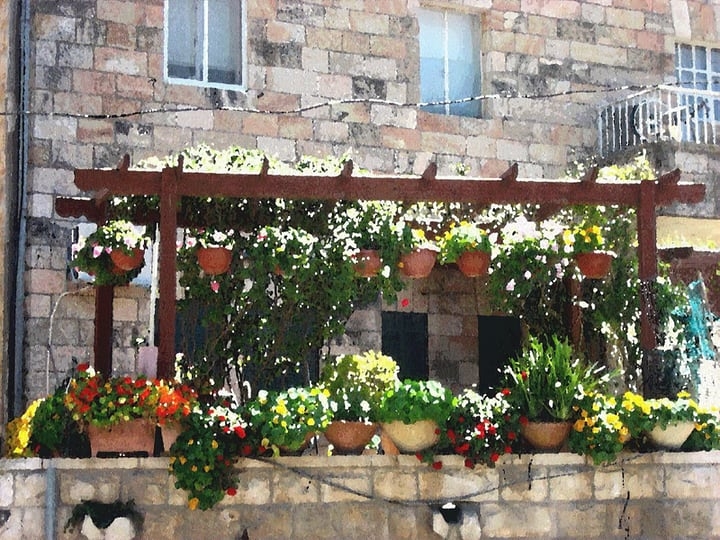 So are you ready to create your own green balcony? Put on your gardening boots, pick up your trowel, and read on for some awesome balcony garden ideas.
We've also got for you a list of the best plants and veggies for your balcony, plus a bonus DIY balcony garden guide.
Why Have a Balcony Garden?
For starters, a little greenery never hurt anyone. Balconies are easy to transform into green spaces and even easier to take care of. Blooming all summer long, a balcony garden can add to the overall charm of your house.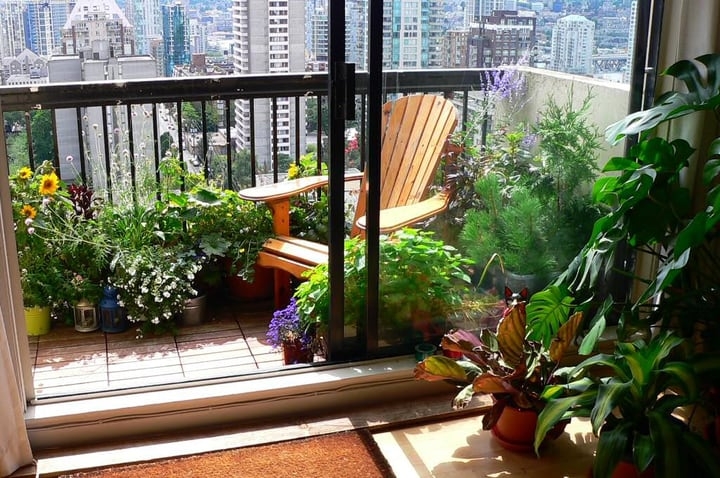 Besides, not everyone lives in the countryside with large backyards. So a green balcony is a perfect solution for the apartment-dwelling gardening buff.
Plus, in the midst of a concrete jungle, a bit of nature can have therapeutic and calming effects.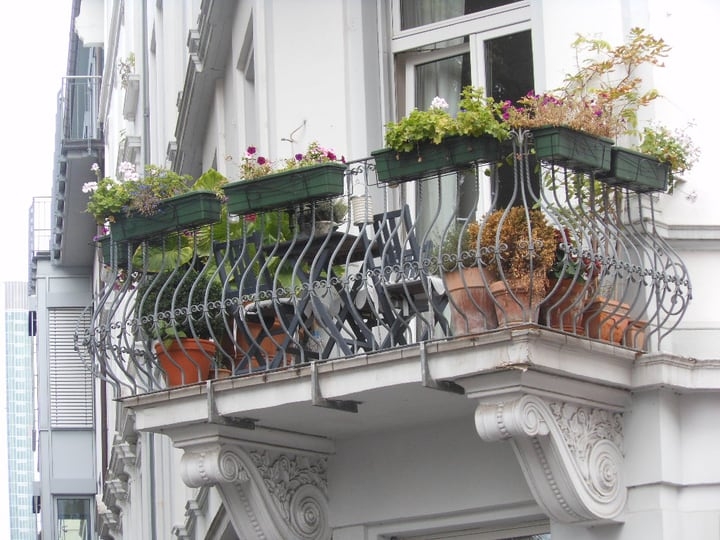 A balcony garden will also work as a natural air cooler, reduce pollution, and block high-frequency noise. So it seems there are many great reasons for you to start gardening on your balcony.
Balcony Gardening vs Terrace Gardening
Both balcony and terrace gardening have the same approach—making the most of small garden spaces. But while balcony gardens are more compact, terrace gardens are larger and can cover the entire roof space.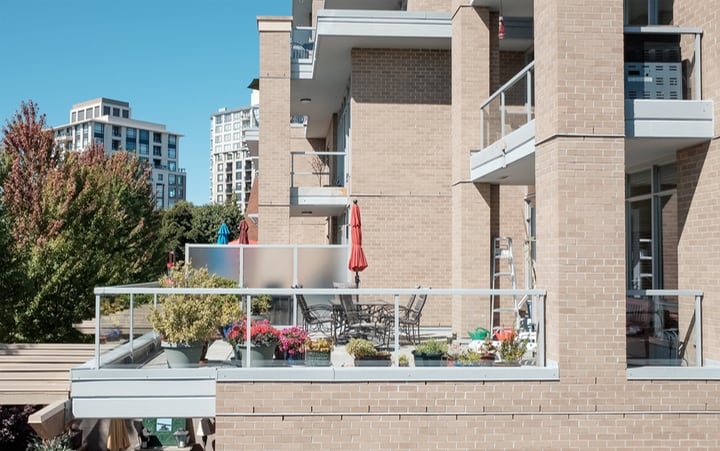 Balcony gardens are also generally sheltered or enclosed. On the other hand, terrace gardens are more open and airy. Thus, balcony gardens are not as versatile as terrace gardens.
On the plus side, balcony gardens are more accessible as they're often connected to indoor living spaces like the bedroom or kitchen.
Best Balcony Garden Ideas and Designs
A balcony is perhaps one of the most overlooked gardening spaces. But you can easily make it into a therapeutic and blooming garden.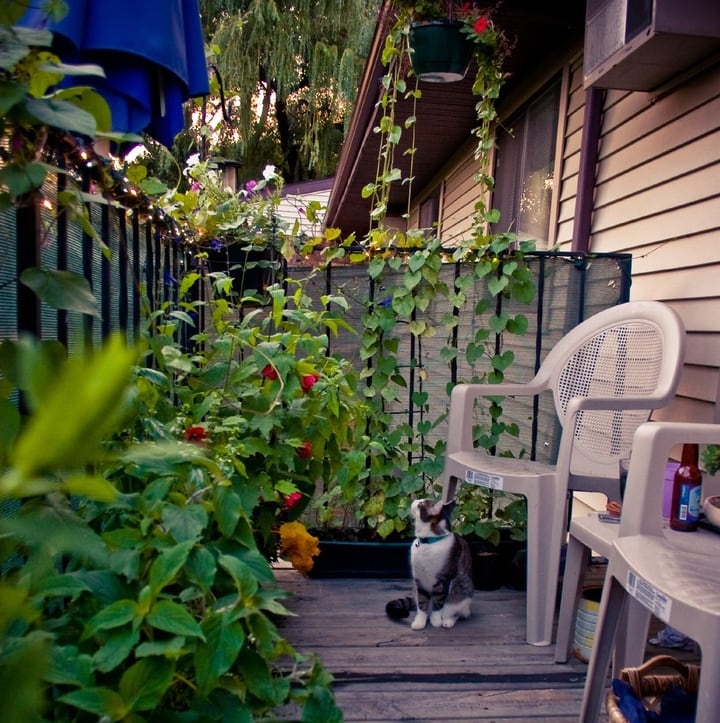 Grow perennials, ornamental plants, shrubs, trees, and even herbs and vegetables in your balcony. Once you're happy with your space, throw in a couple of chairs to enjoy a cup of afternoon tea, read a book, or take a nap.
From an apartment to a container or vertical balcony garden, here's a list of the best ideas you can take inspiration from.
Small Balcony Garden Ideas
If your balcony is small or narrow, or simply can't hold a full-sized garden, don't worry. You can easily get started on a small balcony garden with these awesome ideas.
1.

Rail Balcony Garden Bed

Not sure how to greenify a narrow and long balcony without shrinking it further? Go for railing planters. You can fix them on the rails or hang them using metal hooks.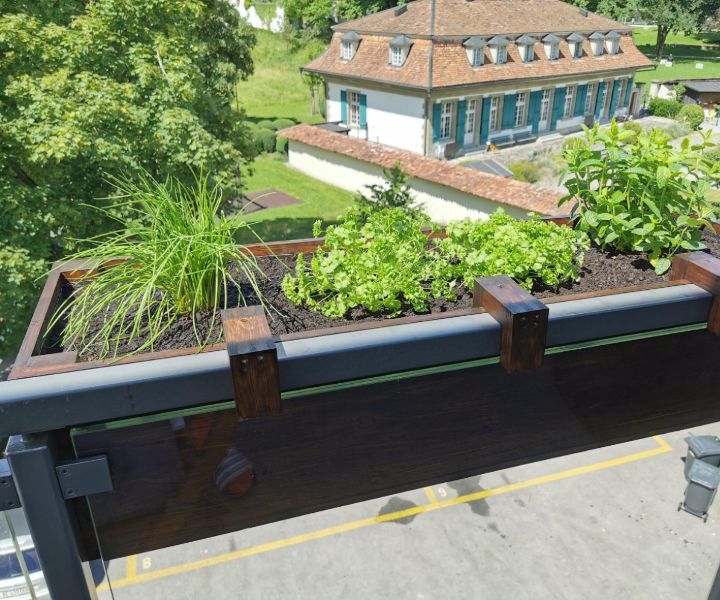 Grow seasonal blooms or ornamental plants in your planters. They will add a nice pop of color to your balcony without making it look too crowded.
2.

Minimalist Freestanding Container

Who says minimalists can't rock balcony gardens? Introduce a couple of freestanding planters in varied shades and shapes to your balcony, and voila!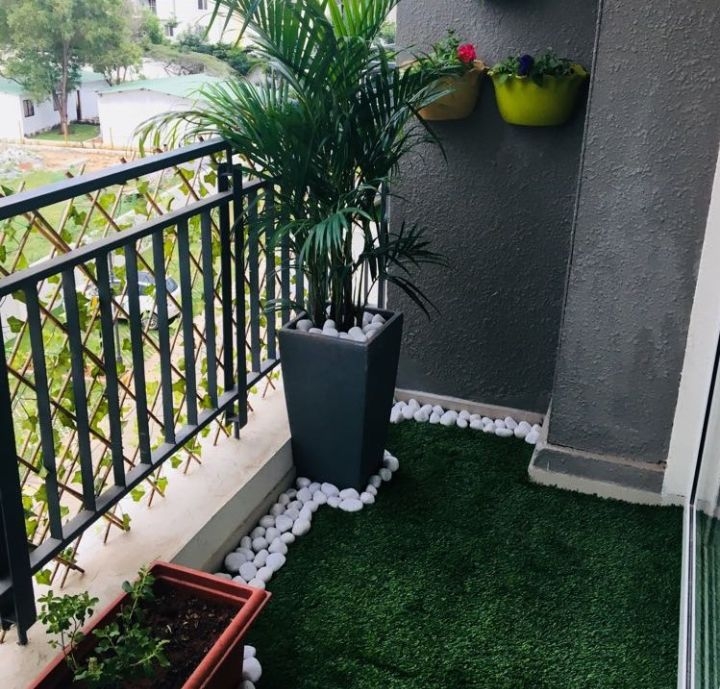 Grow ornamental plants like paradise palm and umbrella plant for the right dose of greenery.
Idea: Use faux lawn grass for added effect and define it with white river rocks.
3.

Deck-Style Balcony Garden

For something offbeat, turn your balcony into a miniature deck. Use wooden planks or deck tiles like in the image below. Add faux grass and pebbles to draw eyes.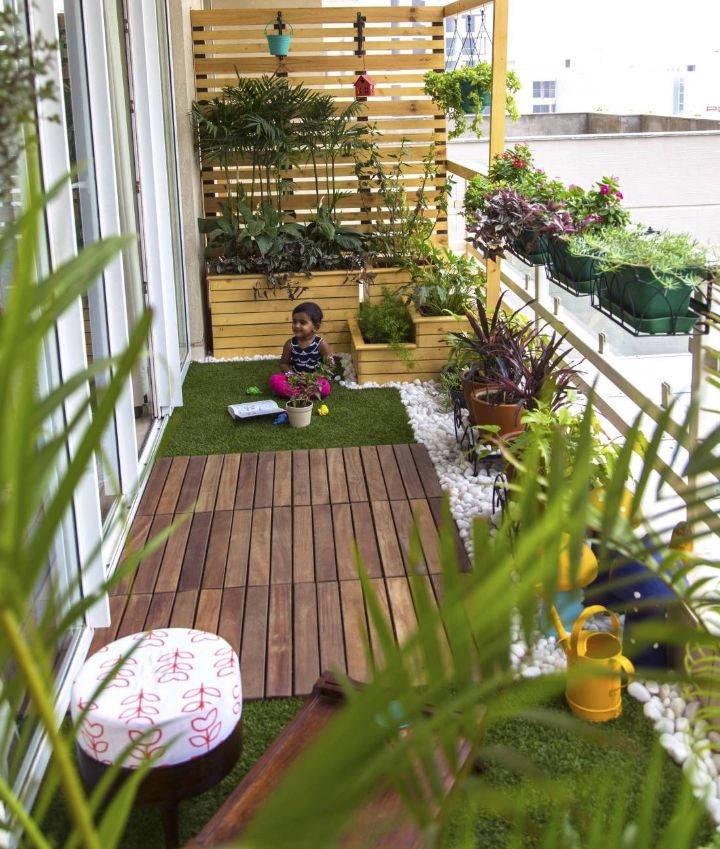 Make use of the railing to hang planters. A pallet wall can also be used to hang potted plants.
Tip: Turn gardening equipment like boots, shovels, hoes, and watering cans into decor items.
4.

Balcony Floral Oasis

Even if your balcony space is scarce, you can easily enjoy a floral garden. Use hanging planters and pots that can be hooked to the railings.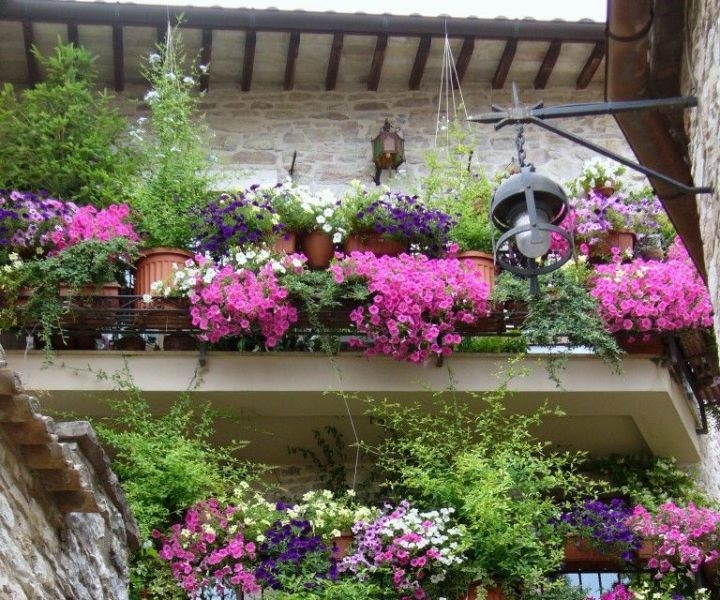 Grow petunias, geraniums, and clematis to make your space look like it's straight out of an Italian rom-com.
5.

Secret Rose Garden

Create a retreat you can escape to in your own balcony. How? With roses! They look absolutely gorgeous and will make your space fragrant all summer long.
While roses can easily be grown in colorful pots, you can also allow the climbing varieties to spread across your balcony.
Herb Garden on Balcony Ideas
Imagine having fresh and fragrant basil, rosemary, lemongrass, and mint waiting to be picked and used in your kitchen. Tempting, isn't it? What's even better is that you can get started on a herb garden in your balcony.
Most herbs do well in small spaces and are not as fussy as flowering or ornamental plants. Plus, they'll make your balcony smell great!
Below are some balcony herb garden ideas you can take inspiration from.
6.

Terra Cotta Balcony Herb Garden

Grow herbs like dill, rosemary, and basil in terra cotta planters. But why terra cotta? Well, clay planters look attractive and are porous, which means that you don't have to worry about overwatering your herbs.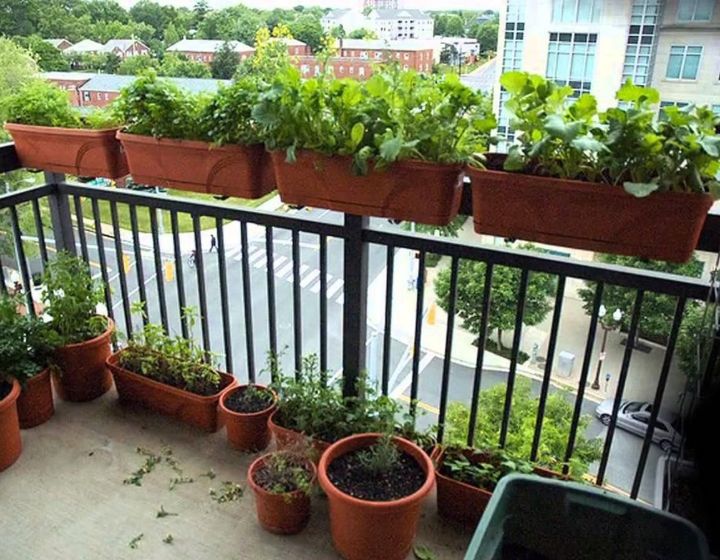 Tip: You can hook the planters to the balcony railing or place them on the ground.
7.

Tin Can Planters

Use old or unused tin cans to make classy planters for your balcony. Nail holes in them and fasten them to the railing using zip ties.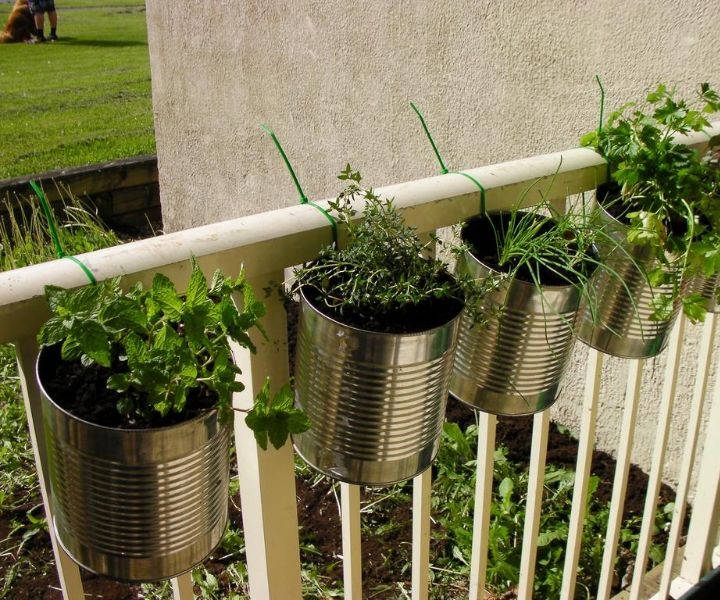 Small tin cans can be used to plant shallow-rooted herbs like basil and thyme while parsley and lemongrass would need larger cans.
Tip: Line the sides of your balcony with these planters to keep the floor uncluttered.
8.

Metal Staircase Stand

Set up your balcony herb garden in a multi-level metal stand. These stands come in different sizes and are highly durable, too.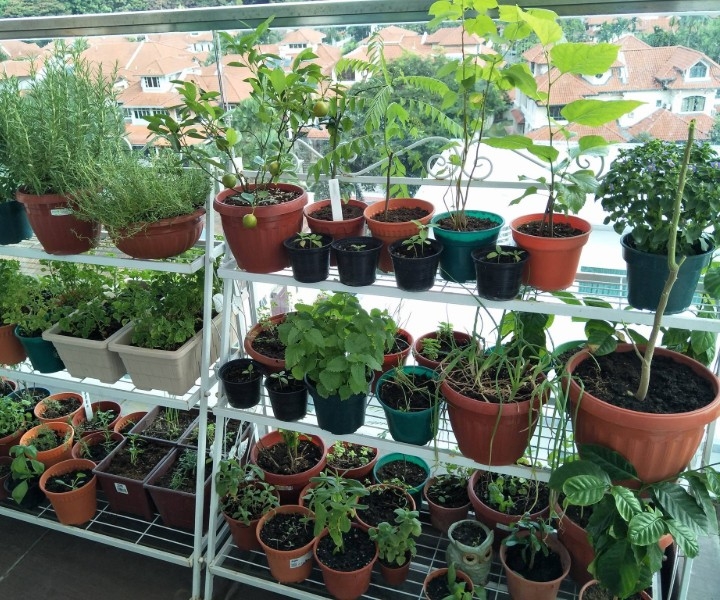 Not only will they allow you to grow a variety of herbs in limited space, but also help display them beautifully.
9.

Wood DIY Planter Box

Make your own planter box using scraps of wood from useless pallets. Once your planter is ready, fill it with soil. Grow herbs like mint, basil, parsley, and oregano in your planter.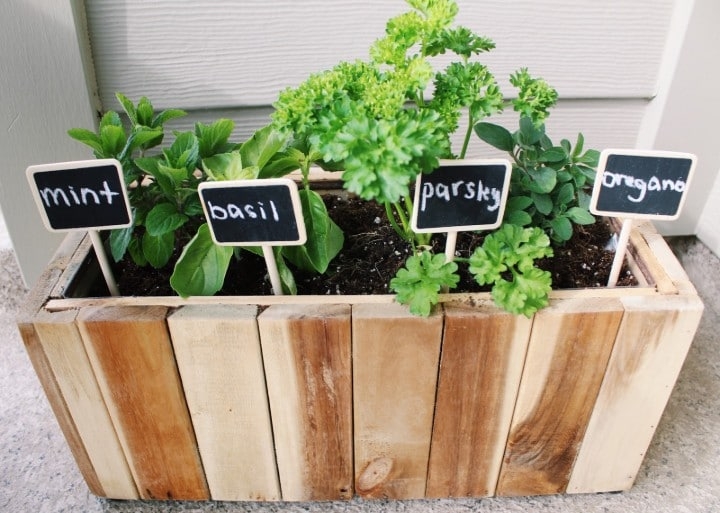 Idea: Use tiny chalkboards to mark different herbs. This way, you'll know which herbs you have in your little garden.
10.

Wooden Crate Planters

Upcycle old wooden crates to hold your herb garden. These planters have a rustic, country vibe and don't take up too much room.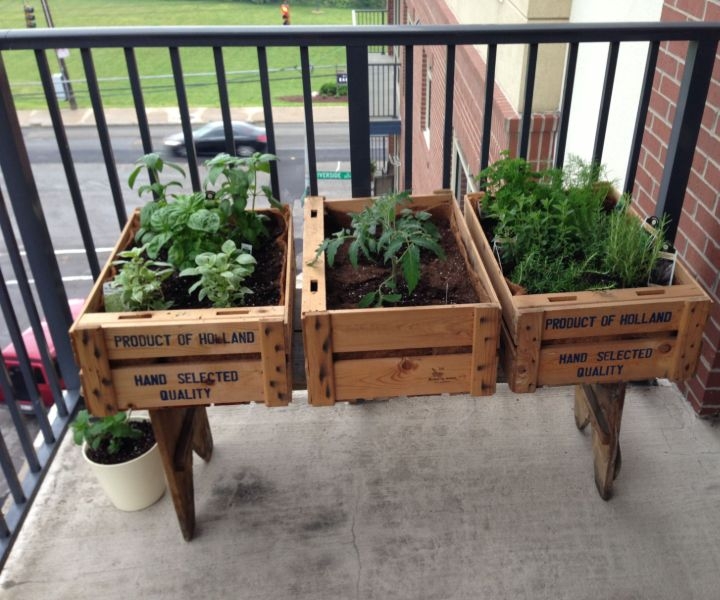 You can also raise them off the ground using wooden legs. This way, you wouldn't have to stoop while collecting fresh herbs.
Balcony Container Gardening Ideas
Container gardens are another great way to save space in your balcony. You can use fancy plastic, terra cotta, and wooden planters. But why limit yourself? Upcycle metal buckets, pallets, tin cans, and crates, too.
Here are some container gardening ideas you can take inspiration from.
11.

Multi-Colored Metal Buckets

Turn up the heat in your balcony garden with colorful metal buckets. Go for bold hues—pink, red, orange, and blue. These planters will look fancy even in winters when your plants turn bare.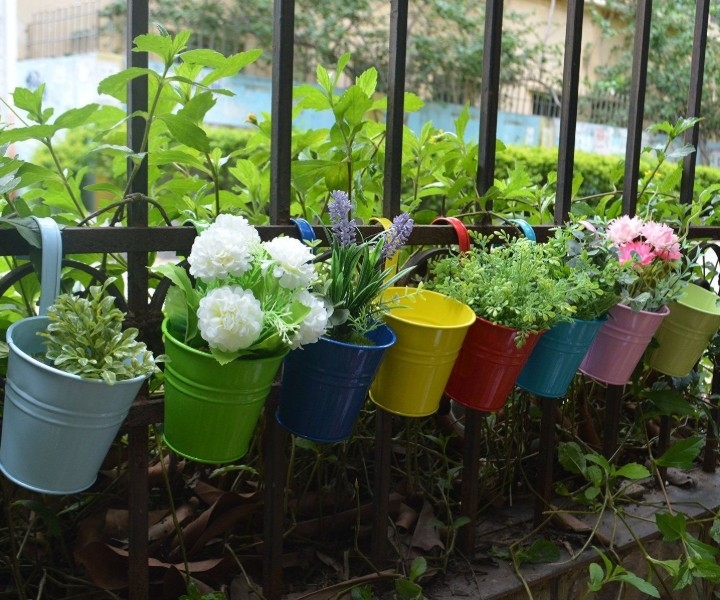 Plant dahlias, lavenders, roses, and pansies as they are easy-to-care-for and vibrant.
12.

Trellis Fairy Plater

A wooden trellis to hang pots is too beautiful to not include in your balcony. You can fasten planters of varied sizes to it and get gardening.

Now include a small fairy house and some fairy lights to your arrangement to invite pixies to your balcony.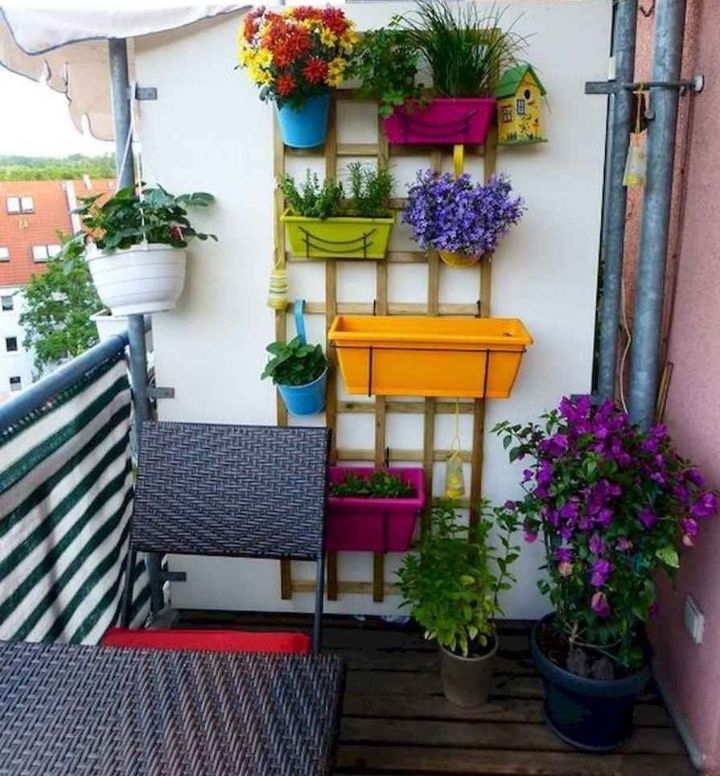 Tip: Place a café table in your balcony where you can escape to whenever you please.
13.

Hanging Clay Pots

For a striking visual element, hang terra cotta pots from the ceiling of your balcony. Create a chain of pots if you want to make the most of your vertical space.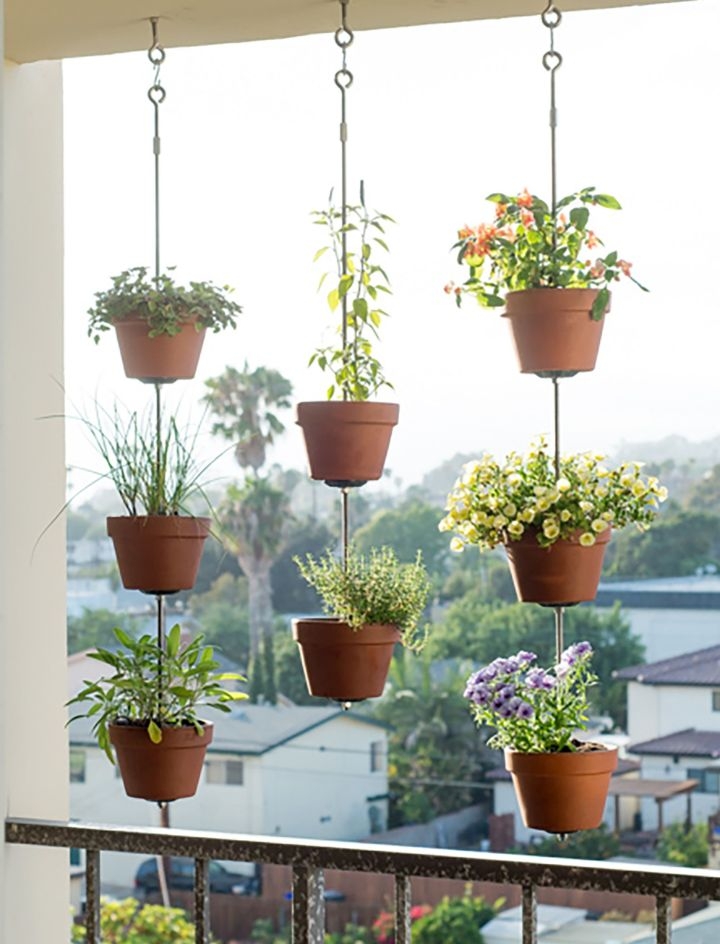 This way, your balcony space will not shrink further. Plus, you'll be able to enjoy the bright seasonal blooms.
14.

Urn Planters

For a balcony garden that is sure to steal the show, bring in urn planters. Paint them with striking colors and arrange them in clean rows.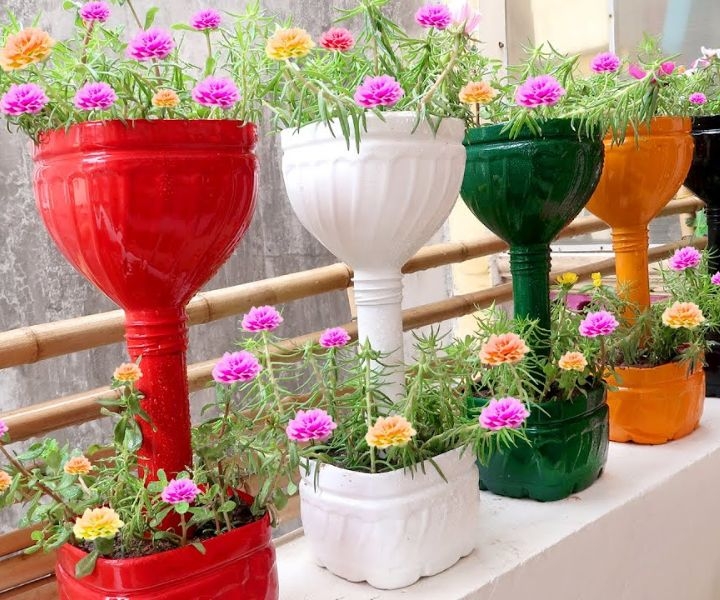 Such planters have an offbeat look and can make your balcony garden stand out.
Idea: Grow moss roses in shades of magenta and yellow like in the photo below.
Vegetable Gardening on Balcony Ideas
To grow vegetables at home, you don't need a large backyard. Your balcony space is quite enough. Given the right care, you can easily reap the "veggies" of your hard work.
Below are some wonderful vegetable balcony gardens ideas for you:
15.

Garden Vegetable Basket

Plastic baskets are perfect to get started on balcony vegetable gardens. They are space-saving, durable, lightweight, and generally portable. Fill them with good potting or planting mix.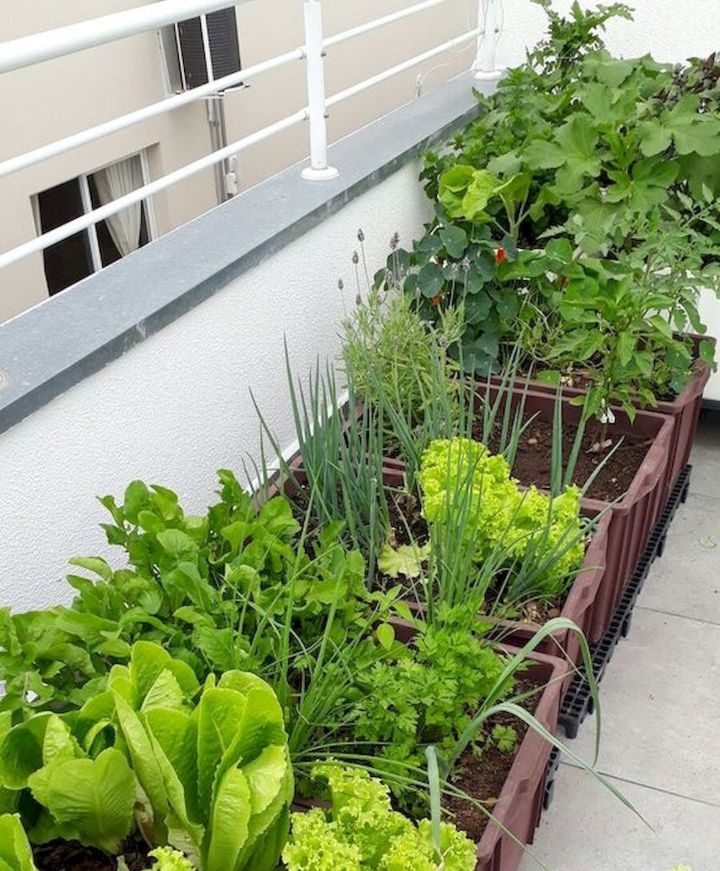 Tip: Plant easy-to-grow greens like lettuce, spinach, kale, Brussel sprouts, cabbage, and coriander in your baskets.
16.

Crate-To-Plate Garden

Old wooden crates are popular containers for growing everything from spinach to strawberries. Not only are they an eco-friendly and inexpensive way to get gardening on your balcony, but they are also pretty space-effective.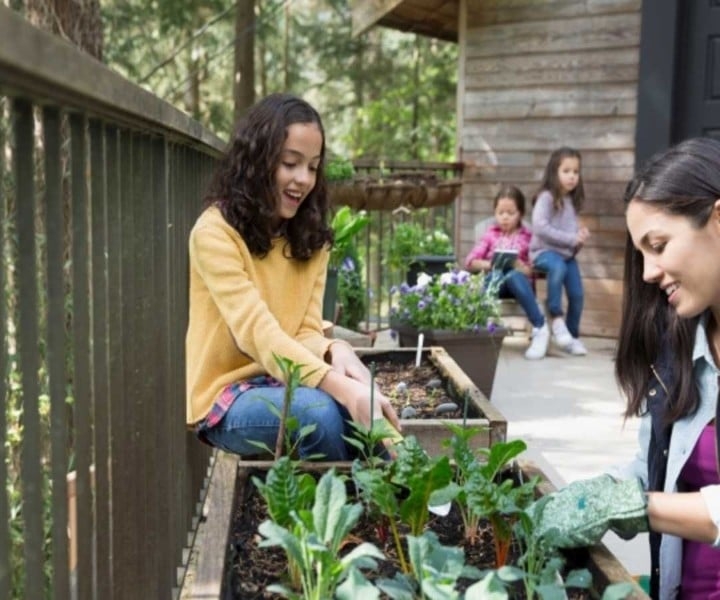 Fresh veggies in wooden crates will also double as a striking decor in your balcony.
17.

Tomato Balcony Garden

Why tomatoes? Well, they're easy to take care of and grow, they don't need much room, and they look beautiful, too.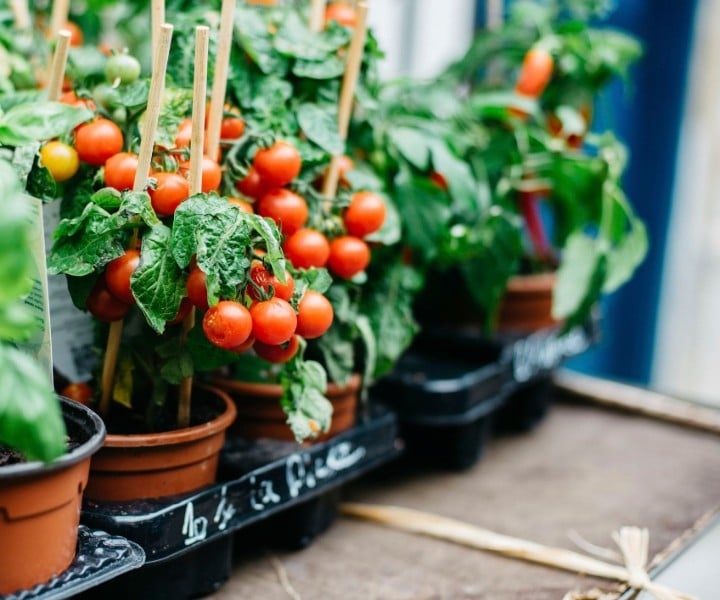 But the best part is that homegrown tomatoes can be used to make salads, sauces, and yummy tomato chutneys.
18.

Hanging Wicker Baskets

While you can use pots of different materials to contain your vegetable garden, how about giving a try to hanging wicker baskets? Layer them with plastic, fill soil, and start planting veggies of your choice in them.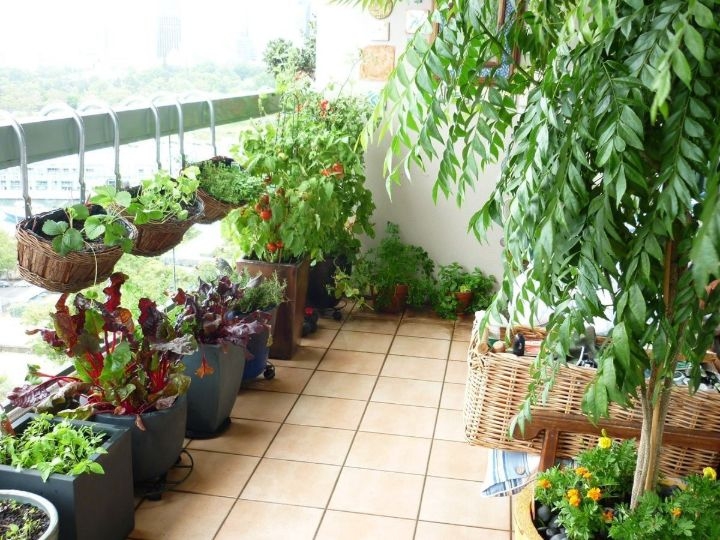 Idea: Use a woven wicker basket to store your balcony garden tools, equipment, seeds, and other supplies.
19.

Vegetable Deck Garden

Transform your deck into a thriving vegetable garden. You can fill up all the space with planters to maximize your yield. Leave just a narrow passage in between for movement.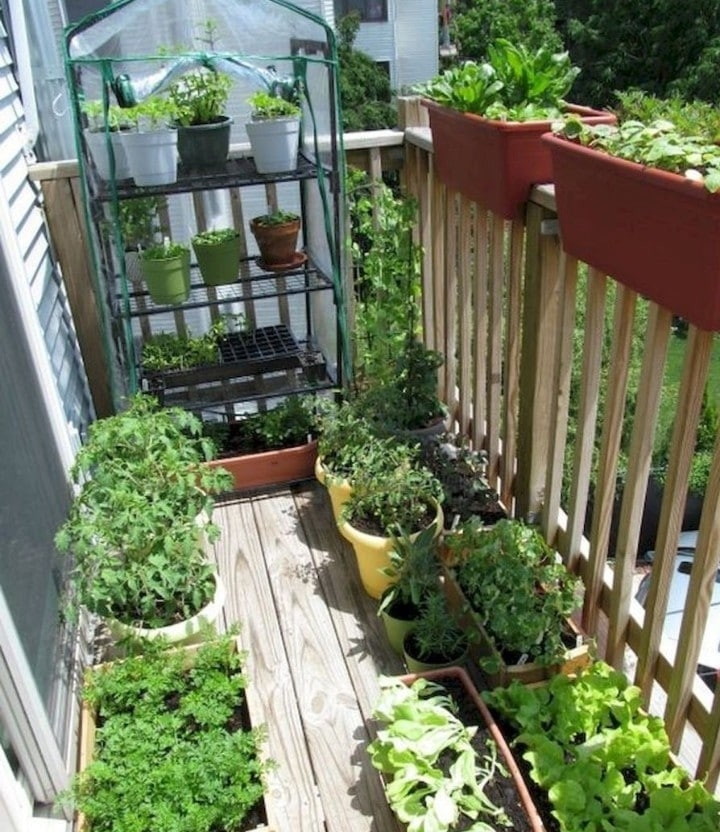 Idea: Create a small greenhouse for veggies that need more care to grow.
Apartment Balcony Garden Ideas
Give your tiny apartment balcony a green makeover. Sure you wouldn't be able to cultivate tons of vegetables and plants in it, but you can still live the garden life in limited space.
Here are some wonderful apartment balcony garden ideas for you.
20.

Balcony Lawn

For an apartment-dwelling lawn lover, here's the perfect solution: create a lawn feel in your small balcony using synthetic lawn turf. It is easy to maintain and cost-effective.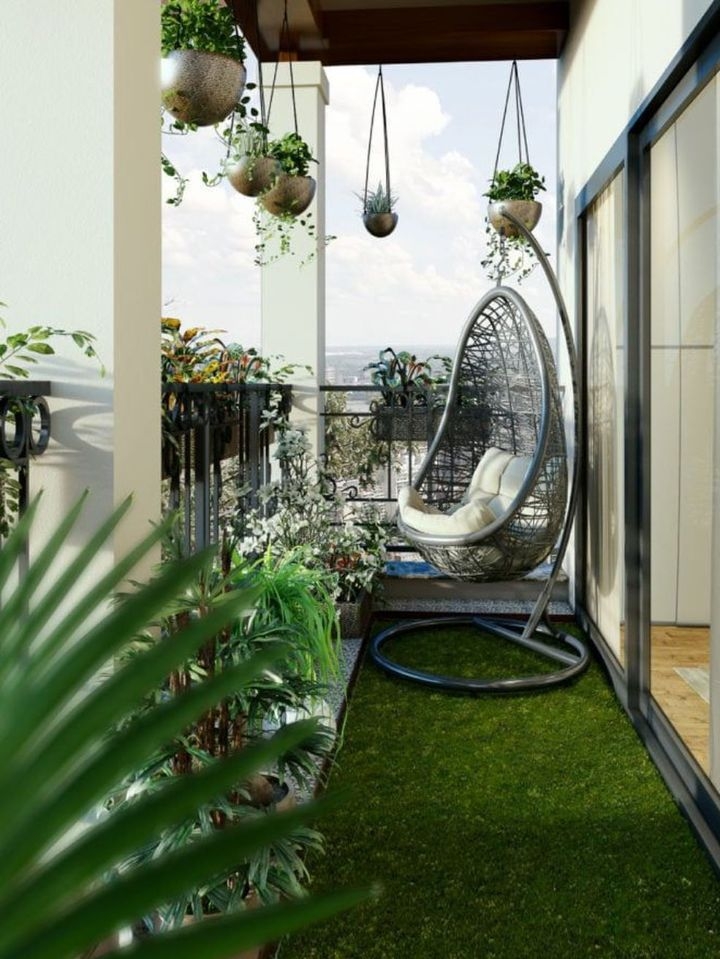 Idea: Place a comfy swing chair, some potted plants, and use the space to unwind in the evening over a cup of coffee.
21.

Jungle-Inspired Balcony Garden

A profusion of potted trees, lush plants, and vines can transform your balcony into an enchanted forest. It will make a gorgeous statement that can be noted from afar.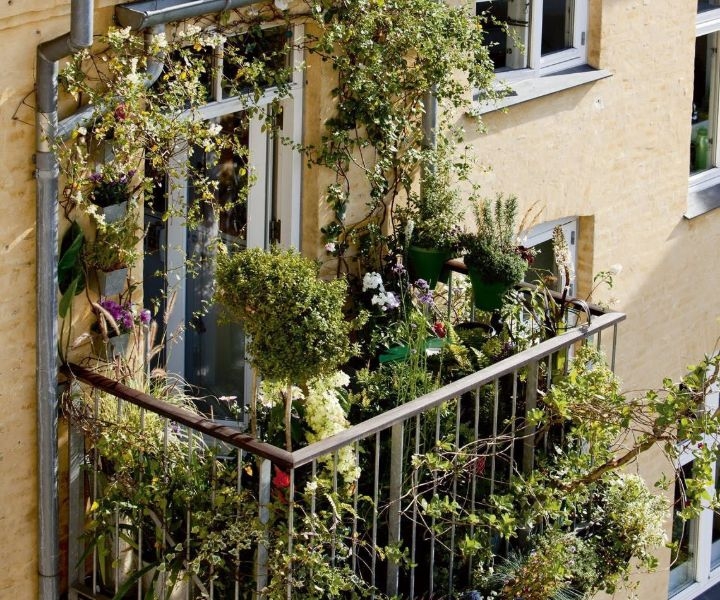 Plus, your balcony will get a sense of privacy, too.
22.

Micro-Park Balcony

If gardening means the world to you, you may as well use every inch of space you have in your balcony. Use everything from clay pots and railing planters to hanging baskets and trellises.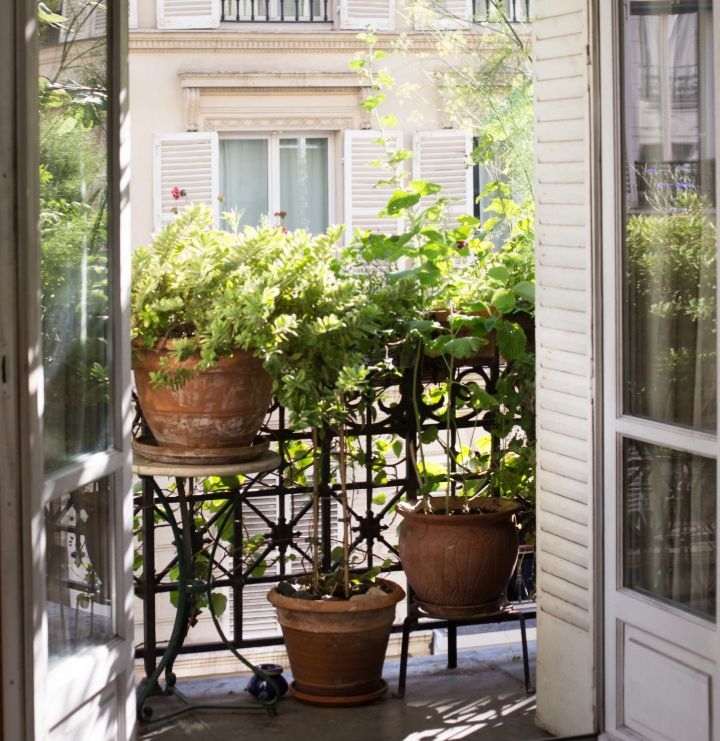 It will give your balcony that mini-park look and make your gardening dreams come true even in a small apartment.
23.

Rustic Apartment Balcony

You don't need tons of plants to make a rustic statement in your balcony. A handful of potted plants will also do the job. You'll essentially need containers and pots of varied sizes, shapes, and colors.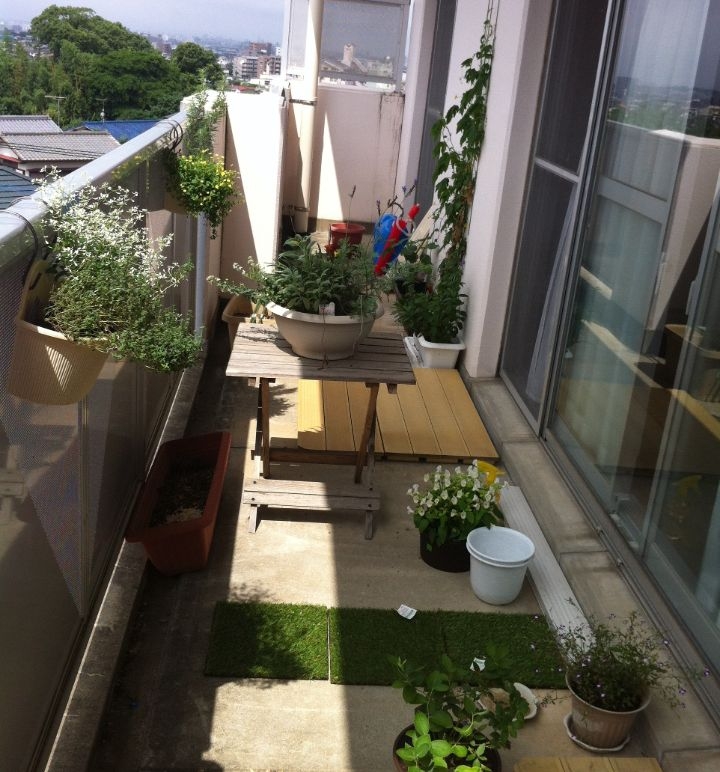 Arrange them randomly in your balcony and grow different types of plants in them. You're sure to rock the rustic look.
24.

Floral Oasis

For a blooming balcony that will make your space look warm and inviting, create a floral oasis. How? Well, you can plant sweet alyssum, begonias, geraniums, and petunias in colorful planters.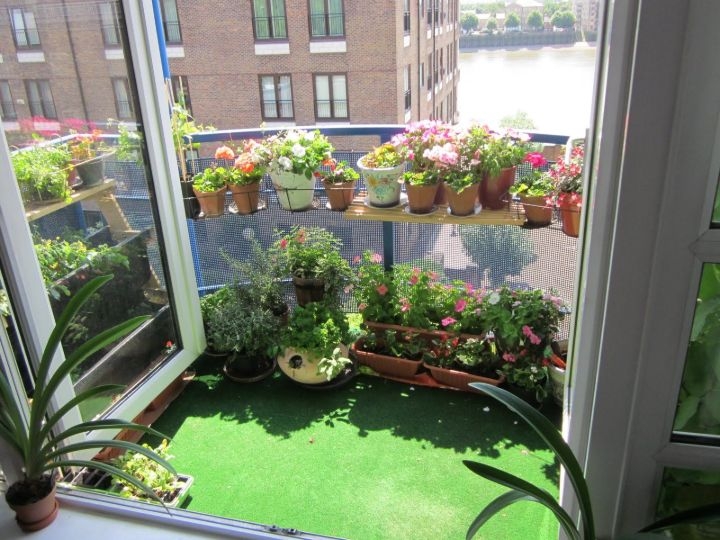 Idea: Take inspiration from the image below and spread a carpet of faux lawn grass for added effect.
Home Balcony Gardening Ideas
Starting your dream balcony garden at home? Give a go to vertical planters, hanging baskets, railing pots, and maybe even wooden crates.
Below are some great ideas you can take inspiration from.
25.

Cheerful Balcony Garden

How about a balcony garden overflowing with petunias and roses? Mount planters on the railing or hang them from the roof for an old-world feel.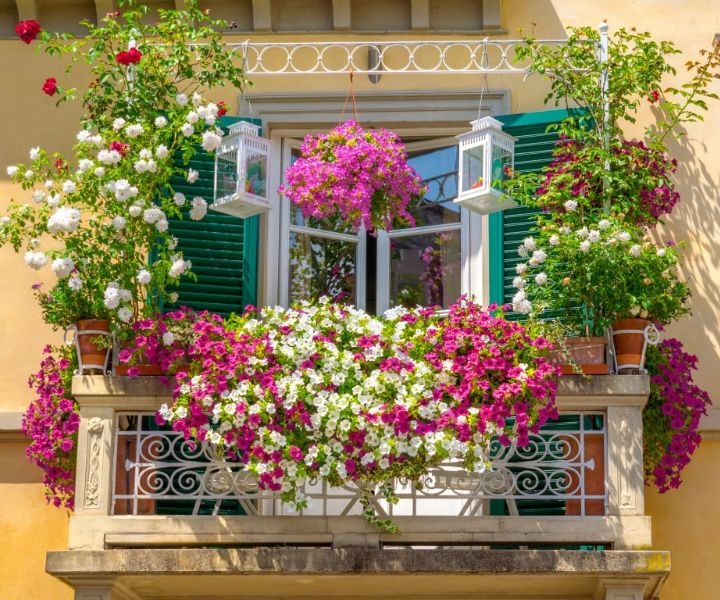 For a bright and cheerful vibe, adorn your balcony with flowers in shades of reds, pinks, and yellows.
26.

Balcony Corner Garden

Use a small corner of your balcony to grow plants in. Line the railing with colorful planters and add a few freestanding pots and trellises to greenify your space.

Grow sunflowers, marigolds, lavenders, and fuchsias. Your petite corner garden is ready. Marigolds can even contribute to the repelling of mosquitos in your garden.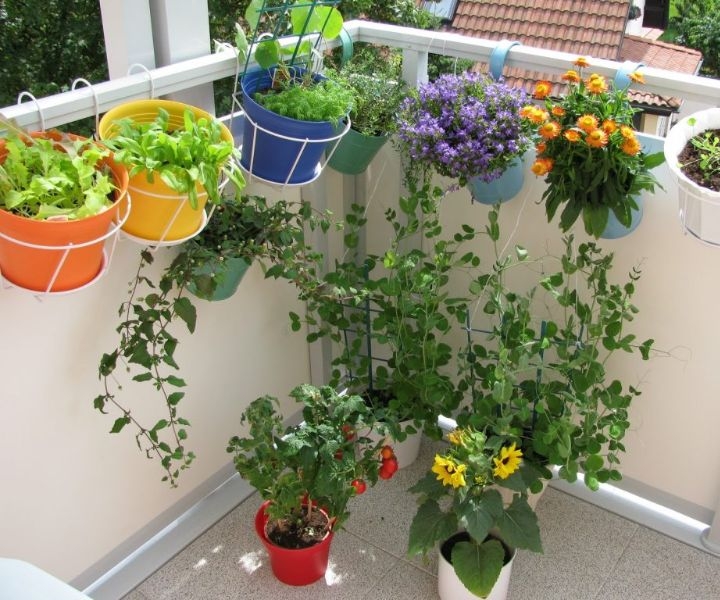 27.

Repurposed Crate Garden

Create a raised flower bed in your balcony using old wooden crates. They take up only a little space and are a clever and inexpensive way to grow plants and vegetables.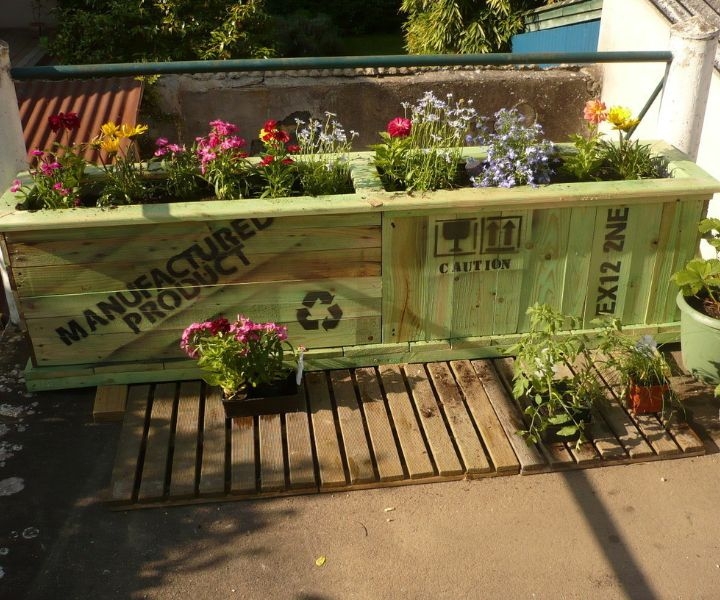 Tip: Prevent your wooden crate from rotting by simply lining it with plastic.
28.

Blooming Floral Garden

With a vibrant and colorful balcony, you can make a dramatic statement even in a small space. Make sure you use every inch of space you have. Grow plants in hanging planters, rail pots, and even trellises.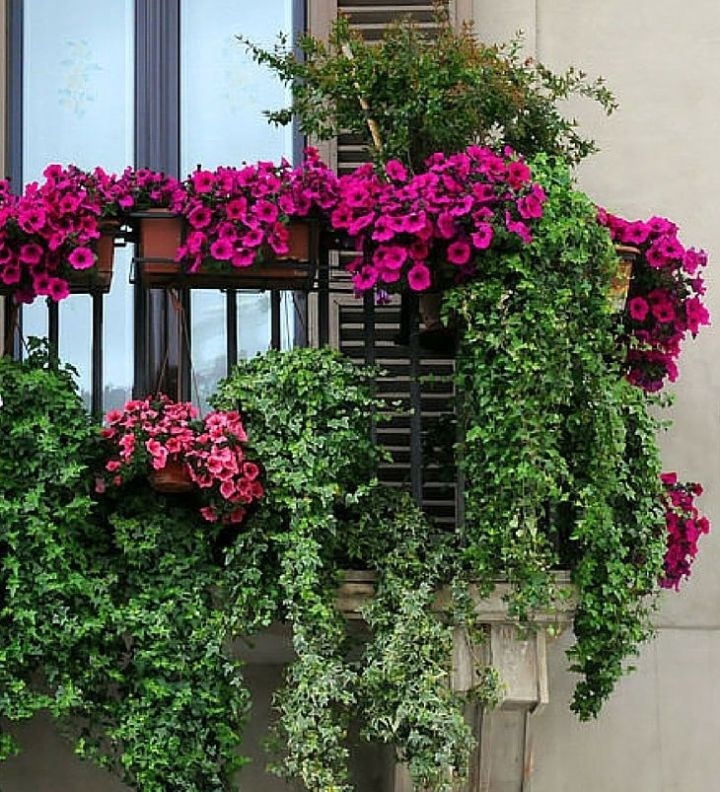 Idea: Grow lots and lots of petunias in the shades of red and pink and use ivy for a striking green contrast.
Vertical Garden Ideas for Balcony
Take advantage of the walls you have in your balcony. How? Simple, by vertical gardening! Hang pots on your walls using trellises, shelves, and even gutters and pallets.
Take inspiration from these vertical garden ideas for your balcony.
29.

Trailers Plant Wall

Create a green waterfall in your balcony with trailing plants in ceramic pots. Fix the pots to a clean wall using metal or wooden holders.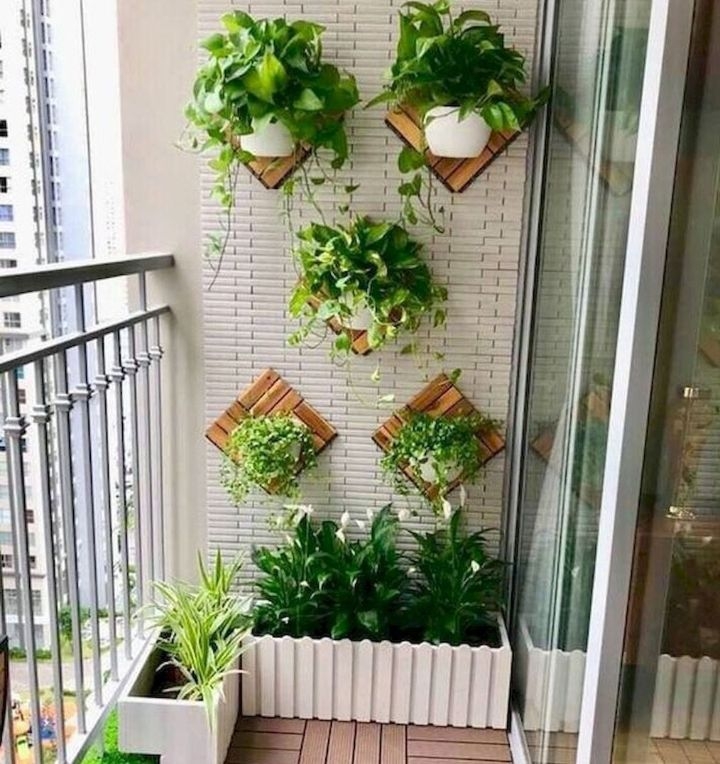 Grow plants like English ivy, golden pothos, string of pearls, and burro's tail and you're good to go.
30.

DIY Pallet Hanging Garden

Upcycle old palettes for your vertical balcony garden. Fix it on a bare wall in your balcony and hang planters of different shapes and sizes on it.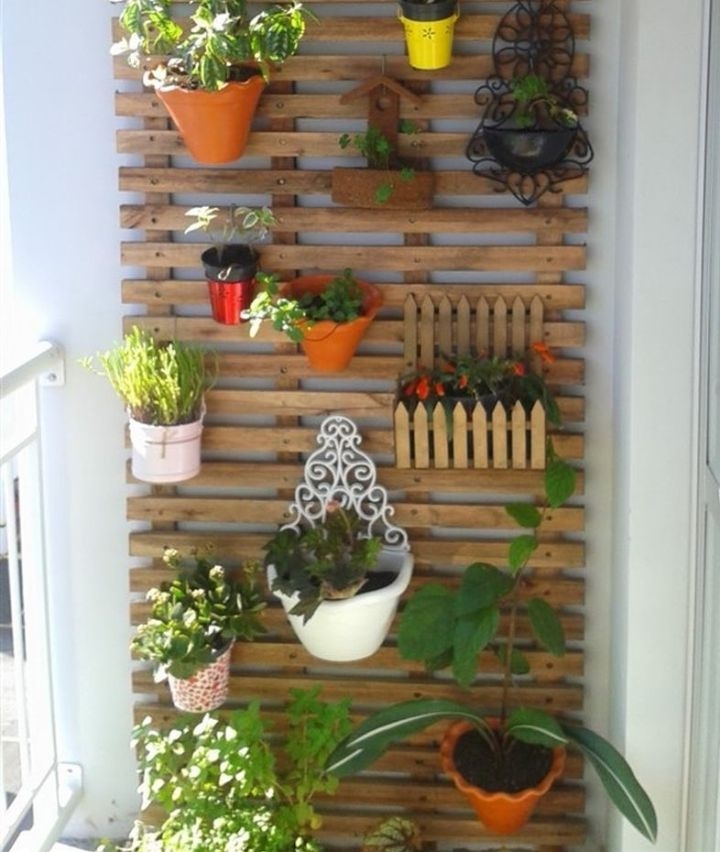 This DIY project is budget-friendly and super easy to make. You can easily source old palettes from small local grocery or retail shops.
31.

Living Wall Balcony Garden

Dress up a barren wall in your balcony with leafy plants of all shapes, shades, and sizes. It will give your space the needed depth and texture without taking up a lot of space.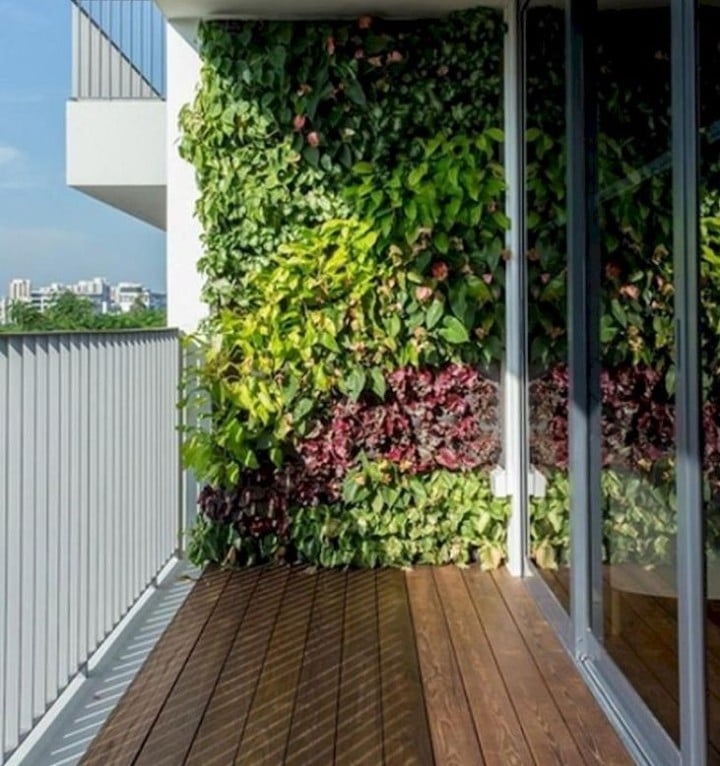 Tip: For your living wall to thrive, make sure all the plants in it have the same sunlight and water needs.
32.

Colorful Vertical Balcony Garden

For a nice splash of color, consider using pots and plants in vibrant hues. Polish a wooden palette to make it look more elegant and then hang orange, yellow, white, and green pots on it.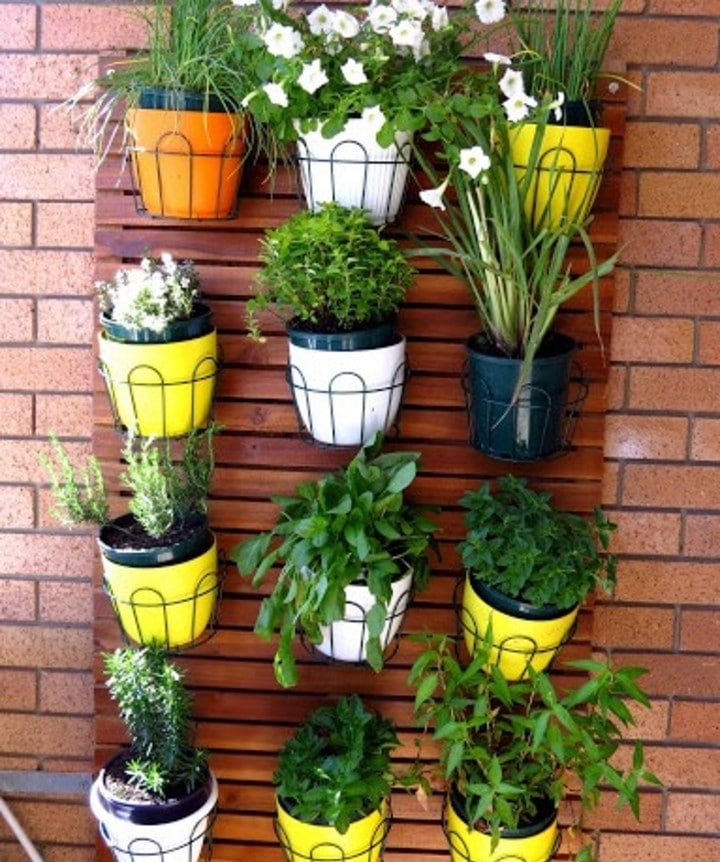 Next, plant flowering varieties like petunias and geraniums or grow herbs like dill and rosemary in your pots.
33.

Balcony Trellis Garden

How about a painted trellis to hold your mini balcony garden? You may want to use pots in dark shades of grey or brown. The arrangement will look uber minimalist.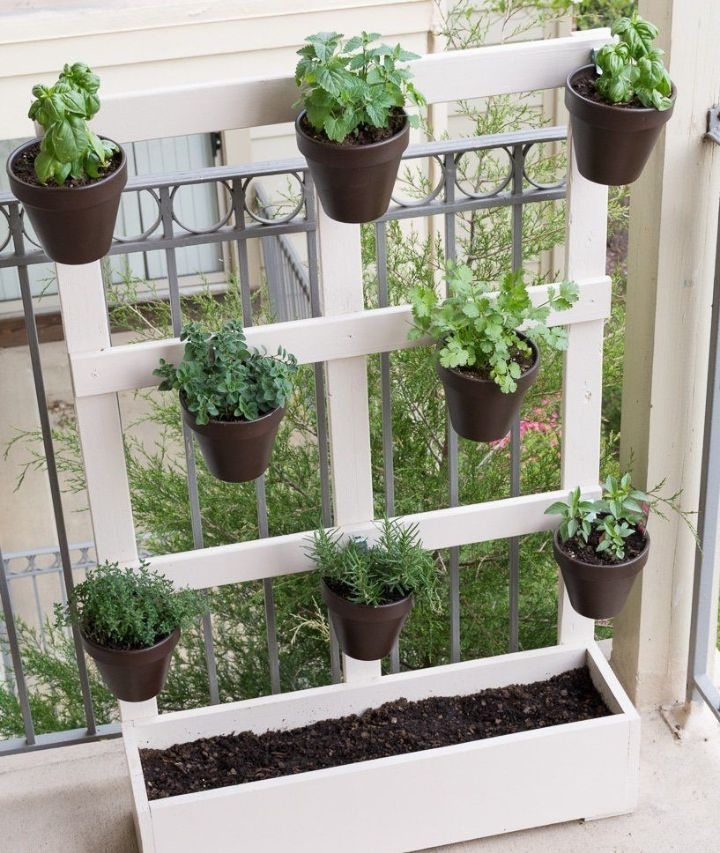 Idea: You can also introduce a box in your trellis, like in the image below. Fill it with soil and plant strawberries in it if you please!
Best Balcony Plants and Vegetables
You do not need a huge backyard to cultivate plants and vegetables. With the right container and plants, you can convert the limited space in your balcony into a thriving garden.
Best Veggies for Your Balcony Garden
Vegetables can add a little country charm to your balcony garden. Plus, growing them organically means both good health and taste. You'll essentially need to do the same things you'll do in your backyard to grow them.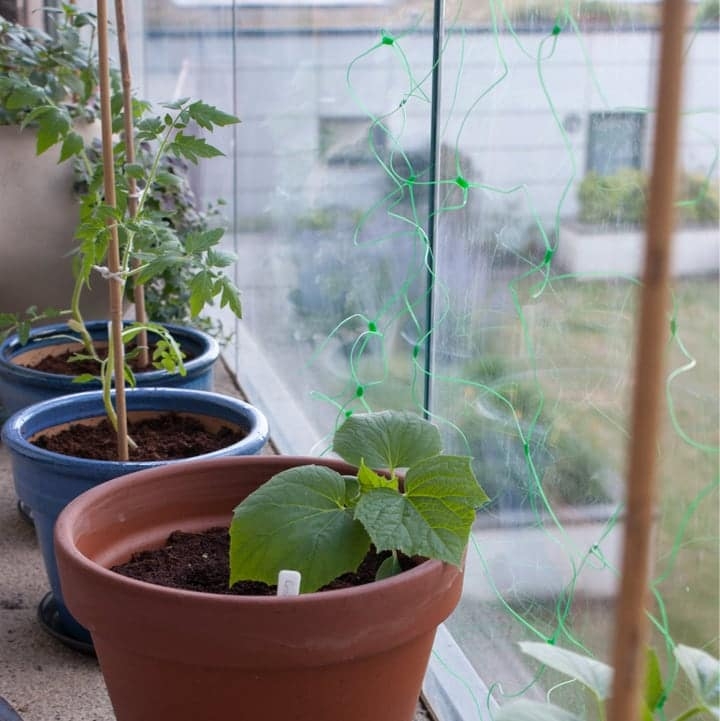 Some easy-to-grow balcony veggies are:
Best Flowers for Your Balcony Garden
Bring flowering plants to your balcony for a nice summer vibe. Most plants are easy to grow in planters. Still, you may want to stick with hardy plants that can tolerate partial sun and survive drought.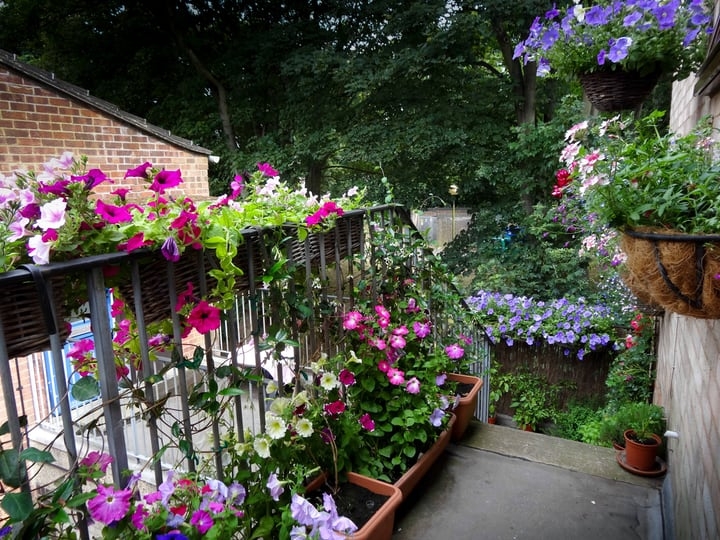 Here are the best flowers to grow on your balcony: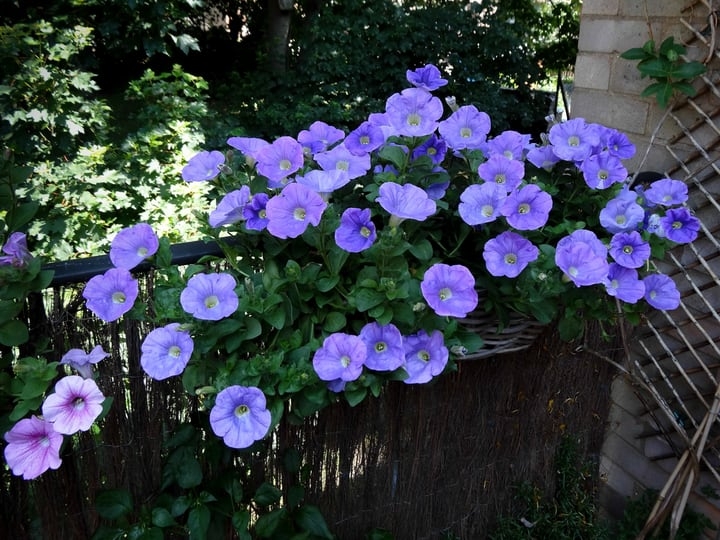 How to Create a DIY Balcony Garden
Is your balcony in need of a little green? Get started on a DIY project for your balcony.
Whether you're a gardening pro or it's your first time at getting your thumbs green, you can easily get started on this easy DIY balcony garden with our step-by-step guide.
Step 1 - Consider Your Space
Before getting your hands dirty, quite literally, take a close look at your balcony. See what direction it faces, the amount of sunlight it gets, and how much space you have.

That way you can figure out what kind of garden to create.
Step 2 - Choose Your Design
There are endless design options you can choose from. You can go for railing planters, containers, plant pockets, vertical gardens, or a mix of these, depending on your space and taste.

Tip: Avoid hanging planters if you live in a high-rise building. If a pot fell off your balcony, it can be really dangerous.
Step 3 - Choose Your Plants
Here's the fun part: choosing what you want to grow. You can try a floral balcony garden to make your house look bright and blooming. Or you can choose to get started on a more functional garden featuring herbs and veggies.

Whatever you decide, keep in mind the sun, water, temperature, and soil needs of your plants.
Step 4 - Select Your Planters
Balcony planters should be compatible with the growth habits of the plants you grow in them. For example, you'll need long and wide planters for vegetables.

Tip: Make sure the planters you fix on the rails are made of lightweight material like plastic.
Step 5 - Add Some Furniture
You probably want to use the green balcony space to unwind after work. Maybe read a book or drink some tea there?

So don't forget to add to your balcony garden a couple of foldable chairs, a lightweight swinger, or a mattress with some pillows. 
Step 6 - Safety and Maintenance
Last but certainly not least, make sure all your planters are securely fixed and won't tumble down with strong winds. Check also the weight restrictions you may have in your apartment balcony.

When it comes to maintenance, you'll have to ensure your plants are being watered on time, they receive proper sunlight, and are pruned now and then.
Balcony Garden Frequently Asked Questions
Ready to create a flora-filled garden in your own balcony? You may want to read through these important FAQs before you start dragging planters, crates, and trellises to your balcony.
What vegetables can be grown on a balcony?
Almost every vegetable you can grow in your backyard can be grown in your balcony garden as well. Start with low-maintenance and
easy-to-grow veggies
like beans, green onions, peppers, eggplants, or cucumbers.
It's important that your vegetable planter is deep and wide and offers good drainage.
What do I need for a balcony garden?
Starting a balcony garden is quite easy. You'll need a balcony (obviously) that receives at least three hours of sunlight. Next, you'll need plants or seeds, and some planters.
Finally, get your hands on basic gardening tools like a trowel, watering can, a pair of shears, etc. and you're ready to
start your own balcony gardening adventure
.
How do I build a small balcony garden?
To build a small balcony garden, you'll first need to assess the space you have and how you can use it to the last bit. The rest is simple: bring in some planters and plants and start gardening. For a more detailed "how-to", read our step-by-step guide on a
DIY balcony garden
above.
Less Is More
When it comes to gardening, sometimes less is more. You can use the small balcony space you have to grow plants without a heavy investment of time, energy, or money.
With no lawn mowing or weeding, you'll have plenty of time to be creative. Use the space to grow plants and vegetables and occasionally even host guests.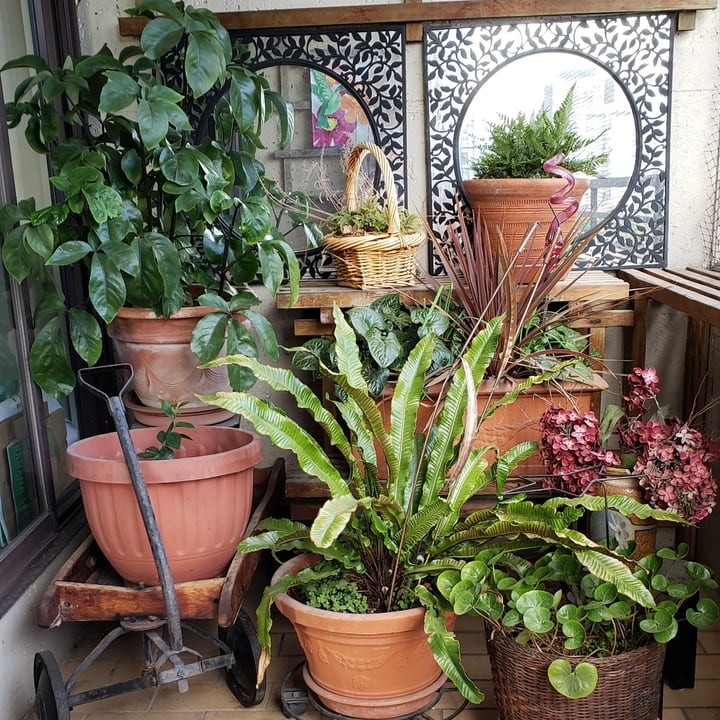 Only a bit of planning can turn your boxed-in balcony into a little Eden garden. And that too with minimal effort.
So, are you all prepped up to start your own balcony haven? Let us know in the comments section below!
Until next time, happy balcony gardening!
Foter Magazine is a premier architecture, decoration, interiors and design website. We inspire and guide you to make your home a more attractive place.