Yes, you can garden in the city—even if you don't have all that much free space. It's not wishful thinking. It's terrace gardening.
As civilization continues to develop, you may think the opportunities for gardening are reserved for those with the soil and space.
Thankfully, modern methods of gardening are spreading across the world that can turn terraces into gardens.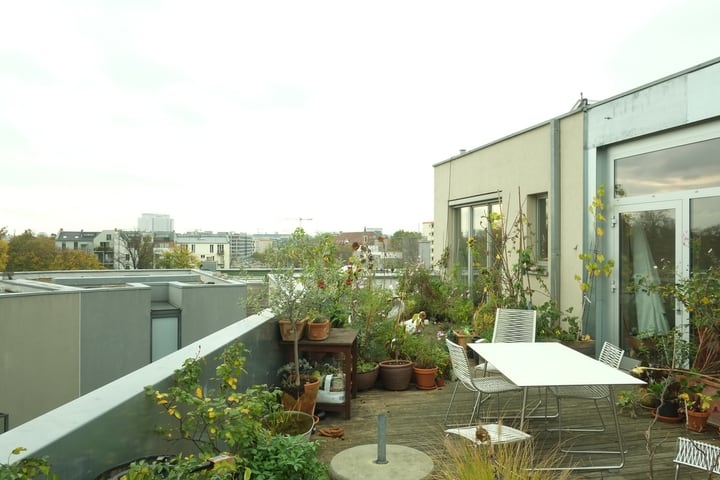 Terrace gardening makes the most out of a small space. The term terrace sounds like a large fancy porch or walkway, but the truth is that almost every home will have a terrace of some type.
A porch area, paved concrete patio, or a small balcony could all be considered as a terrace.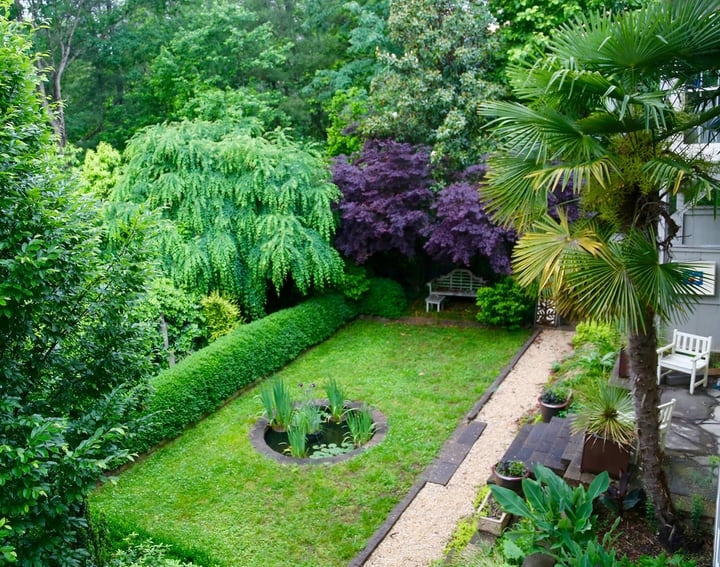 Whether you have just a small apartment patio, paved walkway, or even a large porch in your backyard, we've got a terrace garden idea for you!
Why Terrace Gardening?
Trying new methods of gardening can transform your terrace into a flourishing garden. We are living in smaller spaces, in city environments, but still want the pleasures of gardening.
These gardens can be compact or widespread depending on your space and desires.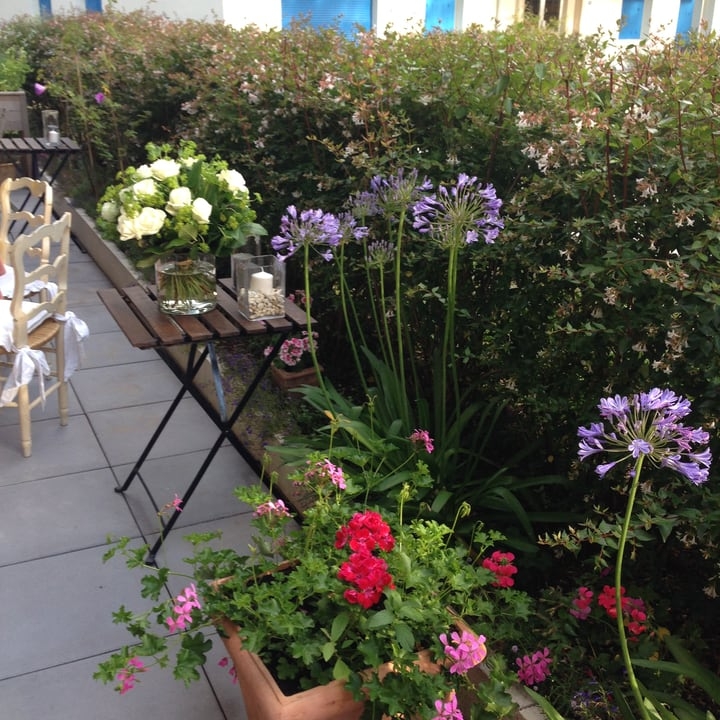 Terrace gardening breathes life into any space. Having a natural space in an urban world can be very therapeutic to maintain and to be around. Gardening is a beneficial hobby and with terrace gardening, it can be done anywhere.
Whether you have space for a garden or only a small corner on your porch, you can grow nearly anything. Think big. Or small—there are a wide variety of plants and vegetables you can grow from the corner of your back patio.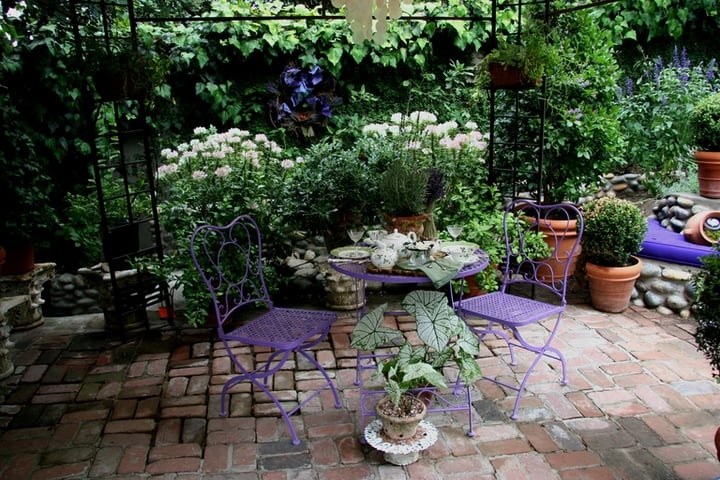 Plus, you can do it all from easy to manage planters instead of digging up the dirt. Take our list to inspire you and enjoy our simple guide to making your own terrace garden!
Terrace Garden Ideas to Inspire You
There is so much you can do with terrace gardening. So, no wonder people all around the world are changing their patios into flourishing gardens.
You can do terrace gardening beautifully in large terrace spaces, homes with lawns, and even small apartment porches or balconies.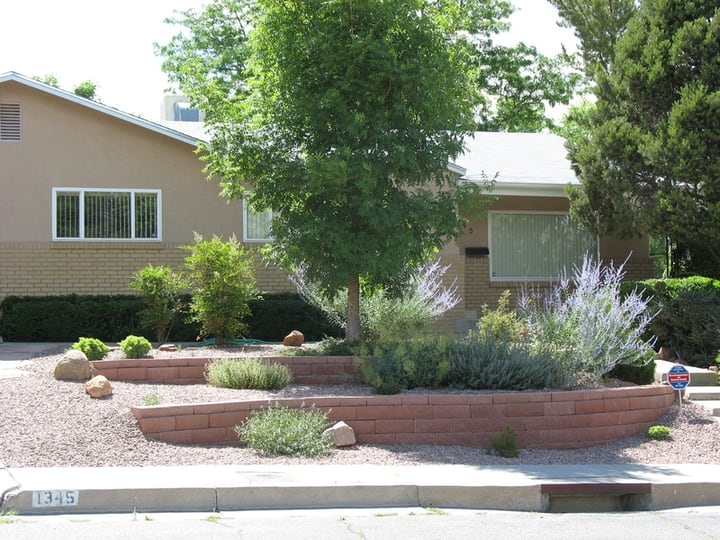 Grow organic vegetables in compact spaces from planters, plant extravagant greenery, or small herbs. Not even the rails are the limit!
Vegetable Terrace Gardening Ideas
Harvest from your terrace in a sustainable garden! There is a variety of easy to maintain vegetables that can be grown right from your terrace.
You are probably familiar with most of these garden vegetables, but did you know you can grow them from small planters?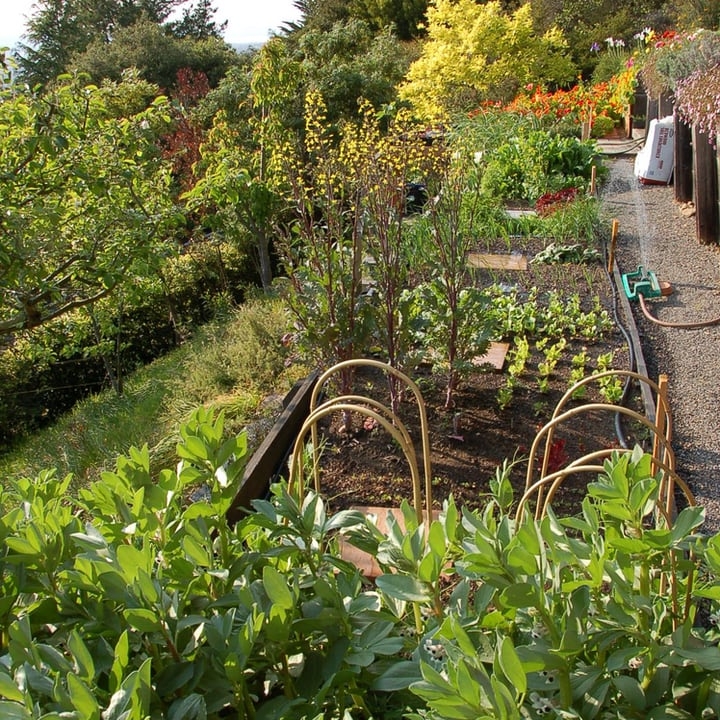 Your garden is not confined by the lack of land. Check out some of the vegetables you can harvest in even the smallest of terraces.
1.

Cucumber Containers

This very popular vegetable typically grows on a large vine. But can also be grown from a bush!

In a terrace garden, you could grow a small cucumber bush from a planter. Bush types grow low and are easy to maintain.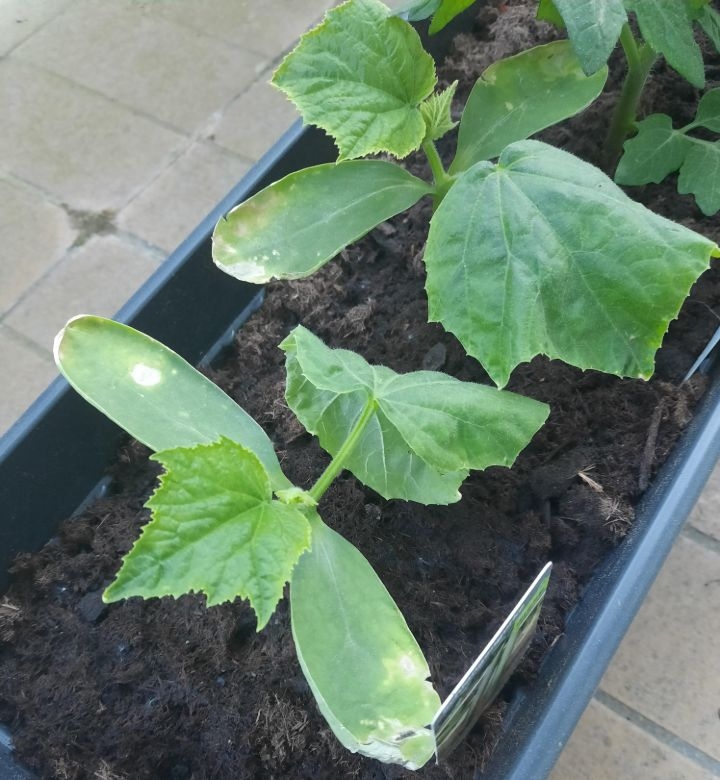 If you have a support beam you could still grow vine cucumbers from a container. As long as the cucumbers are small and the vines are guided away from each other, the cucumbers can grow healthy.
2.

Radish Boxes

Radishes are small root plants that look like beautiful leafy greens before you harvest them. They grow fast and are beneficial to your garden.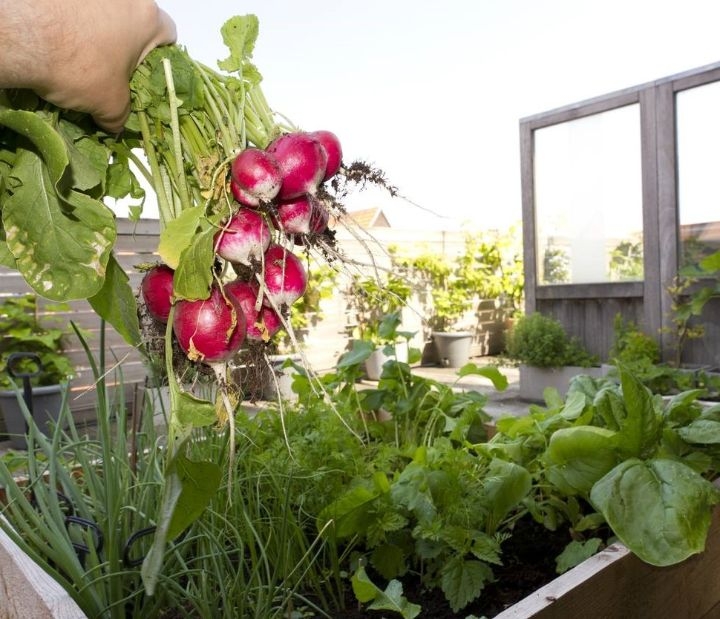 These little roots will defend against fleas and garden beetles that may infiltrate your terrace garden. Simply plant one or two near your cucumber to protect it!
3.

Growing Peppers

Peppers grow on a vine that can be easily controlled in a terrace garden. They grow upward instead of downward meaning they are perfect for small gardens!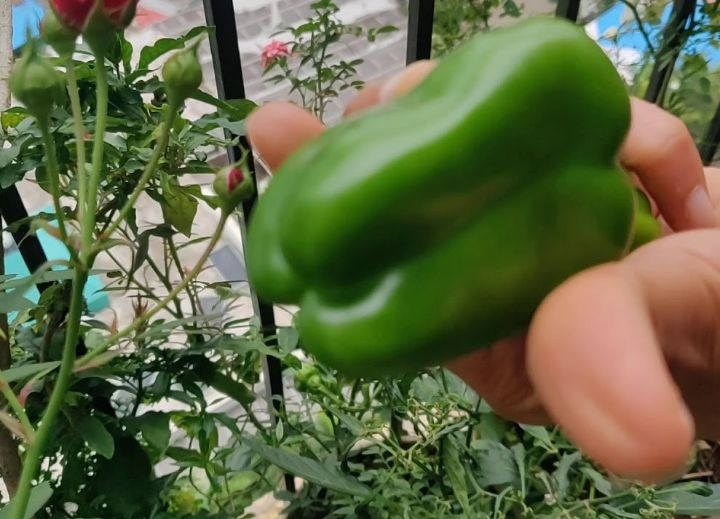 Capsicum, better known as bell peppers, can be easily grown in pots if you have space where they can get lots of sunlight and strong support beams.
4.

Terrace Eggplant

Another popular filling vegetable used often as a meat replacement can be grown from a planter. Eggplant is typically fairly large, needing a larger planter and space for the vines to grow.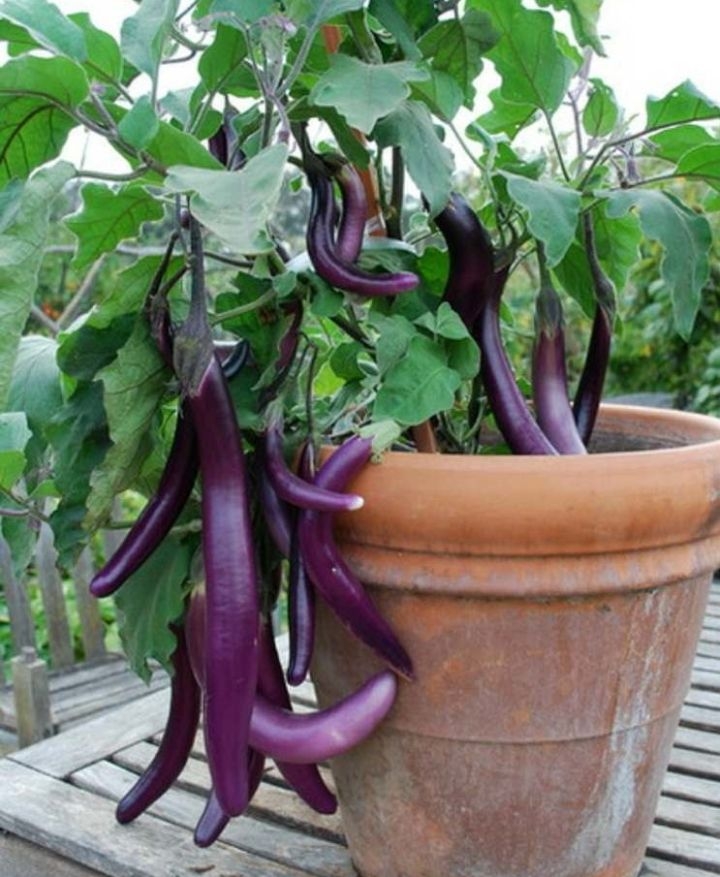 Thankfully, there are baby varieties you can manage in smaller containers if you have a smaller space.
5.

Tomatoes

Tomatoes grow vertically on vines. Perfect for terrace gardening, tomatoes can grow from planters, or as hanging plants thanks to their structure.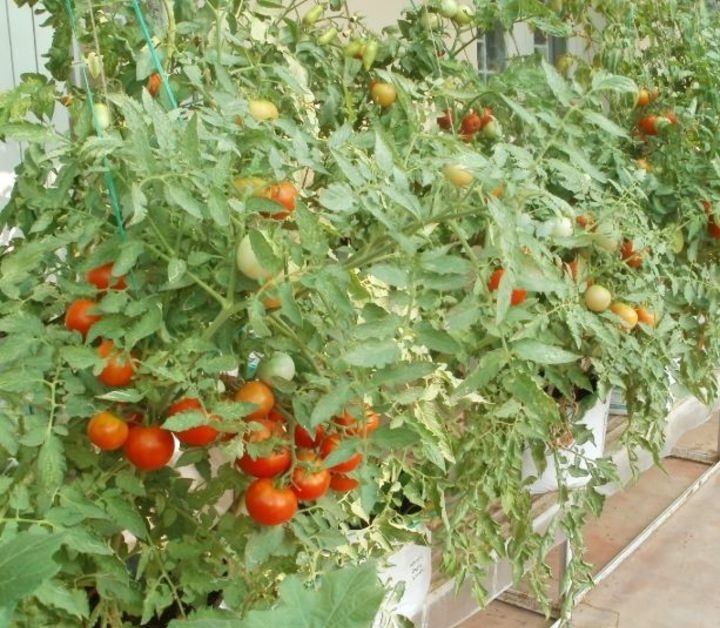 This awesome vine vegetable will grow as much as the vines can, creating a beautiful garden and offering lots to harvest.
Tip: You can use hydroponics indoors to grow vegetables on your terrace. Check our hydroponics guide for an intro to this method of growing plants.
Terrace Gardening Plants Ideas
The plants that thrive in pots or boxes certainly go beyond vegetables! Wouldn't it be amazing to turn your paved patio into a jungle of your own?
We've got some great examples of plants that you can put on your terrace to create an exotic environment, even in the middle of the city.
6.

Layered Grass

Fill your space with luscious plants and grasses to create a forest in the comfort of your backyard.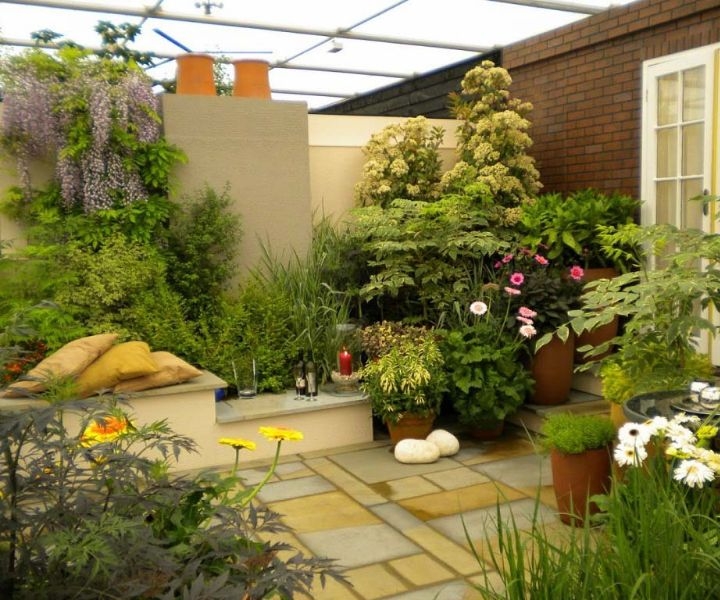 Layer plants on top of each other that don't need much sunlight and fill up empty spaces with dark greens and low forest plants. Having multiple types of grass and dark leafy bushes will thrive here!
7.

Fern Balconies

You can make more out of the safety rails and gates in the back of the terrace. Dress it up with a line of ferns or bushy plants.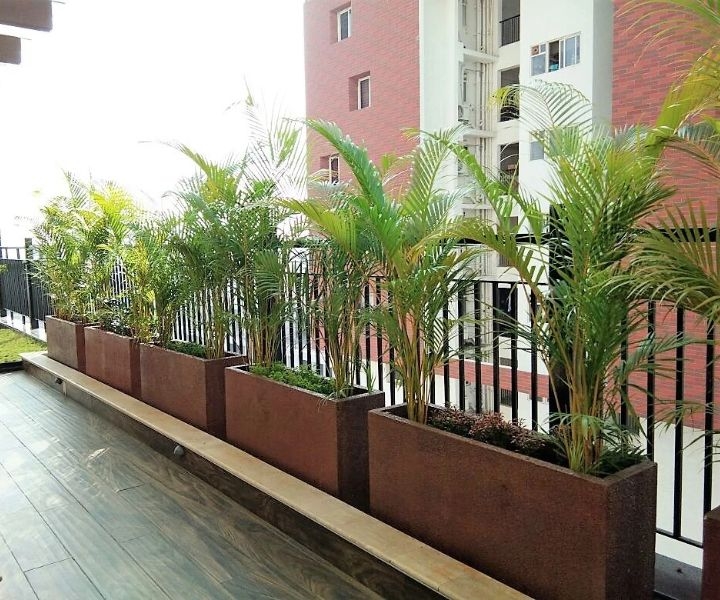 They also offer a bit of privacy from windows across the way!
Tip: Use smaller bushel plants and grass to fill in space between the ferns.
8.

Layered Herbs

Herbs typically grow in small bunches, meaning they can be double stacked and grown in planters together.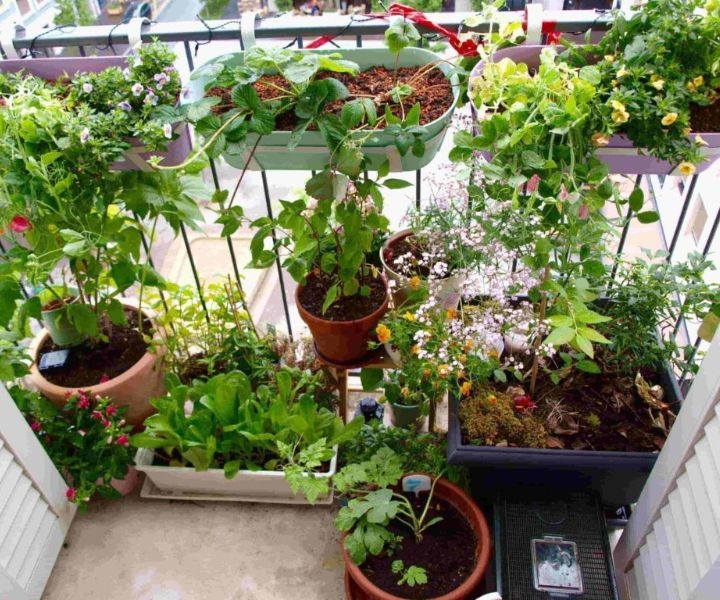 Let your herbs and greens grow over each other. These easy to maintain plants will grow with sunlight and water and come in colorful varieties.
9.

Leafy Plants

The possibilities for planting are nearly endless, inside separate pales of course. Pull together a diverse group of greenery. For example, several bushes and vines varieties offer strong green leaves for your terrace garden.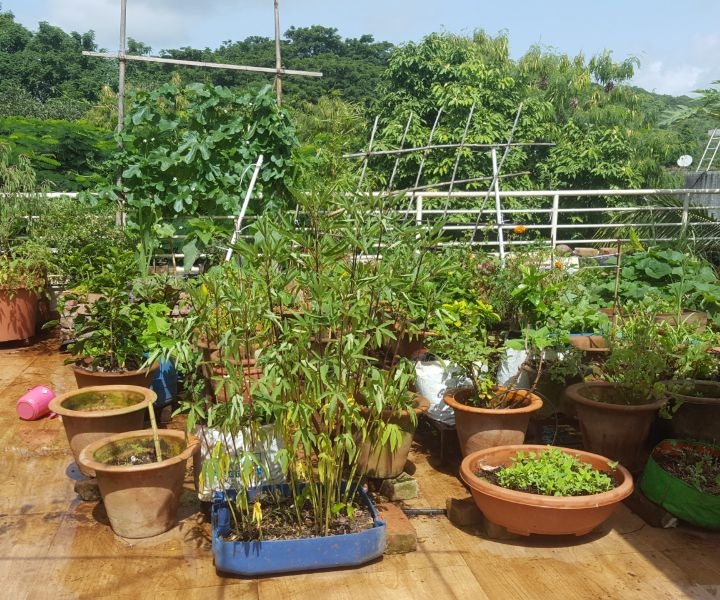 Small planters with ambitious plants and leaves that climb lattice walls make terrace gardening an adventure.
Terraced House Garden Ideas
Urban living is becoming tighter and tighter, with more pavement than ever. Thankfully, there are many ways to build a garden, even in the smallest of places.
Imagine one of these gardens in your living space—how would they fit and how would you make it your own?
10.

Potted Trees

Create an exotic terrace alongside your walkways with a variety of tree types to enhance your environment. Try looking at the trees that have small roots and come in planters already.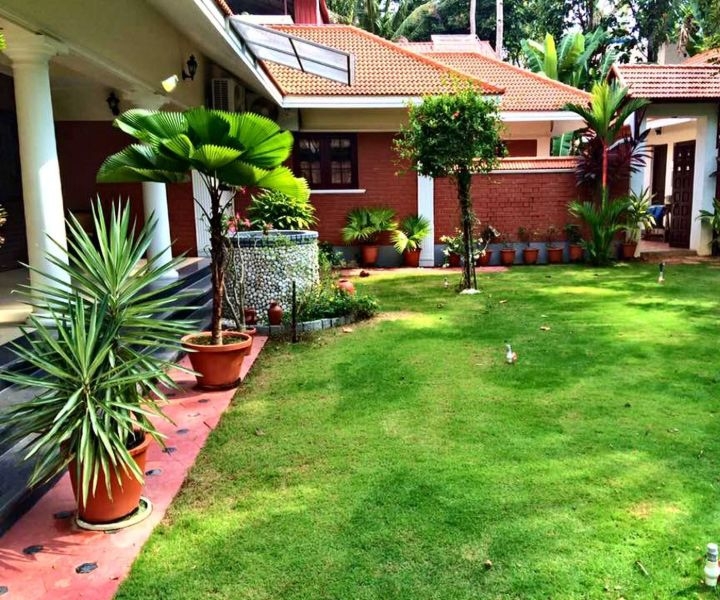 Use potted trees with different shades and textures to create a vivid terrace garden out of a small paved walkway.
11.

Small Root Plants

Side planters in a small backyard can dress up any small lawn. You can use a pattern of bushes, ferns, and even herbs to bring nature into your backyard.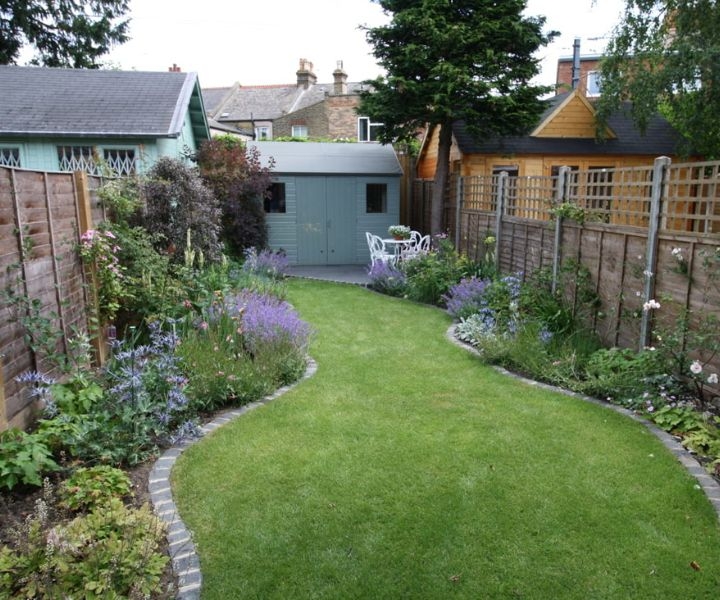 Small root plants can often grow large branches and be planted close together, turning a minimal terrace garden into gorgeous scenery.
12.

Flower Beds

The simplest way to grow a garden in a concrete environment is with colorful flowers in basic beds or pottery planters.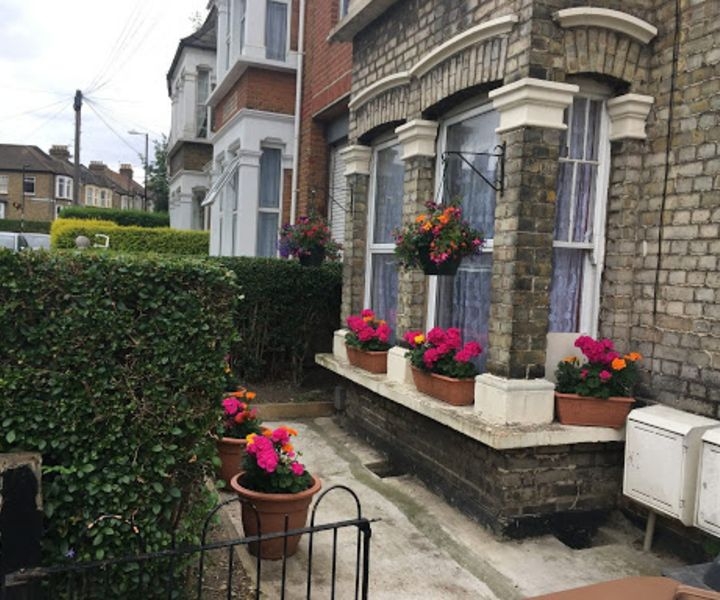 In the smallest and paved places, potted flowers can bring vibrant colors and smells. Flowers can grow in small planters and are easy to maintain.
13.

Pathway Garden

Small ferns planted alongside concrete paths make a small space into a fun space. Creative design and color can change the outside view into something magnificent.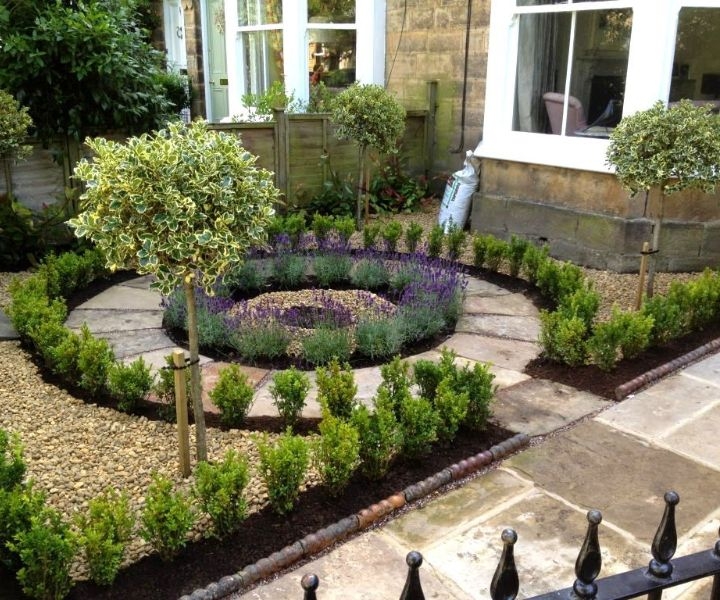 Fact: Many bushes and plants can live in manufactured dirt with little maintenance.
14.

Bushes and Planters

Fluffy clover bushes and diverse flowers can make your back patio into the wild outdoors. If you have the space for big planters, try using a variety of sizes.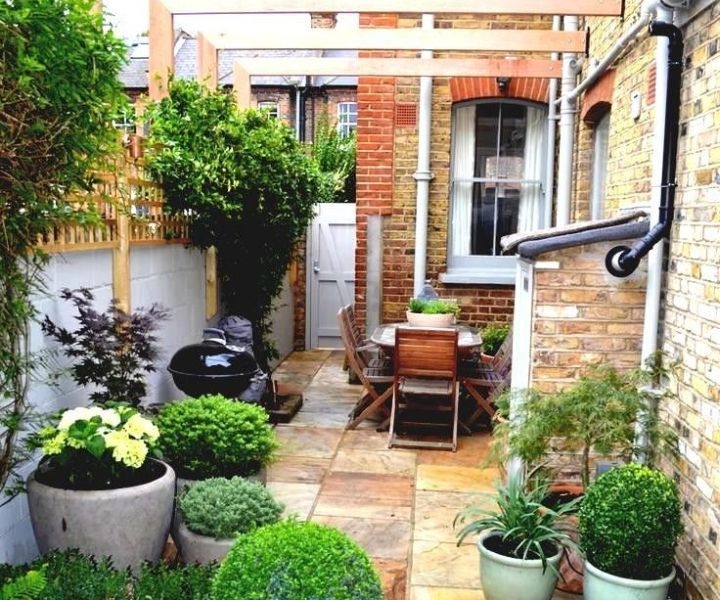 Tip: Try to keep to a specific style of planters for uniformity in your terrace garden.
15.

Porch Projects

Create a gorgeous terrace garden you can sit in and enjoy. Make your porch into a garden using small trees and ferns as the frame.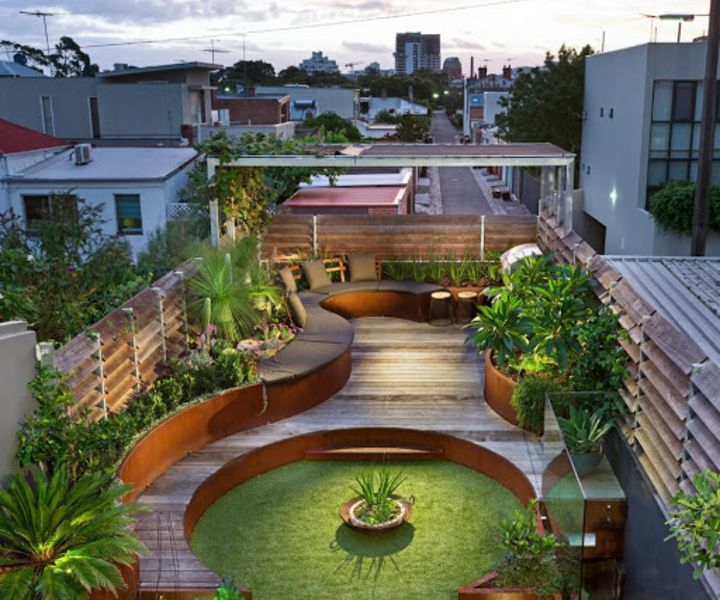 Even in small backyards, tall trees and leafy plants can turn your small space into a secluded garden.
Terraced Garden Apartments Ideas
Many people who live in apartments think that terrace gardening isn't an option. But when you're using creative design and planters, small spaces can become amazing gardens.
Think low maintenance plants that offer a lot of spunk! Or just wonderful garden designs to bring a bit of nature into your urban world.
16.

Barkdust Planters

Vibrant ferns, leafy trees, and other plants are easy to manage from the back of an apartment. Using unique plants with little need for growth makes terrace gardening easy.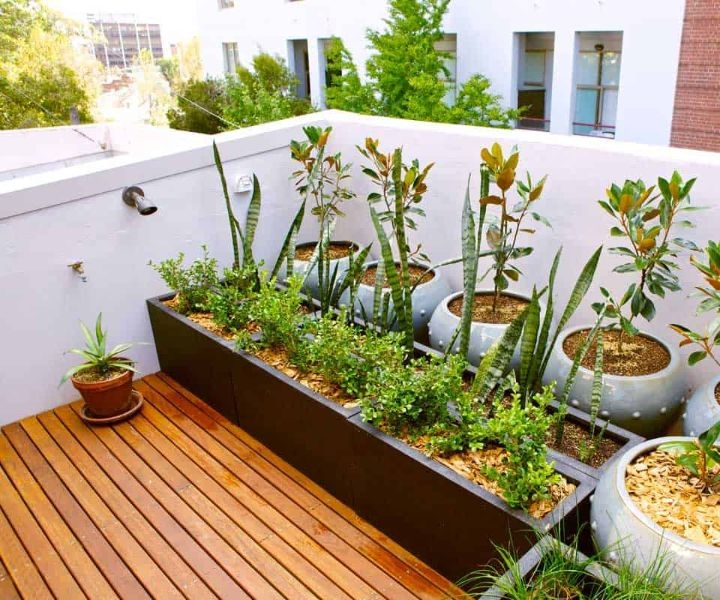 Barkdust and compact planters create an easy to manage terrace garden in the smallest of places.
17.

Small Potted Plants

Spruce up the balcony or walkway with easy to grow potted plants. If there is a spot outside your apartment that gets sunlight, you can have a terrace garden!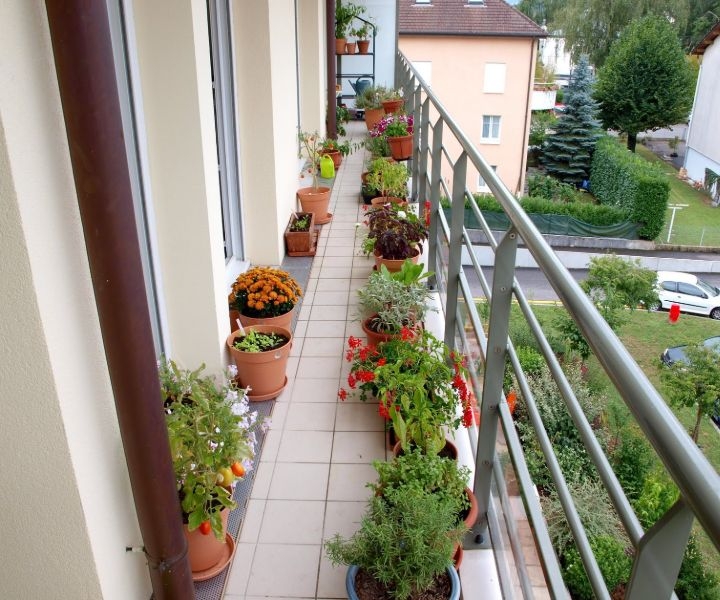 You can grow flowers, vegetables, and little bushes in small containers with little space to grow.
18.

Zen Terrace Gardening

Transform your space into an amazing waterfall. Add greenery and leafy plants that grow in water, easy to construct colorful rocks and colors that are soothing.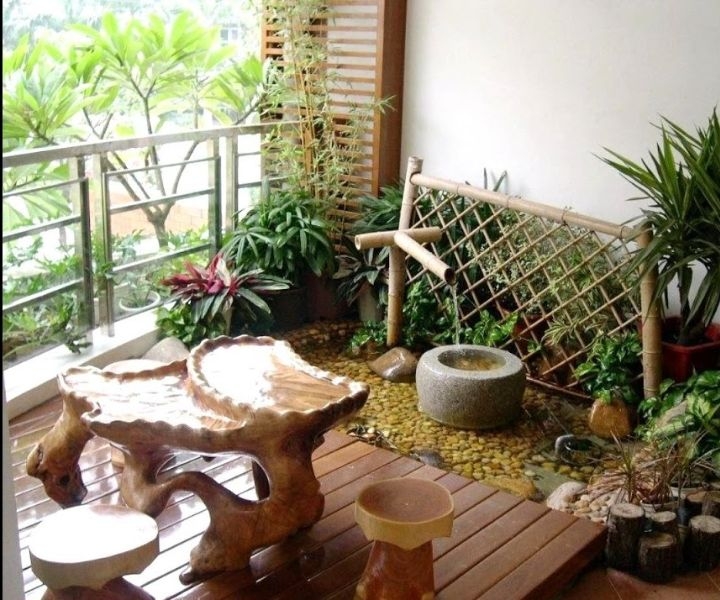 If you can, try to fit in a small stool so you can sit and enjoy your terrace Zen garden properly.
19.

Hanging Pots

Make the most out of your space by moving vertically and posting up metal grates. You can use garden wire to hold your pots or hanging planters.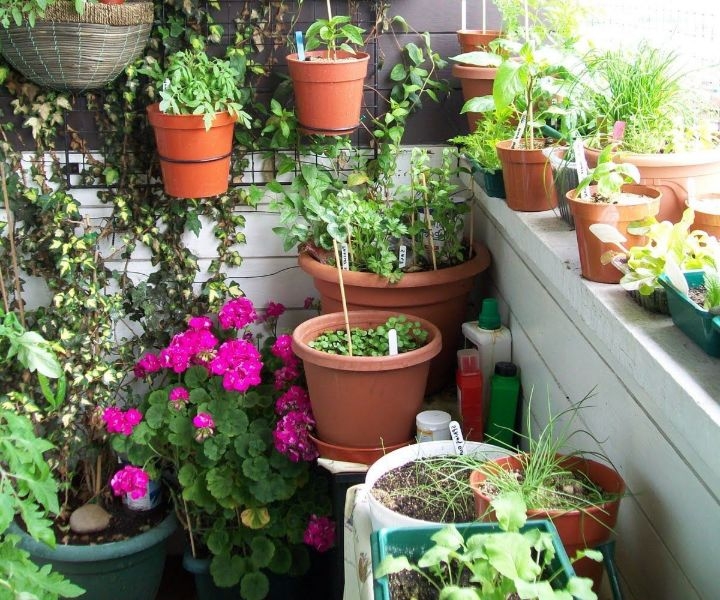 Put them on the ledge, put them in the air, put them anywhere they will fit!
20.

Natural Shade

Canopy plants that can grow from above and small leafy trees can create natural shade and privacy in a place you might not otherwise get it!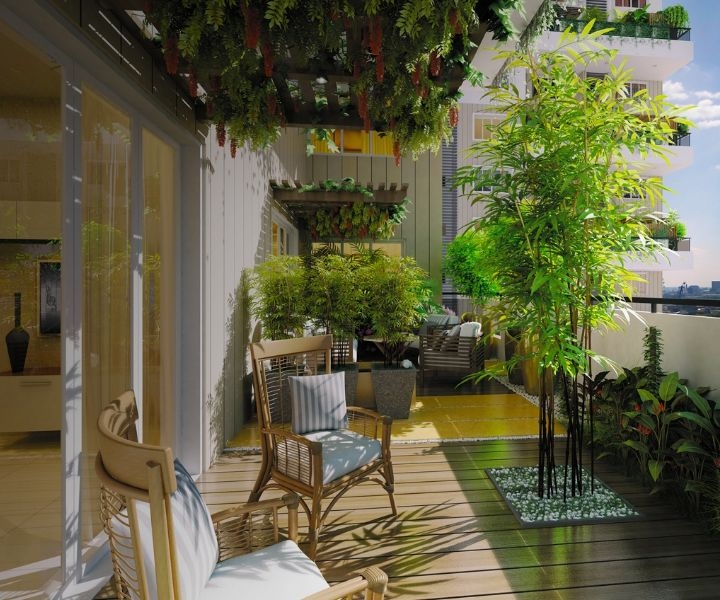 This style of terrace gardening is cool, private, and easy to manage.
Tip: Check our guide on the best shade plants before choosing your plants.
Small Terrace Gardening Ideas
If you think your terrace isn't big enough, think again! By being creative with planters and design your small patio can become a lavish terrace garden.
How can you manage a growing garden in a small space? Consider some of these mini planter ideas perfect for terrace gardening.
21.

Creative Planters

Use different materials other than pottery as planters. Try something unique that fits your style!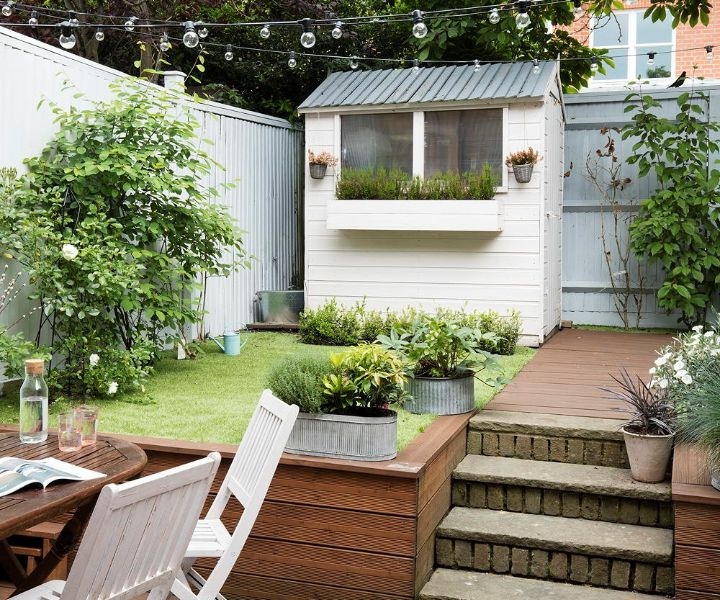 Some people like to repurpose metal containers and make them into planters. You can always take a trip to a vintage shop to see what kinds of possible planters might fit your garden!
22.

Faux Grass

You can create a luscious green space with faux grass laid out on your terrace.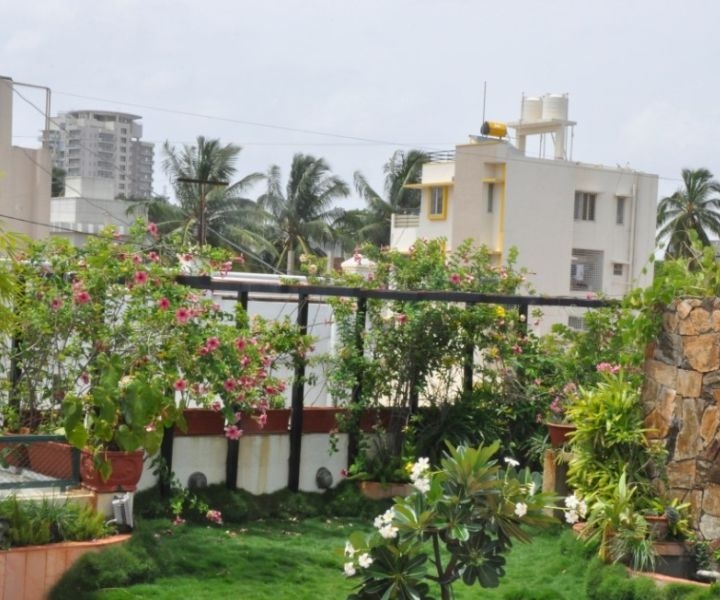 Used in a lot of lawn maintenance, you can lay fake grass anywhere and it will look nice and lavish. If you only have a few square feet of terrace, you can make it into a mini lawn of your own.
23.

Canvas Planters

Compact, easy to move, and great as planters canvas boxes are widely available and cheap to get.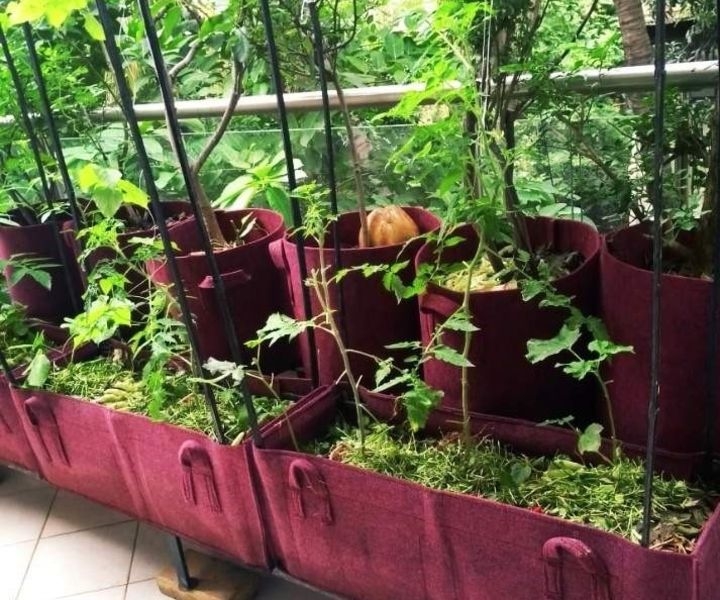 These canvas planters are made specifically to foster growth and can fit in hard to squeeze places while preventing spillover and dripping from the plants.
24.

Small Planters

Small planters that can fit anywhere are perfect for terrace gardening. You can plant small herbal bushes or colorful flowers.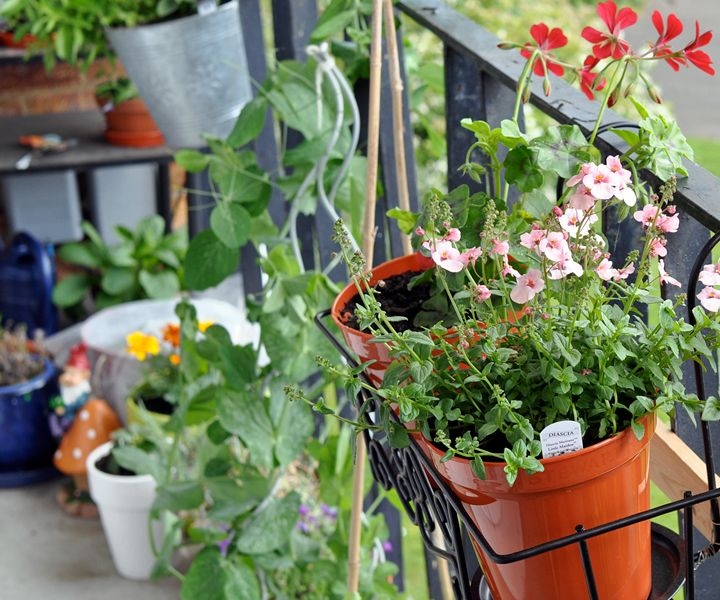 You can fill up even the smallest planter with a cute herbal flower that only needs a bit of sunlight and water.
25.

Vibrant Vines

Using lattice or gridded wood to guide growing healthy vines can accent your terrace without taking up space.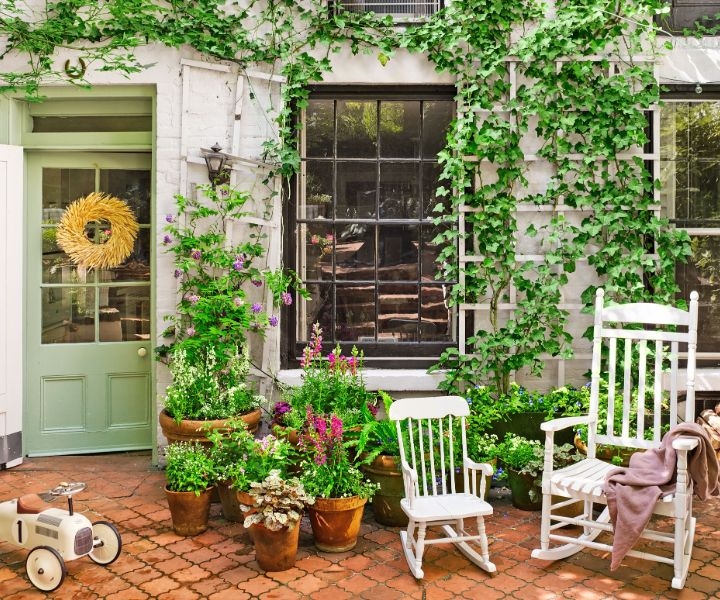 We know that our terrace vegetables grow on vines, but there is also aesthetic value to the tenacity of vines.
Terraced Garden Beds Ideas
When describing terraced garden beds there are two meanings, meaning beds on a terrace or a layered garden bed in a hillside. You can imagine there is a great deal of terrace gardening beds to choose from!
We've shown you plenty of plant and design ideas, but what should you use as a garden bed for your potted plants?
26.

Wooden Boxes

Use the garden boxes to create a natural seating space and home for your garden. Create a level space for your garden to grow.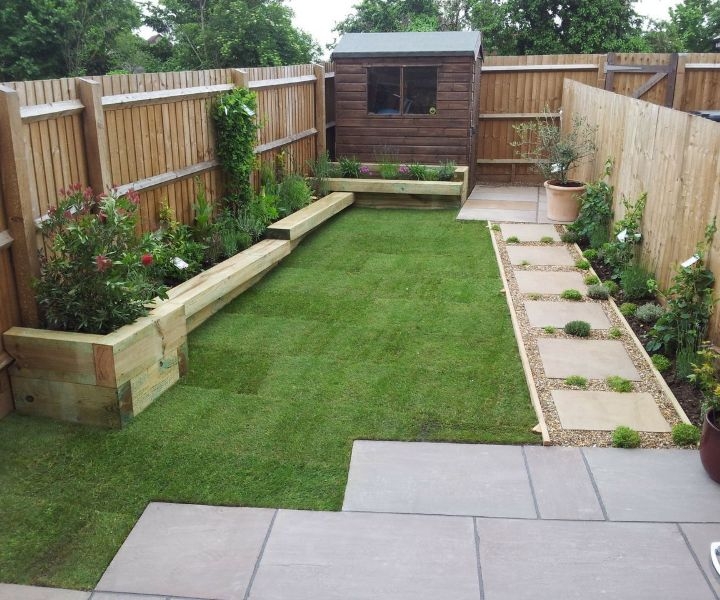 A fairly common method of planting, wooden boxes that are built with the proper wood are very pleasing to the eye. You can also build them into a design you want.
27.

Frames and Arbors

Use garden boards and frames to guide vines and vegetables. These are typically made from wood.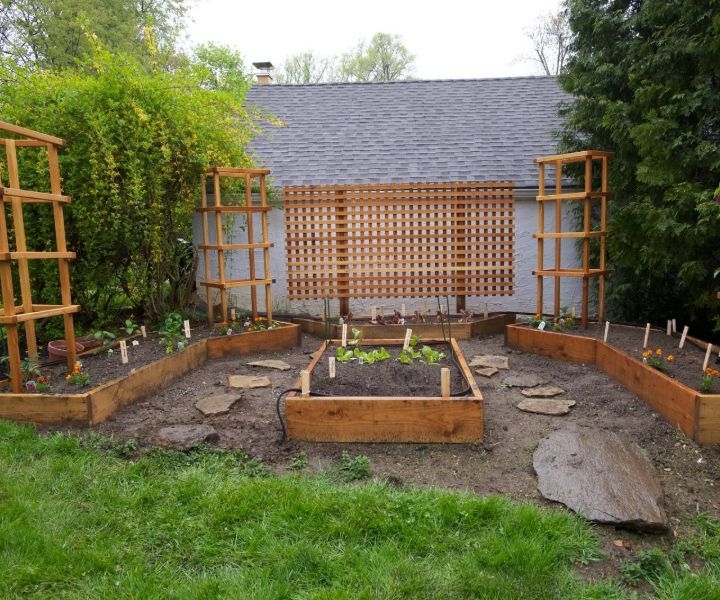 An arbor is a grid-like wooden frame that allows vines to grow within the openings. If you use these with the proper space the plants will follow the guide.
28.

Organized Ceramic Planters

Use planters, small trees, and boxes to create spaces in your terrace. Organized planters can be used to make walkways and separate other areas with walls.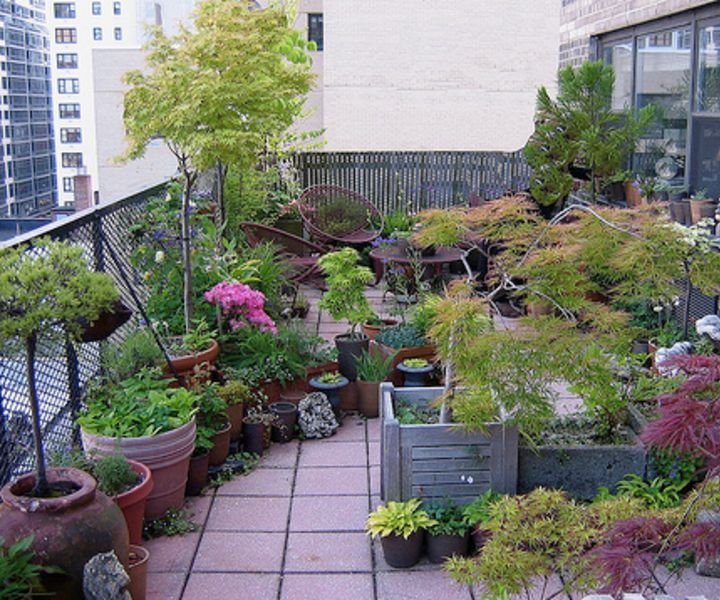 Create your own style with patterns and variety in your planters. Try different colors and plants to make your terrace into a unique garden.
29.

Staired Boxes

Enhance your walk-up with layered wooden planters. Terrace gardening is related to gardening on slopes as well as the flat paved spaces.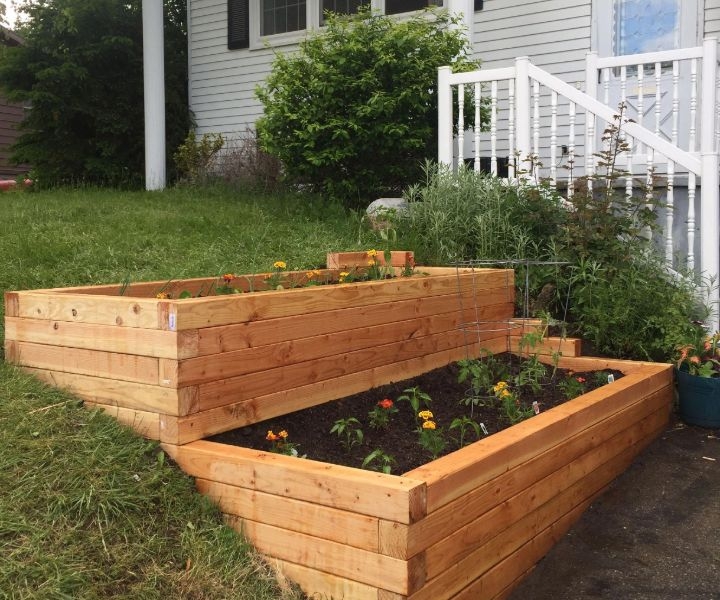 Layered flower boxes make the most out of limited space! You will still want to plant flowers and vegetables that have small root systems, but you can double your gardening.
30.

Built Box Pathways

Create a pathway with your planters, building boxes for your terrace to hold trees, ferns, or grasses.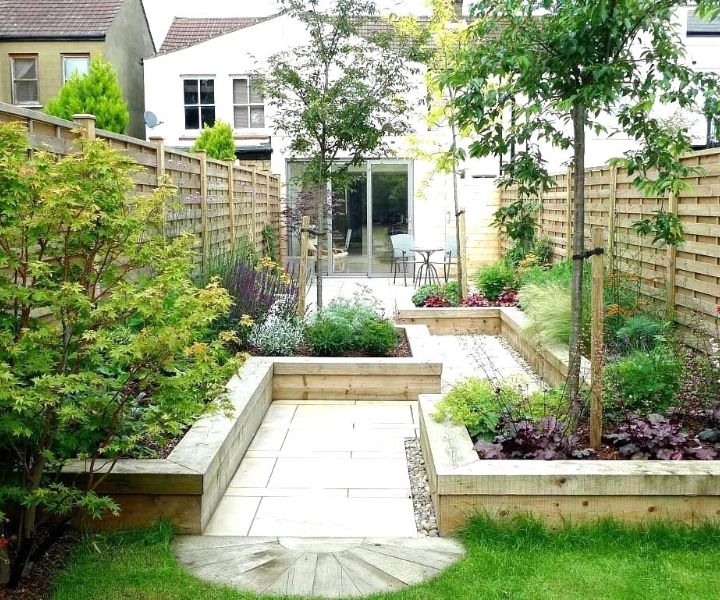 Take yourself out of the city and into your garden with chic flower boxes and beautiful plants. This would be a great place for small bushes with a variety of colors.
Rooftop Terrace Gardening
Some living communities don't have balconies or porches to take advantage of—but every building has a rooftop!
Though you may need to check with the super of the building, rooftop gardening is a wonderful solution to bringing plants to the city.
There are numerous initiatives in urban communities fighting to bring rooftop gardening to the forefront.
Rooftop terrace gardening is a wonderful method for sustainable food sources and creates oxygen producers in the city to combat pollution.
31.

Urban Community Gardens

The major flat space that rooftops offer can easily be built into community gardens. Using set structures, a variety of vegetables can be grown from the rooftop.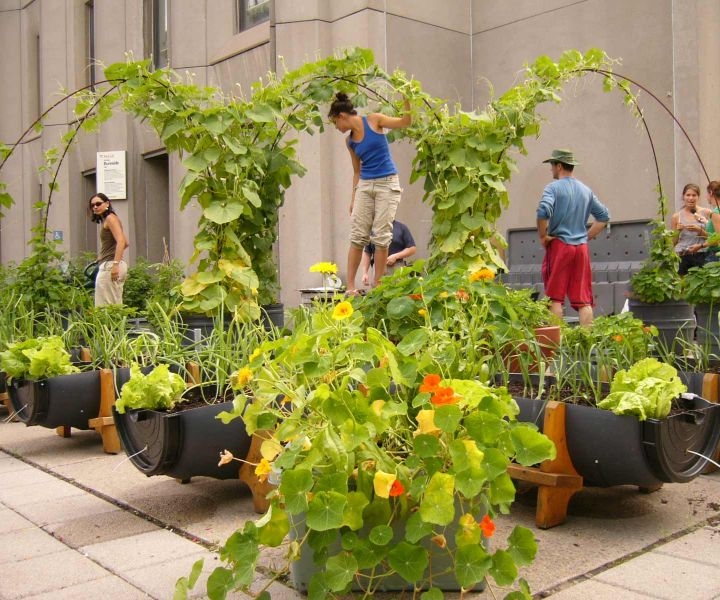 These terrace gardens can allot for larger vein vegetables and even bean arches.
32.

Tall Trees

The heights are limitless from the rooftop. You can let your terrace grow beyond the walls—as long as it doesn't bother your neighbors.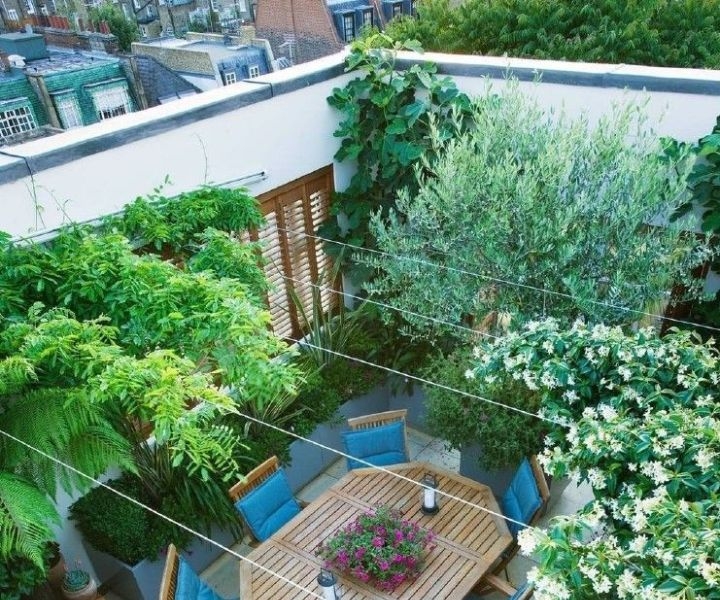 Try a variety of trees and fill your space with vibrant color to create a pleasantly wild environment. You could even try thick veins if you can guide them high enough!
33.

Garden Canopies

Basic structures and boxes are a simple way to maintain a rooftop garden. The wide space of the rooftop can allow for a spread of planters among the terrace.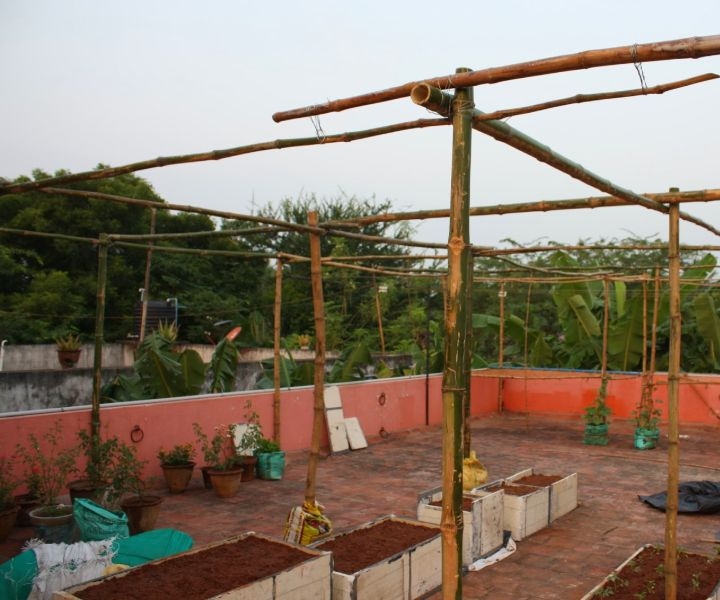 When plants are given the space to grow with the proper structure, they can produce more fruits, more oxygen, and more seeds!
34.

Decorative Planters

Even small rooftops can benefit from decorative planters. Some areas are extremely temperate where it is difficult to grow a garden.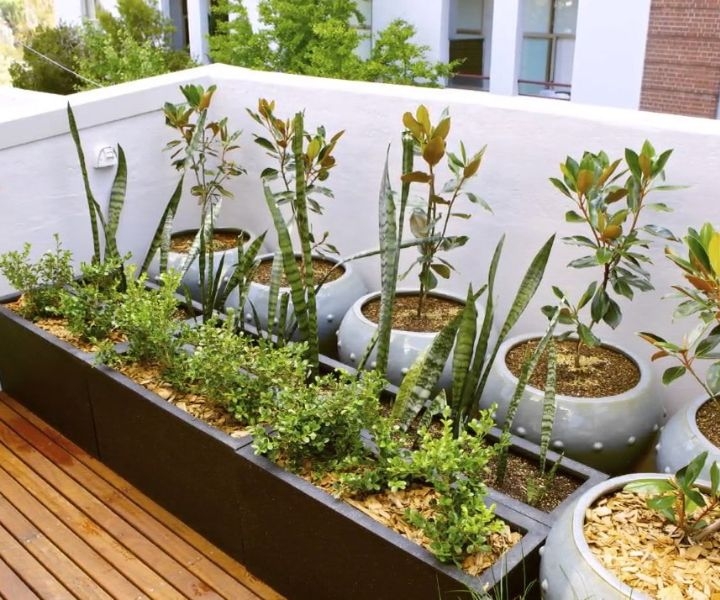 Resilient greenery like ferns and grasses are wonderful for terrace gardening on a rooftop with little access to water.
35.

Overflowing Greenery

Creative design for stunning visuals come from large trees and bushy plants that are allowed to grow on rooftops.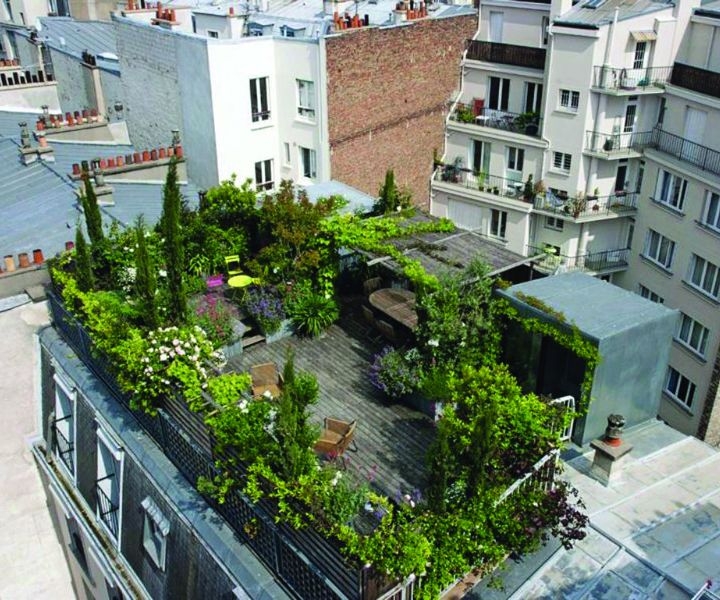 When the sky is the limit, rooftop terrace gardens can grow amazing trees and plants. Thanks to the proximity to the sun these plants get lots of sunlight, they just need to be maintained properly with water in dry climates!
How to Make a Terrace Garden
It may seem daunting at first, but if you take it step by step, terrace gardening is fruitful (or vegetable-ful) and great for your mental health, too.
Step 1 – Define Your Space
What is the size of your terrace and how much space can you take up? Always be sure to use a measuring tape to truly define the dimension of your terrace and a future garden.
Step 2 – Pick Your Garden Beds
Consider what type of garden bed will fit best on your terrace garden. Will you be using planters or vine grids? Use our list above as inspiration.
Step 3 – Pick Your Plants
Now, will you be planting vegetables or small trees? What plants will grow best in the space you have? Avoid plants that may outgrow your terrace.

Tip: Consider how frequently your plants will see sunlight and rain and pick plants that will be able to survive in that environment.
Step 4 – Design Your Terrace Garden
Now the really fun part! Drawing inspiration from similar-sized terraces, create your own space for your plants to grow and bring you joy, or food.
Step 5 – Plant Your Garden
Using the proper planting materials, whether it be soil or bark chips, carefully plant your seeds or saplings in your garden beds.
Step 6 – Maintain Your Garden
The health of your terrace garden relies on you! Check the health of your plants, make sure they get the nutrients they need and spend some special time with them—you deserve it.
Terraced Gardening Essential Tips
There certainly seems to be a lot to this terrace gardening thing, but what do you really need to know?
Here's a quick run down to make sure you have a successful terrace garden: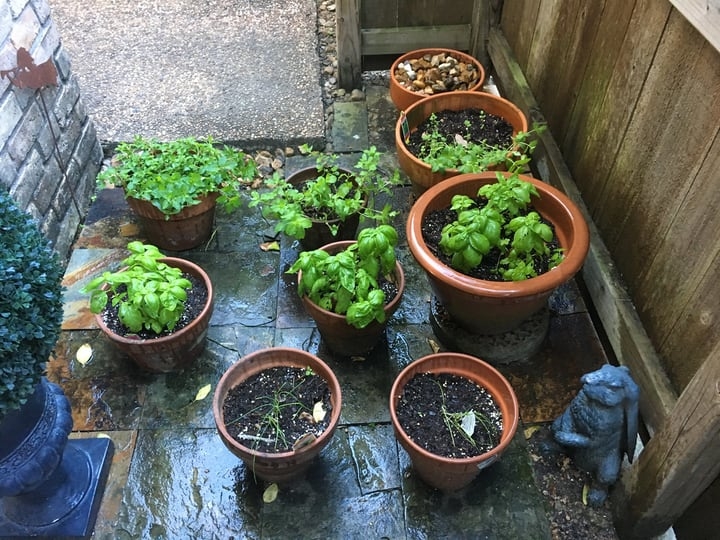 Know your space—space is your friend, not your enemy when it comes to terrace gardening.
Use quality planters—cheap ones will break before long.
Use good soil.
Don't overplant—it's better to start small and keep it all easily manageable.
Ensure proper drainage—too much water in this case isn't bad only for the plants, but probably also for your neighbors.
Use alternative water sources if needed--like rain water harvesting.
Terrace Gardening Frequently Asked Questions
By now you're probably very curious about terrace gardening. At least we hope so. Here are some highlights you may have some immediate questions about.
Terrace Gardening in a Planter
You don't need a large yard or plot of land to grow an amazing garden. Whether your goals are to harvest your own ingredients or just to have a beautiful scenery at home, terrace gardening will make your dreams a reality.
Terrace gardening is an important method to spread because the more greenery and plants in the world, the better—at least until plants overrun us, which is not likely to happen anytime soon.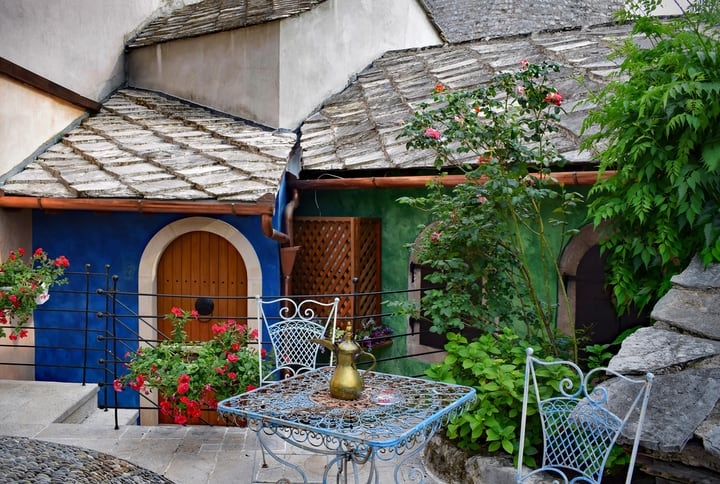 With terrace gardening you can encourage natural eating, healthy air, and therapeutic gardening in a compartmentalized urban world.
The space for large gardening projects is getting smaller and smaller as humans continue to dominate the planet. But with terrace gardening, we can transform our buildings into multifunctional terrace gardens.
Do you have any questions about terrace gardening that we've left unanswered? Write to us and tell us—we'd love to hear from you.