Got a front yard garden but not all that much time to look after it? You probably don't want it to look deserted and poorly maintained, though. To help you out, we've put together a list of low-maintenance landscaping ideas and approaches.
Maintaining your front yard garden can be complicated, especially if you're planning on planting high-maintenance flowers and plants--something that will consume much of your time.
But there are things you can do about that, and that's what this post is all about.
Best Low Maintenance Landscaping Ideas
A few cost-effective and low maintenance landscaping ideas could transform your front yard garden into a blooming slice of heaven.
If you don't know where to start or what tools you might need, here are 11 ideas to get you started.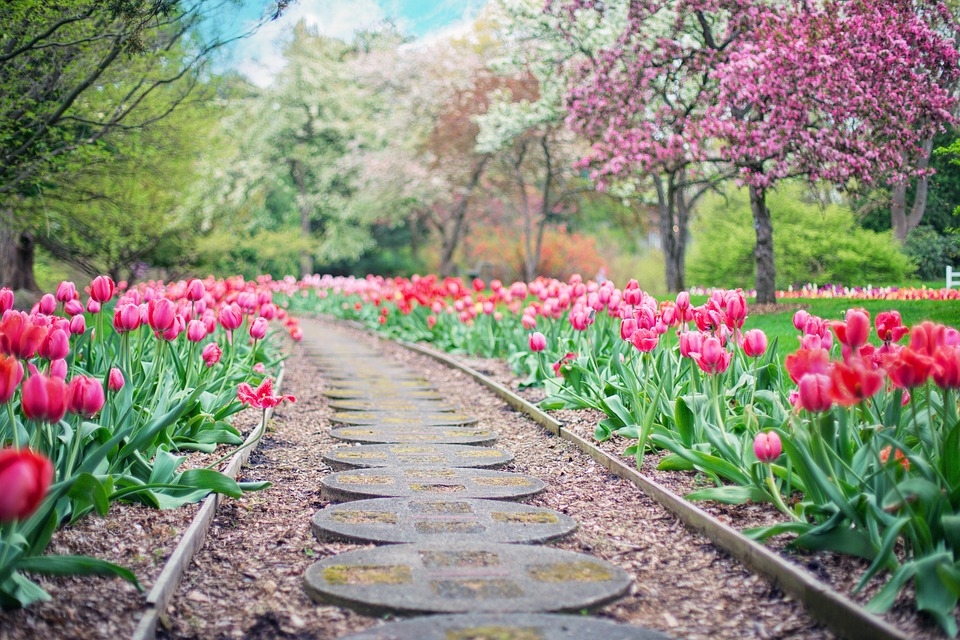 1.

Go Native

No plant will thrive and bloom to its fullest capacity in your front yard garden as well as native plants. These are plants that are used to the weather outside your house, so taking care of the plants won't be hard.

In addition, native plants had likely adapted to the environment long before people inhabited the area. If anything, you will be facing fewer problems with growing these plants.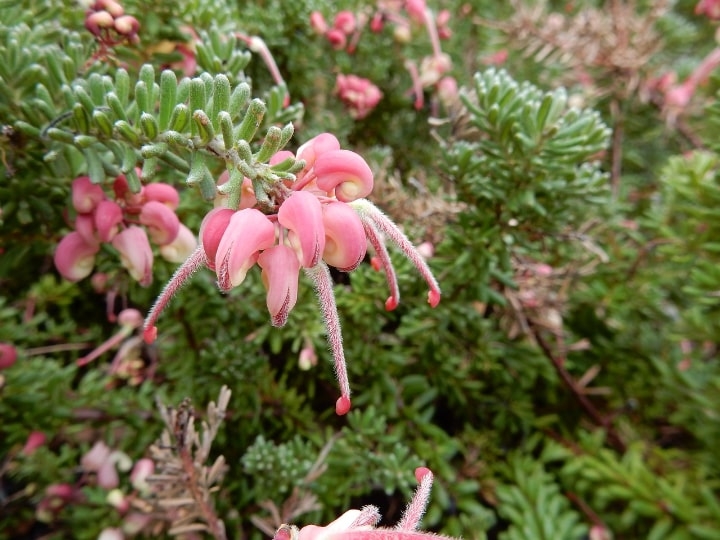 You will probably use fewer fertilizers and pesticides, so you won't have to worry about the health of your plants all that much.
Using native plants will add natural beauty to your front yard garden and will require little maintenance.
And, since they are a part of your local environment, you will help preserve the unique life forms in your area and conserve more water in the long run.
Landscaping your front yard garden with low maintenance landscaping plants is also a great way to combat the effects of climate change in your area.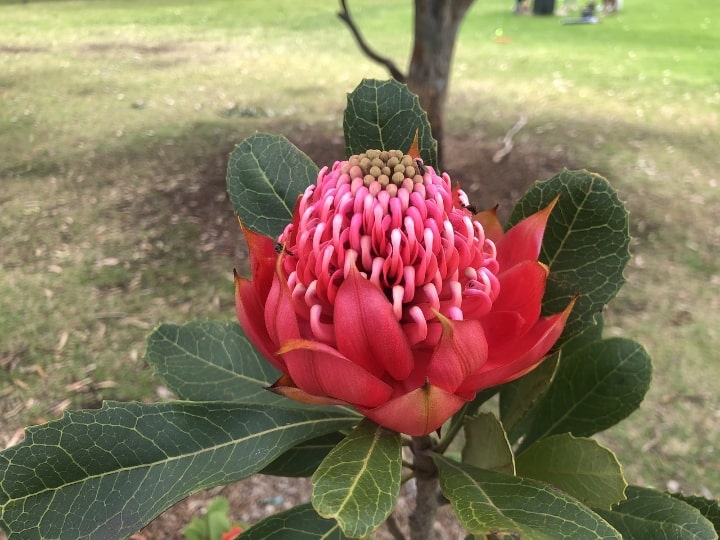 Sure, all types of plants can reduce the levels of carbon dioxide in the air. However, native plants, especially trees, absorb higher levels of carbon dioxide than other plants.
2.

Automate Irrigation

Irrigating your front yard garden is probably one of the most challenging maintenance tasks. You'll have to be consistent with the watering schedule and how much water different plants need each day.
Tip: Water early, as this will allow the grass to dry out before the sun comes up.
The water and air will be cool, so there won't be any excessive evaporation. You should bear in mind that you'll need to water the area slowly so that the soil can absorb as much water as it needs.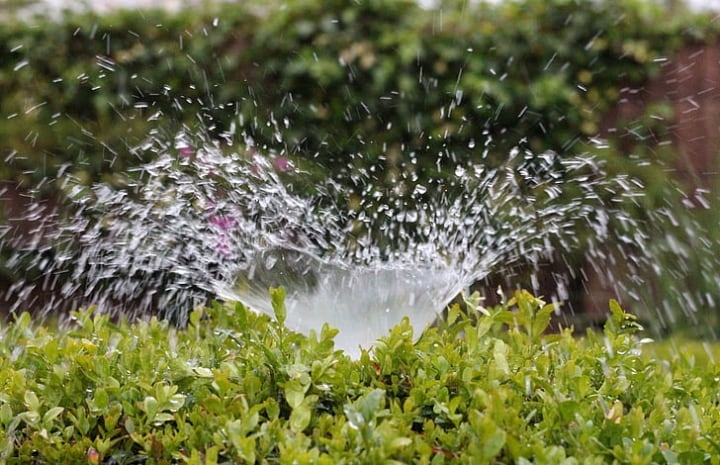 Too much water will run off and overflood the soil in your front yard garden. If manual irrigation isn't a good low maintenance landscaping option for you, you can invest in an irrigation system.
You can even set up a timer to each sprinkler according to the plant's water needs, so you won't have to worry about forgetting to water the plants.
An irrigation system is one of the best low maintenance landscaping ideas for anyone growing different flower types.
3.

Choose the Right Trees

You probably don't want your trees to be spreading seedlings or dead blooms that will make their way into your house. Instead, you'll want trees that won't produce a lot of droppings or reseed themselves.

Smaller trees, shade trees, and evergreens are an excellent example of low maintenance landscaping trees.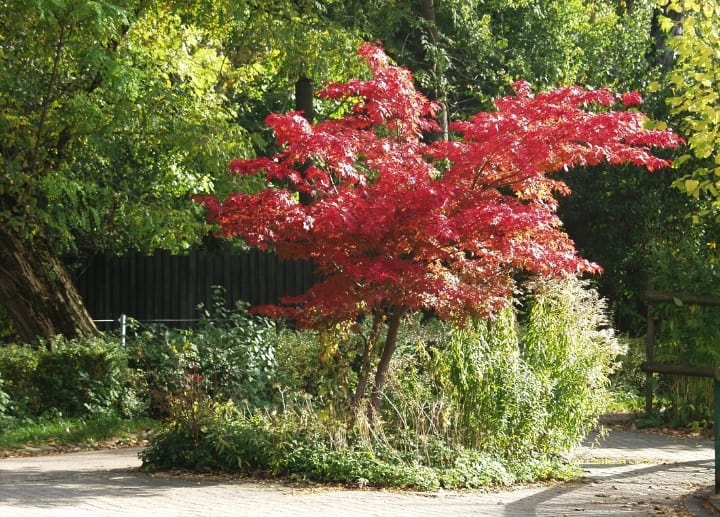 You could also try Japanese maples, as they serve as an accent color to brighten the front yard garden. They're also easy to maintain and won't cause you much trouble when it comes to seedlings or dropped blooms.
Japanese Maples come in all shapes and sizes. So, if you want to add those beauties to your front garden, you'll be able to choose the size that fits best with your space.
Another dazzling addition to your front yard garden is Magnolia trees. These wonderful accent trees will grow big, beautiful blooms in no time, adding color to your front garden.
Like the Japanese Maples, they tend to be small, but some also grow into medium-sized or large-shade trees.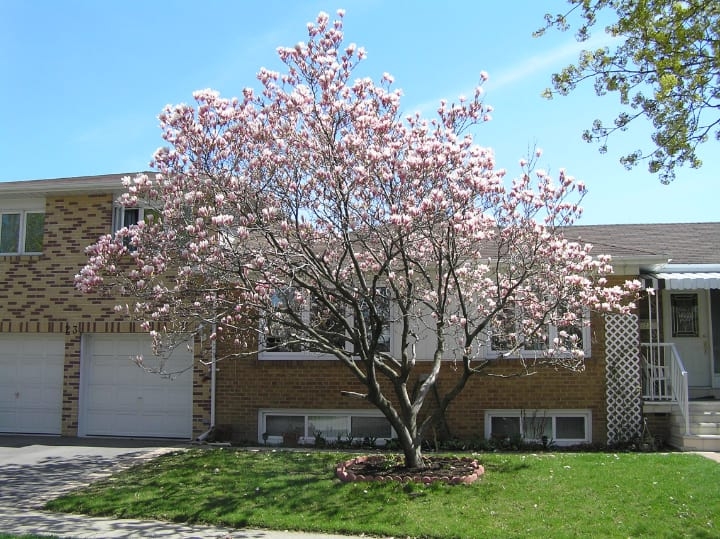 Whichever you choose, low maintenance landscaping trees have beautiful blooms that can be a wonderful addition to your front yard garden.
4.

Learn the Subtle Art of Plasma Cutting

Plasma cutting is one of the best methods with which you can turn your artistic tendencies into metalworks.

Contrary to common belief, the wielding of plasma cutting tools is pretty easy as long as you follow the safety measures when using these tools.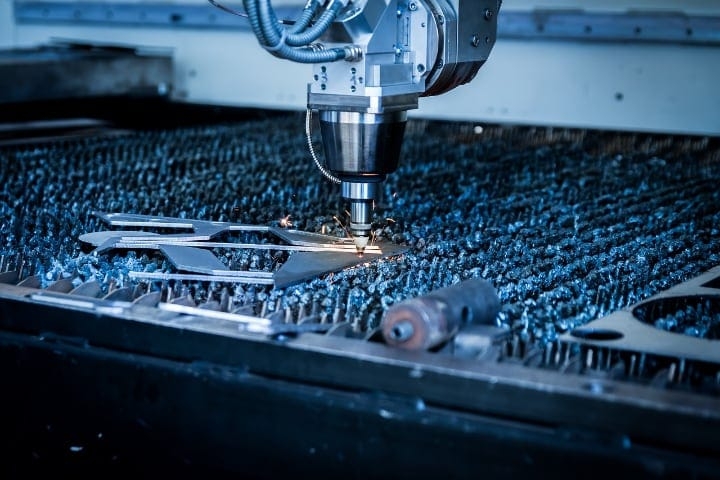 If you're familiar with the process of creating metal artwork, you must already know that you'll have to use the appropriate tools for cutting metal, such as portable plasma cutters for creating your designs.
You can add your artwork to your front yard garden's metal gate, thus creating exquisite patterns in what would've otherwise been an unattractive metal gate. This way you can create artworks that last and that can withstand any weather.
You can create flowery patterns for your outdoor metal furniture, metal equipment like saws, or sconces if you're planning on using metal ones outside.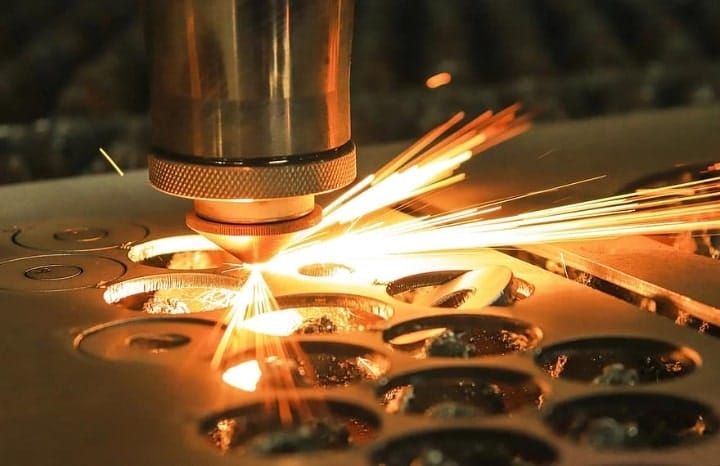 Plasma cutting projects enable you to add unique low maintenance landscaping ideas to your yard at a good cost.
All you have to do is look at your front yard garden and think of which piece of metal you can transform into art.
5.

Mow Over Leaves

Raking leaves off the grass can be an arduous task, especially in the fall. It can take hours to clean the leaves off your front yard garden, and even then, you'll have to repeat the same process again in a short while.

Something has to be done about fallen leaves, especially if they keep piling up to the point of blocking sunlight from reaching the grass.

Many gardeners don't know that they can avoid raking the leaves in favor of using them as mulch.

Fall leaves are an excellent source of mulch, and you can simply mow over them with a manual or electric mower.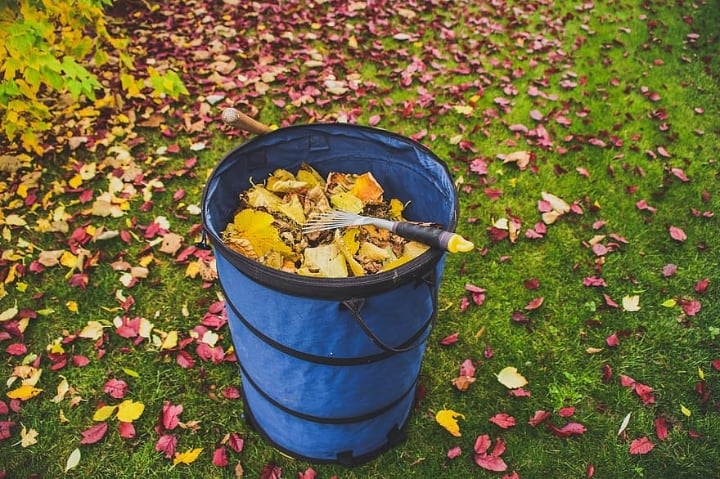 When you mow leaves, they'll break off into smaller pieces, which will speed the decomposition process. They will decompose right where you mowed over them.
Tip: You can also use a grass catcher to gather the leaves in the designated area and mow over them.
Make sure, however, that the leaves are dry, as wet leaves won't be well-chopped. In fact, they could clog leaf vacuums.
Doing this step will not only help you skip using mulch next time, but it will also save you the effort of raking leaves for hours on end.
6.

Install Artificial Grass

If you're not one to care for watering, mulching, and mowing the grass, you can simply use artificial grass! Sure it's never going to look as lively as the real thing, but it will stay vibrant without you having to break a sweat.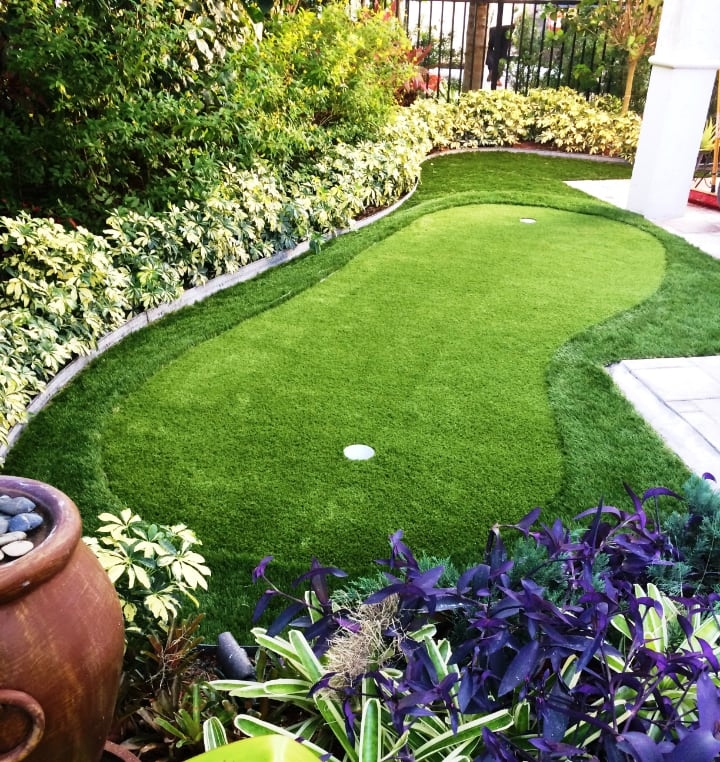 You won't need to water it, mow it, or grow it. In fact, there is pretty much nothing to do when it comes to synthetic turf maintenance.
Artificial grass is made of recycled materials like plastic and tires. It can last for years, sometimes as long as 25 years.
For that reason, some would consider buying artificial grass a better investment than having real grass Artificial grass will also help you conserve water.
The downside is that since artificial grass is made of petroleum-based products, it's not exactly environment-friendly.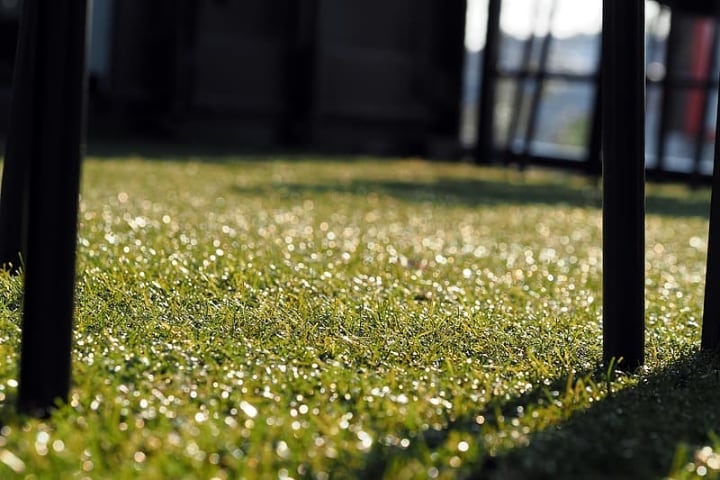 Also, it absorbs heat, so it will feel hot to the touch when there's direct sunlight.
Last but not least, some pet owners don't like using artificial grass as it doesn't absorb animal waste as effectively as real turf. However, artificial grass will usually allow liquids to pass through it and to the earth underneath it.
7.

Replace Mulch with Rocks

Mulch can certainly be useful to your greenery, but sometimes, the annual replacements of mulch can be bothersome.

Mulching at the wrong time can cause problems to your plants. For example, mulching too early means you won't see the blooms until later.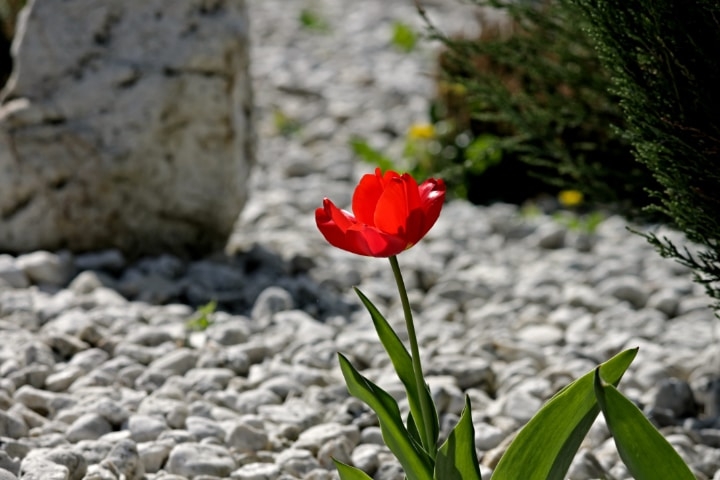 Mulching too late, on the other hand, may cause weeds to grow out. Adding an additional layer of mulch can even stress your plants.
In other words, you'll have to be careful when mulching--it's a delicate process. It will take effort and time.
Luckily, you can replace mulch with other low-maintenance landscaping materials like rocks, pea gravel, or a combination of the two.
Mulching with rocks instead of organic material will be less expensive, more wind-resistant, and more durable too.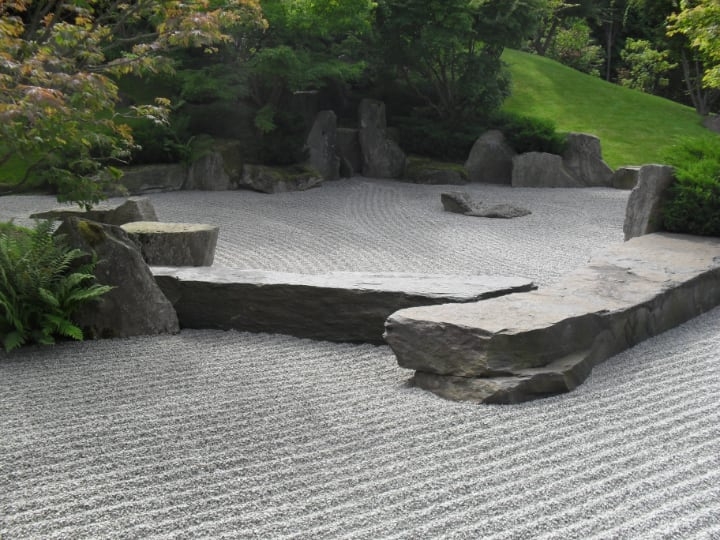 While mulching with rocks is a better option in terms of maintenance, beware that it can cause other problems to your front yard garden.
Rocks, unlike organic mulch, will increase temperature, which means that your plants will need more water.
8.

Use Potted Plants

If you want to reduce plant maintenance in your garden, use potted plants. These are easier to maintain while looking almost just as good as planted flowers.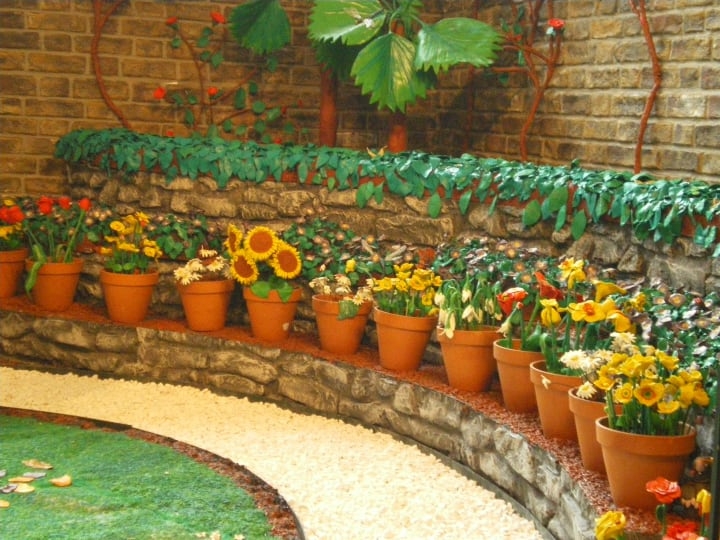 With pots coming in all shapes and sizes, you can decorate your front yard garden by placing them in different locations and accentuate areas that need more vibrant colors.
If you like to host parties in your front yard garden, they'll be easy to move around and clear space for chairs, tables, etc. You can even create pot designs yourself, from brass, aluminum, or copper.
You can also use a large pot to create a focal point to attract attention to a certain area. Pots are also excellent for growing herbs.
These can be grown in small pots, which you can place close to your kitchen window so you can reach them whenever you're in need.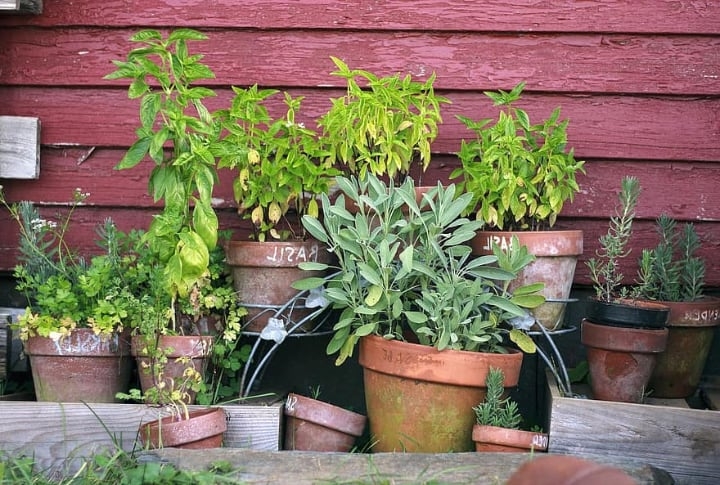 Of course, like all plants, potted plants will need regular watering, feeding with fertilizers, and deadheading to grow healthy. But they won't be as tiring to maintain as a full-grown front yard garden.
9.

Choose Low Maintenance Landscaping Flowers and Plants

Every homeowner wishes for their front yard garden to be vibrant, and lush with color.

This can only be achieved if you grow the right assortment of flowers. But because we're advocating low maintenance landscaping ideas here, here are some flowers that are both low-maintenance and have vibrant colors.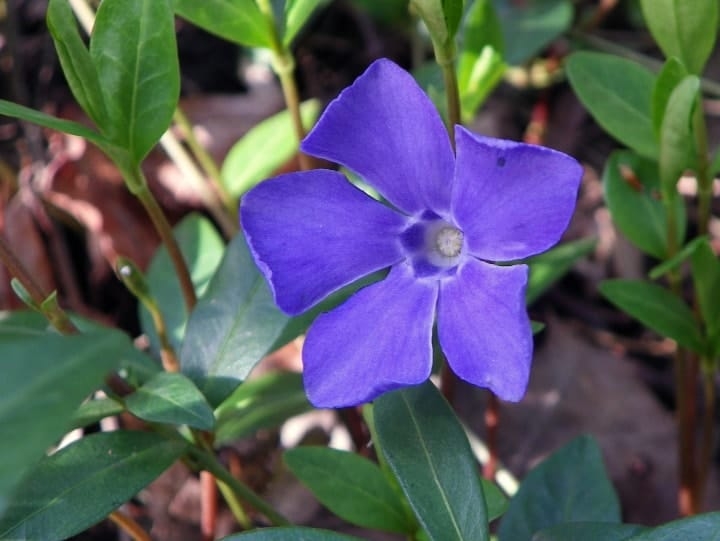 You can start by growing vinca minor, or the periwinkle. These flowering plants are not just low-maintenance, but they'll accentuate your front yard garden with a vibrant violet color.
Periwinkles are also used to cover and suppress weeds, so they can be a great addition to your front yard garden.
Another option is Yew shrubs, one of the most popular shrubs homeowners like to grow. This shrub can be an excellent decor choice for entryways and borders.
They're also drought-tolerant and can thrive in any type of soil you place them in.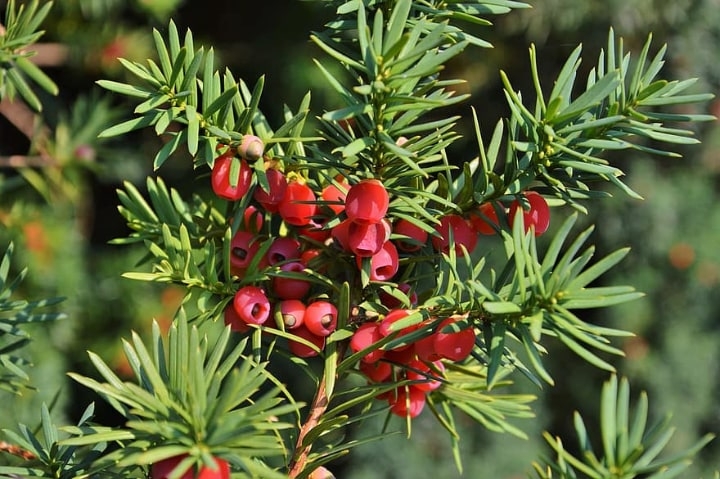 Bergenia can also grow in almost any weather condition. In addition to adding gorgeous pink and magenta blooms to your garden, Bergenia won't stress you with further maintenance.
10.

Grow Some Groundcover Plants

A lot of people consider groundcover plants to be an essential part of their front yard, not only because they will add a stunning array of texture and color to your front yard garden, but because they can also serve as weed barriers.

They will also serve a soil cover and protect it from erosion.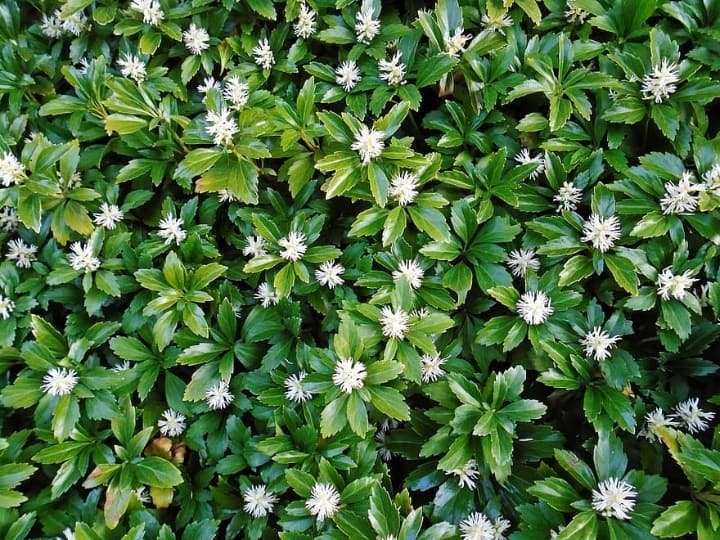 Groundcover plants can be used even in shaded or very sunny gardens, and you can easily adapt their placement to your needs.
If you want the best option for your front yard garden, consider contacting a professional landscape designer who can tell you which type will go well with your collection of flowers and plants.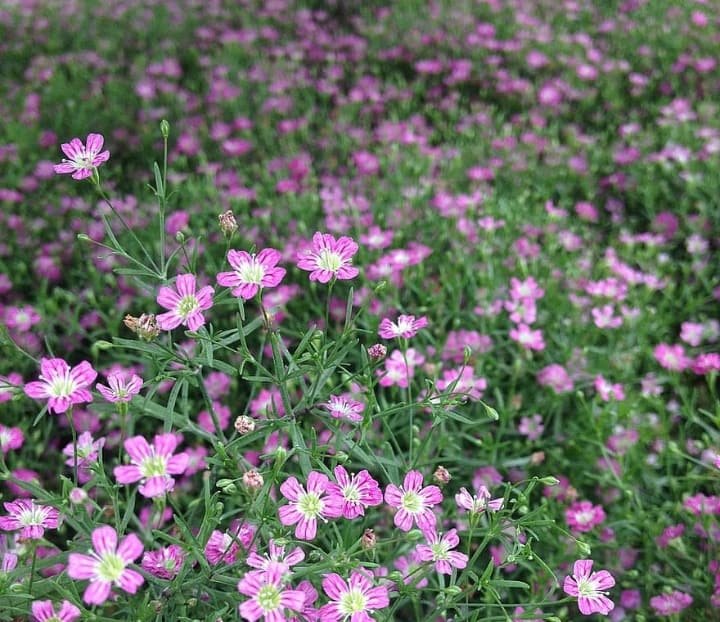 If you don't have any groundcover plants already, make sure to add some. They can unify all the elements of your front yard garden and tie your landscape into a single beautiful unit.
11.

Plant Some Lavender

Last but not least in our list of low maintenance landscaping ideas comes lavender. In addition to perfuming your front yard garden with a beautiful scent, lavender is one of the easiest plants that you can grow.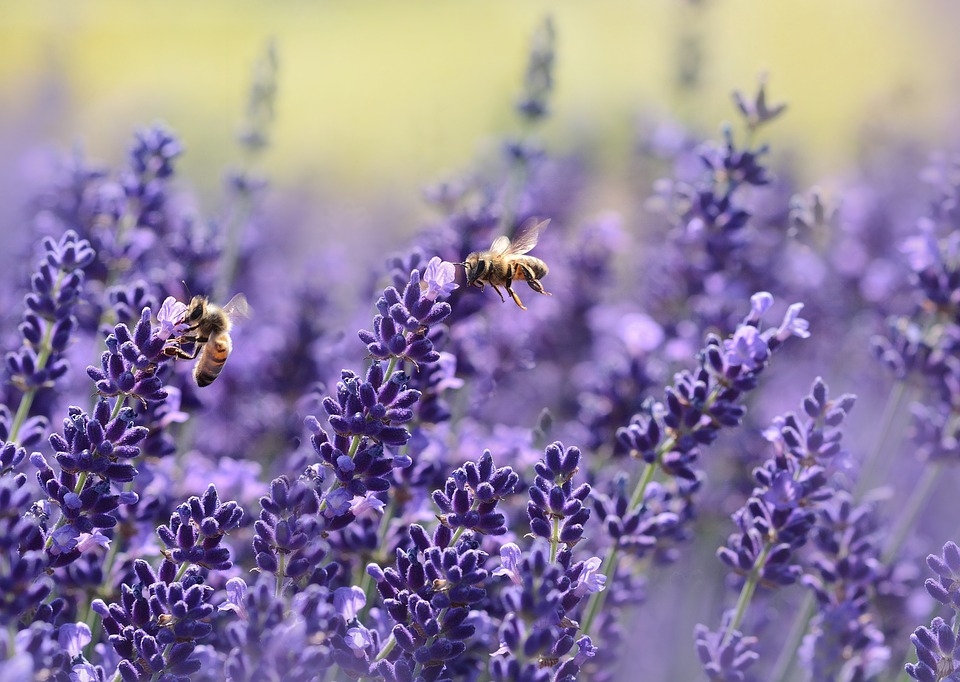 For starters, it will repel any insects, like mosquitoes, fleas, flies, and moths, so you won't have to worry about insects contaminating your property.
Lavender is also known for its soothing effect on the nervous system. The aroma alone can calm your nerves and reduce emotional stress.
Tip: You can use lavender to highlight your garden entrance, outline a pathway, or use it in pots.
Low Maintenance Landscaping Ideas Frequently Asked Questions
We hope our list of low maintenance landscaping ideas will help you save time and reduce the stress that maintaining a great-looking front yard can cause.
We often hear a lot of questions on this subject, so we put together the most frequent ones and answered them here for you.
Landscape Your Time Well
We hope the low maintenance landscaping ideas we shared with you will make your life easier from now on. Implement them one at a time and the results won't disappoint you.
There are hundreds of ideas and tools that can simplify front yard garden maintenance.
However, make sure that you keep a keen eye on what you can and cannot grow depending on your region. Choose only the right plants and trees for your region.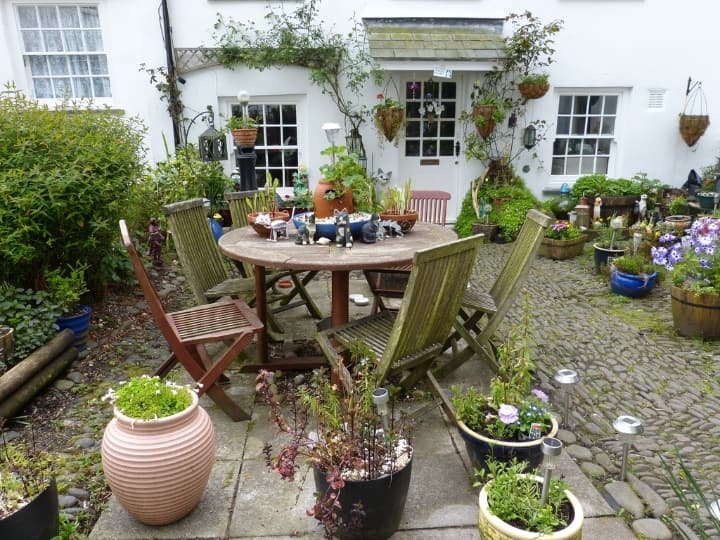 Do you have any low maintenance landscaping ideas that you'd like to share with us? We'd love to hear from you.
Drop us a comment below and share your gardening wisdom with our readers.