Want to create an outdoor kitchen where you can spend time with your friends and family? We've got lots of ideas to help you get started. Read on for inspiration.
Making an open-air outdoor kitchen doesn't require a considerable amount of space or cash. If you use your imagination, you can create one by altering your lawn or porch.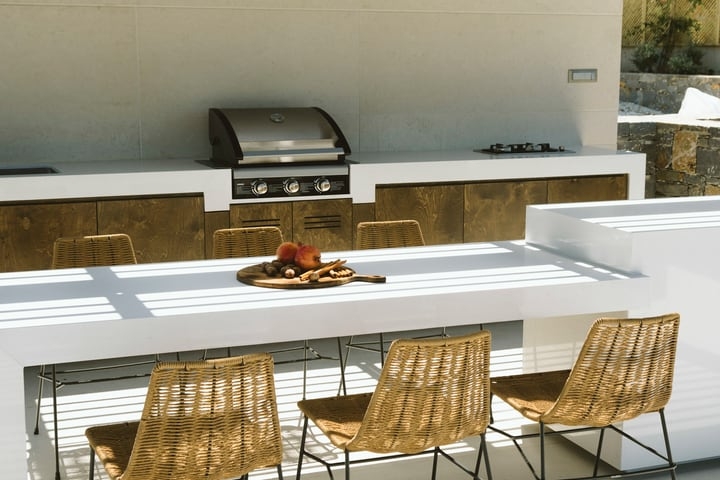 Generally, outdoor kitchen design plans incorporate an area for food storage and cooking. Some may even include a bar, a dining area, grill, lounge as well as addiitonal storage solutions.
It's up to you to decide how large or sophisticated you want to make it. But there are a few things to consider. Let's talk a bit about them before looking at actual ideas.
How to Choose the Best Outdoor Kitchen
The outdoor kitchen ideas you can make your own will depend on your available space. Often, the best way to start is to have a kitchen cart that includes counter space and storage.
This is relatively inexpensive and there are many different materials, styles, and sizes to choose from. But make sure to check if the item you buy is made for outdoor use. You don't want something that will get damaged by the elements.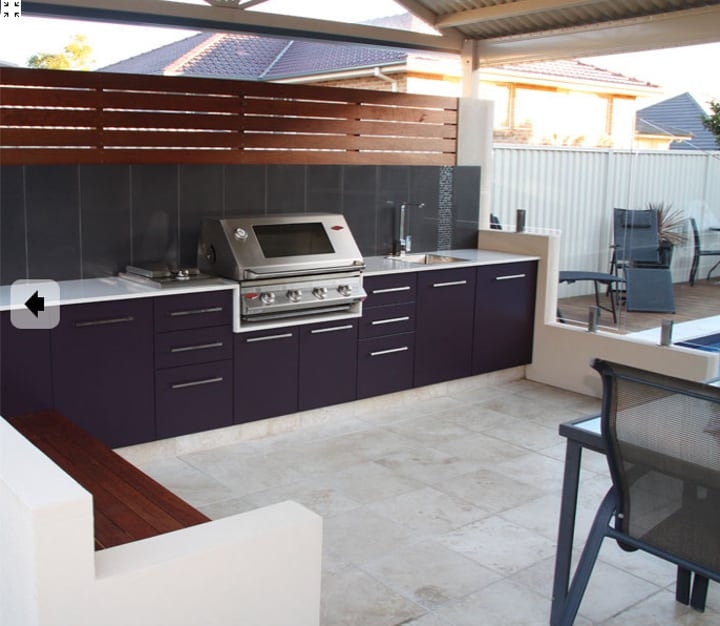 In case you have a divider that's still bare, you can set up cabinets on it or a ledge to be used as storage.
Some of the outdoor kitchen DIY ideas we'll share with you can be put together in a matter of days without requiring any expertise.
Outdoor Kitchen Grill
Grilling is one of the best ways to entertain your guests. Outdoor kitchen grills are not always costly. In fact, grills that use charcoal or wood require only minimal maintenance.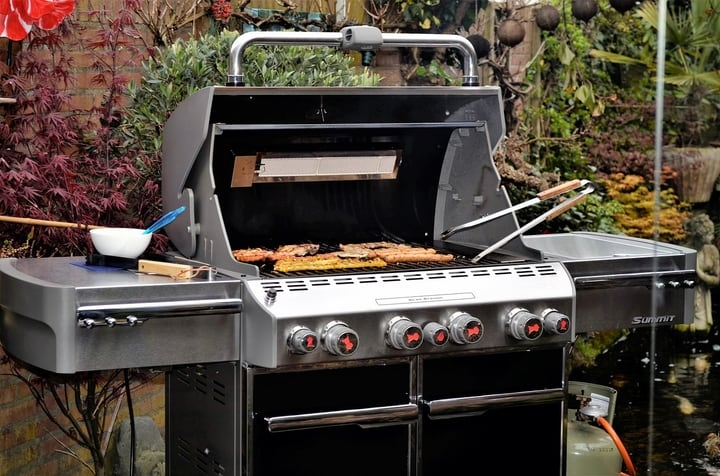 You can find a lot of online sellers that provide a variety of choices such as tabletop charcoal, gas grill, and others. These also tend to be inexpensive.
Outdoor Kitchen Island
If you have a good budget, you can move up to an outdoor kitchen island that comes with an internal grill. Pre-assembled, modular kitchen islands can cost over $1,000, but they are a good buy.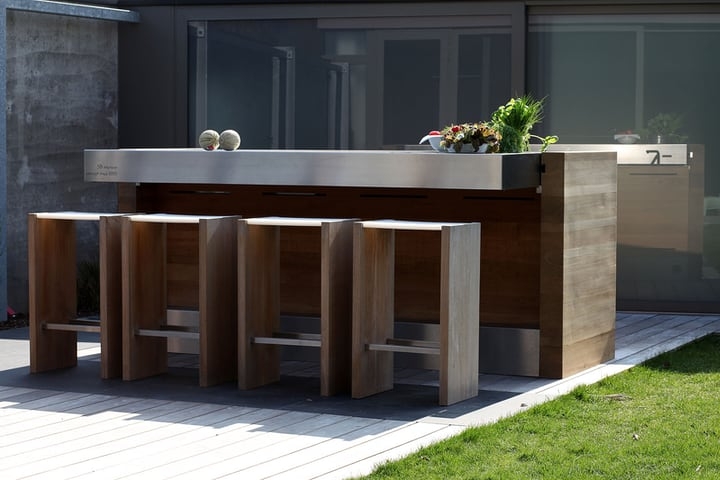 You can set up these islands in your backyard or place them on wheels. This will enable you to revise your space whenever you want to.
Cooling Tub
One of the reasons to create a kitchen outdoors is to enjoy having drinks on your terrace together with your friends and family.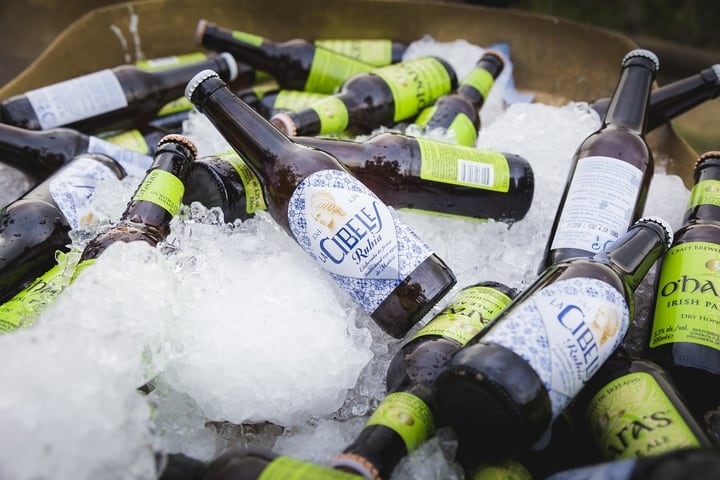 To chill your beverages, all you need is a metal tub with ice. This is an economical option that can encourage you to spend more time outdoors, especially during the warm seasons.
Other Features
Outdoor kitchen designs don't have to be costly. That said, there are a couple of components that can push your budget to the limit.
Apart from the costs we already touched on, installing any device or appliance that requires pipes or electrical wirings will increase the cost.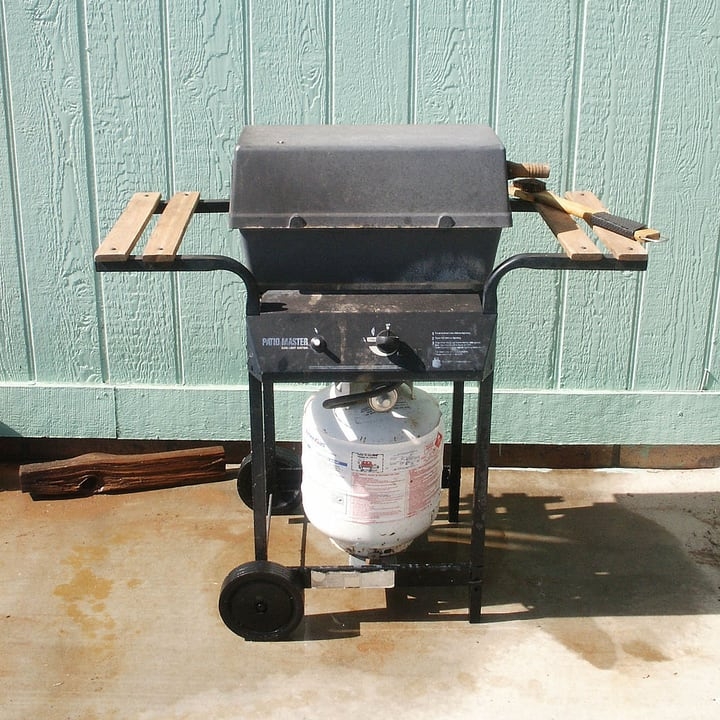 But you can keep costs in check by placing your outdoor kitchen close to a water hose. You can avoid the cost of installing gas lines by picking a propane tank or charcoal for your grill or cooktop.
Tip: Add compact items to your outside kitchen so you can move them if you have to later on.
Unique Outdoor Kitchen Ideas
Now let's take a closer look at some actual ideas you can incorporate into your design. Remember that you don't have to replicate these exactly. You can always choose from them only the elements you like the most.
1.

Outdoor Kitchens Designs With Pergolas

Outdoor kitchen designs with pergolas help to create a more interesting setting and can provide shade. Here is one of the more elegant ideas on our list--we love the texture of the stone and the hanging lamps.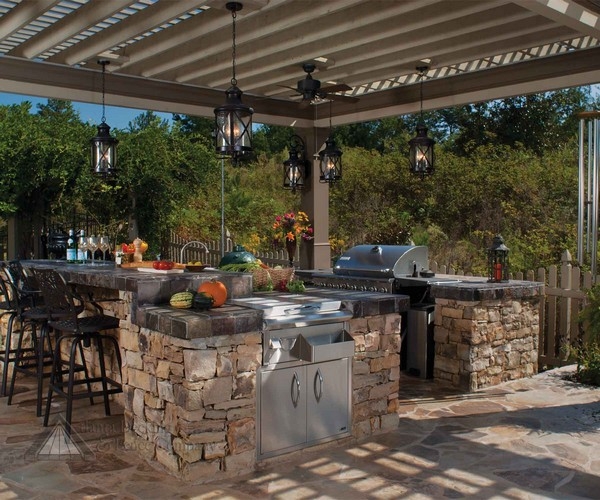 2.

Wooden Outdoor Kitchens Design

An outdoor kitchen can extend your deck and create a cozy place for meetings in all seasons. You can use landscaping timber to bring this idea to life but bear in mind that wood will require more maintenance than other materials.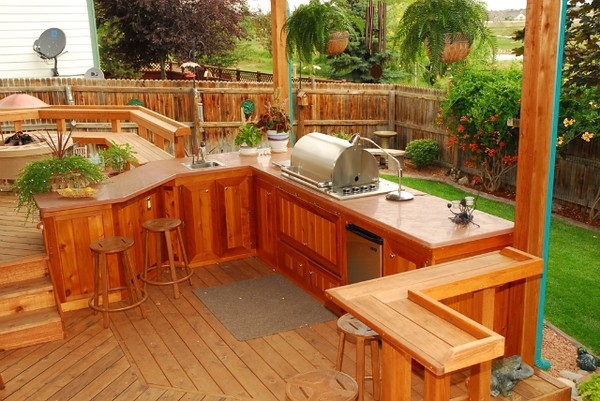 3.

Stone Outdoor Kitchens

Stone is a timeless and durable material that will give your outdoor space a classic look. If you have the budget for it, we say go for it. In this example, stone is combined with a wooden pergola for a nice effect.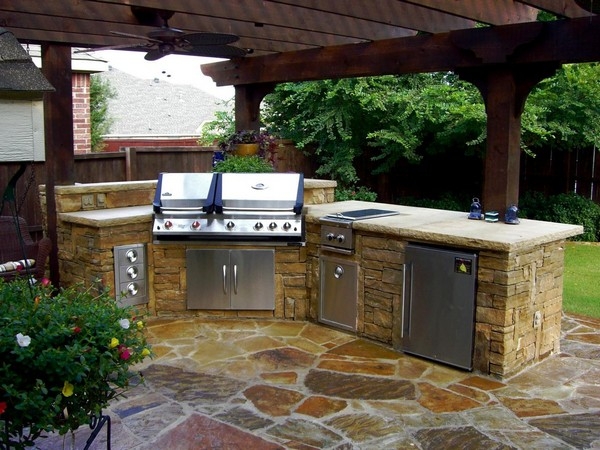 4.

Cool Outdoor Kitchens Designs

Small but elegant, an outside kitchen can bring together all the essential appliances and accessories you need to cook delicious meals in open air. We like the granite countertops and the compact arrangement in this example.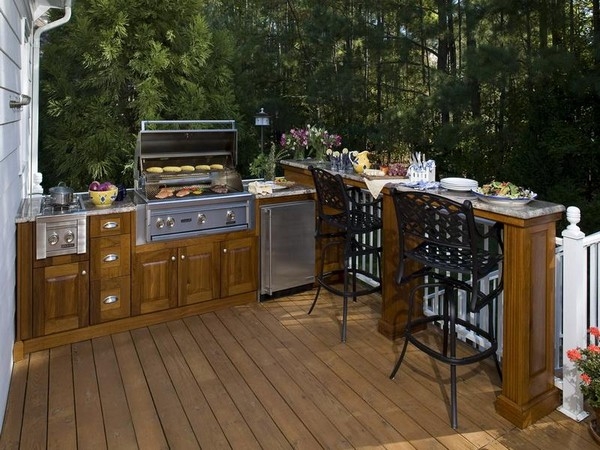 5.

Lighted Outdoor Kitchens

Provide your outdoor space with garden lights to create a wonderful place for nightly gatherings with friends and family. We love the brick detailing and the big oven that presides over the entire space like a master of ceremonies.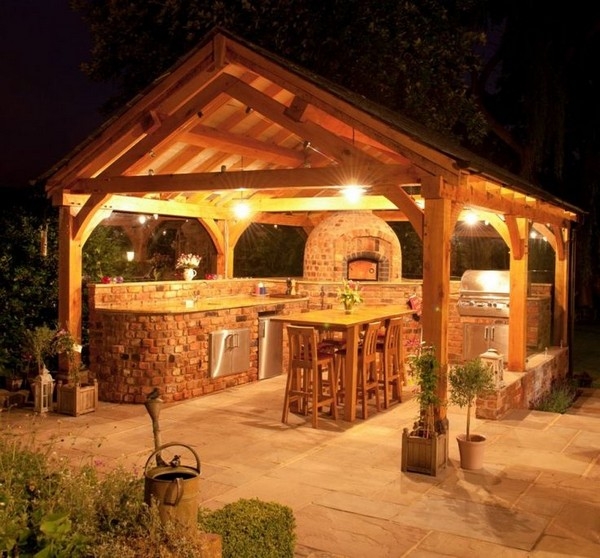 6.

Outdoor Kitchen Designs

Adding a covered pergola to your outside kitchen is one of the best investments you can make as you won't be at the mercy of the rain. In this example, the pergola rests on one side on the rooftop of the house.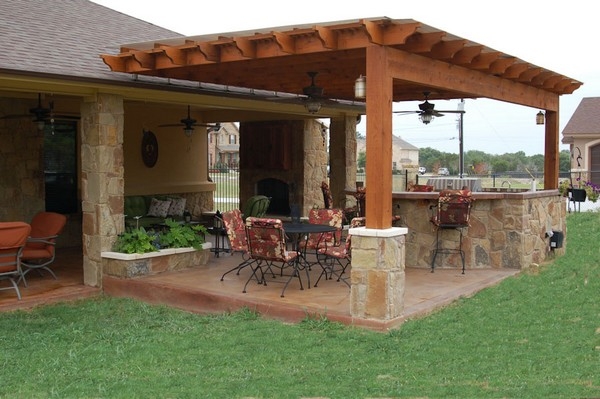 7.

Modern Outside Kitchen

If you're looking for a more modern design, check out this contemporary outdoor kitchen with pergola and concrete slab. You'll need a bit of space for this and a good budget, but the result is wonderful.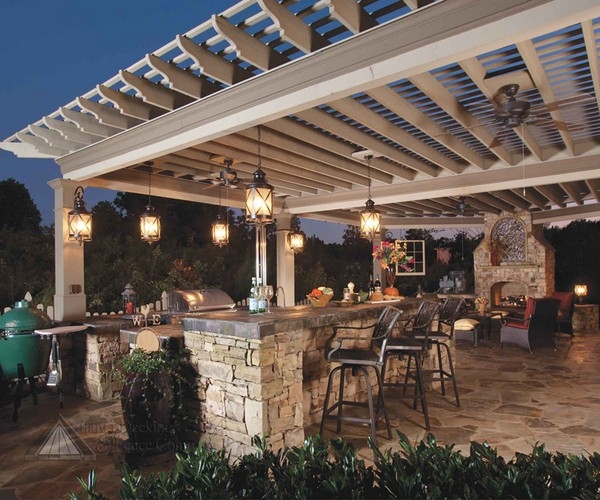 8.

Creative Cabinet

Lots of cabinets, a fridge, a grill, sinks, a bottle cooler--all of these can be easily integrated into your outdoor kitchen, like in the example below. The night lights are optional!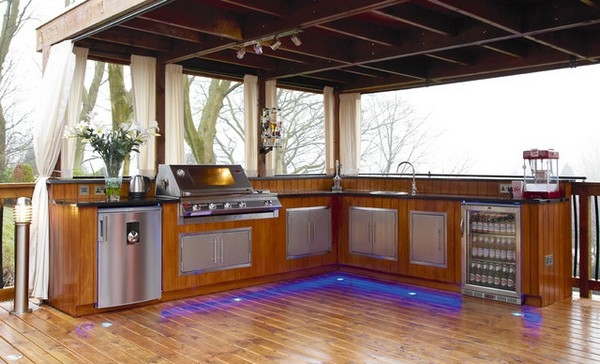 9.

Outdoor Kitchen Designs For Small Spaces

Don't have all that much space? No problem. Use the space that you have effectively, like in the example below. This outside kitchen has everything you need to enjoy romantic meals while taking up only a little space.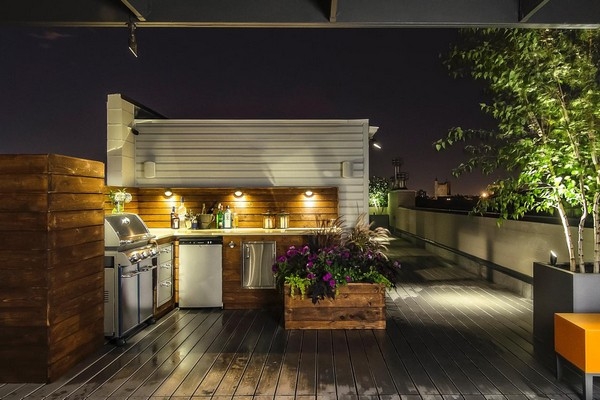 10.

Outdoor Kitchen Designs With Pool

One of the best locations for an outdoor kitchen is by the side of the pool. Here's an idea to make you understand what we mean. You can use travertine or flagstone as paving.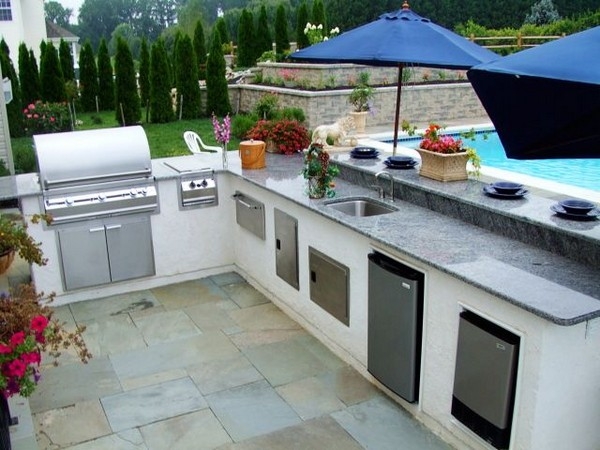 Tip: If you want to use your outdoor kitchen to the fullest then you might consider having a larger prep space. It's an investment that pays off in time.
11.

Modern Outdoor Kitchen

Outdoor kitchens have turned out to be more detailed, adding extra components such as gas lines, sinks, and even dishwashers. Here's an elegant design that integrates all these features in a small space.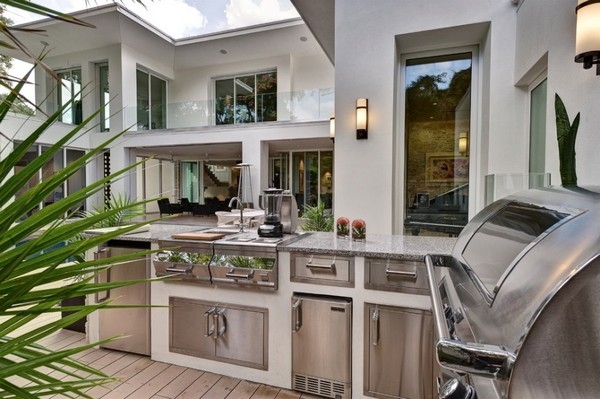 12.

Open Air Outdoor Kitchen

This beautiful outside kitchen feels like a comfortable and welcoming extension to a home. Unlike other ideas on our list, it leaves plenty of free space around so that you and your guests can enjoy the scenery.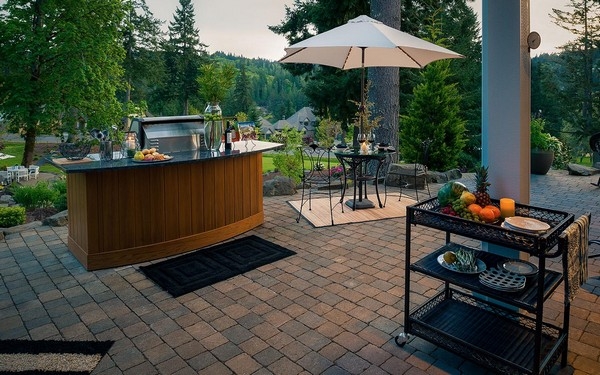 13.

Outdoor Kitchen Ideas With Pools

Another poolside kitchen idea, this one uses a long countertop to create plenty of space at the bar. If you enjoy having your drinks beside the pool, go for this one.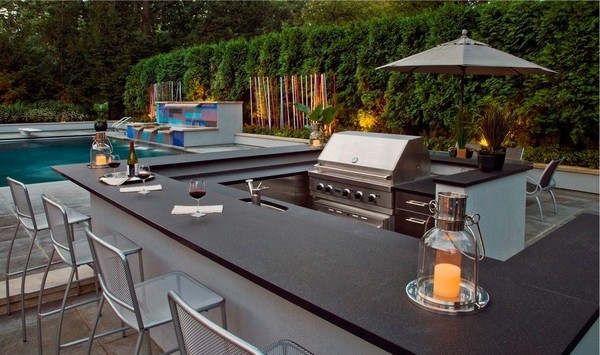 14.

Unique Outdoor Kitchen

Outdoor kitchens can combine creative and classical elements to create a beautiful and functional space you'll love returning too. In this example, the standout feature is the awning over the stone counters.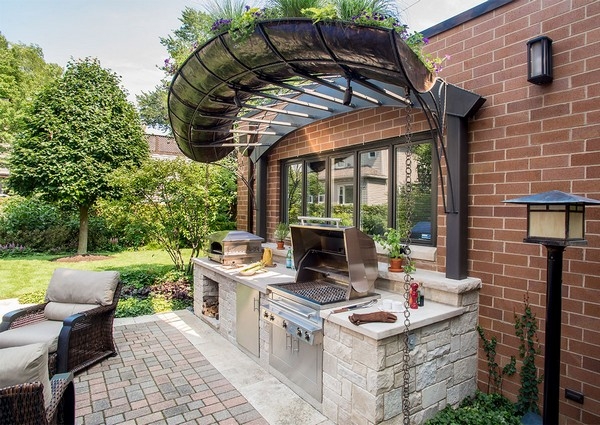 15.

Outdoor Bar Kitchen by the Pool

An outside kitchen can be easily blended into an elegant décor so that neither the ovens or the other appliances stand out. Check out this poolside outdoor kitchen to see what we mean.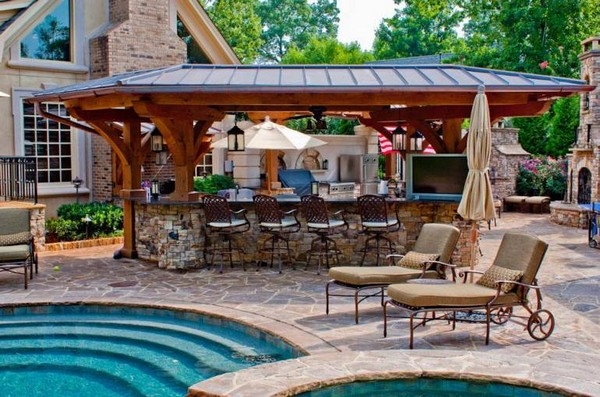 PS: Whether or not you choose to add a TV is entirely up to you.
16.

Veranda Kitchen

Another great spot for a kitchen can be a long and spacious veranda, like in this example. This is great for big house parties or family gatherings.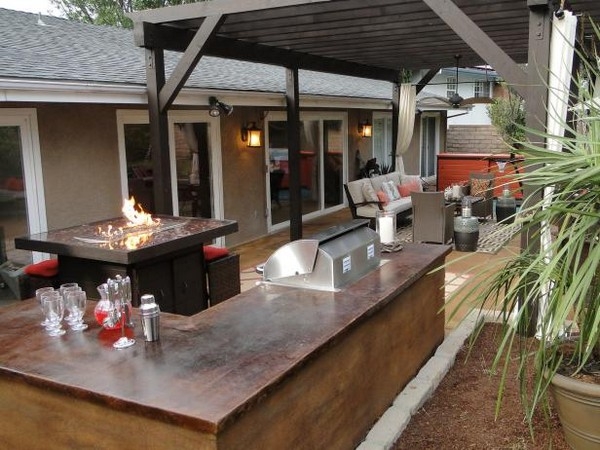 17.

Back Garden Outdoor Kitchen

This design reinvents the classic outdoor patio with decking to create a modern and inviting space for both laid-back gatherings and parties. Wood and greenery combine to create a nice atmosphere.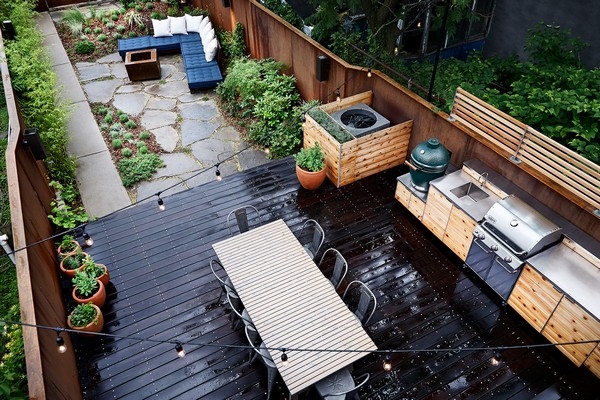 Tip: Adding plenty of plant pots to your outdoor kitchen can make it look a lot cooler.
18.

Sleek and Sturdy Kitchen

Looking for something a bit more special. This design has an oriental feel to it that makes it instantly likeable--at least according to our taste. It also highlights the importance of having the right garden furniture.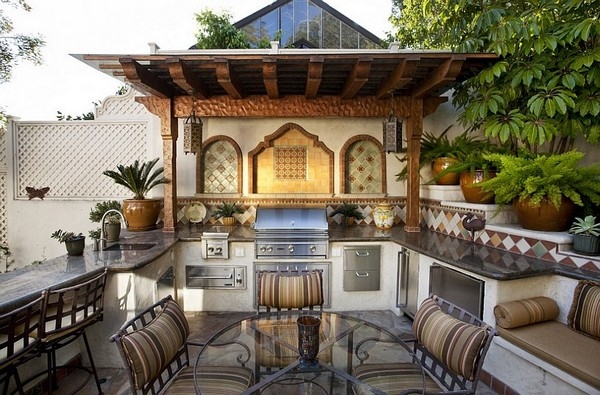 19.

Wood and Stone Rustic Outdoor Kitchen

Adding wooden cabinets to a stone grill can be a great combination, as you can see in the example below. We love the rustic, airy feel and the surrounding greenery in this example.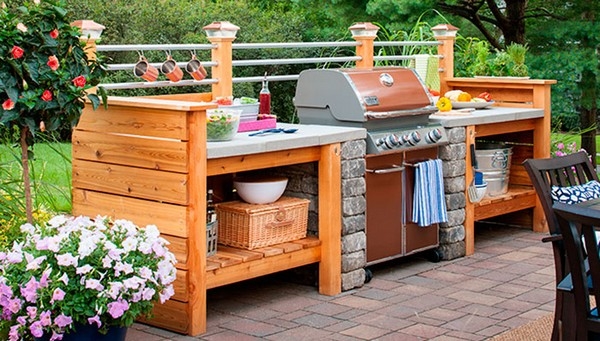 20.

Backyard Cooking

You can surround your outdoor kitchen with a privacy fence or simply use wooden paneling for decoration as in this example. Don't forget about hanging some baskets with flowers for a nice color contrast.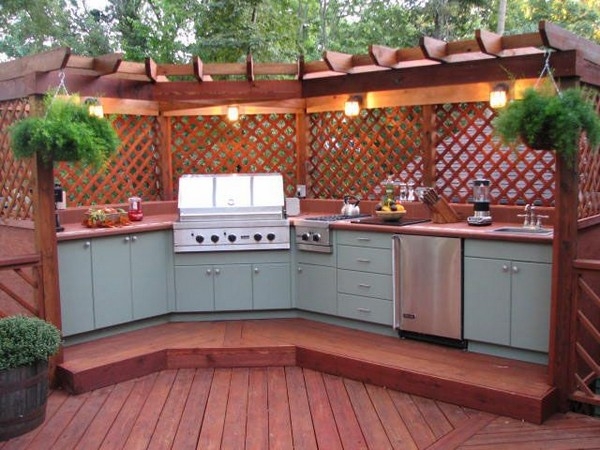 21.

Elegant Outdoor Kitchen

If you're not limited by either space or money, why not play around with different materials and textures like in the image below? Here wood decking, metal railing, stone décor, and dark rattan furniture create an elegant outdoor space.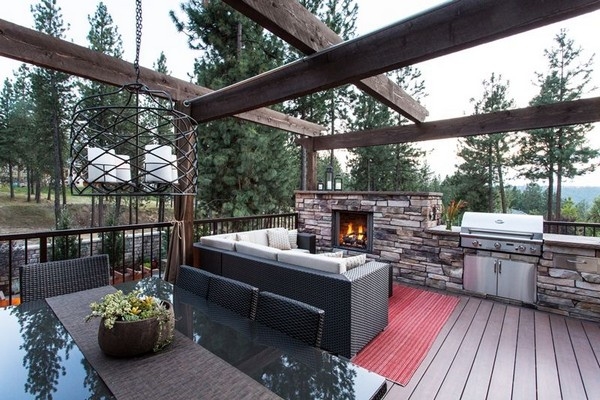 22.

Green Outdoor Kitchen

Use trees, plant pots, and your green surroundings to create an open-air kitchen you and your guests won't feel like leaving anytime soon. Wood decking is not cheap, but it's a great investment.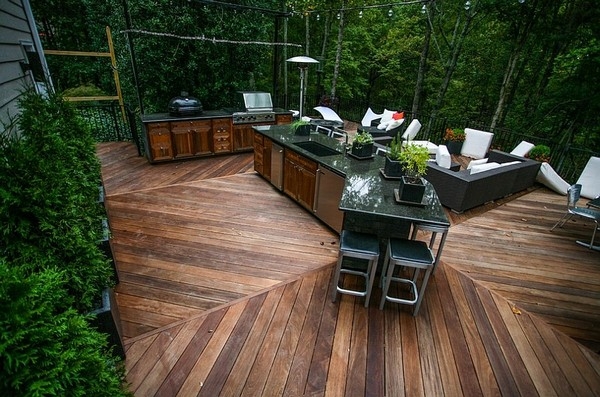 23.

Paved Outside Kitchen with Gazebo

Here's an idea to transform your backyard into an outdoor paradise with a grill and a dining area and a gazebo for rainy or windy days. Paving is a great choice in this case as it creates a lot of usable space.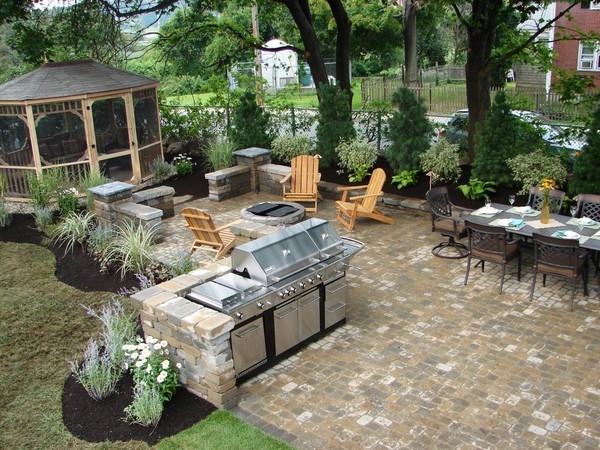 24.

Outdoor Kitchen and Lounge

Adding a lounge space right next to your outside kitchen can turn it into the focal point of your garden. Friends and family can hang out and talk while you get the food ready.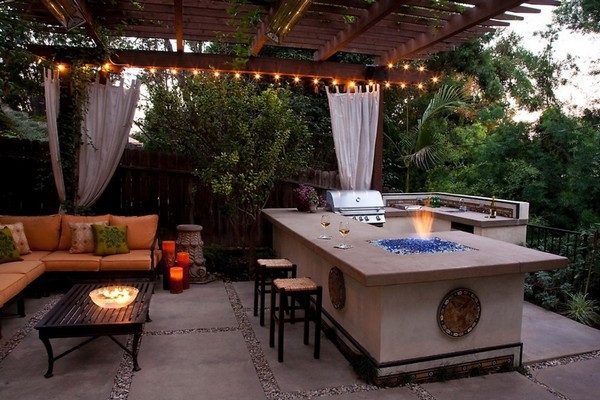 Tip: A pergola can always add a nice touch to your outdoor kitchen and give you a structure from which you can hang lights or curtains.
25.

BBQ Poolside Kitchen

Maybe you want a poolside kitchen only for the barbecues. In that case, get a nice grill and find a quiet nook to incorporate it into, like in the image below. Don't pile up appliances you don't need and keep the design simple.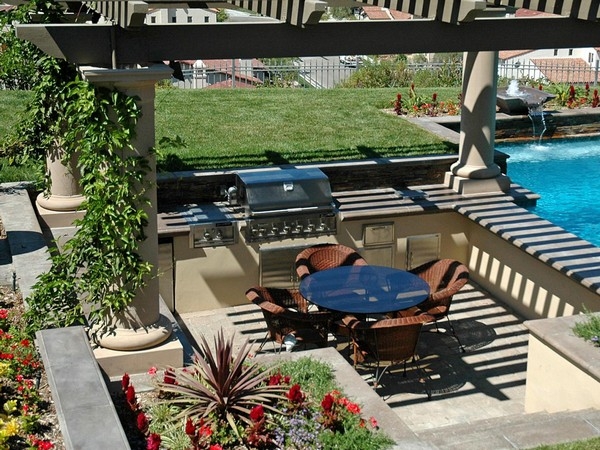 Important: Always build your pergola at the safe distance from the grill. Even if it's not at risk of catching fire, the smoke may damage it over time.
26.

Patio Kitchen

Here's a minimalist outdoor kitchen design that uses space creatively. We love the foldable windows that basically also act as a separator between the two areas during cold or rainy weather.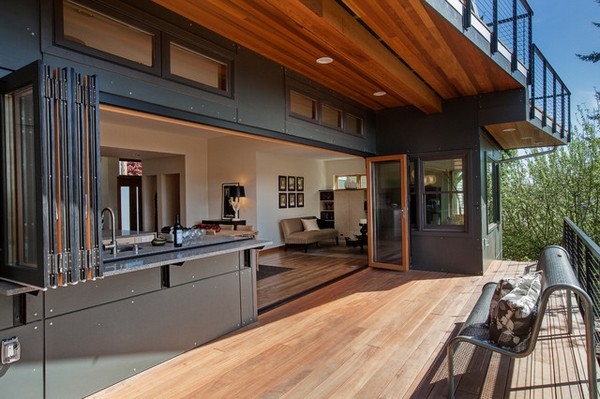 27.

Modern Outdoor Kitchen with Pizza Oven

Who said kitchen ovens have to be big and made from brick? This elegant open-air kitchen is furnished with a modern pizza oven that matches its minimalist design.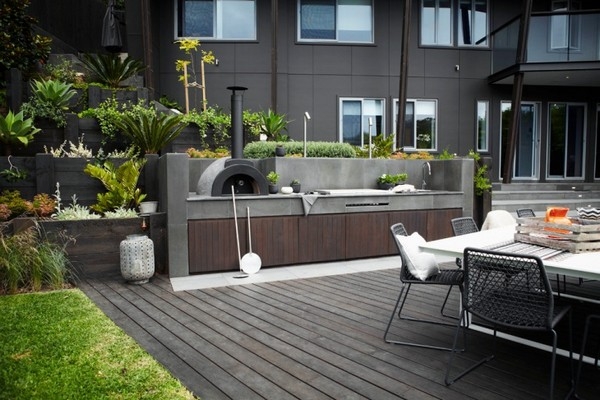 28.

Outdoor Kitchen with Fireplace

In contrast to the example above, this idea turns the big fireplace into the centerpiece of your outside kitchen. With that fireplace in your garden, you'll want to spend long nights there with your family and friends.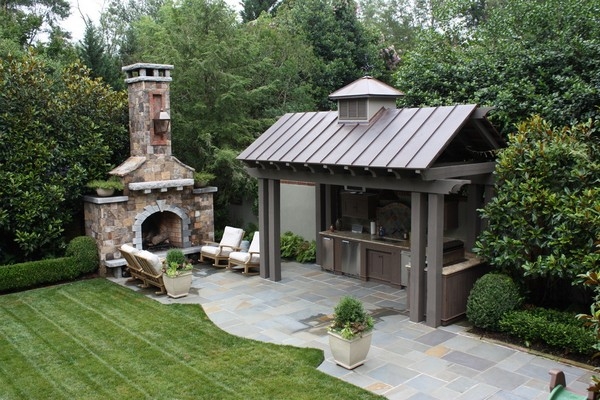 29.

Small Outdoor DIY Kitchen with Grill

Now here's an idea if you want to keep things simple. This classic wood and stone outdoor kitchen is practical, easy to maintain, and has all the appliances you need to enjoy your time outside.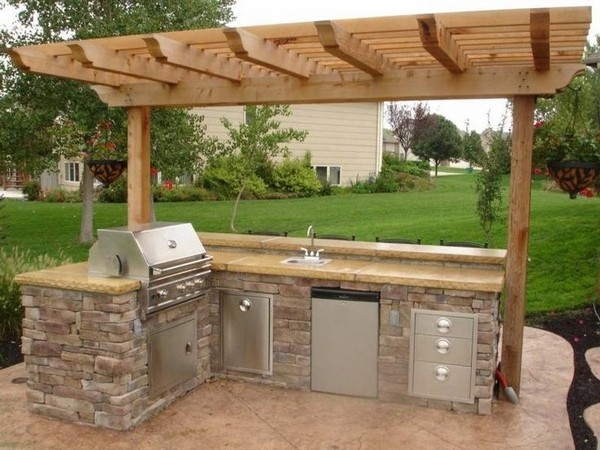 30.

Sophisticated Outdoor Kitchen

If you're familiar with Japanese gardens, you will find some echoes of them in this creative outdoor kitchen. The kitchen space itself is very simple, it's the creative shapes and the backdrop that makes this space special.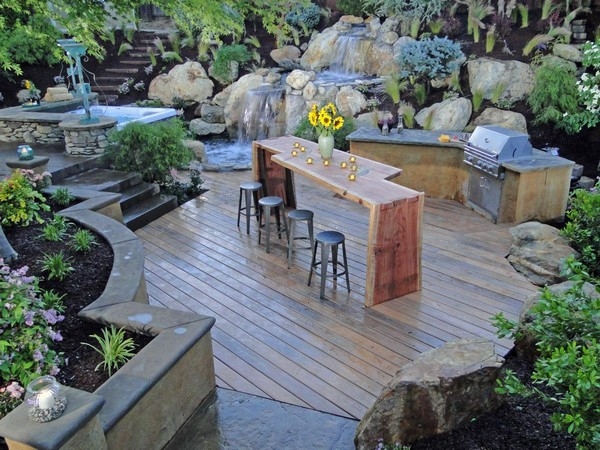 31.

Stacked Stone Outside Kitchen

Last but not least in our list, here's another stone design that's perfect for open-air kitchens. This is in essence a simple open-air kitchen--it's the wonderful view that makes it really special.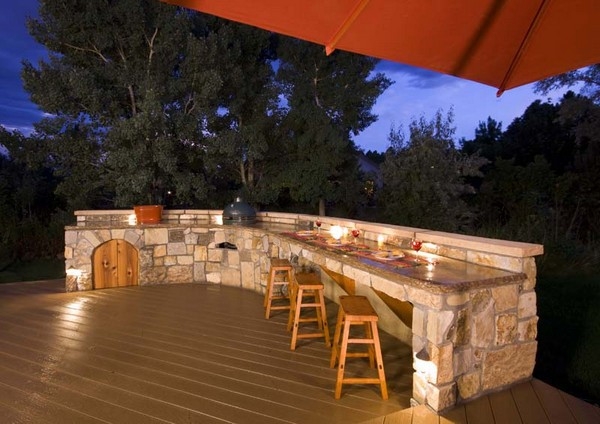 Planning for Your Outdoor Kitchen
So, how exactly do you go about planning an outdoor kitchen? It's not that hard. Since open-air kitchens and dining areas are popular these days, you can find pre-assembled outdoor kitchen kits and plans.
Alternatively, you can also invent your own design using different elements and get as creative as you want. But let's take things one step at a time. Here is some general advice to get you started.
Step 1 - Do Some Measuring
First and foremost, you have to do some measuring. You'll need a decent measuring tape or a laser distance measurer. Having the exact estimations is the key to effective planning.

So, it might be wiser to consult another person for this job. In case you still feel uncertain about it then you should consult an expert or a contractor for this project.
Step 2 - Decide on the Features
Figure out what features your outdoor kitchen should have. If you don't have that much space, go for the essentials such as grill, counter space, and cabinets.

You can choose an outdoor kitchen island that incorporates a propane grill and an ice canister so you can avoid utilities such as water pipes and gas.
Step 3 - Consider the Placement
Open-air designs with no walls in sight enable you to enjoy the scenery. But that's not always possible.

Putting up your outdoor kitchen on an open wall can let you save some space or make an adaptable area for dining seating. Likewise, it will give you easier access to utilities inside your home.

Tip: Putting up a kitchen on one wall may seem as if you are turning your back to your guests. Better choose a stand-alone grill, kitchen island, or kitchen cart for preparing and serving so you can move freely in the space.
Step 4 - Consider Modular Kitchens
Modular kitchens come all in one package so you can save time--and sometimes money--setting them up. There are a lot of sizes, shapes, materials, and designs that you can choose from.

Look for outdoor kitchen sets that include accessories such as portable refrigerators, countertops, stainless steel cabinets, as well as dining areas.
Step 5 - Get Some Help
Installing an outdoor kitchen on your own can be challenging. Whether you opt for a pre-assembled option or build a custom kitchen, make sure you get another pair of hands to help you.

In some cases, you may also have to get a carpenter, electrician, or landscape architect on your team, depending on how complex your design is. Don't try to do everything yourself and then blame yourself if something goes wrong!
Best Outdoor Kitchen Books
Before starting to plan your new kitchen, why not take the time to read a book or two on outdoor kitchens? You'll get even more ideas and know what mistakes to avoid.
Outdoor Kitchen Frequently Asked Questions
Having a kitchen outside in your garden or backyard is becoming increasingly popular with a lot of people. No surprise then that we hear plenty of questions on this topic.
We've put together some of the most popular of these and answer them for you below.
How About Cooking Outside for a Change?
An outdoor kitchen can become a gathering place for your family and friends. It can help you create wonderful memories and have some really nice talks and a great time.
While this type of kitchen may require a bit of an investment, you can always adapt it to your space and scale it to your budget.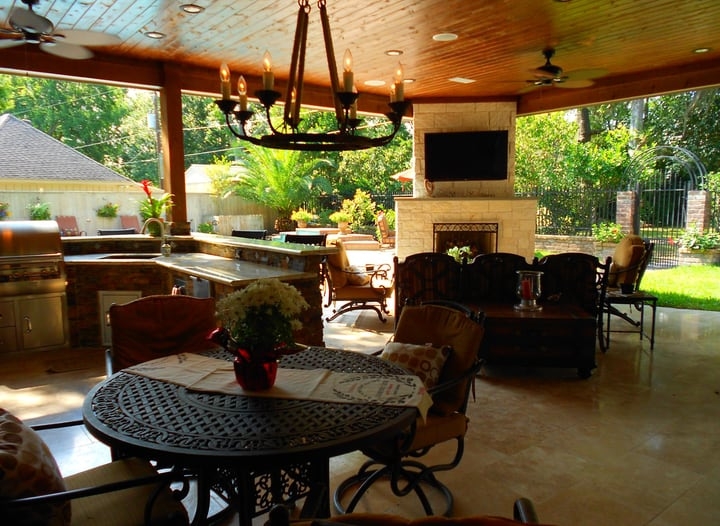 The number of appliances you add, the materials you choose, and whether or not you build a pergola can make a big difference not just in terms of the final cost, but also in regard to the amount of work you put in.
If you're on the fence about having a kitchen outside, we say go for it--it's going to make your outdoor space nicer.
Now, won't you let us know whether any of the ideas we shared with you have caught your imagination? Which one? Drop us a comment at any time.
See you next post!