The stars are out and shadows fill your garden. The Moon lights up your garden in a romantic but quite uneven way--you can barely see the pathway. You can't blame the Moon, not when you can add some outside garden lights to your garden.
Outside garden lights are not just practical--they can transform your garden after nightfall. They can encourage you to spend more time outside and also boost your security. What's best, you can always adapt them to your layout.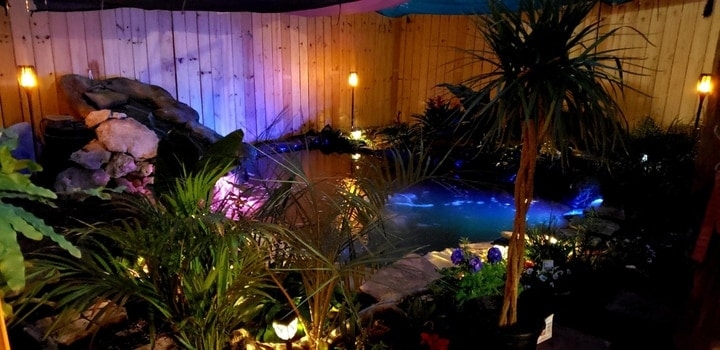 Nowadays, most people commonly use LED outside lights powered by solar technology. However, the quality may vary widely and the price alone is not always the best determining factor.
That's why we've put together an outside garden lights buying guide and selected some of the best products on the market right now.
We did the research so you can focus on the creative side of things.
So, let's light up this topic!
Best Outside Garden Lights Reviewed
There are numerous garden lights and deciding on the best can be a bit of a challenge. But at the end of the day, some products are better than others.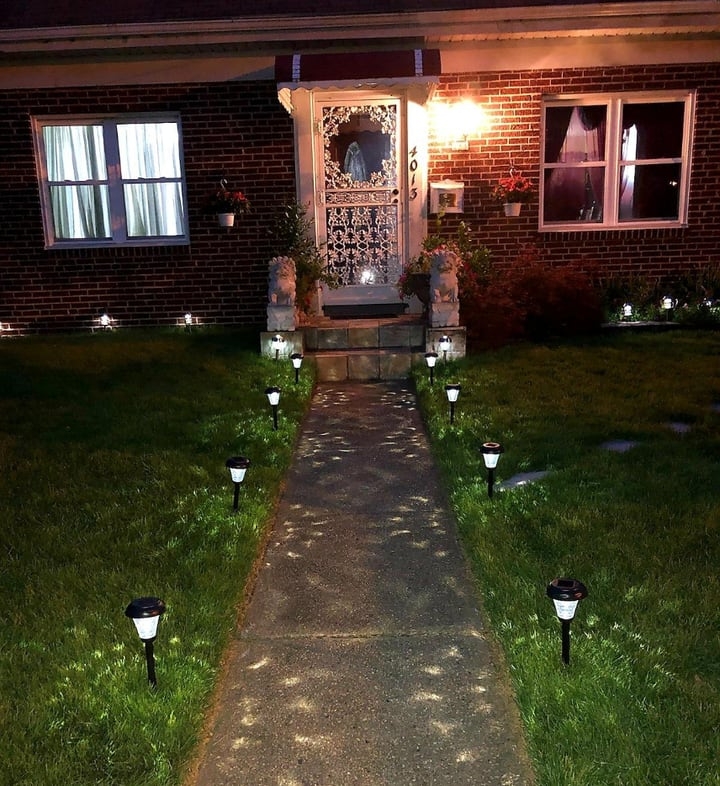 When it comes to outside garden lights, brightness, durability, and energy efficiency are important, and we've kept all these in mind when putting together our list.
So, what are your best options right now?
1.

Balhvit Glass Super Bright Solar Lights Outdoor

At the top of our list is the Balhvit Glass Solar Lights Outdoor set. Brighter than most, it's made from glass and stainless steel for extended durability in all weathers. We love the simple yet elegant design.

Pros
Very good build quality
Excellent luminosity for the price
Lasts 12 hours on a charge
Beautiful light patterns
Cons
2.

TomCare Solar Lights 43" Waterproof Flickering Flames

Now here's something above average--these TomCare solar lights put on a safe and smokeless show of dancing flames. This interesting set can be a hot addition to your garden or backyard.
Pros
Lasts up to 12 hours on a charge
High quality LED system
Nice design and visual effects
Cons
Support poles could be stronger
3.

Brightech Ambience Pro Waterproof Solar Outdoor String Lights

Now here's a set of string lights from Brightech that can add a lot to the atmosphere of your garden, backyard, terrace, or gazebo. We especially like the vintage look of the bulbs.

Pros
Shatterproof lightbulbs
Flexible chord
Heavy-duty build
Cons
Light is warm rather than bright, so restricted mostly to decorative purposes
4.

Moonrays Solar LED Outdoor Lights

Moonrays 91381 Payton Solar LED Outdoor Lights are an affordable choice. One set consists of eight black-themed solar LED lights. Each path light has the ability to brighten a 12-inch space.

Pros
Very simple to install
Appealing, hammered-glass look
Cost-effective choice for long garden paths
Cons
Can get damaged when mowing the grass
5.

Lampat Waterproof Wireless Solar Outside Garden Lights

This waterproof solar outside garden light set from Lampat includes anchors and screws so you can securely install it on a wall or fence. It comes with a motion sensor and is compact and well built.
Pros
Heatproof
Weather-resistant
Capable motion sensor
Durable outer case
Cons
Light may pulse when idle
6.

LITOM 12 LEDs Wireless Outdoor Solar Spotlights

The Litom 12 LEDs Wireless Outdoor Solar Spotlights are a reliable, no-hassle choice for lighting up walls and specific features of your garden. You'll like the adjustable brightness modes and overall build quality.

Pros
Dual lighting modes based on your needs
You can move it from the garden to a wall or vice versa (make sure to keep the mounting accessories!)
Cons
120 degrees lighting angle may not be ideal in all setups
7.

Outdoor String Light Globe Patio Lights with 104 Edison Glass Bulbs

Now here's another set of string glass bulbs that's among our favorite outside garden lights. It's suitable for most settings and can transform the space you use them in.

Pros
You can dim them to save energy
Up to 100 hanging sockets per set, which is more than other sets
Beautiful design suitable for elegant settings
Cons
The bulbs are fragile (install them with care!)
8.

Toodour Solar Christmas Lights, 2 Packs 72ft 200 LED 8 Modes Solar String Lights

Our list of outside garden lights wouldn't be complete without a set for Christmas. This 72-feet string of multicolored lights looks cute and is easy to attach to trees, gutters, and other structures.
Pros
You can change the blinking pattern
Good quality LED lights last a long time
Very good value for the money
Cons
Dim display during cloudy or rainy weather
Placement near street lights may interfere with the sensor
9.

Voona Solar LED Outdoor Lights

The Voona Solar LED Outdoor Lights last up to 6 hours on a charge and come with three lighting modes you can choose from.

The on-mode will turn on the lights thoroughly. The dusk mode will turn the lights on automatically after recognizing darkness. The motion mode automatically turns on the lights after distinguishing any movement.

Pros
Excellent light intensity
Stainless steel design
Cons
Light comes in narrow strips
10.

Zenith Shaker Cove Outside Garden Lights

Zenith HZ-4133-OR Shaker Cove Outside Garden Lights features a 150-degree motion detection system. It can recognize any movement within a range of 30 feet. It's durably constructed from metal and clear glass.
The 60-watt bulb can provide sufficient lighting for security. This system has low power consumption since it automatically dims when no movement is recognized within 30 seconds.
Pros
Attractive metal design
Sturdy clear glass covering
Cons
Incandescent bulb not included (you have to buy it separately)
11.

Moonrays 1-Watt LED Spotlight Outdoor Lights

The Moonrays 95557 1-Watt LED Spotlight Outdoor Lights are a reliable choice if you are trying to focus the light on a particular target such as a wall, sculpture, tree, or flower garden.

This accent light uses a low voltage 1-Watt LED bulb that can last for years. One set contains two spotlights that are 7 inches tall.

Pros:
Easy to set up
Durable die cast black aluminum design
Adjustable spotlight
Cons
More of a floodlight than spotlight
12.

AmeriTop 128 LED 800LM Wireless LED Outdoor Lights with Solar Motion Sensor

Place these solar motion sensor lights on a wall of your house or shed and you can light up a dark area of your outdoor space effectively.
It's a reliable and effective choice that comes with a capable motion sensor that won't be triggered by weather or other lights.
Pros
270 degrees illumination angle
128-LED design (more than other products in this price range)
Good photocell efficiency even in winter
Cons
Not ideal for tall heights and continued movement
13.

GardenJoy Solar Powered LED Outdoor Lights

GardenJoy Solar Powered LED Outdoor Lights are a set of 10 compact black themed lights that can stand alone. Great for paths and lawns, it's easy to assemble and can illuminate up to eight hours.

Pros
Simple and accessible
Good weather resistance
Cons
Plastic design susceptible to damage--handle with care!
Outside Garden Lights Basics
Outside garden lights often use LED technology, but there are some notable differences in their design. One size does not fit all!
Let's take a quick look at the most common types of outdoor garden lights.
Task Lights
Task lighting is used for illuminating a fixed area. It's often mounted on walls above head level and comes with a motion sensor.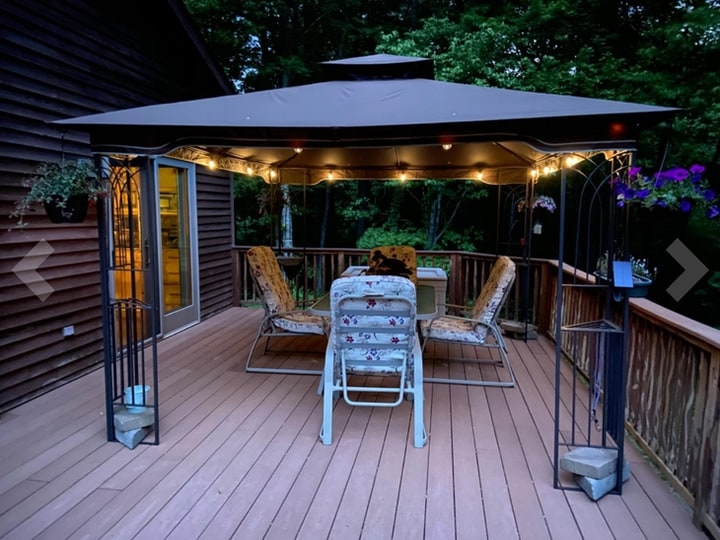 This type of outdoor garden light is often used before stairs, entryways, or structures like patios or sheds.
Decorative Lights
Decorative lighting contributes to the ambiance of an outdoor place like a patio or other sitting area.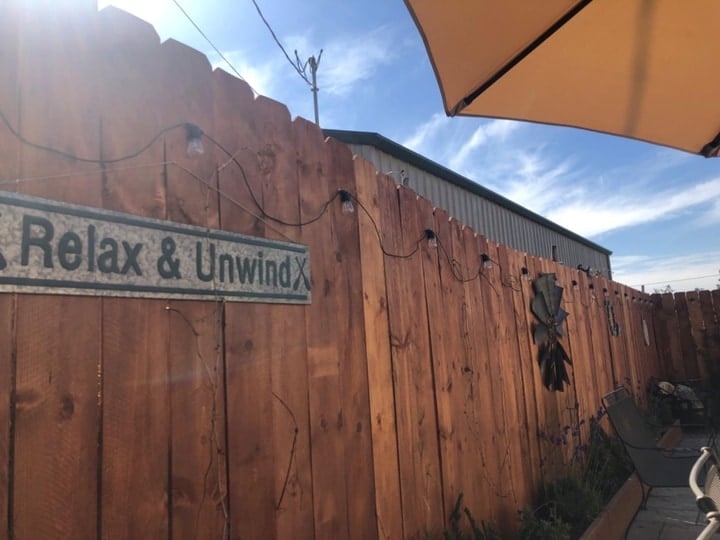 It normally provides glow light rather than focused illumination, so you may have to combine it with other light sources.
Accent Lights
Accent lighting is useful if you want to highlight or draw attention to a garden feature. It often comes in the form of spotlights that you can focus on trees, sculptures, etc.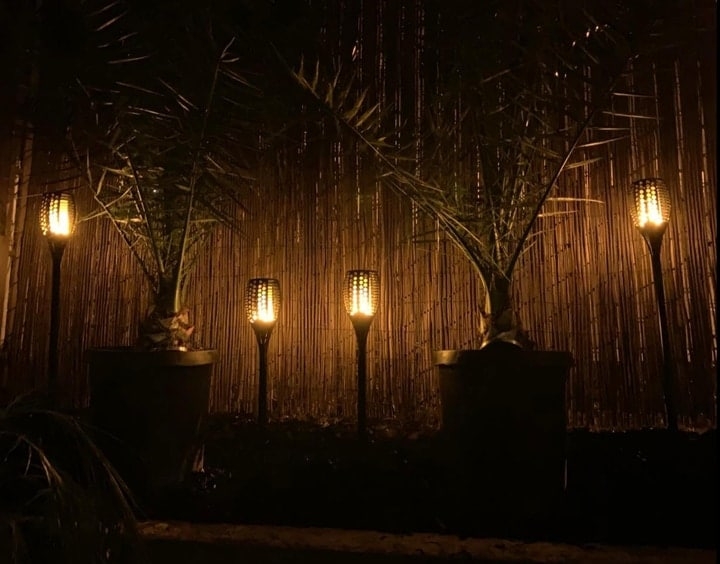 Tip: Accent lighting can help draw attention away from unpleasant things such as clotheslines.
LED Lights Versus Halogen Lights
When installing outside garden lights, you can either use halogen lights or LED lights.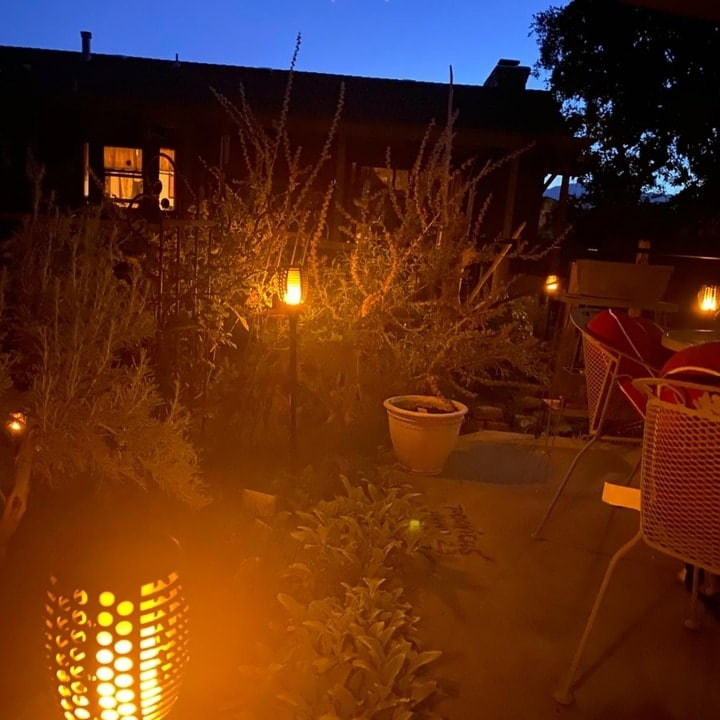 Halogen lights are commonly used for landscapes. They generate yellow light and use more energy. When in use, halogen lights can become hot to the touch.
LED lights generate pure white light which often looks better in gardens and backyards. It's also more cost-effective since it can be powered by solar panels.
Remember that solar energy is a renewable resource, making it better for the environment.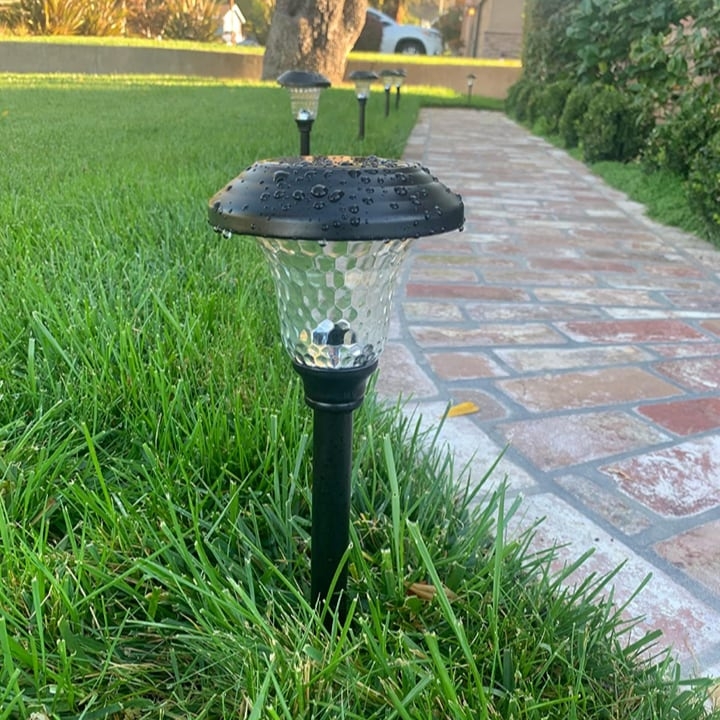 Solar-powered outside garden lights charge during the day and turn on at dusk to provide illumination after nightfall.
Another advantage of solar-powered lights is that they don't require external cables.
All you have to do is stick the lights in the ground and hope for sunlight. However, their light is not as bright as electric light and their quality depends on the set you choose.
Electricity is a better choice if you need the most effective illumination available. But installing a system that needs an outlet can be a bit of a hassle.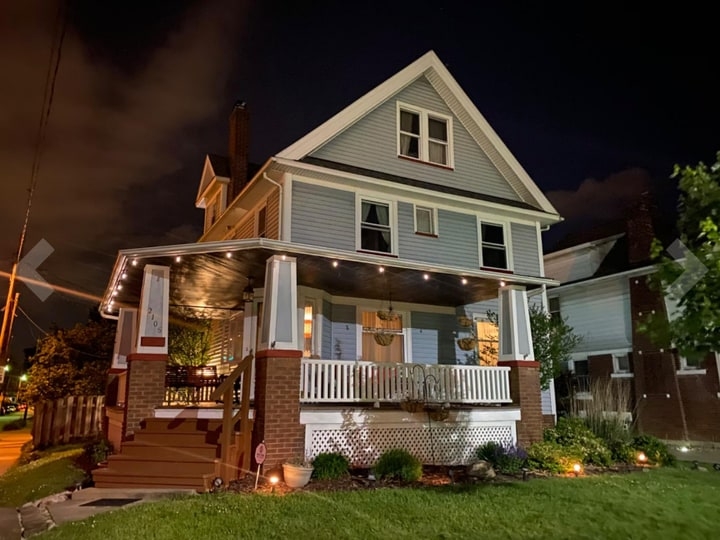 Most likely, you'll need a transformer where the lights will be plugged in. If you want to install several lights then you will also need more transformers to avoid blowing up the fuse.
Electrical lights need cables and wirings. Ensure that you know how to install them or ask a professional to do it.
The bottom line: In most cases, LED-powered outside garden lights are the best choice because they are easier to install and come with no safety risks in an environment where water is often near.
How to Install Outside Garden Lights
Outside lights can brighten your pathway, prevent burglary, and let you see who's calling. Plus they can make your garden look beautiful after dark.
Step 1 - Choose Lights That Are Easy to Install
Wireless LED-based solar power garden lights are usually the quickest to install. Simply stick them in the ground, drape them around the branches of a tree, or attach them to the wall with the provided mount.

For wired electrical systems, read on.
Step 2 - Stay Safe
Before you start installing wired outdoor lights, it's very important to always stay safe.

Don't forget to switch off the main power at the fuse box. Switch off the breaker and attach a note to let your neighbors know that you are working on the electrical circuit.

Use a socket tester to verify if all the circuits are already dead. Never take risks or be neglectful when it comes to electrical safety.
Step 3 - Use a Low Voltage System
For your DIY garden lights project, we recommend installing low-voltage systems that use 12 volts. These are safe, inexpensive, and do not use too much energy.

This type of system should be enough for most gardening lighting projects.

This system requires four basic components which are the transformer, lights, low-voltage electrical cable, and accent fixtures.
Step 4 - Install the System
Putting up a typical lighting system consists of three major steps. First, you need to put the cable on the ground and then install the transformer. Lastly, connect the lights.
Watch the video below for a summary of the key steps.
Outside Garden Lights FAQ
Now here are some of the most frequent questions we hear people ask about outside garden lights. We hope you find the answers useful!
What are the best outside lights?
The best outside lights are easy to install, durable, safe, and use energy efficiently while providing enough illumination.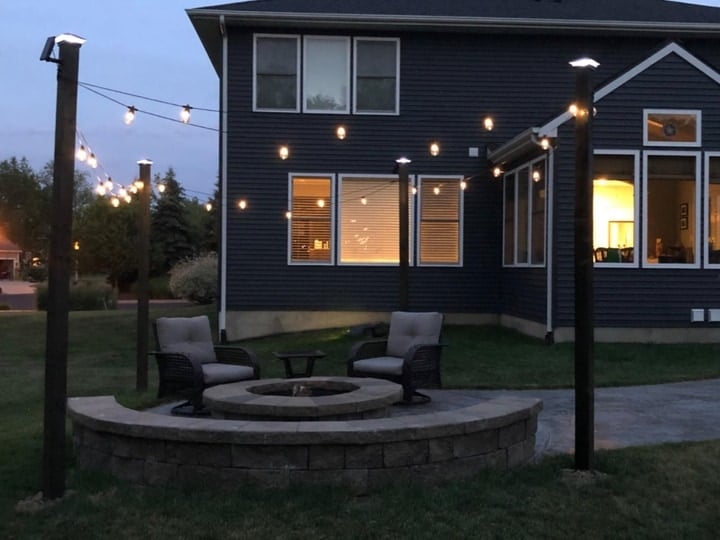 For many gardens and backyards, the best outside lights are LED lights.
What are outside lights called?
Outside lights are called sconces, strings, spike lights, wall lights, deck lighting, LED candle lights, or spotlights. Find out more about how to install garden lights.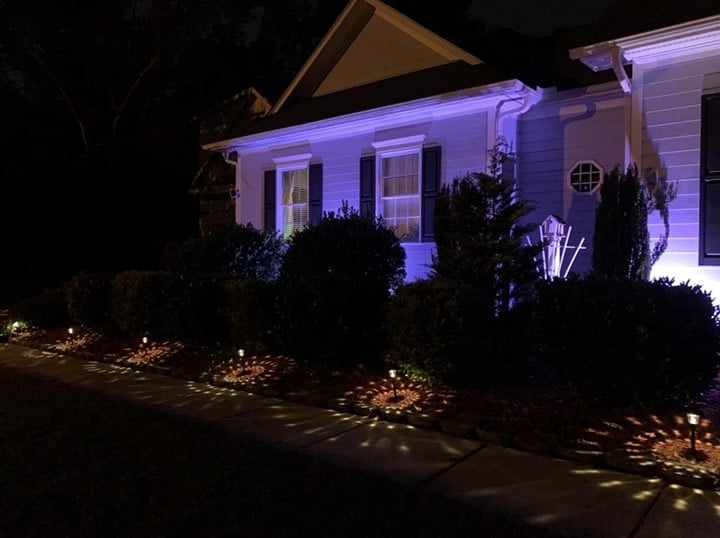 What are the best garden lights?
Balhvit Glass Super Bright Solar Lights, the Ambience Pro series, and TomCare Solar Lights 43" Waterproof Flickering Flames are some of the best outside garden lights available. Read on our outside garden lights reviews.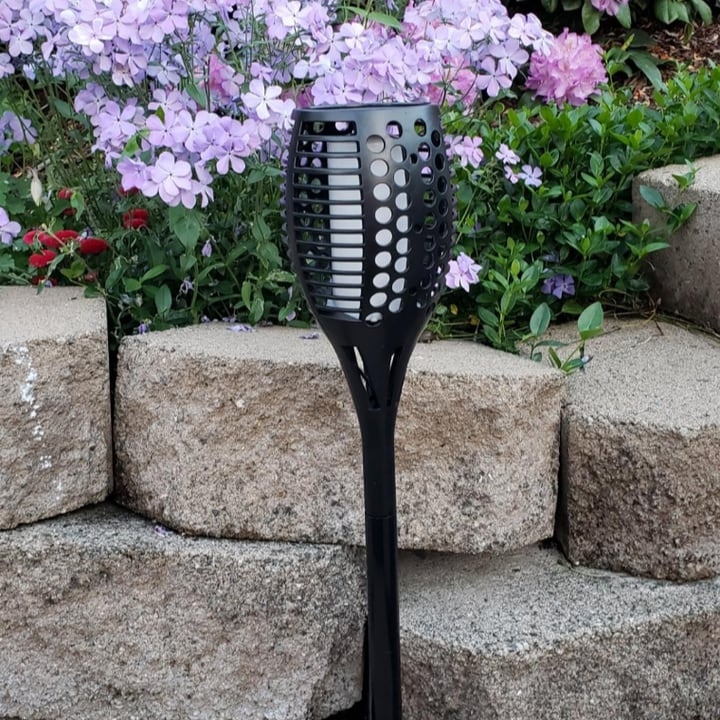 What voltage is garden lighting?
Line voltage for outdoor lighting is typically 120 volts but you can choose solar-powered outside garden lights instead.
The Bottom Light
In the end, don't count on the Moon to provide (all) your garden illumination. Grab the right LED-powered outside garden lights for your space and use solar energy to make your garden even more beautiful.
Outside garden lights can set the ambiance for your outdoor space. They can add to your garden design and make nights outside with family and friends so much more fun.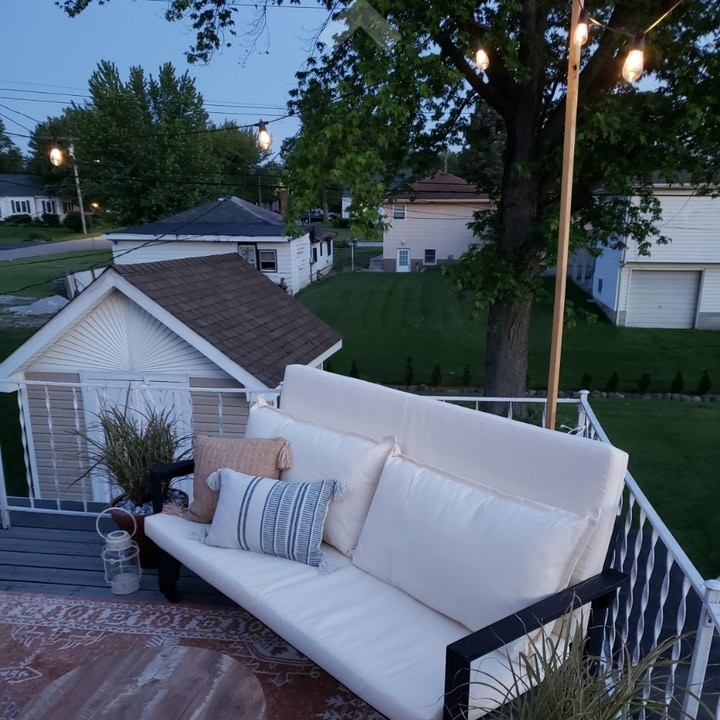 The best part is that you can also use outside garden lights as decor for parties or for Christmas around your outdoor fireplace, firepit, or lounge area. You can always adapt them to your space and use them in creative ways.
Now over to you.
Which outside lights are your favorites? And do you have any lights in your garden already?
We would love to hear from you in the comments below.
Until the next post!