Have you just moved to a house with a garden? Or has the time come at last for you to revamp your neglected yard? Either way, you don't have to settle for an average design. You're in for some work, but it's the fun sort of work, and you'll come to it with a smile. Explore now some awesome flower garden ideas we've handpicked for you. Whether you're in for minimalistic designs or aim for a profusion of flowers, we got you covered.
Plants have provided us with so many things while taking away from us so very little. The oxygen we breathe, the food we eat, and the scenery we enjoy are all gifts that flowers give us directly or indirectly.
So, it's only natural for you to want to bring the beauty of flowers closer to you. Choose to wake up every morning to a fragrant flower garden fresh with leaves and vibrant with colors.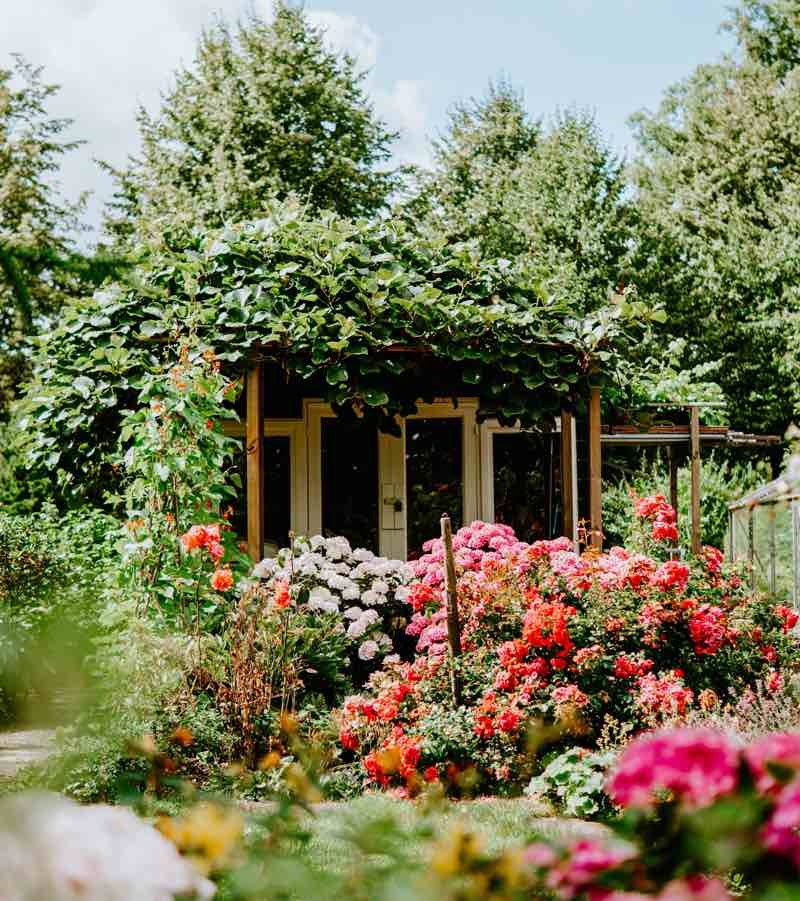 Flowers are beautiful, but remember that their beauty serves a purpose. They are life-givers and have evolved to encourage other creatures to proliferate their seed everywhere.
Whether they are in the woods or your neighbor's flower garden, flowers certainly are playing their part in the grand scheme of things. A flower garden enhances their allure, adding in the mix the appeal of a human-orchestrated design.
The flower garden ideas we've gathered for you bring you the inspiration you need to finally get started. So, are you ready to create your own bit of paradise?
The Beauty of Flower Gardens
Few things can make your property more beautiful or fill your days with more effortless grace than a flower garden. You don't even have to be into gardening to appreciate the simple beauty of a careful arrangement of flowers. To say nothing of the scents and colors that will play on your eyes every day.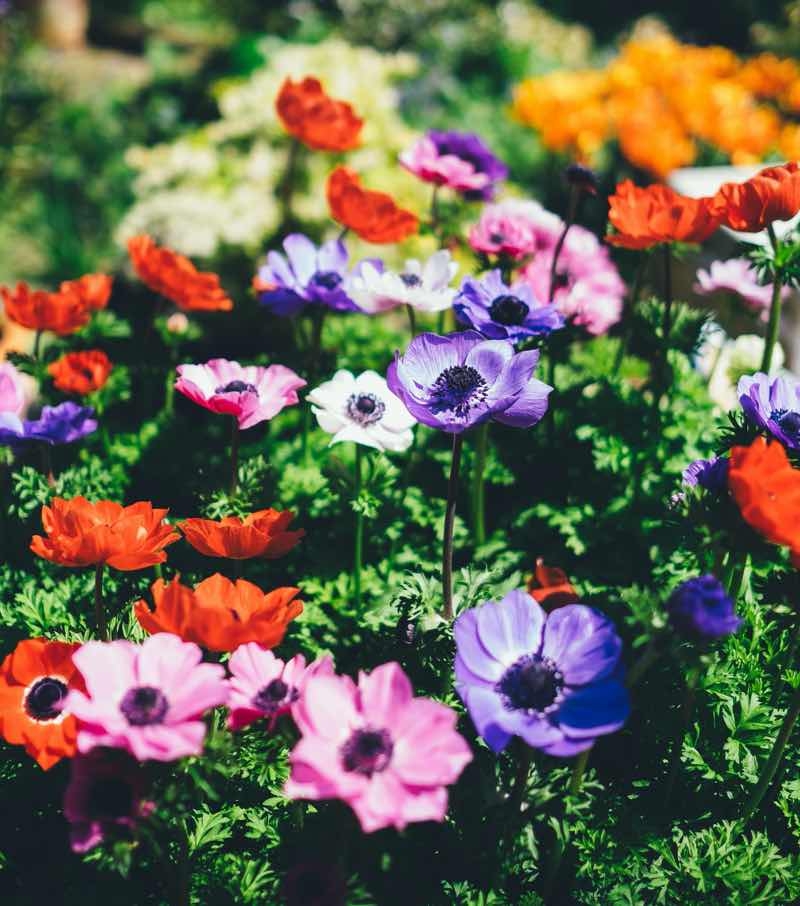 There is also the language of flowers; they can express anything we can't in words. A good floral garden is more than a garden; it is a manifestation of our love for nature.
But there's more. The very practice of gardening can cut the risk of heart attacks and stroke. And a flower garden is one of the easiest way to pick up some light gardening tools and start working the soil.
Our Favourite Flower Garden Ideas
Flower gardens come in various forms, from the flowers and the colors to the design choices and landscape that you use. The possibilities are almost endless.
The following flower garden ideas can inspire you to create your own garden. You can recreate them on your own terms or take the elements you most like about them and mix them with your own ideas. Whatever works for you, really.
Flower Garden Ring
This flower garden looks every bit the centerpiece that it is! With a large, eye-catching plant in the middle, the bed of flowers looks ready to be adored by visitors and friends.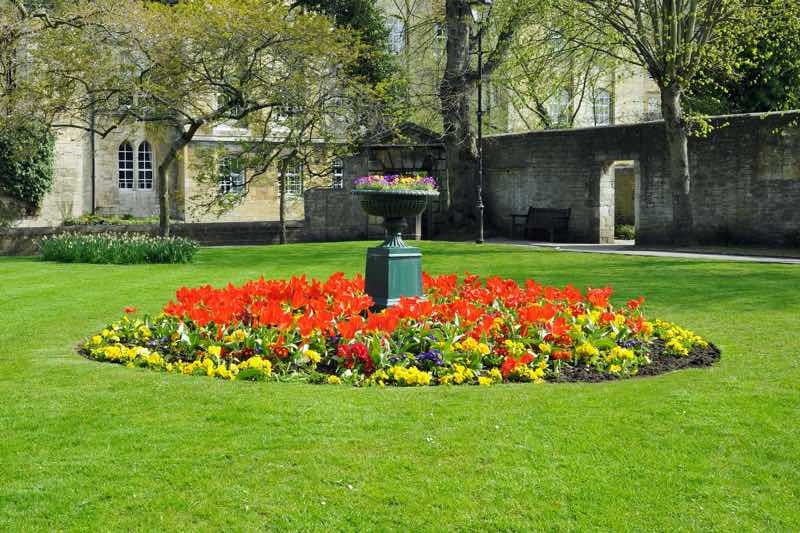 Plus, that perfect circle and layering are a great sight for perfectionists. Because circles represent wholeness and the infinite, creating a circular flower garden can be a spiritual adventure as well.
Knot Flower Garden Ideas
A fancy labyrinth garden filled with lush green hedges and immaculately beautiful flowers? Why not? You need quite a bit of space for this one, but the results can be amazing.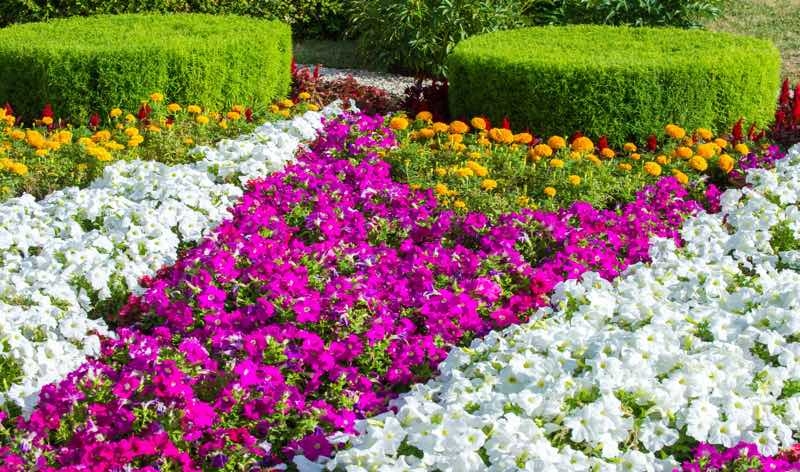 Don't have a ton of space? A miniature knot flower garden might be just what you need.
Spilling Petunia Flower Borders
Simple and cheap, this one is one of our all-time favorite designs. For one, the petunias in this flower garden design don't even have to be planted in the ground.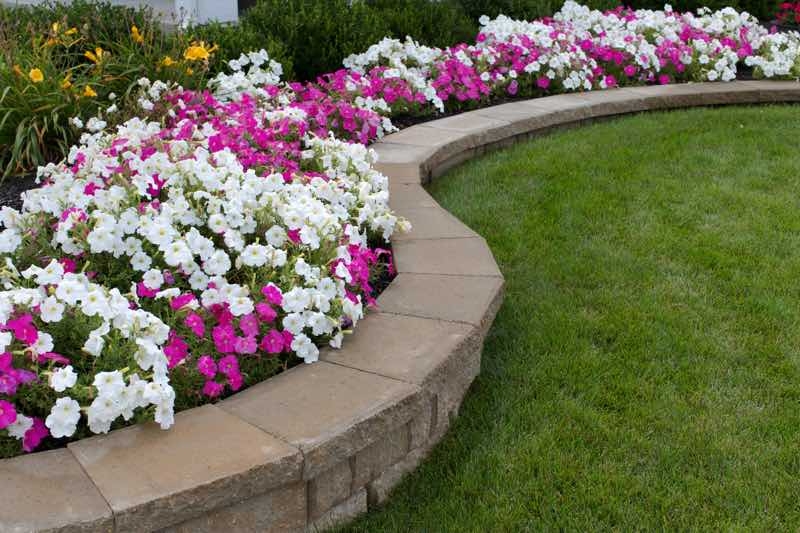 Petunias tend to overgrow their baskets, so all you have to do is arrange them the way you want and let them grow and multiply at their leisure. If you like pink, that's even more of a plus. If not, well, there are other colors to explore.
Large Oblong Flower Bed
If you have lawn to spare, you can wing it with a huge, oblong flower bed. This one might be best left to a professional unless you're really good with both the hoe and the gardening shears.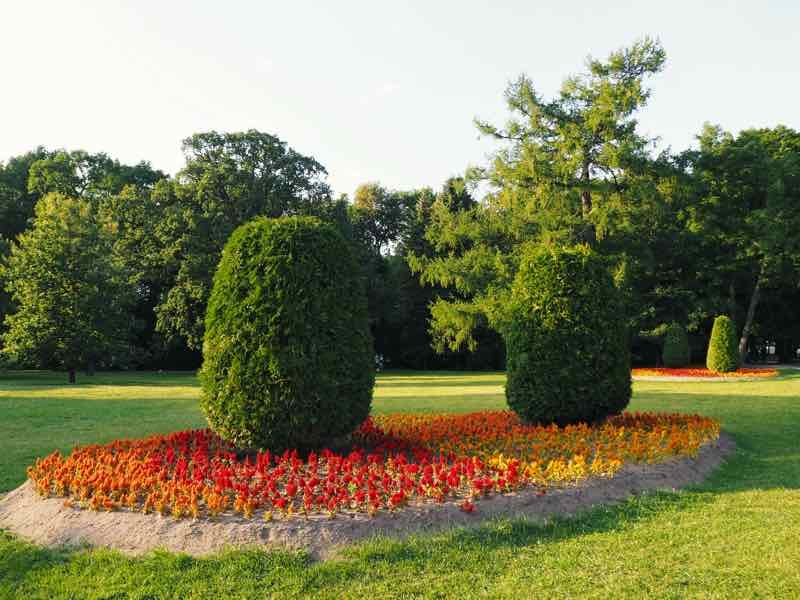 Either way, it's gorgeous, and you get a literal bed of flowers on your lawn.
Tip: You can position the trees differently and explore other tree types.
Flower Garden on a Truck
Nothing screams hippy more than putting an old rusty truck right in the middle of your flower garden and making it the centerpiece.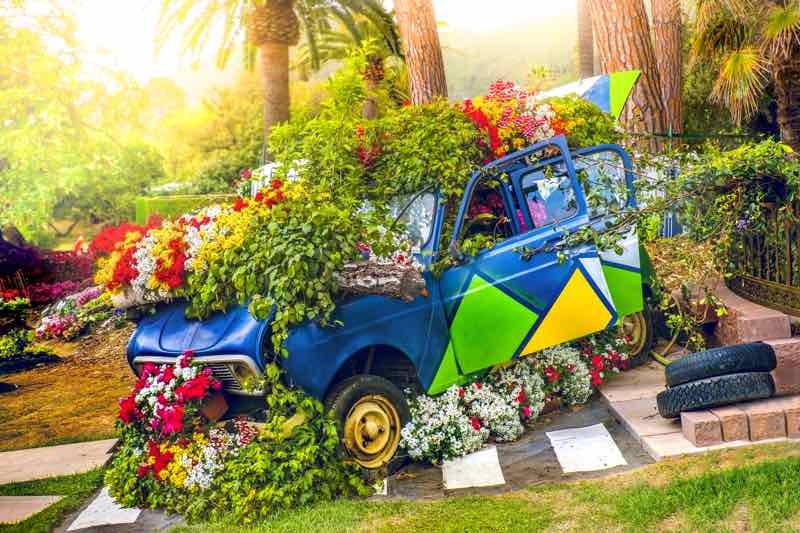 The neat retro appeal of this flower garden design will surely take anyone several generations old to a quiet trip down memory lane.
You might be thinking, "Where could I find a cheap retro car?" It's not as hard as you might think. If antique trucks aren't in the budget, you could try a wheelbarrow, windmill, or another centerpiece. Get creative!
Cinder Block Flower Garden Ideas
You would be surprised to know that cinder blocks make great planters for your flower garden! Their gray look balances out the vibrant colors of the flowers, and their form makes for a sleek display.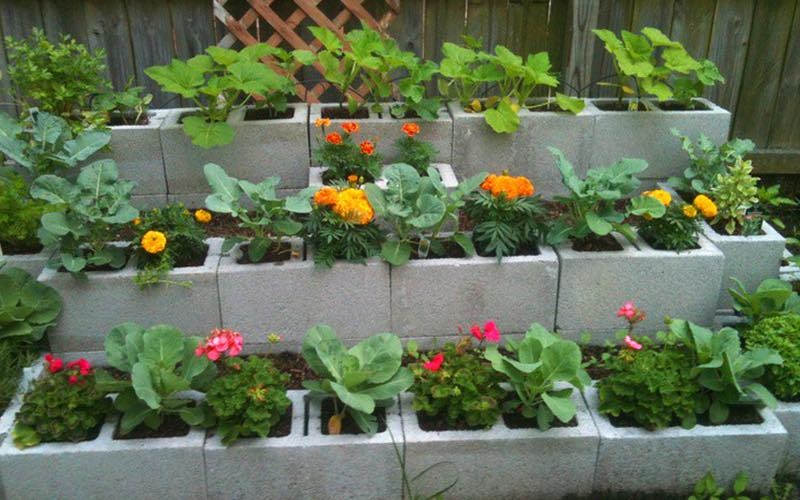 Best of all--they're cheap! If you want to start out small, this is one of the best flower garden ideas you can try.
Flower Garden Bed around the House
Fend off the dull, lifeless aura that creeps in from the outside with a flower bed landscape of pink and green hues!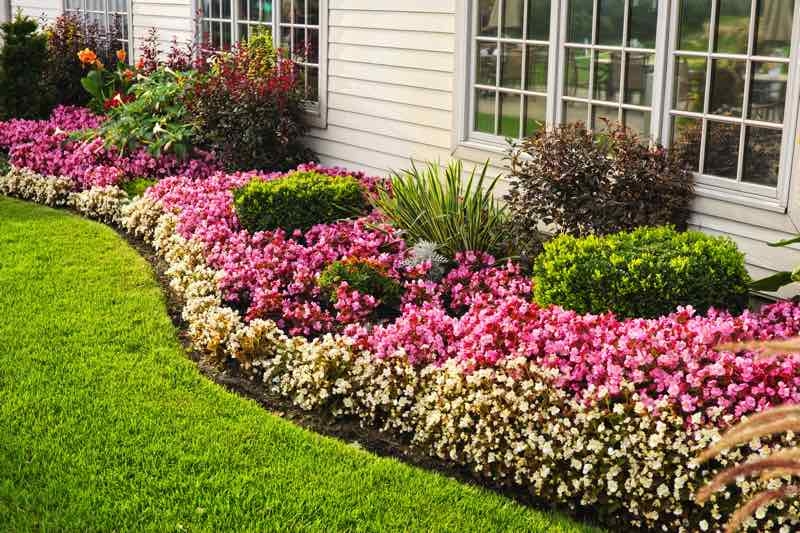 The bright colors of a flower garden inspired by the one above will wrap your house in a merry atmosphere that keeps everyone feeling poppy and happy.
Idea: If pink's not your color, experiment with other designs. Check out here some flower types you can integrate into this design.
Hanging Flower Garden Ideas
Some flower garden ideas are simpler than others. This flower garden idea takes a page from King Nebuchadnezzar II's book of "how to impress your wife" and executes it really well.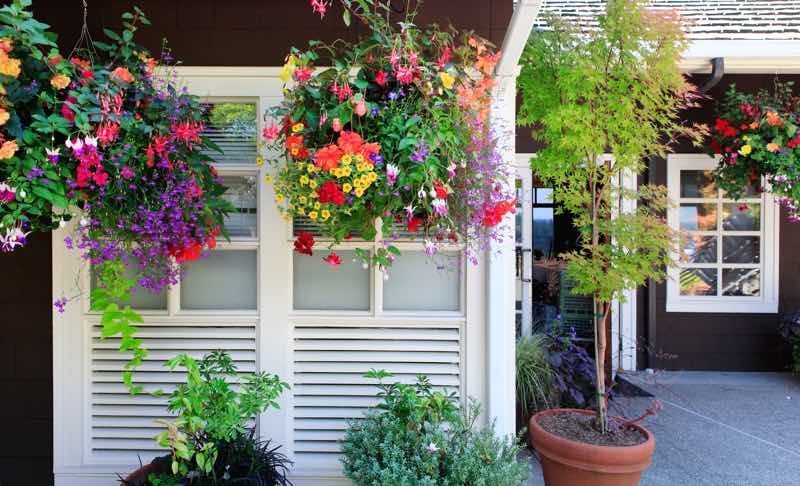 The planters are covertly hidden by the healthy inflorescences, giving an illusion that these flowers grow out of the brick wall itself. Smart, right?
Important: Make sure you water them regularly if they aren't getting outdoor rain. It's easy to forget that you have to water them.
Carriage Flower Garden Ideas
Getting that retro look doesn't have to sacrifice function. This carriage looks perfectly ready to go on a quick trip around your lawn, carrying your beautiful flowers.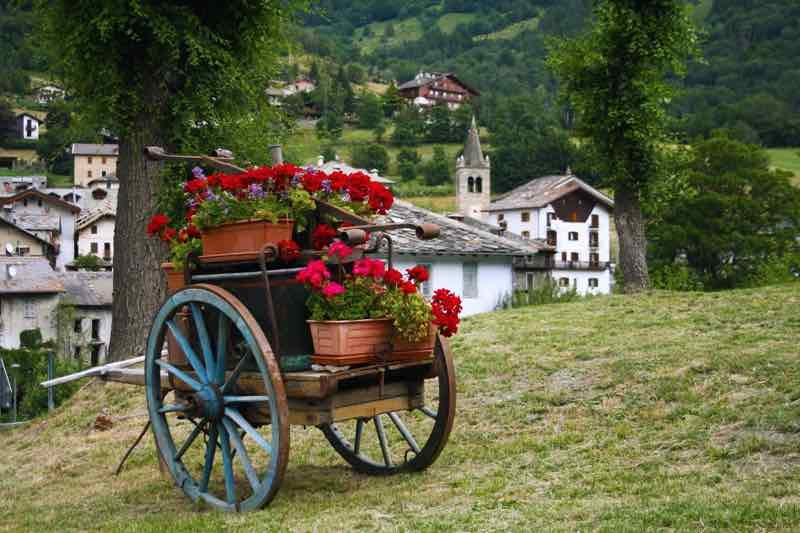 It even looks good wherever you decide to put it--at the front of your garden or in some more quiet, intimate nook.
If you didn't go for the old truck above, maybe this wagon is more your style.
Potted Flower Garden Ideas
Not ready to take on a major project? Let's not forget the easiest way of gardening here: potted flowers.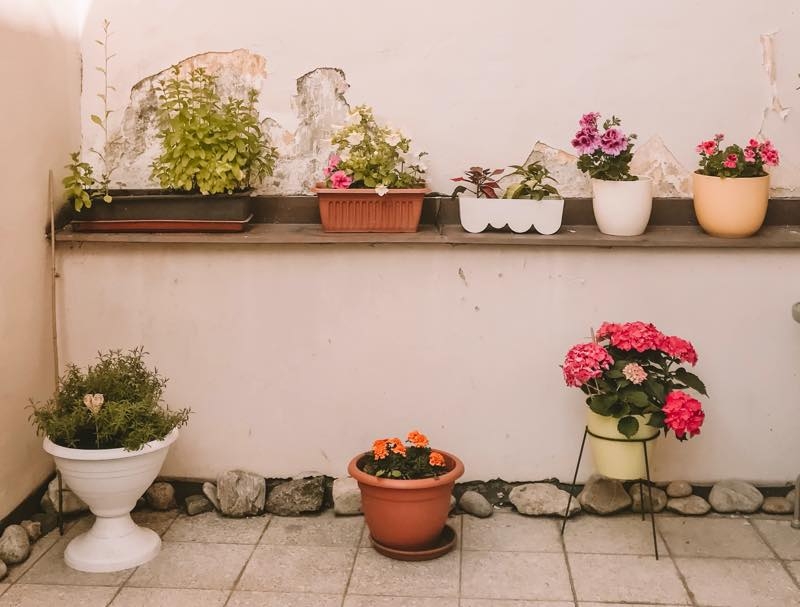 Potted flowers still deserve a place on this list, especially planters that come in a large variety of sizes and forms and designs. The important thing is placing your pots creatively, not just all lined up in a row.
You can also take some good cement and form it into pots. Or, you can buy some hand-crafted pots if you don't got time to make your own. It's up to you.
Flower Garden along the Window
Having planters attached to your window can make not just your garden but also your house look better. When seen from inside, the flowers make for great lower borders.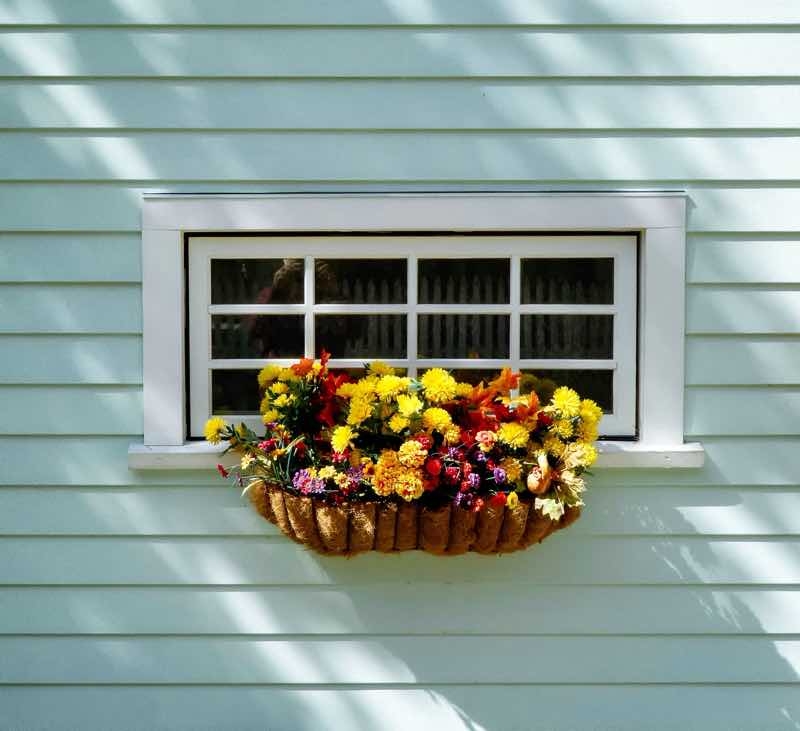 You can buy window planters at a local hardware store and install them yourself without much of a hassle. They're pretty cheap and you got plenty of varieties to choose from. Just make sure to fix them well!
Tip: Keep in mind the direction the sun will be facing when deciding the types of flowers to place in these planters.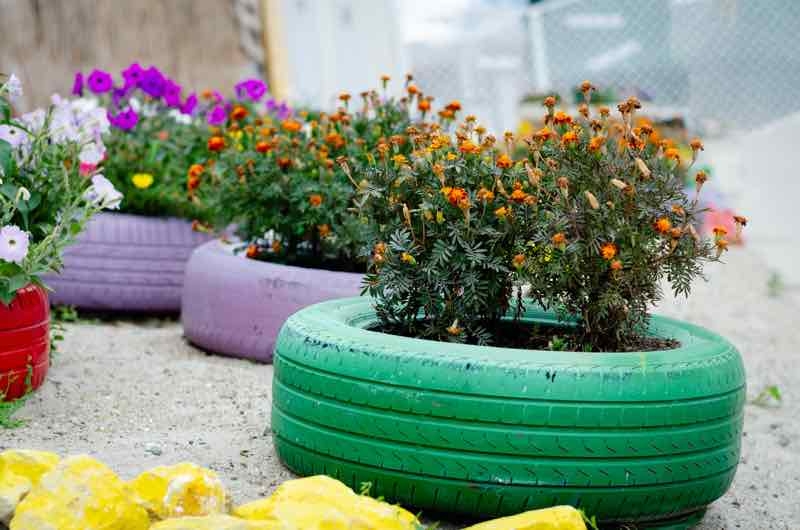 If you have some scrap tires lying around, turning them into a flower garden will not only make your lawn look good, it will help you avoid worrying about disposing of them.
Just give them a vibrant coat of paint and voila, you've got a super trendy flower garden design!
Palette Flower Garden Ideas
This flower garden is for all artists out there! With this colossal palette installation, your lawn becomes the canvas.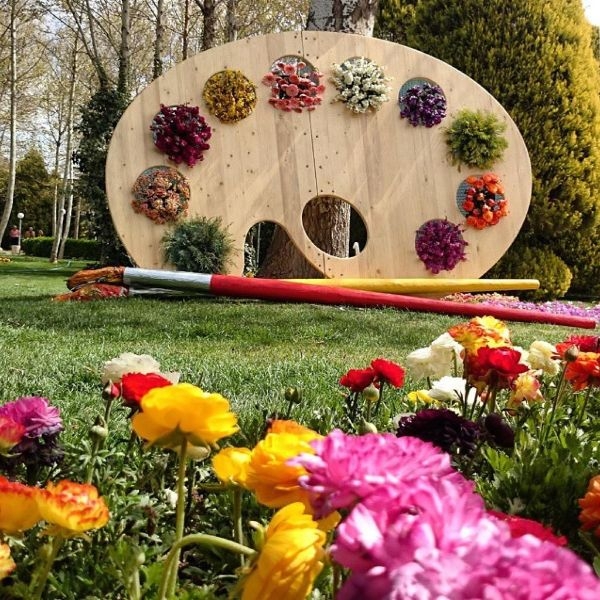 Granted, the wooden structure can be hard to make, but if you pull it off, this will probably become the talk of the neighborhood.
Idea: Not an artist? Replace the giant palette with some other object. A old bicycle you don't use anymore? A boat sailing on the green waves of your lawn?
Flower Garden on a Tree Stump
If you've recently cleared out your lawn of huge trees, chances are there are still some stumps left. Don't let them become an eyesore!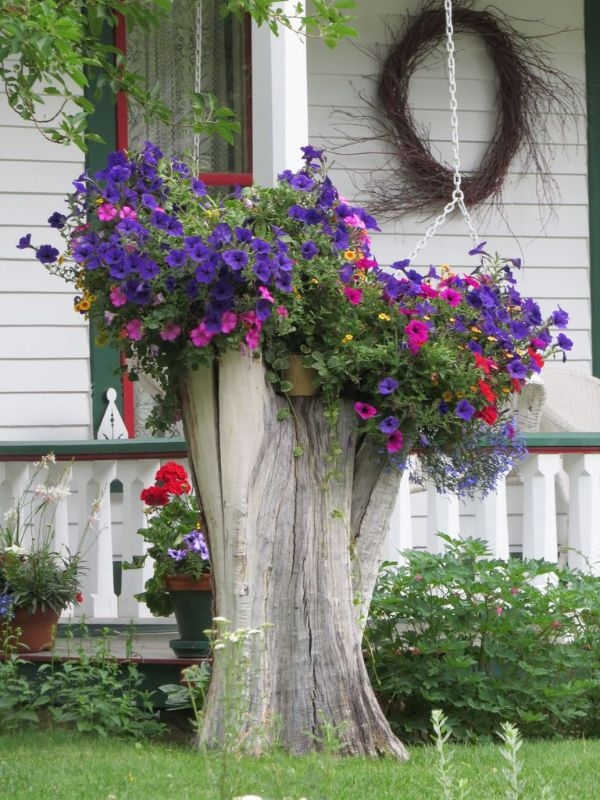 Repurpose those stumps by turning them into planters and growing your flowers there. The result can be neat and wonderful: a welcome addition to any garden.
Spilled Paint Tube Flower Garden Ideas
One of the coolest flower garden ideas on our list, the spilled paint tube garden design simple and striking.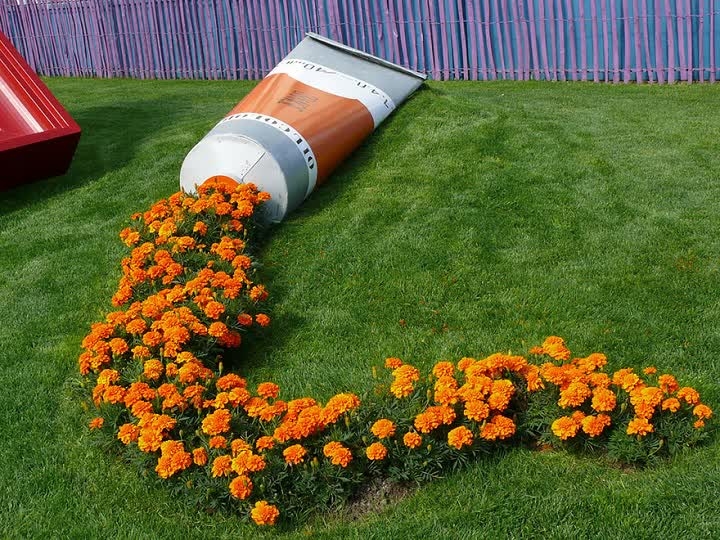 If you don't want to bother making the tube from recycled materials or some old boiler you no longer need, you can use a bucket instead.
Inspiration from the Dubai Miracle Garden
Where else can you get the best flower garden ideas than from the largest flower garden itself?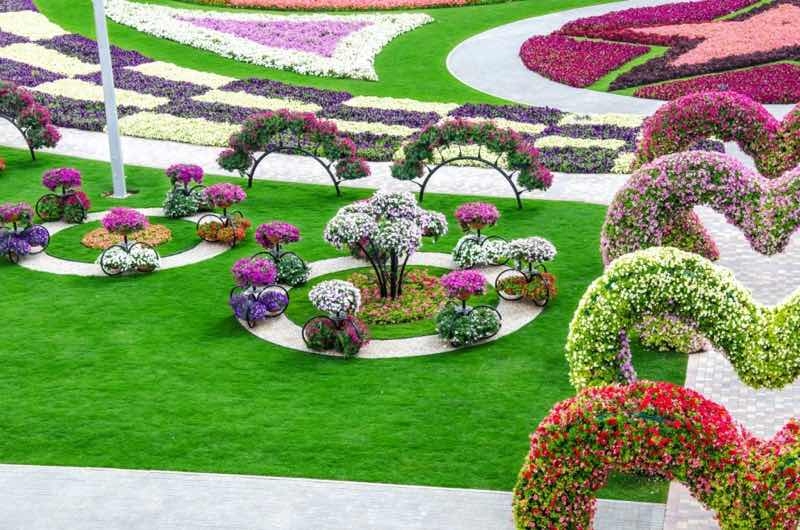 The Dubai Miracle Garden boasts 780,000 square feet of ideas that you can take and apply to your own garden. These entrance arches, for example, are stunning to recreate in your garden!
How to Start A Flower Garden: A Beginner's Guide
Before you can start a flower garden, you need to consider a few things. These are important and will influence the result.
Learn the Difference Between Annuals and Perennials
Annuals give you a variety of colors to choose from, and they bloom all season. But there is a catch. They only last for one season.
Perennials, on the other hand, last for many years, but they bloom for just a few weeks or months.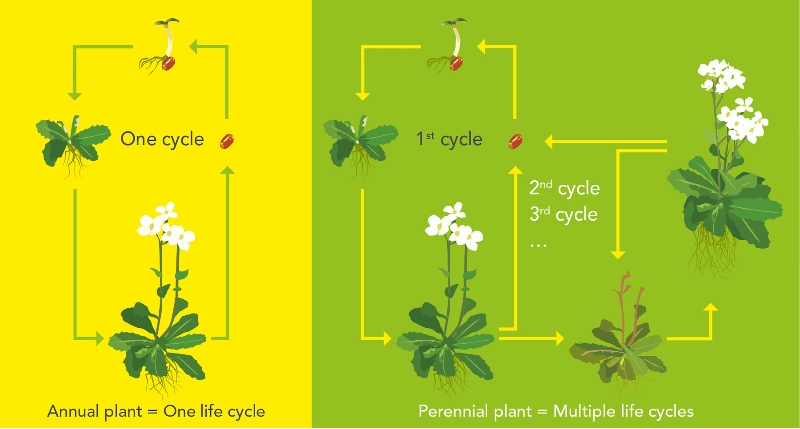 Perennial species predominate in most natural environments, the majority of crop plants that are grown however are annuals.
Annuals are also generally finicky in the care department, while perennials can survive with a weekly check-up.
Tip: The best way to get the benefits of both is to simply have both in your garden.
The Amount of Sun You Get Affects Your garden
Picking an area with eight or more hours of sun is a good starting point, but some flowers can bloom with less sun. Think about where you'll be placing your garden before choosing your flowers.
You Need Good Soil with Good Drainage
That's pretty much the requirement for all plants regardless of where you live. With the right mix of soil, you help the plants get enough nutrients.
But then you also need drainage to keep the roots healthy and free from rot. You can't maintain a great garden without the two.
Consider the Kinds of Flowers You Want
To start picking out your flowers, you should consider:
the color of the flowers
when they will bloom
the height and size of the plant
appropriate they are to grow in your area
how much maintenance they require
Sketch your design first, considering the space and plants you have. That way you can have a clear view of what your garden will look like. Or you can have someone do it for you and then go from there.
Flower Garden Tips and Tricks
Invest 15 minutes in your garden
At the minimum, invest 15 minutes in your garden daily. This time can include picking out weeds and watering them, as well as picking out any harmful insects you come across.
Keep the soil moist by watering it frequently
A straightforward way to check soil moisture is by pressing the soil; if it's moist, you can put off watering, but if it's dry, you should water it.
You can also use fertilizers for your flowers
If your soil lacks nutrients required by your plants, it's beneficial to use fertilizers and plant food according to their label.
Consider mulching your plants
Put 2 inches of mulch at the base of your perennials in the first year of the plant, and continue filling it to 2 inches every year afterward. Annuals can go with 2-3 inches of mulch. This technique conserves water and lessens weed growth.
Keep a good number of hand tools
You will need to work on the soil once annuals die, and then plant new flowers there. You'll need them to deadhead the annuals (cutting dying flowers to induce more flowers), and to divide the perennials for new plants.
Flower Garden FAQ
Do you have questions about flower gardens? If so, you are not alone. Many of our readers share the same questions in many cases. Here are a few of the most popular ones we have seen to date:
Are flower gardens tough to maintain?
Most of what determines how difficult gardening is for you is how much preventative maintenance you put into it. Doing a little weed plucking once or twice a week prevents you from having a huge job later down the line. Read our
tips and tricks for caring for your garden
to learn some of our favorite best practices.
How can I start my own flower garden?
Starting your own flower garden is a fun and exciting experience. The first things you need to start one are your flowers and soil. Then, carve out your garden space and get planting. For a more in-depth look at flower gardens and how you can start one, check out our post on
gardening design ideas
.
Which flowers are the best for a new flower gardener?
Some popular and easy-to-grow plants for beginners are sunflowers, marigolds, and pansies. For an extra-hardy option, opt for
succulents
, since they come in many shapes, colors, and sizes.
Build Your Own Corner of Paradise
A flower garden could be the best thing you've created this year.
You can enjoy the beautiful sight from the distance of your porch or window or you can sit in the middle of the greenery and inhale the fresh air and smell the subtle scents of the flowers. Remember: plants bring tons of positive energy!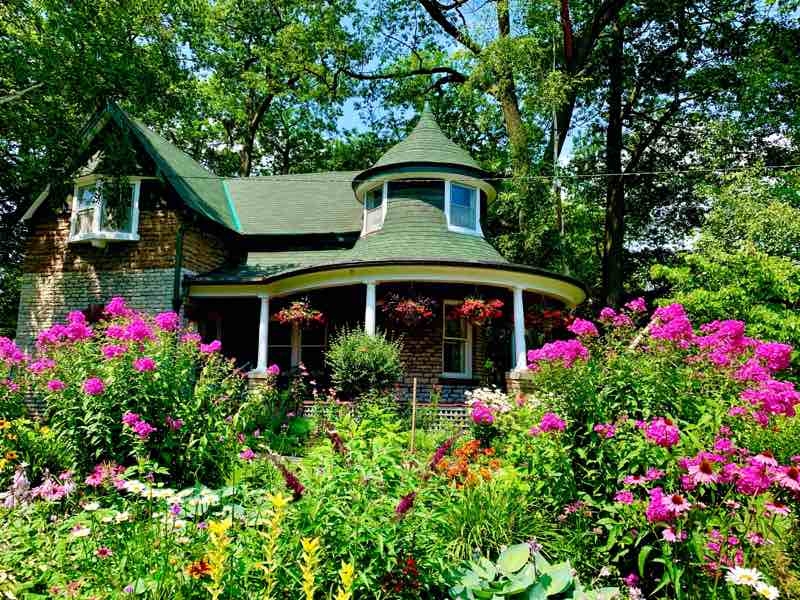 Get started with any of the flower garden ideas we've shared with you. They'll give you the inspiration you need to get started.
No matter what your reasons for growing flowers are, having a flower garden is a satisfying experience, from start to finish.
Flowers are the music of the ground from earth's lips spoken without sound.
Edwin Curran
So how about you make some flower garden music now and then come back and share it with us? We'd love to hear (and see) what you've created.