Do you like hanging out with family and friends outside on cool evenings? We've got an interesting selection of fire pit ideas for you to explore. In these times more than ever, the right fire pit can transform your outdoor space.
Whether we're talking about a backyard or garden fire pit, there are lots of materials, designs, and styles out there for you to explore. You don't want just any fire pit--you want one that feels part of the family.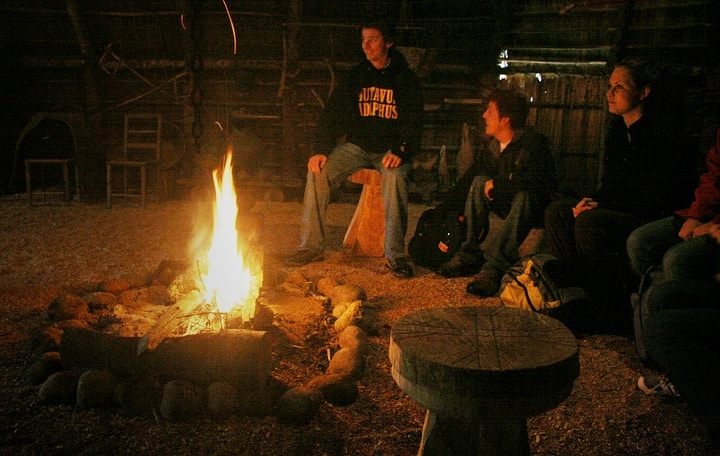 We've already written an ultimate guide on fire pits. In this post, we want to focus more on fire pit ideas that can inspire you to build your own--or redesign an old pit.
Let's get warm and cozy!
Why a Fire Pit?
We wouldn't be here now if it weren't for the discovery of fire. That's a fact. Fire transformed the lives of our ancestors and sped up their progress through the millennia.
Fire pits are both practical and visually striking. On a practical level, they are the center point around which you can set up outdoor furniture or garden benches to create a gathering place for friends and family.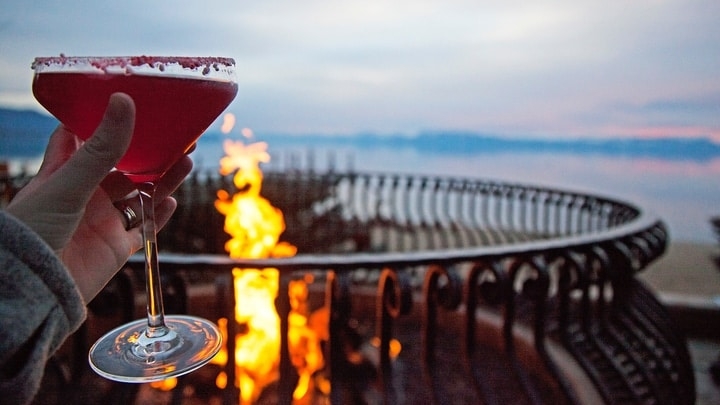 All the fire pit ideas on our list provide enough warmth for you and your close ones to enjoy some quality time outside in pretty much all seasons--fall and winter included.
If you normally forget about your garden or backyard come cold weather, a fire pit can give you a pretty warm reason to use your outdoor space in all seasons--so long as it's not raining or snowing.
Depending on the design you choose for your pit, you may also be able to use the fire to roast marshmallows, cook barbecue, make other campfire favorites.
Aesthetically, a fire pit can add a lot to the design of your outdoor space. It can fill an empty spot and become the center of attention. However, a fire pit doesn't have to stand out if you don't want it to.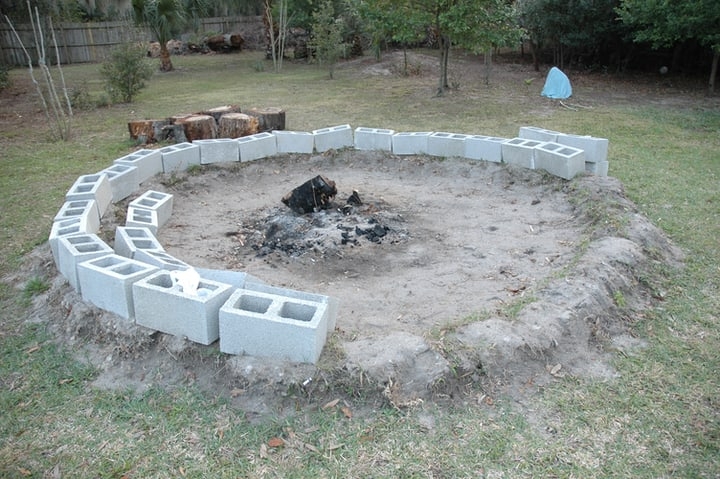 Among our fire pit ideas, you'll see examples of fire pits that blend in seamlessly within their setting or décor without drawing unnecessary attention to them.
So, why a fire pit? Because it's warm, social, and nice to look at, and also because it's going to last a long time without requiring too much maintenance.
Best Outdoor Fire Pit Ideas
Outdoor fire pits come in lots of shapes and styles. In this post, we're focusing on the style and materials of the fire pits rather than the fuel they use (you can read more about fit pit fuels in our ultimate fire pit guide).
If you're thinking about adding a cozy place to your outdoors, explore now our selection of fire pit ideas across categories.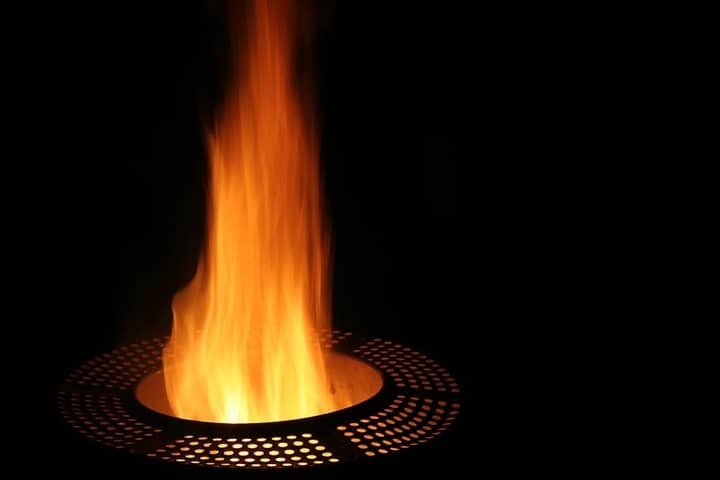 We'll start with fire pit ideas for your backyard and then move on to fire pit ideas for gardens.
Fire Pit Ideas for Backyards
The backyard is often the best place for a fire pit because of its privacy. The smoke won't be bothering the neighbors either.
If you don't have an old fire pit already, you may want to choose your backyard as the setting for your first pit.x
Small Fire Pit Ideas
Small fire pits are easy to build and you can adapt them to pretty much any backyard without much hassle or redesigns.
1.

Small Circular Stone Fire Pit

We're kicking off our list with a small circular stone fire pit installed within a circle of gravel. In the example below, the backyard is huge and borders on some woods, but the fire pit itself is quite small.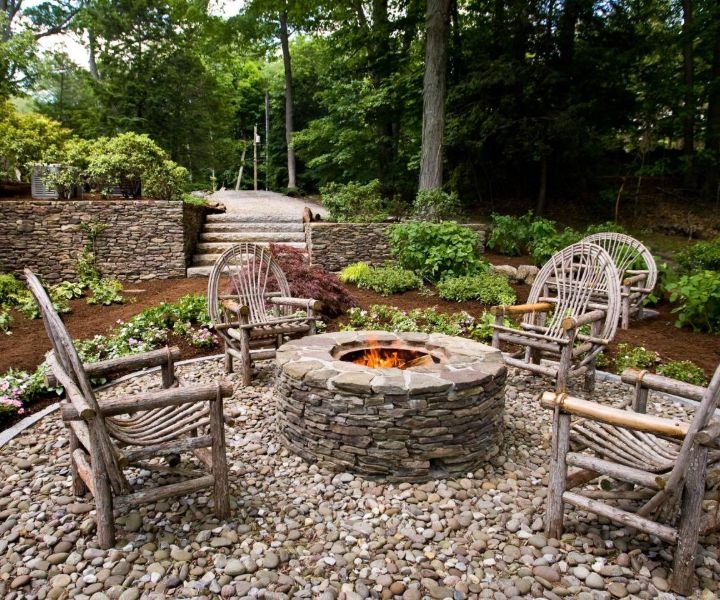 2.

Small Fire Pit Bowl

Here an example that's even more friendly for beginners. This stone fire pit bowl is minimalistic and elegant at the same time. It's not a fire pit in the traditional sense of the word but pretty cool nevertheless.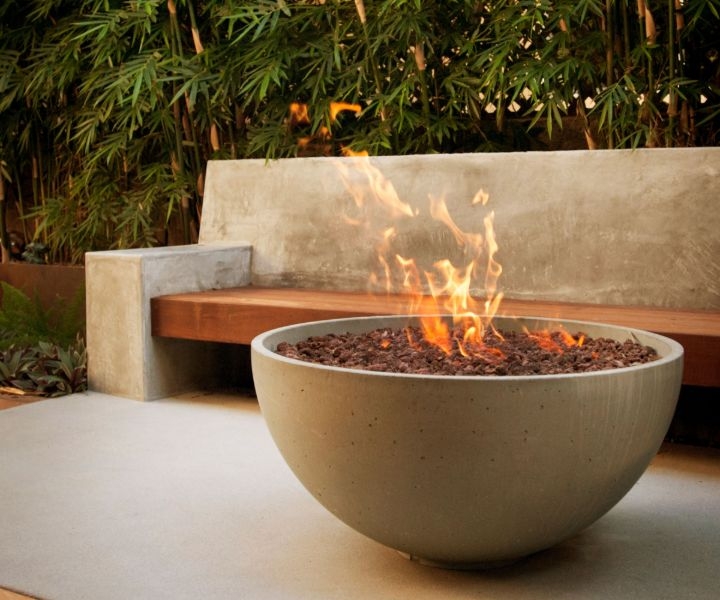 3.

Sunken Stone Fire Pit

Sunken fire pits are also a great choice if you're looking for something small. Since you place them in the ground, they don't take all that much space. The example below is a great case in point.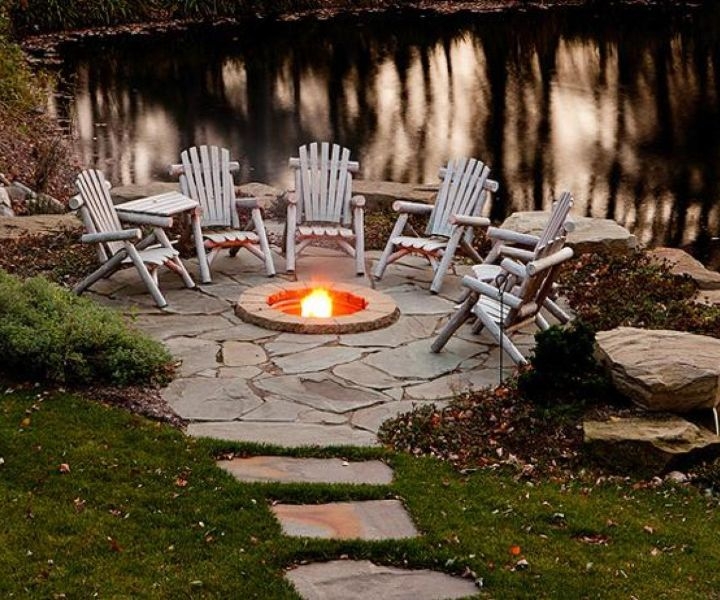 Another advantage of sunken firepits is that you can usually move the garden furniture close to them without the risk of getting burned. We'll share with you more sunken fire pit ideas later on in this article.
4.

Modern Rectangular Fire Pit

Next, here's a modern take on fire pits that also provides some table space. This fire pit is built into the stone table providing an elegant choice for bulkier pits.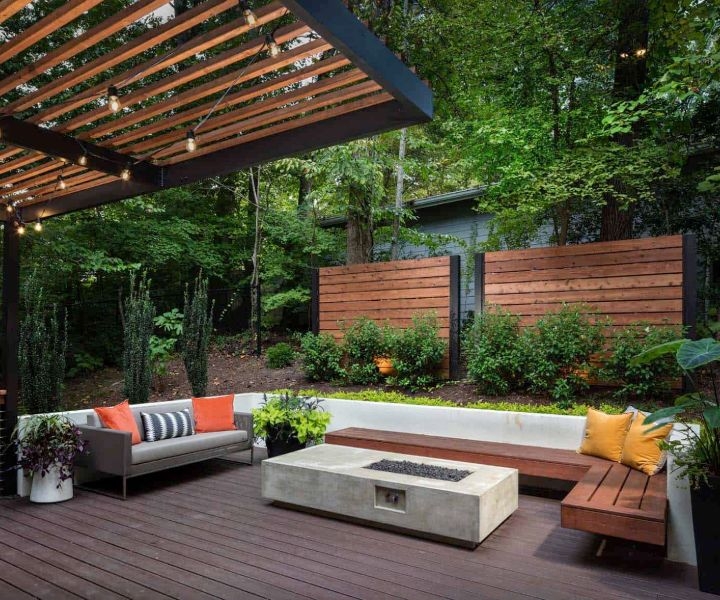 It also uses space effectively and doesn't look sad when not in use.
Cheap Fire Pit Ideas
Fire pits may look expensive. And this is in part true--some fire pits really are. But it's possible to build a fire pit even if you're not willing to spend all that much on it.
That's what our cheap fire pit ideas are all about.
Remember that at the end of the day, a fire pit is a simple hole in the ground or an enclosed space at the surface where you can build a fire--nothing fancy!
5.

Inexpensive Stone Fire Pit

Here's a good example of just that. The fire pit in the image below is a simple stone brick fire pit built on a sitting area covered with gravel--to keep the surface safe and usable in all weathers.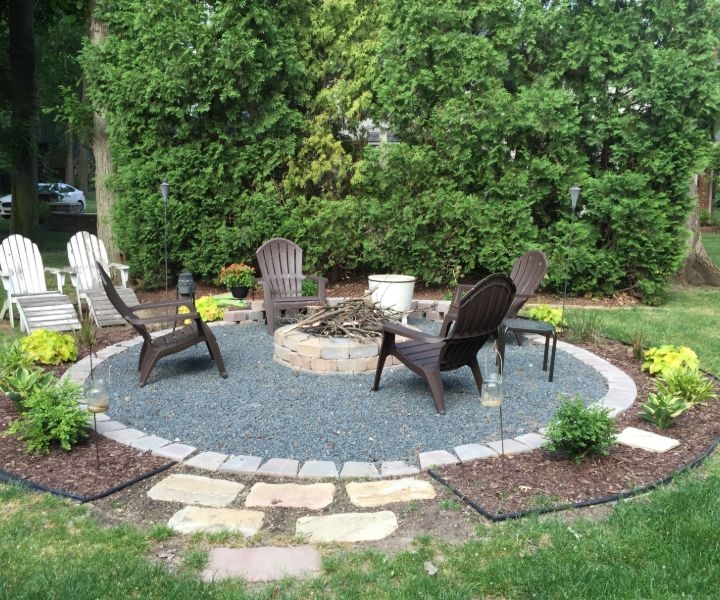 6.

Hanging Metal Fire Pit

Hanging metal fire pits like the one also tend to be affordable. They are easy to set up and come with the advantage of portability--you can move them to another place or put them in storage if you want.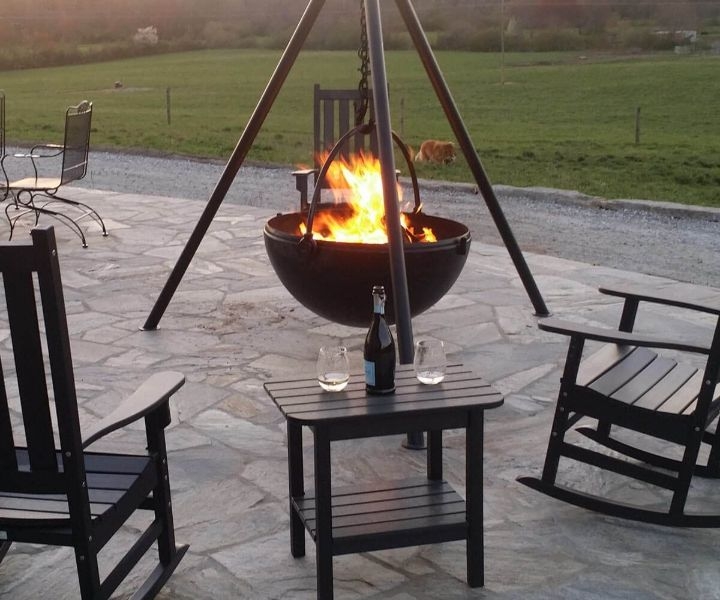 7.

Circular Stone Pit

Placing stones in a circular formation like in the example below is a simple way to create a rustic fire pit. You can adapt the design to your available space, making it bigger or smaller as needed.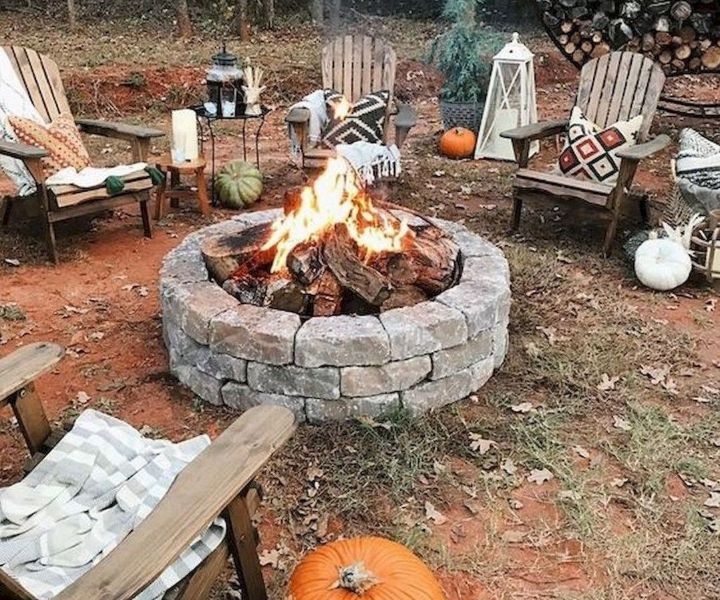 8.

Semicircle Stone Pit

Fire pits don't all have to be circular. This semicircle stone fire pit uses the wall of a garden area separator as one of its sides. It's an interesting design that can help you save space and materials.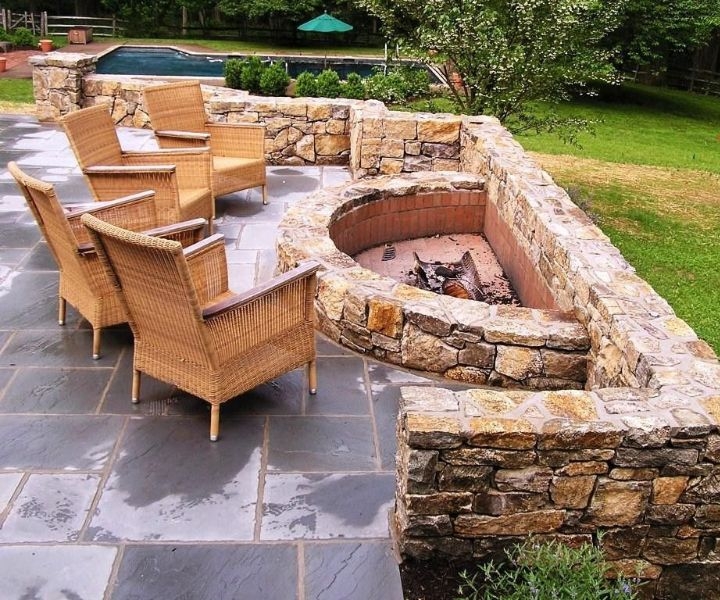 But keep in mind that this type of fire pit needs to be well built on a firm foundation to last. You don't want to just pile the stones together without any cement!
Garden Fire Pit Ideas
Time for some garden fire pit ideas. Maybe you have a garden already. Or maybe you're planning to create one soon. Either way, you may want to consider adding a fire pit to it.
Fire pits can make a garden sitting area much more pleasant. But it can also be used as mostly a decorative element.
The general rule when building a garden fire pit is to make sure it blends in with the rest of your garden design.
You don't want it to stand in the way or add weight or too much texture to a part of the garden that's already harmonious.
Square Fire Pit Ideas
Square fire pits can take less space than round ones. They look modern and can be integrated into most designs.
9.

Square Stone Fire Pit

Like in the example below, they are great when incorporated into designs that use straight lines and geometric shapes.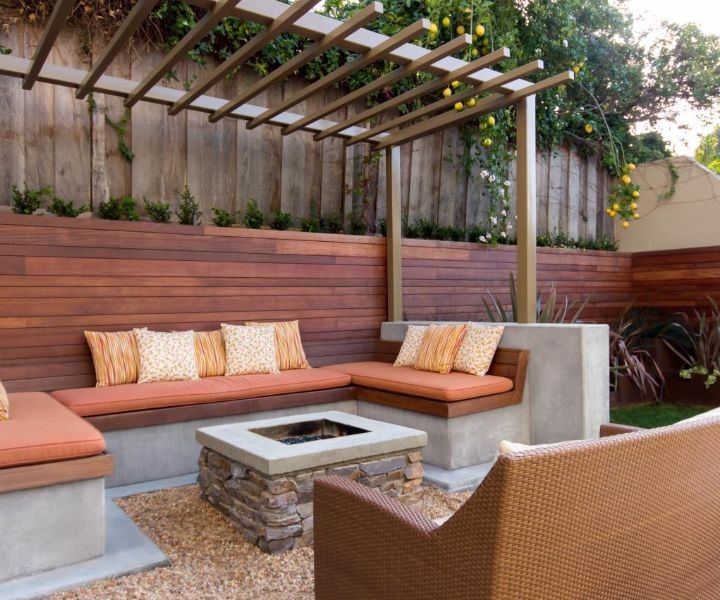 10.

Elevated Garden Fire Pit

Now here's an example of an elevated garden fire pit that doubles as a sitting place and art feature when it's not in use. When lighted up, it can transform the place into a convenient lounge area.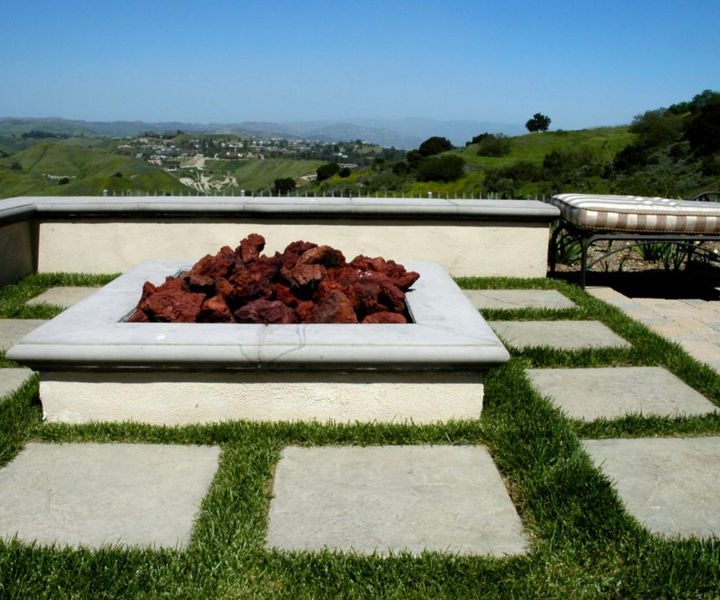 11.

Fire Pit for Two

A fire pit for two? We say go for it. An intimate design like this one fits into most gardens, even small ones in urban areas. It can create a wonderful corner for a couple.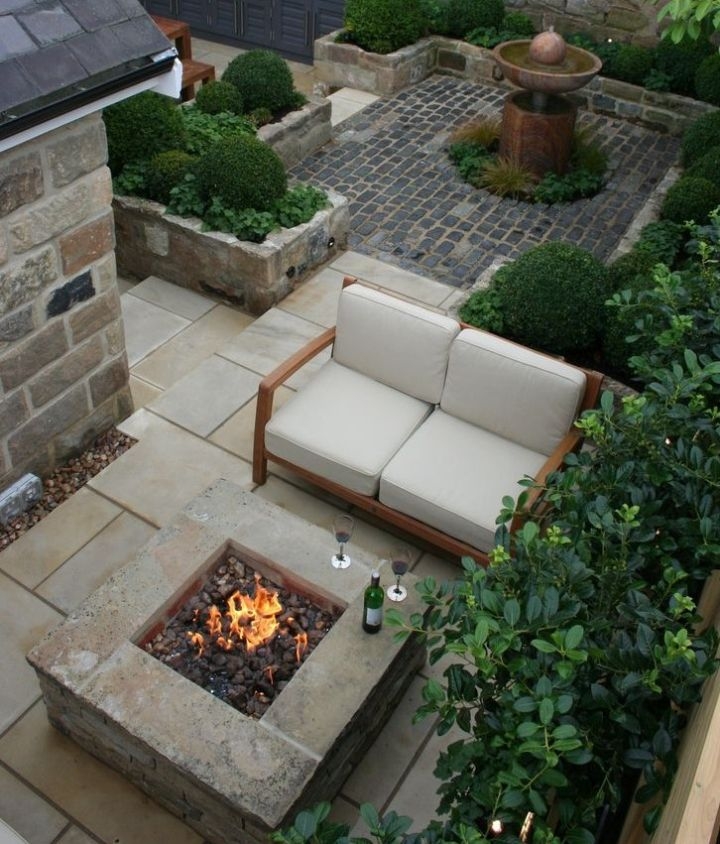 12.

Small Square Firepit for Home

You can also enjoy a fire pit on your own if you prefer. In the following example, the fire pit creates a calm and tranquil place for a sitter. The glass sides prevent items for slipping into the fire.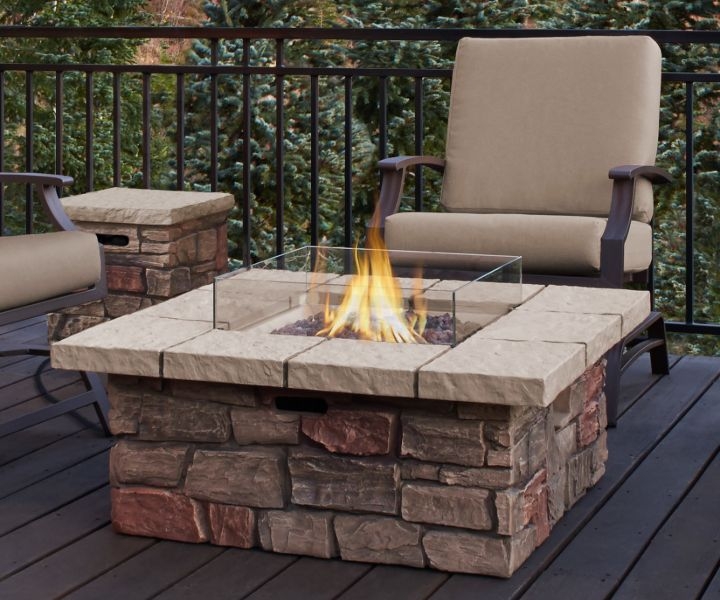 Tip: By gluing stone only to the outside of the fire pit, you can reduce its weight and make it easier to install on a balcony or terrace.
Sunken Fire Pit Ideas
Sunken fire pits are built below the level of the ground. This has a number of advantages including better protection against the fire spreading and using the ground itself as a separator between the pit and the seating area.
What's more, these fire pits can feel snug and cozy and look quite striking from a distance. They enable you to play with the design in ways that raised fire pits don't.
13.

Poolside Fire Pit

Here's an example to show you what we mean. In the image below, a small fire pit is built right next to the pool to create a wonderful hangout space.

Everything is stone but the pillows make the stay very comfortable.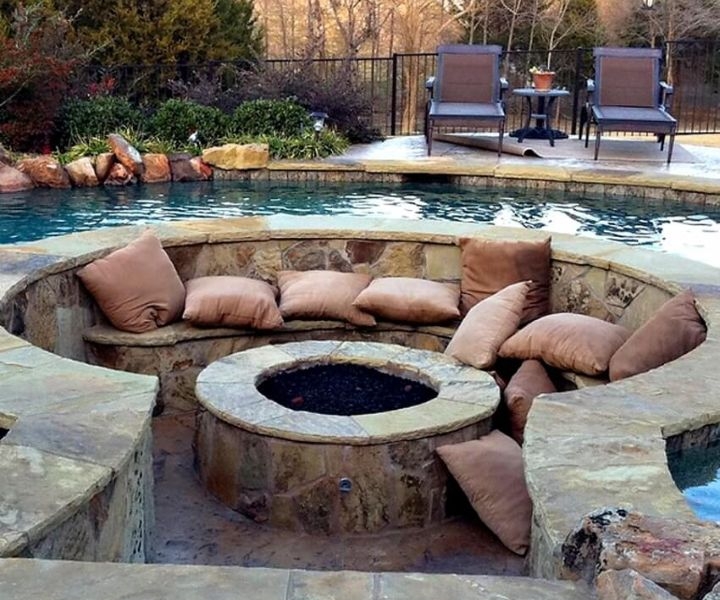 14.

Designer Fire Pit

If you have in mind a more colorful design, here's another example of a sunken fire pit to inspire you. This one is quite Zen in its proportions and the materials it uses--but at the same time strikingly modern.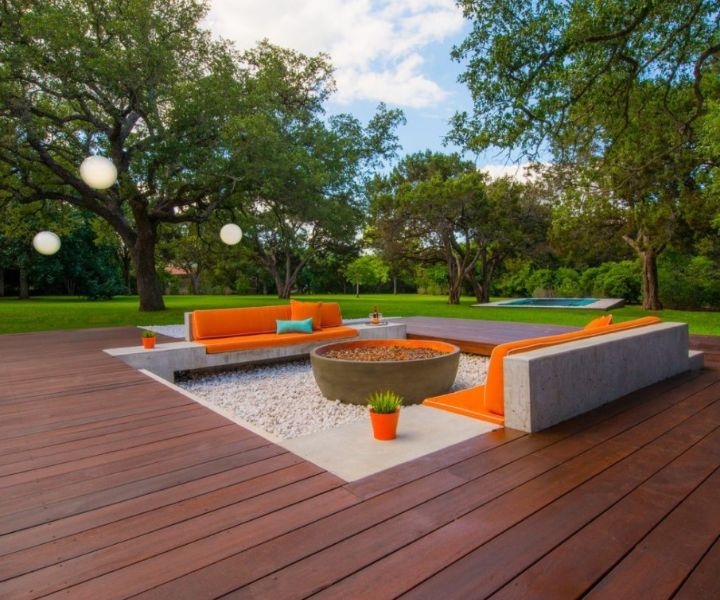 In the image above, the orange pillows create a nice contrast with the stone benches, white gravel, and timber decking. The fire pit is essentially a big bowl that blends in seamlessly into the design.
15 .Oriental Sunken Fire Pit
With our following example, we're returning to sunken stone fire pits. The pillows give this one an oriental feel. Also notice the decorative mushrooms in the background, those are great!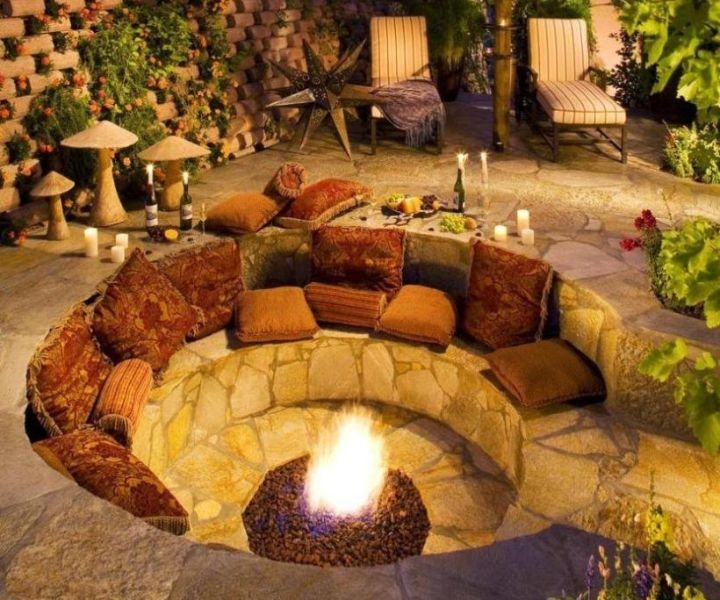 Tip: Gravel is an excellent choice for filling the area around a fire pit. It will prevent weeds from growing while at the same time provide protection from errant sparks.
Fire Pit Ideas with Bricks
Bricks are a timeless choice when building a fire pit. More than their durability, they offer you the freedom to arrange them in different shapes. They can also serve as a beautiful décor for the surrounding area.
Here are some fire pit ideas with brisk to inspire you.
16.

Elegant Brick Fire Pit

Our elegant first example shows that you don't have to settle for the average red bricks. This one uses a combination of bricks of different colors to create a beautiful setting for a small and compact round fire pit.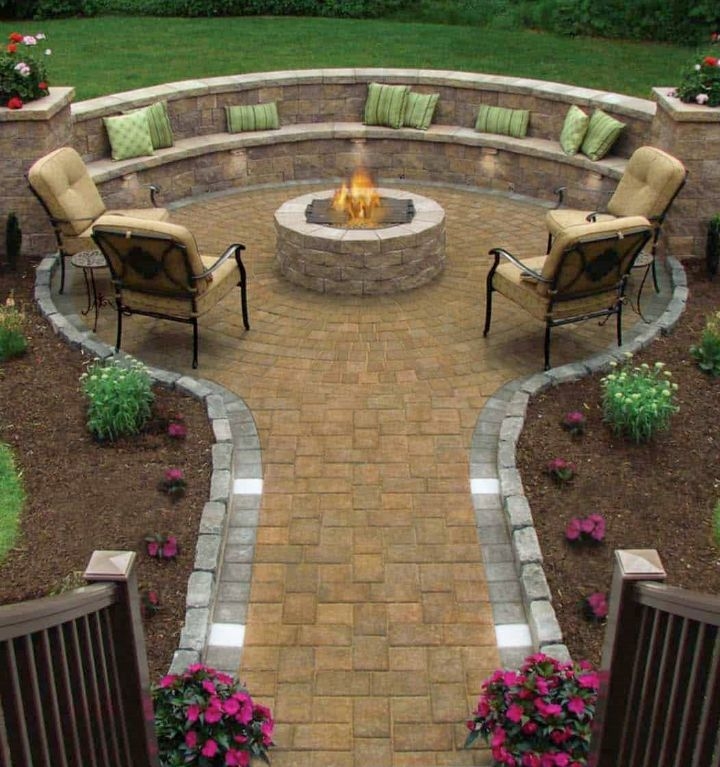 17.

Round Brick Pit

With just a few bricks and some gravel, you can create a simple round fire pit for a small garden or outdoor space. Here's an example of a minimalist and airy take on a fire pit with a wooden bench and small table.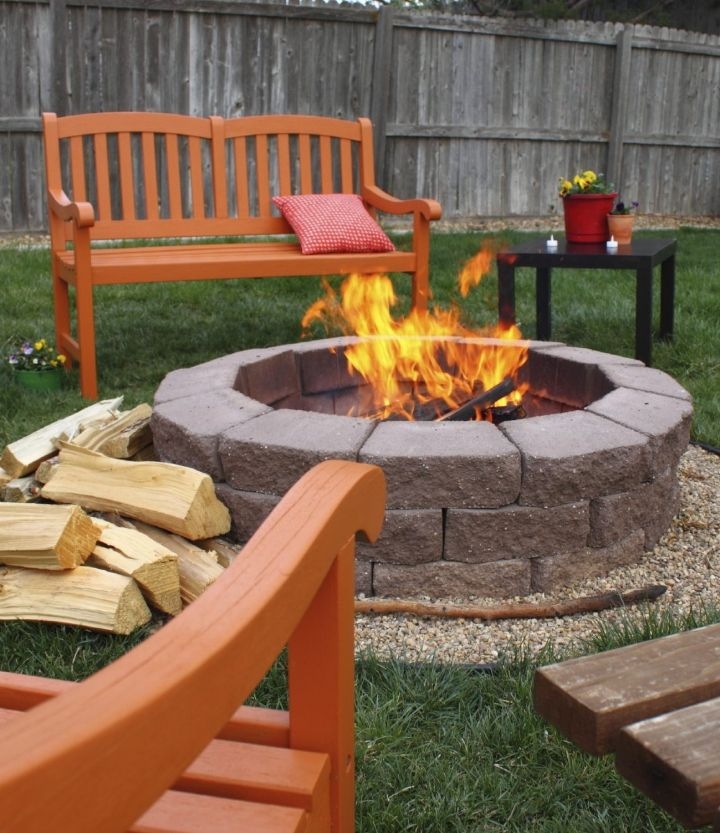 18.

Round Table Brick Fire Pit

Brick table fire pits like the next one don't just stand out but are also very practical. They are the perfect addition to a brick-fronted old house.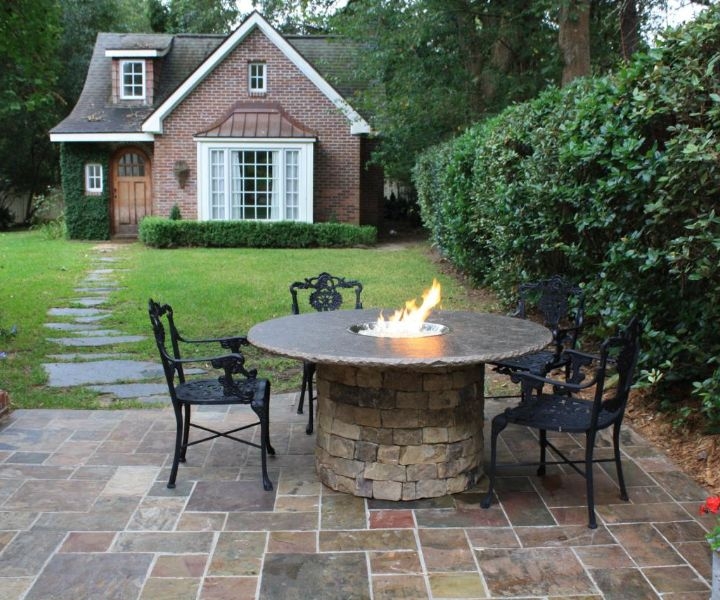 19.

Fire Pit with Brick Backdrop

Even when it's not used directly for building a fire pit, brick can be a great backdrop for a fire pit. Here's an example to prove the point.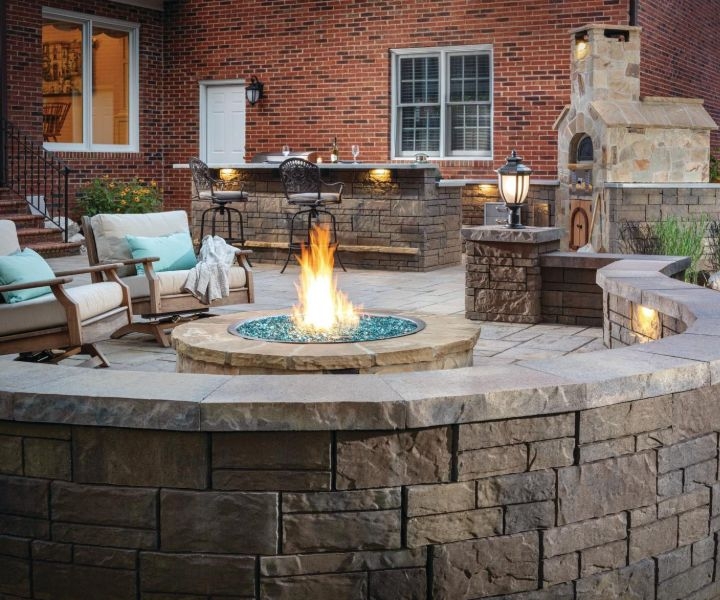 Tip: Keep in mind that not all bricks are as durable. Red bricks are not the most resistant around--it's better to choose stone bricks with good thermal properties.
Rustic Fire Pit Ideas
If you're aiming for a countryside feel or something that comes close to it, consider the following rustic fire pit ideas. These are some of the easiest fire pits to create and the result can be quite striking.
20.

Irregular Stones Fire Pit

Our first example is built of irregular stones that are carefully arranged in a round pattern. The one in the image below is quite big, but you can make yours smaller.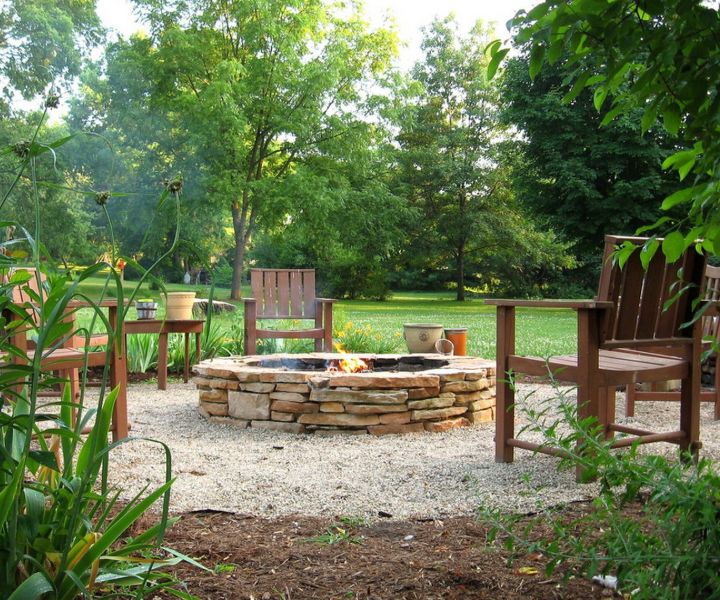 21.

Simple Rustic Pit

Next comes an even simpler example. This fire bit is built of a dozen or so chunky gray stones arranged in an almost careless manner--something which contributes to the rustic feel of the scene.
22.

Big Stones Rustic Pit

And here's another take on the simple rustic fire pit. This one's one of the easiest to make, provided you can get some help moving the stones.

Arranging stones in a tight cluster creates a simple and practical pit for evening fires.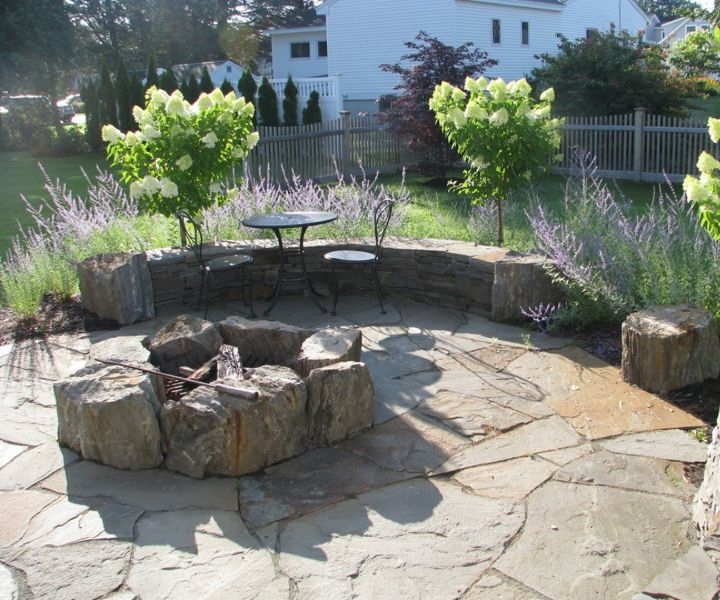 23.

Elegant Rustic Fire Pit

Rustic and elegant can go together quite well, as the example below proves. Adding a rustic feel to an otherwise careful design can lead to striking results.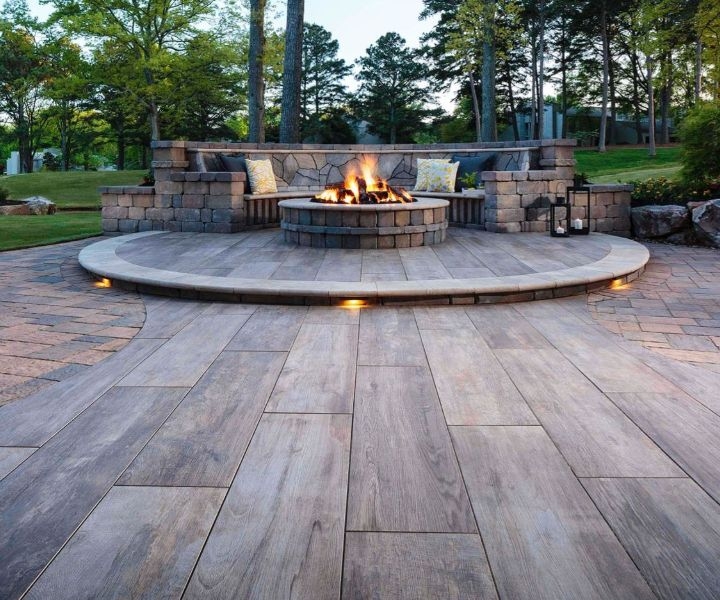 Tip: You can make your fire pit more interesting by arranging the stones in different patterns and altering--some vertically, other horizontally, and also by combining different stone types.
DIY Fire Pit Ideas
Building your own fire pit shouldn't take long or be too taxing. Many people today choose to build their own instead of shopping for one off landscaping or gardening catalogues.
Here are some DIY fire pit ideas that we hope will inspire you to roll up your sleeves and get to work.
DIY Fire Pit Cinder Blocks
Cinder blocks are lighter than concrete blocks while being pretty durable. They are widely available, though you may have to pay extra for transport due to their bulky size.
24.

Circular Cinder Block Fire Pit

If you can find circular ones like in this example and add a metal grating, you can build a fire pit without any hassle.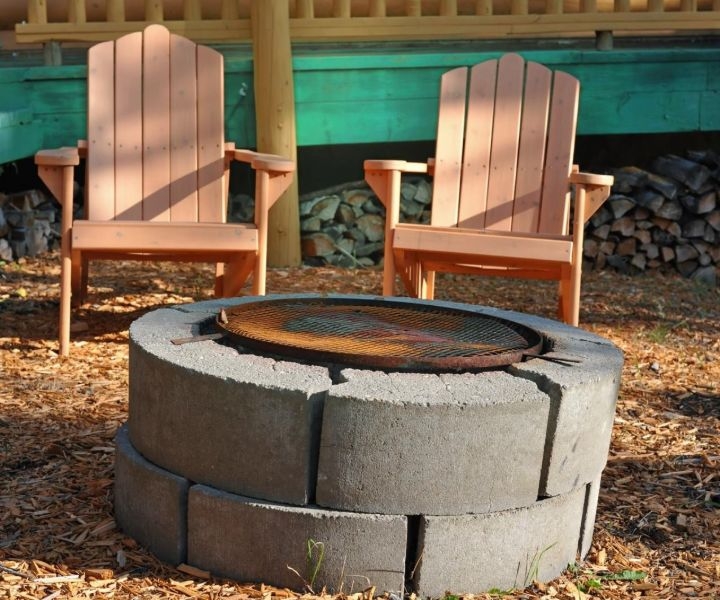 25.

DIY Stone Pit

People have been building DIY stone fire pits like this one for many years now. And for good reason--they are easy to create and very functional. Notice how in this example concrete blocks have integrated into the seating arrangement.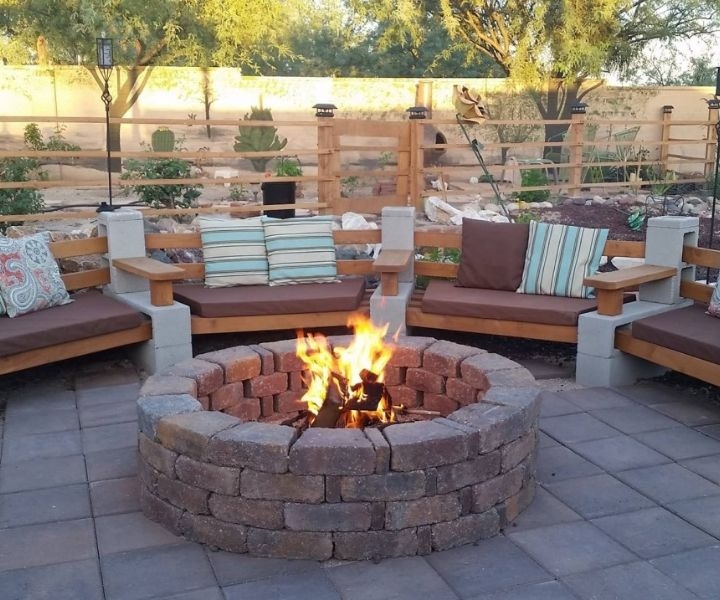 26.

Square DIY Stone Pit

Talking of concrete, you can use it to create a square fire pit like in this example. It's a good alternative to using stone--and looks very modern, too!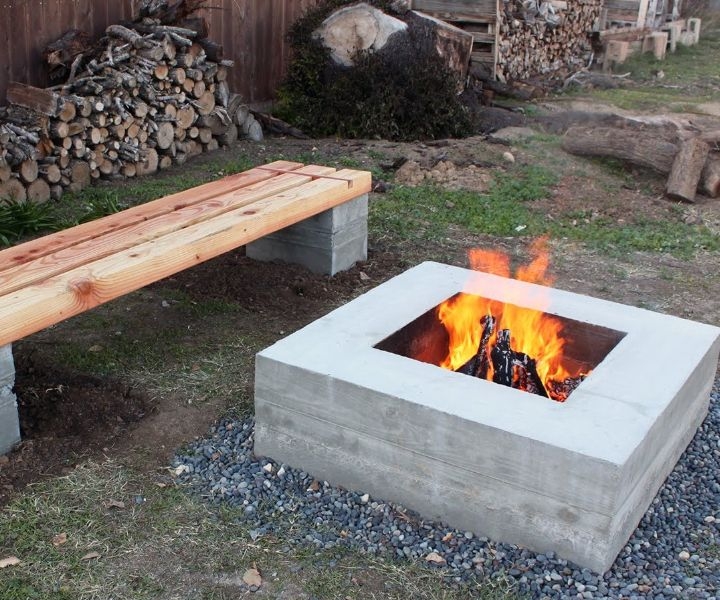 Stone Fire Pit Ideas
We've had quite a few examples of fire pit ideas using stone so far. Since these are so popular, we think they deserve a section of their own. Here are a few interesting ideas we came across.
Sandstone Fire Pit Ideas
Sandstone is a good choice for fire pits. And when it's cut into small stones, it gives you lots of freedom in your design.
27.

Creative Sandstone Fire Pit

Here's a creative example to show you what we mean. This one has an Eastern feel to it. More than its interesting looks, it protects the wall against which it's set.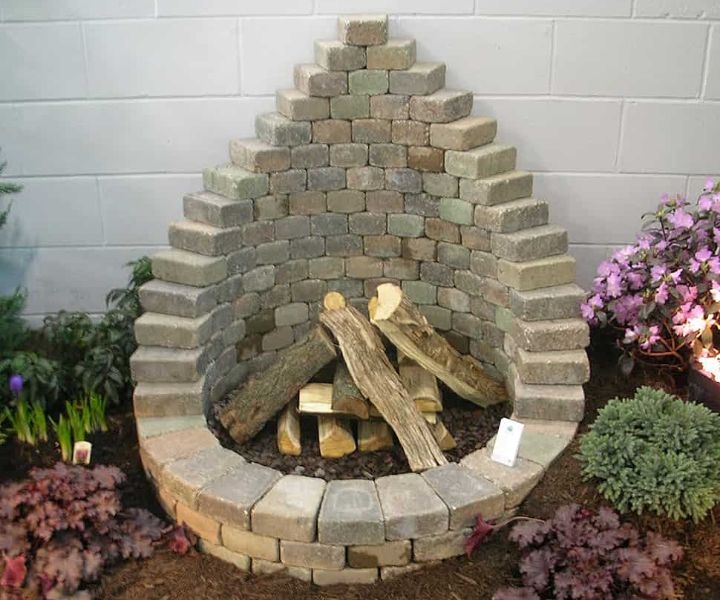 28.

Chunky Sandstone Fire Pit

But a few big, irregular sandstones can also serve the purpose especially if you're aiming for a rustic feel.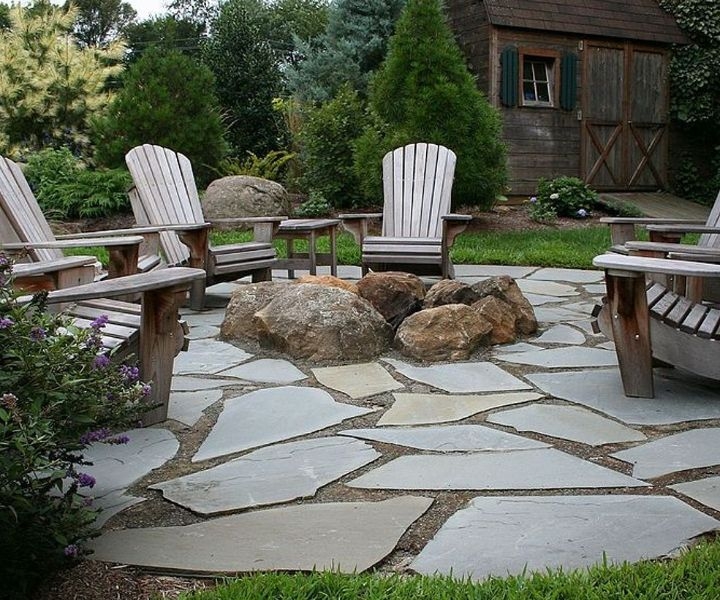 29.

Rectangular Sandstone Pit

You can also opt instead for a low, rectangular fire pit like the one in the image below. This one doesn't require many stones.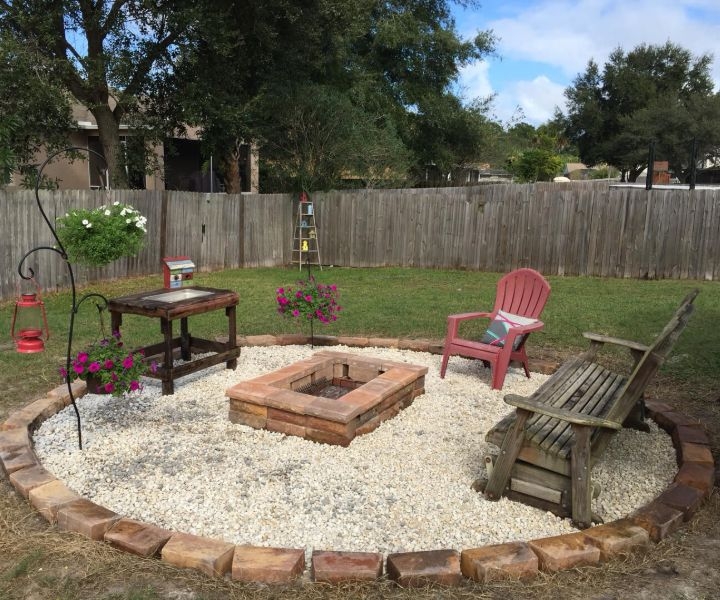 30.

Small Rounded Sandstone Pit

Sandstone's also a good choice for small, rounded fire pits. In this example, the garden lighting adds a lot to the atmosphere of the place.
31.

Big Stone Pit

If you're good with stone and have time to spare, here's a beautiful example to keep you busy. You may have to work on this one for a while, but once it's ready, you can enjoy it for a lifetime.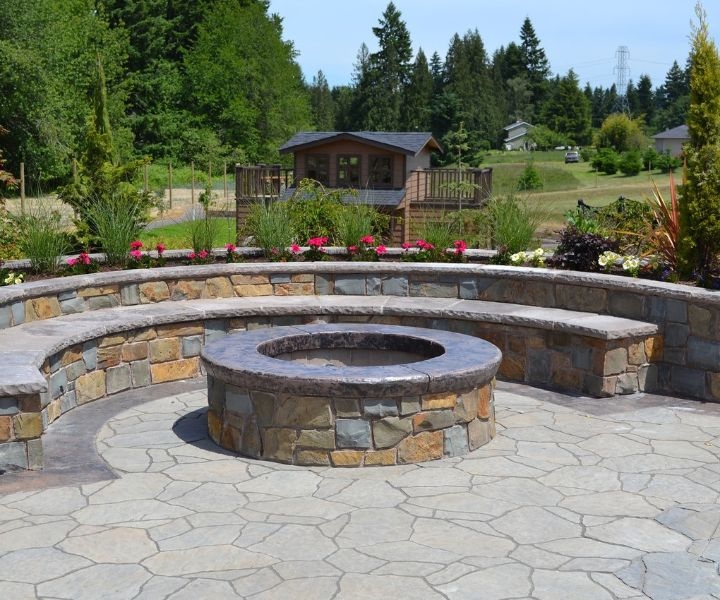 You can incorporate different stones in this design alongside sandstone to create texture and make your creation stand out.
Fire Pit Ideas with Rocks
Rocks come next. Whether we're talking about big rocks or small ones, there are many ways to arrange them to create a fire pit. You can buy rocks from a local quarry or use ones you may already have.
32.

Big Rocks Fire Pit

In this example, a dozen big rocks create a simple and practical fire pit on a raised stone platform. The stone bench provides additional seating.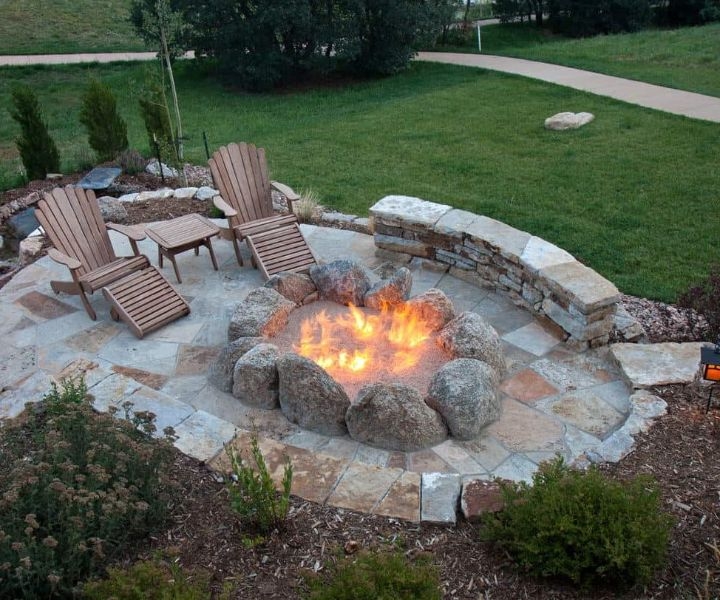 33.

Small Rocks Pit

A fire pit can also be tiny--here's an example to illustrate the point. In this one, very small rocks and a grating keep the fire bound to a small place.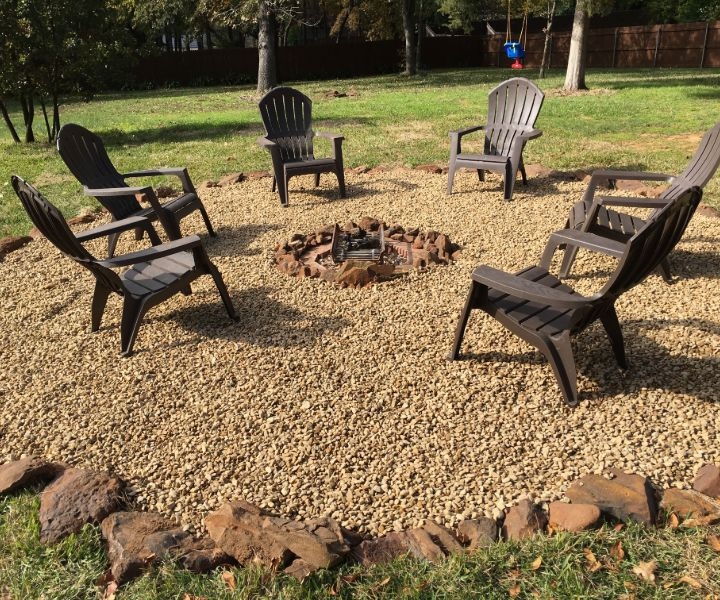 34.

Low Rock Fire Pit

A single layer of more regular stones laid on gravel--that can be enough to create a nice place for warming up by the fire outside. This particular example is taken from a rock garden.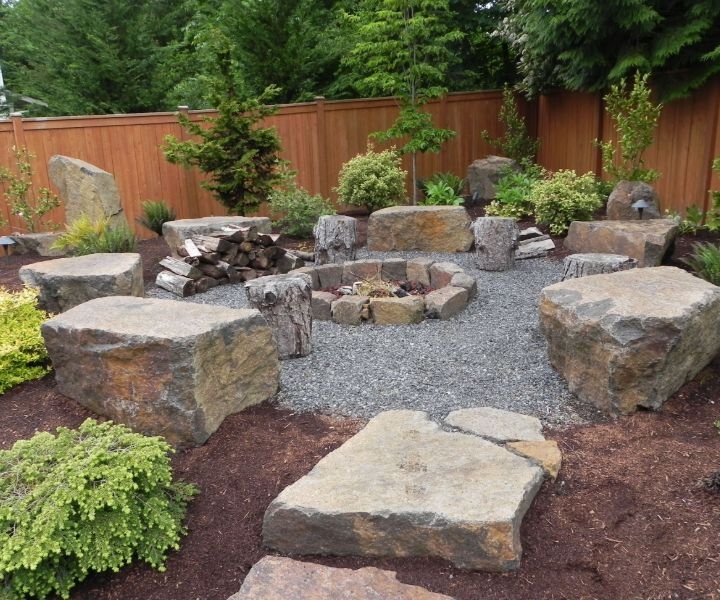 35.

Campfire Stone Pit

If you can find half a dozen big rocks, creating a fire pit will become quite easy. Just see the example below.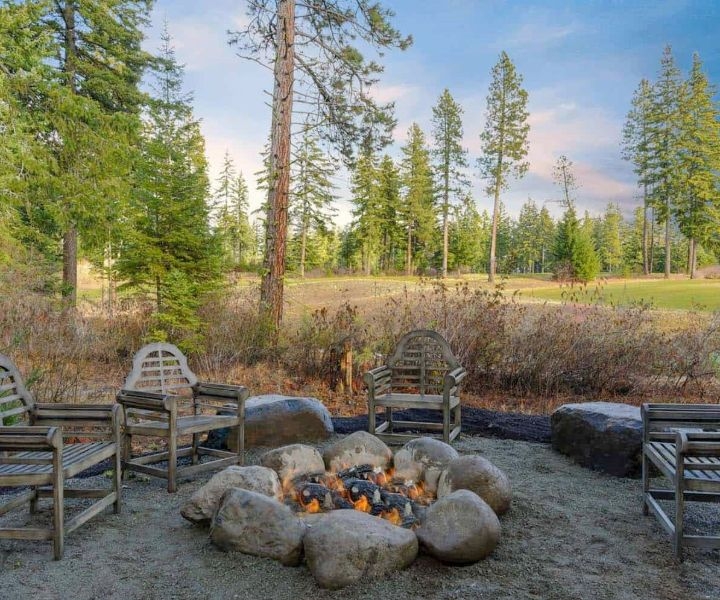 The image above has a nice campfire feel to it. You can recreate the design in your own backyard without much expense.
Metal Fire Pit Ideas
Our list of the best fire pit ideas wouldn't be complete without a few examples of metal fire pits. These tend to be elegant and suitable for most settings and decors.
36.

Rectangular Metal Fire Pit

A rectangular metal fire pit offers plenty of seating options around it. Plus, you can move it to different locations if needed.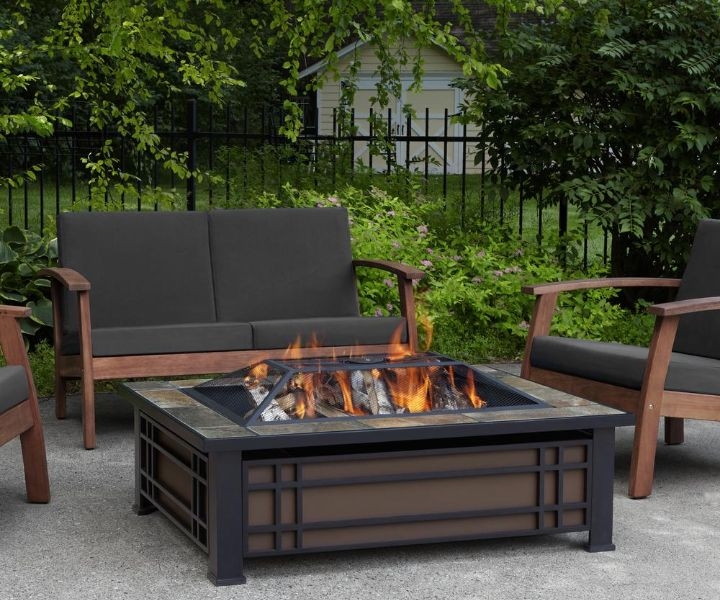 37.

Designer Metal Pit

Looking for something smaller? How about a designer fire pit like this one? The rusty look makes it stand out on white gravel, and especially when set out against some greenery, like in this example.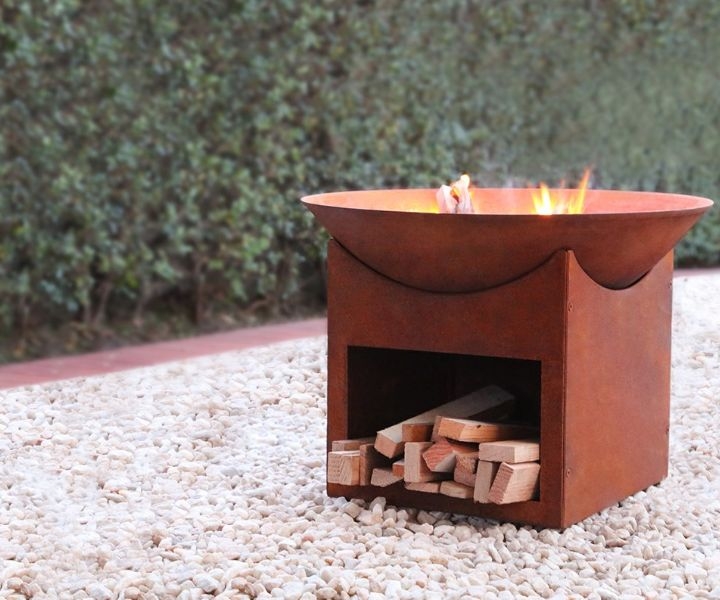 38.

Elegant Iron Wrought Bowl Fire Pit

Here's another designer creation, this one made of wrought metal. Whether you place it by the edge of a pool or pond like in the example or not, it's striking design will turn it into a highlight of your outdoor.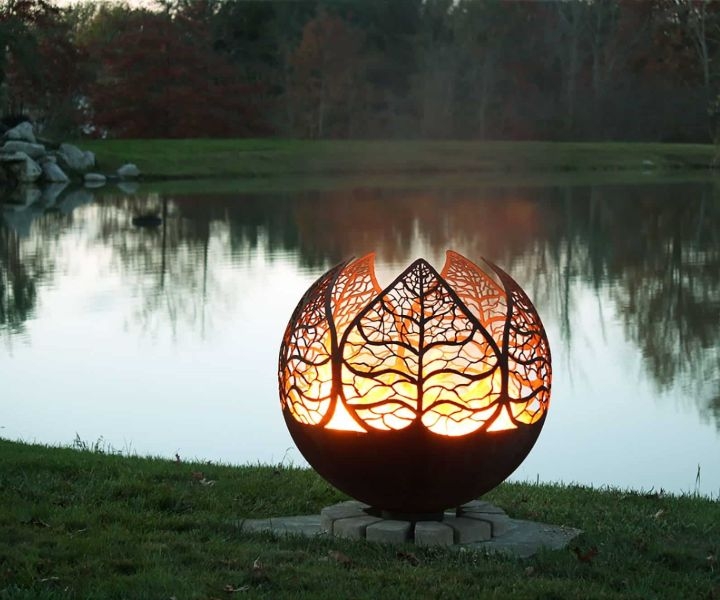 Warning: Make sure to install fire bowls on a straight, level foundation. You don't want there to be any risk of them tipping over or spilling.
Ideas for Fire Pit Seating
We're going to end our fire pit ideas list with some ideas on seating. If you've ever sat round a fire pit with friends or family you probably know already how important seating is.
Seating round a fire pit has to be comfortable, have good weather resistance, and post a low fire risk.
39.

Semicircular Wooden Bench Fire Pit Seating

This semicircular wooden bench seating is stylish and blends in beautifully with the stone. Because the fire pit is so small, the design can incorporate wood without much worries.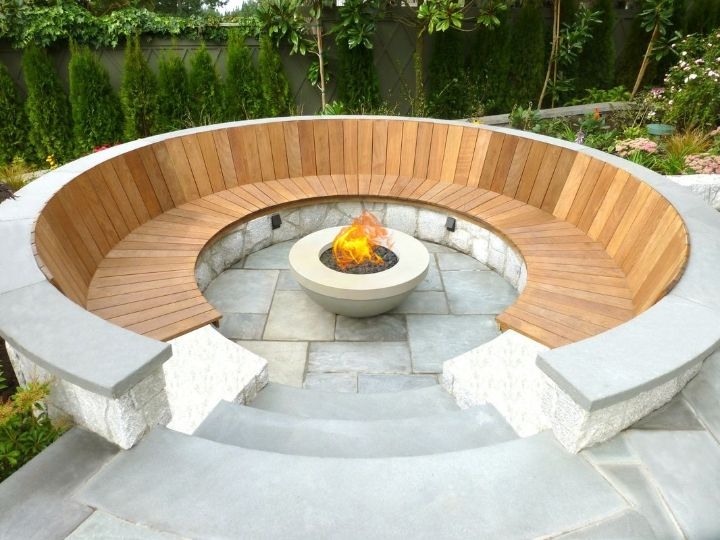 40.

Outdoor Sofa Fire Pit Seating

An outdoor sofa with additional seating (with or without cushions) can create an elegant and comfortable hangout place near a square fire pit.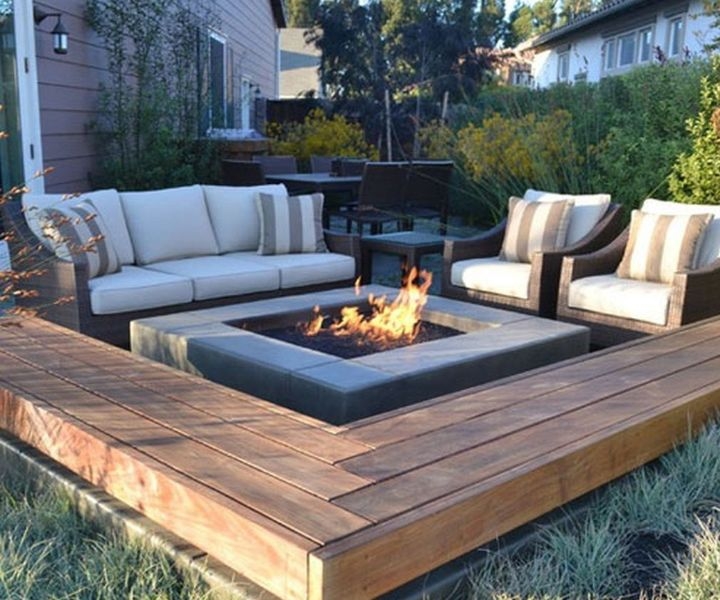 41.

Curved Stone Fire Pit Seating

Adapting the size and the shape of the seating to the fire pit design is often the best choice. In this example, using conventional garden furniture or benches wouldn't have made the most efficient use of space.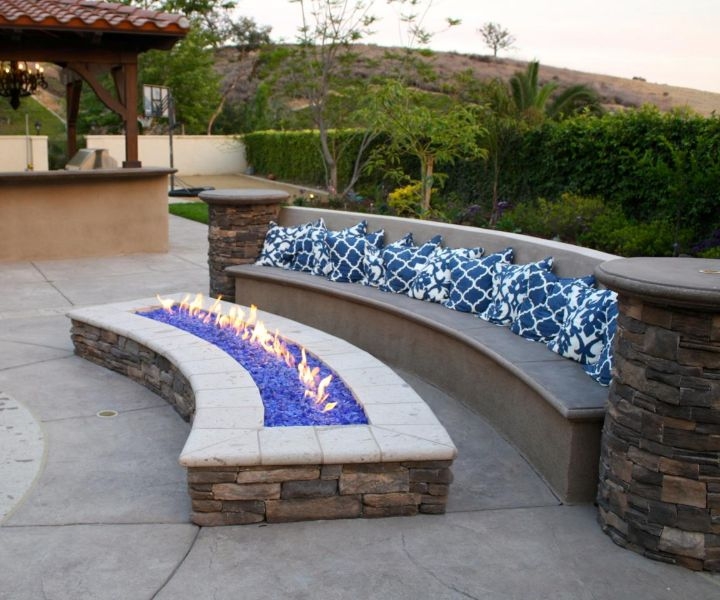 Tip: Don't forget to add some water-proof pillows. They will make the hours spent by the fire all the more pleasant.
Fire Pit Ideas Commonly Asked Questions
We've been hearing quite a few questions about fire pits recently so we've put together a list of the top questions. Explore the answers below--they can inform your choice of the fire pit ideas you incorporate into your project.
Time to Light a Fire
We hope our fire pit ideas will inspire you to build your own fire pit if you don't have one already. More than being a hot backyard or garden feature, fire pits can bring people together.
Huddling around the fire with friends and family with a drink in your hand and a marshmallow on a skew can create some amazing memories.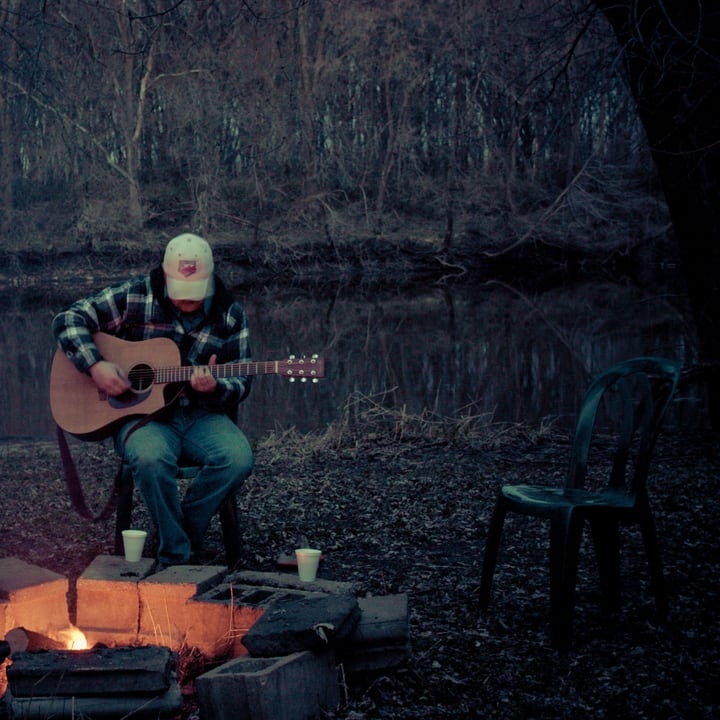 Now more than ever, when it may not be possible for you to travel and camp, a fire pit can rescue you from boredom and ennui--and make your outdoor space more interesting.
Have any of the fire pit ideas we shared with you caught your imagination? Drop us a comment below and tell us all about it!
Foter Magazine is a premier architecture, decoration, interiors and design website. We inspire and guide you to make your home a more attractive place.