Got space for a garden bench? Then we say add one--you'll create a nice place to relax and contemplate the greenery, hang out with friends, or read. Read on to discover garden bench ideas and designs to inspire you.
A garden bench is not just a garden bench, you know. Sitting on a garden bench and enjoying the view can be calming. Or you can knit, crochet, write poems, draw images, or paint.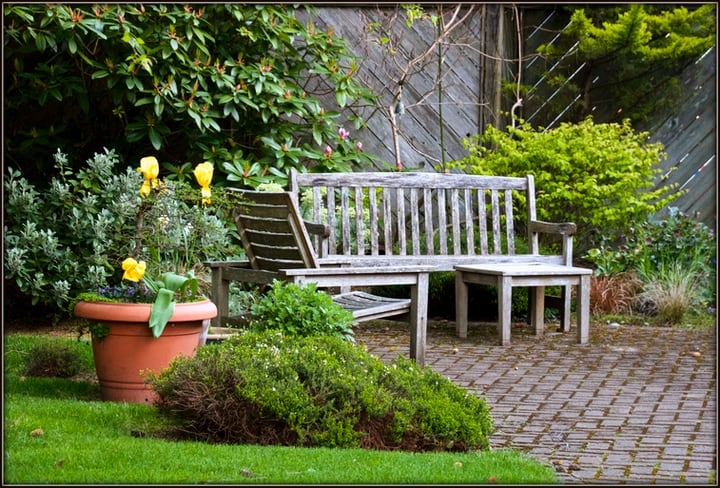 If you are looking to just hang loose and get away from the noise of your everyday work, simply take a nap or maybe just sit back and watch the birds and the bees, or how butterflies flutter around the flowers.
Some people think that having a garden bench means that you will need a whole lot of space. Or that it will ruin the natural look of your garden. That's not true. You can always adapt the bench to your space and style.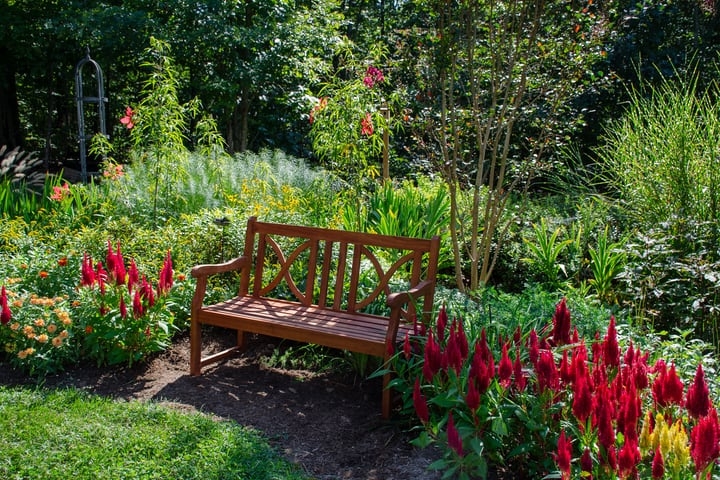 More than serving a practical function, a garden bench can add to the style and design of your yard and ultimately enhance the overall feel of your garden.
Best Garden Bench Ideas
Benches can be made of different materials. This means you can pick whatever texture and color fits your taste.
You have total control of everything. You can also have them painted so they can suit whatever your goal is for the overall look of your garden.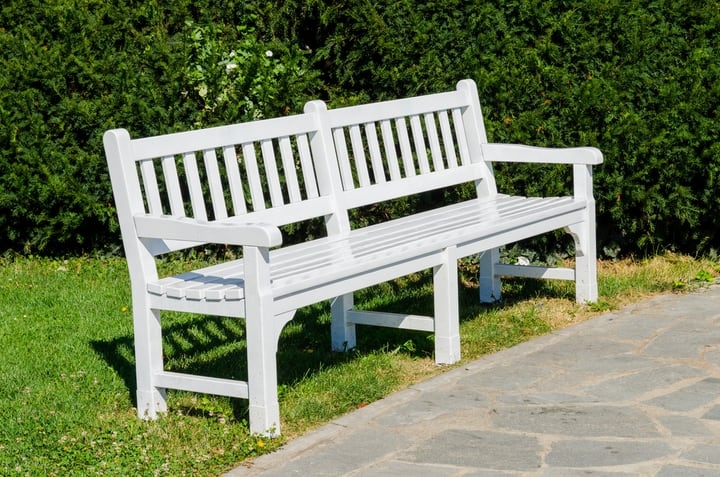 In the end, a well-placed bench can do wonders. You and your family can enjoy it all year round. Throw in some colorful pillows during cold times and leave it bare to feel cool during summer.
Let's explore now some actual garden bench ideas. Choose your favorite and make it your own! Or, why add, add two or more benches to your garden.
1.

Traditional Garden Bench

The classic park bench look will blend in any setting. You can place this one just about anywhere in your garden and get away with it, whether it's in the midst of greenery or against a brick wall.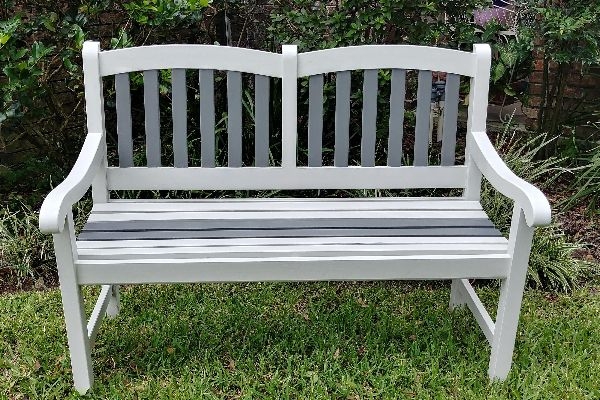 A simple but stylish bench like in the photo above is perfect for those slow relaxing afternoons. And by the way, it's handmade.
2.

Teak Slat Bench

This George Nelson inspired bench is made from White Oak finished with teak oil. It's got a mid-century modern design that makes it stand out in a non-pretentious way.

The slats are individually crafted and the legs are coated with black enamel.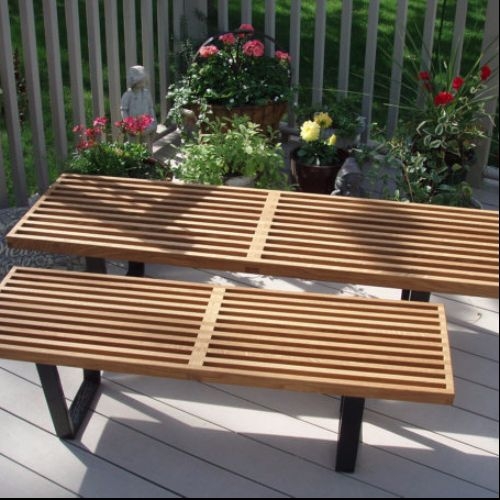 You may be a bit on the fence about getting a bench without a backrest, but it may actually be a good idea since it encourages a good posture. Besides, it's easier to maintain and often more resistant.
3.

Garden Bench

A simple garden bench can be very appealing. Just look at this example to see what we mean. It can give your garden a romantic vibe.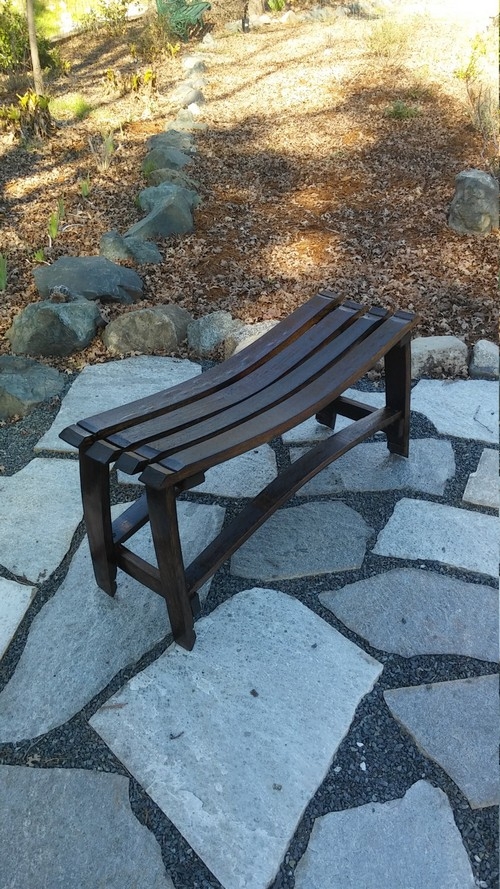 The curving lines of this bench make it stand out. We think it's a nice choice if you're looking for something a bit out of the ordinary.
Tip: Place your bench near a fountain, a small pond, or other water feature and add some garden lights or lanterns around it for a romantic look.
4.

Rustic Wooden Bench

The simplistic design of this garden bench makes it perfect for a small garden or patio. This particular example is made from harvested walnut but you can make one from other materials as well.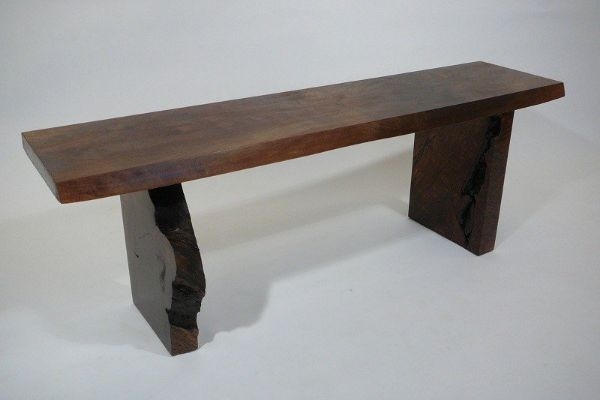 Regardless of the wood you choose, make sure to give your garden bench a water-resistan finish. You don't want it to rot anytime soon.
5.

English Garden Wooden Bench with Table

Our next pick is a classic English garden wood bench with graceful curves. It's perfect for your morning coffee or afternoon tea while reading a newspaper or your favorite book.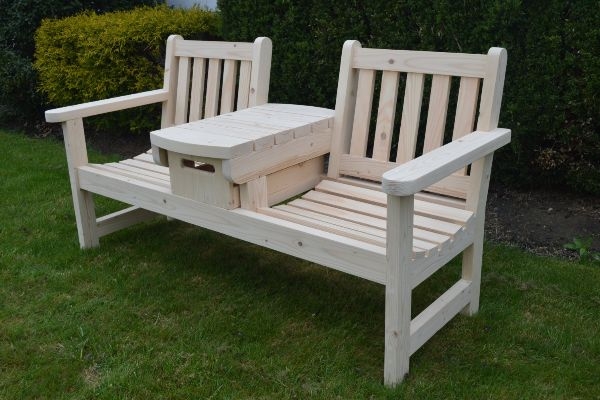 We really like the built-in drawer where you can keep your books, reading glasses, or a warm sweater for colder days.
6.

Cedar Wooden Bench

If you prefer to have a long-lasting bench that is low maintenance and does not need to be oiled or repainted every season, cedar wood could be the right choice for you. You can also paint it a lighter color if you want.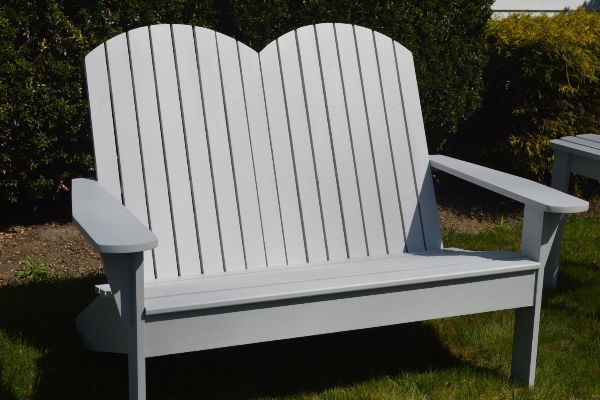 We like the playful design of this bench which looks not unlike a chaise-longue. It's also spacious enough for two people.
7.

Newcastle Teak Garden Bench

The bench in the image is made from teak wood--a good choice for outdoor furniture due to its weather-resistant nature. We like the graceful, airy design and it's slightly old-fashioned look.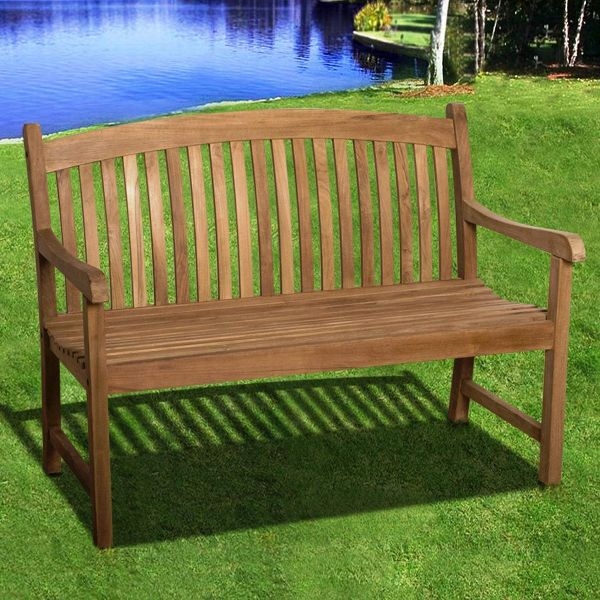 The signature woodsy styling can add a nice accent to your garden. You can also place this bench on your backyard lawn.
But if you do that, make sure to move it slightly from its spot so that the legs won't damage the grass.
8.

Dark Highwood Bench

A darkly colored bench can create a nice contrast with the surrounding greenery and any potted plants you may keep outdoors. Don't be afraid to try colors other than wood or white.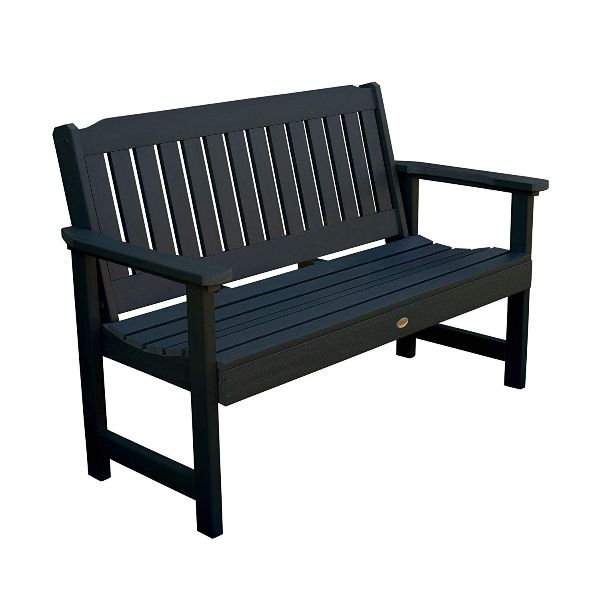 The contoured back of this bench promotes a comfortable posture. It's a feature you may want your bench to have if you plan to read outside in the garden or use the bench every day. Your back will be grateful!
9.

Old Pine Beam Solid Wood Bench

This very simple garden bench can be an inspired choice for gardens where you want to emphasize the beauty and colors of the plants and flowers. It's also great for minimalist or Japanese gardens.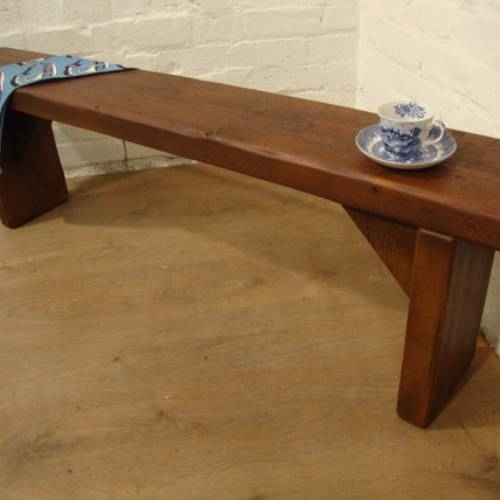 On a side note, this bench is also one of the least expensive on our list. If you don't want to spend too much on a garden bench, you may want to check out this one.
10.

Rustic Oak Garden Bench

The rustic hand-made bench is crafted from European aid dried oak that's resistant to the elements. We like the waving lines that give it a unique look while keeping the design simple.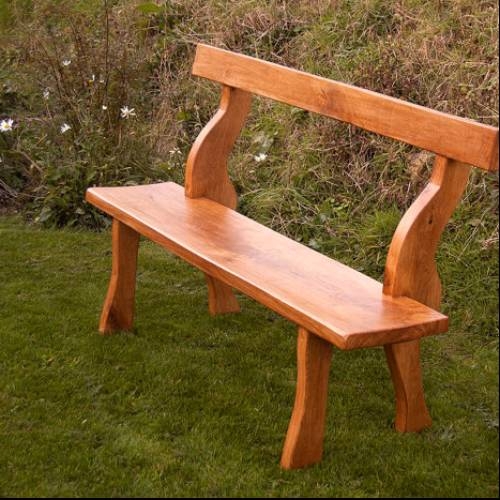 If you don't want your bench to add too much detail to your garden, opt for a design like this one with a simple but interesting backrest.
11.

Vintage Victorian Garden Bench

The vintage Victorian bench has an old-fashioned look to it that can make your garden a tad more interesting. This particular example is made from recycled materials and is weather-resistant.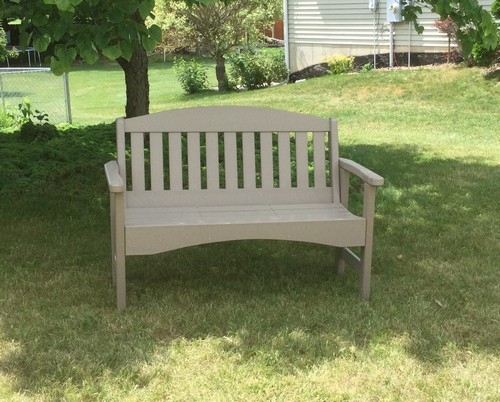 With its handles and back, it's one of the most comfortable benches on our list. It's great for placing under an old tree or in some other shaded spot.
12.

White Concrete Bench

So far we've seen wooden and plastic benches--or benches made from composite materials. Now here's an example of a beautiful white concrete bench that has a bit of an antique feel to it.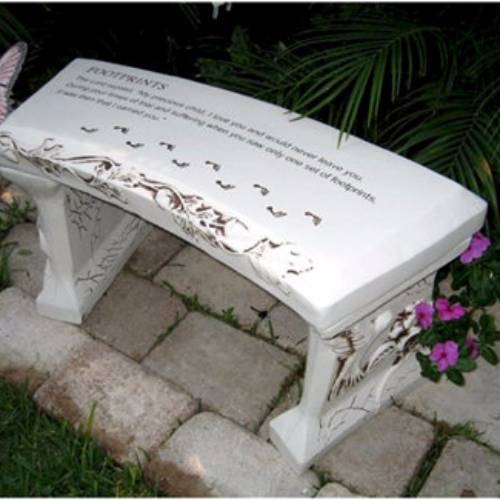 Making a concrete bench on your own can be hard, but you can always shop around for one and paint it any color you like.
13.

Basic White Wooden Bench

Simple but sweet, this white wood bench can fit into most garden styles. It also doesn't take up much space, so it can be a smart choice for smaller gardens.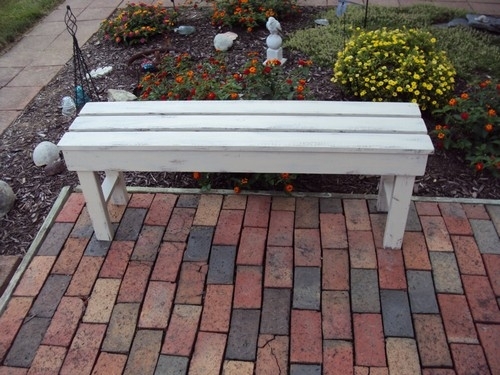 In the colder seasons, you can use it to put flowerpots on it or other containers. But make sure to give it a fresh coat of paint every few years, to keep it looking nice and clean.
14.

Natural Sandstone Garden Bench

An interesting addition to any garden, this type of garden bench doesn't attract as much attention as some of the other benches we've highlighted. But it can sure add a nice touch to any part of your garden.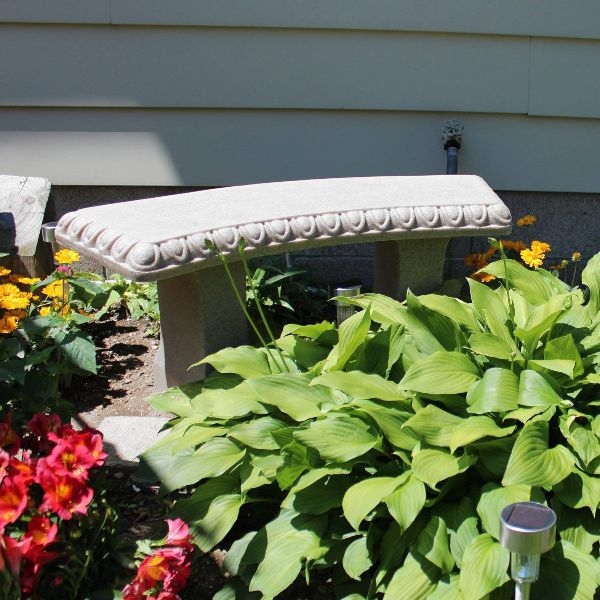 A sandstone bench is a great fit for any rock garden or Zen garden. You won't have to worry about it weather storms as it can be one of the most durable types of benches around.
15.

Natural Wood Garden Bench

Looking for that authentic plain-looking bench for your garden on a budget? This is the one just for you. This bench looks plain but in an honest and rustic way. It's durable, functional, and pretty easy to maintain.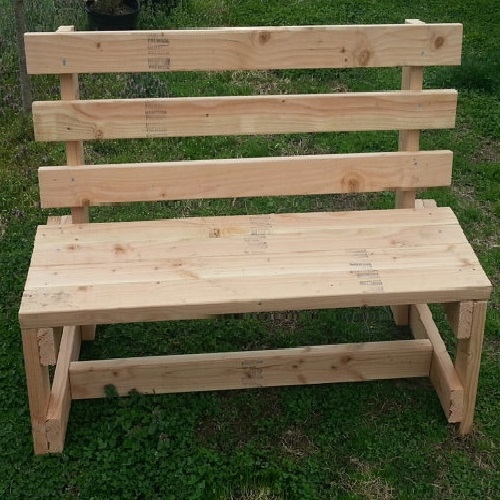 If you feel that something's lacking, you can always paint it any color you want. How about brown or green? That way you can help better maintain it, too.
DIY: How to Make a Garden Bench

from Wood

If you think you can't quite find the perfect garden bench, you can consider making one for yourself. It's not as hard as it sounds. Here are some general steps to guide you along.
Step 1 - Plan Your Design
Take some time to consider what sort of bench you want. You can browse the ideas above for inspiration. You can then decide what tools and materials you'll need.
Step 2 - Get Some Tools
Most woodworkers have a few handy power tools. If you don't have any, you need to get at least some basic hand tools. You'll also want to have a hand saw, a hammer, and some nails.
Step 3 - Get the Right Wood
Cedarwood or pine are common choices for garden benches because they are durable and look nice.

While you're not limited to these types of wood, make sure that the wood you choose won't mind some rain now and then. Get wood ready cut if you can, it will save you a lot of work.
Step 4 - Assemble the Bench
You will most likely have to drill some holes to fix the wood together. Start with the frame of the bench, the legs and the seat, and gradually work your way toward the backrest (if it's going to have one).

You may want to start with a simple design without a backrest. Often, it's the back of the bench that's the hardest to make and to get right.
Step 5 - Weather Proof It
Once your bench has been built, give it a coat of varnish or paint. If you want to preserve the look of natural wood, you can use a transparent varnish or sealant to protect the bench from the elements.

If you don't want to weatherproof your new garden bench, make sure to move it inside during rainy spells and the colder seasons.
Garden Bench Frequently Asked Questions
Now and then we hear questions about garden benches and their maintenance. In this section, we've put together some of the most frequent questions that come up. Explore the answers below.
How do you make a garden bench?
Making a garden bench is not so hard if you have wood and are handy with a saw and hammer. You also need to have a plan. Reserve one weekend for the task and make sure to do some planning and get the right wood for the job. Check our guide to
make your own bench
.
Where to buy a garden bench?
Your local gardening center or DIY store may not always have the nicest garden benches around, so we recommend trying your luck online on stores like Etsy. Discover now some of the nicest
garden benches
you can buy online.
How to paint a garden bench?
You can almost always change the color of a
garden bench you bought
or that you have inherited from another generation. The important thing is to choose the right type of paint for your bench material.
Before you get to work, clean the bench with sandpaper removing dirt and areas of damaged paint. Then go ahead and paint your bench and leave it to dry in an airy place safe from the rain and humidity, such as your patio or shed. You may want to apply two or more layers for the best results.
Why Stand When You Can Sit?
More than decoration, a garden bench can help you rest your tired feet after you mow the lawn or dig the ground with a hoe. It's a useful item that you probably want in your garden.
Whether you choose to buy a garden bench or build your own, make sure to give the design, material, and color some thought. Don't settle for the first option you come across.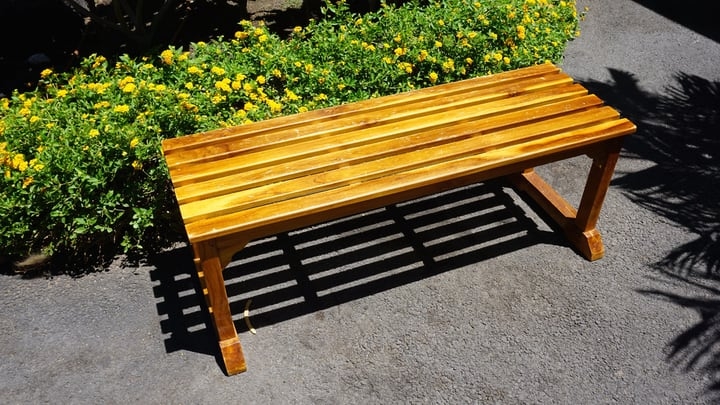 A garden bench is a simple thing, but there are lots of choices out there, and some of them are better quality and longer-lasting than others.
Now over to you. Has any of the benches we shared with you caught your fancy? which one is it?
Drop us a comment and let us know. We're always happy to hear form our readers!