Why add a wooden bench to your home or garden? It's convenient, durable, and has a timeless look to it. Best of all, it can bring to your outdoor space the kind of charm that benches in parks or botanical gardens have. Read on to explore different wooden bench ideas you can add to your space!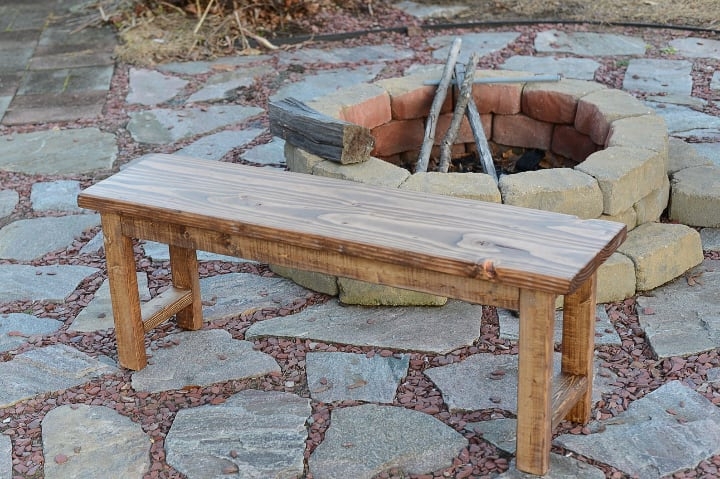 We've put together a collection of the best wooden benches for you covering a dozen or so different styles and sizes. Some are made from readily available wood, others are quite elegant and unique.
You just need to decide which you like the most and adapt the idea to your home or garden. Take your pick now from our selection.
Best Indoor Wooden Bench Ideas
Most benches in our selection serve more purposes than what is obvious: some can serve as your step-stool and bench in one. Others can provide storage or double as a coffee table.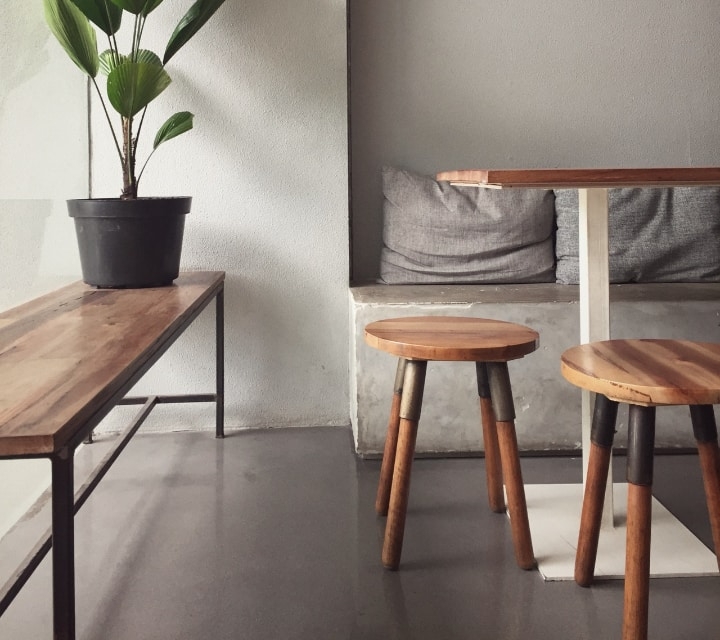 Functionality is something you want to consider when choosing an indoor bench. Think of all the ways you can possibly use it.
1.

Rustic Wooden Pallets Indoor Bench

This wide rustic wooden bench is made of pallets, cedarwood, and reclaimed wood. It can serve as your entryway bench or coffee table. Light but sturdy, cedarwood is a great wood for home furniture.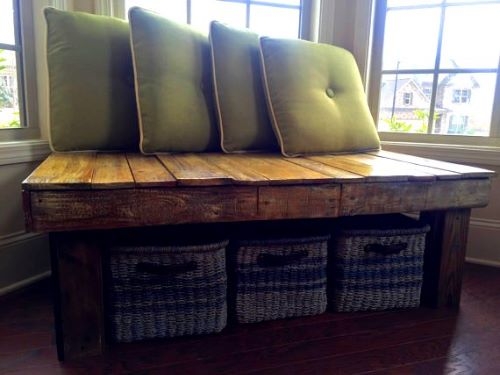 You can easily move this bench to any part of the house or place it near a living room window.
Just add some pillows and you got yourself an amazing place to study or read. You can customize the dimensions based on the space you have. Notice also the storage chests beneath it.
2.

Wooden Toy Box Bench for Kids

A cute addition to your kid's room, isn't it? It can also be perfect for the playroom. This children's wooden bench is made of pine and plywood and coated with milk paint and latex.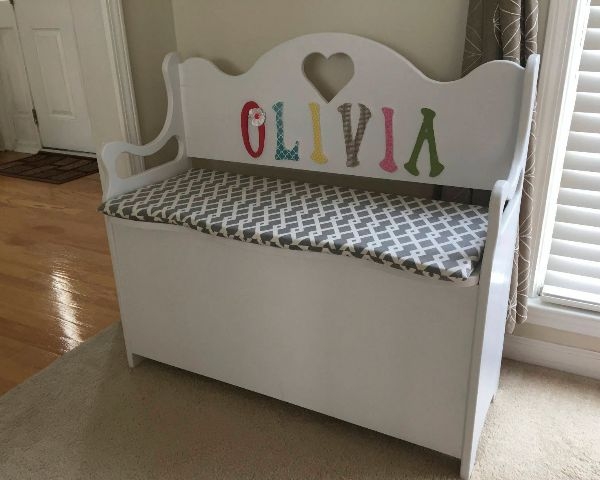 More than a play space for kids, this bench doubles as a useful toy box. Your kids will have both a comfortable bench to sit on and a better way to keep their toys organized.
3.

Entryway Turned Wood Bench

This turned wood bench has a simple but appealing look and a chalk paint finish. We like the curved line and how that makes it look unique.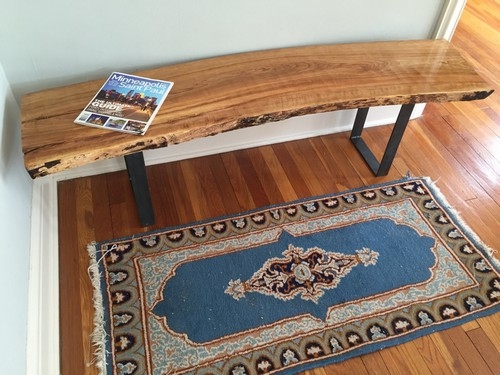 It's great for your home's entryway, but you can also place it on the porch, dining room, and even in the garden.
This is also a great bench for a spacious apartment, especially if you want to add to your place a DIY feel and get rid of all that mass-manufactured furniture that you got in a store.
4.

Indoor Cottage Seating Wood Bench

This wooden bench is made of poplar wood. It's small enough to fit in small spaces but has lots of personality. You can get your own version of this bench painted, stained, or dyed.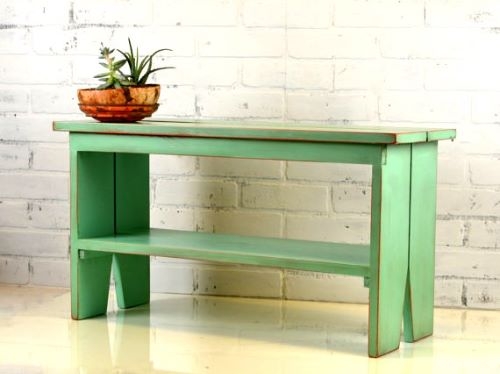 You can also use it as a step-stool or shoe storage because of the handy undershelf. You can also easily add it to your kid's rooms or playroom.
5.

Solid Wooden Farmhouse Bench

This solid wooden bench is made of Douglas fir and crafted with the traditional mortise-and-tenon joinery. This step ensures that the bench will last from generation to generation.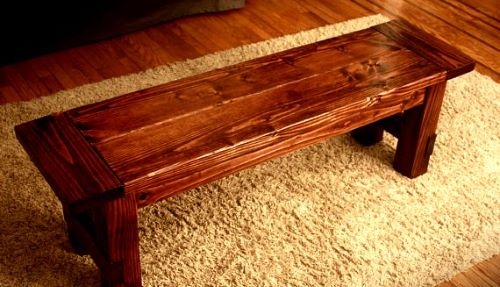 You can place it in your living room to welcome guests. It can add to your space that warm and inviting feel of solid wood.
Since it's pretty low in terms of height, it's perfect for children too. However, the kids may like it even more if you paint it a bright color. Not that we necessarily recommend that!
As an alternative to this bench you can also try this affordable bestselling option:
Best Outdoor Wooden Bench Ideas
We've had a look at some indoor benches. Now let's look at benches for your garden or yard. We made a selection of some of the best ones we came across. Explore them now!
1.

Rustic Bench Finished in Red Oak Stain

For rustically inspired gardens, this wooden bench can be a nice addition. It's designed with pocket hole construction which means that there are no visible screws on the bench.

In other words, you can now avoid getting ripped clothes because of bad nail work.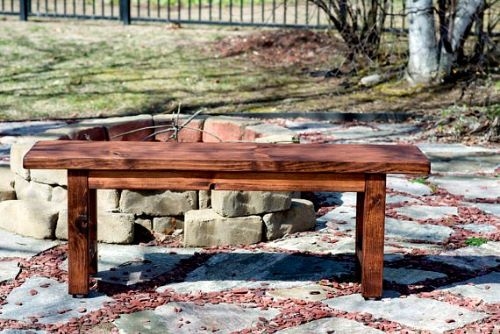 The top of this bench is wide enough for comfortable sitting and may easily accommodate two or even three people.
We think this bench would look great in a rock garden or secret garden. In fact, it's one of the most versatile benches on our list.
2.

Rustic Wooden Bench with High Back for Gardens and Yards

How gorgeous is this handmade wooden bench? We love the high back and the way it fills up space. This bench can hold its own against a burst of greenery and color.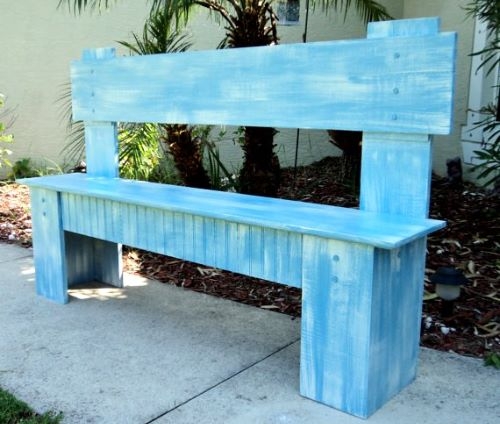 We think the color is inspired--after all, you don't often see blue benches. But you can make yours any color you want.
Tip: This is probably one of the easiest benches to make on your own. Most types of wood will do.
3.

Antiquated Outdoor Wooden Bench

Now if you're looking for a special bench that has something of a medieval feel to it, take a look at this one. This antiquated bench may look older than you, but in fact, it's a modern creation.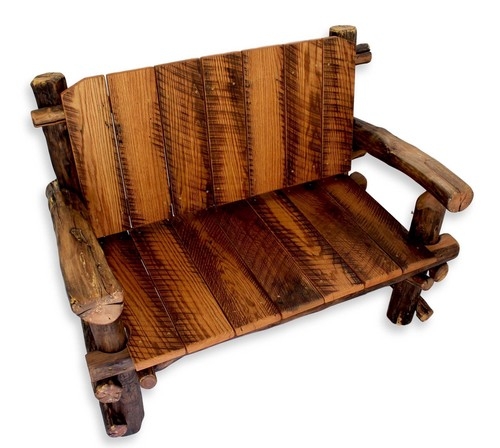 It's made from solid pine wood, a durable wood that can stand the test of time. The base and legs of the bench are highly antiqued with white paint.
If you're handy with wood, you could also try to recreate the design yourself. Variations on this design could be fun!
4.

Outdoor Patio Wooden Bench

In contrast, this long outdoor wooden bench is minimalistic and, you can say, an exercise in simplicity. It's crafted with pine, reclaimed wood, and wrought iron.

You're looking at a versatile bench that lets you stretch your legs on it or sit there crossed-legged facing a friend in a joint meditation session. It can also be used as a park bench.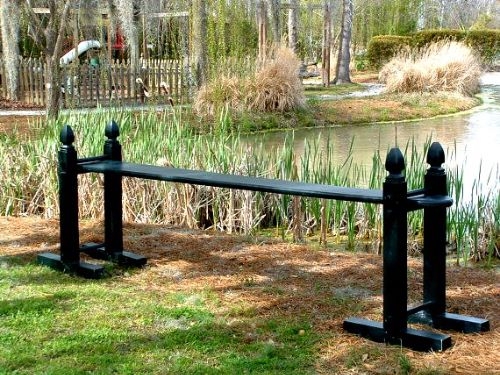 Influenced by the Antebellum South, it was designed to bounce gently when you sit on it. No need for a cushion! What's more, the joggling board will never rust nor accumulate mildew or mold.
The board can rock from side to side like a rocking chair or bounce up and down like a porch swing.
Place this outside for your guests and you can expect laughter and a fun-filled conversation! Like what we always say, furniture should be both functional and fun.
5.

Wooden Garden Bench Glider for Patio

An unfinished wooden bench glider that features Western red cedar and stainless steel hardware? We think it's a smart choice. Western cedar is a richly textured wood with a beautiful grain.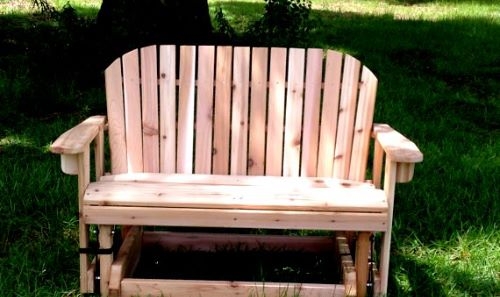 Not only that but the cedar used in this bench has a great thermal coefficient. That means that even if you sit on it on a hot summer day, it will probably stay cool.
This comfortable bench is a great addition to your porch or deck. Sit or glide on it with a book in your hand, and you won't even notice the passing of time.
In the image above, the wood is unfinished, which adds a natural touch to it. But you can seal or paint it if you want.
6.

Beach House Style Wooden Bench

This wide beach house wooden bench is perfect for lake houses, coastal houses, and beachside vacation homes. It's made from a sturdy, durable wood that can last constant exposure to the salty breeze.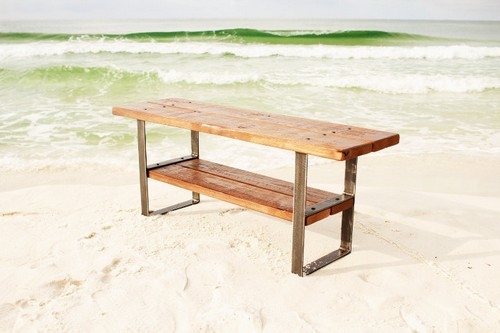 That said, the sturdy design and reliable mix of hardy wood with metal make it a sound choice for all types of gardens, not just coastal ones.
Tip: You can paint the metal legs if you want, to brighten it up a bit. Your call.
7.

Dark Walnut Stained Bench with Plank Back

As heavy and sturdy as it looks, this bench features reclaimed dark walnut wood, Douglas fir, and northern pine. It also features a plank back for you to lean on.

The bench is perfectly imperfect. Its knotholes, saw cuts, and grain patterns are deliberately visible. Together, they make the bench unique.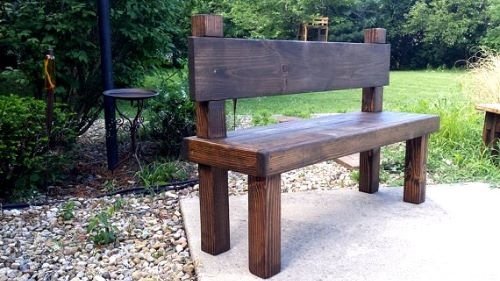 This one's one of the heavier entries on our list, so you may want to find for it a place from where it won't be moved anytime soon.
You can soften it with some pillows but for our part, we like it the way it is. It looks great in just about any type of garden or yard.
9.

Long Farmhouse Bench

Looking for a long bench with a decidedly country flavor to it? This one could be an inspired choice.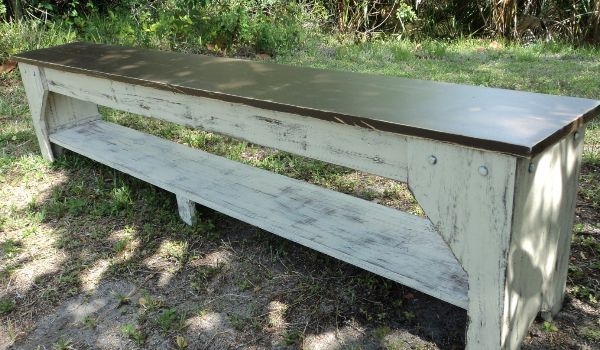 It's built of wood and has a woodsy and authentic look to it that we really like. You can place this bench on your porch or in your mudroom or patio.
Tip: In the colder seasons, you could use it to put plant pots and other gardening tools on it, whether outdoors or indoors, such as in a large greenhouse or shed.
10.

Solid Rustic Bench

Last but definitely not least on our list is this beautiful indoor and outdoor bench. Benches don't get simpler than this! Imagine sitting on this bench and watching your kids play in the yard.

This farmhouse style bench is carefully handmade from sturdy pine wood. It has a charming natural wood grain finish to it.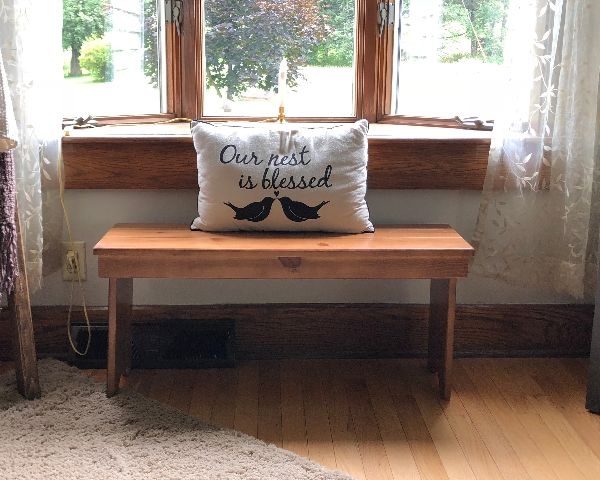 This one doesn't take much space, so you can put in even into the smallest garden or yard without worrying about bumping into it.
It's sturdy and has natural look to it that makes it blend in easily with other wooden objects you may keep outdoors. And, of course, you can clean it a bit and bring it indoors during the colder seasons.
But if you want something a tiny bit more fancy, check out this bestselling bench.
[amazon bestseller="outdoor wooden bench" items="1"]
Community Questions Answered
What is the best wood for a DIY bench? And how much does it cost to make a bench? These are just some of the questions we've been hearing lately.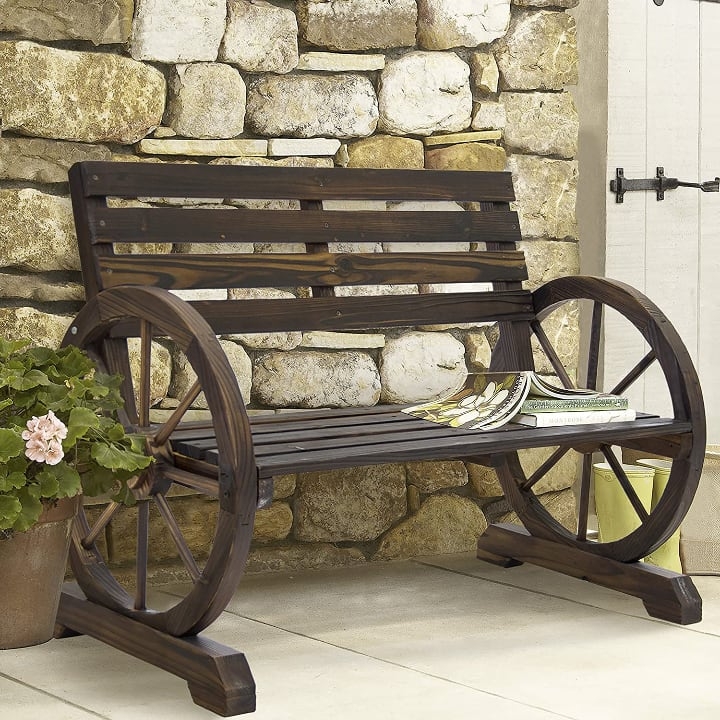 As usual with our posts, we bring these questions together in a FAQ section and answer them for you.
Sit Down, Will You?
Whether you are looking for a unique piece of furniture or garden decor or just searching for a functional item that can fill up an empty space, wooden outdoor benches are useful and long-lasting.
When getting a wooden bench, consider the design, wood quality, and functions. Many benches on our list have more than one function, whether that is storage or support for plants.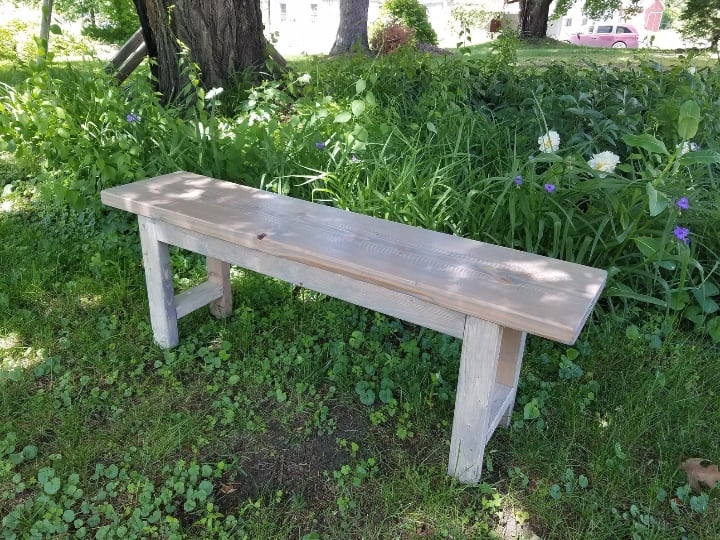 If you plan on getting an outdoor wooden bench for your garden or yard, consider how you'll integrate it with the other design elements such as landscaping rocks, water features, and plants.
Often, the key to creating a wonderful outdoor space is harmoniously combining items, materials, and textures. And the best way to do that is not to leave anything to chance.
We hope you enjoyed this post and that through it we have inspired you to add a wooden bench to your own garden or home.
If you found this post useful, why not share it on social media? Get your friends to join our community of gardeners--we'd love to keep on growing!
See you next post!