When it comes to decorating our homes for the holiday season, many of us focus solely on indoor ornaments, like that all-important Christmas tree, but the exteriors of our homes deserve a festive makeover too.
There are many styles of holiday decorations available, from minimalist Scandi ornaments to fun comedy figures, it can be challenging to decide which way to go. For a stylish, elegant holiday exterior, opt for yard and roof ornaments that coordinate with your home's aesthetic. If you prefer to take a more fun-loving approach to Christmas decor, cartoon inflatables are an eye-catching addition to your lawn.
Whether you dream of turning your front yard into Santa's workshop or prefer to opt for subtle lighting and chic foliage, Foter.com has a huge range of inspirational ideas for outdoor Christmas decor to suit your style. Here is our guide to the top 10 must-have outdoor decorations that will have you counting down the days until Christmas.
1.

Inflatable Light Up Toy Soldier Nutcracker

The handsome figure of the Christmas nutcracker has been a festive staple in many forms, from tree ornaments to figurines, but this six-foot Inflatable Nutcracker Decoration is sure to thrill the neighborhood.

It's incredibly easy to assemble; you just plug it in, and it automatically inflates. It also includes tether ropes and sandbags to keep it secure. Inflatable Santas and snowmen are a common sight in people's front yards, but this nutcracker, with his smart uniform in classic red stands out. It also comes with long-lasting LED bulbs to light up the street and is made from durable polyester to withstand even the coldest winter nights.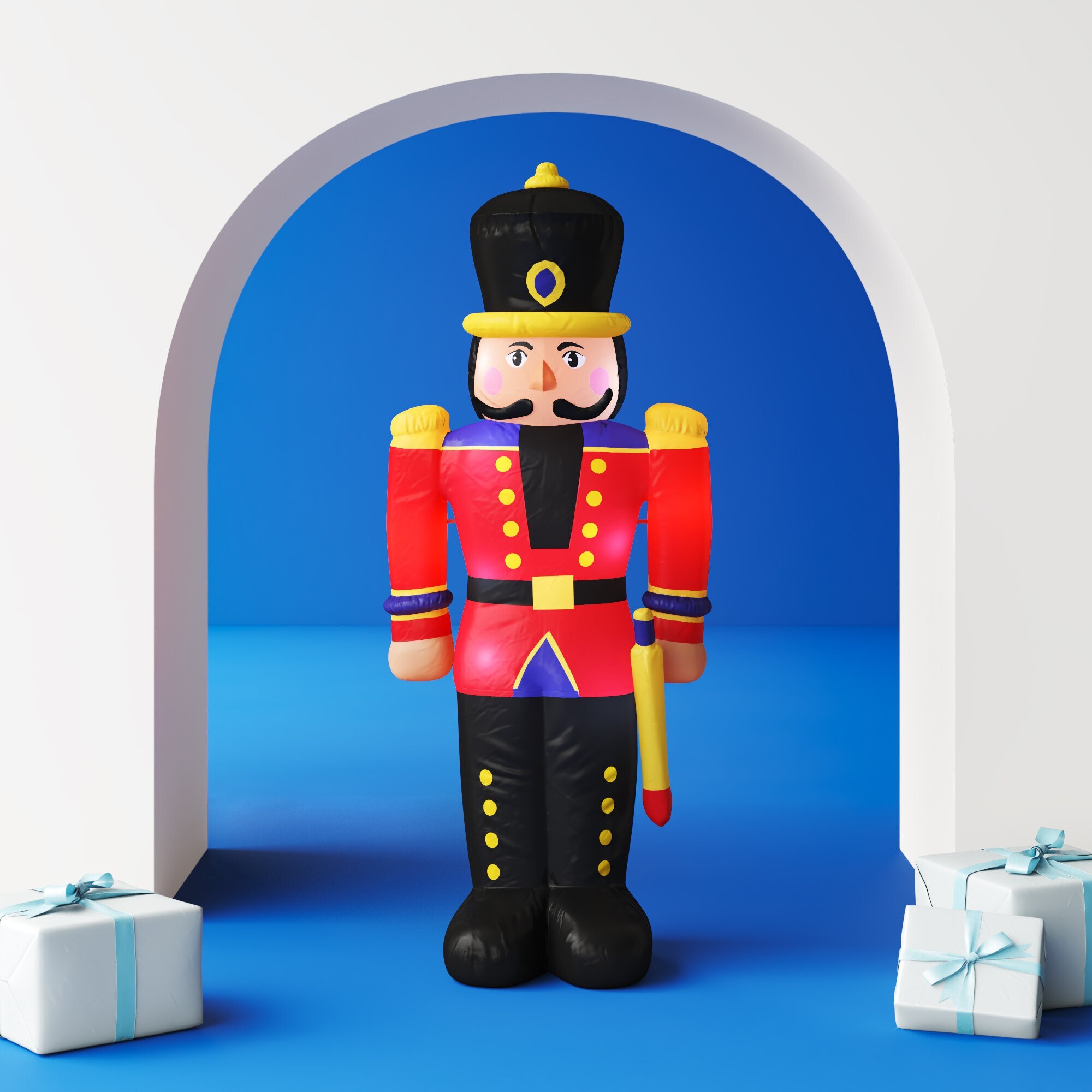 2.

Snowflake Projector Lights

Do the holidays have you dreaming of a white Christmas? Even if you're not lucky enough to live in an area where it snows in December, these Snowflake Projector Lights will turn your home into a winter wonderland.

The projector, which can reach up to 33 feet, gives the effect of snow falling from the night sky, with moving images of large snowflakes and smaller dots. This is a beautiful alternative to the classic twinkle light that's sure to enchant passers-by. It's also much easier to set up as there are no ladders involved; it's simply fixed to the ground with a stake or placed on a flat surface and aimed at the desired location.

Control the projector using the convenient remote, or set the timer to 2, 4, or 6-hour intervals for a stunning light show that lasts all night long.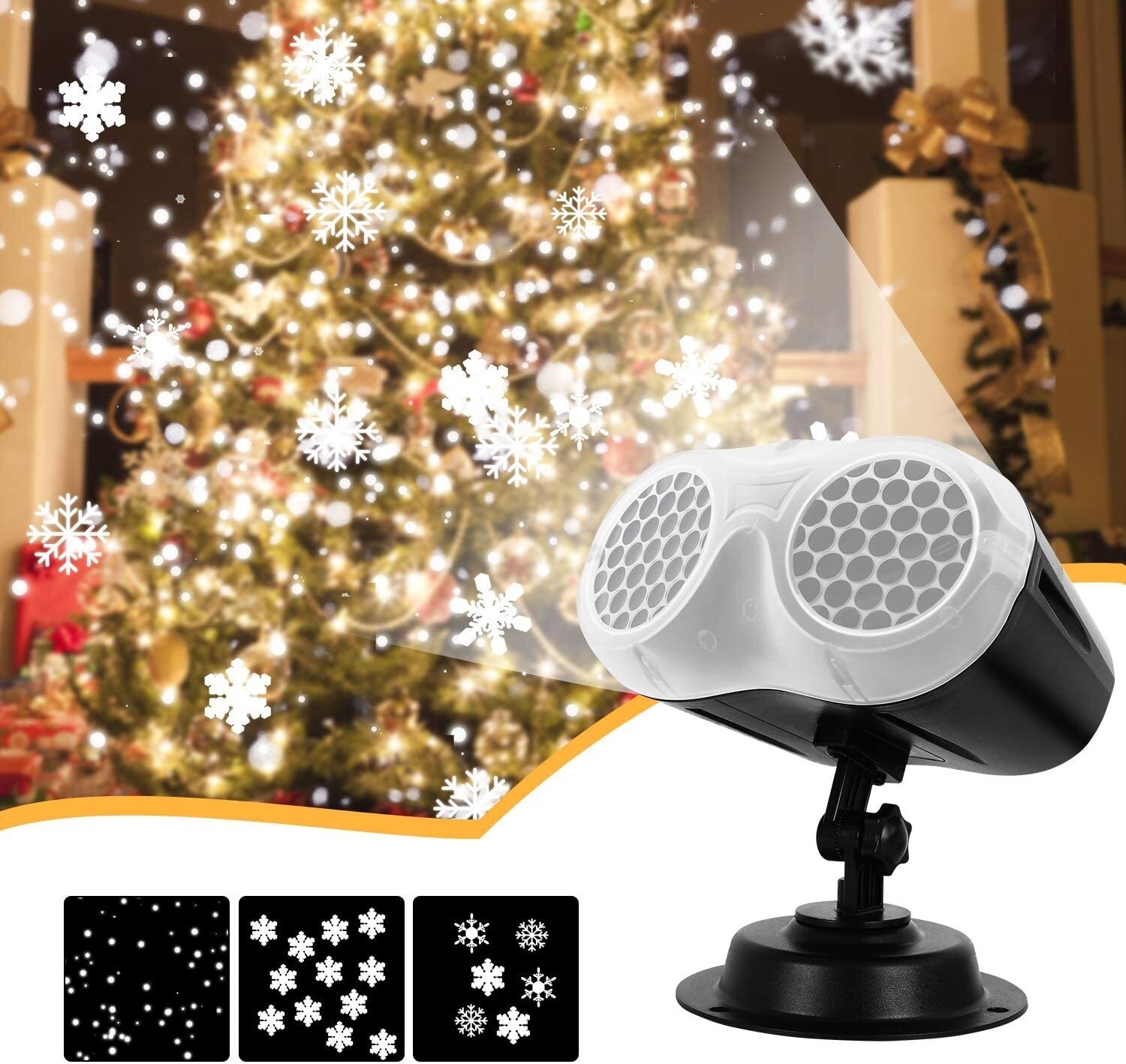 3.

Christmas Mailbox Swag

If you're looking for a more subtle way to decorate your front yard for the holidays, a Christmas Mailbox Swag could be just the answer. It's a small detail that will put a smile on your mail carrier's face and make facing the cold to bring in the mail more enjoyable.

This particular model, with its rustic, natural feel, will never go out of style. The flocked garland features pinecones and red berries topped off with integrated battery-powered LED lights, ensuring a cheery Christmas glow throughout those long winter nights.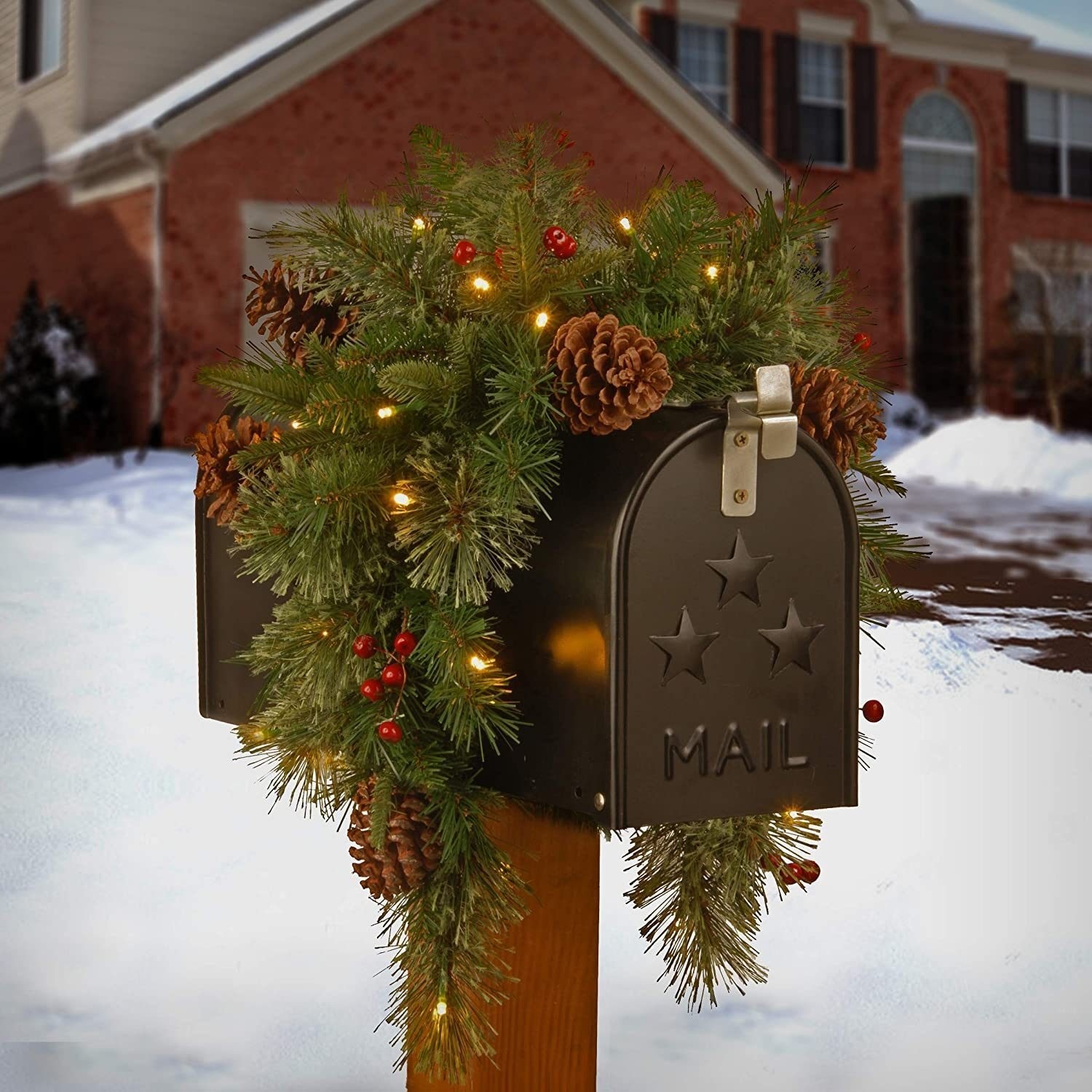 4.

Candy Cane Pathway Markers

This set of 10 Candy Cane Pathway Markers will make the walk to your front door feel like you're entering Santa's grotto.

Standing at 22" tall, these decorations are bound to delight children with their whimsy, while the simple color palette keeps them from being too flashy. Each high-density plastic cane is fitted with six clear bulbs that add a lovely festive glow. The lights are powered by a 110V electrical cord that plugs into a standard outlet.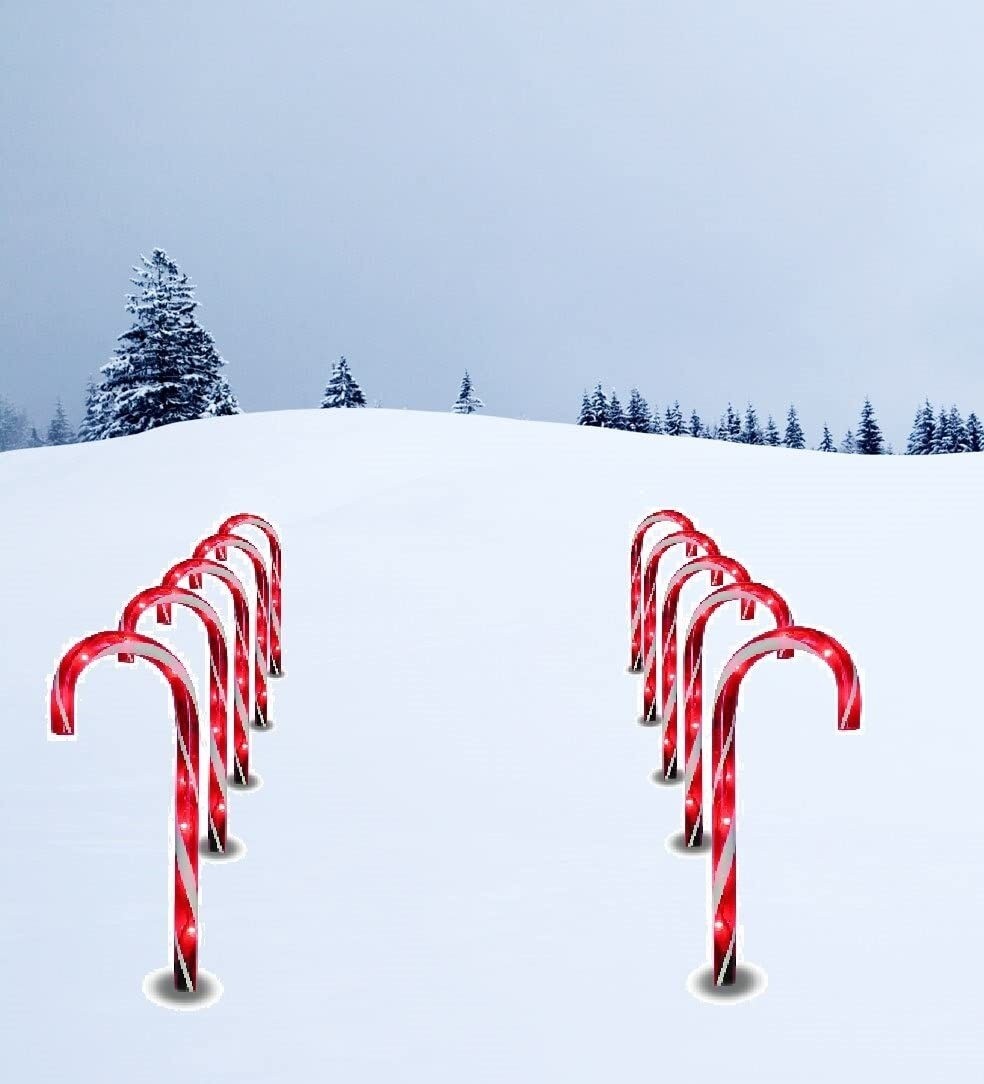 5.

Plaid Holiday Wreath

Hanging a yuletide wreath on your front door is a long-standing tradition that's believed to date back to the Persian Empire. If you're looking for a more modern alternative to a standard pine wreath, this Plaid Holiday Wreath is the ideal front door decoration.

The combination of plaid and burlap perfectly fits the farmhouse trend that continues to be popular, and the unusual structure of three vertical circles will make your house stand out this year.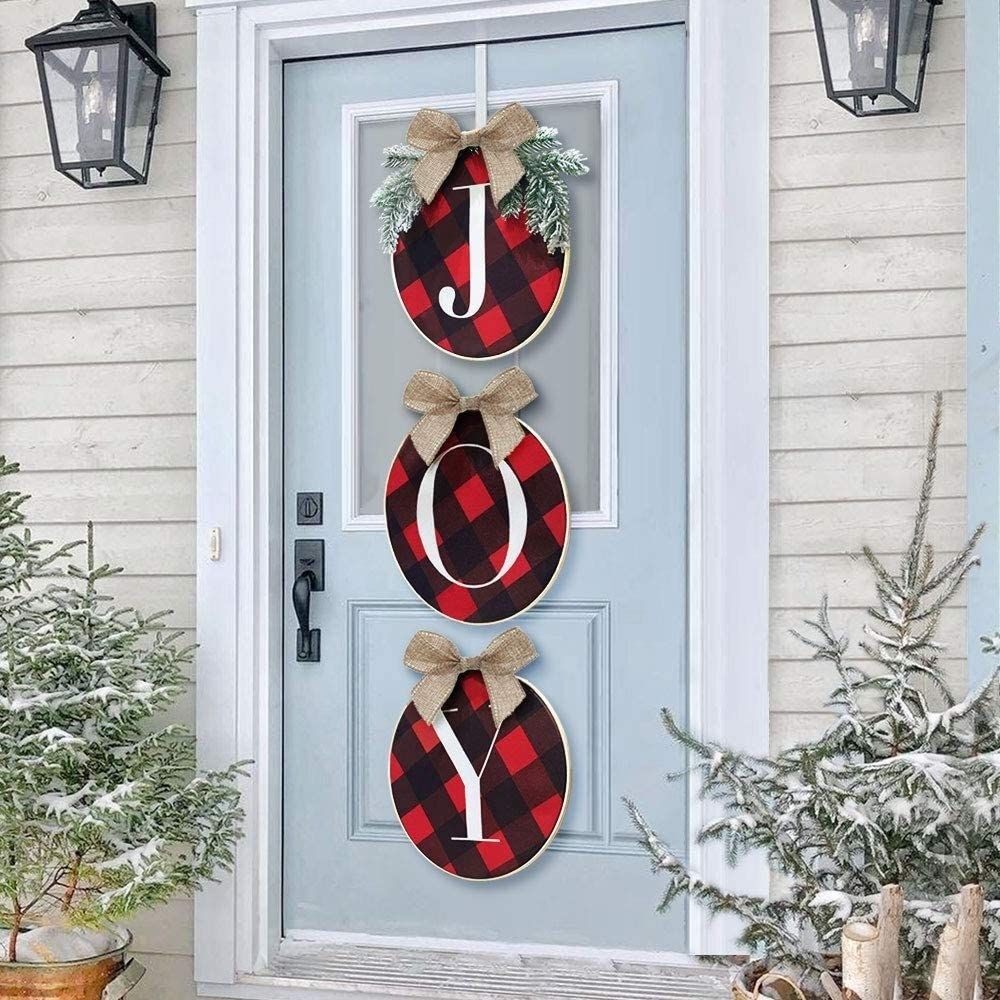 6.

Gargantuan Illuminated Ball Ornament

The Gargantuan Illuminated Ball Ornament will get your house noticed for all the right reasons. The beautiful hand-painted bauble structure, fitted with dozens of twinkling LEDs, makes a grand statement.

It's the perfect item to base your outdoor Christmas decoration design around, and would also be ideal for decorating commercial premises, such as a shop or restaurant.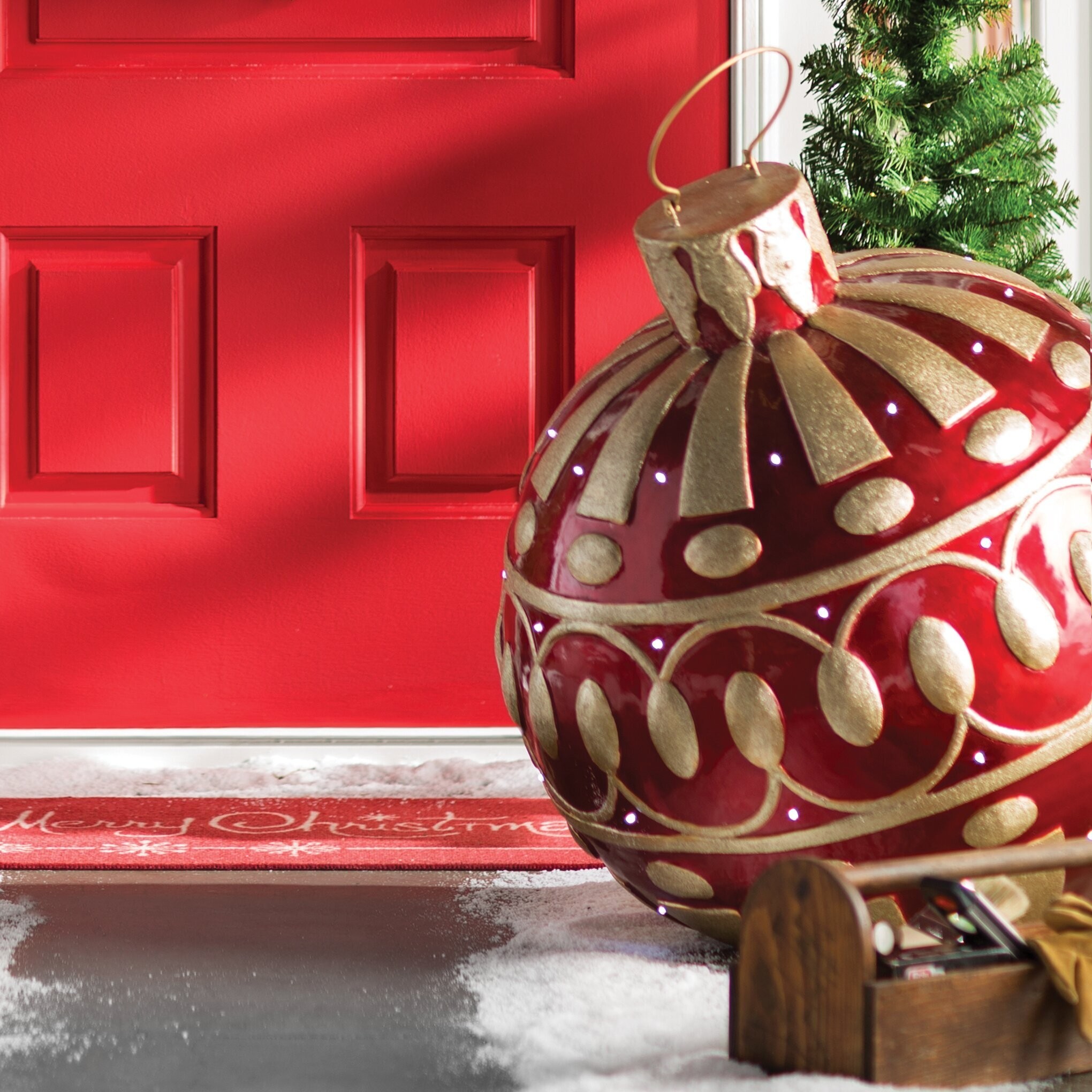 7.

Santa's Reindeer Barn Garage Door Mural

Turn your garage into Rudolf's stable with this Garage Door Mural. This is the kind of decoration that makes a big impact with minimum effort. The mural is fitted using a specially designed hook system that prevents your garage door from being damaged while guaranteeing safety and security.

You'll be amazed by the quality of this fun 100% vinyl mural and will want to use it year after year. When ordering a product like the Garage Door Mural it's imperative that you measure your door so you can select the appropriate size.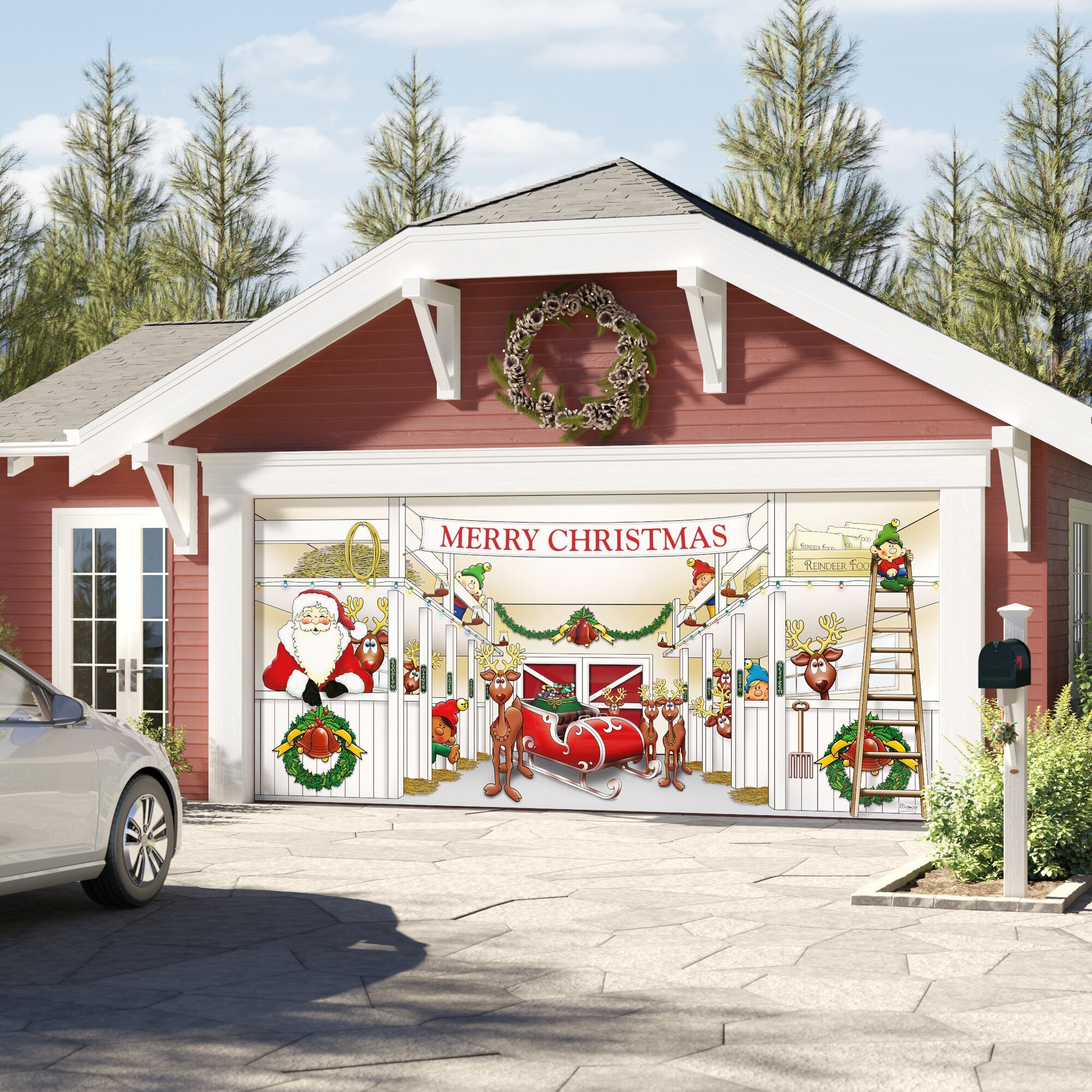 8.

Three Wise Men Lighted Display

For those who prefer nativity ornaments over reindeers and snowmen, this Three Wise men Lighted Display is an excellent choice. The design's simplicity means that it will always remain stylish and add an elegant touch to your festive trimmings.

The wise men are lit up by warm twinkle lights that will add an incredibly magical touch to your front yard. Thanks to its light metal frame structure, this decoration is also easily stored away, ready to be brought out year after year for many Christmases to come.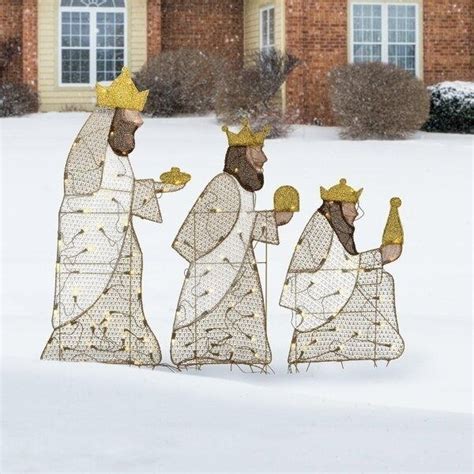 9.

Glittering Thread Buck and Doe Lighted Display

Nothing says Christmas like a bit of sparkle, and with this Glittering Buck and Doe Lighted Display, your home will be full of festive spirit.

The soft glow of 120 clear bulbs light up the figurines and enhance these beautiful deer's graceful images. It is such a special display that creates a festive focal point on your yard, even with no other outdoor decorations.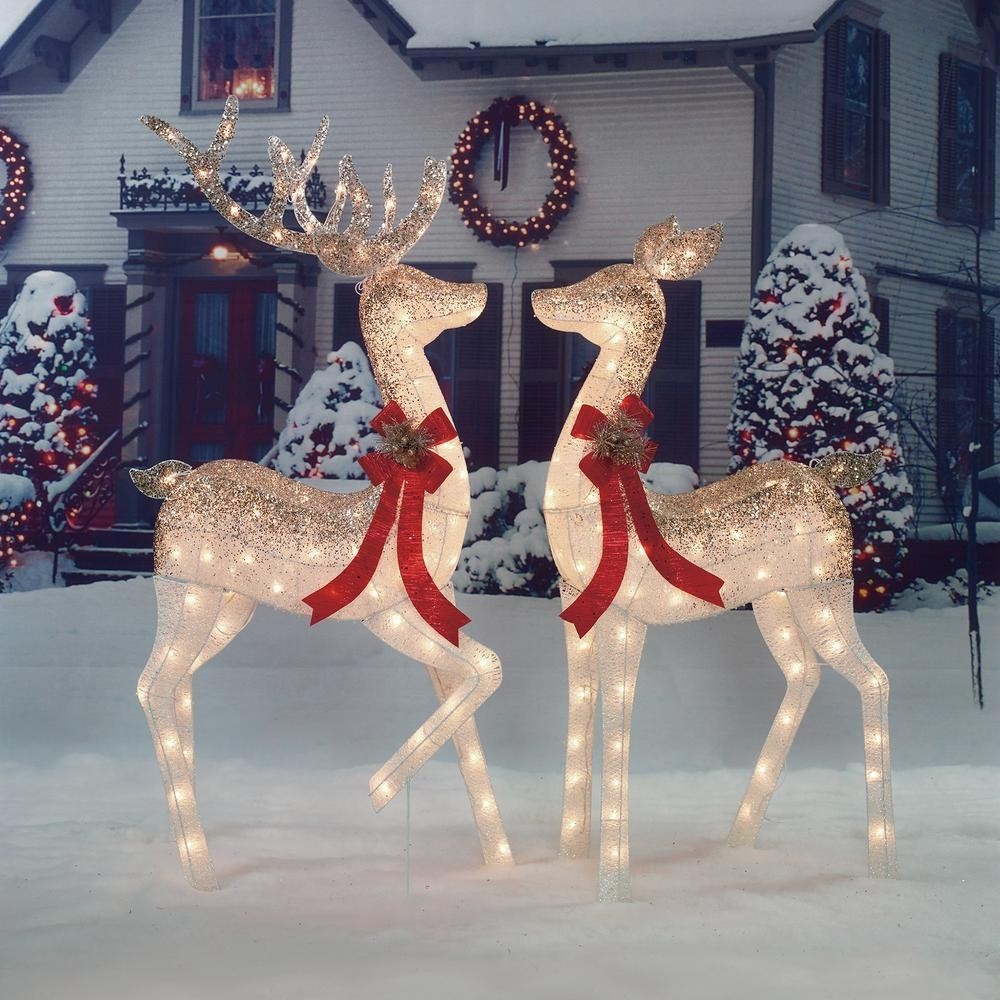 10.

Firework String Lights

Twinkling lights are standard Christmas decorations that everyone loves. Whether inside or outside of the house, they always add a bit of magic. These Firework String Lights take things to the next level.

Their starburst structure, created with 60 branches of copper wires and 120 LED lights, gives the illusion of a firework captured in motion. Each light in this set of four is easily hooked in place and can be manipulated to get the shape you desire.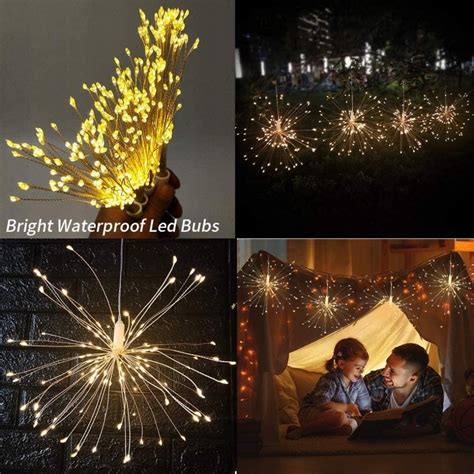 Final Thoughts
Outdoor Christmas decorations are a way to share the festive spirit with our friends and neighbors. Seeing familiar streets lit up with Christmas lights always makes the holiday season special and decorating your own home or business premise with these must-have ornaments will undoubtedly get you in the Christmas mood.