Our Choice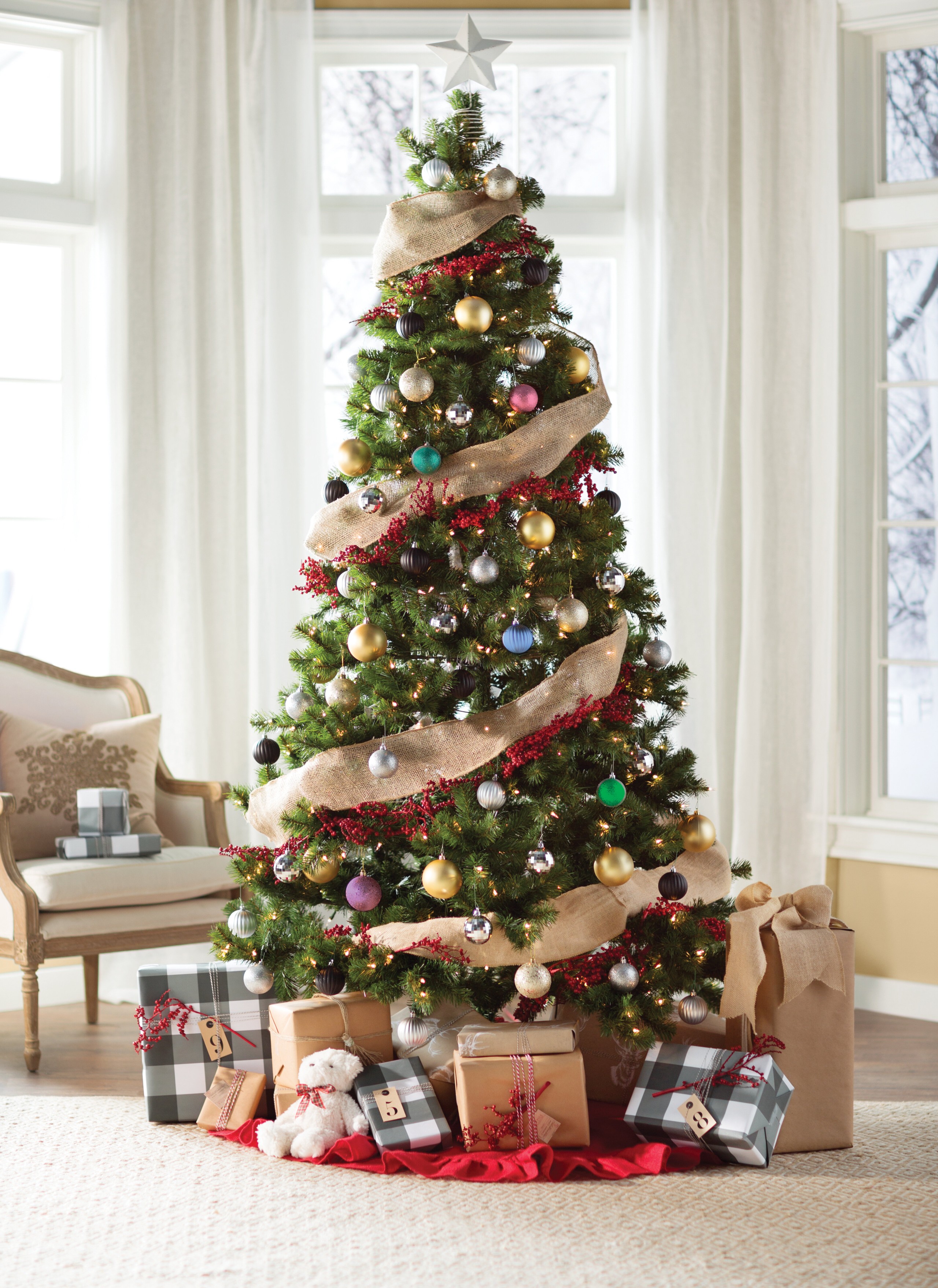 Green Fir Artificial Christmas Tree
Lovely, realistic fir tree ready to help you celebrate the season. You can have all the beauty of a real tree without the difficulty of keeping one alive throughout the season. It can be placed outside on a porch or patio. The limbs will be folded in close to the trunk upon delivery, and will need to be fluffed and arranged. It is not self-lighting, but lights can easily be added as well as ornaments.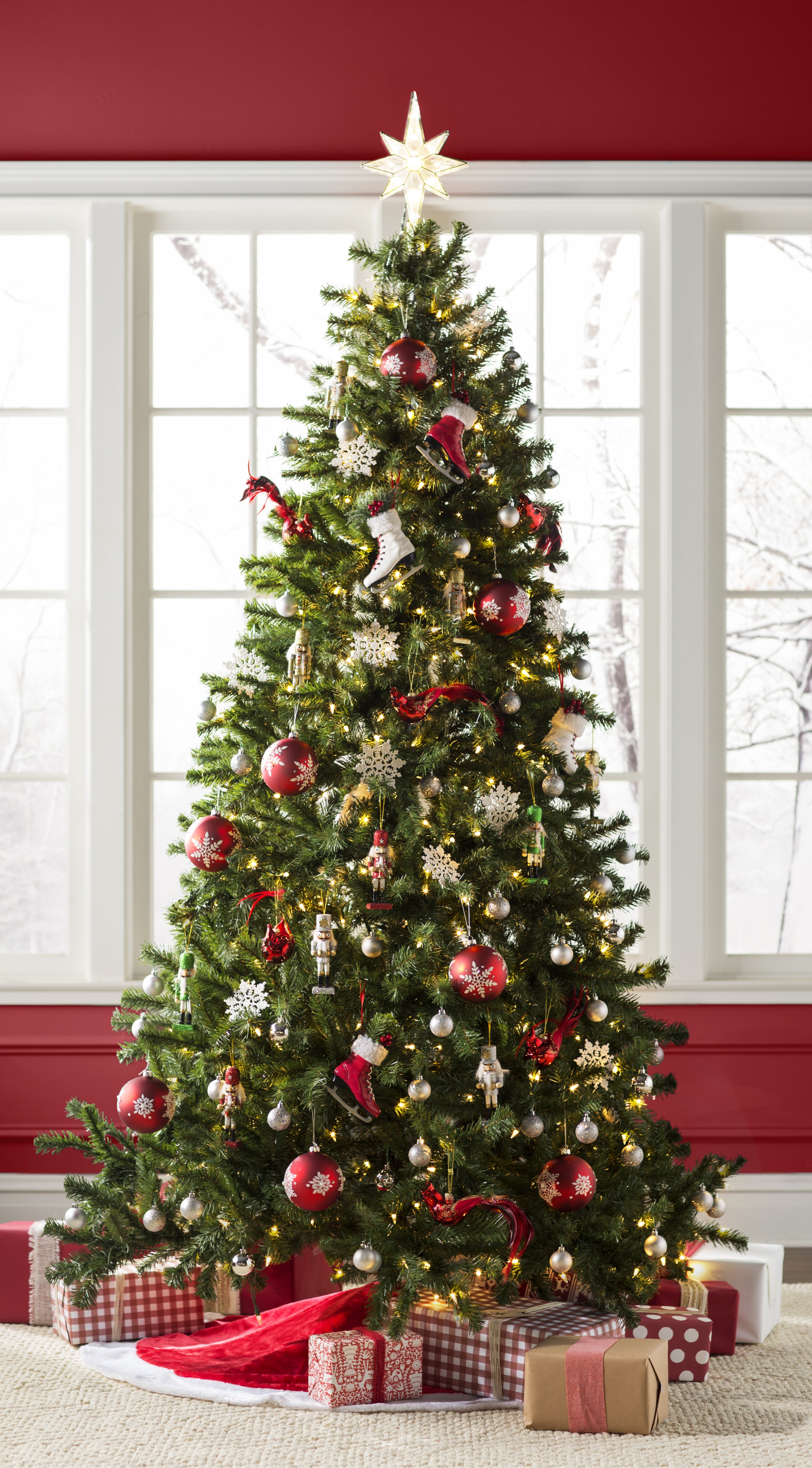 Green Spruce Artificial Christmas Tree with White Lights
Then nicely shaped conical fur with white lights can provide the centerpiece for your holiday decorations. The natural look branches are full and look very much like a real tree. With the lights already built-in, wiring needs are minimized. Add your favorite ornaments for a beautiful holiday tree at any time of the year. Create a themed look or celebrate an alternate holiday. (Easter egg tree, anyone? Pumpkin tree?)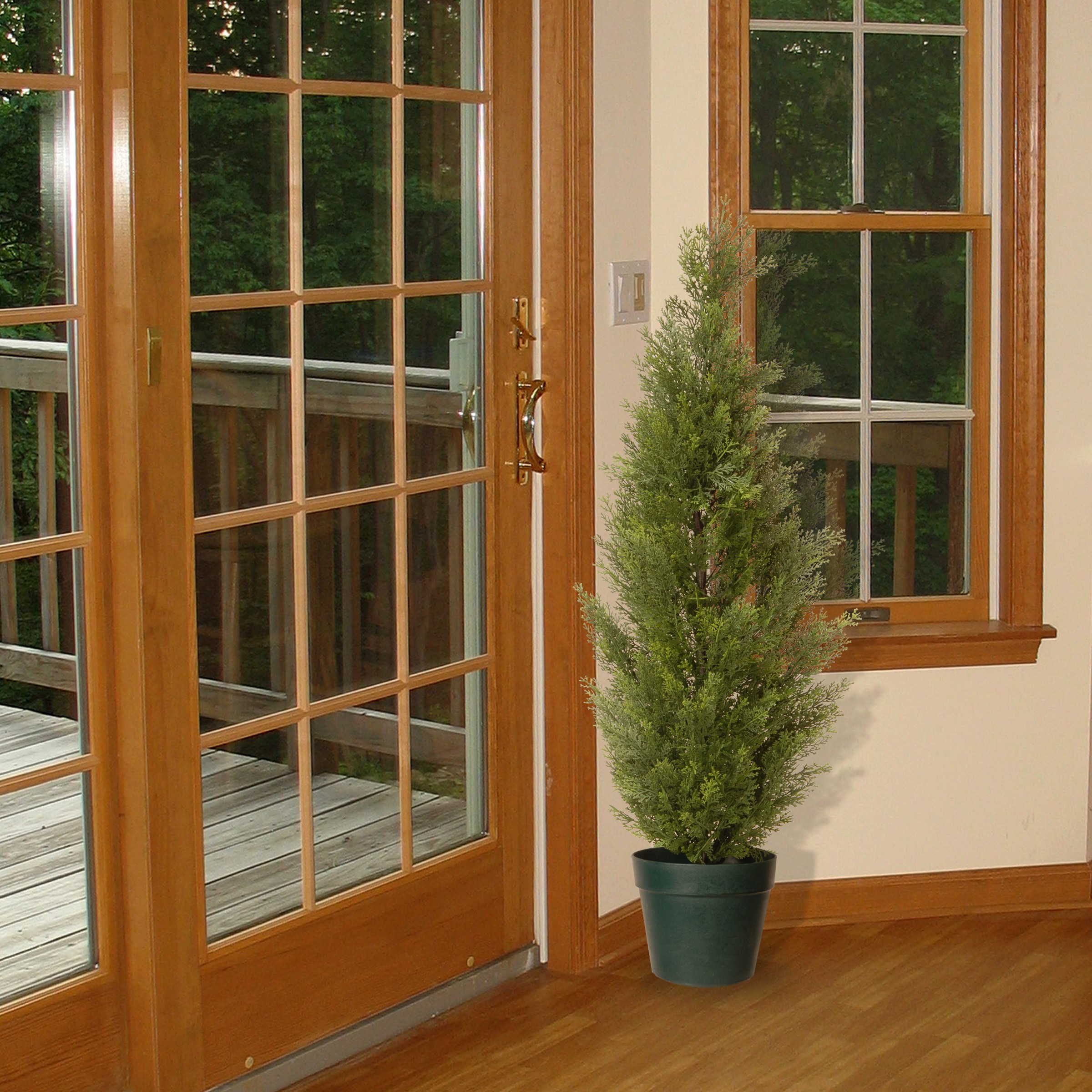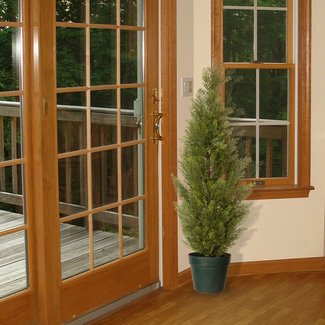 3' Green Spruce Artificial Christmas Tree with 100 Clear/White Lights
Not all trees need to be tall. This three-foot-tall spruce has branches tipped with 100 clear white lights. Perfect as a tabletop or window decoration, this little tree has uncrushable tips for a realistic presentation. Add small ornaments of your choice for a beautiful statement. The burlap bag base adds a charming farmhouse touch. This little tree is weather-resistant, so it can also be displayed on a porch or lawn area.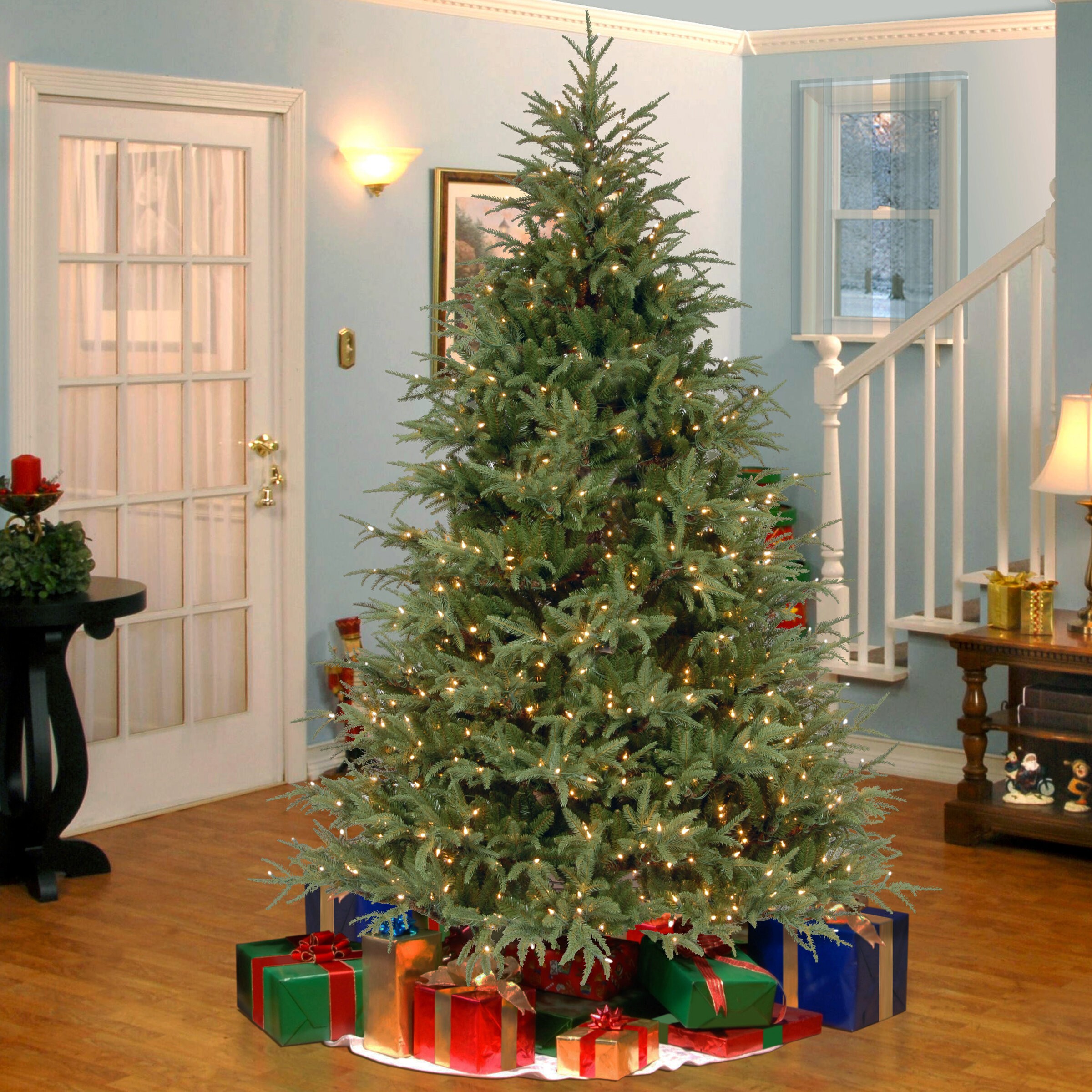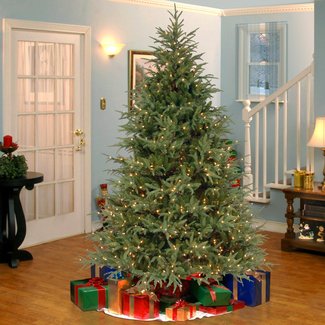 Frasier Grande 7.5' Green Artificial Christmas Tree with 1000 Clear Lights
Dress up your foyer or community room with this seven and a half foot tall faux evergreen pre-decorated with 1,000 tiny white lights. Add your favorite seasonal decorations, a tree skirt and wrapped packages for a unique seasonal statement. More than that, the tree is structured to be ASTM, CPSC or even CPSIA compliant. Loving attention has been given to the details so that it has a charming, realistic appearance.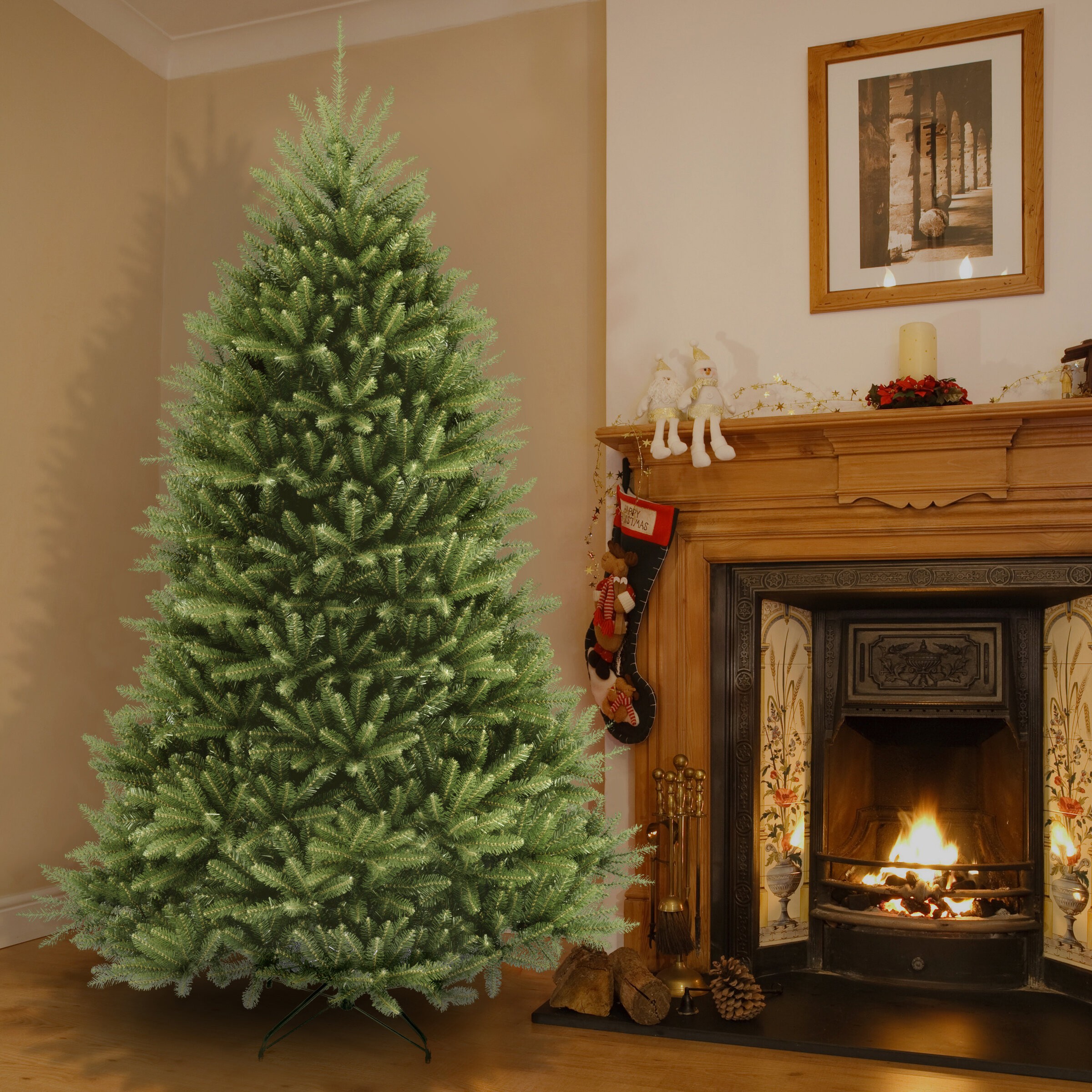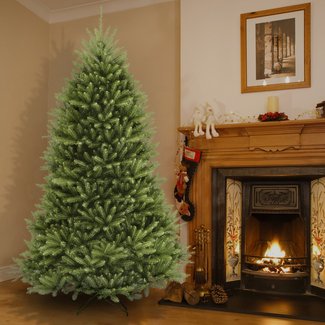 7' Green Fir Artificial Christmas Tree
Cherish the season with this lush artificial fir tree. Designed to look full and lush, the branches might need some positioning when it is first set up. It is fire resistance and hypoallergenic, nor will you be sweeping up any fallen needles from this tree. You can have all the beauty of a fresh forest tree without the mess. Family members and friends with allergies to evergreens will also thank you.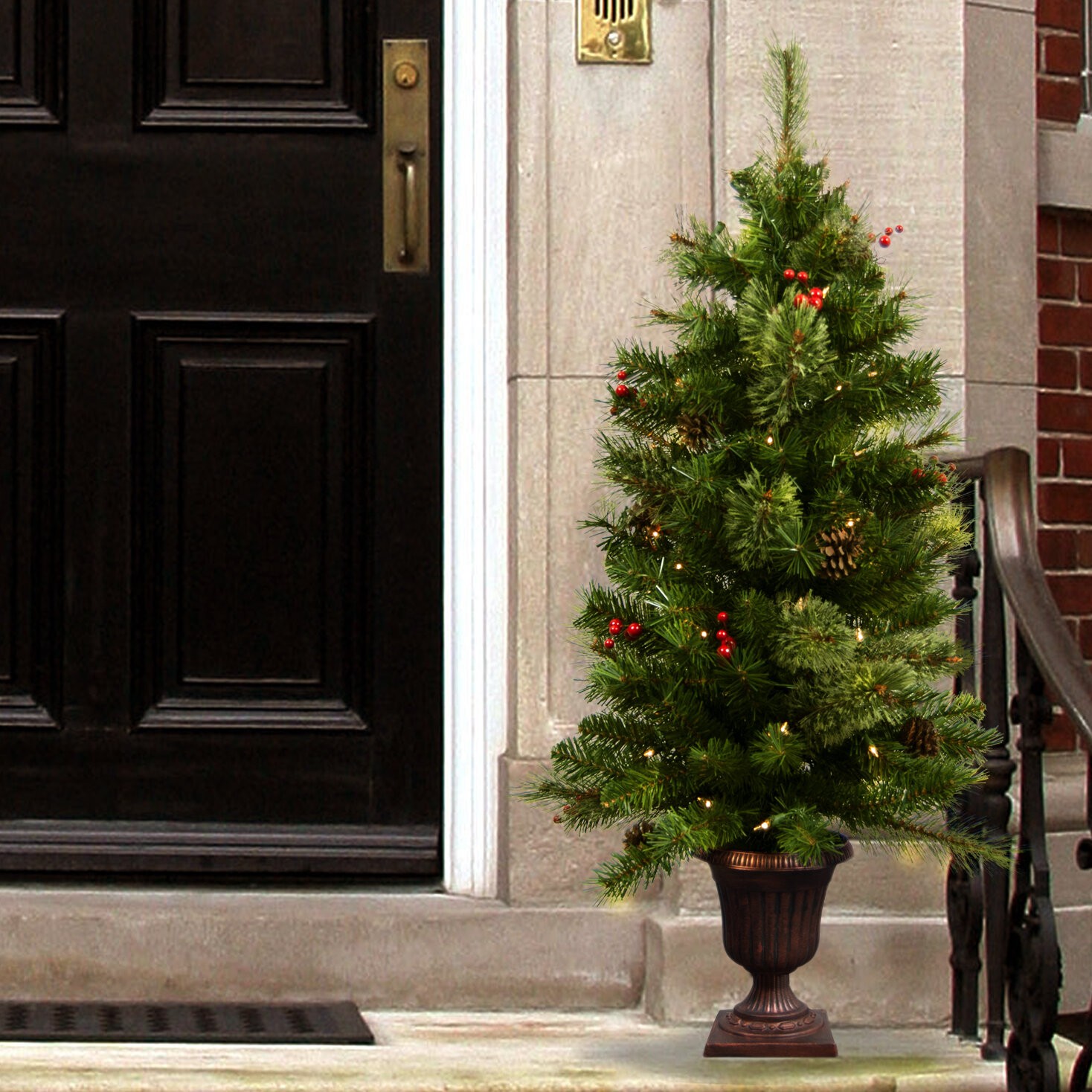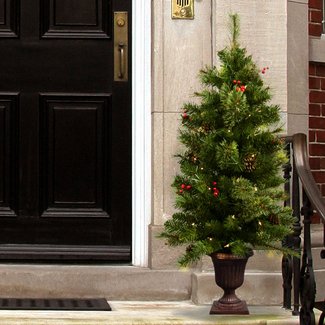 3.5' Green Fir Trees Artificial Christmas Tree with 50 Warm White Lights
Seasonal decorations don't have to be expensive to look good. This 3.5-foot artificial tree with warm white lights is perfect as a window tree or to use to flank either side of an entryway. Add your own decorations to create your own special holiday seasonal touch. Whether you love a colorful tree or one that is more subdued and color-coordinated, this tree will help you personalize your holiday season.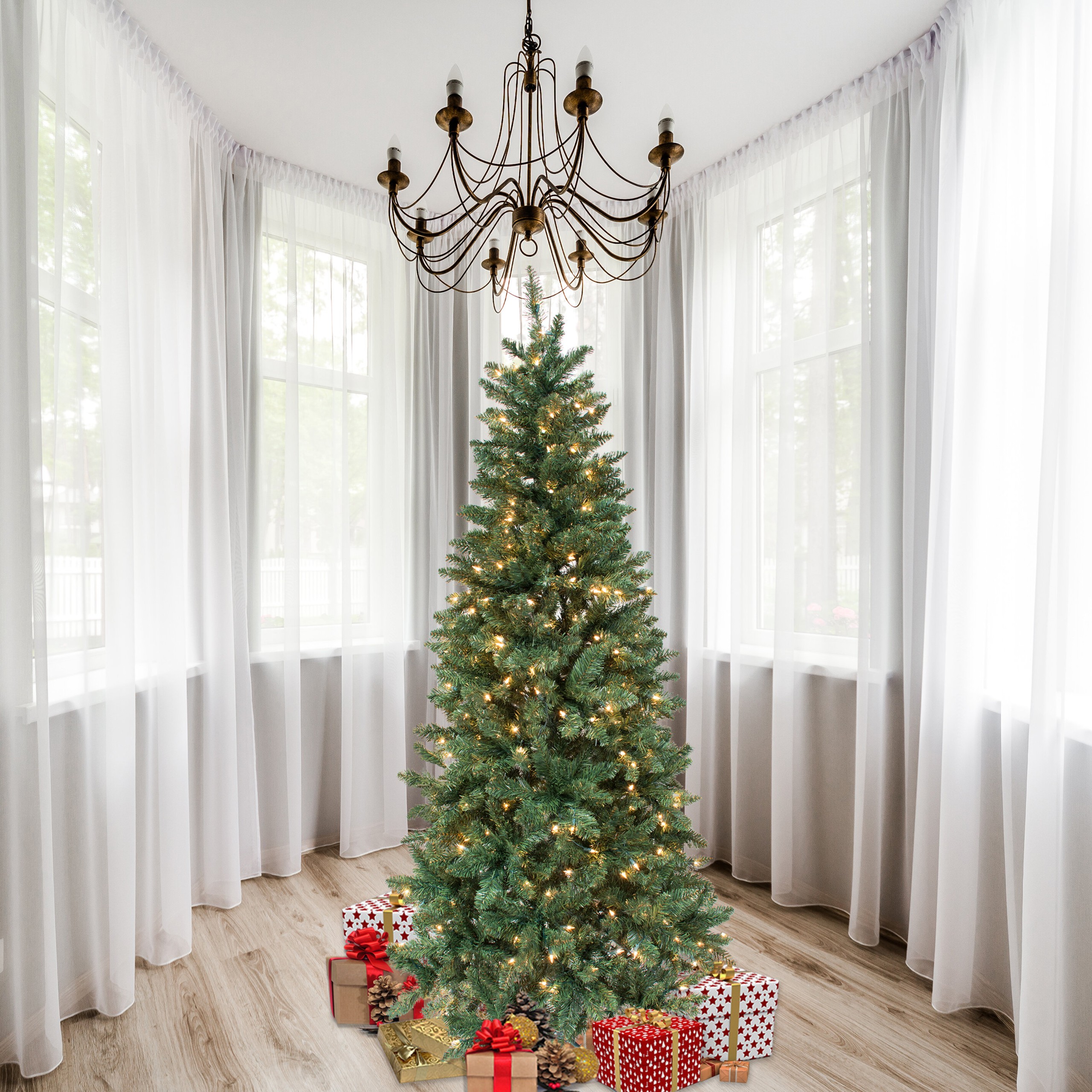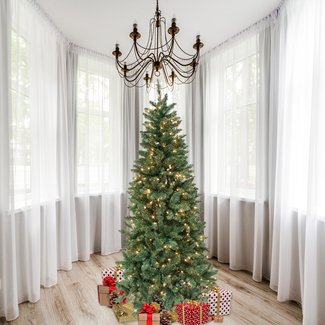 7' Green Douglas Fir Artificial Christmas Tree with 300 Clear Lights
Enhance an alcove, dress up a window or create a focal point for a room with this seven-foot artificial Douglas Fir Christmas tree. It is studded with 300 clear lights, perfect for highlighting special ornaments or for simply adding festive illumination to your tree's decorations. It features 800 branches and tips for a full look. In addition, it is a flame-retardant tree, so you can enjoy the season without fear of becoming a statistic.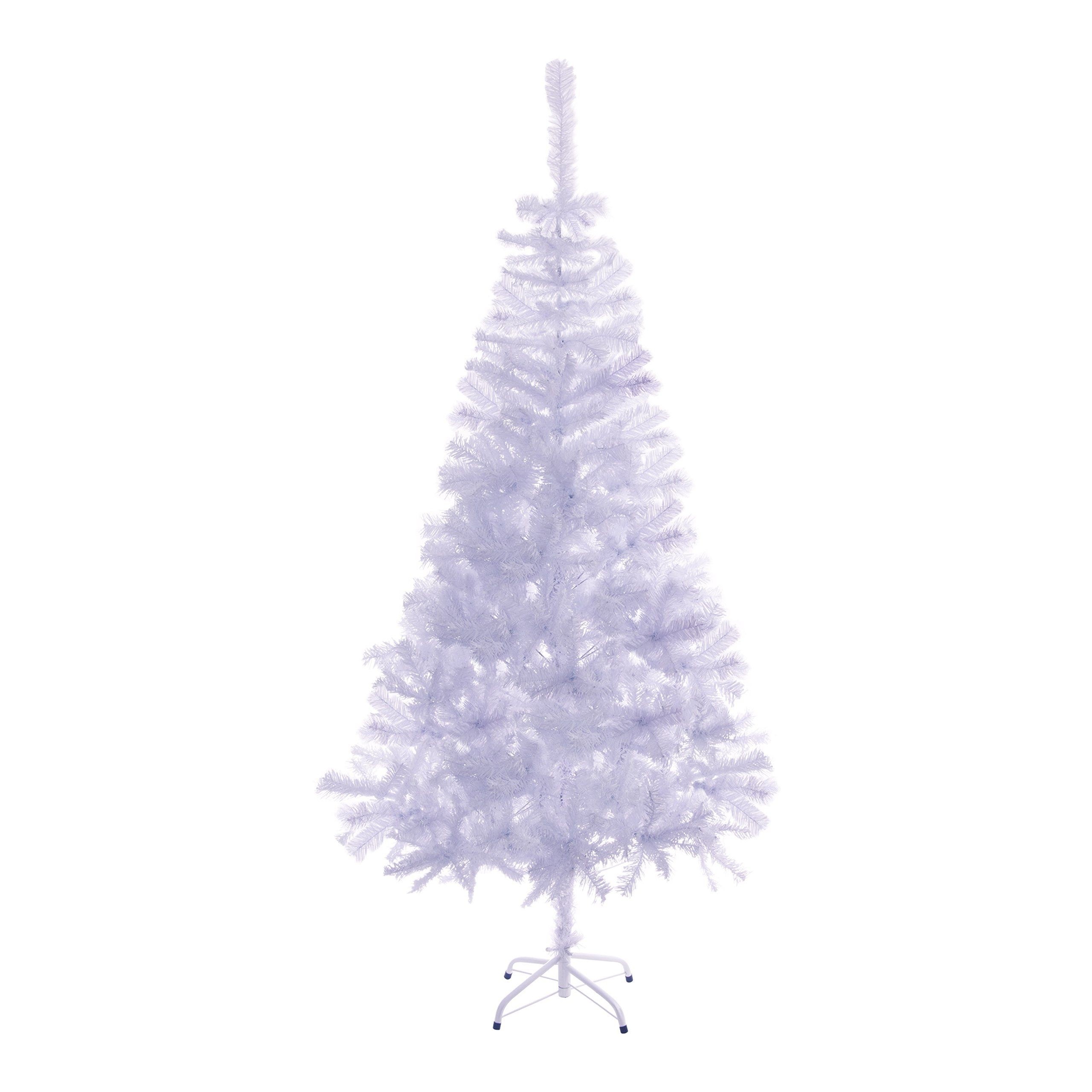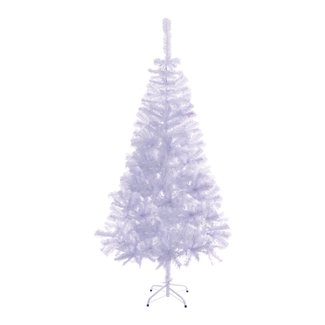 5.6' White Pine Artificial Christmas Tree with Stand
Cultivate a modern look with this completely white artificial pine Christmas tree. Perfect for use with a color projector, or to simulate a tree in a snowy wood without the messy flocking. Add lights, your special ornaments, or develop a color theme to set a particular holiday mood. The tree is five feet eight inches tall, with a three-foot circumference, and shaped like a natural pine. It is a blank canvas waiting for your creative touch.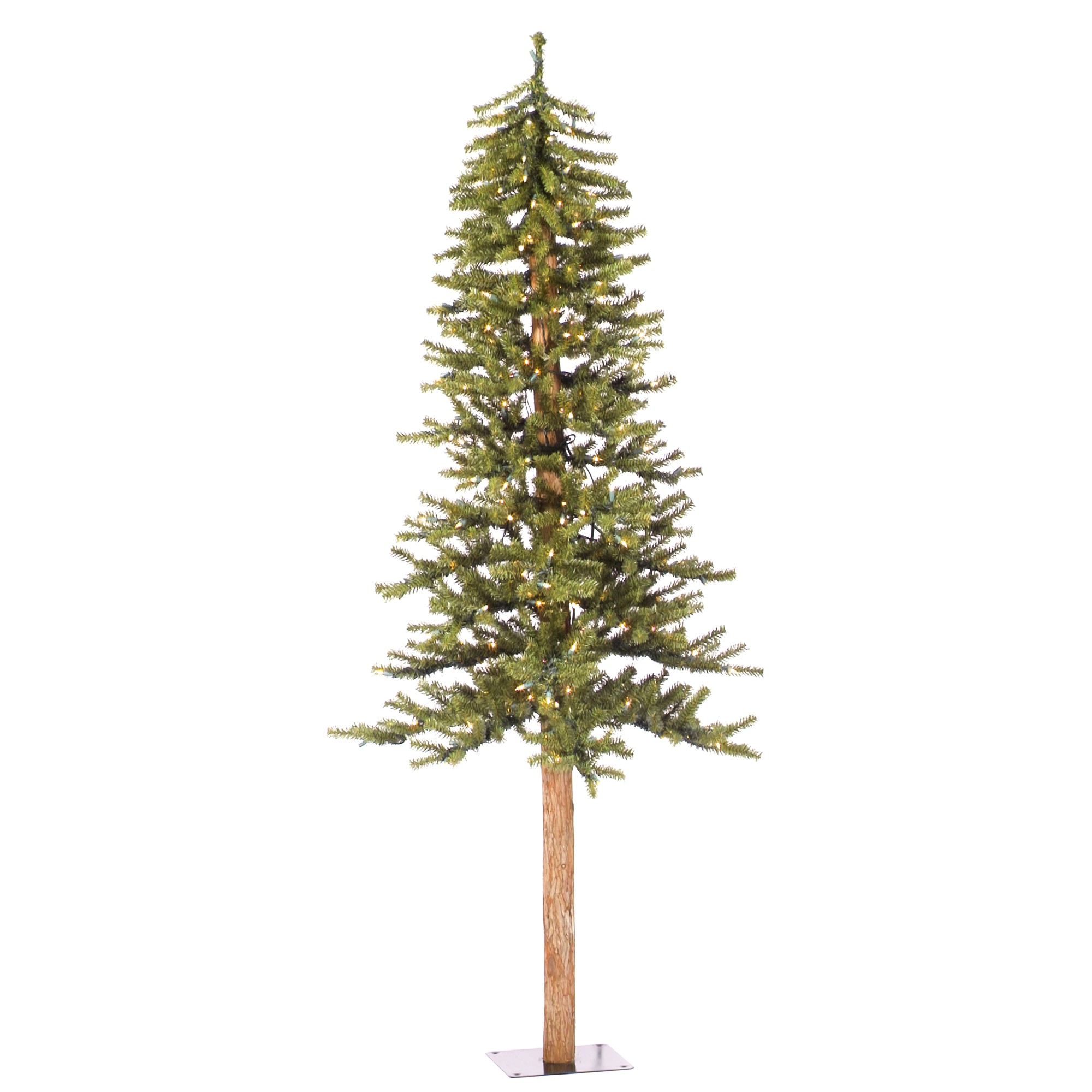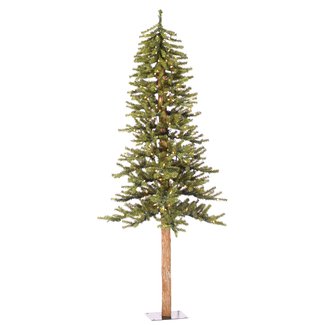 Natural Alpine Green Pine Artificial Christmas Tree with Clear/White Lights
Try something a little different this year with this artificial alpine green tree. The slender trunk holds the branches well away from the floor, helping create a natural deterrent for pets or young children that might try to climb the tree or reach for the ornaments. Frame a doorway with a pair of these, or use one in an area that is somewhat space-challenged. Or just enjoy the unique shape.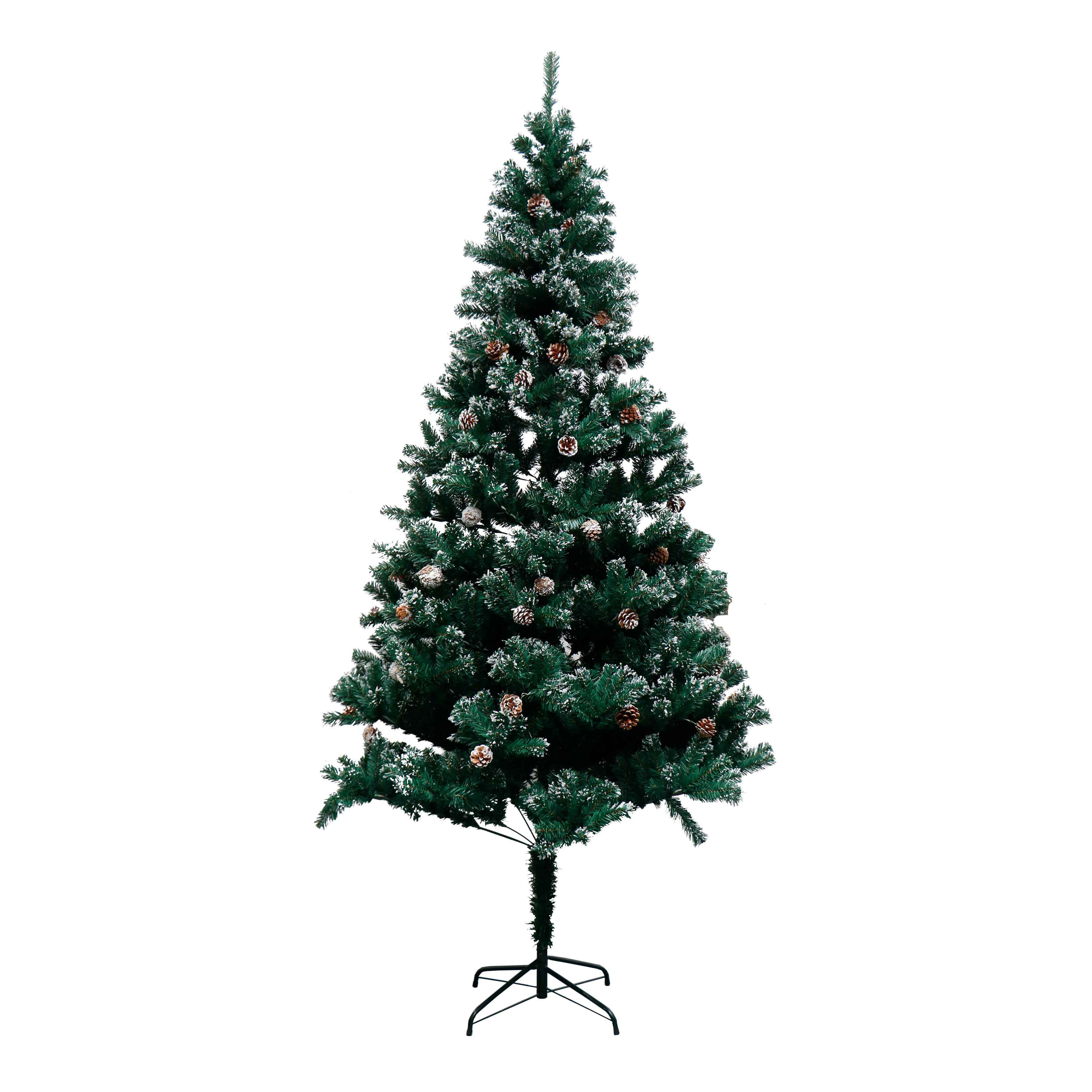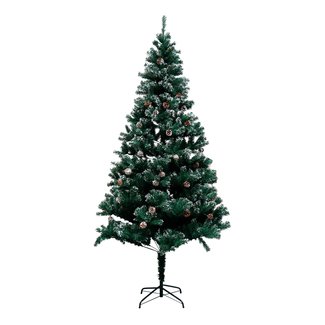 Snow Dusted 8' Green Pine Artificial Christmas Tree
Enjoy the ambient illusion of a white Christmas with this flocked, eight-foot artificial pine tree sitting on a sturdy metal base. Decorate with your favorite string of lights and those special ornaments you've saved from year to year. Or begin anew with themed ornaments of your choice. There are so many options from traditional shiny bright balls to colorful ribbons or even framed miniature pictures of your pets or family. This tree is an excellent choice for a color wheel projector.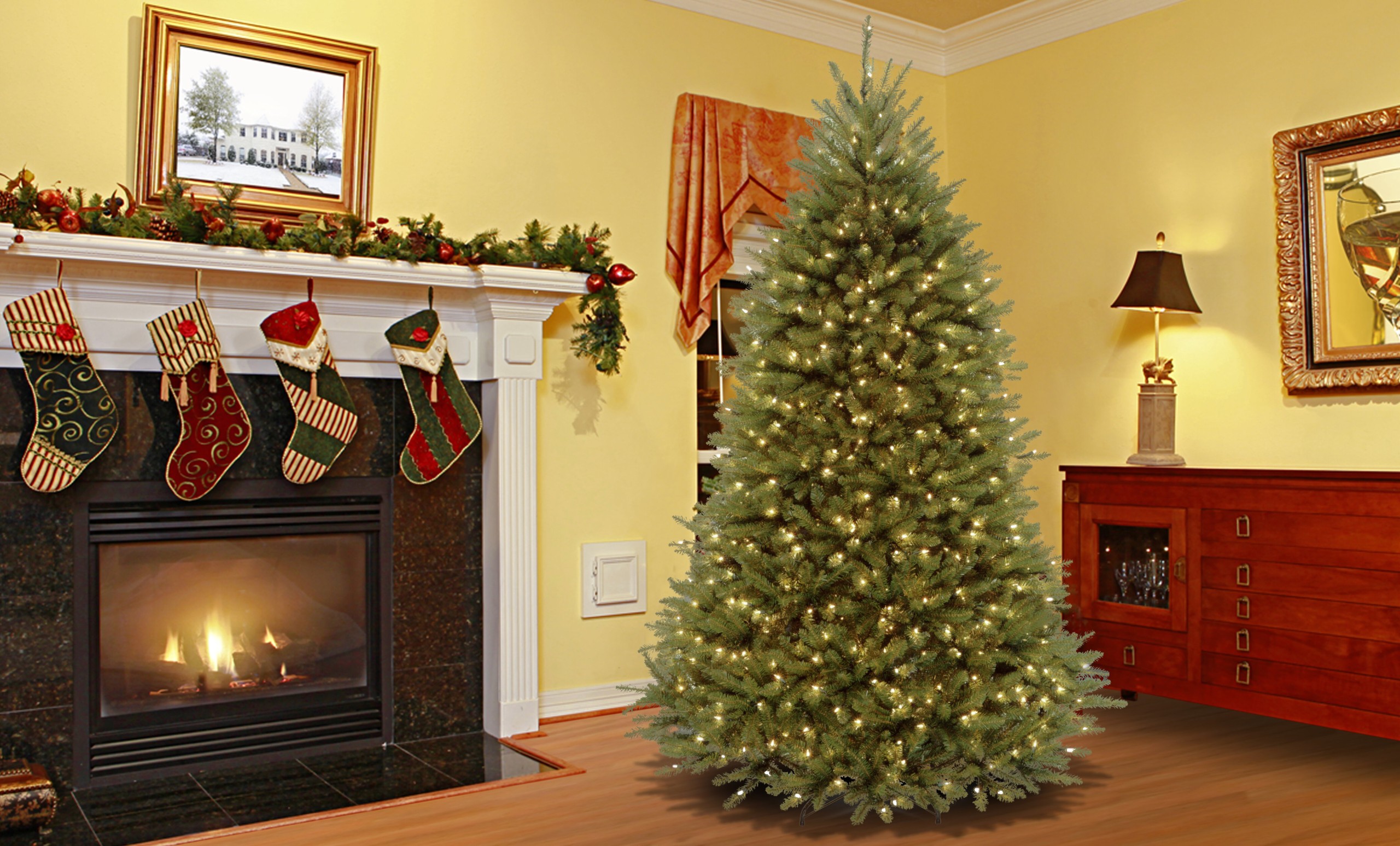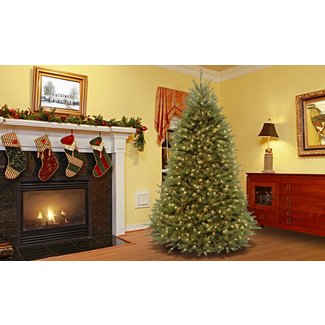 Hinged 7.5' Green Fir Artificial Christmas Tree with 750 Clear/White Lights
Spread the holiday cheer this season with this magnificent and beautiful artificial Christmas tree. It comes with dozens of lights already preinstalled and reaches up to 7.5 feet in height. Its beautiful green lush foliage is supported by a sturdy metal frame, sitting atop a stable base for extra safety. With a total of about 2,514 branch tips and hundreds of light-tone warm incandescent bulbs, the unit strikes an incredibly beautiful appeal that will transform any room.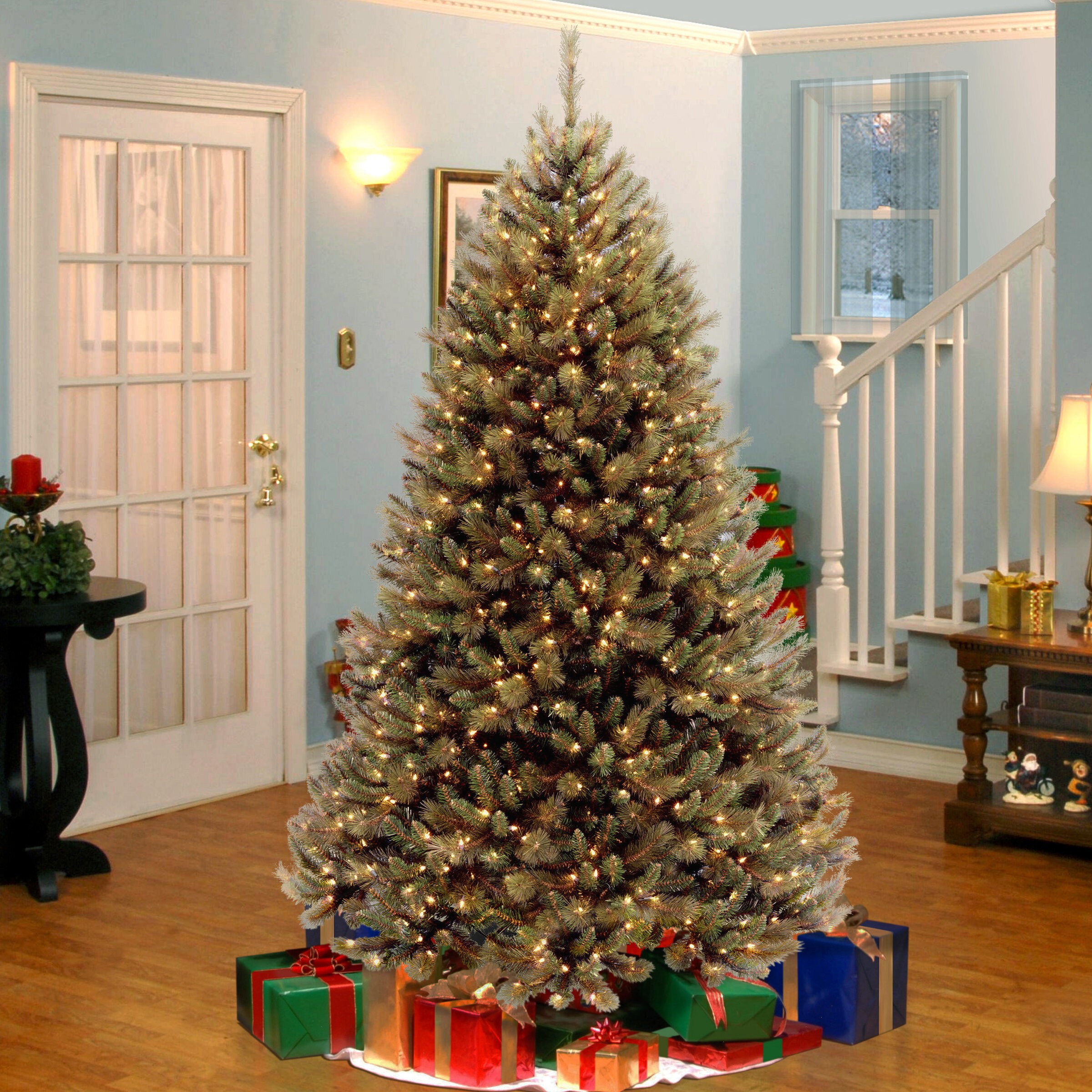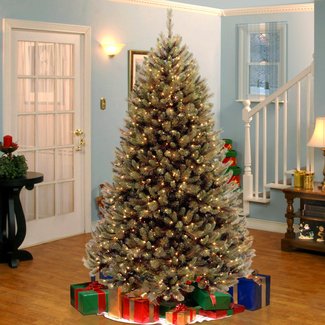 Rocky Ridge 7.5' Green Pine Trees Artificial Christmas Tree with 750 Clear/White Lights
This beautiful Christmas tree comes with lots of branch tips and 750 pre-installed lights. The lights are clear and will remain lit even when the bulb runs out. The tree has a three-section construction and hinged branches for easy setup. It is also relatively compact in terms of width, making it a perfect choice for rooms with limited floor space. The faux tree can be collapsed and put away for storage until next Christmas.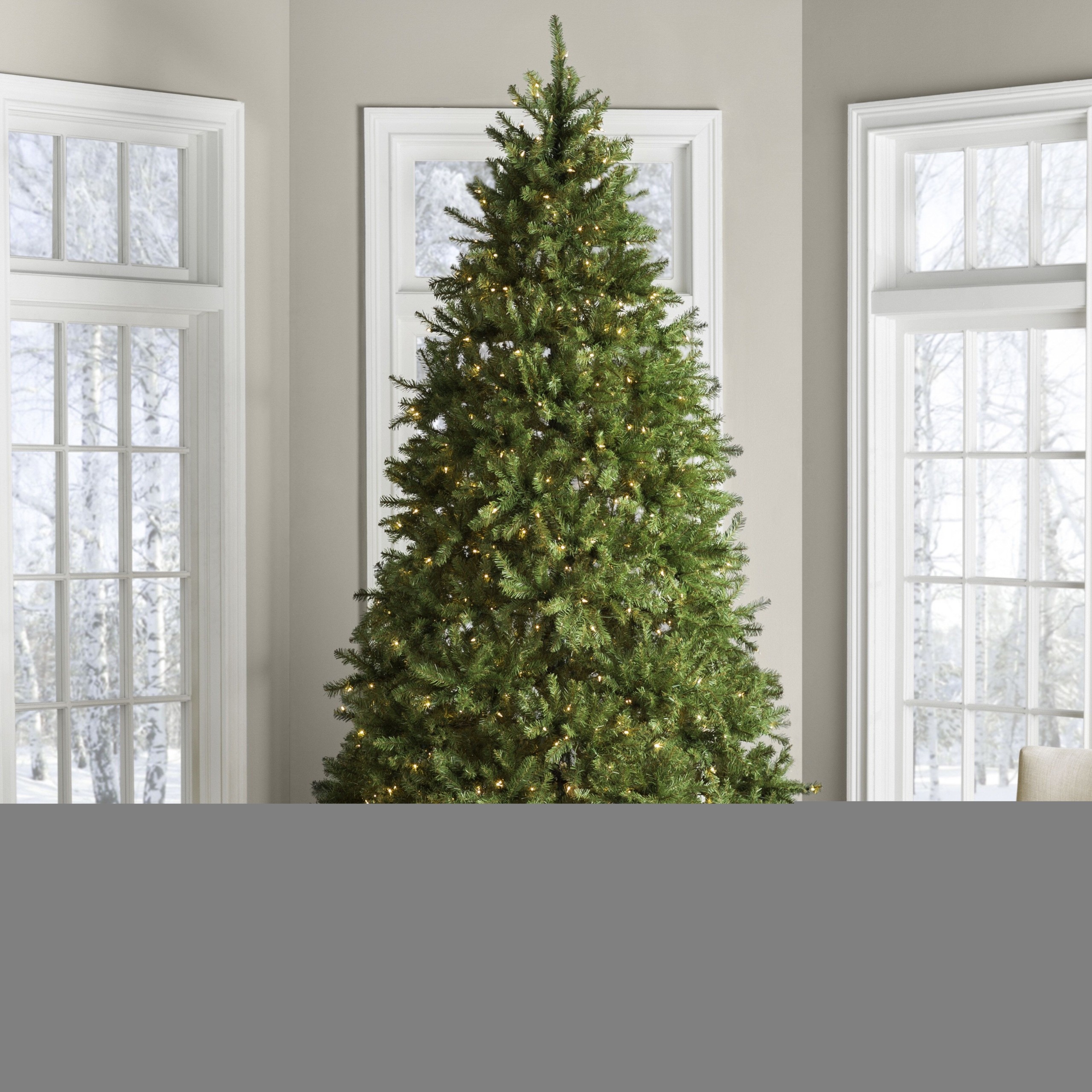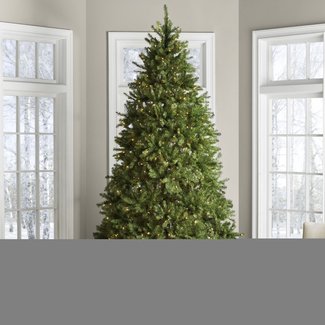 Hinged 9' Green Fir Artificial Christmas Tree with 900 Clear/White Lights
Incredibly beautiful 9-feet Christmas tree featuring beautiful lush branches and hundreds or clear incandescent lights. All the hinges on this unit are constructed from metal for extra durability while the tree itself sits on top of a black metal stand. Although it would be perfect for most spaces, it works best in high ceiling living rooms due to its relatively higher height. You also get up to four assembly sections for easy setup.