Have you ever looked at your garden and thought to yourself, "Look at all those gorgeous weeds"? No? We didn't think so. If you're looking to get a perfectly manicured, covetous garden, it's important to mind the details.
One of the most important (and commonly overlooked) details of a good garden is a well-defined edge. Take it from the pros: the right lawn and garden edging ideas will make your garden life so much better.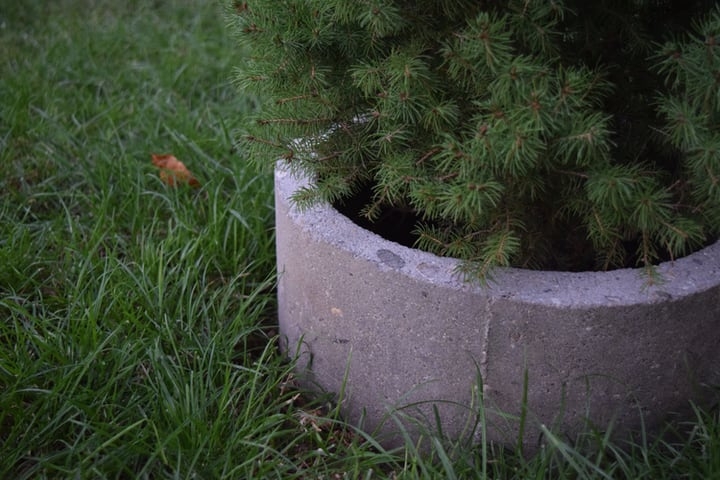 We all know that maintaining a garden can get expensive. But there are lots of budget-friendly garden edging ideas you can try to add style to your garden without breaking the bank.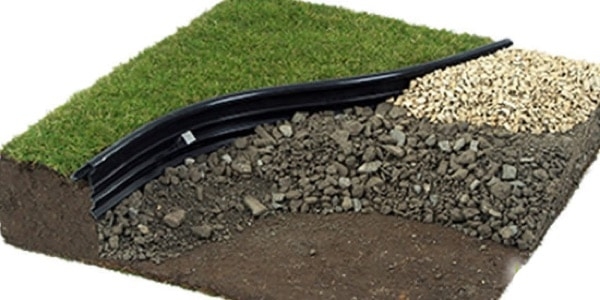 The best part is you're less than a weekend away from completing your landscaping with stunning garden edging ideas.
You've heard that right: most of the ideas we'll share with you don't take all that long to implement. So, are you ready to get started?
Choosing the Right Garden Edging for You
Garden edging is a great way to add personality and edge to your garden. But you need to find the right option for you to get the best results.
Since there are so many different materials you can use, making up your mind can be far from easy--unless you know what you're after.
Taking a bit of time to consider what your garden needs before looking at garden edging ideas can save you a lot of time.
Here's what you need to consider when choosing your edging.
Your Available Space
The amount of space you have plays a big role here.
If you have a small garden, for example, it wouldn't be wise to choose large boulders as edging, as there may be little to no room to fit them around your space.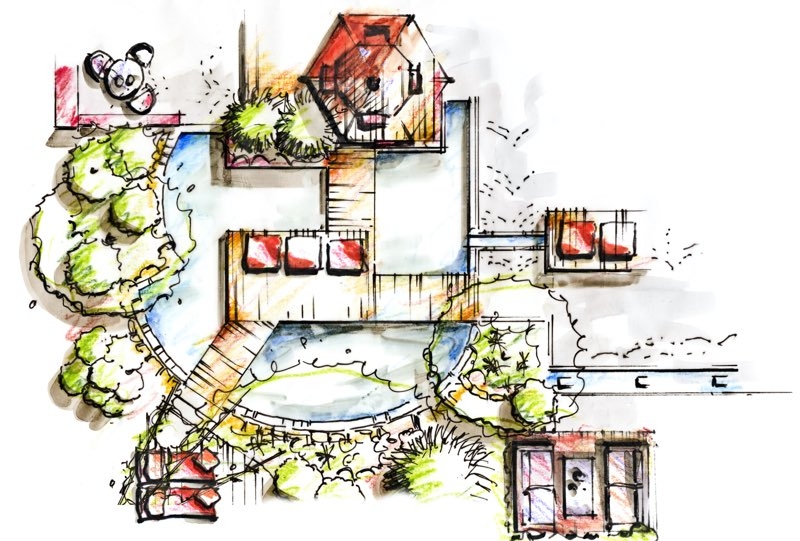 For small gardens, plastic or metal sheeting or even a small brick edging might be more suitable.
If you got plenty of space, there's no reason for you to limit yourself to small garden edging ideas. You can go big with confidence!
Tip: You should draw a small plan or overview of your outdoor backyard space to make it visually better to understand. Expert drawing skills not required!
Your Personality
Gardens are more than just something pretty to look at. They reflect the personality, taste, and style of their owners.
Someone can tell a lot about you just by looking at your garden, perhaps even more so than when looking at your house, since you have more control over your garden design than you may have had over your house design.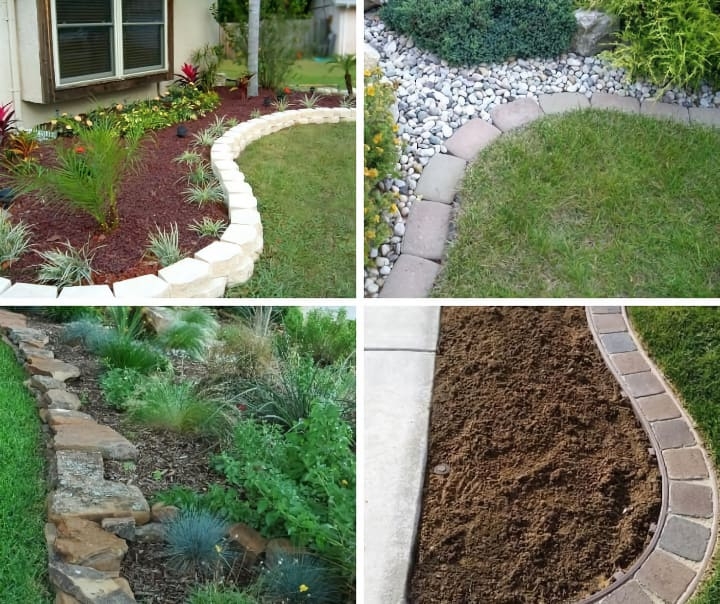 What are we getting at? When looking at garden edging ideas, focus on those that reflect your personality and interests.
For example, if you're a mechanic, you might consider using old hubcaps for your edging. The result can be quite cool!
Next, Plan Your Budget
Set a budget from the start. That way you can narrow down your options and save time.
You want your garden to speak for you, and you want it to be something that you're proud of, but it certainly shouldn't break the bank.
If you have an appetite for the finer things but don't have the budget for them just yet, remember that you can always work in sections.
It's okay for your garden to be a work in progress--all the best of them usually are anyway!
Seek Inspiration
You know what you're after and you have set a budget. That's great! Now you have the right filters in place to find garden edging ideas more easily.
If all the stars have aligned and you're happy with your decision (we know how hard it can be to choose!), it's time to move forward with your project.
We are here to provide you with inspiration and ignite your creativity. So, let's start exploring together the best garden edging ideas we've seen lately.
Types of Garden Edging
Lawn and garden edging ideas can be anything you can dream of.
For instance, it can be a planter bed on one side and some gravel on the other. Or it can be something completely wacky, like the old hubcaps we've mentioned earlier.
Let's start with the most common garden edging types before looking at specific designs.
Strip Edging
Strip edging consists of a shallow plastic or metal barrier that is anchored beneath the ground. This form of garden edging is perfect if you want to create curves.
Tip: Choose plastic if you want to keep the edging affordable and easy. If you're feeling spendy, metal is the most durable edging option you can get for the money.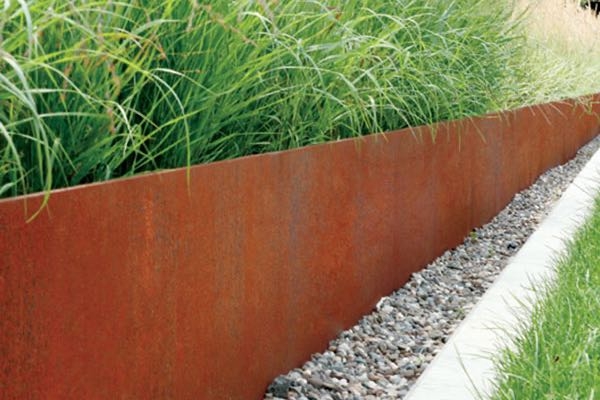 Masonry Edging
Masonry edging is one of our favorite types of garden edging as it's composed of stones, bricks, or concrete that come in lots of different colors, shapes, and sizes.
Don't be afraid to play around with the geometry and linework--your garden should be your own personal work of art.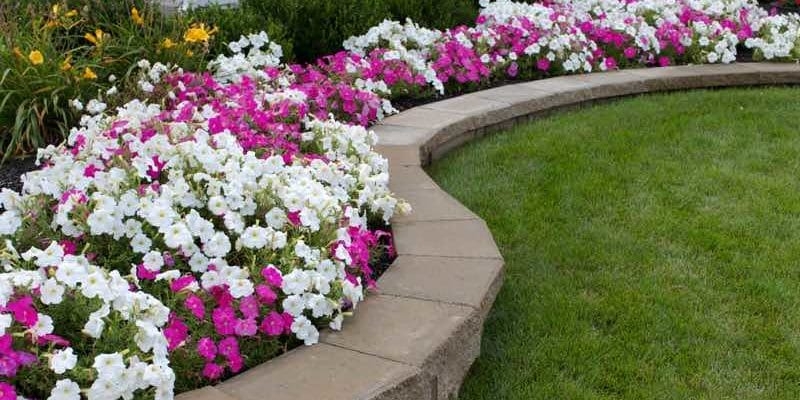 Tip: Do you want to create an easy to install masonry edge? You can get cement edges in pre-formed sections of various shapes and styles. That will save you a lot of trouble!
Wood Edging
We love to feature some wood in our gardens--there's just something about the rustic look that steals our hearts!
Not only because of the look but also because it's a durable and affordable option.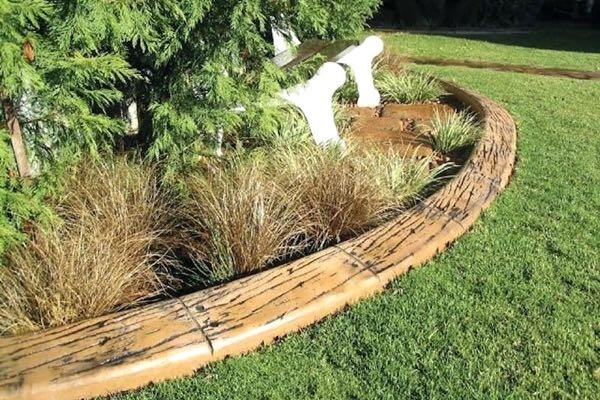 Did you know: Fallen tree branches and logs can be excellent materials for your garden edging.
They also have a special way of adding charm and creativity to any space, which makes them the perfect candidate for your garden
Tip: Using materials that resist rot like cedar, cypress, and redwood to create garden edging is a recipe for success.
Lawn and Garden Edging Ideas and Designs
There are a plethora of styles that you can choose for your garden bordering materials. When choosing a border, be sure to consider your budget, landscape, and sense of style.
Choose the appropriate design, too, since it can add dimension to your landscape.
Get inspired by these awesome beautiful garden edging design ideas!
1.

Gabion Wall Garden Edging

If you want to give your garden a dramatic effect, use a gabion wall for edging.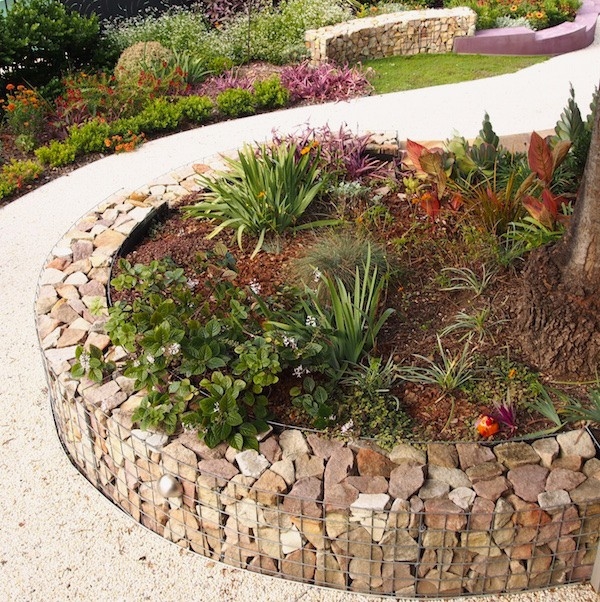 This is a perfect example of masonry edging, using bricks in different shapes and colors to create an edge to divide the plants from the garden path.
2.

Cheap Garden Wood Edging

Wood garden edging is the perfect way to add more personality to your green space.

You can use woods cut in different sizes and, if you like having a colorful garden, even paint them in one or more colors.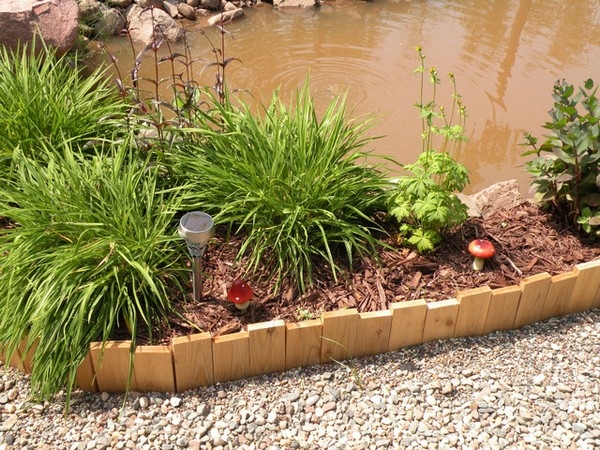 But make sure you follow our recommendation above and go for a durable type of wood to avoid rot and the endless problems that come with it.
3.

Timber Garden Edging

Railway sleepers can also be used vertically in your raised beds. They can add a nice, old-fashioned look to your garden.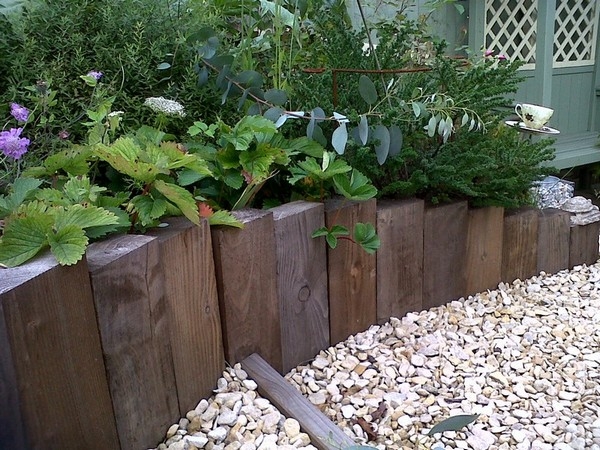 You can use various wood stains to make the edge more colorful or white to create a feng shui garden.
4.

Stone Garden Edging

Big stones can be the perfect edging for your flower garden.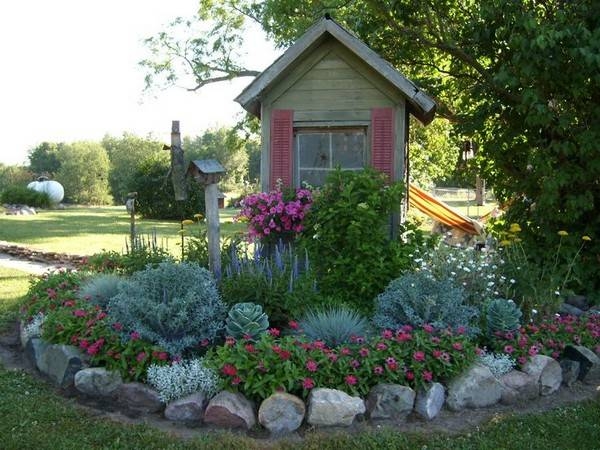 The contrast between the roughness of the stones and the seeming fragility of the flowers can be quite striking and demands immediate attention.
5.

Wooden Sleepers Garden Edging

Sleepers again! The different sizes of the sleepers can do much to make your borders look unique.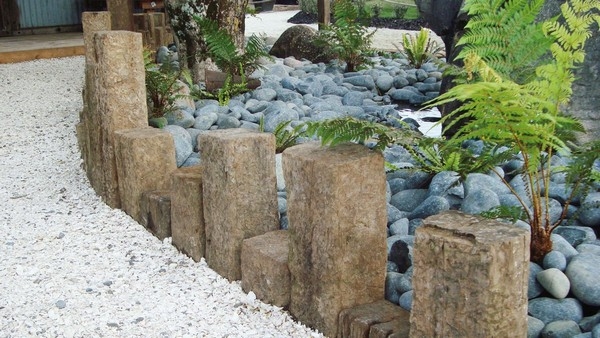 Also, notice how in the example above, earthy colors create different sections in the garden, without making it chaotic or messy.
6.

Terra Cotta Garden Edging

You can show your creativity in bordering your garden beds with terracotta.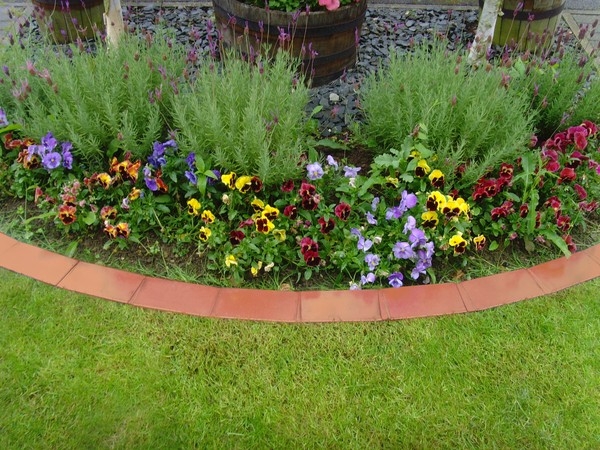 This style of masonry edging proves that you don't have to spend a fortune to have a striking garden edging in your yard.
7.

DIY Garden Edging

The name of the game? Use your imagination and be creative. When woven wood is used as a garden edge, it can create a beautiful and nuanced effect.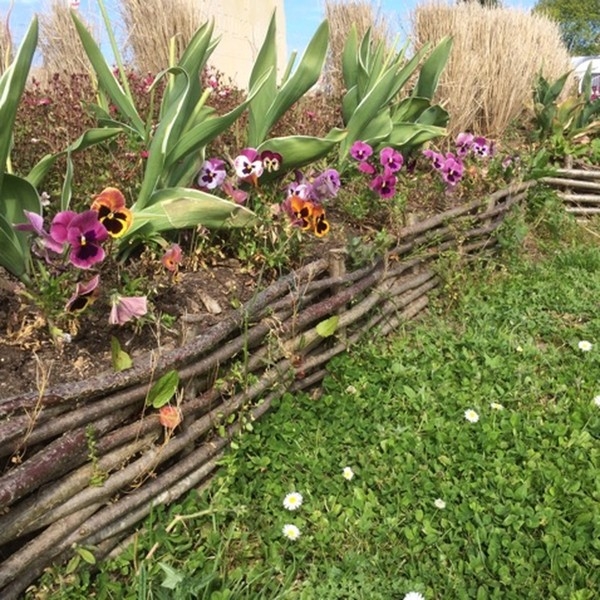 Tip: For an old-fashioned and rustic look, use natural logs, even if you have to pay extra.
8.

Wide Concrete Garden Edging

Concrete in your garden? Why not? It's one of the most trendy garden edging ideas we've seen recently.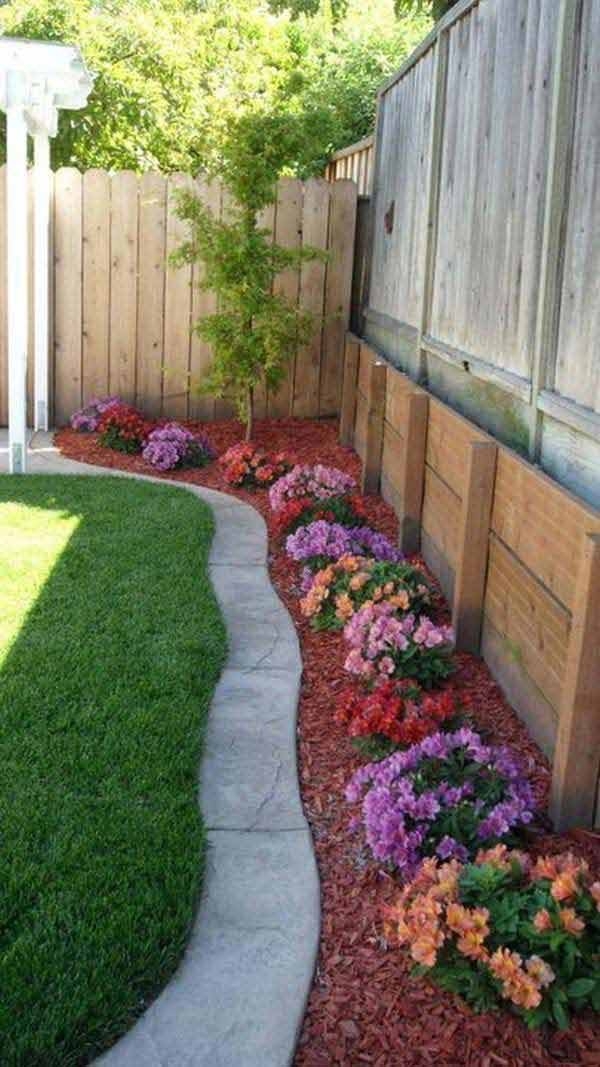 Using wide concrete for your edging can make your garden look sharp. Choose colors that contrast the mulch in your flower bed for a winning look.
9.

Wooden Garden Edging

Wooden raised beds can make your plants look better than ever. What's more, they add a nice feel to your green patch.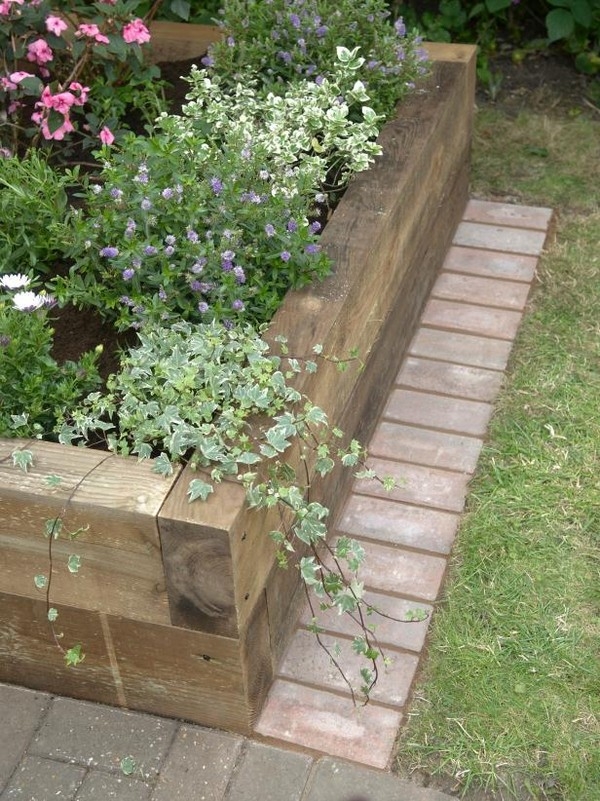 Wooden garden edging ideas are also great for keeping out pests like rabbits and moles.
10.

Curved Garden Edging

Upcycling is all the rager in the garden community today. This example of strip edging makes it apparent that you can make almost anything work as long as you let your creativity flow.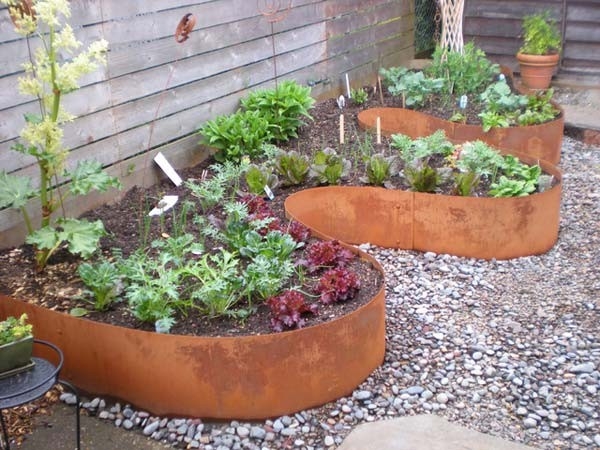 Who would have thought that old rusty sheet metal could look so...cool?
11.

Border Garden Edging

These metal borders keep your garden tight and perfectly separates it from the areas around it. You don't see this take on edging all that often.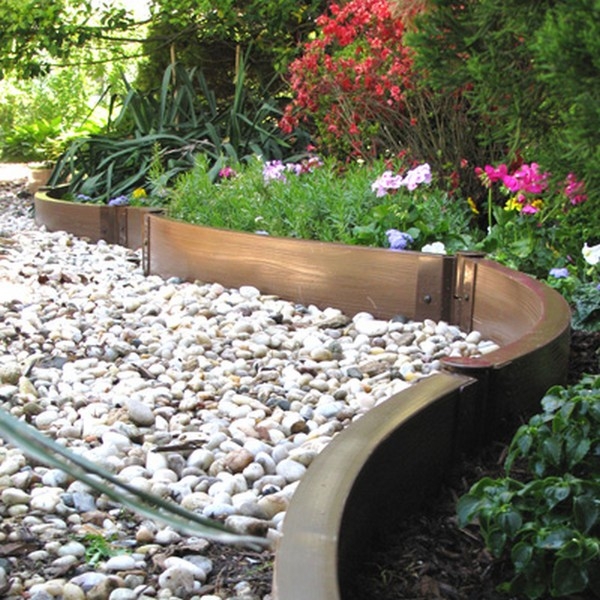 The metal details in this example have us absolutely swooning!
12.

Fallen Log Garden Edging

Logs are one of the best and the cheapest edging for your garden bed.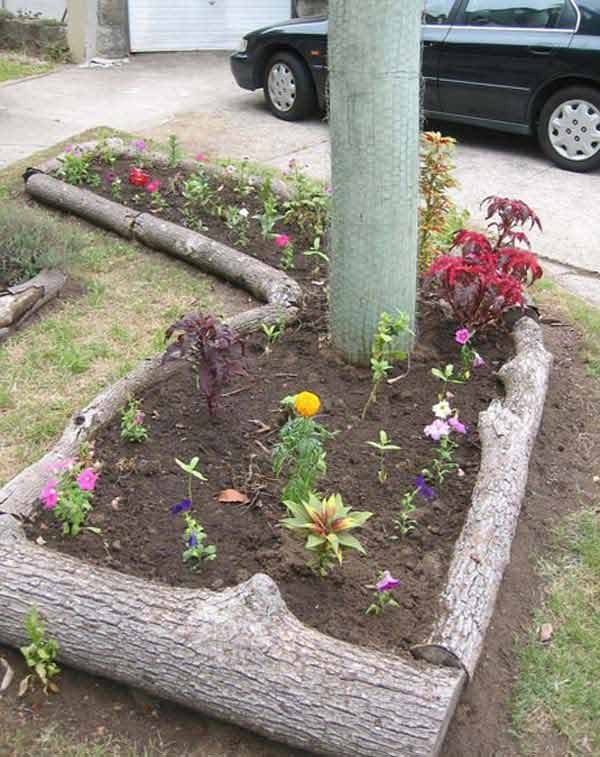 You can lay them out vertically or horizontally to give a natural and simple look to your garden.
13.

Tall Log Garden Edging

If you're growing tall plants in your garden, edging can emphasize the look you're going for. This example uses tree logs, which is a wonderful option for gardeners on a budget.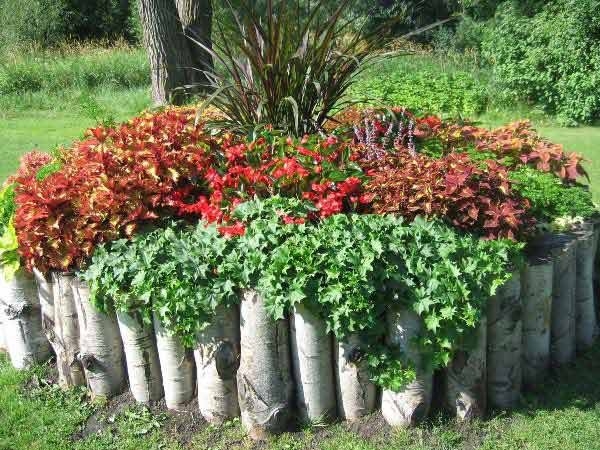 With a bit of time and effort, you can make an appealing edge from the happy combination of logs and plants.
14.

Palisade Garden Edging

Palisade adds color and texture to your garden. Our favorite thing about this option is the freedom you have to create different looks with it.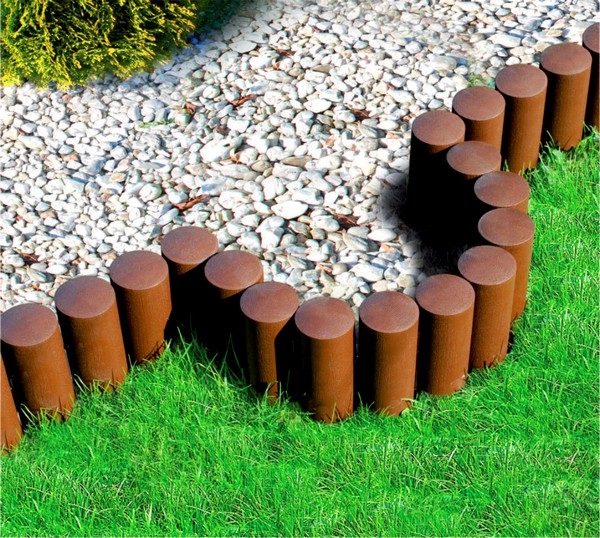 Play around with the linework to see how you can go from whimsical to strong and back.
15.

Neutral Brick Edging

Brick edging is a cheap way to edge your garden, and it really pays off visually.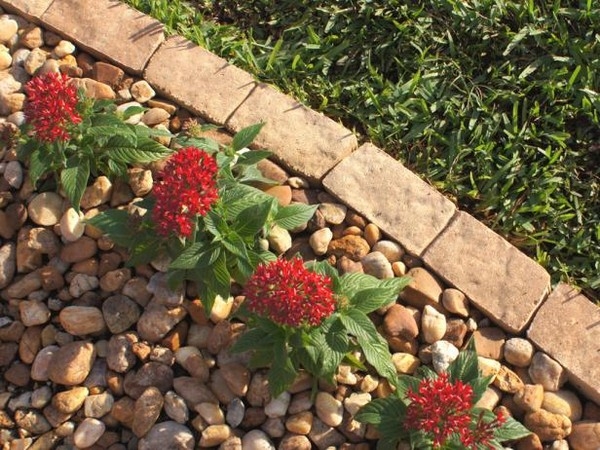 We love how in this example the edging complements the colors of the stones in the flowerbed.
16.

Brick Border Landscape Edgin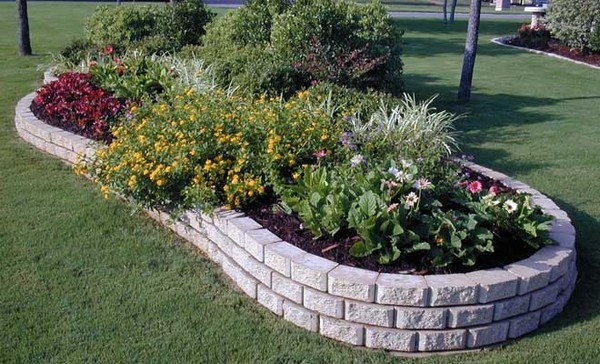 This brick border divides the flowers from the lawn and helps them to stand out.
17.

Metal Garden Edging

This simple metal lawn edging provides nice clean lines and is a perfect divider for your flower bed!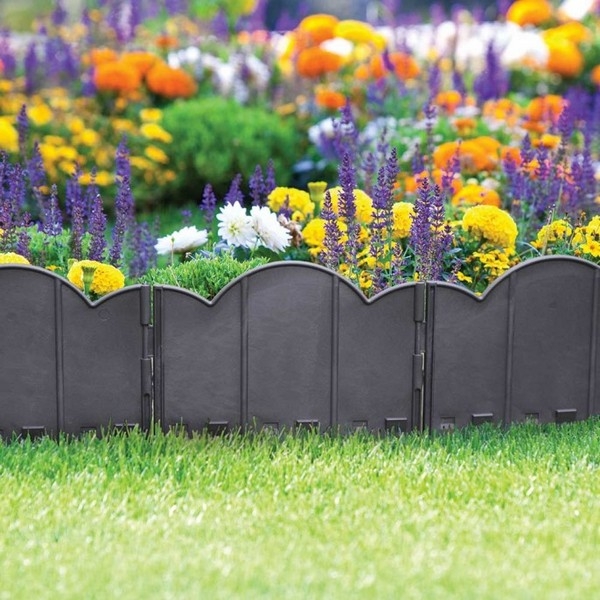 You don't have to worry about rot or UV damage, either. Metal edging is one of the most durable around!
18.

Natural Stone Border Edging

We think it's best to avoid sudden or radical changes in garden design and landscaping as much as possible because they can unbalance the relation between the different design elements.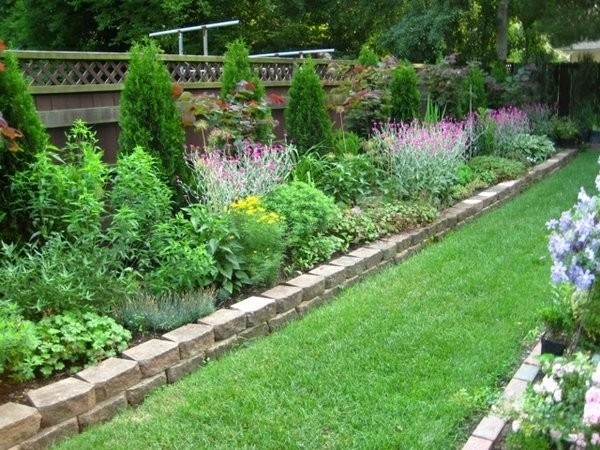 This natural stone border is a perfect lawn edging idea if you want to keep your garden "neutral" but in the best sense of the word possible.
19.

Geometric Brick Edging

Using bricks for your edging provides a sharply defined border. It's true that this approach requires more work than others, but the timeless look pays off, don't you think?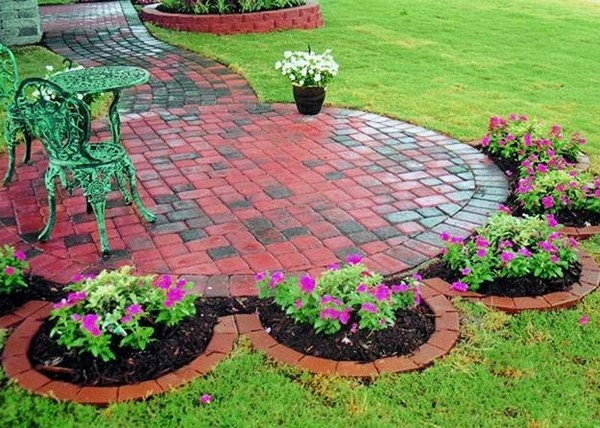 The example above is just one take on brick garden edging ideas. Let your imagination soar!
20.

Patio Bricks Edging

Patio bricks are meant to add a nice touch to any outdoor area, so why not use them in your garden?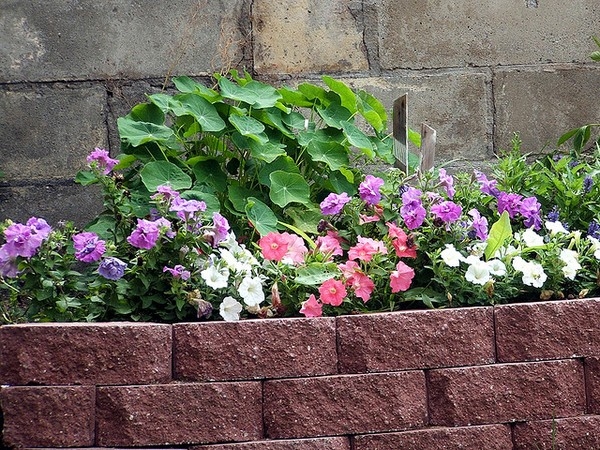 The texture these add under the softness of the flowers will have all the guests to your garden talking!
21.

Simple Landscape Sandstone Edging

Sandstone edging is a gorgeous way to emphasize the plants in your garden.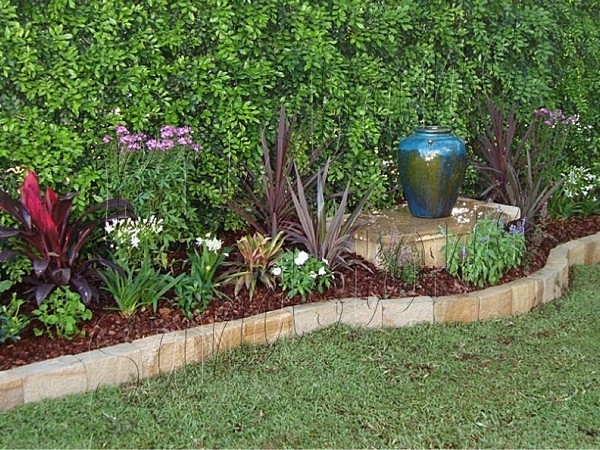 It's a neutral shade, so it doesn't call undue attention to itself but it still adds that defined edge that makes the whole garden look fresh and clean.
22.

Brick Lawn Edging Ideas

Some of the most visually stunning lawns and gardens don't follow a straight line.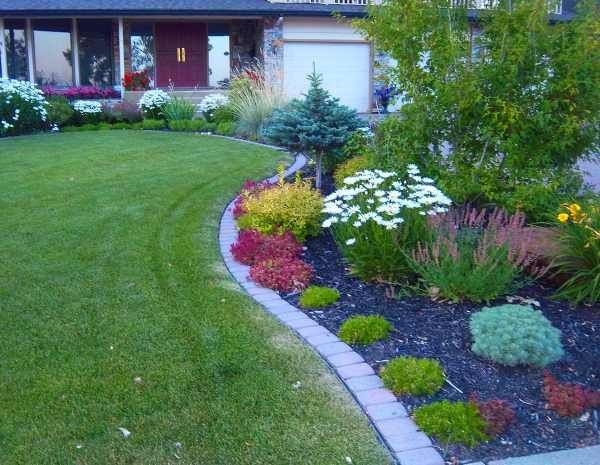 Even if you're using non-flexible materials like bricks to edge your garden, you can still create a curved edge. The example above highlights the point well and is not hard to pull off, either.
23.

Seashell Garden Edging

Looking for something out of the ordinary? Line up clam shells to create a beautiful border for your flower garden.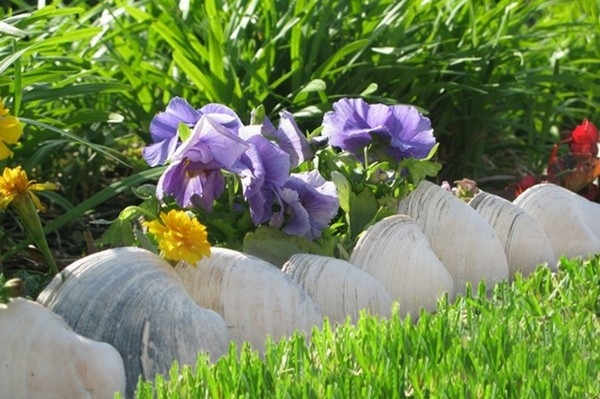 Large seashells can create a unique contrast with the grass and leafy greenery. You can also crush the shells if you want a rock garden effect.
By the way, did you know that the patterns of sea shells aren't random?
24.

Double Brick Garden Edging

You've seen how bricks can be used both horizontally and vertically to edge your garden.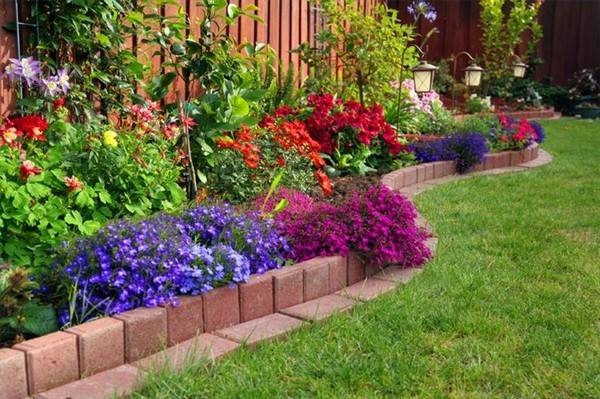 Combining the two techniques really takes the edge to a different level, though!
25.

Tire Rim Garden Edging

You must have seen this one coming, right? Whether or not you like cars, this wacky take on garden edging can add a unique touch to your garden.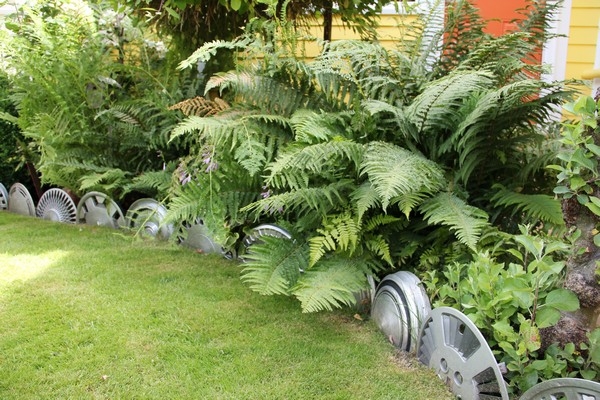 The result? A memorable garden that you can be proud of.
26.

PVC Strip Garden Edging

PVC garden edging is an inexpensive, easily accessible choice that still packs a punch.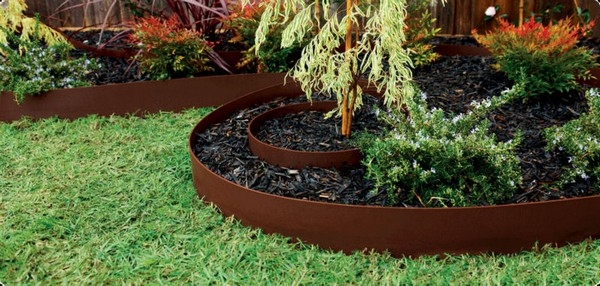 Remember, it's not always about finances, you can still create something amazing for just a few dollars.
27.

Glass Bottle Garden Edging

You can use your old wine bottles for garden and lawn edging. Just turn them upside down and line them up.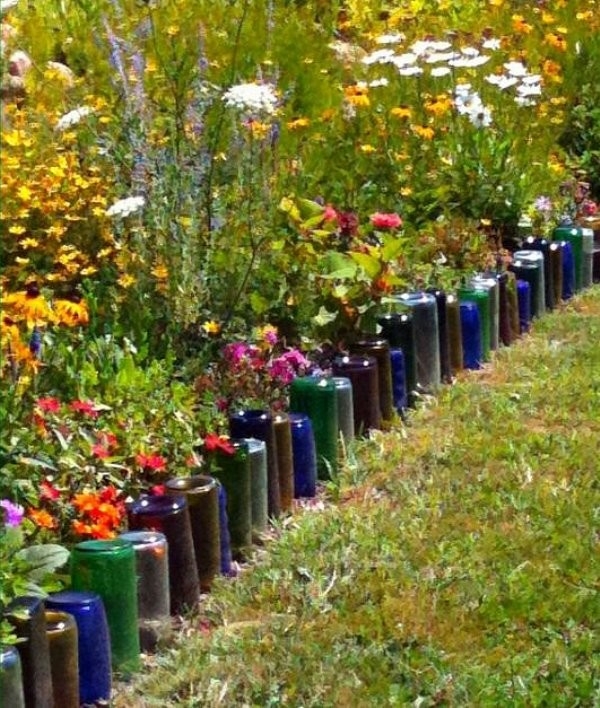 This is one of the most inexpensive and creative garden edging ideas on our list and it can create quite a striking effect.
28.

Flat Rock Lawn Edging

Rock edging can transform your garden and draw attention to the flowers and the other plants you grow.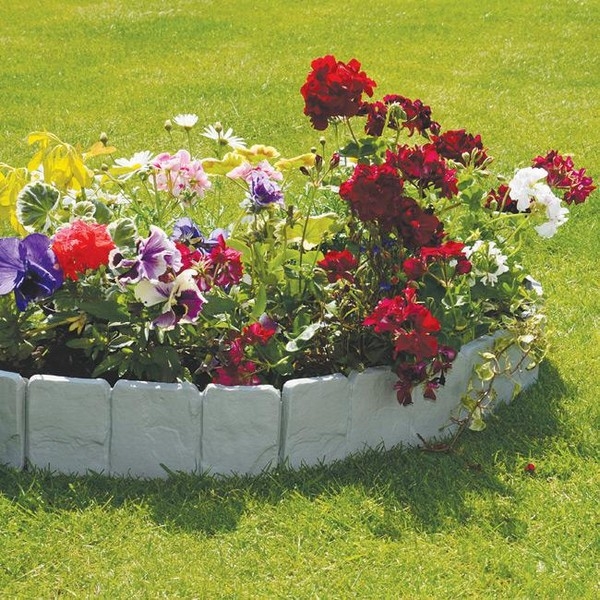 These rocks are painted silver-white to give them a unique touch. But you can choose other landscaping rocks--lots of options really!
29.

Plastic Garden Edging

Plastic edging can define the border of your garden. It's also one of the low-cost garden edging ideas that you can add to most types of gardens.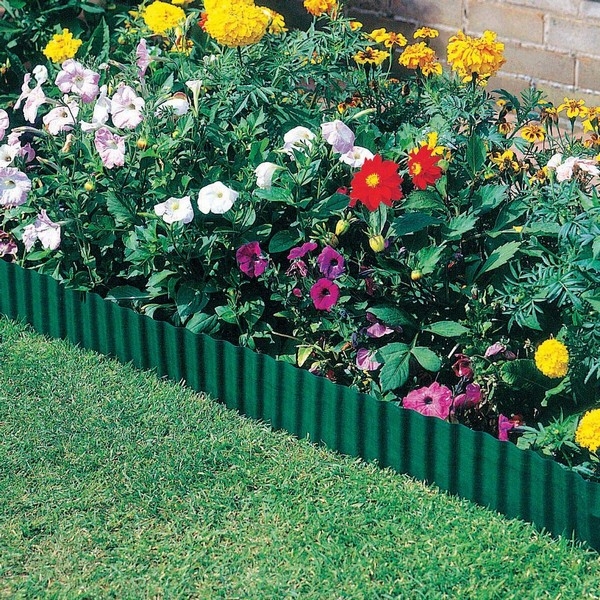 The scalloped effect you see here adds a little extra "oomph" that can make the difference between boring and nice.
30.

Recycled Material Garden Edging

You don't have to spend too much on garden edging. In fact, you can use recycled materials--anything you can think of really.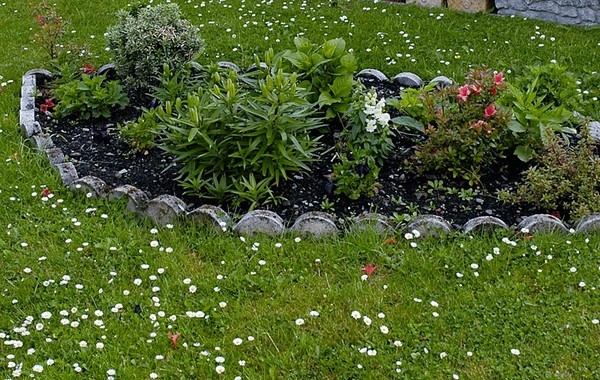 More than helping reduce waste, you'll add a unique touch to your garden. From what we're seeing, garden edging ideas using recycled materials are trending.
31.

Garden Bed with Stone Edging

Stones can decorate your garden and they can also create edging for your garden bed.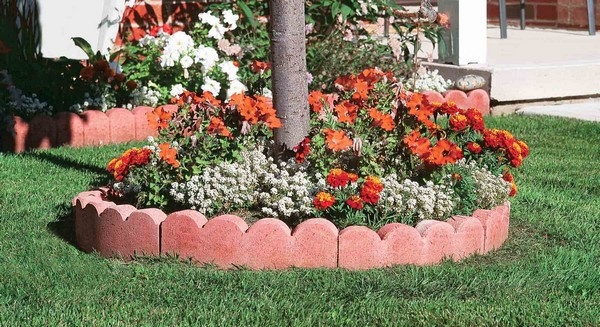 This garden edging option is sold ready-made, so its perfect for anyone with a busy schedule.
32.

Stacked Stone Garden Edging

Make your herb garden neat and secure by using stacked brick edging.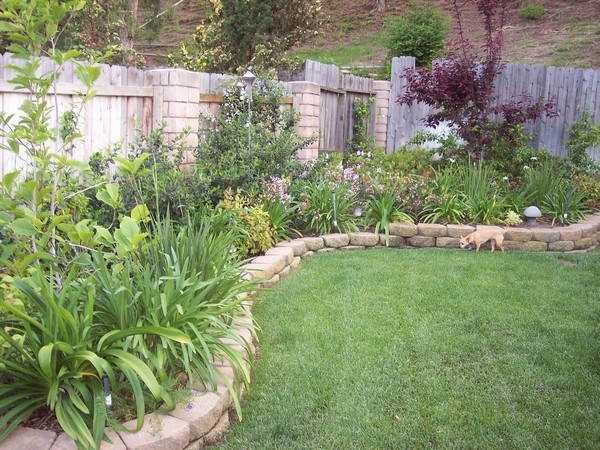 Stack the bricks up for a neat effect that leaves quite an impression.
33.

Elegant Brick Lawn Edging

Who said bricks had to be rough and rustic? Smooth bricks can make for one of the most elegant garden edging ideas around.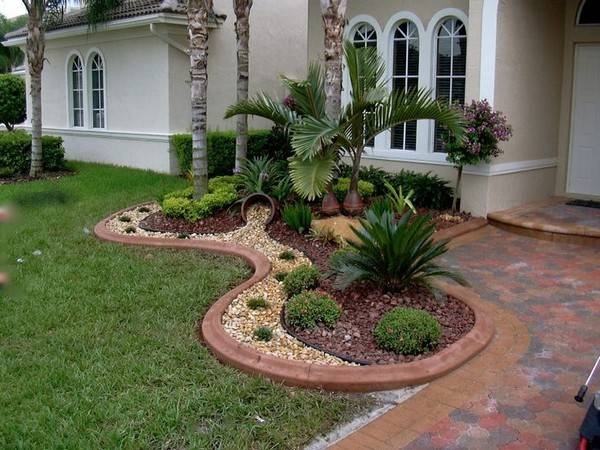 Tip: Use smooth brick edging to divide a big yard. You can separate the area for plants, water features, and entertainments.
34.

Wattle Garden Edging

Wattle garden edging can define your garden and add a country flair to it--without the expense of more costly types of edging.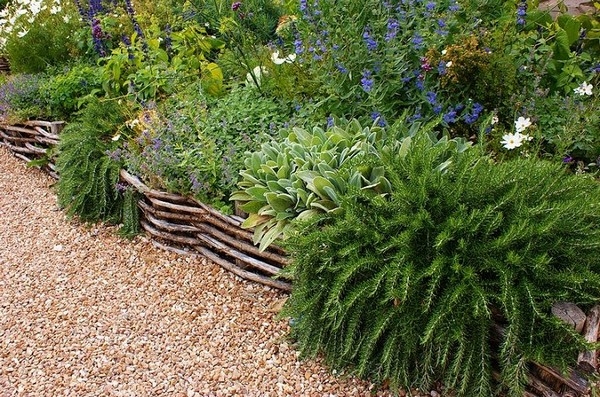 Tip: Remember, mixing textures is always a great idea, no matter what!
35.

Trash Bag Garden Edging

You probably didn't see this one coming, did you?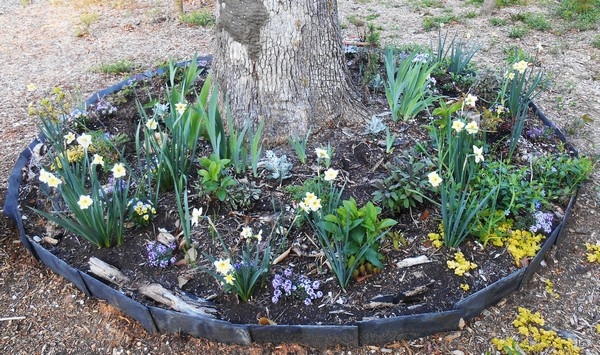 There are a lot of ready-to-use products that you can use in garden edging. However, if you want to be creative, then you can start using all sorts of materials, including, yes, trash cans!
36.

Mounted Brick Garden Edging

Bricks are water-resistant and provide a timeless appeal to your garden. It can also go well with almost all surroundings.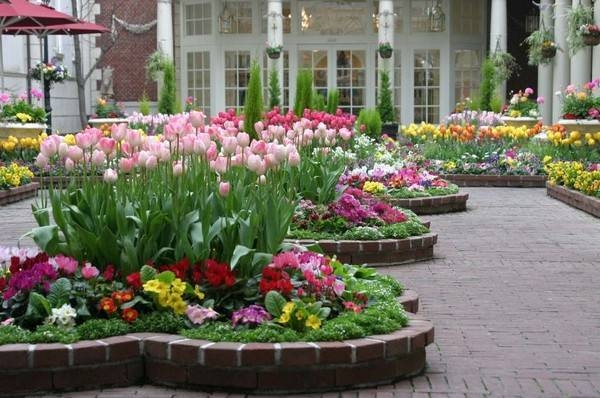 Mounted bricks in particular is one of the most timeless garden edging ideas you can opt for.
37.

Concrete Lawn Edging Ideas

This is a lovely rock border, don't you agree? It's simple and looks just great.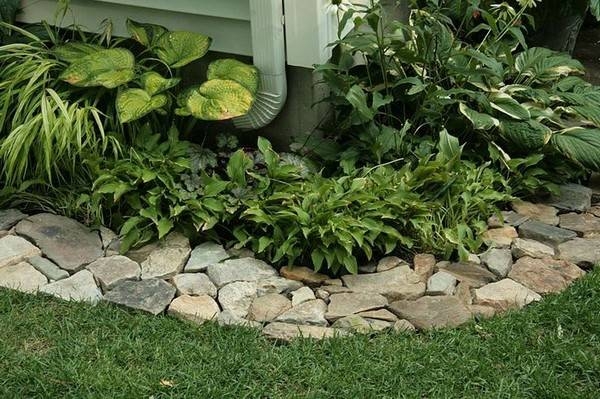 Tip: You can also place a weed blocking material such as a cardboard or a newspaper under the rocks if you have a weed problem in your garden.
The Best Lawn Edges
You can create your own edging from leftover wood or other materials you may find in your home. But you can also buy lawn edge for your garden.
Buying a ready-made edge is a quick way to revamp your garden without breaking a sweat. But you want to choose quality.
Important: A high-quality lawn edge can help you prevent the spread of grass and weeds into your garden or flower bed.
You wouldn't want that to happen because they would take water and nutrient resources from the plants you grow.
When shopping for lawn or garden edging, consider the material, durability, ease of installation, and safety and not just the shapes, sizes, and patterns.
Based on all these factors, here are some of the best lawn edges that can help you edge your garden without stress and without compromises.
[amazon bestseller="lawn edging" items="5"]
The Best Lawn Edgers
What is a lawn edger anyway? A lawn edger is a tool with sharp blades that can cut a tiny gap between two areas you want to separate.
Trust us when we say that gardeners who have a lawn edger have an easier life.
They are designed to make neat edges and distinct boundaries between plant beds, fences, walkways, patios, driveways, or rock gardens.
To save you time, here are some of the best lawn edgers you can get.
[amazon bestseller="lawn edger" items="5"]
If you're serious about your garden edging (and we see no reason why you shouldn't), invest in one of these edgers. Not even the best lawnmowers or most sophisticated robotic lawnmowers can help you get similar results.
Frequently Asked Garden Edging Questions
Garden edging is a tricky job for many people. That's because they either haven't done it before or because they just don't have the right tools for it.
With so many different options available, it can be difficult to know which way to turn. Here are a few commonly asked questions to help steer you in the right direction.
Time to Add an Edge to Your Garden?
Garden edging doesn't have to be boring. And it doesn't have to add a lot to your gardening expenses, either.
We hope the garden edging ideas we shared with you have shown you that the potential for creating wonderful edging is endless!
You can look for recycled materials around your house or yard and get really creative. While you're at it, you may also want to explore landscaping ideas and garden design ideas.
We would love to hear about your progress on this one and see your finished garden edges, so please share it with us. Drop us a comment or reach us through email.