Curious to see what we bring to the table this time? Well, here's a bit of rosemary, some thyme, a couple of mint leaves, parsley, and some sage. Quite literally. Yes, you got it—we're talking about a herb garden as your next project.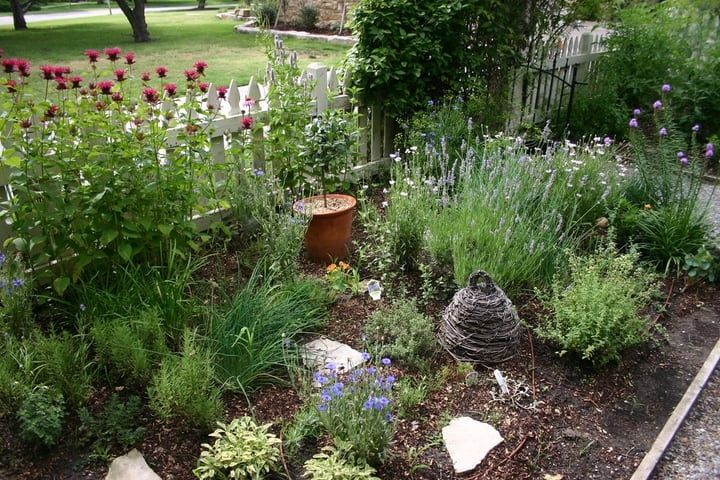 Herbs are as beautiful as they are delicious and fragrant. So growing them is rewarding for both the gardener and the cook. And the best part? Herbs are considered superfoods and are packed with tons of medicinal benefits.
They are perfect for growing indoors and out. You can plant them in traditional containers or go offbeat with coconut shells, teacup planters, and wooden crates.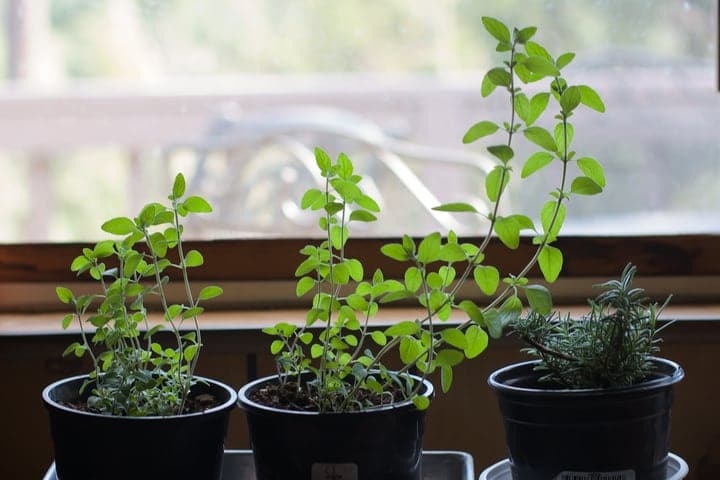 In this article, we have some awesome herb garden ideas for you—and a list of the best herbs for your garden. But that's not all.
We've also put together an easy-peasy DIY herb garden guide and the best herb garden kits to get you started. Read on.
Why Start a Herb Garden?
For starters, a herb garden is a great way to begin gardening. Whether indoors or outdoors, herbs are super easy to grow. Most herbs are incredibly forgiving and scoff at drought. Plus, they can do surprisingly well in poor soil.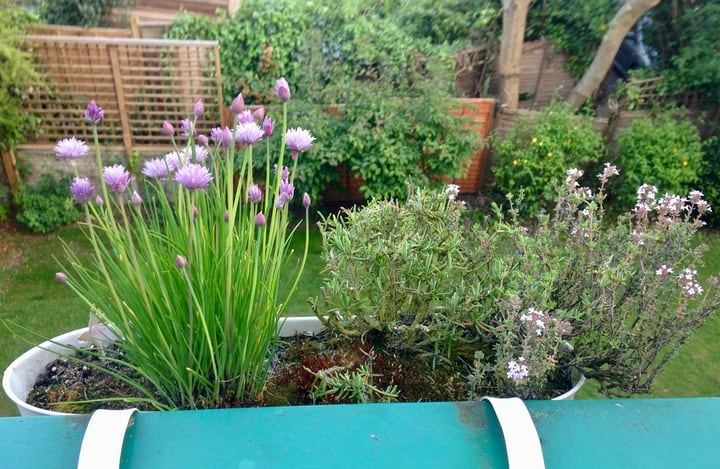 They don't take up much space and can be started in a tiny yard, hanging planter, or container. And at the end of all the hard work you put in, there's a flavorful reward waiting for you.
What's more, starting your herb garden can take your cooking from so-so to fine dining in a jiffy. So there's hardly any excuse for you to not start a herb garden.
Our Favorite Herb Gardening Ideas
There's something about using farm-fresh herbs when you're preparing flavorful sauces, seasoning home-cooked pasta, or tossing a fancy salad. Herbs can make all the difference.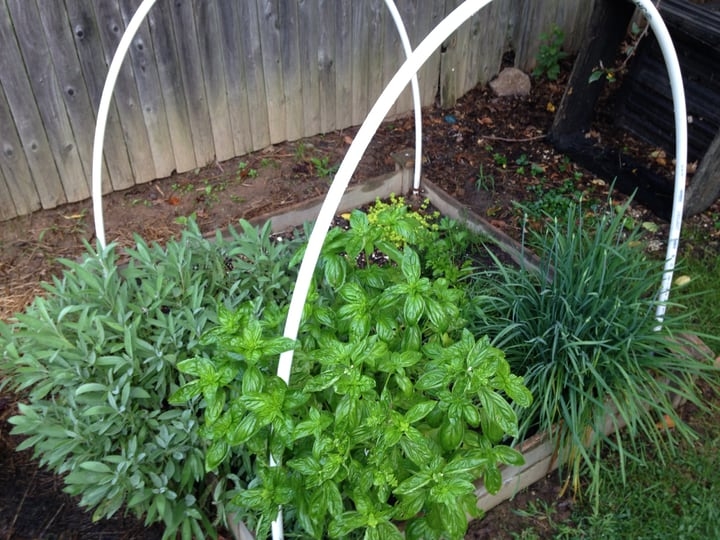 Put your green thumb to work for a herb garden and you won't regret it. Take inspiration now from the ideas below and start your herbaceous garden asap!
Indoor Herb Garden Ideas
In-house gardens are quite the fad. They can enliven your indoors and purify the air. But herbs are a step beyond ordinary houseplants. Why?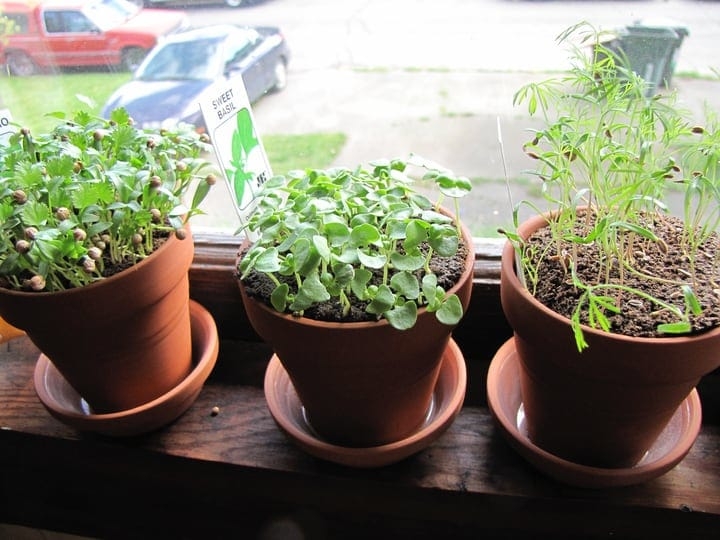 Because herbs don't just liven up your indoor space but also your dishes. Plus, they're perfect for the gardening lover with no garden space.
Here are some must-try ideas for your indoors.
1.

Herb Garden by the Window

Use colorful porcelain or terracotta pots to hold your indoor herb garden. Any size and shape will do. In fact, the more varied, the better.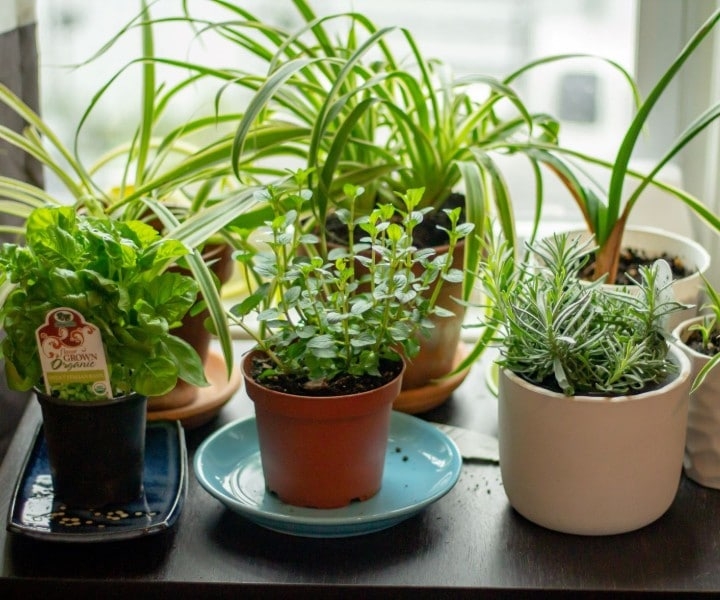 Grow an array of herbs in the containers and keep them by the window. Your herbs will look—and smell—lovely.
2.

Wooden Box Planter

Looking for something offbeat for your indoor garden? Get a wooden box planter and pack it with herbs. You can hang it on an empty wall by the kitchen.

That way, your herbs can be picked for seasoning whenever you please.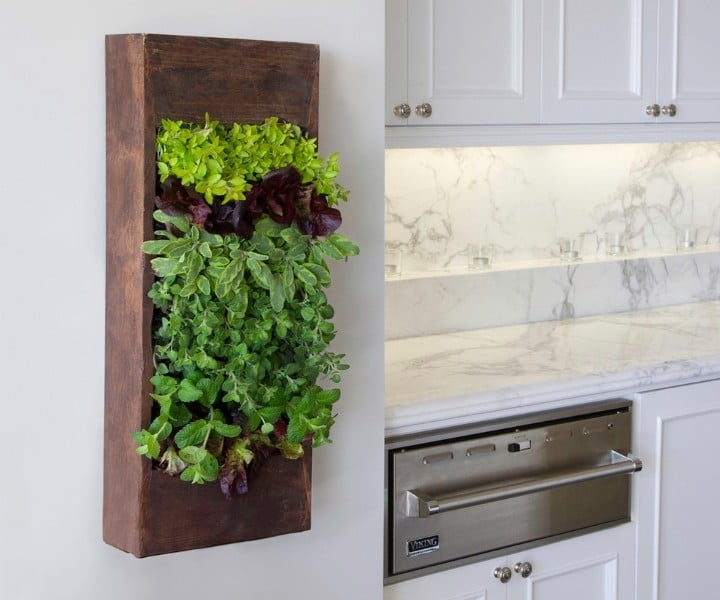 Idea: Grow flavorful mint, basil, parsley, and dill in your wooden box planter.
3.

Porcelain Planters for Herbs

Herbs in tiny ceramic pots is too cute an idea to skip. And because herbs don't take up too much space, they won't mind at all these space-saving planters.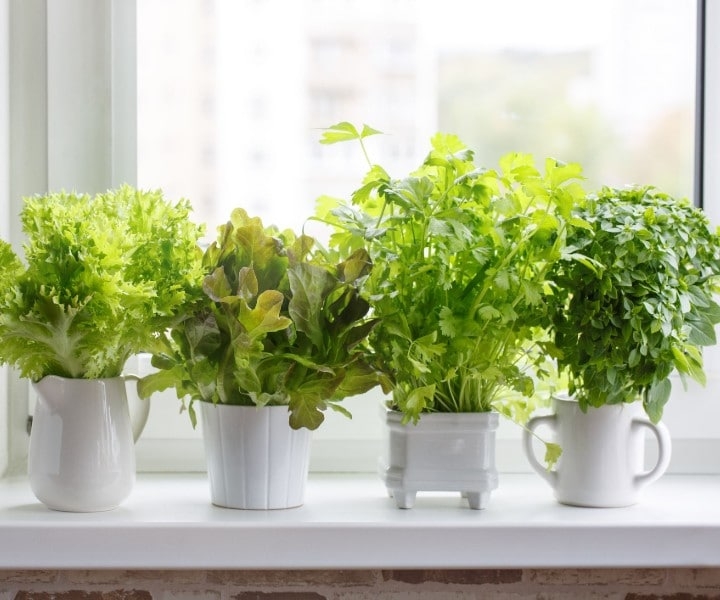 They are perfect for keeping atop a desk or table. Once the herbs start maturing, you'll be happily surprised to see what you can create even if you live in a small space.
4.

Soil-Free Herb Planter

Grow your herbs indoors without bringing in any dirt or bugs. How? With a modern soil-free planter! It comes with seed pods, a self-watering reservoir, and built-in grow lights. How cool is that?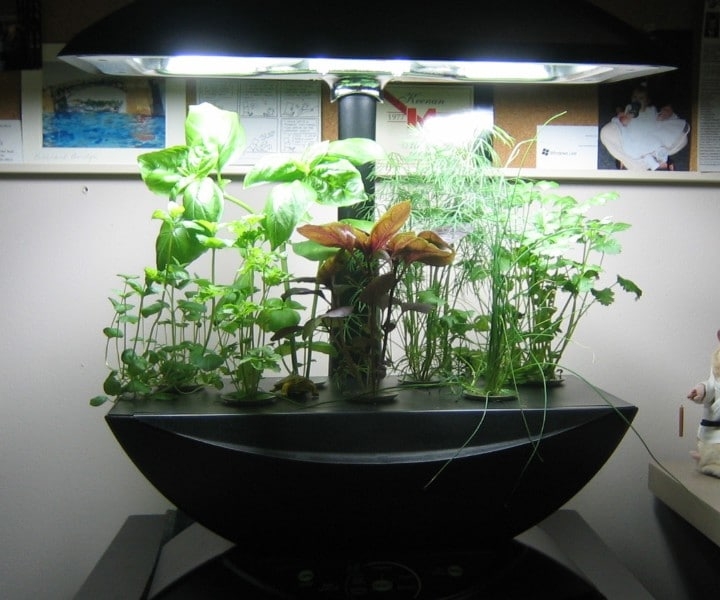 This mini greenhouse is perfect for the gardening newbie. It's easy to use and mess-free. Plus, you take all the guesswork out of gardening.
Balcony Herb Garden Ideas
You want to start a herb garden? But you're an apartment-dweller? There's a solution for you—balcony gardening!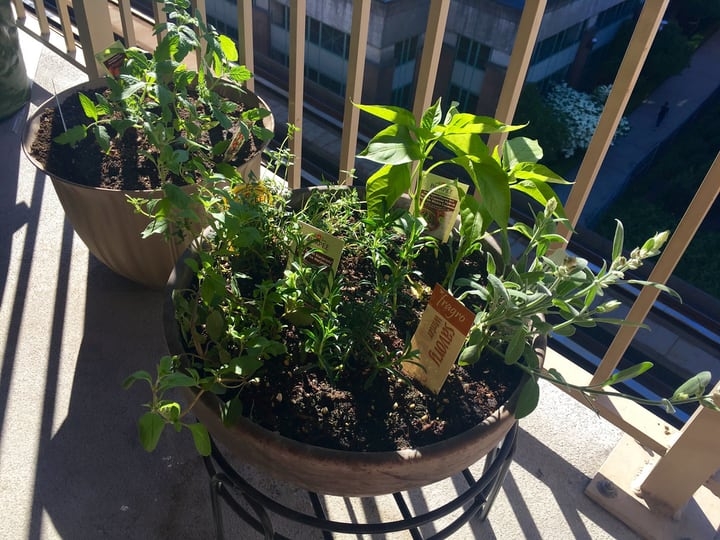 Make use of trellises, railing planters, tabletops, and even baskets for your balcony herb garden. Take a look at these ideas to turn your balcony into an awesome blossom garden.
5.

Takeaway Containers

Make the most of those plastic takeaway containers by converting them into planters. First, clean them thoroughly. Then drill a hole at the bottom, fill them with potting soil, and plant your herbs. It's that easy.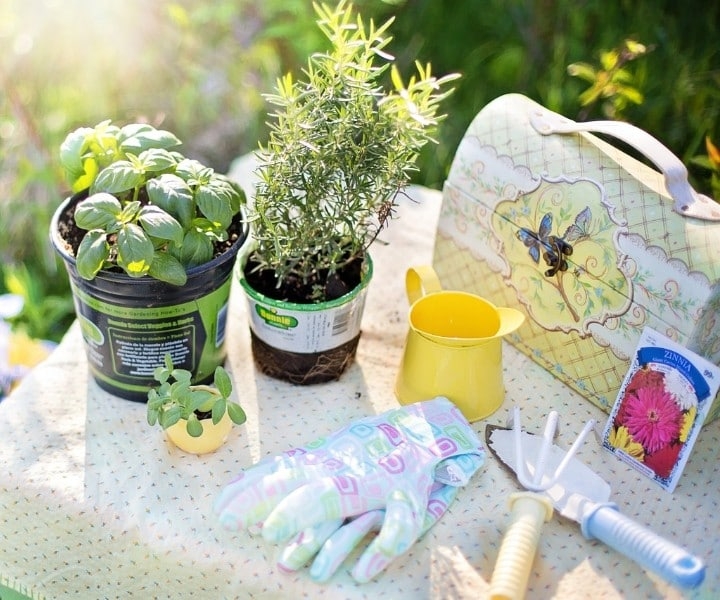 Idea: Turn these takeaway containers into decor items. Place them on a table in your balcony. Decorate it with gardening tools like gloves, a toolbox, tiny shovels, and a watering can.
6.

Trellis Herb Garden

Go vertical! You can introduce a space-saving trellis to your balcony. Hang tin or porcelain planters on it—as many as you please.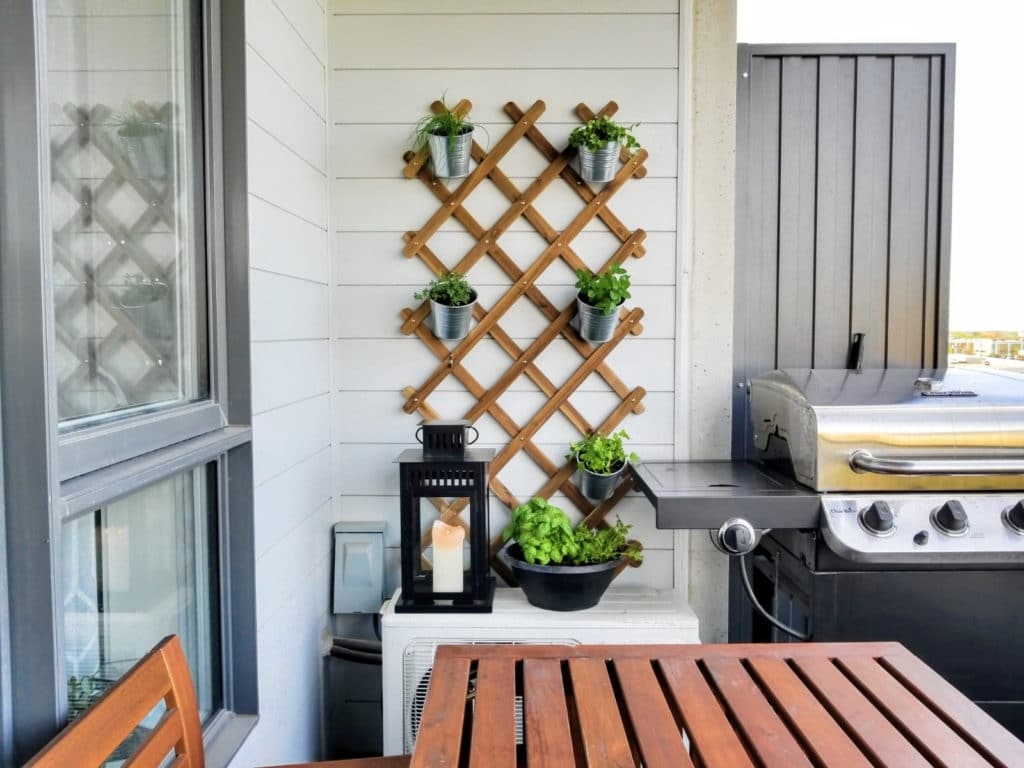 A vertical trellis garden can go great with the rest of your balcony decor.
Tip: Add lanterns, candles, fairy lights, and other "lit" pieces to your trellis.
7.

Coir Planter

How about something eco-friendly? Shift from plastic to coir planters. They are made of coconut fibers and are completely biodegradable.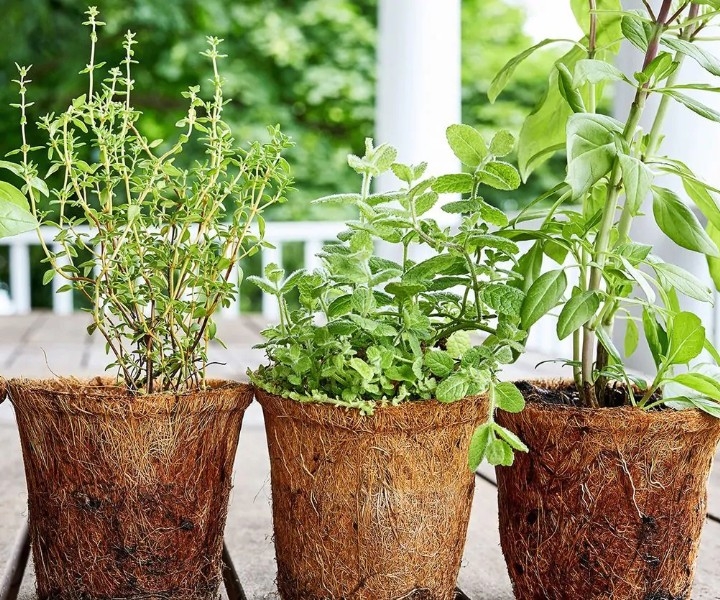 Instead of disposing of your old coir pots, you can simply dig them into the garden. Doing so will also enrich the soil.
Idea: You can also convert coconut shells into offbeat planters for your garden.
Patio Herb Garden Ideas
Is your patio in need of a facelift? Bring in some herbs to inject it with the wow factor. The fresh rosemary, thyme, and mint growing in your patio will also up your al fresco dining game.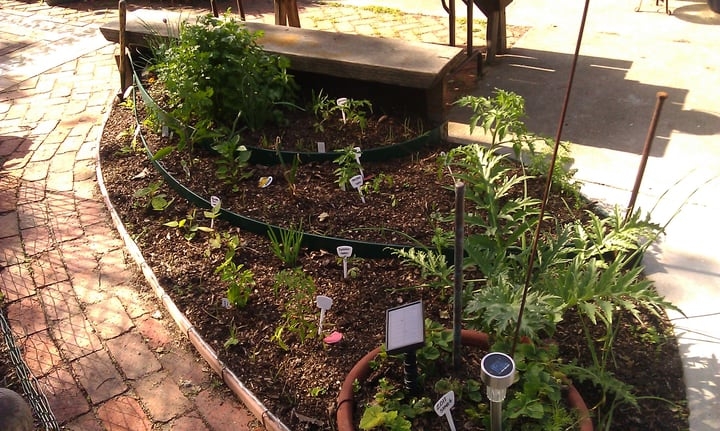 Take a look at some great patio herb garden ideas.
8.

Terracotta Planters

This simple yet eye-catching design for your patio features terracotta planters. Arrange them randomly and your design is ready.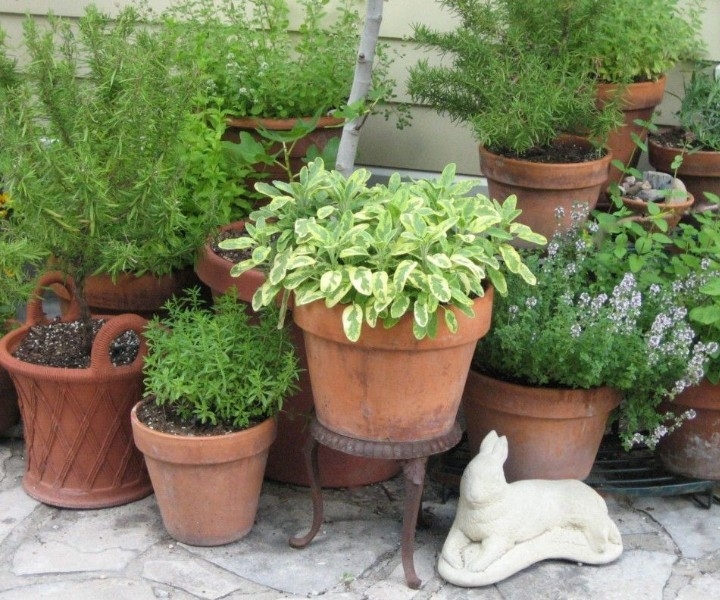 The best part is that you don't even need planters of similar shapes and sizes.
Tip: Plant different herbs in different containers. This way, each herb has plenty of room to spread.
9.

Pallet Herb Planter

Give new life to old wooden pallets by turning them into attractive planters. You can fill the pallet with soil and directly start planting in it. Else, you can place clay planters with herbs in it, like in the image below.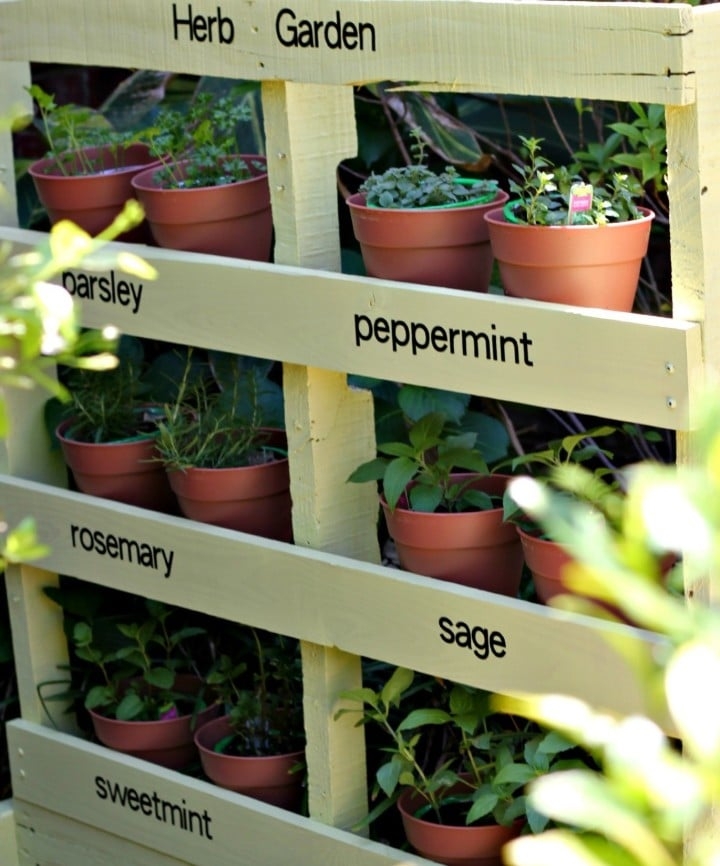 Idea: Paint the pallet a minty shade of green. With a bold marker, write down the names of the different herbs growing in your planter.
10.

Elevated Herb Planter

An elevated planter is a perfect solution for those who love gardening but also complain of back problems.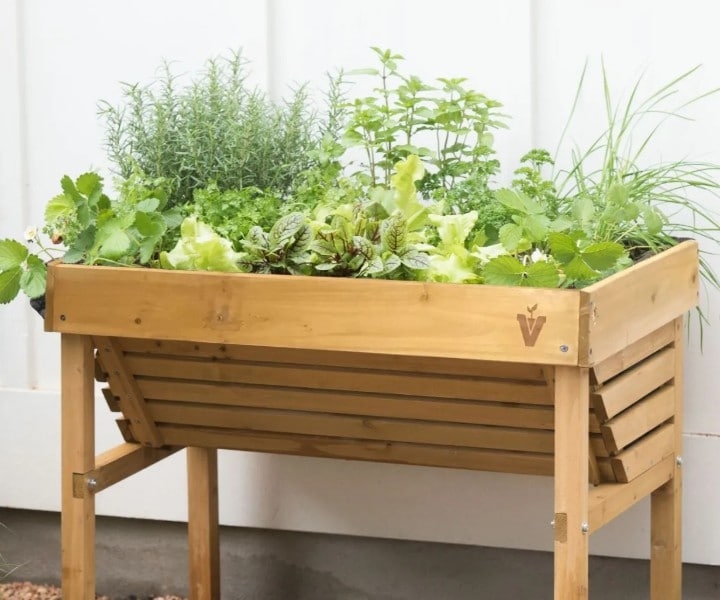 You can also try your hand at DIYing and convert a regular wooden planter into an elevated one.
Small Herb Garden Ideas
You don't need yards of open space to start a herb garden. Even the teeniest of spaces will do. Introduce herbs as part of your home decor, tabletop centerpieces, and petite outdoor furnishings.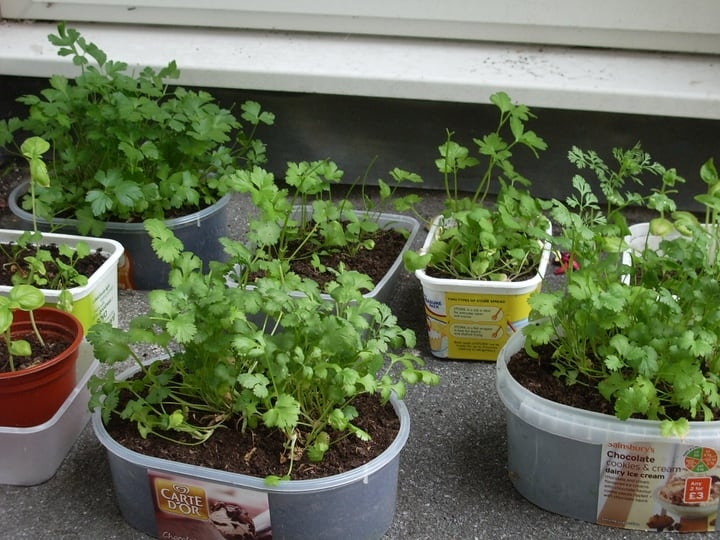 Here are some ideas to take into account for teeny spaces.
11.

Herbs in Tiny Planters

Grow anything to everything in tiny planters that you can keep on your balcony, deck, kitchen garden, or even living room. These planters can fit just about anywhere.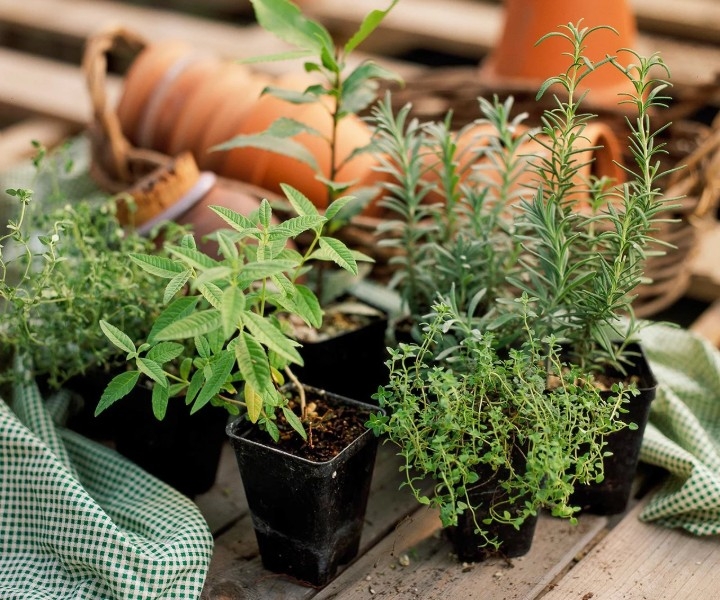 Tip: Go with a color theme. Get black pots to contrast wonderfully with green herbs.
12.

Teacup Herb Garden

Do you have stray cups that are begging to be used? Or are you a flea market fan where vintage china is all yours for the taking? We have a perfect idea for you!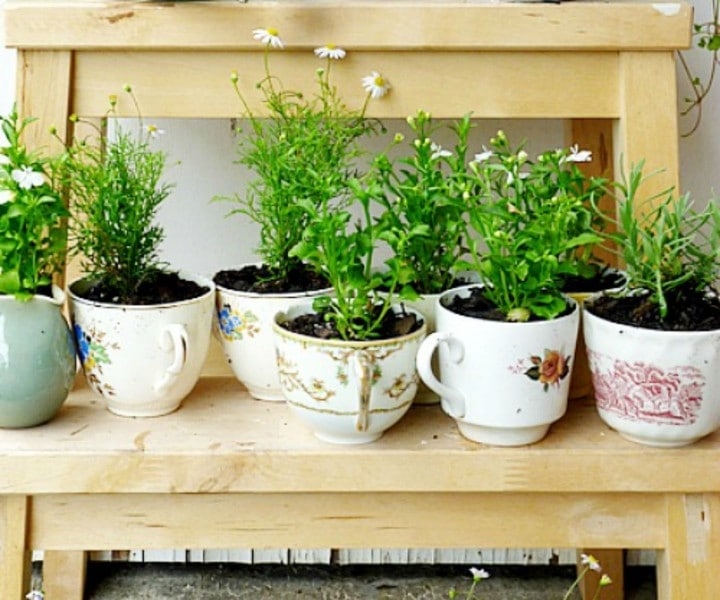 Use old and useless teacups to hold your mini herb garden. Tuck rosemary, dill, basil, mint, and coriander neatly in the cups.
Idea: Arrange your teacups in clusters and they're sure to give an old-world vibe to your space.
13.

Miniature Planters with Trays

Here's a super adorable idea for your small herb garden—miniature pots. They come in plastic, clay, wooden, and other materials. And they come with a mini tray, too!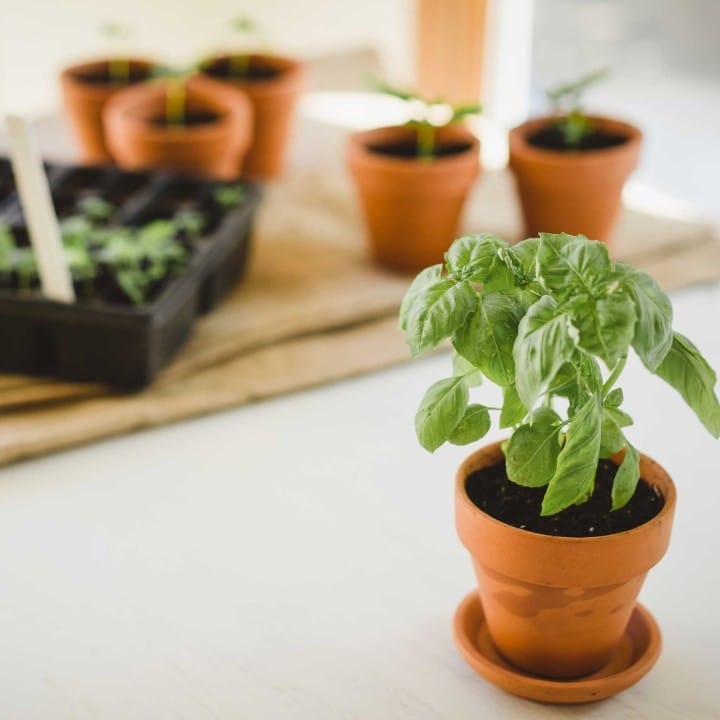 Since herbs don't take up too much room, they can be easily grown in these pots. So, you'll have a herb garden that will also double as a cute little decor for your indoors or outdoors.
Kitchen Herb Garden Ideas
The idea of a kitchen herb garden is a perennial hit. You can work with limited space and still call it a garden. Besides, what's better than having fresh herbs in your kitchen waiting to be picked?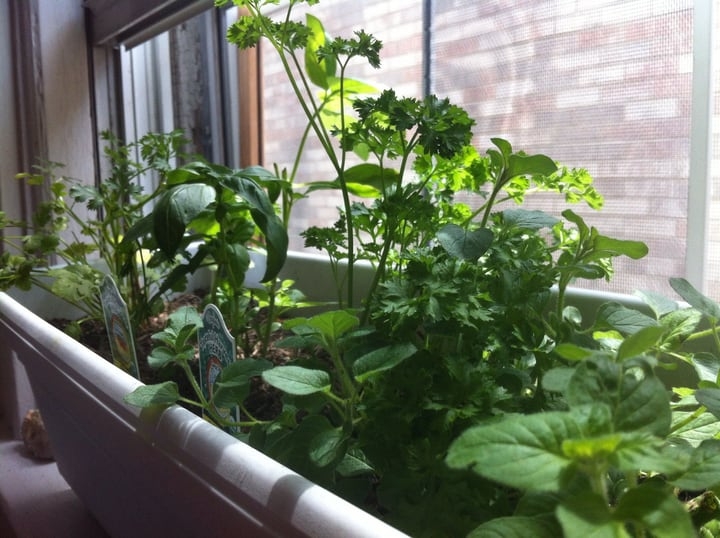 Take a look at these lovely kitchen herbaceous gardens.
14.

Smart Garden for Herbs

This innovative garden is the ultimate solution for the black-thumbs out there. It features built-in grow lights, plant pods, a self-watering tank, water level indicator, smart soil, and a timer.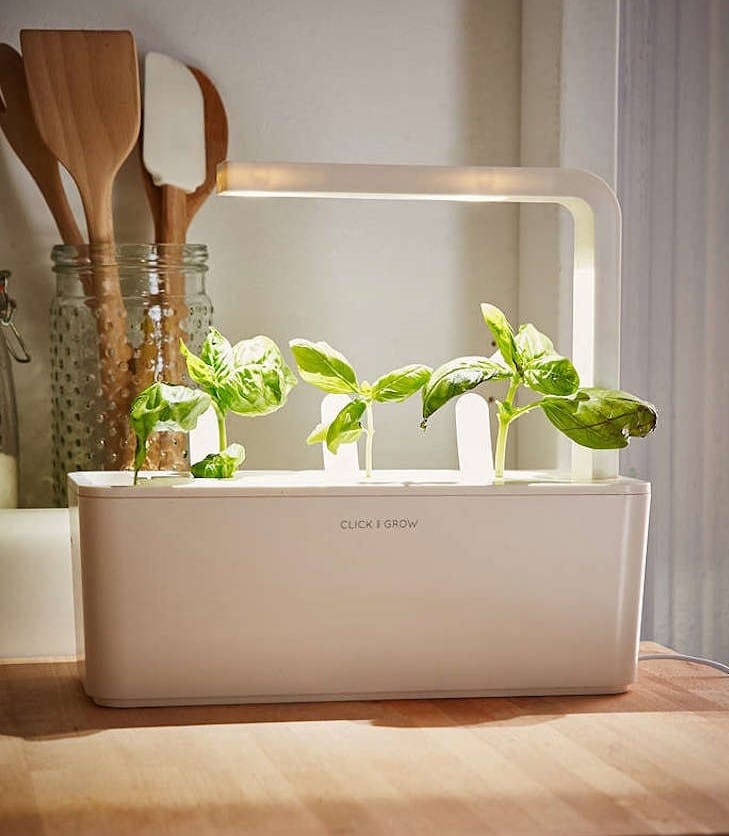 All you need to do is plug it in. The planter takes care of the rest so you can simply relax and watch your herbs grow.
15.

Modern Micro-Garden

This sleek and compact planter has a self-watering system. It comes with soil and organic seeds. You can enjoy growing multiple herbs in it without sweating your brow.
Leave it near a sunny window and your miniature garden will grow fresh and green herbs all year round.
16.

Vertical Kitchen Herb Garden

This tabletop garden features tiny but convenient. You can fill these pots with different herbs to create colorful, texture-rich mosaics.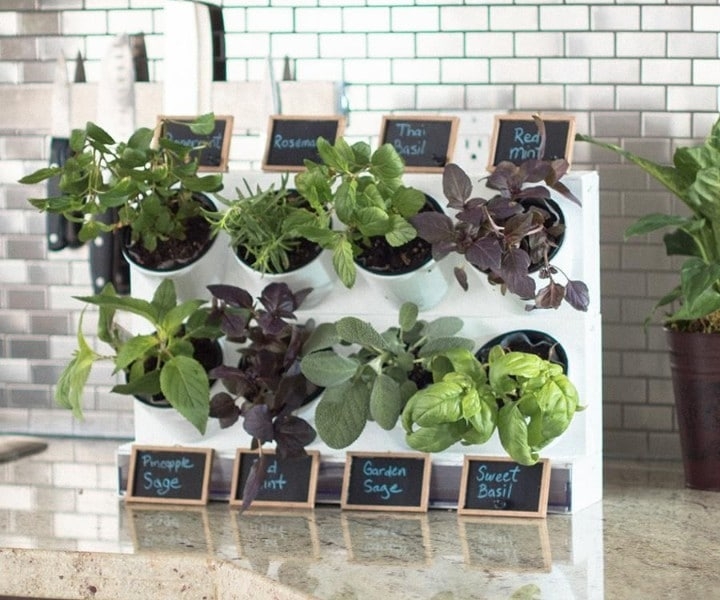 This planter works on a root watering system and is perfect for the forgetful gardener.
Tip: Use tiny chalkboards to mark your herbs, as in the image below.
17.

Tea-Box Garden

Got empty tea-boxes or sugar containers in your kitchen? Convert them into tiny gardens for your herbs. This is not only an inexpensive way to grow herbs, but the idea is quite fresh to the eye.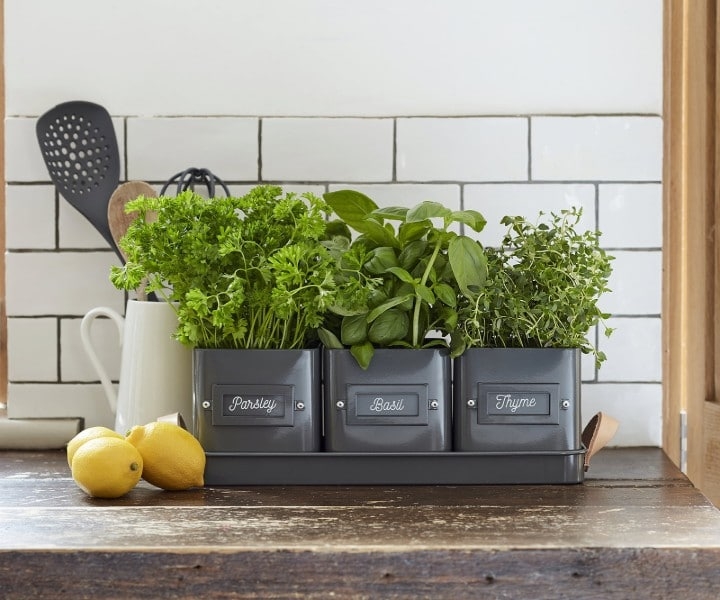 You can place your boxes atop the kitchen counter and use fresh herbs for sauces and chutneys.
Window Herb Garden Ideas
Do you have a sunny windowsill? Take advantage of the space to grow your mini herb garden. Place your containers on it, water them, and they will take care of themselves.
Here are some ideas to take inspiration from.
18.

Planters on a Tray

Bring tiny plastic or clay planters to your window garden. Plant your favorite herbs in them. Give them enough sunlight and water and watch your windowsill garden thrive in no time.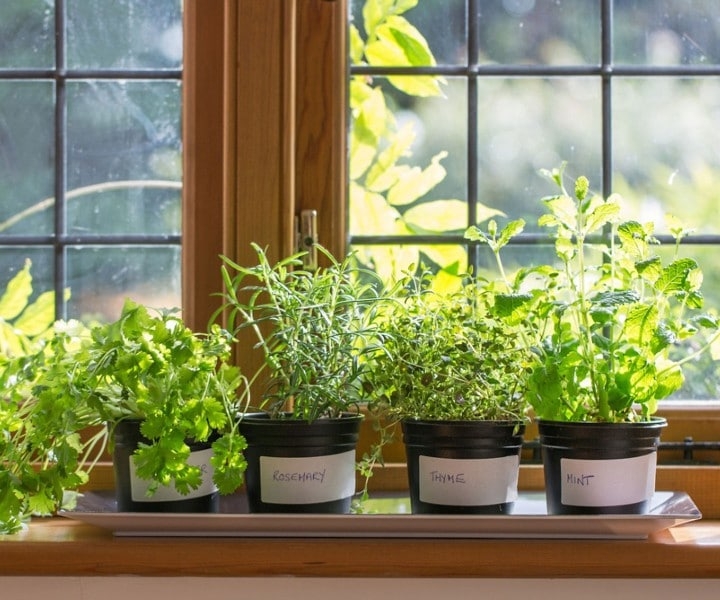 Idea: Place your planters atop a tray so they won't leak on the floor when you water them.
19.

Window Stick-On Pot

These interesting stick-on pots are ideal for cramped spaces. They come with suction cups and will stick right to your glass pane.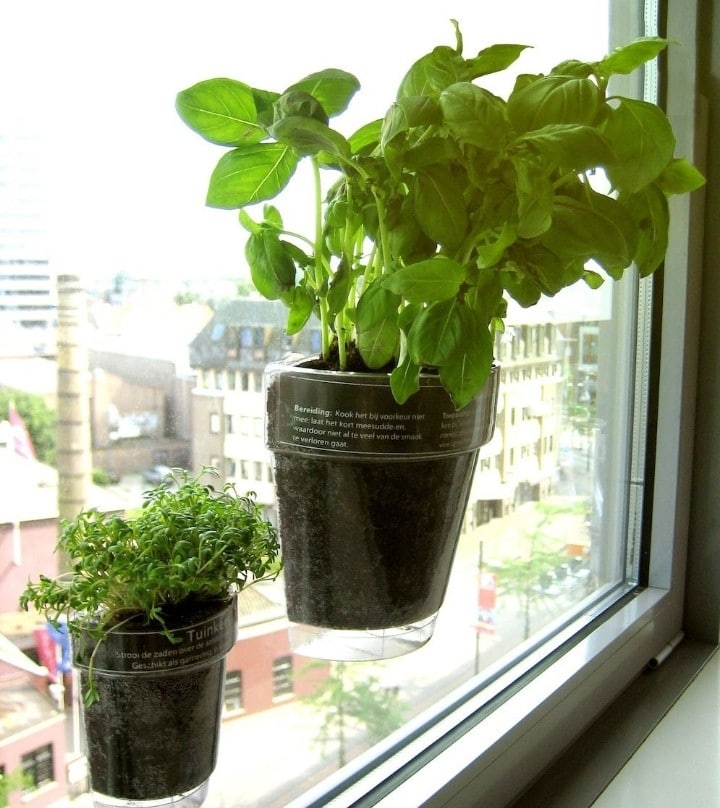 Stick them near your kitchen window or use them as a decor item in your living room. Either way, these pots will ensure that your herbs get more-than-enough sunlight.
20.

Metal Planters with Tray

Petite metal planters like those in the image below can fit on any windowsill. Besides being great for growing herbs, they can be a thoughtful addition to your indoor decor.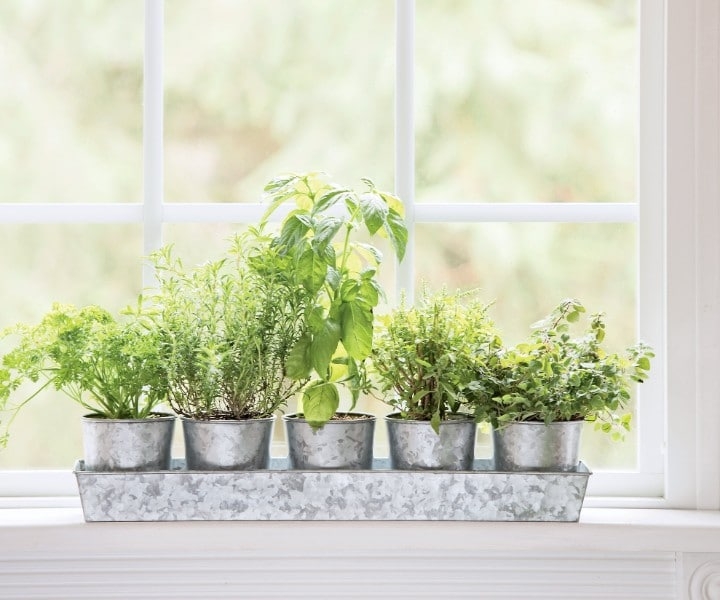 As a bonus, they come with a tray to keep them well organized. Plus, they're portable and can be moved from one window to the next, depending on the sunshine your herbs receive.
Wall Herb Garden Ideas
Imagine fresh parsley, sage, and thyme growing on the walls of your house. A dream? Well, you can make it a reality. A vertical herb garden is also a stylish and budget-friendly way to save space.
Take inspiration from these ideas.
21.

Pretty Little Pails

For a farmhouse-style wall garden, use old and useless metal pails. Fill them with organic potting soil and grow your herbs.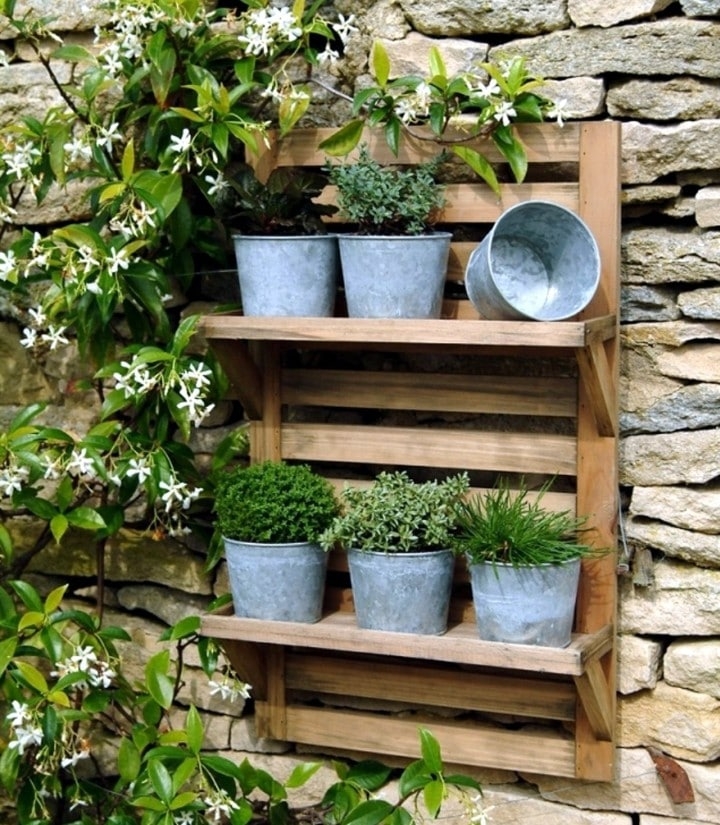 The next step is to get a wooden wall mount on which to place your pails. Attach it to an empty wall and watch your fragrant culinary herbs grow.
22.

DIY Hanging Ceramic Tiered Planter

Bring in ceramic planters for your tiered herb garden. The best part is that this tiered garden is space-friendly.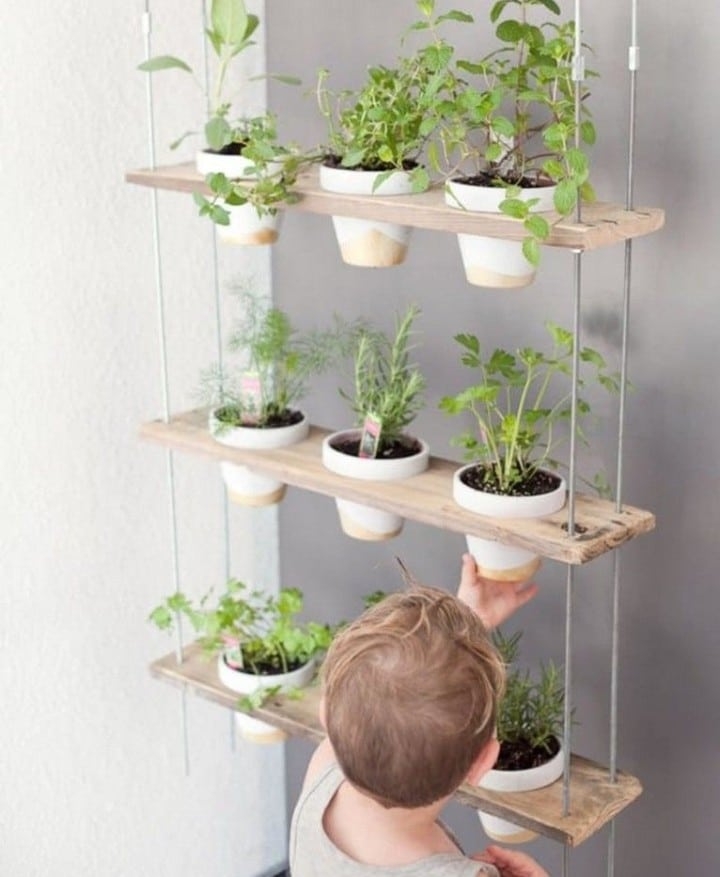 Idea: You can let the kids get creative and help you with this tiered planter project.
23.

Wooden Vase for Herbs

Make unique and stylish wooden containers that resemble a vase for your herb garden. Mount them on a wall to create a gallery-like display of herbs.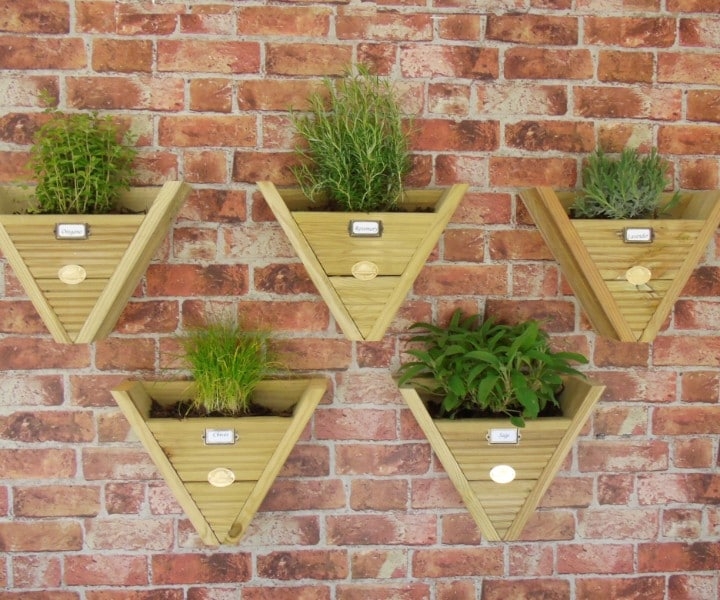 Idea: You can hang them at different heights like in the image below.
24.

Wall Pallet Garden

A useless pallet can become a gorgeous garden for herbs. You're going to love this space-saving idea which is also easy on the wallet.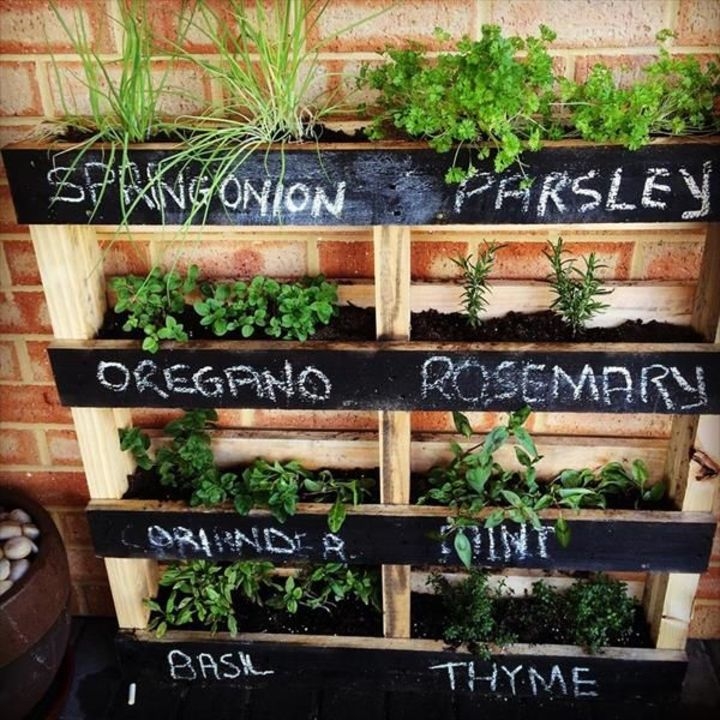 Idea: Add a personal touch to the arrangement by naming all the herbs in your pallet using chalk.
Hanging Herb Garden Ideas
Hanging herb gardens can be as humble or as creative as you please. You can go classic by hanging your pots from a wall or ceiling. Or you can think of something different by hanging them on curtain rods.
Here are some wonderful ideas for you.
25.

Curtain Rod Planters

Not sure where or how to hang your herb planters? Make use of curtain rods! Yes, this idea is a great solution for hole-intolerant dwellers who also fancy a little hanging greenery in their space.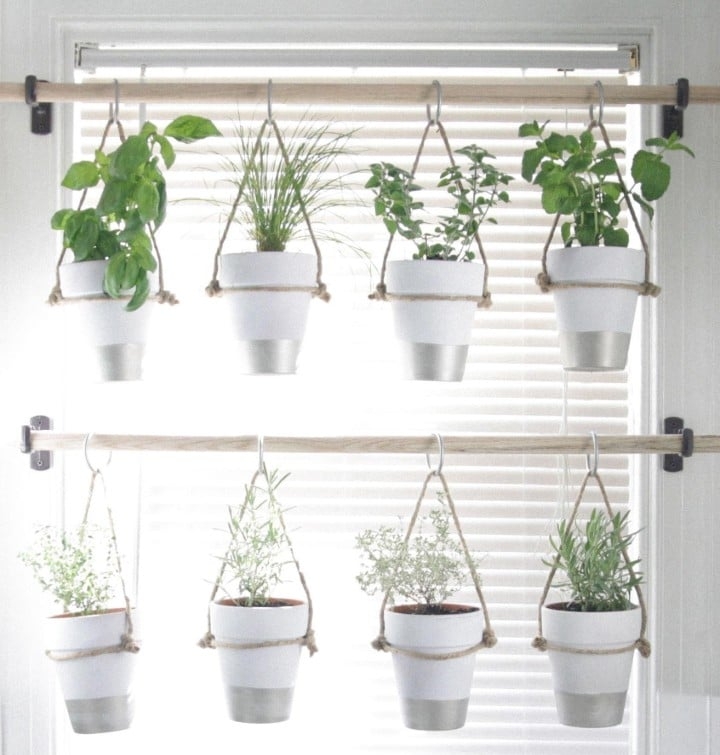 Take inspiration from the image below and hang white clay pots with metal holders. The arrangement is harmonious and neat.
26.

Floating Rack

This simple yet sophisticated rack is ideal for holding a couple of potted herbs. It can be hung anywhere—in your yard, kitchen patio, or next to the entryway.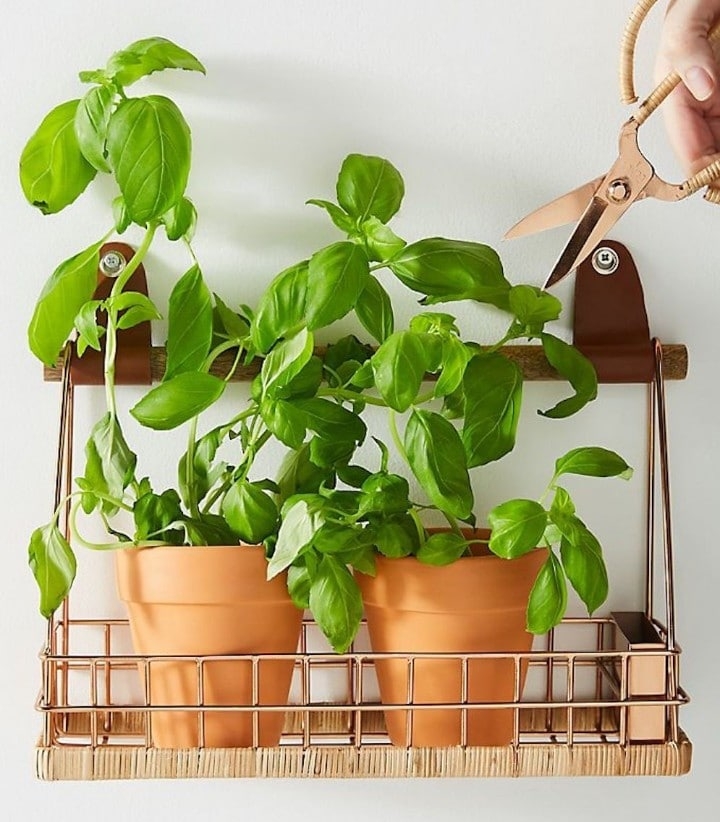 Tip: Bring this herb rack indoors during winter. This way, your herbs will survive the frost and leave you worry-free.
27.

Hanging Shelves

Do you have lots of potted herbs but not enough room to store or display them? Here's a solution for you—hanging shelves.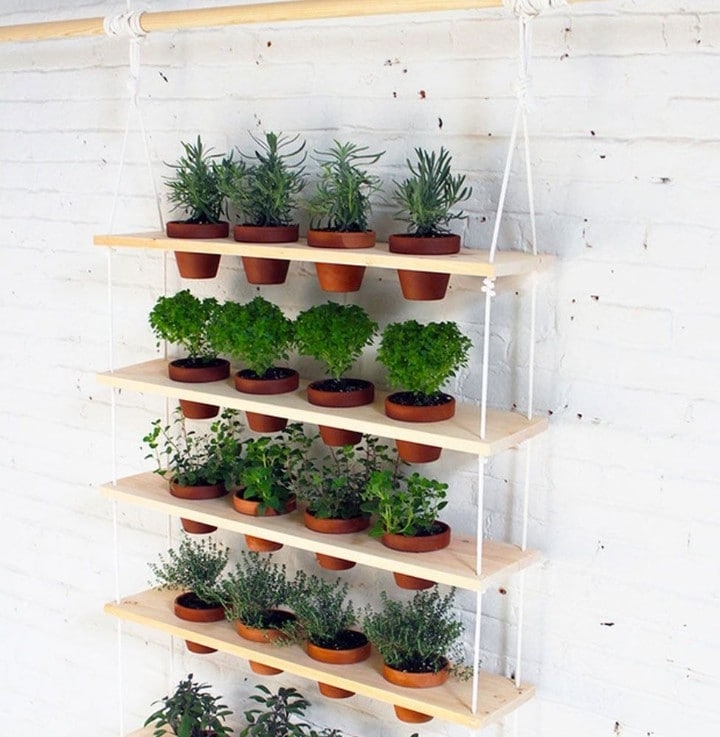 These shelves are joined together by a rope. And they have holes in them for the pots to sit in. It makes a beautiful display for your herbs without taking up too much space.
Outdoor Herb Garden Ideas
Make use of your outdoor space to create a showstopper herb garden. Only, make sure the soil you plant the herbs in is fertile.
Give them the right amount of sunlight, water, and love. You will enjoy not only their taste but also their fragrance.
Here are some ideas for your outdoor herb garden.
28.

Tiered Ladder Planter

Add more gardening space to your apartment with an eye-catching ladder planter. It's portable and just perfect for your patio or balcony.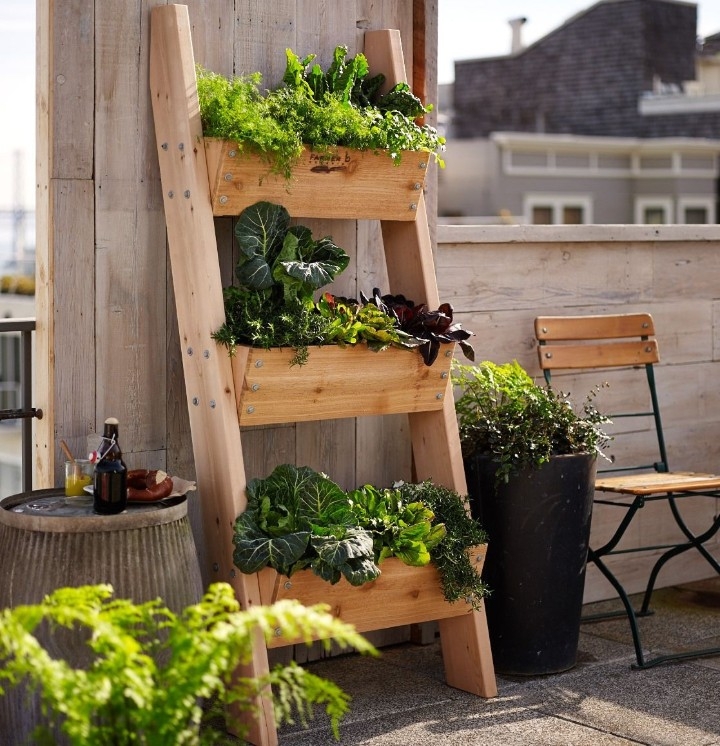 Use cedar planks to build the ladder with wooden containers. Next, start tucking in a variety of herbs.
Tip: If you're leaving your ladder planter at the mercy of nature, apply a layer of food-safe mineral oil to it. Don't use traditional stains as they will leak into the soil and affect the herbs.
29.

Herbs in Pots

No matter their size or style, potted herbs in the outdoors will add an extra dimension of beauty to your space. Their lively colors, textures, and most of all fragrances, will call you to spend more time under the open sky.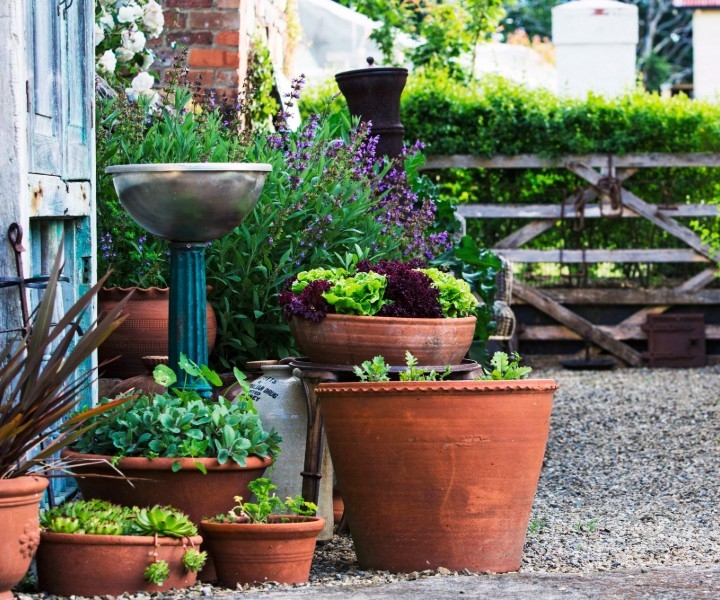 Tip: Clay pots are porous and dry out quickly. That makes them ideal for growing Mediterranean herbs.
30.

Rustic Herb Garden

How about a rustic vibe in your backyard? Grow an array of herbs in old and worn-out wooden containers, baskets, barrels, or crates.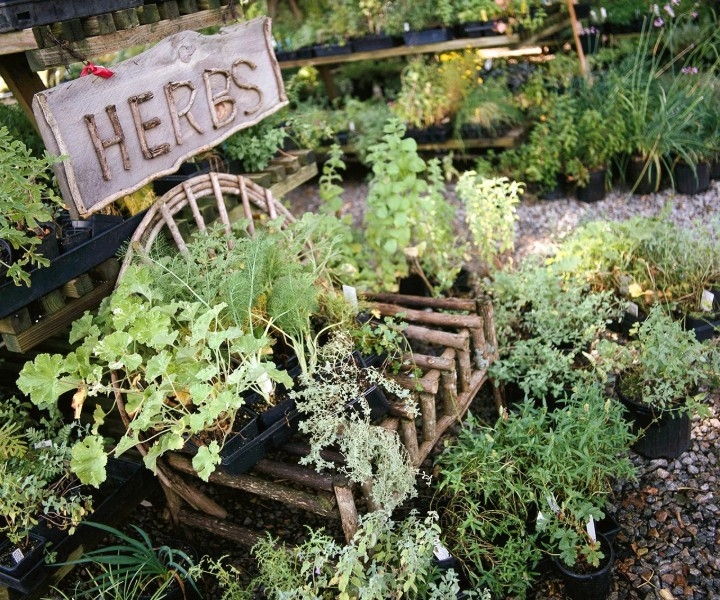 This arrangement is perfect for a larger space where you can create a tiny herb corner, as in the image below.
Idea: Add a wagon wheel to the arrangement to give it a rustic feel.
Raised Bed Herb Garden Ideas
Raised beds are perfect for creating a herb garden. They can be placed anywhere you please and are easy to maintain. And the best part? Growing herbs in them is much easier on your back.
You can create a raised bed using crates, repurposed wood, modern elevated planters, and even bricks.
Here are some awesome ideas to consider for your garden.
31.

DIY Wooden Raised Bed

Create your own raised bed herb garden using scrap wood from older projects. Look at the image below for inspiration and create rectangular beds to fit your needs.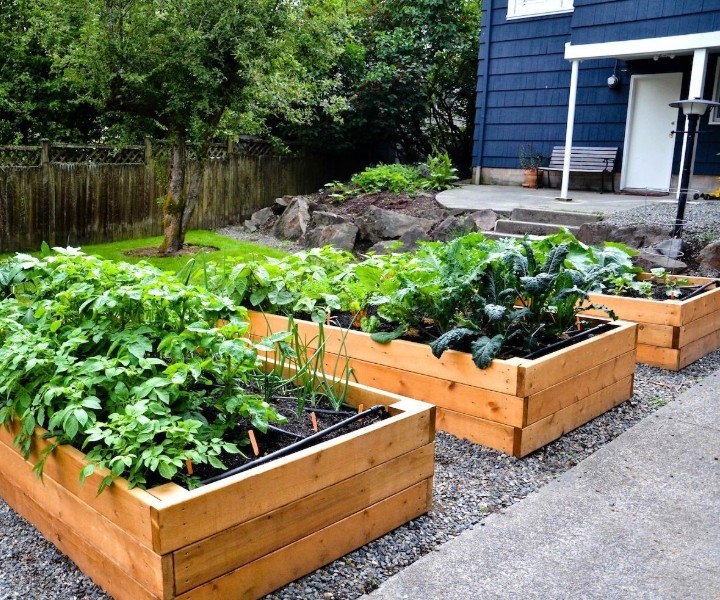 It will keep your herbs well-organized. And they will certainly make your yard pop—pun intended.
32.

LED Raised Herb Garden

How about a modern raised bed for your herb garden? It's compact, portable, and can easily hold multiple herbs.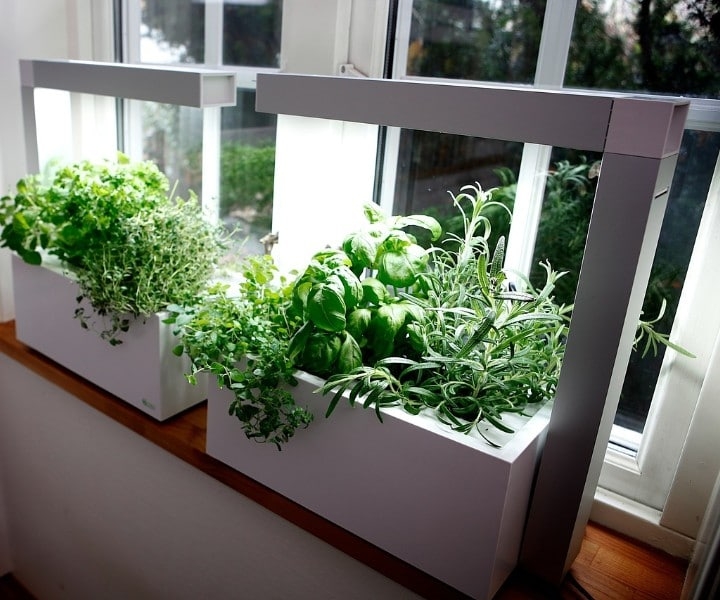 Not only is this modern planter attractive to look at, but it has built-in grow lights and a self-watering system, too. With it, you can create a thriving herb garden even in areas that don't get enough sunlight.
33.

Wooden Crate with Legs

Here's a puppy-proof idea for your herb garden—a raised bed with legs. This means that your playful puppy won't be able to dig up all your hard work.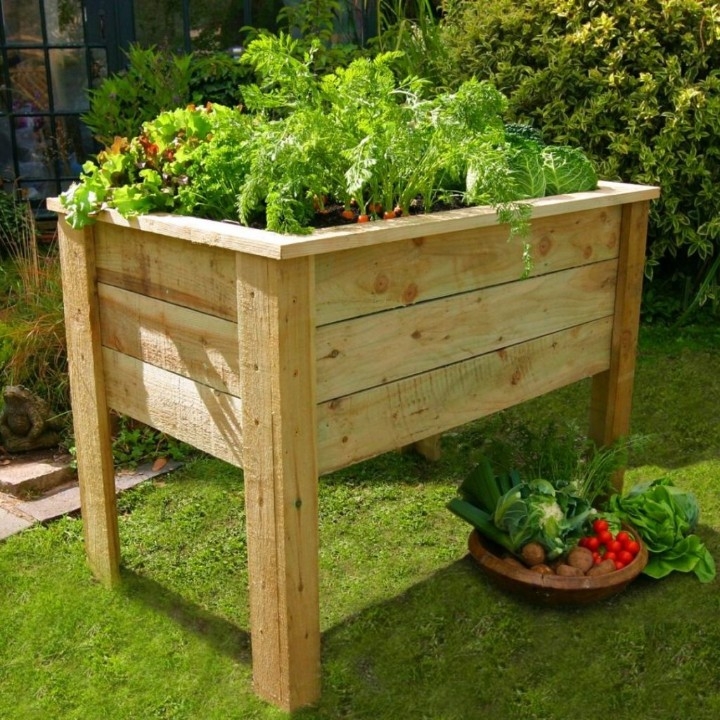 The planter is just a wooden crate with legs nailed to it. It's inexpensive, easy-to-make, and perfect for even smaller spaces.
Best Herbs to Grow in a Herb Garden
Nothing beats picking home-grown herbs to add to your savory dishes. Herbs are easy to grow and can thrive on neglect.
You can grow them in the garden or indoors in containers. Either way, you want to choose the right herbs, especially if you're just getting started.
Here's a list of the best herbs to grow.
Oregano
Mint
Sage
Basil
Thyme
Parsley
Rosemary
Coriander
Fennel
Catnip
Chives
Bay leaf
Chervil
Stevia
Lemongrass
Bergamot
How to Create a DIY Herb Garden
Planting a herb garden is an easy and tasty way to start gardening. And it can place it in a small garden, large garden, or no garden at all.
Step 1 - Choose Your Location
A sheltered spot that gets full sunshine is best for most herbs. An ideal location for your herb garden is close to the kitchen.

After all, you probably don't want to venture to the front yard on a rainy afternoon looking for oregano while baking lasagna.
Step 2 - Prepare the Soil
A compost-rich soil is great for herb cultivation. If your soil is too sandy or too loamy, add plenty of compost to it.

Tip: Avoid nitrogen-rich soil. Nitrogen will make the herbs grow quickly at the expense of their delicate flavor.
Step 3 - Plan Your Layout
Next, plan how you want your herb garden to look. There are multiple options—in containers, raised beds, in hanging pots, or by the window.
Step 4 - Choose Your Herbs
See which herbs you want to grow in your herb garden. There's an array of tasty culinary herbs you can choose. You can start them from seeds or grow mature plants.

Tip: Think rosemary, thyme, parsley, chives, and sage. They will provide not only aroma, but also an ornamental display.
Step 5 - Start Planting
As a basic rule of thumb, plant taller herbs in the center of the garden bed (or containers) and shorter ones near the edges.

Doing so will ensure that all the herbs get enough sunlight. It will also make it easier for you to reach across the bed to weed or harvest.

Tip: When planting herbs, remember to leave space between them to allow for growth.
Step 6 – Provide Basic Care
Your tiny herbs will need your care until they are fully established. They will require occasional weeding and pruning after that.

Herbs are pretty easy to maintain. Give them the right amount of water and sunlight and you're good to enjoy home-grown herbs all year.
Best Indoor Herb Garden Kits to Get You Started
Probably the easiest way to get a herb garden going is with a herb garden kit. These are perfect if you're a gardening newbie, don't have enough outdoor space, or are daunted by the thought of growing your own herbs.
Check out these herb garden kits for your indoor space.
Organic Herb Kits
An organic kit is the heathiest way to grow herbs. These kits come with a pack of organic seeds, biodegradable growing pots, soil discs, and plant markers.
Windowsill Herb Kit
These kits don't come with in-built grow lights. So you'll need to keep them by a window where your herbs receive plenty of sunlight. They are sleek, modern-looking, and will fit perfectly on a windowsill.
Smart Herb Garden Kit
Water needs? Soil? Light and temperature? This kit takes care of it all while you sit back and watch your herbs thrive. A smart garden isn't called smart for no reason.
Herb Seed Kit
You can also start seeds indoors and later transplant them to your outdoors with a seed kit. These kits are more affordable and come with seeds in soil pellets, growing pots, plant markers, and a beginner's manual.
Herb Gardening Frequently Asked Questions
Herbs are some of the easiest, most forgiving plants to grow. They can be enjoyed for their fragrance, blooms, or their use in cooking.
But before temptation gets the better of you and you start your herbaceous garden, read through these FAQs. They may help you with your own gardening journey.
Which herbs can be planted together?
Most herbs share a common love for sunlight and arid soil. You can
easily grow herbs
like sage, rosemary, thyme, oregano, and lavender together. They all hail from the Mediterranean.
What do I need to start an herb garden?
Herb gardens are
easy to get started with
. You'll need seeds or plants you want to grow, pots to grow them in, fertile soil, and of course, water and sunlight.
What herbs grow outside all year?
Parsley, thyme, rosemary, mint, winter savory, and basil are hardy herbs. They can do with just a few hours of sunlight during winters. Discover more
outdoor herb garden ideas
.
Herb Up Your Life
What's there to not love about herbs?
They can improve your cooking in more ways than one, they come in many varieties, and are not picky. They can grow in sunny or semi-shady spots, and the perennial types come back every spring.
Herbs are the ultimate low-maintenance plants. They do not even need much space to grow—tiny planters will also do.
Herbs give their fragrance, delicious flavors, and antioxidant benefits. So there's literally no excuse for not creating your own herb garden.
Got any more herb-related questions? Ask us below and we'll be happy to answer.