What makes the difference between an awesome backyard and one that falls into neglect? Often, it's not the money or even the amount of work you put into it. Rather, it's the backyard ideas that go into turning an initially impersonal space into a reflection of who you are. Whether you moved to a new house or want to revamp an old yard, we've put together a list of inspiring backyard ideas to help you get started.
With good taste and some creativity, you can transform your yard into a beguiling hideaway that you and your family can enjoy for years to come.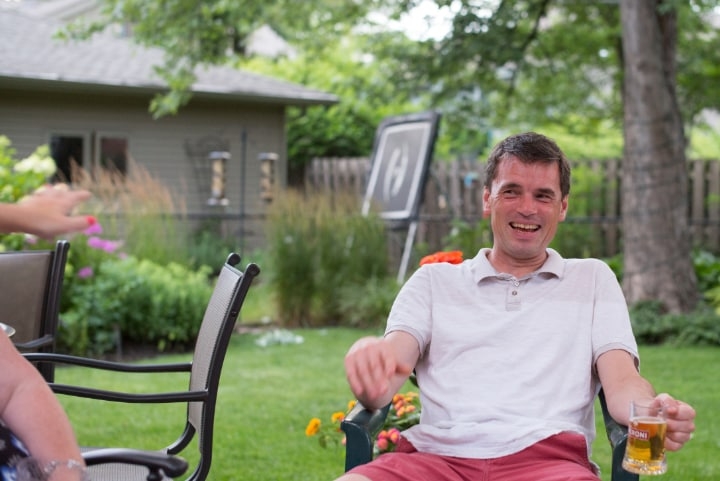 Even if you plan to sell your house in the future, your new backyard can increase the value of your property and attract potential buyers.
But before we look at some actual backyard ideas for transforming your patch of ground, let's start with some essential backyard landcaping tips.
Backyard Landscape Ideas and Tips
What is the main use of your outdoor space? One of the best ways to reinvent your yard is by defining its key function.
Should you create a play space for your children? Are you planning to grow vegetables? Do you frequently gather on the patio with your friends and family?
Once you have an answer, you can decide how much seating and garden furniture you need to add to it. Or whether to install a fire pit at the center.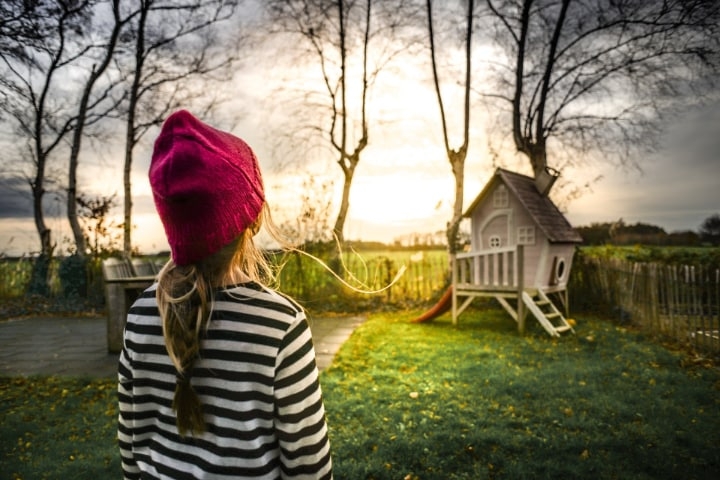 Depending on how much space you have, you can consider dividing your yard into different areas. Separating your yard into distinct areas can actually make it look bigger.
Tip: If you have a small backyard, you can make it look wider by going upwards. Vertical landscaping can add height to your yard and make it look more spacious.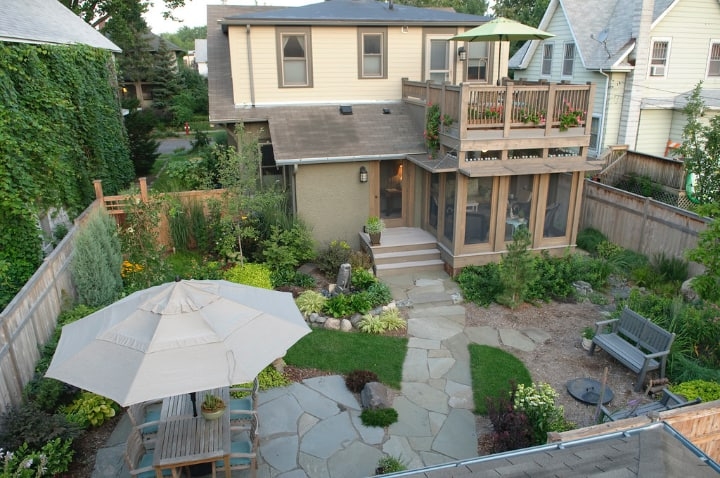 Here are some practical tips you may want to consider:
Make pathways to divide your yard into different areas. You can use decorative pavers or stones as pathways.
Include different types of plants with varying heights. You can incorporate perennials, tall shady trees, and others.
You can place shorter plants in raised flower beds or planters.
You can use colorful cushions and throw pillows for your seating.
Pick two or three colors and design your whole yard using the same color scheme.
Now let's move on to some actual backyard ideas that you can recreate or adapt in your yard.
Best Backyard Ideas for Inspiration
Whether you have a big yard or a small one, the following ideas can ignite your imagination. You'll find among them both sophisticated and DIY backyard ideas that you can do yourself.
1.

Backyard Garden Idea

If you have a small yard, choose an outdoor landscape design that enables you to use the space you have effectively. Here's an example to show you what we mean.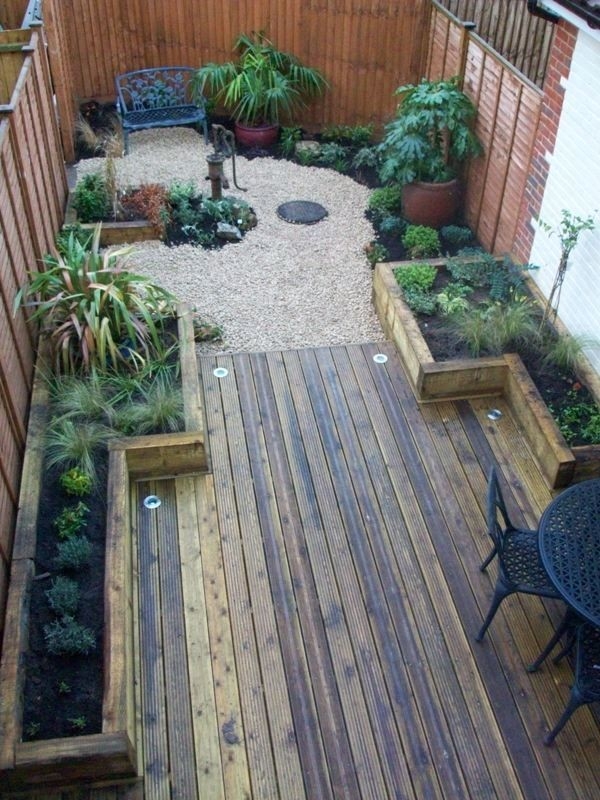 You can combine different materials and textures to add a natural feel to your yard. In this example, the landscaping timber makes all the difference.
2.

Wooden Pergola Backyard Idea

Adding a wooden pergola to your backyard is one of the best ways to reinvent it and create a more friendly and welcoming space for your family and friends.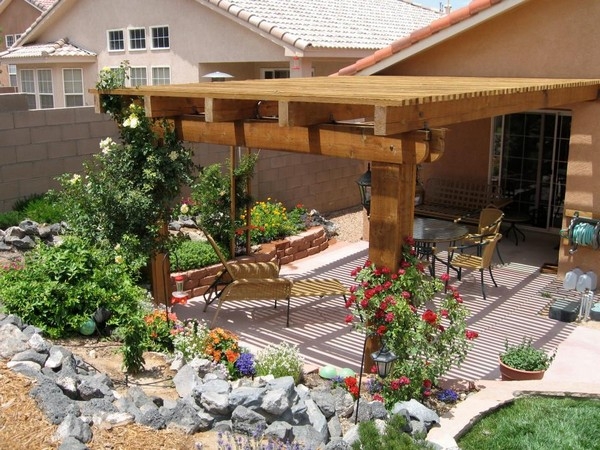 Like in the image above, you can decorate the pergola with climbing vines that in time can provide shade. If summers over there get hot, a pergola can be a great addition to your yard.
3.

Cheap Backyard Idea

Keeping things simple is sometimes the best idea, especially if you don't have much space. Or live in an urban setting.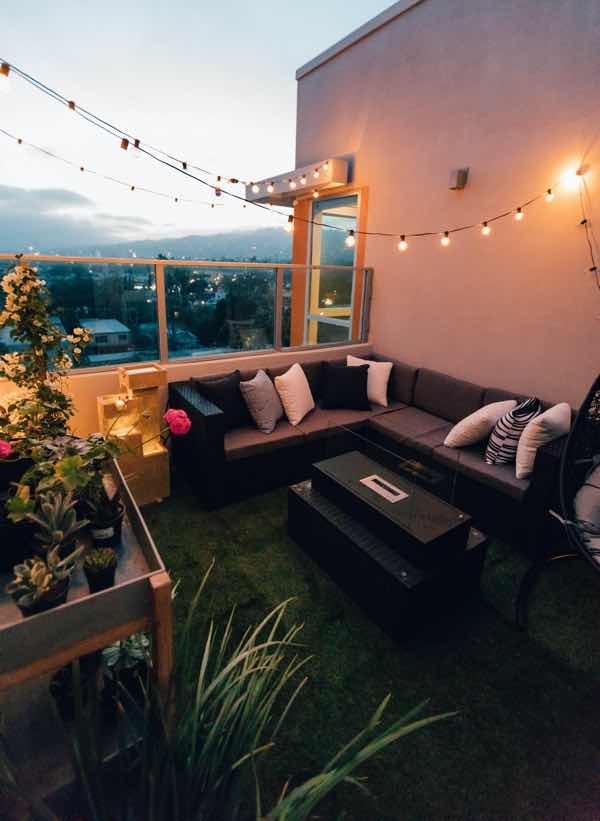 In the image above, you can see how a balcony or rooftop can become an urban backyard that mixes real greens with artificial ones.
4.

Zen Backyard Landscaping Design

Bring calm and relaxation to your backyard with a Zen-inspired design. Here's an example you can enjoy in pretty much all seasons.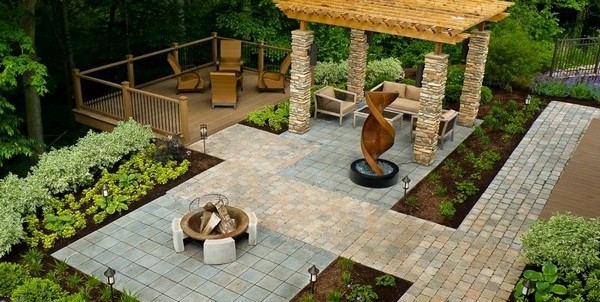 In this design, the seating is particularly important. You may want to start with that and build all the other elements around it.
Here are some popular garden seating products you may like.
5.

Lawn Backyard with Flowers Idea

Turn your backyard into a flowering garden full of fragrance and colors during spring and summer.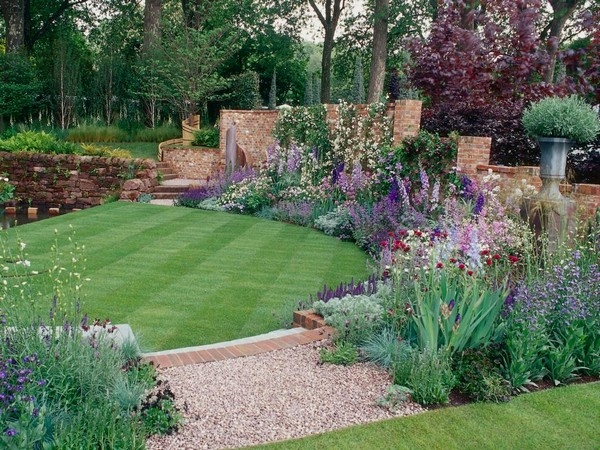 Shrubs like Azalea or yellow flowering shrubs are a great way to fill up space in your backyard.
6.

Rock Landscaping Backyard Idea

Whether or not you have a rock garden already, using stones or rocks as the primary element in your backyard design can help you create a timeless and at the same time cozy design--especially if you add a fireplace.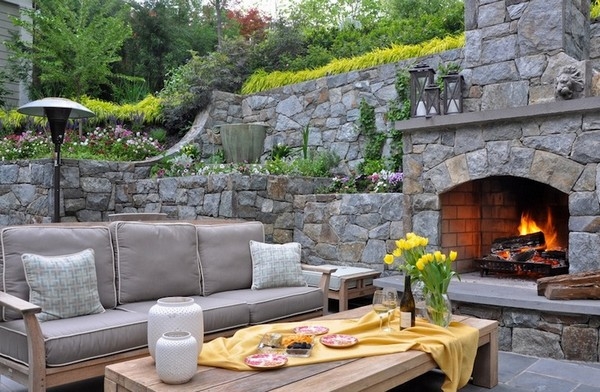 Complement the rough look of the stones with some rustic wood furniture, like in the image above.
7.

Outdoor Living Room

Get more out of your backyard by turning it into an outdoor living room. This is an ambitious project, but you can build it over time.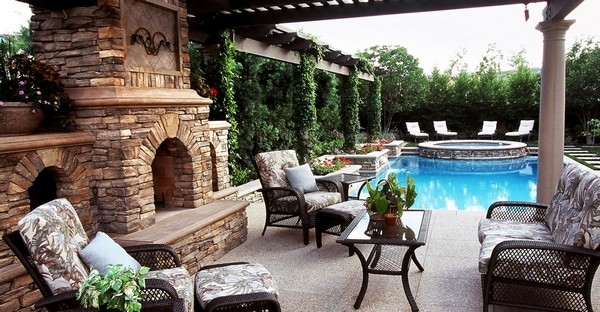 There are a lot of things that you can include in your outdoor space. For instance, furniture, lighting, pergola, custom water features, fire pit, and a lot more.
Tip: Add one feature at a time. That way you can expand and enrich your backyard without breaking the bank.
8.

Pet Friendly Wooden Deck Backyard Idea

A wooden deck made from pallets or that mimics them in style can help you create a perfect hangout for you and your friends.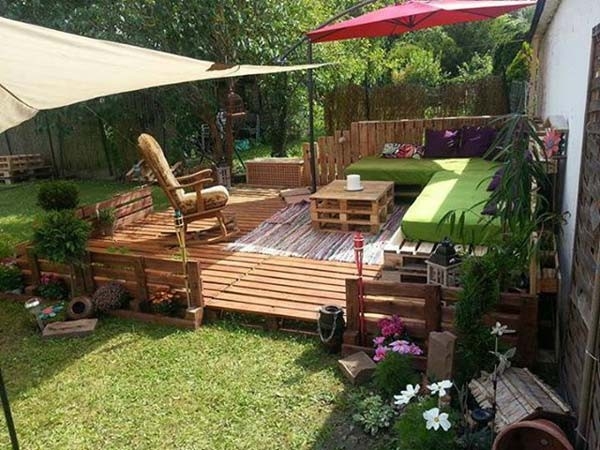 This idea is kids and pet friendly and doesn't require a huge investment. Start with the deck and play around with the other elements.
9.

Small DIY Backyard Idea

Got only a tiny backyard? No problem. Use raised garden beds and a minimalist design to make it cozy and interesting.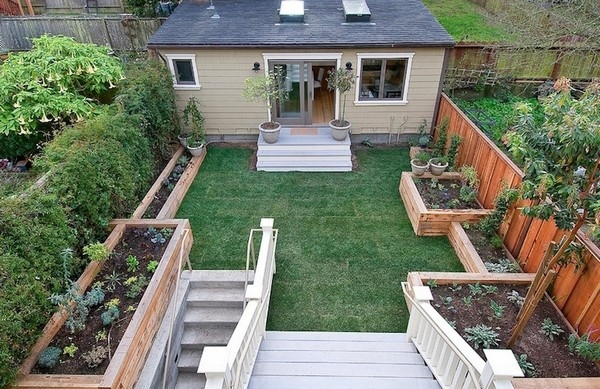 Raised beds enable you to grow flowers and vegetables regardless of the quality of your garden soil. They are also easy to maintain.
10.

Backyard Ideas with Pathways

If you would like to divide your space, you can easily do it by creating a pathway.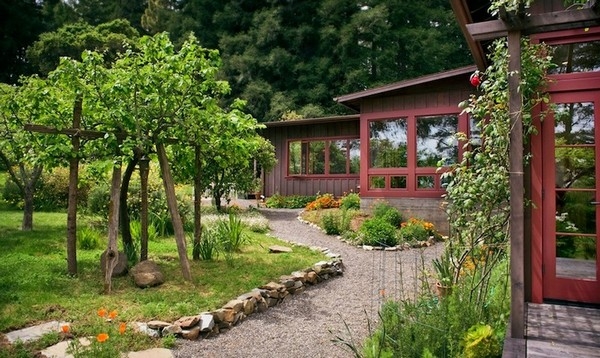 Gravel is one of the best materials for creating a pathway without all that much effort. There are many other border and edging garden designs you can use.
11.

Climbing Plants Backyard Idea

Legumes and other vegetables need support as they grow. But these supports can become decorative elements in themselves.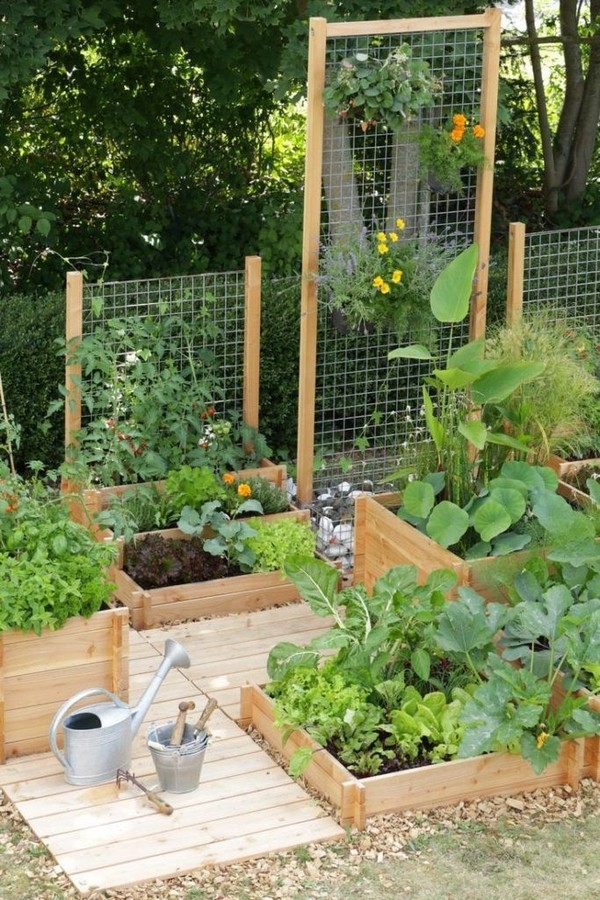 Just because you have a small backyard does not mean you can't create something interesting out of it. Or grow your own food!
12.

Fire Pit Backyard Idea

A fire pit can become the centerpiece of your backyard. It's more affordable than a fireplace and can be fantastic to have throughout the year (including on summer nights!).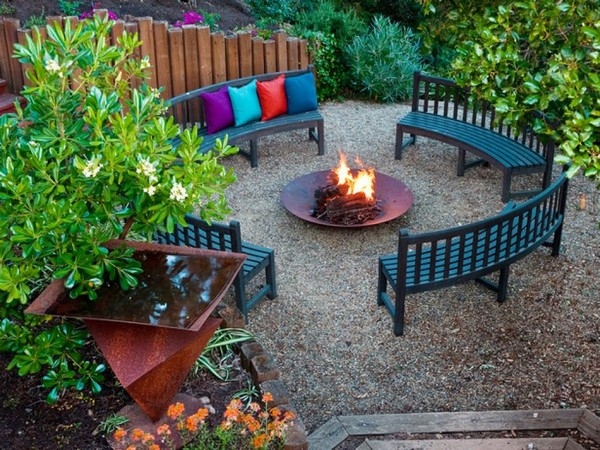 You can choose the fire pit first and then add garden benches and other furniture that goes well with it. Like in the image above, semi-circular benches are a great choice.
13.

Elegant Backyard Design

Got space and a good budget? Go for a casually elegant and refined design like this one.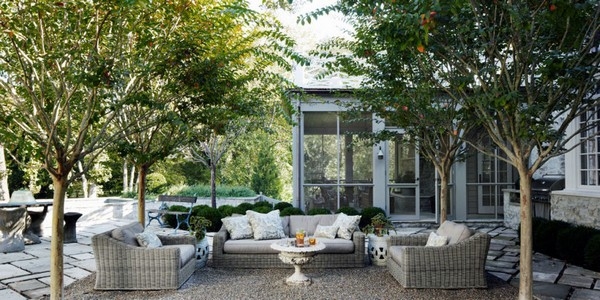 Notice how the trees mark the perimeter of the sitting area and provide shade and volume.
14.

Backyard Idea with Tiered Rocks

One of the best natural resources for your backyard are rocks. But that doesn't mean you have to pile or stack them up all in one place, like in Japanese gardens.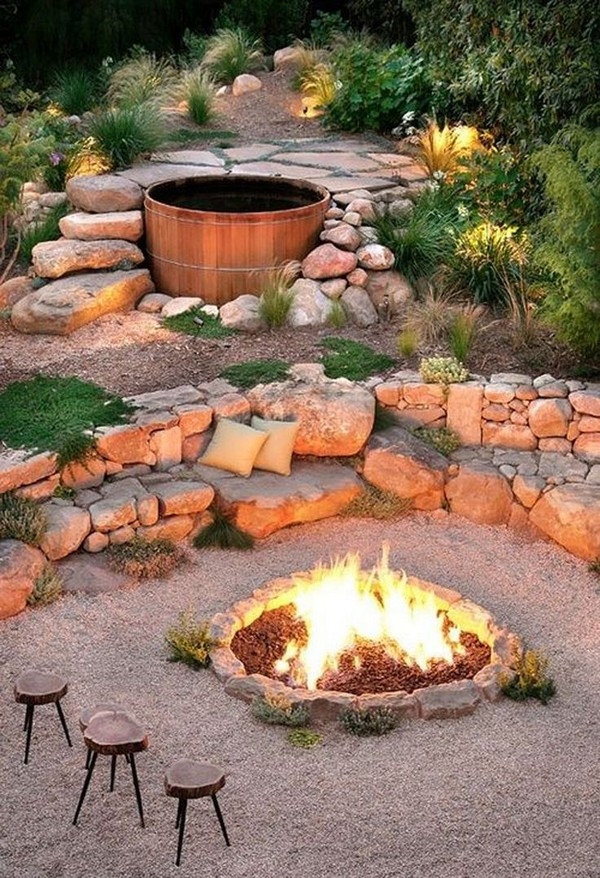 Use a tiered rock design to create sitting spaces, mark the area of the fire place, and even to frame a small DIY swimming pool.
15.

Backyard Ideas with Pool

Talking of pools, you can go big and let the swimming pool become the dominant feature in your garden, like in the example below.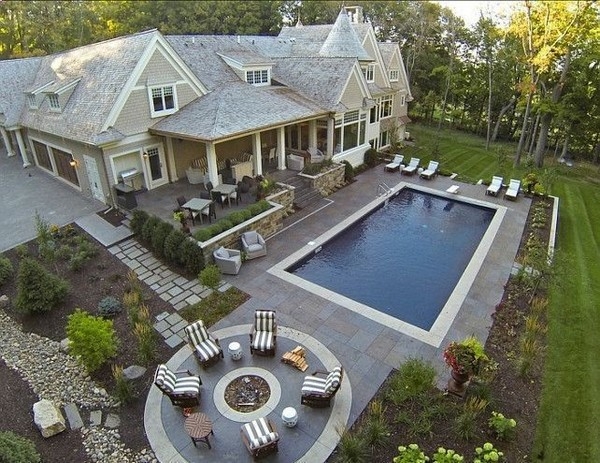 From health to recreation, pools bring a lot of benefits provided that they are large enough for you to swim in them or perform other water-based exercises.
16.

Cozy Backyard Idea

Leafy, cozy backyard ideas are great for small spaces. They can help you create a green oasis at a fraction of the cost of other backyard designs.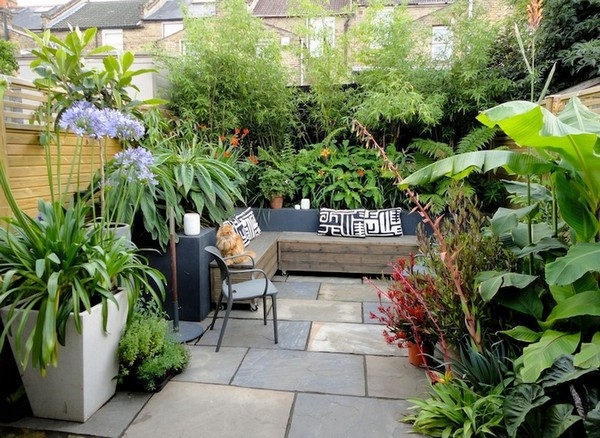 Notice how in this example plants are deliberately crowded together to fill up the space and add texture to it. Why not green up your backyard in the same way?
Palm trees in pots are great for this. Here are some bestselling choices.
17.

Creative Outdoor Backyard Space

Whether it's for play or for fun, your backyard can serve as a functional living space that's calming and practical at the same time. Here's an idea you can adapt to your own design.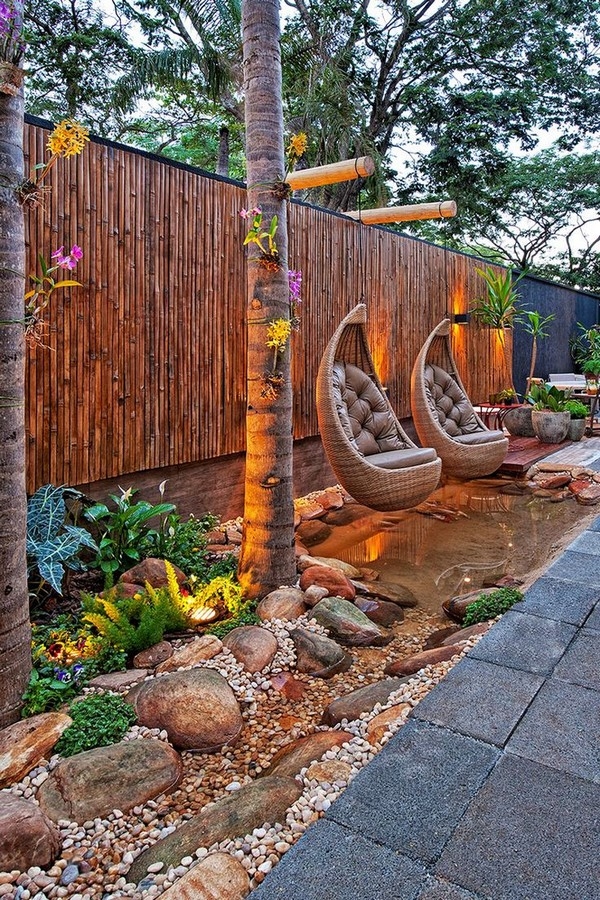 Notice how the rocks, the gravel, and the bamboo fence create a natural setting for the swings.
18.

Leafy Backyard Patio Idea

A pergola with vines along with a couple of container plants is a cool spot to relax in during a hot summer day. Add a wooden deck to create a comfortable-looking patio.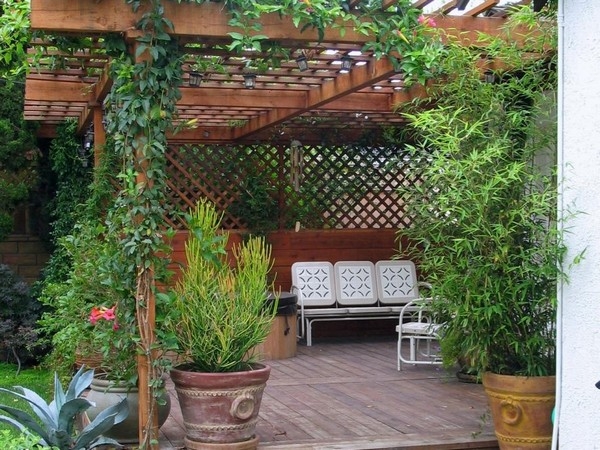 Tip: When it comes to backyard ideas, keep in mind that details matter. The furniture, flower pots, and pattern of your privacy fence can all make a difference.
19.

Elegant Backyard Idea with Wooden Pergola

Here's another wooden pergola backyard idea we wanted to share with you. This one's simple but uses high-quality materials and combines functionality with good taste.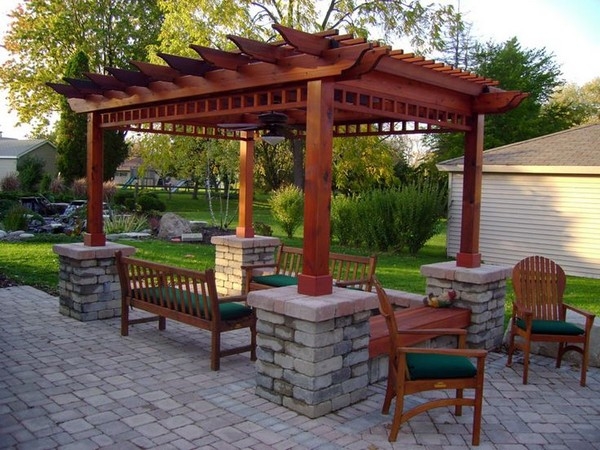 When renovating your backyard, identify the key elements you want in there, and be willing to pay for the best quality you can afford. It can make a huge difference to the final design!
20.

Large Swing and Water Feature Backyard Ideas

Make your backyard stand out with a creative swing slash nap place with hanging plants and water features thrown into the mix.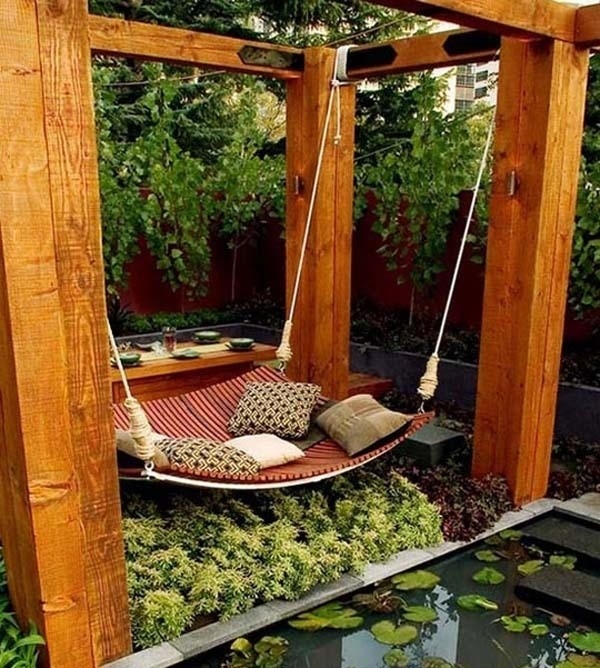 Creative DIY projects that can make your backyard look magnificent. And super fun, too!
21.

Modern Backyard Pool Idea

We've seen already a few backyard ideas with pools. This one's different because it uses a living wall and a glass divider plus other interesting textures and designs.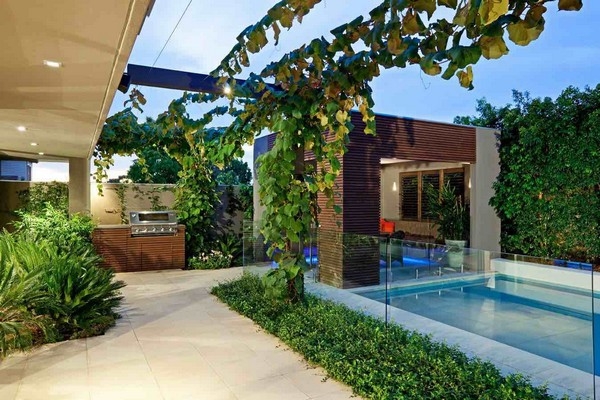 Turn your backyard into a great place for parties and meetings with friends by adding a kitchen area close to the outdoor seating and the pool.
22.

Friendly Minimalist Small Yard Idea

Focus on the details that count and use hedging as a divider wall with this design, one of our favorite small backyard ideas for tiny spaces.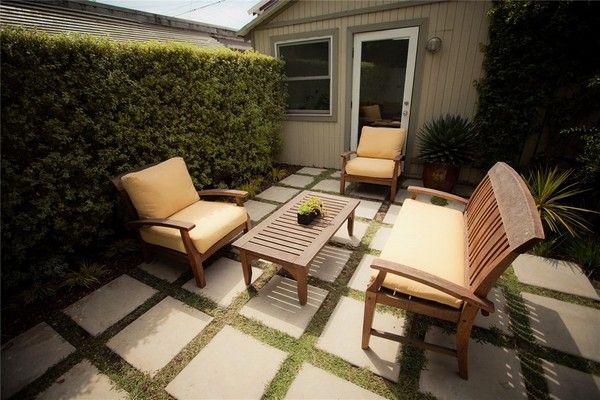 Notice how landscaping stones arranged geometrically lie directly on the grass. They are easy to install and much less work than traditional paving.
23.

Fairy Tale Backyard Idea

Add a fairy tale feel to your backyard design with a wooden cabin or shed and the right mix of low and tall-growing plants. Round up the edging to make the yard more inviting.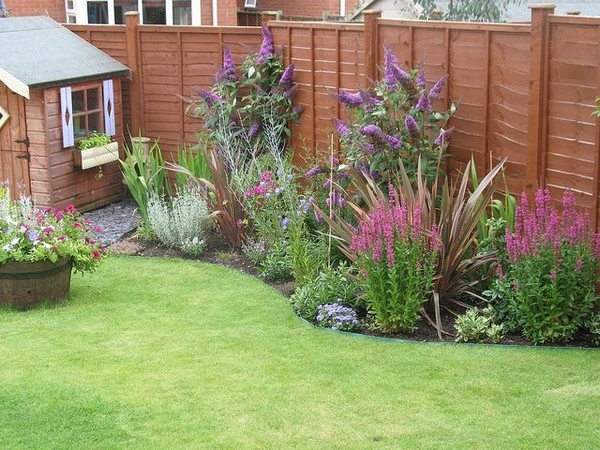 Backyard ideas don't get easier than this! If you settle on this one, make sure to check out fairy garden ideas for more inspiration.
How to Make Your Backyard Ideas Come True
If this is the first time you've ever handled backyard landscaping, you may feel a bit overpowered by all the options available. Things become a lot easier if you focus on the essentials.
Weather
Know the behavior of the sun and wind. For instance, place your porch on the side where you won't get too much heat from the sun.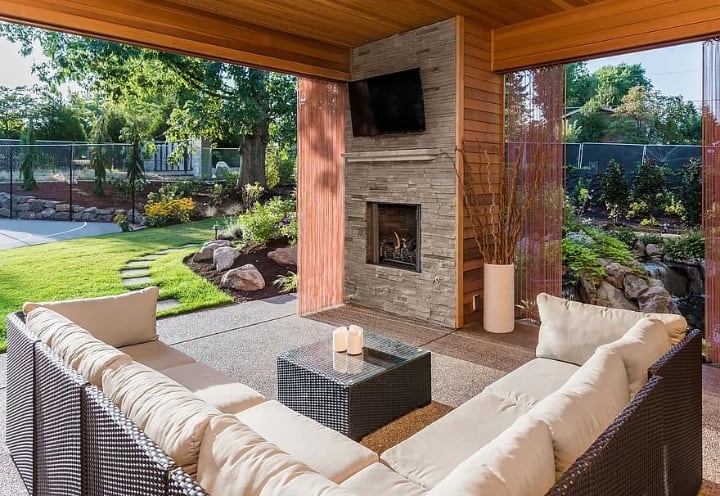 If there is too much wind, then it might blow out your fire pit. When planning your design, it's very important to consider the patterns of the wind and sun at various times of the day.
Focal Points
Determine a focal point in your backyard. In every backyard design, there's always one or more focal points. This is a great principle that can help you bring all your backyard ideas to life.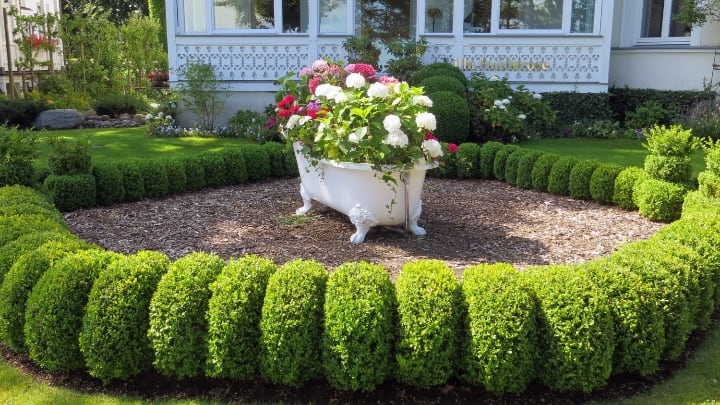 A focal point can be any type of element--a sculpture, a beautiful plant or tree, a bunch of bushes. The most important thing is that it retains attention.
Tip: Scale and pacing are also important. They can be one of the trickier parts of landscaping your backyard, but if you work in increments, you can stay in control of them.
Pace of Work
When you get to work, start slow and enjoy every phase of it. For instance, begin by creating a little flower bed in your yard. But make sure that you have drawn a design before you start.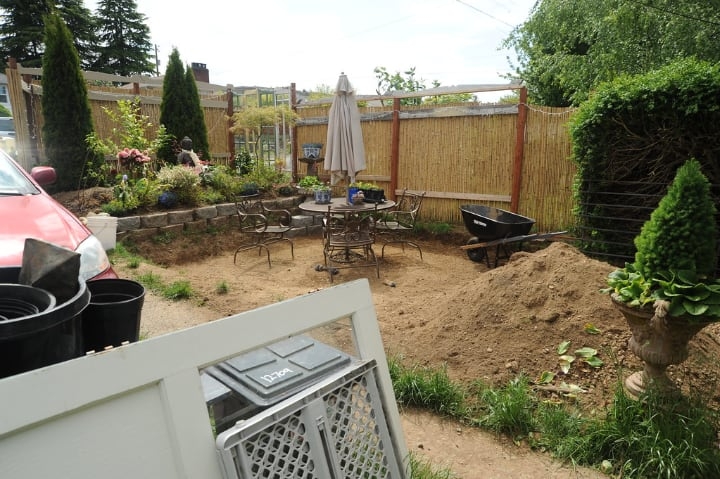 If you have the time, you can spend an hour or two on it every day. Don't get stressed about finishing everything immediately. Take the time and do it step by step.
Experimentation
Constantly reassess what you like and what you don't like and use this to filter out all the backyard ideas you have.
If there is a certain element that you dislike, take it out. Keep in mind that patience is vital when it comes to landscape design.
Tip: If you have too much empty space in your yard, you can come up with a temporary fix until you make up your mind about what you really want in there.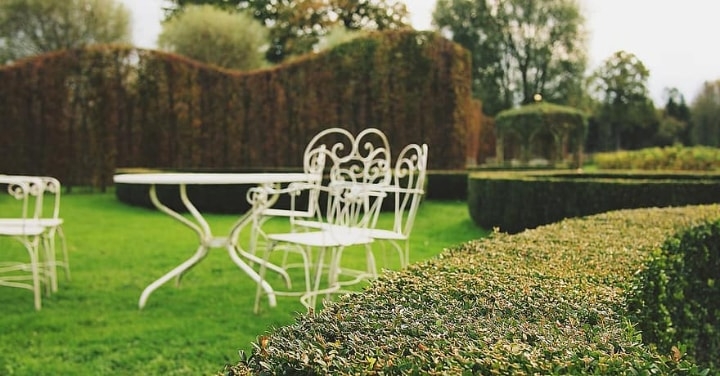 For instance, you can use annuals, ground covers, or mulch to easily cover a space. Perennials and bushes can be easily transferred if you think that they are in the wrong areas.
Often, it's best to keep things simple. In case you have a small backyard, you don't want to cram it with backyard ideas or it may end up feeling cluttered and unbreathable.
Maintenance
Ensure that your yard is regularly maintained by occasional trimmings and proper care for plants.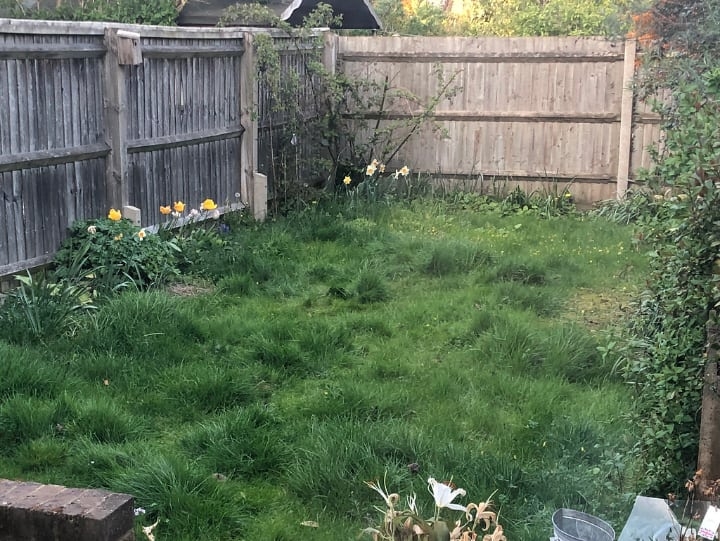 If you have small kids who always forget their toys all over the place, consider garden storage solutions.
Frequently Asked Questions About Backyard Ideas
We keep hearing a few questions about backyard ideas, so we thought we might as well answer them in this section. Maybe you have similar questions on your mind. We hope the answers will prove useful.
Make Your Backyard Count
We hope this post brought you lots of backyard ideas that you can start using to transform your yard into one of your favorite places in the world.
Start small and keep improving your yard every week and you'll create something beautiful without breaking the bank. Because at the end of the day, the best backyard ideas are usually creative rather than expensive!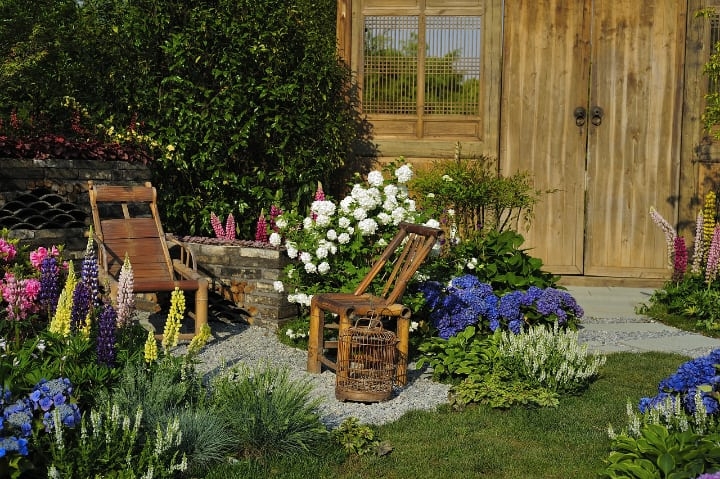 If you enjoyed this post, please share it with others who may find it useful. We appreciate your support.
And make sure to check our landscaping ideas and garden ideas too! You can incorporate many of them into your backyard design.
That's all from us for now. See you next post!