Are you an enthusiast of fairy tales and fantastic creatures? Creating a fairy garden can be a wonderful experience. It's an exercise in creative storytelling that you can do with a loved one, with your kids, or all by yourself and enjoy every step of the process.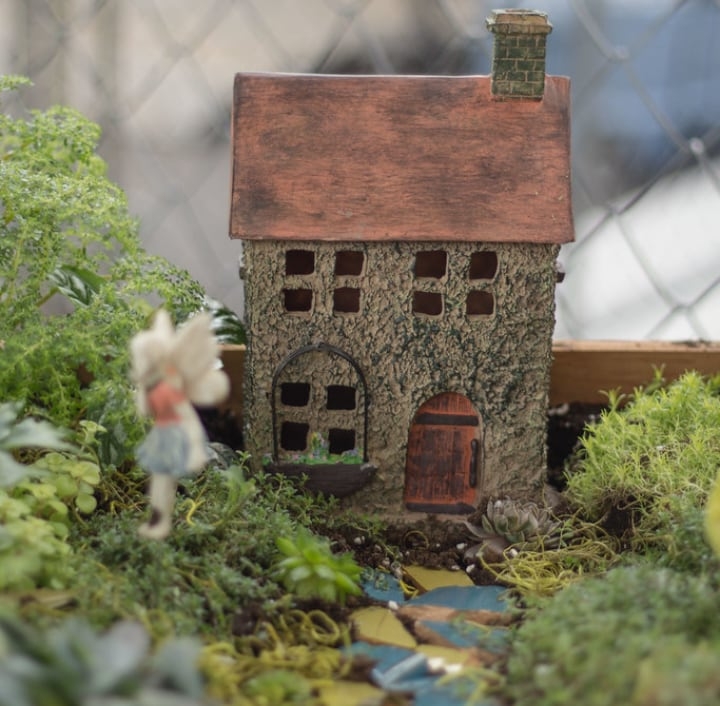 In this post, we will share with you lots of fairy garden ideas that you can adapt to your own design and complement with your own creativity. The result will be nothing less than wonderful.
What Is a Fairy Garden?
A fairy garden is a small, often miniature outdoor or indoor garden complete with living plants and figurines of fantastic creatures.
Fairy gardens also feature tiny houses, miniature furniture, and decorations designed to entice magical fairies in your garden.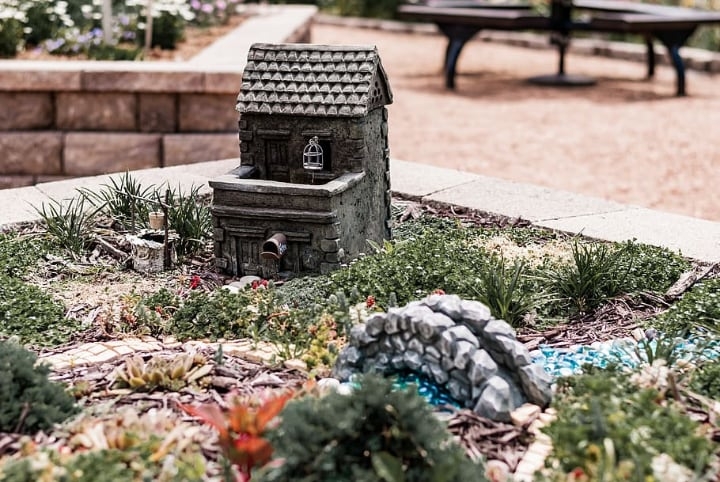 All in all, it's a small space tended with love. A fairy garden is a beautiful addition to your home garden, and its design is only limited by your imagination.
Fairy Garden Ideas
Garden ideas and designs are becoming popular with many people. They're not only fascinating for the kids but also for adults. Let's explore together some wonderful fairy garden ideas.
1.

Fairy Gnome Garden

Looking to add a dreamy, mischievous touch to your outdoors? A fairy gnome garden fits the bill perfectly. Bring a handful of red and blue-capped gnomes that look like they're up to some mischief about the gardens.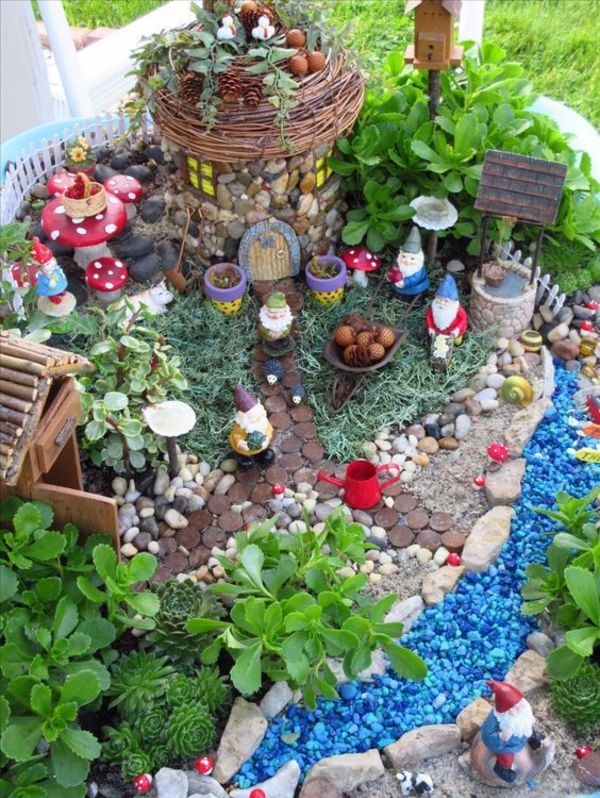 Build a story around this arrangement by adding a tiny getaway cabin, some wild stone mushrooms, acorns, pinecones, a watering can, a basket of fruits, a well, and some slow-growing plants.
Tip: You can also place a beautiful stream in the set up using tiny blue pebbles to enhance the fairy atmosphere.
2.

Purple Fairy City

If you're a lover of all things purple, look no further than this purple fairy city that you can place anywhere—inside or outside your home.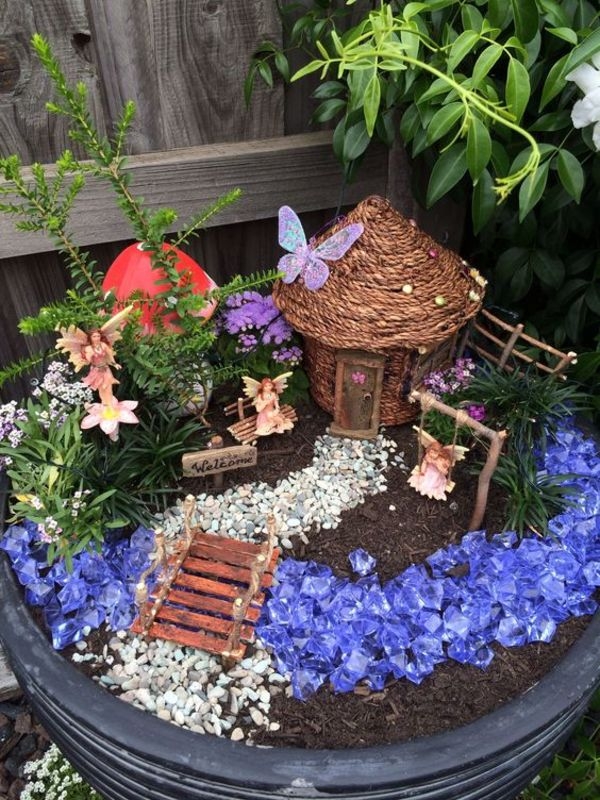 There are more ways than one to indulge in the color. Plant lavenders and clematis in your fantasy world, use purple-colored decorative crystals, add fairy figurines draped in purple, and carefully place trinkets like a mauve doorknob and a purple-winged butterfly.
3.

Country Cottage Fairy Garden

A thatched cottage, tiny bird figurines, wooden steps, moss, and pebbles--all you'll need to create a country backdrop for your fairy garden.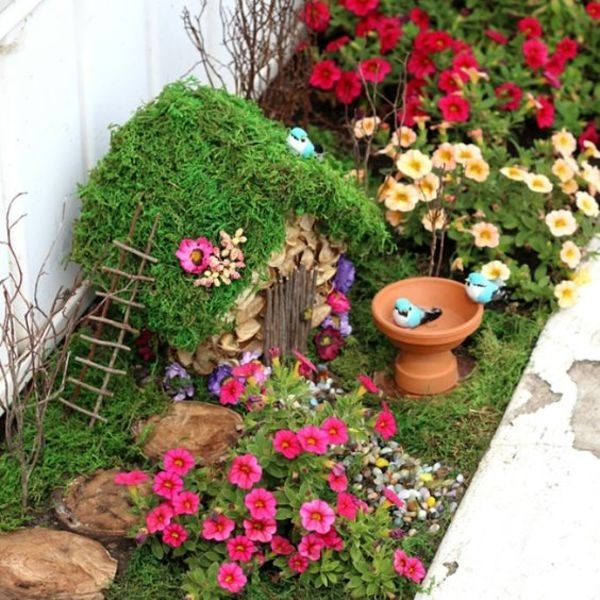 Since fairies love flowers, you can plant red, pink, and yellow-colored petunias in your country garden to beguile them.
Idea: A tiny bird bath filled with water during summers is sure to attract chirpy birds to your garden.
4.

DIY Miniature Tire Fairy Garden

Old rubber wheels can transformed into a fantasy garden. Not only do these repurposed tires look fantastic and are budget-friendly, but reusing them also helps protect the environment.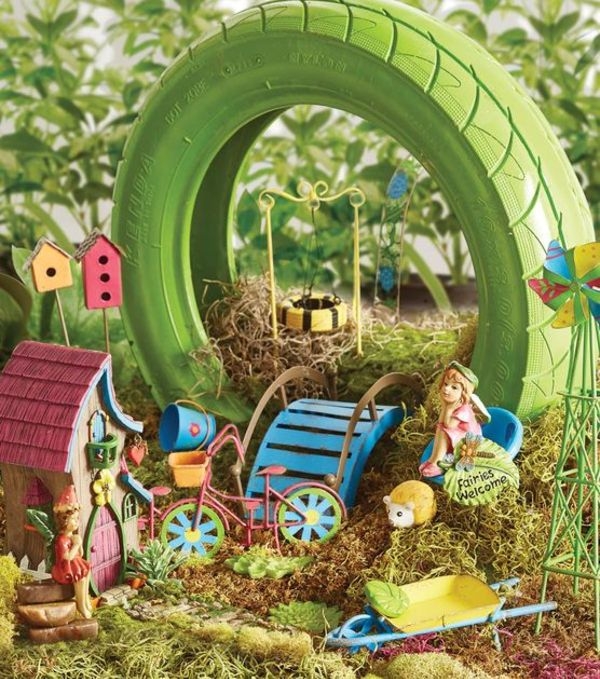 Fix a tire vertically and add decorative items like a multi-hued fairy house, a wooden bridge, patio furniture, fairy figurines, a wheelbarrow, a rainbow windmill, and a bicycle around it.
Tip: Use spray paint to color the tire as it is more durable than regular latex paints.
5.

Wooded Wonderland

This detailed fairy garden with its woodland vibe is perfect for a rustic outdoor setting. What can you decorate it with? Well, with just about anything.

Think wooden houses, spotted toadstools, colorful pebbles, moss-strewn logs, plants and flowers, stone trinkets, and gnomes--lots and lots of gnomes!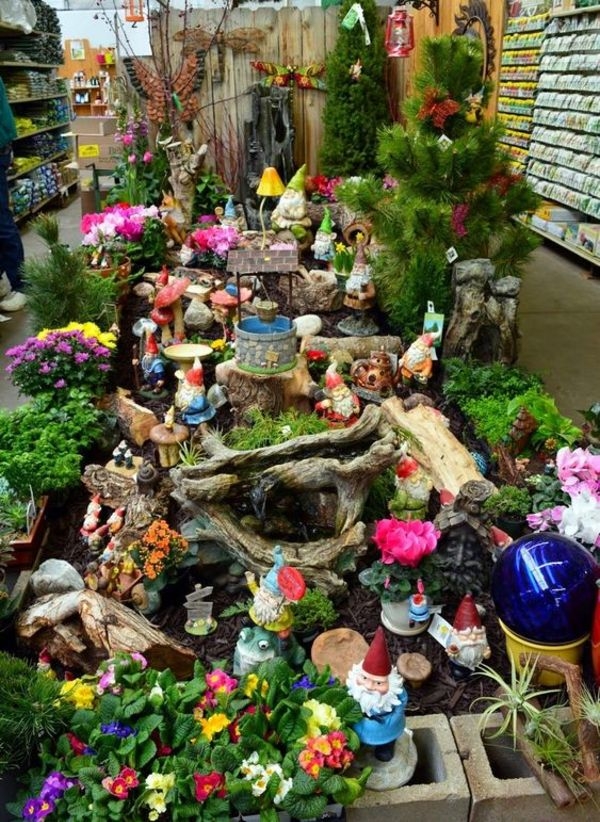 A wooded wonderland would require a good space outdoors to spread out and let all its elements shine. So make sure you have plenty of space available before starting this project.
6.

Fairy Garden in a Pot

Short on space? Don't worry, your whimsical world can fit in a pot. Fill a wide and shallow earthen pot with soil and decorate it with elements like a colorful birdhouse, picket fence, lawn grass, flowering plants, and stepping stones.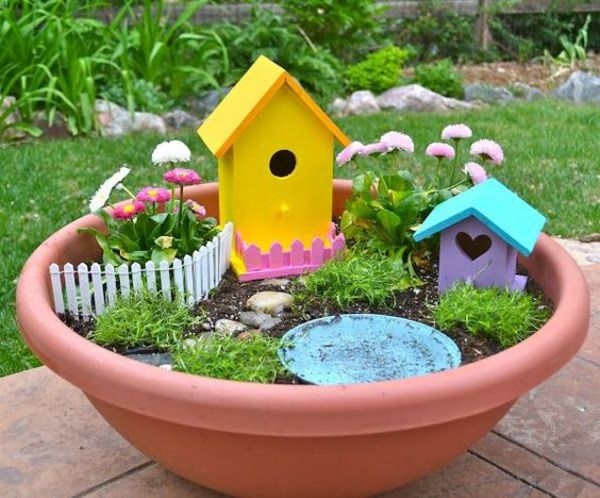 Minimalist in design, the best part about this gaily painted mini world is that it's portable. So you can leave it in your front yard amidst flowers or use it as a table centerpiece indoors.
7.

Duplex Fairy Garden House

Create a duplex fantasy world filled with greenery and pixie dust for your fairy friends. Layer the garden house with faux lawn grass and add a pebbled pathway, a welcome signboard, and an inviting wooden door to entice the fairies.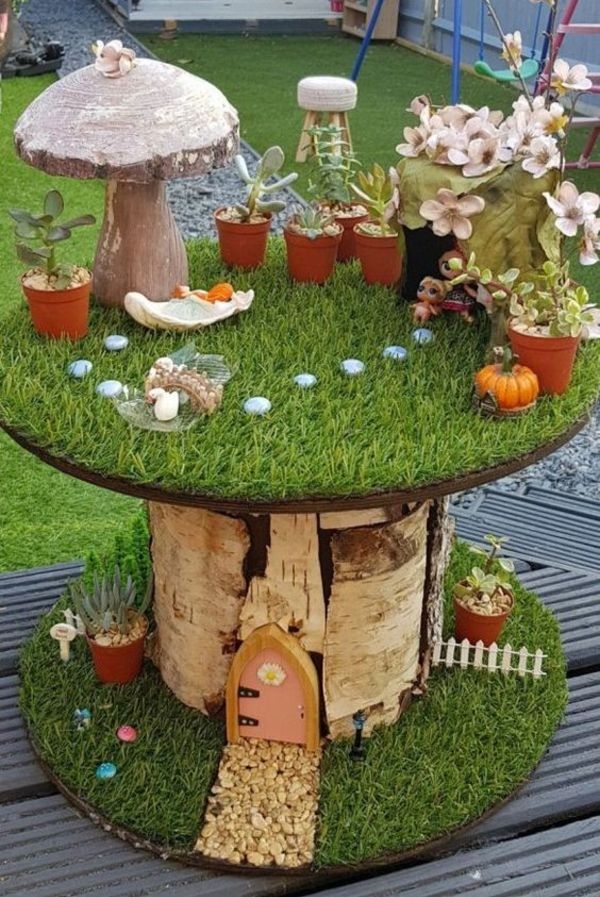 A small mushroom-shaped wooden gazebo, miniature potted plants, a duck, pumpkin, and a couple of mischievous pixies will make visitors pause and look in awe at your beautiful home decor.
8.

Miniature Fairy Garden

This adorable fairy garden in a planter makes for a perfect getaway for your little fairies. Everything in this garden is tiny—from white pebbles and slow-growing plants to a poppy-roofed house and a couple of inquisitive fairies.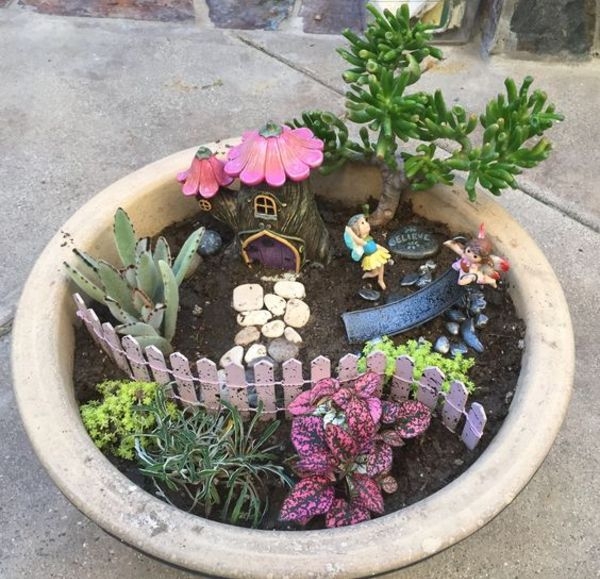 Since this mini world is contained in a pot, make sure you grow only those plants that remain small and are slow-growing.
Idea: Let your imagination run wild and build an enchanting fairytale around your arrangement to fascinate your kids.
9.

Fairytale Garden

This enchanting fairytale garden will make you want to believe in fairies.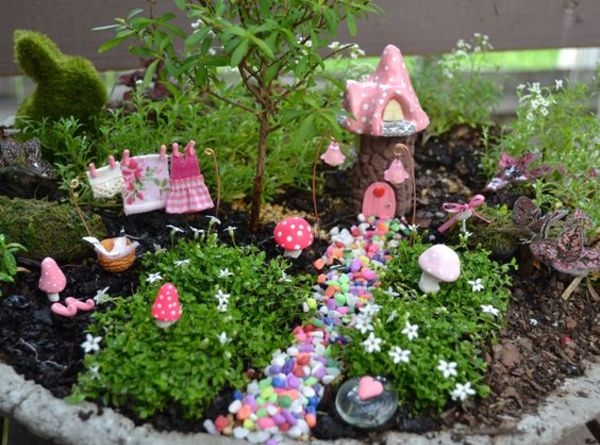 A path made of confetti colored pebbles, three or four tiny pink-capped toadstools to sit on, a clothesline for the pixie clothes, a straw basket, dreamy lampstands, and a pastel candy house--all of these will make your fairy friends feel right at home.
Tip: Don't overspend on garden accessories. Simply grab some old, worn-out clothes and start sniping out tiny dresses for your fairy garden clothesline.
10.

Tropical Seaside Garden

This tropical escape, complete with sand, succulents, and pebbles is a perfect retreat for Tinkerbell and her friends looking for some R & R.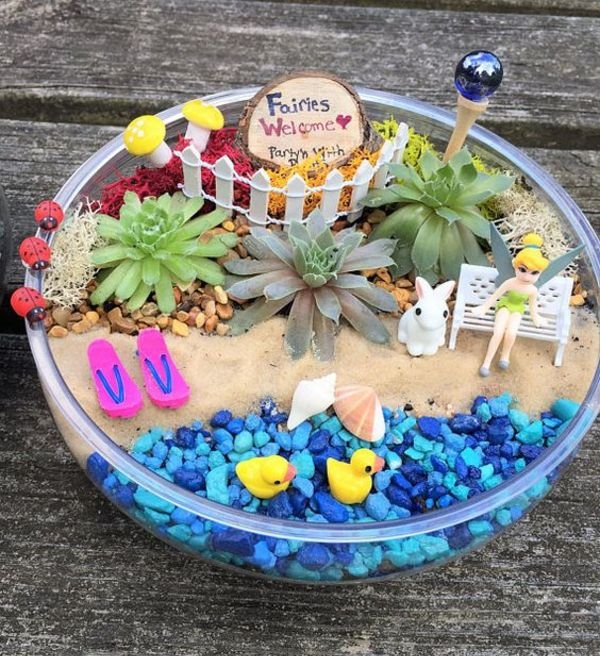 Use a glass bowl to hold your seaside garden. Put in a pair of miniature flip-flops, a tiny bench, clay mushrooms and ladybugs, ducks, colorful faux moss, and some seashells to make this seaside escape more artsy.
11.

Miniature Garden with Succulents

Succulents are in vogue. So why not make good use of their unique shapes, colors, and textures to add a whimsical twist to your tiny garden?

Grow your succulents in layers, encircle them with white picket fences, and place them in an area that receives plenty of sunlight.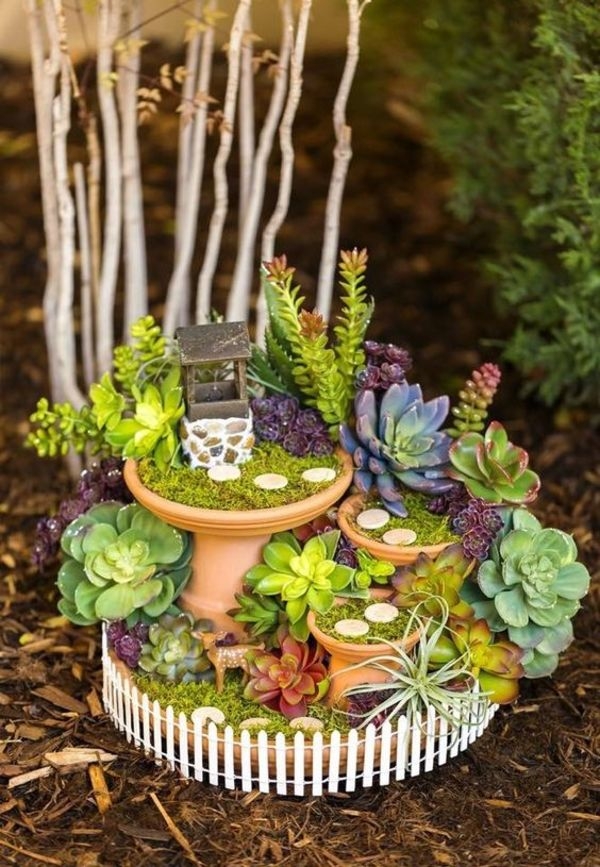 A trail of stepping stones leading to a dainty wishing well will finish things off just right. You can also add a wandering deer to the arrangement.
Fact: When planted in a small container, succulents don't get enough room to spread out and their growth slows down.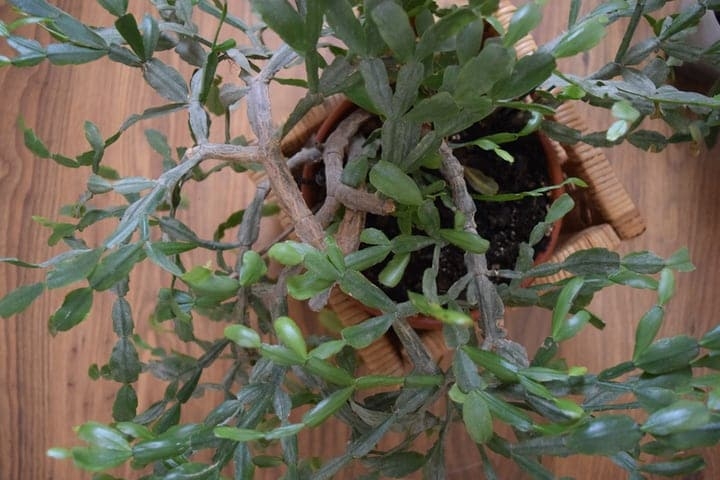 12.

Rainbow Unicorn World

This enchanting rainbow garden within your garden will have people turning heads. Plus, fairies and garden imps would love to play a game of hide-and-seek there.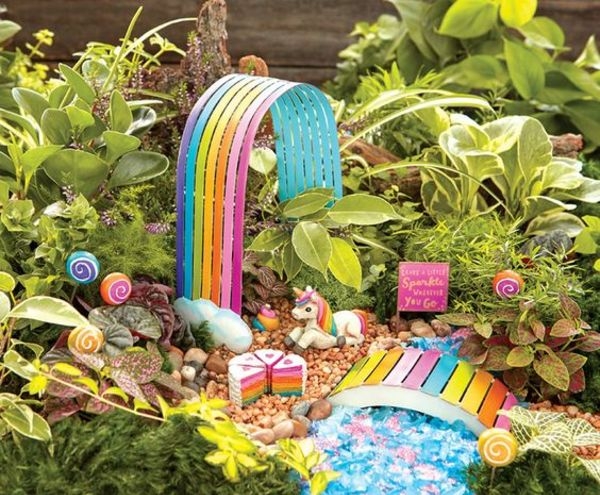 Make everything in this garden rainbow-hued—from a sparkling stream and a wooden bridge to a magical gateway and a half-eaten cake.
Tip: Stick spiral lollipops amidst the wilderness for a wandering unicorn to feast upon.
13.

Garden in the Woods

A fairy garden carefully hidden in the woods has a magical ambiance to it.

Put a tiny wooden cottage at the center of your arrangement and surround it with some busy dwarfs, and who knows, Snow White might just wander to this place.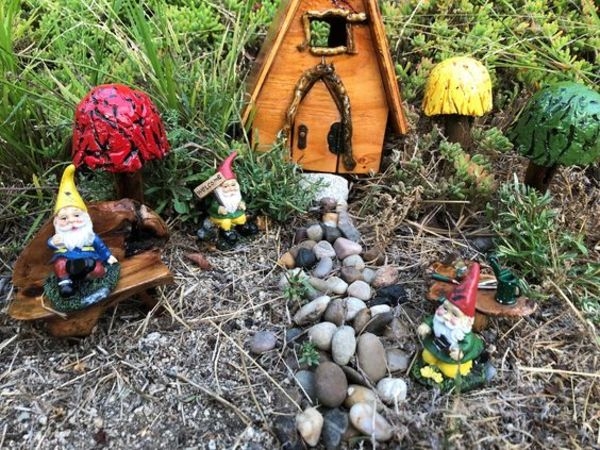 Tip: Decorate the garden with a handful of cork mushrooms, shrubs, pebbles, and a log bench for a woodland feel.
14.

Meditative Garden for Fairies

Add a bit of zen to your indoors with this serene and tranquil fairy garden. You'll need to add a lot of greenery, so make sure to grow plants with long, hanging, and leafy foliage.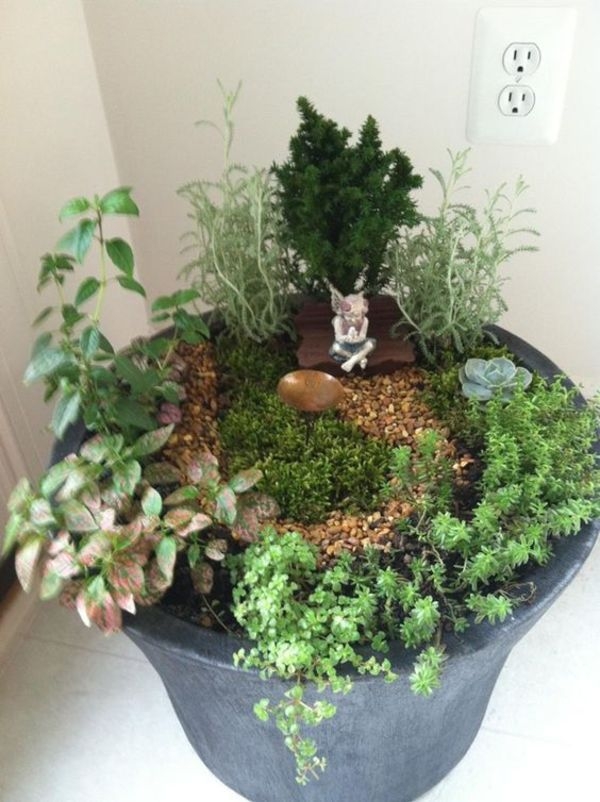 Layer your arrangement with tiny, warm-hued pebbles and put a wooden bench in its centre. Now place a fairy in a meditative posture atop the bench for the zen factor.
15.

Springtime Fairy Garden

Plain yet charming, this darling springtime garden is sure to delight the fairies.

Use a collection of vibrant flowers that begin to bloom in spring and add some fairy figurines, rocks, bamboo sticks, and aromatic candles to the scene.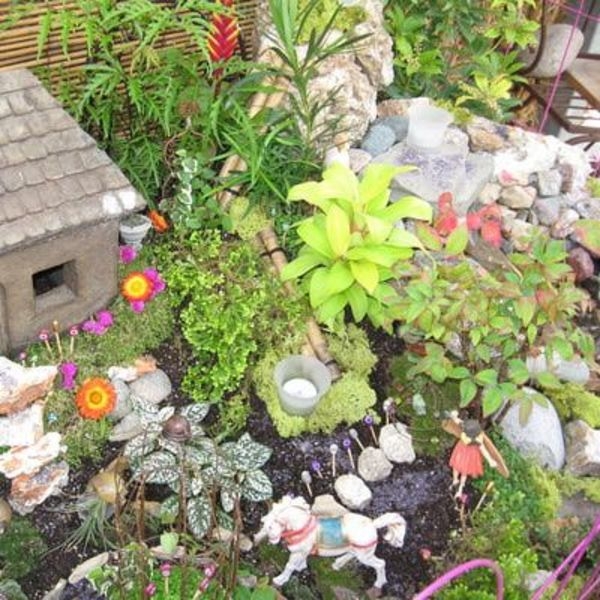 Idea: You can easily blend this fairy-filled garden with your flowerbeds. Plus, it will add a sense of enchantment to the space.
16.

Cake Castle Fairy Garden

Looking for an offbeat way to design your fairy garden? Bake an enchanting birthday cake castle that your little princess or prince will love as much as your fairy friends.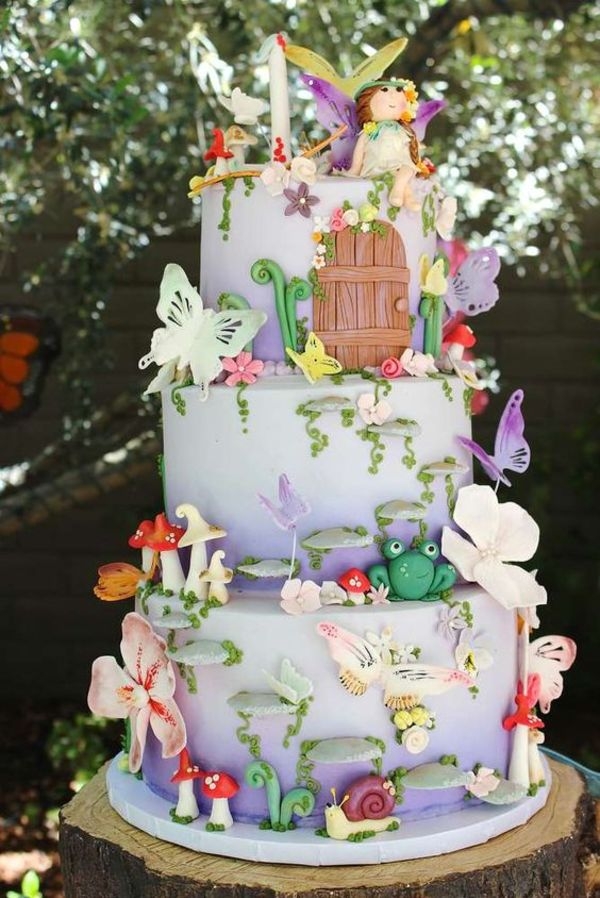 You'll need to decorate a basic cake with cookies and candies that are shaped like flowers, butterflies, snails, frogs, bugs, and toadstools. Finish it with a cake fairy sitting on top and enjoy this "sweet" fairy garden!
17.

Twinkling Garden

Cast a little magic in your fairy garden using a twinkling string of lights. Fill your garden with small plants like alyssums and baby's tears to up the whimsical factor.

Add a host of miniature accessories like a stone cottage, tiny potted plants, an arbor, a pond filled with pebbles, and a swinger to complete your twinkling garden.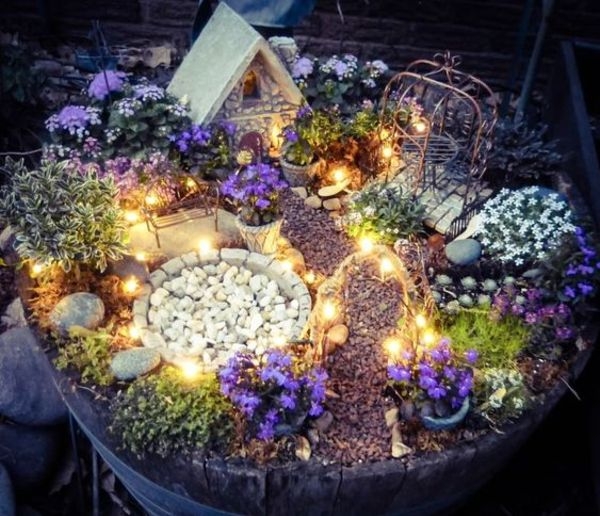 Tip: Use brown pebbles or coffee beans to create a rustic walkway up the cottage.
18.

Tiny Garden in a Teacup

How about containing your entire garden in itty-bitty teacups? Mismatched, colorful teacups are perfect for this project.

Small succulents, moss, pebbles, tiny twigs, stone knick-knacks, and seashells will turn your teacups into a whimsy dreamland.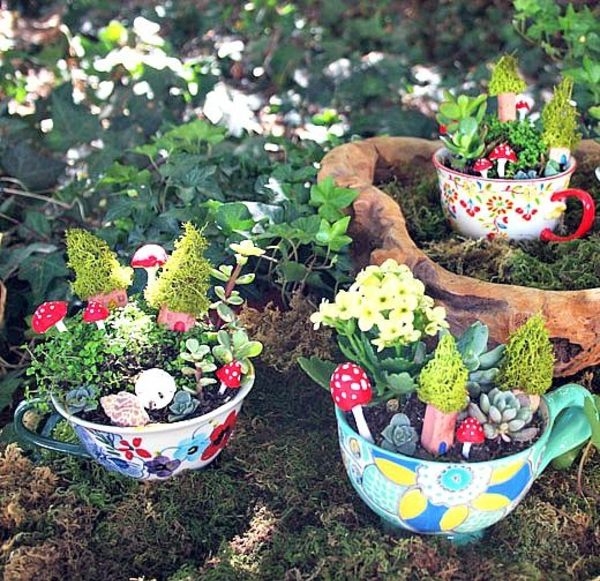 Idea: These tabletop gardens are perfect to gift your loved ones. They're pretty to look at, eco-friendly, and symbolize timeless love.
19.

Fairy Herbal Garden

What's better than a beautiful fairy garden? An edible one with fragrant herbs in it! Think parsley, rosemary, dill, thyme, and fennel for your deliciously fragrant fairy garden.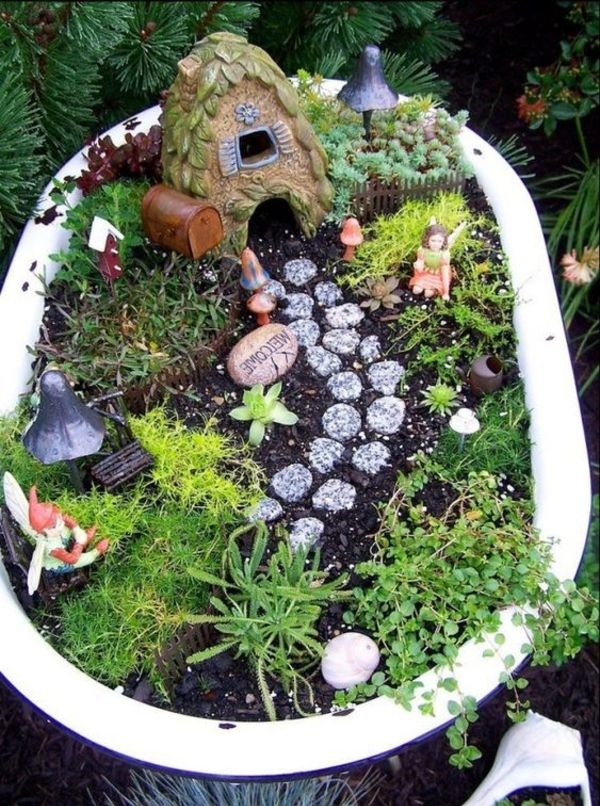 Add a fairy house, a mailbox, a bench, and a couple of winged gnomes to complete the setup.
20.

Christmas Special Fairy Garden

Nothing says "Be Warm Inside and Out" like a miniature Christmas-themed garden.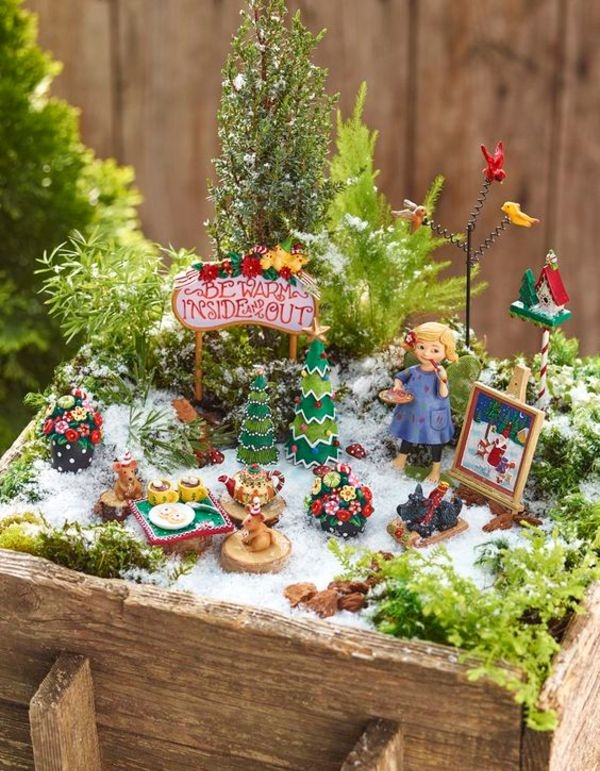 Use an old wooden crate to contain your garden and add Christmasy accessories like faux gingerbread and a cup of hot chocolate.
Or a candy cane birdhouse, mini Christmas trees, a mischievous fairy eating candies, and mini plants.
Tip: Make faux snow using bits of cotton, sea salt, and pillow stuffing, and sprinkle it all around your garden.
21.

Fairy Garden in a Terrarium

Create a unique terrarium fairy garden that you can decorate and design in many different ways.

Your terrarium doesn't always have to be in a forest-like setting with shrubs and succulents. Tiny stone structures, rocks, and pebbles will also do.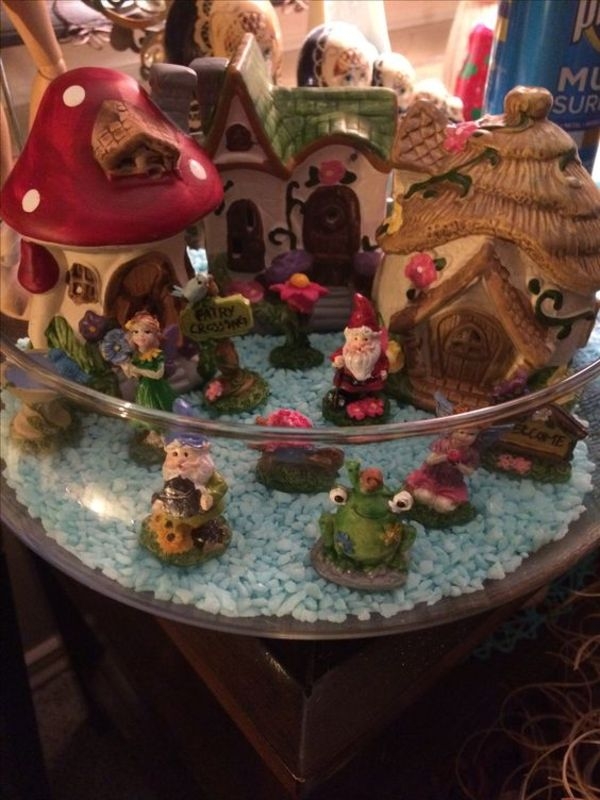 Add bizarre-shaped stone cottages, fairy figurines, and decorative accessories for a dreamy ambiance. Place your terrarium wherever it pleases you, but note whatever light requirements the plants may have.
22.

Miniature Stone Fairy House

Fancy a little stone cottage in your fairy garden?

All you need are some small-size decorative stones to make the planter base, a tiny cottage studded with pebbles, a fish pond, stepping-stones, a couple of plants, and a bonfire.

Adorn the structure with white and green moss.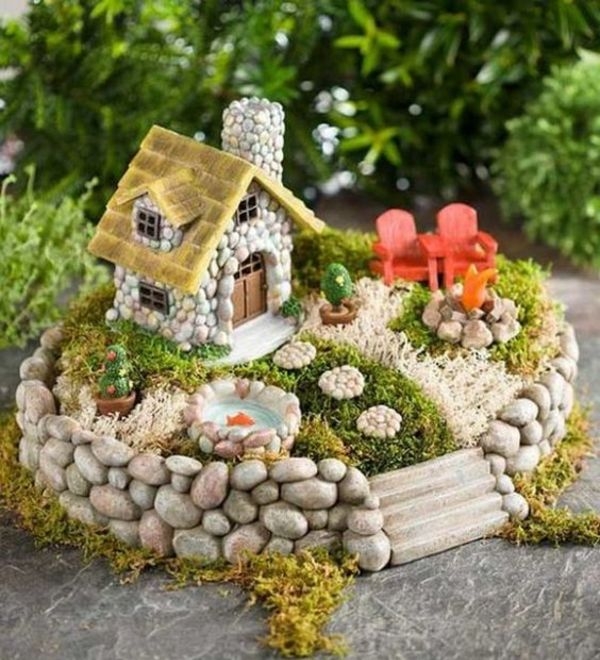 Idea: Hide this stone fairy house under a tree or in a flowerbed where only Thumbelina or a curious person can find it.
23.

Enchanting Fairy Cottage

Place an enchanting fairy cottage in your garden and it is sure to make everyone curious about its dwellers.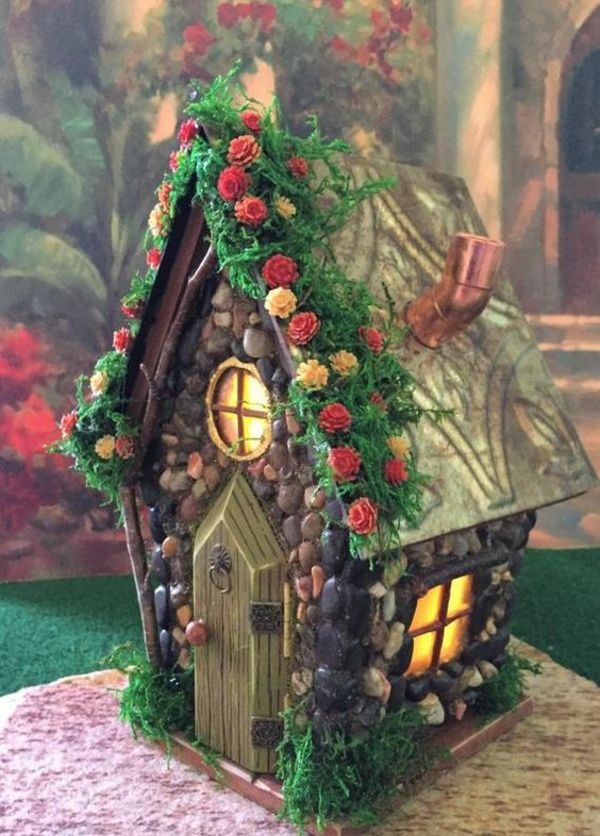 Studded with stones, this fairy house features a moveable door, two gleaming windows, a copper chimney, and a roof cloaked with a red and yellow rose vine.
Tip: Place this enchanting fairy cottage as a focal point in your garden and you never know who will answer the door when you knock on it.
24.

Castle in a Flowerpot Pyramid

Turn your boring earthen pots into a magical castle by piling them one atop the other. Fill the pots with fast-draining, porous soil and grow succulents and flowering plants in them.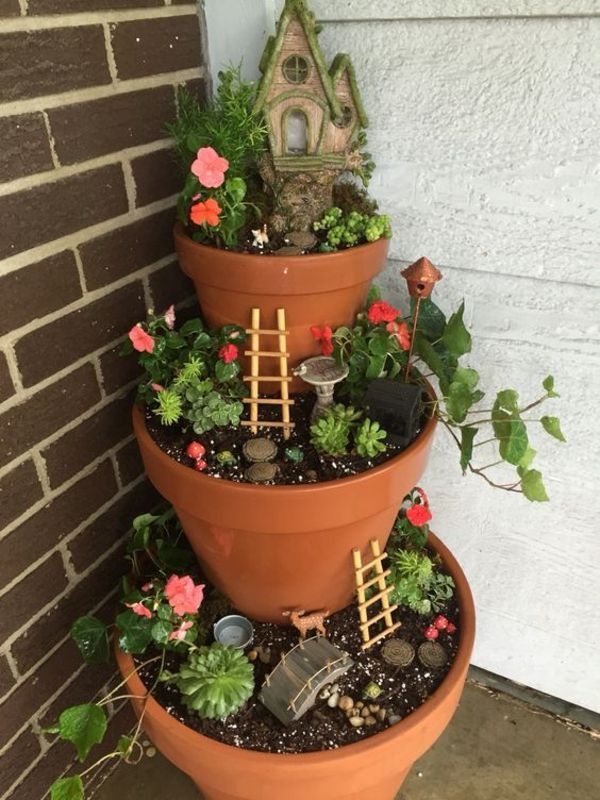 Now fix a wooden castle on top of the structure and create miniature ladders out of twigs to make it easy for the pixies to climb up.
Tip: Bury each pot at least two inches deep in the soil to secure and keep them in place.
25.

Treehouse in a Nest

No fairy garden is complete without a mini treehouse with an upturned poppy for a roof.

So place your treehouse in a nest-inspired garden and adorn it with tiny gnomes, mushrooms, deer, porcupines, and squirrels for a woodsy vibe.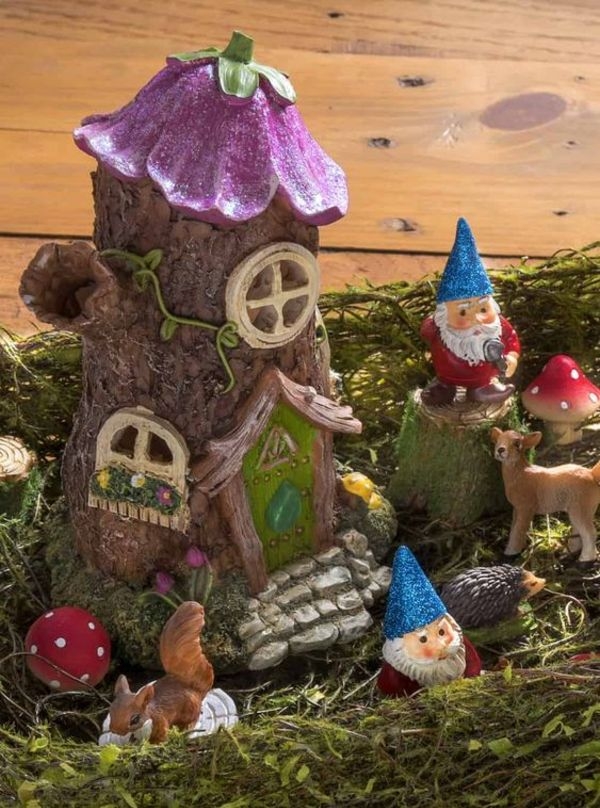 Tip: Use natural items like twigs, pebbles, tiny flowering plants, miniature pine cones, and acorns to give your treehouse in a nest a naturalistic look.
26.

Gothic Fairy Garden

A Halloween special, this gothic garden can easily turn the center of attention. Some ghostly pumpkins, a bare tree, irregular stepping stones, and a haunted house are all you need to give a Halloween treatment to your fairy garden.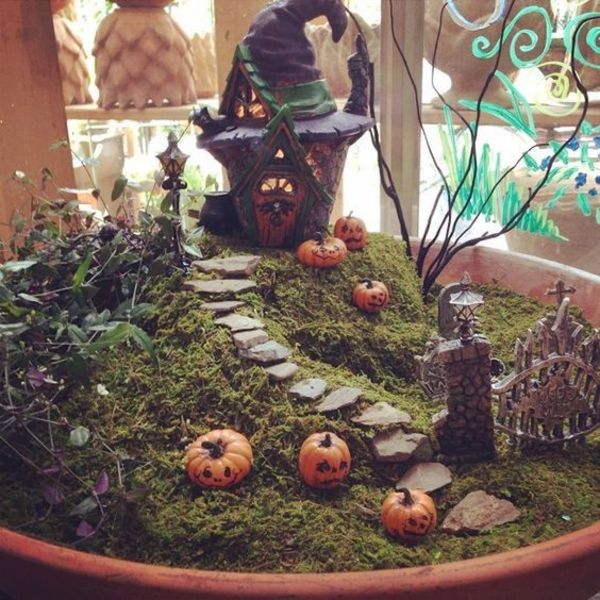 Why not build a spooky gate leading to a graveyard with a couple of tombstones for added effect?
Idea: Scatter some moss, leaves, and twigs for a detail-oriented garden.
27.

Fairy Garden Tea Party

Turn old or chipped teacups into whimsical fairy homes. Plant small succulents in the cup for greenery and decorate it with miniature patio furniture, teeny-tiny teacups, and some stone mushrooms and faux plants.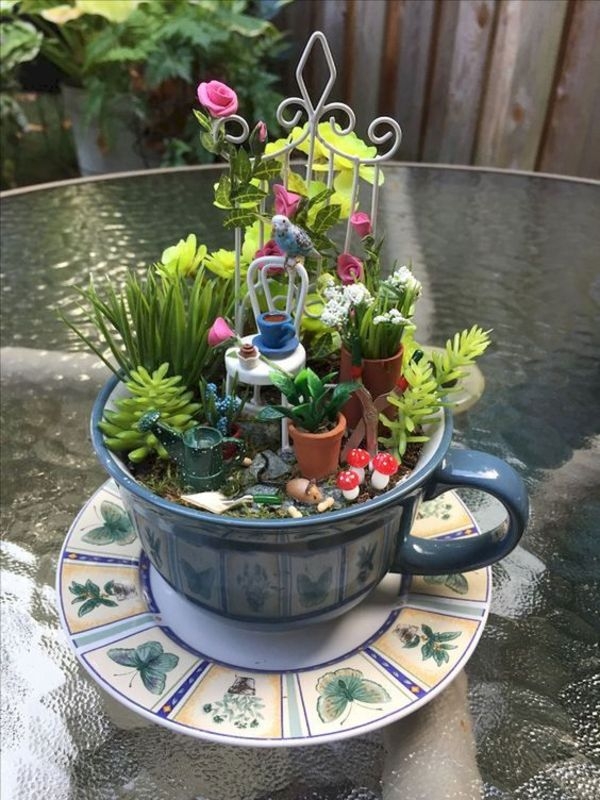 Place this delightful teacup in a saucer and use it as a garden table centerpiece.
Tip: Succulents love well-draining potting soil, so blend perlite, pumice, and sand for best results.
What's in a Fairy Garden?
Pixies? Sprites? Dotted mushrooms? Fairy houses? All of these and anything else you want to add to it!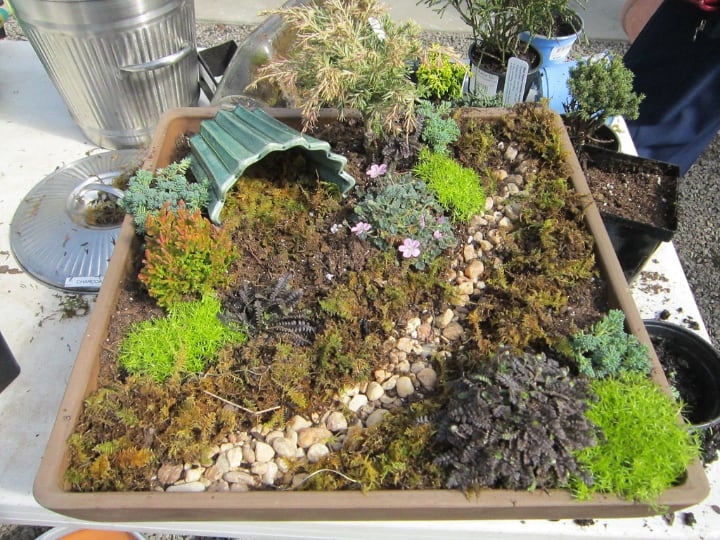 The easiest way to create you own fairy garden is to buy the essential supplies. You can of course always create your own on top of that to make your fairy garden unique.
To help you out, we've put together a quick list of some of the pixiest fairy garden sets and items. Explore it now!
1.

Fairy Garden Accessories Kit

Featuring a house, a bridge, and several mushrooms, this is a cute fairy garden kit for beginners.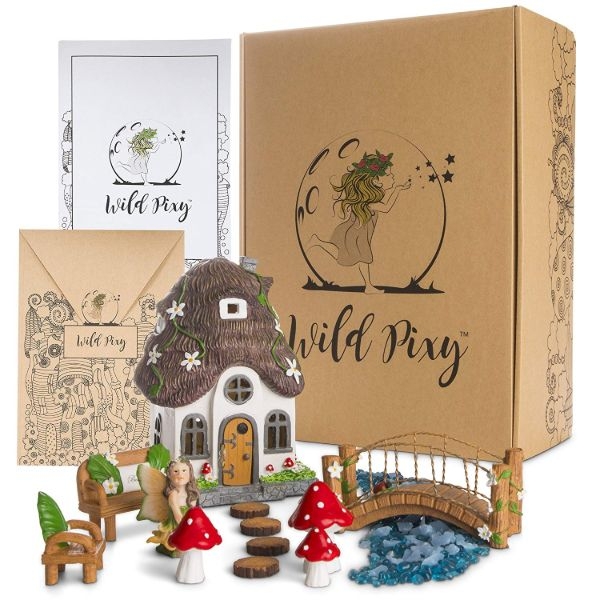 We love the details in this one and the gorgeous little house.
2.

Fairy Garden Ornaments

These exquisite little fairies wear bright colors and intricate detailing that make them nothing less than adorable.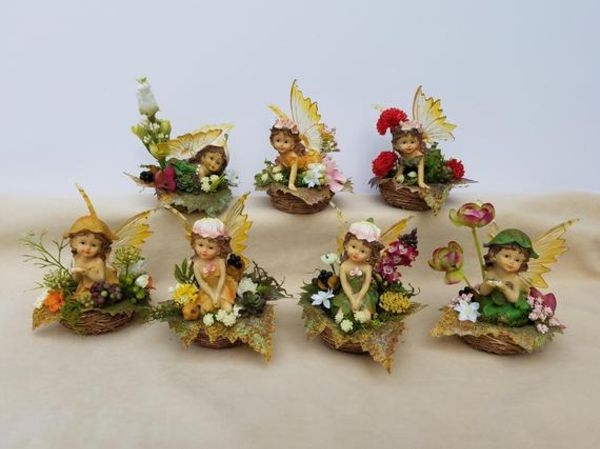 The wonderful craftsmanship of these little fairies makes them one of our favorite entries on this list.
3.

Tiny Fairy Garden Houses

If you're opting for a small fairy garden, try these miniature stone houses with steps. These look as if they've been shipped straight out of a fairytale.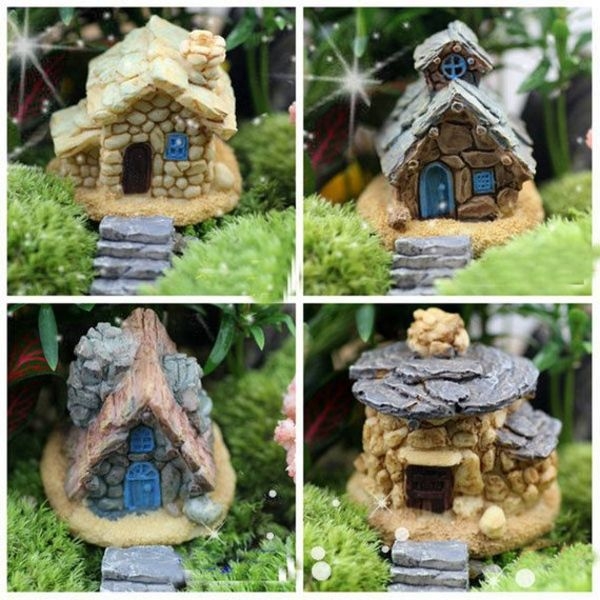 If you've never had a fairy garden before, you can start small--these houses are perfect for that.
4.

Unicorn Fairy Garden Accessory

What would your fairy garden be without a unicorn? This one's one of the cutest around.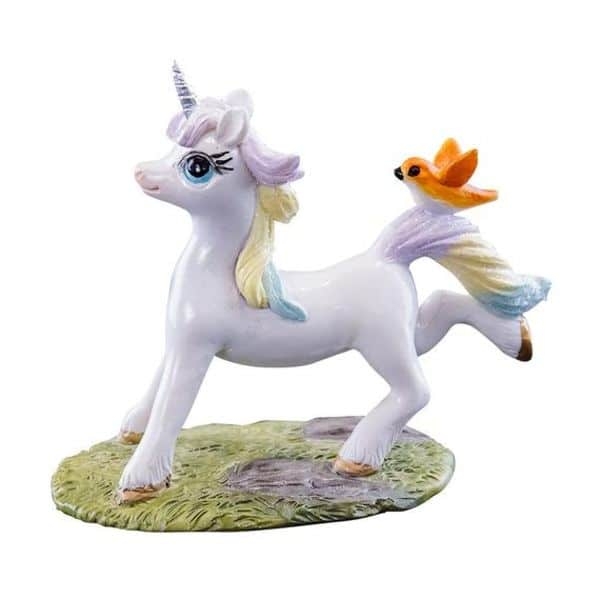 The bird on the unicorn's rainbowy tail adds a nice touch to this one. There's also something of Bambi to it, no?
5.

Fairy Garden Set for Kids

Another lovely fairy garden set, this one's great for a small child who wants to build her own first fairy garden.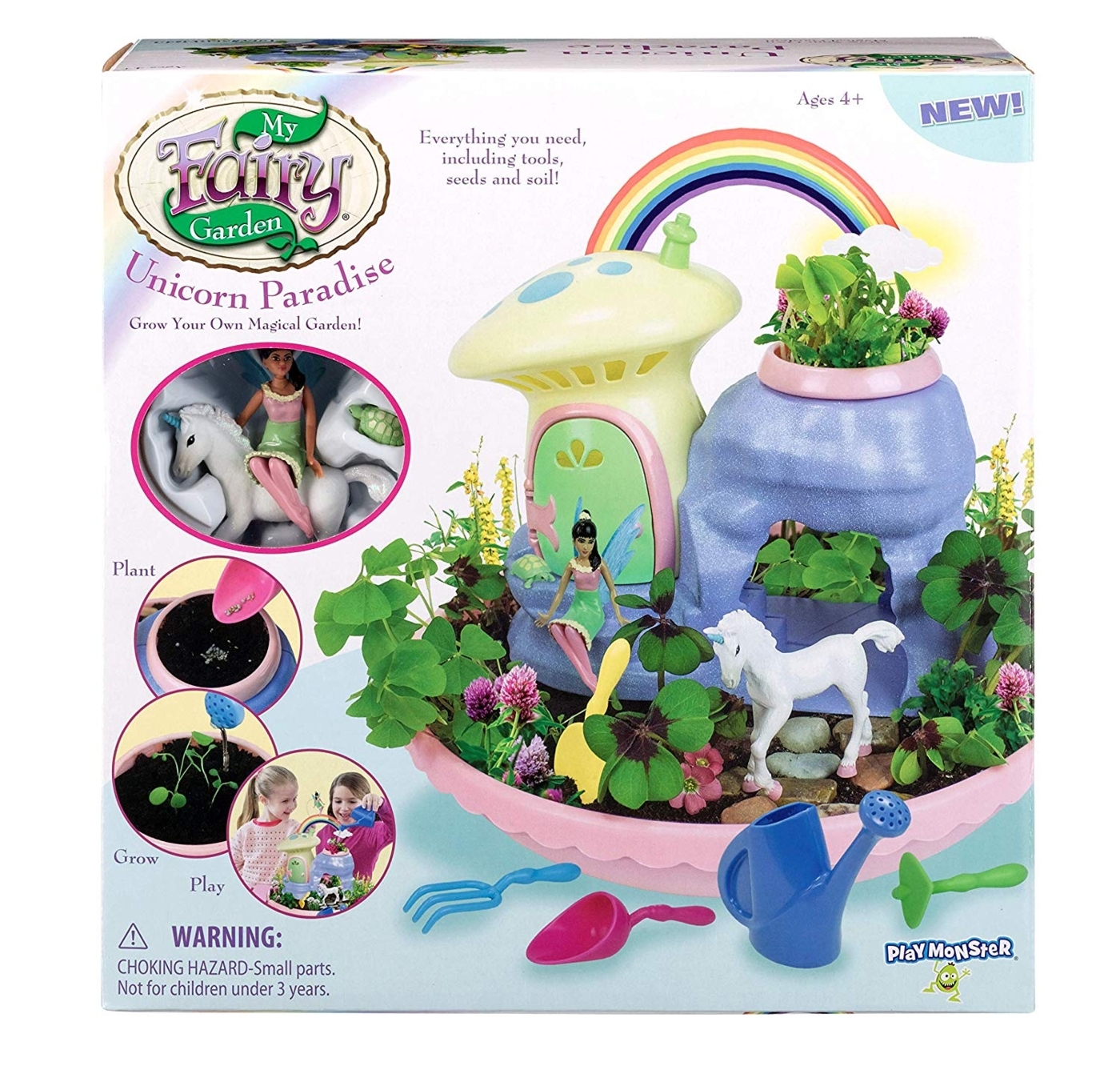 It includes seed, soil, as well as several accessories, so you don't need to buy anything else on top.
Looking for even more fairy garden accessories? Check out these bestselling items.
How to Make a Fairy Garden
There are two main types of fairy gardens: indoor and outdoor fairy gardens. We will talk about each below and share with you some practical tips for making them come true. Ready when you are!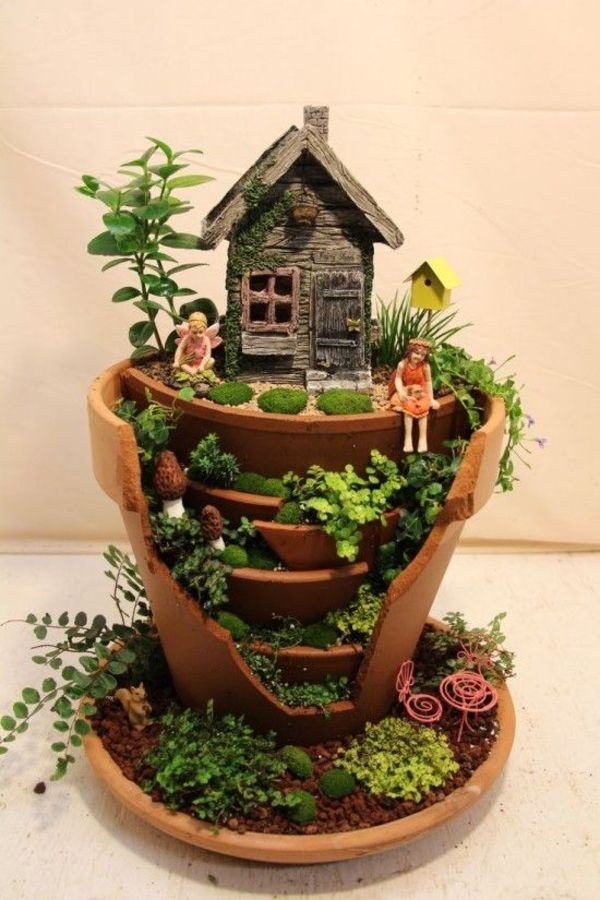 Outdoor Fairy Garden
The step in creating fantasy gardens is collecting fairy accessories and materials you need in your project. They include containers with good drainage holes, plants, and high-quality potting soil. Accessories may include miniature furniture, fairy figurines, decors, and pebbles.
1.

Planning the Design

Choose a unique spot in your garden such as near the bench or under a tree.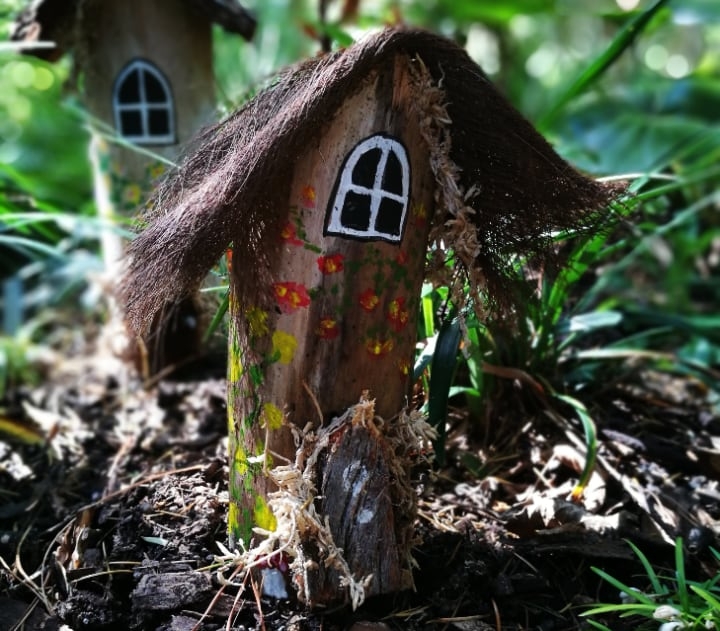 Important: The location should be well-protected from heavy rain, direct afternoon sunlight, and strong wind. The place you select can also be influenced by other factors such as the plant types you'll use.
There are fairy garden kits you can try so you can skip the planning stage. We shared some above.
2.

Pick the Right Potting Mix

The growing media should have good drainage to prevent water clogging.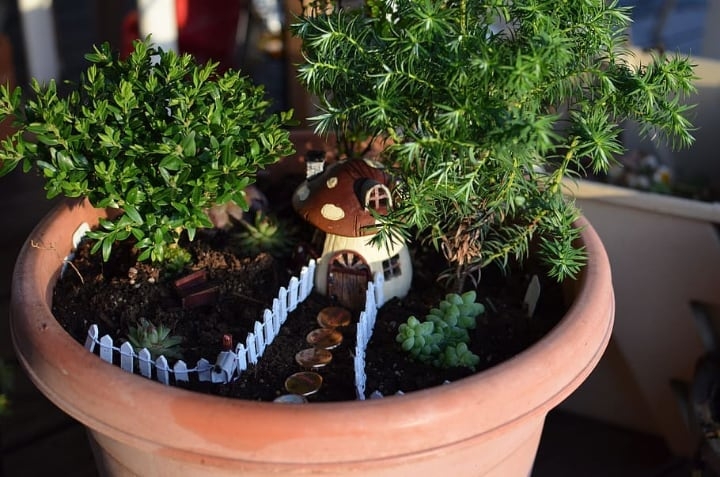 We recommend a potting mix containing peat moss and vermiculite.
3.

Layout the Garden

Before planting your garden, place the features, plants, and furniture in their respective spots.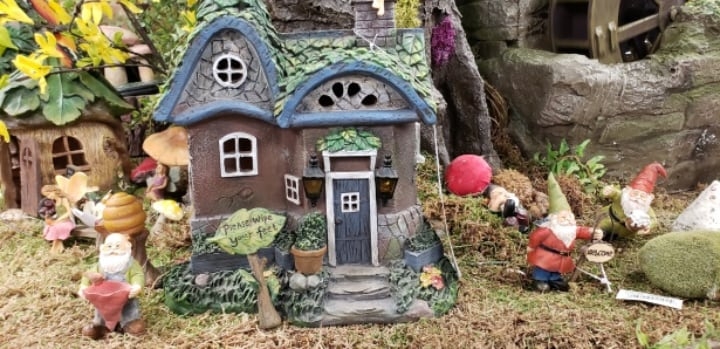 This will give you the chance to examine different layouts without damaging the plants.
4.

Planting

Once you've established the design, it's time for planting.

Start with the plants with extensive root systems because they're likely to disrupt your garden soil the most.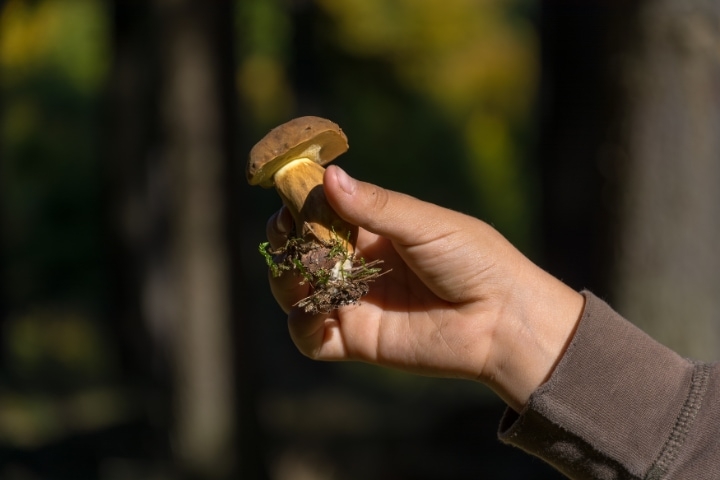 After planting, level the garden and water the surface with a watering can.
5.

Add Furniture, Pebbles, and Décor

Create paths by dropping small pebbles on the soil and add in some fairy garden furniture.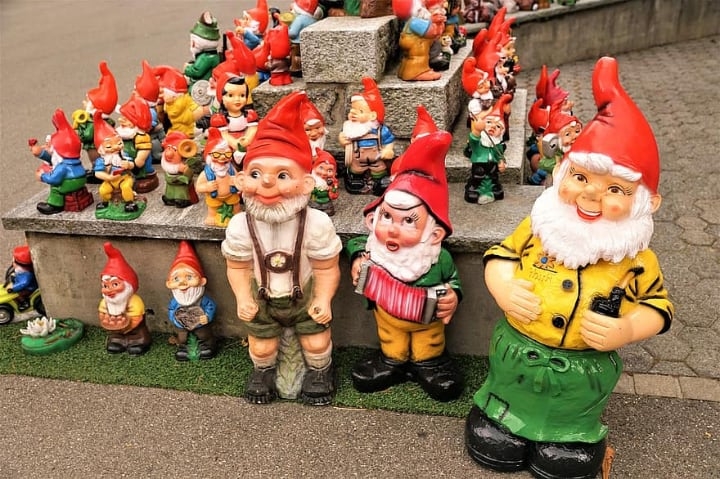 Construct a bench by either using sticks, a leaf, and the bark of a tree or by placing a rock above two small stones.
Or you can just get a beautiful accessories kit.
Indoor Fairy Garden
One of the best indoor gardening ideas we tried is making an indoor fairy garden terrarium. Indoor miniatures are simple to make and a great way to start.
Terrariums are convenient and you can place them anywhere indoors: in your living room, kitchen, or home office.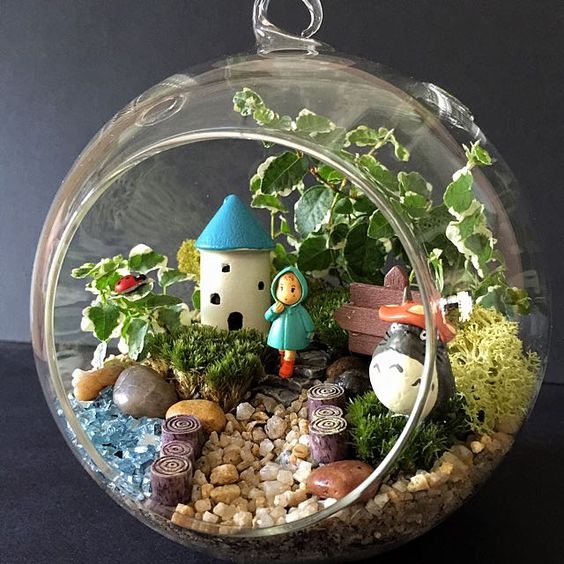 Creating a terrarium is an inspiring and fun project for all ages. It's also a unique gift for various occasions.
Here's how to make a terrarium fairy garden.
1.

Choose a Terrarium Container and Gather Materials

A glass container is usually the best. It's available in various shapes and sizes in gardening stores or at nurseries or florists.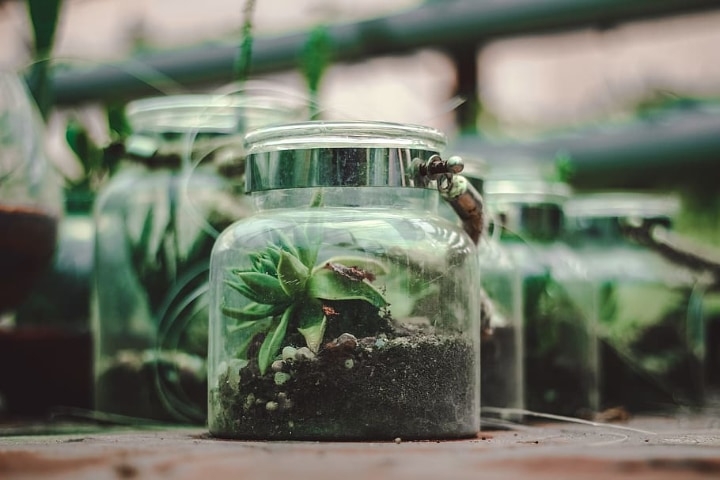 Also, you can use fish bowls, glass candy, or apothecary jars. Other materials you need to collect include pebbles, potting mix, activated charcoal, and terrarium plants.
2.

Add Pebble Layer

Add layers of pebbles or gravel at the bottom of the terrarium container. This creates good drainage so that watering will not flood the plant.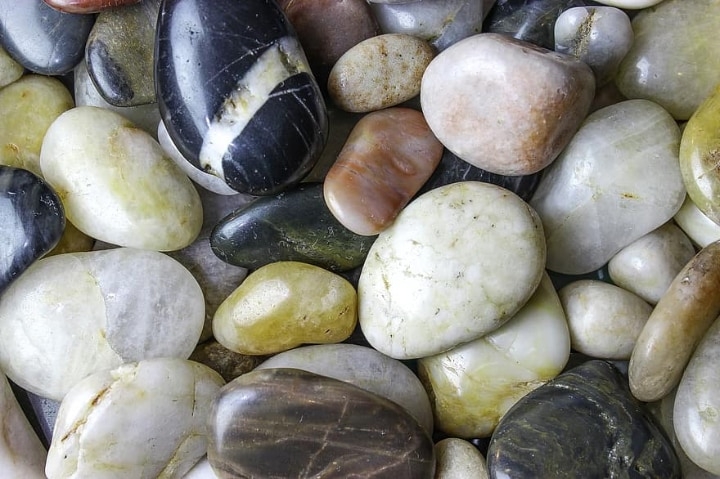 Also, ensure to leave a space on top, so that the container looks spacious. The plants also need good space on top to grow.
3.

Place Activated Charcoal Layer

Add the activated charcoal on top of the pebbles layer. The charcoal is essential as it reduces odors, fungi, and bacteria.
4.

Add Sphagnum Moss

Put 4 cm of potting mix in your terrarium glass. You can also make the top of the potting soil rough by creating valleys and hills.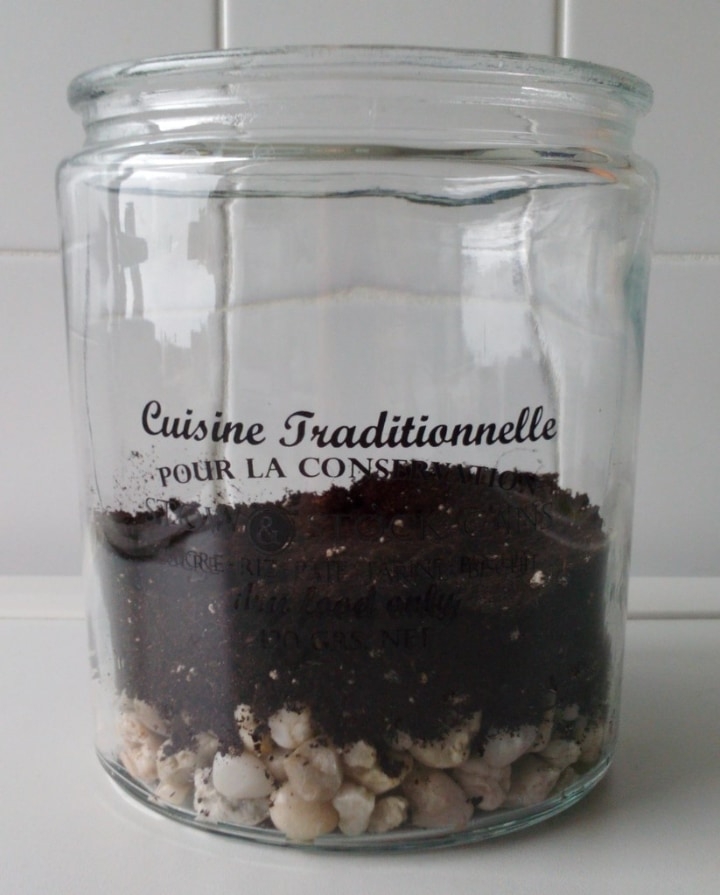 5.

Planting

After preparing the terrarium, place the plants with varying heights, textures, and colors above the potting soil. We recommend mostly low-growing plants.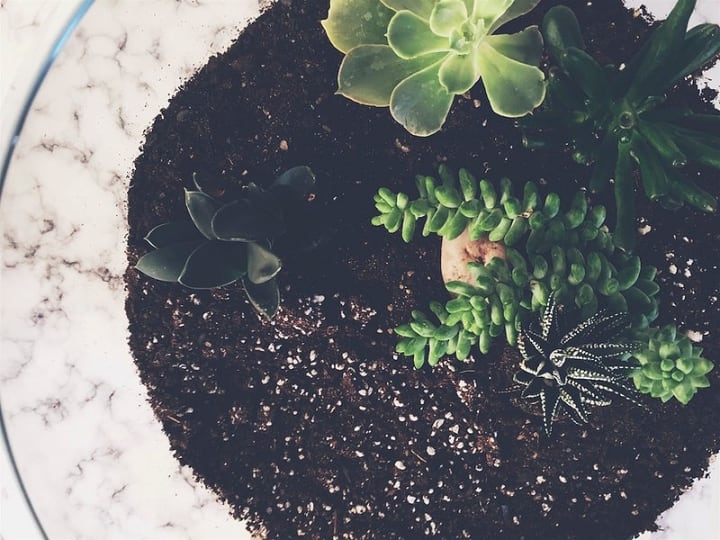 If some of the plants have a dense, fibrous root system, trim them so that they can fit into your terrarium glass. Moreover, you can arrange them according to the heights and angle of view.
6.

Decorate and Place Fairy Garden Ornaments

Improve your terrarium scene by adding fairy accents and ornaments. You can also place shells and stones for decorations or color touches.
What Are the Best Plants for a Fairy Garden?
Some of the best plants to use in a miniature garden include silver sprinkles plant, weeping fig, spikiness, polka-dot plant, wood sorrel, and arrowhead plants.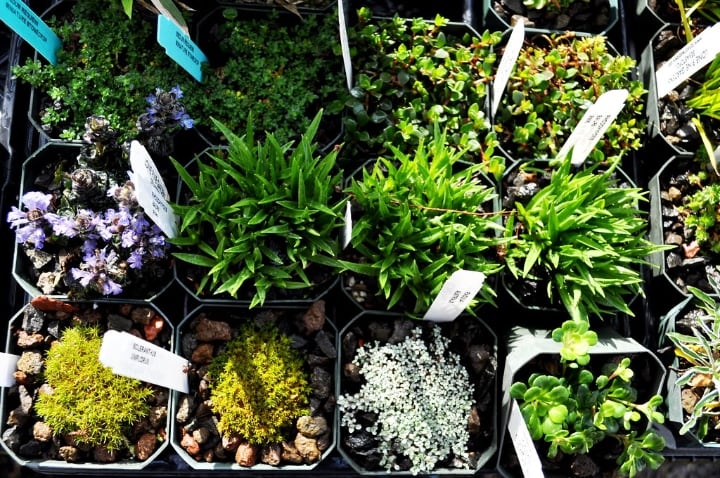 Moisture-loving plants from subtropical and tropical areas are ideal for a terrarium. You can also try succulents and most other plants for terrariums.
The plants you choose ultimately depends on whether you create an indoor or outdoor terrarium and how big you want it to be.
Fairy Garden Frequently Asked Questions
Here are the most common questions we hear about fairy gardens, together with the answers for them.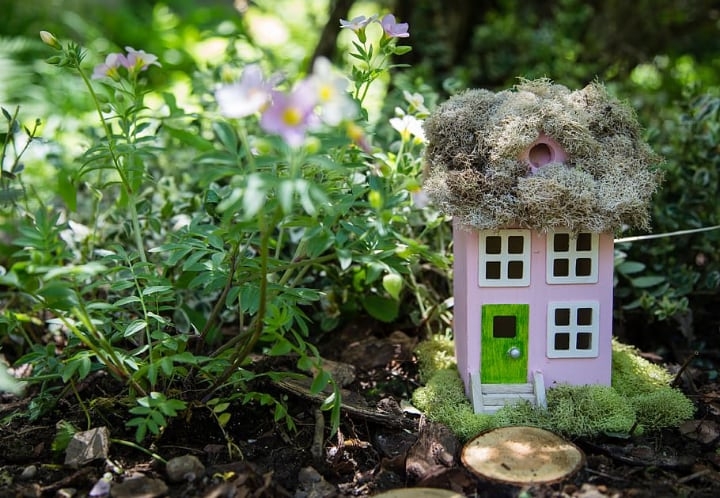 How do I make a fairy garden?
Choose a shaded spot in the garden or a large pot or terrarium and arrange your fairy garden elements creatively. You can use ready-made figurines and decorations or make your own. Check our
guide on how to make a fairy garden
for more ideas. Be creative and have fun! It's lovely work!
How do I protect my fairy garden from rain?
Indoor fairy gardens
may not be affected by rain. For outdoor miniatures, create a drainage system to drain excess rainwater. You can also prevent damage from rainwater by selecting a protected garden location such as under a tree.
How often do you water a fairy garden?
It depends on the plants in your fairy garden and the place they're growing. Only water the plants when the moisture at the top centimeters of the soil is dry. Your
fairy garden
shouldn't be soaked in water!
Give Yourself the Gift of a Fairy Garden
Creating a fantasy garden is an exciting, enjoyable, and creative project. You can make one for yourself or for your kids. If you do it for the kids, make sure to involve them in the process.
Storytelling is a powerful learning vehicle and has health benefits. Fairy gardens offer you a great opportunity to practice storytelling.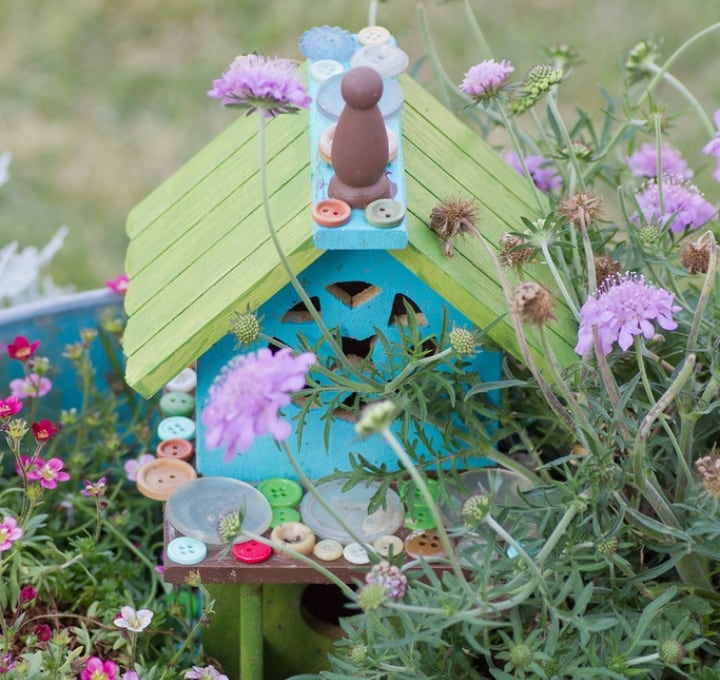 You don't need a lot of space for a fairy garden. In fact, you don't even need a traditional garden. You can always create one indoors!
If you love tales of elves, gnomes, and fairies, you can add these magical structures in your home and garden. Make your fairy tales real by decorating your garden in unique ways.
And don't forget to share your experience with us. Or if you have any questions about fairy gardens, we're here--you know where to find us!
Get started now!