Bring calm, peace, and beauty to your home with a Zen garden and become a more mindful and wise person in the process. Explore now our Zen garden ideas and guide.
The beauty of Zen gardens is that they look seamless, as though they're an artwork of nature. But nothing is planted in them by accident.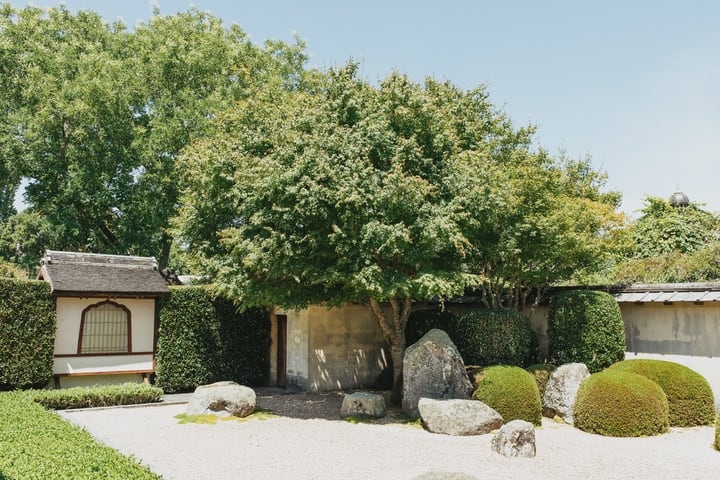 The rocks and stones amidst sand, gravel, and moss are arranged to symbolize deeper meanings. These elements bring a sense of oneness with nature. 
Best of all, it's not even difficult to build a constantly changing landscape. While you can create a large, sweeping Zen garden in your backyard, you can also fit one with all its traditional elements in a tabletop container.
Once built, you can just sit back and enjoy the tranquility. Or rake flowing lines in the sand. Either way, you're in for a calming and meditative journey.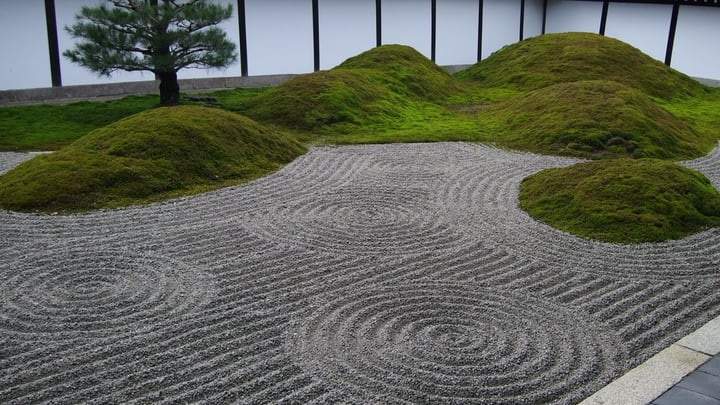 To help you get started, we've put together a list of authentic Zen garden ideas. But you don't need to stick with all the traditional elements. You can give them a modern twist to fit your taste and space.
Let's begin!
What Is a Zen Garden?
Zen gardens, also known as karesansui, are miniature versions of nature. The word "Zen" in Mandarin or Sanskrit means "meditative state".
These gardens were originally created by monks at temples of Zen Buddhism in Japan to imitate nature and aid meditation.
In a Zen garden, natural elements are used to create a space for quiet contemplation. But unlike Japanese gardens, these are entirely dry landscapes with only a bit of greenery.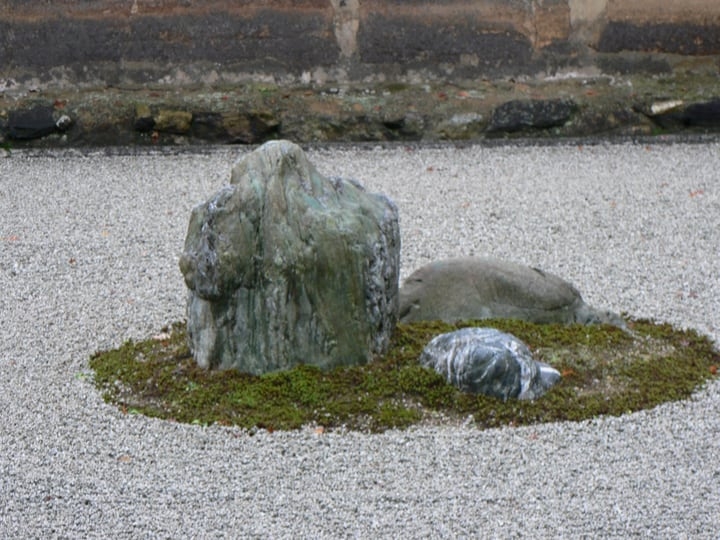 These gardens are filled with symbolism. Rocks and stones represent islands or mountains. Swirling patterns in sand or gravel are for oceans or rivers. And some greenery in the arrangement is symbolic of forests.
Because Zen gardens evoke tranquility, they promote relaxation, increase discipline, and stimulate creativity. Aren't you tempted to bring a Zen garden to your space, too?
Best Japanese Zen Garden Ideas for You
While you may not board the next flight to Japan to appreciate the beauty and calm of these meditative spaces, you can create a Zen garden of your own right at home or in your office.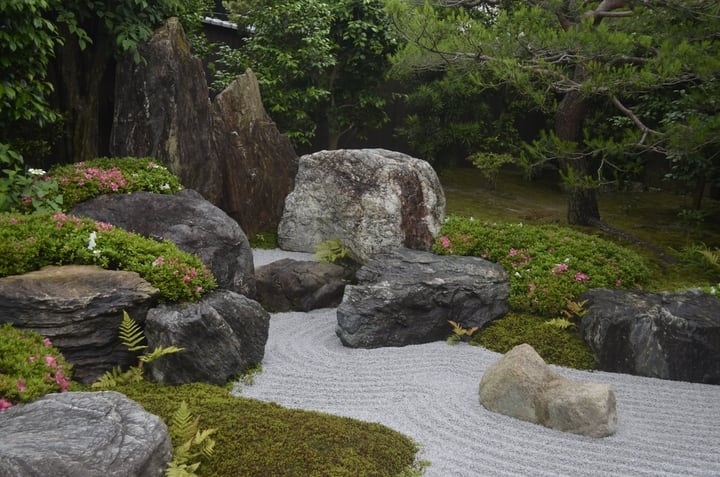 Build miniature landscapes using rocks, sand, gravel, moss, and a few shrubs and trees. Yes, it's that easy.
From classic Zen gardens to tabletop and modern creations, check out some fab ideas you can give a shot.
Mini Zen Garden Ideas
Mini Zen gardens are all the rage these days. They're a great way to get started on these relaxing, meditative gardens without investing too much time in the upkeep.
What's more, you can place them indoors or leave them on your balcony or porch.
1.

Zen Garden in Wooden Box

Create a garden in a small wooden box, one that you can keep anywhere. Fill it with sand, a handful of pebbles, and a few rocks. Add some artificial moss to it for greenery and place some flower-shaped beads on top.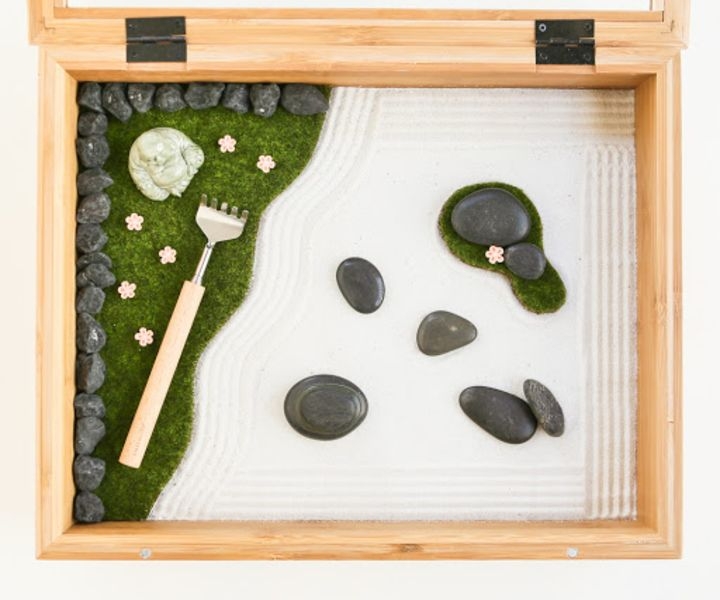 Get as creative as you want—rake different patterns in the sand, arrange the pebbles as you please, add a wooden rake to it, etc.
Idea: Accent the look of your garden by placing in it a mini Buddha statue.
2.

Zen Candle Garden

A Zen-inspired design is all about the soft and natural play of light. You can achieve it indoors, too, by replacing harsh fluorescent lights with calming candle lights.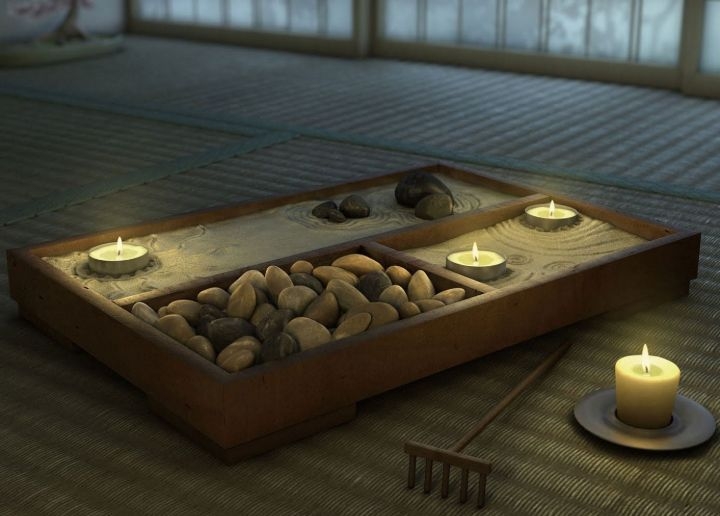 Use all the traditional elements like rocks, sand, pebbles, etc. But don't forget to leave room for tiny, scented candles in between. They will add to the relaxing vibe of your garden.
3.

Mini Japanese Garden

Recreate a miniature Japanese garden that you can use as a table centerpiece. Keep the design simple to inspire reflection and meditation.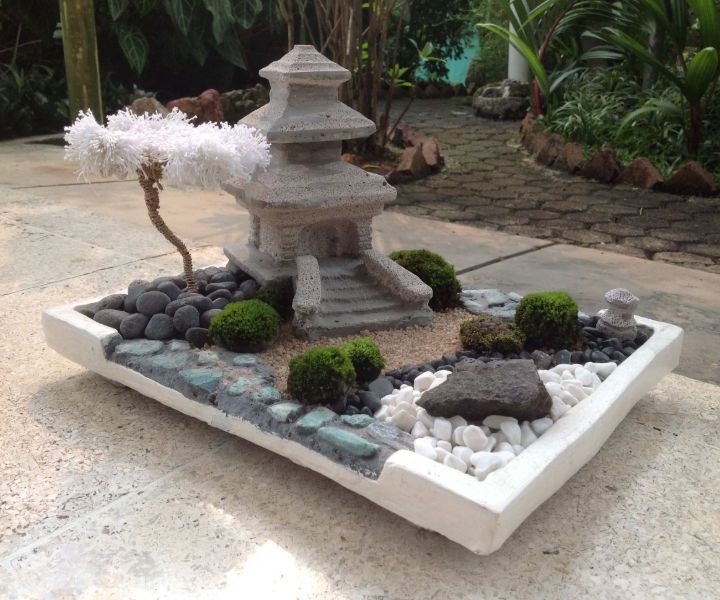 Use a tray with raised edges to hold your mini landscape and fill it with sand. Next, pack it with decorative rocks, pebbles, mini trees, and shrubs.
Tip: For a more authentic Japanese garden, place a miniature stone pagoda or lantern in it.
4.

Bonsai Zen Garden

Zen gardens and bonsais go hand in hand. These carefully cultivated miniature trees look wise beyond their years. And perhaps your mini garden is in need of one, too?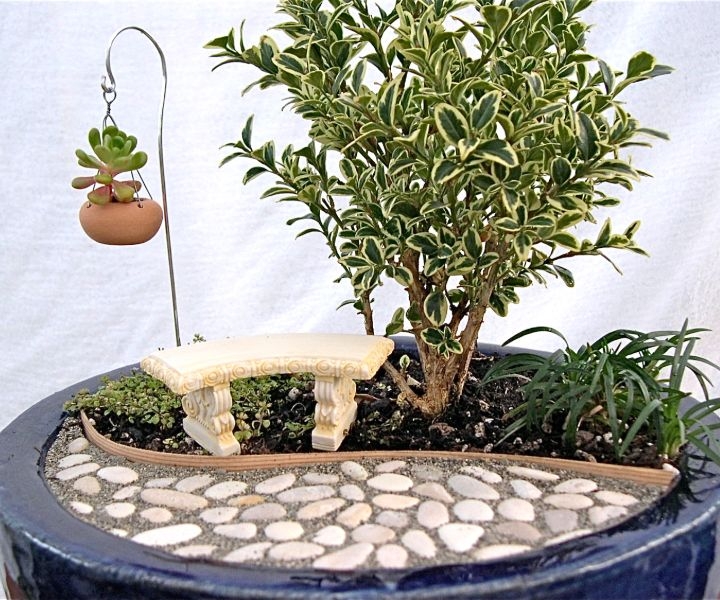 You can choose from a wide variety of bonsais—Japanese maple, dwarf pomegranate, wisteria, juniper, and Chinese elm.
Growing and caring for these trees is an art that teaches patience, which is another great reason to start your bonsai garden.
5.

Aromatic Zen Garden

Raked sand, rocks, and plants aren't the only things to use in your mini Zen garden. You can also add a few droplets of essential oil to increase its calming effect.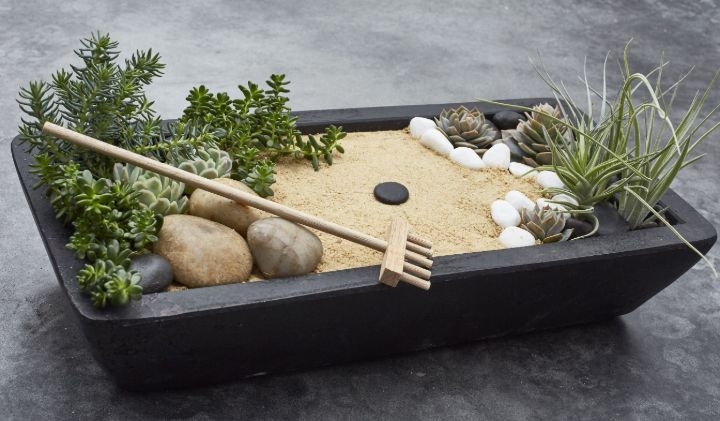 Go for lemongrass, lavender, eucalyptus, peppermint, or rosemary oil. They will make your indoors pleasantly fragrant and also help you get a better night's sleep.
6.

Mini Tea Garden

Tea gardens are a popular part of Japanese culture. They are beautiful to look at and combine the arts of gardening and serving tea.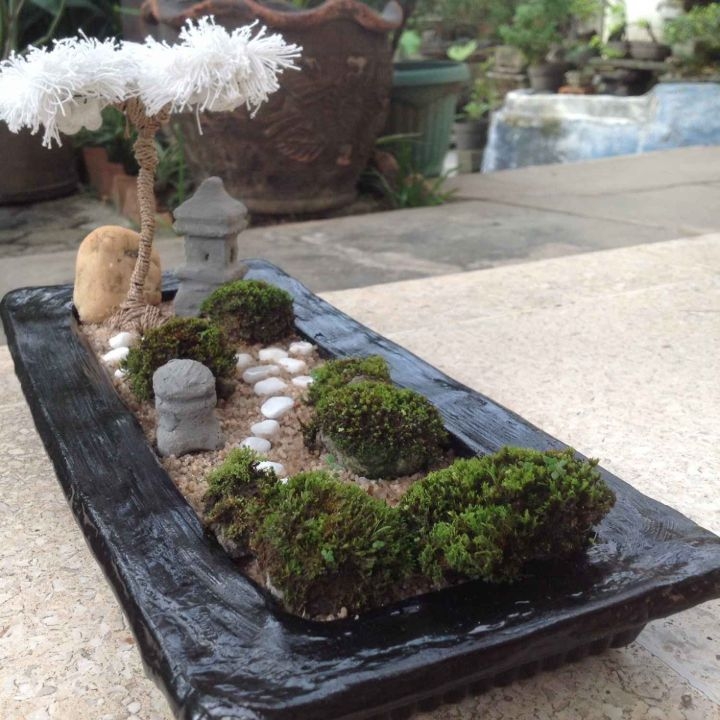 You can recreate a miniature tea garden in a tray. Fill it with sand and pebbles and plant some slow-growing greenery in it.
Place a tiny teahouse in one corner of your arrangement. Next, create a pathway leading to the teahouse using flat pebbles. Your tea garden is ready.
Zen Sand Garden Ideas
Sand plays an important role in authentic Zen gardens. It's used to create the illusion of waves or water.
Simply swirling patterns on it can help calm your mind. Plus, you don't even have to go big with a sand garden. You can create it in a container, too.
7.

Raked Sand Garden

Replace your conventional green lawn with sand. While lawns require regular watering and mowing, a sand garden is easy-to-maintain and can add a lot of curb appeal to your space. It's also a great way to find your inner peace.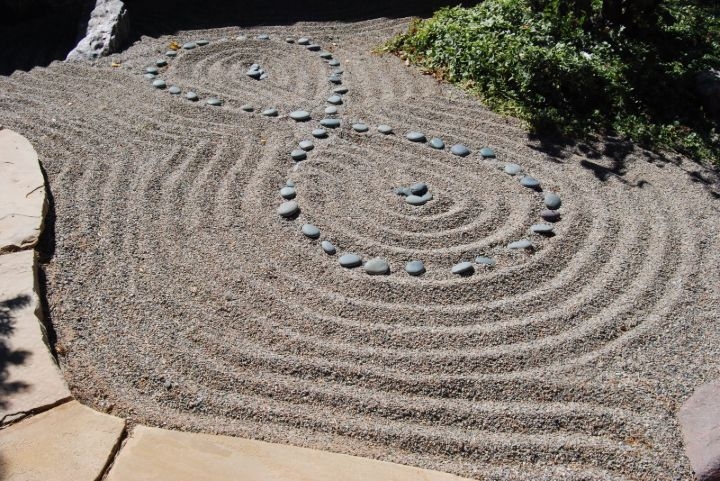 Depending on how it is raked, the sand represents either raging or gentle waves. Don't think too much--draw curves and lines in your sand garden according to your fancy.
8.

Box Sand Garden

Looking to start a sandy garden but don't know where? How about in a tiny wooden box? This one's ideal for those with a commitment phobia.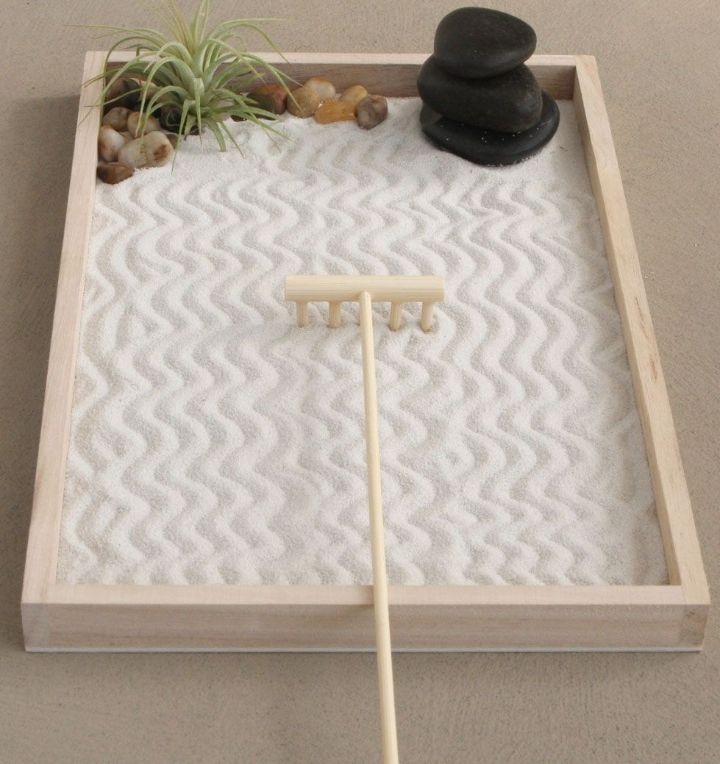 Fill a wooden box with white sand. Arrange a few pebbles, some piled stones, and a plant or two, and your Zen box is ready.
Tip: Air plants are perfect to grow in your soil-less garden since they absorb water and nutrients from the air.
9.

Tabletop Sand Garden

Does your tabletop look boring? Give it a touch of Zen. A simple way is to create a tabletop sand garden that you can rake into patterns to ward off stress.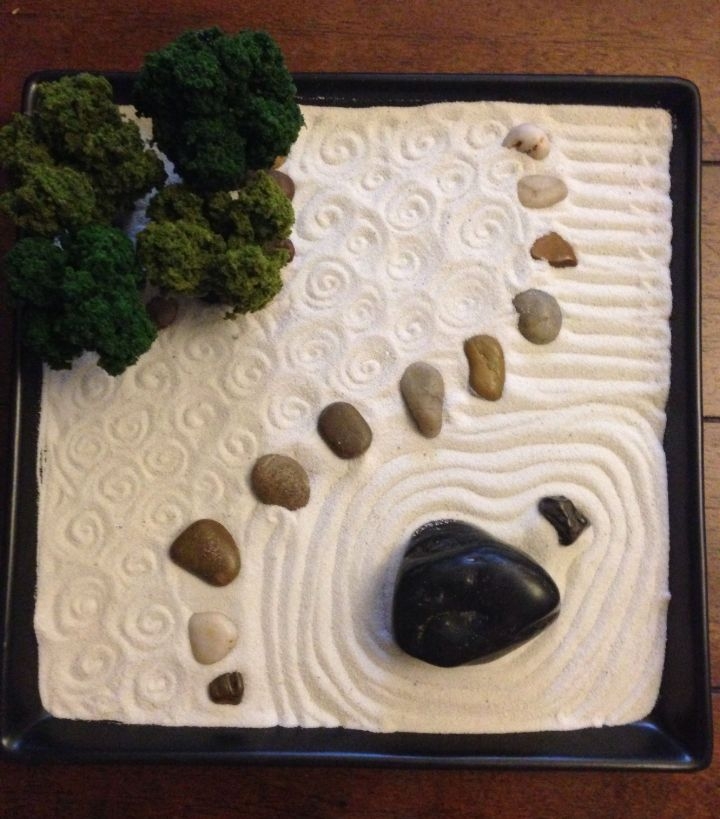 Because your garden is contained in a tray or container, it's easy to move so you can place it on your office work table if you want.
Zen Backyard Garden Ideas
Have you considered turning your backyard into a Zen garden? Well, why not? It will be a great maintenance-free substitute for a green garden. Plus, you'll be able to relax in it without having to visit the spa.
10.

Rocks and Sand Garden

Rocks and sand are at the heart of Zen gardens. Simply filling your backyard with sand and carefully arranging rocks of different shapes and sizes in it can help you add a bit of Zen to the space.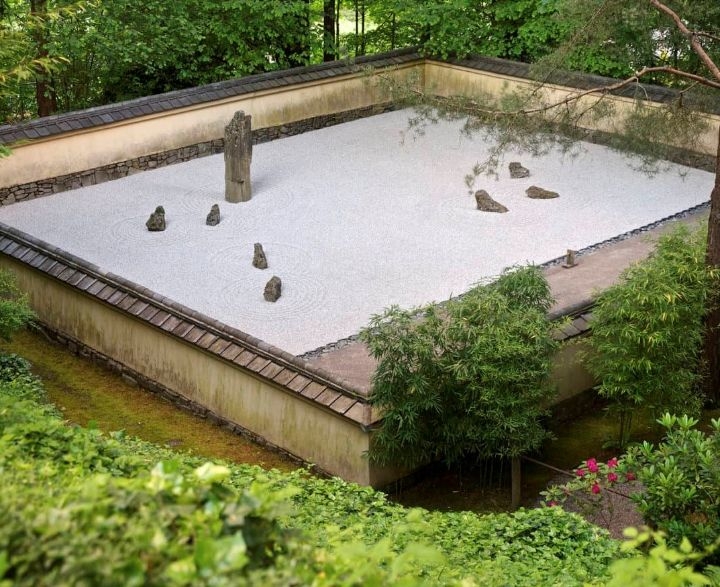 And the best part? You will no longer have to worry about giving it sunlight or water.
11.

Corner Zen Garden

Got a dull corner in your backyard you don't know how to spruce up? Turn it into a meditative space.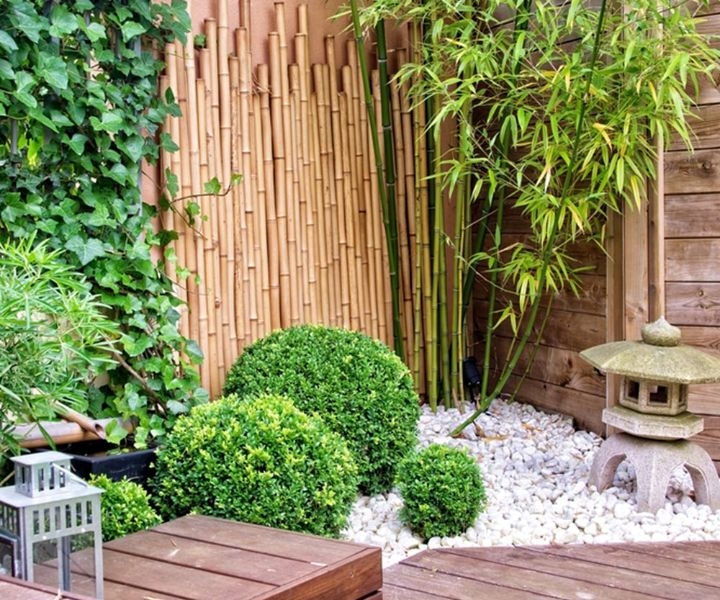 Begin by layering it with white river rocks. Arrange elements like a stone lantern, a water basin, some bamboo plants, shrubs, and vines in it. Your corner will make you pause a while and admire the arrangement.
12.

Modern Backyard Garden

While Zen gardens are naturally asymmetric, you can also give yours a modern touch by using geometric shapes.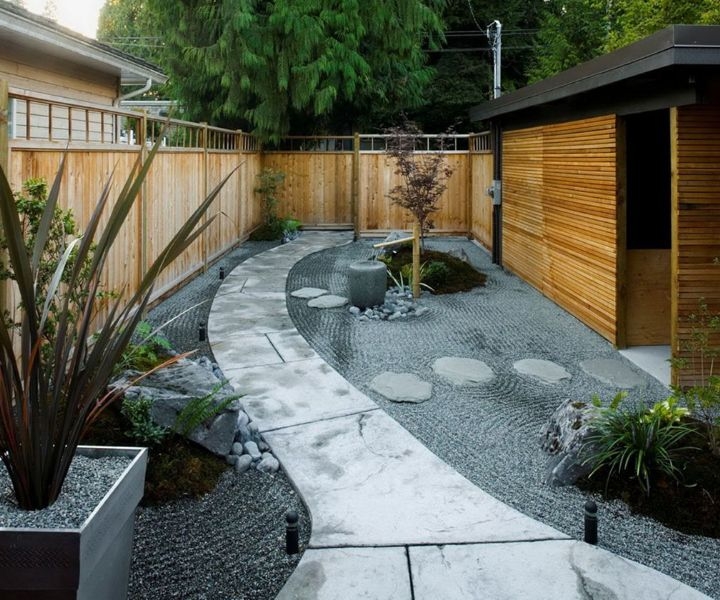 For starters, design a straight or curved pathway crossing through your garden. Add hexagonal-shaped stepping stones. Next, place a planter with straight lines and sharp edges.
13.

Mossy Backyard Zen Garden

If you want to keep things traditional in your Zen garden, stick with simplistic, natural elements. Then allow moss to cover your garden.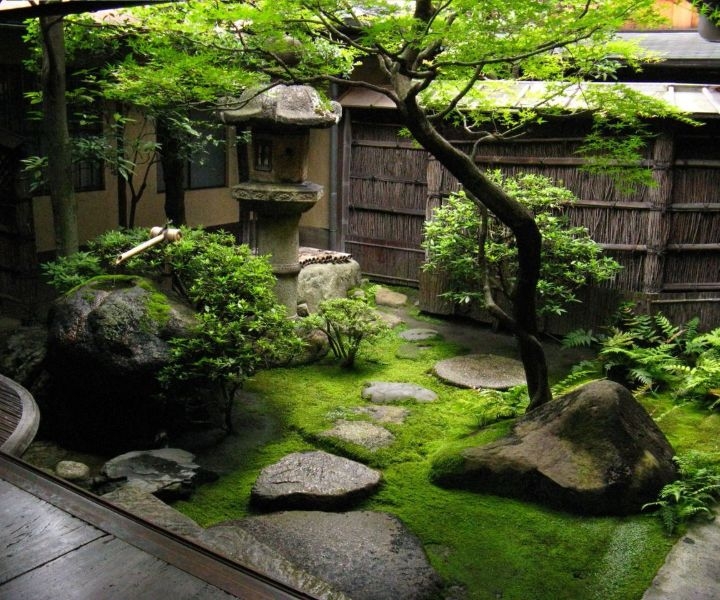 Moss is an important part of Zen gardens and gives a calm and aged vibe. Plus, it's mostly maintenance-free.
14.

Mix Zen Garden

You can create a Zen garden within a garden. This way, you'll be able to enjoy your flower beds without giving up on your dream Zen garden.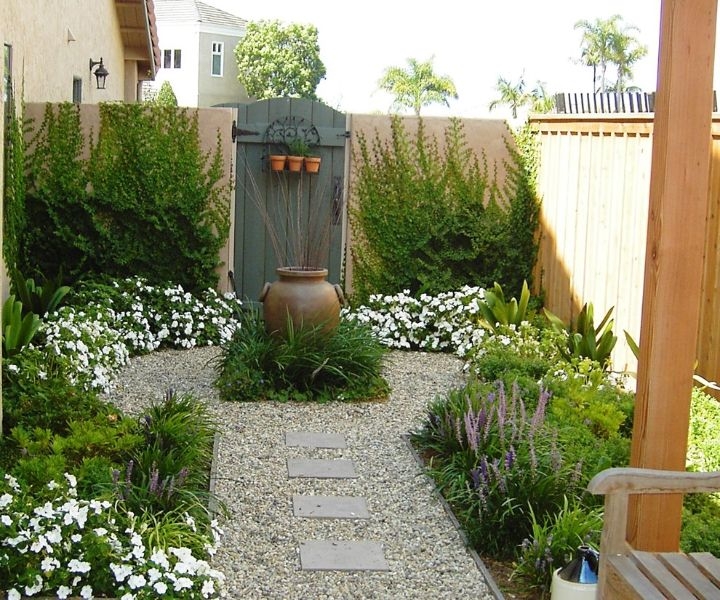 Clear a portion of your floral garden and fill it with sand or gravel, like in the image above. Place an urn, lantern, or pagoda in it if you wish.
DIY Zen Garden Ideas
If you're feeling particularly artistic, you can start a DIY Zen garden, too. Get armed with an empty container, some sand or gravel and rocks, tiny plants, and you're good to go.
15.

Zen Container Garden

Create a simple Zen-style container garden using inexpensive plants and materials that are available everywhere. If your container has compartments, fill the largest one with sand, and the rest with river rocks and moss.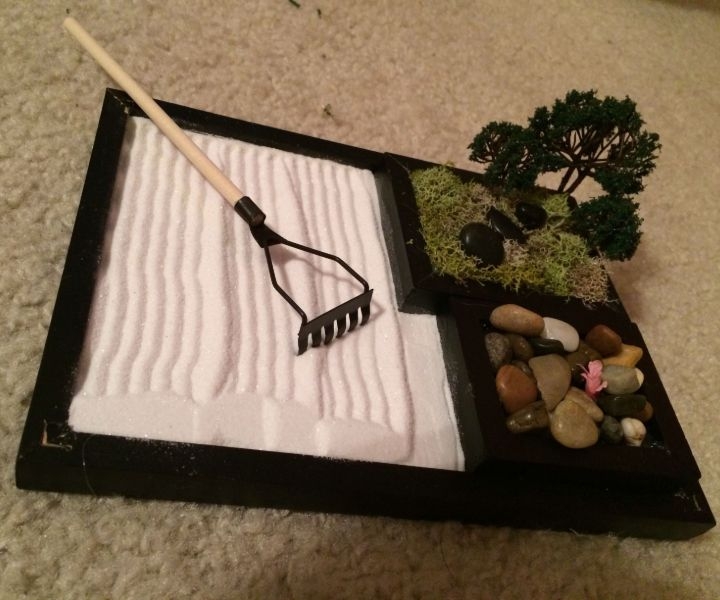 Make patterns in the sand, pile rocks in it, create changing landscapes. Also, remember to keep a rake handy.
16.

Mini DIY Garden

A mini Zen garden in a bowl is both calming and adorable. And of course, it's super easy to make.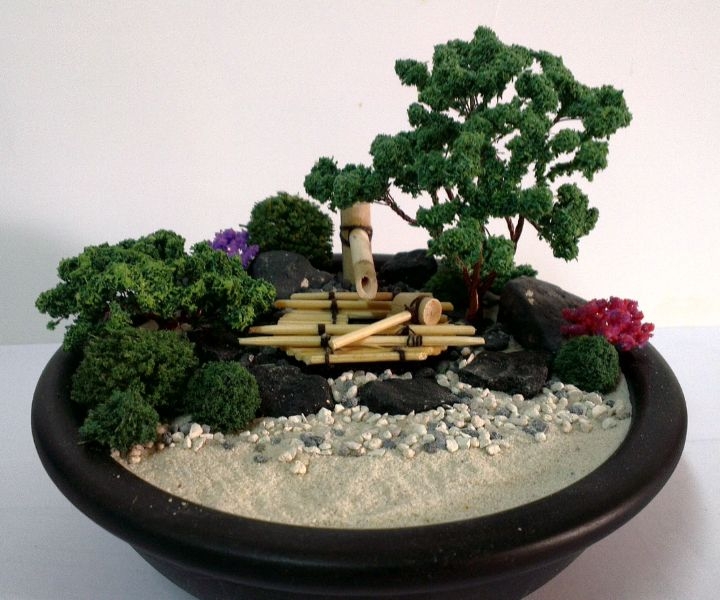 For this DIY, you'll need to fill your bowl with sand and pebbles. Decorate it with rocks, a mini basin, and if you like, a stone lantern.
Tip: Use a toothpick to fiddle patterns in the sand.
17.

Outdoor DIY Garden

You don't have to stick with mini container Zen gardens. You can get in the DIY mode outdoors, too. Get your kids to help you out in this fun project.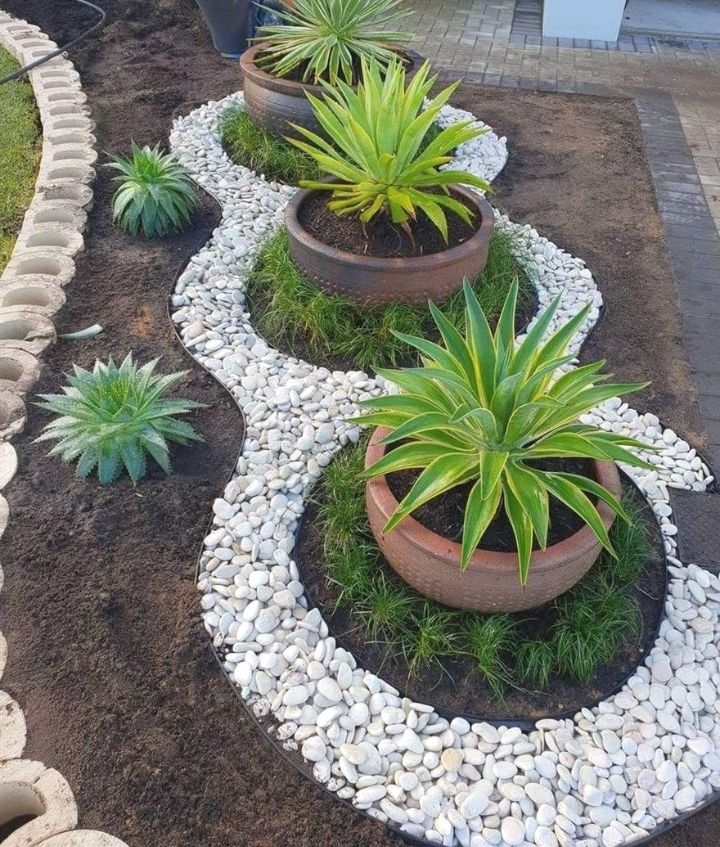 First, clear a section of your lawn and even it out with soil. Then lay down white stones in wave-like patterns. It will make the space look Zen enough. Use the space in between the stones for your potted plants.
18.

Zen Fairy Garden

How about a DIY with elements of both Zen and fairy gardens? Use a wooden tray to hold your garden. Layer it with sand and pile flat stones, cherry blossoms, bamboo, and shrubs for a Zen feel.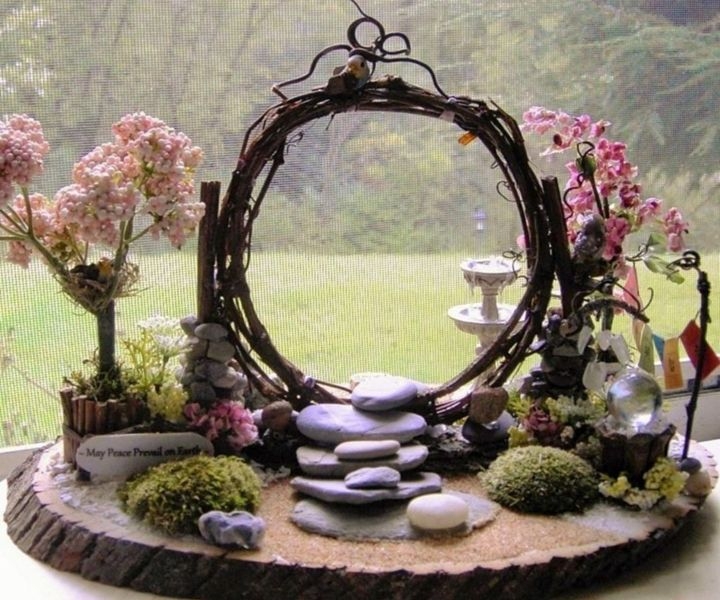 To sprinkle some fairy dust, place a wooden wreath in it with a birdie perched on top. Add a "Fairies Welcome" sign board, party streamer and flags, etc.
19.

Stars and Moon Zen Garden

For a quick and appealing DIY Zen garden, create a celestial sky with stars and moon. You'll need a wooden container, black and white sand, succulents or air plants, and stones.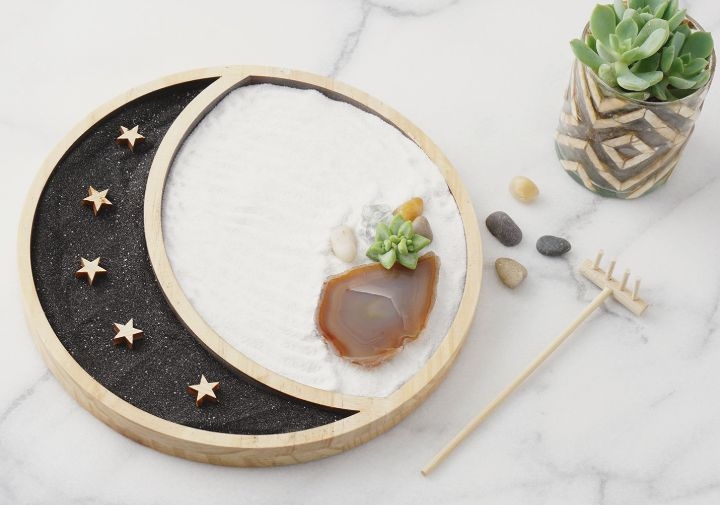 In the arrangement above, white sand symbolizes the moon and black sand is for the night sky filled with stars. How lovely!
Indoor Zen Garden Ideas
Indoor Zen gardens are a win-win: they're exotic to look at and perfect for the backyard-less apartment dwellers. And yes, you can translate the traditional aesthetics of Zen gardens to fit your modern indoors.
20.

Traditional Indoor Zen Garden

To create a traditional garden indoors, you don't have to work too hard. Bringing the outdoorsy elements indoors is quite enough. Make a dry landscape using stones, sand, pebbles, and rocks.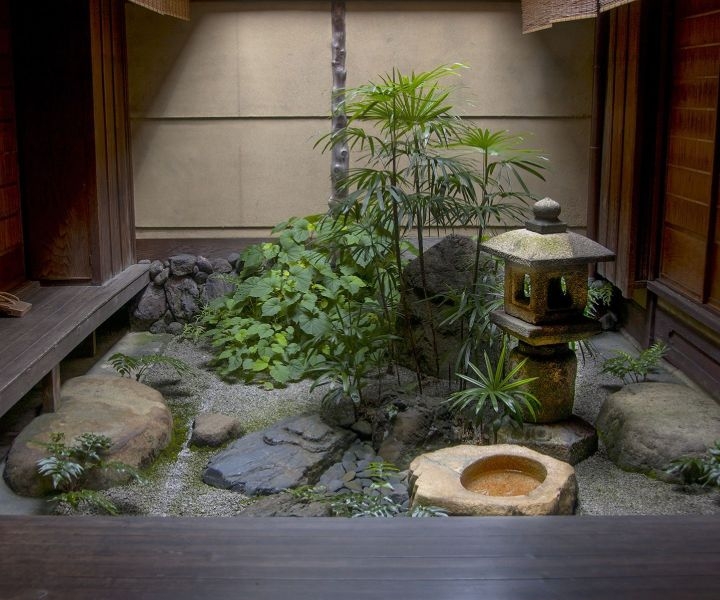 Add plants and a tiny water basin to the arrangement if you want. The best part about such a garden is that you'll be able to enjoy a nice, meditative space in your house without having to step out.
21.

Small Indoor Zen Garden

If you don't have enough space for a sweeping Zen garden indoors, don't worry. You can make an eye-catching garden in a limited space as well.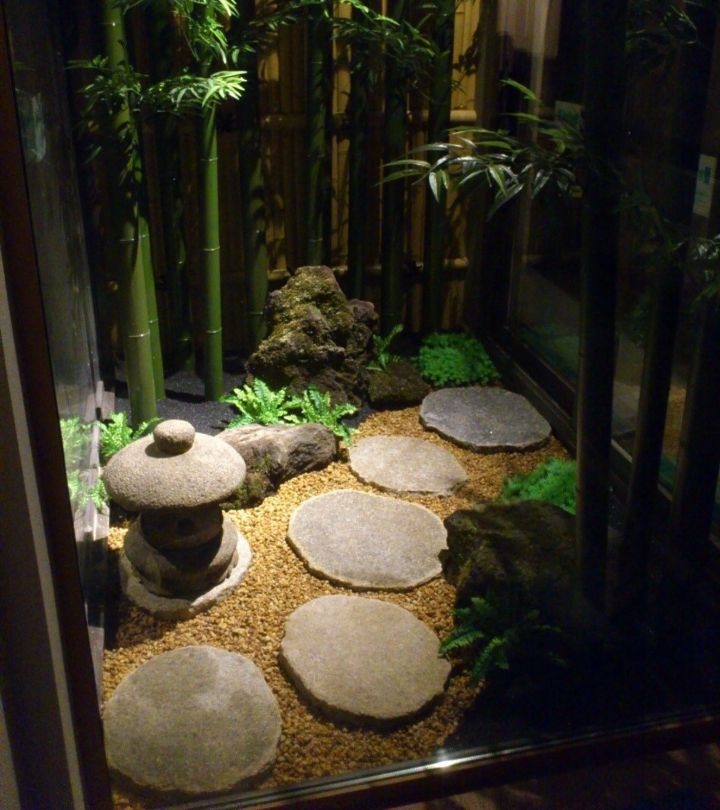 Fill your desired corner with gravel and sand and arrange elements like rocks, stepping stones, lanterns, bamboo plants, etc. You can choose to enclose the garden within a glass or leave it be as it is.
22.

Modern Zen Garden

Modern Zen garden designs give a lot of flexibility and creativity as compared to traditional ones. And what could be more modern than a glass-encased space with an asymmetric stone bench?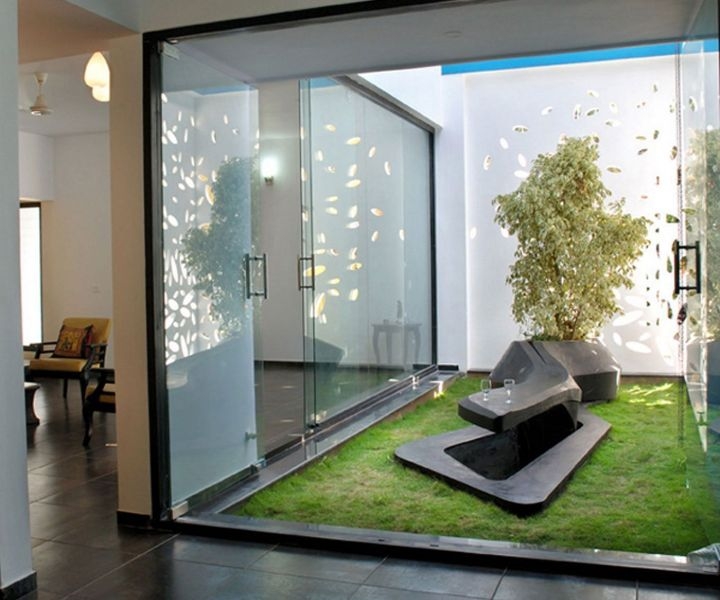 But don't forget you need a few traditional elements, too, to make it feel like a Zen garden. Simply growing moss and bonsais will do the trick.
23.

Zen Garden in Glass

Create a minimalist Zen garden enclosed in a glass. It will help unify the living space with nature and look super classy.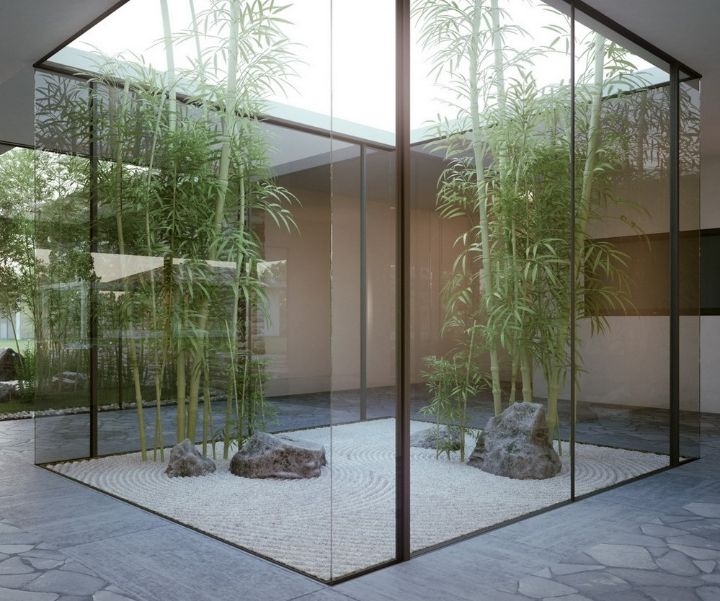 Note the natural curves around the rocks. They create the illusion of water around rocks that symbolize islands.
Tip: Plant bamboo stalks in the garden for more depth and detail.
24.

Lantern and Stone Basin Garden

In Zen gardens, lanterns are often paired with basins. Together, they make up a component of traditional tea gardens. Bring these two elements to your indoors, along with rocks, stepping stones, pebbles, and mosses.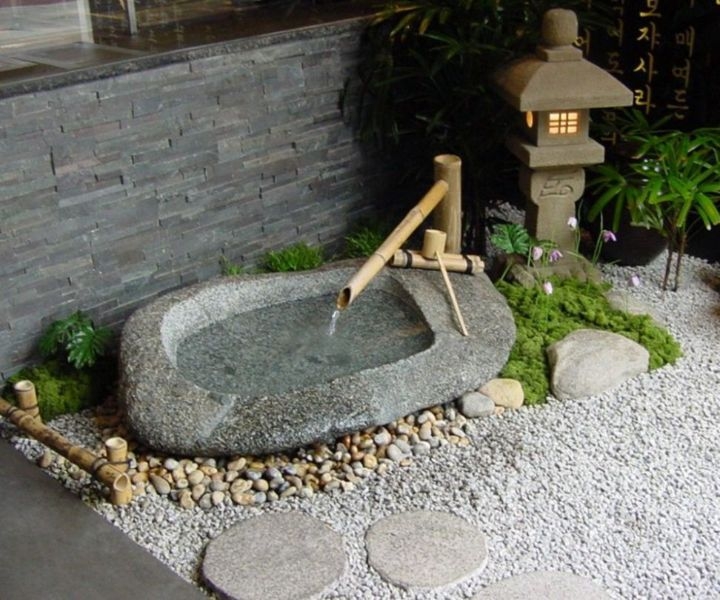 Place a simple stone lantern with a candle in your garden. As for the basin, go for a natural, uncut stone with a depression. A bamboo spout in the basin will complete the look.
Zen Garden Plants Ideas
Although Zen gardens have a minimalist color palette, a bit of green here and a bit of red there never hurt anyone. So splash some color in your Zen garden. Only, don't overwhelm your garden with plants.
25.

Plant Pathway for Zen Gardens

Pathways are great to define your Zen gardens and guide visitors as they stroll through the space. But why stay conventional?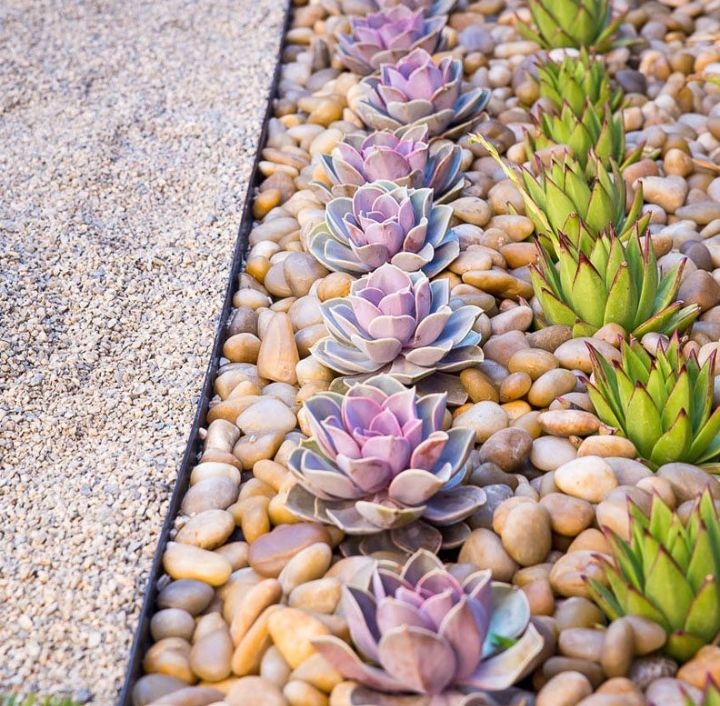 For your Zen garden, create a pathway featuring both pebbles and plants. Succulents like hens-and-chick, Irish rose, and houseleek are best to grow in the pathways as they are hardy and not very fussy when it comes to their soil needs.
26.

Bamboo Zen Garden

Because of its long stalks and unique structure, bamboo is a key element in Zen gardens. It can add a sense of tranquility to your space while also pepping it up instantly.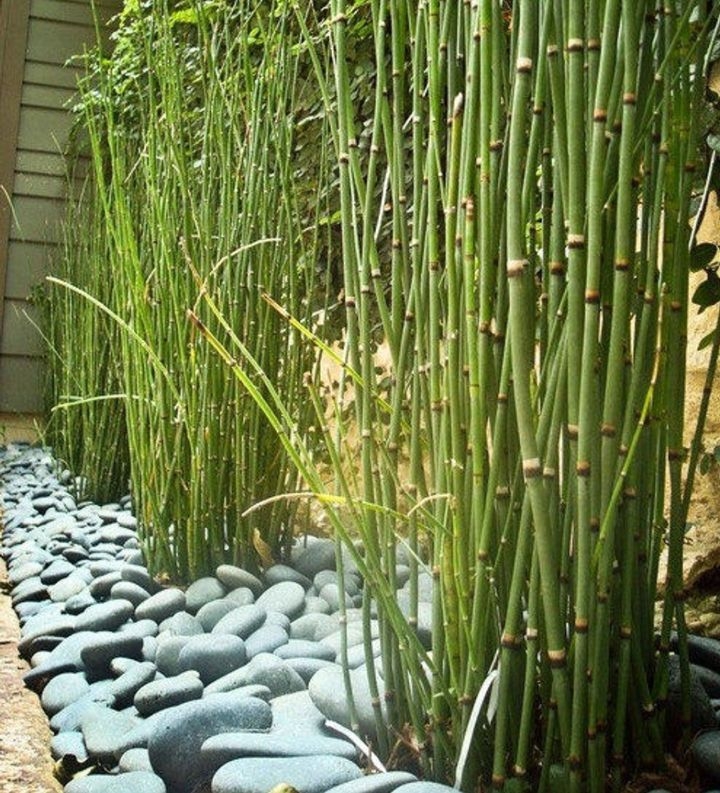 You can grow bamboo plants purely for their oriental charm, or use them as privacy screens or fences. Remember, bamboos appreciate shade and moisture.
27.

Succulent Bowl Zen Garden

Do you love succulents and are also enticed by the idea of a Zen garden? Not a problem. You can create a modern-looking garden with both elements. And that too in a bowl!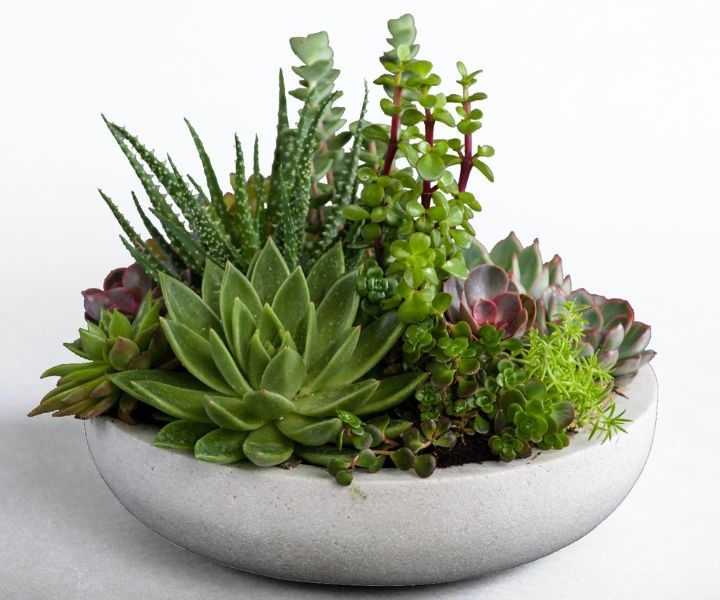 You can introduce a small succulent-packed bowl in your larger Zen space, like in the example above.
Or you can plant a couple of succulents in a container, leaving enough room for sand in which to doodle and rake patterns.
Tip: Remember to keep your succulents healthy by showing them sunlight and giving them water.
28.

Zen Moss Garden

Moss is peaceful and resilient and can grow even in harsh conditions. Zen gardens often use moss to give a more natural and aged vibe to the space.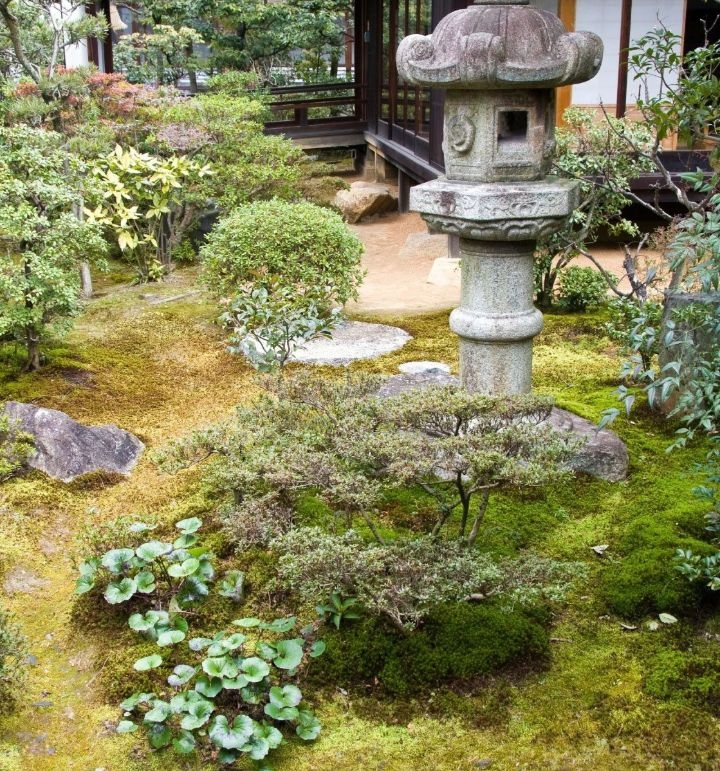 Although moss can grow just about anywhere, a shady and moist place is ideal to create your mossy garden. Let moss spread happily in your space and form a dense, velvety carpet to walk on.
29.

Small Plants for Zen Gardens

If you're designing a space-wise Zen garden, you'll need small plants to complement it. Think of shrubs and plants like sedum, mosses, ferns, and ornamental grasses that don't take up too much space.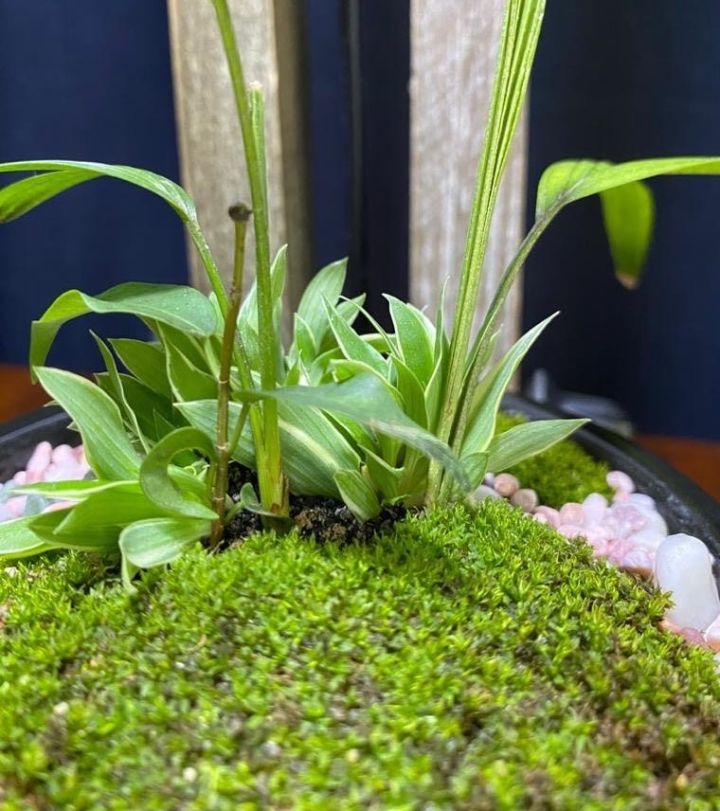 Whatever you decide to plant in your mini garden, make sure it's of an evergreen variety and can thrive in shade. A bit of greenery in your Zen garden, no matter how small, can enliven it.
30.

Hosta and Hakone Grass

Traditional Zen gardens rely a lot on ornamental plants and grasses, especially the shade-loving ones. So how about giving hosta (plantain lily) and hakone grass some space in your garden?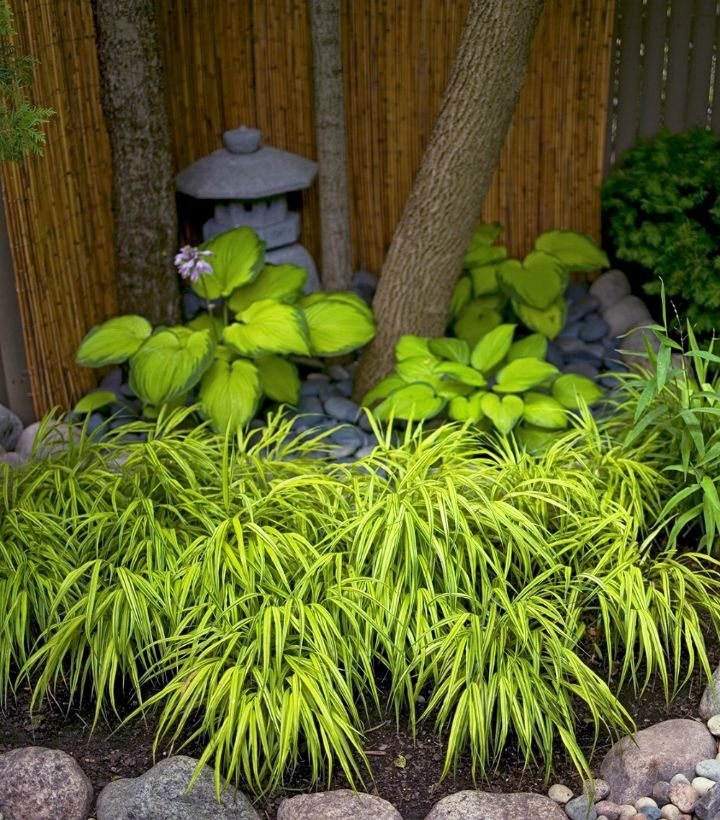 Both are clump-forming, perennial plants. They will blend easily into Zen-style gardens and add a serene feel to it.
31.

Cloud-Pruned Garden

Zen gardens are big on the art of cloud pruning, featuring lots of pillowy-billowy shapes in the garden. The best part is that such shapes won't overwhelm a garden.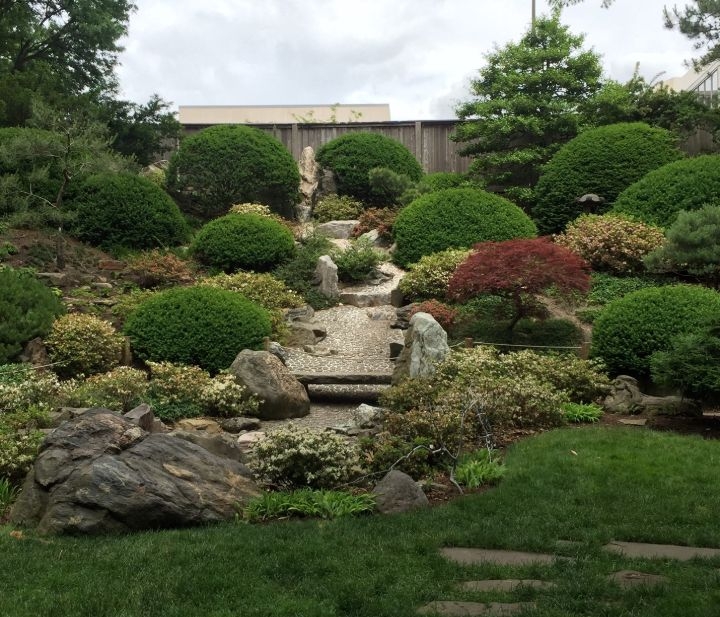 You can apply this method to a number of deciduous or evergreen trees. But why stop there? Hedges in your garden and various shrubs can also be pruned similarly.
Good to know: Japanese Zen gardens are pruned in a way that often exaggerates the character of a plant while maintaining its essence.
Bonus Idea: Azalea Zen Garden
Azaleas are beautiful, trumpet-shaped flowers that come in shades of pink, red, yellow, violet, and white. But they're not grown in Zen gardens for their beauty alone.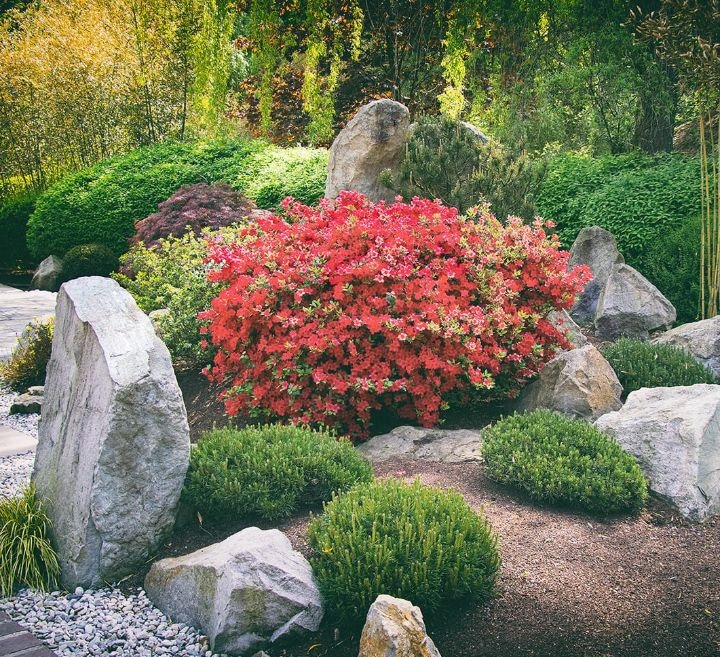 When clipped to take the form of rocks or boulders, these flowers can add structure, color, and a sense of fullness to the garden.
How to Make a Zen Garden
Now that you know how unique and useful these gardens can be, it's time to make your own.
Step 1 - Select a Site
See which site fits your Zen garden the best, depending on its size and the elements you wish to add. 

You can create a meditative space the size of your backyard with heavy rocks and boulders. Or you can use the space under the staircase, on your porch, or balcony. You can even fit a Zen garden in a tray. 

Whatever you decide, the steps will be the same. Only the scale will vary. 
Step 2 - Choose Your Design
Before you begin filling your space with sand and rocks, choose a style in sync with your taste. From a fairy Zen garden to a mossy landscape, there are plenty of designs to choose from.
Step 3 - Select the Right Sand and Stones
Rocks, sand, and stones are key to any Zen garden. Choose the right ones for your space. Avoid glaring colors that will distract rather than soothe the mind.
  
Tip: Live in a windy area? Opt for crushed stones or pebbles over sand. That's because sand is lightweight and can make your garden messy whenever the wind blows.
Step 4 - Arrange the Elements
Layer your garden with sand or gravel and start arranging rocks, boulders, stones, plants, trees, and other elements you want to add. 

Remember, there's no right or wrong way to go about it. Let your intuition guide you to create something unique and meaningful.

Idea: For a Japanese-style garden, bring in a stone lantern and water basin in the arrangement.
Step 5 - Tend to Your Garden
Once your garden structure is ready, relax yourself by mindfully tending it. Rake patterns in the sand, create a sense of mystery with the
rock placement
, cloud prune your plants, etc. 
You don't have to bother much about its upkeep, the garden will take care of itself by slowly taking the form of a more natural arrangement.
Zen Garden Commonly Asked Questions
Zen gardens are special so chances are you won't find many around. That's one reason why we receive lots of questions about these gardens. You may want to quickly check what they are.
Ready to Zen Your Life?
The sublime presence of a Zen garden, whether in your living room or yard, will help you relax and rejuvenate.
There's not much you have to do. Introducing elements like sand, rocks, stones, and plants is all that's needed.
You can rake swirls and waves in the sand, add candles to it, and make it aromatic with essential oils.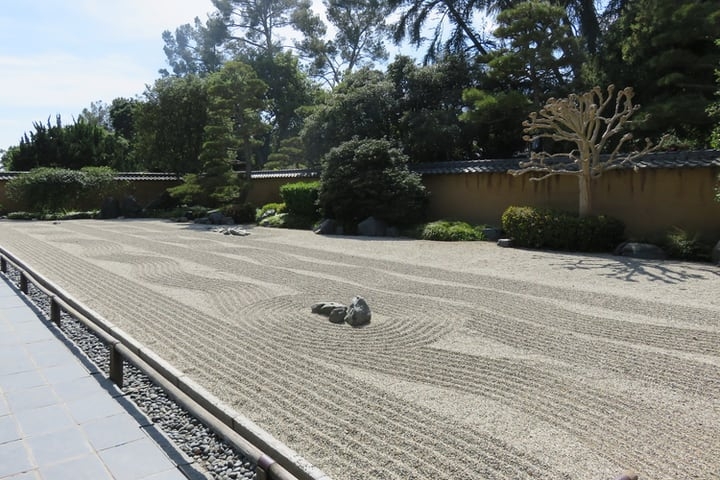 But there's more you can do to tap into its tranquil energy. Focus on the emptiness of the garden rather than on the rocks or structures. It will help you understand better the Buddhist ideal of emptiness.
Zen your garden now and let us know how it goes! And if you have more questions to ask, drop us a line below.