If you've ever flipped through holiday magazines, you might wonder just how everyone seems to get table spreads that look as if a professional designer put them together! Fortunately, it doesn't take much work, creativity, or even money to design a completely beautiful Christmas table for you and your loved ones to enjoy.
With just a few items that you probably already have laying around your house, you can easily complete a Christmas table to rival any of those magazine spreads. Your family and friends will wonder how you got your place to look so lovely!
Fortunately, we've done the heavy lifting for you. Follow these top-tier ideas and you'll have all of the info you need to create a totally inspiring Christmas table!
Seven Incredibly Attainable Christmas Table Looks
Green and Gold Fairy Lights: For a simple, natural look, check out this table-scape idea that doesn't require that many elements. Since there are lights on the table, this is a gorgeous idea for an outdoor dinner table or a dimly-lit dinner with tons of ambiance! To get this look, you'll need a natural wooden table, clear crystal, and green napkins. Tie the napkins in a loosely folded bundle with twine; scatter greenery to match the napkins on the table; and stack salad and dinner plates for a dimensional vibe. Finally, take a strand of thin fairy lights and strew it down the center of the table. This is a good look for a long, thin, rectangular eating space.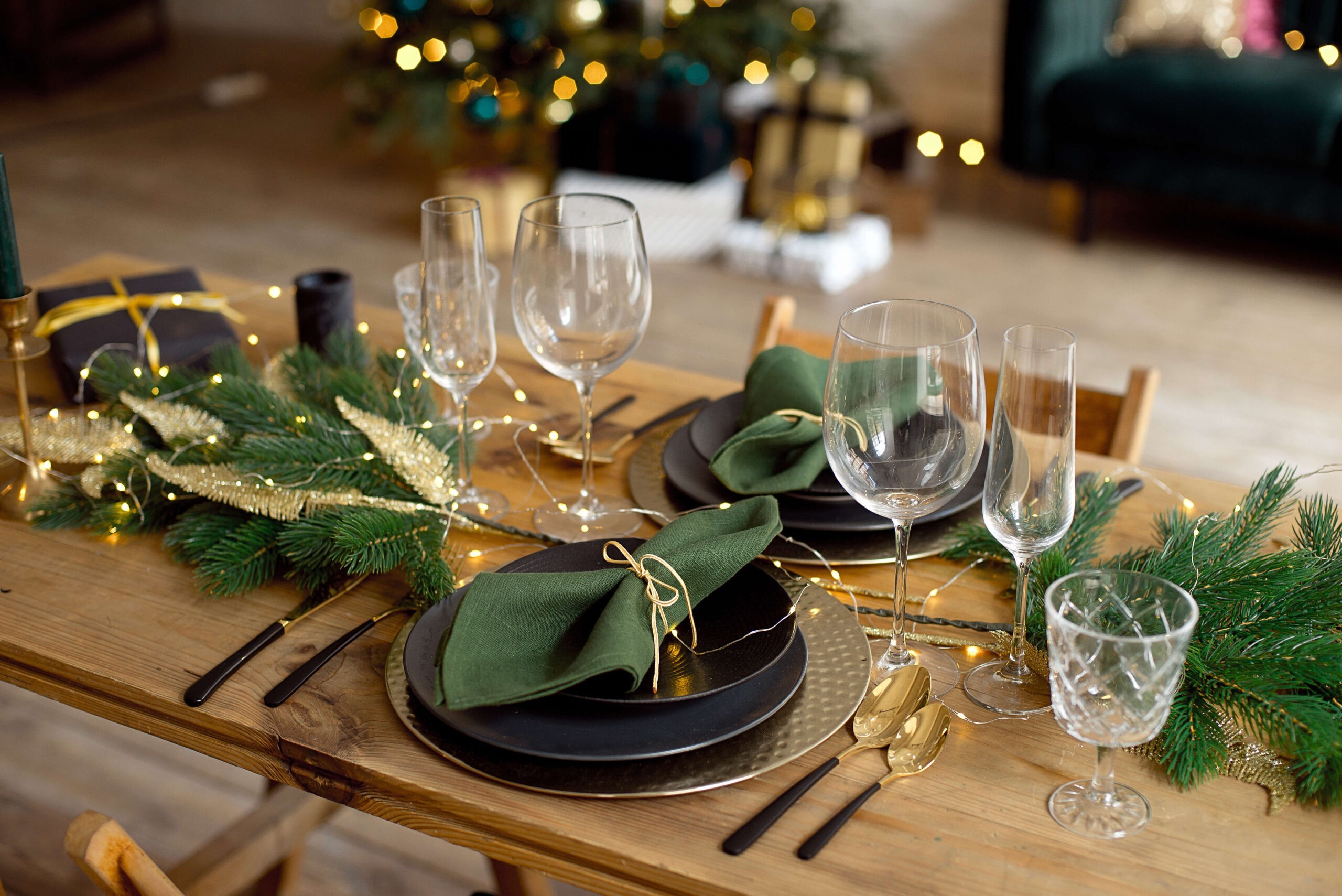 Whimsical, Fun Table with Props: Do you have lots of fun little Christmas items that you'd love to feature more in your decorating? Gather them up and get ready to have a gorgeous flat-lay for your table! Start by setting the table neatly and minimally, with neutral plates, napkins, and silverware to match the table itself as best you can. Place a bough or strand of natural, neutral botanicals along the midline of the table (for example, holly, ivy, or bright red Christmas berries). Then, take one of your Christmas objects - for example, a candy cane, a tiny elf statuette, an ornament, or anything else you have on hand - and place in the middle of each plate. This fun setup will be unique, guaranteed.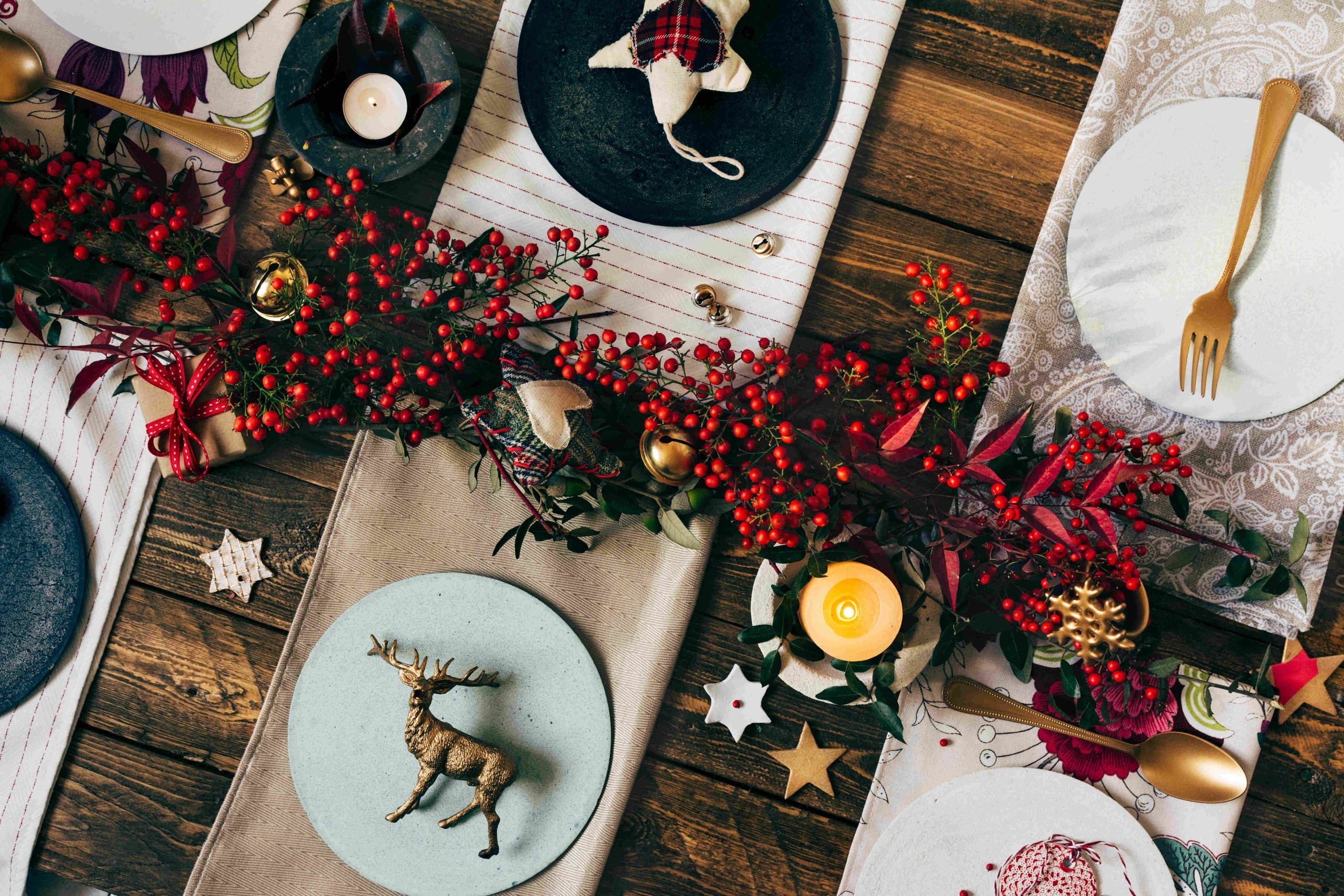 Glam Gold Minimal Table: Looking for something a little more upscale, but that isn't difficult at all to put together? No worries at all. For this look, it doesn't matter what type of table you have: Place a white tablecloth on your table to create a clean backdrop for your decor. Add white stacked plates and gold silverware for a two-toned look. Add a candle centerpiece and a bough of greenery down the center of the table, and then - as a gorgeous finishing touch - take a set of glittery, gold Christmas ornaments and scatter them artistically among the plates and greenery. Your table will be picture-perfect in no time at all.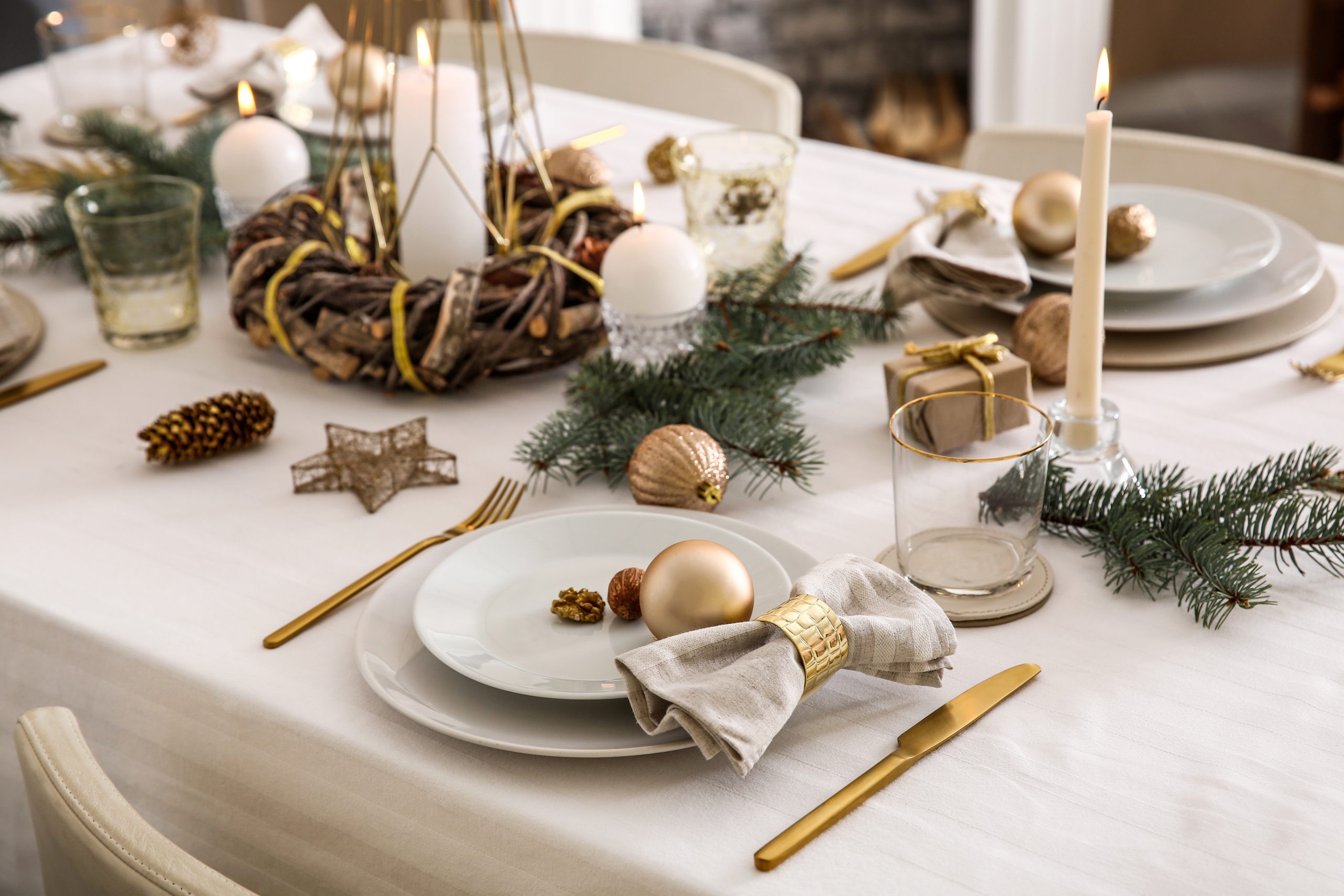 Rustic Peppermint Table Decor: Need something that feels a little warmer? Dress up your natural wood table with neutral plates and warm-toned silverware. Add a beige, natural-fiber runner and a bowl full of leaves or pinecones to help your table feel straight out of a woodland fairy tale; and top with bright red napkins and candy canes to complement the warm, cozy feel. This is a great decor option for a cabin, or for an informal-yet-elevated just-family dinner.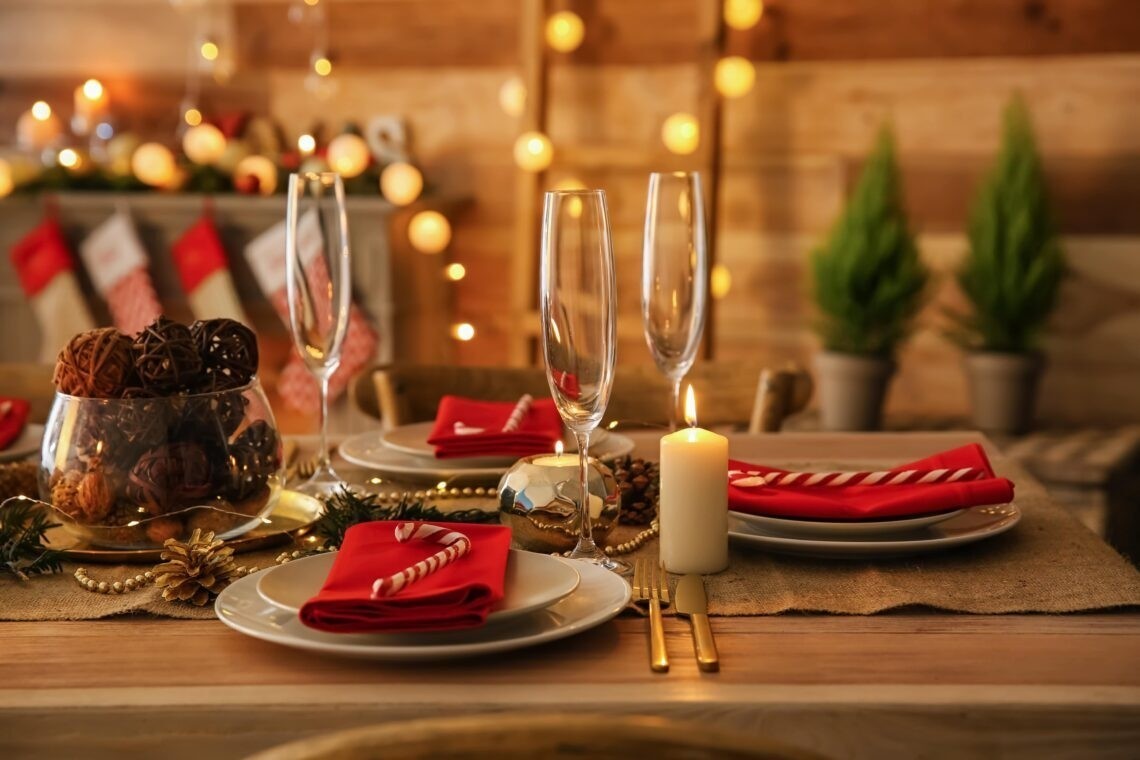 Festive Woodsy Gold Candle Table Setting: When you're looking to bring together a lot of differing motifs and elements on one table, it can get a little busy or overwhelming. Fortunately, we're here to help you with making sure your table looks good, no matter what. For this table scape, start with your natural wood table, and layer on stacked dishes in a neutral or green color. Add gold silverware tied up with neutral napkins with twine. This helps keep the practical part of your table in one visual space! Then, scatter white candles, greenery, and neutral-to-gold elements around your table: Ornaments, tiny paper packages, and gold candle holders with white candles. The effect will be busy, but cohesive.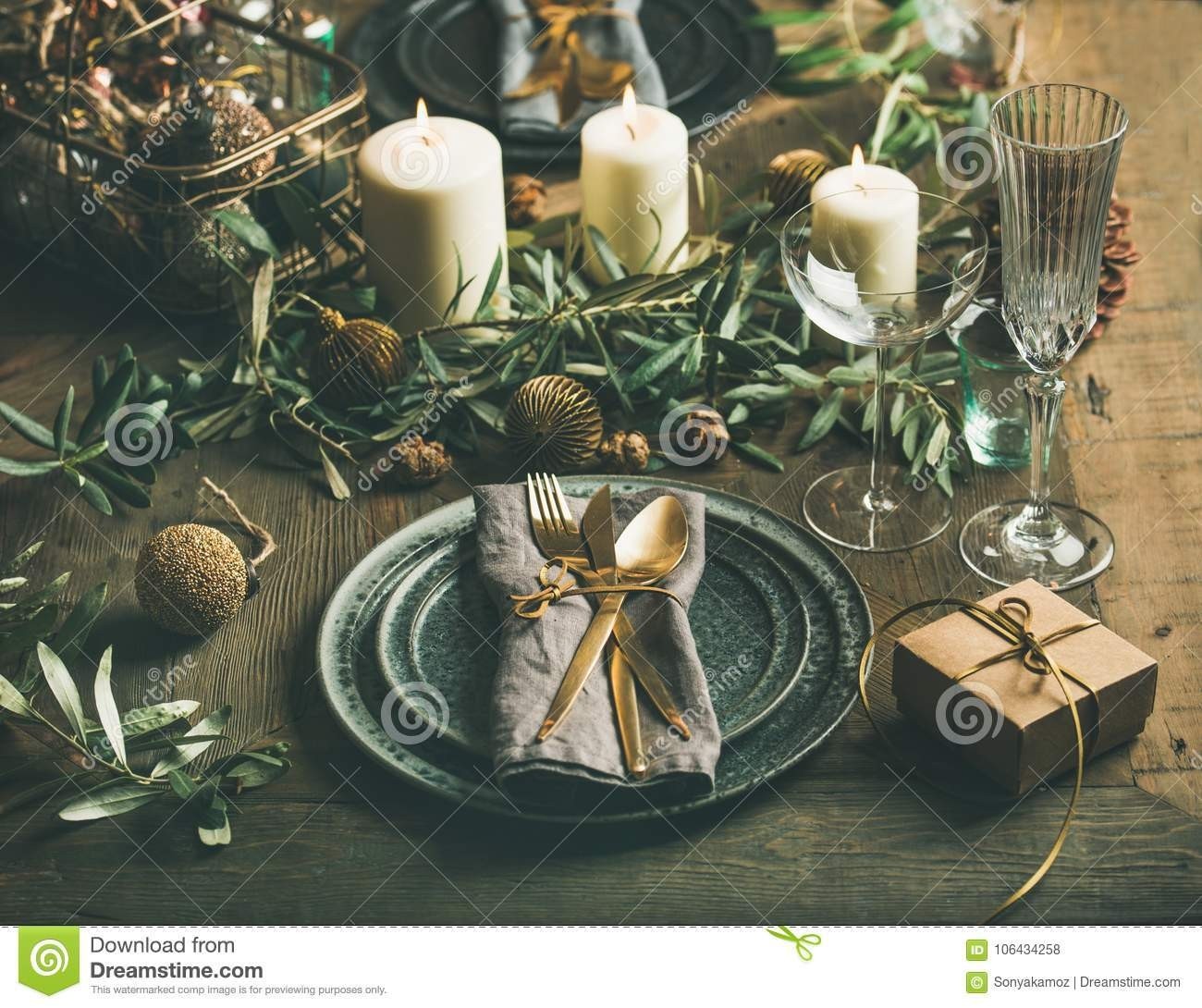 Christmas Morning Traditional Table: If there's a time to bring out your light, fun, Christmas-patterned china, Christmas morning is it! To take advantage of seasonal prints on your napkins or plates without cluttering the look of your table, start by layering natural fiber placemats on a wooden table. Line a single bough or group of strands of leaves down the middle of the table, and add in 3-4 candlesticks in colors that coordinate with your china. Then, stack your china in, use matching mugs, and put silverware on each side of each dish for a welcoming, accessible look.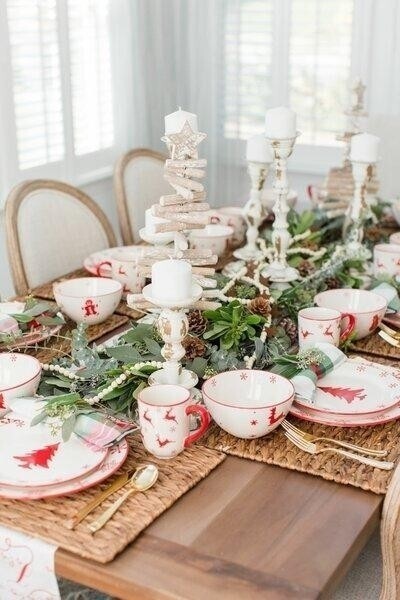 Linen Overlay Gilt Wooden Table: Finally, for a natural-meets-glam Christmas look that combines elements in a beautifully symbiotic way, gather your natural elements and your mod ones for a fascinating display! Start with a natural linen runner going down the length of the table. Add in cream or white dishes, stacked over each other, with a folded napkin in the same natural linen hanging off the plate. Lay one fir bough across the table, add some golden accents like tiny tree statuettes, put natural fruit on the table for easy decor that also serves up a yummy snack, and lay out crystal glasses for a finishing touch.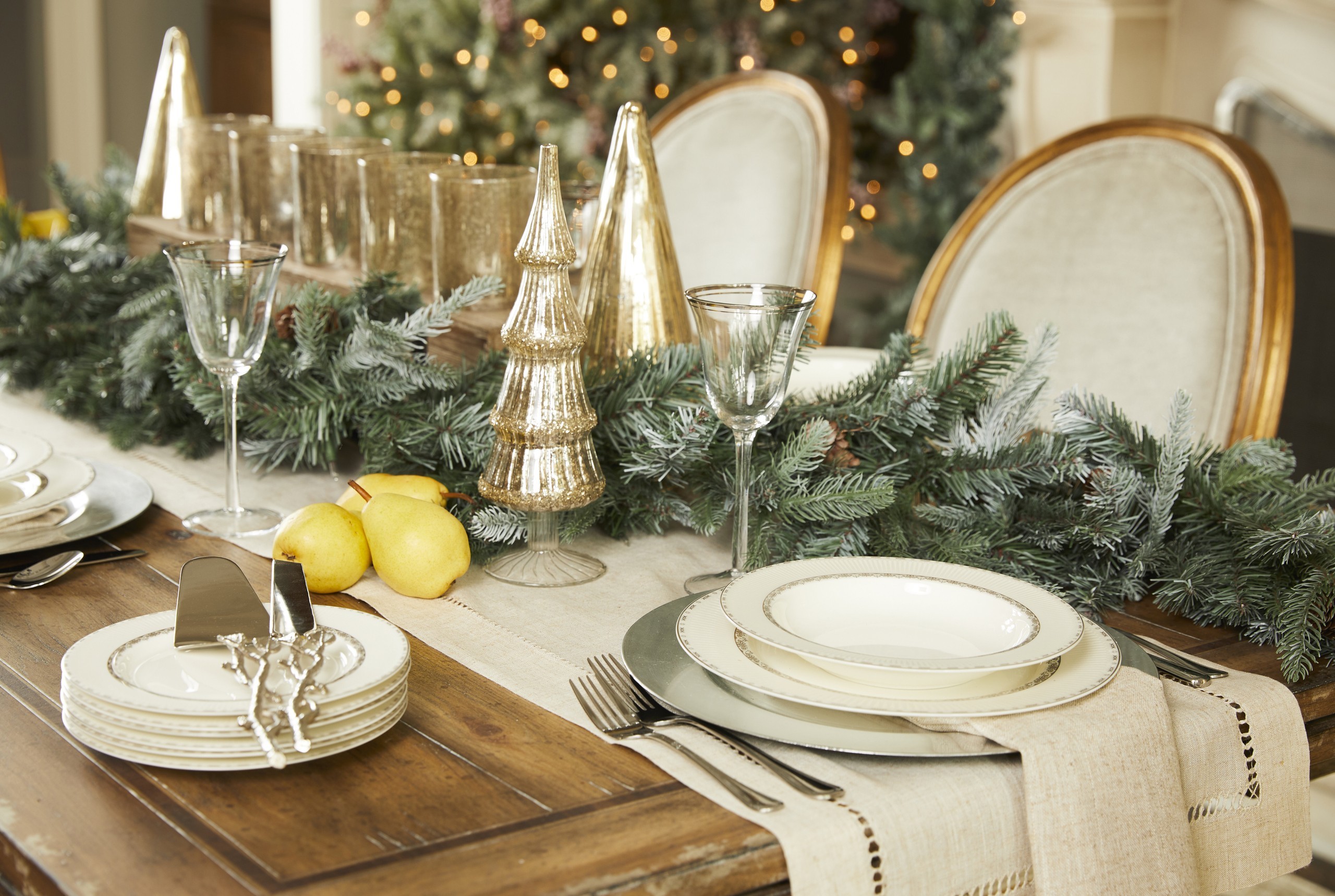 Easier than you thought, right? These gorgeous ideas will be simple to complete but will make your place look amazing for Christmas pictures, experiences, and more. Just wait till you start getting compliments - then it'll definitely be worth it!