Is your garden dry to look at? Or maybe you just want to bring a sense of calm to it? Maybe the time has come for you to do some water gardening.
Water gardening can add new layers of beauty to your garden. Whether you're planning to create a garden from scratch or to reinterpret an existing yard, it can have a transformative effect.
And you know what's the best part about water gardening? You can integrate it beautifully with other gardening styles to create something that fully reflects your taste and personality.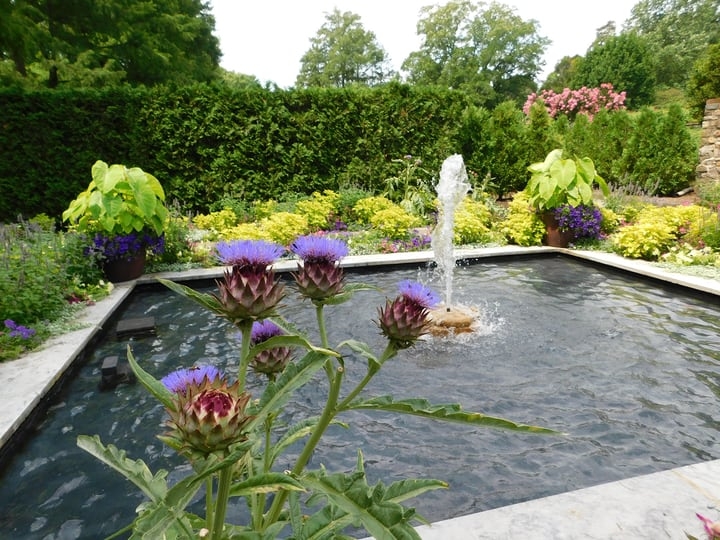 To fire up your imagination, we've gathered for you a host of inspiring water gardening ideas. We've also included a guide on how to create a water garden the easy way as well as a list of the best plants for water gardening.
But let's start with the basics.
What Is Water Gardening?
Water gardening focuses on growing plants adapted to ponds, pools, artificial rivers, and other water features.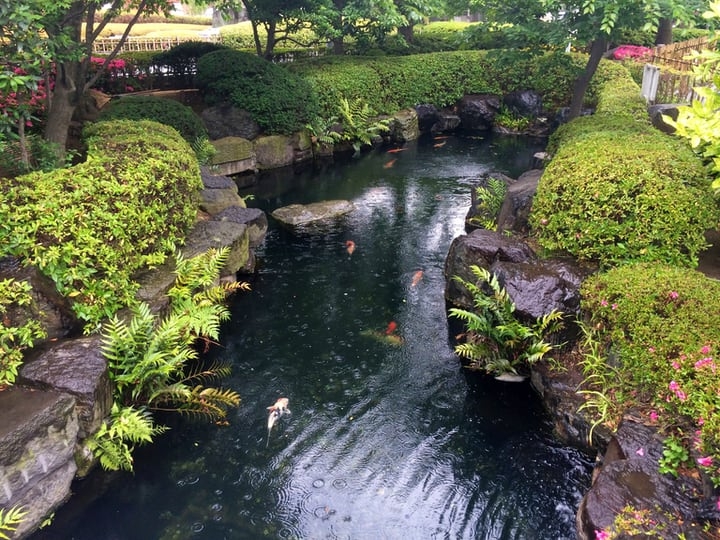 There's no limit to how big or deep a water garden should be. Often, water gardens tend to be small--a part of a larger garden rather than a standalone feature.
A water garden can include edge plants, such as those edging a pool or pond, as well as floating and submerged plants.
In addition to plants, water gardens commonly also feature rocks that can border the water or help to create water features like fountains.
Water gardening is an art, but one that you can learn on your own. You can build your own water garden at home without having to call in a landscaping gardener, though you can always call in an expert for help.
Inspiring Water Gardening Ideas
Now let's get you inspired with some actual water gardening ideas you can transform into a reality. Our list includes something for everyone--indoor water gardening ideas, water garden features, container water gardening, and more.
Water Feature Gardening
Worried that you may not have enough space for water gardening? Don't be. You can bring water to your garden through water feature gardening.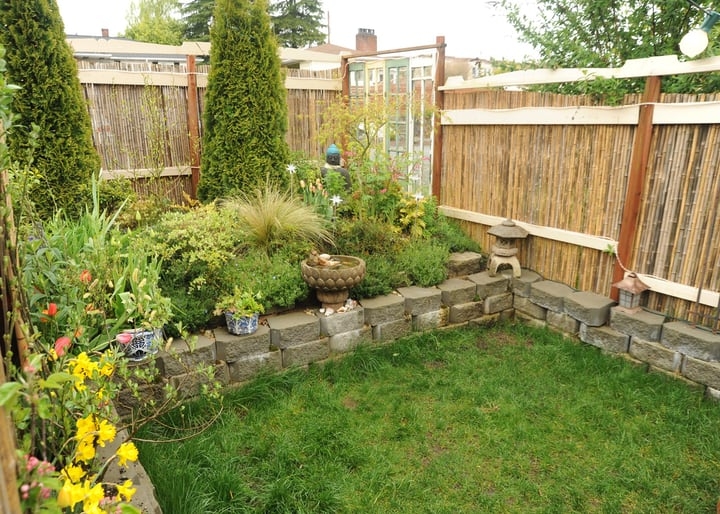 As you'll see in the following examples, water features come in many different forms so it's hard not to find one that's right for you.
1.

Water Gardening Wall with Pool

Water trickling down a wall into a smaller pool and then into a larger one. Here's an interesting example to show you what we mean.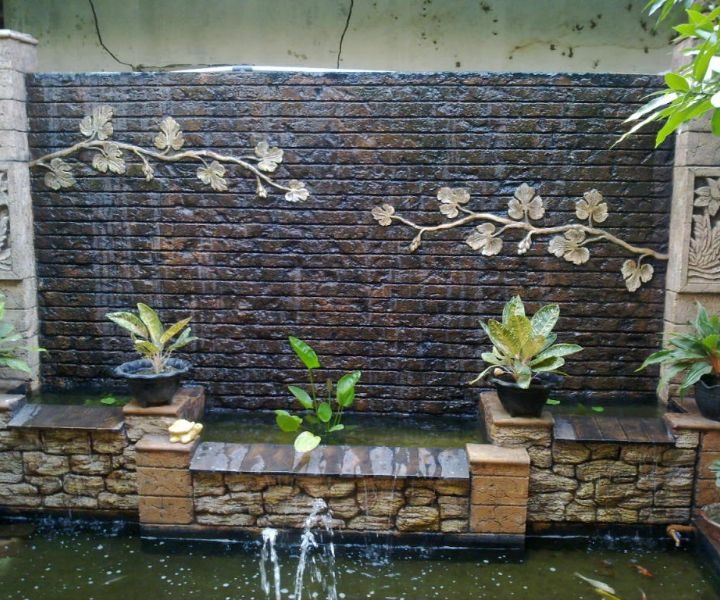 Recreating this waterfall effect in your garden is a wonderful way to bring water gardening to your green space. Add some plants around and some wall decor and you can create something above average--literally.
2.

Stone Waterfall Water Gardening

Talking of waterfalls in your garden, here's a modern example that reinvents an old concept. The volume of water in this one makes the system more water-efficient and easier to set up than conventional garden waterfalls.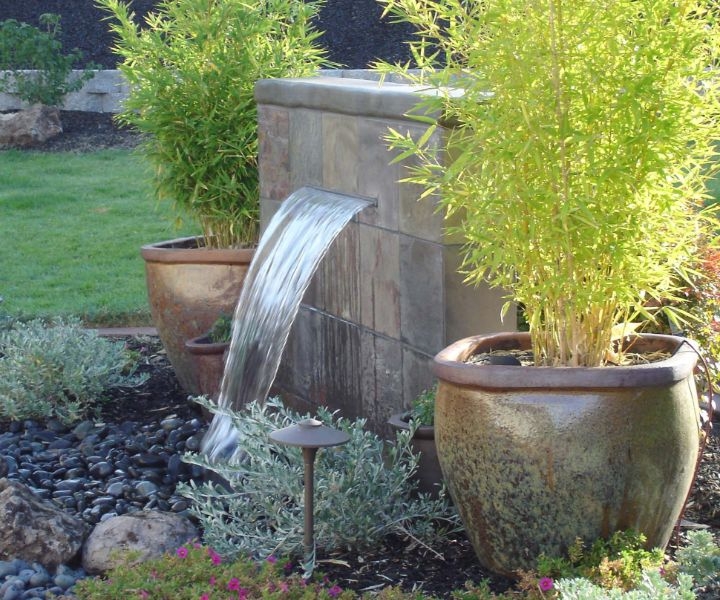 Having water spring out of stone like that makes for a striking sight, especially when you got some greenery to frame the scene and stones beneath to make water music for you even as the water flows.
3.

Modern Water Gardening Pond

In this example, the waterfall plays a smaller part--it's the river on its bed of stones that draws the eye to it. We like how it's been naturally integrated into the design, both following and helping to create a path.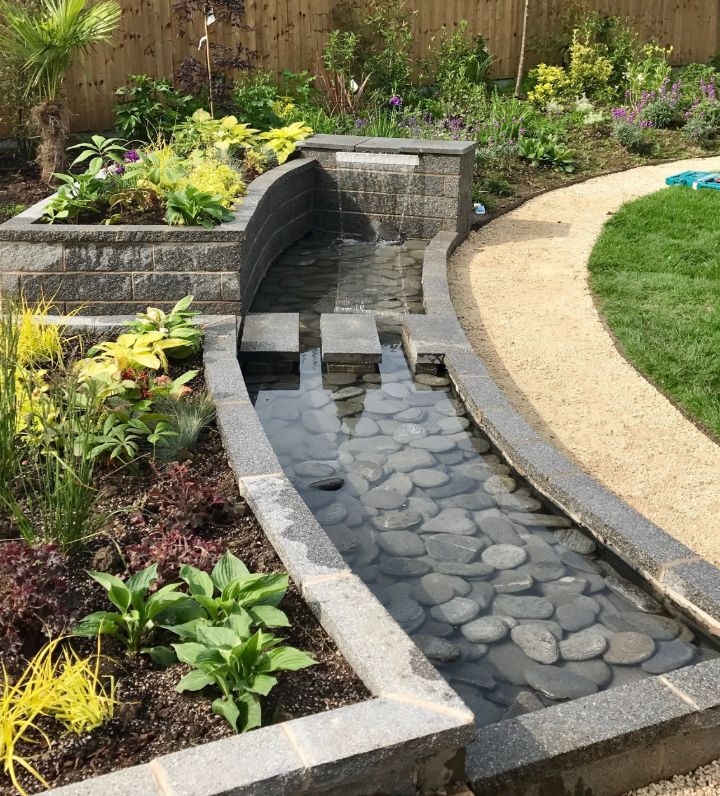 This modern take on water feature gardening shows how water can be another element in your garden without becoming a traditional pond or water fountain.
4.

Water Curtain Columns

Looking for an elegant and striking water feature for your garden? Here's a wonderful example that's one of our favorites.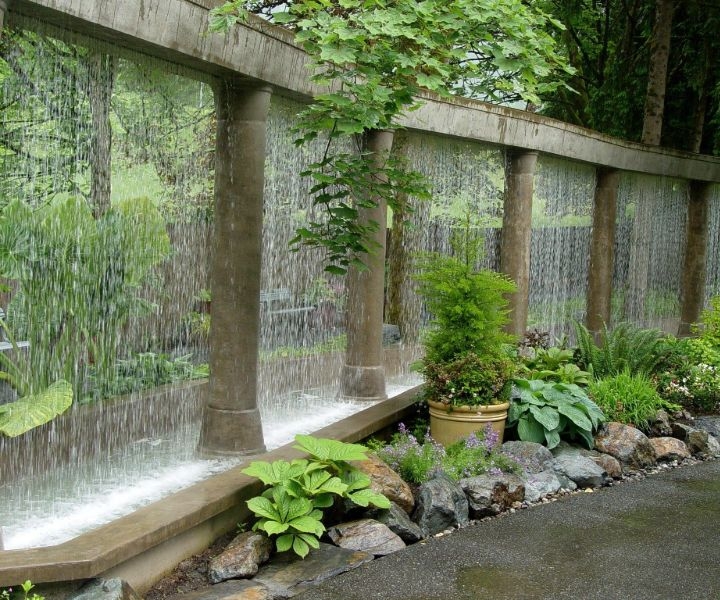 These water curtain columns have an antique feel to them that adds a lot to the atmosphere of the garden. Admittedly, this design calls for more work and water than other examples, but the result more than justifies the trouble.
5.

Round Pond with Glass Globe

A round fountain with a glass globe in the middle can look amazing, especially when it's surrounded by greenery. Just look at this example.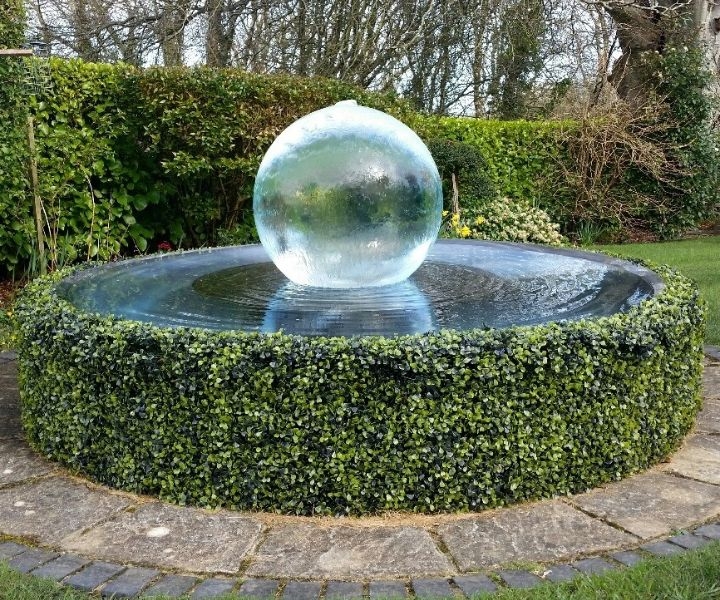 The greenery conceals the stone of the fountain so that the foliage and the water meet at the surface of the fountain and merge into a spectacular sight.
6.

Large Glass Water Feature

A big glass cylinder? Why would you want that in the middle of your garden? Because it can look pretty cool, especially if it recreates the effect of a whirlpool inside of it.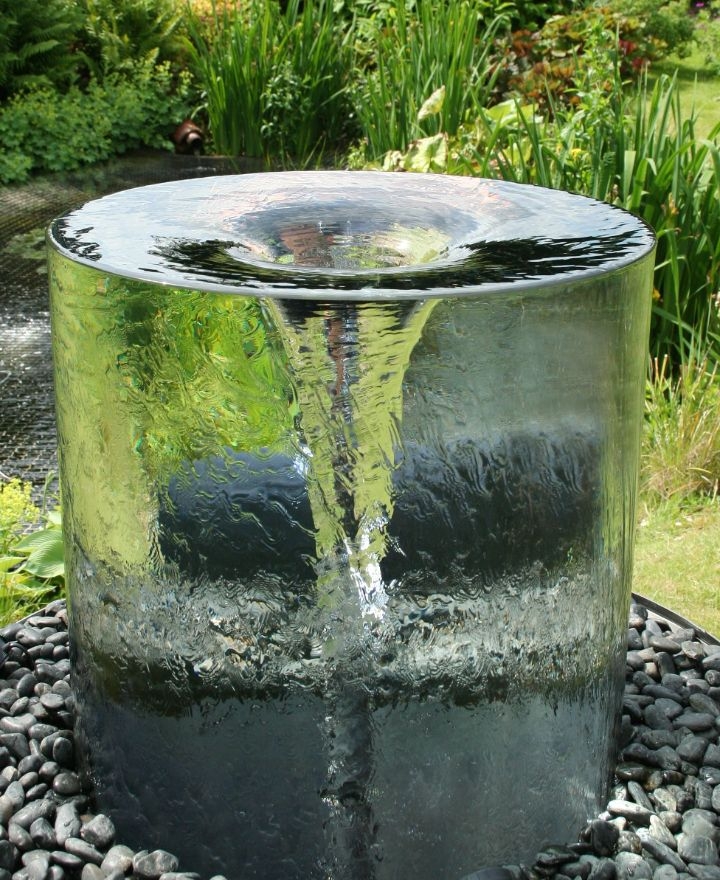 From a distance, it can also pass for a big block of ice--a welcome sight on hot summer days.
7.

Rust Water Garden Feature

This is not a shower for the skin, rather one for the mind. This type of water garden feature slash artwork can attract immediate attention only to calm down the mind with its water flow.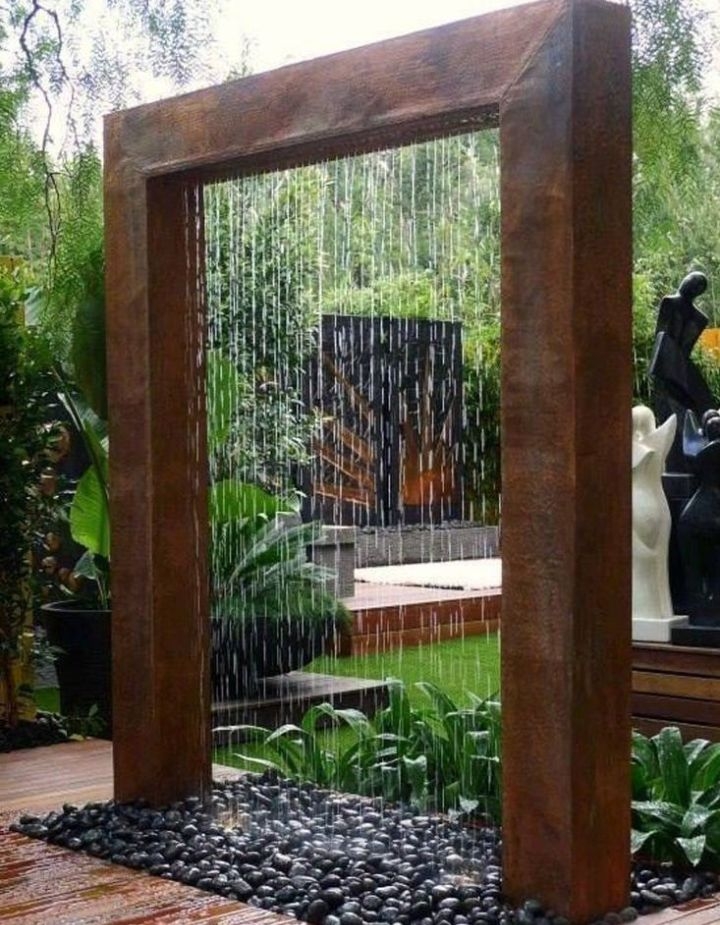 Rust is not always bad--it can look striking when put to creative use in a water garden.
Hydroponic Water Gardening
Hydroponics is a way to grow plants without using soil. Not only is this possible, but it can be beneficial for the plants, since their roots are able to access nutrients more easily. We've written a whole guide on hydroponics.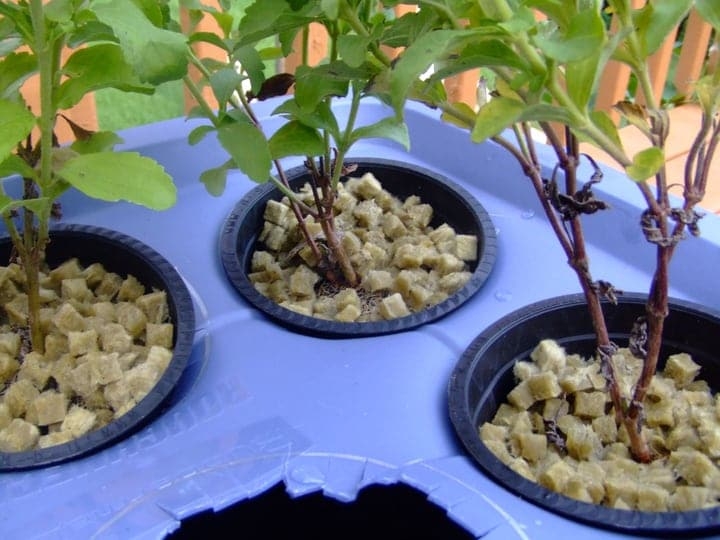 Now here are some ways in which you can integrate hydroponics into your garden layout to create a water garden.
8.

Painted Water Bottles Hydroponic System

You can upcycle plastic bottles and, with a fresh coat of paint, transform them into a DIY hydroponic system.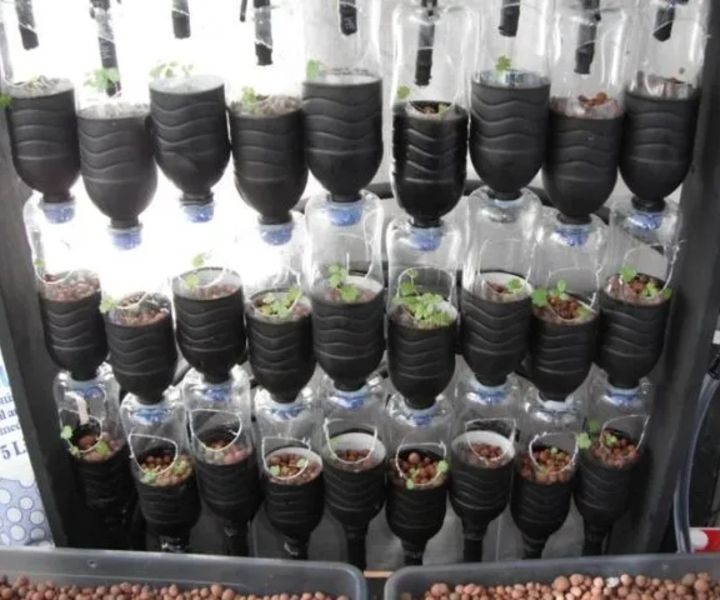 You can install a wall of hydroponic bottles on a wall in your garden or even use them as a separator wall between two sections of your garden.
9.

Vertical Pipe Hydroponic System

In this example, a hydroponic installation irrigates the roots of the plants with all the nutrients they need to thrive.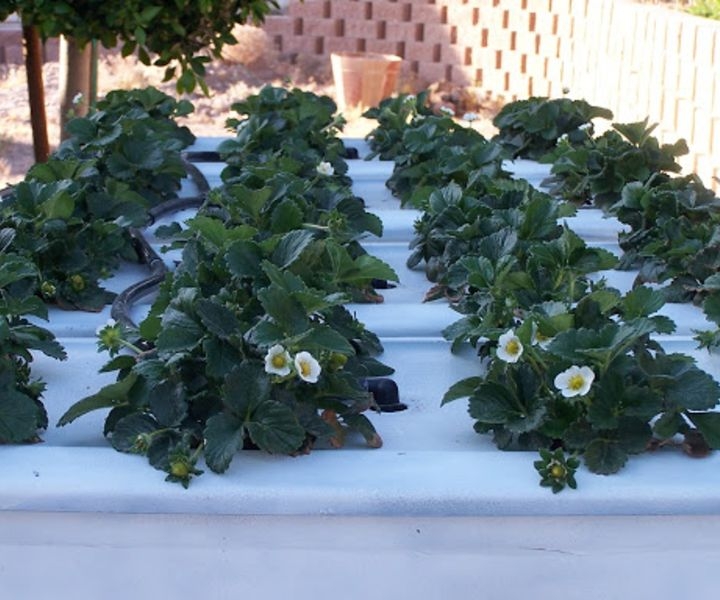 You can buy a similar system online and place it anywhere you want in your garden. You can use it to grow flowers as well as vegetables and certain fruits.
10.

Hydroponic Seedlings Water Gardening

If you want your water garden to be useful, you can install a hydroponic pipe system and turn plastic bottles into pots for seedlings, like in this example.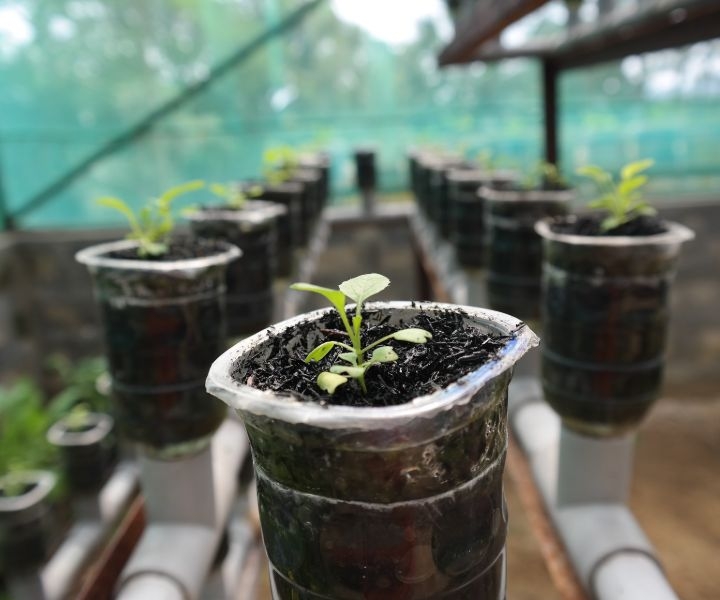 Tip: Cover the seedlings you grow hydroponically in your garden. You can use an awning or elegant glasshouse or cold frame with open ends to blend in the system with the rest of your water garden.
11.

Simple Hydroponic Water Gardening

Sometimes simple ideas are the best. By cutting some plastic bottles and using them like in the example below, you can leave the roots of the plants exposed to the nutrient solution. You'll only be using soil to fix the stems of the plants into place.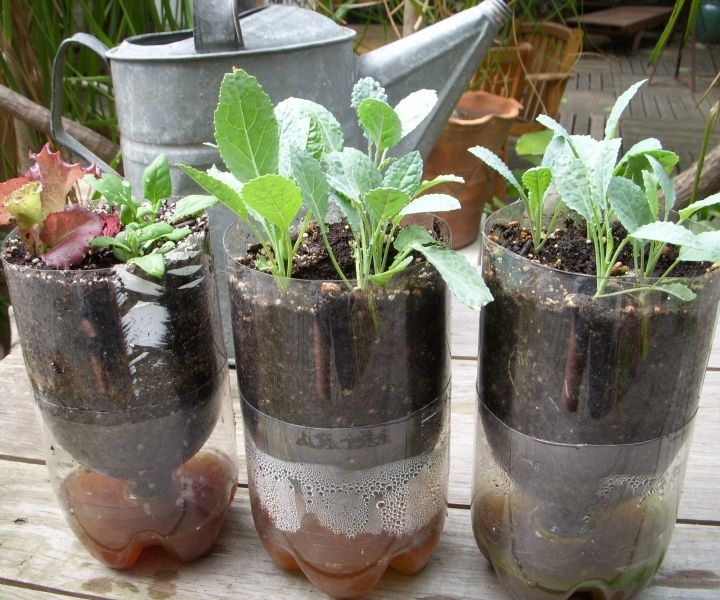 At the same time, you'll be creating warmer conditions for the roots and protecting them from common outdoor threats.
12.

Layered Beds Hydroponic Water Garden

Here's another example in which utility trumps beauty and does it without fuss. This idea uses two raised garden beds in a wooden framework with a water pool equipped with a pump in the bottom container.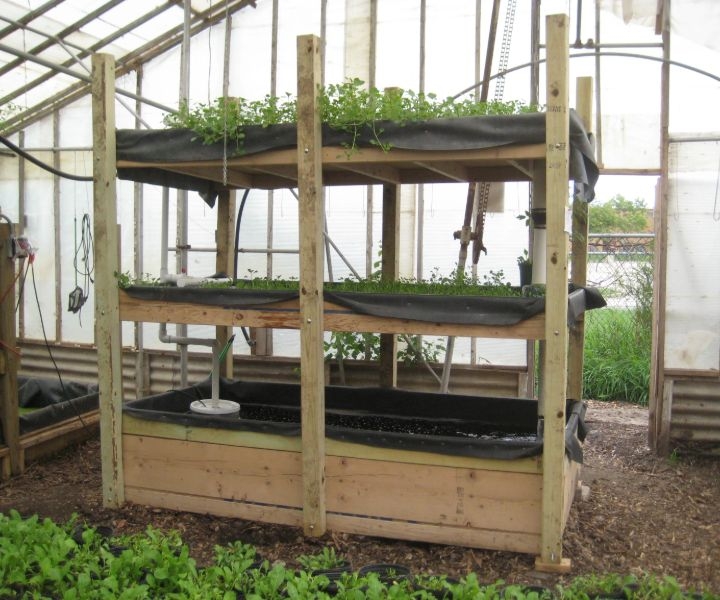 In a mild climate, you can leave this system outside by a wall or other sheltered area.
13.

Suspended Plant Pots Water Gardening

Suspending plant pots above the source of the water and nutrients is one way to set up a hydroponic system in your garden.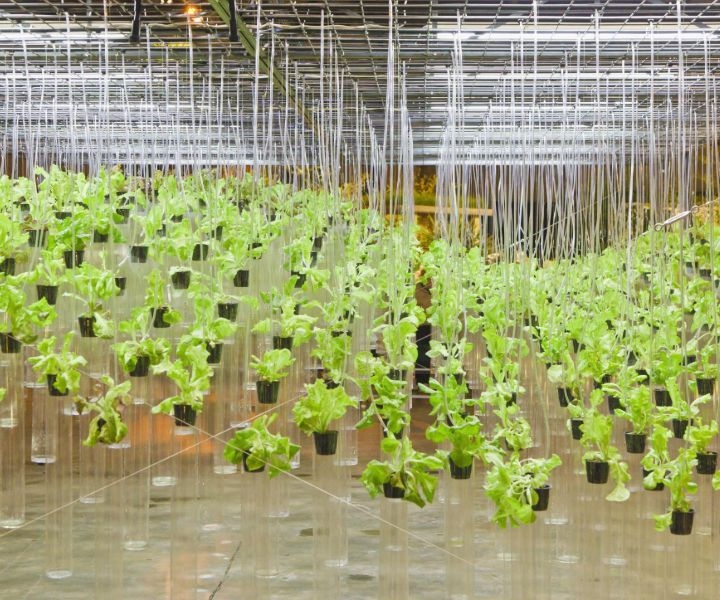 Now, this example is taken from an indoor nursery, but you can adapt it to your space and needs. Hanging pot gardens help you save horizontal space and avoid clutter on the ground.
Water Gardening in Containers
When you think of gardening containers, it's probably pots and plastic containers that first come to mind. Water gardening in containers is different--the containers tend to be a lot more beautiful.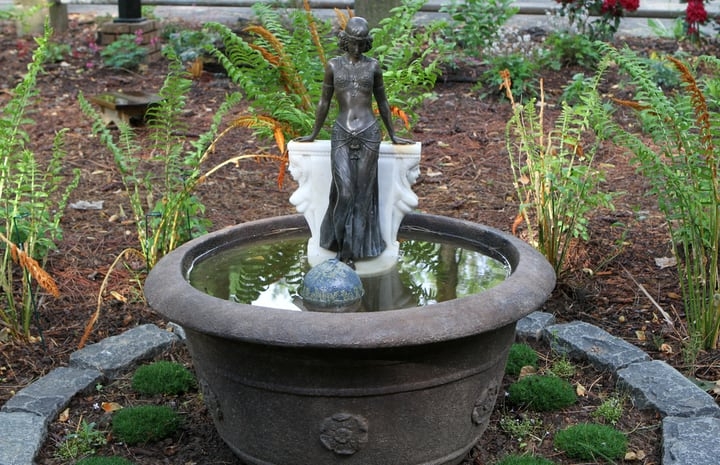 We're talking about containers that aren't made only to hold water but to be beautiful to look at and that add a nice touch to the garden.
14.

Round Seashell Cement Water Container

This round water container with a seashell texture creates an elegant water feature above the ground. It looks wonderful surrounded by plants and a lower water pool.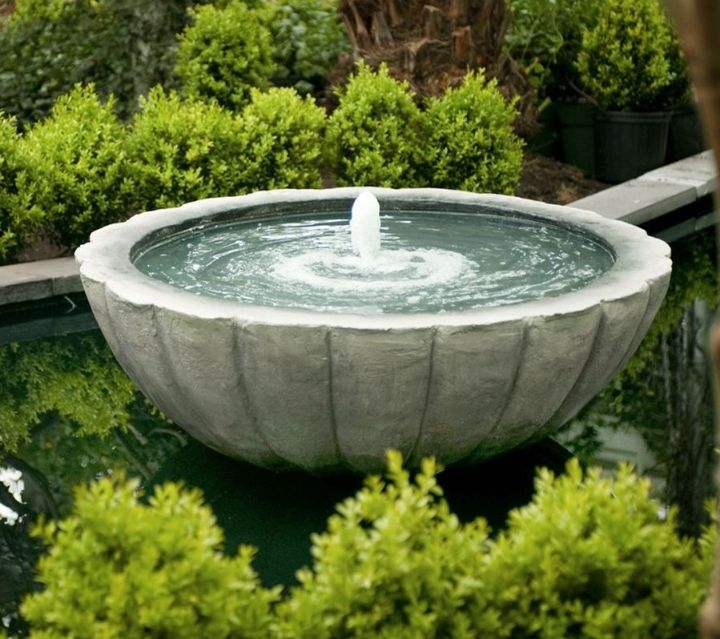 The water installation inside keeps the water gurgling and moving, adding to the pleasant background sound of the garden.
15.

Cascading Wooden Container Water Fountain

In this example, three round wooden containers combine to create a cascading water fountain slash waterfall. The water in the bottom container is reused--nothing is wasted.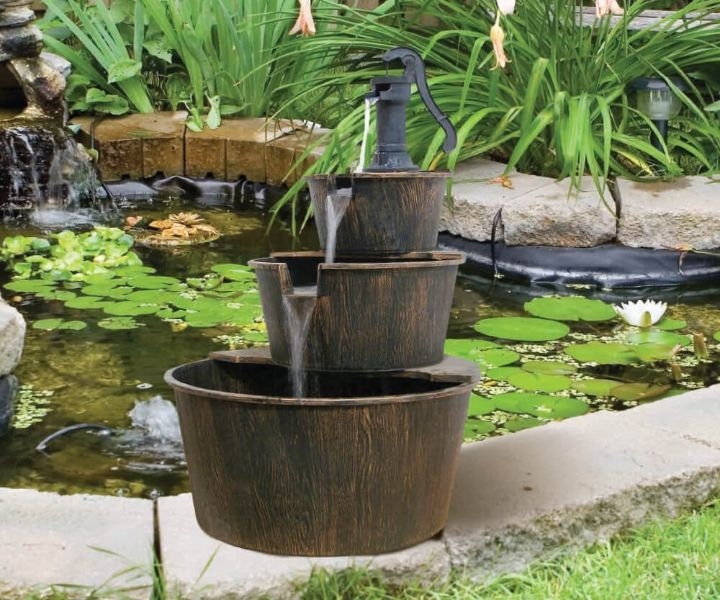 The flow of water can bring serenity to your garden and, in combination with elements like wood, create a nice Japanese garden feel.
16.

Elegant Water Gardening Wheel Container

Now here's an example of how a water gardening container can be a work of art in itself. This design is reminiscent of the wheel of life and the Omega symbol and plays with textures and materials.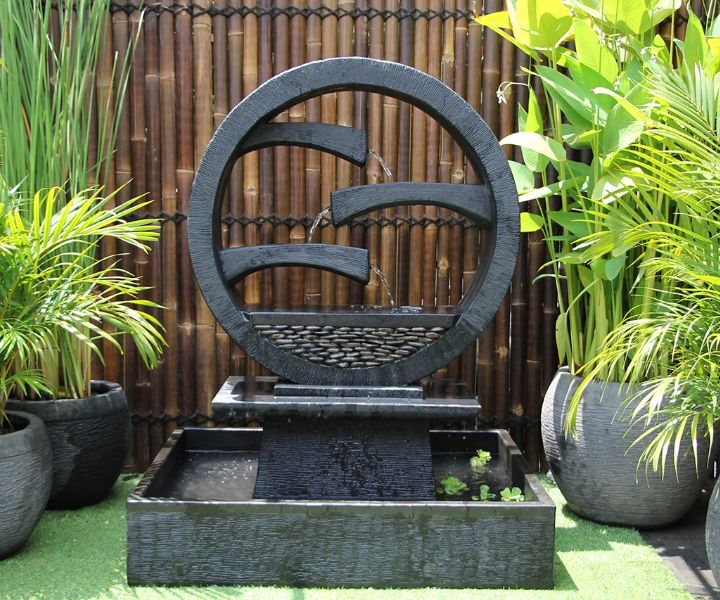 A striking water feature for any garden, it can immediately draw attention to it and then invite contemplation.
17.

Two-Bucket Water Garden Container Feature

Another example of a bucket cascade, this one is simpler but no less interesting than the one we've shown you above.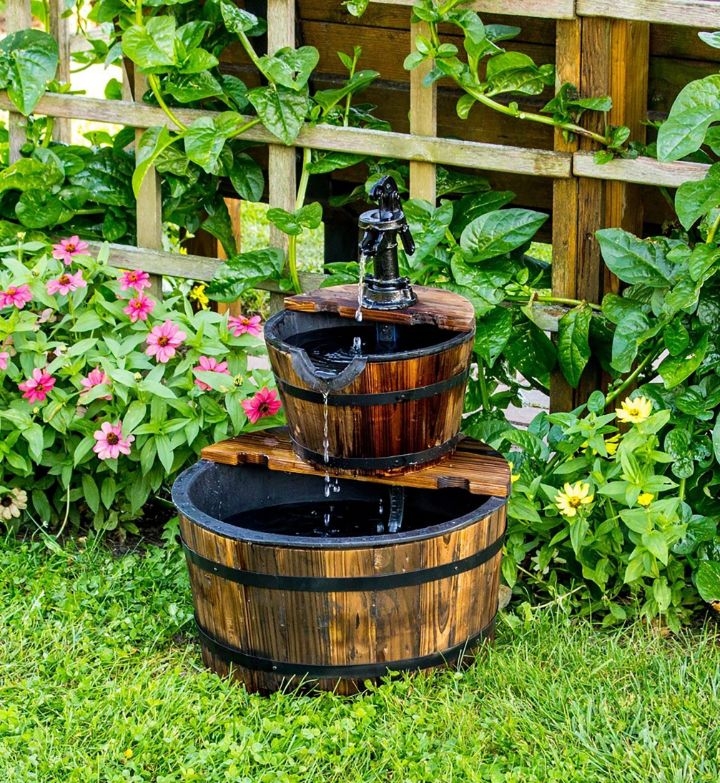 You can place this one in any corner of the garden--the pump will carry up the water to the spout in an endless cycle of relaxing drips and gurgles.
18.

Ceramic Cascading Water System

Water gardening containers made from ceramics, pottery, or similar materials can add color and a decidedly oriental vibe to your garden. Just look at this three-container example to understand what we mean.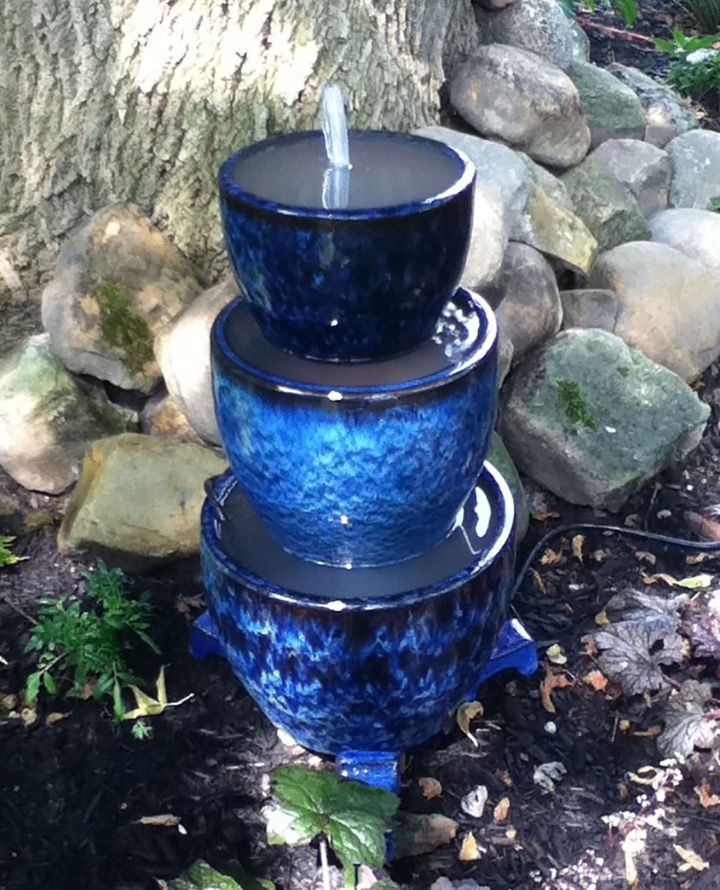 This is an electrically-powered water feature that you can set up and then pretty much forget about except for occasionally cleaning it.
19.

Large Bowls Water Gardening

Water gardening containers can create a waterfall effect without sitting one on top of another. Here's an example to show you what we mean.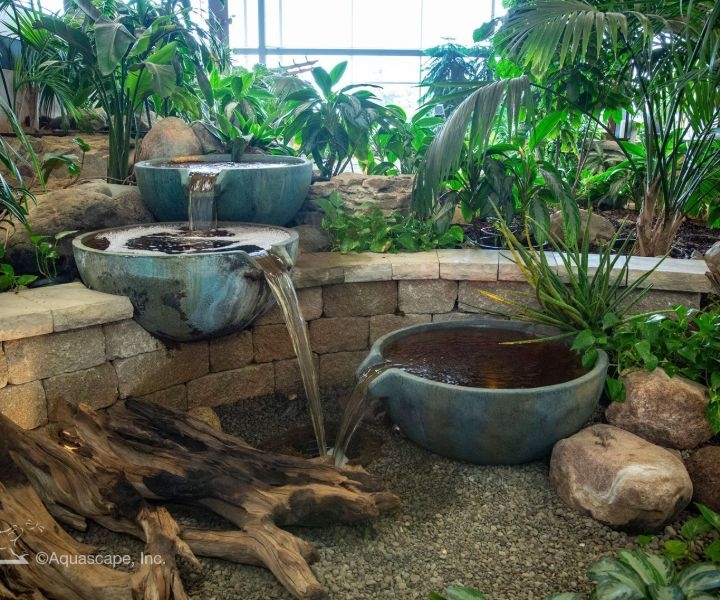 Surrounding water containers with greenery and placing them next to or on richly textured surfaces can create a really nice water feature in your garden.
Japanese Water Garden
Water is an important element in many Japanese gardens, where it symbolizes renewal and continuity.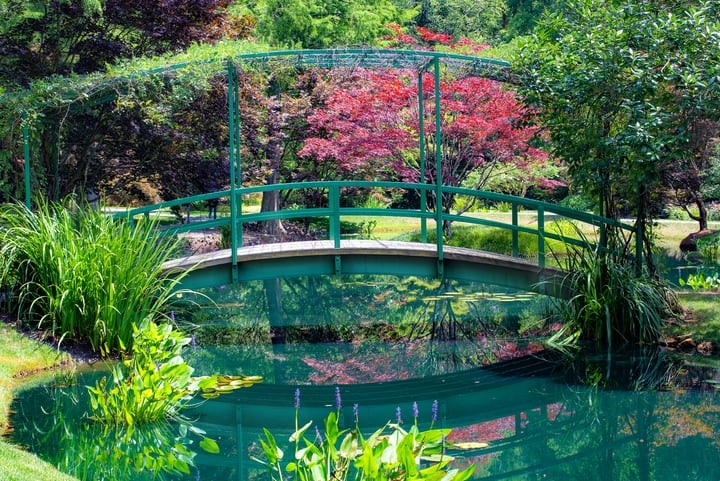 Japanese water gardens are often carefully crafted while at the same time remaining simple and in close contact with nature, as you'll see in some of the examples below.
20.

Water Grove Japanese Garden

Nature takes center stage in this example, which faithfully recreates a natural scene in the context of a water garden.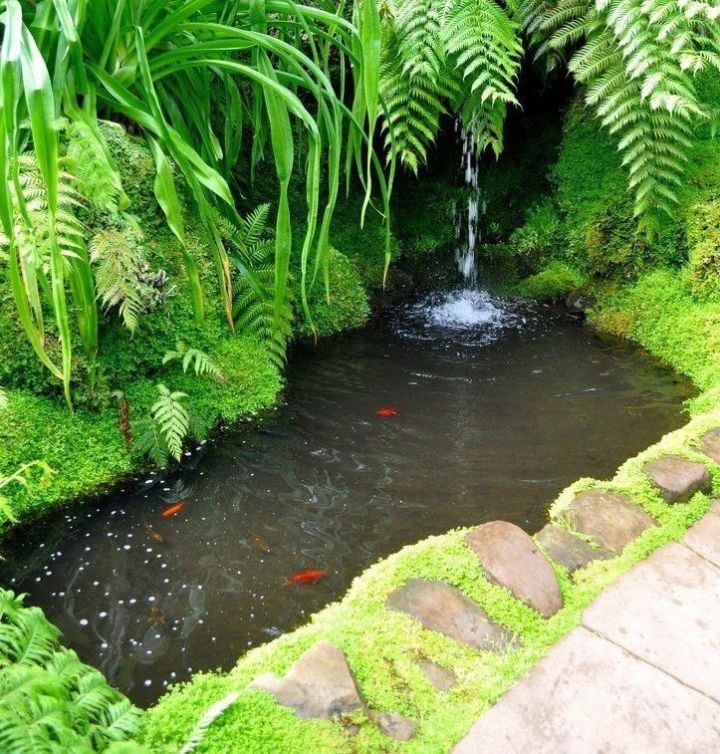 This approach to water gardening effaces all traces of planning and lets nature to take over the scene.
21.

Wooden Vessels Japanese Waterfall

This example is very different from the last--here we're obviously looking at a man-made arrangement.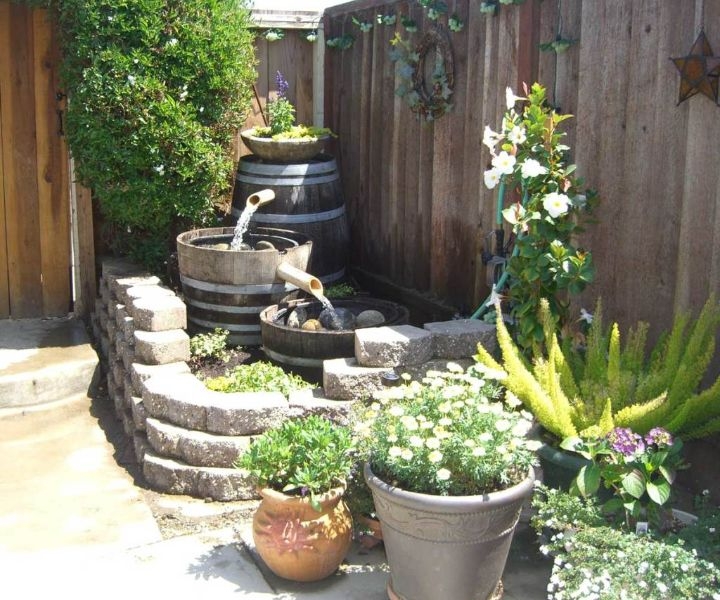 Wood, water, and stones create a multi-layered waterfall-like effect that brings a rustic touch to this corner of the garden.
22.

Japanese Pond with Wooden Decking

Framing your lily pond with landscaping timber like in this example can create a quietly beautiful water feature.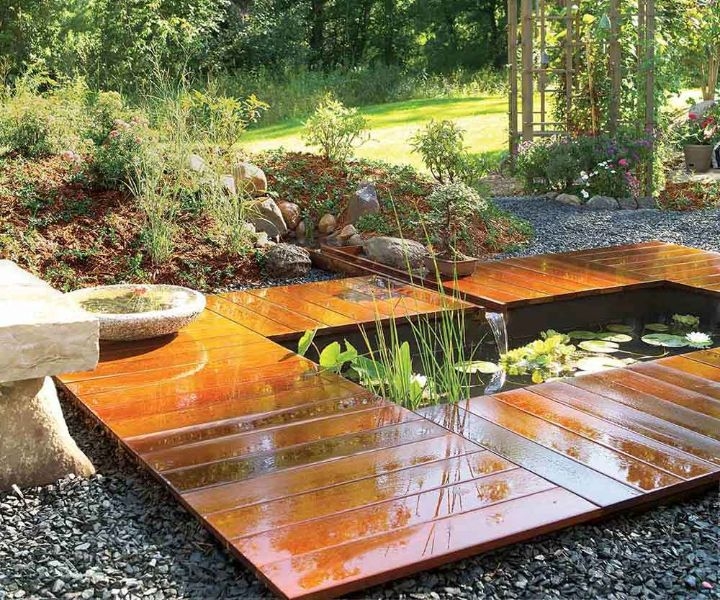 Notice the bonsai, the stone features, and the gravel used for contrast--nothing was left to chance in this arrangement.
23.

Large Pond with Japanese Rocks

This large and beautiful water feature wouldn't be what it is without the large stones and rocks that edge and at the same time anchor it in the green landscape.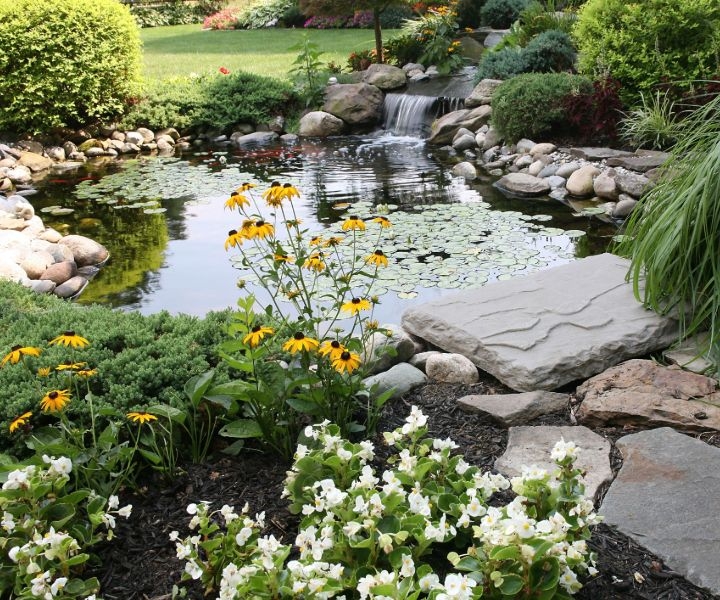 It's a typical Japanese water garden feature--using stones close to the edge of the water to create some of the island scenery seen on Japanese coasts.
24.

Small Pond Japanese Garden Water Feature

Small ponds edged with landscaping rocks like the one in the image below are a common feature in Japanese water gardens.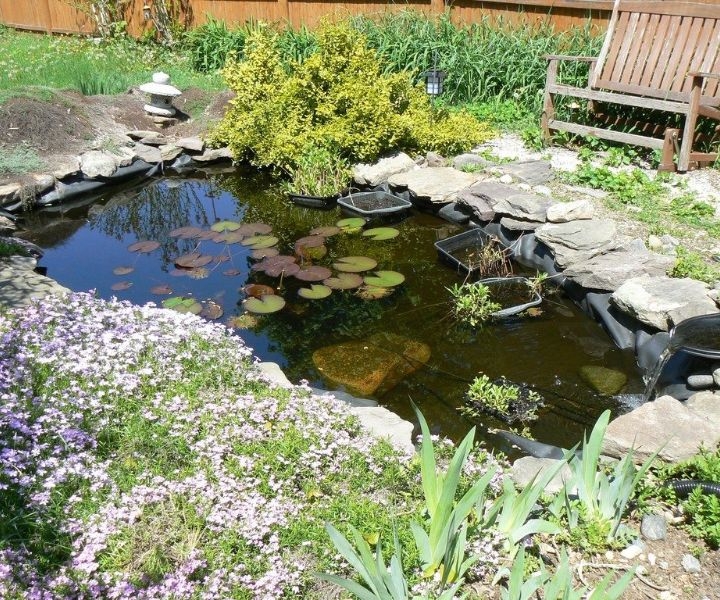 They create a contemplative area where you can sit and watch the easy grace with which the lotus flowers float on the surface of the water.
25.

Rocky Waterfall with Pond

Unlike other waterfalls we've featured so far, the one in this example has a natural feel to it because of the seemingly careless rock arrangement--but which is in fact deliberate.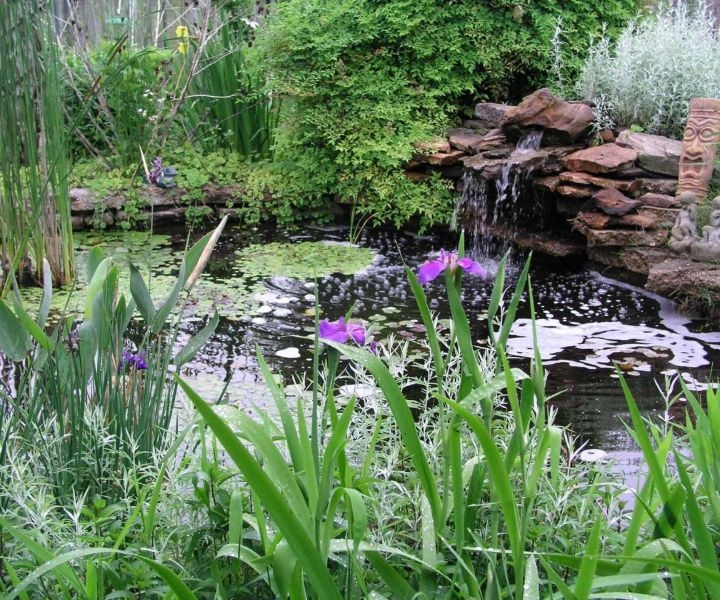 The pond too has a pleasantly unkempt feel to it--another intended effect.
Indoor Water Gardening
This may not have crossed your mind before, but you can do water gardening indoors as well.
Don't worry--you won't be building ponds in your living room or rocky waterfalls in your bedroom. Here are some ideas to show you what we mean.
26.

Small Window Indoor Water Garden and Aquarium

The phrase water garden may sound fancy when applied to this simple example, but in fact that's what this is--scaled down.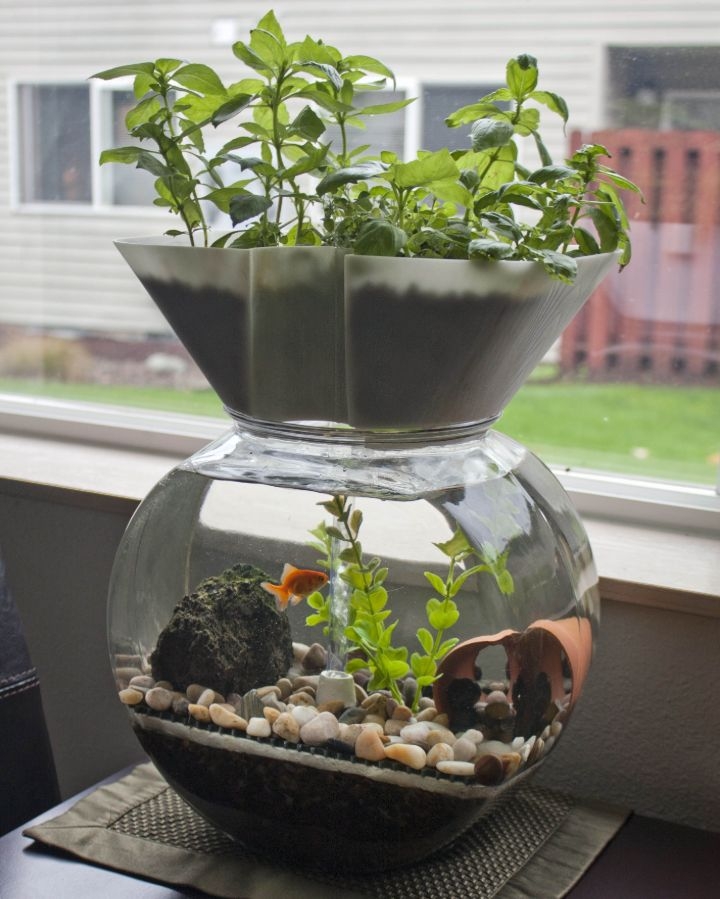 The fish tank below supports the plants on top, not just literally, but also by giving off CO2, which the plants absorb.
27.

Corner Indoor Water Gardening

Got a free corner in your house free from wall sockets? Here's an idea of how you can transform it into a layered water garden full of textures.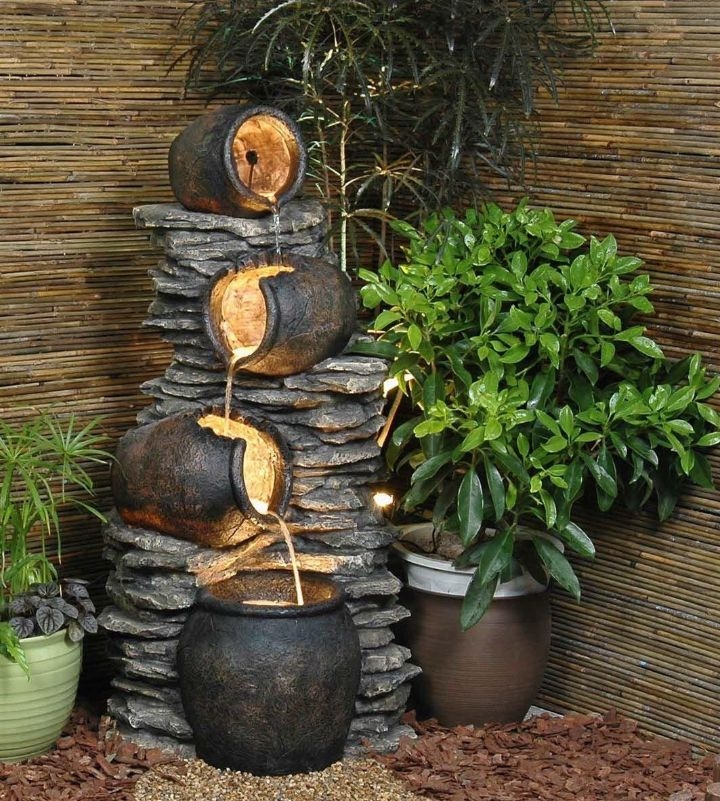 This is an example of water gardening in containers, a very convenient way to do indoor water gardening while keeping the floors and walls dry.
28.

Water Gardening in Vessels

Another way to do water gardening indoors is to submerge the right plants in the right vessels, like in this example.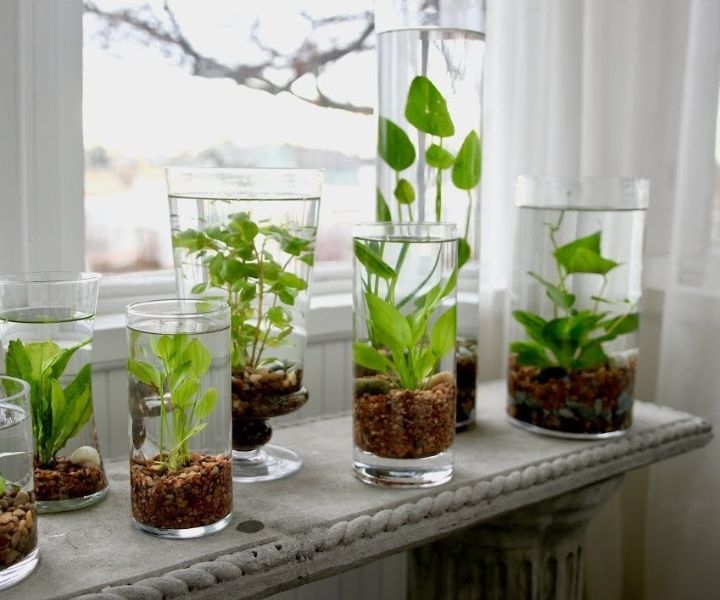 Arranging water plants like this can transform a room while saving you the hassle of having to water the plants.
29.

Vessel Water Gardening

Find a nice bowl, fill it with water, add some nice floating plants, and you can create something beautiful--just look at this example.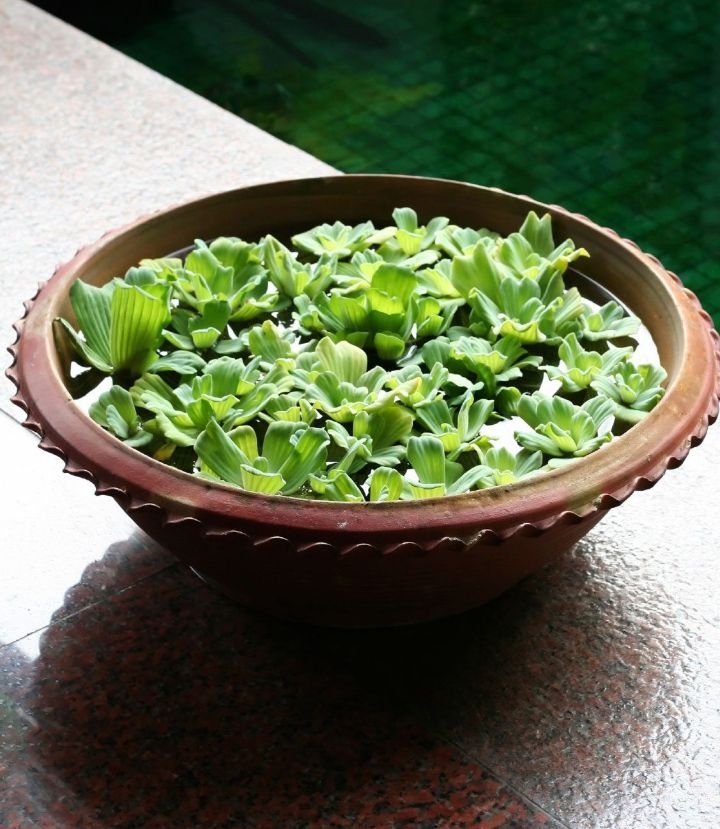 This kind of small-scale indoor water gardening takes little time and helps you add a nice green touch to any corner.
30.

Fishbowl Water Gardening

The roots of plants can provide a nice setting for fish, as you can see in this example.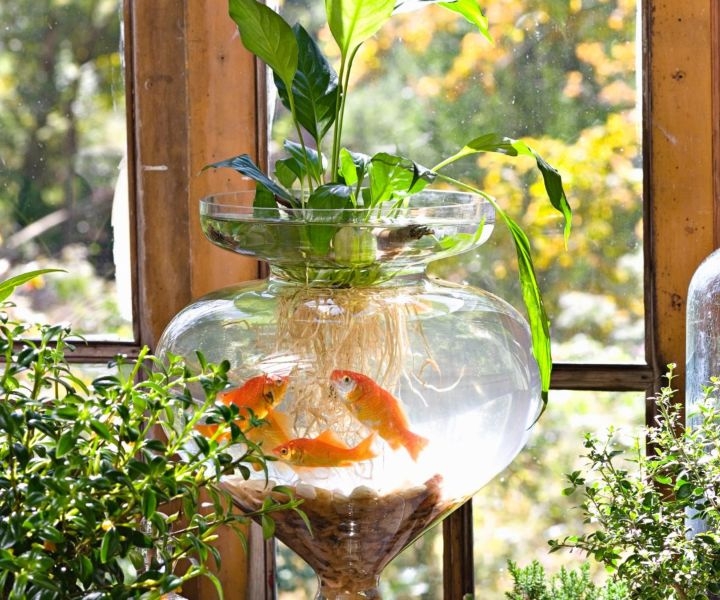 Turning this kind of vessel into a fish bowl slash plant pot enables you to create a simple but striking water garden for your windowsill.
Water Gardening Fountains
Whether big or small, simple or sophisticated, fountains are a major water gardening feature. Because they keep the water circulating, they can add dynamics to an otherwise static garden. Here are some examples.
31.

Large Round Fountain with Flamingos

Lush ferns and other greenery create the perfect backdrop for this artistic water fountain.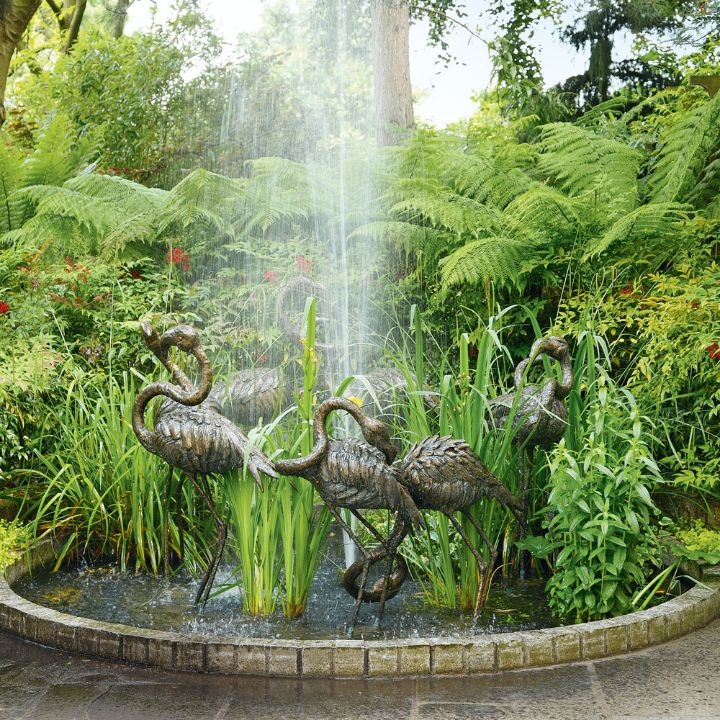 Even if you don't want something so big, you can add some brass or copper animals to create a natural scene that's both beautiful and timeless.
32.

Mosaic Water Fountain Bowl

Water fountain bowls like this one are not just a pleasant sight in a water garden but can also provide a fresh source of water.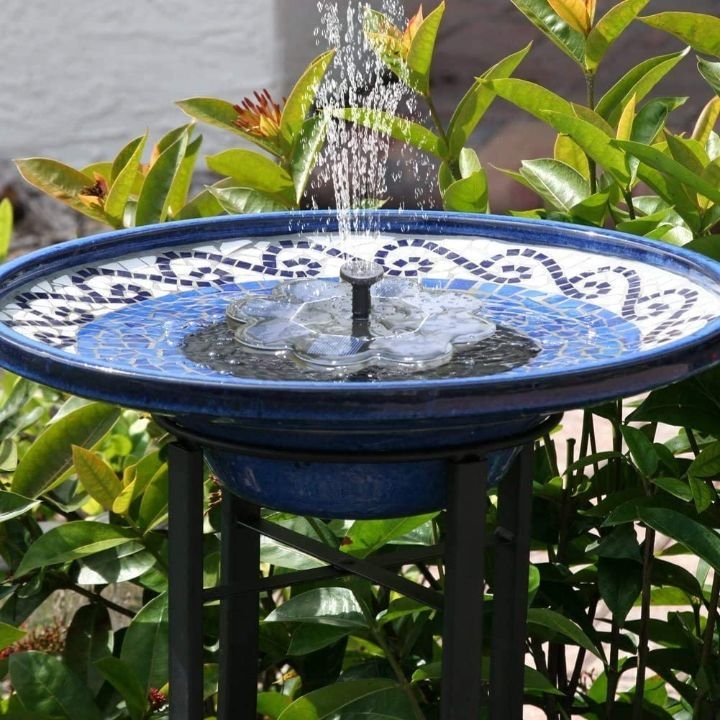 They can also attract bees as in a bee bath and possibly small birds.
33.

Rocky Waterfall Japanese Garden

Layering a few big, chunky rocks to create a watercourse like in this example is a fantastic way to create dramatic scenery in your garden.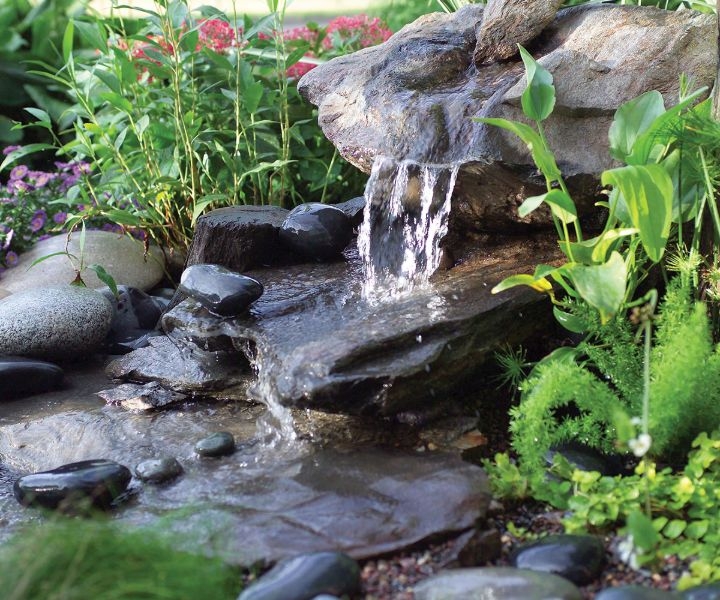 This approach is quite the opposite of buying a ready-made water feature--and the result is always unique.
34.

Boy Garden Fountain

Add more personality to your garden with an antique-looking small fountain like the one in this example.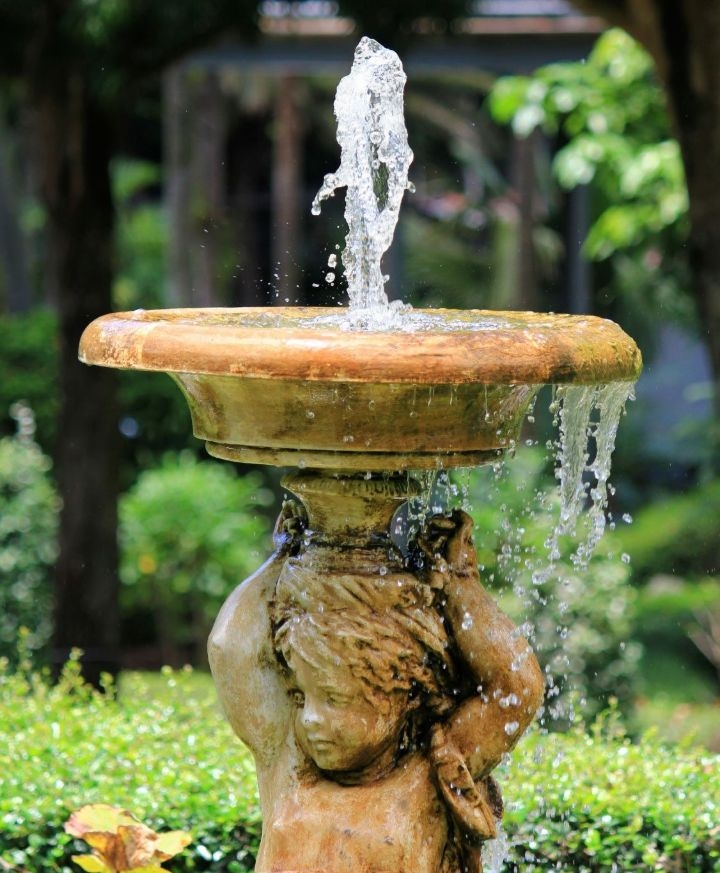 This type of fountain can be a great choice for more sophisticated gardens with many different elements and layers.
35.

Layered Stones Water Feature

Here's something more interesting than the usual garden pond--and which you can build yourself with the right materials.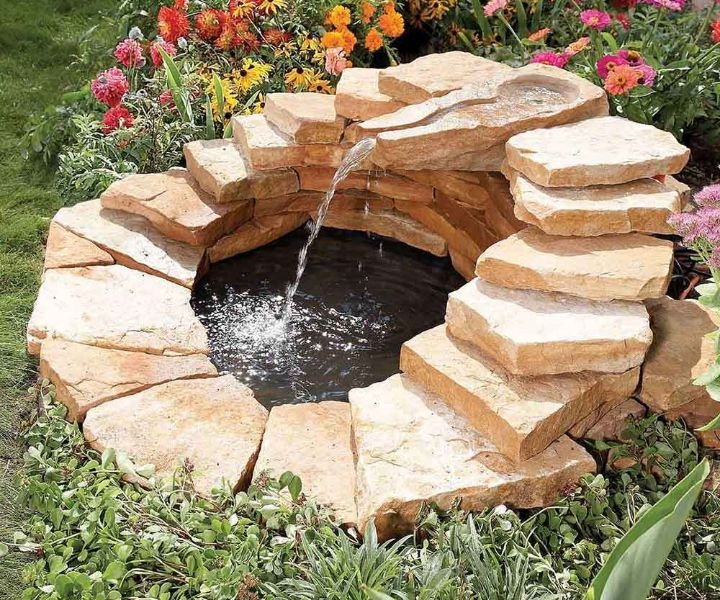 We love how the stones have been layered in this example around the water hole in the middle and how the plants in the background match with the warm hue of the stone.
36.

Vertical Stone Water Fountain

Stone water fountains have a timeless look to them and they are easy to integrate into any garden setting.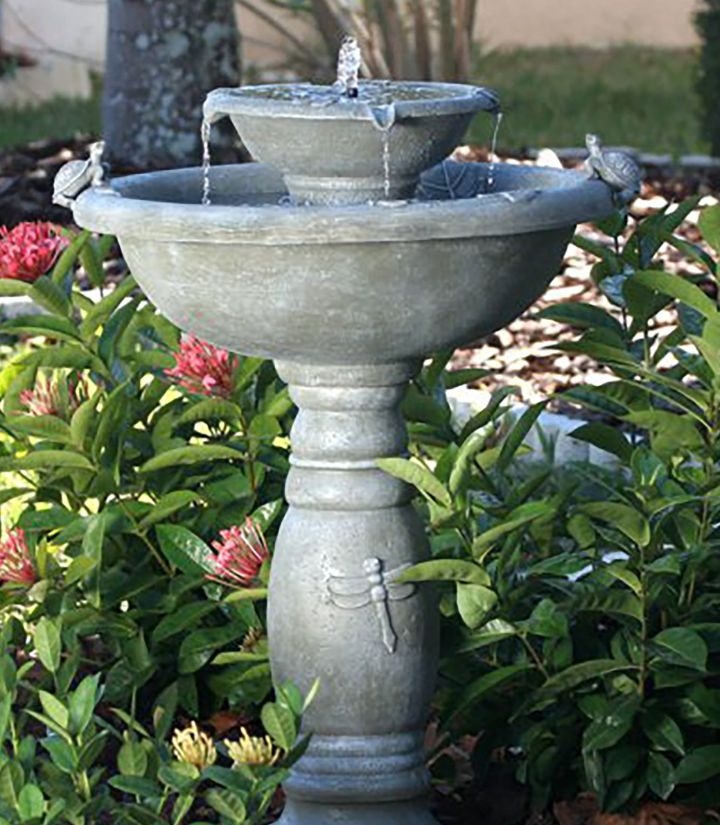 Here's an example of a fountain with tiered bowls and some nice artistic touches--adding something like this to your space can make your water garden more fun.
DIY Water Gardening System
When it comes to water gardening, don't forget that you can also create your own water features and systems. You don't need sophisticated gear--only some pumps, pipes, and drains.
37.

Bowl Within Bowl with Rocks

Place a small bowl within a larger one, add stones, and get the water flowing with a tube that recirculates water.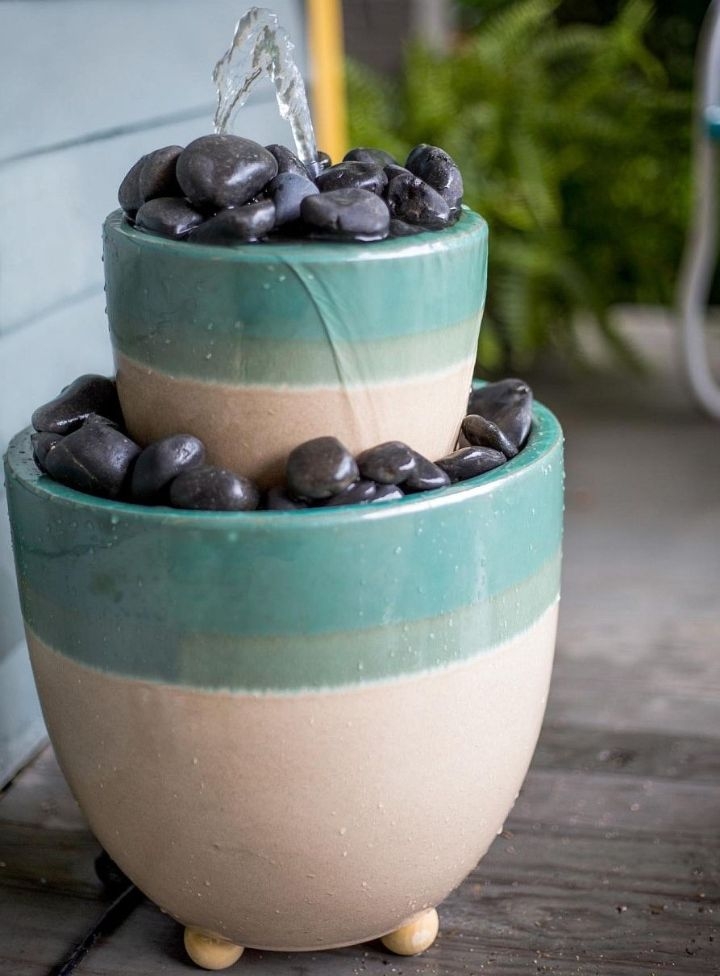 Here's an example of this simple concept in action.
38.

Watering Cans Simple Garden Waterfall

Got some watering cans that you're not using anymore? Arrange them skillfully like in the example below and add a water source to the topmost one.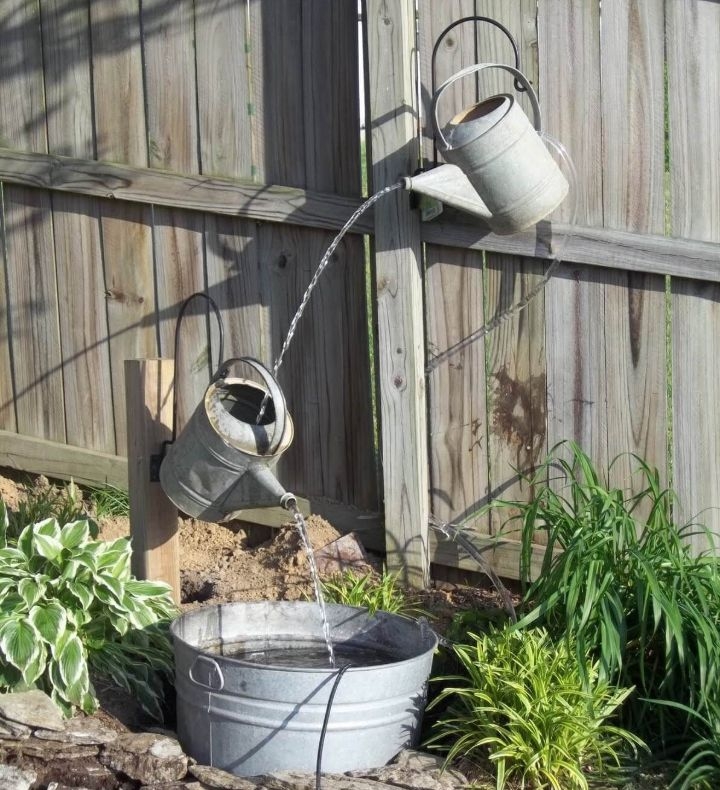 The result can be a nice water feature for your backyard garden.
39.

Vertical Metal Waterfall

Water flowing seemingly out of nowhere? Here's an example of that in action. The metal plating gives it an unusual look.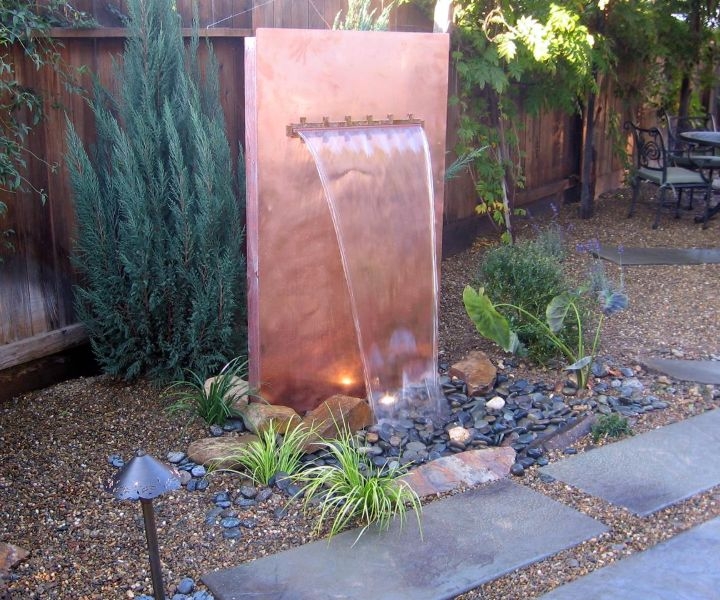 If you don't like the color, you can go for something more neutral in tone. You could place this straight against a wall for an ever more dramatic effect.
40.

Water Jug Gardening

Give your garden a classic, arcadian feel with a tall water jug like the ones people used to have for carrying water from the river to their village.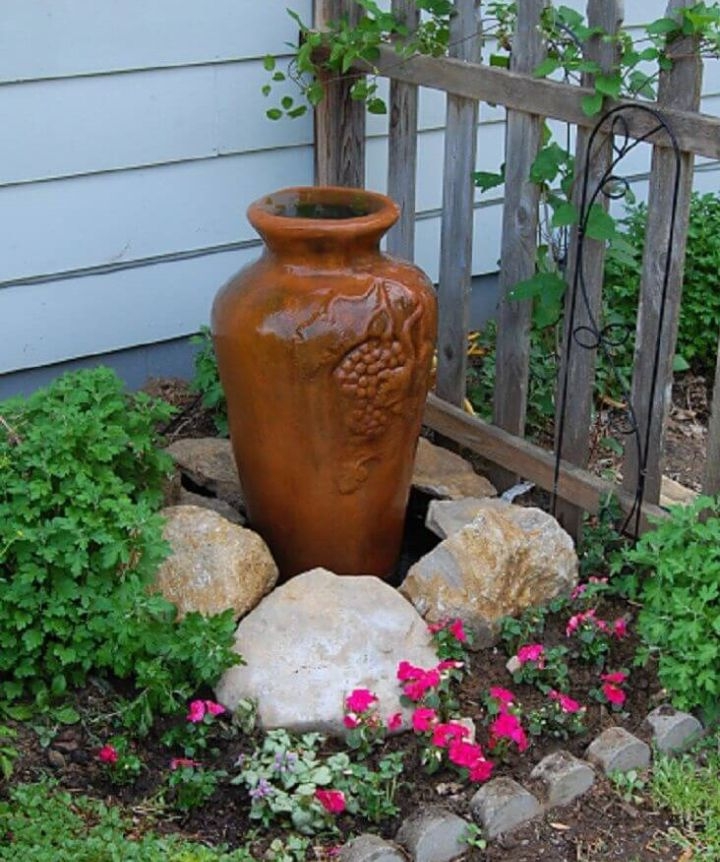 Add some rocks, some greenery, and place the jug next to a wooden fence like in the example above. The result is a simple and pleasant arrangement.
41.

Bamboo Water Spouts with Pond

A constant trickle of water makes for a soothing background sound in your garden. You can create that with a simple bamboo arrangement over a pond with rocks, like in this example.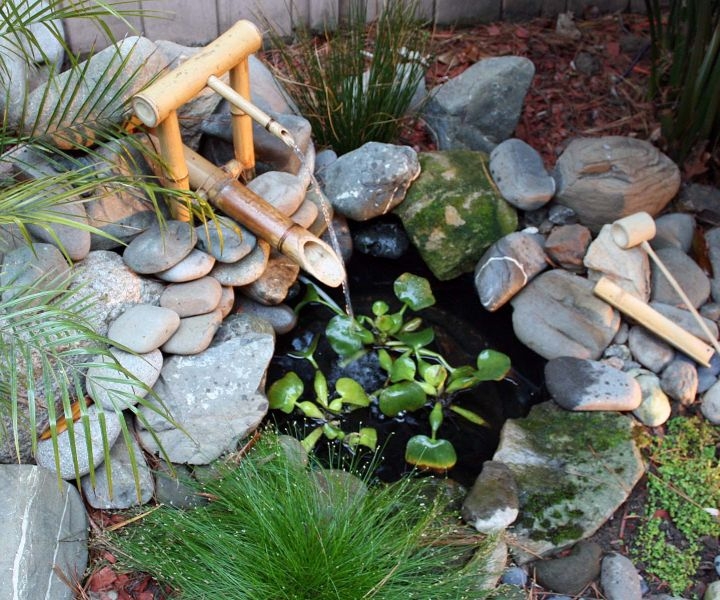 This tiny rocky pond can become a little oasis of peace after a long day at work--or in front of the computer.
How to Create a Water Garden the Easy Way
A water garden can be a complex garden landscaping project that requires plenty of work and resources. But you can keep things simple and create a beautiful water garden without breaking your back--or the bank.
Step 1 - Choose One or More Containers
Using water gardening containers is probably the easiest way to start a water garden. As we've seen, there are a lot of options around, some of them very stylish. 

A water garden built with containers is not just easier to set up and less costly, but also simple to maintain. You won't have to worry about your pond overflowing in case of heavy rain and other such mishaps.

You don't necessarily have to buy new containers. You can upcycle old buckets, large bowls, and other containers into creative arrangements. You can also stack them and add a pump to create a simple waterfall effect.
Step 2 - Dig a Small Pond
If water gardening containers are not enough for you, you can create a small pond as well. You'll need a shovel and a free afternoon or two.

We don't recommend digging too deeply or excavating the ground. A big pond is a lot of work--to create and to maintain.

Once you've dug the pond, you can line its edges with pebbles and other stones. Don't fill it with water just yet as you may want to plant bottom-dwelling plants in it first. Which takes us to the next step.
Step 3 - Add a Water Feature
Water garden features like waterfalls, artificial springs, artesian fountains, and the like can be beautiful and easy to install. You can find plenty of water garden features for sale online.

You can also choose to create one yourself by connecting a pump, sprinkler, or other water feature to your water supply.

The crucial thing to remember is to create a smooth circuit for the water to ensure proper drainage without water waste.   
Step 4 - Choose Water Gardening Plants
Floating plants like water hyacinth of water lilies are popular choices, but floaters are not the only types of plants you can add. 

Hornwort and anacharis are submerged plants that release oxygen and, alongside floaters, help you control algae growth. 

Then there are edge water garden plants like spider lily and marigold--you want some of those as well especially in combinations with rocks or stones, such as in the edging of your pond, or to provide a backdrop for the water.  

For more ideas on water gardening plants, check the next section.
Step 5 - Expand Your Garden with Dampness in Mind
Creating a water garden means creating a damp environment. Keep in mind that not all garden features, whether we're talking about wooden fencing or garden lights, are made to last in that kind of place.

In other words, make sure that the garden features surrounding your water garden can handle the dampness and occasional water splashes or small floods. As well as the habits of water plants--some of which can be invasive.  
Best Water Gardening Plants
The right mix of plants will make your water garden not just beautiful but also easy to maintain. For example, using floaters and submerged plants can create shade and oxygen, which prevents the growth of algae.
There are many water gardening plants out there and we wouldn't want to limit your choice. We've put together a selection of the best of them, but feel free to explore others as well.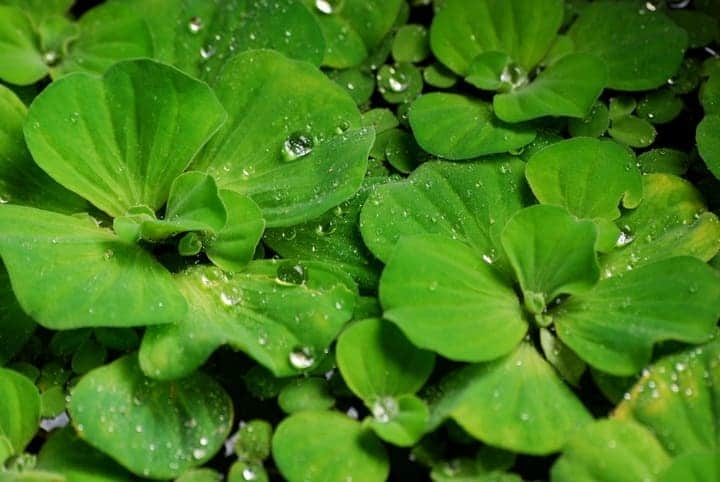 Water lettuce
Water hyacinth
Sacred lotus
Water lily
Amazon frogbit
Taro plants
Mosaic plant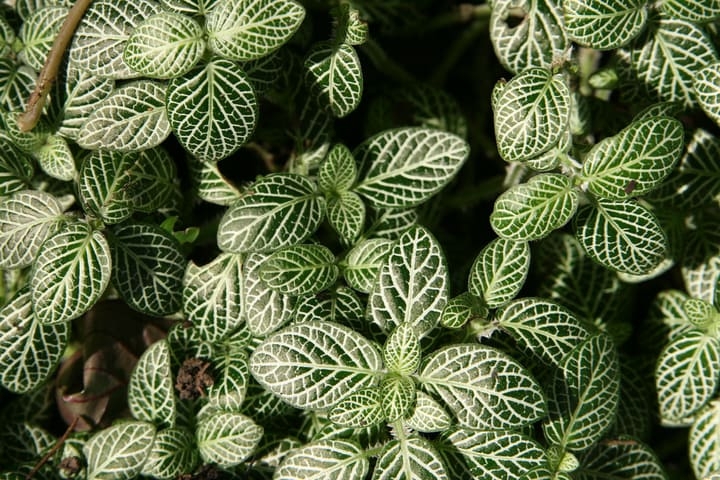 Cardinal flower
Phlox
Horsetails
Goat's beard
Parrot's feather
Duckweed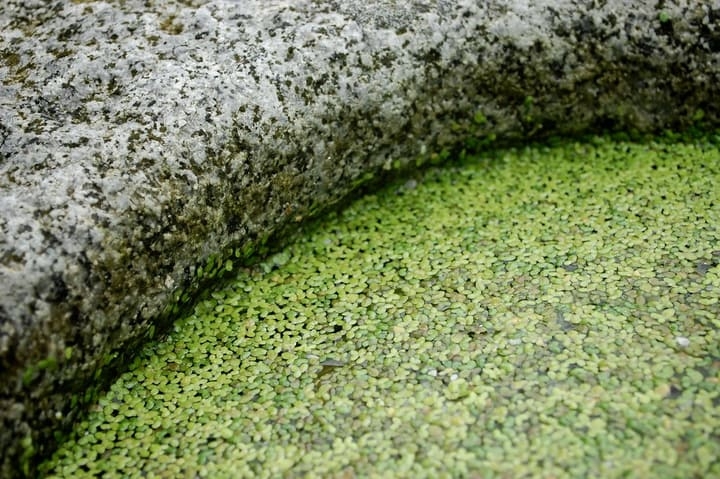 Anacharis
Creeping Jenny
Umbrella palm
Mosquito fern
Arrowheads
Hornwort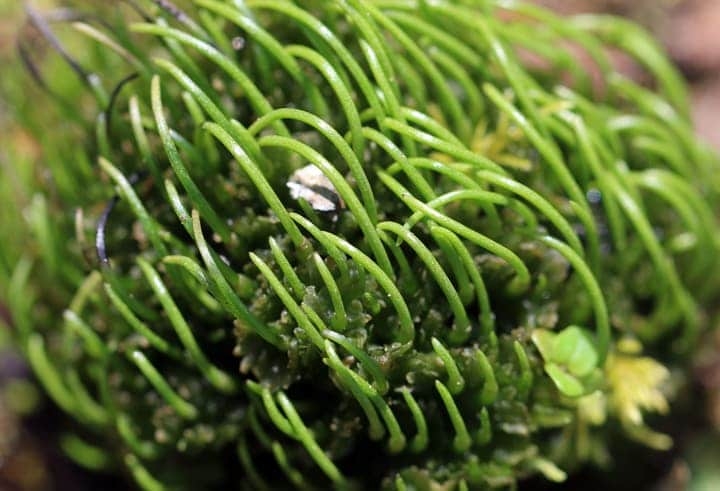 We've written a post on the best water plants for indoors and outdoors ponds, so make sure to check that one out before choosing your plants.
Water Gardening Commonly Asked Questions
Water gardening's enduring appeal means that every year, thousands of gardeners around the country are building beautiful gardens with ponds, water features, and water plants.
No wonder then that we hear people asking a lot of questions about this form of gardening. We put together the most frequent questions and thought useful to answer them.
What is water gardening good for?
Water gardening
creates a peaceful and relaxing atmosphere that is good for your health. At the same time, water gardening has environmental benefits.
It creates negatively charged ions that purify the air, attracts insects and other animals, promotes plant health, and helps to create a balanced ecosystem in which water is used efficiently.    
How to save water with water gardening?
Save water by recirculating it through your garden, installing energy-efficient pumps and drip systems, using smart water features, limiting the size of your pond (to make cleaning easier), and using rain water harvesting to collect water. Explore more
water gardening ideas
for inspiration.
What are the best plants for water gardening?
The
best plants for water gardening
include water lilies, water hyacinths, sacred lotus, water lettuce, anacharis, hornwort, mosquito fern, and duckweed, to name just a few. Discover now more of the best plants for water gardening.
Look Beyond the Water
In the end, water may be the defining element of water gardening, but remember that it's the totality of plants, stones, and other features that creates a water garden.
You have to think of the interplay of all these elements to create an appealing water garden you'll love to return to--and that won't be too much work to maintain, either.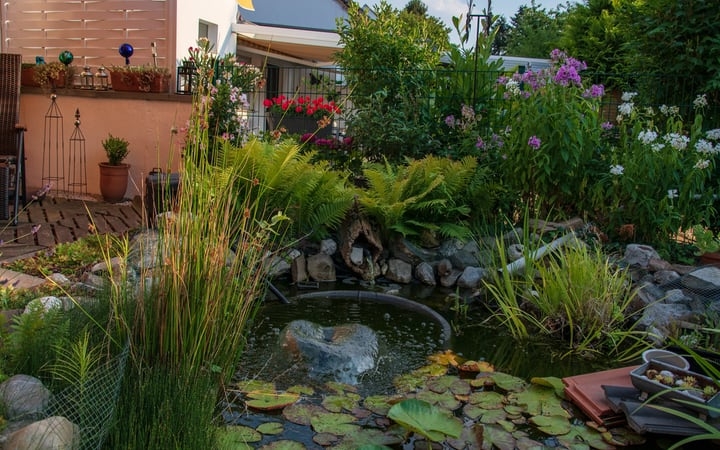 We hope we've inspired you to transform your green patch into a relaxing water garden that you'll be proud of.
If you have any questions on the subject for us, don't hesitate to ask us. Just drop them in the comments section below and we'll get back to you asap.
Until next post!