The snow is slowly melting, the sun is getting warmer every passing day, and the garden is ready to bloom again. Spring gardening is a wonderful way to wake up to garden life after the hibernation of winter.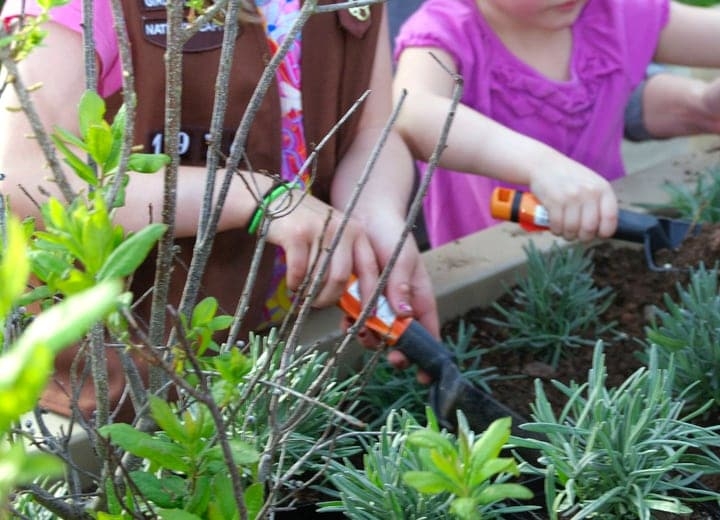 Whether you're an infamous black thumb, a forgetful gardener, or you've had dreams of gardening glory but were somehow always waylaid, well, spring gardening is your calling.
There sure is some labor involved, but nothing your pent-up winter energy can't handle. Besides, gardening is a joy after having spent the better part of your days wrapped up indoors.
To make the most of the pre-season, we've put together some easy spring gardening tips and ideas to help you get started. We've also included a checklist to make sure your garden is all prepped up.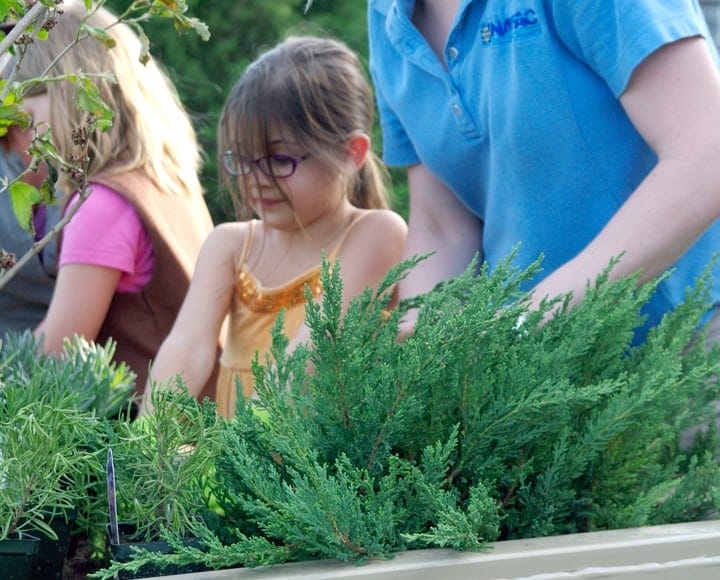 Ready to get your hands dirty? Let's begin!
The Joy of Gardening in Spring
Imagine kneeling in the mud, pruning your plants, pulling out weeds, and sowing new seeds while the soft spring sunlight warms your back. Delightful, isn't it?
When you start gardening in spring, you'll realize that your plant babies, however small, are your nearest touchpoint with nature.
Caring for them will not only make your garden look stunning, but also bring health and happiness to you.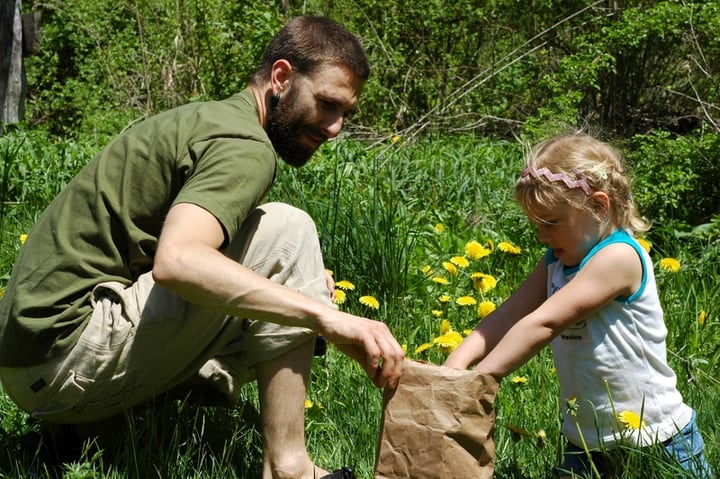 Your spring garden, not only is a great butterfly garden but has the power to draw you in, just as it draws in birds and bees. It's a perfect place to unwind and observe nature in all its glory.
Tips for Spring Gardening
Spring gardening after months of dormant winters may be overwhelming. It involves fixing, pruning, and moving things about.
But don't worry. The following tips, broken into early, mid, and late spring, will help you plan out your gardening tasks before summer arrives.
Early Spring Gardening
Early spring means it's time to start preparing the garden for the warmer months. Plan ahead, follow these tips, and build a solid foundation for your garden.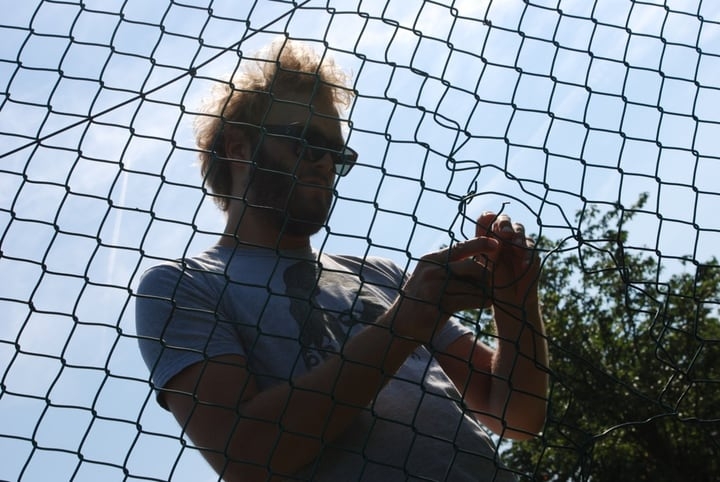 Survey your garden, check for damages from the cold, see if your pathways and fences need fixing. You can also create new planting beds and paths to give a fresh design to your space.
Prune old plants and trees. Cut dead and damaged leaves and branches.
Prepare the flowerbeds. Start by removing the winter mulch and clearing away dead leaves, weeds, and debris.
Add fresh compost to the soil. Rake it smooth before you begin planting.
Divide old perennials to encourage new growth.
Early spring is also a good time to plant cool-season vegetables so they are ready for harvesting by summer.
Mid-Spring Gardening
Mid-spring is the time when you see your garden slowly come to life. You may even see a few plants blooming. Don't forget that you can always grow new greenery in your garden.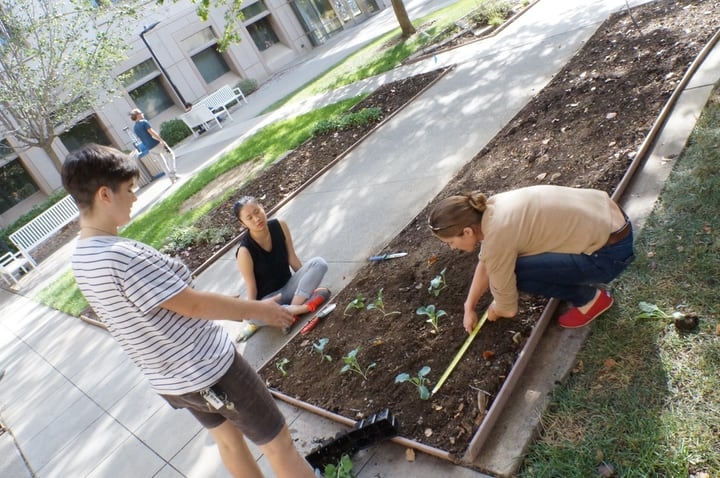 Plant bulbs and seeds of the flowers you would like to see in your garden.
Fill the empty spots with annuals and seasonal plants. You can also add new trees and shrubs so they have enough time to grow firm roots before summer.
Feed your plants. Add a fresh layer of mulch in your garden.
Bring in the garden furniture and add gardening ornaments like stakes and lights.
Make your garden more welcoming to birds, butterflies, and bees by adding feeders and water sources.
Late Spring Gardening
Now that you're well on your way to summer, it's time to manage and maintain your garden. Complete all your gardening tasks in late spring so that it's a success all year round.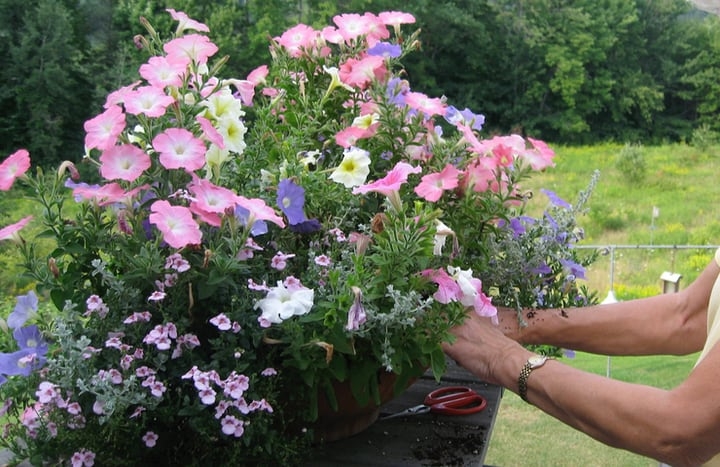 Grow warm-season plants and vegetables without the threat of nighttime frost.
Refresh your garden by deadheading spent blooms. Keep your hedges and plant borders neat.
See if your plants need another round of fertilizing and mulching.
Keep weeds and pests under control. Hand-weed your garden or use mild, organic chemicals if needed.
Spring Gardening Checklist
A great spring garden requires timely weeding, pruning, fixing, and mulching. Sounds like a lot. But you can simply check tasks off this list one by one to create the garden of your dreams this spring.
Gardening Preparation Checklist for Spring
Repair your garden: Fixing your garden fences, paths, trellises, and tools is the first box to check off your list. You may even need to clean or replace old planters before replanting them with new annuals.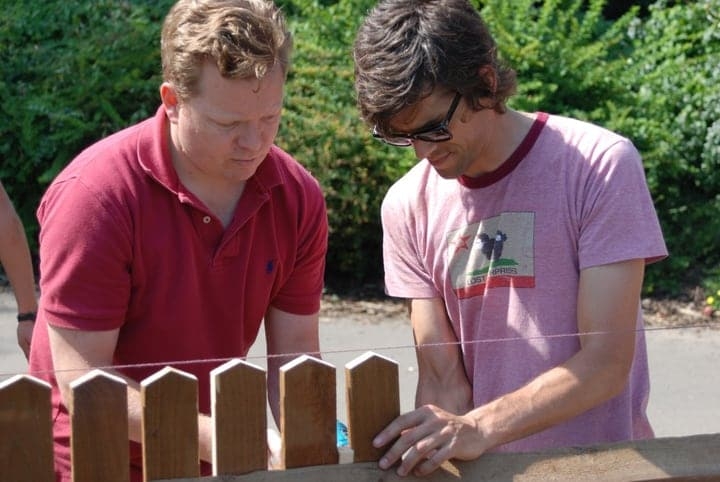 Clear out weeds and debris: Do a spring cleaning of your yard. Get rid of those weeds, stray leaves, and debris.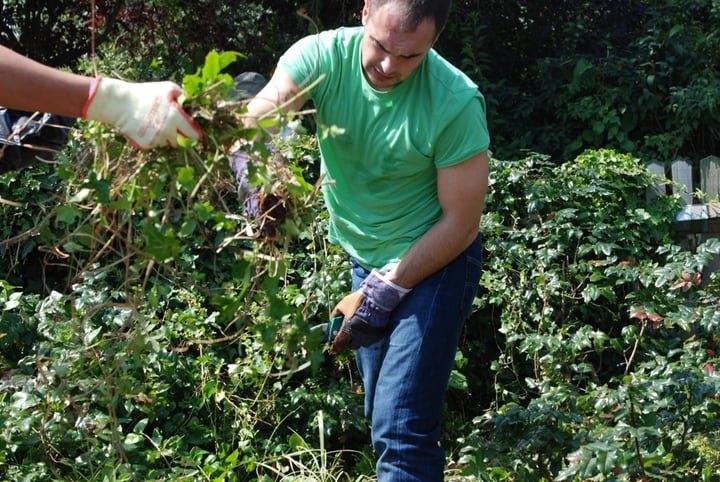 Start pruning: Give your shrubs, hedges, grass, and leggy perennials a good trim. Pruning is best done in early spring before new buds start blooming.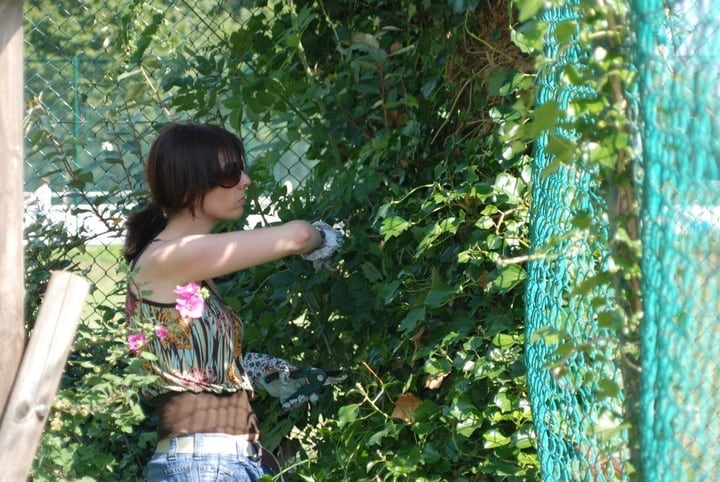 Prepare the flowerbeds: Remove all debris that has filled your flower beds over the winter and till your soil to aerate it.
Mulching and feeding: It's also time to refresh your garden. Mix organic matter in the soil so your plants have the nutrients needed to grow.
Divide perennials: Perennials like daylilies, daisies, and hostas can benefit from being divided. Give them room to spread out and grow.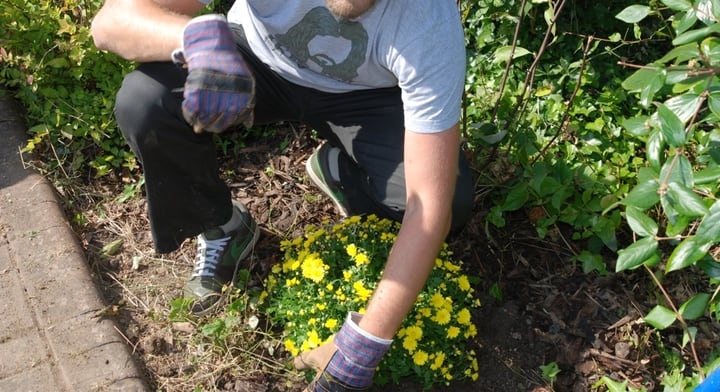 Design your garden: Before visiting your local nursery, it's better you design your garden. See what new plants you need and where you can grow them.
Start planting: You can grow shrubs, trees, plants, and vegetables directly in the soil. You can also start them with seeds or bulbs indoors and transplant them later.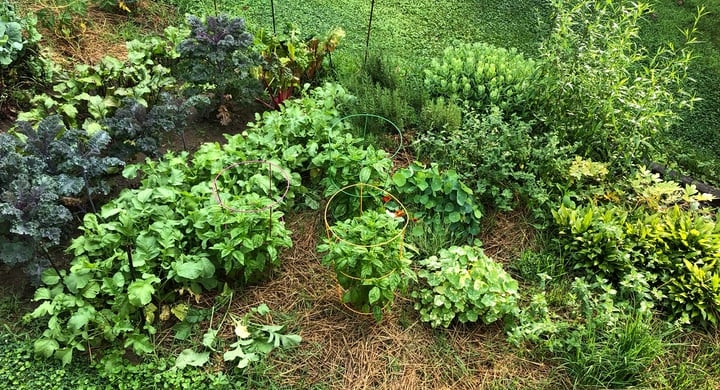 Apply pest control: Keep out worrisome pests from your garden. Use a mild, organic pesticide that won't kill beneficial insects.
Look after your garden: Check if your plants need more mulching. Cut back spent blooms and continue weeding.
The Best Spring Plants for Your Garden
After months of cold and dreary winters, there's nothing quite like the freshness and color that spring gardening brings. With these easy-to-care-for plants, you can make a beautiful garden all year round.
Check out our top plant picks for the season.
Spring Flowering Plants
Spring flowering plants are not only noteworthy for their beautiful blooms but also for their refreshing fragrances. Be sure to give these a space in your garden.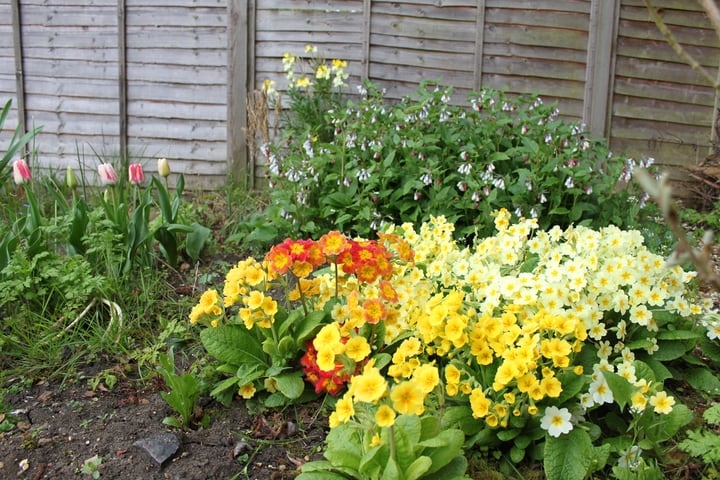 Spring Perennials
If you're searching for hardy, low-maintenance plants for your garden, look no further. Here are the best perennials that also offer a long blooming period.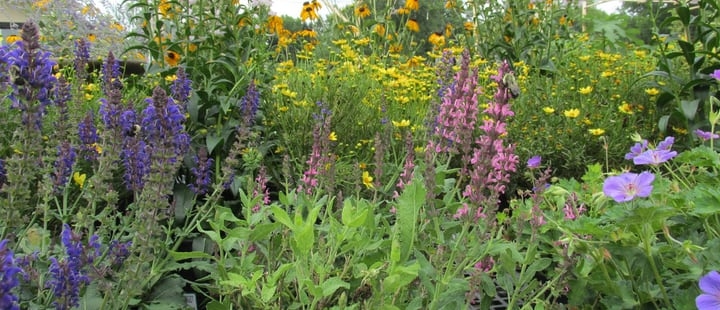 Alyssum
Bugleweed
Primrose
Violet
Black-eyed Susan
Bluebell
Catmint
Geranium
Coneflower
Spring Vegetable Gardening
Maybe grow your own veggies this spring? Veggies are mostly low-maintenance and can be grown even by newbies.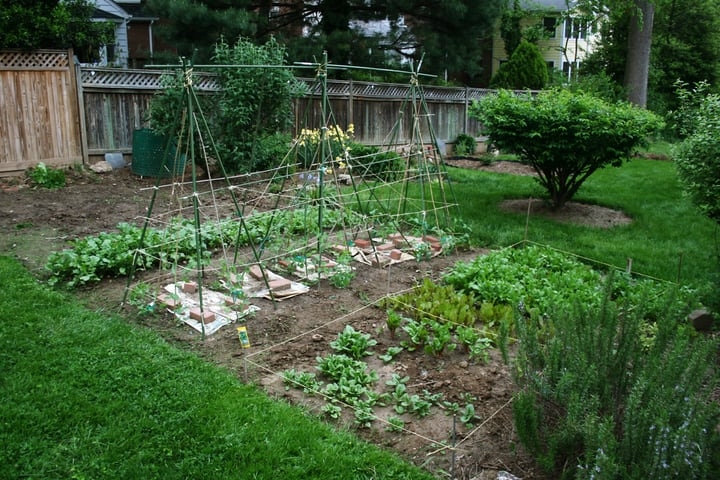 Lettuce
Peas
Tomatoes
Spinach
Beets
Carrots
Peppers
Beans
Onions
Spring Gardening Ideas to Inspire You
Spring gardening is affordable, engaging, and rewarding. You can grow a medley of veggies in your garden, create sweeping flowerbeds, or transform your balcony into a floral haven.
Take a look at these spring gardening ideas you can implement in your space.
1.

Tulip Spring Garden

Tulips are a signature spring flower. They look lovely in almost every setting. Plus, there are many creative ways to grow them.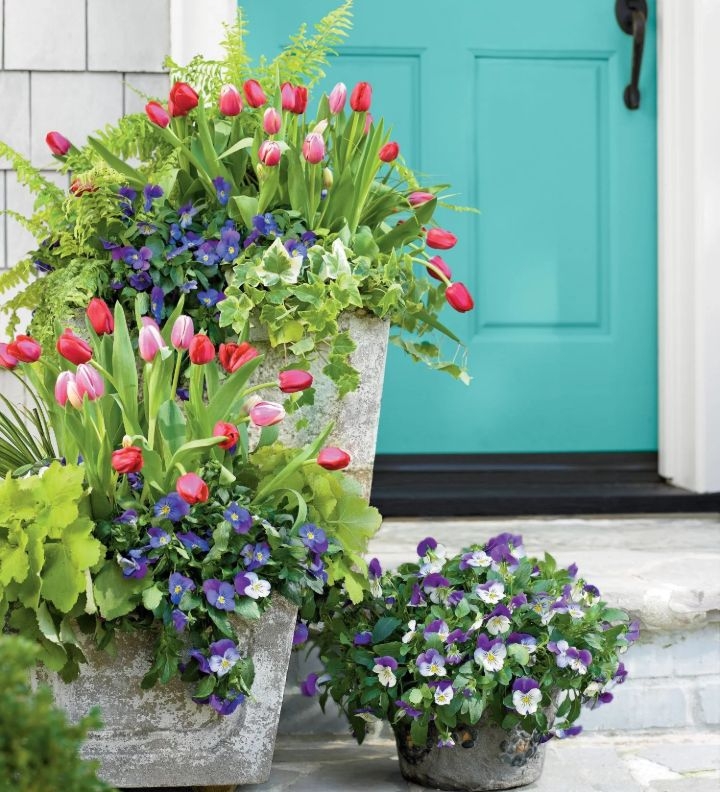 Create a tulip flower bed or grow them in containers and alongside pathways. Either way, they will create a striking focal point.
Tip: Sow tulip bulbs in fall before the ground freezes, or in early spring once the soil thaws.
2.

Spring Raised Beds Garden

Raised bed gardening is the shortcut to a plentiful harvest. You can garden anywhere, worry less about weeds, match the soil to your plant's needs, and grow more food in less space.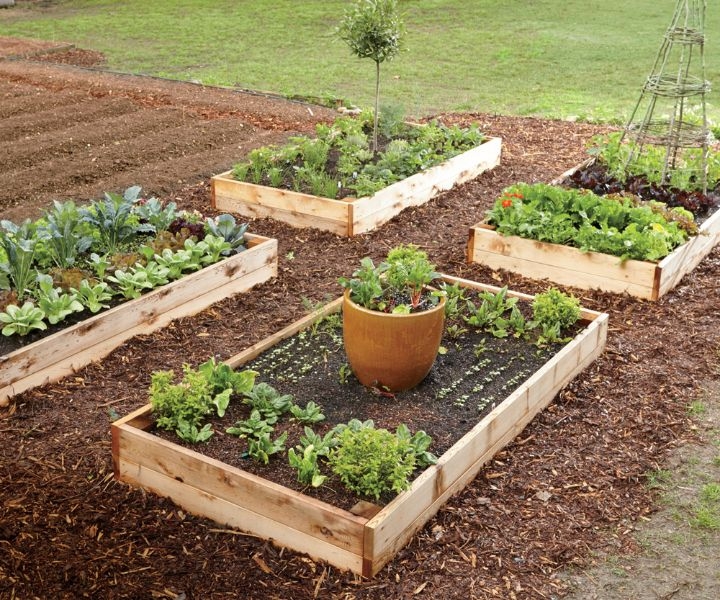 Another plus is that you can start planting warm-season vegetables even in early spring because the soil warms up faster compared to in-ground beds.
3.

Floral Walkway

Don't have enough space for a full-fledged spring garden? No problem. You can convert your walkways, garden paths, and stairs into a blooming and fragrant trail for passersby.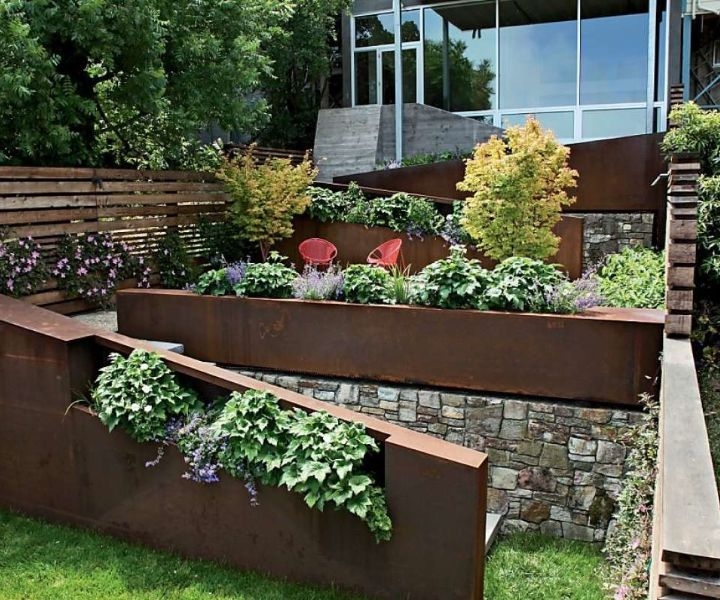 You can plant trailing flowers like sweet alyssum and creeping phlox as borders or in containers alongside the stairs. Make sure to prune them from time to time.
4.

Spring Japanese Garden

For a Japanese garden, create a serene and calming space using rocks, water features, and some plants. Place a stone lantern or pagoda in your garden.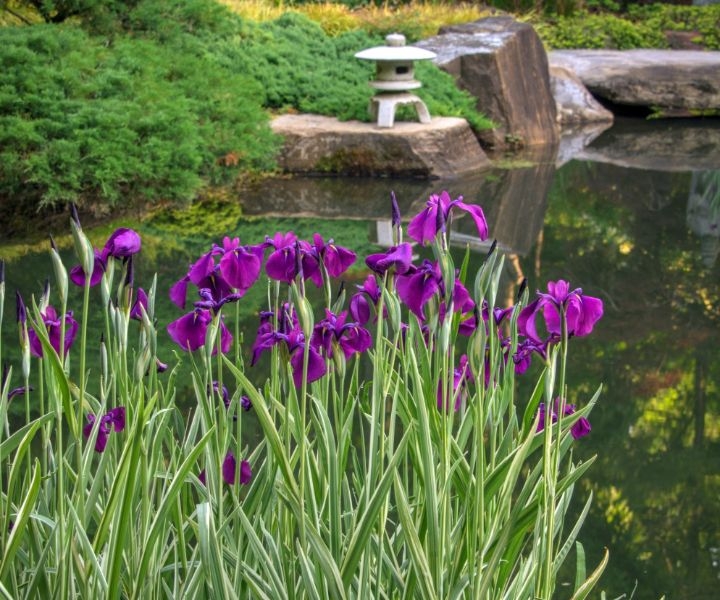 Give Japanese irises a sunny spot. Plant them in early spring and they'll bloom all summer.
5.

Spring Rock Garden

How about converting a part of your lawn into a rocky landscape this spring? Rocks will add texture and depth to your garden. They'll also highlight your spring flowers.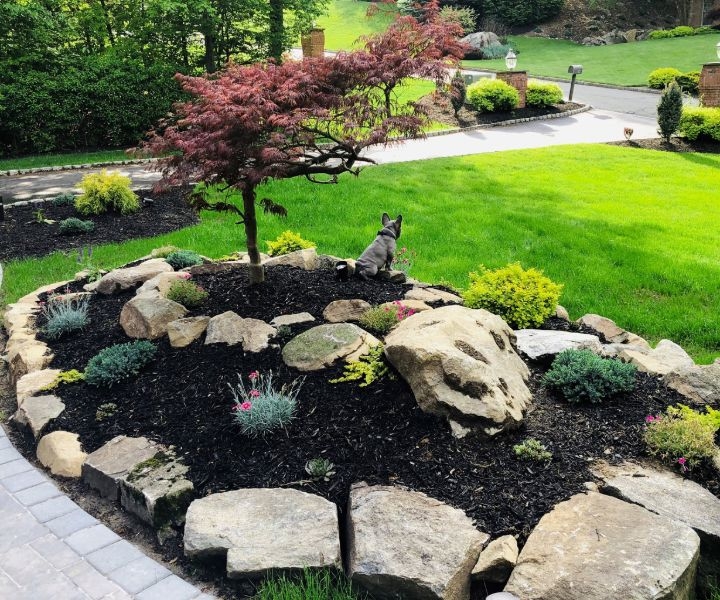 What's even better is that a rocky landscape is low-maintenance. Some light watering, occasional pruning, and weeding are all there's needed to rock your spring garden.
6.

Spring Oasis

Create a blooming spring oasis with lots of flowering perennials and annuals. This calls for some serious work but the result will make every minute worth it.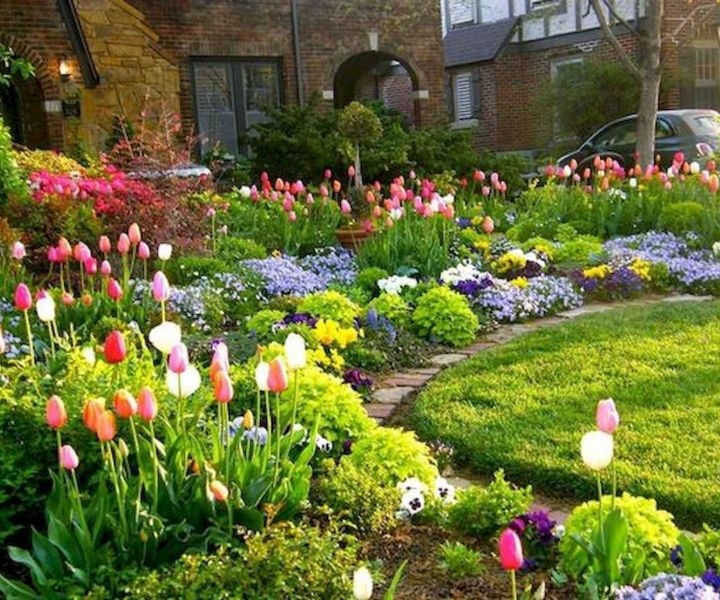 Grow tulips, pansies, irises, hydrangeas, geraniums, and violets in your backyard. They will add both color and fragrance to your space.
Idea: Create a seating area in your spring oasis with a few garden chairs, ottomans, and a table.
7.

Mini Toolbox Spring Garden

You don't need a sweeping backyard to get planting in spring. A mini garden in a toolbox is also enough.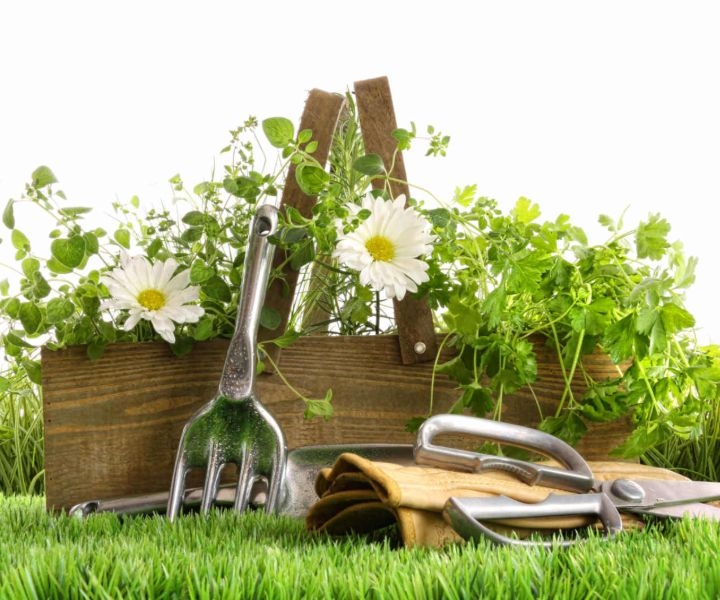 Plant daisies and daffodils in a small wooden toolbox. Decorate it with mini shears, rakes, and pruners. Although small, your toolbox spring garden will be nothing short of stunning. Plus, it's portable!
8.

Spring Vegetable Garden

Early spring is also a great time to grow cool-season vegetables. They can thrive during the shorter and colder days of spring. Some veggies like kale and lettuce even taste better when nipped by frost.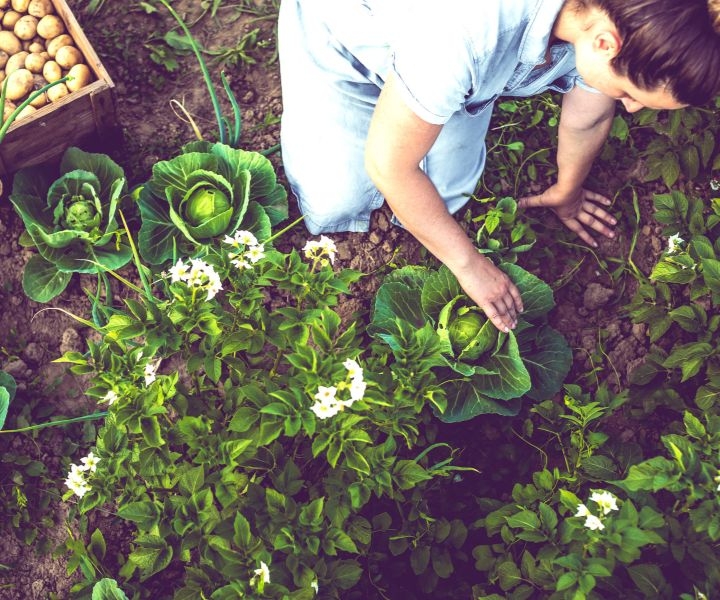 Start with easy-to-grow greens like peas, spinach, and broccoli. Make sure you fulfil their light and water needs.
Tip: A severe drop in temperature can affect even cold-tolerant vegetables. Better cover them with old sheets or frost blankets in early spring.
9.

Small Spring Garden

If you're an urban gardener with limited space, consider planting a spring garden on your porch, balcony, or deck.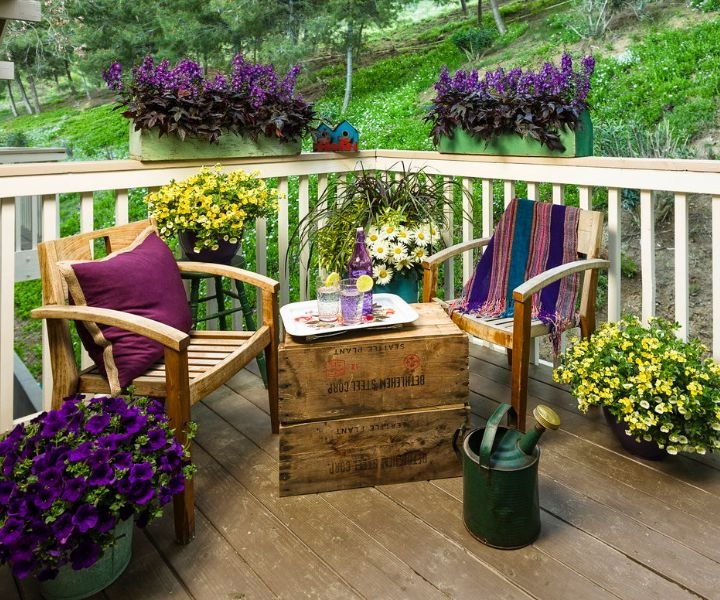 Grow beautiful bloomers like pansies, daffodils, tulips, and geraniums. Make use of colorful containers, hanging baskets, and rail planters.
Your spring garden, however small, will give your space a facelift.
10.

Container Spring Garden

Planting flowers in containers is a great way to get started with spring gardening. It's easier than converting your entire lawn into a garden, and also ideal if you're tight on space.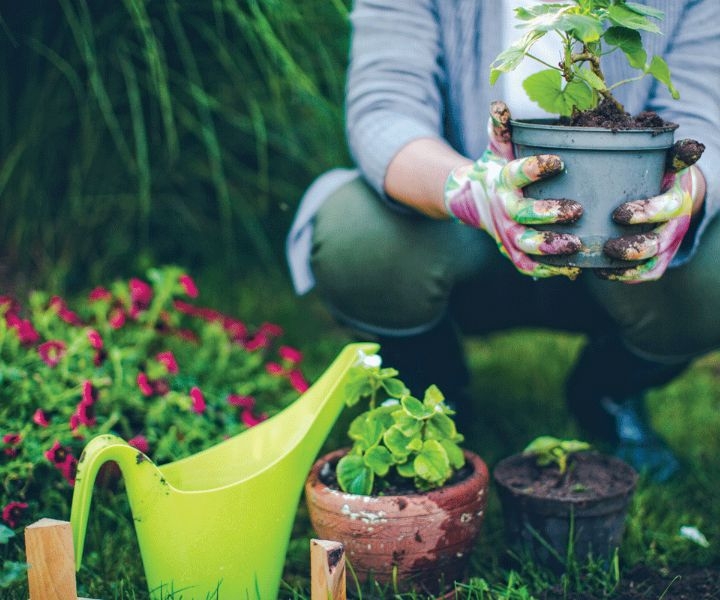 Floral containers look lovely and can fit nearly any part of your outdoor space. You can grow just one type of flower for a solid block of color. Or you can opt for different flowers and shades.
Gardening in Spring Frequently Asked Questions
Spring gardening is a joy. If you plan to make the most of this spring gardening, explore the answers to some of the most frequently asked questions on the topic to ace your spring gardening journey.
Spring Back to Gardening Life
The seeds you planted may not spring immediately and you may wonder whether they'll come up at all. Your plant babies will take time to mature. Even the vegetables may look inedible at first.
But spring gardening calls for patience. Nature has its own notion of time and growth.
You may also face a myriad of challenges—from spring hoarfrost to pests and seed-eating birds. But if anything, these challenges will help you and your garden to grow together.

Wait and watch your garden come to life. It's a wonderful process with lots of colorful and fragrant rewards waiting for you.
If you have more spring gardening questions, ask us in the comment section below. We'll be happy to help.
Your spring garden is waiting for you. Make the most of it!