Do you want to revamp your garden without slaving in the dirt for hours? Plant some yarrow(s)! These clusters of tiny flowers come in an array of colors lined with soft and feathery leaves. In this guide we'll talk all things yarrow and show you how to grow these cute little flowers.
Yarrows grow beautifully in the countryside—in grassy meadows, along roadsides , or in gardens.
You're looking at a virtually care-free plant that can grow in varied landscapes and produce hundreds of blooms all summer long.
An aromatic herb, yarrow lures butterflies, bees, ladybugs, and hummingbirds. The blossoms come in shades of white, yellow, pink, purple, red, and rose and can enliven any corner of your garden.
You can snip and dry the blossoms to add in bouquets or vases. This herb also has medicinal benefits.
We think you should lose no time. Here's all you need to know about how to grow and care for yarrows.
Yarrow Flower Meaning
Yarrows get their name from the Old English word gearwe and bear the scientific name achillea millefolium.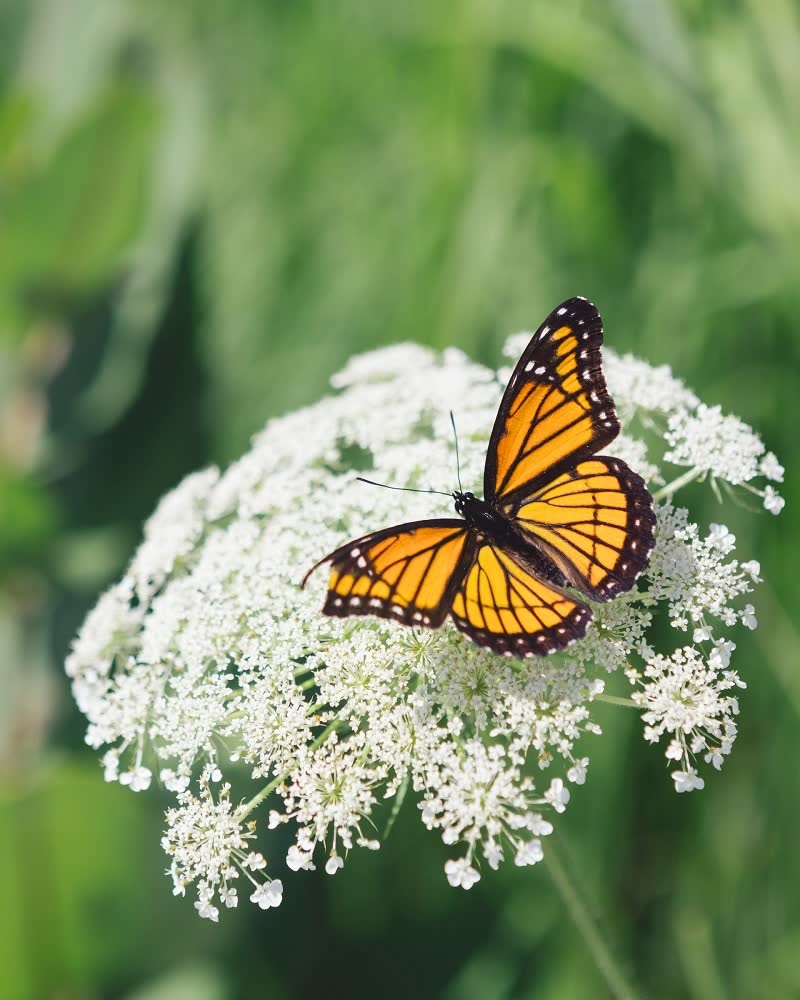 Achillea comes from the Greek hero Achilles who, legend says, used the herb to treat his and his soldiers' wounds during the Trojan War. Millefolium means thousand-leaved, owing to the herb's lush foliage.
From purplish-pink and bright magenta to lemon yellow and brick red, these colorful flowers are a feast to the eye. They are great for putting together in a bouquet and can make for a lovely and meaningful gift.
Here are some of the core meanings of yarrows:
Healing: Yarrow is a natural healer. People offer the blossoms as gifts to symbolize their concern for the good health of the recipient.
Protection: The flower was used as an amulet or talisman for religious purposes to ward off negative energy and evil. Even today, many people associate yarrows with protection and care.
Positivity: The plant's herbal aroma can uplift the spirit and bring positive vibes. Different varieties of the plant are used to make oils and essences.
Inspiration: Many people gift the blossoms of this plant to those they want to find happiness and illumination in their lives.
Yarrow Meaning by Colors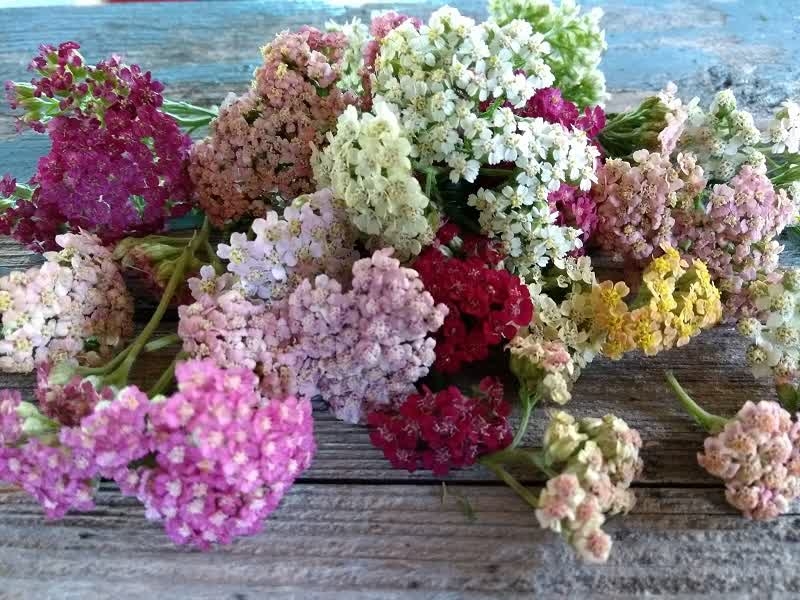 Yarrow blossoms of every color are gorgeous. But did you know that each color has its own unique significance?
Pink: Blooms of light pink, magenta, or rosy pink colors are symbolic of sensitivity and love. Apple Blossom and Cerise Queen varieties are symbols of love.
Red: Paprika, Strawberry Seduction, and Red varieties stand for courage, desire, and passionate love.
White: The common white yarrow is linked to purity and innocence.
Yellow: Yellow varieties like Moonshine and Coronation Gold are often associated with happiness and friendship.
Yarrow Flower Types
Yarrow is among the most forgiving, easy-to-grow, and adaptable ornamentals.
The aromatic flower has nearly a thousand species and is a popular garden plant. It's widely cultivated in borders, flower beds, or herb gardens.
Take a look at some of the most beloved Achillea millefolium varieties. Any of these can make a beautiful addition to your summer garden!
1.

Apple Blossom

Apple Blossom yarrow has soft pink to pale-rose colored flower clusters. The herb loves full sunlight and blooms from early to late summer. It grows at a fast rate and can be about 18-24 inches tall at maturity.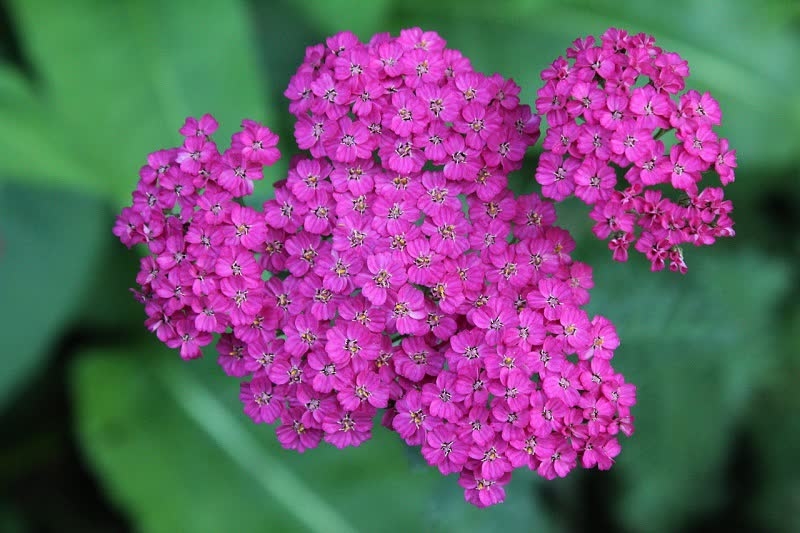 Under ideal conditions, it can live for about 10 years. Apple Blossom is a fine choice for your garden. You can also plant it in outdoor pots.
2.

Rubra (Red)

You can daub some red into your garden with the bright blooms of Red yarrow. The flat-topped flower clusters range from dark pink to deep carmine and can reach a mature height of 12-30 inches.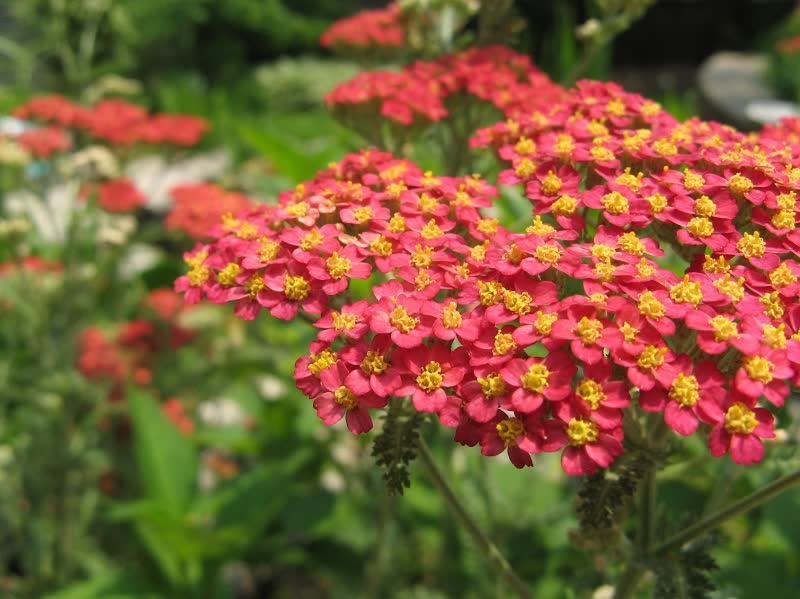 You can make the blossoms into pretty bouquets or keep them as dried flowers in vases. Either way, Rubra yarrow is one of the most striking varieties of this beautiful plant.
3.

Cerise Queen

If you are looking for plentiful blossoms in shades of deep pink and magenta, then Cerise Queen yarrow is for you. The eye-catching flowers with white centers and dark green foliage bloom from late spring to early summer.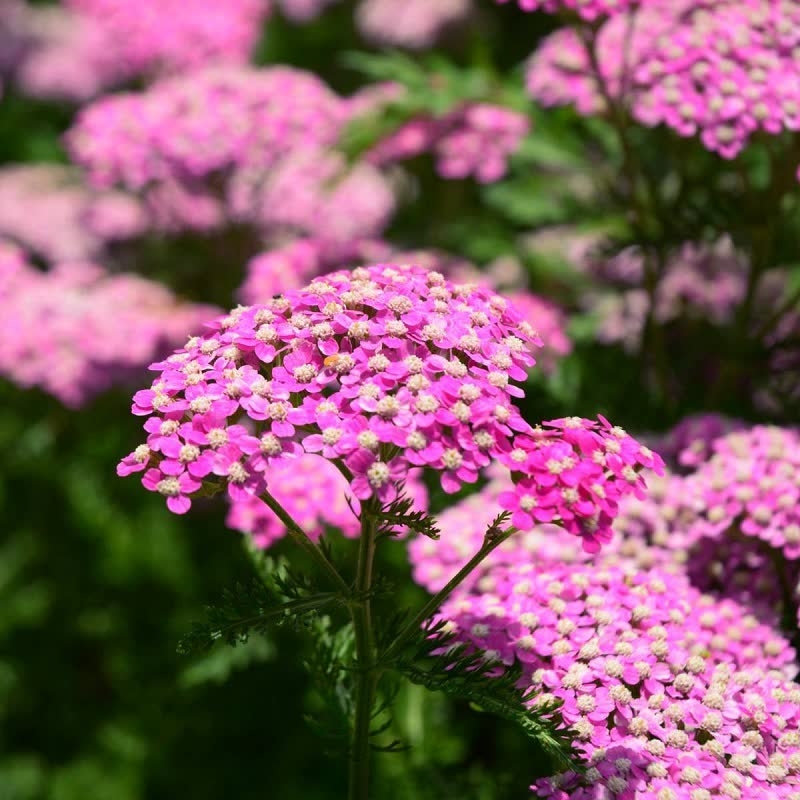 4.

Moonshine

The evergreen Moonshine is a beloved of gardeners. Blame it on its aromatic, silver-green leaves and bright lemon flat-topped flowers that grow throughout summer.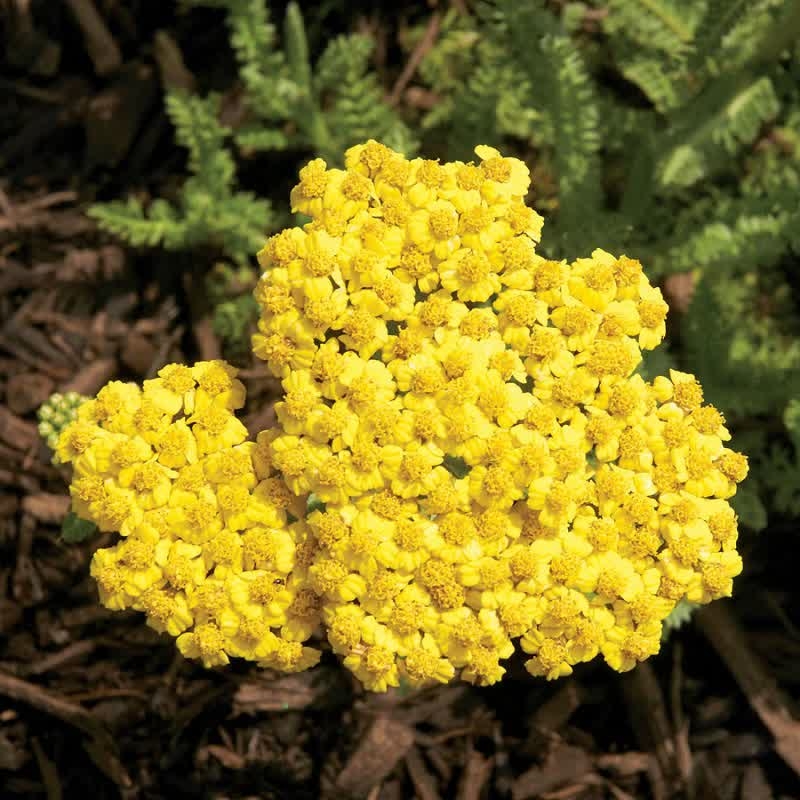 Apart from its good looks, Moonshine gets five stars for being super easy to take care of.
Despite its name, this plant is not at all fussy—plant it in a decent spot where it gets sun and give it water and that's it!
5.

Common Yarrow

This graceful variety of the herb produces abundant dome-shaped creamy-white clusters that may be a little invasive if allowed to roam. Common yarrow can grow 2-3 feet tall in well-drained soil under full sun.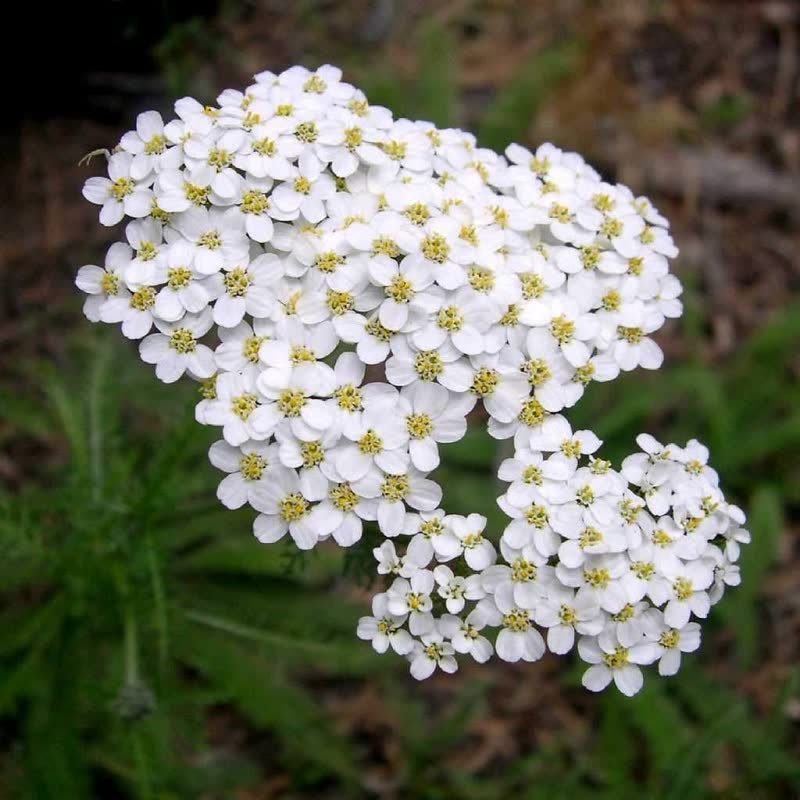 Tip: The common yarrow is a great choice for bridal bouquets and arrangements. It's a sweet alternative to other, often more expensive, flowers.
6.

Paprika Yarrow

Paprika yarrow is a long-lasting hybrid variety that blooms in large clusters of dusty brick red flowers with a distinctive yellow eye.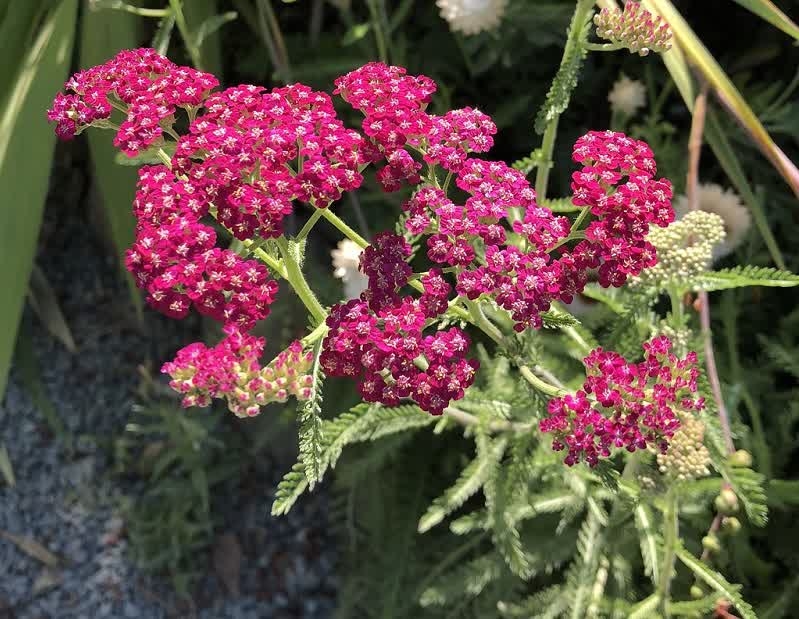 The flowers delicately fade to light pink and creamy yellow hues, giving the garden a beautiful multi-colored effect.
Tip: If taken proper care of by deadheading, Paprika yarrow can bloom throughout the summer.
7.

Apricot Delight

The aromatic, heat-loving Apricot Delight bears blossoms in various shades of pink, from soft apricot to near red.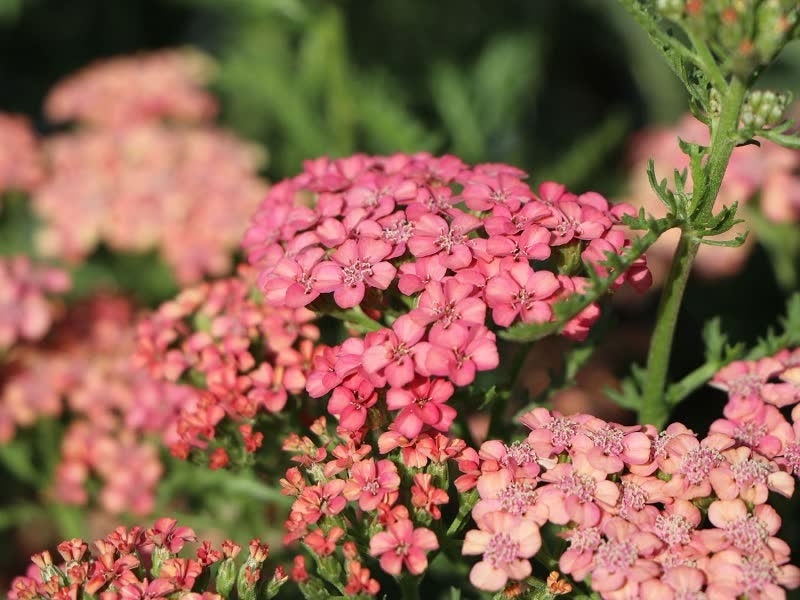 This cultivar is smaller than most yarrows and fades to shades of peachy coral as it ages. It has a long blooming season from early to late summer.
8.

Strawberry Seduction

This yarrow boasts of rich strawberry-red blooms with a bright yellow center, just like the seeds on a strawberry. When left to dry on the stems, the red blossoms turn a lovely shade of yellow.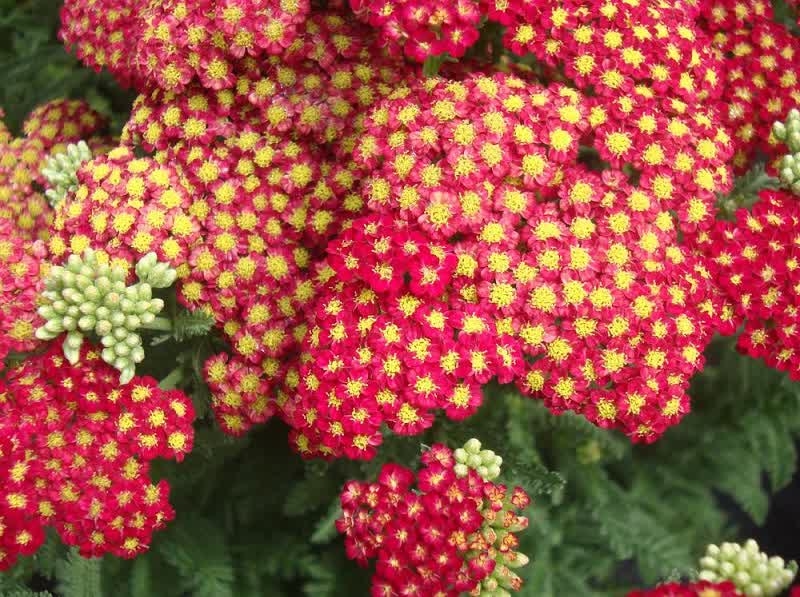 Tip: Strawberry Seduction looks attractive in both fresh and dried flower arrangements.
9.

Summer Pastels

This hybrid offers a delicate palette of pastel-colored flowers—it's a summer must-have!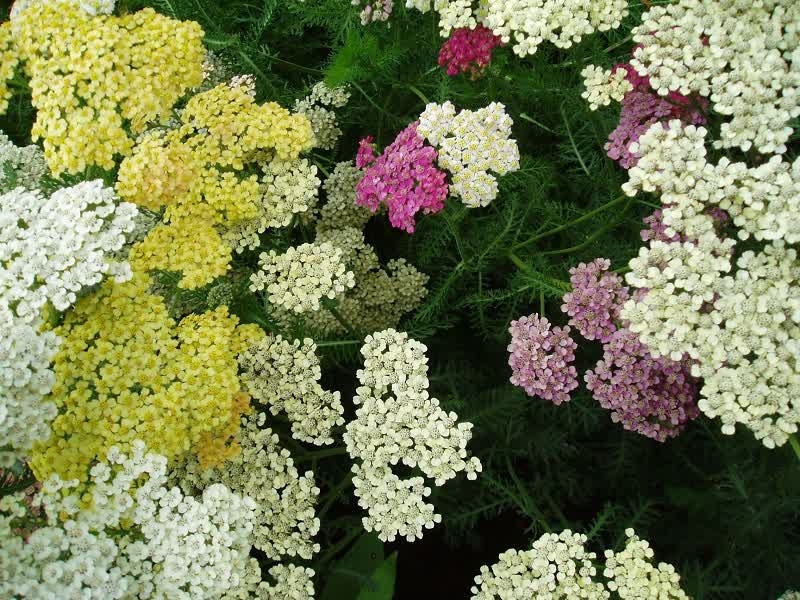 The light hues of mauve, orange-red, pink, purple, rose, and salmon are delightfully fragrant. The densely packed flower clusters are flat-topped and bloom all summer long.
True to its name, Summer Pastels is just the variety you want to plant in your summer garden. It can bring a lot of color and a cheerful mood to your yard.
10.

Coronation Gold

Named for Queen Elizabeth's coronation, this yarrow has spectacular yellow flower heads. The long-lasting flat flowers bloom from late spring to late summer and have a silvery gray-green fern-like foliage.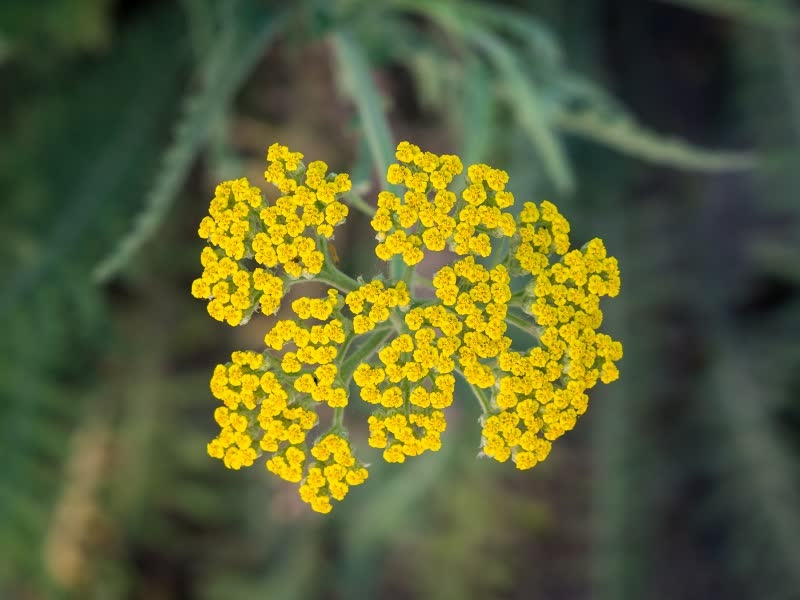 Note: The flowers hold color and are good for drying. Because of this, they are an inspired choice for bouquets, whether simple or sophisticated.
11.

New Vintage Rose

This variety features rose-pink blossoms over compact, green foliage. It holds its shape well, making it ideal for planting in containers. It's one of the best yarrows to grow indoors.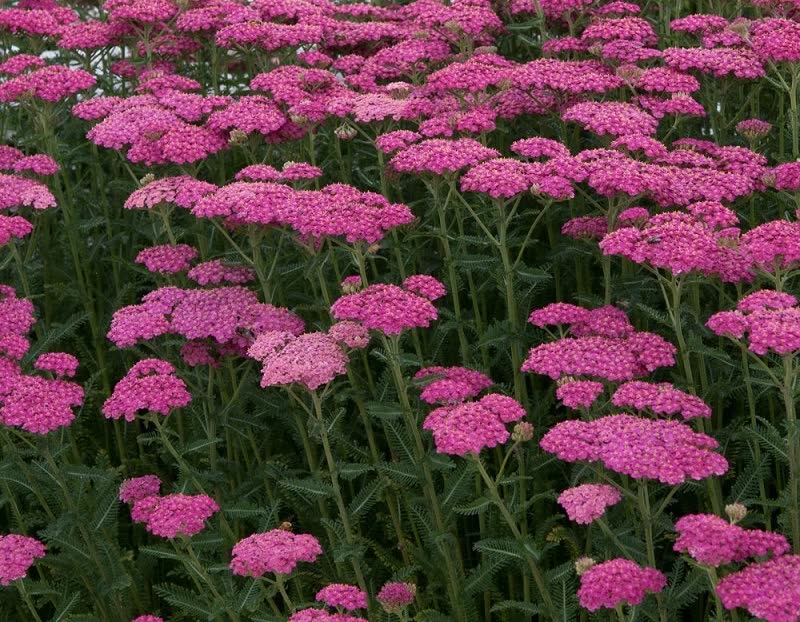 Unlike other achillea varieties that fade in color once the flowers mature, New Vintage Rose yarrows mature into bold, attractive shades that will enliven your garden—or your greenhouse.
12.

Sassy Summer Lemon

Who wouldn't want to plant a yarrow with this name? This hybrid variety is truly sassy, standing higher than most achillea varieties and with a more substantial presence, too.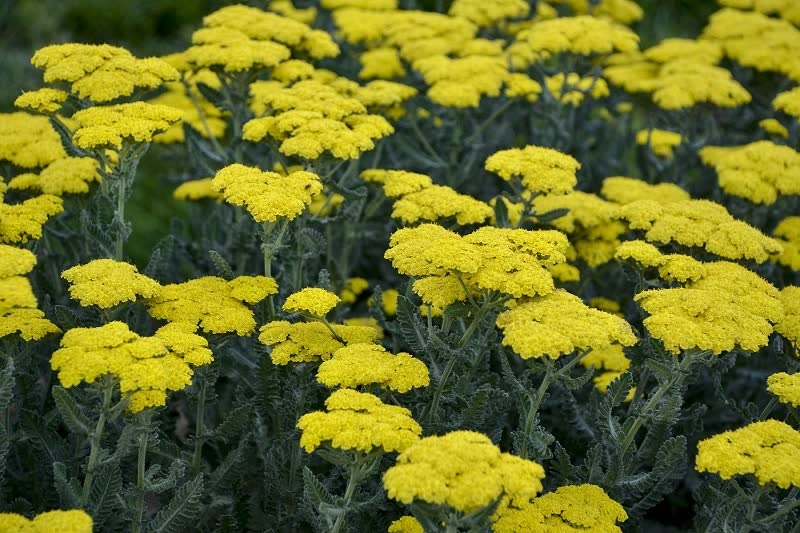 With its showy bright yellow flower heads, this variety offers a beautiful color pallete for any garden. If your garden needs a touch of color, this flower could be just right for you.
13.

Your Yarrow picture

We would love to feature your yarrow once you have grown it with this guide. To submit your picture and be featured here, please email us here with the picture, and leave us a comment below with your name, where you're from, and how long it took you to grow this yarrow. We'd love to hear from you!
How to Grow Yarrow from Seeds
We're talking about some of the most easy-to-grow-from-seed ornamentals. They need minimal soil preparation—a bit of compost, a bit of raking to even things out—and you can just sow a handful of seeds and get on with your day.
Because of their ability to grow in varied habitats, yarrow seeds are usually a delight to work with.
But it's still important to seed them under ideal conditions to get beautiful and fragrant tufts of wonderful flowers all summer long.
Follow along with this handy guide on how to grow yarrow from seeds.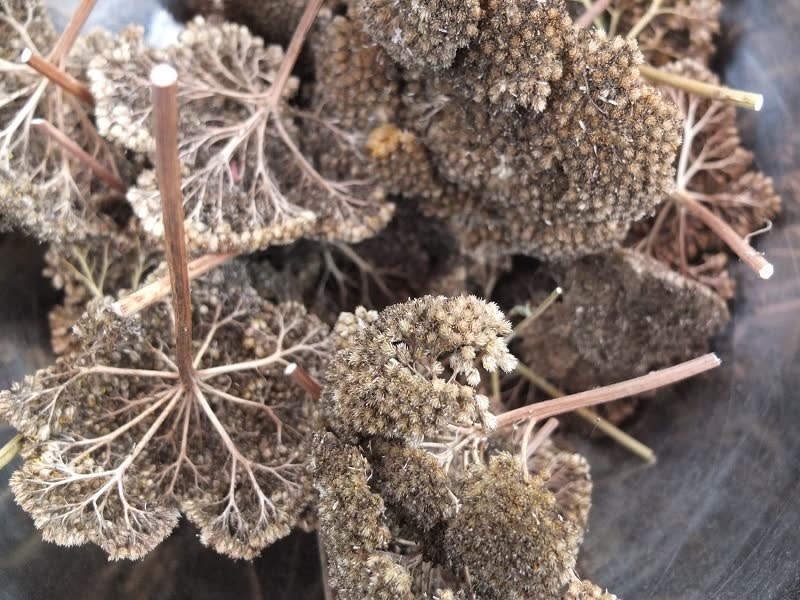 Step 1 - Sow the Seeds Indoors
Begin by sowing the yarrow seeds indoors for about six to eight weeks before the last spring frost. Or you can sow them directly into the planting area in early spring.
Step 2 - Sow on the Surface
If started indoors, sow the seeds right on the surface of the soil.
Step 3 - Plant Them Well
The seeds need some light to germinate, so make sure that you do not plant the seeds too deep in the soil.
Step 4 - Check the Soil Temperature
Yarrows love warm and sunny locations. The optimal soil temperature for germination is 15 to 18°C (60 to 65°F). You may want to use a thermometer to check the temperatures, just in case.
Step 5 - Avoid Moist Soil
You should avoid sowing the seeds in very moist soil. This may cause the roots to rot.
Step 6 - Use Plastic Wrap
In about 14 to 21 days, the seeds will begin to sprout. You can also speed up the germination process by covering the seed area with a plastic wrap to keep in the moisture and heat.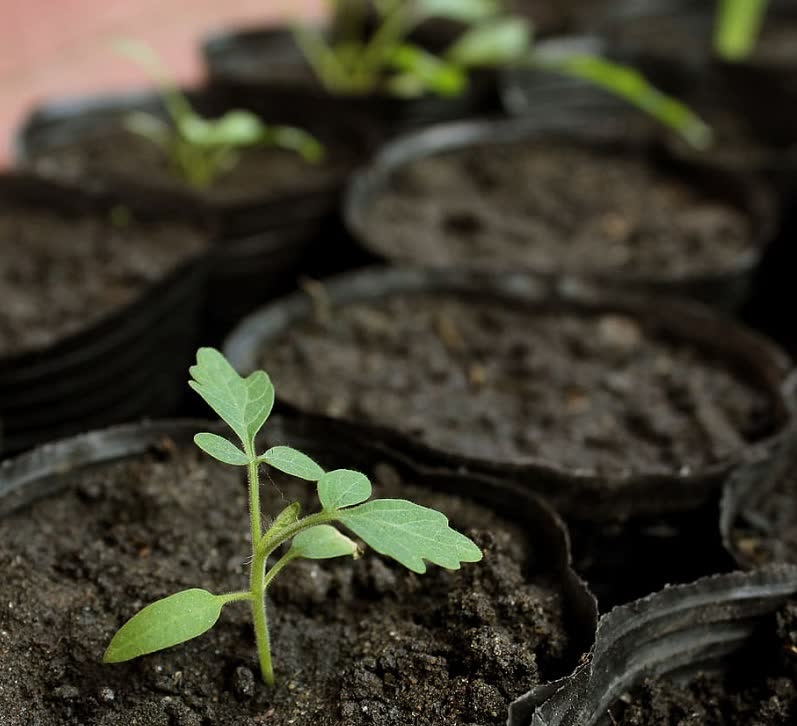 Once the yarrow seeds have successfully grown in your garden, they need little care. They do not require fertilization and only need watering during drought.
Is Yarrow Invasive?
Yes. Yarrow is a weedy species and can be both a blessing and a bane if you grow it in the garden. Many love its care-free nature that enables it to adapt to different soil conditions.
But at the same time, many find its invasive habits a bit of a nuisance since, left unchecked, they can colonize the flowerbeds.
The bottom line: After planting, it's important to control the spread of the plant from its desired growing location.
How to Grow Yarrow Indoors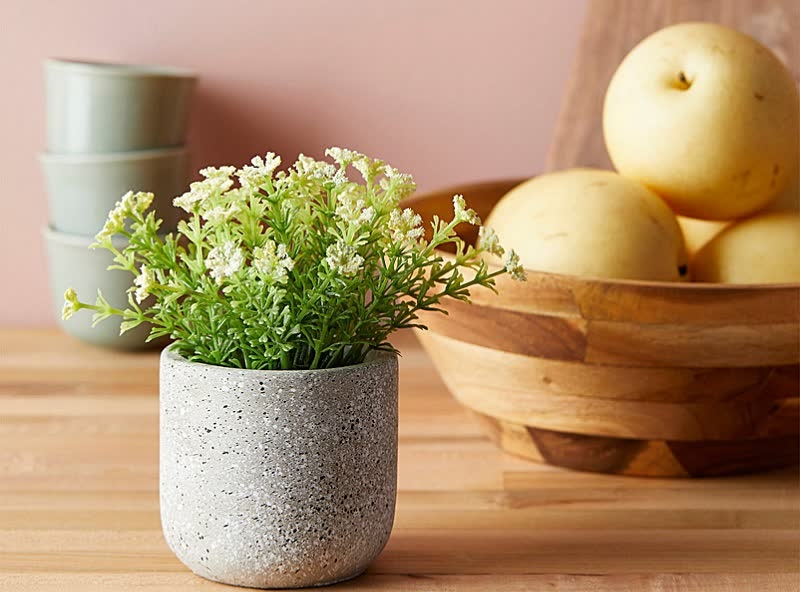 Though yarrow is more an outdoorsy plant, it can grow indoors in pots and containers. But before you bring the plant within the walls, keep in mind a few things:
Place it in an area of full sunlight for the majority of the day. That way it will thrive.
Make sure that the pot or container in which you have planted it is big enough to accommodate its thick roots.
Yarrows are not at all fussy and will do surprisingly well in dry to medium moist soil.
Deeply water the plant once every other week.
This plant is not prone to pest infestations, but bear in mind that high humidity and wet soils can cause leaf fungus and also rot the roots.
If the plant begins to droop, cut it back by two-thirds and give it an extra watering for a week or two to encourage regrowth.
Adding compost to a potted plant is a good idea. But it's not a must. Your flower can do well even without compost.
[amazon bestseller="best flower pots" items="3"]
Yarrow Plant Care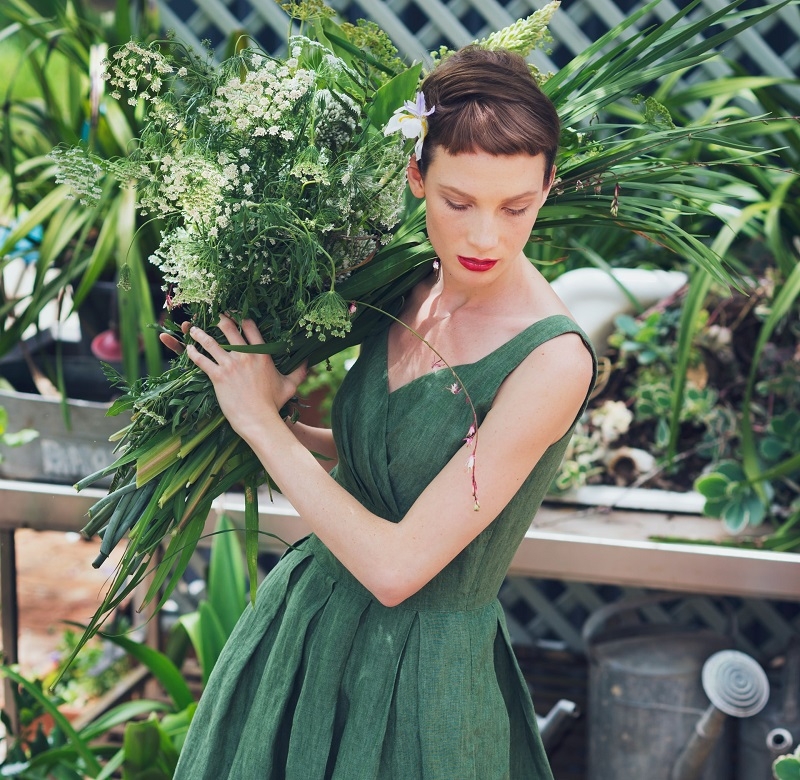 By now you must have got the tip--yarrow is a care-free plant. But bear in mind that "low maintenance" is not the same as "no maintenance."
The plant can bring cheer to your garden with only a bit of care. For that, here are a few careful steps you need to tread.
Light
If you want a good blossom in the summer, make sure your plant gets full sunlight. If it doesn't, the long and thin stems can become somewhat droopy. And that would be a pity, wouldn't it?
Soil
Yarrows cannot tolerate wet soil, so make sure the soil where you plant them is well-drained. Dry to medium sandy clay or sandy loamy soils, are the best for growing yarrows.
Tip: Nutrient-rich soils may encourage aggressive growth of the plant, so it's best to avoid them.
If you're not sure what type of soil you have, check out our soil types guide.
Water
This is a drought-tolerant plant that requires little water. It needs moisture during planting and after you divide it. But after that, if you water it too much, it will struggle and fall over.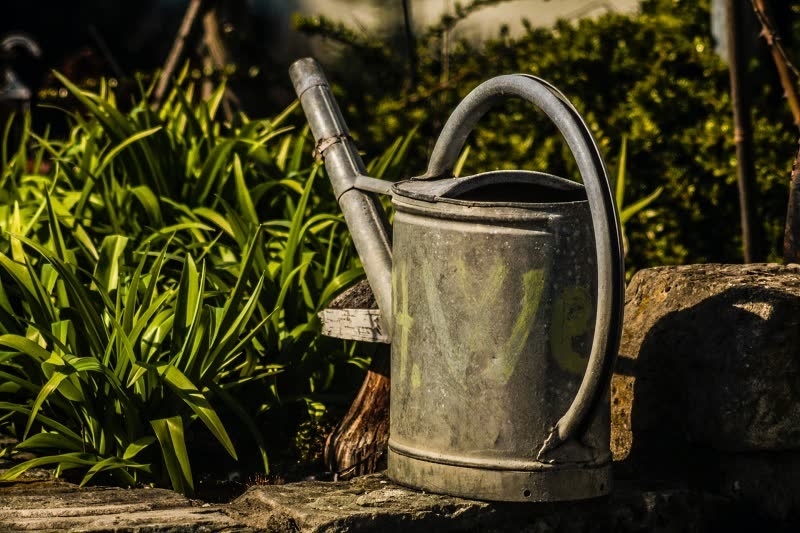 Temperature
Yarrows grow best in warm climates. Because of its weedy heritage, this plant can tolerate both hot and humid days and drought. So you don't have all that much to worry about in terms of temperatures.
Fertilizer
Yarrows are a very low-maintenance plant, so they usually do not need additional fertilizing. If you must, then an annual side-dressing with compost should be enough for your plant.
If the plant growth seems slow, you can use a balanced fertilizer in early spring before new growth appears.
Note: A nutrient-rich soil can encourage invasive spreading. You probably don't want that.
[amazon bestseller="balanced flower fertilizer" items="1"]
Pruning
Don't let those graceful stalks deceive you--yarrow needs to be pruned regularly!
The flowers will fade over the course of their growing season. Deadheading will make the plant look aesthetically pleasing and encourage further blooming.
The stems can begin to flop in a hot, humid climate. You would want to trim the plant stems to avoid that.
As noted, the plant can, in certain conditions, become very invasive. Pruning will also help keep the plant in check by avoiding self-sowing.
Here's a video to give you a better idea about how to prune yarrows.
Yarrow Medicinal Uses
Since ancient times, this little plant has been an indispensable herb used to treat several ailments.
It has been traditionally used in Ayurveda, Chinese medicine, and native American medicine. Because of its healing nature, it goes by the common names "Soldiers' Woundwort," "Knight's Milfoil" and "Staunchweed".
Recent studies have confirmed that the plant has several health benefits. But note that most of the studies have been performed on animals. More in-depth findings are needed.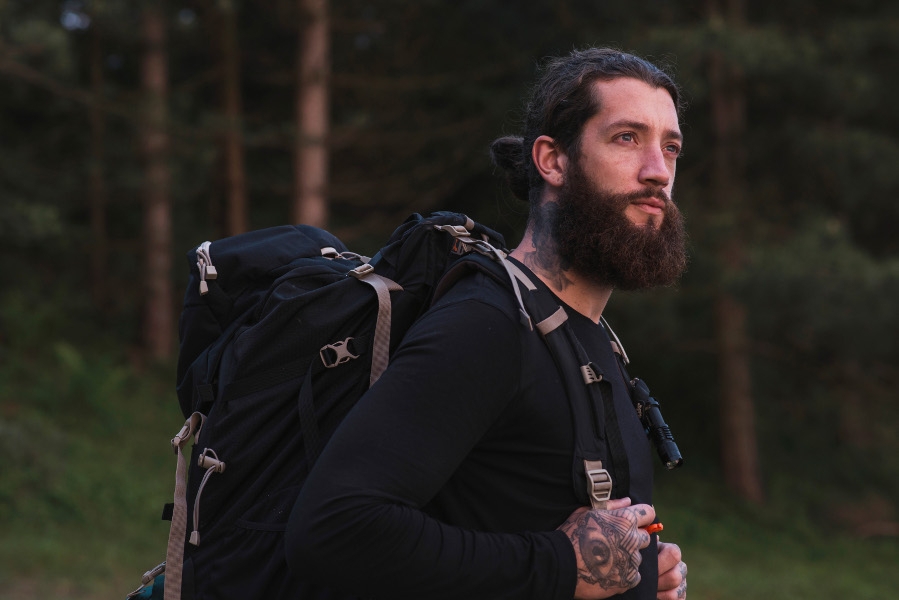 Medicinal uses of the plant include wound healing, alleviating digestive disorders, stimulating menstruation, helping with sleep, boosting the immune system, reducing anxiety, and regulating blood sugar in diabetes.
Note: Just because this herb is a natural "product" does not mean that it's risk-free. For all you know, you may have allergic reactions to it. Consult your doctor before using it as a medicine.
How to Make Yarrow Tea
Want to make some herbal tea to aid in digestion and help fight cold? Give yarrow tea a go. The dried white flowers are traditionally used for making the tea, though the taste may be slightly bitter.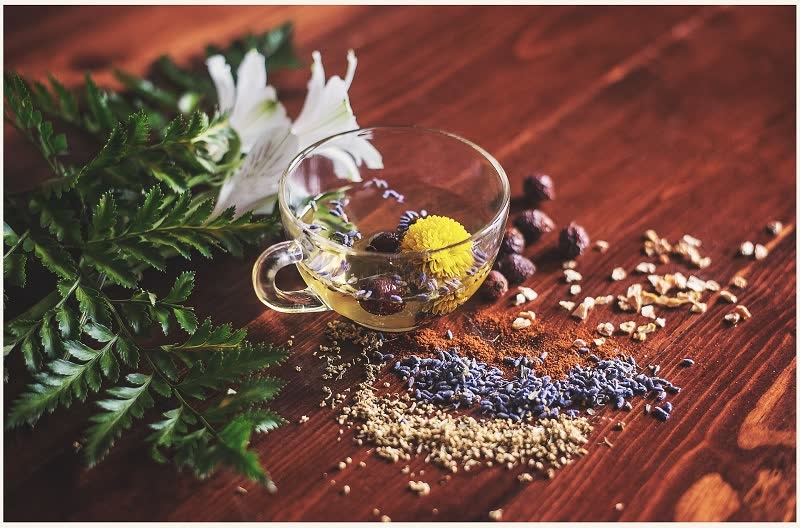 Place the edried flowers of the plant in a cup. You can also use the whole leaves.
Pour boiling water on top.
Steep for 10 to 20 minutes in order to get the flavors and essential oils out.
Strain the leaves.
If desired, add honey to sweeten the tea, or add a slice of lemon.
Yarrow Benefits for Skin
The plant's most ancient use is in rejuvenating the skin. It has anti-inflammatory and pain-relieving properties that can soothe skin prone to irritations.
The herb is readily available as an essential oil or an extract. Add yarrow extracts to oil or mix with your face cream to help soothe irritation and enhance rejuvenation.
The herb is also often used as an astringent in organic skincare.
[amazon bestseller="yarrow oil" items="1"]
Toxicity of Yarrow
Yarrow is normally considered safe to use medicinally and is not toxic. But in some rare cases, it can cause allergic reactions in humans.
The plant is toxic to certain animals including cats and dogs, causing increased urination, vomiting, diarrhea, and dermatitis.
Yarrow FAQs
A Garden Must-Have for the Yarrow-Minded
Barring its ancient use as a medicine, yarrow has a rags-to-riches history. For it's not often that a roadside wildflower becomes a garden ornamental.
Yarrows may be richly colored, but they have an easy-to-grow nature that makes them garden darlings.
They can adorn your garden as well as indoor spaces. When dried, they are great for all-purpose bouquets, and they are an especially apt choice for bridal bouquets and arrangements.
So, if by now you consider yourself yarrow-minded too, bring home this all-round, garden-must have. You'll have fun growing it!
Did any of the varieties we shared with you caught your fancy? We'd love to hear from you? Drop us a comment or reach out to us on social media.
Meanwhile, keep planting things well!