Don't have a patch of ground to plant things in? No problem! Indoor gardening offers an excellent introduction to the wonderful world of gardening. Whether you're a gardening novice or pro, whether you live in a tiny flat or big house, you'll find lots of ideas and inspiration in this article.
Most people love plants, but not everyone has the right resources or space to start up a garden. But growing plants doesn't have to be limited to a place.
You can always grow plants indoors. Instead of doing an outdoor garden, you can opt for indoor gardening.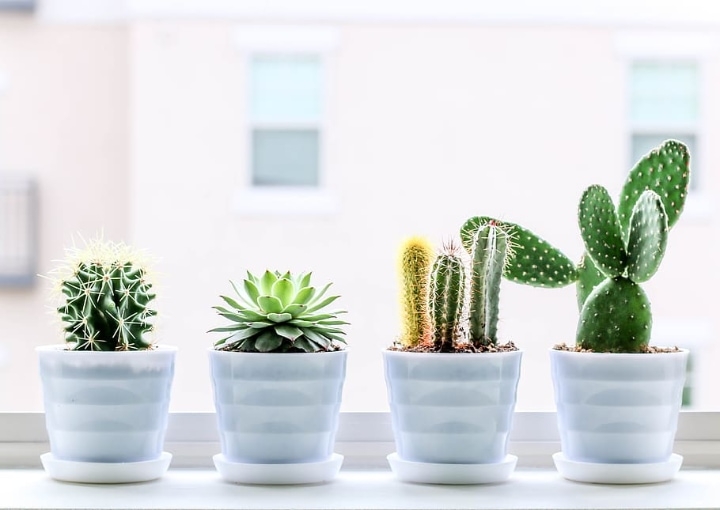 Indoor gardening caters to a lot of people, from the inexperienced up to the experts. Granted, there are a couple of things you need to consider, but we'll touch on them later.
For now, let's explore together some of the best indoor gardening ideas around.
Creative Indoor Gardening Ideas
Anyone can do indoor gardening, regardless of their skill level. A beginner can grow a spectacular garden, but knowing a thing or two about plants will make the entire process smoother.
Our list focuses on easy indoor gardening ideas that anyone can try right now.
1.

Hanging Terrarium Indoor Gardening

Hanging terrariums are fairly simple to set up; you will only need a succulent or an air plant and a glass bowl.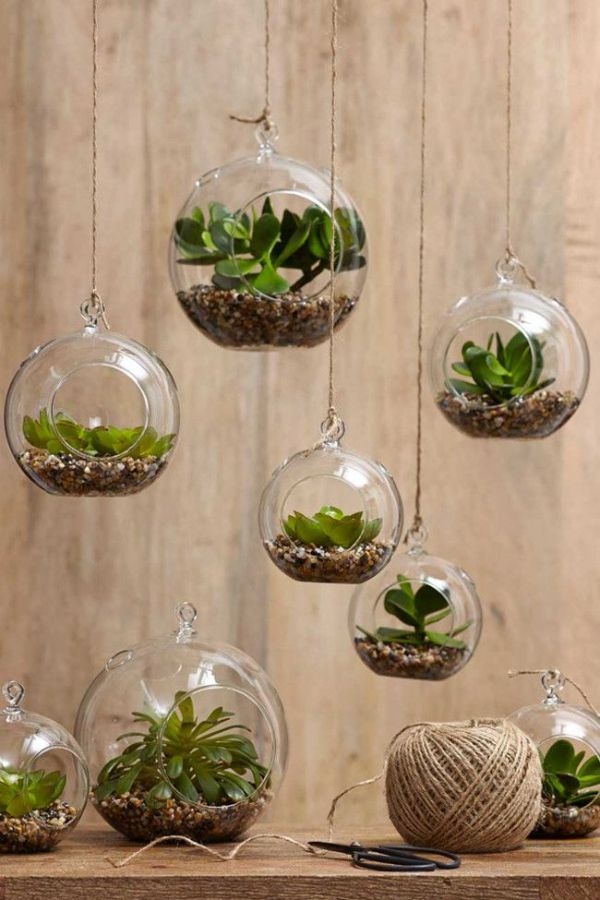 They take up little to no space, making them perfect for places with very little area to spare!
2.

Moss Ball Indoor Gardening (Kokedama)

The kokedama is a Japanese moss ball, also called the poor man's bonsai, that allows you to grow terrestrial plants in a ball.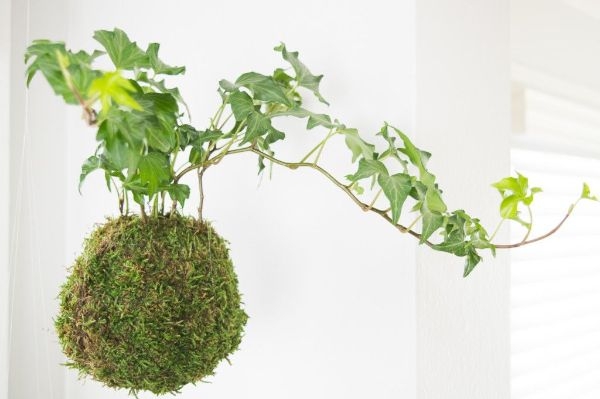 You can make it bigger or smaller depending on the plant. It looks great as it is or hung!
Check out the next video to learn how to make one.
3.

Custom Large Pot Indoor Gardening

You can grow a garden in a pot outside or indoors. This idea lets you go wild with your garden ideas on a small scale.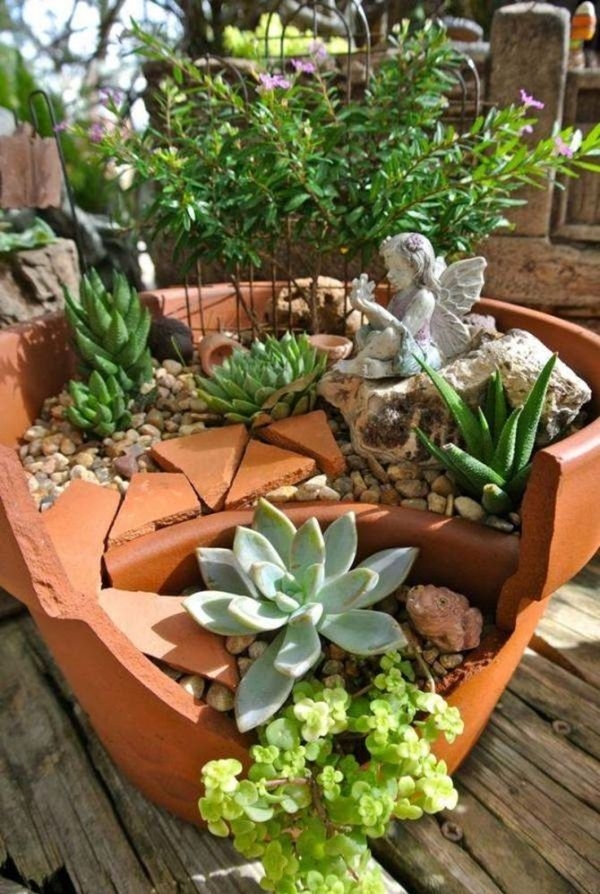 You can even go ahead and put props like a fairy garden kit or creative rocks in it. In the example above, the pot is cleverly broken for a nice effect.
4.

Vertical Gardening

Vertical gardening is a handy indoor gardening idea that doesn't take up much space and can easily be adapted to your needs.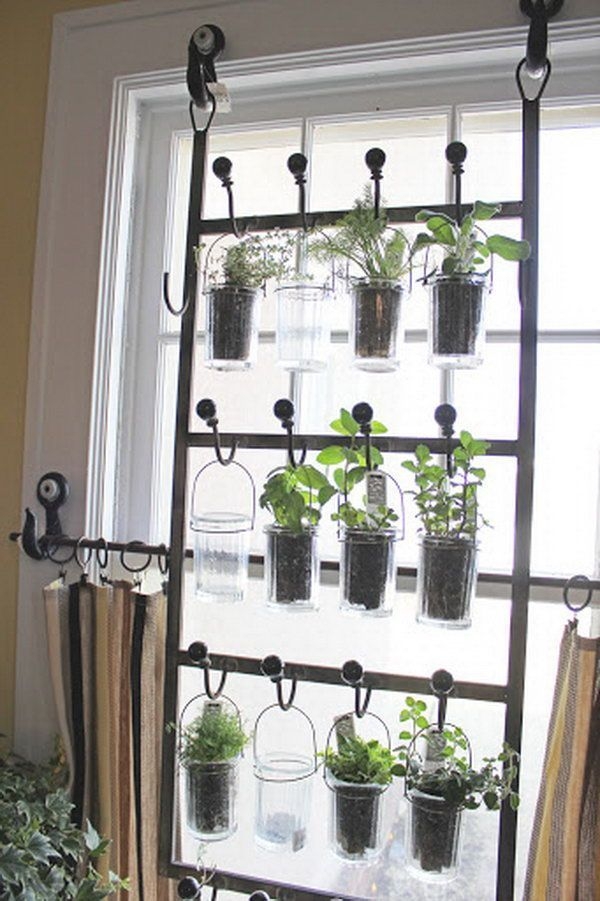 This one's perfect for an indoor herb garden. It's perfect for blank walls or windows, and you can even go ahead and use the herbs for cooking!
5.

Pallet Basket Hanger Indoor Gardening

This is another kind of vertical indoor gardening and more of a DIY and recycling method than the one above.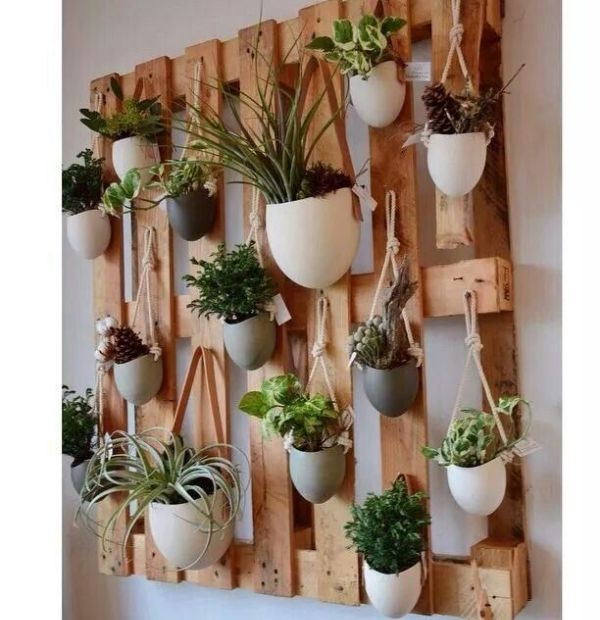 Wooden pallets are easy to find; you can go to a nearby warehouse and ask for them. You can adapt them to your space and besides, they are environmentally friendly.
6.

Hover Dishes Indoor Gardening Idea

Hover dishes are as what its name suggests, a dish that hovers and hangs on a steel wire. You can buy readymade hover dishes from online indoor gardening websites, or simply make your own.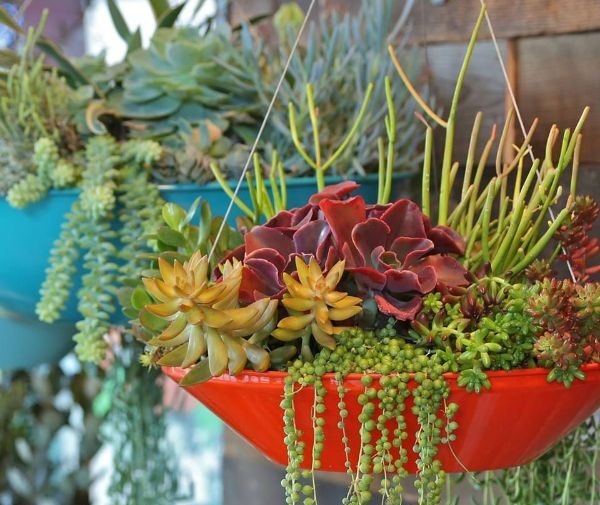 A shallow dish and a few succulents would suffice for a DIY hover dish.
7.

Wooden Drawers Indoor Gardening

Herbs are usually small plants. So they are perfect for being potted inside wooden drawers.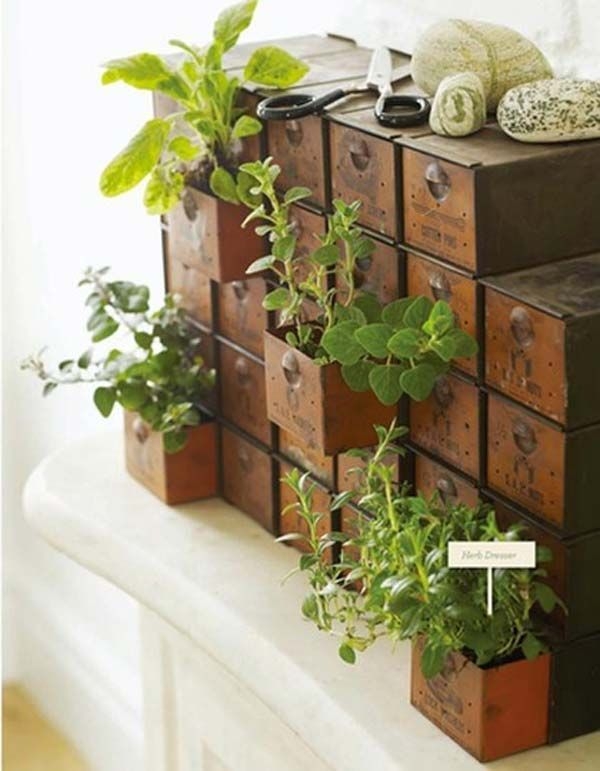 If you have a spare drawer lying around, you can use it to create an environmentally friendly indoor herb garden while also adding a vintage feel to your space.
8.

Mini Plant Terrarium Indoor Gardening

Mini plant terrariums are perfect tabletop designs. Some indoor gardening stores sell ready-made mini terrariums, but some also offer customized terrariums, where you can pick the design and the terrarium plants.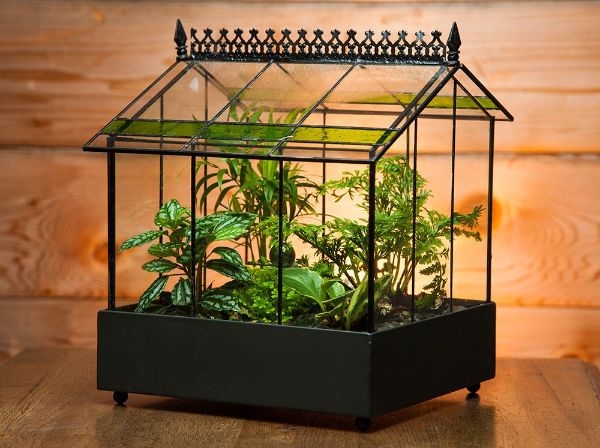 Of course, you can also go ahead and make your own terrarium.
9.

Suspended Indoor DIY Vertical Garden

This is another type of vertical indoor gardening that requires some handyman skills. Setting this up in the house needs some DIY skills, so ask help if you're not confident.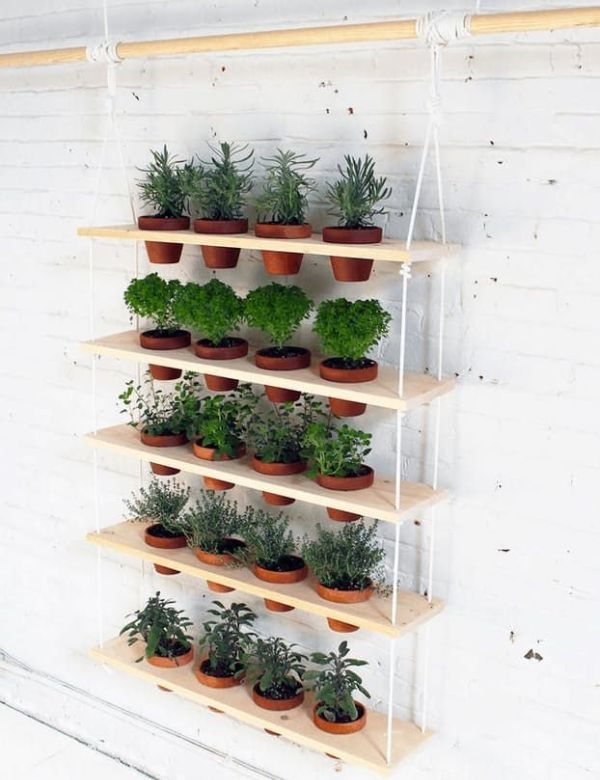 The end product has a clean aesthetic, and it saves space!
10.

Creative Pipe Indoor Gardening

This is a pretty creative indoor gardening idea that takes advantage of a blank wall and some pipes you have lying around.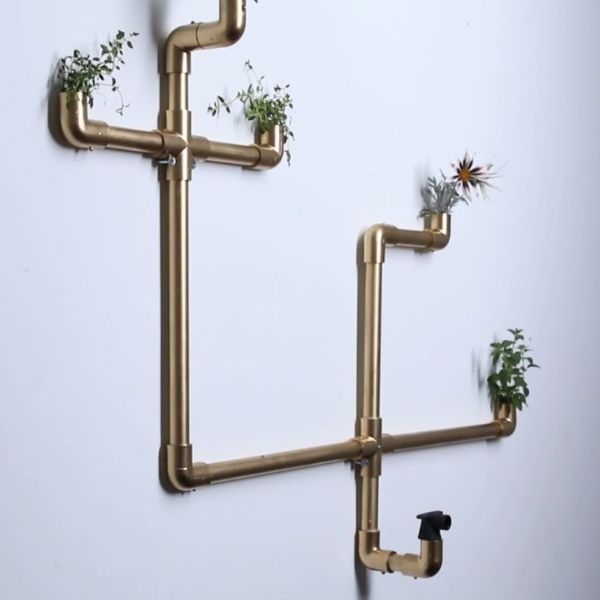 This is best used with herbs or other small plants. It's a beautiful addition to a wide wall that needs a bit of life.
11.

Hanging Kitchen Organizer Indoor Garden

Your hanging kitchen organizer can be recycled into an indoor herb garden. Here's an example to see what we mean.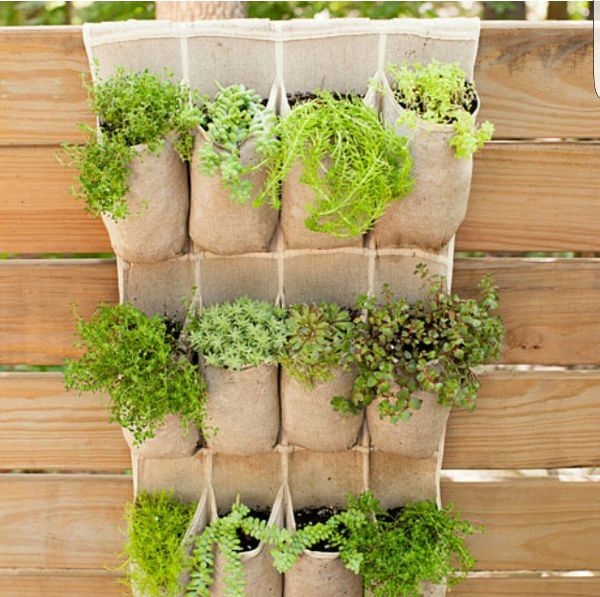 This design exudes that DIY feel that you might want to have around!
12.

Simple Potted Indoor Garden

A lot of plants can be easily potted, making the potting method the easiest and most beginner-friendly indoor gardening idea.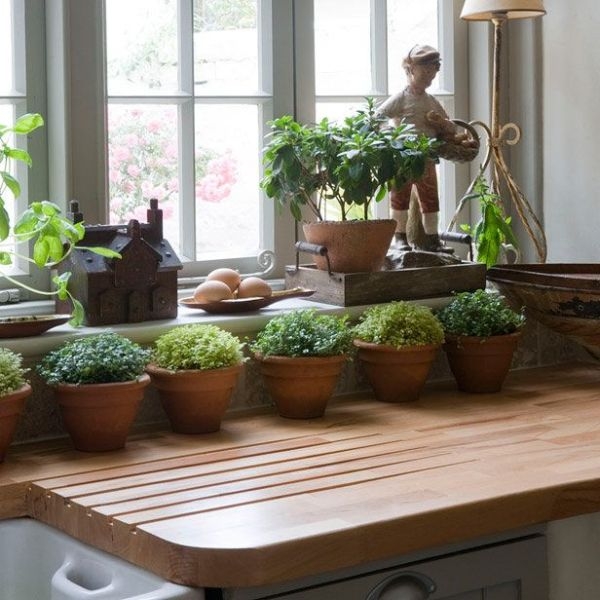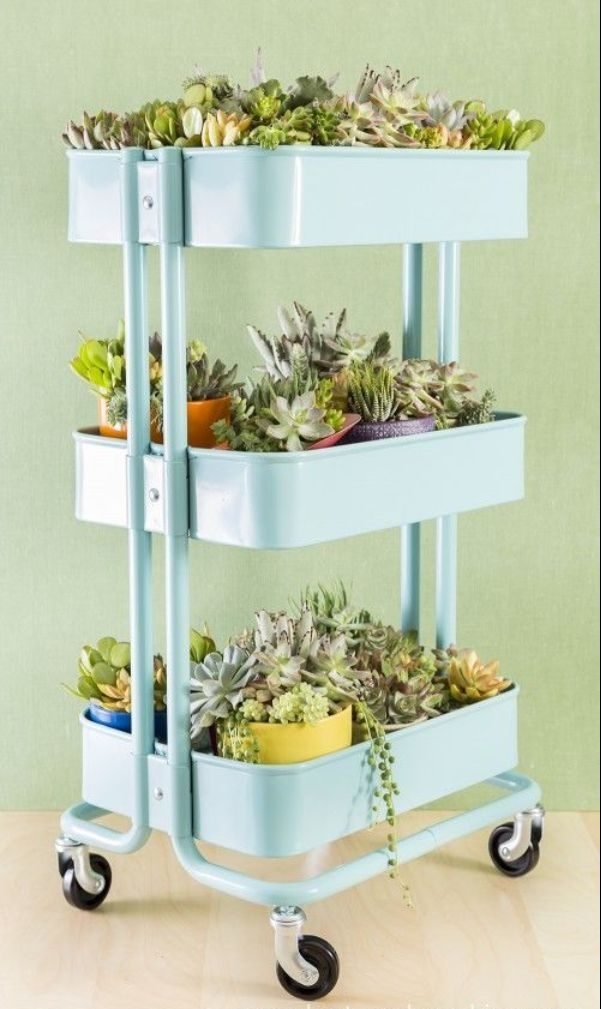 This can be a temporary placeholder for your succulents as you prepare their place in the house, or you can just let it be like that permanently.
14.

DIY Tabletop Indoor Gardening Terrarium

This is like a mini terrarium, but instead of being a tabletop design, the tabletop has become the terrarium itself!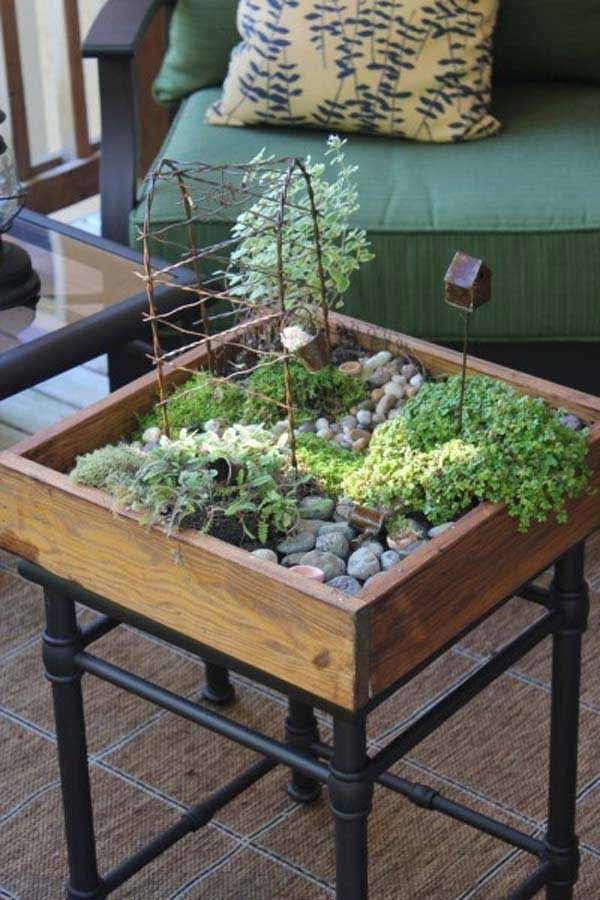 It's a braver choice and a permanent design compared to the mini terrarium.
15.

Tiered Cake Stand Indoor Gardening

There are cakes on a cupcake stand, and there are also succulents on a two-tier stand.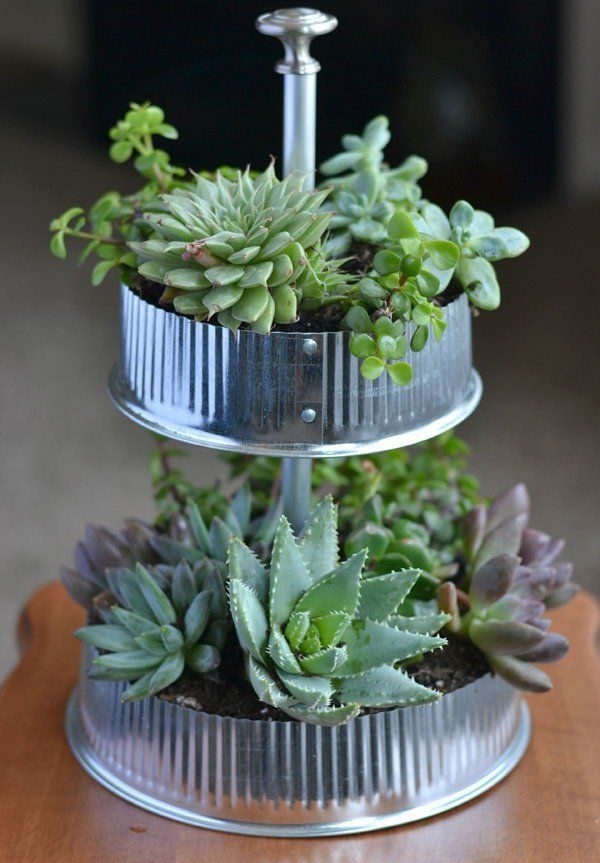 This is a perfect addition on a tabletop and since they're succulents, they need little attention for them to flourish.
Indoor Gardening Tips & Tricks
We shared with you a lot of ideas to inspire you to create your own indoor garden. But before you get started, you may want to check our tips and tricks based on what you want to grow.
Plants grow best in their natural habitats. Therefore, to be able to grow plants inside, you will need to replicate their optimal conditions indoors.
Most of the time, plants are forgiving and they will thrive under normal indoor conditions, but some of them are more finicky, and you need to consider their needs.
Space
One of the main reasons for growing an indoor garden is the lack of space to grow one outside.
You can bring the garden inside; no matter how much space you have available, indoor gardening will be there to slip into your life and house.
Most people who are into indoor gardening are those who want fresh produce right in their reach. In this context, the perfect spot to put an indoor garden is the kitchen, especially near the windows.
Another option is to use hanging planters to create a hanging indoor garden near the windows.
Indoor Gardening in Apartments
Apartments generally have small spaces right from the start, and having furniture doesn't help, either.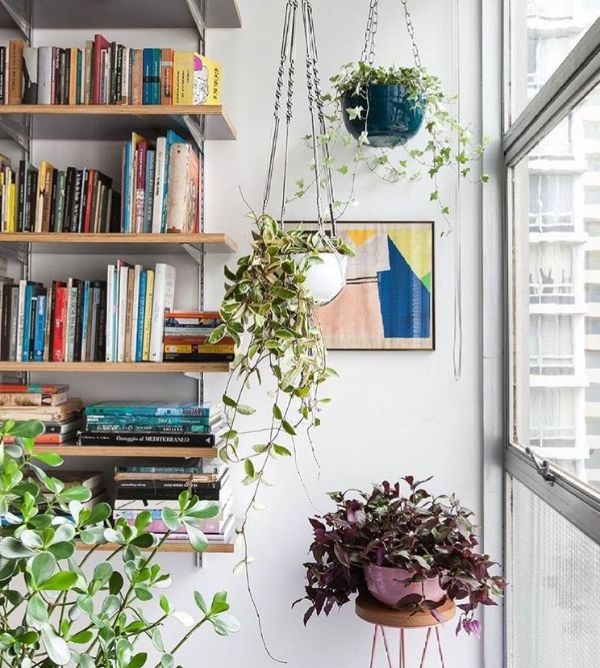 Potted plants take very little of your functional space, and hanging ones even less. Plus, the visual result is nice.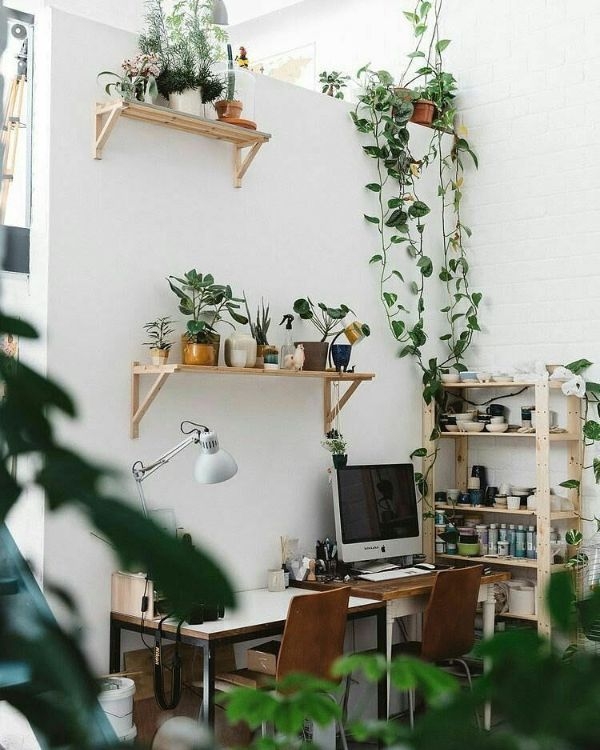 A study desk with a lot of plants can be a calming place to work and study.
A dash of green when you're feeling stressed can relax you and act as your destressing medicine.
Plus, indoor gardening lets you breathe in the fresh air even if you are inside your house.
Indoor Gardening the Kitchen
Often, the best place to put your indoor garden, and especially herbs, is the kitchen. You can conveniently reach the herbs or veggies whenever you need them. Plus, the greenery will liven up the kitchen.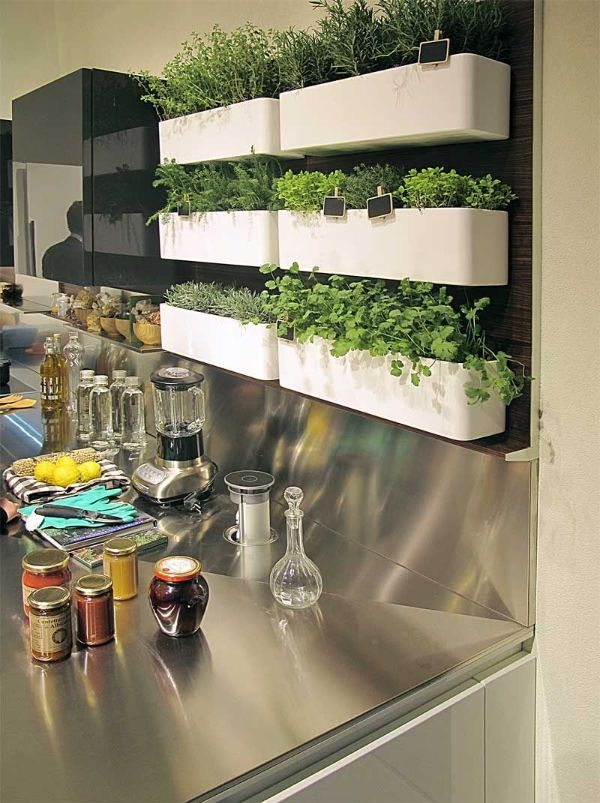 With indoor gardening in your kitchen, your plants don't have to be separate from your utensils; they can coexist peacefully, as long as you keep your planters clean.
In this scenario, your plants can hang together with your kettle, and you would have saved space as well as made some for your plants!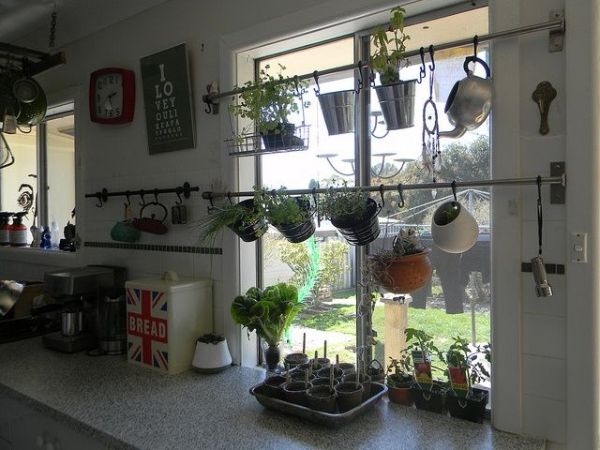 Indoor Gardening in Containers
What about the other rooms? You can do indoor container gardening in just about any room, though in dark rooms you may need to install grow lights.
With a few recyclable containers or store-bought ones, you can create an indoor garden with no fuss.
Some containers need to be attached to one place, but many of them can be moved anywhere you want at any time.
Ventilation and the Seasons
Not all plants grow all year round. Some grow best in summer conditions, while some grow their flowers sooner than others.
While with indoor gardening you don't have to worry about the weather, you still need to factor in the seasons and the role they play in your plants' development.
Summer
Many plants take the summer very well. Summer provides them the right amount of hours in the sun and temperature for them to grow.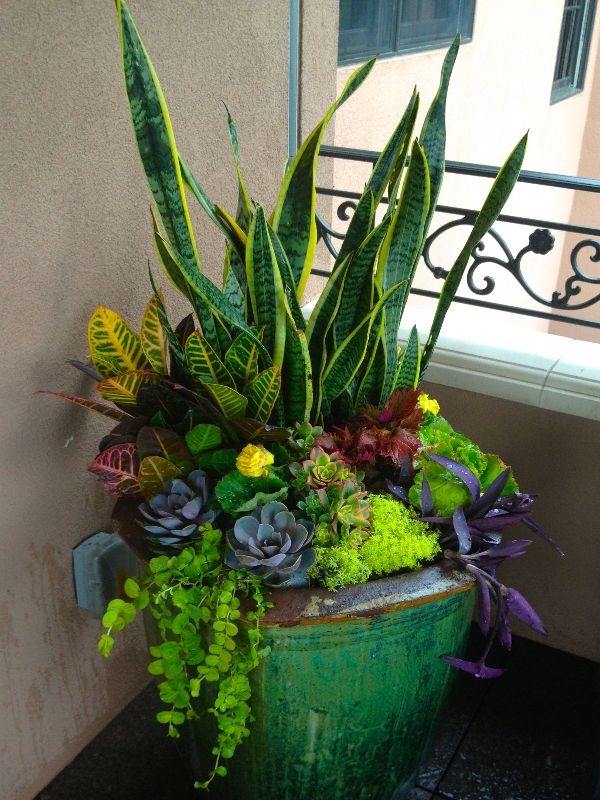 You should put your plants near windows where they'll receive enough sun and heat for them to thrive. If you can, you can also move them outside to let them enjoy the warm and bright light.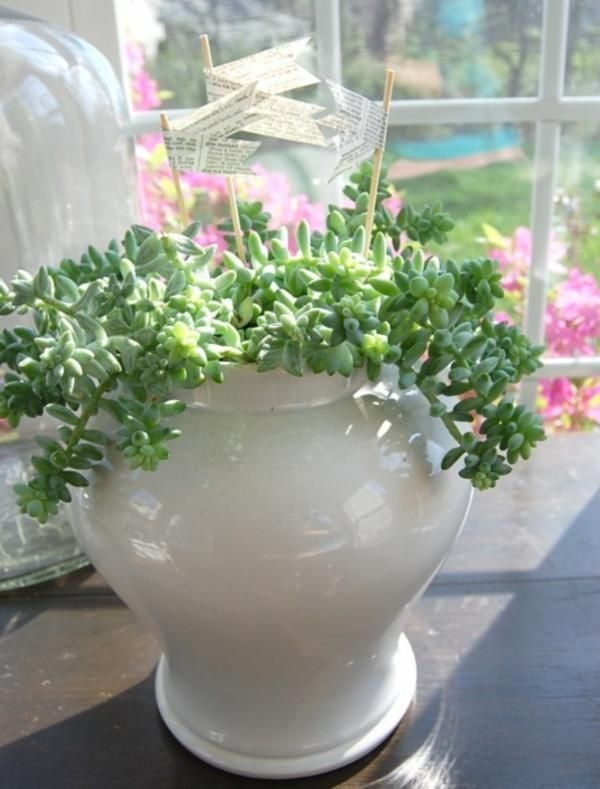 Fall
Fall is the season of falling leaves, and flowers in shades of yellow and orange are perfect for this season. The conditions are still right to grow quite a few plants, so take advantage of that.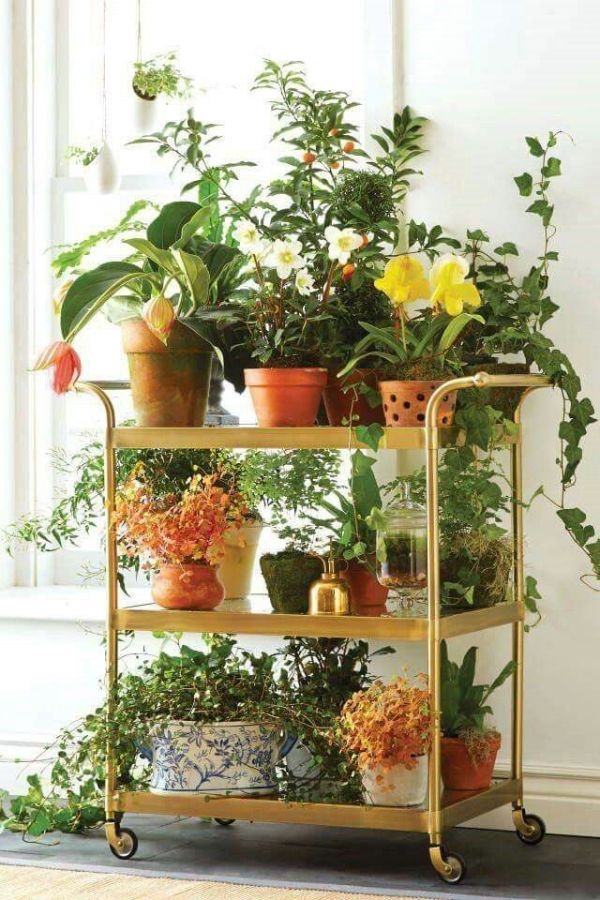 For an autumn feel, getting flowers and plants in the color palette of orange and yellow will definitely make your house look great.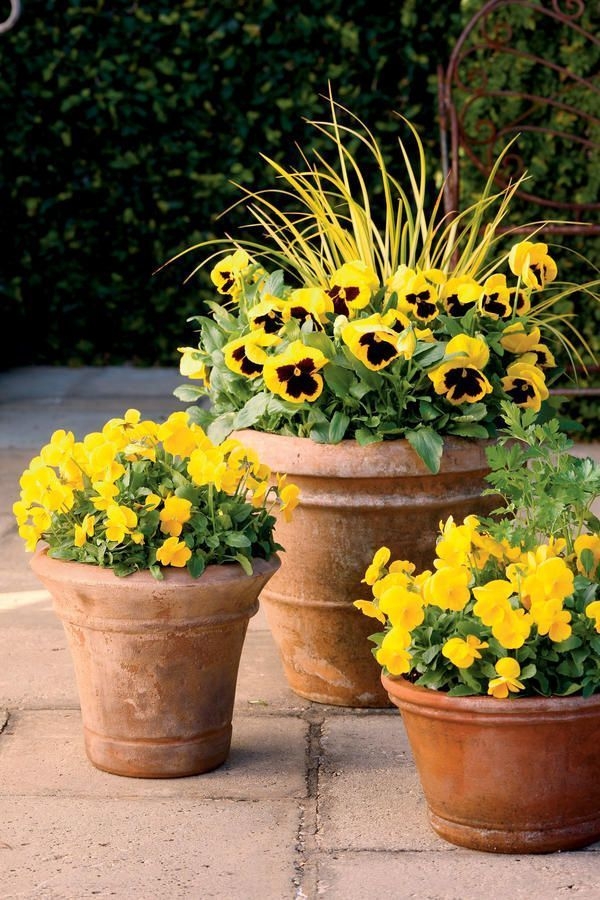 Tip: Remember that you can grow herbs and certain vegetables pretty much all-year-round with the right gardening kit.
Winter
If summer is the happy season of gardening, winter must be the bane of gardening. There's the very little sun, and the cold is not something that plants love, though some of them actually need it.
But it is also at this time that indoor gardening shows its advantages.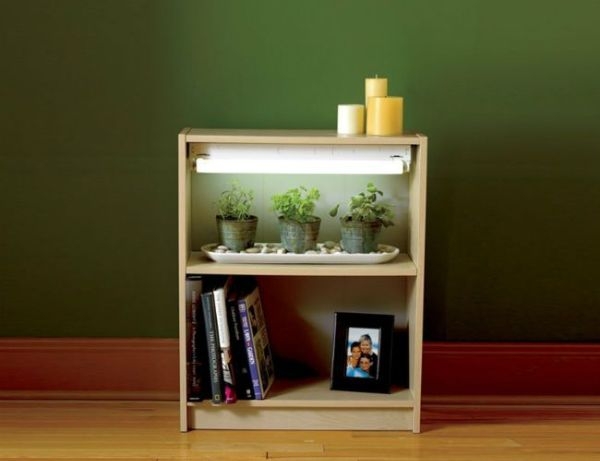 Gardening during winter is best done indoors, with the help of grow lights. Grow lights compensate for the cold temperatures and little sun, letting your plants grow in optimal conditions no matter the season.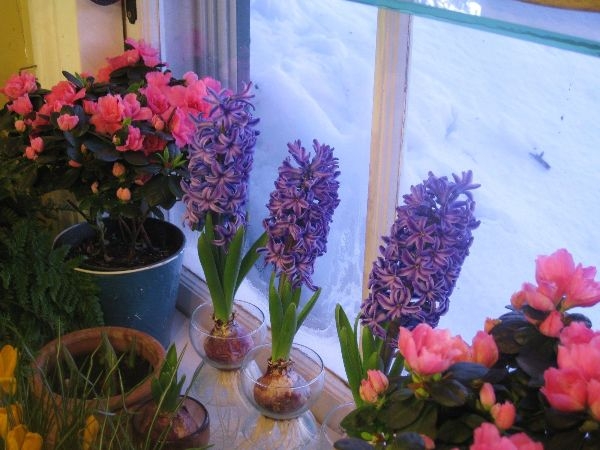 Despite the cold, you can force flowers to have a winter bloom. The ways to do this will vary across flowers, but it is definitely doable. Check out our definitive guides on growing flowers to learn more.
Spring
Springtime is the season when everything starts to grow back from the winter. You can definitely get some flowers and let them thrive happily on your tabletops as part of your indoor gardening activities!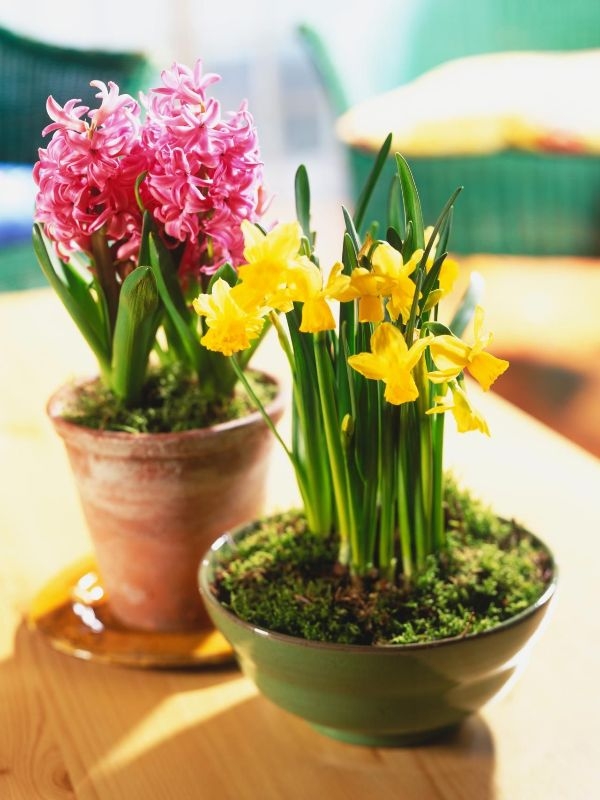 Force-blooming some off-season flowers are one of the joys of indoor gardening. Just like the winter bloom, you also need to prep the bulb before you can get some nice flowers inside in springtime.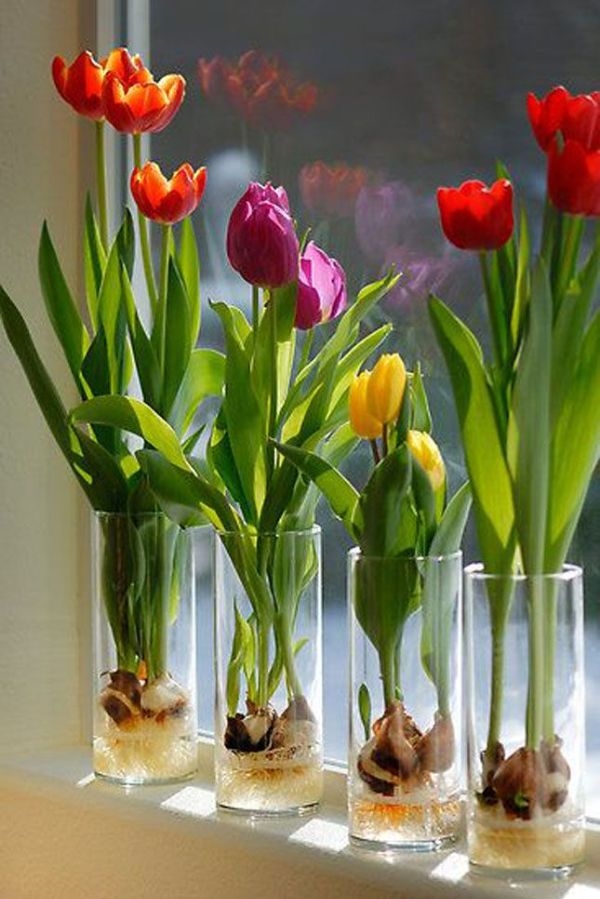 Indoor Herb Gardening
Indoor gardening with herbs is easy, making it perfect for beginners. Since herbs are typically small, you have a lot of flexibility and plenty of design choices.
The biggest benefit of growing your own herbs inside is the convenience and freshness of the herbs. You have your herbs within arm's reach and they're fresh and fragrant.
Herbs are fairly easy to grow. There are three things to consider when doing indoor gardening with herbs: temperature, drainage, and placement.
Tip: Temperature is less of a problem than with other types of plants since herbs grow fine in an indoor environment.
You also need to be mindful of drainage because you wouldn't want your herbs' roots to rot in water.
Placement in the house matters when it comes to herb gardening. Herbs need as much natural sun as they can get, and they usually get it near windows.
Tip: Keep herbs for at least 6 hours in the sun.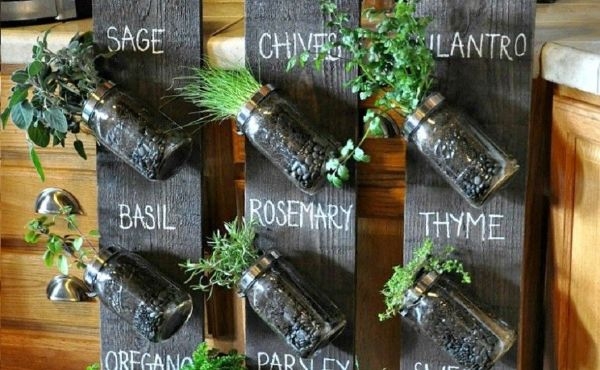 Because herbs are small, you can put them in jars like these then have them tightly placed on wooden planks. You may also want to put labels on your herbs.
It can be convenient to have these plants in the kitchen so that you can snip them at the moment you need them.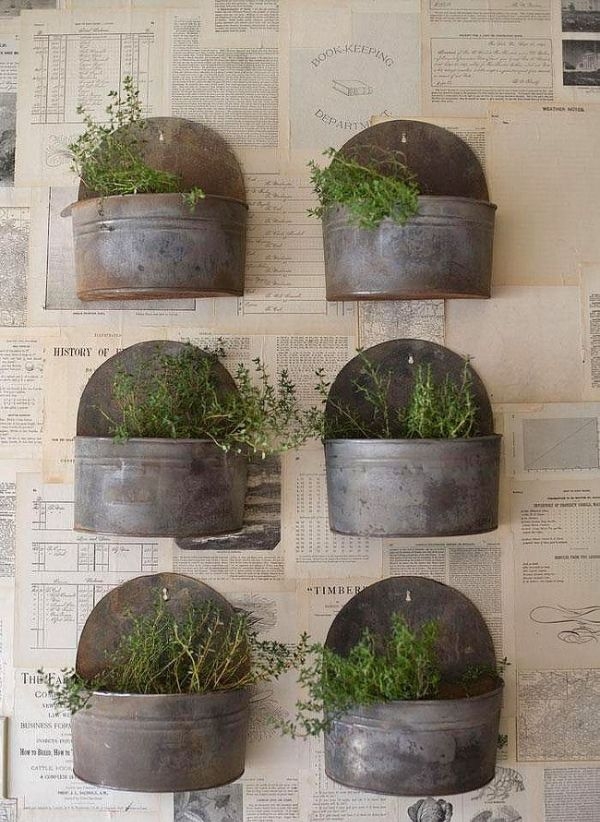 This is a vintage herb garden made using a free wall and some metal buckets. It's a bigger herb garden, and it looks pretty neat, too.
Indoor Vegetable Gardening
Vegetable gardening doesn't have to end in winter. When the outside gets too cold or when you simply don't have "the outside," you can migrate your vegetables inside and grow them there.
Given that some vegetables are stocky plants that are more outdoorsy than herbs, growing them inside will be a rocky road. Their growing conditions will also vary per plant but don't worry--we're here to help!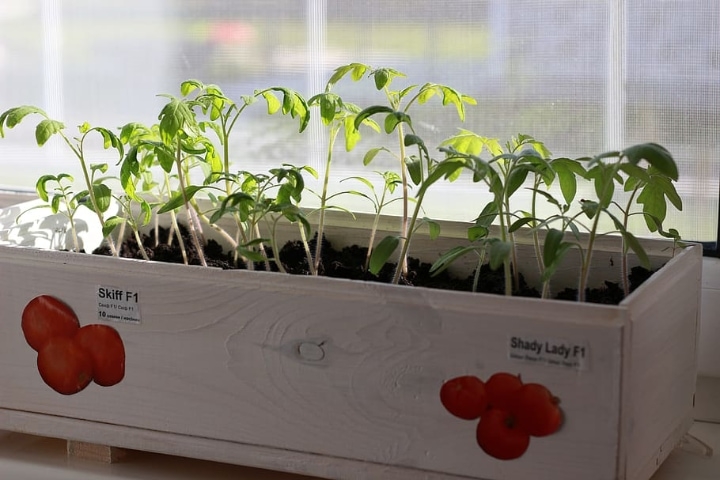 Here are some essential tips for indoor gardening with vegetables. We'll focus on soil, light, and water.
You'll need a potting mix instead of garden soil to ensure vegetables grow nicely inside. Choose the container based on the plant.
You also need to make sure that there is good drainage to avoid rotting the roots.
Important: Light is where these vegetables get finicky. They usually need 14-16 hours of light for best results, so putting them near windows might not be enough.
You'll need to invest in grow lights for your vegetables to grow in tip-top shape inside.
If you want to keep things simple, here's a popular indoor gardening idea for an endless supply of onion greens.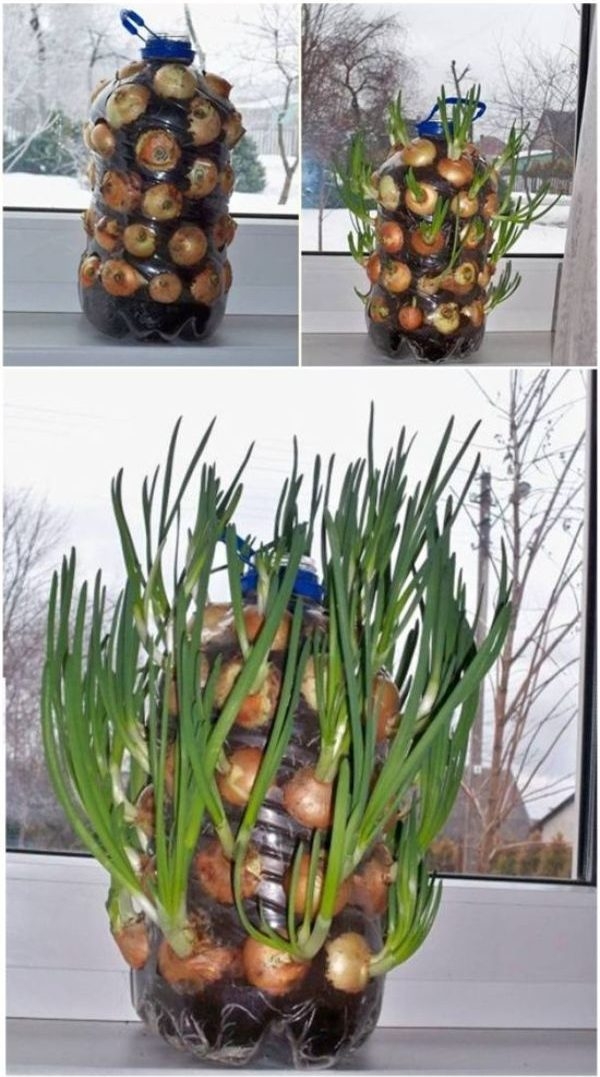 With a PET bottle and a few onions, you could grow your own self-contained onion greens in a harvest-friendly form. Cut the greens and let it grow again after a while!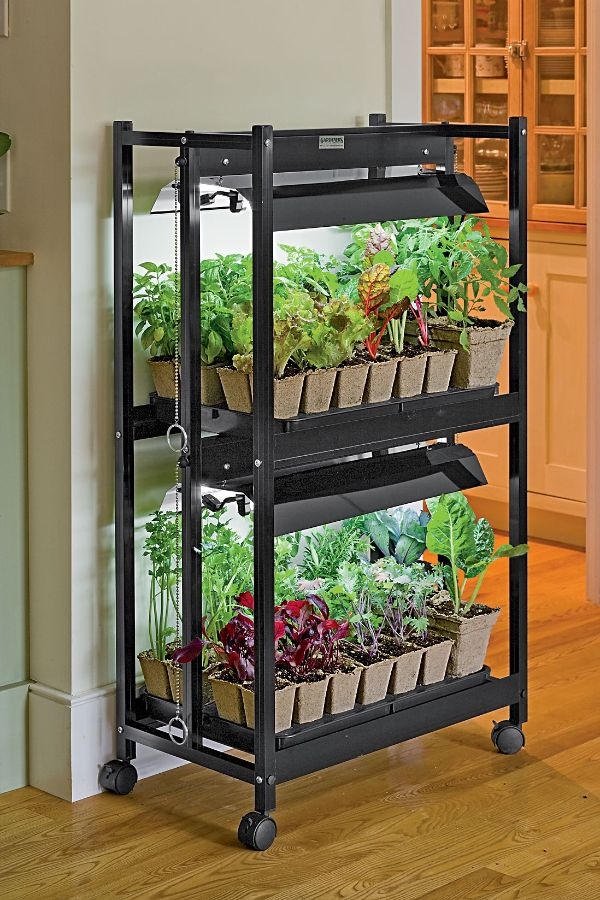 That said, indoor gardening with vegetables works best when you have grow lights. Since vegetables require much more sun than herbs, keeping them under the light is pretty much the only option.
Indoor Gardening Supplies
Indoor gardening is more than the plants that you grow; it also includes the things you need to make that experience fruitful! Here are some essential supplies we recommend.
Grow Lights
Grow lights are artificial light sources that complement or completely replace the need for the natural sun.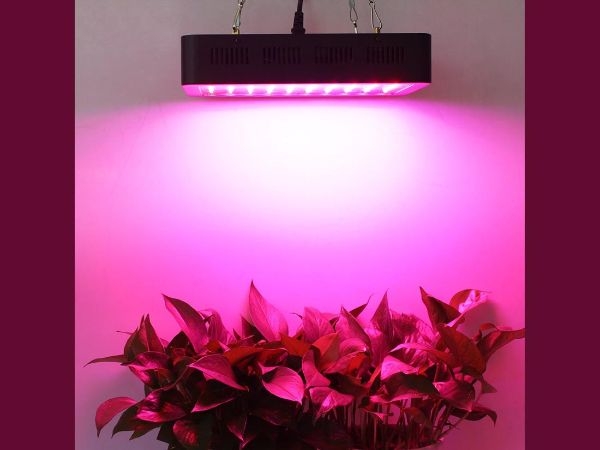 They make indoor gardening possible and allow you to control the type and amount of light to stimulate growth in plants.
You don't have to invest a lot in grow lights. Here are some bestselling choices.
Window Garden Kits
One of the easiest ways to get started with indoor gardening is to grow herbs on the windowsill.
Use pots that you already have or choose a space-efficient window garden kit.
Hydroponic Indoor Gardening System
If you want a non-fussy indoor garden, consider a soil-free indoor gardening systems equipped with built-in grow lights, monitoring sensors, and a water reservoir.
This sort of system provides optimal growing conditions for your plants, letting you grow them in- and off-season.
It does take some of the craft of gardening away, but if you are often too busy to garden, this could be a good alternative.
Indoor Gardening Frequently Asked Questions
Here are some frequently asked indoor gardening questions that we thought we should answer. We hope you'll find the answers useful.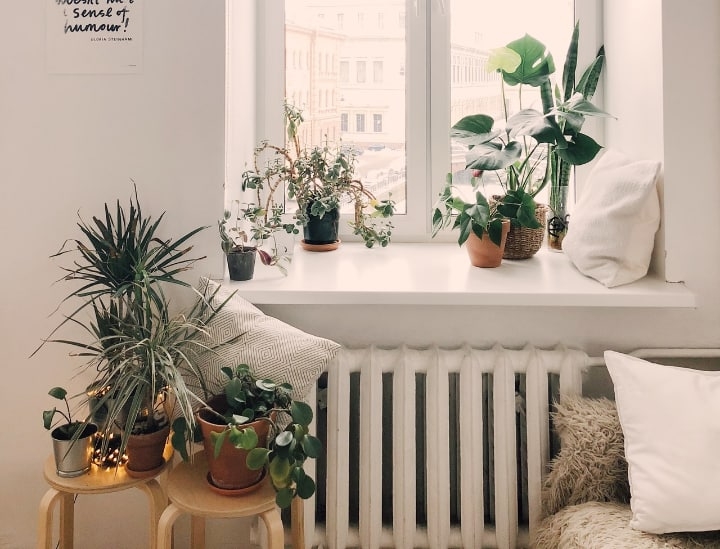 Is indoor gardening hard?
Indoor gardening is what you make it. If you want to have an easy-to-maintain garden, you can choose plants and arrangements that are simple and not time-consuming. Check out now our
indoor gardening ideas
to learn more.
Can you implement indoor gardening with a vegetable garden?
Yes, you can grow lots of vegetables indoors. You must make sure that you have the right lighting, temperature, and nutrients in order for your plants to do well, though. Make sure you read our
indoor gardening tips
.
When can I start indoor gardening?
There is no need to wait. With the right equipment and knowledge, you can start an indoor garden at any time of the year. In fact, you can even start gardens inside and move them outdoors later. Check our
indoor gardening tips
to get started.
Final Thoughts on Indoor Gardening
Indoor gardening can be a fun hobby, a way to grow your own food, a simple way to add more greenery to your space, or a combination of these.
You don't need any experience as a gardener to get started with indoor gardening. It will be in itself a learning experience, but once you've gone past the preparation stage, you'll have a nicer home and gardening skills to boot.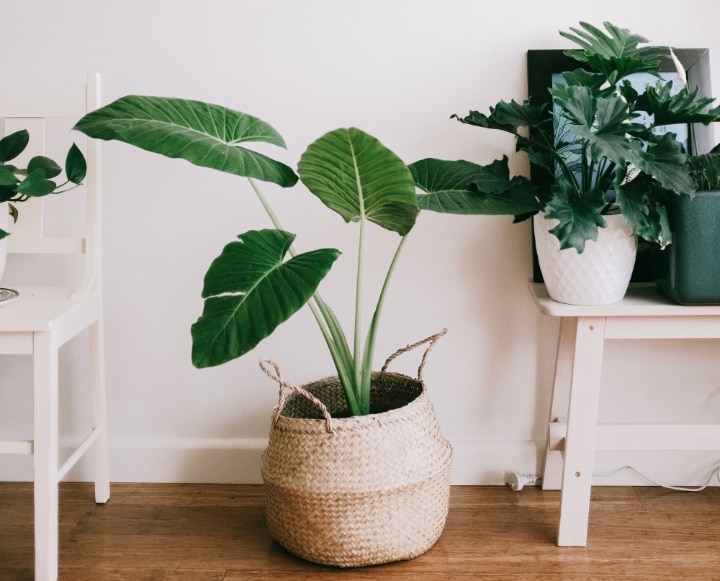 We say lose no time and get started with indoor gardening. You'll enjoy the entire process and become a calmer, more mindful person as you tend to your plants.
Now over to you.
Do you have any previous experience with indoor gardening? Or any thoughts or ideas you'd like to share with us?
Leave us a comment in the section below and we'll get back to you.
See you next post!