What feeling do you get when seeing a wide landscape covered in a yellow flowering shrub? Do you get the warm, cheery, and happy feeling that could even make a crying child beaming with glee? Yes, that happiness is a result of yellow color!
YELLOW represents positivity, happiness, hope, loyalty, peace, and joy!
Just like the wide field, the yellow flowering shrub can give your space a cheerful splash. This is the reason why yellow blooms are preferred by gardeners so much. Yellow color, undoubtedly, exudes positive energy and complements almost all other shades of the flowers.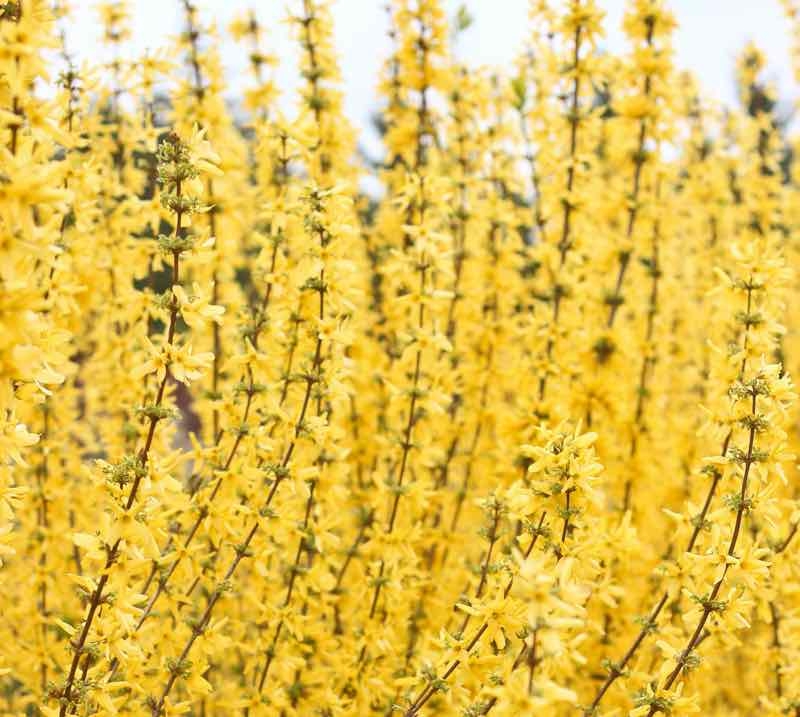 So, if you also want an attention-grabbing yard, just plant a yellow flowering shrub! Be it low-growing, golden ground cover or tall bushes that will have yellow blooms in the sunlight; there are plenty of shrubs that are known for their golden yellow flowers. Whether you get large flowers with vibrant yellow color or pale yellow with green leaves, the yellow flowering shrub can take the look of your garden up a notch.
However, if you are confused about which shrub you should get for your garden, this article might help you out. We will take you through several yellow flowering shrubs from small yellow bulbs to large full-grown flowers. So, let's get started!
The Most Beautiful Yellow Flowering Shrubs
There are so many options for beautiful yellow flowering plants that you can grow in your garden. Below you can find an overview of some of the most amazing and appealing yellow flowering shrubs that you can grow in your backyard to make it look gorgeous.
1.

Potentilla

Want a yellow flowering shrub that is widespread and mostly grown? Well, look no further than Potentilla. The other names by which people know the flower are 'bush cinquefoil' and 'shrubby cinquefoil.'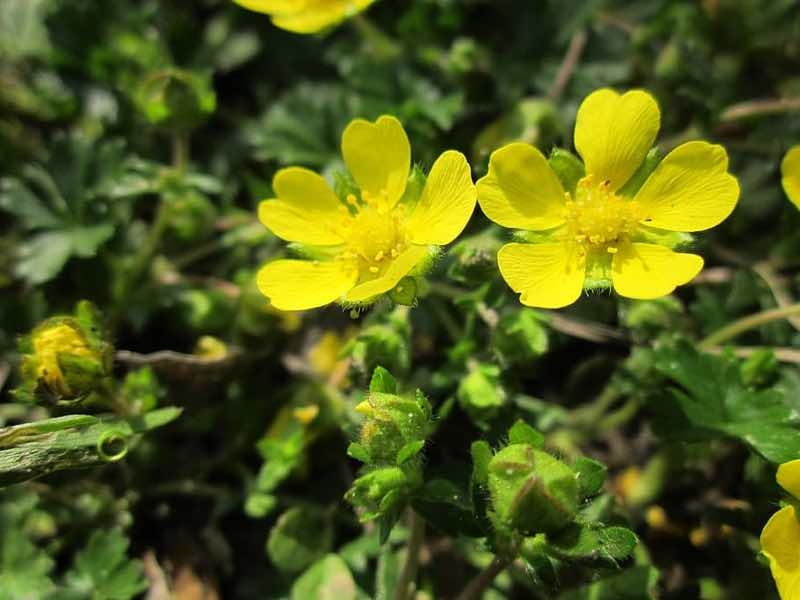 These flowers primarily have a reputation for being the most prominent landscape shrub. One does not require being present and ready all-time to maintain the flowers. They can even sustain the hardiness of the weather easily. It means regardless of the types of physical conditions present around the flower, such as air pollution, lack of water, and so on, these flowers can sustain any condition.
The only drawback is that these flowers are not well suited for growth in the regions of humid and hot summers. Potentilla can be helpful in various ways. These can act as a food source for the insects that pollinate and even the butterflies.
2.

Bush Cinquefoil

Bush cinquefoil is a yellow flowering shrub that is local to the northern hemisphere. The performance of the flower is best until the hardiness of zone two. Hence, above this zone and in the warmer climates, they do not perform exceptionally well.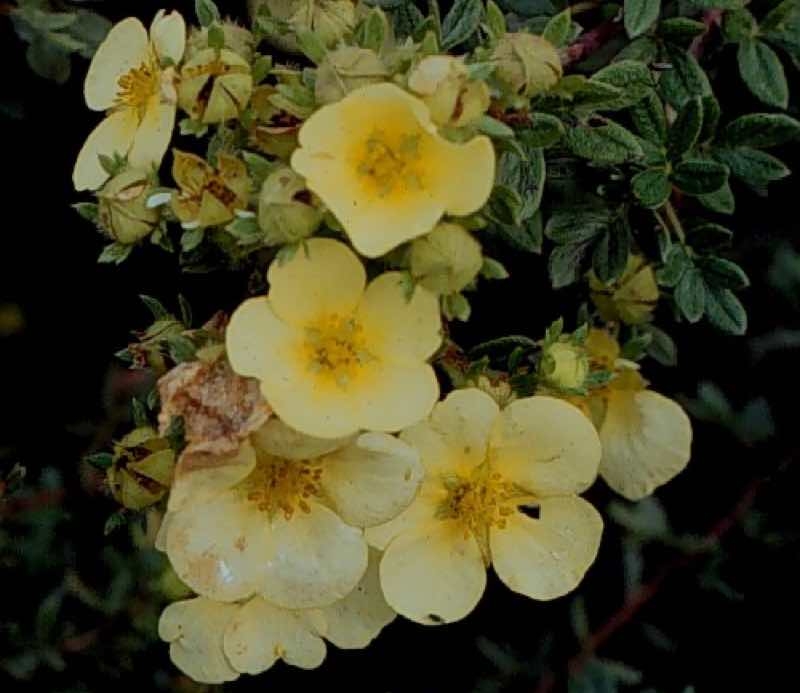 If you are emphasizing the features of these plants, they are of comparatively low height. Also, they have a deciduous nature. All the characteristics contribute to the density of the shrub.
There are numerous exceptional qualities of the flower, making them an ideal decorative choice for your garden. Firstly, they are easy to grow and adapt perfectly to the nature of the soil. Secondly, in the majority of harsh and freezing climates, they perform quite well in most of the cases.
Be it for shrub borders, facer plants, or mass plantings, you can use this flower for numerous reasons. If you want to know the techniques to grow them; you can effectively grow them by cutting, seeding, and tissue culture techniques.
3.

St. John's Wort

The scientific name of St. John's Wort is 'Hypericum perforatum.' The traditional use of the plant is as a medicine for the treatment of depression. However, a detailed report and analysis for the effectiveness are not present.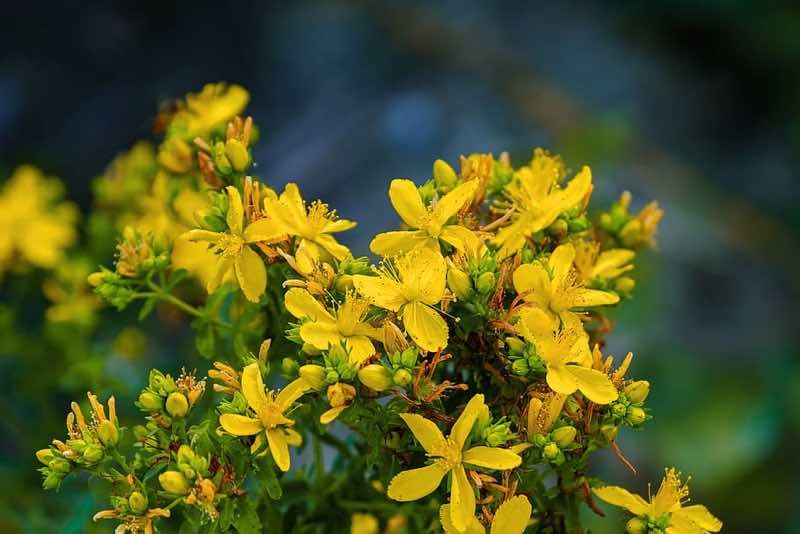 The plant can be a beautiful accessory to decorate your house and surroundings. However, according to the reports, there are some of the harmful and poisonous qualities.
Besides, the height up to the flowers can grow by about 1 m. The beautiful plant can be in use for lots of medicinal purposes. They can even be used for the treatment of sores and burns.
4.

Golden Oriole Azalea

The Golden Oriole Azalea is a beautiful yellow flowering shrub. The structure of this hybrid flower is tall. In the early stages, the flower buds of this plant give a descent orange look.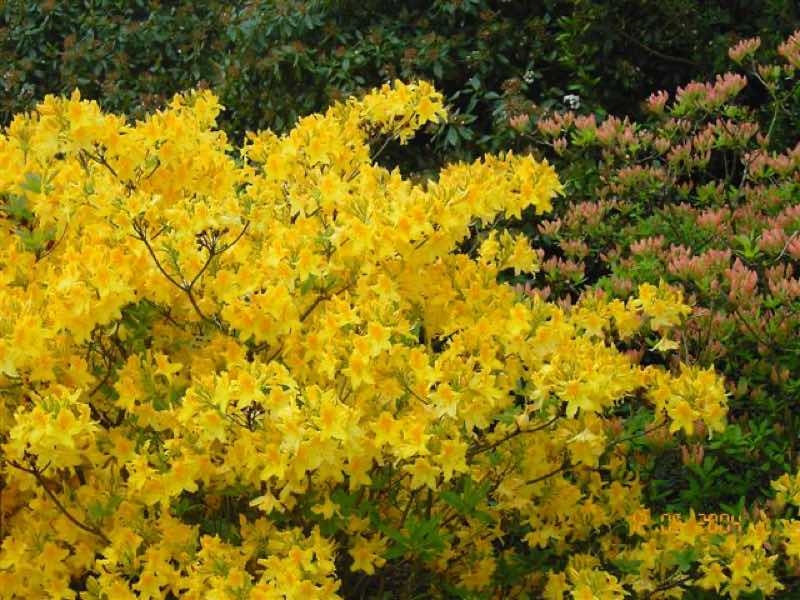 However, in the later stages, the flower turns into a bright yellow color, presenting a beautiful and adorable look. If you want a flowering shrub to decorate your boundary, this will be a perfect choice.
Numerous qualities make these plants the most affordable choice to grow. One of the primary reasons that support this is the trouble-free nature of these plants. There are hardly any chances that the pests are going to attack these plants in any way.
5.

Forsythia

If someone is considering a yellow flowering shrub, then how can you forget about Forsythia? They are one of the leading choices of all the farmers and the people who love to decorate their houses.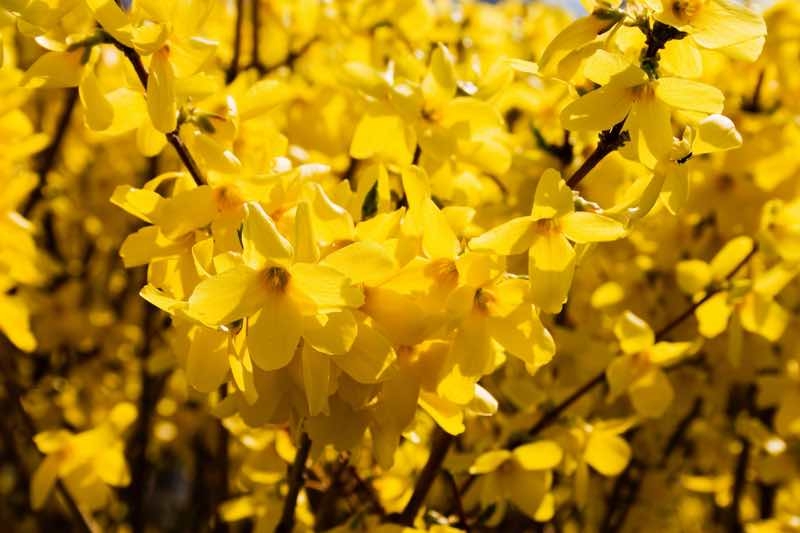 There are numerous reasons why they are the best choice to welcome springs this season. The best way to portray complete beauty when planting Forsythia is to plant them about 4-6 feet apart. Therefore, they are going to bloom perfectly for your hedge.
These plants have the hardiness level of about the zone 5-8. Moreover, they enhance the beauty of the garden more during springs. If someone is looking to grow them, they can choose to do so in spring or late winters.
Besides, they even do not require full sun for their growth; even a partly risen sun can do wonders in promoting the growth of the plant.
6.

Witch Hazel

The yellow flowering shrub of Witch Hazel can be found in the different parts of the world. As one of the best shade-loving plants, they grow beautifully without the requirement of any special aid. You will find this flower in the North American parts with the name 'winter bloom.'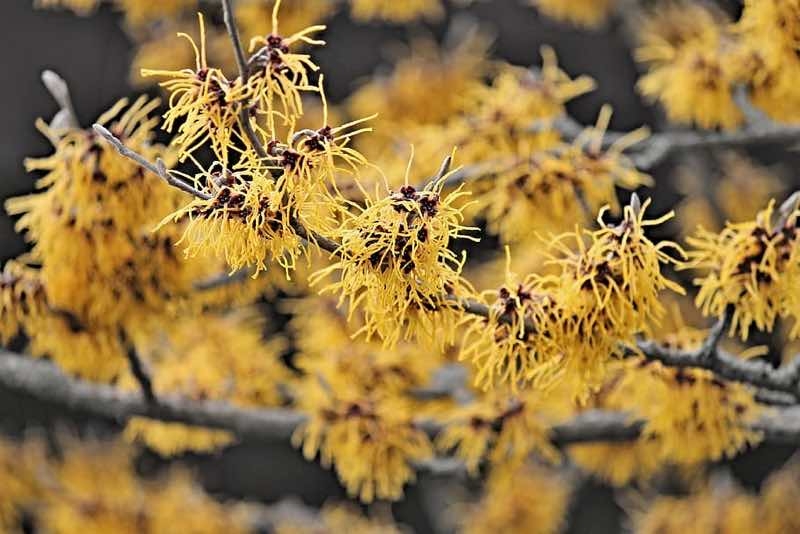 The leaves of this flower have a somewhat alternative arrangement, making the combination look magnificent. Also, the bulbs emit a soothing essence around them in winter.
So, if you want to enhance your space's décor, feel free to get this flowering shrub. Want to know why? This is because they are maintenance-free. Yes! It means that you just have to plant them and forget about them.
Also, there are no harmful pests and insects that can harm the plant. Hence, they present a striking appeal to the environment when they bloom.
7.

Moonshadow Euonymus Yellow Flowering PLant

The Moonshadow Euonymus is a pleasing and beautiful creeper or evergreen shrub that has a decorative structure. There are numerous arrangements in which you can grow these plants for the utmost beauty. You can plant them low to make a hedge.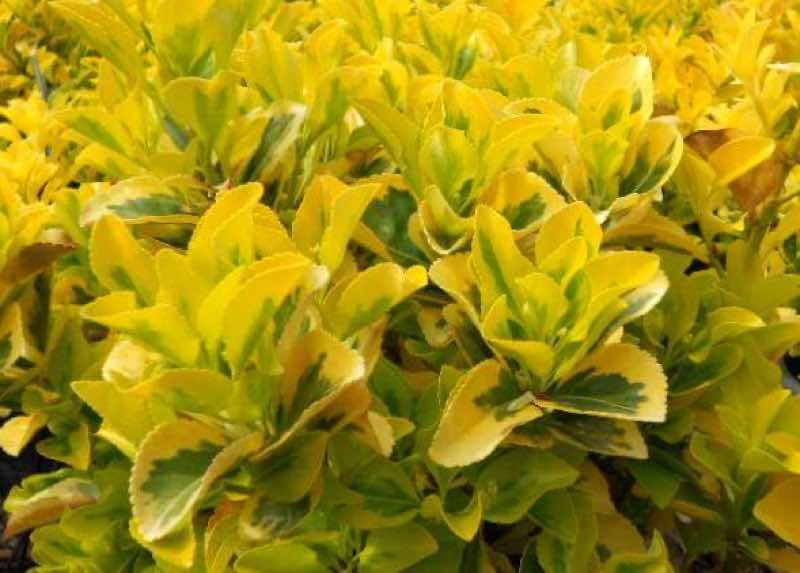 On the contrary, you can even plant them tall and high to impart your space with an eye-catching look.
You can utilize the plant to decorate the complete landscape in the best way. They are an evergreen attraction that catches the eyes of visitors very often. As there is an introduction to numerous seasons, the colors of these flowers also present themselves attractively.
8.

Yellow Roses

Who does not like roses? Roses are a symbol of love and affection. Moreover, the beauty and vibe that the plants of rose carry with them are always delightful and soothing.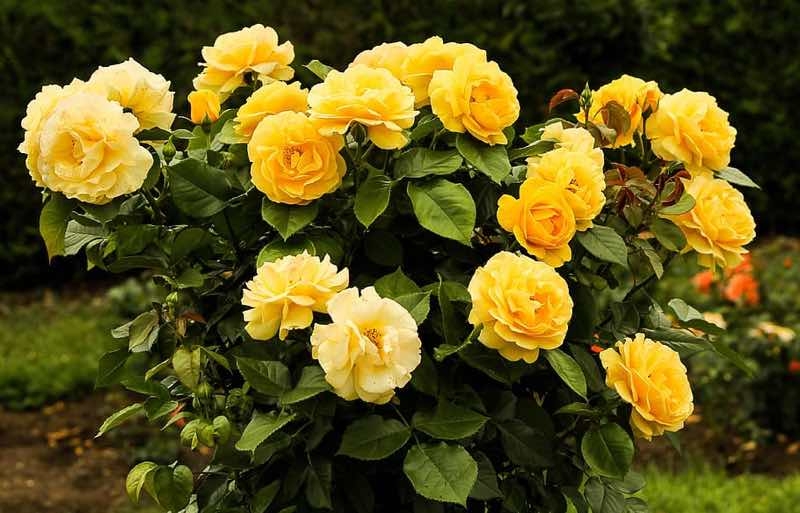 If you are looking for a gorgeous yellow flowering shrub, the yellow roses will be the best choice. The plants carry a positive vibe with them that is soothing to the heart.
Moreover, for all of them who love roses, you can plant them in the garden or in your house to uplift your room's décor as well. Apart from just the joyfulness that they carry with them, the color of the roses only adds to the beauty of these flowers.
9.

Mahonia Yellow Flowering Shrub

Among all the lovely shrubs on our list, the Mahonia yellow flowering shrub also holds a lot of value among itself. There are in total about more than seventy species of these types of evergreen shrubs in the same family. They show the best growth in the areas of Asia and some of the other parts.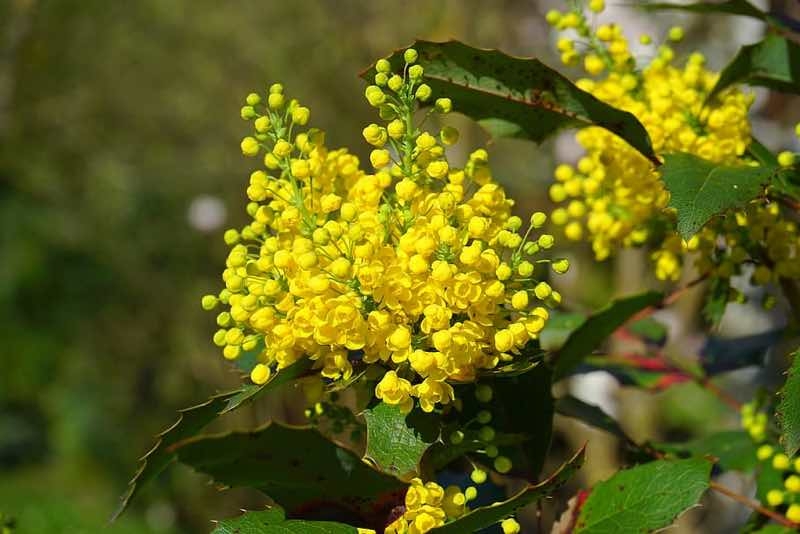 The shrub has numerous qualities. Primarily, there is a rich combination of ornamental blue grape-like structure present in these plants. Also, the most important quality is that they are evergreen.
Hence, under their nature, they bloom throughout the year and spread their beauty. The ideal height of this flower is about six to ten feet and it can grow in partial sun as well.
10.

Japanese Rose Yellow Flowering Bush

It is an excellent and most decorative yellow flowering shrub. There are lots of qualities about these plants that make them a considerably right decorative choice.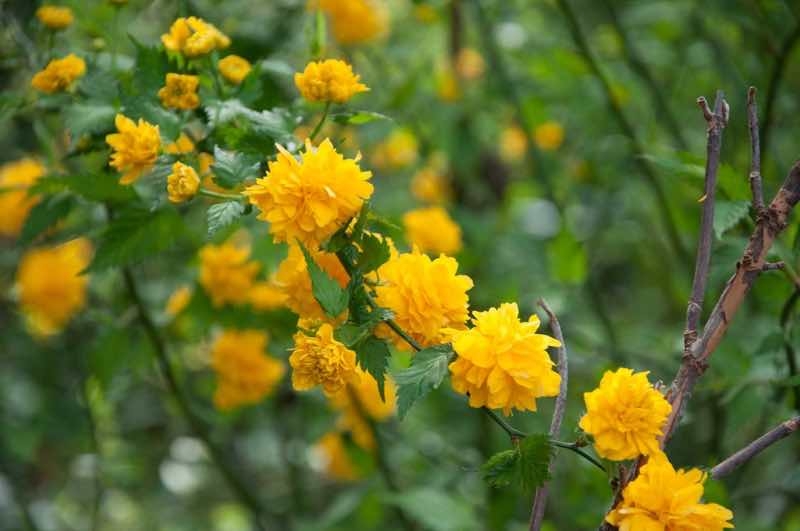 The branch heights of these plants usually go up to eight to ten feet in height. Moreover, there is a radiation of its smaller branches on all sides. The bark of the flower is greenish-yellow in color.
11.

Genista Lydia

The Genista Lydia is a low ground-covering flower that imparts a lovable scenic view wherever it is present. Moreover, the height of these flowers is just about eighteen inches.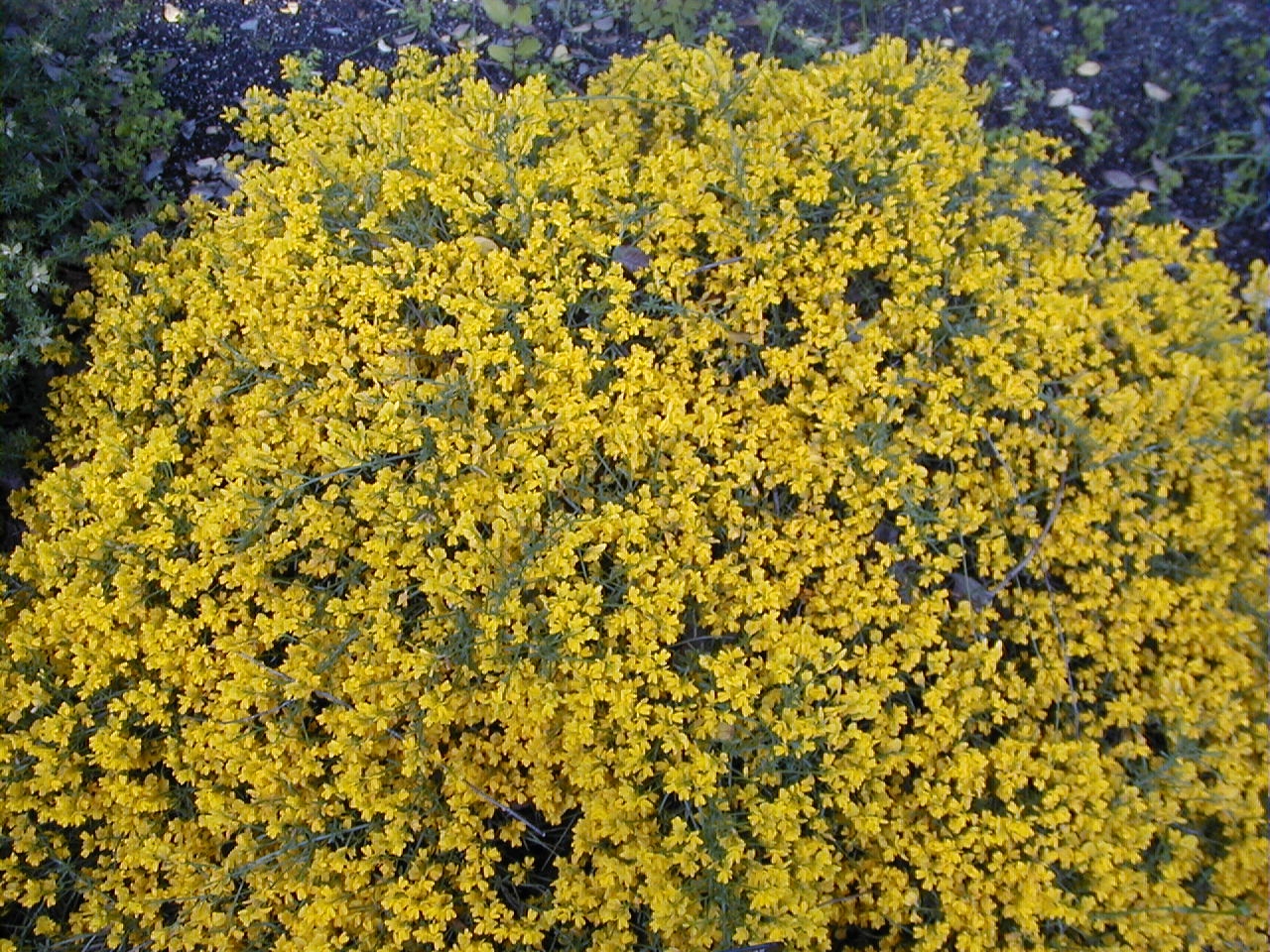 The bright yellow colors of these flowers make your garden look simple yet elegant. You can grow them even in low fertility soil. It will surely enhance the full beauty of the area.
12.

Yellow Camellia Shrub

The Yellow Camellia Shrub is, undoubtedly, one of the most prominent yellow flowering shrubs. Various qualities are present in these shrubs, making it one of the best flowers for decoration.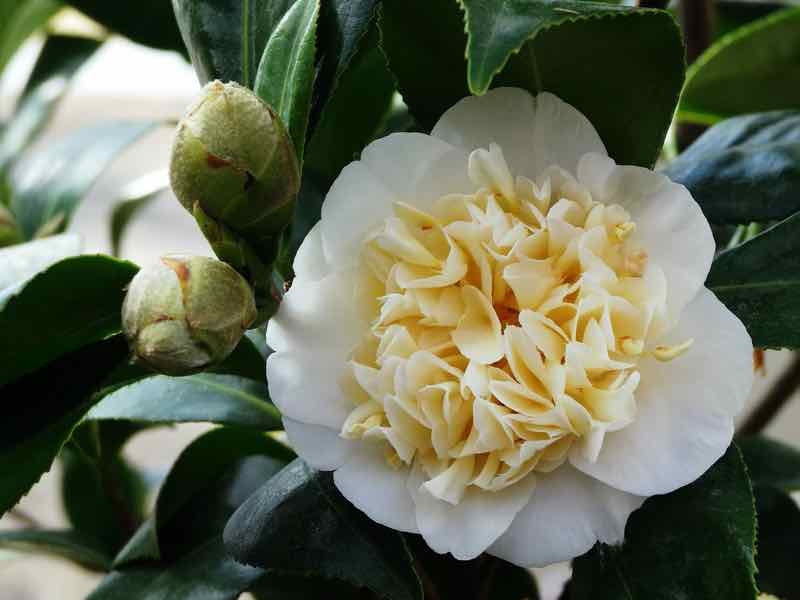 They may grow up to eight to twelve feet in height. Moreover, the unique beauty in the area around them is mesmerizing. The time in which they bloom is about the late fall through early spring.
13.

Your Yellow Flowering Shrub Picture Submission

We would love to feature your yellow flowering shrub once you have grown it with this guide. To submit your picture and be featured here, please email us here with the picture, and leave us a comment below with your name, where you're from, and how long it took you to grow this shrub. We'd love to hear from you!
Yellow Flowering Plants FAQ
Below we answered the most asked questions about yellow flowering plants. Do you have a question, that isn't answered in this article? Leave a comment below and we will definitely have a look at it!
What are the most common spring-flowering shrubs?
What bush blooms yellow in spring?
There are a lot of plants that have a yellow flower. The most common yellow flowering varieties are Aconites, Forsythia, and Helianthus.
Here
can find an overview of some of the most amazing and appealing yellow flowering shrubs that you can grow in your backyard to make it look gorgeous.
How long do Forsythias stay in bloom?
The yellow flowers of the
Forsythia
, one of the most famous yellow flowering shrubs, persist for 10 to 14 days. If you want to grow a Forsythia, make sure it gets at least 6 hours of sunlight per day and is planted in well-draining soil. 
Don't Wait! Plant your Yellow Flowering Shrub Now!
That was a list of the most beautiful and gorgeous yellow flowering shrubs you can consider for your yard. Also, they do not require any special attention to growth.
Moreover, they impart your space with the utmost beauty. So, what are you waiting for? Get down to the real task and plant them to make the surroundings beautiful. Therefore, contact us now for any assistance in this.