Roses are called the Queen of Flowers, and rightly so. They are romantic, beautiful, and haughty--in a poetical way. These classic perennials can spruce up any setting. So, why not plant a dreamy rose garden of your own?
There are more ways than one to go about it. You can create a scented bower, line your backyard with roses, drape roses over arches, or make blossoming walls.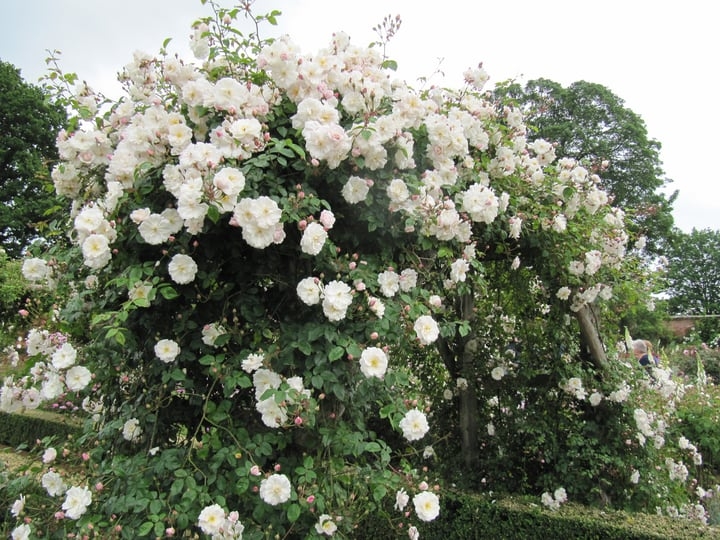 The Queen of Flowers can reign over your indoors, too--you can plant roses in pots to keep as houseplants.
In this article, we're going to help you get started on your rose garden. There's also a step-by-step guide to make rose gardening easier for you.
Plus, a bonus list of famous rose gardens from around the world.
Read on!
Why a Rose Garden?
It doesn't take a lot to turn a garden from blah to brilliant with roses. Roses can grow anywhere—on your patio, garden, backyard, or in a container. They are quite resistant.
Roses come in different sizes and colors. There are also many varieties of roses you can grow in your garden. Plant a single rose stem in a pot or grow groundcover roses, bushes, vines, and ramblers.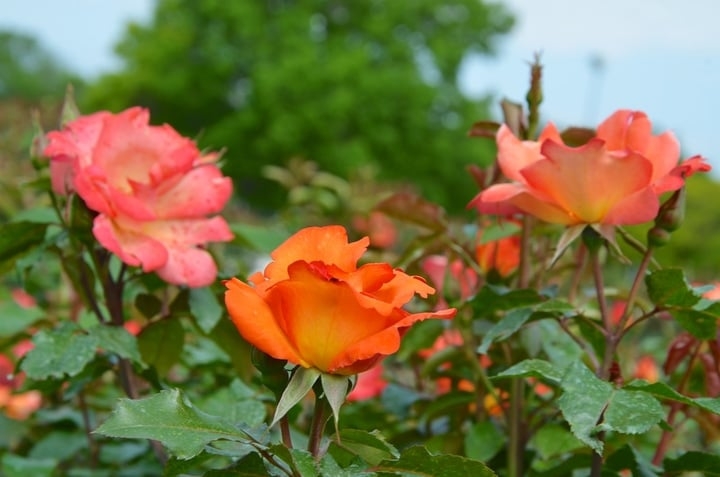 A rose garden or rosarium can also make a colorful and fragrant place for you to sit and dream. With a rose garden, La vie est rose.
Rose Garden Ideas
Bringing roses to your garden is a great idea. They are easy to get started with, whether you're designing a new rose garden or reviving a neglected one.
Take a look at these fragrant, rosy garden ideas you can take inspiration from.
1.

Rose Flower Garden

This simple rose garden is something you can start even on a tiny patch of land. But before you start planting, consider the soil, water, and sunlight requirements of the variety you choose for your garden.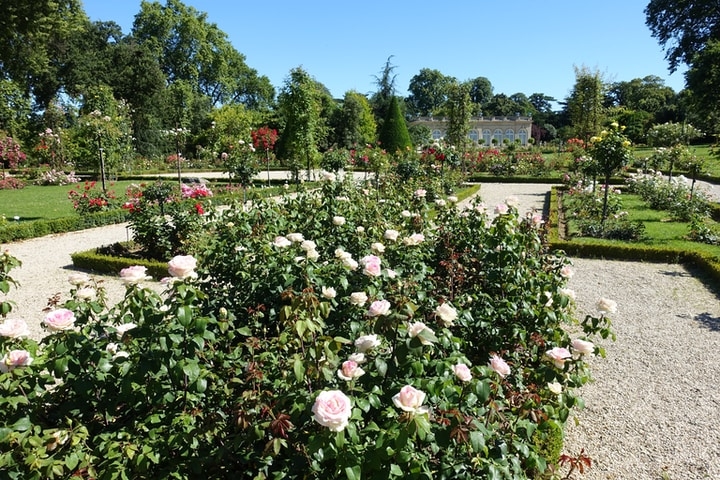 You can pick roses of a single shade if you want to create a mono-colored garden. Or maybe you want to grow a rainbow garden with roses of different colors and varieties? The choice is yours.
2.

Rose English Garden

No matter which part of the Earth you live in, you can recreate the romantic, old-fashioned English garden. The trick is to create a sense of whimsy using bright-colored rose bushes and climbers.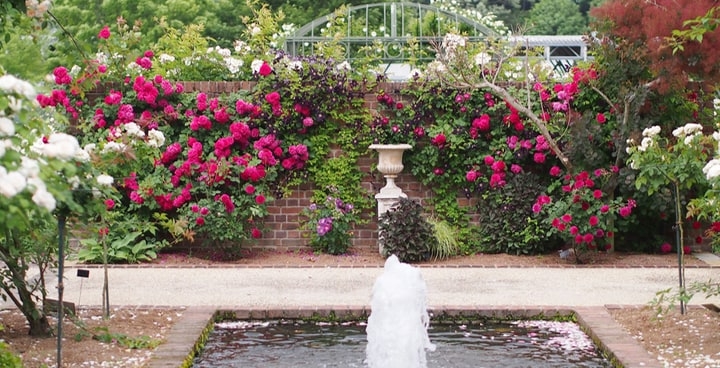 You can plant your rose bushes in masses for a meadow-like feel. Next, allow the twisting vines to climb over the stone walls, archways, or iron fences in your garden.
Idea: A central stone fountain in your English-style garden will complete the look.
3.

Rose Arch Garden

If you train your rose vines up an archway, your reward can be a beautiful and perfumed rose arch garden.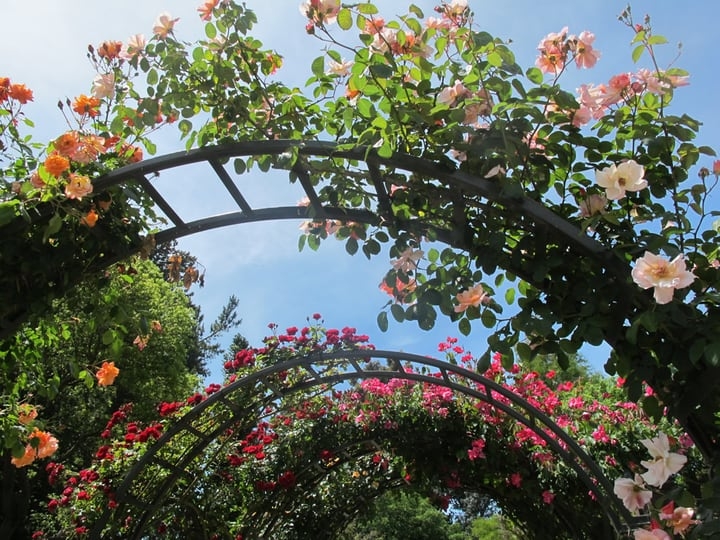 You can opt for a metal or wooden arch. Place it outside your patio, at your home entrance, or on a garden path. Better still, create a shady spot using your rosy archway where you can put a chair to relax.
4.

Rose Bush Garden

Roses are some of the most colorful flowers around. So why not create a vibrant garden combining lots and lots of rose bushes?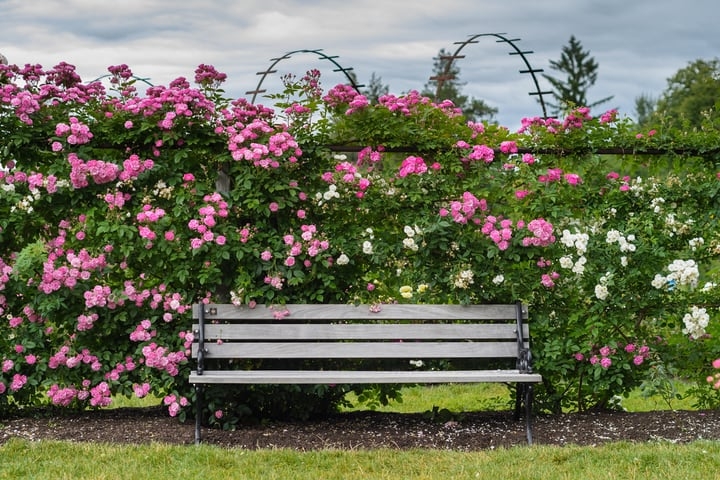 Plant the rose bushes in spring and wait until summer when your garden turns into a blooming wonderland. Make the space more homely by placing a bench for two in it.
Tip: A rose bush garden is the perfect place for a wooden bench.
5.

Small Rose Garden

Who says rose gardens are only for those with large yards? You can snatch a happy, rosy garden even in a small patio, flowerbed, balcony, or rooftop.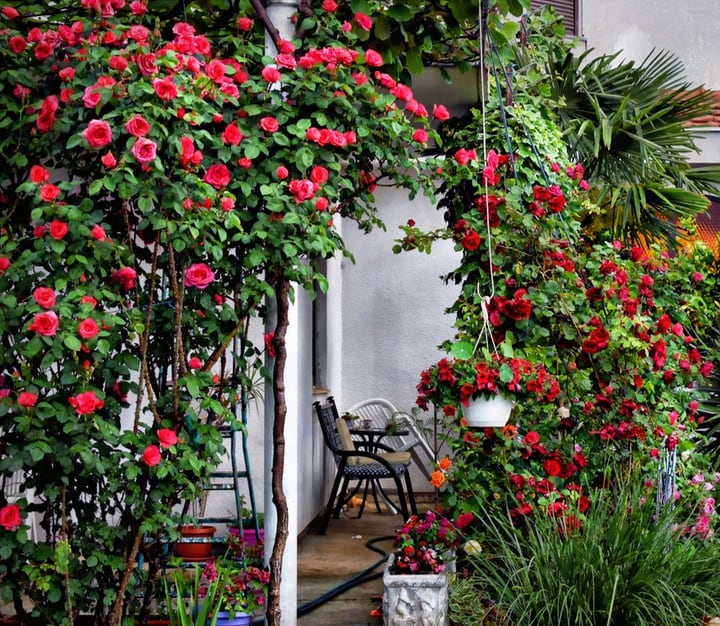 Grow roses in containers, rail planters, and hanging pots. But don't stop there. Make use of the vertical space and allow rose vines to climb over the walls, too.
6.

DIY Rose Garden

For your next DIY project, convert your boring lawn into a rose garden. And guess what? DIY projects are best done together. So involve your family and friends in the making of your rosy garden.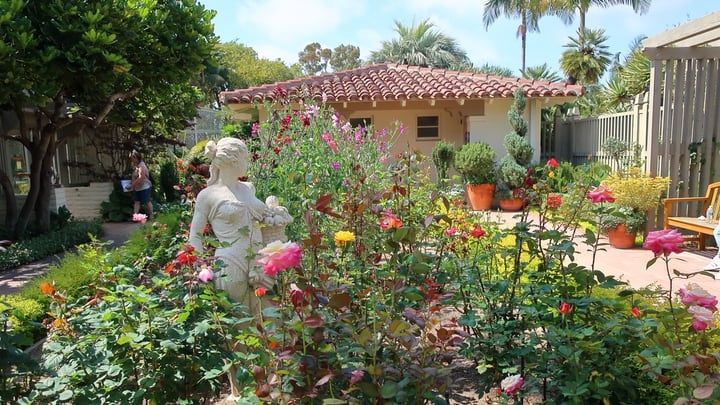 Create a colorful mosaic of roses. When you're happy with your design, add marble statues, water features, ottomans and benches, etc. to your garden.
7.

Backyard Rose Garden

Style up your backyard with roses this season. You can either create a sweeping backyard full of roses, or you can make rosy flower beds alongside the borders.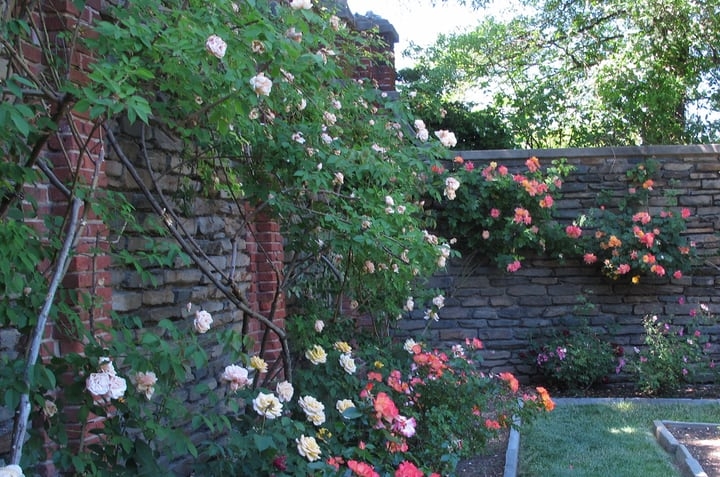 Whatever you decide, make sure you don't leave the backyard walls bare. Give them the right splash of color with rose climbers.
8.

Red Rose Garden

Our list would be incomplete without the classic red rose garden. Red rose, a symbol of love and beauty, can make your garden from meh to magnificent.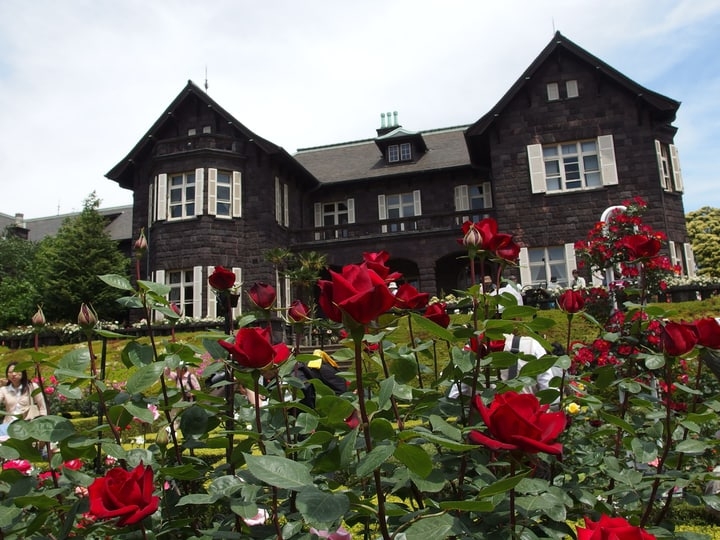 There are plenty of red rose varieties to choose from. Crimson glory, cherry parfait, and munstead wood are some of our all-time favorites.
9.

White Rose Garden

Red roses, with their aura of romance, often steal the show. But now it's time to pay heed to the humble white roses. They can create a calm and soothing atmosphere on hot summer days.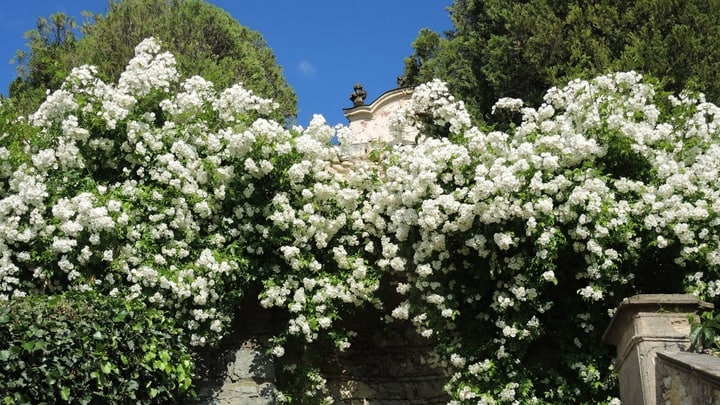 Tip: Grow the trailing variety on your walls. Combined with a green, leafy backdrop, white roses will instantly add elegance to your space.
10.

English Rose Garden

Dress up a bare space in your garden with English roses. They are beautiful bloomers and come in lots of different colors—from soft pinks and whites to bright corals and oranges.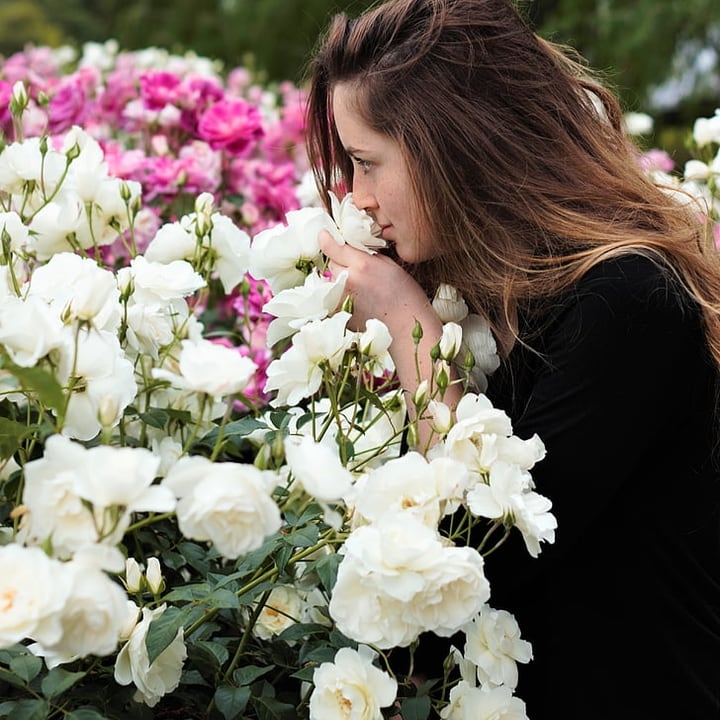 What's even better is that they are some of the most fragrant blossoms out there. Your garden will smell like a perfume factory with these roses.
11.

Rose Arbor

Train the rose vines up the sides of your arbor to create a striking floral display. Place benches underneath your arbor and your summer alfresco spot is set.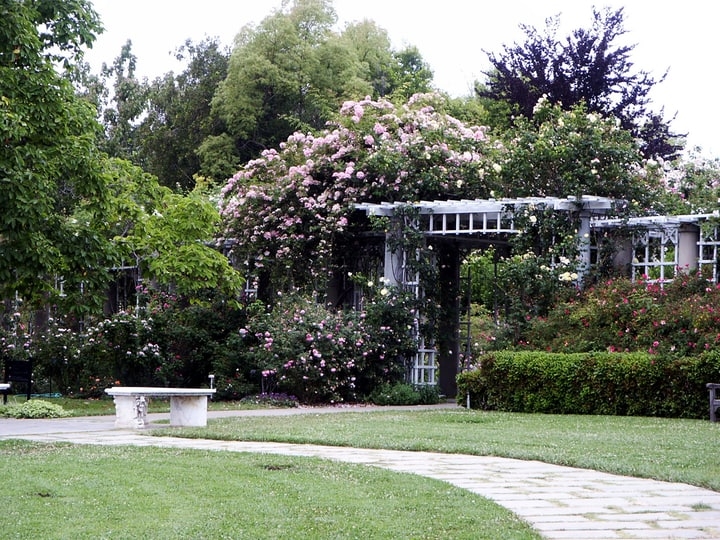 Tip: The ideal rose for your arbor would be a small, button variety that will not overwhelm your garden while also making lots of blooms.
12.

Rose and Lavender Garden

Purple and pink in any garden is a dreamy mix. And you can easily create it in your own garden by growing lavender with roses. It will look, and smell, like heaven.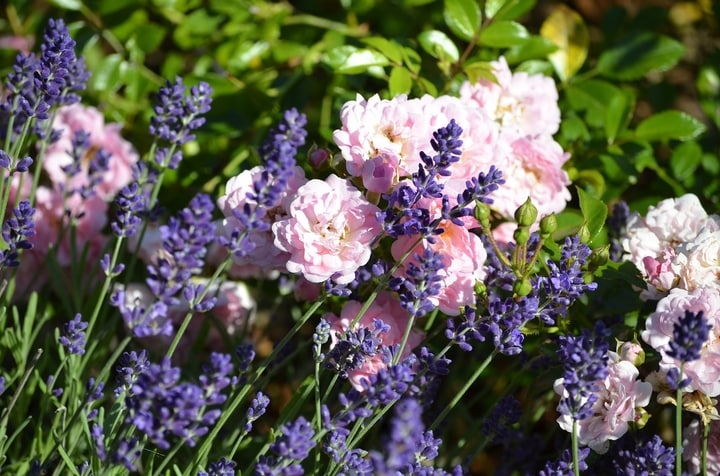 What's more, the pretty lavender blooms can hide the bare stalks of your rose bushes as they grow taller. Now, this is called smart gardening.
13.

Front Yard Rose Garden

There's nothing new about a rosy front yard. But that doesn't mean you should abandon the idea of creating one. After all, there's hardly anything as beautiful (or fragrant) as a yard abloom with roses all summer.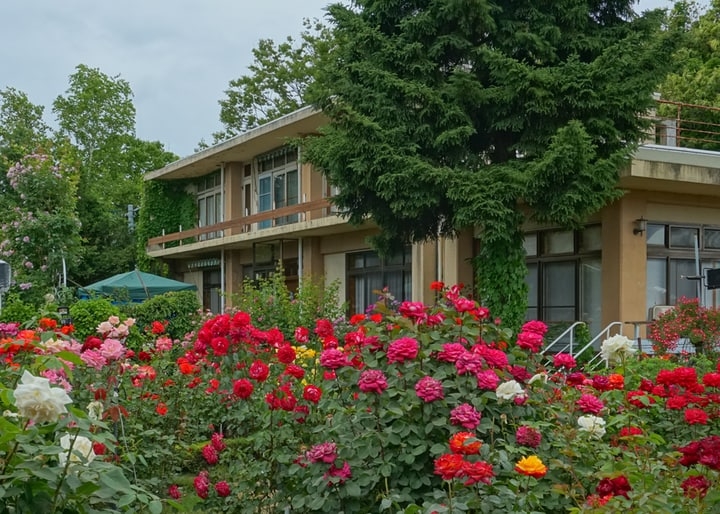 You can snip the roses to make fresh and lovely bouquets. Or add them in vases. Who wouldn't love that?
14.

Japanese Rose Garden

Japanese rose, also called rosa rugosa, is a vigorous grower. It makes clusters of tiny pink flowers that bloom from early summer till the first frost.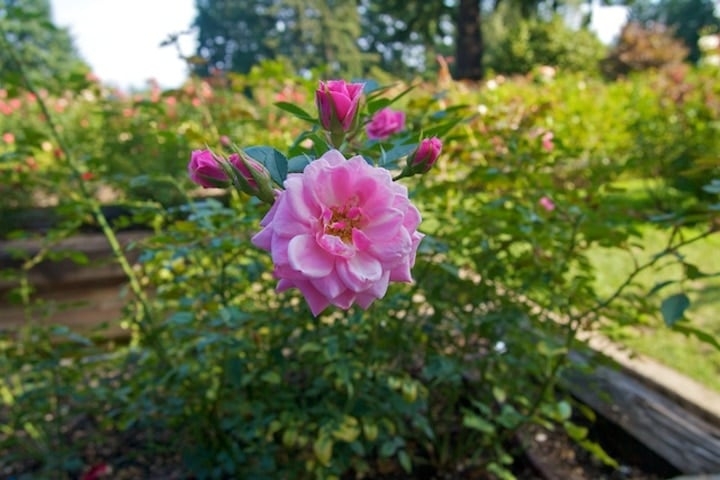 Japanese rose bushes can add just the right amount of color to your garden. Making lush hedges and flowering borders is a creative way to use them in your space.
15.

Indoor Rose Garden

Did you know the Queen of Flowers can also grow as a houseplant? Miniature roses like hakuun, little flirt, mister bluebird, and robin are easy to grow in containers indoors.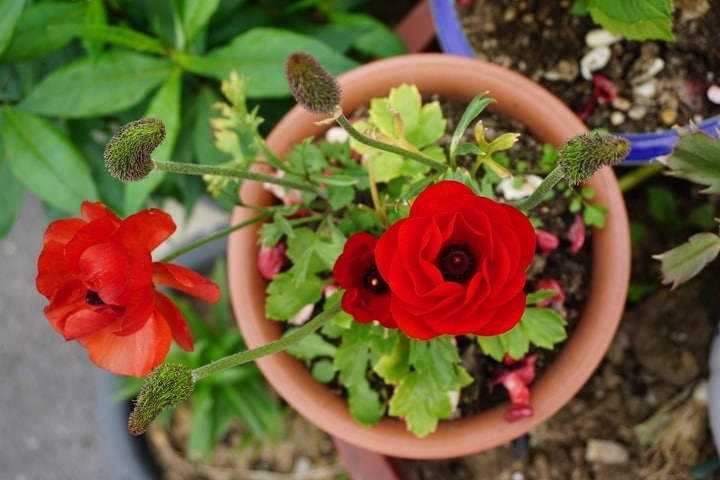 Give your roses the sunniest indoor corners and enough water and love, and they'll happily bloom all summer. An indoor rose garden is perfect if you live in the middle of a loud concrete city.
Beautiful Rose Gardens from Around the World
Rose gardens are popular around the world. And most offer more than just serene views and beautiful blooms. They are rich in history and culture. Take a look.
White House Rose Garden
The White House Rose Garden was not always rosy. It's a stable-turned-garden. It was made a proper colonial rose garden in 1902, during the Roosevelt administration.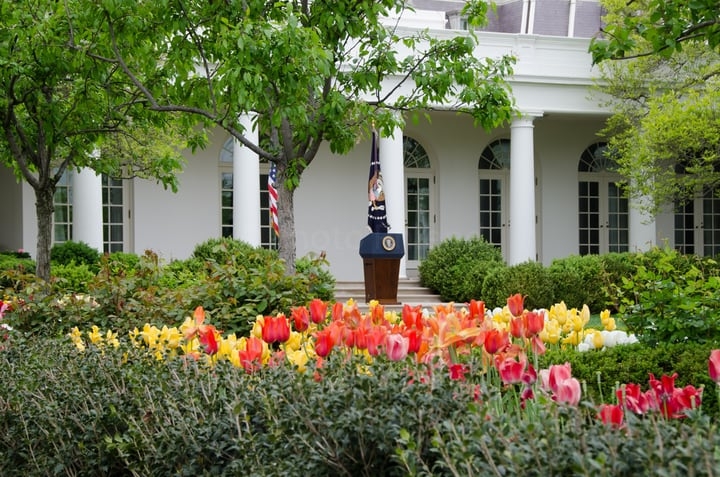 Recently the White House Rose Garden has underwent a rather controversial makeover.
The garden features a rectangular bed of roses intermixed with seasonal bulbs and annuals. It also sets the stage for bill signings, receptions, and various media events annually.
Rose Garden of Chandigarh
The Chandigarh Rose Garden is Asia's largest rose garden, sprawling over 30 acres of land. It showcases over 50,000 rose bushes of 1,600 different species for you to pause and admire.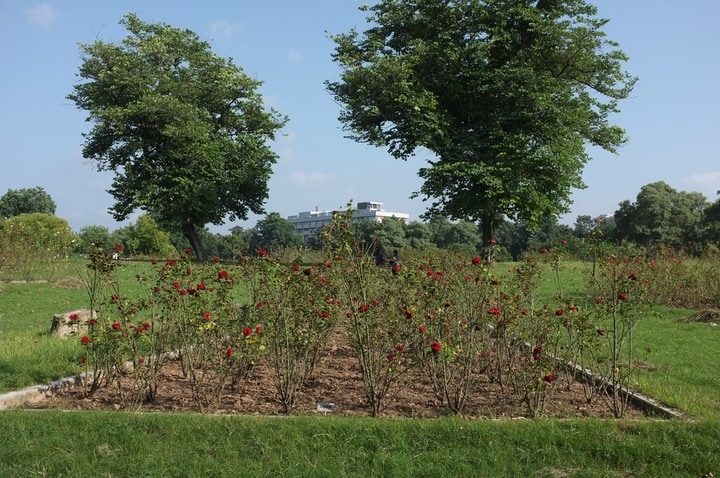 Also called the Zakir Hussain Rose Garden, it's named after a former president of India. The garden is the most fragrant in February and March when many of the roses are at their peak.
Rose Garden San Jose
The San Jose Municipal Rose Garden is one of the most romantic public parks. And why? Because it features more than 3,500 shrubs of 189 rose varieties. Not a day goes by when there isn't a certain species in full bloom.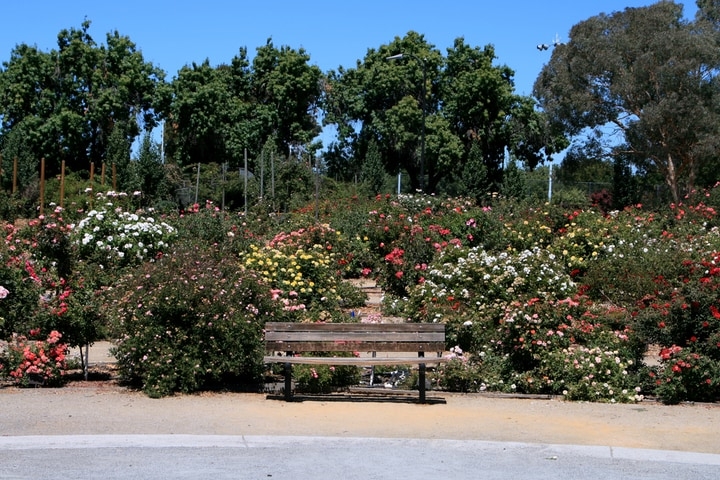 Apart from the roses, you'll get to see a two-tiered water fountain, arbors, and a cathedral of redwood trees. The garden is also a popular spot for picnics.
Portland Rose Garden
Portland's International Rose Test Garden is the oldest public rose test garden in the US. It features over 10,000 rose bushes for visitors to see and smell.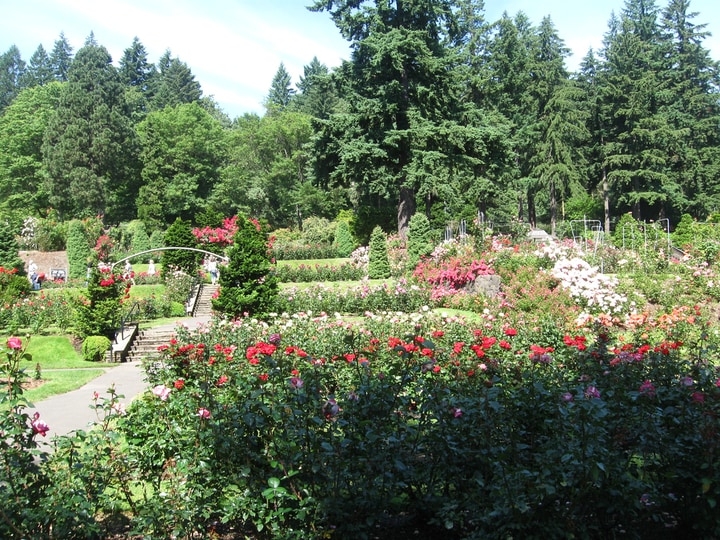 The garden was created as a haven for hybrid roses susceptible to destruction during WWI. Today, it's a testing ground for new varieties of roses.
Ooty Rose Garden
The Ooty Rose Garden is hilly. It's spread across 4 hectares in five terraces on the hill slopes. The garden houses more than 20,000 roses spanning 2,200 varieties.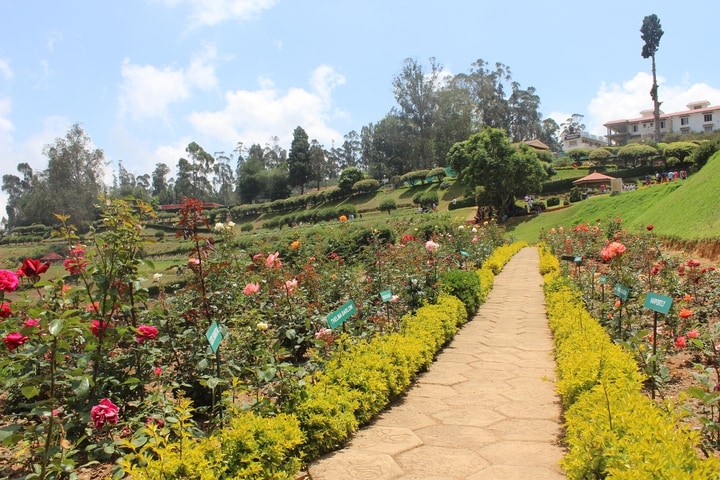 You will find here rose tunnels, rosy pergolas, and bowers with rose vines. You can also buy saplings or bouquets here.
How to Plant a Rose Garden
When planting a rose garden, there are more things to consider than just the roses. It will take a bit of planning--nothing complicated, but you don't want to overlook this part of the process.
Step 1 - Find the Right Site
Roses crave sun. For the best floral show, plant your rose bushes in an area that gets at least six hours of sunlight daily. 

Tip: Don't plant the garden in an area where water pools. That could lead to disease, fungi, and root rot.
Step 2 - Prepare the Soil
Your rose garden will need rich, well-drained soil. Make sure the
soil
isn't too thick or clayey. To test, pour water into it and see how long it takes to drain.
Next, make the soil rose-ready by
adding plenty of peat moss or compost
to it. 
Step 3 - Select Roses
Before you rush to your nearest nursery to pick your ramblers and bushes, better take a look at your
hardiness zone
. You'll have a better idea which rose varieties will survive easily in your garden. 
There are plenty of options to choose from. Go for the hardy, low-maintenance ones. While you're at it, consider also the type of garden you want to plant and your space.
Step 4 - Begin Planting
Roses are best planted in spring and fall. When planting, dig a hole about 18 inches deep so the roots have space to grow.

Tip: Don't make your garden too crowded. Space your rose bushes at least 3 feet apart to allow ample room as they mature.
Step 5 - Apply Water and Mulch
Once you've planted your roses, apply mulch over the plant base. Soak your plants entirely, but don't drown them. Your rose garden is ready.
Step 6 - Keep the Garden Healthy
You shouldn't have trouble taking care of your blooms, especially if you don't have hungry monkeys around. Water and fertilize your plants regularly. 

Prune them every spring, remove dead leaves whenever you can, and cut spent blooms throughout the season.
Commonly Asked Rose Garden Questions
A rose garden is easy to start, whatever the size of your plot or pot. But before you begin planting, better read these practical advice and answers to help you with your gardening journey.
What is the rose garden used for?
You can use a
rose garden
to grow and display different rose species. It will not only look dreamy, but also smell special. You can, of course, use the garden space to sit in, relax, and admire your bright blossoms. 
How do you start a rose garden?
First and foremost, look for a sunny spot to plant your garden. Next, prepare your soil by adding a lot of organic matter to it.
Pick roses based on your taste and hardiness zone. Finally, start planting. We've written an easy step-by-step
rose garden guide
to help you get started.
What is the history of the Rose Garden at the White House?
Before 1902, the famous
White House Rose Garden
contained a stable. It was during Theodore Roosevelt's administration that the First Lady Edith Roosevelt had it made into a dream-like colonial rose garden.
Gather Ye Rosebuds While Ye May
And why? Because your rose garden has more benefits than you know.
Rose petals are edible. That means you can brew them to make rose tea or use dried petals as a garnish for food and sweets.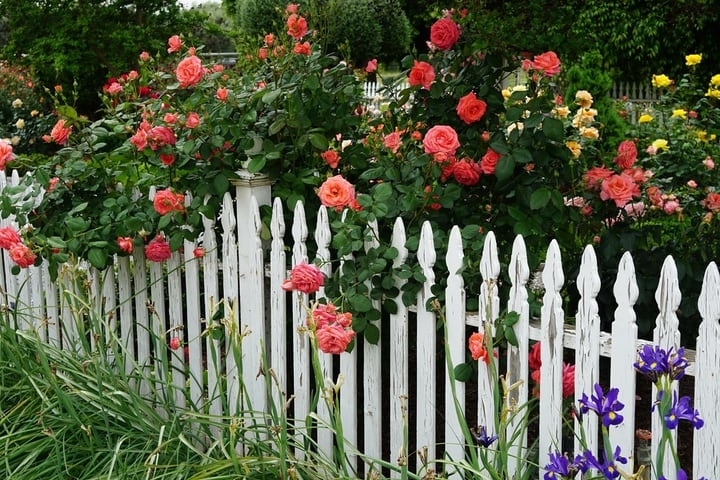 Or maybe try making rosewater at home? Don't worry, it's exactly as it sounds, rose + water. Simmer rose petals in distilled water for about thirty minutes until the water takes a rosy hue. Use it as a natural cleanser and astringent.
You can also dry roses for a fragrant and inexpensive potpourri. And don't forget to snip some blooms for bouquets for your loved ones.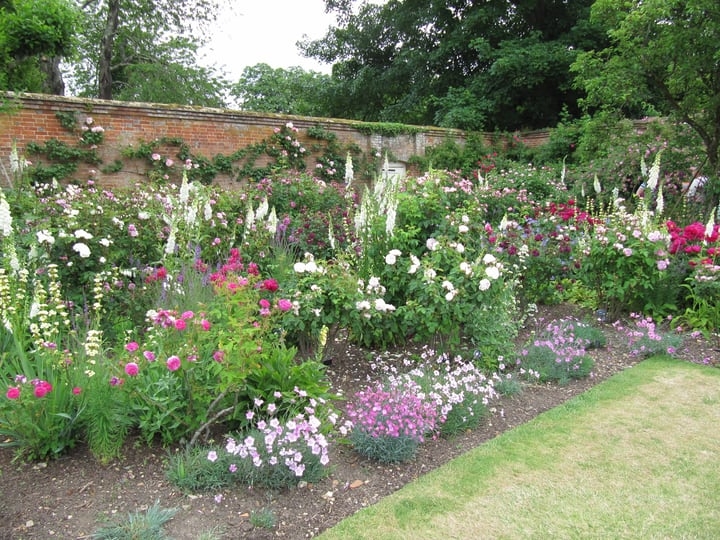 One garden, many uses. Isn't that awesome?
So plant that rose garden and gather those roses!
If you have more questions about rose gardens, ask us below and we'll be happy to help.
Have a rosy week!