On the look for a new home DIY project? Convert a wall into a flourishing garden with wall hanging planters. Beautiful and simple to install, these planters can brighten any room.
Wall hanging planters are a great way to showcase your gardening skills. Plus, they can bring nature into every nook and cranny of your house. Apartment dwellers, take note!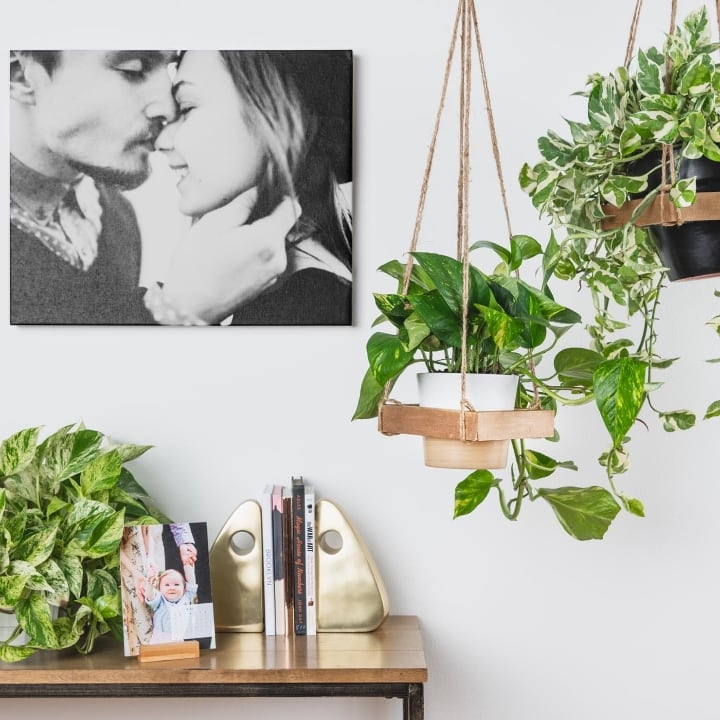 With wall hanging planters, maintenance is a breeze. Whether you're a green-thumb or not, your space can look like a lush, tropical paradise with little work.
You can create a living planted wall with hanging planters or embellish your fences with them. Or maybe try mounting some by your bedside or suspending a couple of herb pots near your kitchen?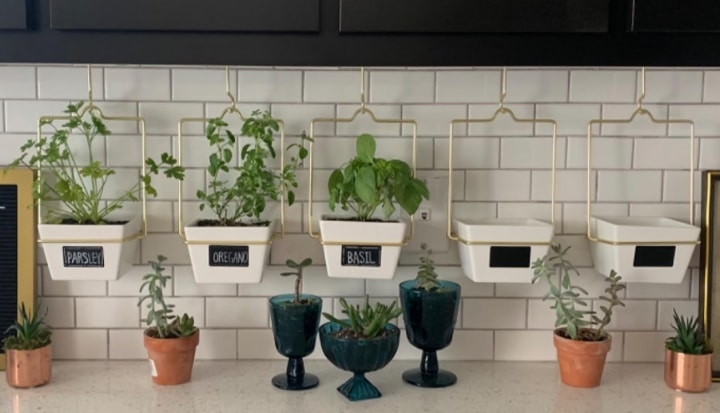 In this article, we've rounded up 25 of the best wall hanging planters to fit your space and style.
Take a look.
Why Hang Plants on Walls?
There are more reasons than one to hang plants on walls. For starters, plants can add some lush, green interest to bland and unsightly walls.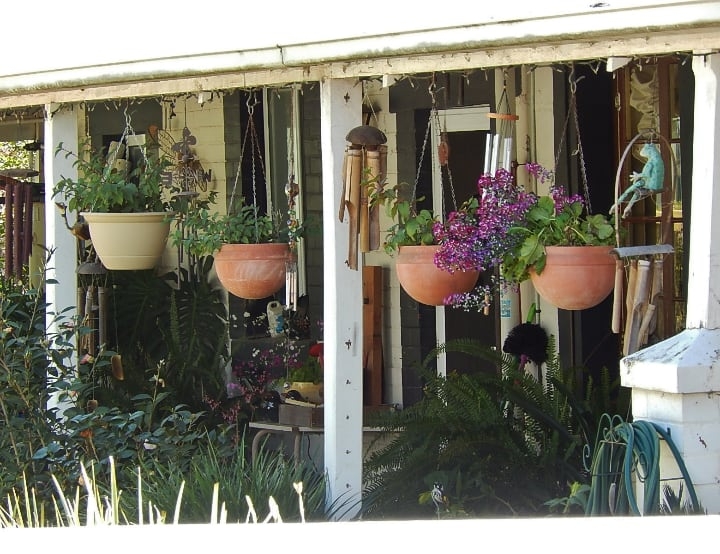 They're also a perfect solution for gardening aficionados living in a shoebox apartment. You can fit wall hanging planters in almost any space—patio, porch, living room, or bedside.
And while green and blooming walls are a sight to behold, your space will also smell great.
You can plant almost anything, from seasonal blossoms to fragrant herbs, on your wall.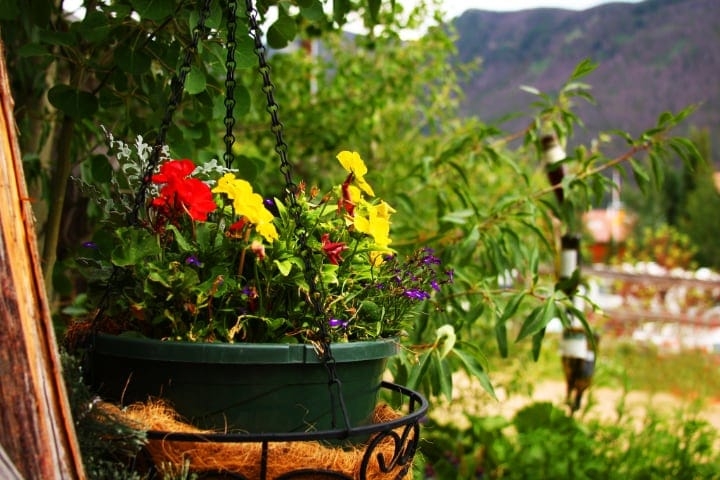 If that's not enough to entice you, know that many plants come with air-purifying goodness. They will also act as a natural humidifier and aid in a better night's sleep.
Indoor Hanging Planters for Wall
Looking for something sleek and modern or rustic and natural? Well, there's a perfect indoor hanging planter all yours for the taking.
1.

Simple Wall Mounted Planters

Got a bare white wall you're not quite sure how to jazz up? Hang simple wall-mounted planters on it. They're up for grabs online if you're having trouble finding them in your local stores.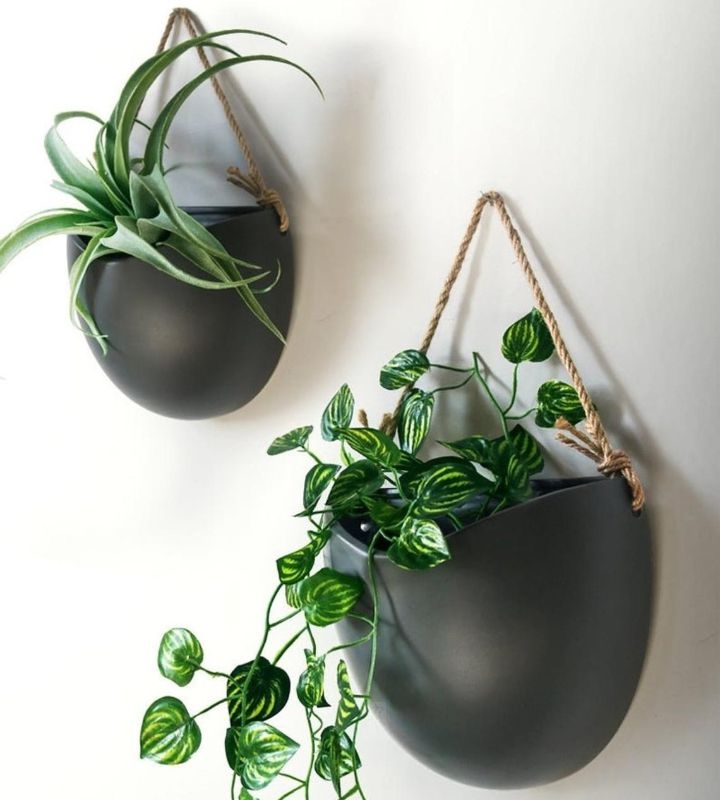 If you have a mute background, go for smooth, matte planters in black or grey. They will make your plants take center stage.
2.

Creative Indoor Wall Hanging Planters

If you want something more creative, you can opt for star-shaped planters made of glass.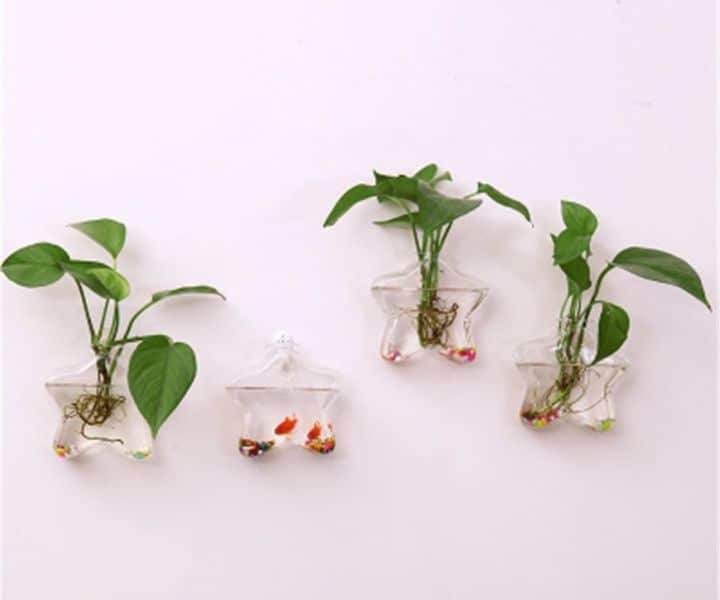 These don't just look attractive—fill them with water and you can also showcase your water plants and their beautiful root system.
Tip: Glass planters are also perfect to grow different types of air plants.
3.

Small Wall Hanging Planters Indoor

Who says tiny and tightly-packed spaces can't afford some greenery? There are many small wall hanging planters that can fit almost anywhere.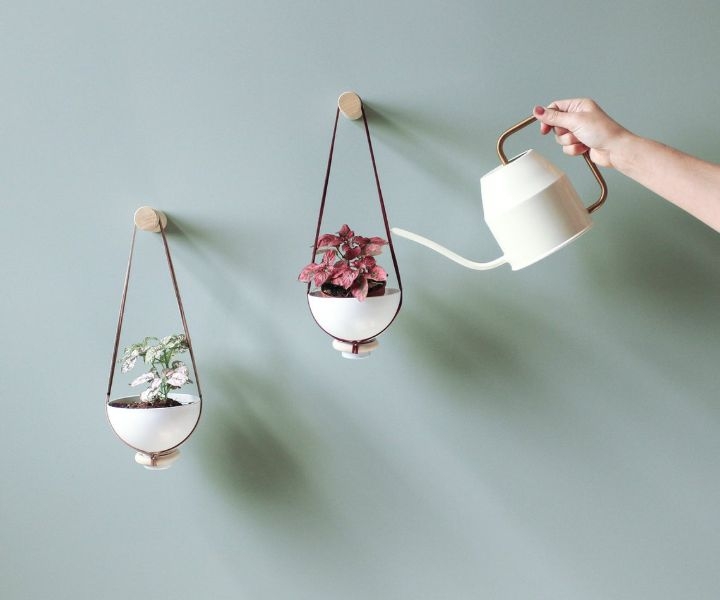 Grow succulents like hens-and-chicks, burro's tail, and panda plant in them. These plants are low-maintenance, striking, and slow-growing. What more does your wall need?
4.

DIY Wall Hanging Indoor Planters

Why go boring when you can go boho? With DIY macrame plant hangers, you can achieve just the effect.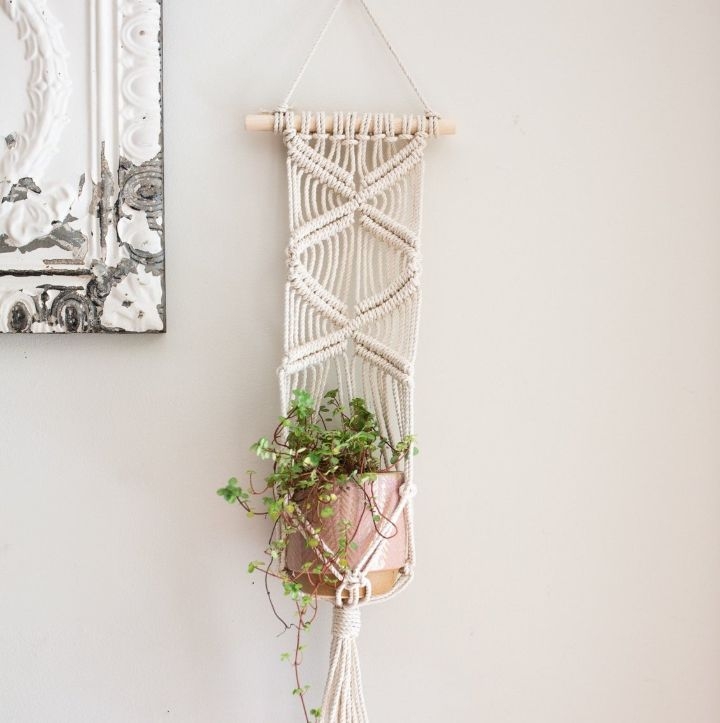 To get started, you'll need some rope and knotting skills. Once you have the hanger ready, you can place a pot of your choice in it.
Idea: A bronze planter, like in the example above, can add to the boho-hipster vibe.
5.

Metal Wall Hanging Planters for Indoors

Or add a nice botanical accent at different heights using metal wall hanging planters. Go for slender geometric frames, like in the image below.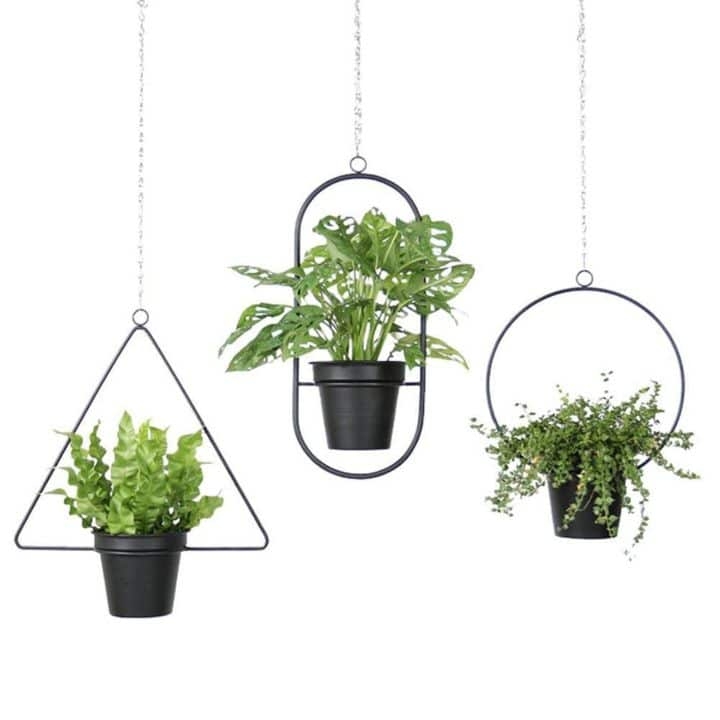 Why metal? Well, metal is durable. Your planters can last for years with only a bit of maintenance.
6.

Hanging Ceramic Wall Planters

You just can't go wrong with a couple of ceramic wall planters. They look simple yet charming, and can make a great addition to your indoors.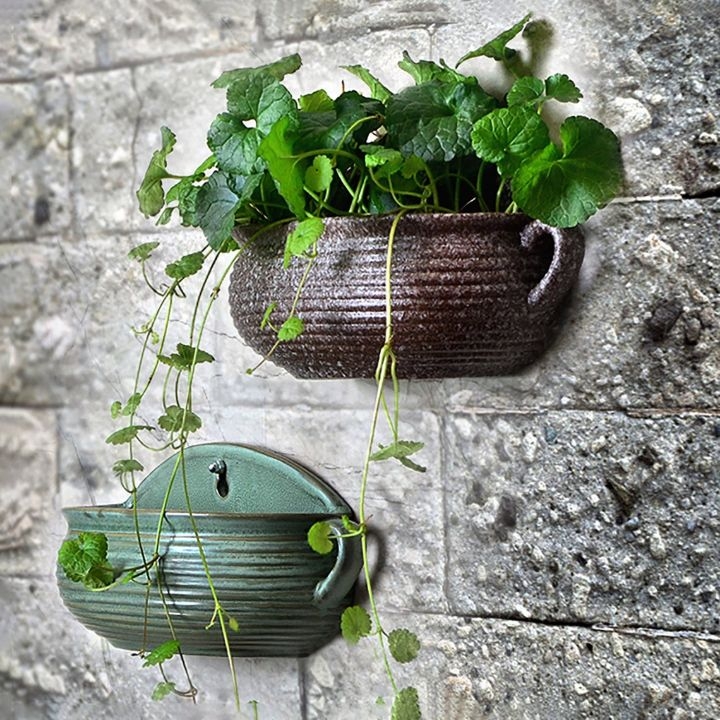 Use them to grow ornamental house plants like golden pothos, air plant, ivy, etc. Or plant kitchen stuff like strawberries, basil, and beans.
7.

IKEA Hanging Planter

You can rely on IKEA hanging planters to pep up your indoors. Fix a metal rod on your wall and use it to hang bucket-shaped planters.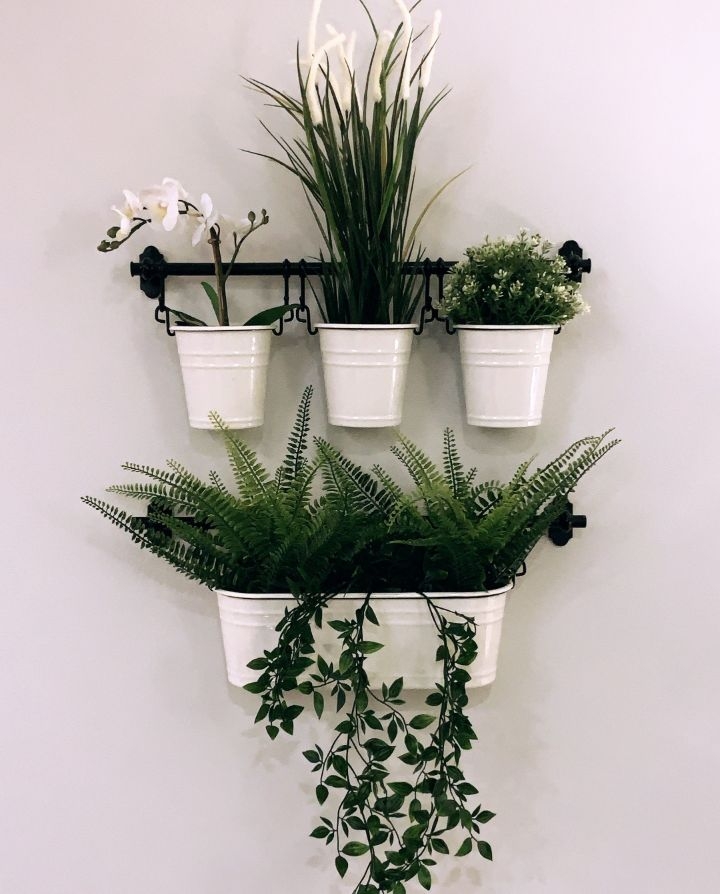 For an elegant look, opt for plain white planters. Then grow plants that make white flowers (eg: peace lily, moth orchid, and jasmine). The mix of green and white will look absolutely fab.
Tip: You can also plant some ferns in your planters if your wall is sun-shy.
8.

Affordable Wall Mounted Planters Indoor

Wall-mounted planters don't have to burn a hole in your pocket—there are many affordable options, too. And when we say "affordable", we don't mean "run-of-the-mill" kinds.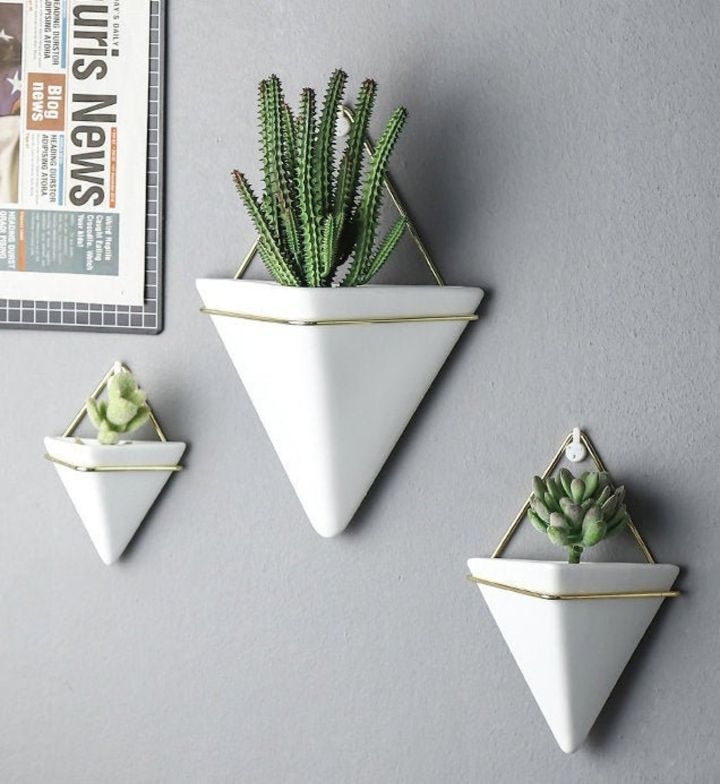 Take a look at these classy triangle planters with sleek gold hangers. They come in different colors and sizes, too.
Grow low-maintenance succulents in them and you're good.
9.

Wall Hanging Planter Basket

Jute hanging baskets bursting with greenery can enliven your walls. You can hang them in your bedroom or living space.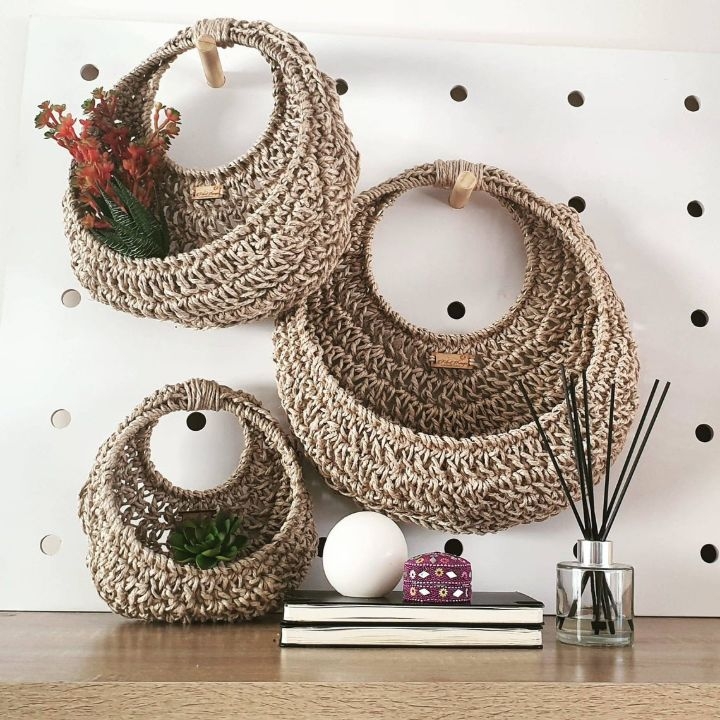 Tuck small potted plants into the basket. You can also use them to hold fresh or dried flowers.
10.

Wall Mounted Plant Holder for Indoors

Small, capsule-shaped planters are perfect for housing air plants and succulents. They come with a hole at the back so you can easily attach them to your walls.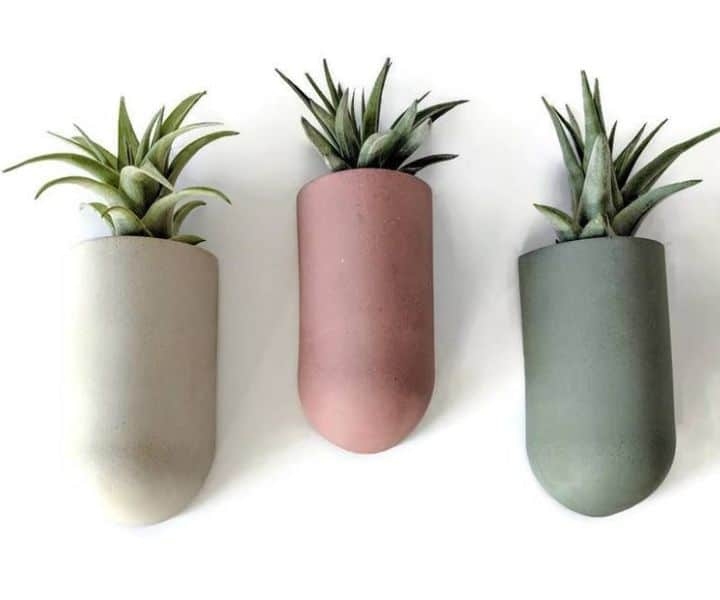 If you've opted for a minimalistic design, go for light pastel shades. Remember, these planters don't have any drainage holes—make sure you don't overwater your plants!
11.

Cheap DIY Wall Hanging Planters

Use old glass bottles and flasks to hold your wall garden. And don't worry if they're varied—the more diverse the shapes, the better.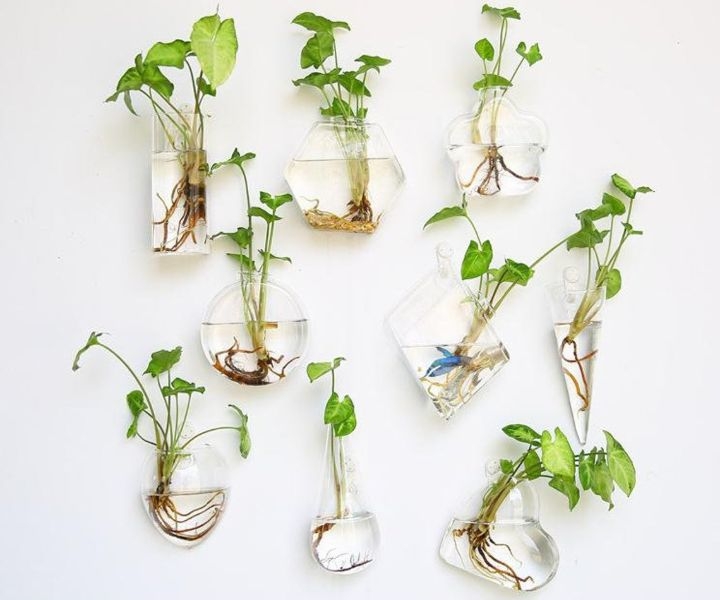 First, remove all labels and stickers from your containers. Next, fix them to your walls using glass adhesives, or drill holes through them.
Fill them with water or soil and start planting!
12.

Wall Hanging Succulent Planters

Do you have elegant minimalism on your mind? Well, maybe you can give wall hanging planters with quirky iron frames a go.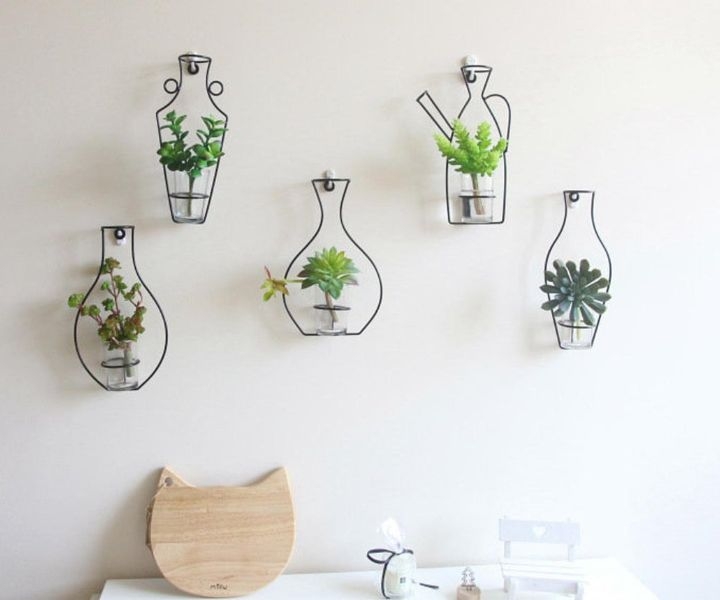 These are shaped like vases and have tiny glass containers in the middle. Use them to hold succulents and other small plants of your choice.
Good to know: You can grow succulents in water. Jades, sempervivum, and echeveria take well to water rooting.
13.

Lightweight Wall Hanging Garden Planters

If weight is an issue for your wall, opt for something small and lightweight. It will bring some green pizazz to your delicate wall without straining it.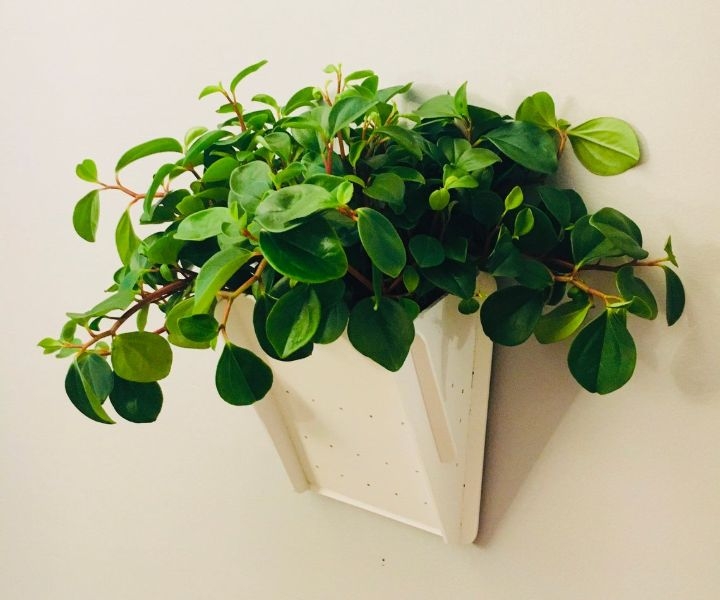 Many lightweight plastic planters offer both beauty and durability. Grow houseplants like kalanchoe, ponytail palm, peperomia, and Schefflera in them.
14.

Simple Vertical Wall Hanging Planters

For an abundance of greenery, bring home a 3-tier hanging wall planter. It's simple, modern, and space-saving.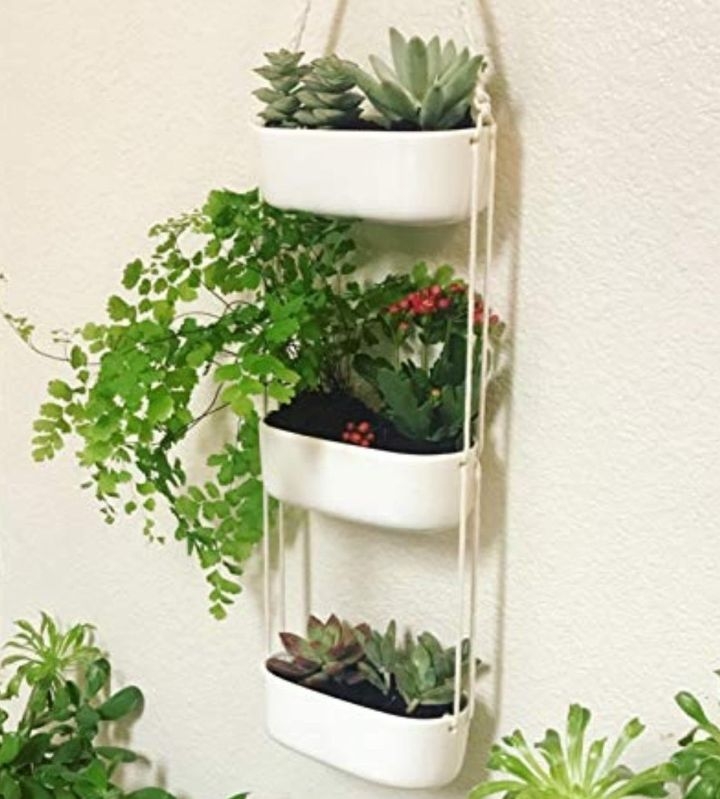 You can use it to display an array of plants—from air plants to herbs. Plus, you can adjust the length of the rope according to your needs.
15.

Colorful Wall Mounted Hanging Planters

Bold and colorful hanging planters are all the rage these days. You can choose your preferred design, size, and color to fit your design needs.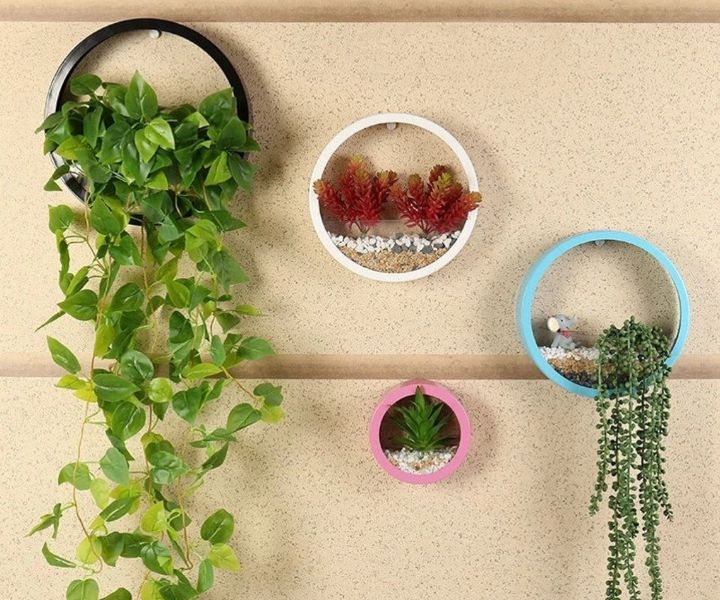 What makes these planters truly stand out is that they look like framed artworks that keep growing.
Idea: Wrap fairy lights around the planters for a glittering, cozy vibe.
Outdoor Hanging Planters on Wall
Outdoor hanging planters are crafted from metal, ceramic, wood, glass, and woven textiles. There are also many eco-friendly and recycled options for the environment-friendly you.
16.

Simple Hanging Vertical Wall Planter

A good option for your outdoors would be hand-woven hanging baskets. They have a natural, country vibe to them.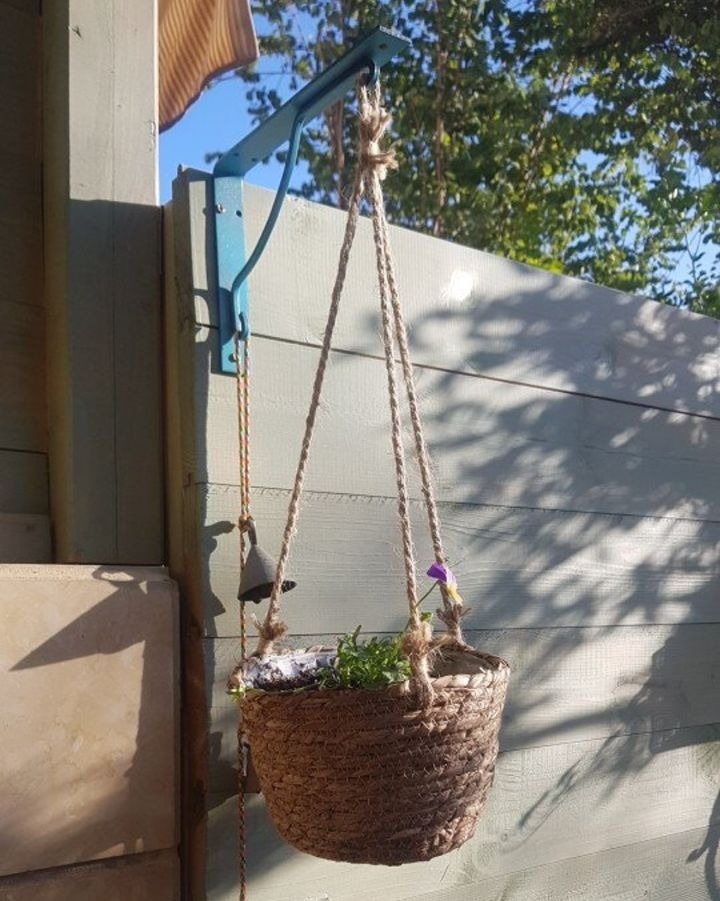 While you can grow an array of plants in them, trailers and creepers look the best in baskets.
Tip: When using straw baskets, make sure you layer them with plastic before filling them with soil.
17.

Hanging Metal Wall Planters

Wall hanging planters made from metal are lightweight, beautiful, and hardy even when exposed to the elements. Place terracotta planters in them. Or opt for eco-friendly options made of coconut fibers.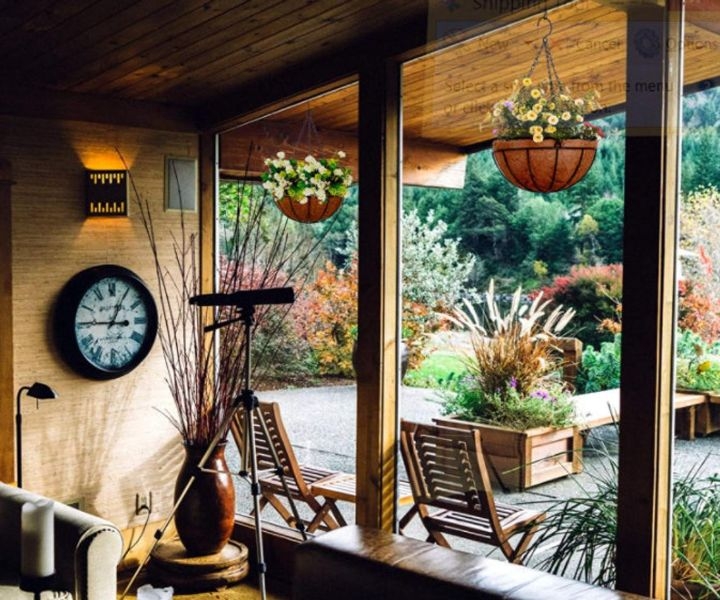 Hang metal planters on your balcony, porch, patio, or lawn. They will make your outdoors more colorful.
18.

Wall Mounted Plant Holder

A wall-mounted plant holder is perfect to bring greenery even in smaller spaces.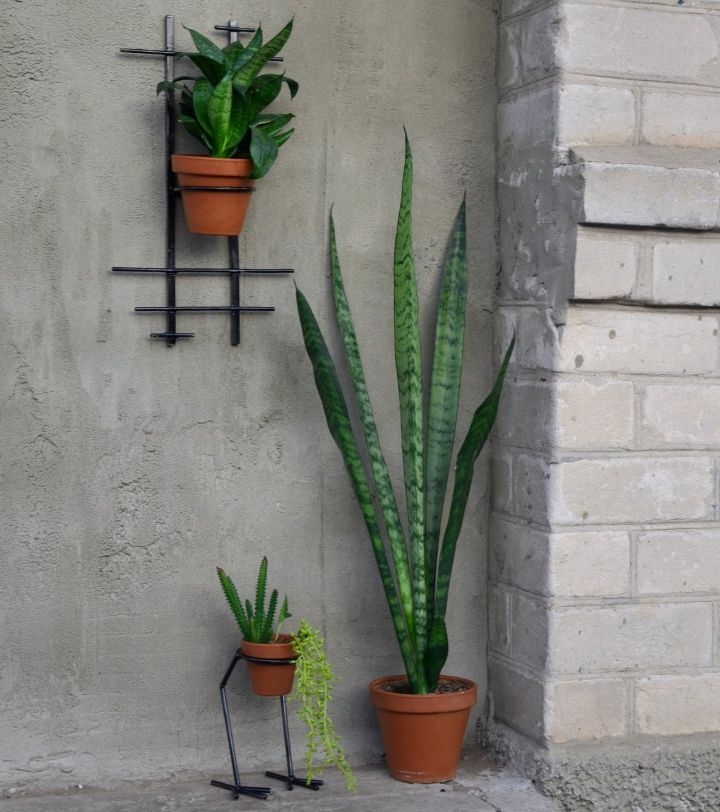 The holder is generally adjustable. That means you can place a pot of any size, small or big, in the stand.
19.

DIY Outdoor Wall Hanging Planters

A DIY hanging planter will take just a few minutes to put together. All you need is a pot and some rope.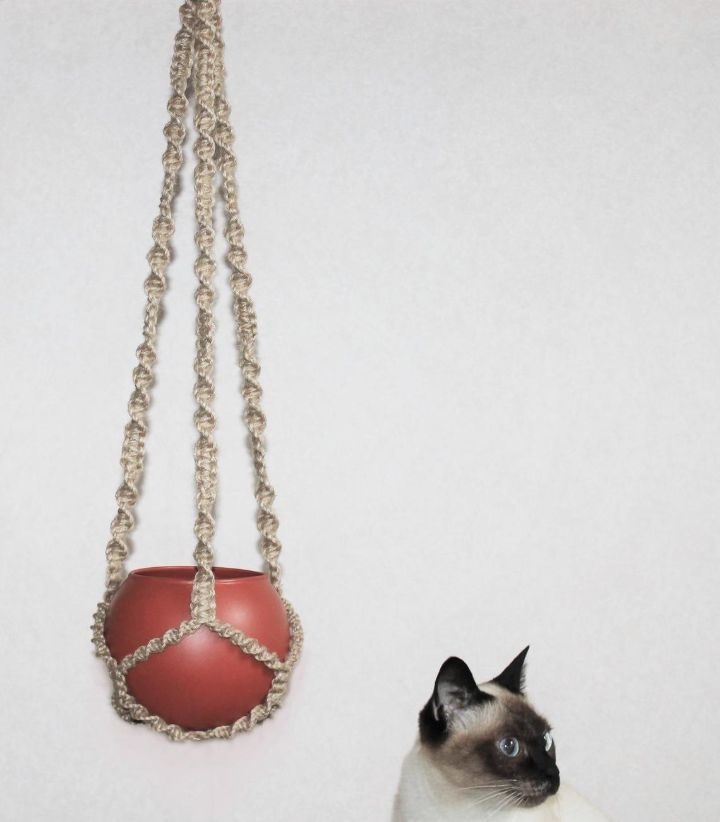 First, crochet or braid the rope to make strings. Then drill holes in your planter to hang them using the strings.
Alternatively, you can weave a basket to keep your planter in, like in the example above.
20.

Wall Hanging Planters Outdoor

For a truly eye-catching green wall, mount planters at different heights on your wall. Fill them with cascading beauties like string of pearls, golden pothos, English Ivy, etc.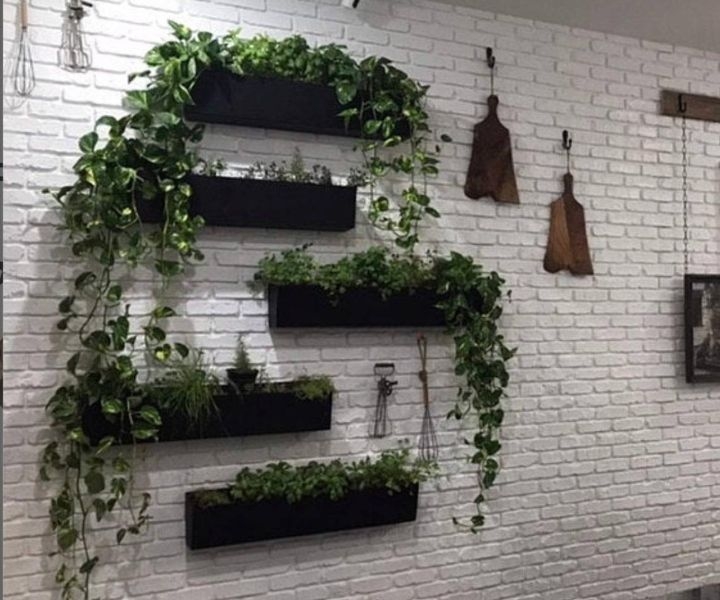 Go for steel planters in black to contrast with your green plants. Your wall will look modern and super sophisticated.
21.

Small Wall Hanging Outdoor Planters

Still haven't found your spirit planter? This adorable floating pot might just be the one. It can add a touch of organic elegance to your outdoors and is perfect for vining plants that would overflow.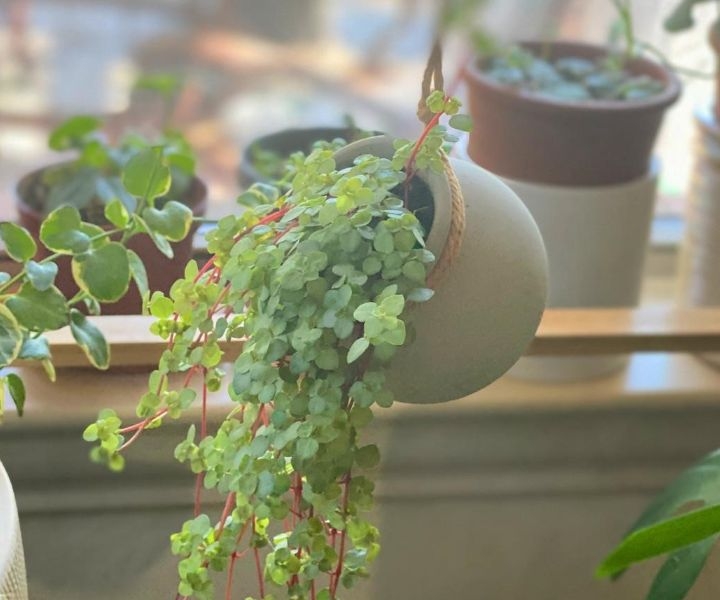 Because it's made of concrete, you wouldn't have to worry about the wind and water harming it. It's small but strong.
22.

Ceramic Wall Hanging Planters for Outside

Our list of wall hanging planters is incomplete without classic ceramic planters. They do surprisingly well outdoors, and you can use them to hold a wide array of plants.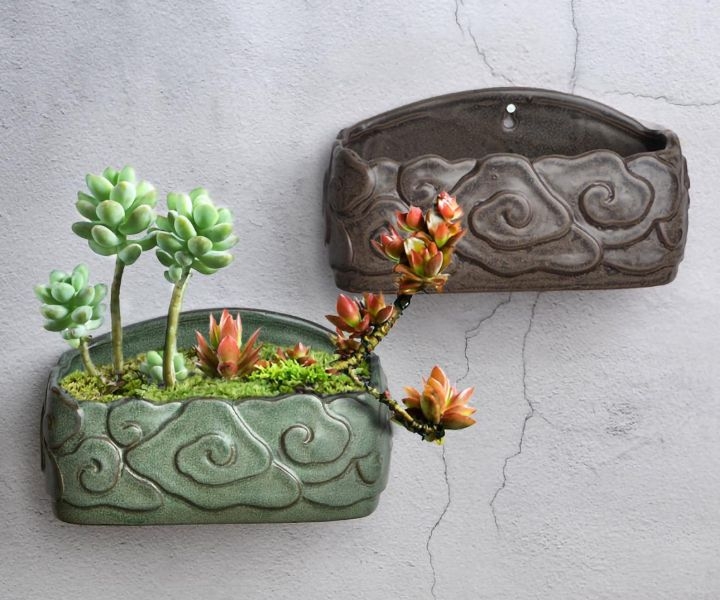 Ceramic wall hanging planters in natural hues have an understated elegance about them. Maybe that's exactly what your wall needs?
23.

Wall Mount Planter Holder

Got a tricky round pot you can't mount directly to a wall? Try planter holders! They are great for holding pots of different shapes and sizes.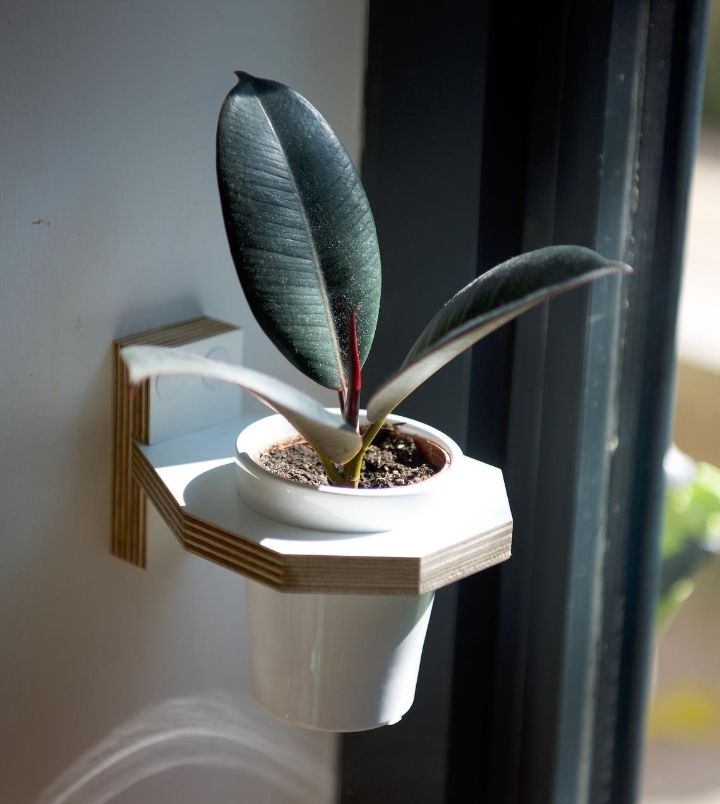 You will only have to fix them to your wall and insert your plants in them. Only, make sure the size of the hole and your pot is the same.
24.

Wall Hanging Planter Pots

Take a look at this handmade planter bag. Your plants will love their new, cozy home, and so will you.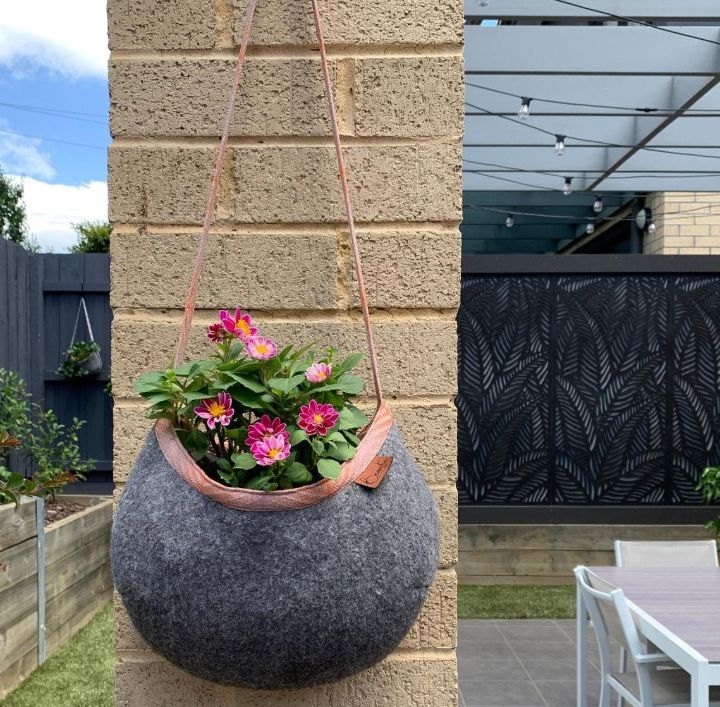 The bag, made of recycled plastic and sunbrella, is perfect for outdoor use. It's waterproof, rot-proof, and UV protected. Plus, it allows for proper drainage so your plants will stay healthy and thrive.
25.

Elegant Wall Mounted Planters Outdoor

A wooden triangular planter will add a dash of elegance to your vertical space. Its geometric design and straight lines invoke a modern feel.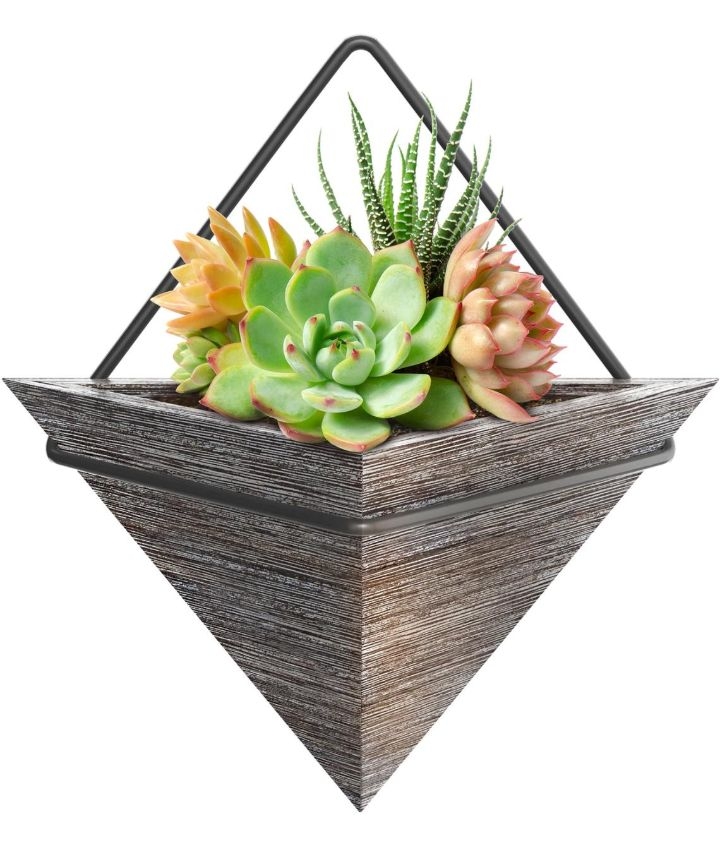 The planter can easily withstand weather conditions and make a safe home for your plants. Grow an array of hardy succulents in it and watch them grow.
26.

Creative Wall Hung Planters

Not sure how to go about attaching wall hanging planters? Give planter hooks a go.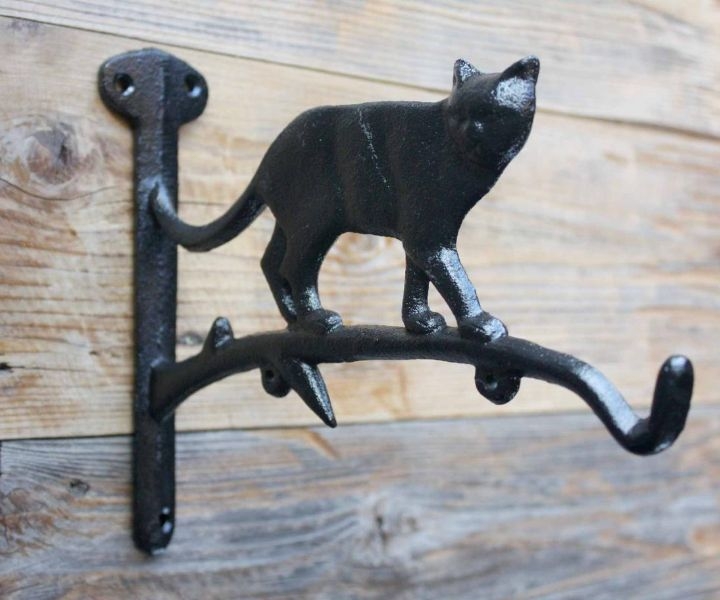 The market is full of hooks made of wood, iron, plastic, etc. There are also many creative designs available for you to choose from.
Opt for minimalistic ones or those with mischievous black cats on them.
27.

Wall Hanging Planters DIY Style

Don't underestimate the power of old planters and rusted chains. They'll come in handy in your DIY projects.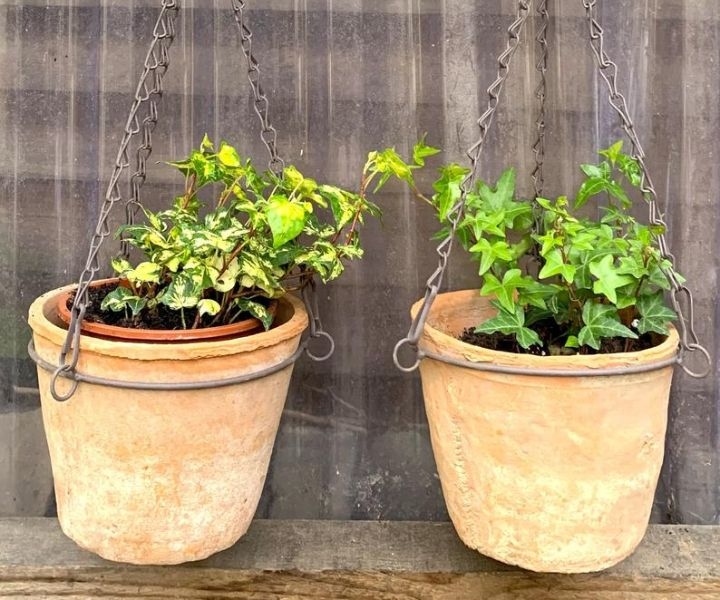 Hang the pots using the chains, like in the image above, to veer away from the modern-day designs. They will give a more rustic, English-style vibes to your outdoors.
Wall Hanging Planters Frequently Asked Questions
Let's review now some of the most commonly asked questions on wall hanging planters. They may answer some of your doubts, too.
Greenify your Walls for 2022
Ever seen a tiny leaflet growing out of concrete? There's something truly hopeful and magical about it. Just imagine how wonderful it would be then to have tons and tons of plants peeking out of your walls.
Well, wall-hanging planters are all you need. From minimalistic vessels to jute baskets and quirky animal-themed planters, there's no dearth of options for you.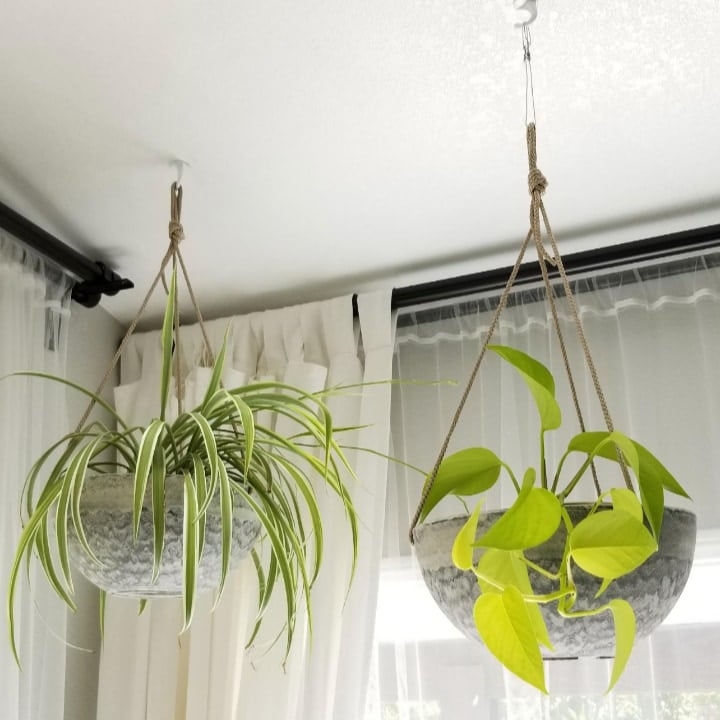 These planters are space-saving, inexpensive, and attractive. And you can plant almost anything in them.
So don't be on the fence about it! Greenify your walls with hanging planters, and do let us know how it goes.
And if you have further questions, ask us below and we'll gladly help.
Happy wall planting!