Are you looking to step up your patio and party game? Two words: outdoor bars. These bad boys are real game-changers both for BBQs and parties, as well as other types of social gatherings.
They're perfect to socialize and enjoy a few drinks together in a more comfortable and sophisticated way than the usual cans of beer.
The important thing, however, is to find the right model for your garden, needs and budget. Luckily, you can browse a wide range of outdoor and Tiki bars for sale here.
However, if you could do with some inspiration first, you can check out our favorite models. You know, the kind that will make your friends want to ditch the local bar!
1.

Averyonna Outdoor Bar 3 Piece Set
Elegant and stylish, this outdoor bar is a versatile addition that will make it a breeze to match the décor of your garden or patio;

It's made of rattan wicker and steel, a winning combination that ensures durability as well as weather and UV resistance;

While you can use it for lots of different drinks, we think it's especially ideal for wine: with its two large shelves, it offers plenty of room to keep bottles, stemware and even a few ice buckets;

It also comes with two matching stools that create a consistent look and guarantee a comfy break.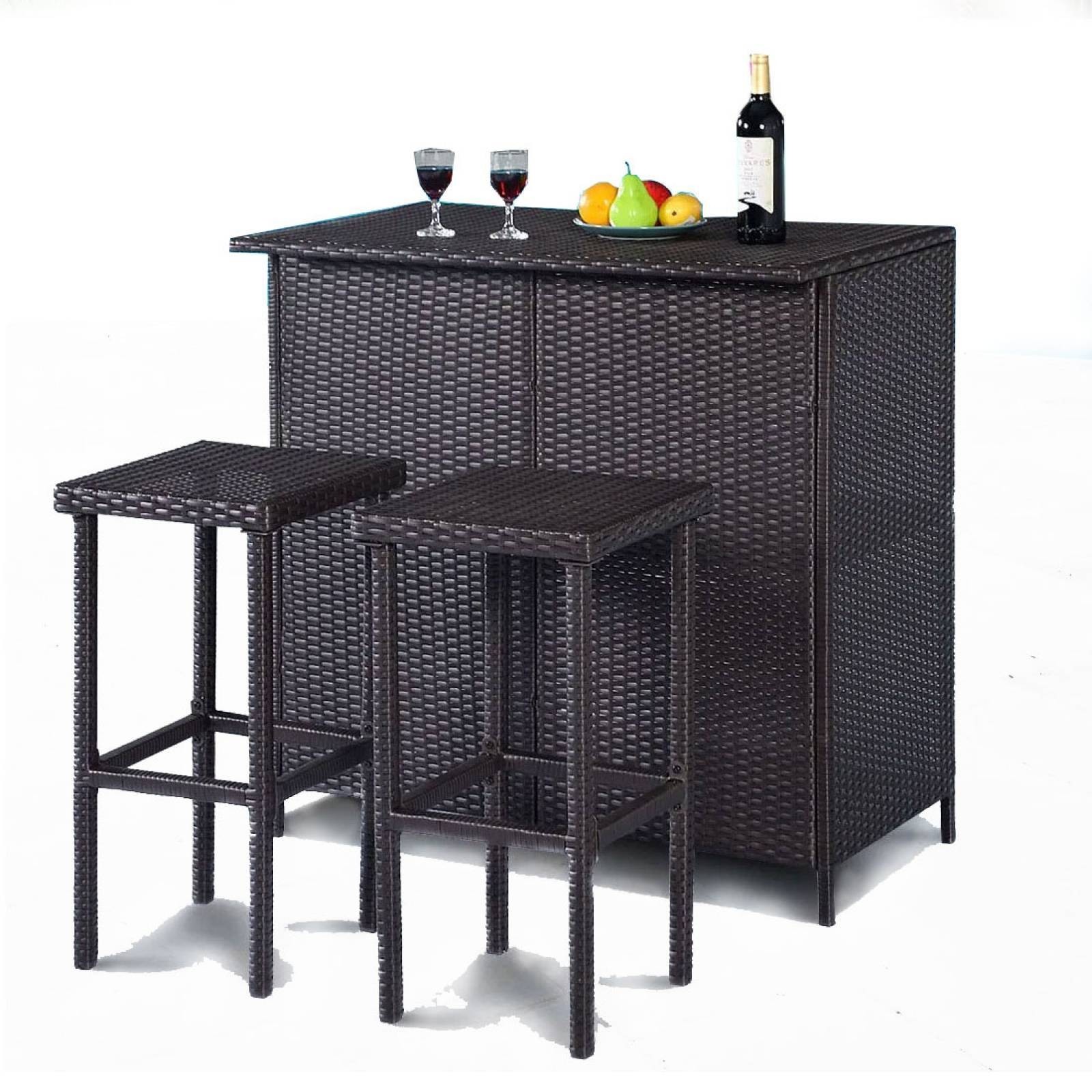 2.

Anchors Away Tiki Bar Set
Who can resist the charm of exotic Tiki Bars? This model is just what you need to bring some tropical vibes to your garden and patio, virtually transporting you and your lucky guests to a white sand paradise;

Thanks to its straw umbrella, it's particularly helpful if you live in a rather hot climate but haven't got enough room to place your new outdoor bar underneath your patio roof;

This tropical model is made of durable steel and, on top of the four seats, weather-resistant polyester;

There's plenty of room to store and prepare drinks, and it even comes with a built-in cooler to keep them fresh;

As for styles, it's available in four different colors, so you're bound to find one that matches your existing palette;

Finally, it has casters and an included travel bag, making it easy peasy to move it around.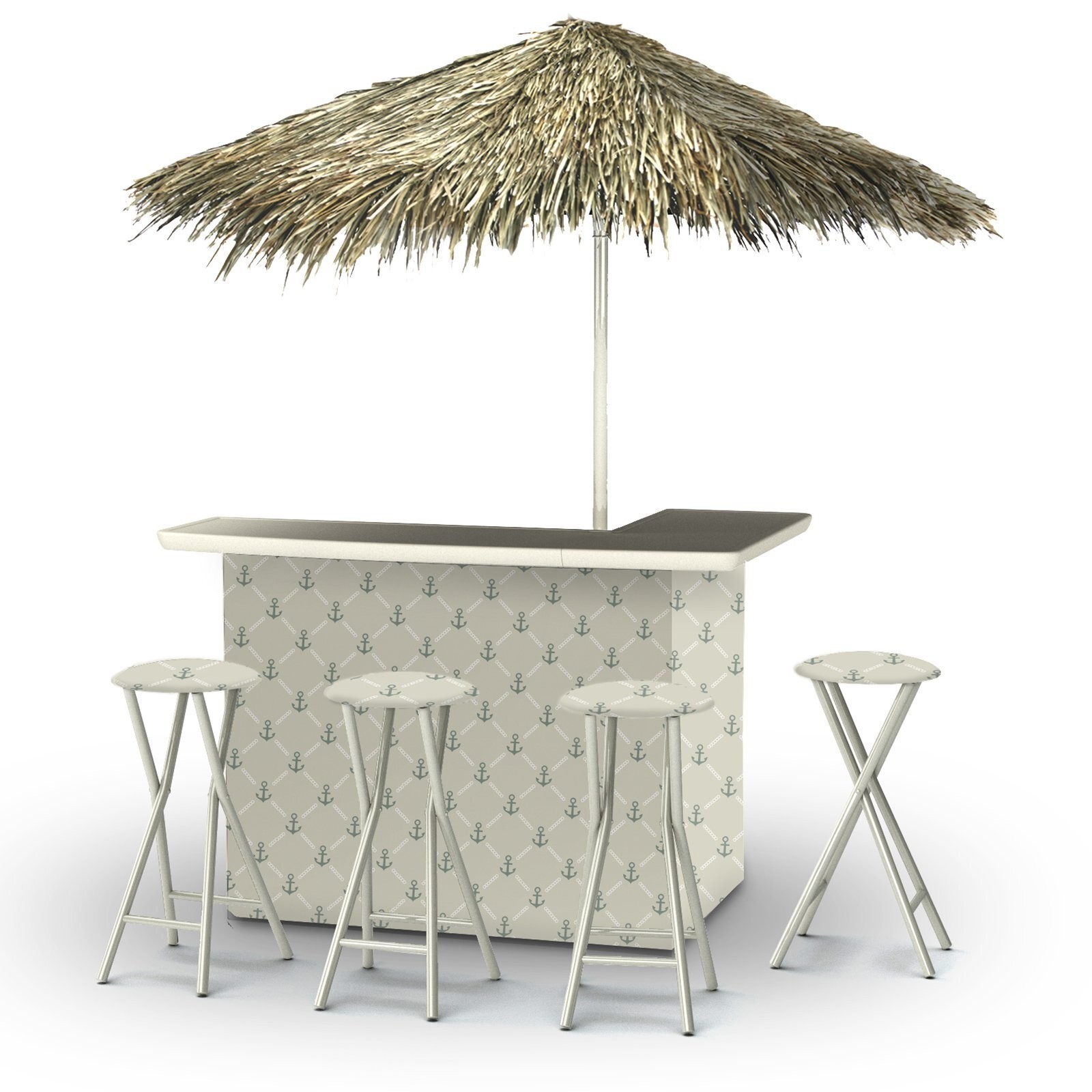 3.

Billericay 8 Piece Outdoor Bar Set
Whether you pick its black or white version, you can't go wrong with this versatile and classy outdoor bar;

It has three levels of shelving and a drop-in cooler that will encourage you to unleash your inner barista;

Mixing cocktails can be tiring, but don't worry: the collapsible umbrella will keep you nice and fresh, protecting you from direct sunlight;

With four stools, there's plenty of room for your friends to hang around while you showcase your bartending skills.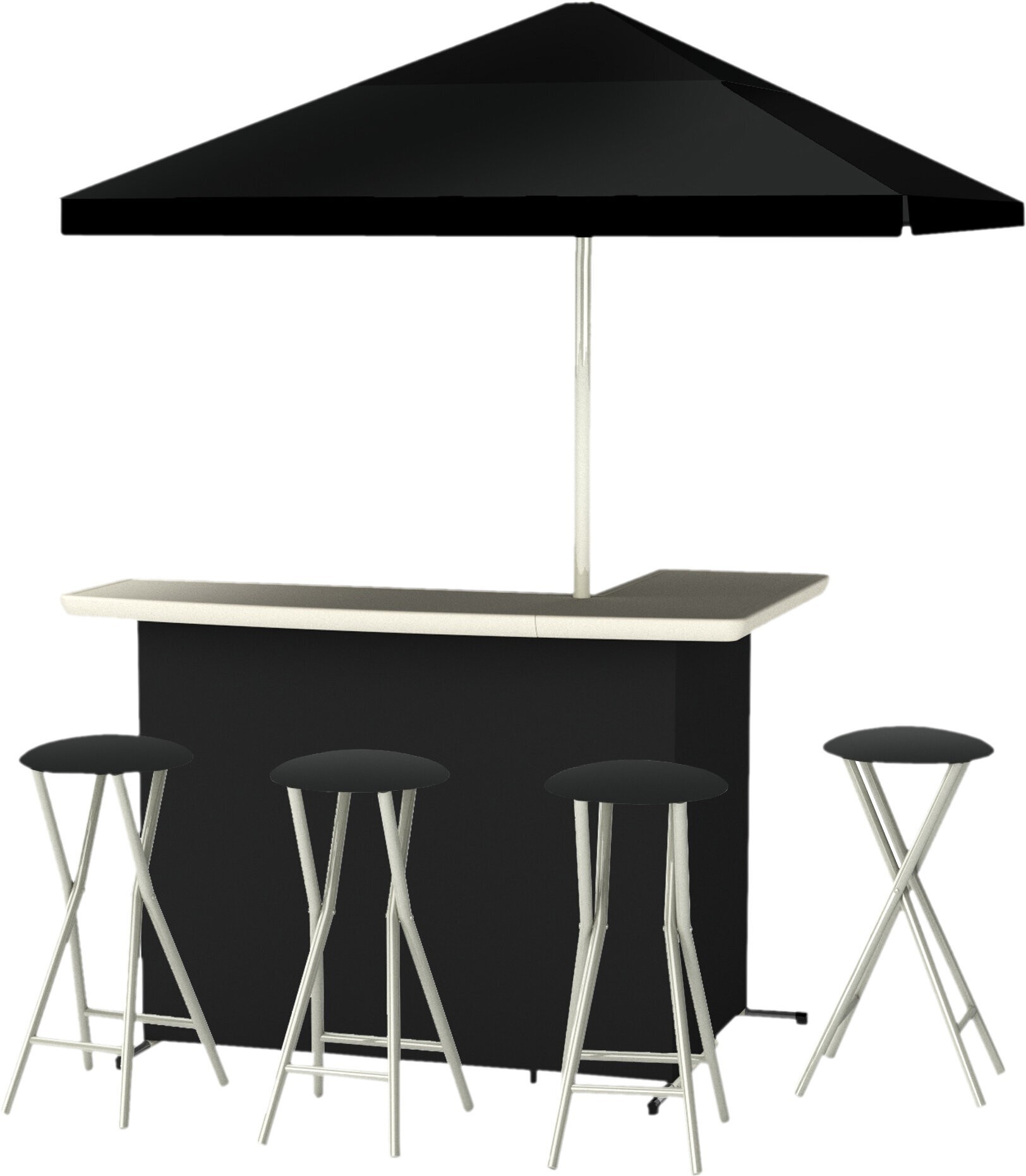 4.

Braunstone Home Bar
This model is fairly similar to the previous set, but what grabbed our attention is its adorable pink color: perfect for ladies' nights or for whoever is trying to stick to a pastel palette in their garden or patio!

Water and UV resistant, this outdoor bar comes with a handy umbrella that is vented for increased resistance against the wind;

It obviously features plenty of shelving and room for drinks and barware.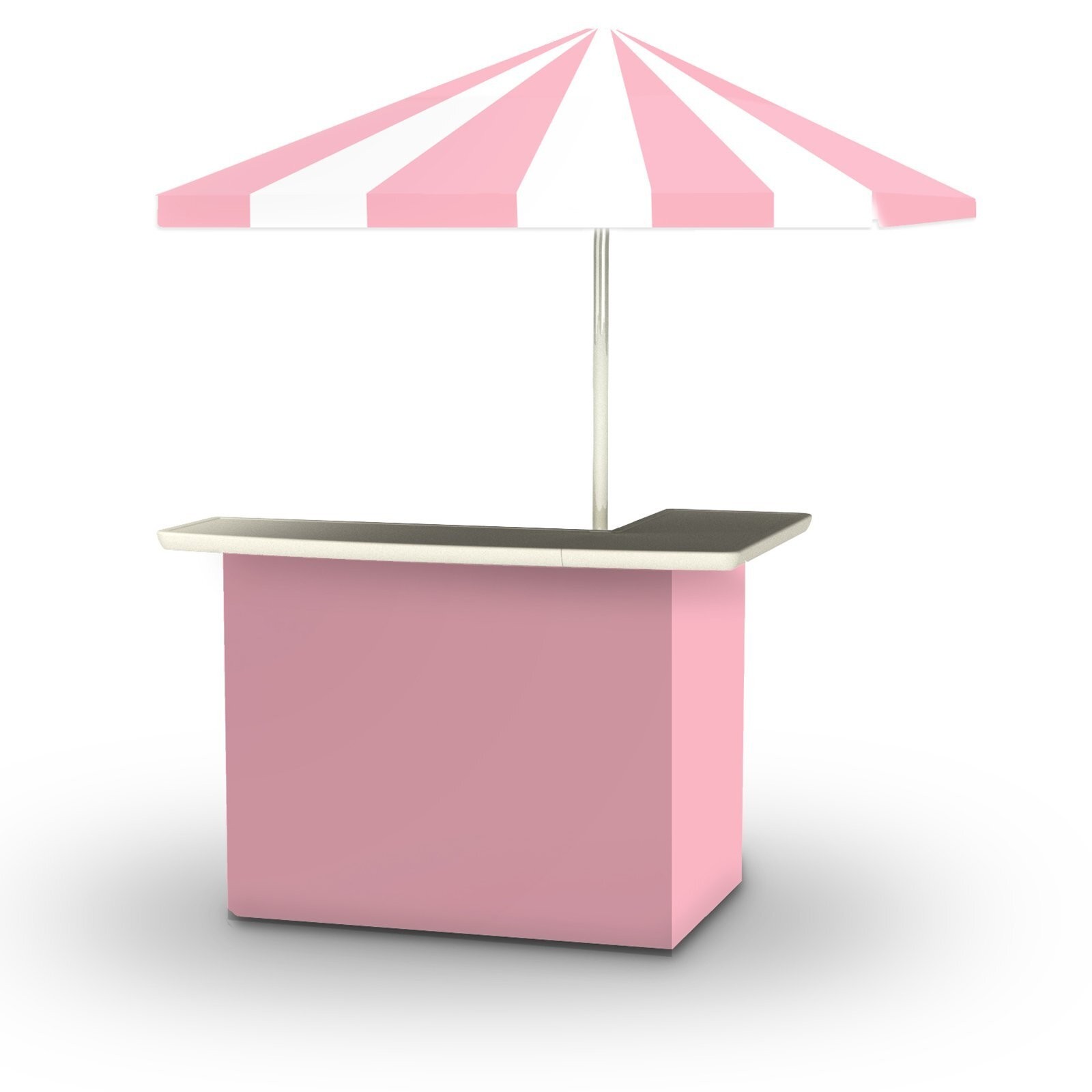 5.

Linette Home Bar
Don't worry: not all outdoor bars require you to sacrifice half of your garden if you haven't got a lot of room to play with!

Still, this space-optimizing option definitely doesn't mean compromising on storage since it features three wide shelves;

Made of beautiful acacia wood with unique grain color variations, it maintains a natural look in your garden and can complement most décor styles;

Most importantly, its high-quality wood is held together by strong galvanized steel and features a practical slatted design, ensuring both durability and weather-resistance. However, to maximize its longevity, we still recommend bringing it under a roof or indoors when you're not using it, especially during rainy days.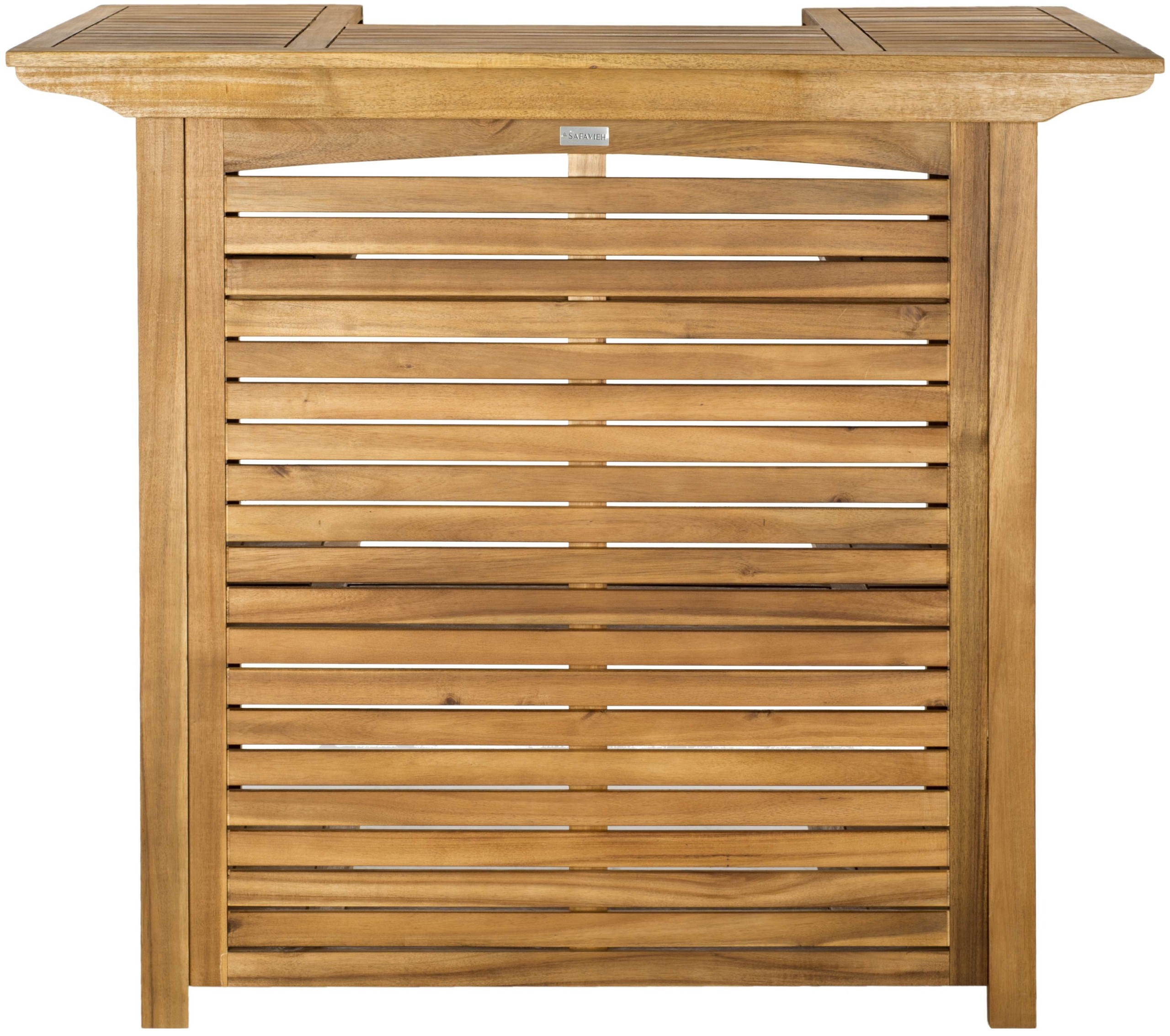 6.

Samora Outdoor Home Bar
This budget-friendly outdoor bar surprised us with its great value for money;

Made of solid wood, it features a rich mahogany finish and an elegant slatted design that make it ideal to showcase your good taste in décor;

It includes three spacious shelves with practical guard railings to keep your precious, delicate stemware safe. The lowest one even features six circular compartments to keep the most popular bottles close at hand and easy to reach.