How much wood could a woodchuck chuck if a woodchuck could chuck wood? Quite a lot probably, but what we're really interested in in this post is wooden shelves for your house plants.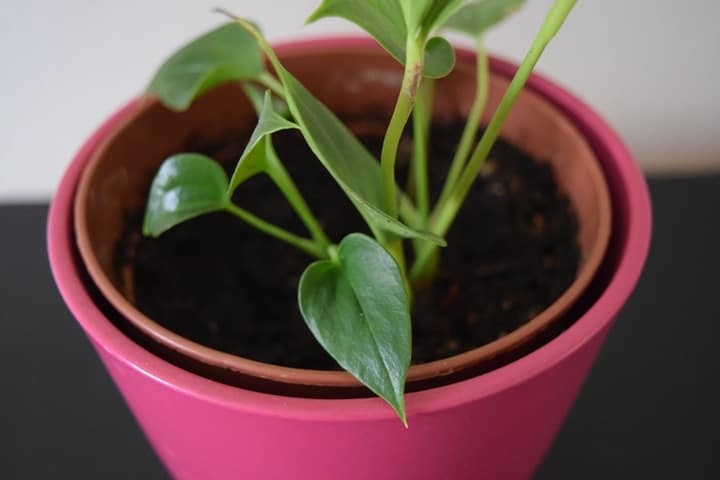 Wooden shelves accomplish much more than taking care of your storage space problems. They can help you create a better organized, cleaner, more sparkly space.
They can also showcase some of your favorite books, trinkets, and plant pots for a mini plant wall. If you want to create a modern indoor garden, they are pretty much indispensable.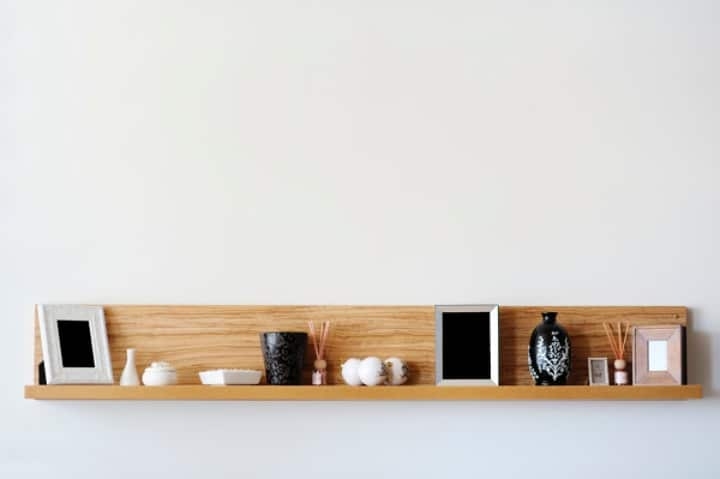 If you have been holding off putting up new shelves because you believe you don't have the time, money, or the ability to do it, then think again.
There are a lot of affordable DIY ideas around as well as cheap yet appealing shelves you can buy online. Let's explore together some of the best.
Wooden Shelves Types
Today, there are lots of easy DIY wooden shelves on the market. You can choose from many design options that are easy breezy and can be installed in just 30 minutes or less.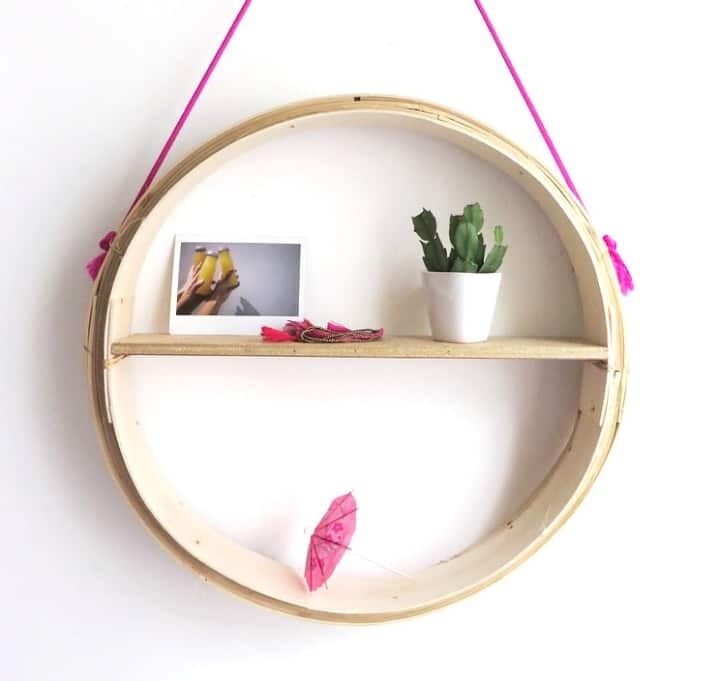 No need for sophisticated tools--just a regular electric screwdriver will do. Honestly, the hardest part is choosing your preferred style.
If you want simplicity and charm, go for rustic wooden shelves. If you prefer a more modern look, you might want clean floating wooden shelves.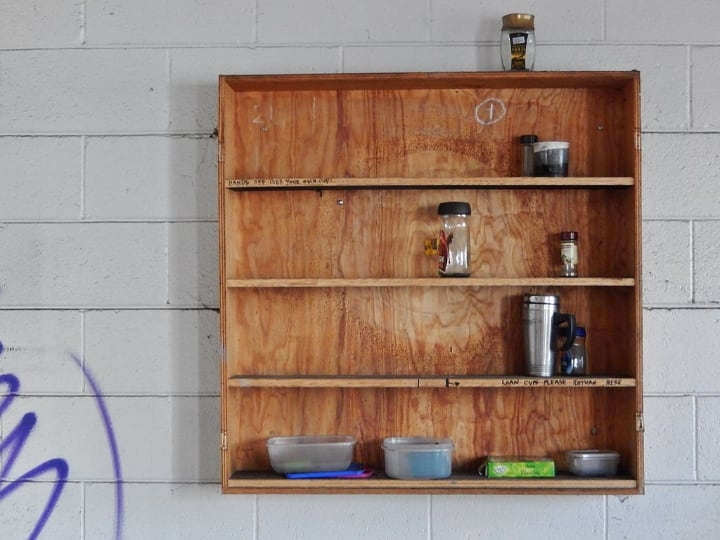 Of course, you could always throw in some stained wood into the mix for a touch of elegance. The mountings matter, as you'll see, so don't leave them to chance.
You can also shop for imitation wood shelves. These are cheaper but they're not the most appealing. We say go for the real deal.
Best Wooden Shelves Ideas
As there are so many wooden shelves on the market nowadays, we made a list of our favorites.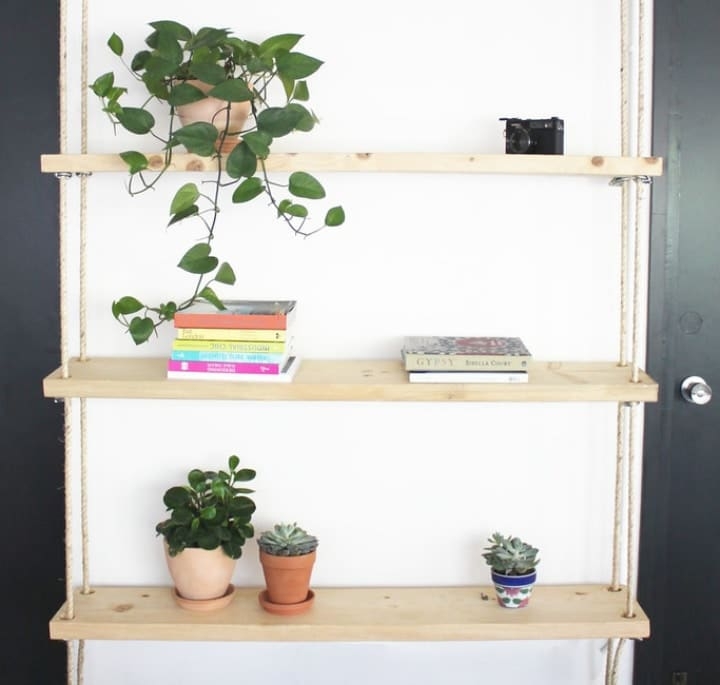 When choosing your favorites, consider your style, wall texture, the plants you'll want to showcase (potted, hanging, small, etc), and how many shelves you'll need for your space.
1.

Industrial Pipe Metal and Wood Wall Floating Shelf

How about a floating shelf? The wood piece gives this one a timeless look while the black metal supports that look like pipes add an industrial vibe to the design.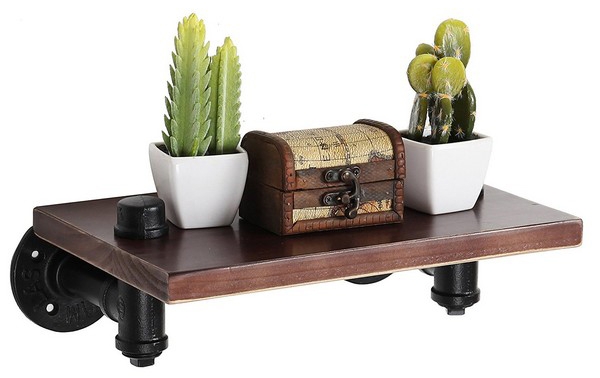 It's among the cheap wooden shelves on our list, but it isn't of low quality. The strong build and simple fastening make it a dependable choice.
The flat, rectangular wooden shelf attached to these pipes provides you with a perfect space to display cherished keepsakes, family photos, potted plants, and other decorative items.
Using the appropriate mounting hardware (not included) you can attach this to just about any wall. We found this one super easy to install.
2.

Vintage White Wood Wall-Mounted 9-Compartment Curio Shelf

These "cubbies" are commonplace in many homes, but most are free-standing and not attached to a wall. You'll usually see them sitting on the floor and used as a bookshelf or a place to sit storage cubes.

But unlike those bulkier models, this piece can be hung from the wall for a unique look.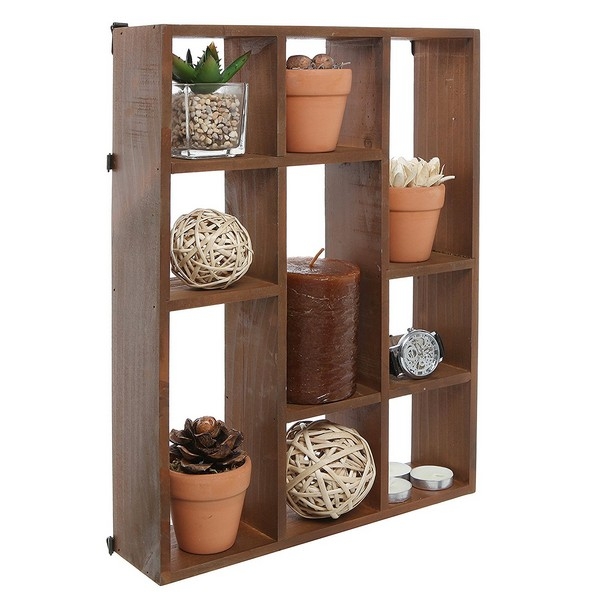 This vintage-style shelf rack could be called a DIY wood shelves closet of sorts. It comes with 9 compartments in different sizes to accommodate whatever keepsakes you cherish.
We love that the 9 compartments allow for some versatility in the items you choose to display in it. For example, you could use it to display small art pieces or an assortment of knick-knacks.
Idea: Hang it either vertically or horizontally by using appropriate mounting hardware.
3.

Rustic Open Box Shelves

Farmhouse style is all the rage! So it's a must that we feature some rustic-looking shelves. These also work great in sheds and shops where you might need a little more storage space but are lacking style.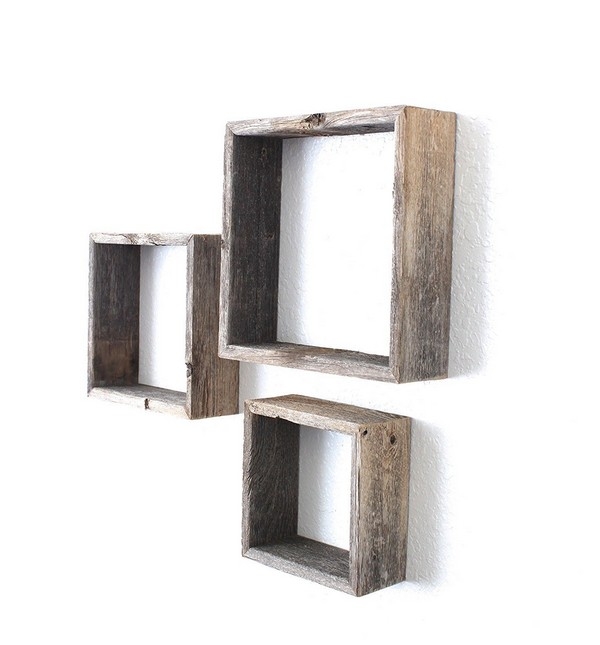 This modern geometric floating design is a crowd favorite. The wall shelf is structured like an intersecting squares wall shelf but designed with a rustic finish.
It provides stylish, aesthetic wooden shelves while being functional and easy to use. That said, you probably don't want to hang heavy items from these wooden shelves.
This floating wall-mounted shelf has four different squares sizes and can be linked together to form one large piece. The cubbies can hold candles, books, collectibles, plants, pictures, vases, and much more.
4.

Rustic Wooden Floating Shelves

Looking for a way to spruce up your office? Need extra storage for your kitchen or bathroom? Small wooden shelves can be an inspired choice.

Most of the pictures you see of shelves show them holding knickknacks or other trinkets, but let's face it, wooden shelves are made for storage. Of course, you'll need to make sure they are sturdy like the ones featured below.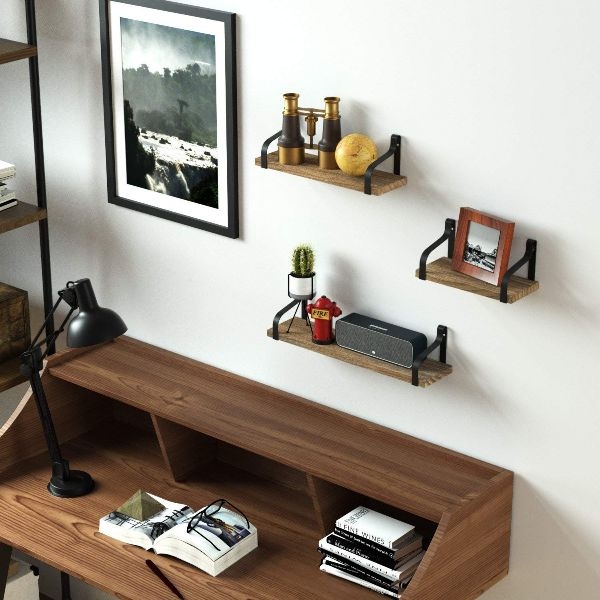 This floating wall shelf set looks cute and is also as functional as can be. You can arrange the shelves in any style or formation you like.
These are appropriate for displaying bathroom items, decorative pieces, photographs, small plants, or for holding books.
5.

Luxe Wood Floating Wine Shelves

Are you a wino? How about a wine shelf then? We've all heard of racks, but with this piece, you're sure to stand out. You could also throw a few other items on it as well.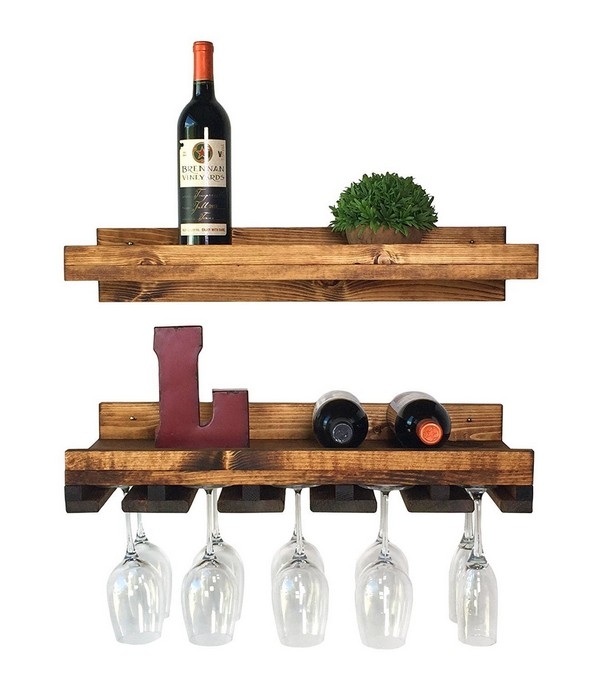 This DIY floating wine shelf combo is a perfect addition to your kitchen or dining area. It's made of high-grade solid pine wood, stained, and wholly handcrafted.
We love that it comes with pre-drilled holes (although hardware not included) which makes it easier to hang. The set includes the clean-lined floating shelf and wine glass rack with capacity for up to 15 glasses. So this really is a two-for-one special!
With these wooden shelves, you can showcase your style, improve your kitchen storage organization, and keep your favorite glasses always handy.
Whether you want to declutter your kitchen storage or dress up a bare kitchen wall, this is an inspired choice with a timeless look and good functionality.
6.

Rustic Wood Wall Storage Shelf with Towel Bar

These wooden shelves are perfect for kitchens or bathrooms. The hanging extension makes them useful for hanging hand towels, bath towels, or the like.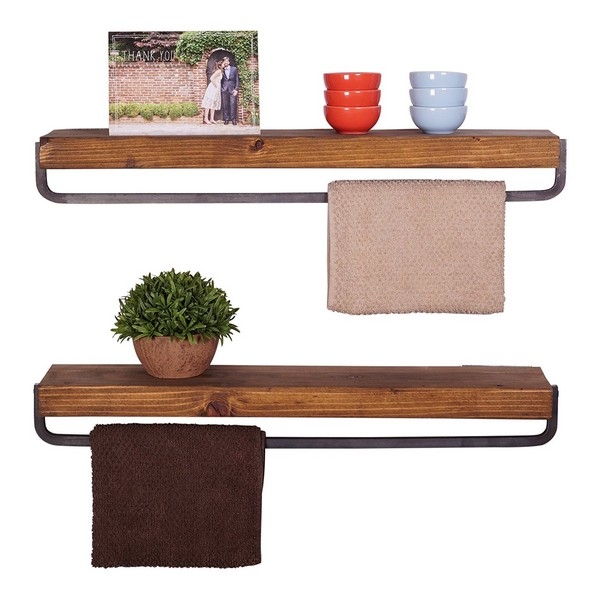 Made from pine wood, these shelves can add a nice wooden texture to your space. The thick wood creates the impression of solidity and can help you fill space in an elegant way.
While your towels are hanging from them, you can display your books, pictures, and even plant pots.
7.

Wall Hanging Shelf with Hooks

Who doesn't love a boho feel? This set comes with two shelves that serve as the perfect touch for minimalist decor. Trendy yet affordable, the cord length on these is adjustable, so they can be used in any room.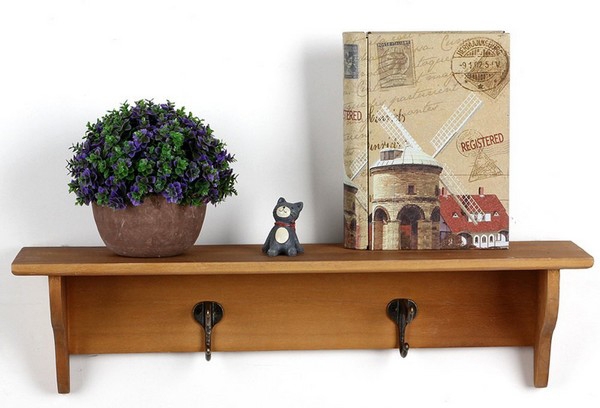 Decorative wall shelves like this one are designed for foyers, mudrooms, or bathrooms. But you can also install them in your bedroom.
Whether you choose to keep on the flowers or tarot decks or something else, these wooden shelves are easy to blend into most home decors.
We personally love these in a bathroom, especially one where storage is otherwise lacking. You can easily hang from the hooks your bathrobe or towels or your clothes while you take a bath.
8.

Industrial Pipe Modern Wood Bookshelf Wall Shelf

We love all of the shelves featured here (otherwise we wouldn't have included them.) Still, this one is probably our favorite.

It has an artsy, steampunk look to it that makes it a great addition to any kitchen or bathroom. But you could use it virtually anywhere.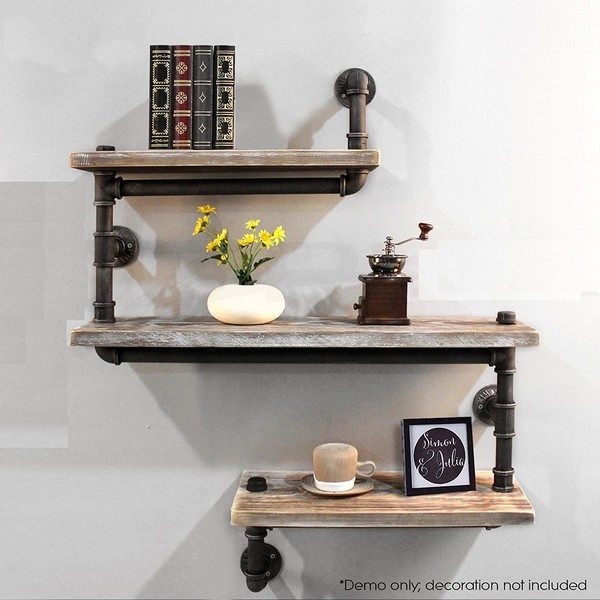 This unique rustic 3-level industrial pipe shelf is a bit pricier than others, but we think it's worth the investment.
It's made of solid wood and metal pipe and is just perfect if you're aiming for an industrial modern décor without any unnecessary bells and whistles.
You can use these wooden shelves both indoors and outdoors--they're durable and can last a long time. You can, of course, also make your own based on this design.
9.

Decorative Floating Wooden Wall Display Shelf

One, two, three, go! This trio of floating shelves is unique for two reasons: size and stain. The color is really nice and we love it. That, together with the size variations, makes it a standout set.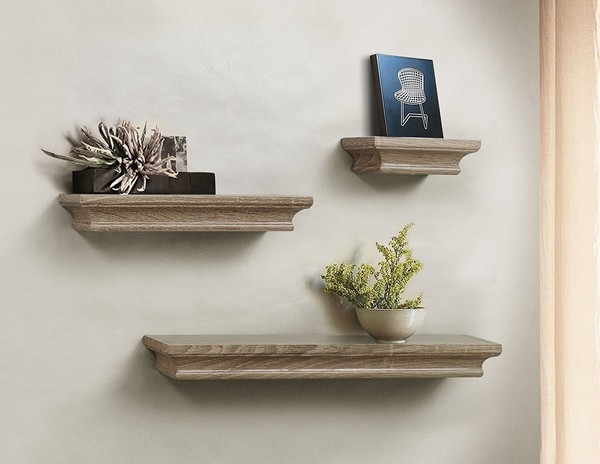 These wooden shelves with no noticeable wall mountings can inspire you to create your own shelves using any materials you have at hand.
You can display on them simple knick-knacks, hanging plants, books, vases, and just about anything else you want to elevate to a position of attention.
You don't have to arrange them exactly like in the image above, though. You can arrange them in a cascading fashion or symmetrically.
But we recommend installing them all on the same wall to contrast their different lengths. Use these floating shelves to add dimension to any wall.
10.

Wall-Mounted Torched Wood Floating Shelves

Another set of shelves with beautiful coloring, these torched wood shelves can add a very nice touch to any wall and add to the elegance of your decor.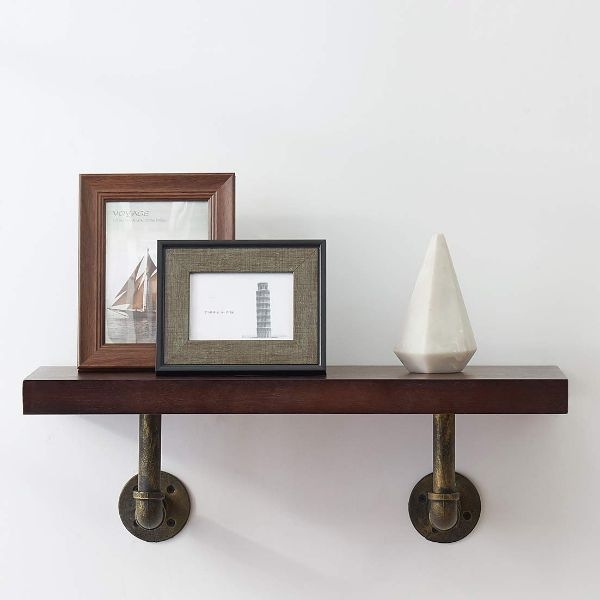 Are you looking for a super stylish wall mounted floating shelf set? Then this could be the right idea for you.
This wall mounted display shelving is a great way of showcasing your favorite decorative items or indoor plants. Entirely made of a board with wood veneer, it adds style to any wall.
The flat, rectangular floating wood shelves create an excellent place for you to showcase your family photos, cherished keepsakes, or potted succulents.
11.

Wall Mounted Wood Floating Display Shelf

Here's one final option to consider during your search for the right wooden shelves for you. This simple design will work in any room, any home.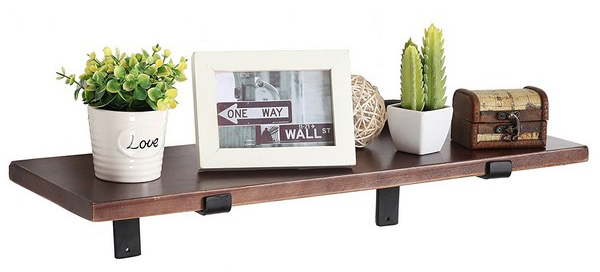 Add this simple but charming wall mounted wood shelf as a way to instantly display your cherished book collection or house plants without any fuss.
We really like the mounting in the image, but you can always adapt the design to your needs and change the mounting according to your preferences--or the materials you already have at home.
For example, you can reuse an old mounting that you no longer need and add to it a nice piece of wood.
Wooden Shelves Commonly Asked Questions
Wooden shelves are simple enough but we keep hearing people asking quite a few questions about them.
We thought to bring these questions together and answer them for you in this section. We hope you find the answers useful!
Shelve It, Will You?
Wooden shelves combine function with decorative flair--they're a great way to enhance any wall and add to the atmosphere of the room.
Whether you're a minimalist, prefer showy, luxurious decorations and furniture, or fall somewhere in between, wooden shelves can be an inspired addition to your home.
What's more, mounted shelves can preserve the serene, airy feeling of a room without encroaching on the space like bulky cabinetry. And, of course, they are much more affordable.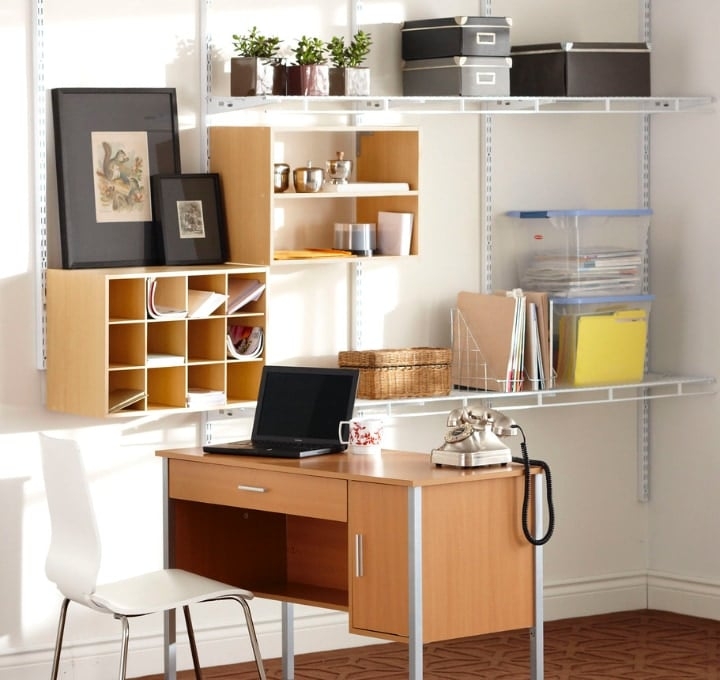 Building your own wooden shelves is a great idea and we say go for it. This way you can create something that is personal, unique and that fully matches the look you want.
We hope our ideas inspired you to create your own shelves--or at least to buy some that you really liked and wouldn't have otherwise discovered on your own.
Do you like shelves? Do you use them? Have you ever paid much attention to them?
Tell us your thoughts on this ubiquitous storage and decorative element--use the comments section below.
Until next post!