Christmas inflatables are an essential part of holiday lawn decor, and they're gaining popularity as more varieties become available. If you're concerned about heading into tacky lawn ornament territory, today's Christmas inflatable options will ease your concerns. As the trend gains more followers, the market's choices cater to a broad audience and different style needs.
For all your inflatable ornament needs, you can find plenty of inspiration on Foter. Here are 10 Christmas inflatables that you simply cannot miss this holiday season.
1.

Christmas Snowman

Even if you're not experiencing a snowy, white Christmas, you can still add Frosty the Snowman to your lawn this year. The Holiday Aisle's Christmas Inflatable Snowman is positively adorable. At 94½" tall, this ornament is sure to impress the neighborhood and is downright cute, complete with a top hat, striped scarf, and a sign that spreads holiday cheer.

This product is lit up with LED lights and can be used indoors or outdoors, and it takes the stress out of holiday decorating with its self-inflating feature.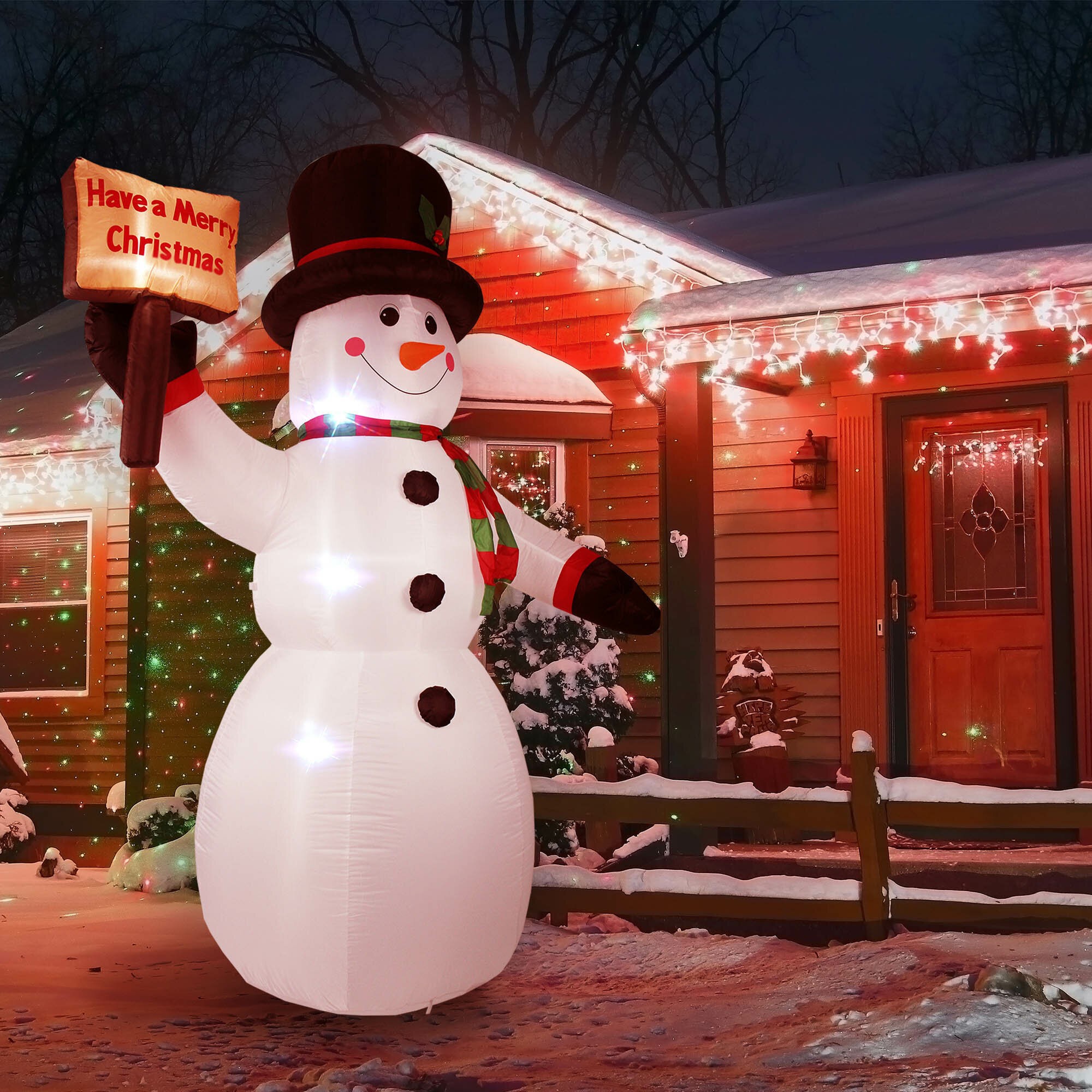 2.

Campfire Santa and Reindeer

For those living in a colder climate and experiencing a snowy Christmas season, this inflatable ornament is perfect for inducing feelings of warmth and pleasure in passers-by. The Holiday Aisle Campfire Santa and Reindeer Inflatable feature a unique image of Santa Claus and one of his reindeer sitting around a campfire, roasting marshmallows.

LED Bulbs come with the set to light up your lawn at night with this cozy picture of holiday happiness.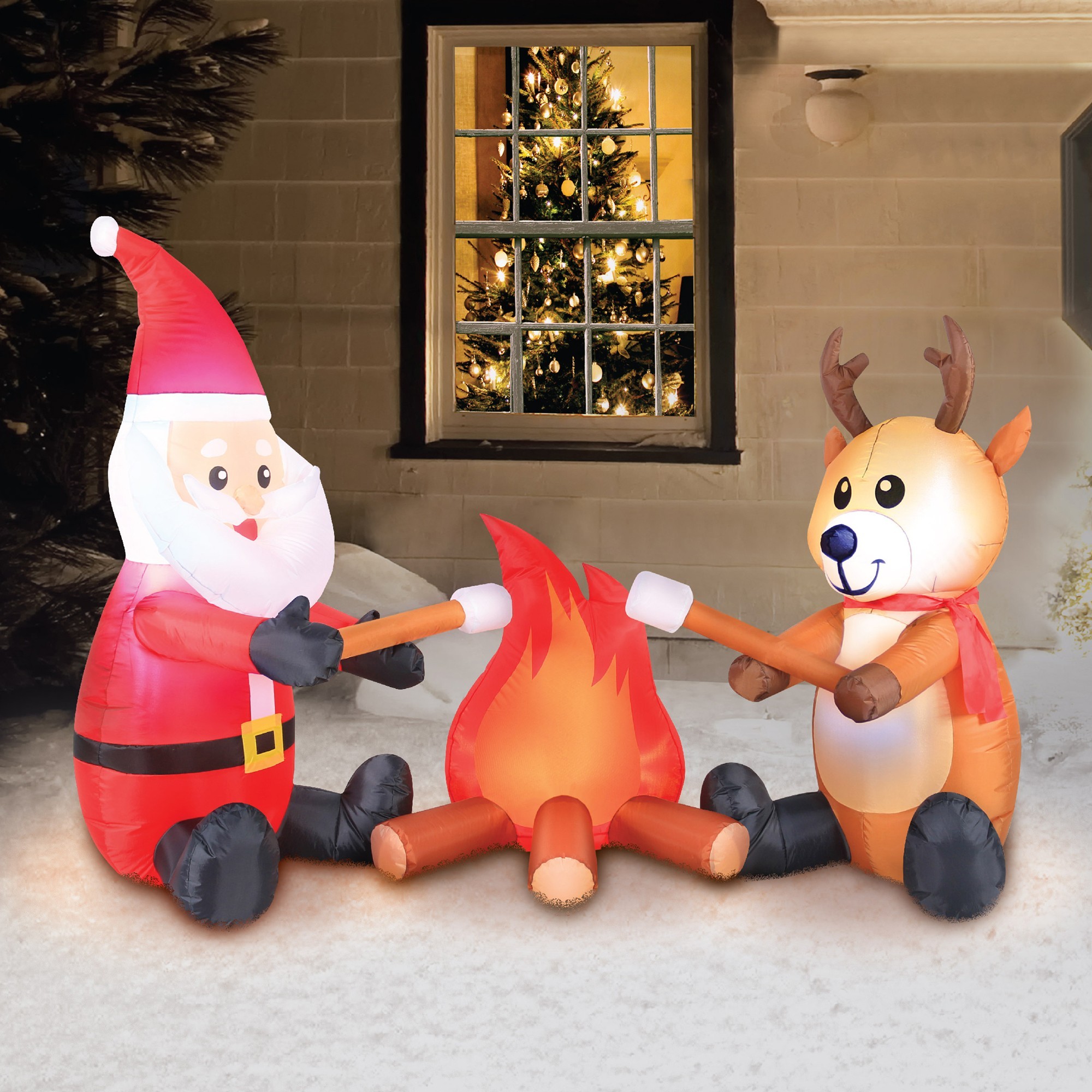 3.

Christmas Santa Claus on Sleigh

For a more traditional-themed Christmas inflatable, consider the Christmas Santa Claus on Sleigh Sled by Hashtag Home. This classic visual of Santa waving from his sled pulled by three tiny reindeer elicits nostalgia for Christmas stories from childhood.

Self-inflating and complete with fifteen LED bulbs to light up your yard, this product is easy and quick to set up. Weatherproof, durable polyester construction allows you to place it on the lawn or the roof, and the set comes with stakes and tethers to prevent strong winds from blowing away your festive display.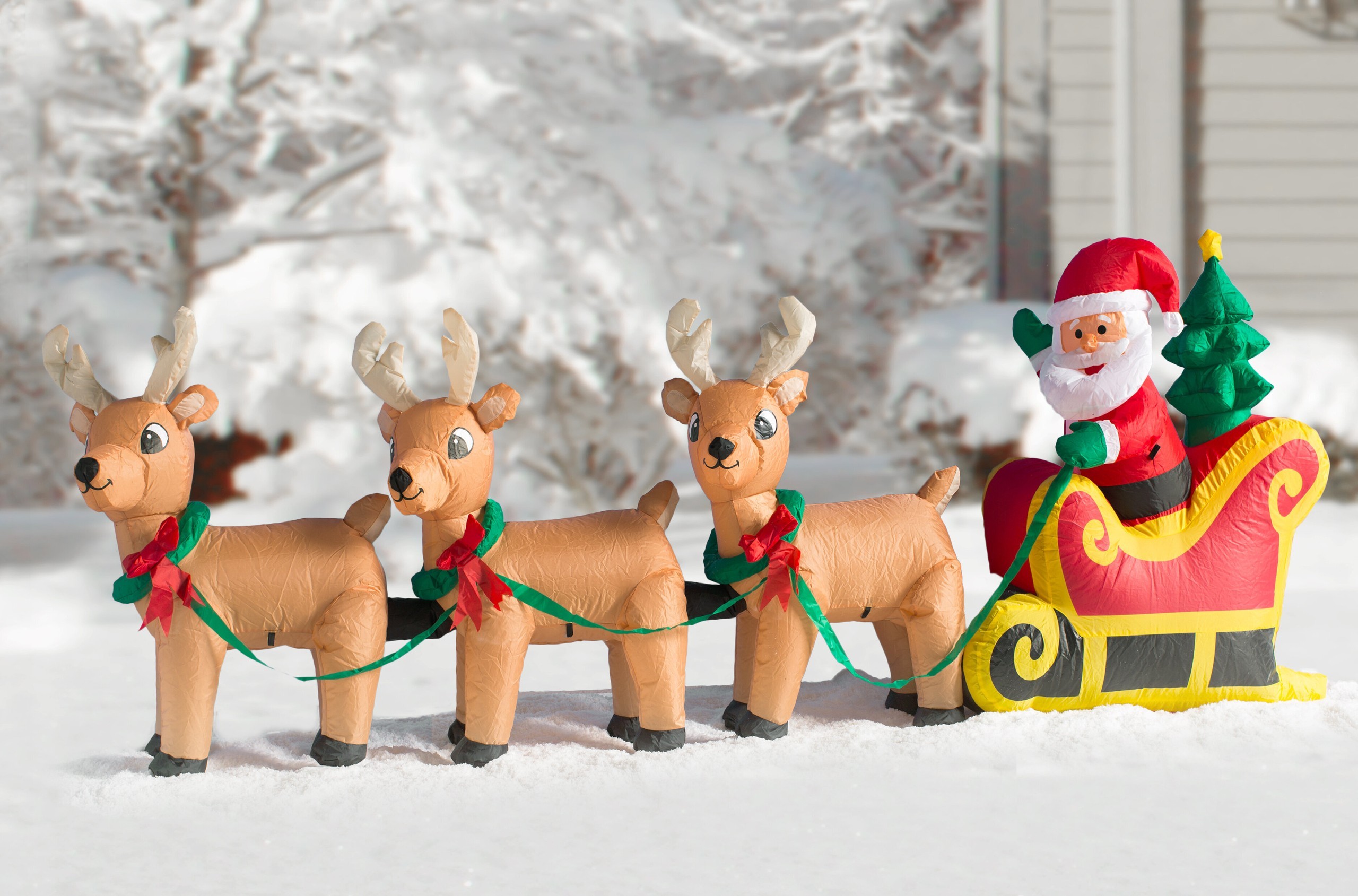 4.

Santa Driving a Tractor (with a Penguin)

If you reside in North America's rural regions, this inflatable Christmas ornament will be a real hit with the neighbors driving by. This Christmas Inflatable Santa Claus Drive Tractor with Penguin yard decoration, is a quirky nod to farm life and provides a humorous, alternative transportation mode for Santa Claus.

It self-inflates when plugged into a standard electrical outlet and lights up for better nighttime viewing. At 63" x 47" x 64", this is the perfect ornament for your lawn in a rural community or for use inside a large venue like a barn for a local holiday party.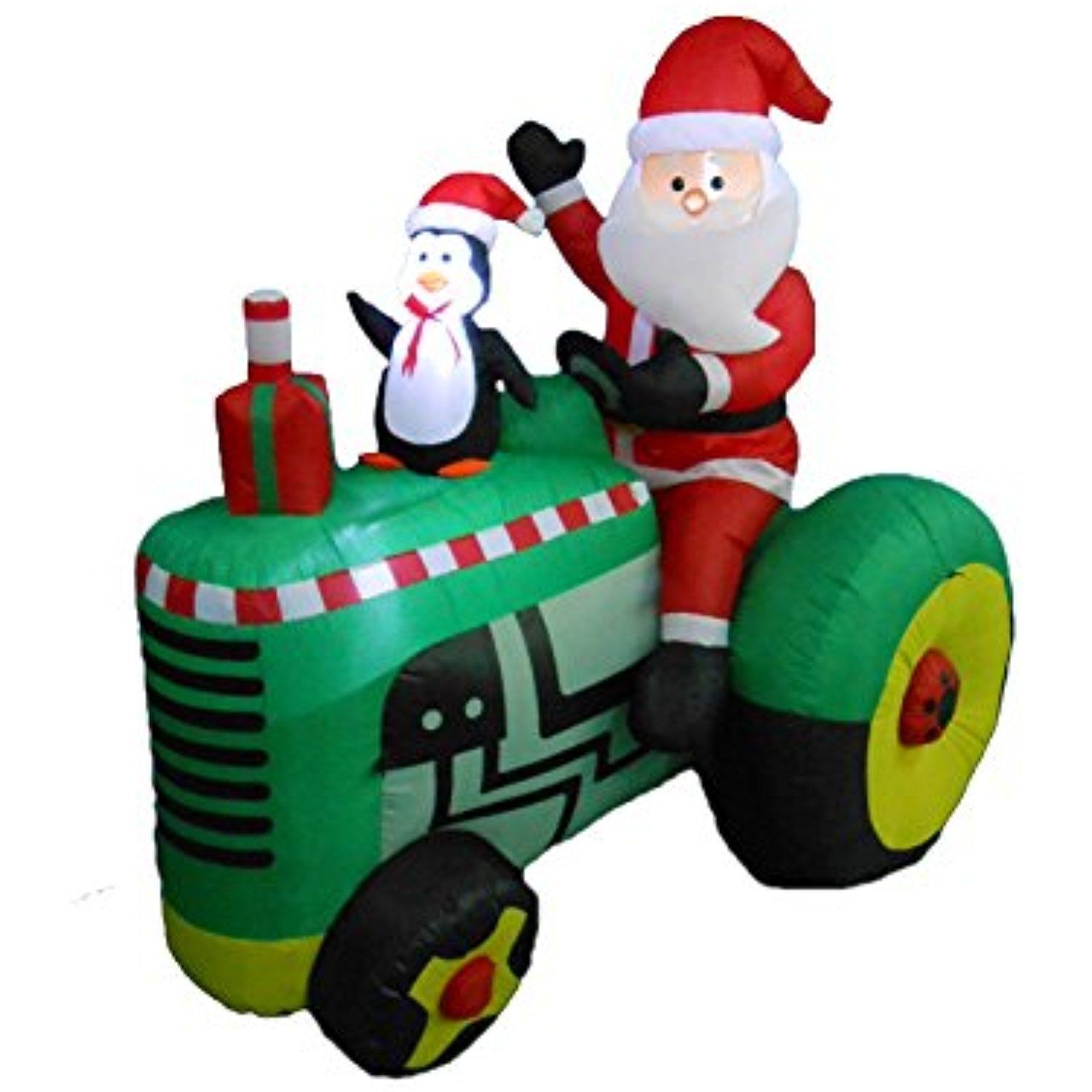 5.

The Grinch Inflatable Naughty List

Dr. Seuss' The Grinch has become a well-loved character associated with the holidays ever since the release of his poem "How The Grinch Stole Christmas" in 1955. The Grinch is a symbol of humor and love for the holidays. This product from Gemmy Industries, Dr. Seuss The Grinch Inflatable Naughty List Christmas Holiday Lawn Decor, symbolizes the holidays while perpetuating an air of mischief.

The naughty list has long been a method of encouraging children's better behavior as the holidays' approach. This character adds a comedic spin to that premise and a chance to introduce your kids to the writings of Dr. Seuss. It's simple to set up, just stake it down, plug it into an outlet, and it self-inflates within minutes.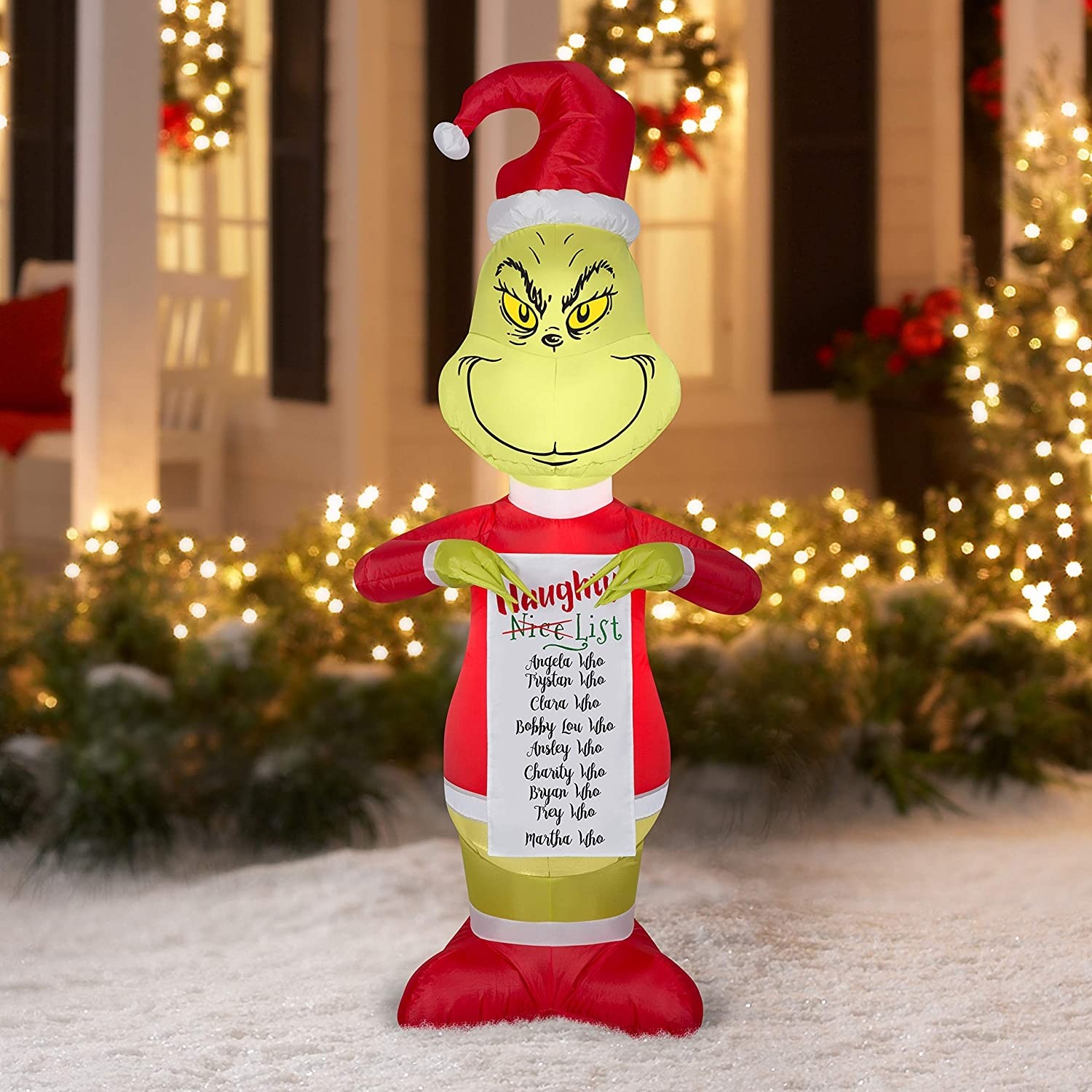 6.

Christmas Santa Claus on Vacation

If you live in a part of the country that enjoys sunny weather all-year-round, this is the ideal Christmas inflatable to celebrate a warm holiday season.

Beachcrest Home's Christmas Santa Claus on Vacation Inflatable features Santa and a penguin hanging out underneath a palm tree on a tropical island. This product contains three long-lasting LED bulbs to help light up your yard and weather-resistant polyester to withstand UV rays and wet weather.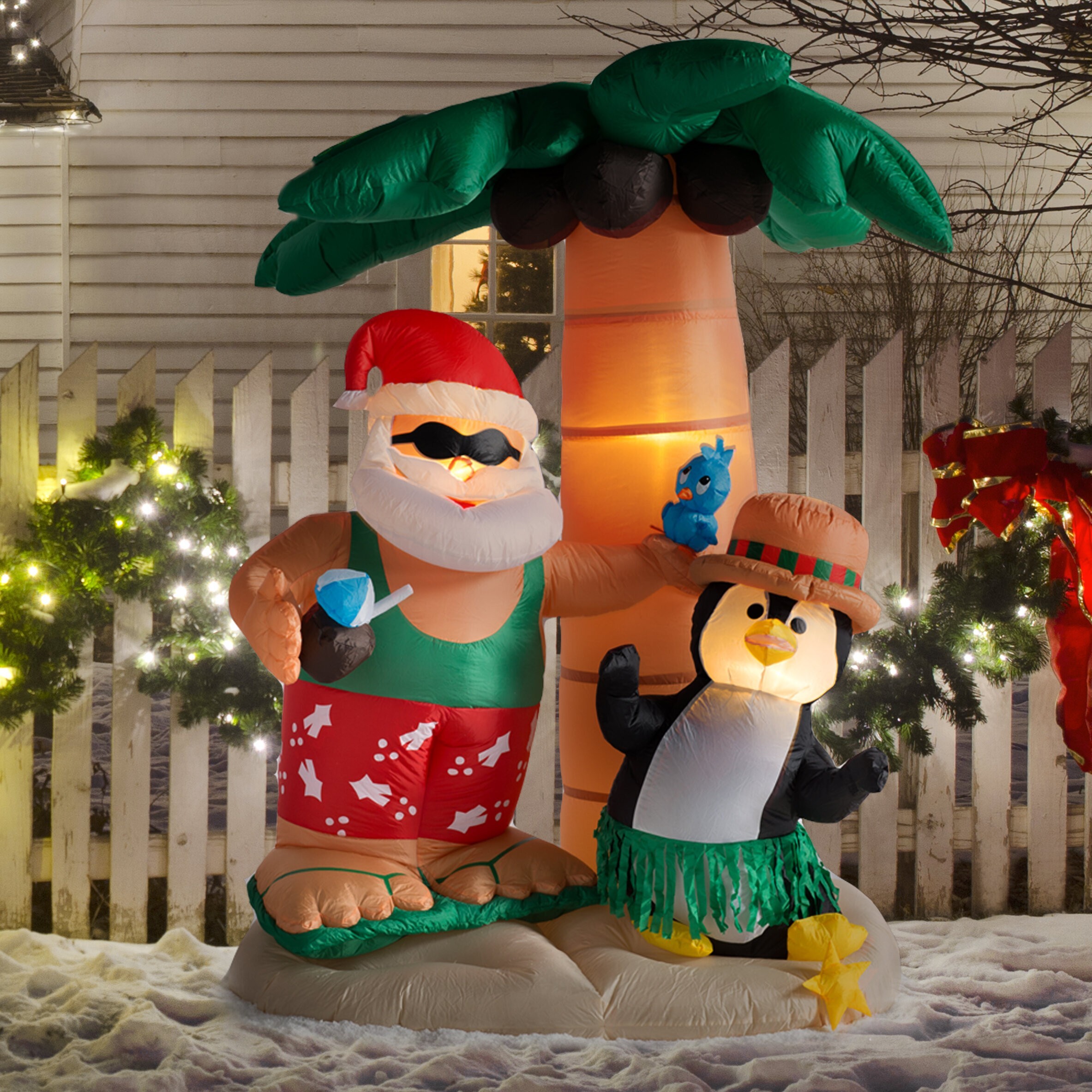 7.

Christmas Nativity Scene Under Stable

For families celebrating Christmas for religious reasons, this nativity scene from The Holiday Aisle is the perfect way to decorate your yard and celebrate the origins of the holiday.

This light-up Christmas inflatable comes with seven bulbs and is easy to set up with a self-inflating feature, stakes and tethers. These inflatable Nativity sets are a beautiful way to portray the Christmas spirit while utilizing fun cartoon characters designed for children.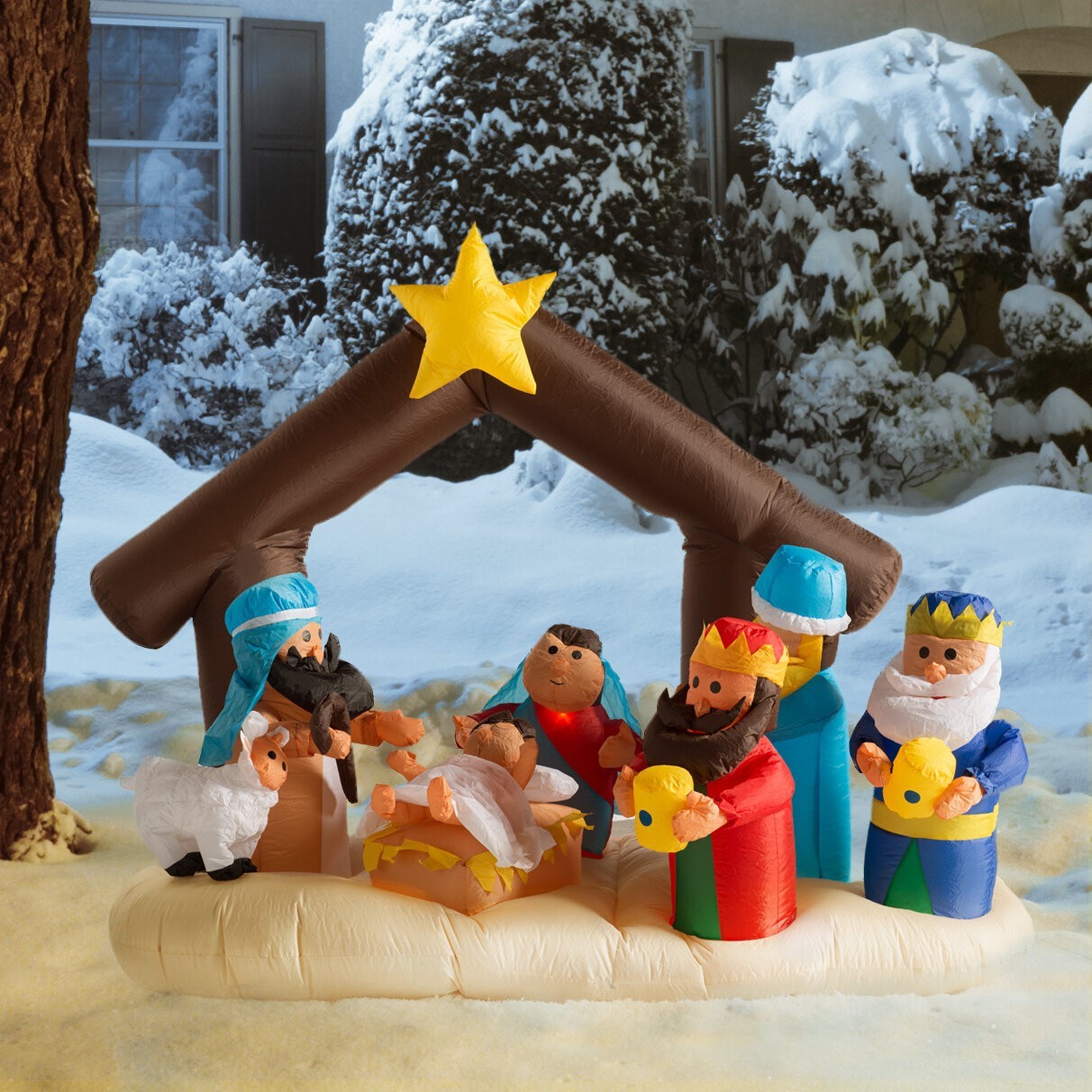 8.

Polar Bear with Three Cubs in Santa Hat

If you're not one for traditional holiday themes and characters, but still want to decorate your house, consider the Christmas Inflatable White Polar Bear with 3 Cubs in Santa Hat Airblown Yard Decorations from Fashionlite.

This decoration will light up your yard with eight LED bulbs included, and easy setup through self-inflation. It comes with a 5' long 12W power cord to operate the 0.8A air blower so you can place the inflatable in a variety of locations. At six feet, this polar bear inflatable is a show stopper that will turn heads on your street while warming hearts.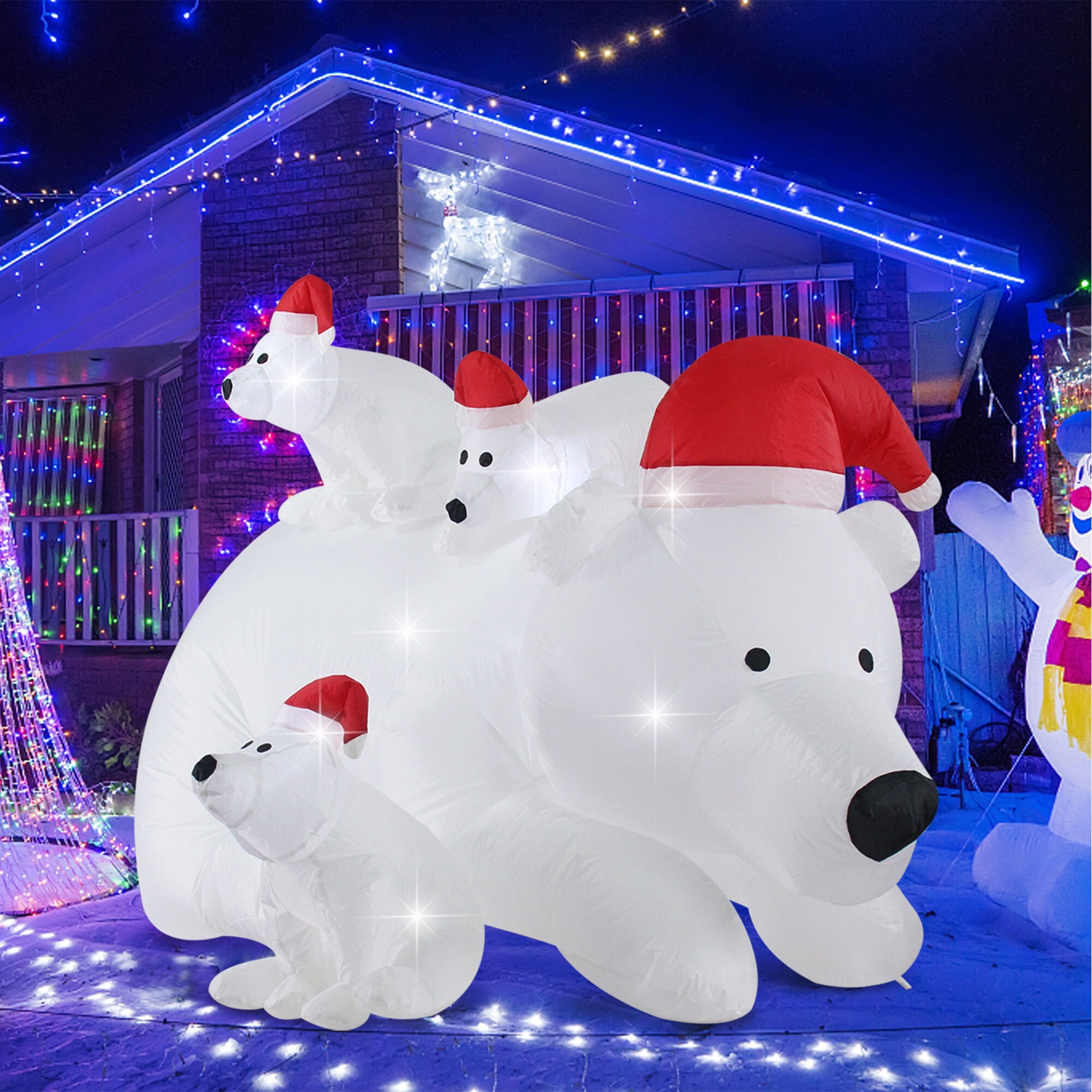 9.

Gingerbread Man

MAOYUE Christmas Inflatables brings this adorable Outdoor Christmas Gingerbread Man Blow Up Christmas Decorations to the party this holiday season. Gingerbread is a beloved baked good associated with the holidays, but the character of the gingerbread man is just as well-loved, especially in younger generations, thanks to the popularity of the character "Gingy" in the iconic Shrek films.

Complete with three LED lights and standing at 5' tall, this gingerbread man is easy to inflate and is extremely durable, withstanding even cold, snowy, winter weather. His cute, smiling face as he waves to your neighbors is enough to bring joy to anyone's day.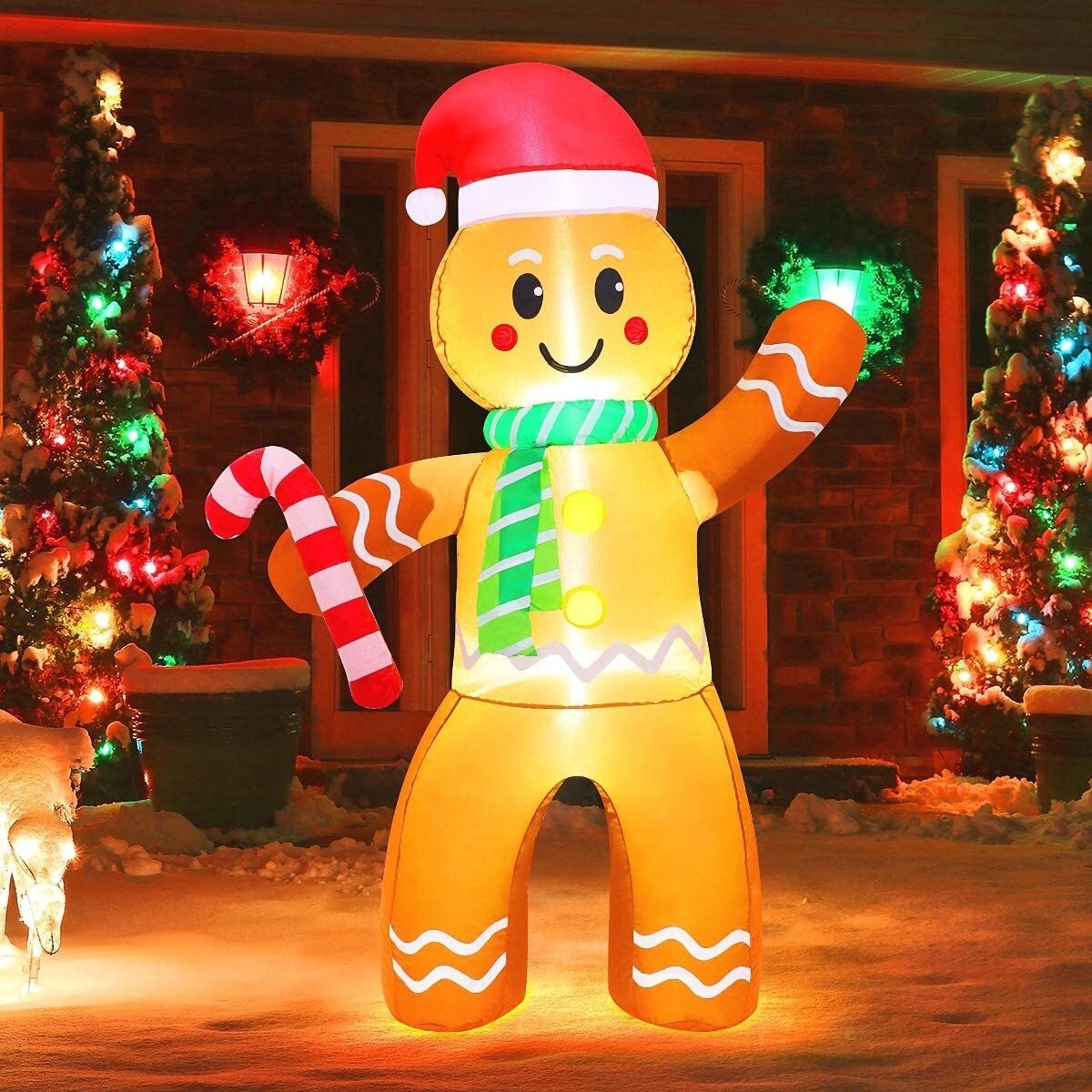 10.

Baby Yoda Holding a Candy Cane

With the Christmas inflatables market booming, you have so many options beyond the traditional holiday characters available. If you don't want your yard to look like everyone else on the street with Santa, reindeer, or elves, why not add your favorite sci-fi character to the mix?

This Child Baby Yoda Holding Candy Cane inflatable is not only a cuteness overload, but the multitude of Star Wars fans out there will surely appreciate this nod to their favorite franchise over the holidays.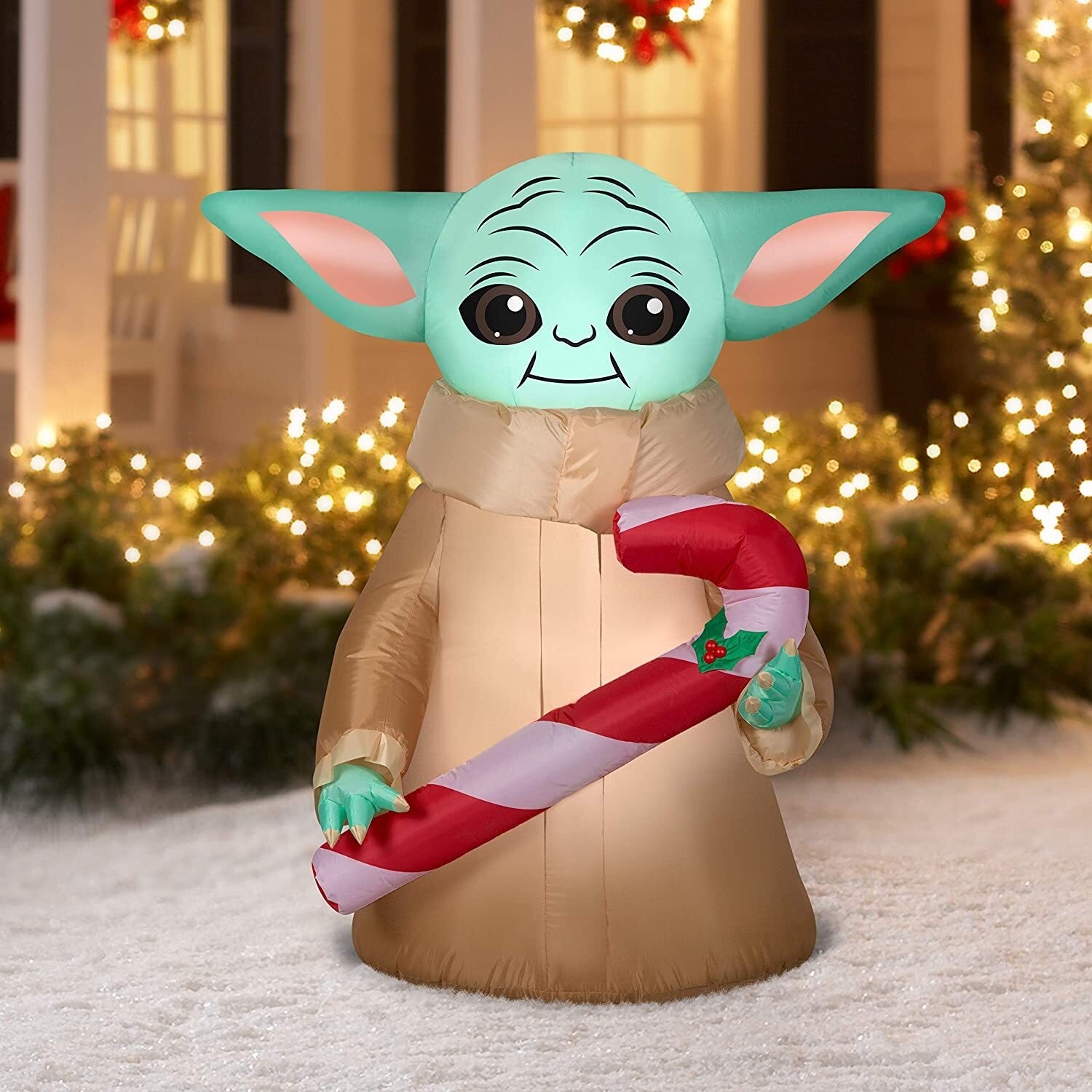 The Last Word
The Christmas inflatables trend is a fun one to hop aboard. There are so many options for how you can use these ornaments to decorate your outdoor spaces for the holidays. Look for giant inflatables with bright LED lights and well-known characters to evoke joy and holiday spirit in your neighborhood this Christmas season.