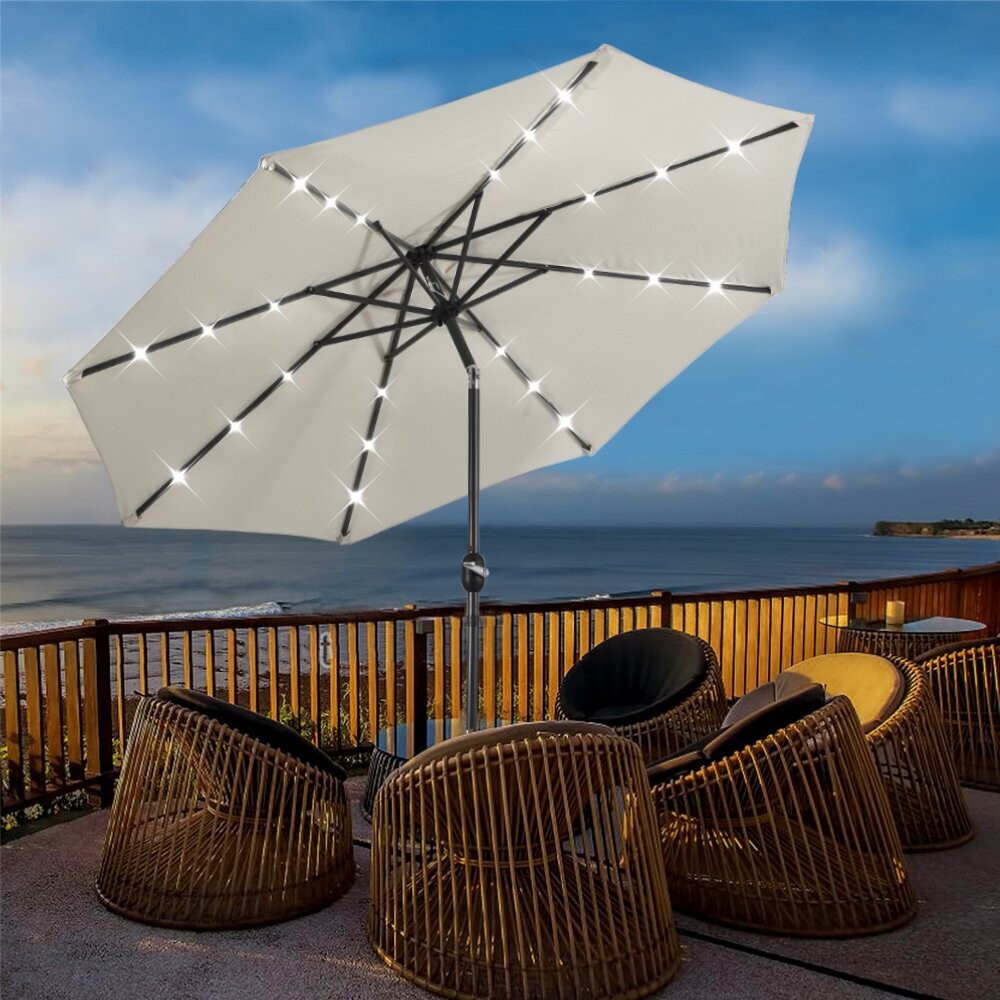 108" Lighted Market Umbrella

What we like: Solar-powered LED lights
What we don't: Stand/base not included
This 9 ft. wind-resistant patio umbrella is designed to fit through the center of your patio table for overhead protection against harmful ultraviolet (UV) radiation, providing a water-resistant polyester canopy. Operated by an aluminum hand crank, you can activate the runner and open the umbrella in a matter of seconds.
The canopy fabric is supported by eight steel ribs for additional strength, ensuring you're able to use this umbrella under various weather conditions. However, what stands out about this umbrella are the LED lights on the inner canopy, keeping your patio table illuminated all night long. The 24 LED lights are powered by an internal battery, which the umbrella recharges using a solar panel. The battery provides lighting for four hours after the sun goes down.
The canopy covers between four and six seated guests. The steel shaft has a powder-coated finish to resist rust and is compatible with most standard umbrella stands. The umbrella also has a tilt function of 60º with the push of a button so you can angle the canopy to provide shade no matter where the sun is.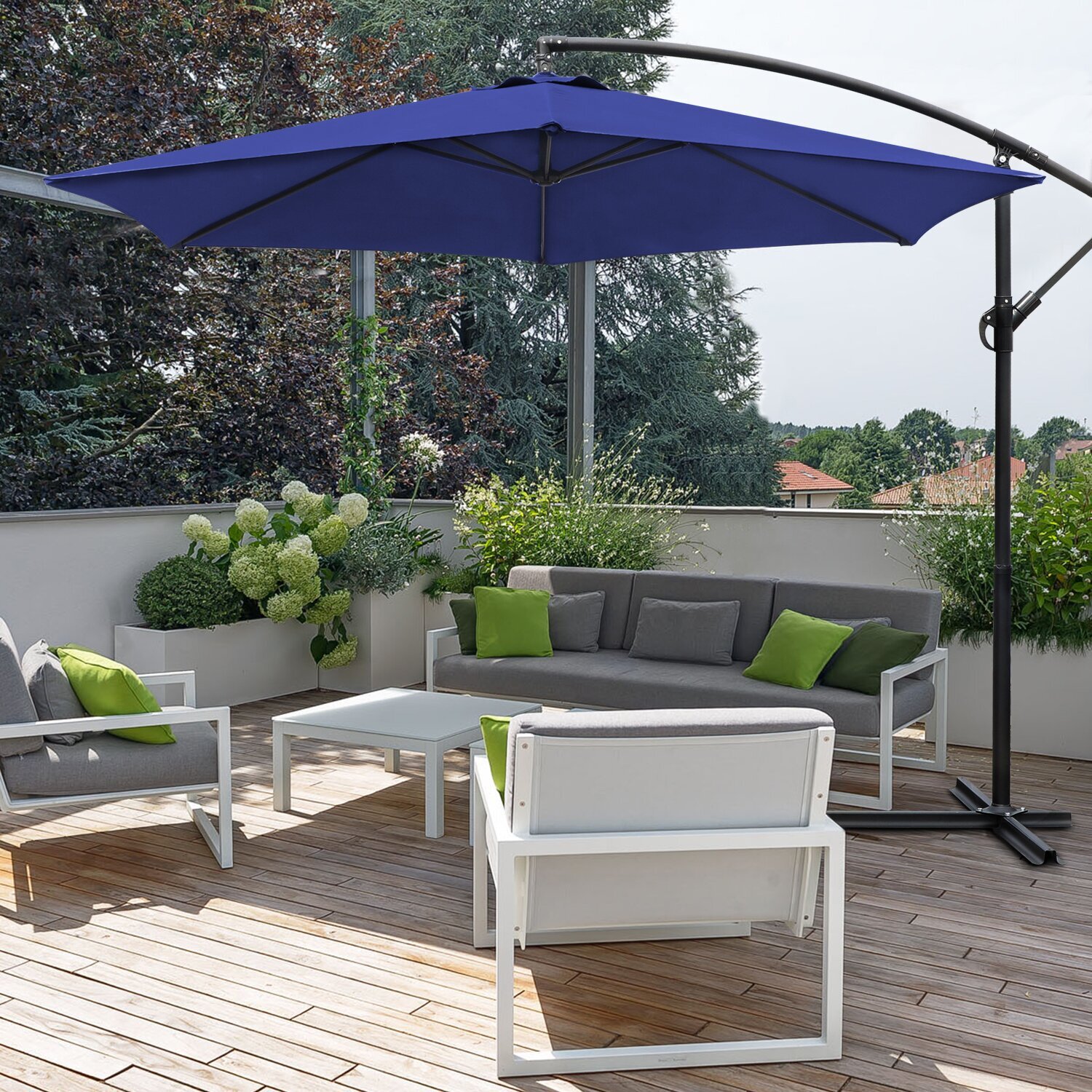 Arabella 114" Cantilever Umbrella

What we like: Cantilever design is ideal for sheltering lounge sets with no patio table
What we don't: No tilt function or counterweights included
This cantilever umbrella is ideal for patio seating areas with no central dining table to support the umbrella shaft. When opened, the cantilever canopy has a diameter of 9.5' for additional coverage. Operated with a crank lift, the umbrella is easy to open and close at a moment's notice, so you'll never have to worry about set-up time. Unfortunately, while coverage is excellent, there is no tilt function, so the angle of coverage is fixed.
The cantilever umbrella requires counterweights to stabilize the system, which do not come with the set. However, the polyester canopy is resistant to both wind and water, ensuring that you and your friends or family will remain comfortable, rain or shine.
$93.99 $101.99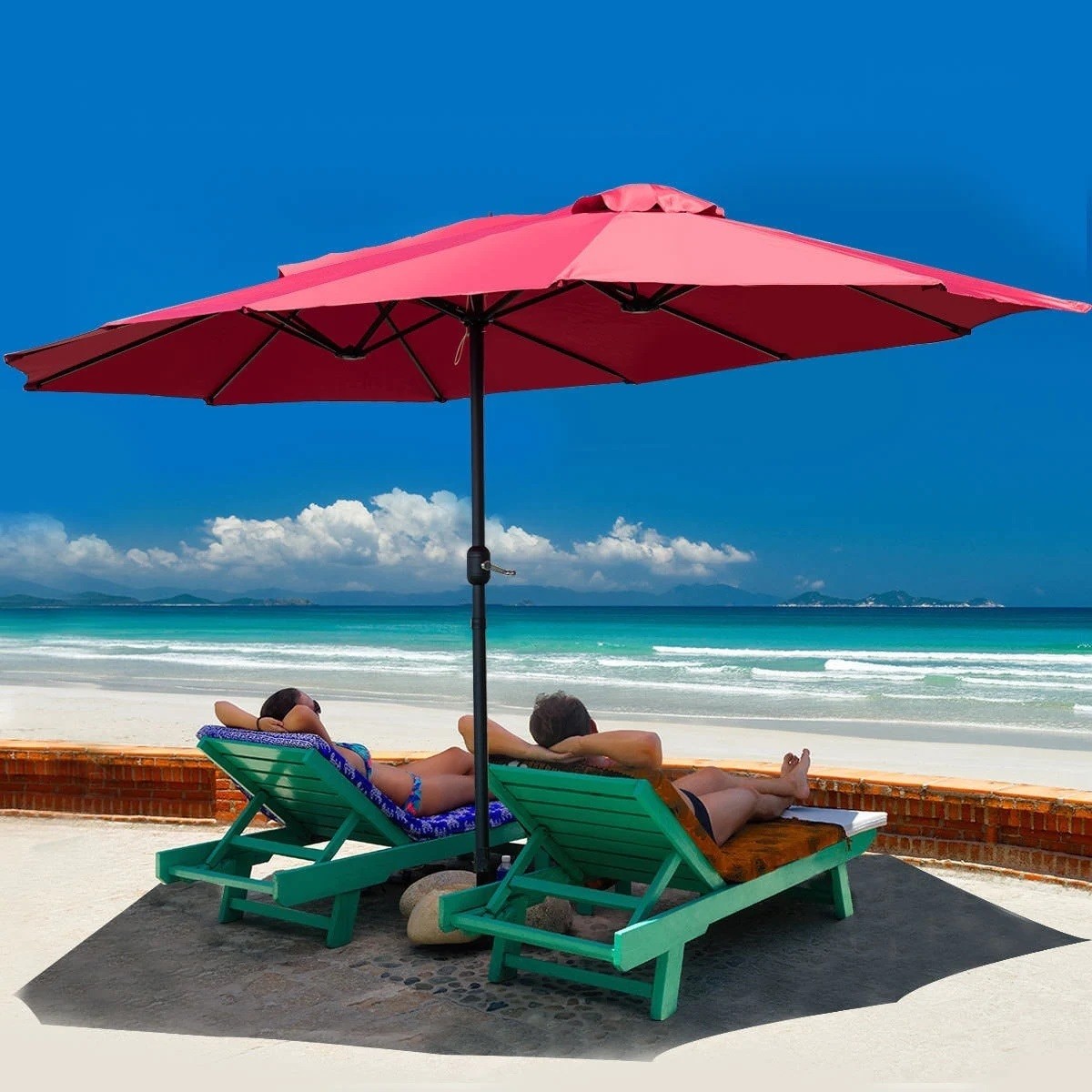 Costway 15' Market Outdoor Umbrella Double Sided Twin Patio Umbrella

What we like: Double-sided canopy and high-strength construction for added coverage
What we don't: No base included
At 15', this double-sided outdoor umbrella provides ample coverage for your outdoor event of choice, whether that's in your backyard or on the beach. Built using a steel shaft with a rust-protective finish, this umbrella's canopy uses 12 high-strength steel ribs, ensuring long-term durability and wind resistance. In addition to blocking UV radiation, the canopy is resistant to mildew and fading to avoid losing its color in direct sunlight.
Sporting a classic appearance, this heavy-duty wind-resistant patio umbrella has an offset cantilever design, making it the perfect choice for outdoor areas where a center table support isn't available. Thanks to its foldable design, the umbrella is easy to store and won't take much space.
This is one of the best wind-resistant patio umbrellas on the market.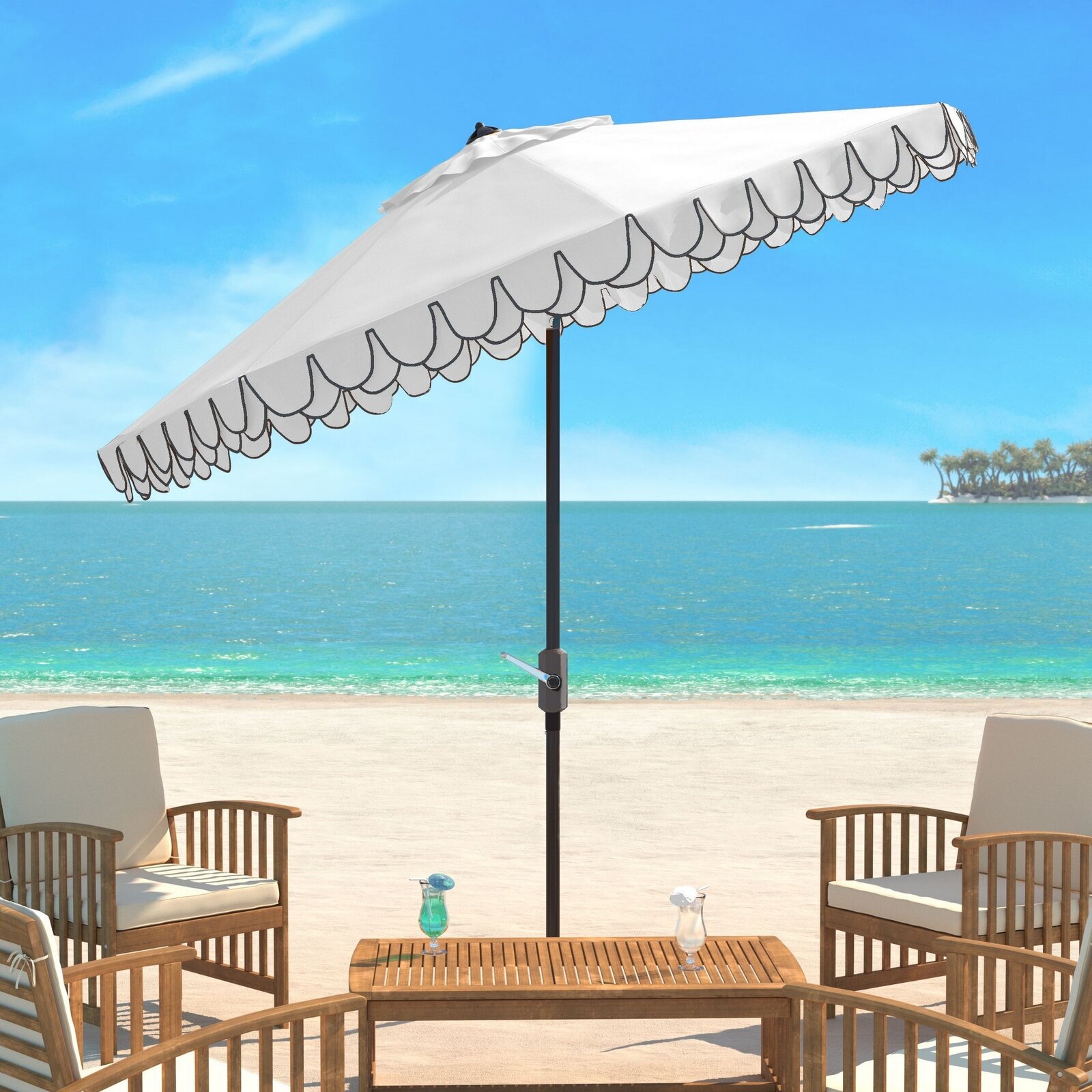 Charpentier 108" Octagonal Market Umbrella

What we like: Decoratively accented drape umbrella
What we don't: No stand included
If you're in the market for a more decoratively styled option, this 108" octagonal umbrella features a canopy with an attractive drape and an accented double-petal skirt. Accompanying the draped canopy is an aluminum shaft with a powder-coated corrosion-resistant finish, available in either brown or chrome.
The weather-resistant polyester canopy construction will protect you against the sun's rays — providing an ultraviolet protection factor (UPF) of 50. While no stand is included in the package, the umbrella features tilt functionality so that you can block the sun regardless of the time of day.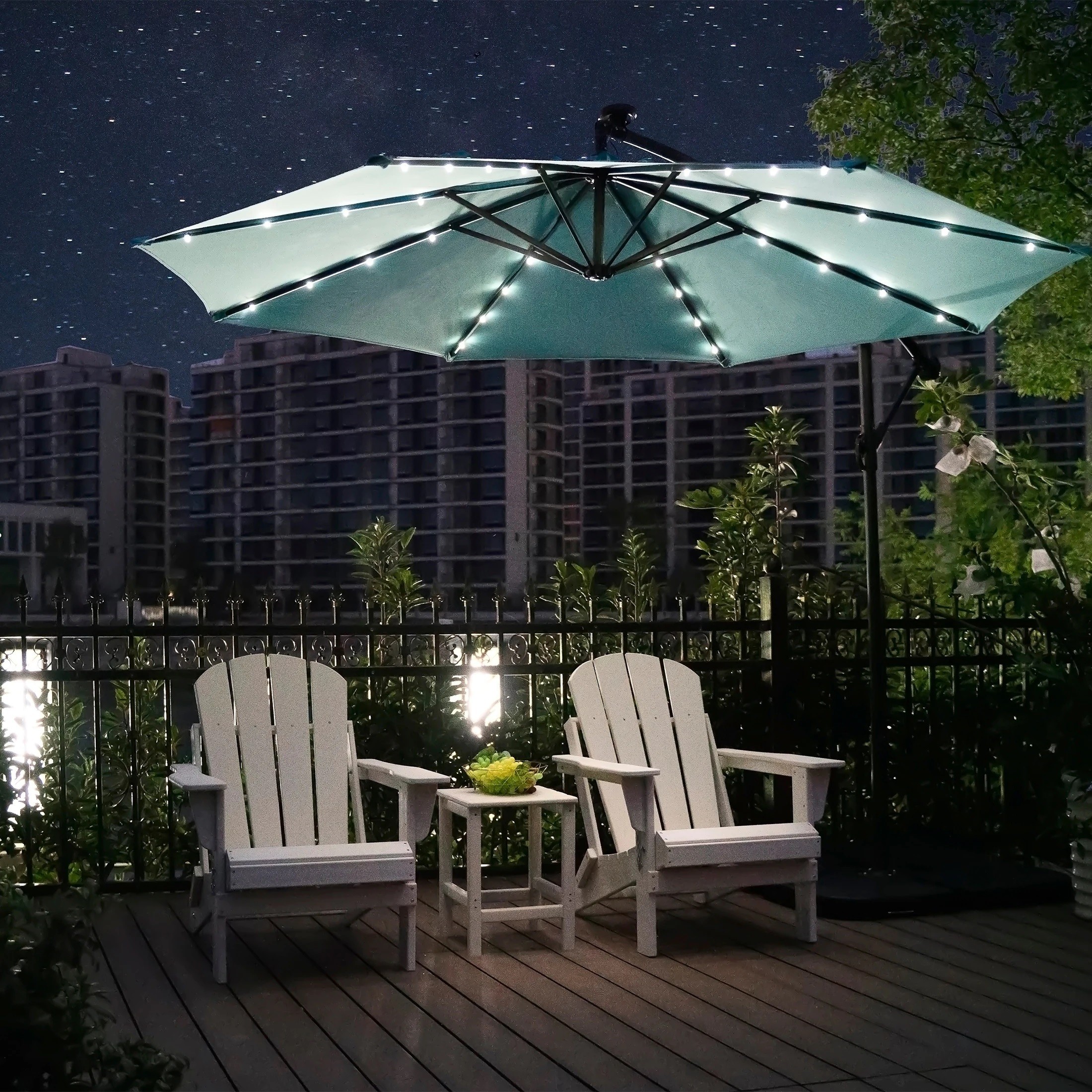 10 Ft Solar Power Lighted Patio Umbrella with Base

What we like: Illuminated cantilever umbrella with base
What we don't: On the expensive side
This umbrella combines several features for your convenience and comfort. The cantilever system is ideal for providing coverage without interfering with your choice of table or patio furniture, hanging the UV-resistant canopy over the seating area. The base is included with the umbrella for ease of assembly and installation.
The polyester canopy is ventilated, promoting airflow, and has eight steel ribs for stability. The frame is also made from steel, ensuring the long-term structural integrity of this windproof patio umbrella.
However, one of the most exciting features of a cantilever umbrella is the lighting system on the inner canopy powered by a solar panel. This allows you to keep your patio illuminated at night without setting up a separate lighting system.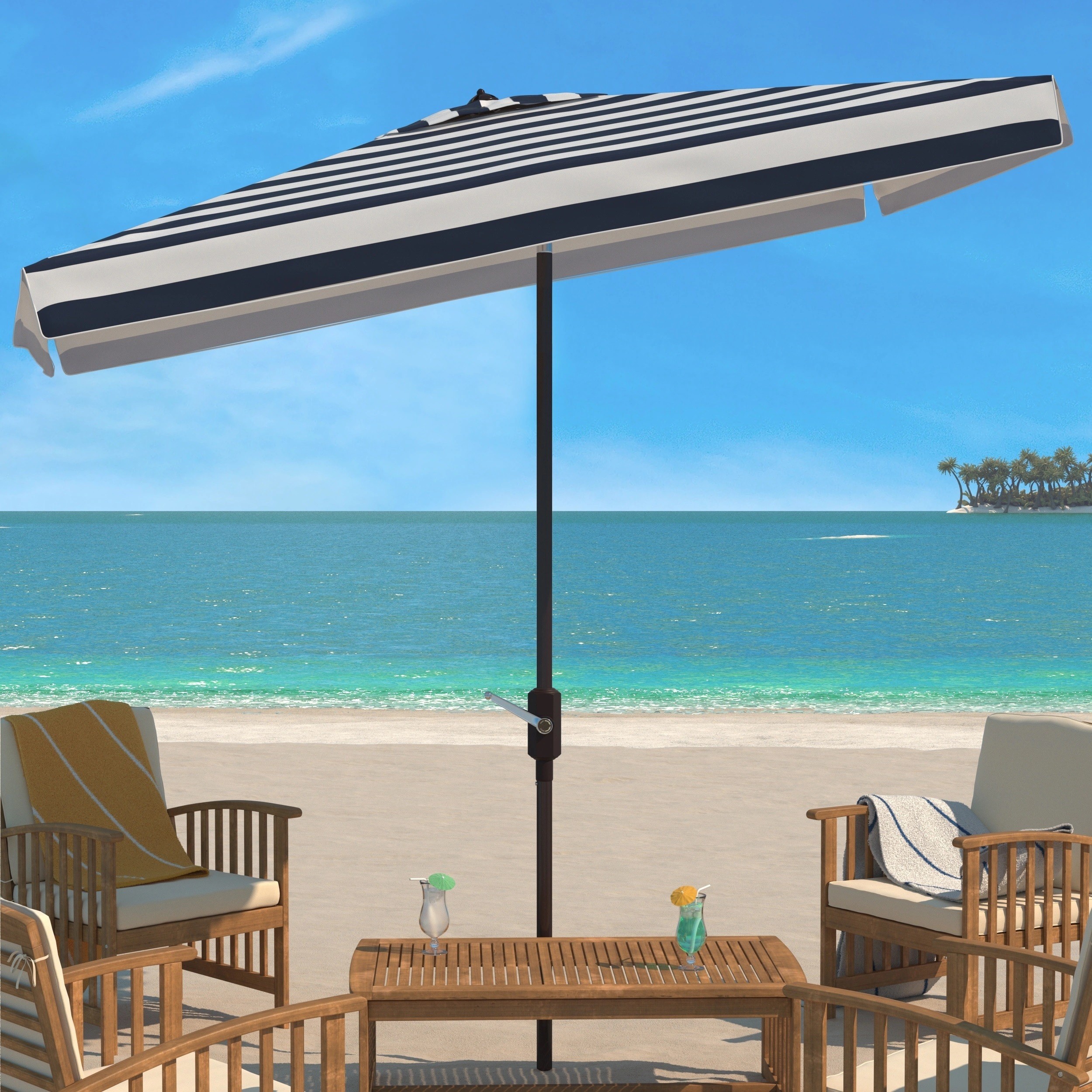 SAFAVIEH Outdoor Living Elsa Fashion Line 6 5 × 10 Ft Rectangle Umbrella

What we like: Classic and modern appearance taking inspiration from Europe
What we don't: You have to provide your own closure strap
This attractive, crank-operated rectangular market umbrella is inspired by the picturesque German town Baden-Baden and its health resorts, exhibiting a European flair. The stripes offer classic nautical styling, ideal for a pool-side seating area.
In addition to providing ample coverage, this umbrella also features an auto-tilt function and can withstand heavy gusts of wind, so it's effective for a variety of different purposes.
This umbrella is relatively easy to clean and maintain. A damp sponge is all you need to remove spills and prevent stains.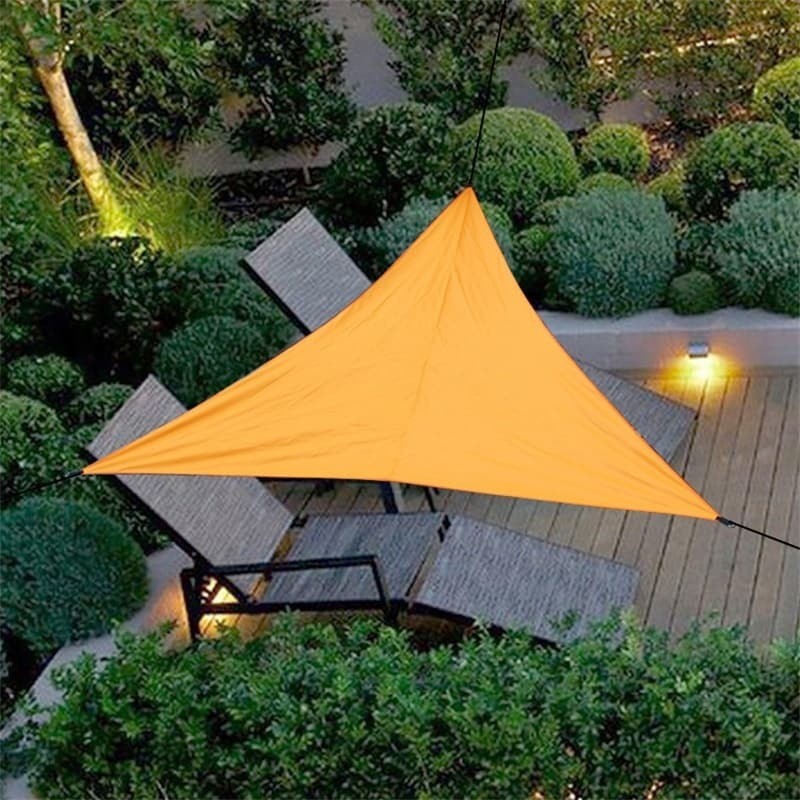 Outdoor Waterproof Triangular UV Sun Sail Shade Net Triangle Sun Sail Tent Camping Garden

What we like: Durable HDPE construction
What we don't like: Installation can be challenging
While not strictly an umbrella, this sunshade blocks the sun's harmful UV rays, providing up to 95% UV protection. Made from 100% high-density polyethylene, this sun sail is a practical choice for various applications, from garden parties to camping trips.
The HDPE construction is complemented by the heavy-duty double-layered stitching of all seams, so you don't have to worry about the sail losing its shape or fraying over time. The sail is not only weatherproof, but it can also resist wind when properly suspended with the provided hardware.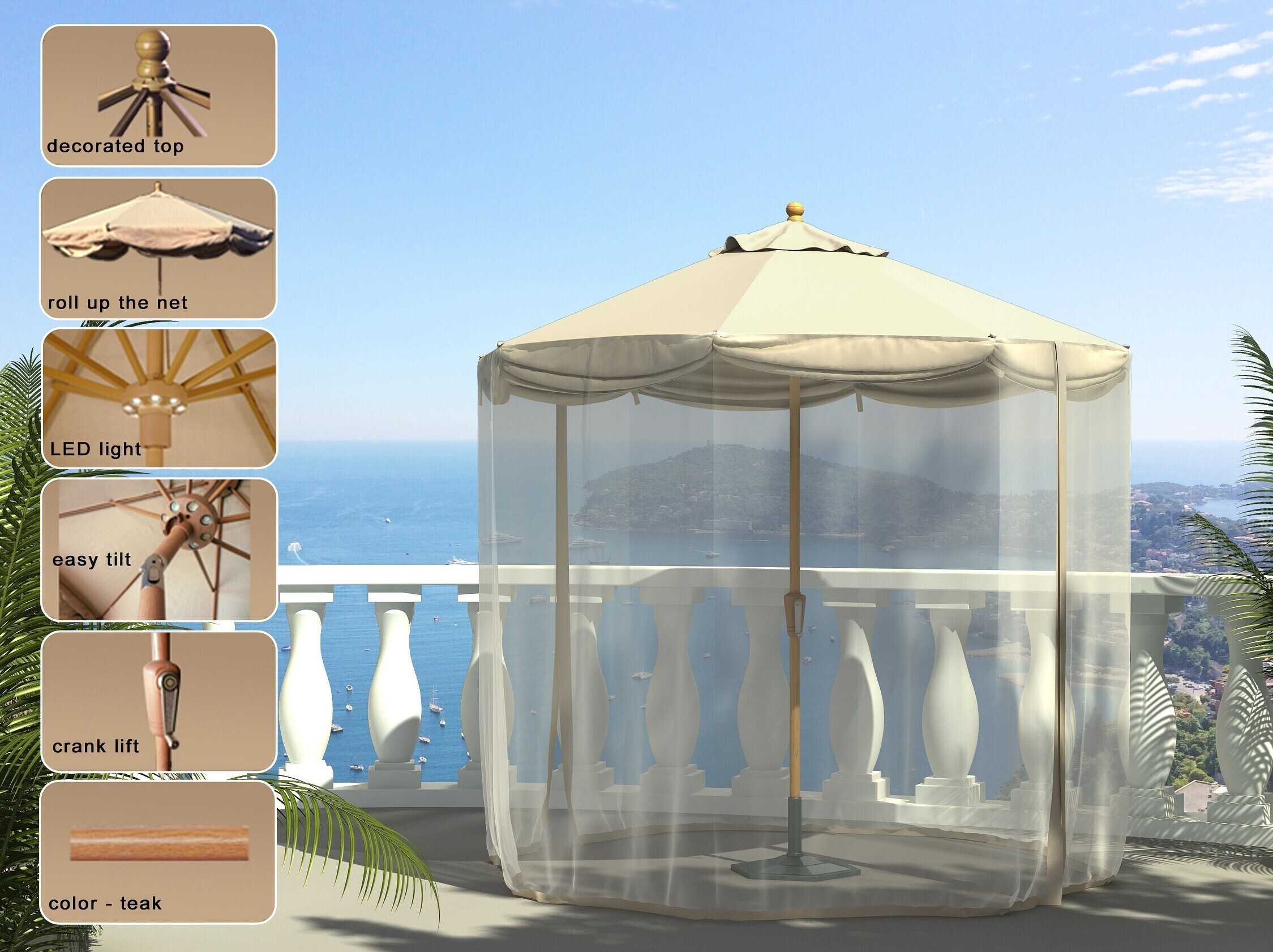 9' Market Umbrella Scallop W/Netting and Light

What we like: LED lighting and mesh netting
What we don't: The high price tag
On summer nights, gathering with friends and family can be an enjoyable, relaxing experience. However, during the warmer and rainier seasons, the mosquito population increases dramatically, depending on the region in which you live.
This umbrella not only features LED lighting to keep your garden party or patio gathering illuminated at night but also mesh netting to keep the insects out, protecting you and your guests from irritating bug bites.
You can open and close the umbrella with a hand-operated crank. The shaft and ribs are both made from aluminum, which is strong enough to handle most weather conditions.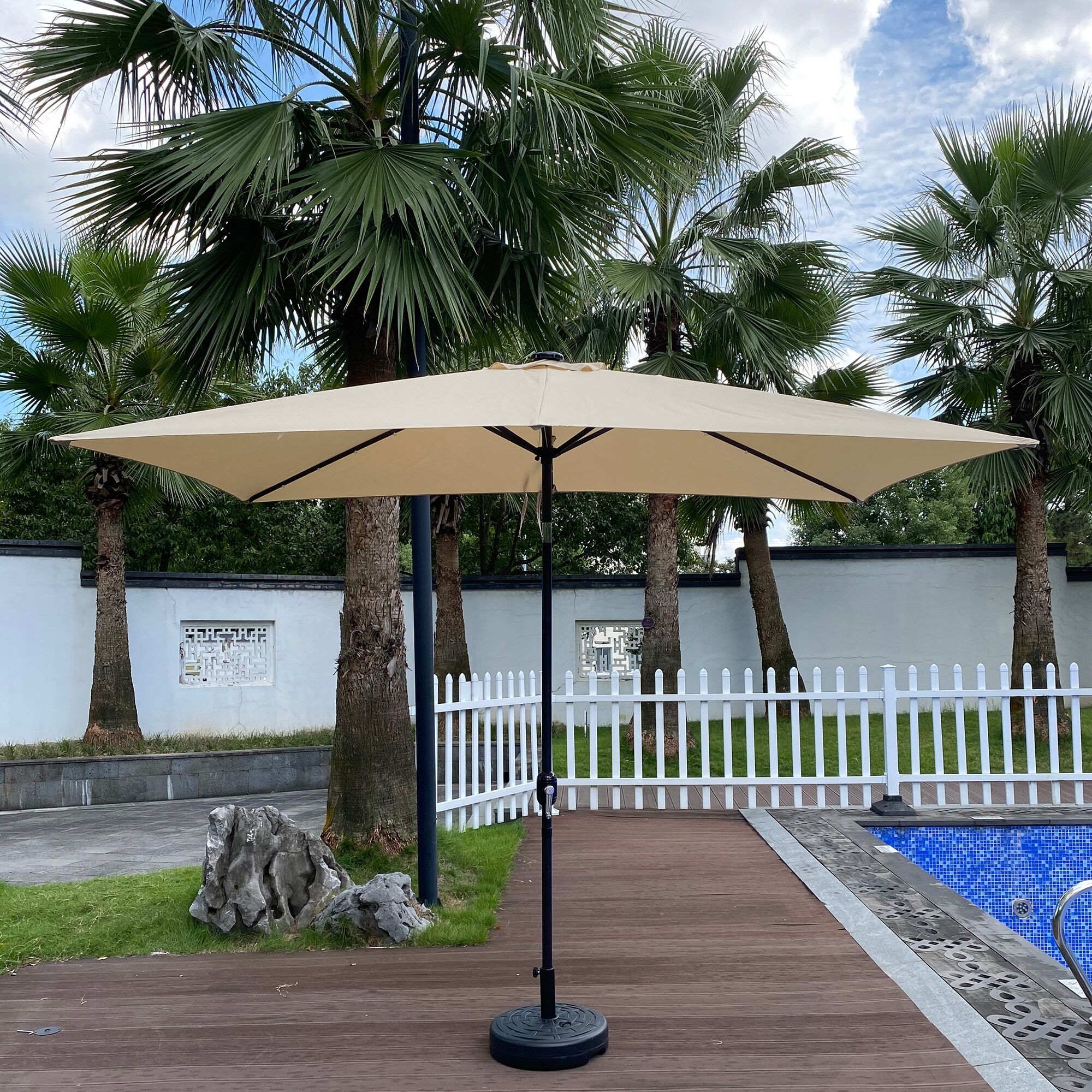 Global Pronex 10 × 6 5 Ft Rectangular Outdoor Patio Umbrella with Convenient Crank & Tilt & LED Lights & Durable 6 Sturdy Ribs

What we like: Relatively short free-standing umbrella with LED lighting
What we don't: High price point
This commercial-grade wind-resistant patio umbrella protects you and your guests against UV rays. The canopy, made from polyester fabric, also resists fading in direct sunlight. The inner canopy features 26 LED lights for nighttime illumination. The internal battery, which powers the LED lights, is recharged during the day using an included solar module. To keep the canopy rigid, it's supported by six steel ribs.
Crank-operated, anyone can comfortably open this umbrella, regardless of age or strength. The umbrella also doesn't need a table for support, thanks to its free-standing design. The powder-coated finish protects the metal parts against corrosion, and the air vents ensure that the system can withstand powerful gusts.