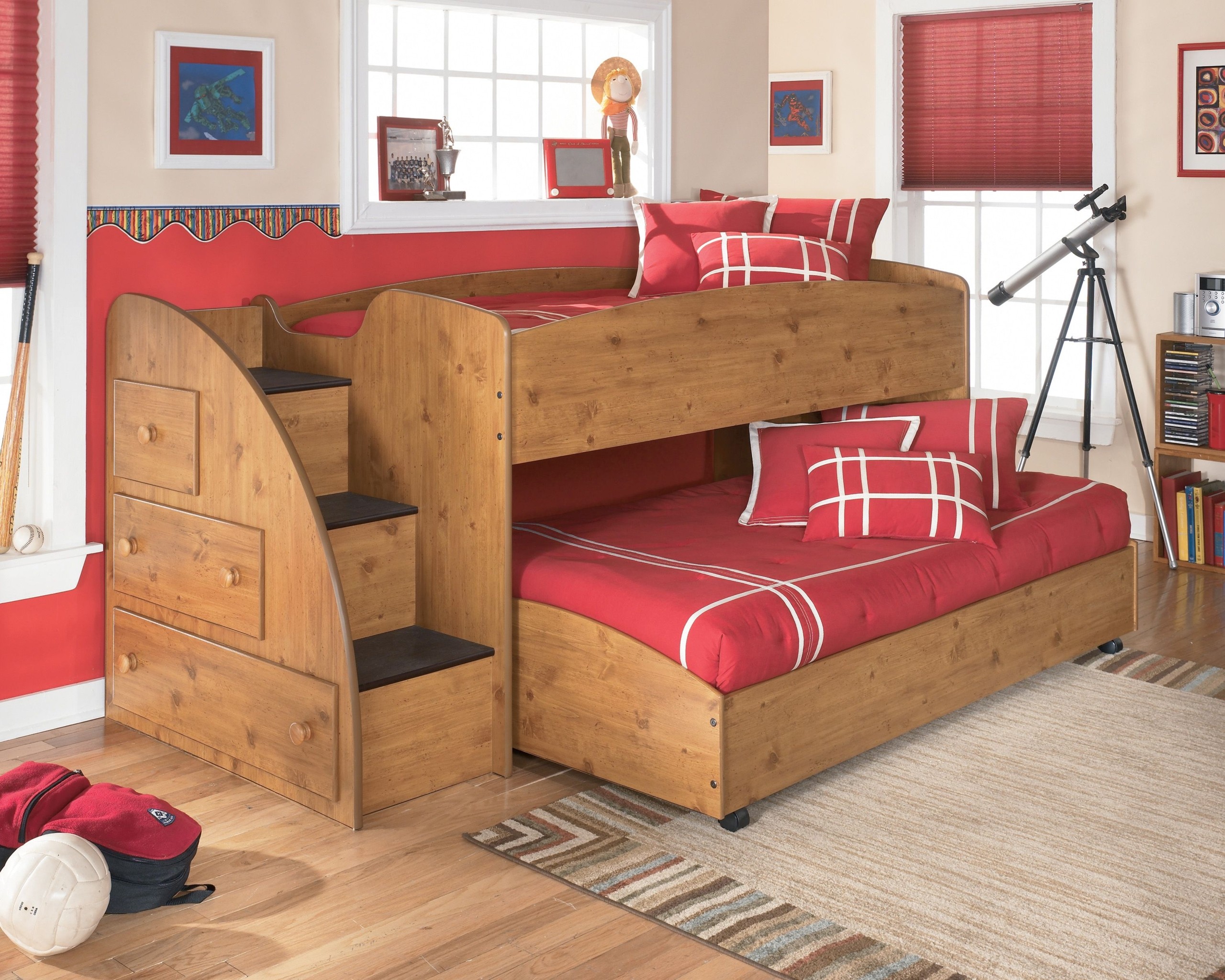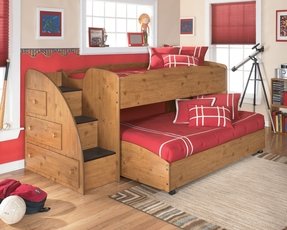 Elsa loft bed in brown
An interesting alternative for bunk beds. It is lower, so it is safer for users. It has got stairs that provide access to the upper bed. These stairs feature three storage drawers. The whole constructions is comfortable, safe and solid.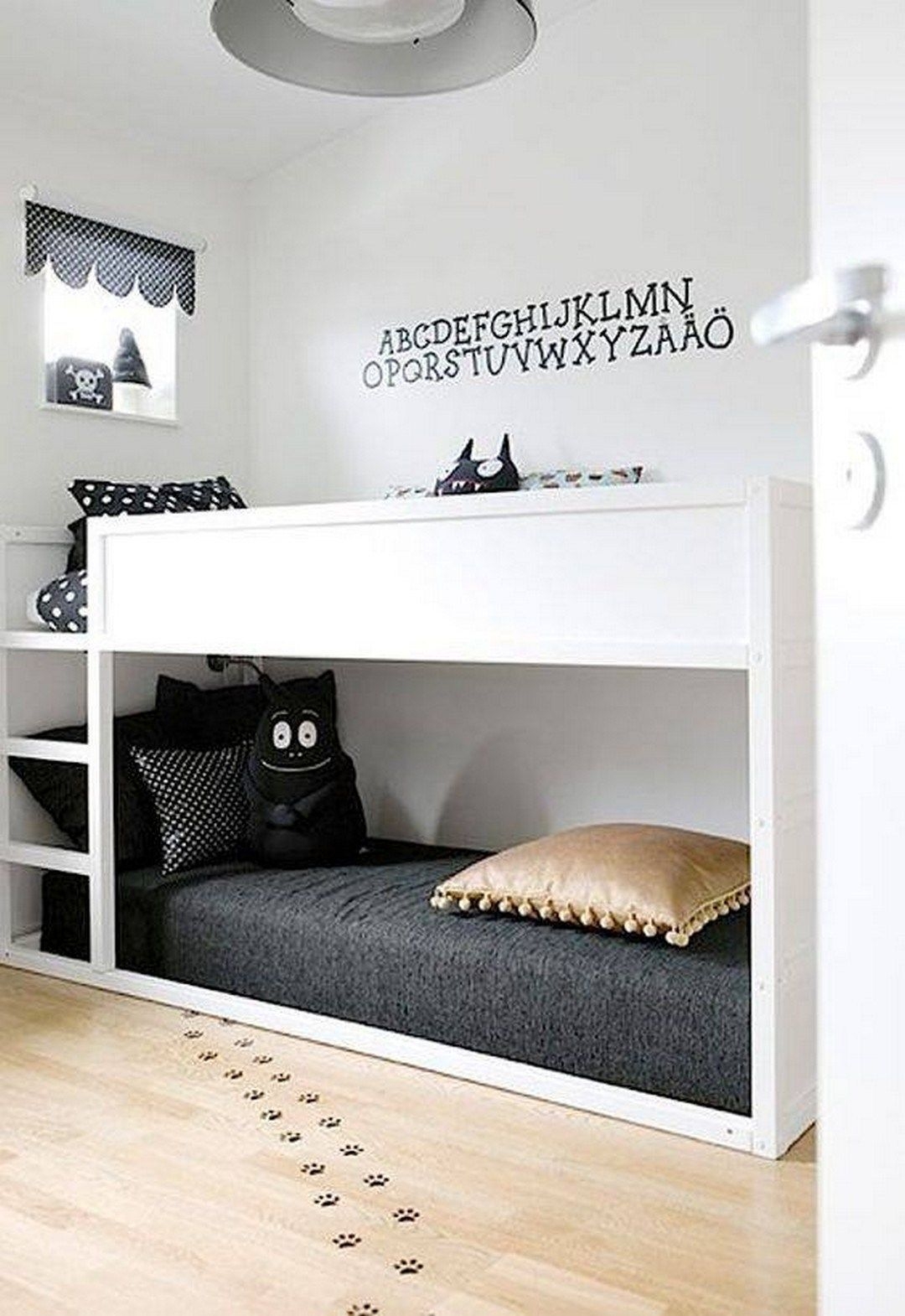 The flat bunk bed is a perfect combination of functionality and a simple design that will fit into the children's room. The simplicity of execution and beautiful white finish enchants. A small ladder facilitates entry into the upper bed.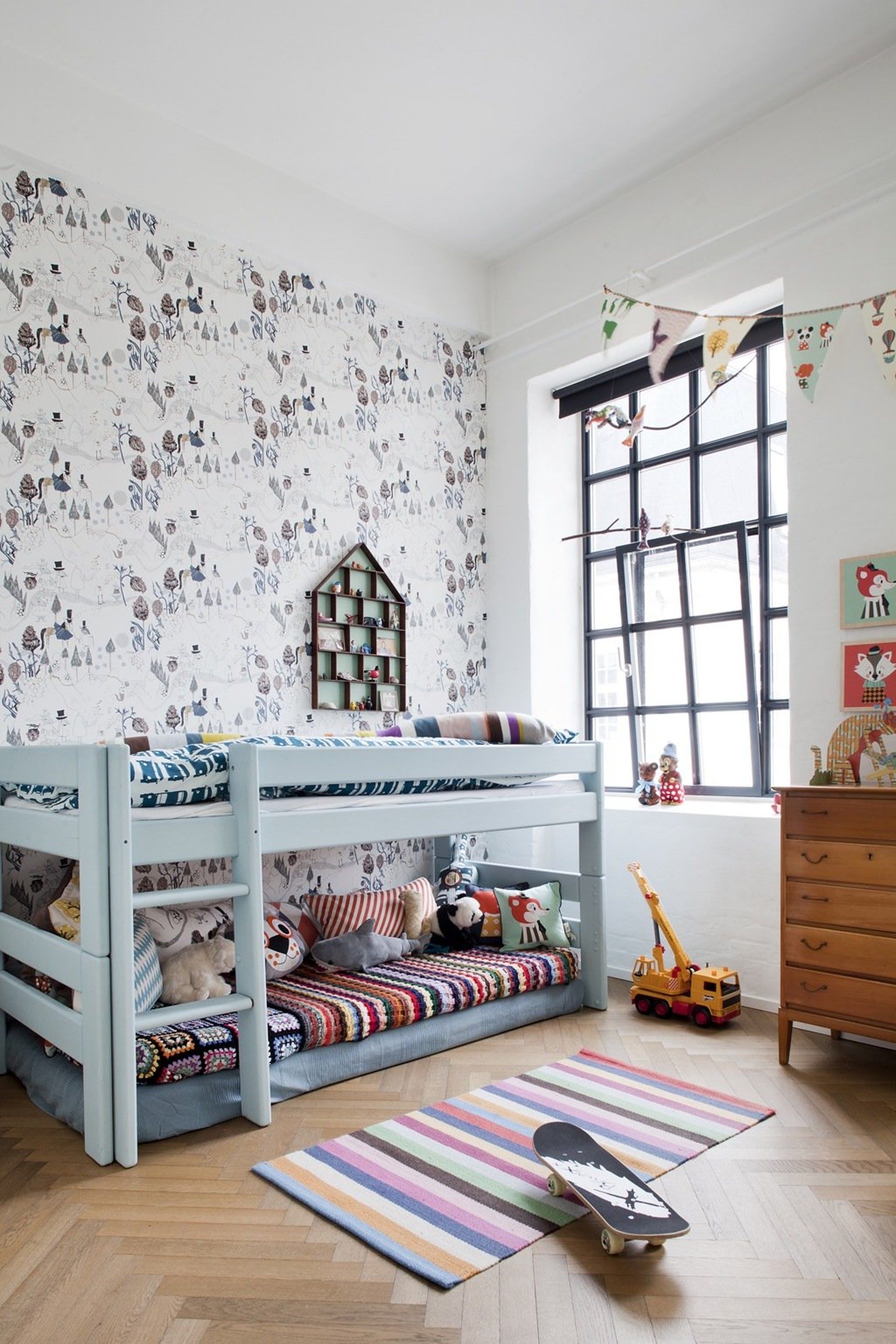 Tiny pattern of a light colored wallpaper creates a backdrop for a low-lying light blue painted bunk bed. If your ceilings aren't particularly high, choose a short loft bed, still being able to save on floor space.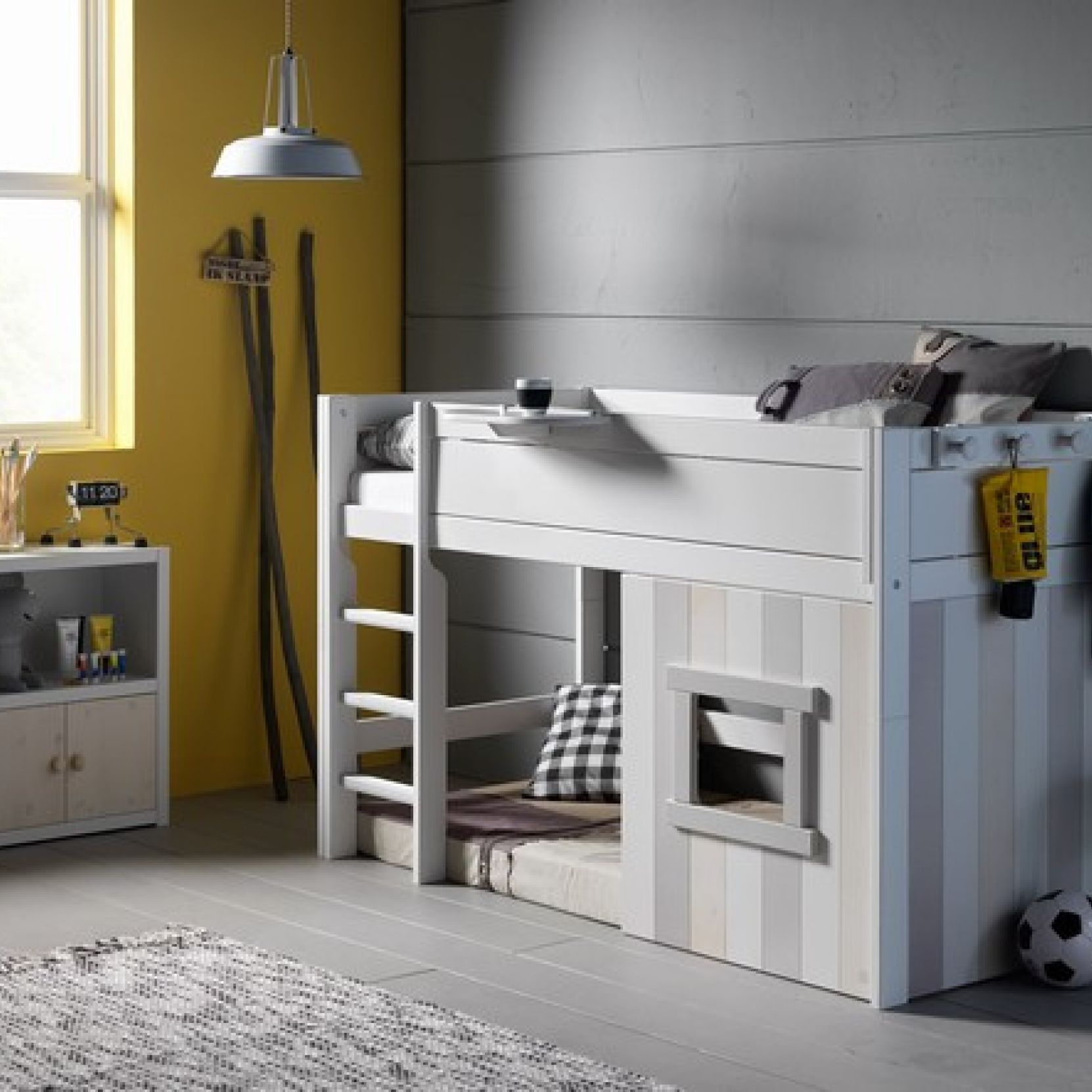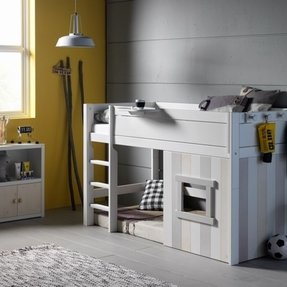 In these bunk beds your children will be sleeping as soundly as a bear during winter season. Made of wood with three-toned finish, this comfy combo has a properly secured top bunk, a fixed ladder, and a built-in tray for holding cups and glasses.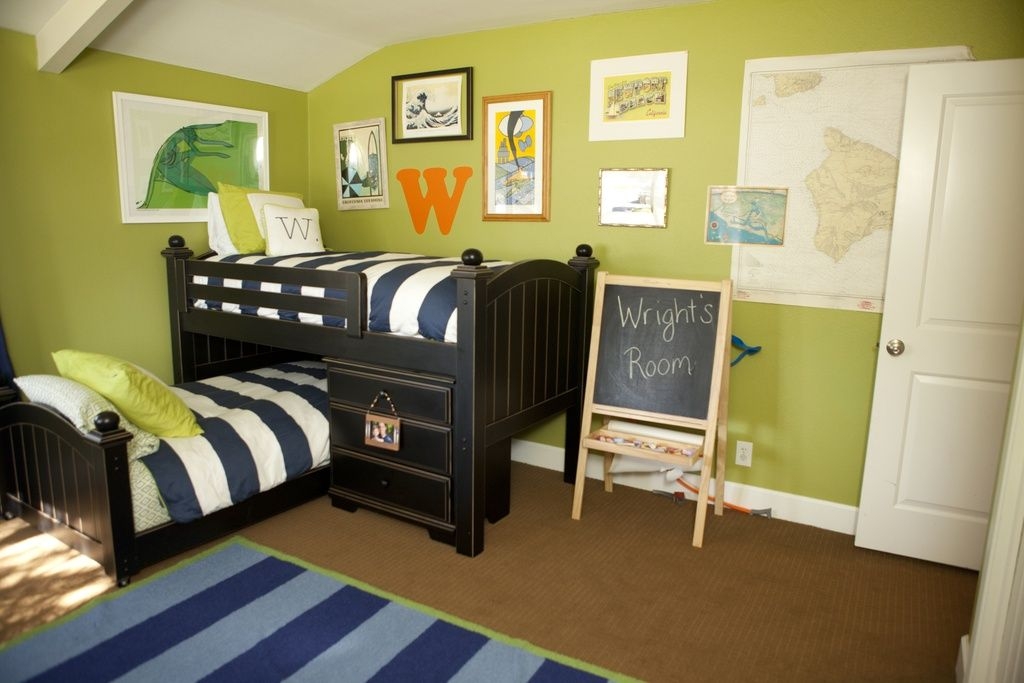 This area includes elements of furniture that provide plenty of sleeping space in small rooms. Each bunk bed provides two beds in an L-shape configuration. What is more, this practical solution includes three storage drawers.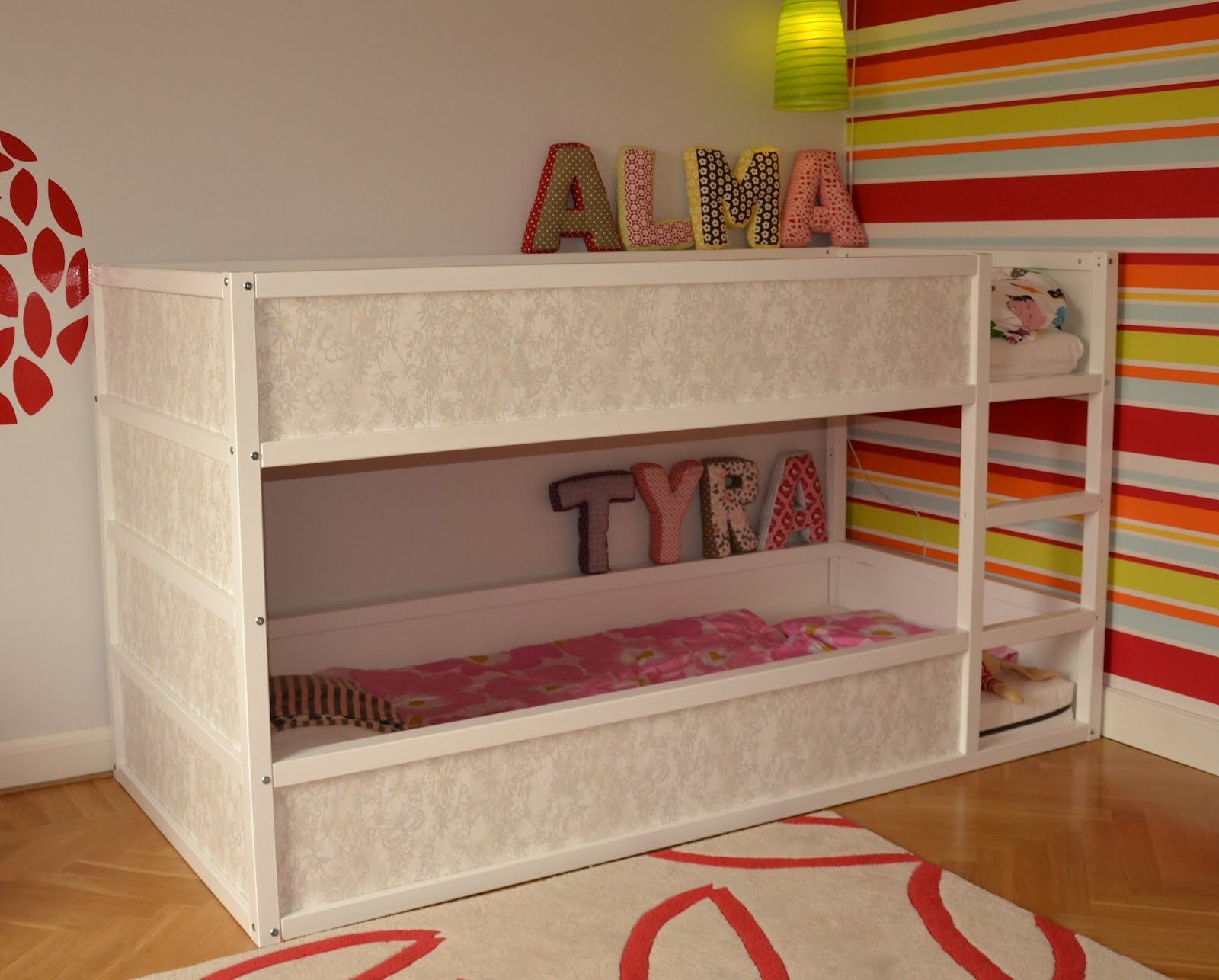 If you have a loving family you probably want to create safe and friendly space for your kids. These ideas for children's room design are reasonable, neat and vivid. The variety of colors helps kids to develop their creativity!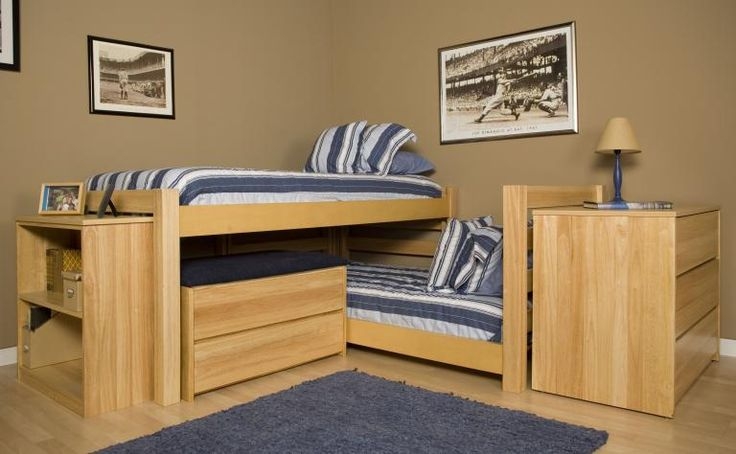 The undoubted advantages of low bunk beds include space saving. Our kids can sleep in one room. In this case, the seemingly complicated construction made of light wood finished with a wood veneer in a warm shade of pine. It also has separate shelves.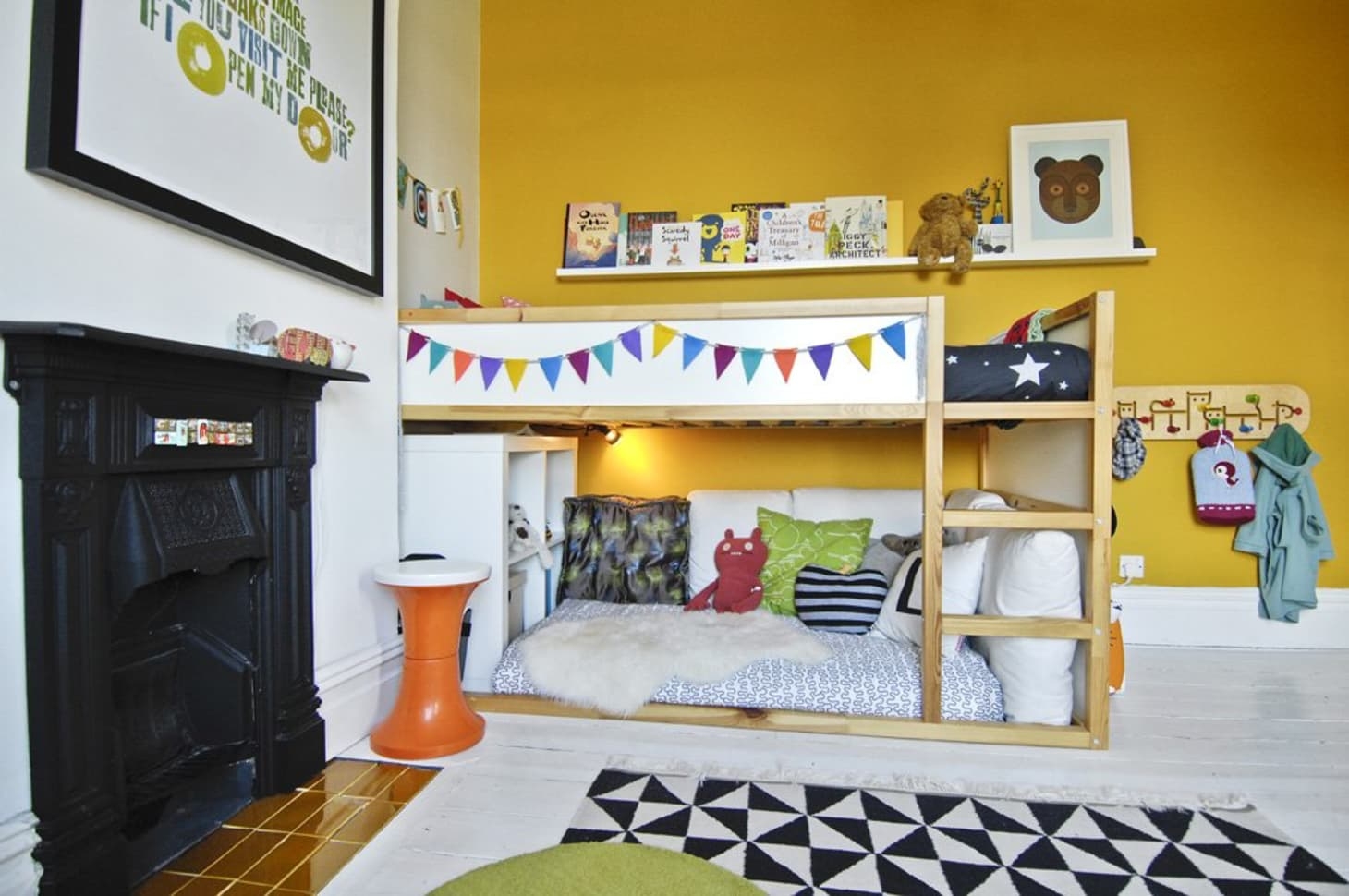 Practical bunk bed with the lower bed placed on the floor. You don't have to worry that your child will roll down from the bed and hurt itself. There is also a plenty of from sealing on the upper bed, which helps to avoid hit it with head.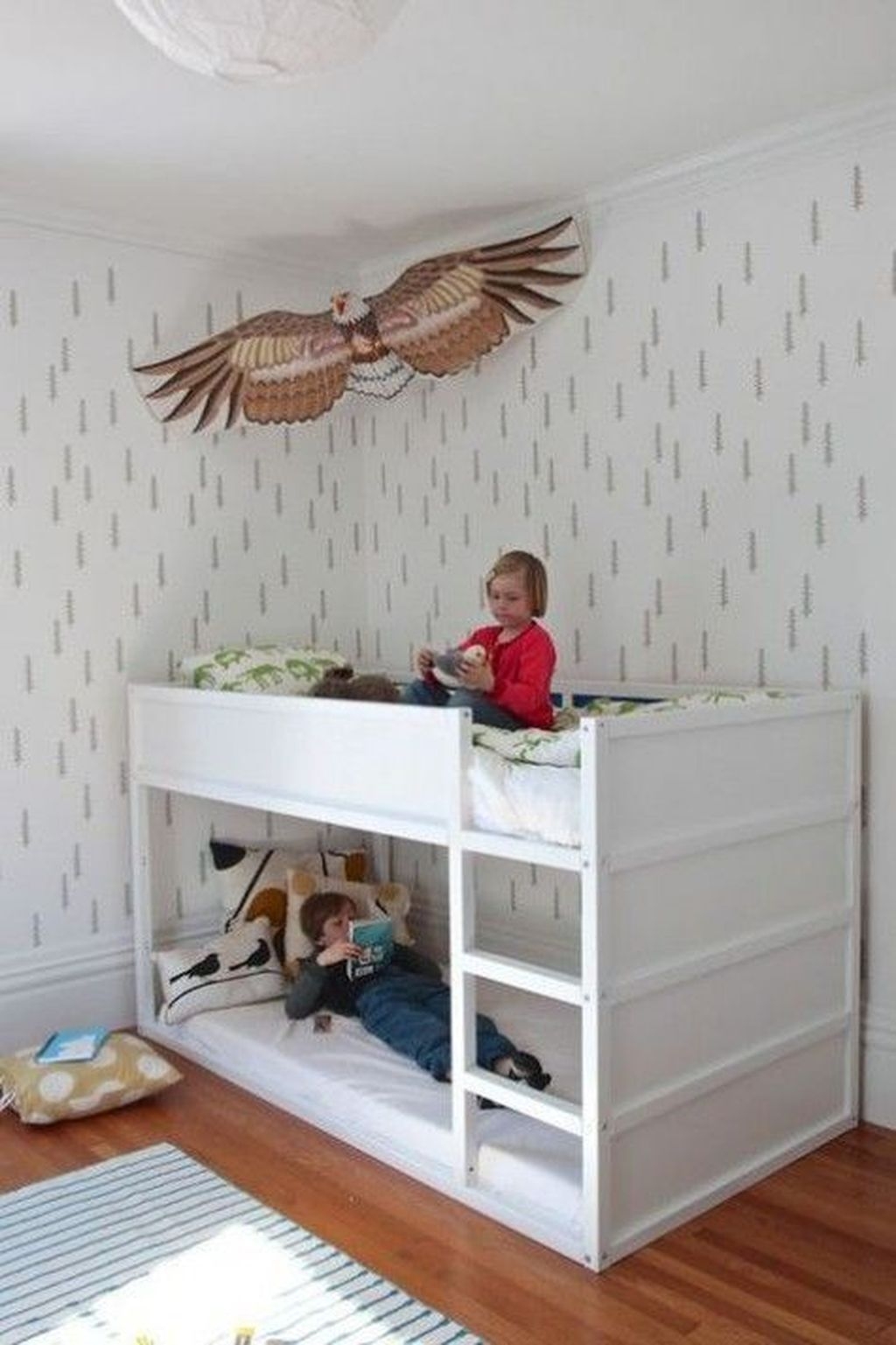 An aesthetic practical bunk bed for kids. It has a rectilinear frame of white-finished wood. A bottom bed has a very low base. A full unified footboard with a ladder design and full side rails feature recessed panels. A ladder is built-in upright.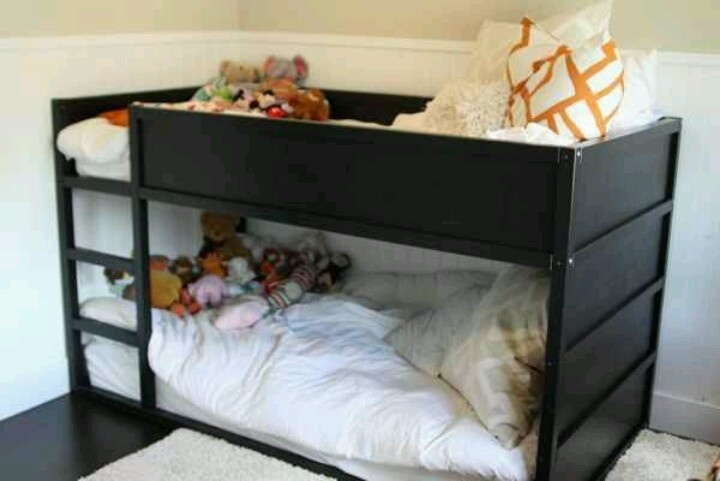 Why didn't I think of painting this!!!! Instead we have a humongous overwhelming bunkbed covered in wood veneer that I don't want to/really should not anyways paint. Could have made this really cute and added some sports team flair :( -Ikea Bunk bed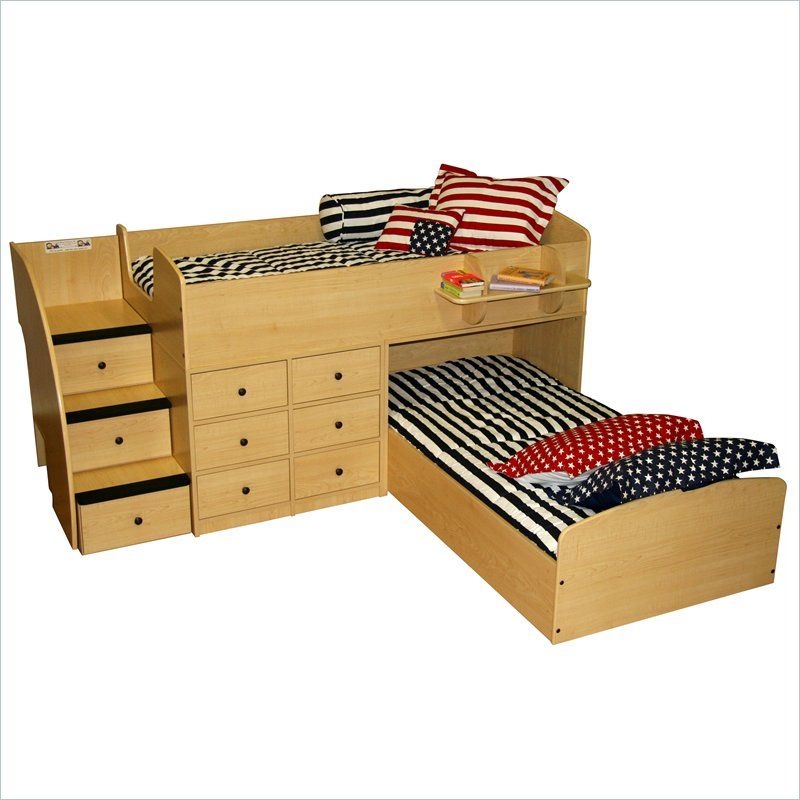 A practical L-shaped bunk bed for boy kids. It's of wooden materials with a natural finish. An upper bed has a shelf on a side rail and a footboard with an entry. Six drawers with black knobs are inbuilt under the bed, 3 other ones - in stairs.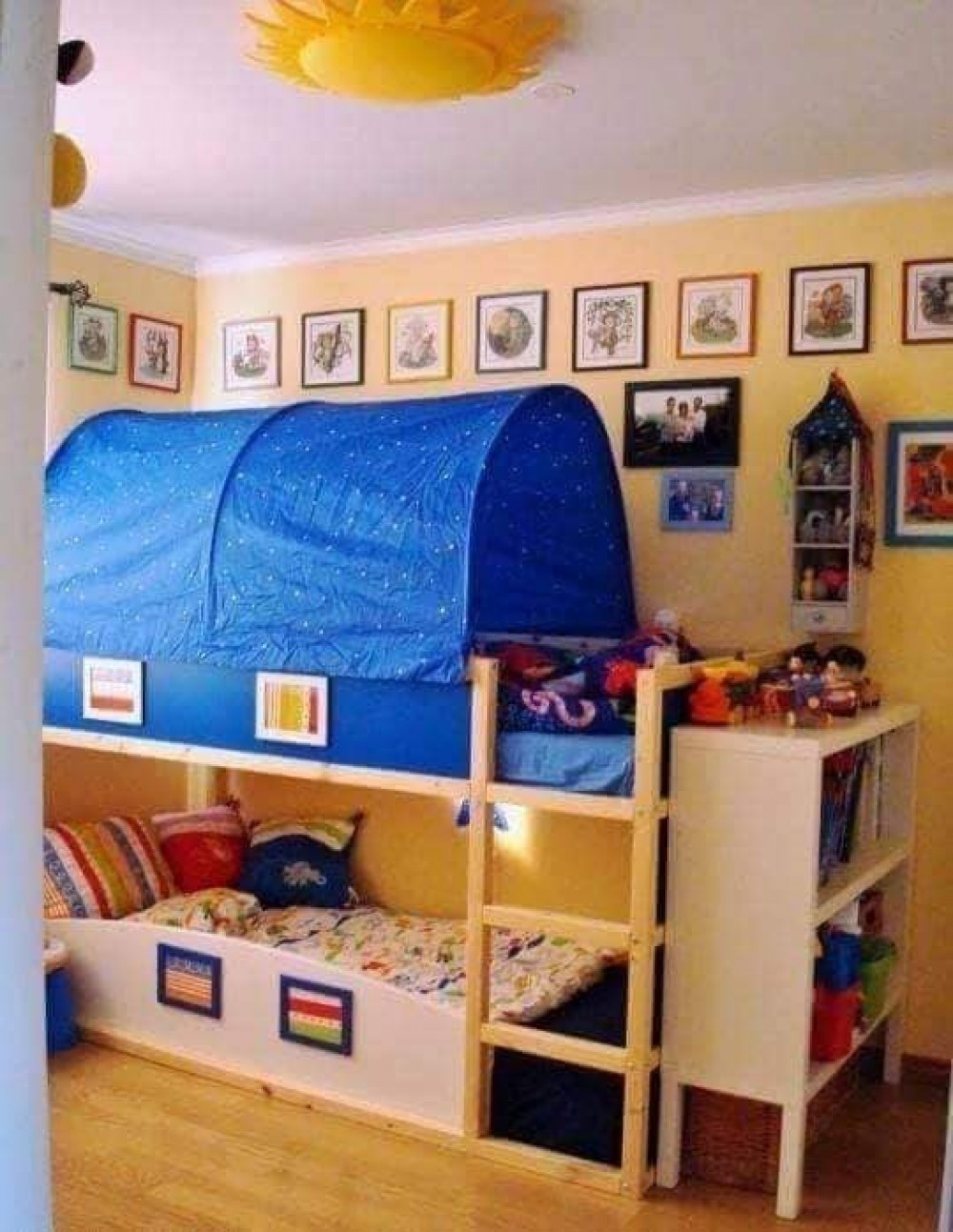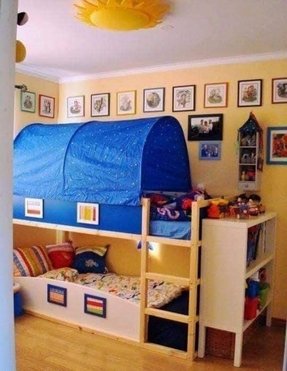 Toddler bunk beds the top bed is from ikea I think is as big as a toddler bed or a little bit longer, I might just try this idea since my 3 year old dies for a bunk bed and this bed is not as high as a regular bunk bed,Genius!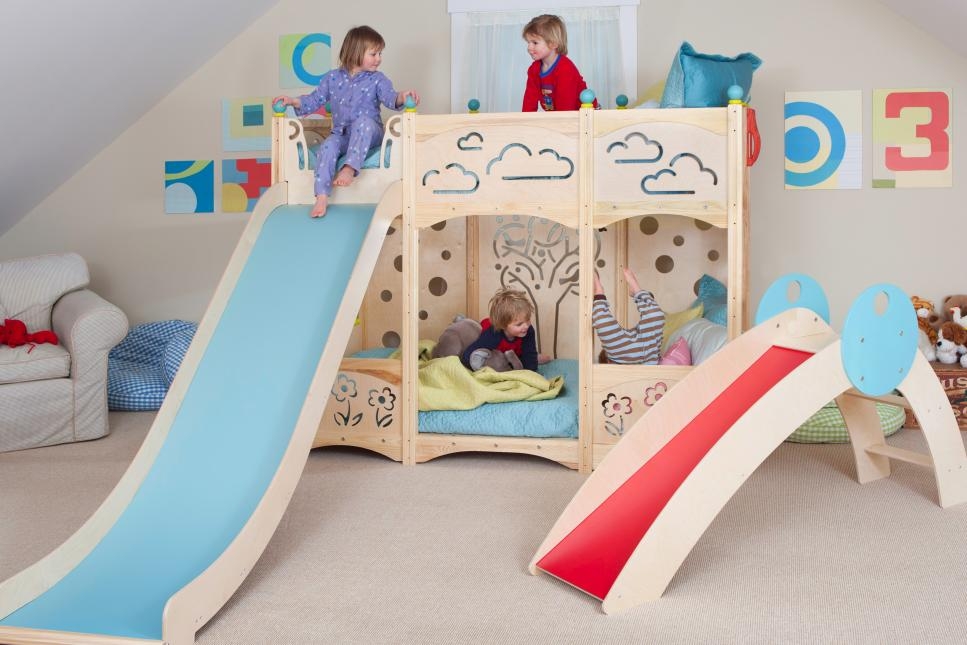 just designed the boys bed on this site! it is awesome!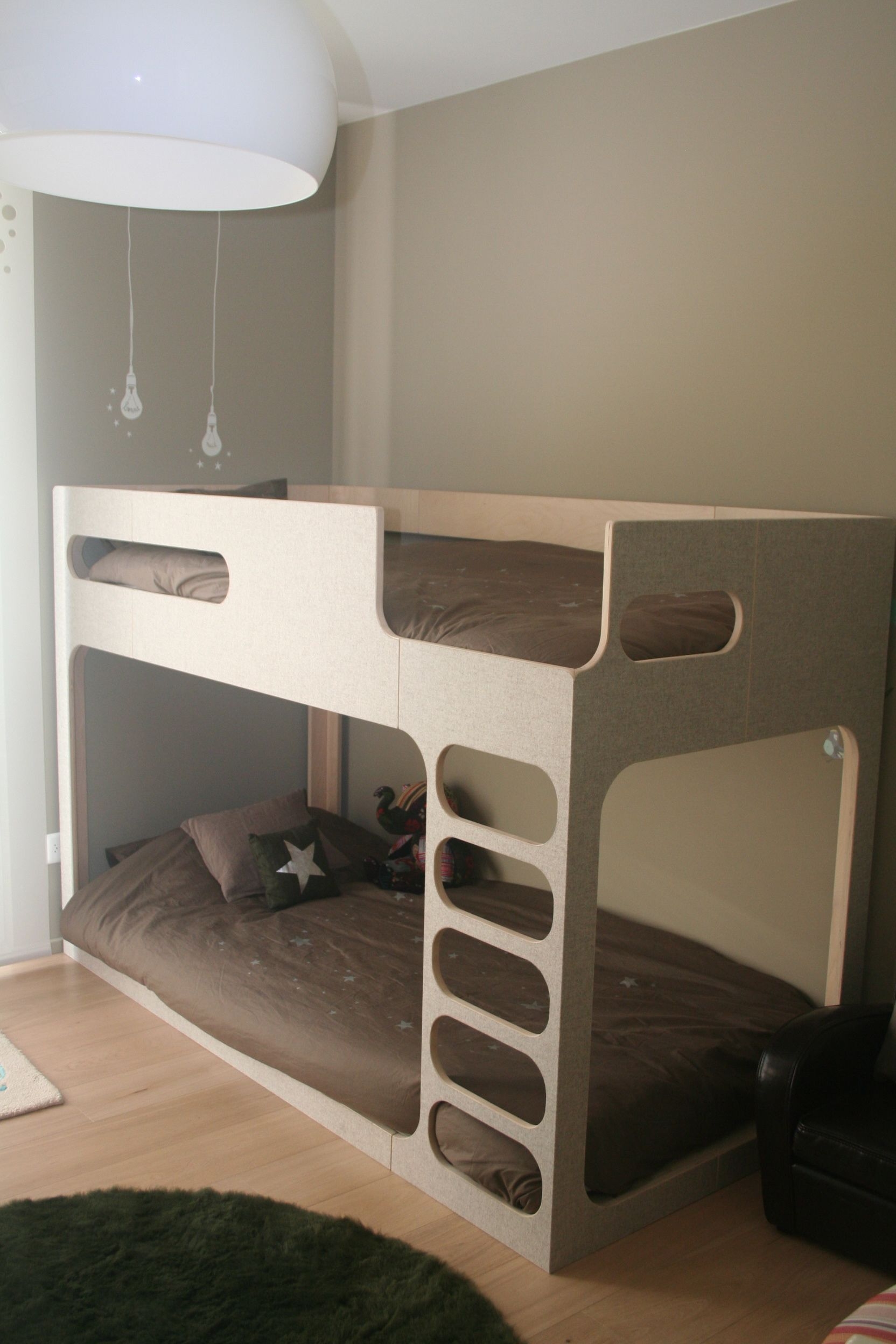 Bunk beds are the dream of all kids. "I'm upstairs!". This beautiful low bunk bed with platform, contains a simple and modern ladder, comfortable for the child. It has a neutral beige color and is very stable.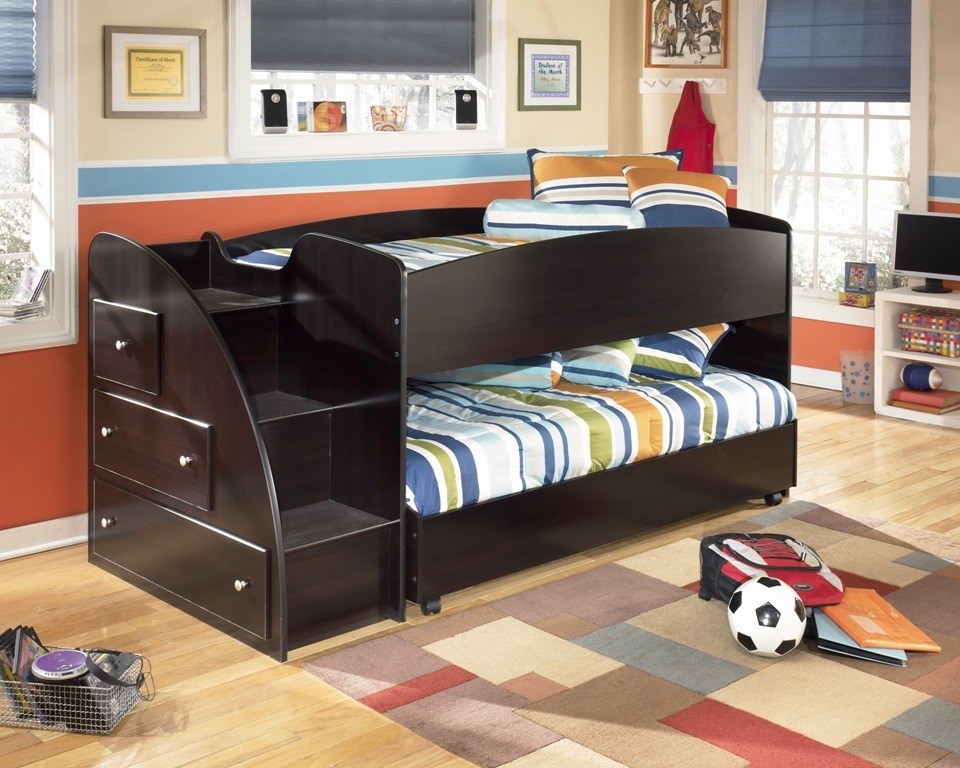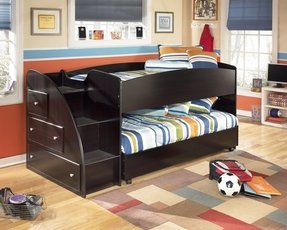 An elegant and simple loft bed for your kids' room. It's a low construction as you slide out the bottom bed only when you need it. The stairs feature extra storage space in drawers on one side. It's in a classy, dark color.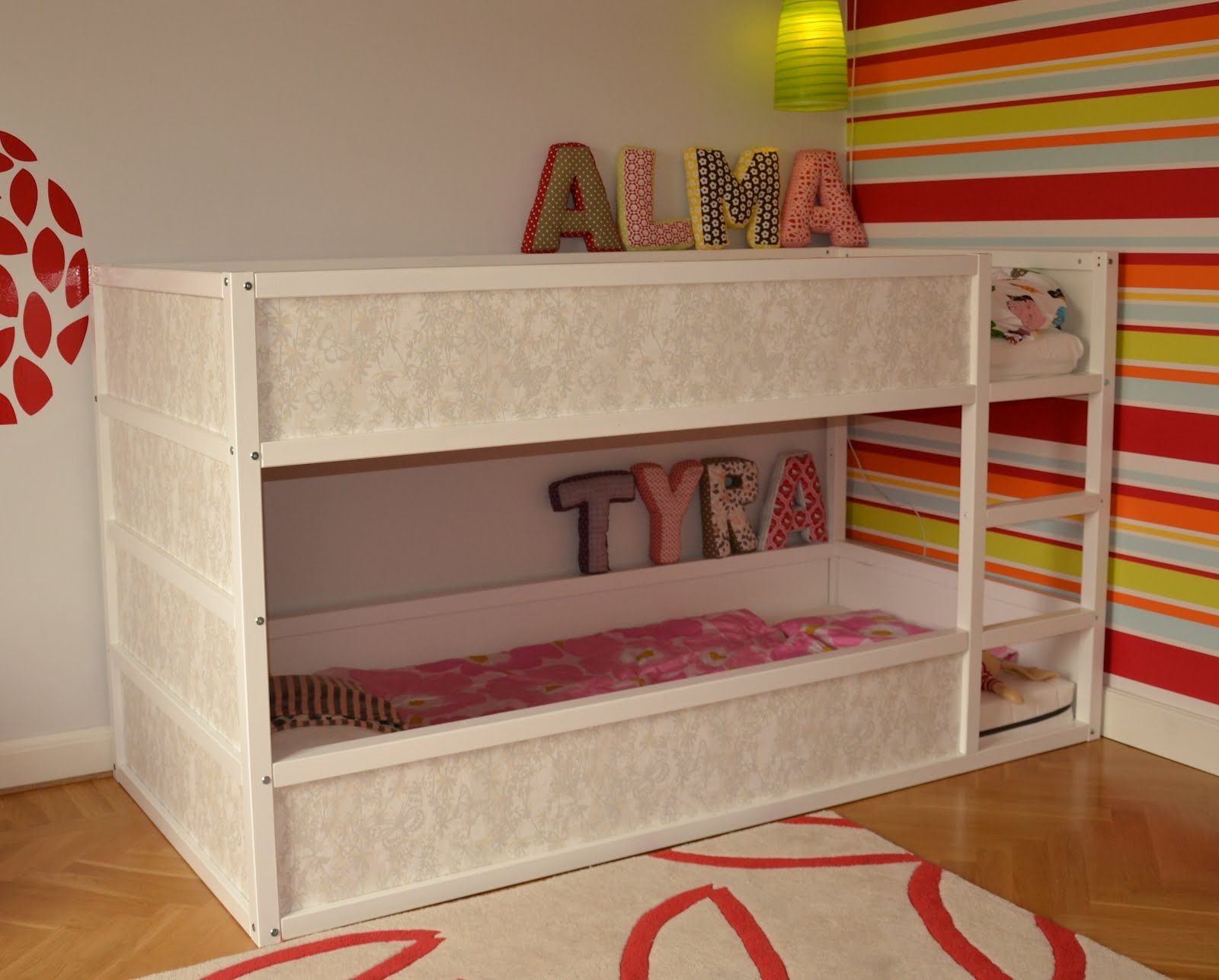 Mini-sized bunk bed for toddlers. Though personally I'd wait with a bunk bed until the kids grow older. Either way, the bunk bed is white, with a subtle silvery print that looks a bit like jacquard. A built-in ladder was provided.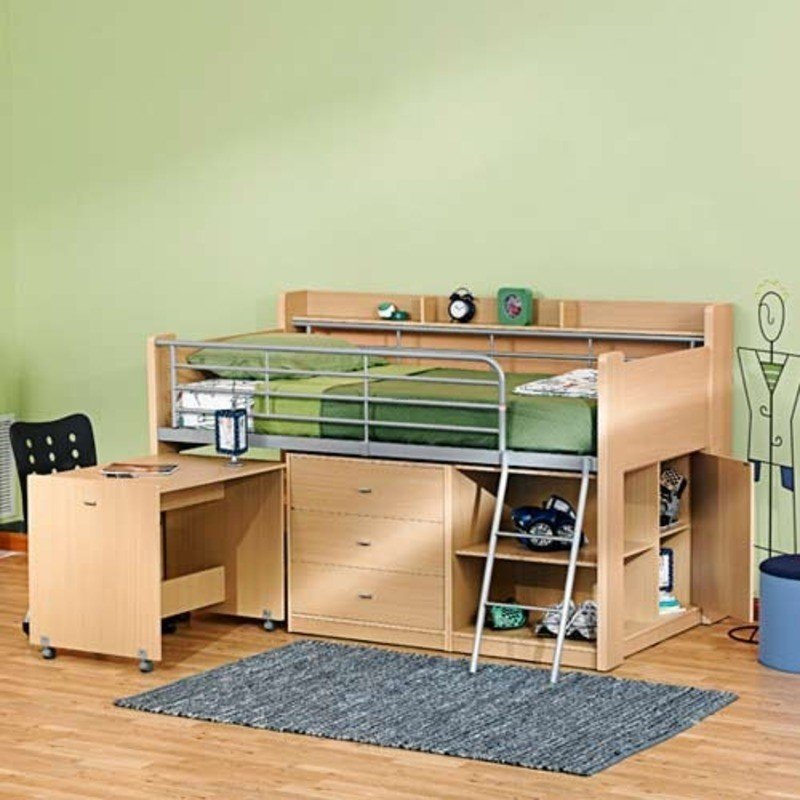 This loft bed is a perfect idea for when you simply need some extra space in your room and would like to use it to the best. It offers a standard twin-size mattress and a two-step steel ladder along with three large drawers.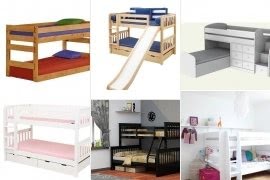 Bunk bed in modern style. Designed for kids. Construction is made of wood and fitted with railings for added safety. Perfect solution for space saving in each kid's room as needed.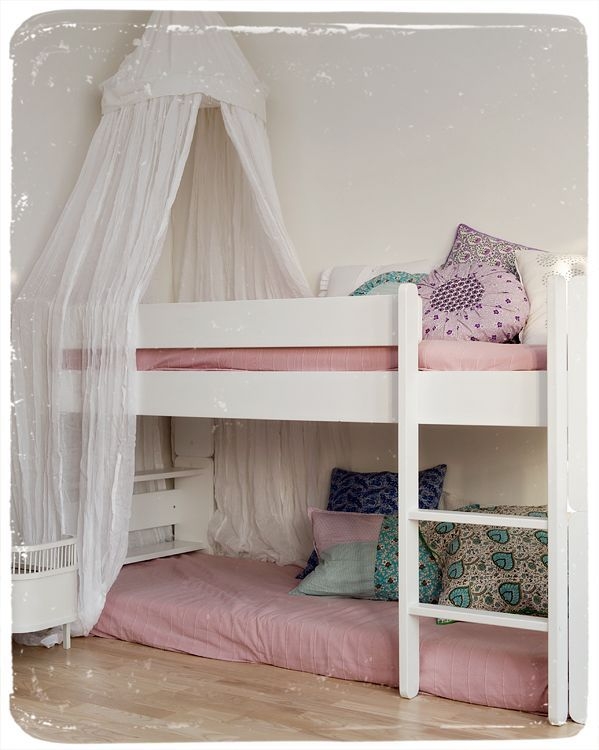 Love this. And, for one kid the underneath or top part could be a play zone. <3 via: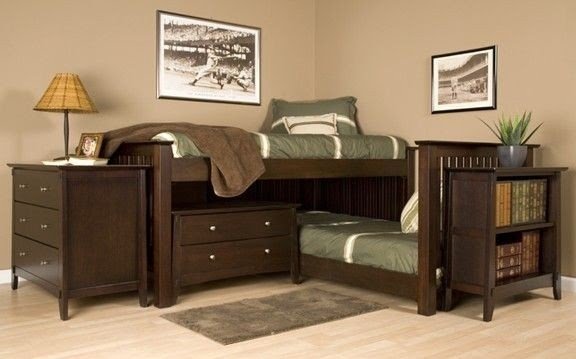 junior crew loft bed another benefit to children s low loft beds ...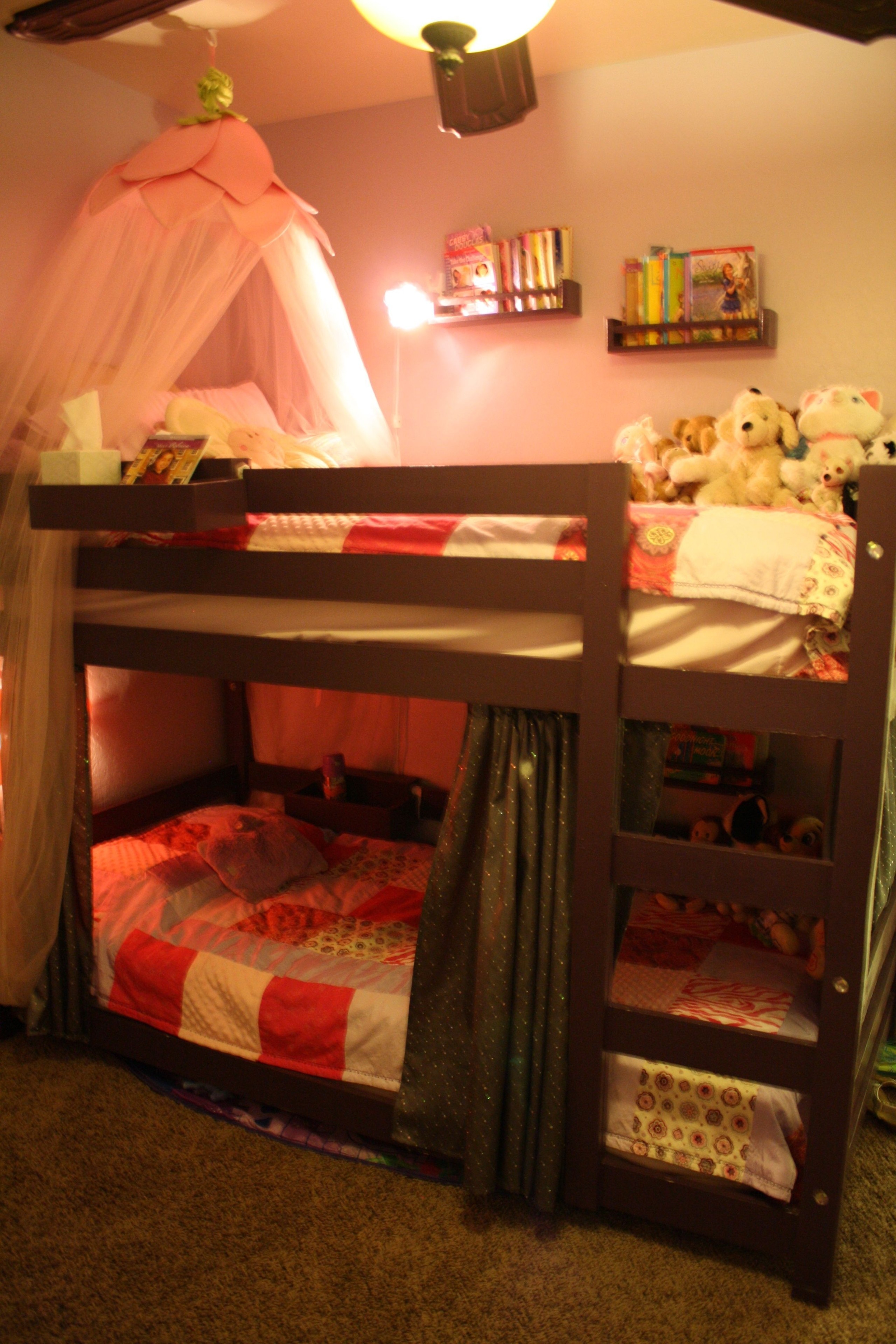 Bunk bed for small indoors. This space saving design provides two comfortable beds. The upper one includes protective rails and an access ladder. The whole bed is made of wood and finished in dark brown color.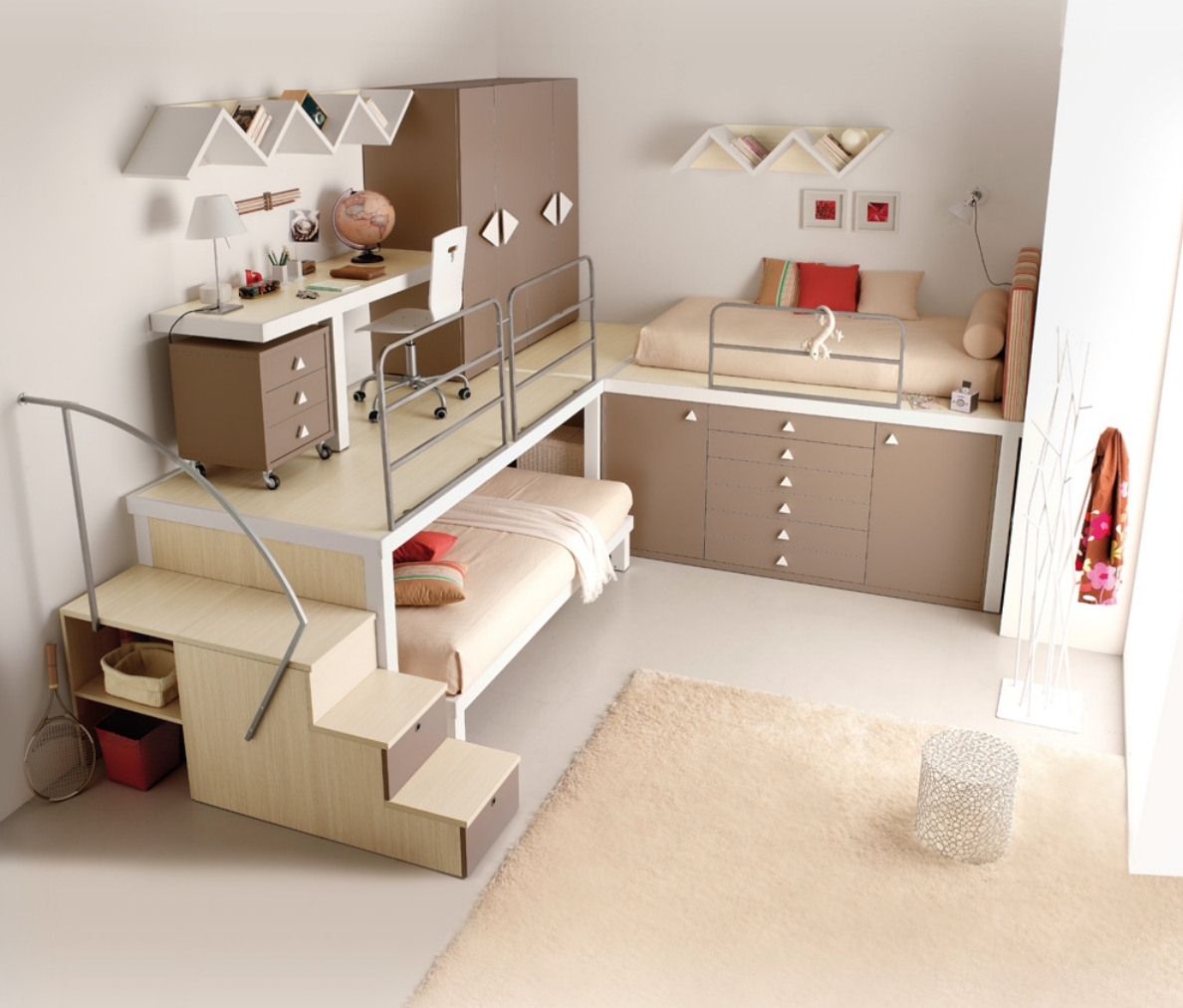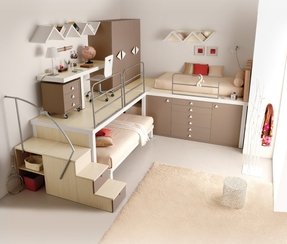 This beautiful combination of the kids room is a mix of a loft with a place to study and relax, as well as a sliding bed to sleep. The simple yet imaginative composition is functional, stable and beautifully presented in every style.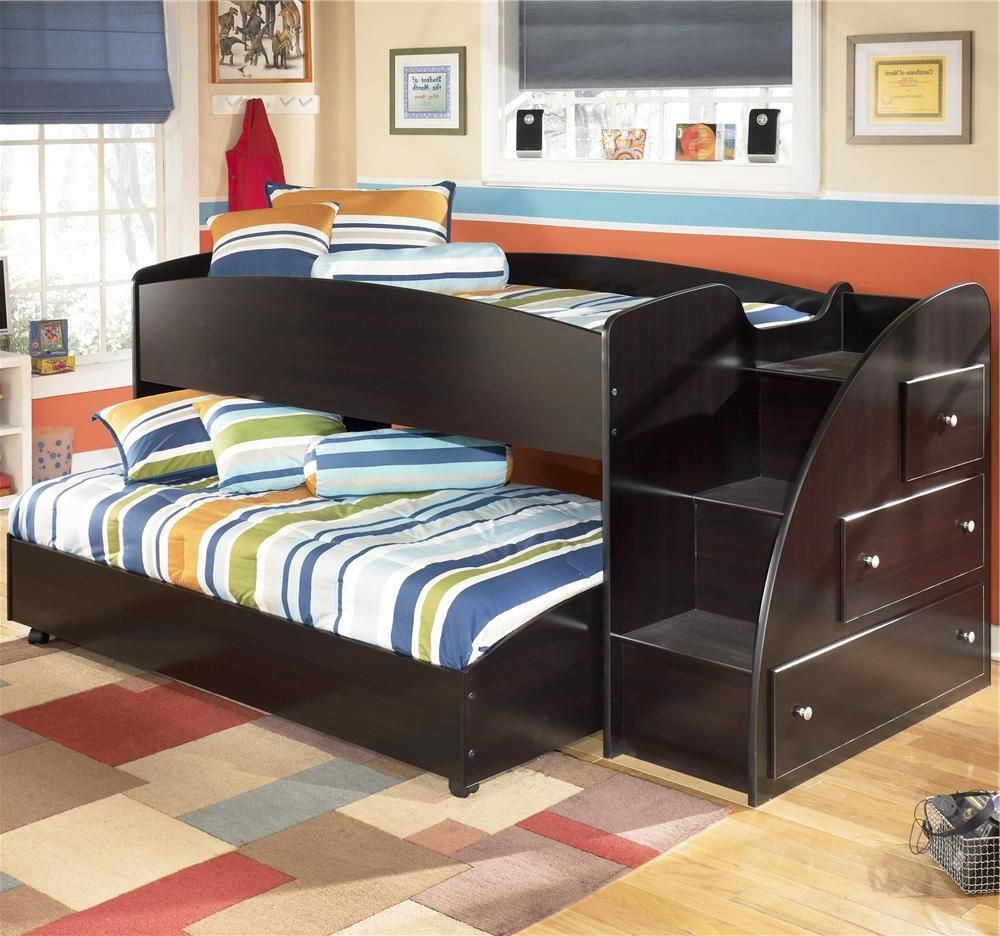 Low bunk beds for children allow you to cleverly and comfortably arrange a small children's room. They can comfortably sleep two of the youngest. Made of dark wood trundle bed will save a lot of space and is very functional.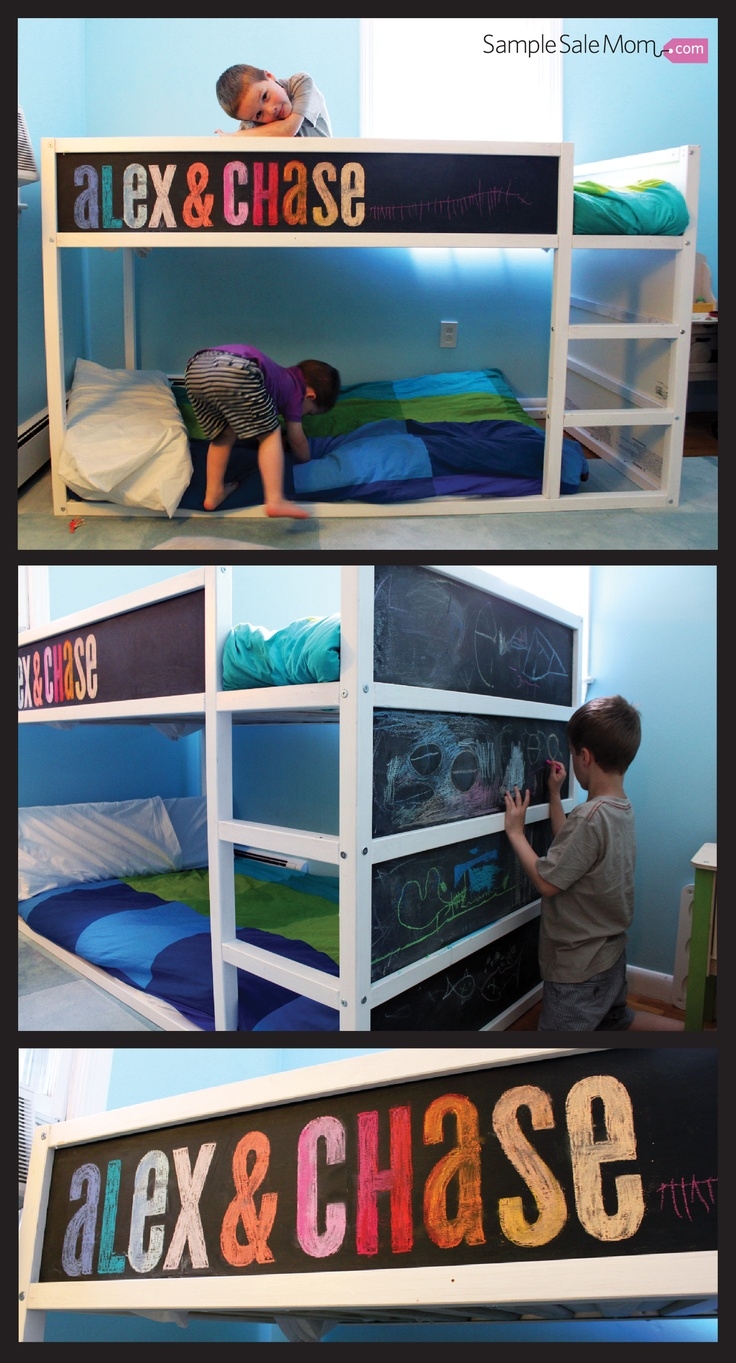 If you want your kids to have a bit more safe fun in their bedroom then how about going for this amazing chalk board that can be installed on the side of the bunk bed and can be the surface for them to be creative.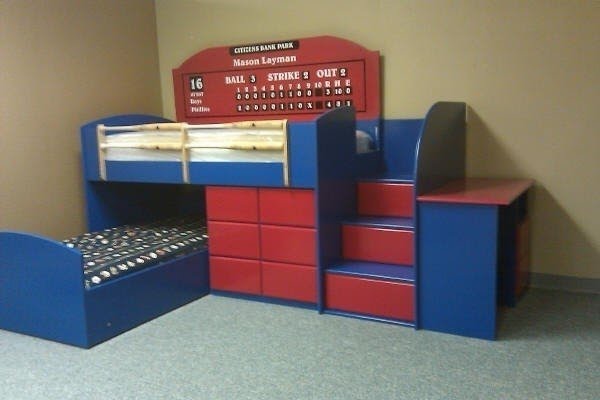 Ingenious space-saving contemporary corner bunk beds for kids. They have simple frames of wooden materials finished in white. Such a bed has a rectangular safety half-rail mounted on 3 thin vertical metal rods.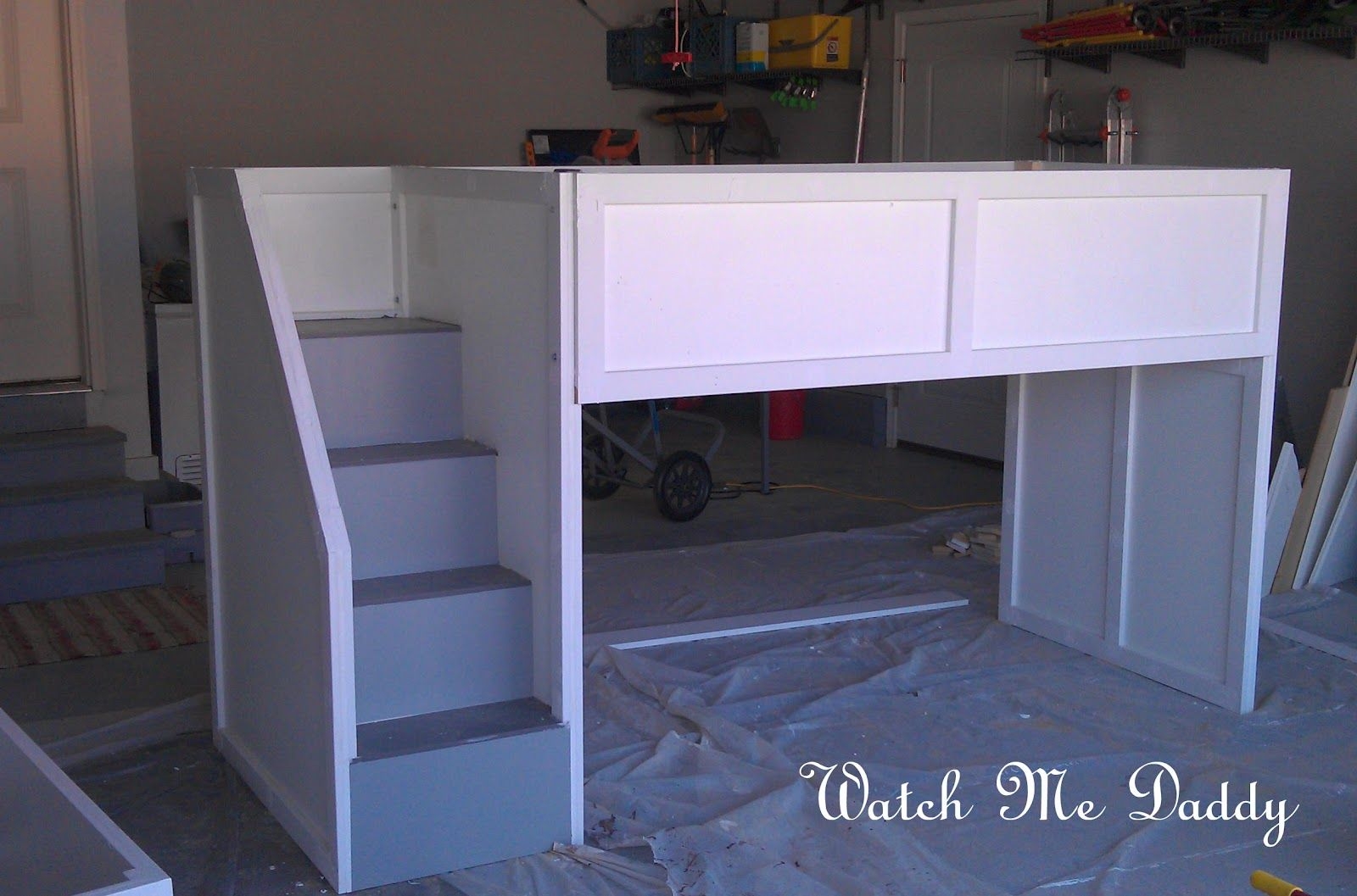 simple DIY low bunk beds for girls when it's time to share a room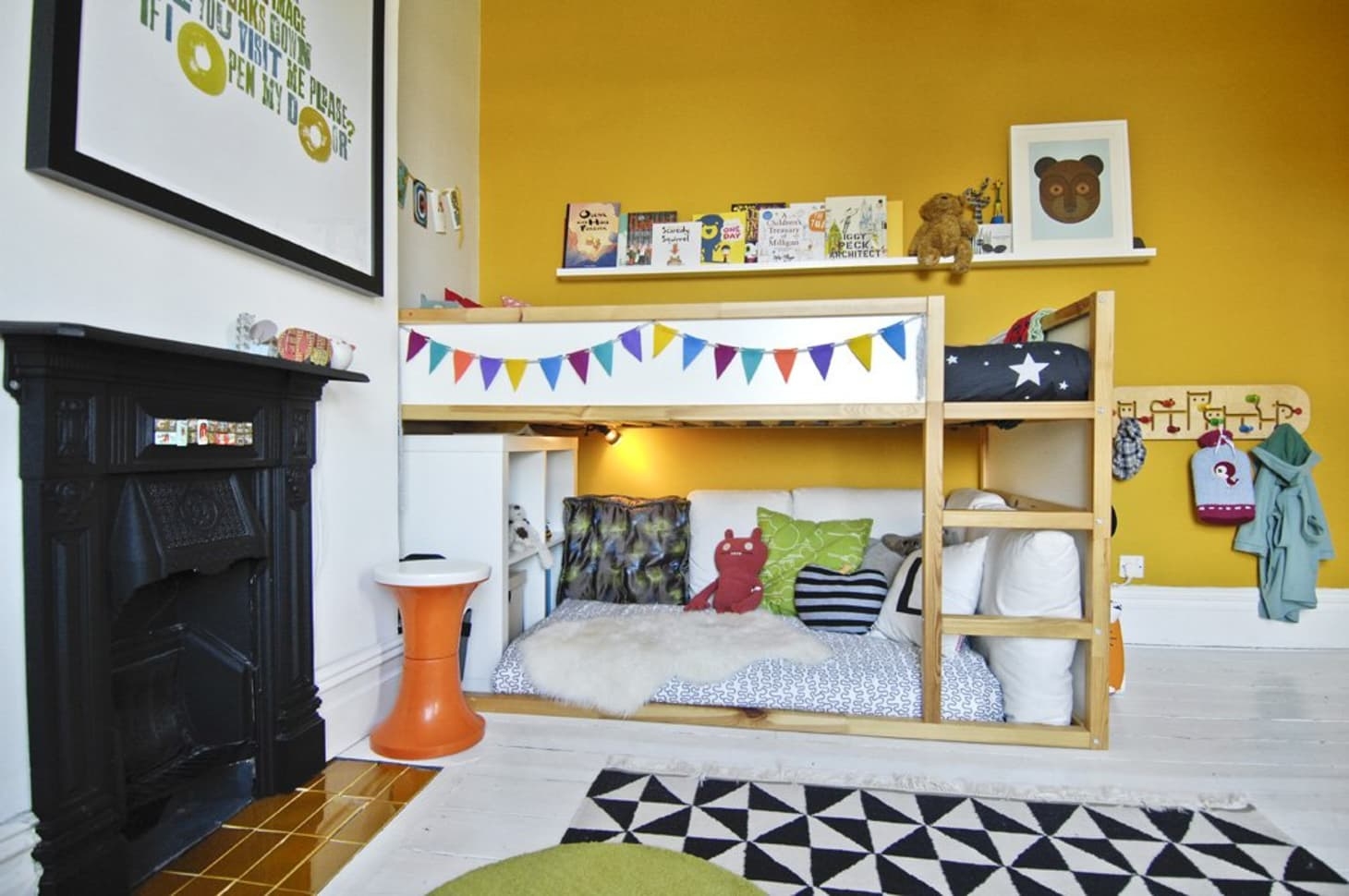 A perfect proposition for a child's bedroom or smaller studios. Made from natural wood, this bright set comprises a twin bed towering over the bookshelf space a floor-levelled daybed.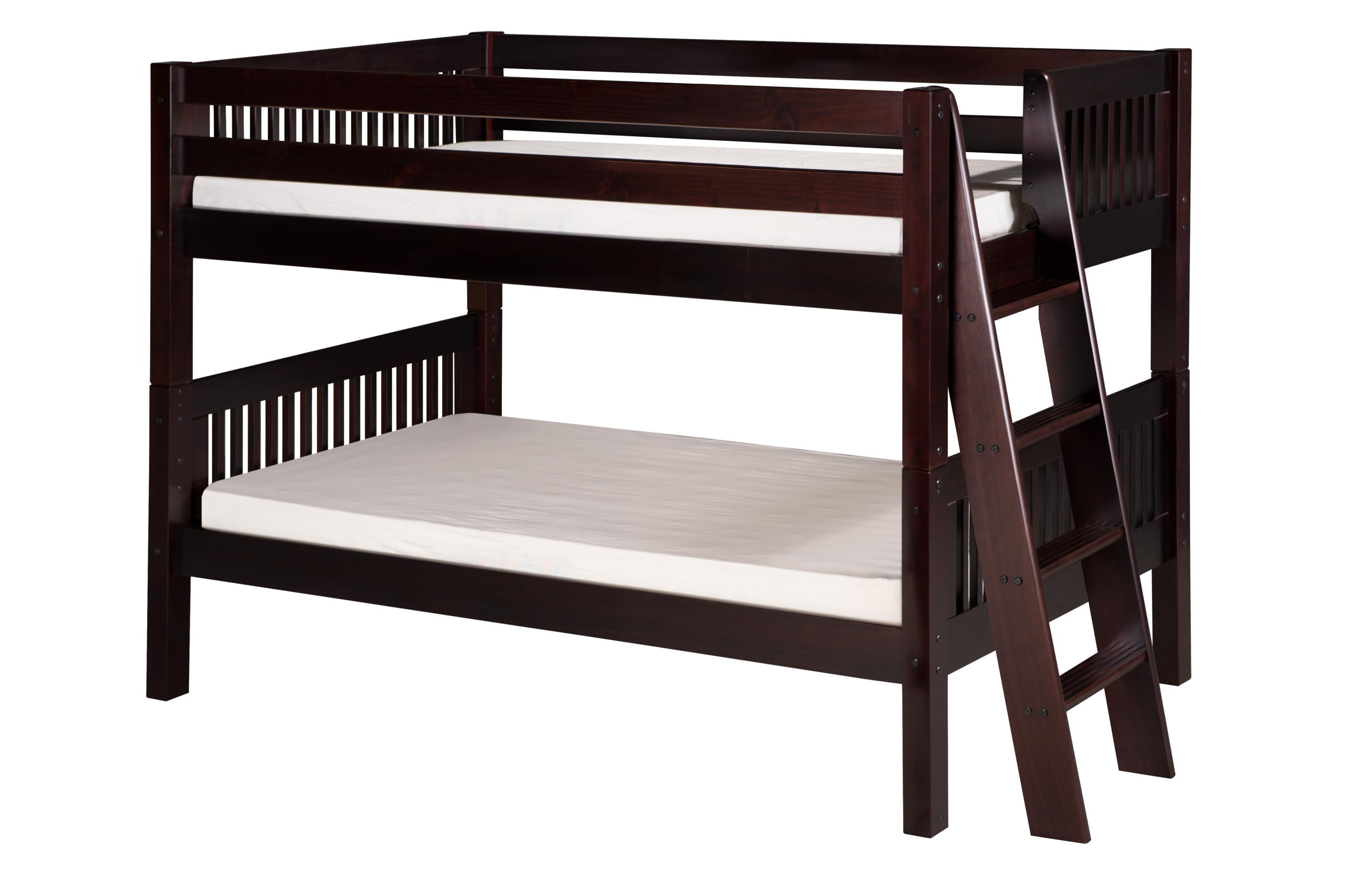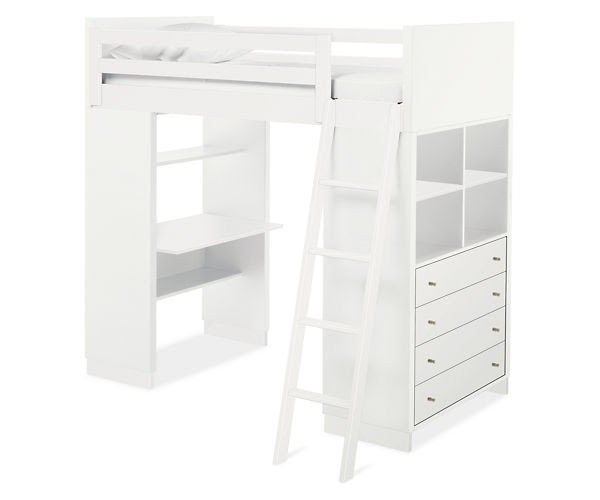 Bunk room for six. Great idea for cabin or guest room someday. Perfect for cousin sleepovers.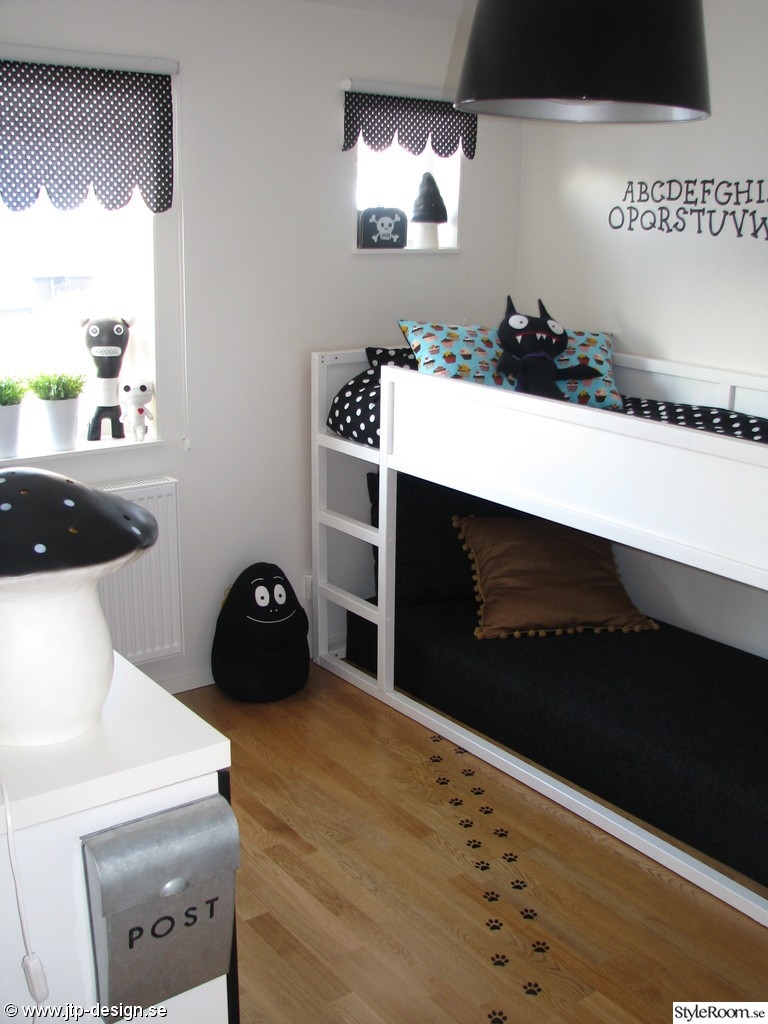 A fresh contemporary decor proposition for a children's bedroom. This low bunk bed with can be used as a double bed or create a cool space to hide, play or relax for your child. The room for two children does not have to be tedious, take care of a place to play and sleep. Playhouse with "bedroom" upstairs and a small play area made of white wooden boards is a great example of low loft bunk bed, with stable stairs.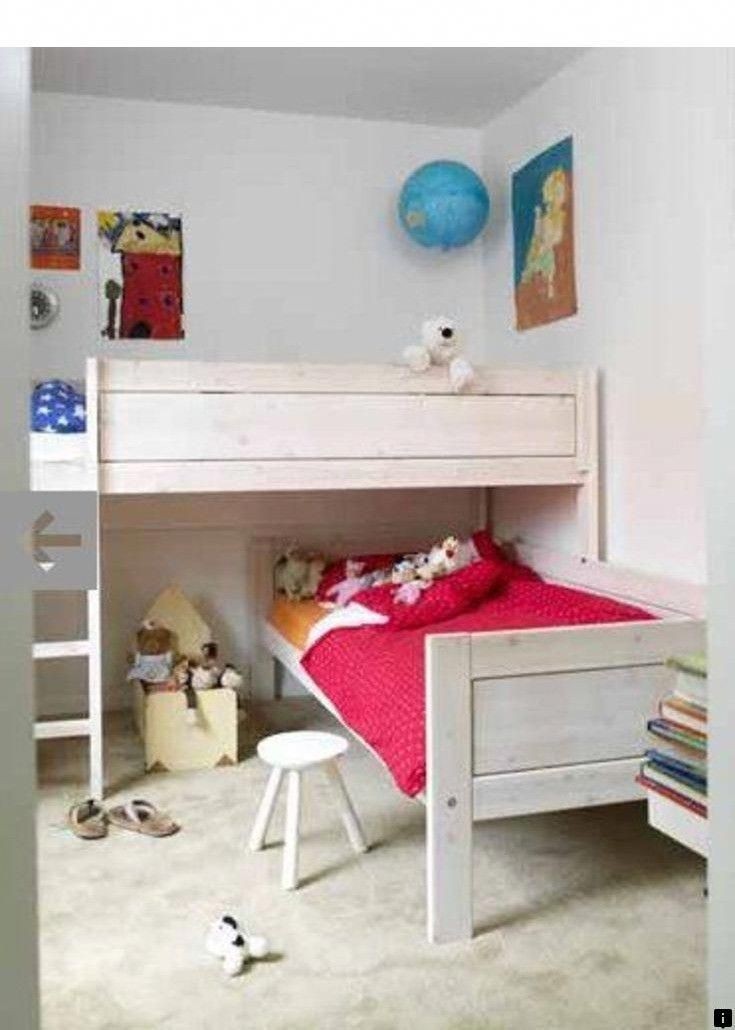 maybe until he is night time potty trained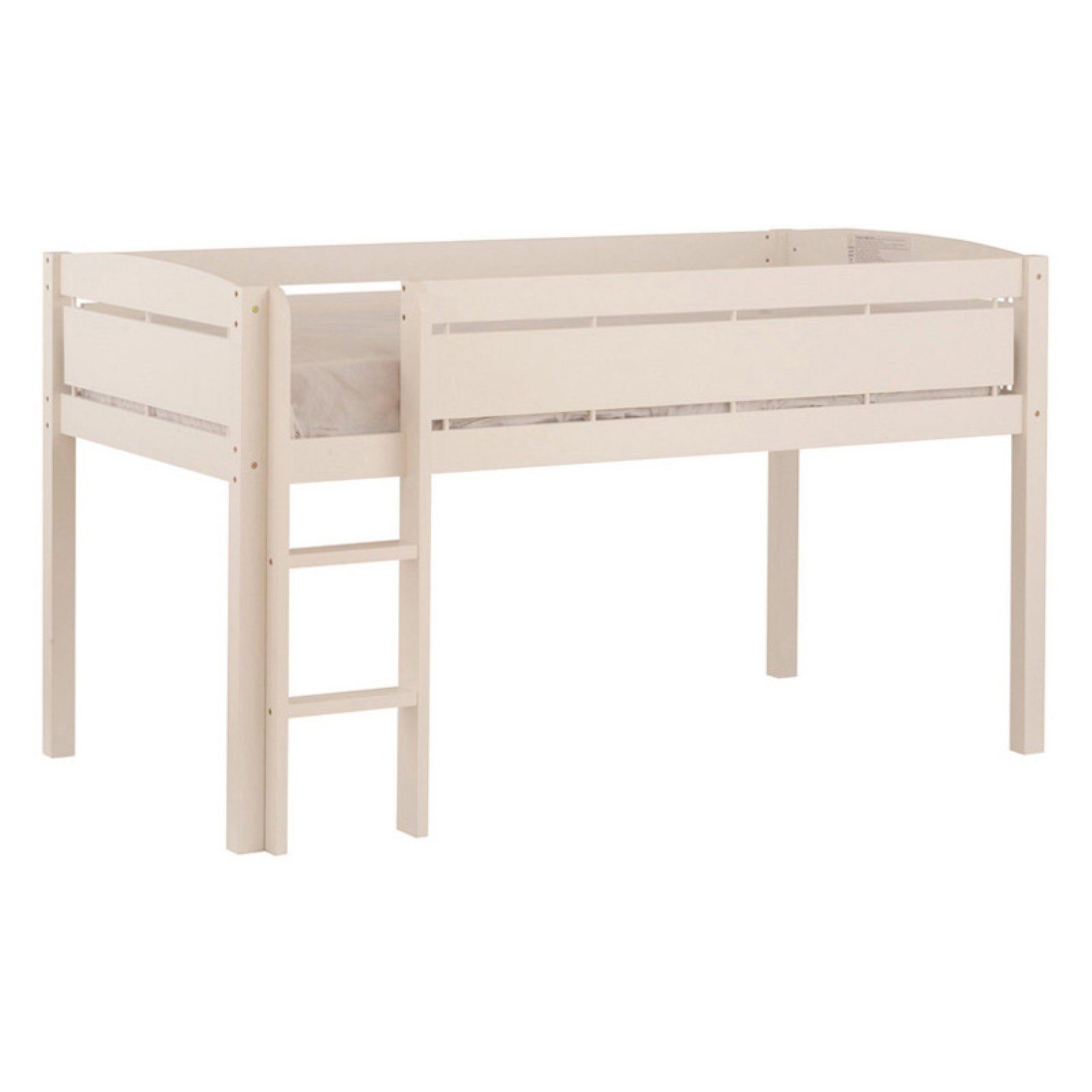 This junior bunk bed in white is compact but somehow cute. The bed is low positioned, so there's not much than can be tucked underneath, a mattress perhaps. But it looks safe and cozy thanks to reduced scale.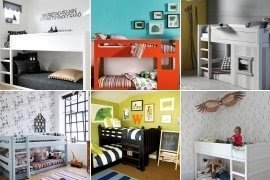 A lovely set of bunk beds for your precious little ones. The set is crafted of hardwood and covered in an espresso finish, offering a properly secured top bunk to keep your children safe and sound.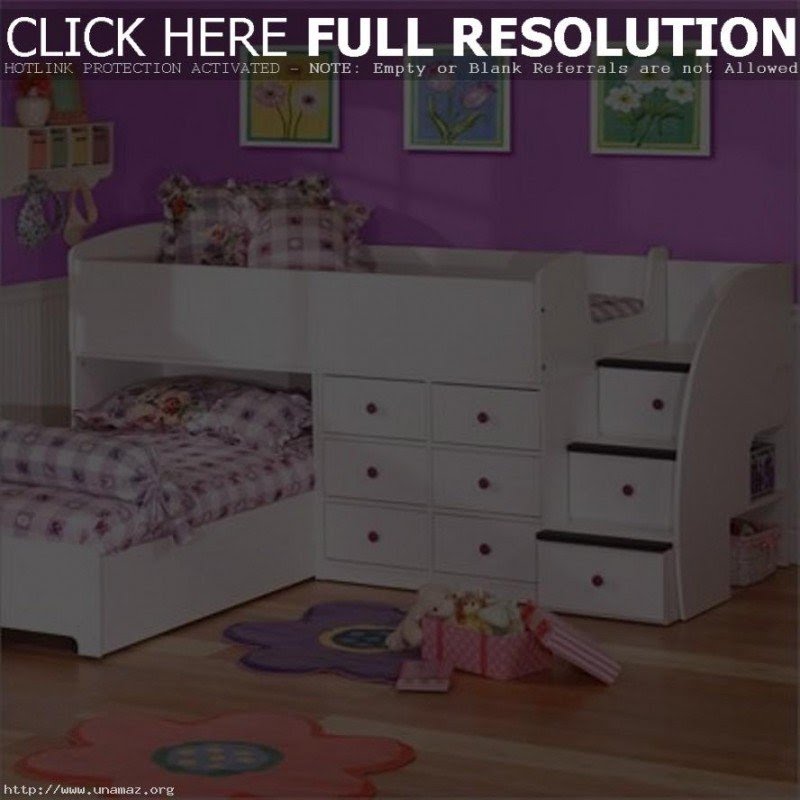 This would be AMAZING for space because we could also get rid of a dresser.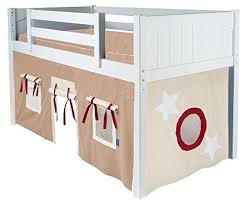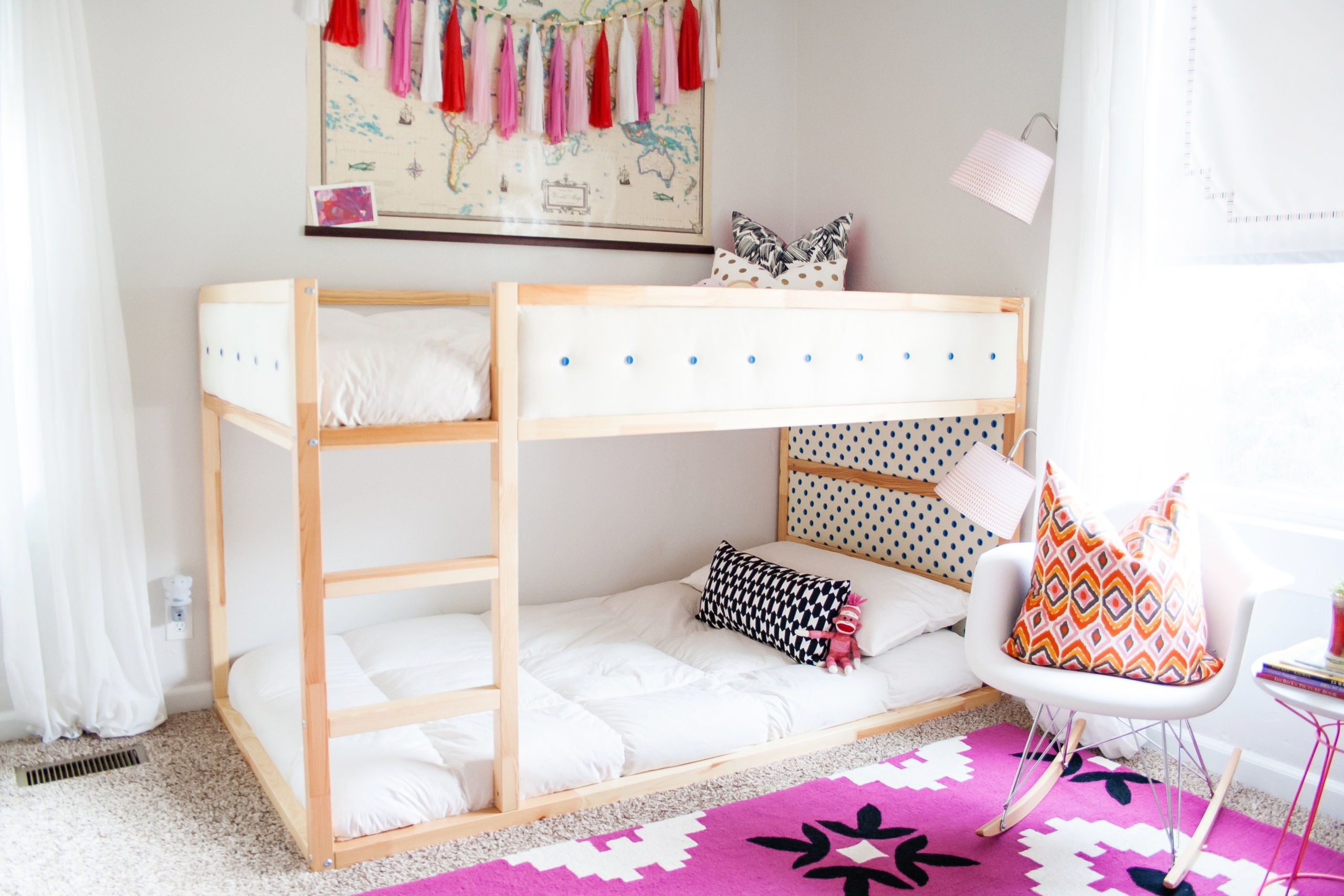 A cool contemporary bunk bed for girl kids. Its simple wooden frame has a natural finish. An upper bed has recessed sides of white-finished wooden material and an inbuilt upright ladder. Beds match well a rug in beiges with a white stars pattern.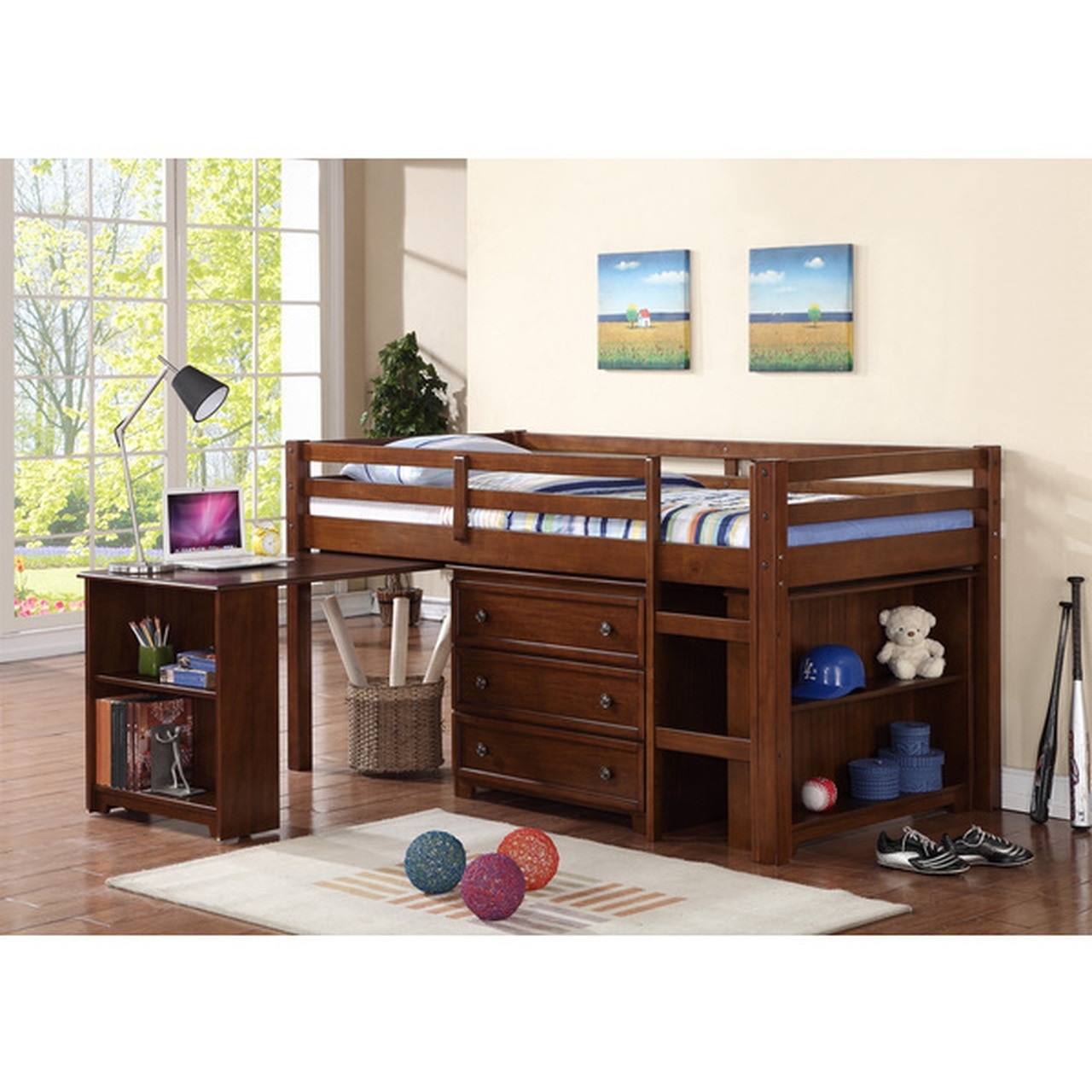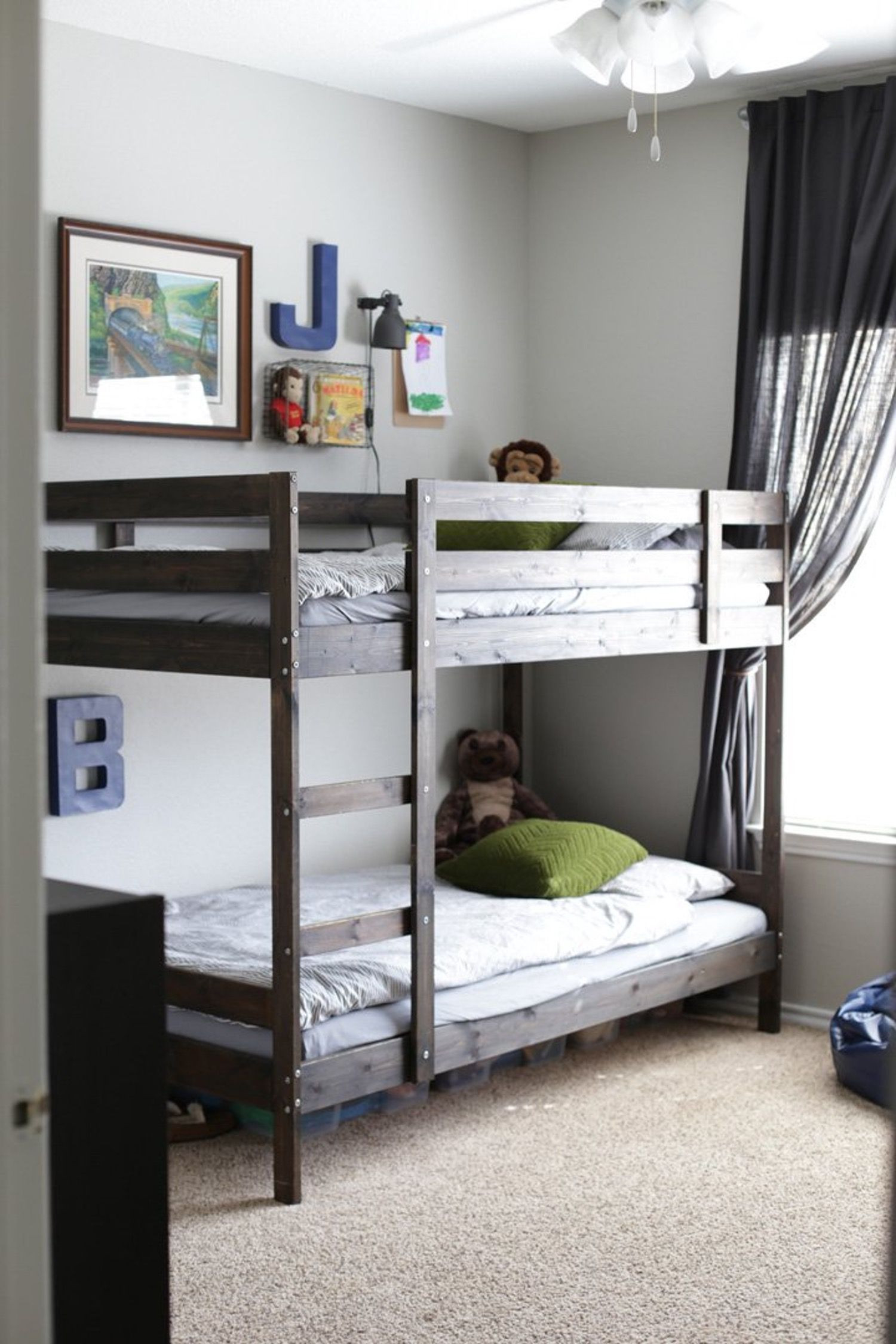 A simple practical contemporary bunk bed crafted of wood with a bluish finish. It has tall straight angular corner posts, horizontally slatted headboards, footboards and side rails. A ladder is built-in upright.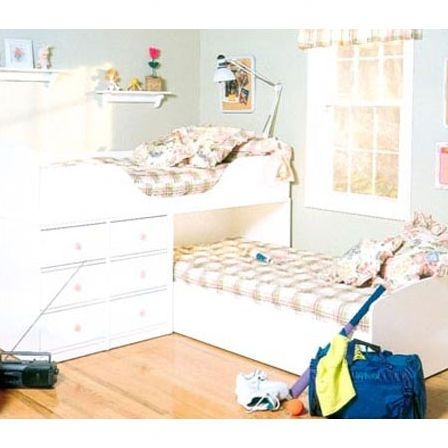 L-shaped bunk bed for low ceiling room.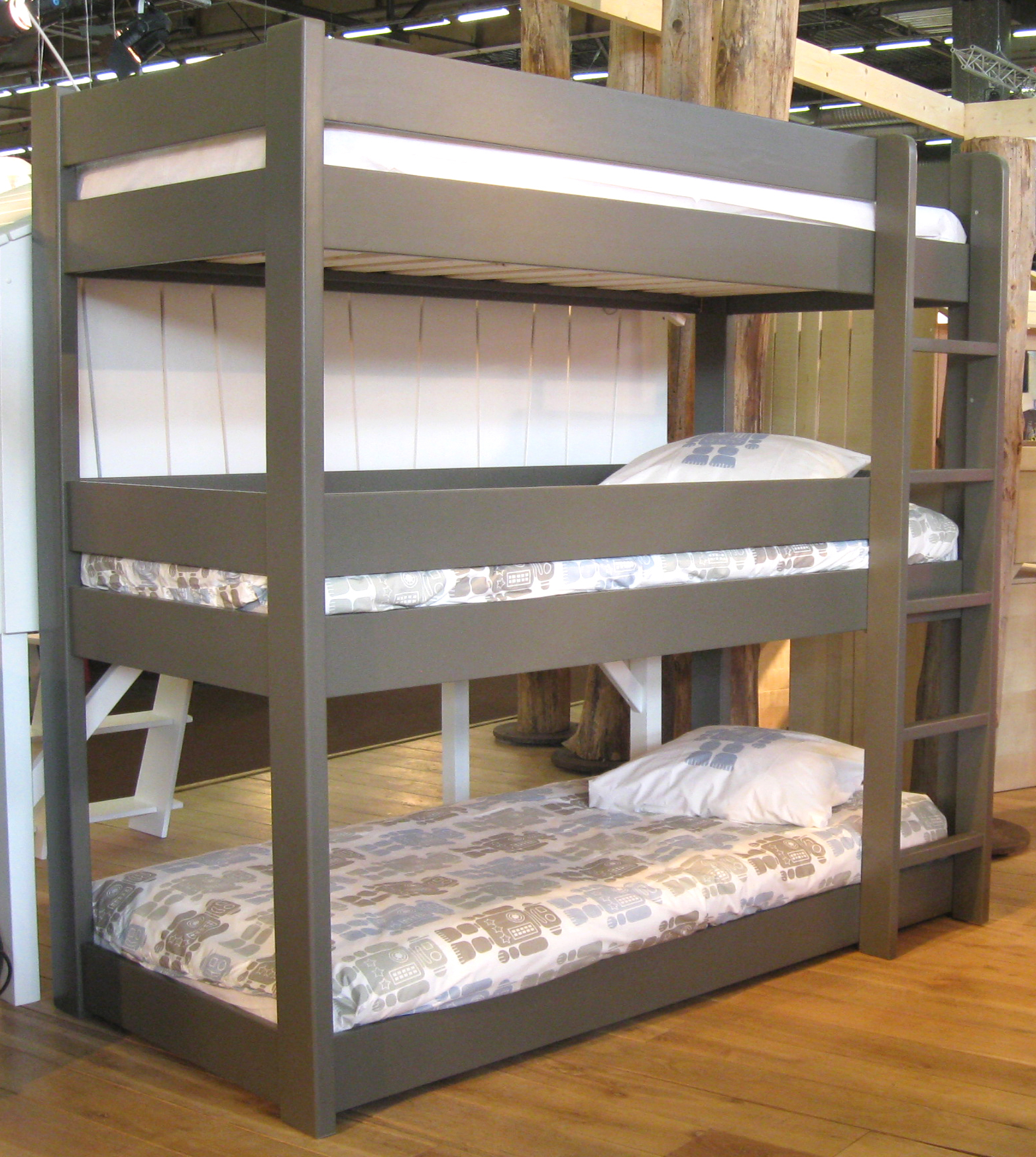 Triple bunk i need this for my three kids I will have at the deer lease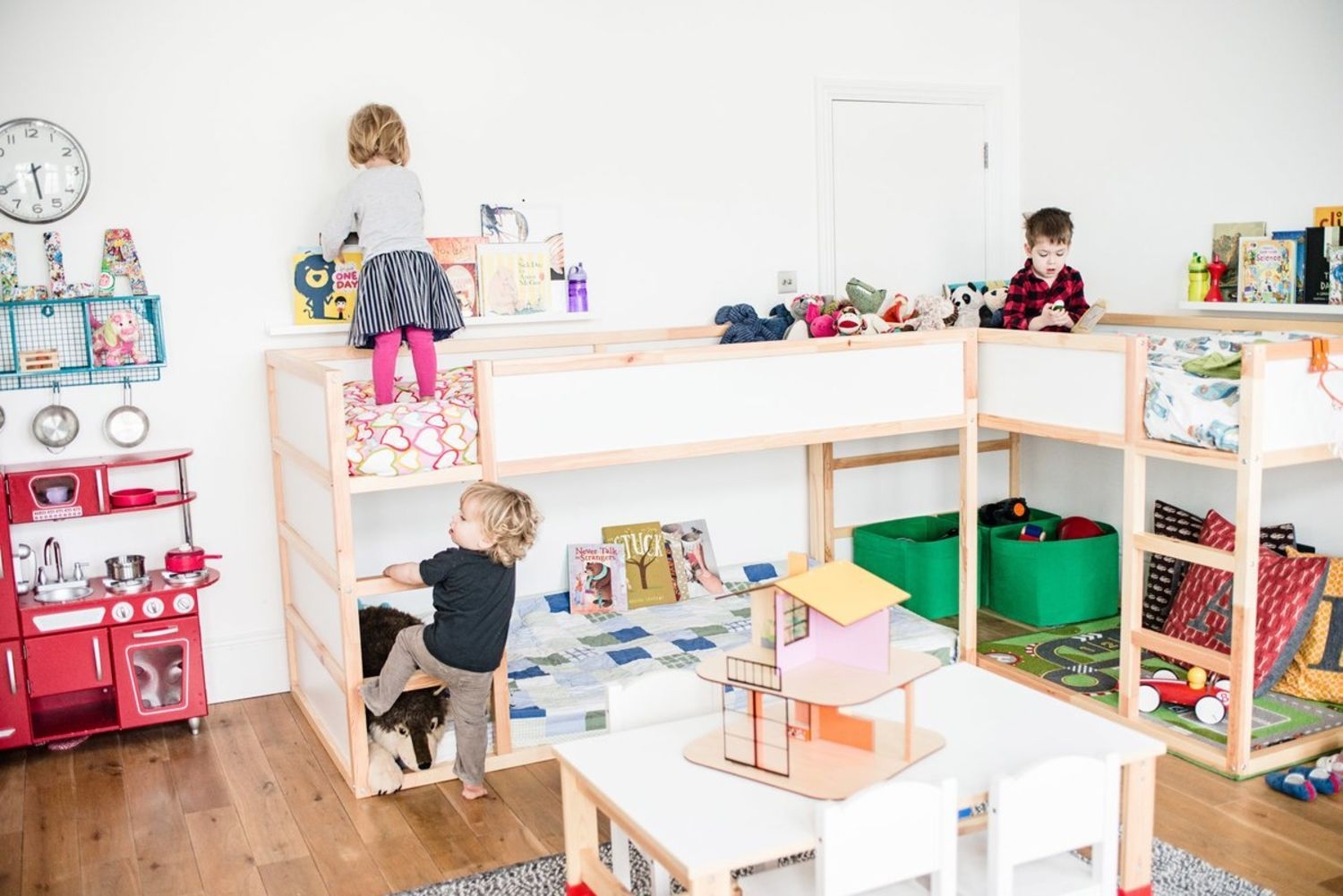 bunk bed over chest of drawers... genius. Great way to utilize space for a smaller bedroom and the bed wouldn't have to be extremely high up in the air