Corner Shelves For Bedroom
Don't know where to display your favorite framed photos, plants, and books in your bedroom? Thankfully, corner shelves for bedrooms are here to save the day! And the best part is, you don't have to forgo style for functionality, even when space is at a premium!
Corners are often left empty because they're certainly tricky to decorate and easier to brush aside. Nevertheless, with a little creativity and the right corner shelving unit, you can transform these dead spaces into practical storage that is also pleasing to the eye!
From floating models that take up minimal space to geometric corner shelves that add a unique element to your interior, the options are boundless! Therefore, you are sure to find one that not only suits your needs, but complements your room as well.
Read on to discover our top 10 corner shelf ideas to step up your bedroom corner game!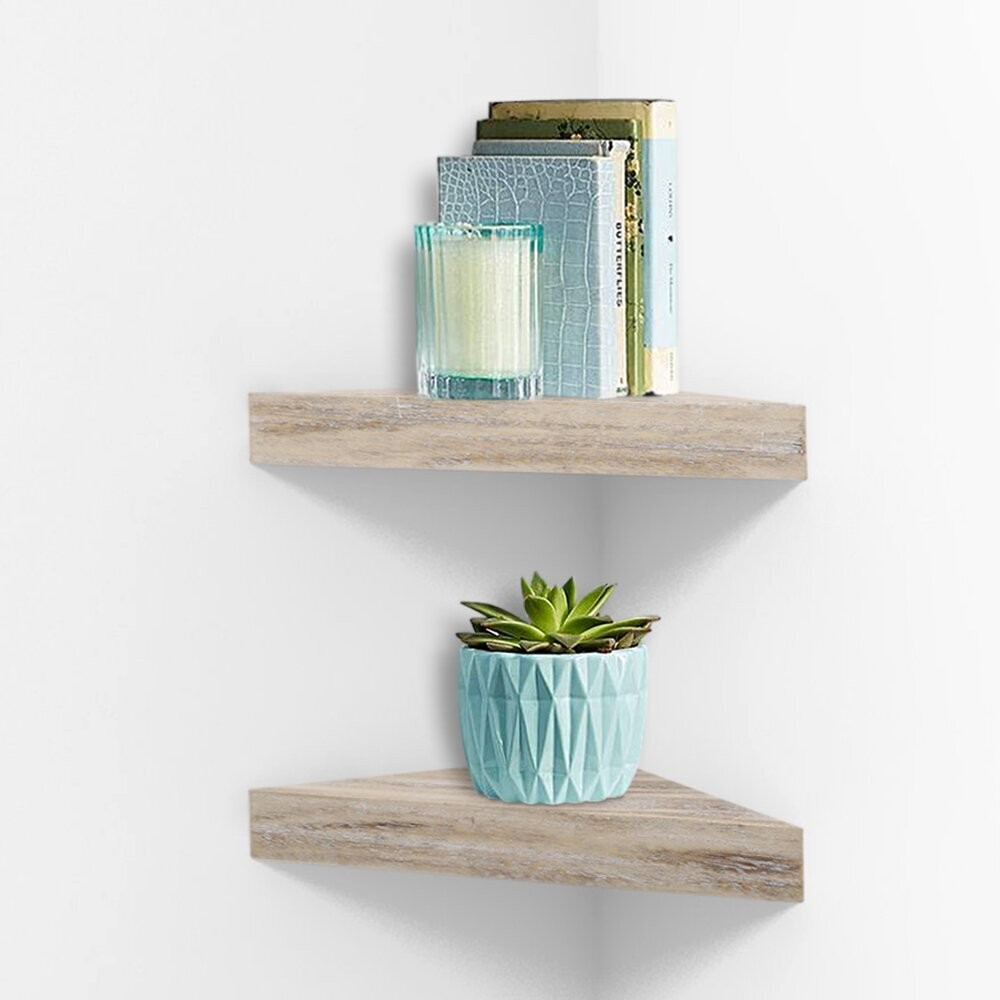 Minimalist floating corner shelf

Known for their simple and versatile design, floating corner shelves have this amazing ability to adapt to all kinds of interior decorating schemes, from modern to coastal to rustic and everything in between.
They can be found in a variety of shapes, including triangular, squared, scalloped, and rounded. Some even feature a smooth, curved design with molding details for a classic appeal.
In addition, these types of bedroom corner shelves are either finished in a natural wood tone or painted in other colors.
You can easily choose a neutral color, such as white, that will go with everything. Or, for a different take, pick a contrasting hue that will make the corner pop!
$60.99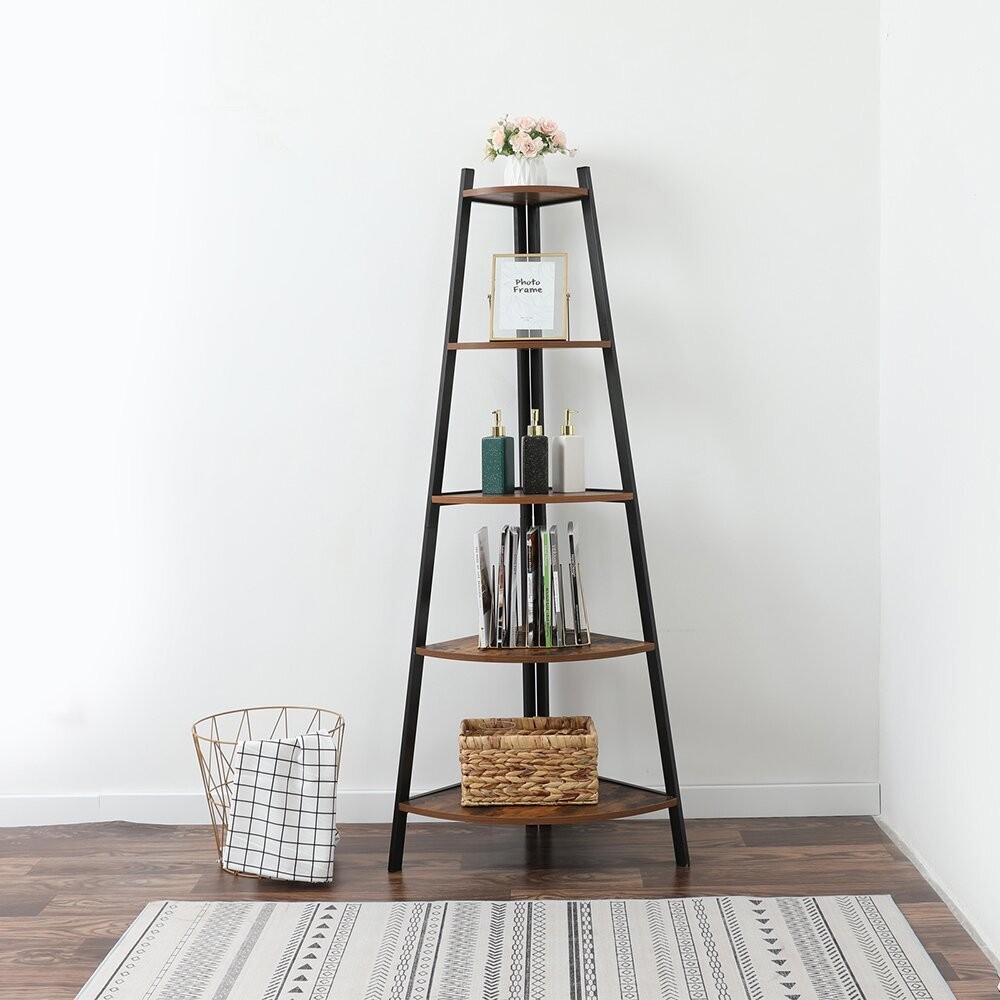 Freestanding ladder corner shelf

There are plenty of ways to stylishly and effectively make use of vertical space in corners, and ladder-style shelves are one of them!
Their best feature? They typically consist of 5 graduated tiers of shelving for both storage and display! Needless to say, they offer tons of possibilities and your imagination is your only limit!
You could use this eye-catching bedroom shelf as a bookstand to hold your most-loved books and magazines. Alternatively, it can serve as a dedicated display for your treasured mementos and decor accents!
Corner ladder shelves also provide a unique way to showcase your lush plant collection!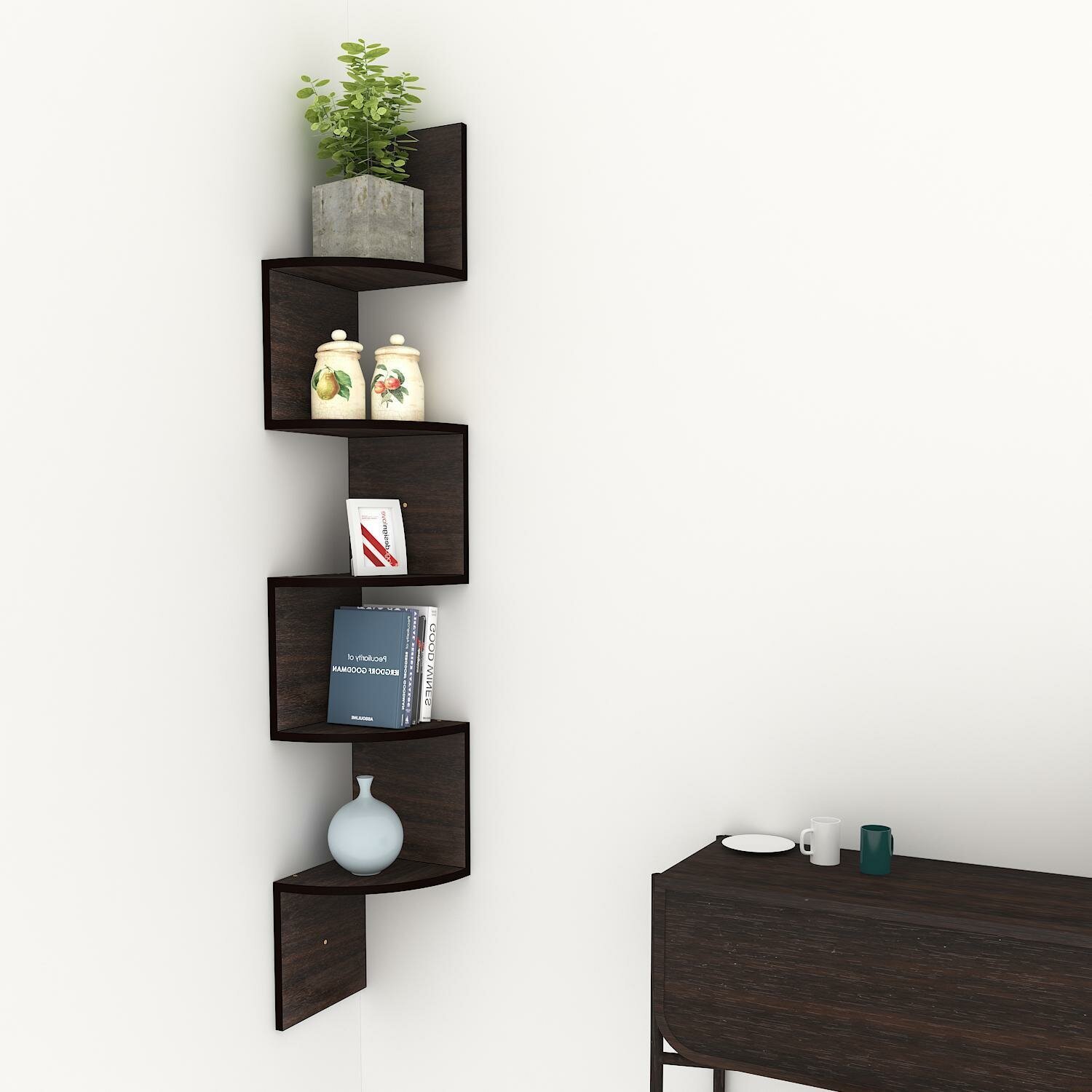 Zigzag corner shelf for bedroom

On the hunt for a contemporary piece that not only looks cool but can also store all those knickknacks you hold dear? If so, a zigzag corner shelf design for bedroom won't disappoint!
With its clean-lined silhouette, soft edges, and overall interesting character, this type of shelving makes a sleek and funky addition to a wide range of home aesthetics, including modern, urban, rustic, and mid-century modern to name a few!
Although zigzag bedroom shelves come with multiple layers for storage, they are mostly not tall enough for the average book to fit in. However, they work well for small bits and bobs, like figurines and travel souvenirs.
$57.99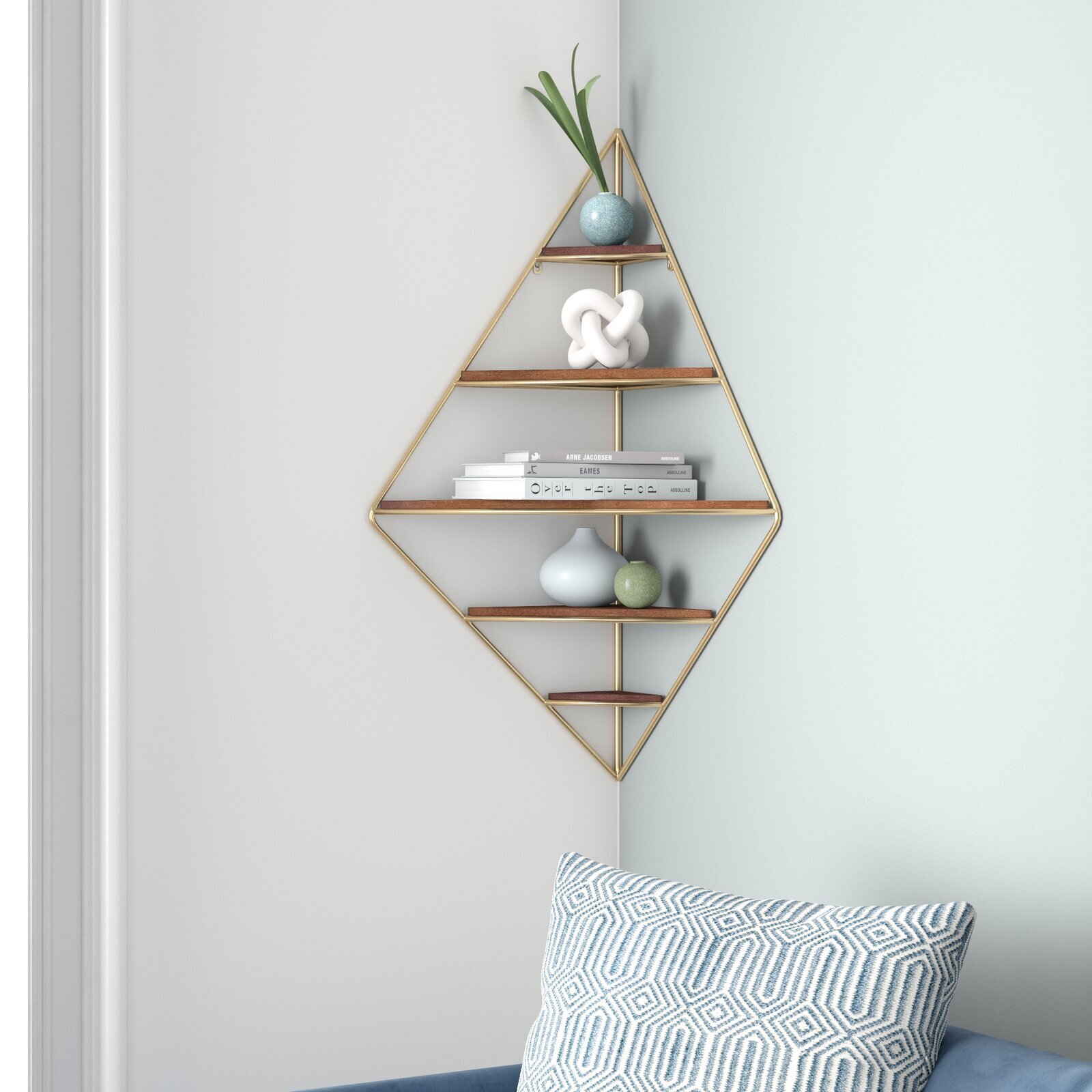 Diamond shaped corner bedroom shelf

Is bedroom corner in desperate need of something a little visually interesting and glamorous? Then, a tiered shelf in a diamond shape may be the right choice for you!
Not only will it give your sanctuary a really elegant look, but you'll be saying goodbye to clutter too!
In other words, a diamond corner shelf bedroom can act as a beautiful accent piece and at the same time keep your wireless speaker, candles, and other daily items at hand.
Most, if not all, diamond shelves come fully assembled, so all you need to do is hang them up and get to decorating!
$257.99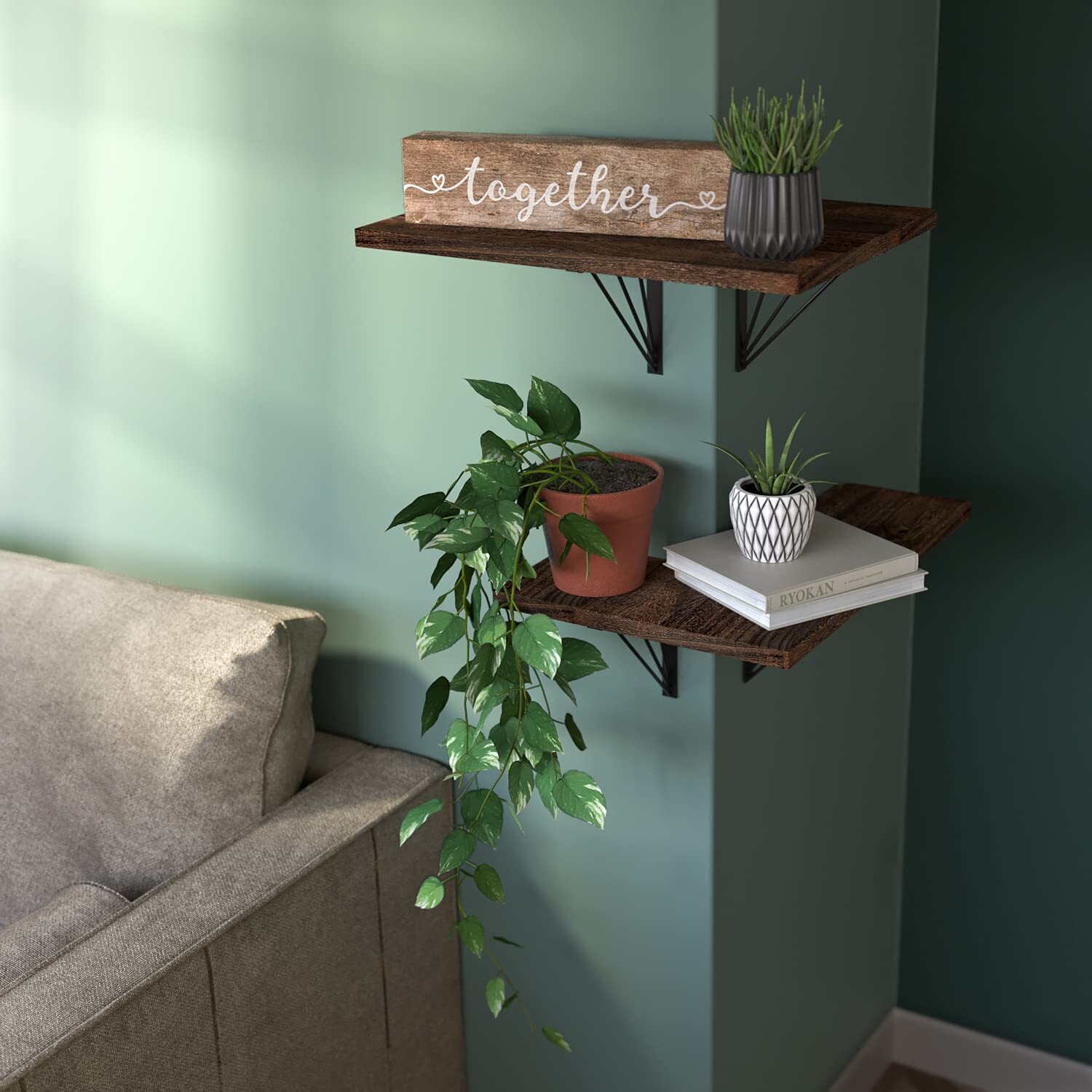 L shaped corner shelves

Thanks to their unobtrusive form and discreet appearance, L-shaped shelves for bedroom will blend in with any interior design, which makes them a favorite among many!
These practical pieces of furniture have two perpendicular sides, spreading from one side of the corner to the other, which means more storage space for you! Of course, this doesn't change the fact that they are space-saving.
But it doesn't end there! Some shelves with L-shape layouts offer dual installation options and can be mounted on both inner and outer corners.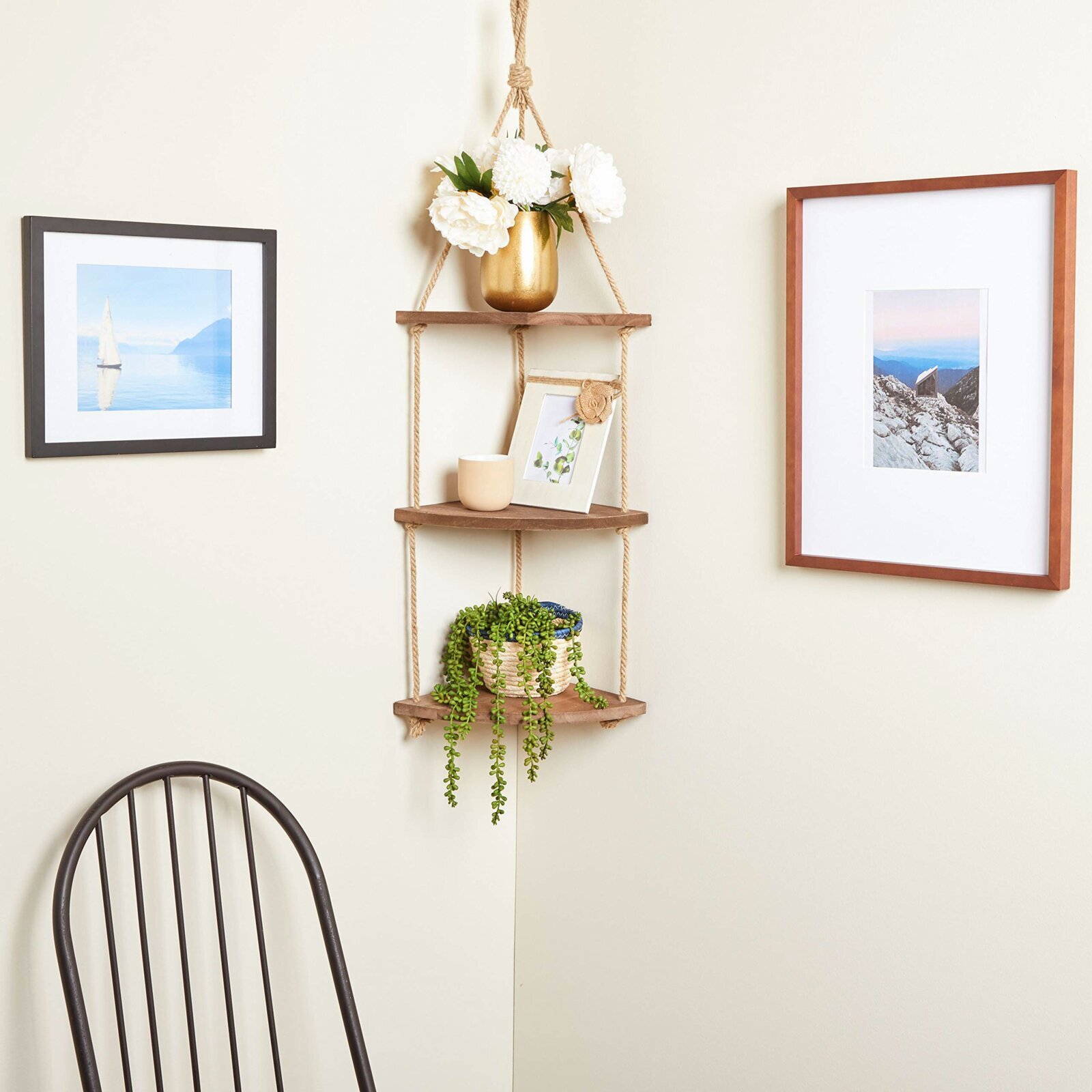 Hanging corner shelf with rope

Boho chic, farmhouse country, rustic—you name it, a hanging corner wall shelf ticks off all the stylish boxes!
Featuring a handful of tiers held together with rope, this type of room corner shelf is a gorgeous upgrade to regular shelving units. It is statement-making, creates an aesthetically pleasing focal point in your haven, not to mention, perfect for drawing attention to decorative items!
What's more, the wooden shelves along with the rope detailing bring a natural element to the setting, making it so much more inviting and cozier.
You can adjust the height of the shelves with the ropes anytime you want!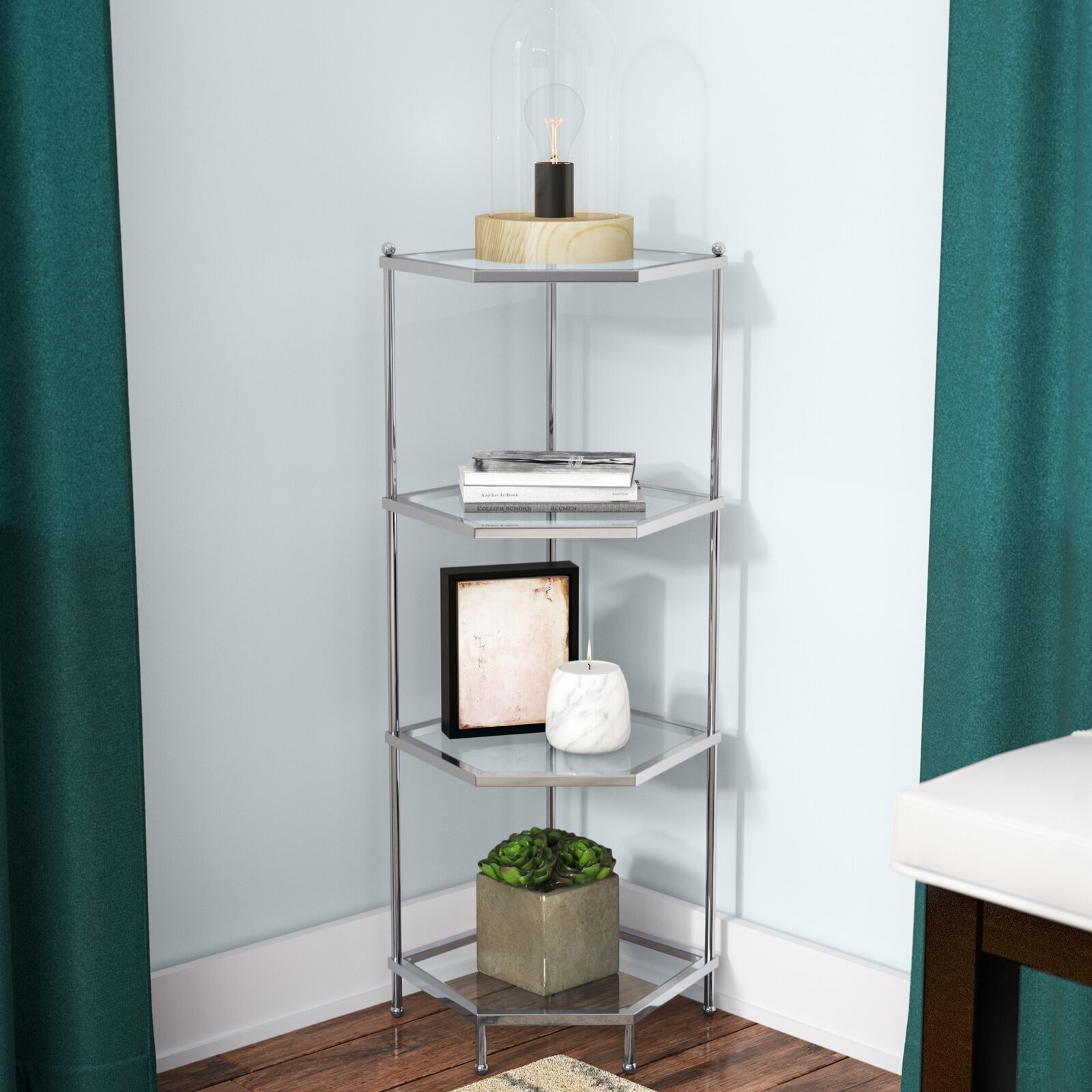 Glass corner shelf for bedroom

Designed with glass shelves and a sleek, metal frame, these kinds of bedroom corner shelves make a simplistic and modern statement while creating an airy feel anywhere you place them!
That said, shelves made out of glass tend to be exceedingly fragile compared to wooden shelving and might not be the best option for households with young children or pets. Plus, you'll need to be careful not to put heavy objects on top of it, as it may cause the glass to break.
Luckily, there is a safer alternative: tempered glass! It gives you added durability without compromising beauty.
$139.99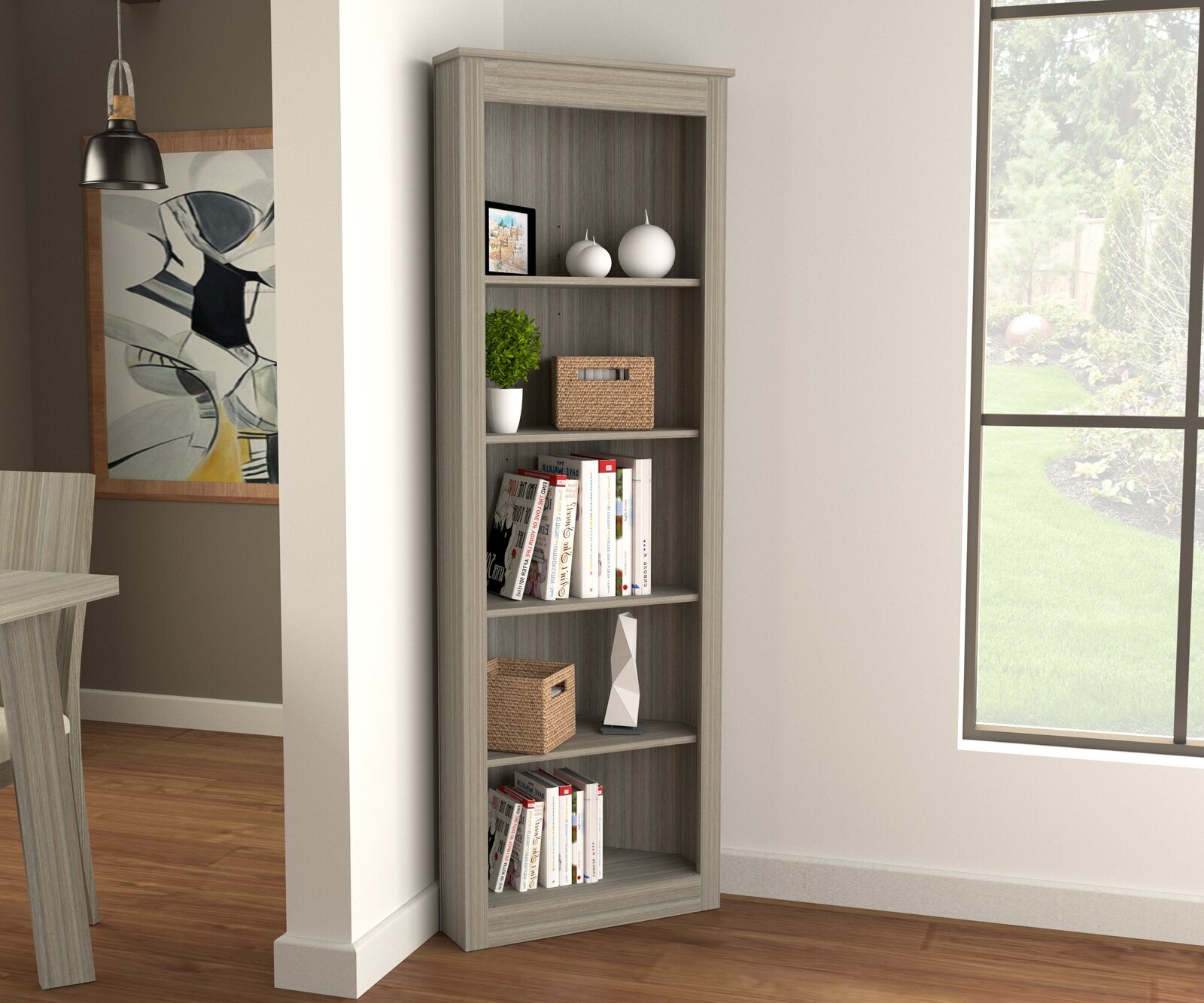 Corner bookcase

Want to create a cozy reading nook in your bedroom but don't have enough room for a regular-sized bookshelf? Then a corner bookcase will be right up your alley!
It fits snugly in the corner to optimize your living space while elegantly showcasing your collection of treasured books.
Besides, these corner shelves are available in numerous sizes, to accommodate both small and large book collections!
Try stacking your books in a few different ways for more visual appeal. For instance, you could have some books stand upright while others are stacked lying down.
$222.99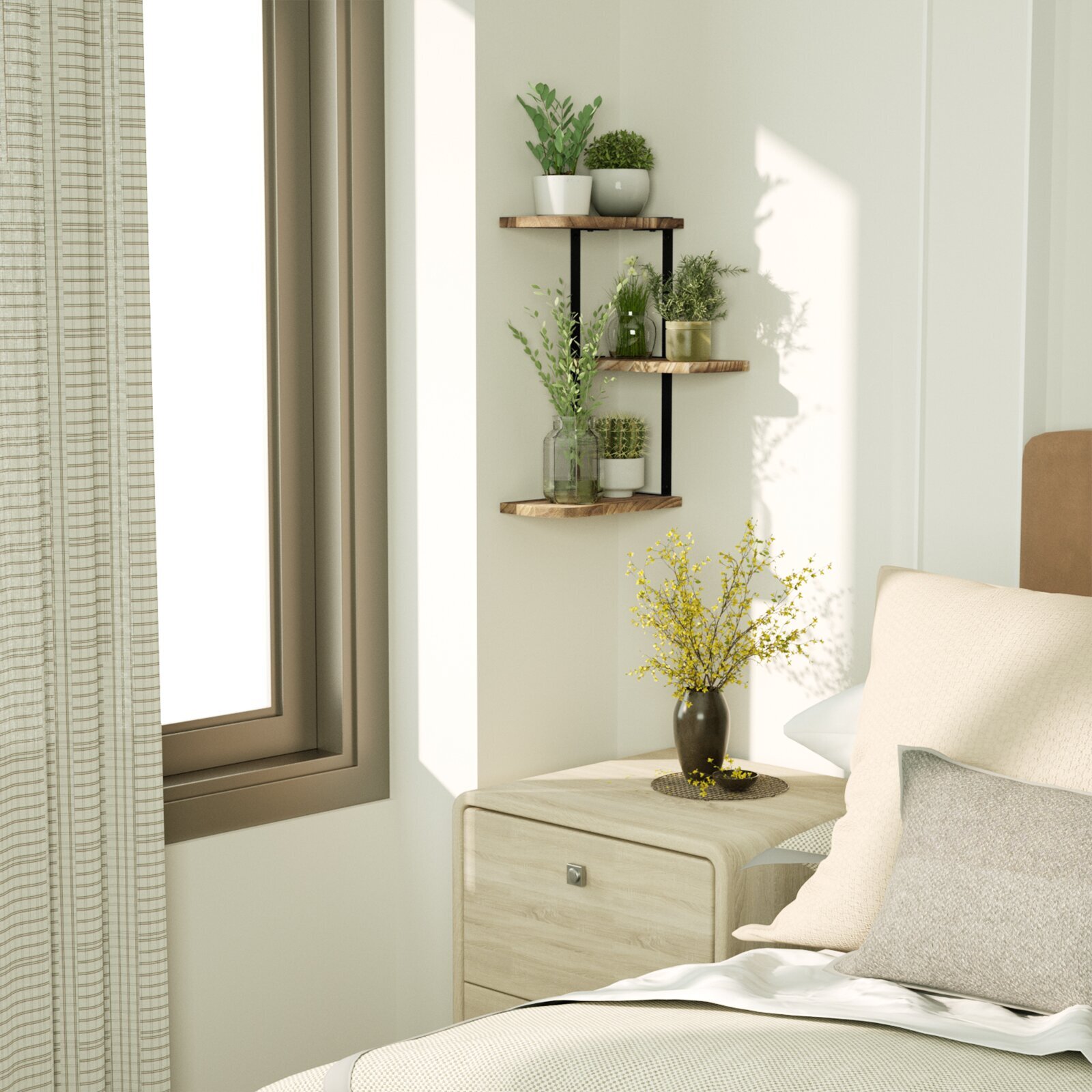 Wall mounted corner rack with adjustable shelves

Did you know that corner shelves come in adjustable versions that provide great flexibility?
Sometimes compact wall shelving units are a little too short to fit taller accessories, such as vases, potted plants, and picture frames—and this is where adjustable shelves come in handy!
With this bedroom shelf design, you can alter the shelves as needed to allow for items of different sizes. Now, there's nothing stopping you from showing off your trophies, flower bouquets, framed photographs, and art objects!
$42.99 $49.99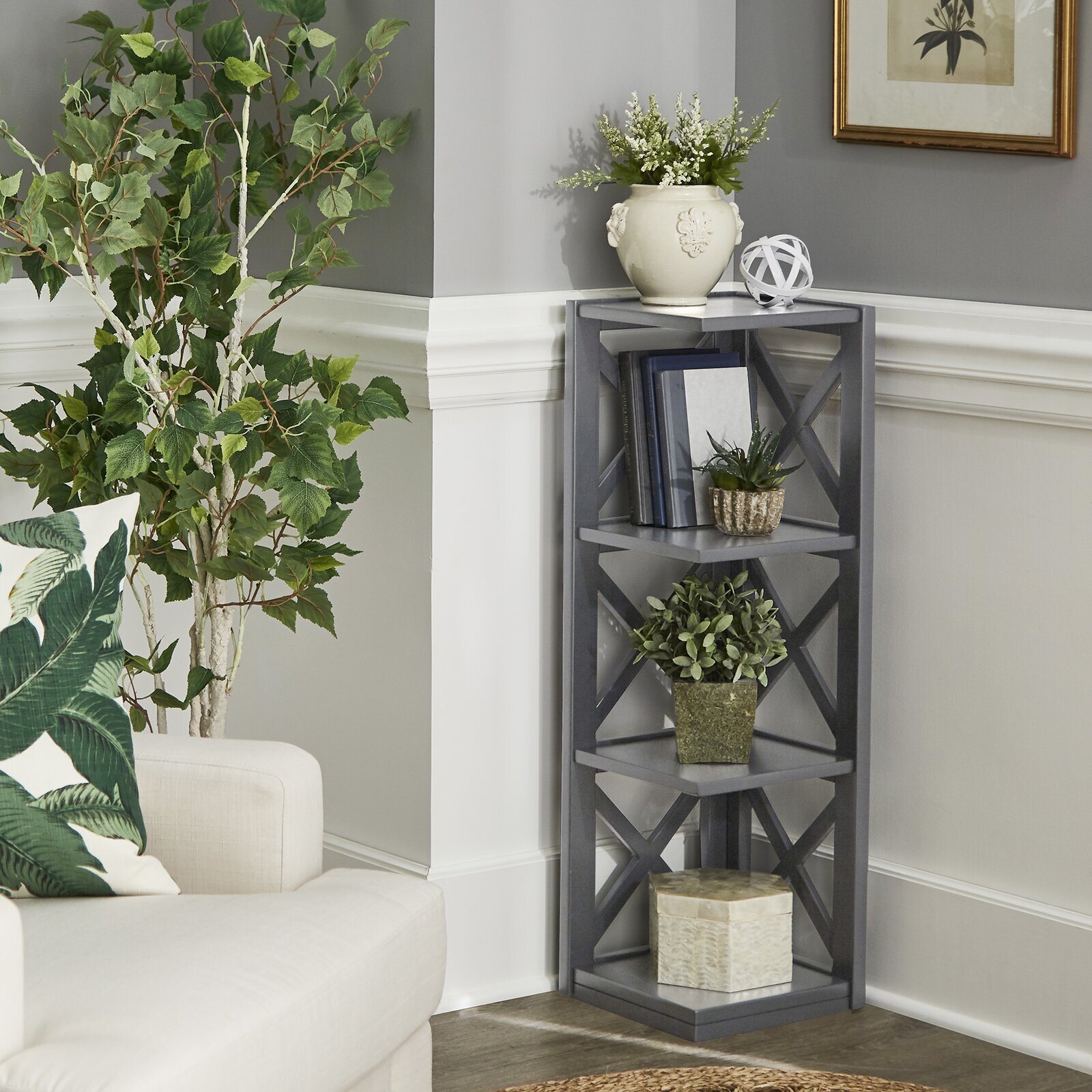 Decorative bedroom shelf with detailed frame

Not all corner shelves have to have a basic frame! So, why not add zing to your space with the help of a decorative corner stand for bedroom!
You can choose between an X-back frame for a bit of country flair, a square-shaped design to give your bedroom a fresh twist, or one that features lovely scrollwork for a classic touch! Another alternative would be a corner shelf with slatted sides that has an open and clean look.
$108.99 $119.99